Cabinet Door Repurposed – Coat Rack
This post may contain affiliate links. Please see disclosures here.
Sharing a kitchen cabinet door repurposed into a coat rack …. scarf holder …. or jewelry organizer! You decide!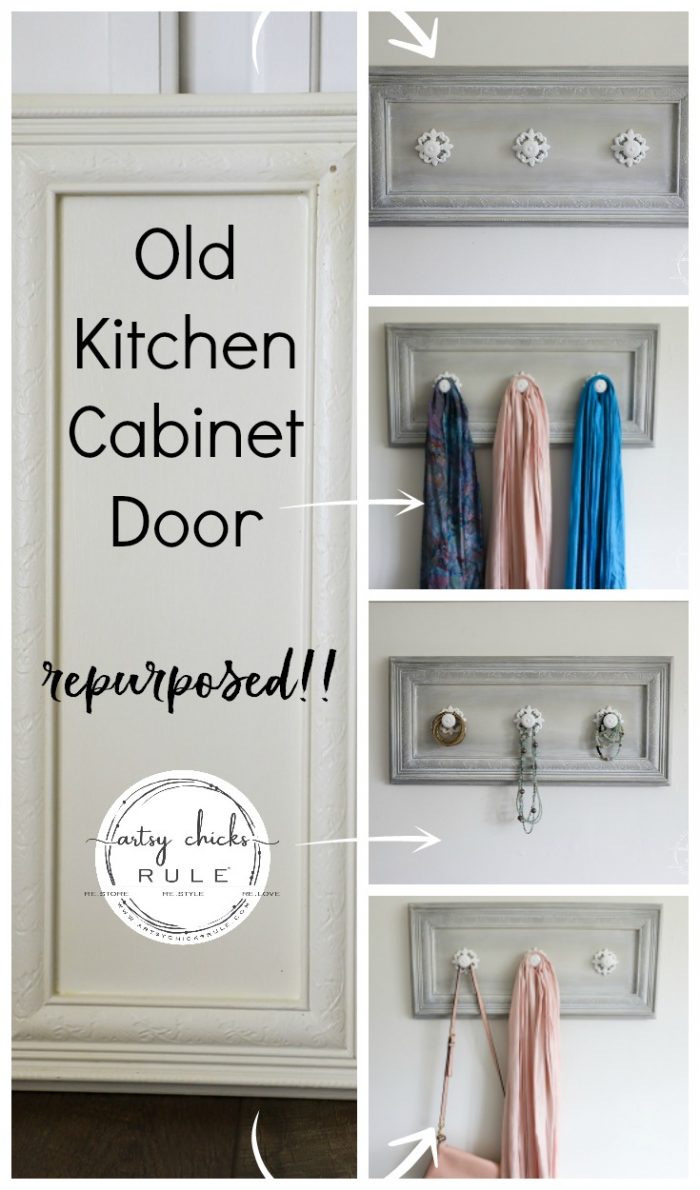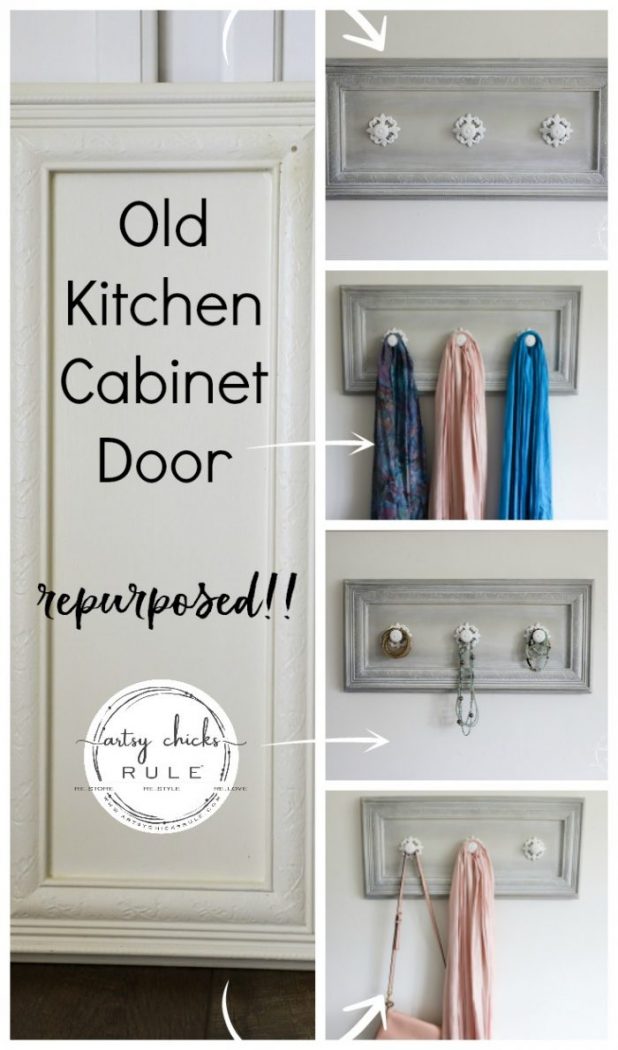 As you are probably not surprised…I saved a bunch of my old cabinet doors back to make fun stuff with. I've already made one thing, you can see it here.
I hate to throw anything useful away, and heck, almost everything can have some sort of useful purpose so that's sometimes a problem.
But oh well, it does make for lots of crafting fun, right?!
It's Trash to Treasure Transformation day and I'm sharing a cabinet door repurposed into a very simple coat rack, scarf or jewelry holder.
My friends are sharing their brand new treasures below so be sure to scroll all the way to the bottom to see!
Cabinet Door Repurposed
Mine started out like this….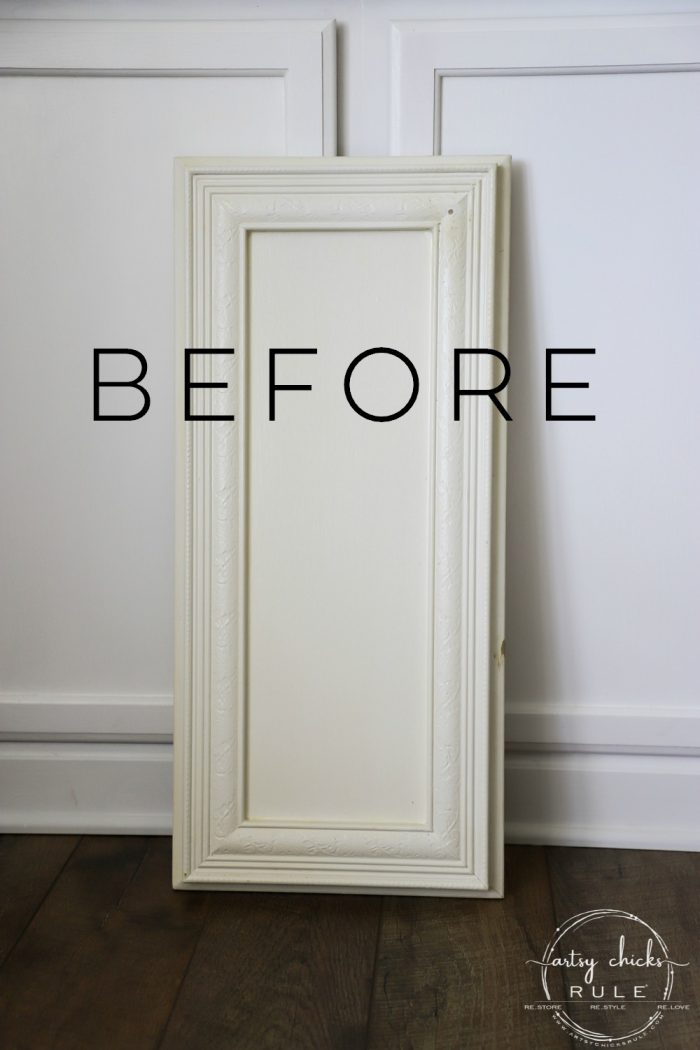 A little back story in case you are new around here, this door was from our kitchen before it got its newest makeover. I'll be sharing a full reveal of it very soon!
Here's what this actual cabinet looked when we moved into this house.
They were flat, dark wood cabinets that my husband added decorative trim to, and I painted, several times over the years.
And with that pretty trim, I thought I should hold some back because they surely would make some pretty signs, chalkboards, coat racks, etc., right?? Yes, for sure.
I had other plans with this when I began but I was just not loving it. So I switched gears as I sometimes (a lot of times!) do.
Those pretty seashell medallions were involved in the first idea…..stay tuned, I'm sure they will wind up somewhere at some point.
I began by spraying the wood frame part with this silver-colored spray paint.
I don't know if you can tell in that photo, but the center just sort of got over-sprayed with the very center area (of the center area) left a cream color.
Well, let me go back to what I had planned…
I was going to spray the "framed" area silver so I could paint it white and wipe away a bit to show the silver through.
The center was going to be a pale blue color with those medallions. So the center got sprayed and it didn't matter one bit because I was planning that blue paint there.
Did I lose you yet?? hee hee
So I did a little white dry brushing (see how, here) and decided I wasn't going to love my original design idea.
Which left me with this…..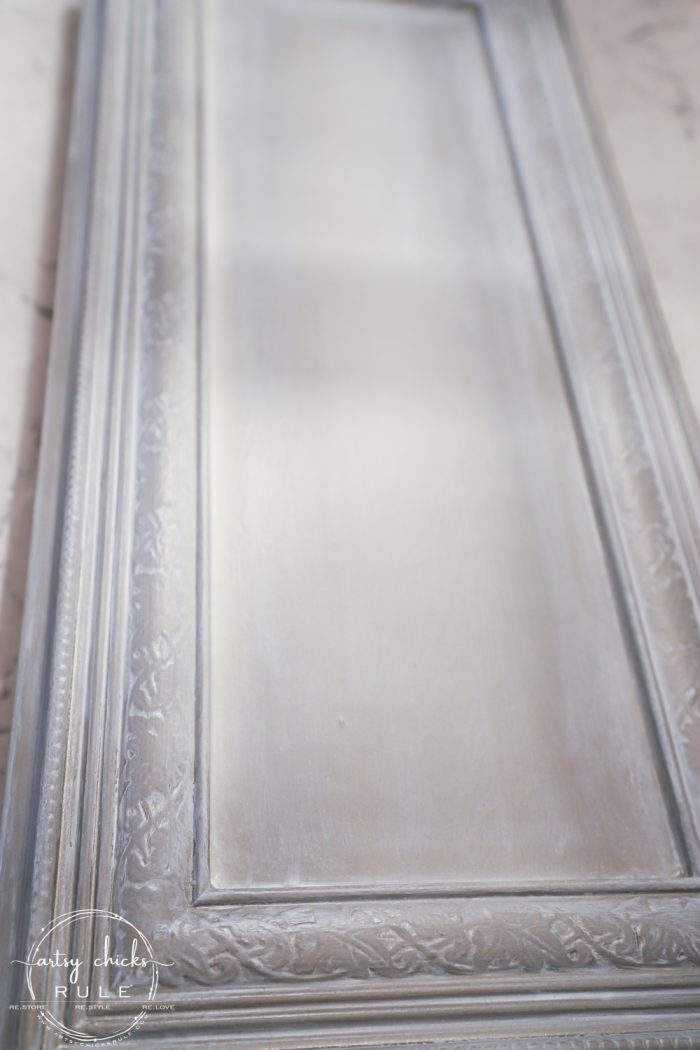 I went ahead and put a little white paint in that center area too, just to see how it would look.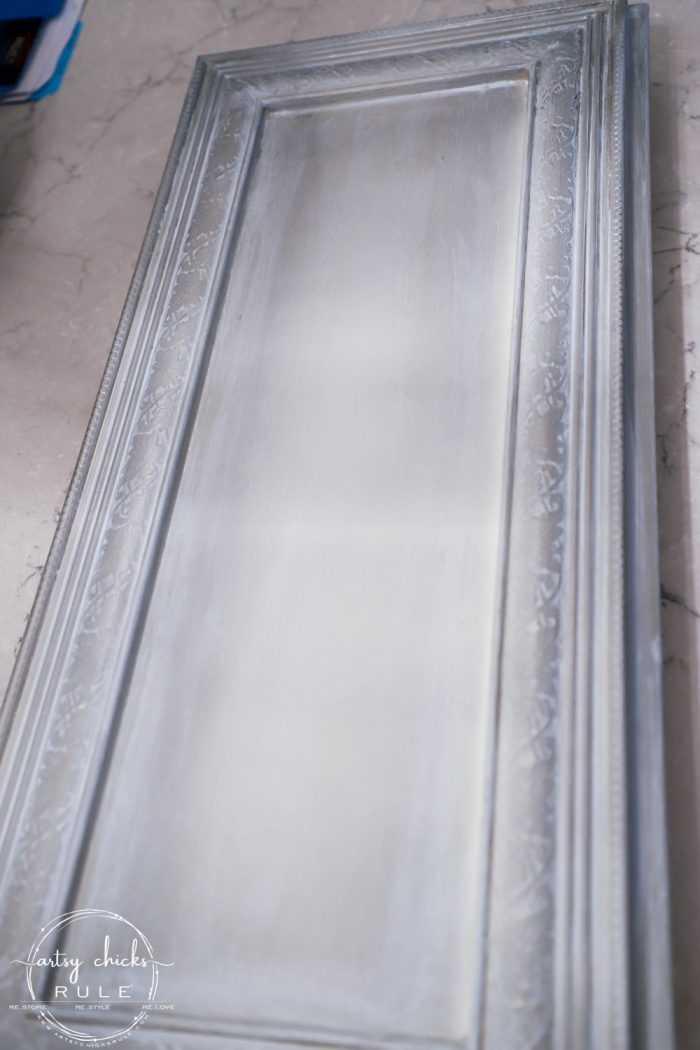 Darn, it's really hard to see what I was seeing in real life.
The dimension from the overspray and lighter center area.
It looked kind of cool so I left it. As a matter of fact, I had also intended to cover more of that silver paint with white, but I really, really liked how it looked as I dry brushed and then lightly wiped away some of the paint. It gave the silver paint such a unique look.
Sort of like the "whitewashed metal" lamps I did recently.
I considered creating a sign out of it but instead decided to make a simple coat rack. (or as I mentioned, it can also be used in a bedroom for scarves, jewelry, etc.)
I grabbed these out of my stash and painted them white. (they are from Hobby Lobby)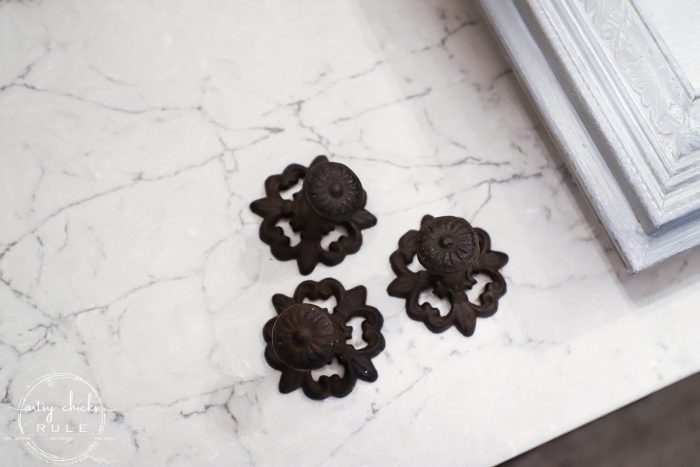 Drilled a few holes, put em in, and done! Simple.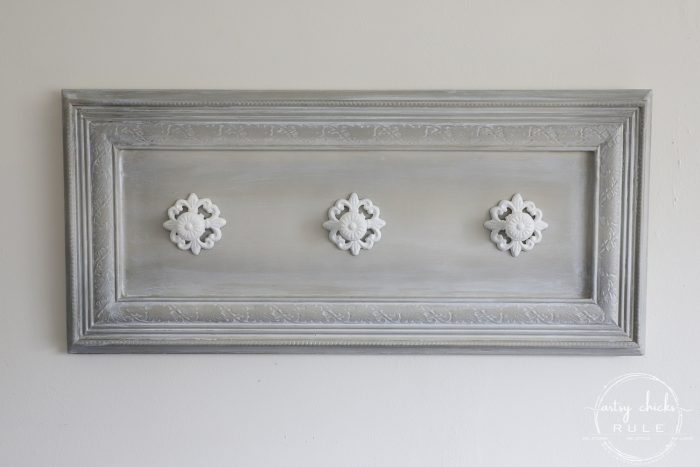 You can kind of see in this photo how the edges of the center area are a bit darker.
I loved the added dimension that fun little surprise caused!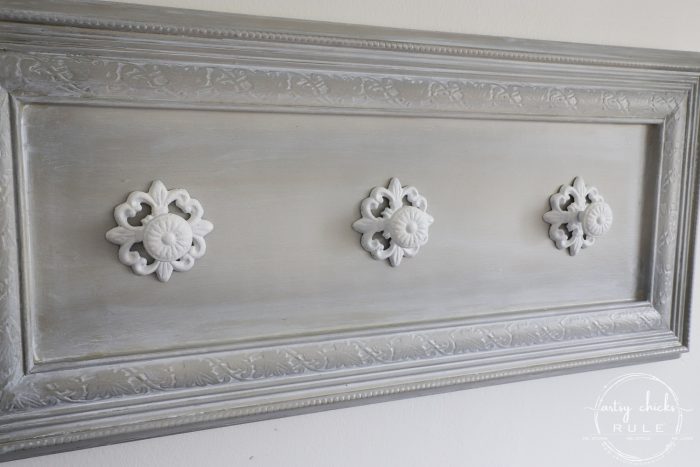 Seriously, isn't that whitewash over the metal paint so cool looking?
I might have to play around with that type of finish even more in this new year.
I have a few ideas swirling around this head of mine already!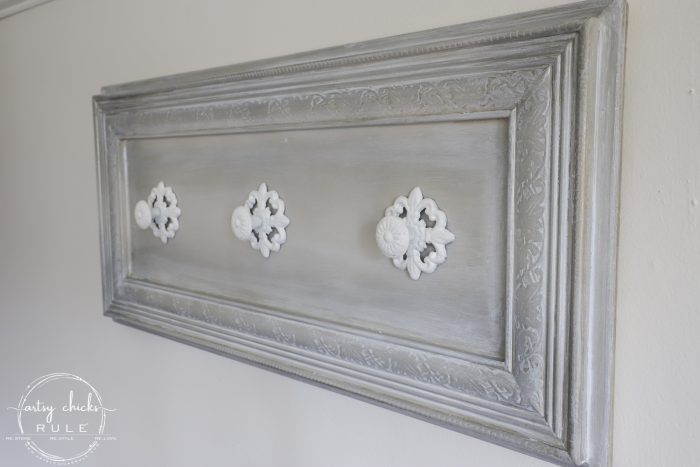 How about scarves?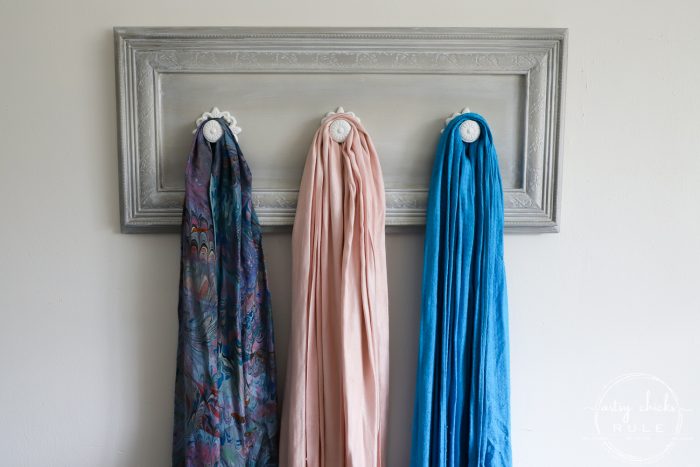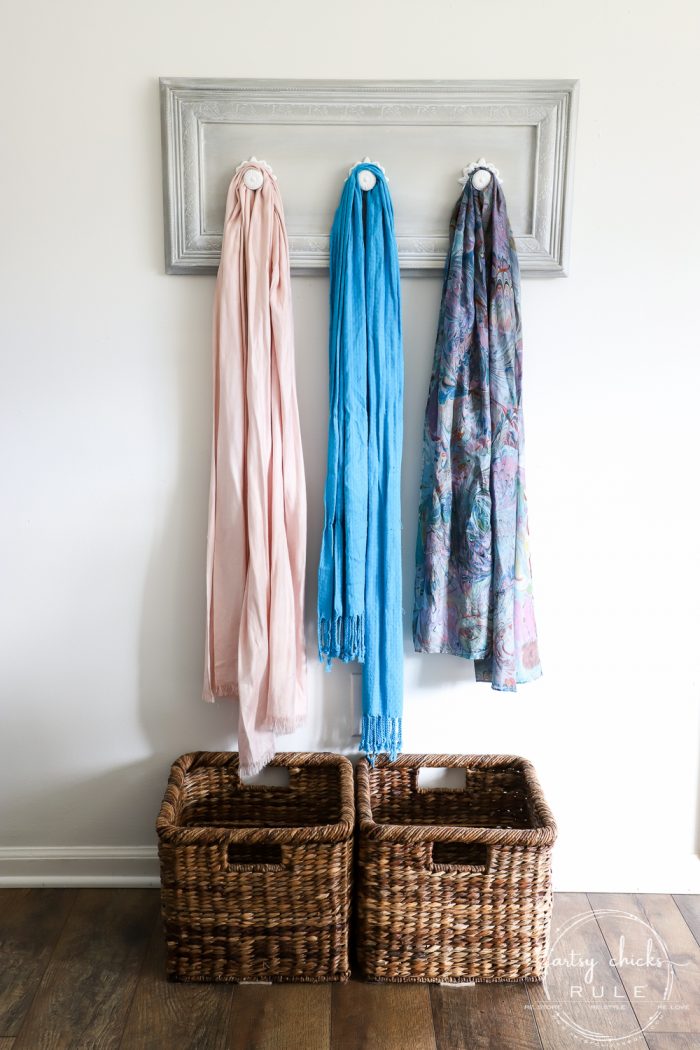 Or jewelry…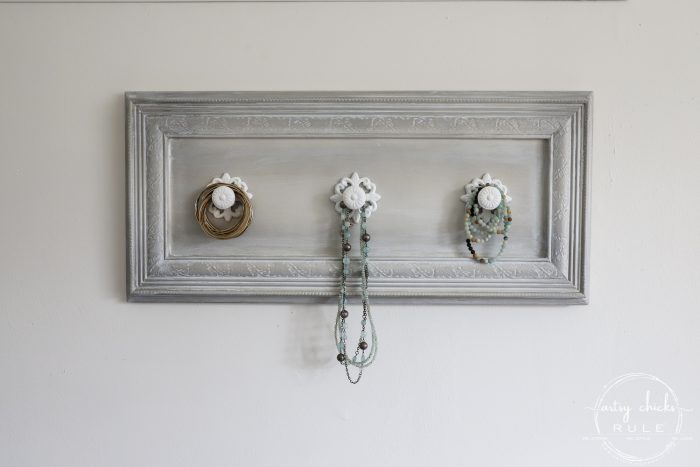 Coats and/or purses??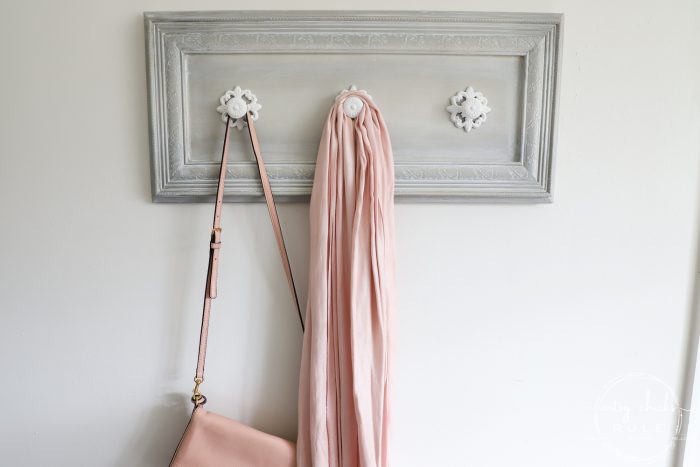 This is on the wall coming into the dining room.
I have, or already had, big plans for this wall.
As a matter of fact, there is already something up there above this little cabinet door repurposed.
I've just strategically hidden it in the photos.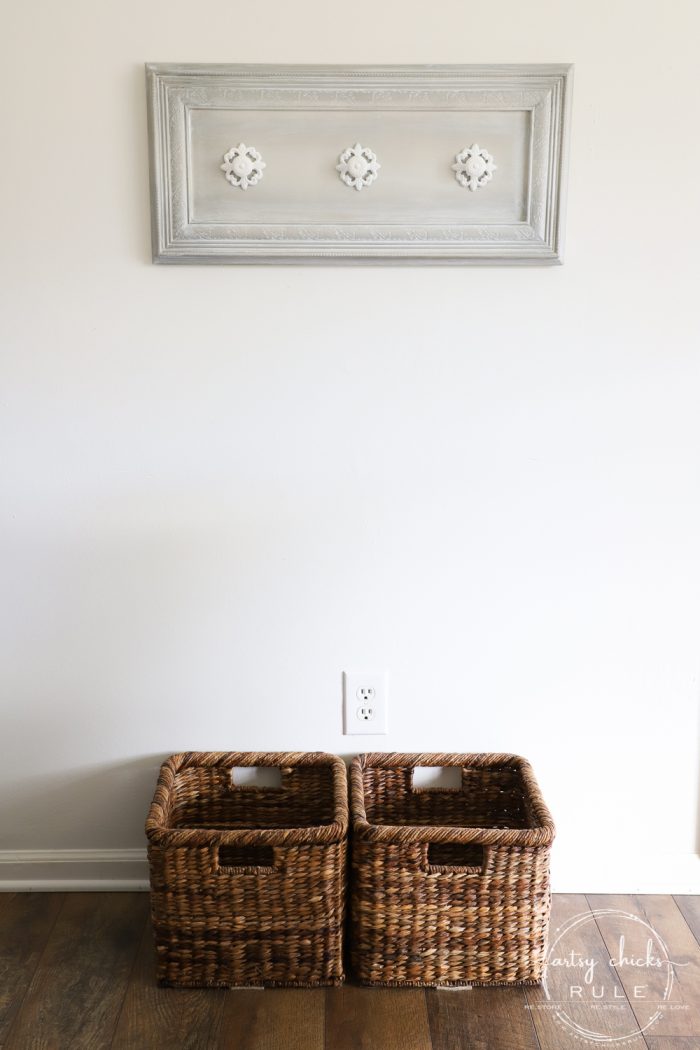 I'll be sharing it soon, well this whole wall and what I did with it too.
But if you follow along on Instagram, you may have seen a sneak peek of it in my Stories a day or so ago!
Oops…there's a tiny peek. Do you see it??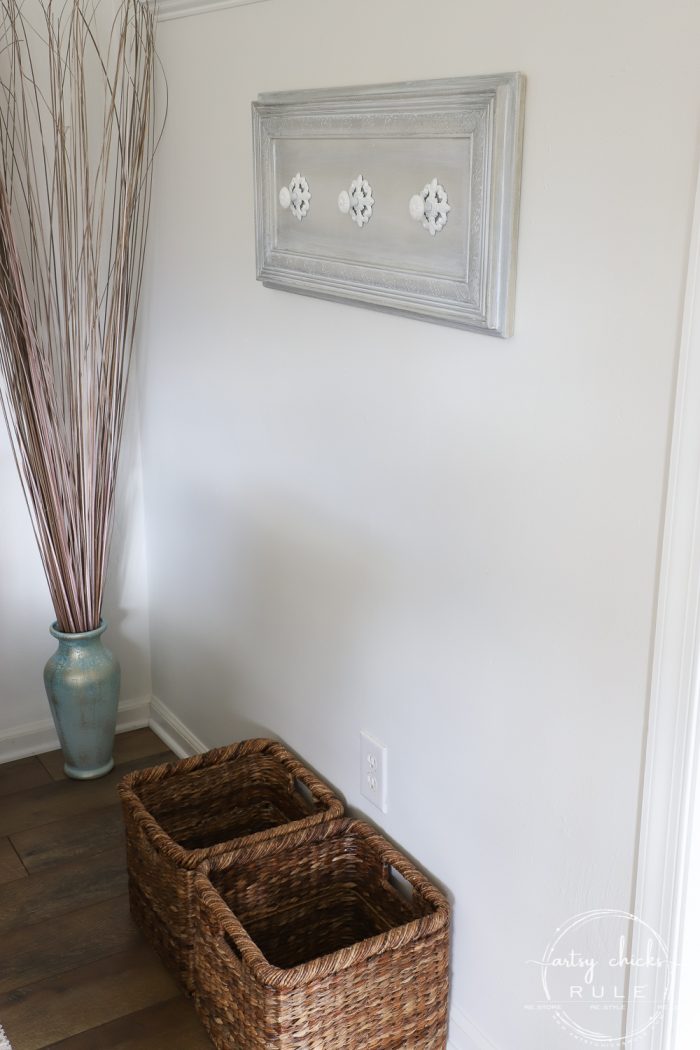 Lots of neat and useful things you can make out of old cabinet doors. Don't throw 'em out!
Save them, pick them up, and make something nice for your own home with them, or even as a gift.
PIN it to save it for later!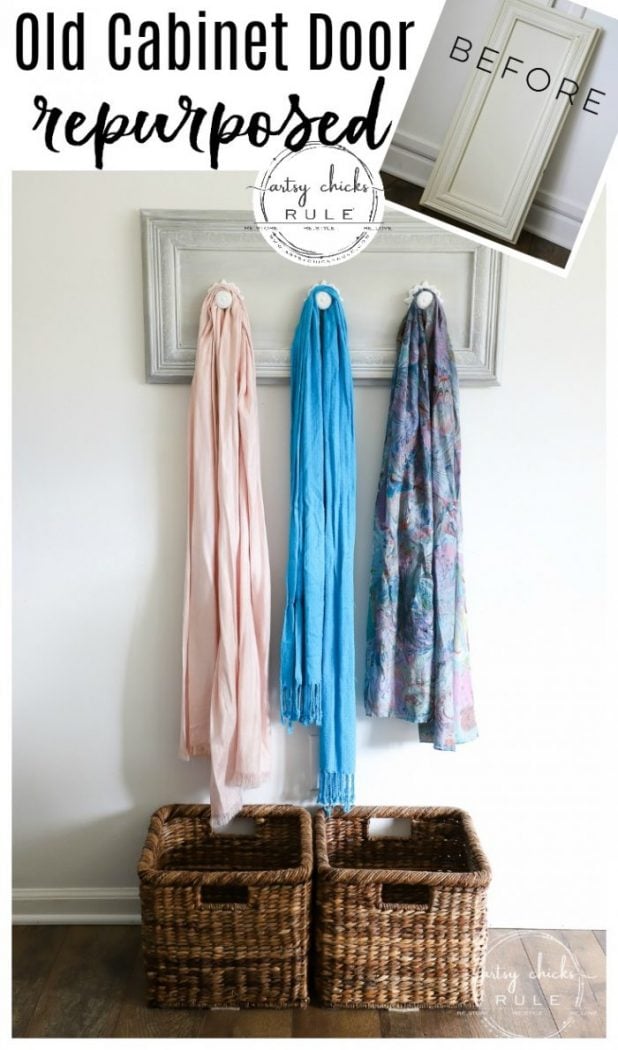 Don't forget to check out these awesome makeovers below!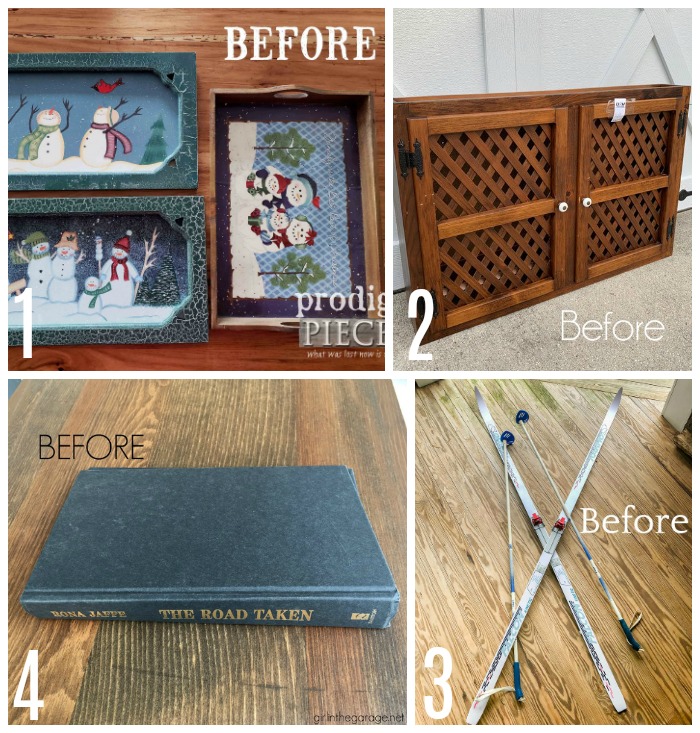 Want to see even more "Trash to Treasure" makeovers?? Click here.
Be sure to check back in next week to see what I do with this old thing!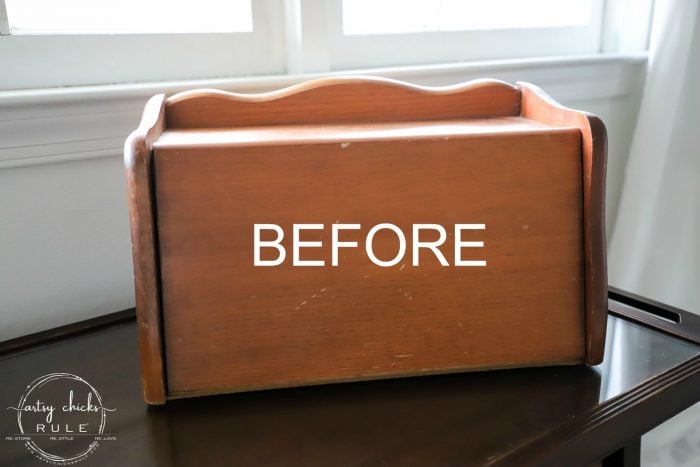 UPDATE! See it now, here!
I'll see you back here Thursday, have a wonderful week friends!
xo