*This post contains an affiliate link (for the clay I used) which is noted by an asterisk. See bottom of post or here for full disclosure.
I bought this great dresser a while back. I loved the curviness of it….the details….so very pretty.
But it was missing a handle.
Not too big of a deal but replacing hardware can get pricey….and trying to match it was not gonna happen.
So….I bought it anyway. I loved it and decided it needed to come home with me.
I'd figure out what to do about the handles later. Here's a hint.
Okay, that's a little more than a hint. But let's continue….
Typically, I don't buy pieces that have missing hardware unless:
I really, really like it and the price is right.
I'm planning on changing out the hardware anyway, which sometimes I do.
I get distracted and don't notice. Has been known to happen.
Once home I went through my stash of knobs and pulls hoping to find a way to make it work.
(change out just a couple, move them around, etc)
Nope.
Actually, I liked the hardware that was on there and didn't really want to switch any out.
So……I did what any other crafty, creative girl would do. –>I decided I'd make one to match!
Surely somehow I can mold one of the others and make one.
Somehow, right?
So off to the craft store I went and I found this…… *Sculpey Clay .
.
Ok, I must give credit to the store manager who knows me as I am a regular AND he was also my cell phone rep before he came to this store.
Things you didn't need to know, I know, but just funny to me.
So I tell him what I am trying to do and asked which product would be best.
We worked through it a bit and agreed on what I should use and how I should do it.
Thanks so much Mr. Mobile Phone Rep turned Craft Store Manager friend!
Here's how I did it…..
First I made a mold of one of the handles using the clay.
I then baked it in the oven to harden it. I used an old tile I had laying around to bake it on (as shown above).
After the mold cooled I squished more clay down into it really well. (Be sure to sprinkle the mold with some powder so you can get it back out. I figured that out the hard way. I used a small paint brush to get the powder down into the crevices well.)
Next, I cut two small pieces of wire to put in the ends. (to hopefully add some strength & stability) I just put it in the ends where it would hook but I'm sure if you bent it to shape you could put it through the whole handle. After I did that I took a sharp knife and shaved off the excess clay. (try to do this as even as you can. I ended up making two because the first one was kinda bumpy and I didn't like it)
Slowly and gently I pulled the soft clay out of the mold. I laid it out onto the tile, and using the real handle as a guide, made sure it was the same shape as the original. (it's soft and can get a bit out of shape so just hold the real handle over the top to be sure it's right before you bake it)
After it cooled, I took some fine sandpaper and rubbed away any rough edges.
Voila! New matching handle!
Pictured below, on the left, is the clay mold I made. The finished "new" handle I made from the mold is far right with the real handle in the middle.
Note: Another option for this would be a resin type of material. That's a bit pricier alternative however.
I sanded the edges to smooth them and then sprayed it, along with the rest of the hardware, with Oil Rubbed Bronze spray paint.
(LOVE this stuff…you can see all the things I've painted with it (–>transformed) in this post –>here.)
I decided to add just a touch of gold antiquing to the edges of each piece after spraying.
To see the complete re-do of this dresser–> look here.
Here is the finished handle up close and personal.
How about that??
Now I am not certain how well this will hold up over time but I know for my purposes it is perfect.
This dresser is in my study and the handle will not be pulled on often.
Or ever really.
So my suggestion is that this be used for those pieces that won't get much use.
I suspect it is more for looks and not as sturdy as a regular metal handle.
This is a great fix for those pieces that have lovely old antique hardware and no matches can be found, etc.
Or as in my case, furniture with hardware you like (and only one missing).
What do you think? Would you ever guess it's a "fake"?

Think this is something you might try the next time you have missing hardware?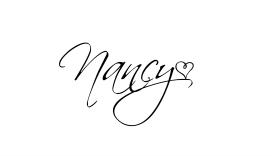 UPDATE: Apartment Therapy featured this post on their site—>You can see it here.
Be sure to follow me on Instagram if you don't already!
I always post projects and things I'm working on plus lots of fun random dailies.
Sharing with:
*This post contains an affiliate link or links – which means I will earn a small commission if you decide to purchase by clicking the link. I only recommend products I use and love and the small commission I may make helps to keep this blog up and running. Thank you so much for your support! xo