This post may contain affiliate links. Please see disclosures here.
Make your own rendition of a favorite decor item, like this DIY nautical rope mirror, on a budget!
Here's where I started….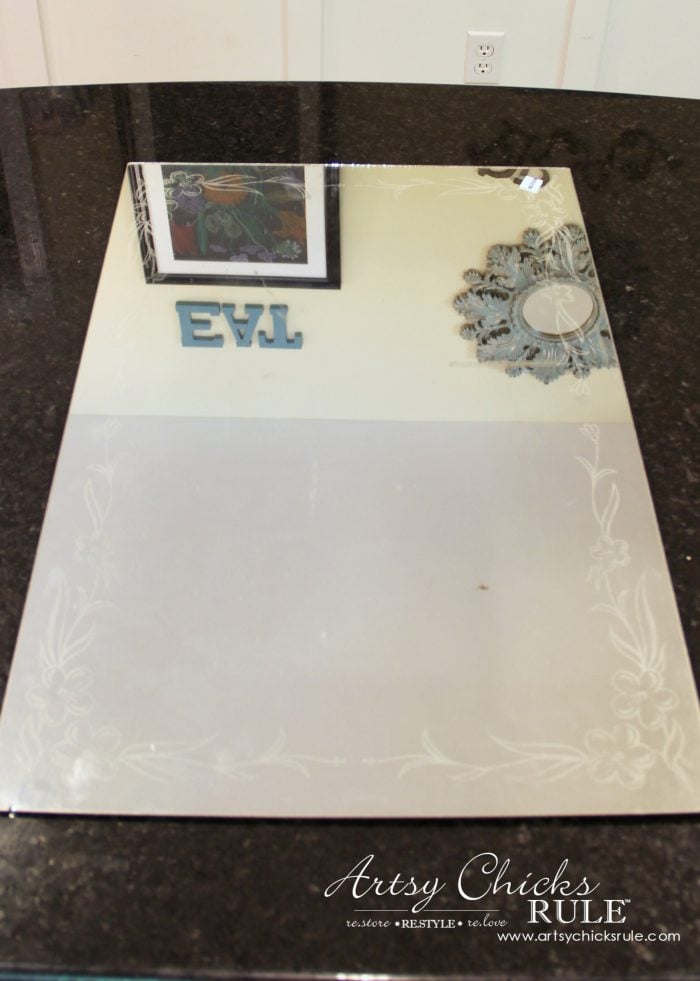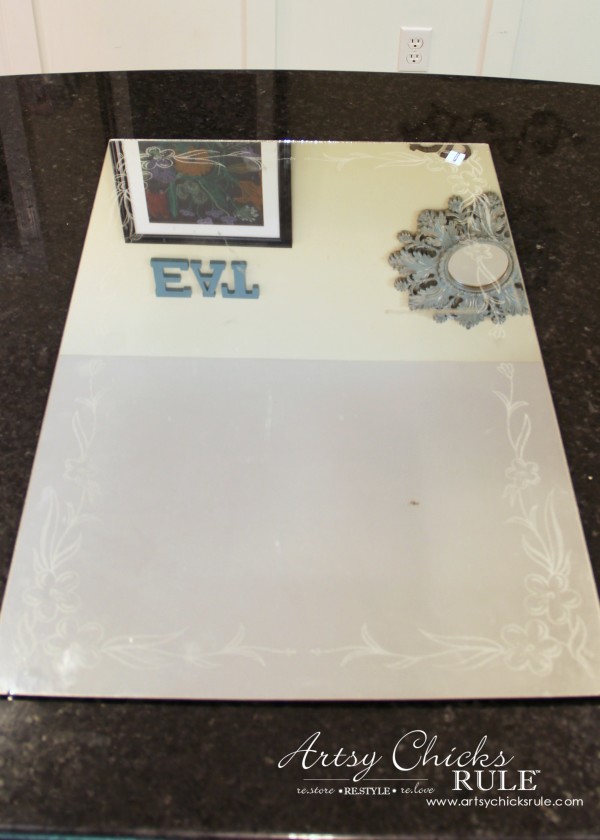 Happy Monday!
I have a really fun "inspired by" project for you guys today.
My friends and I got together and created a few projects for you….and mine is VERY thrifty!
This DIY Nautical Rope Mirror inspired by Ballard Designs.
(I am totally sure their's are too! That's the whole point. ;) You'll have to be sure to check their's out at the end of my post)
Here's mine….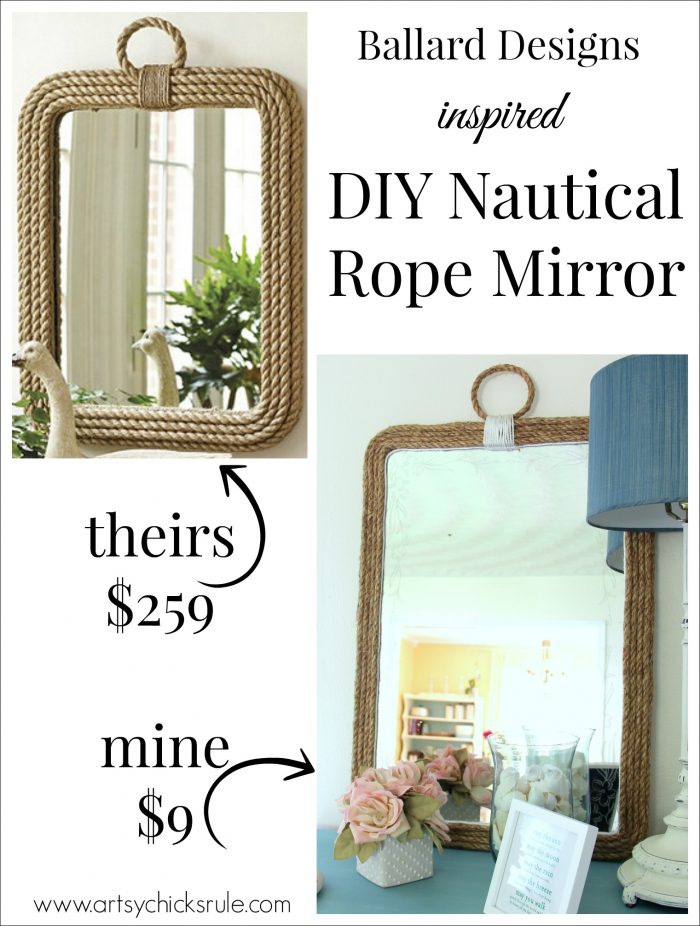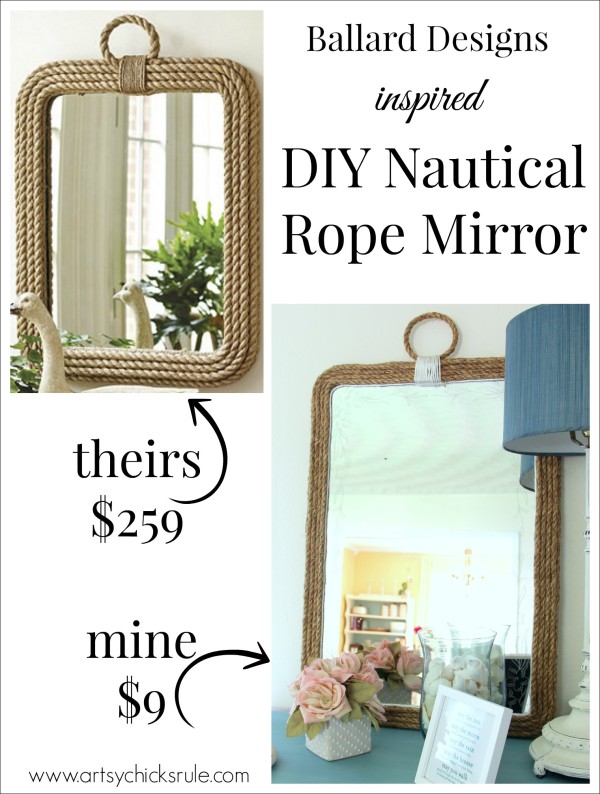 I saw this really pretty mirror at Ballard Designs but knew I'd never spend that much!
( because I am thrifty girl after all ;) )
It looked pretty simple to make ….so I did!
And…as luck would have it (but it doesn't always! ;) )… I found this mirror on my very first visit out looking for one.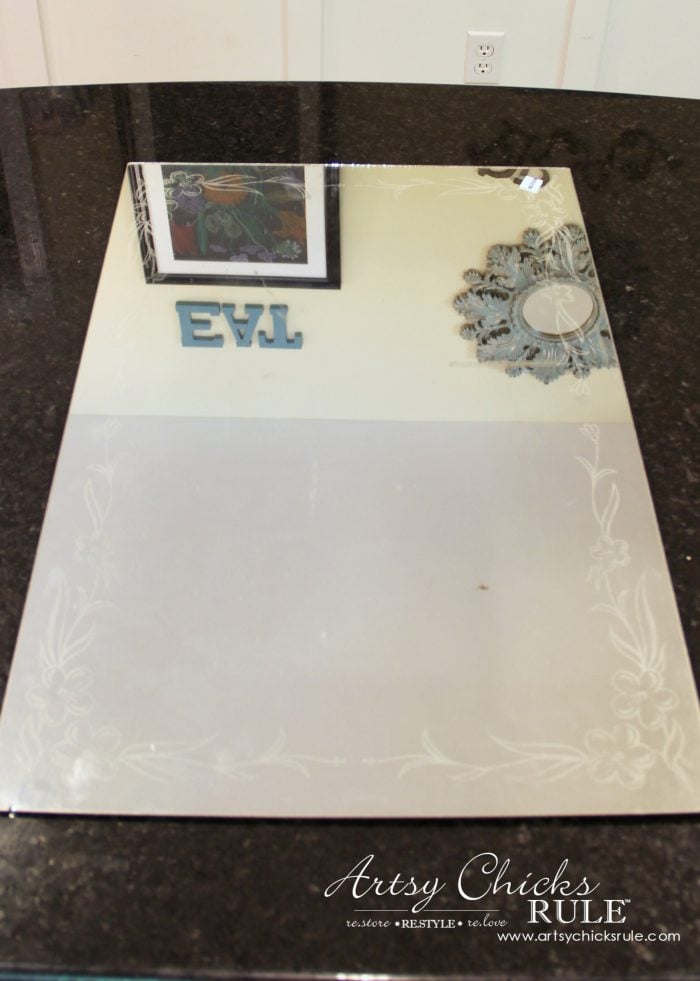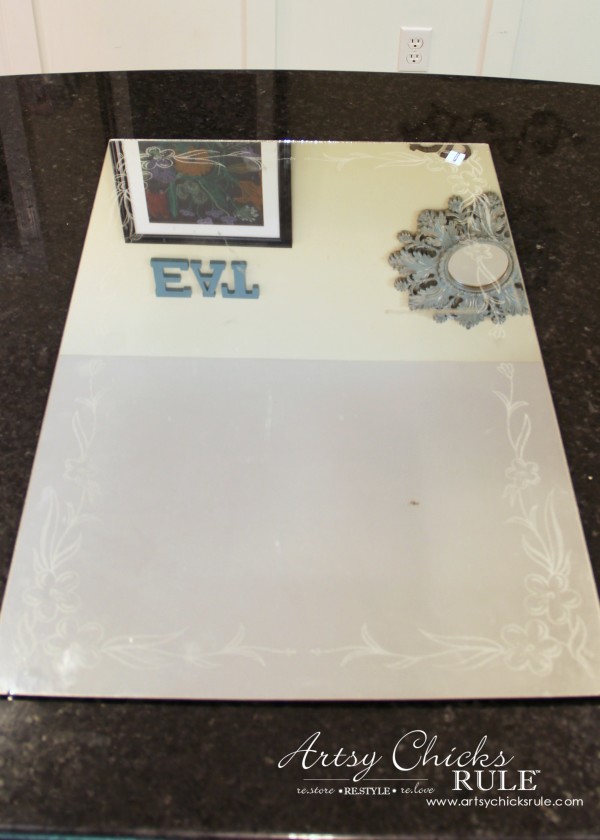 $5.25 for the mirror.
It was pretty much exactly what I was looking for….except for the flowery design along the edges.
I decided to grab it up anyway.
And…the flowers kind of grew on me like I knew they might.
I knew I needed to put it on some sort of board backing so I could attach the rope.
So I found this old board (it's a scrap piece of bead board) in the garage and had my husband cut it about an inch larger than the mirror.
Then I glued the mirror to the wood base with E6000 (I wanted it to be very secure).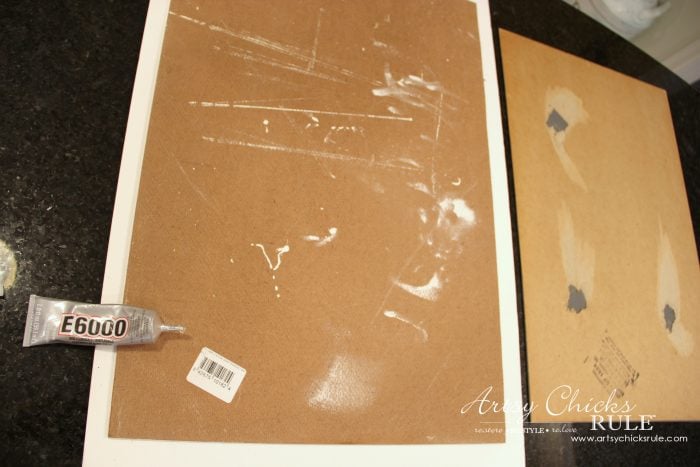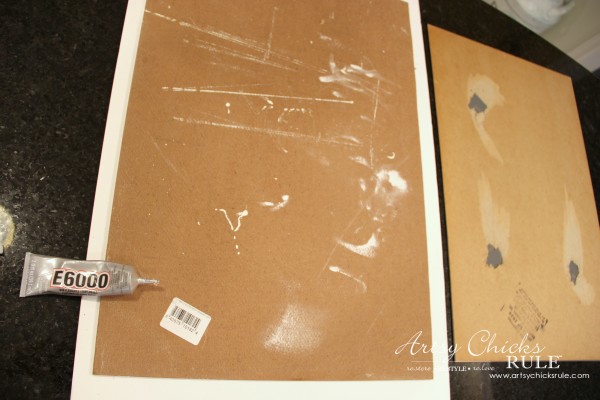 Then I got started hot gluing the rope around the edge.
(I already had this rope on hand and ended up using about only 1/3 of the roll)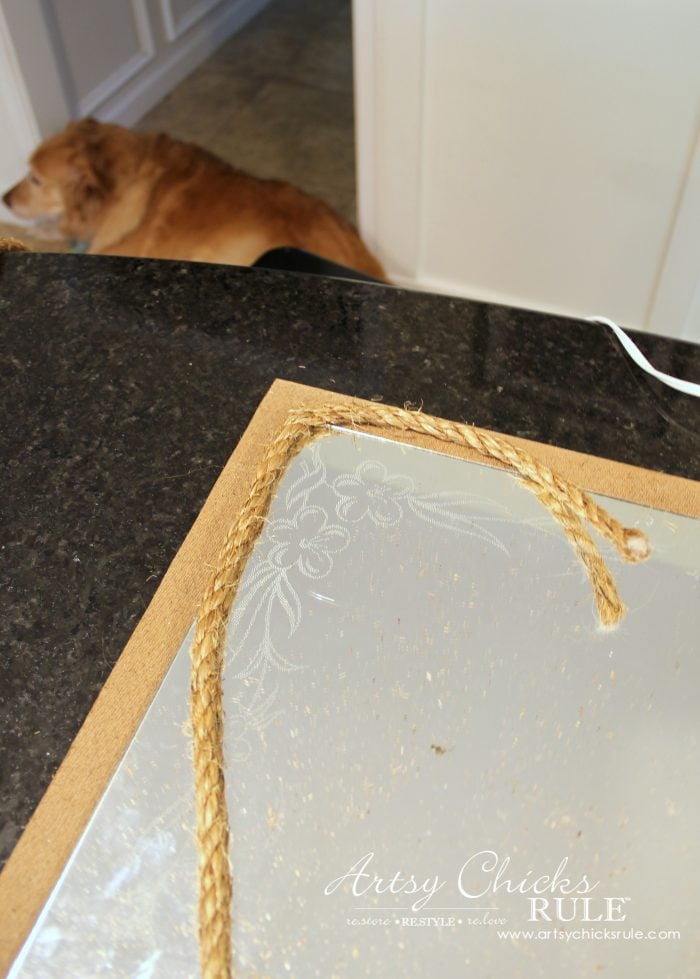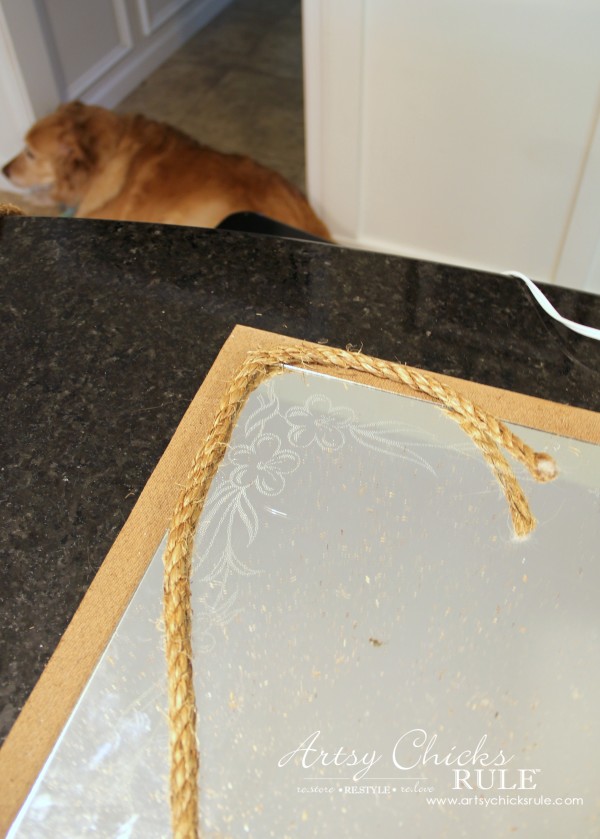 See my sweet girl in the background. She was keeping me company. ;)
I decided to cut and do sections in the middle top where the loop was going.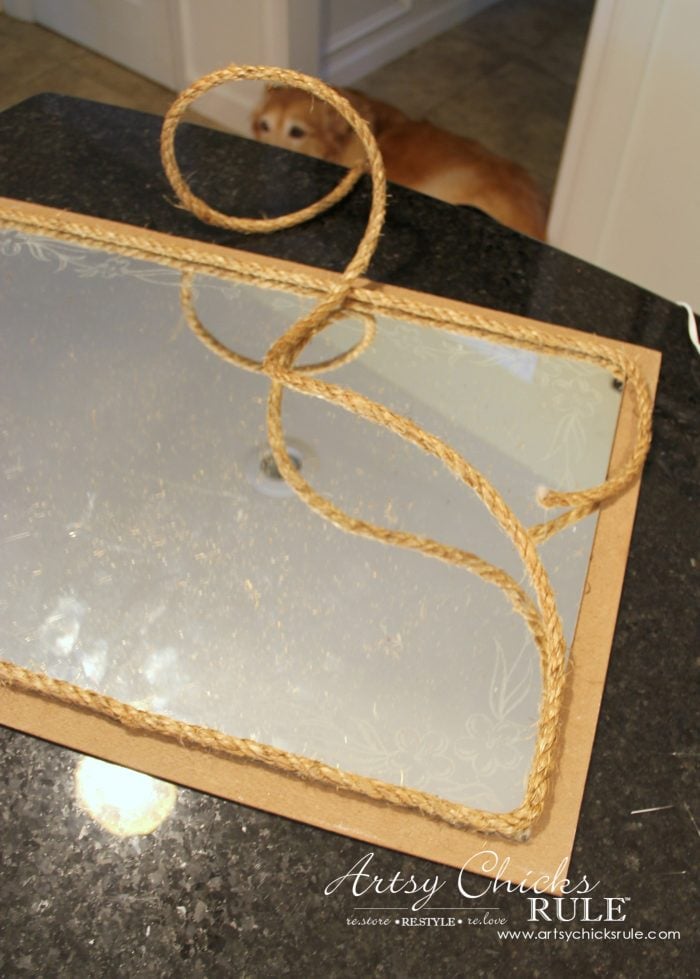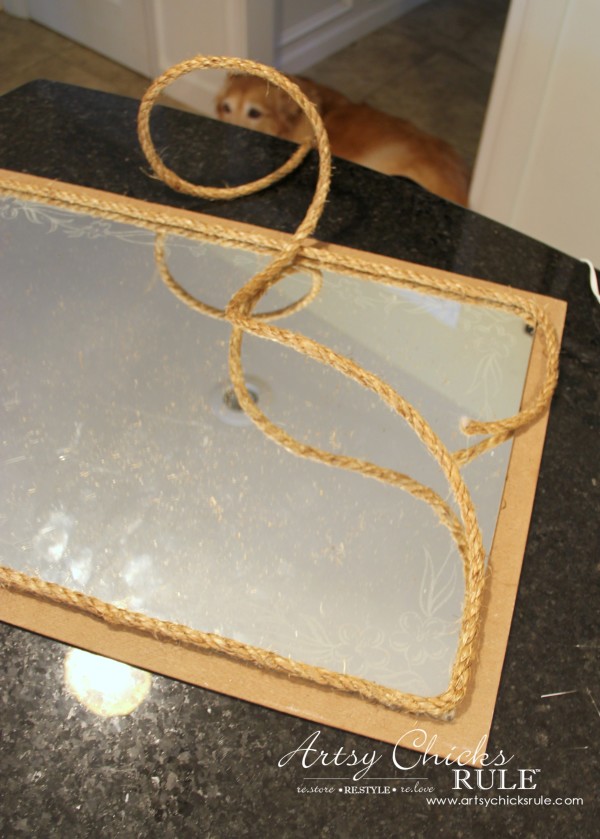 I just cut and started a new section of rope to go around the mirror each time.
You might also notice I decided to round the edges of the corners so they would not show.
Just hit it with the sander to do this.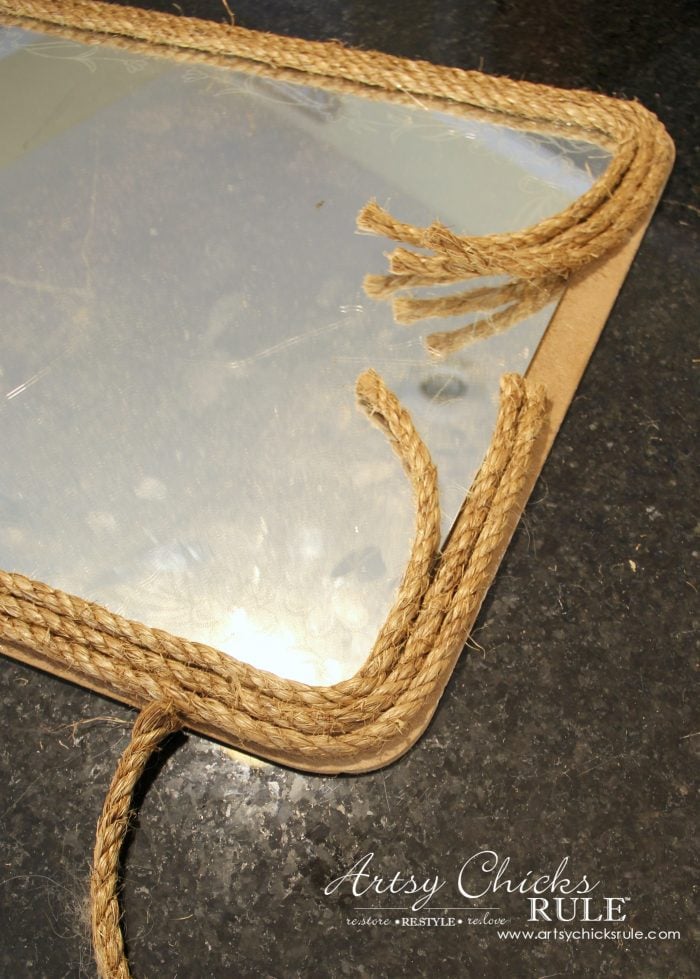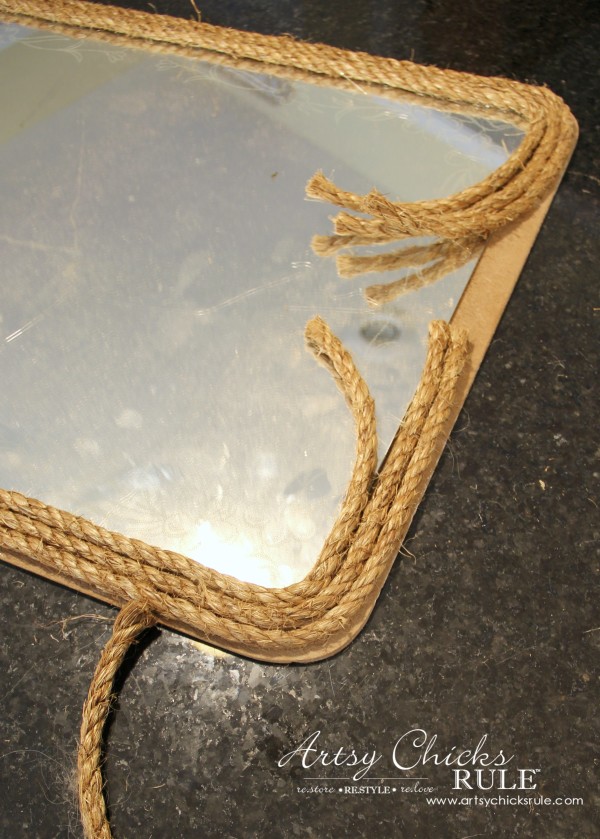 I left it "loose" in the center so I'd be able to wrap the small twine there at the end.
I did this 5 times. (5 layers of rope)
For the fifth and final layer of rope (the edge piece), I glued from the backside.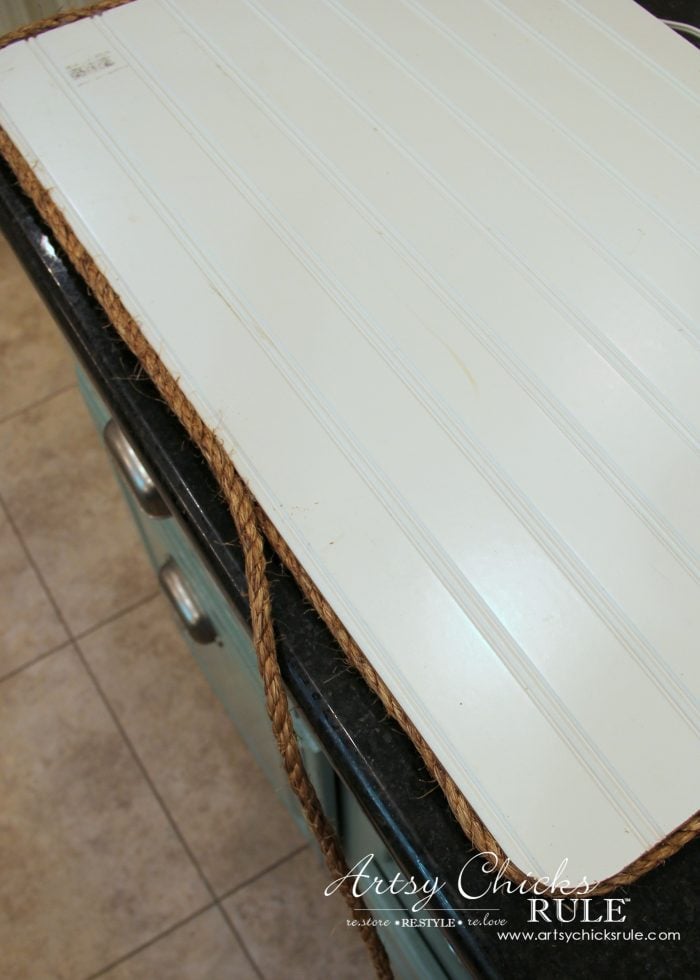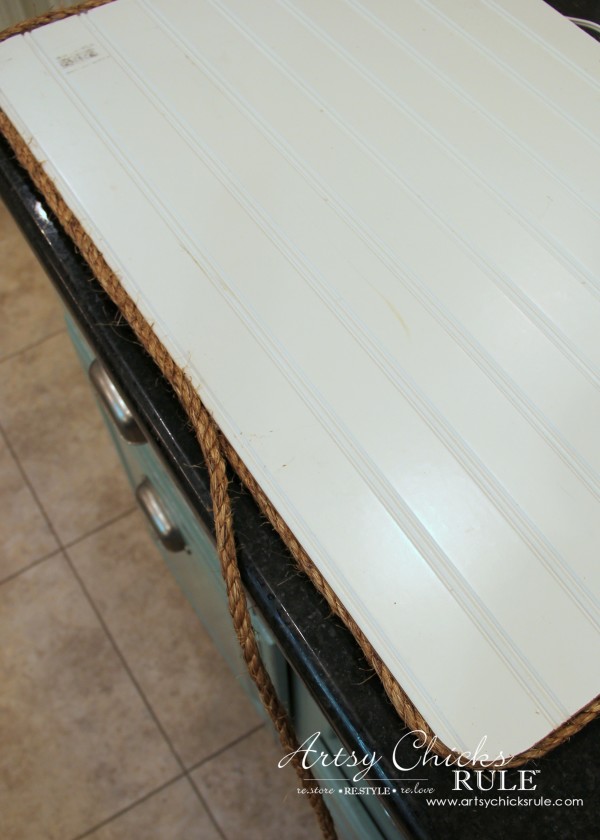 It was mainly going along that wood edge so I could see it better from this side.
Then I hot glued the edges together and attached a loop at the top.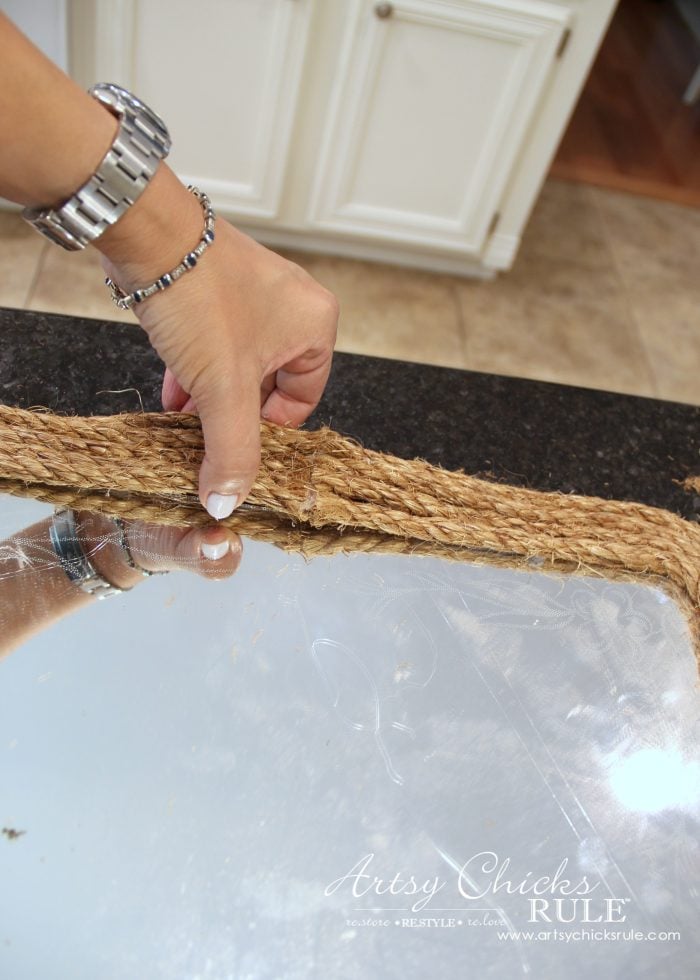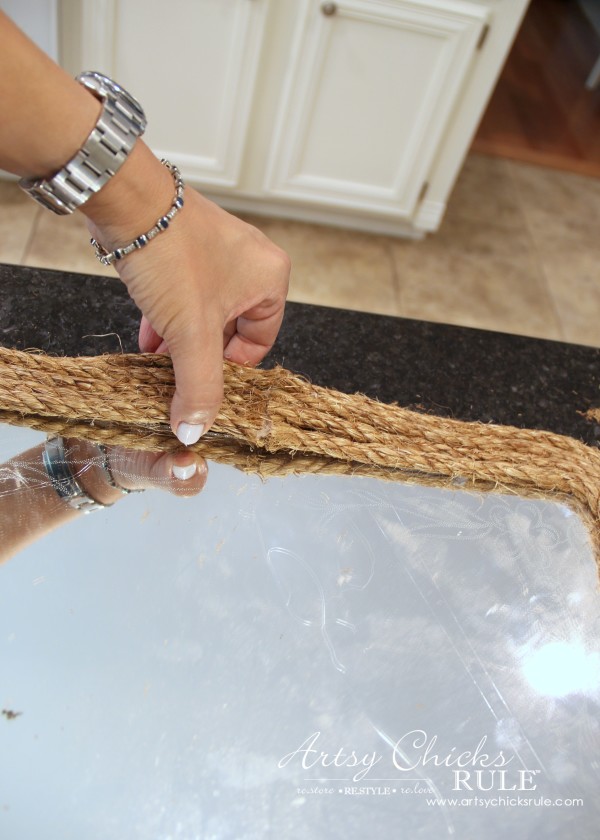 Notice the rope is not attached to the base in that spot.
I will be looping through with this white rope ….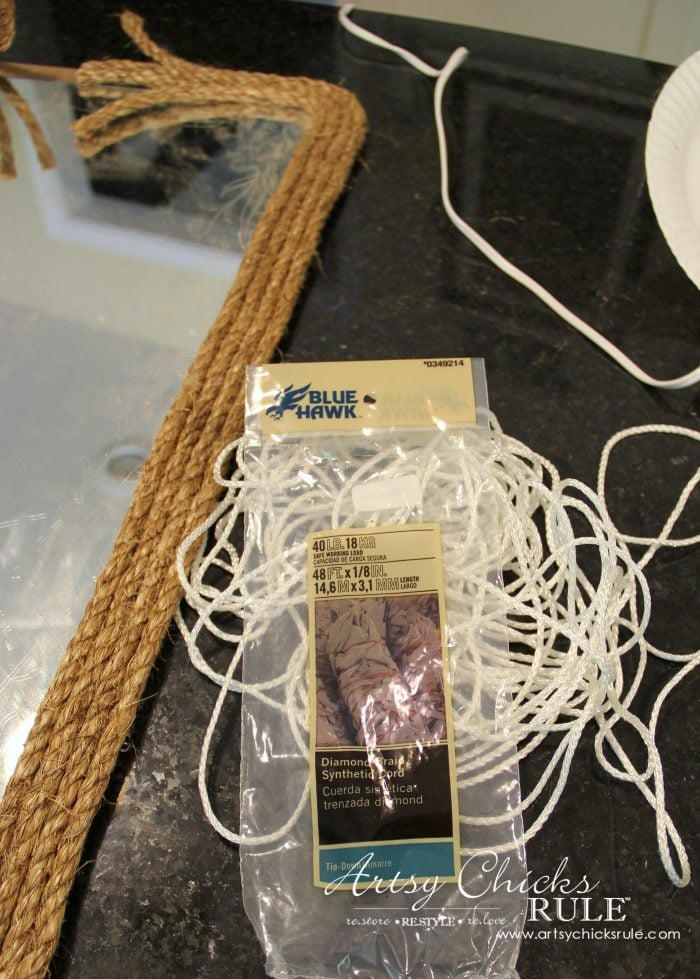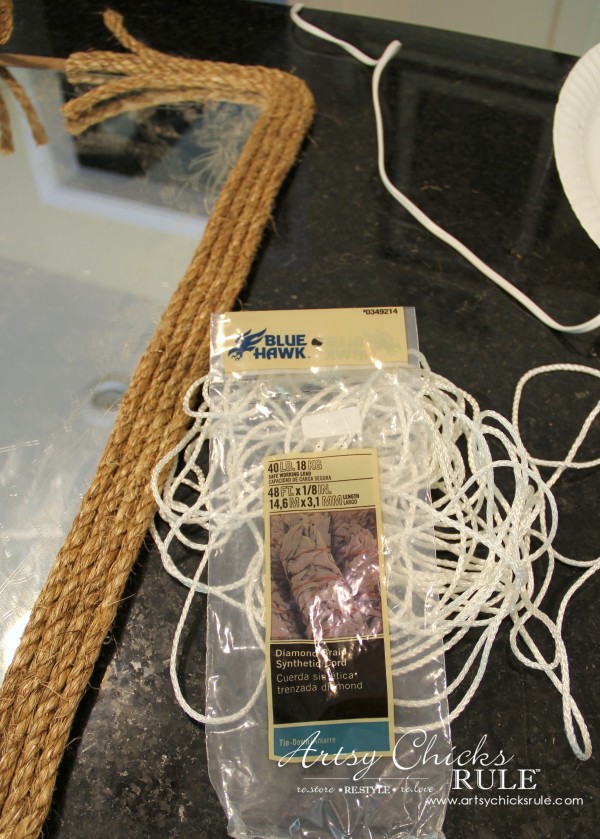 I couldn't find a smaller twine/rope like Ballard Design had on theirs (that was the same color as my larger rope) and decided to do the white instead.
I love the contrast so it actually worked out very well! :)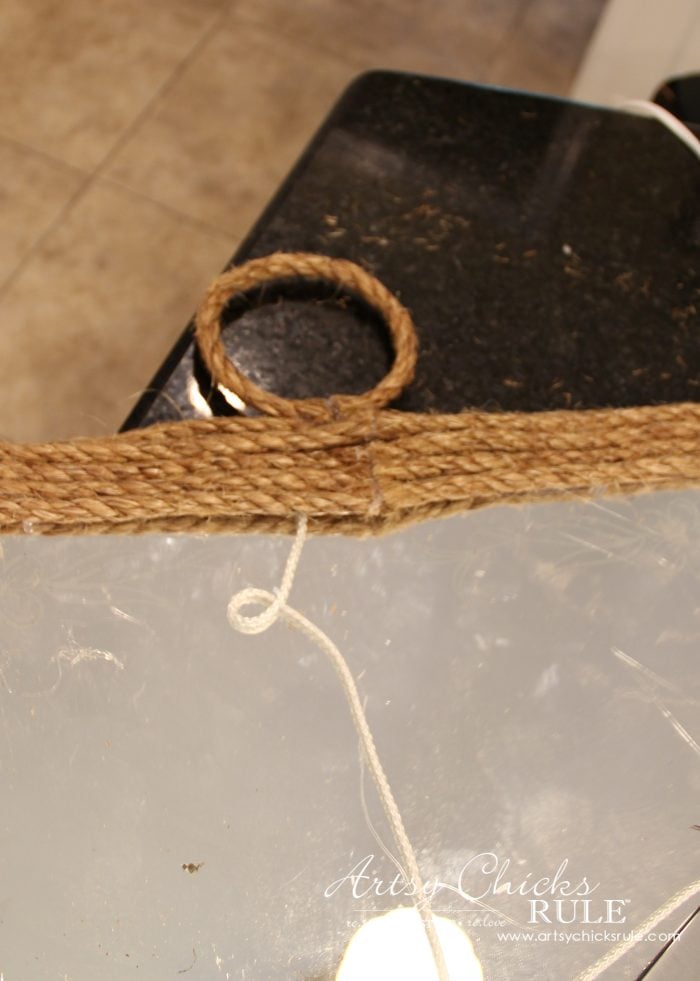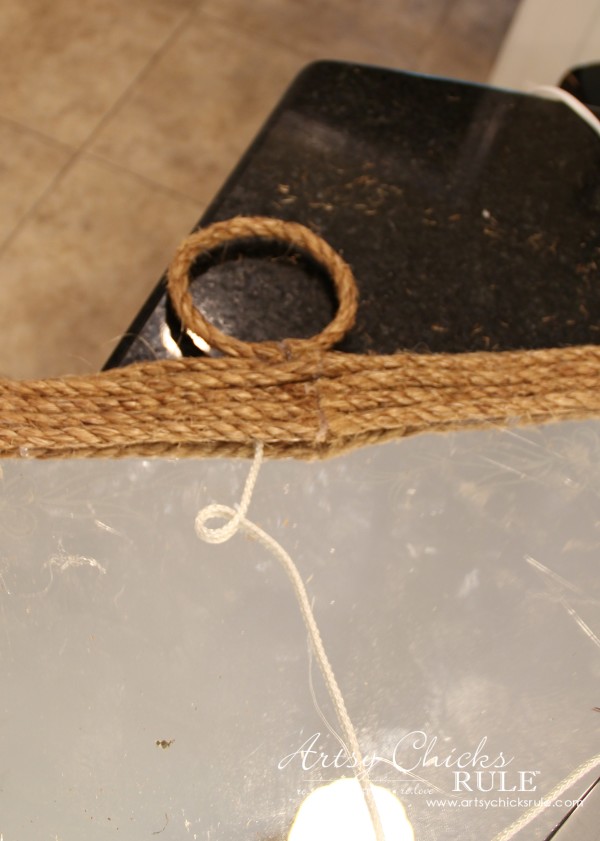 I just wrapped it around a few times and then finished gluing everything down into place.
Then I glued one strand of the white all the way around the inside.
That's it!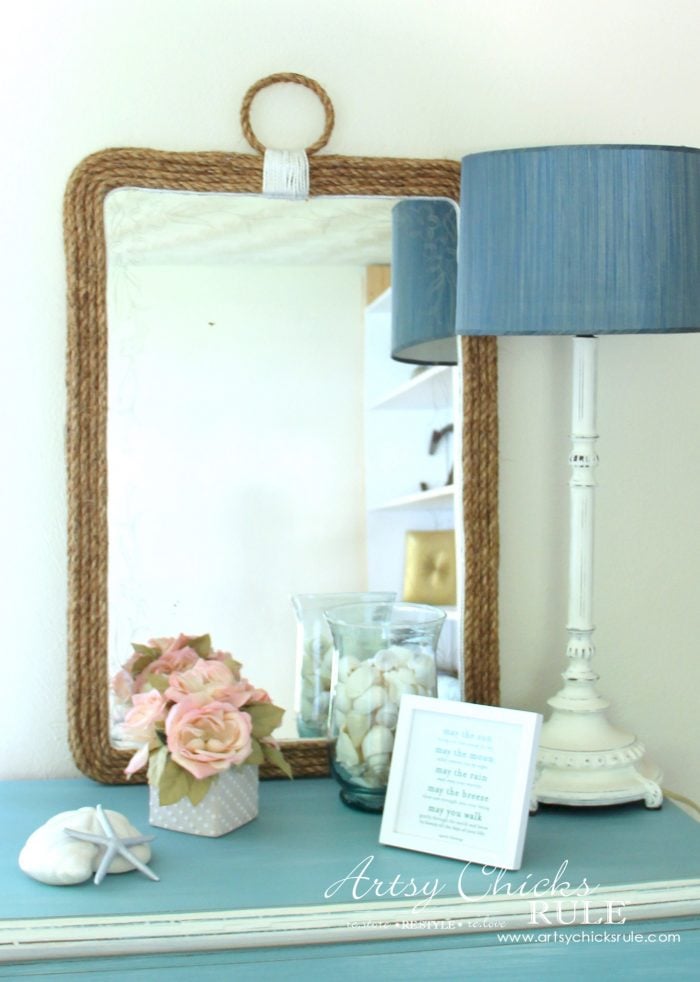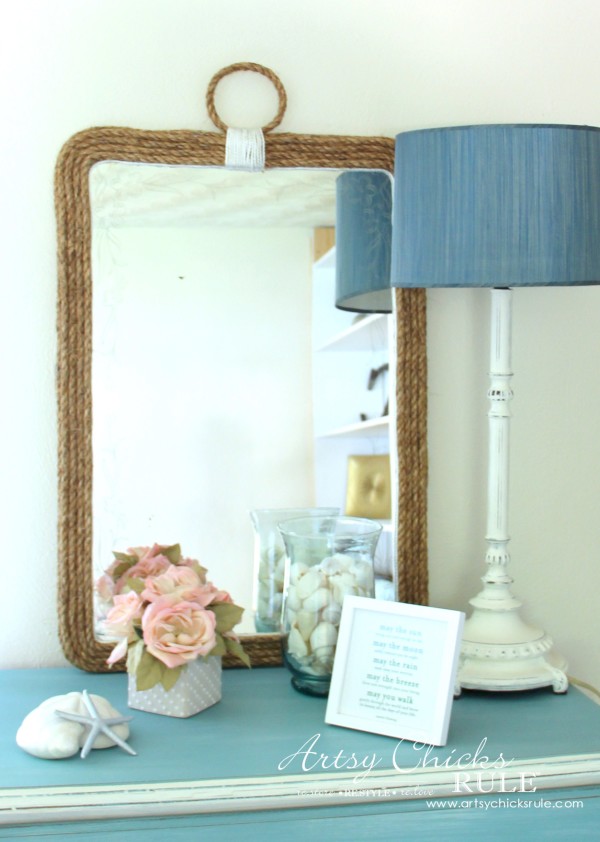 All done. I didn't attach a hook for the back since I decided to just set it on the chest.
But you can add screws with wire along the back to hang.
I would suggest that style of hanger since it did end up being pretty heavy.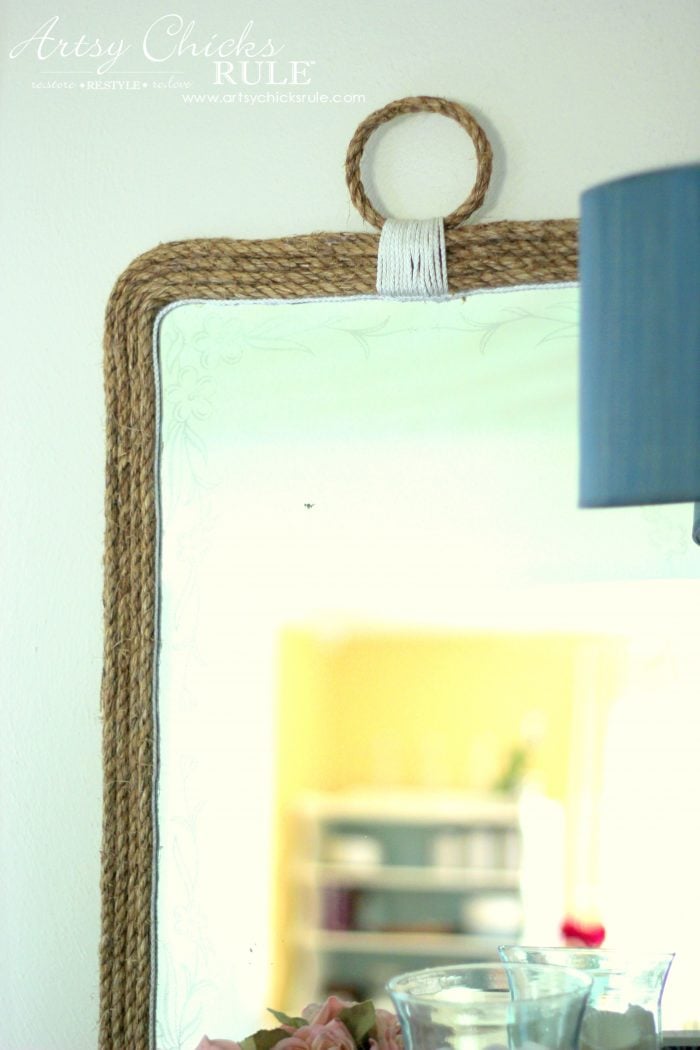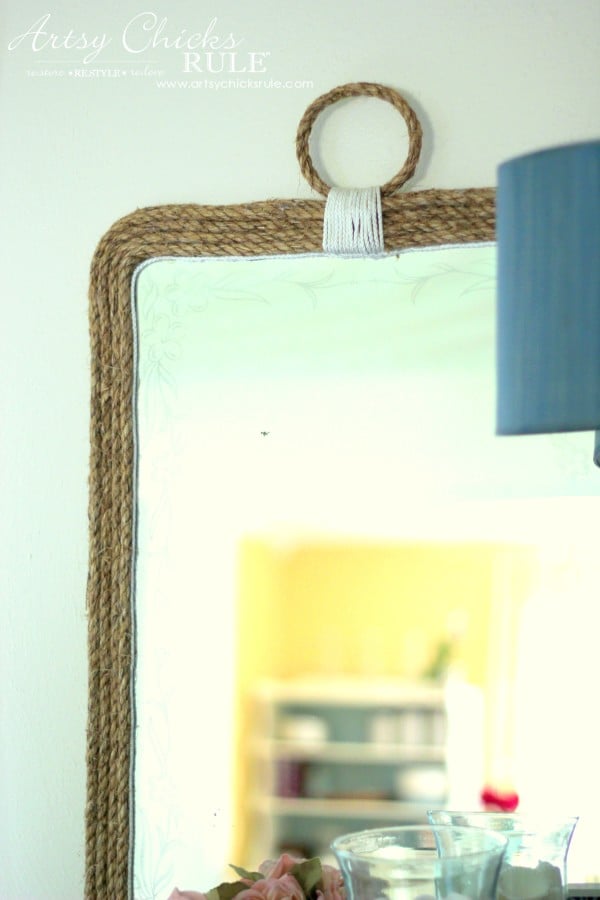 I just love how this turned out….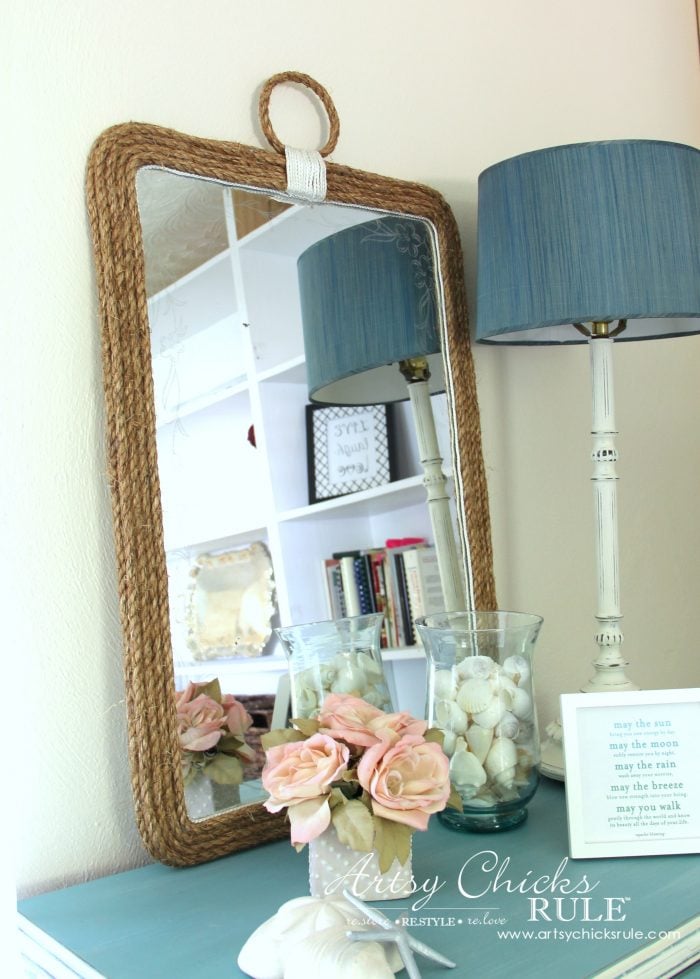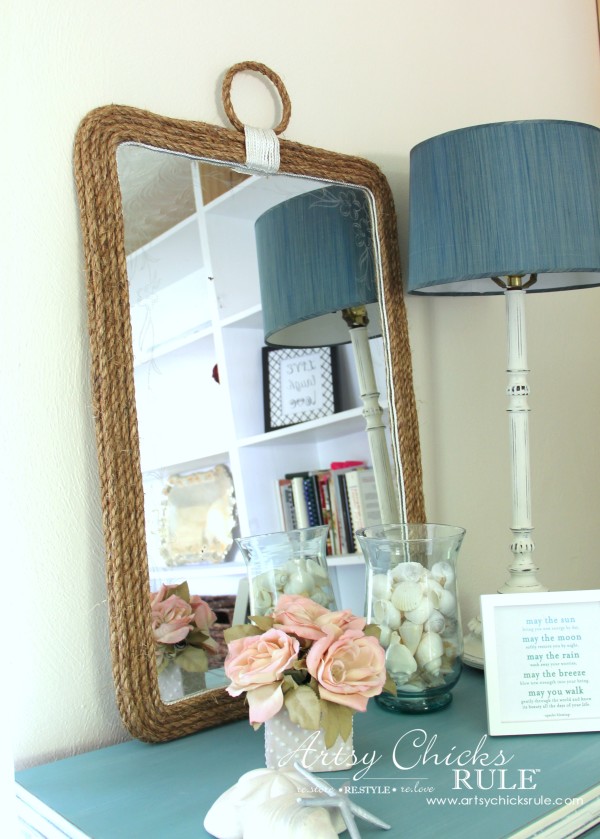 And it was so easy too!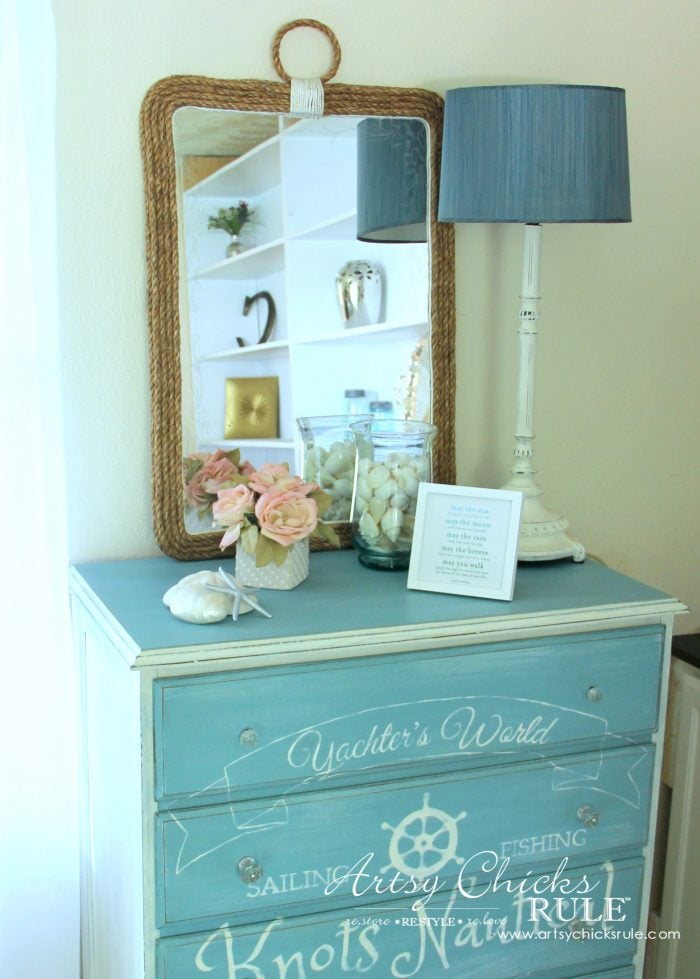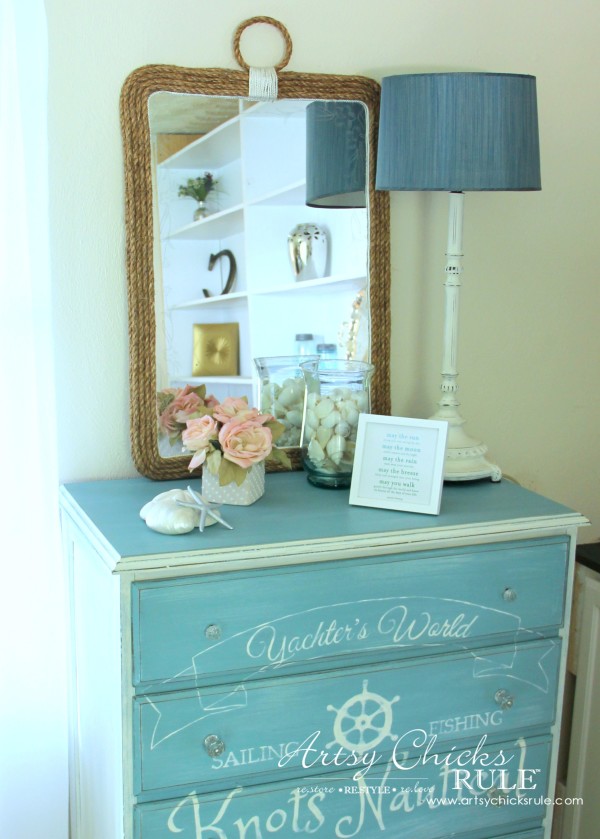 I'm loving it over top of my "Knots Nautical" chest.
You can read about that makeover here (and see how I created that graphic) …. —> Coastal Themed Chest
So, for the cost, I just estimated price of each rope and the amount I used.
It is somewhere in the ballpark of $9, including the thrift store mirror.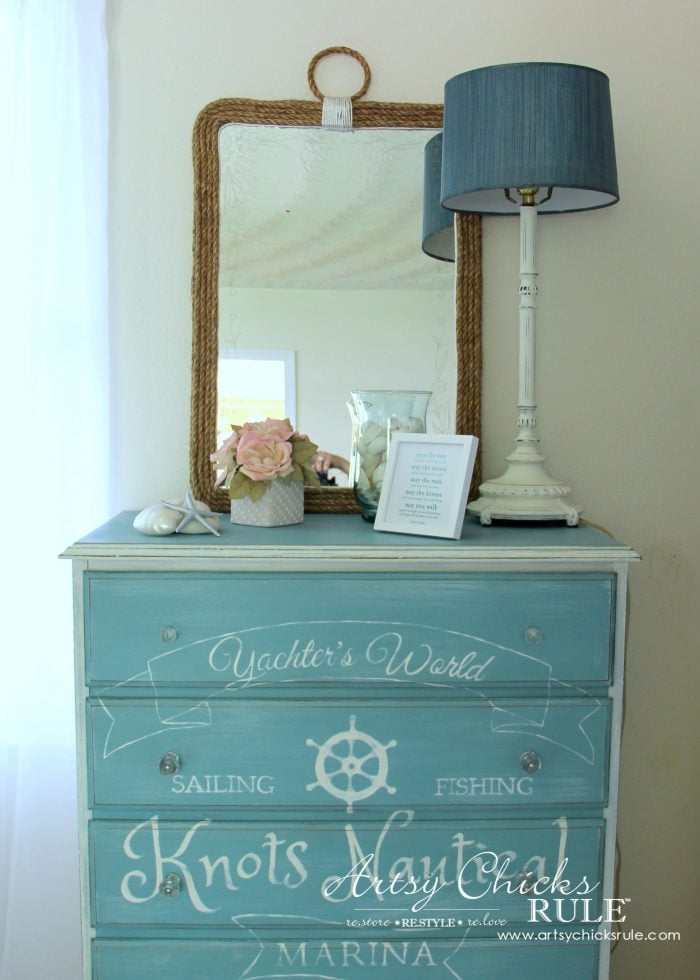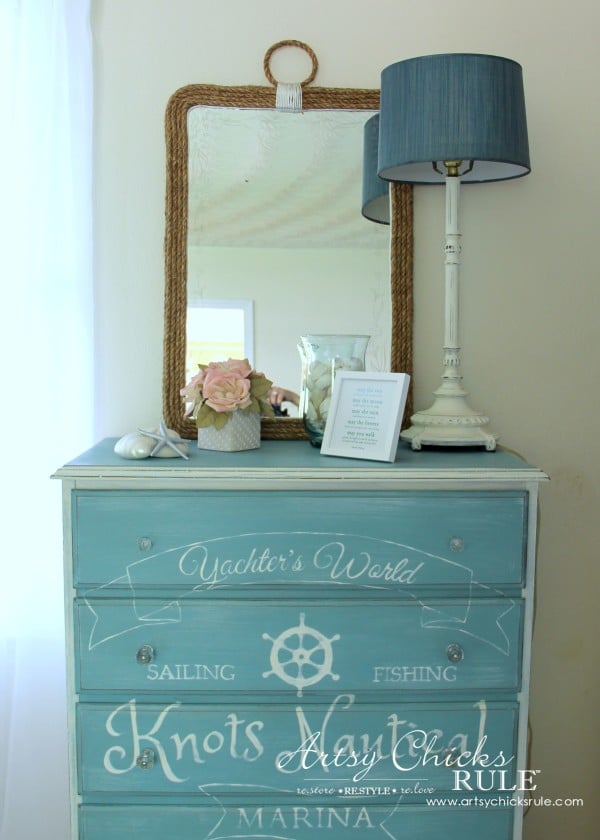 Not bad at all!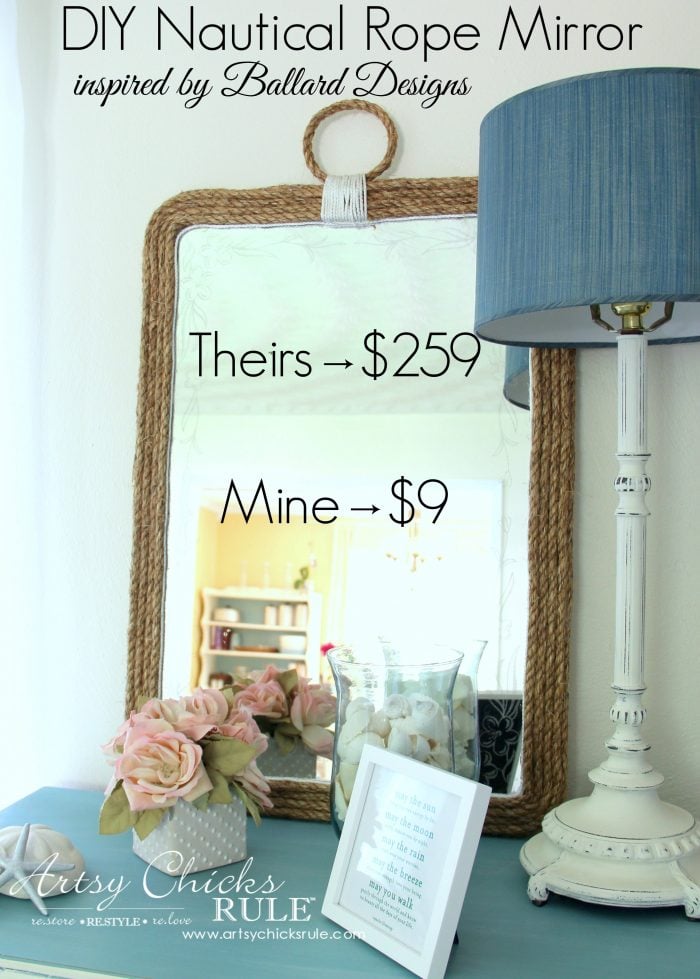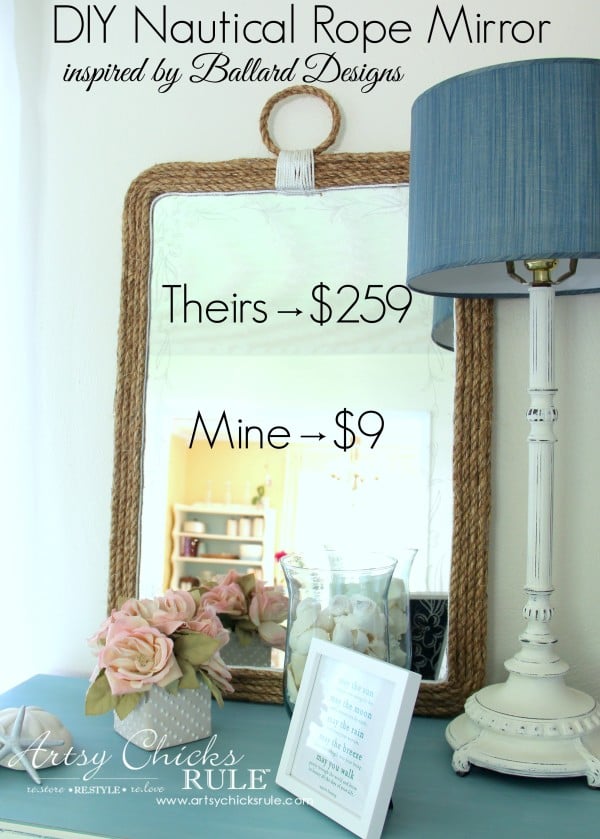 A savings of $250.
That's my kind of thrifty. :)
Be sure to see what has inspired my friends below!
(and check back in tomorrow for —>> some seashell crafts!)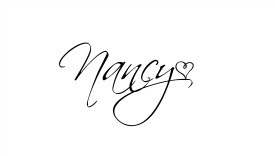 Follow along here! –> Instagram ~ Facebook ~ Pinterest