Dated 70's Hutch – Transformed into a Coastal Shabby Treasure with Annie Sloan Chalk Paint
This post may contain affiliate links. Please see disclosures here.
I just love these old 70's pieces. They're perfect to transform with Annie Sloan Chalk Paint.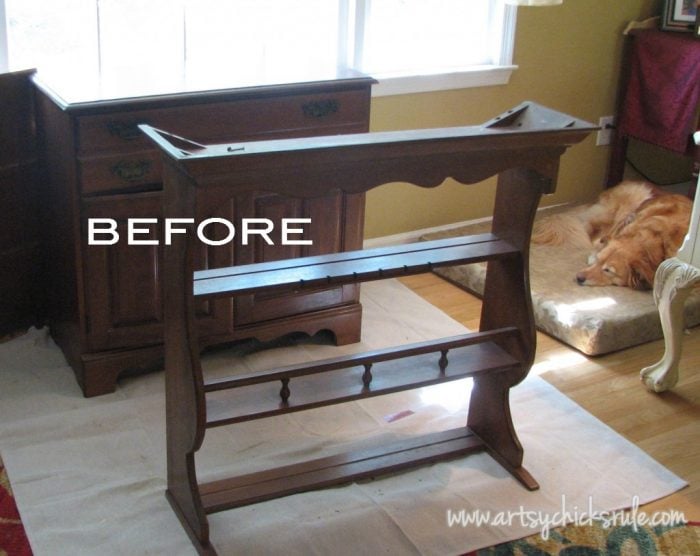 They can so surprise you.
And they make the best "shabby", "coastal" style furnture.
I grabbed this 2 piece hutch from a garage sale….for $35.00.
Solid, heavy, very well made.

And of course, I painted it with the wonderful Annie Sloan Chalk Paint.
Here is a before shot….very 70's, dated.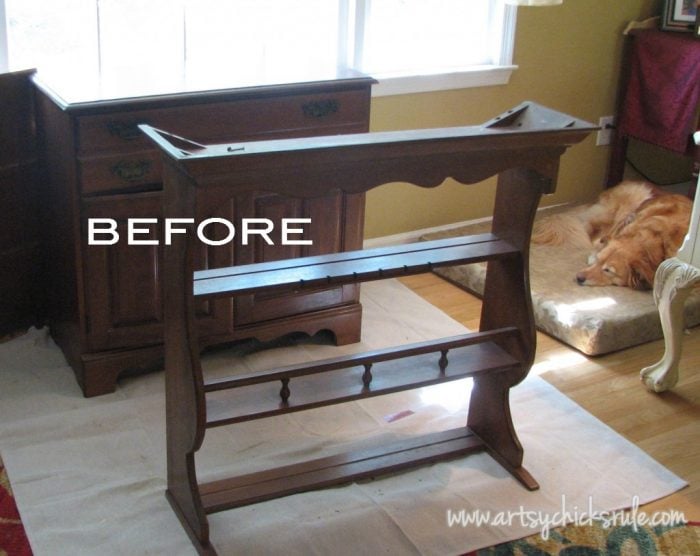 I had already removed the bead board backing to paint when I took this shot.
I was painting it a different color and it's so much easier that way!
Popped it right off and went back on just as easy.
There's my little helper in the background…..sleeping on the job. ;)
I mixed up some Annie Sloan Chalk Paint and came up with this really
pretty pale blue color. Very similar to Louis Blue.
(please don't ask what happened to the rest of this batch I had mixed up….
quite a large amount….that I had stored in a glass jar……. :( )
Yep, a large section of my garage floor is now a lovely shade of chalk paint blue. ;)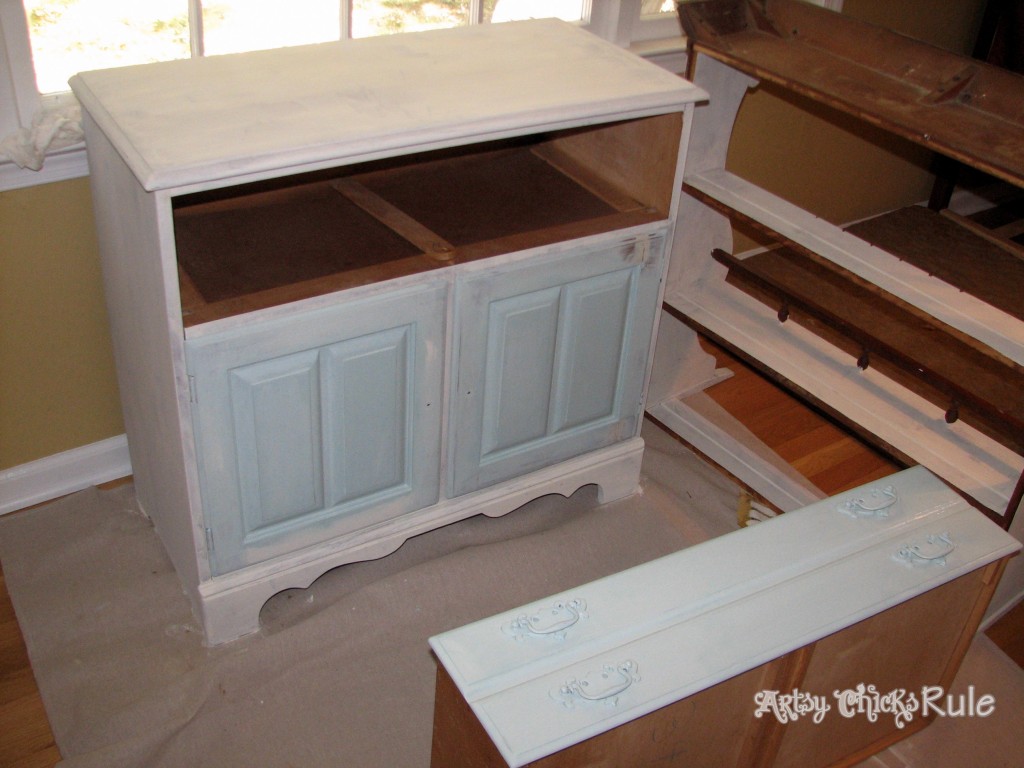 And I used Old White for the rest.
As it goes with any creative process….I had thought I would paint the entire door blue.
Nope.
Didn't like that at all.
So I went back and painted around the edges with Old White and just left the
inset of each blue.
Like so…..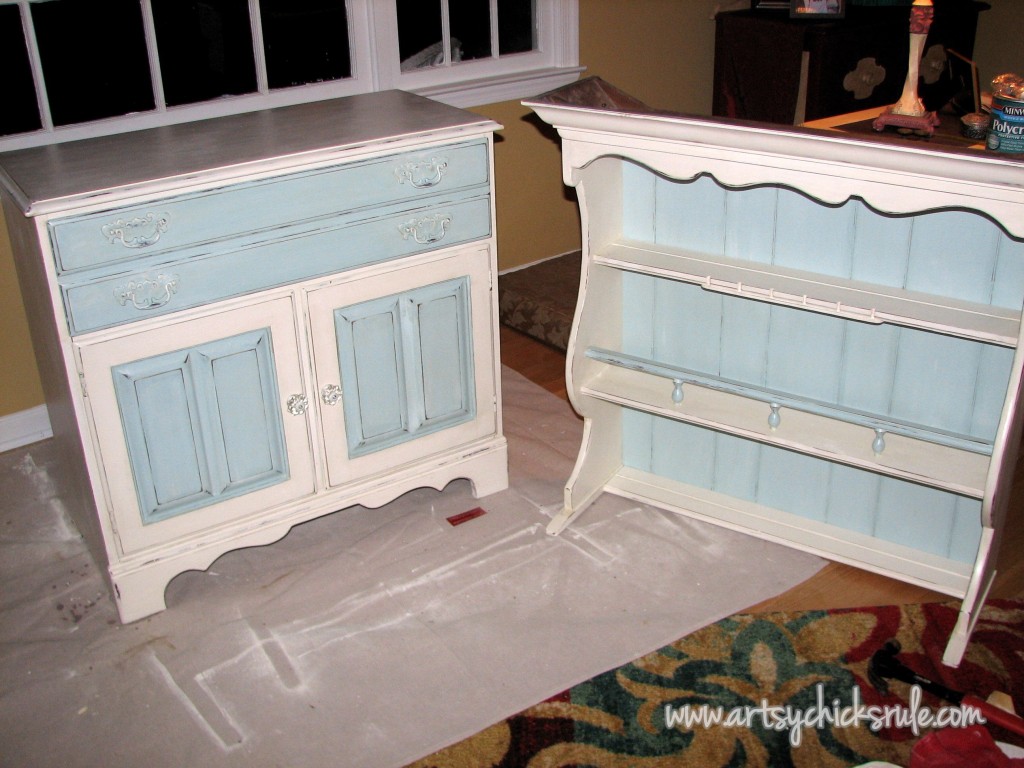 And back together…..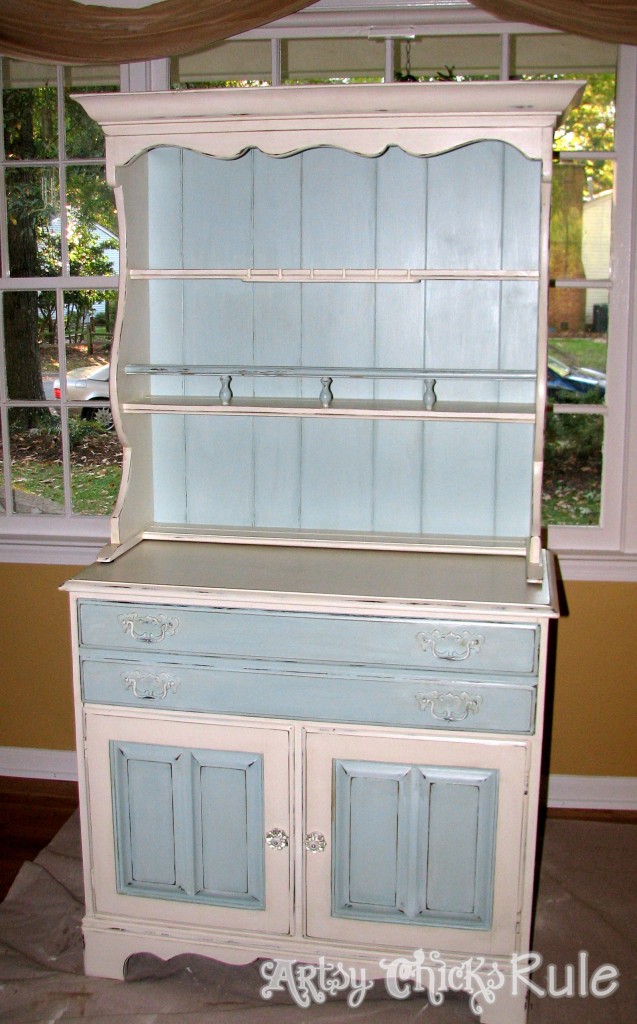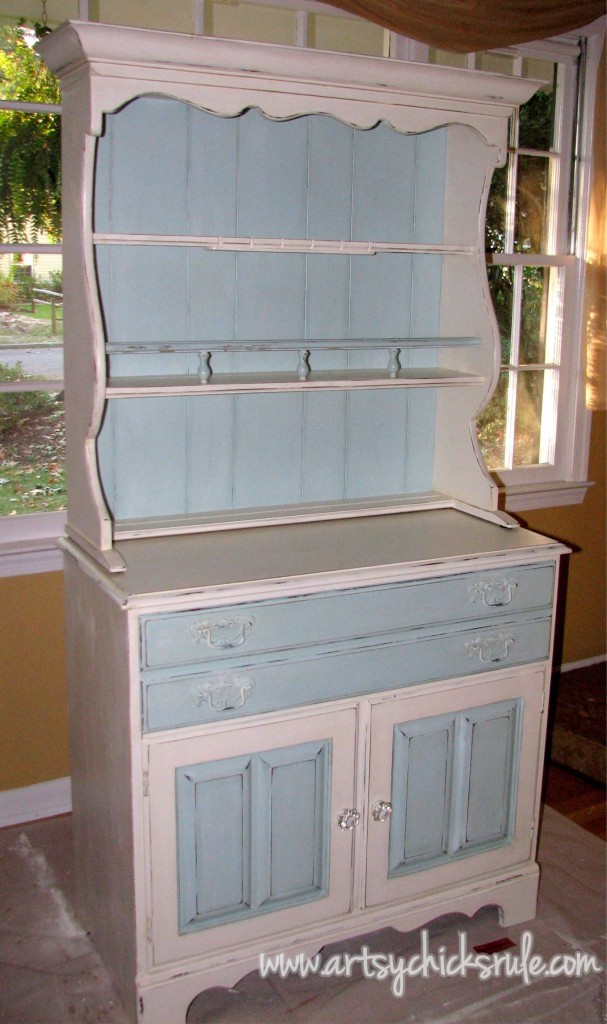 Want to know about 26 other chalk style paints?
I've got the low down for you right here! >>> 26 Types of Chalk Style Paint For Furniture
I loved this piece….to pieces. Really.
I almost didn't let it go to the shop but sadly I had no room for it.
My sweet husband said…"If it stays, something has got to come out…"
Hah! He was right, of course.
And I actually considered exchanging out my "Antique Dresser turned
Coffee Server" in this post here for this piece.
But I didn't!
I had a hard time leaving it at the shop and considered going back to get it!
It's now sold so I no longer have to stress over it. Thank goodness!
Some up close detail….
I sealed the Chalk Paint with Poly.
I sometimes do that instead of wax depending on the look and finish I'm going for.
The handles…….I just love how they turned out.
I dry brushed them and the doors with a touch of the white, before
distressing a bit, to get this look.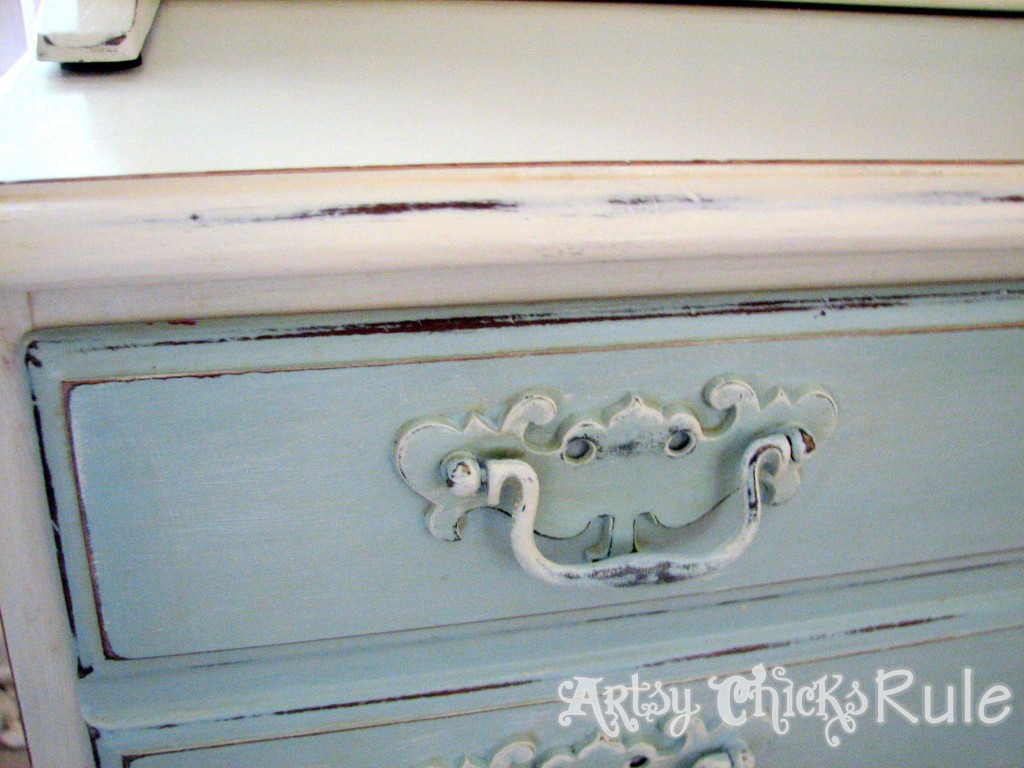 I added glass knobs to the cabinet doors….sigh…..
(the metal area of the glass knobs were silver but I also painted those parts
with the Old White chalk paint and distressed a bit)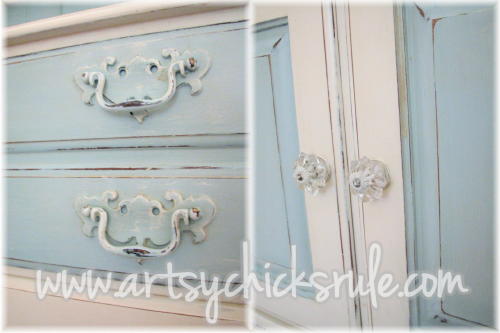 I'm sad I didn't get to keep you pretty blue hutch.
But I'm glad I was able to bring you back to new life!
Re-stored, Re-styled and now Re-loved.
One of my favorite pieces.
I just LOVE the transformation.
It's like the best present ever seeing it finished at the end. Nothing better!
PIN it to save it!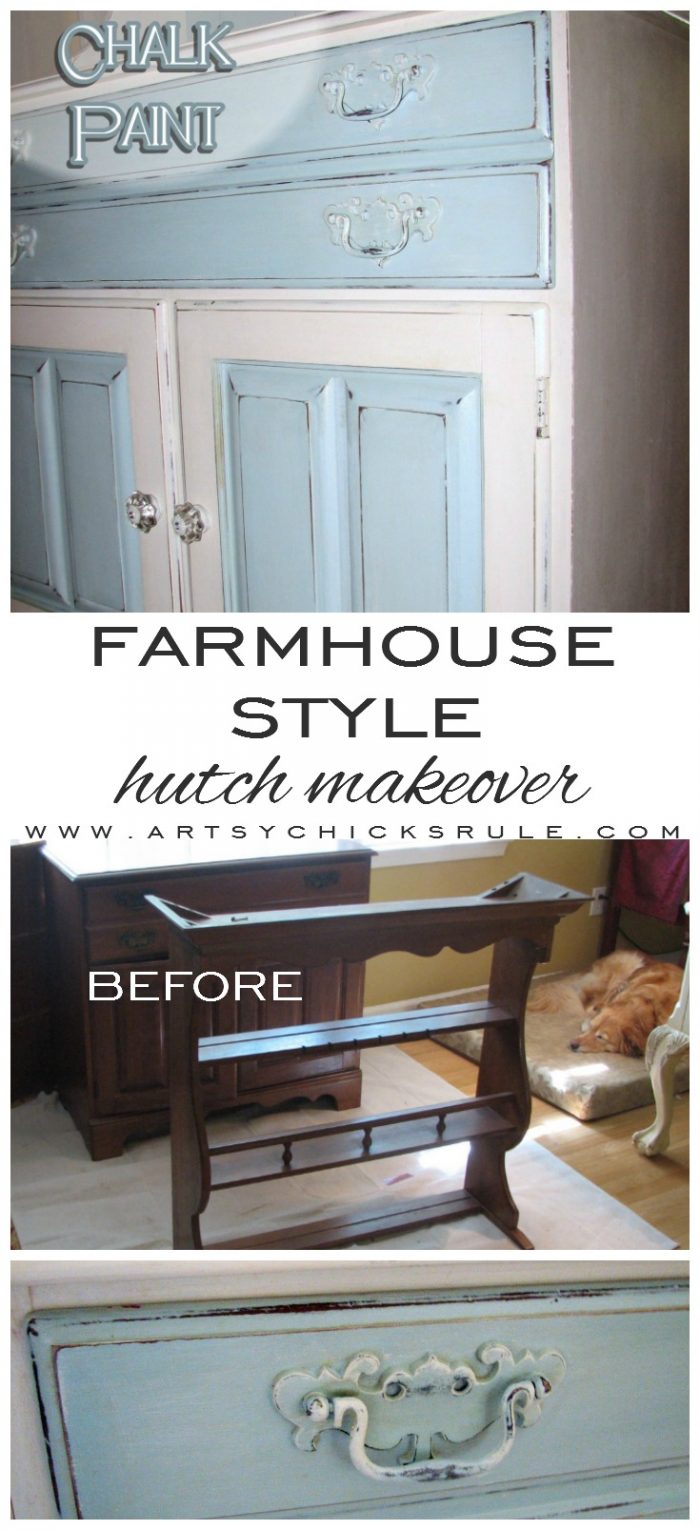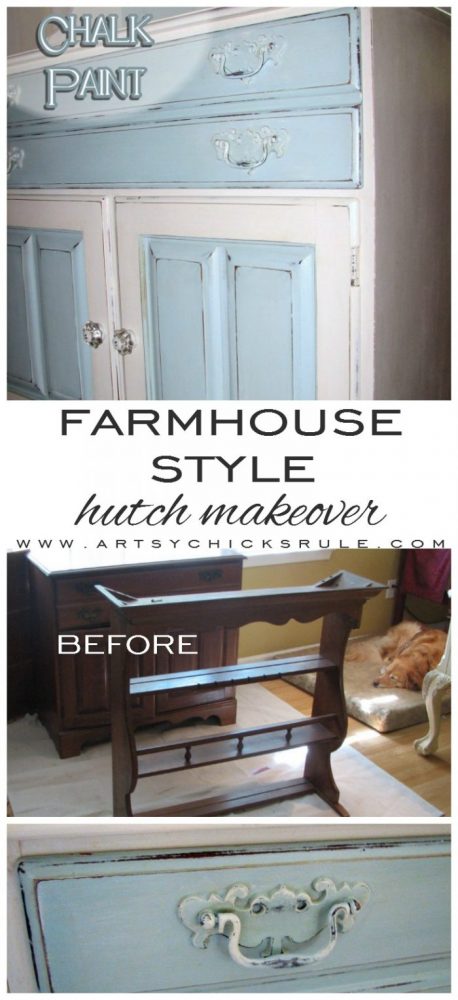 Do you have an old piece like this?
Ready to paint it and turn it into something fresh & new??
Be sure to check in next week to see what I did with this old thrift store find!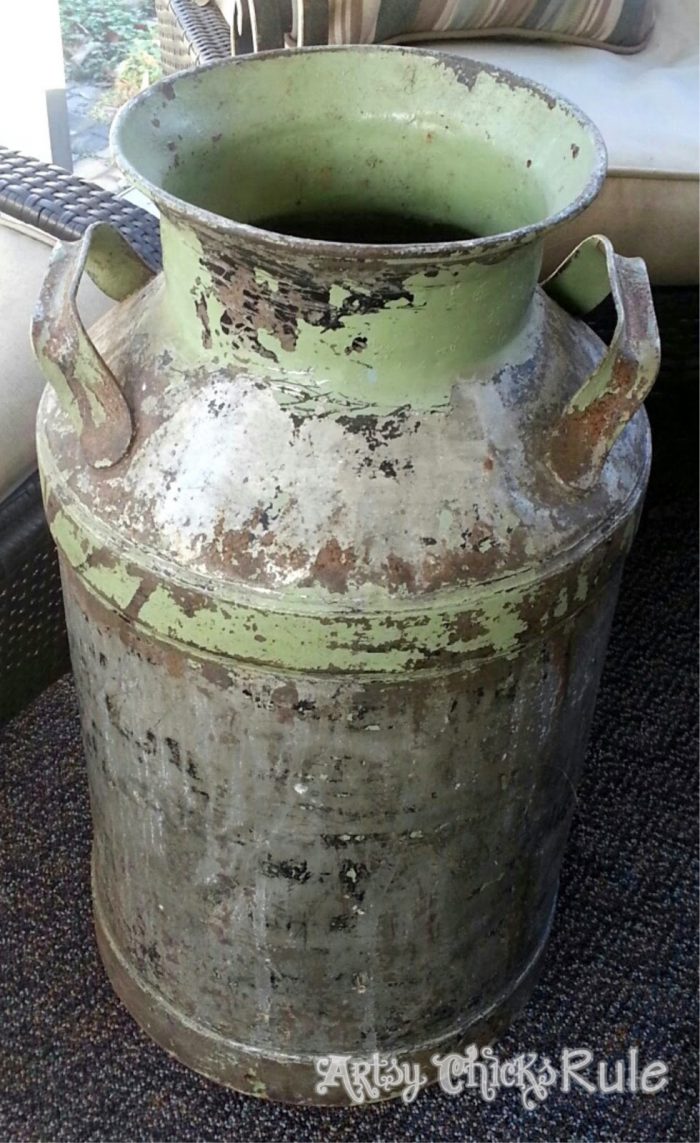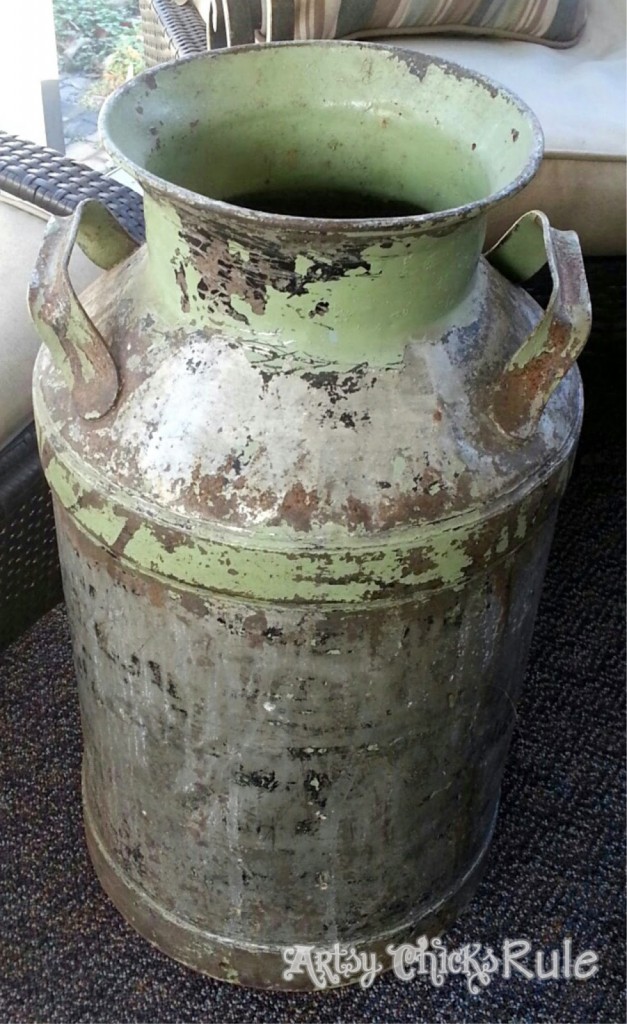 UPDATE!! You can see it now, here!
xo