Coastal Blue & Antique Walnut Gel Stain Dresser
This post may contain affiliate links. Please see disclosures here.
Letting this little Goodwill dresser shine with a full General Finishes makeover using Coastal Blue Milk Paint and Antique Walnut Gel Stain.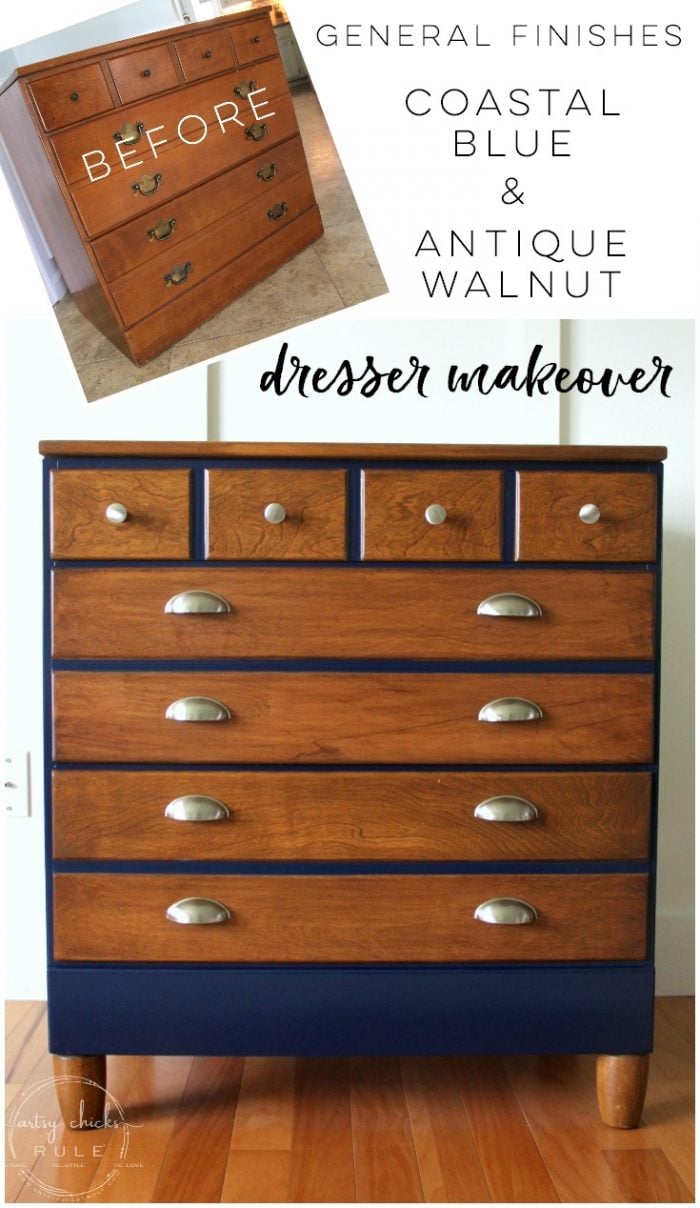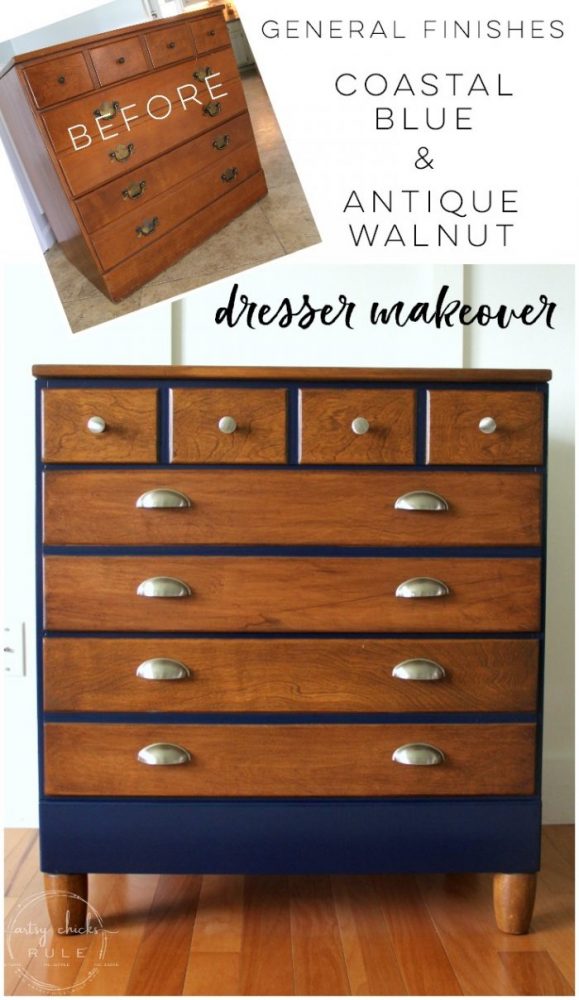 I'm so excited to be sharing this sweet little dresser today with my Trash to Treasure Transformation girls.
They'll be sharing their makeovers all the way down at the bottom, so be sure to scroll down and then hop over and see their treasures, too!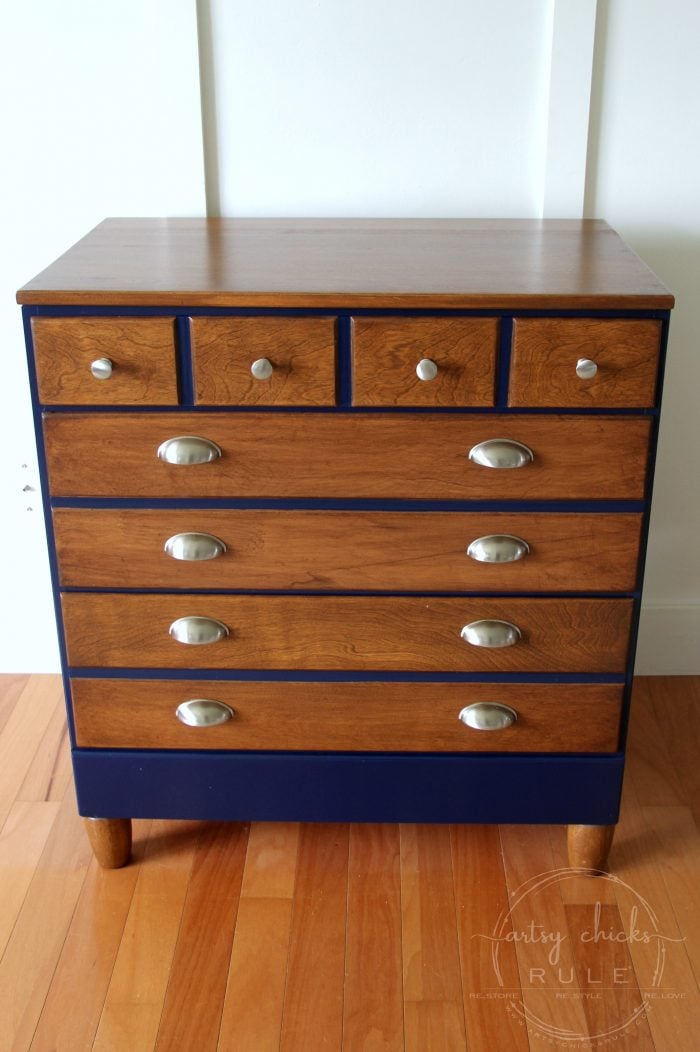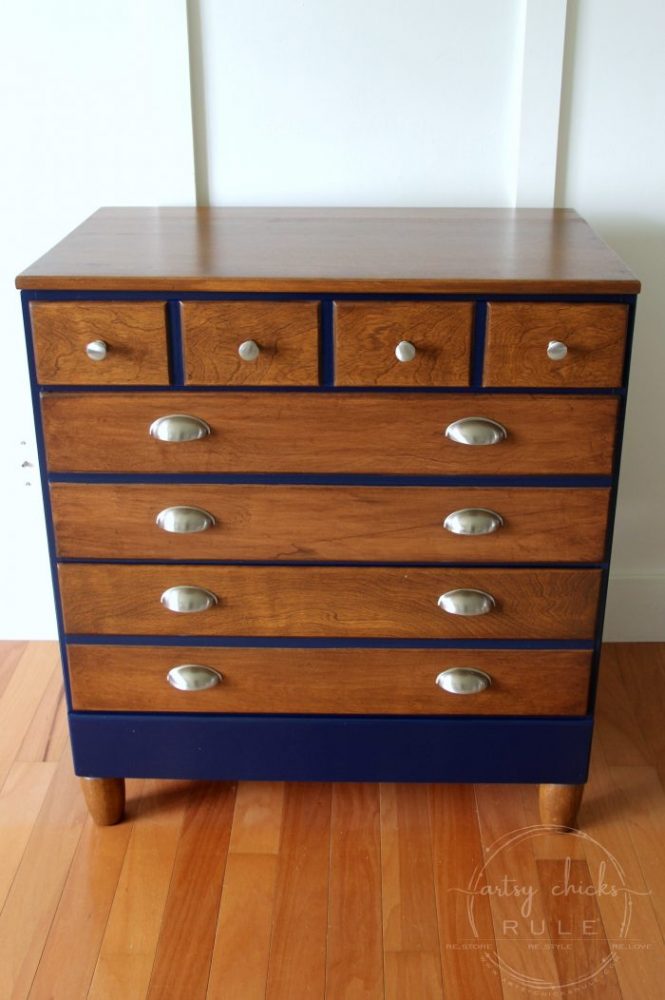 Here's what this poor, sad little dresser looked like when I found it…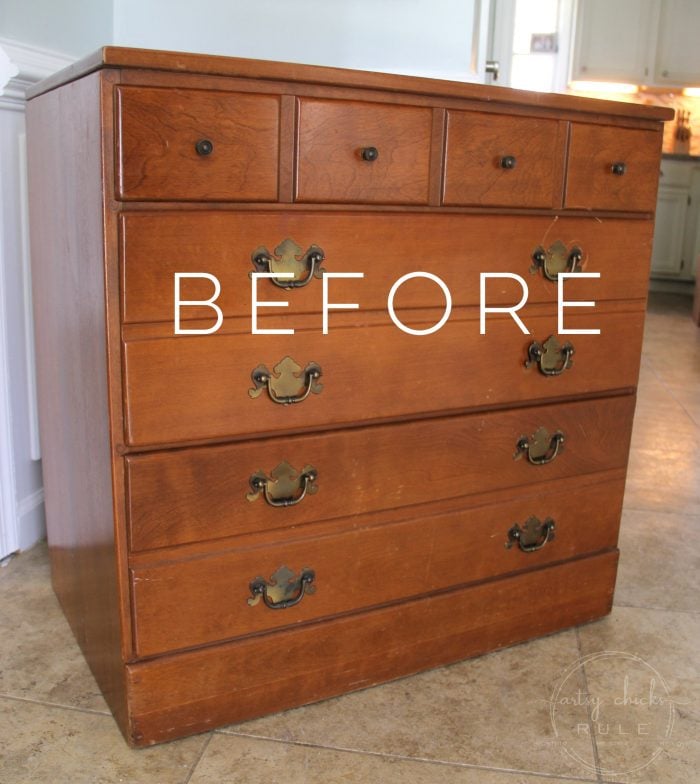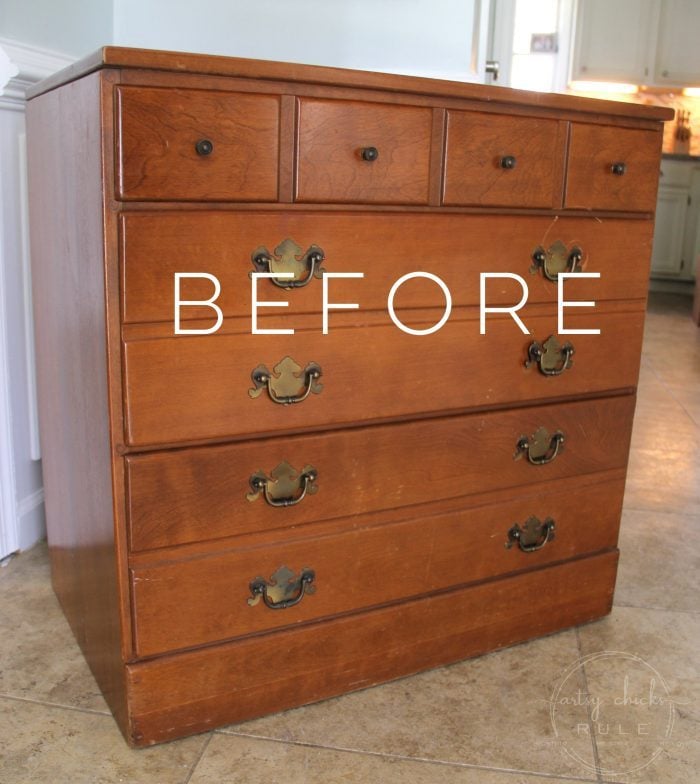 Not terrible but a little beat up and definitely dated.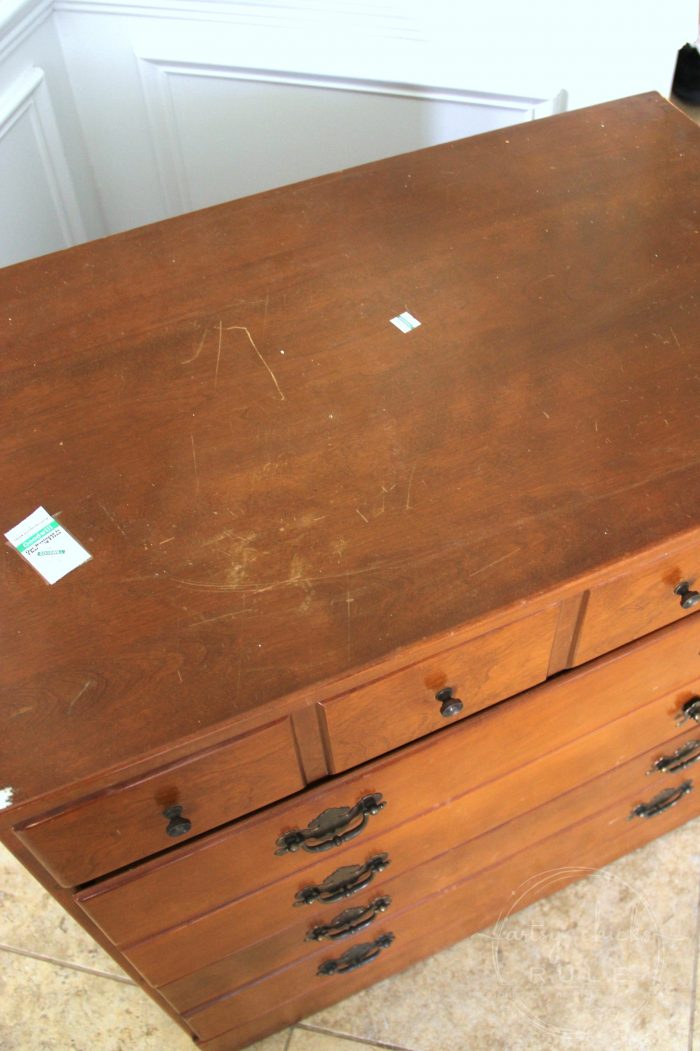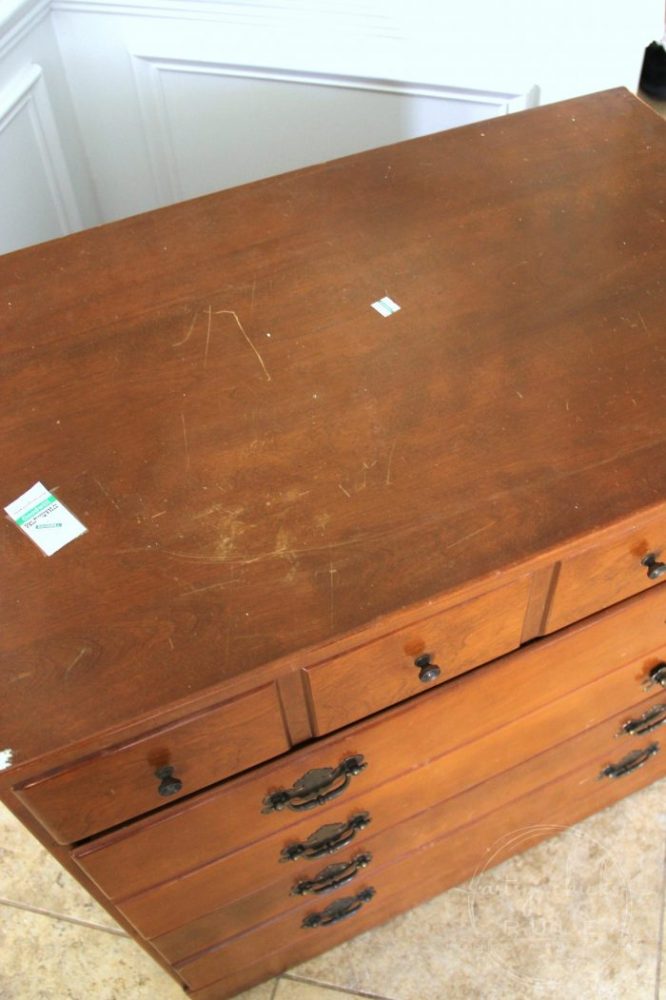 I paid $21 dollars for it….in 2015!! Yep!
It still had the "sold" tag on it from when I bought it with my name, number, and date to be picked up.
I told y'all I have a storage unit (or 2) full of furniture to make over. I wasn't kidding one bit.
This is one of them.
I did really wait on this one for a while because I had considered making this one a "card catalog" look-alike.
But that never worked out so I decided to finally give it a proper makeover.
So I put on the thinking cap and got busy…sitting in front of it and staring at it until something came to me.
And this is what I saw…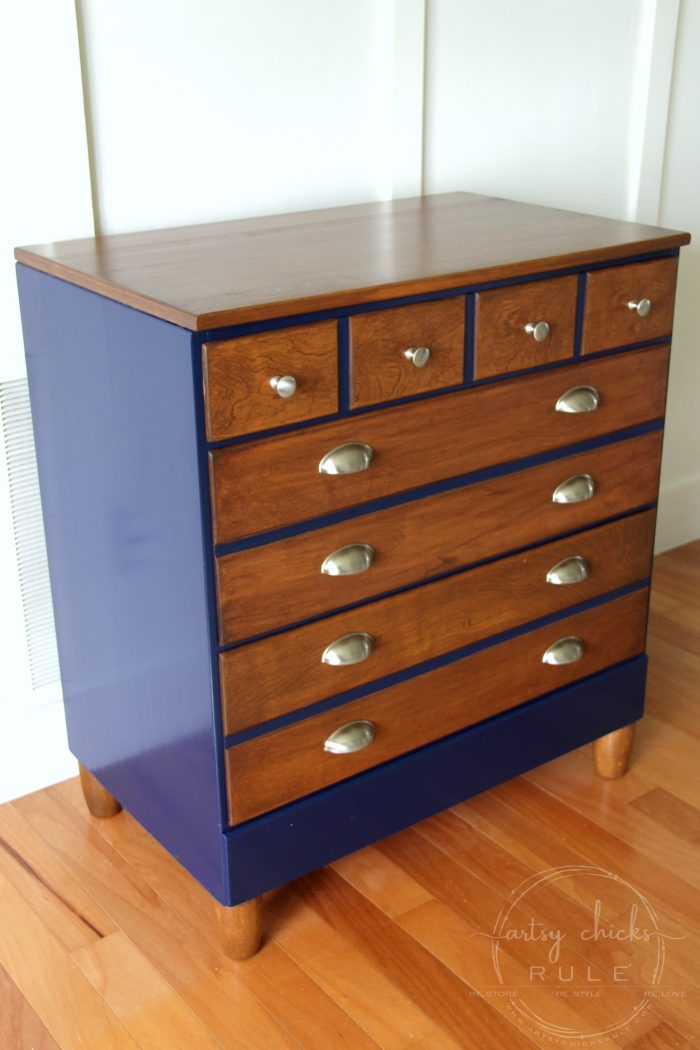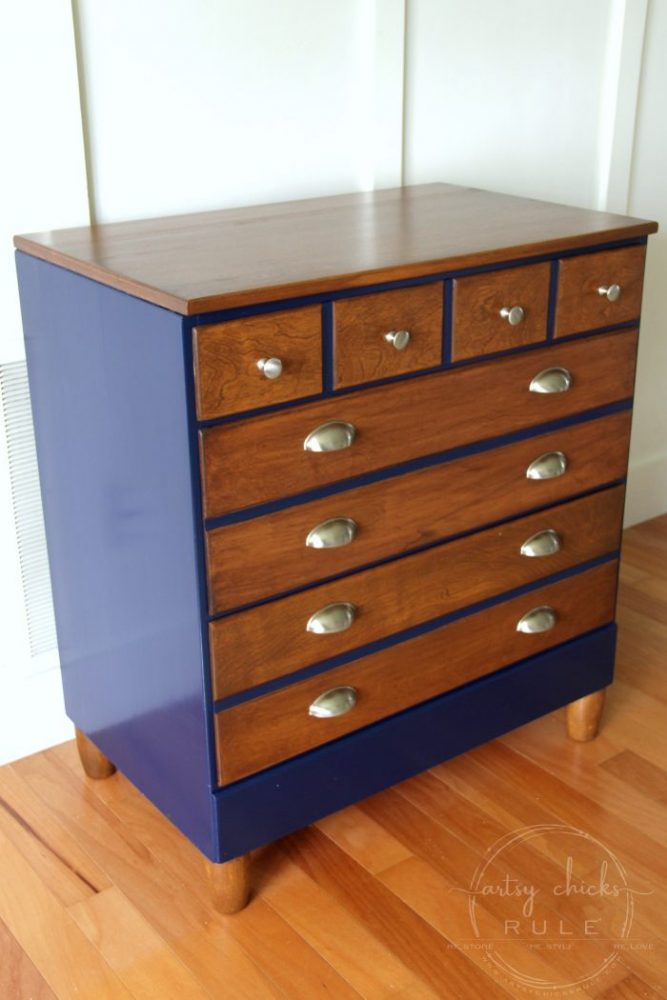 Painted base, stained drawers, and top.
So I got busy with my favorite poly/finish remover, Citristrip.
And this is what I was left with after using that…..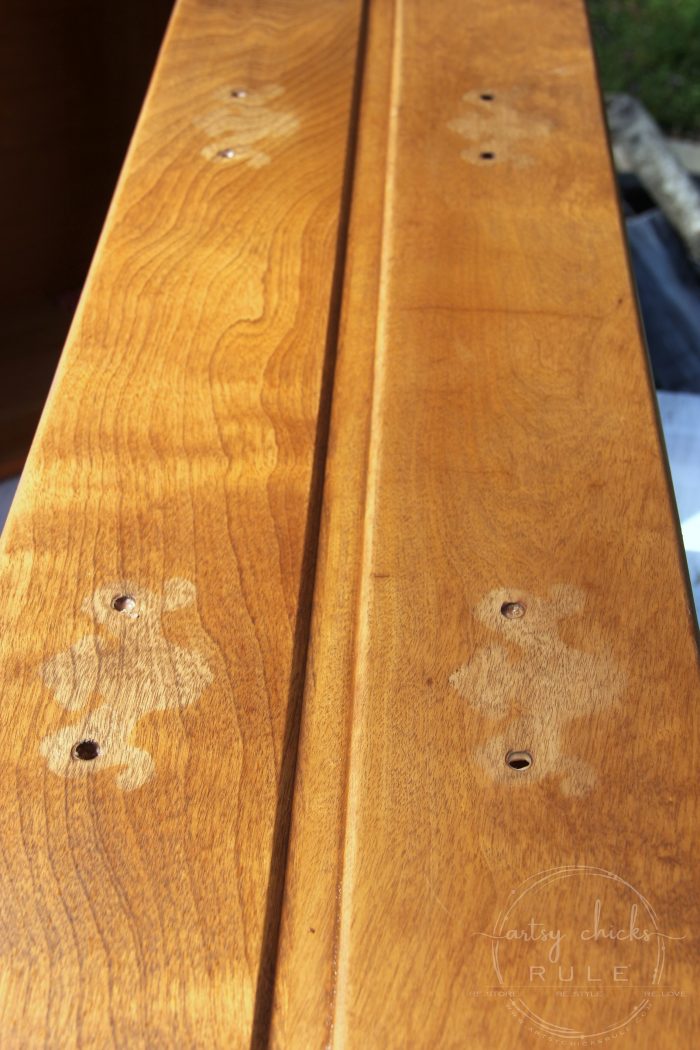 The wood was lighter where the handles were. :(
I had originally thought I might use Java Gel Stain so didn't need really need to make the drawers too light. (so no sanding)
BUT…this was not going to work because I was not planning on using the same hardware. Boo.
So I started sanding.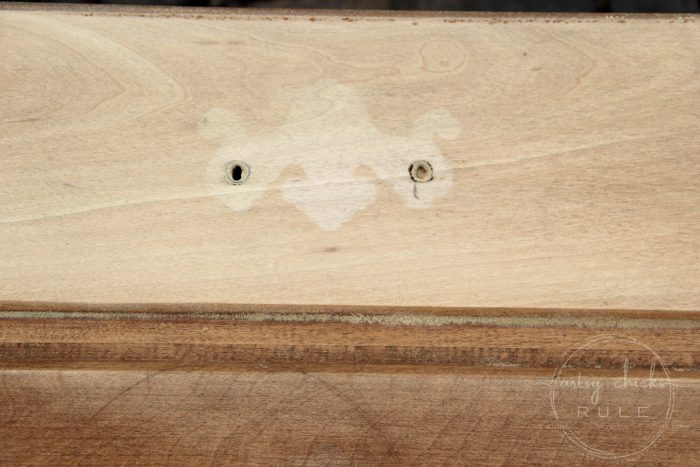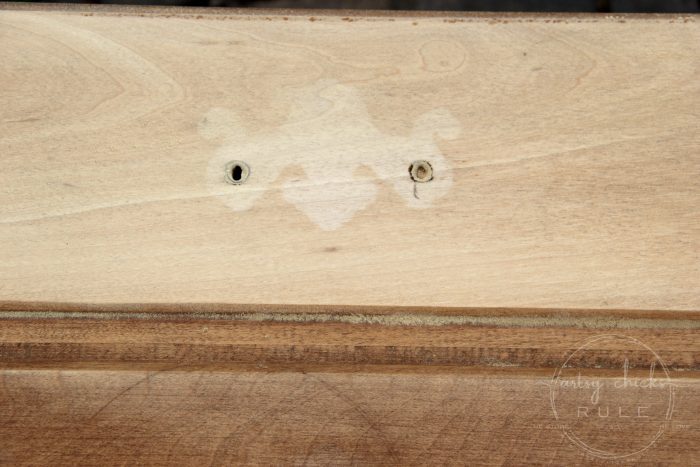 And those suckers were stubborn. Ugh!
If you follow me on Instagram, you might have seen my stories this weekend. lol
Want to see some of these projects in "live" time? Hop on over and follow along with me on INSTAGRAM. I'm always sharing in my stories as I'm doing projects, finding new furniture, fun finds….just all the day to day behind the scenes.
I posted all about this over there….and how my sweet hubby came to the rescue and saved the day…and my sanity!! haha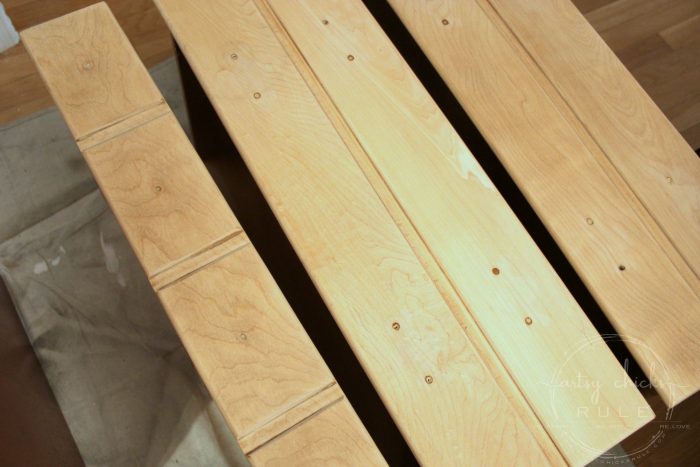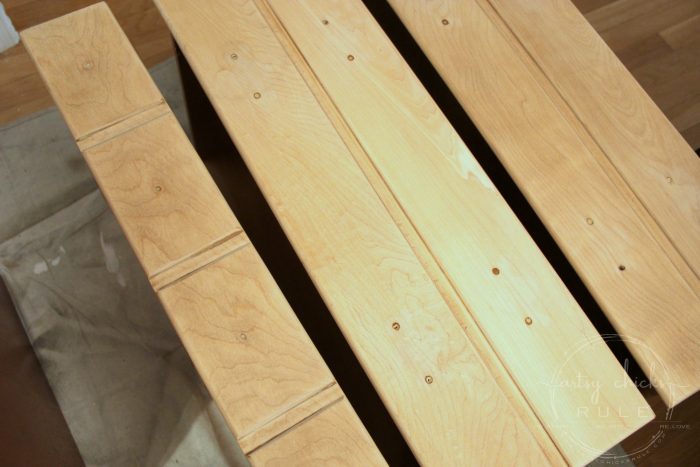 He sanded all the rest for me and mostly removed those pesky handle marks. And I know that was a job.
Thank you, honey!! xoxo
And the top, too.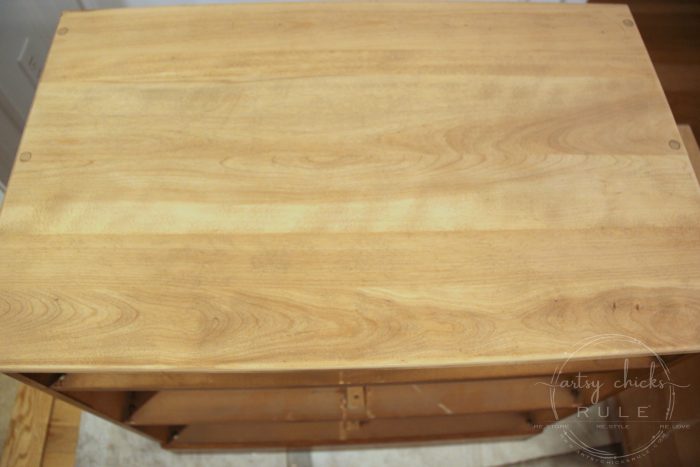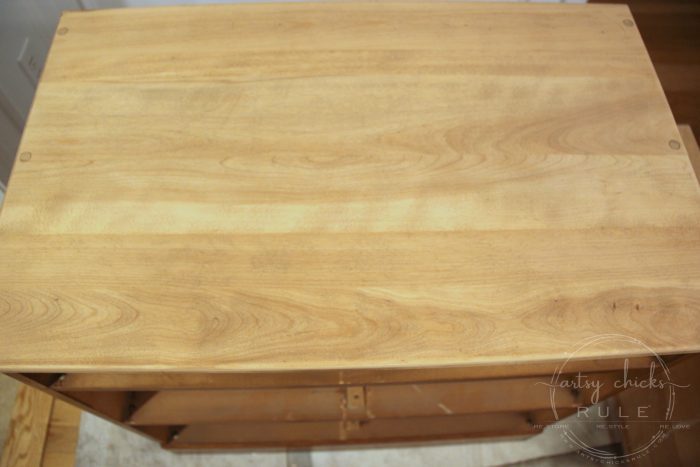 He's a keeper!
Now, here are my thoughts on this dresser, style-wise.
To me, it's always sort of looked "boyish"….and so… I gave it a "boyish" styled makeover.
Coastal Blue is the perfect "boy" blue. I used it on this dresser a couple of years back.
And since that blue is nice and dark, I decided to use Antique Walnut Gel Stain instead of the Java.
I didn't want to go too dark on the wood because I wanted a little contrast with the blue.
I prepped the wood with some pre-stain wood conditioner and then applied a coat of the stain.
Want to know about 26 other chalk style paints?
I've got the low down for you right here! >>> 26 Types of Chalk Style Paint For Furniture
Here is the Antique Walnut Gel Stain applied to the wood…..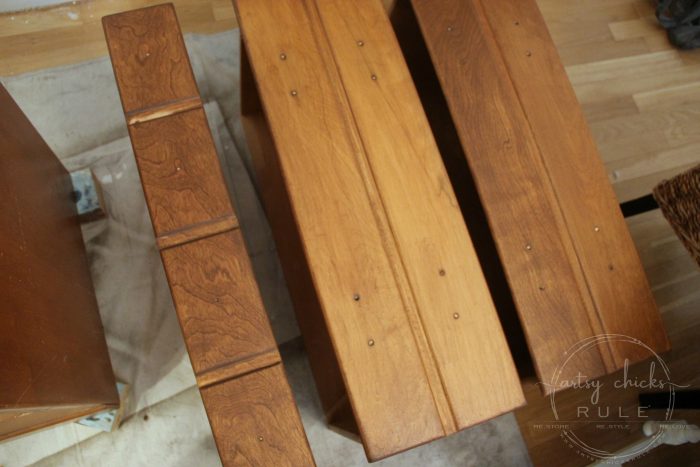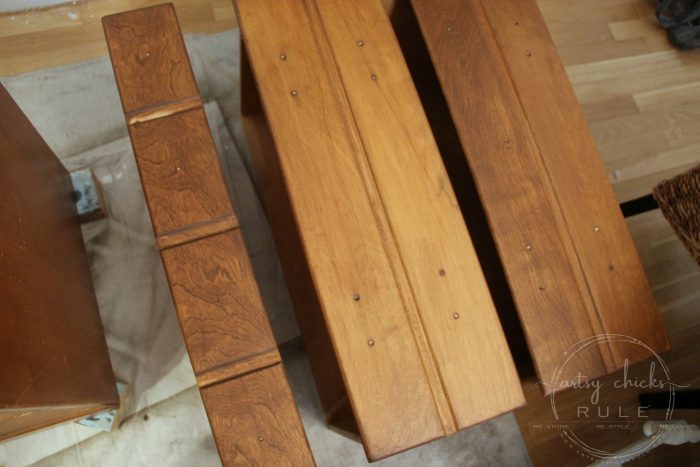 Whomp, whomp…whomppp. Nice, huh?
I had a feeling that the middle drawer was going to be a bugger. (scroll back up and take another look at it sanded) The wood and wood grain just looked a little different than all the rest.
And it was.
Well, that just was not going to do, so I fixed it….with Java Gel Stain.
Magic!!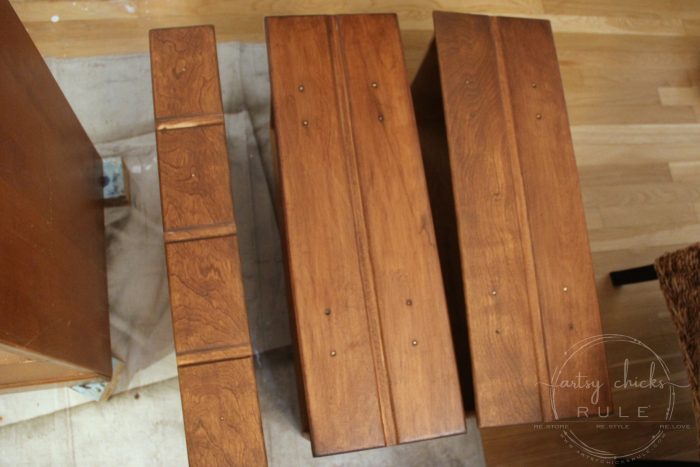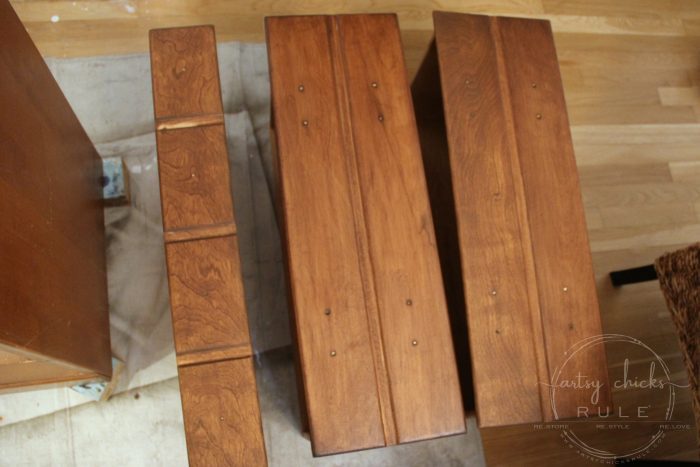 I applied a very light coat onto the middle drawer only. Perfect. Yay!!
Isn't that crazy, though? And I'm SO glad the Java worked…I wasn't sure I was not going to end up with one really dark drawer. But since I had already used the Antique Walnut Gel Stain, it acted as a primer, and only a little of the Java soaked in. Now, I could have gone darker had I wanted to, but obviously, here, I didn't.
Here's the first coat of Coastal Blue….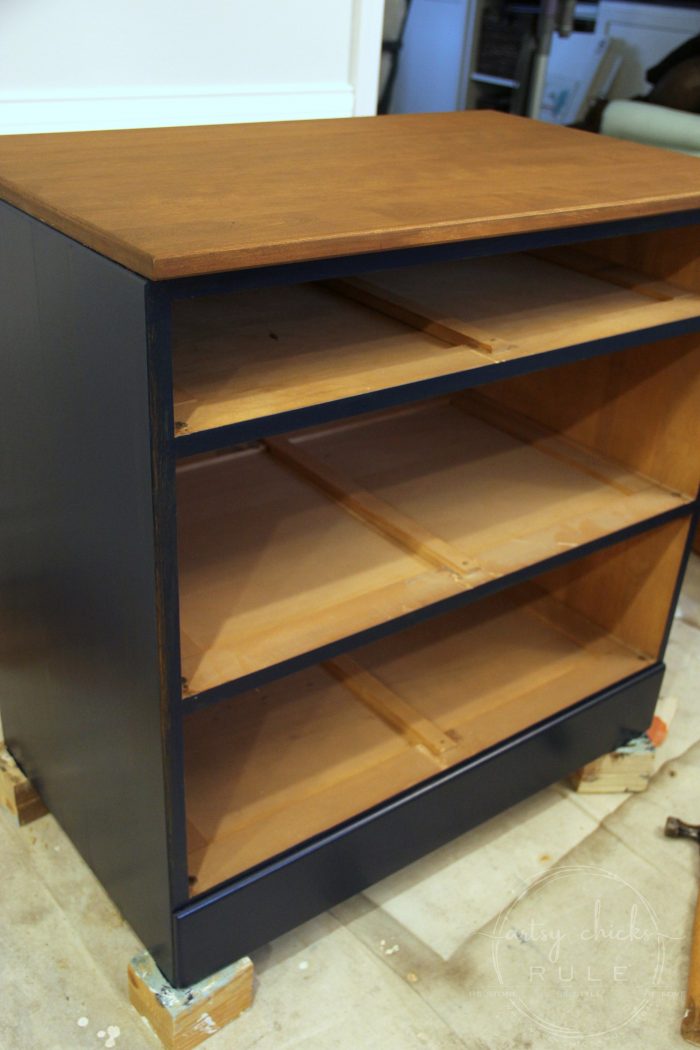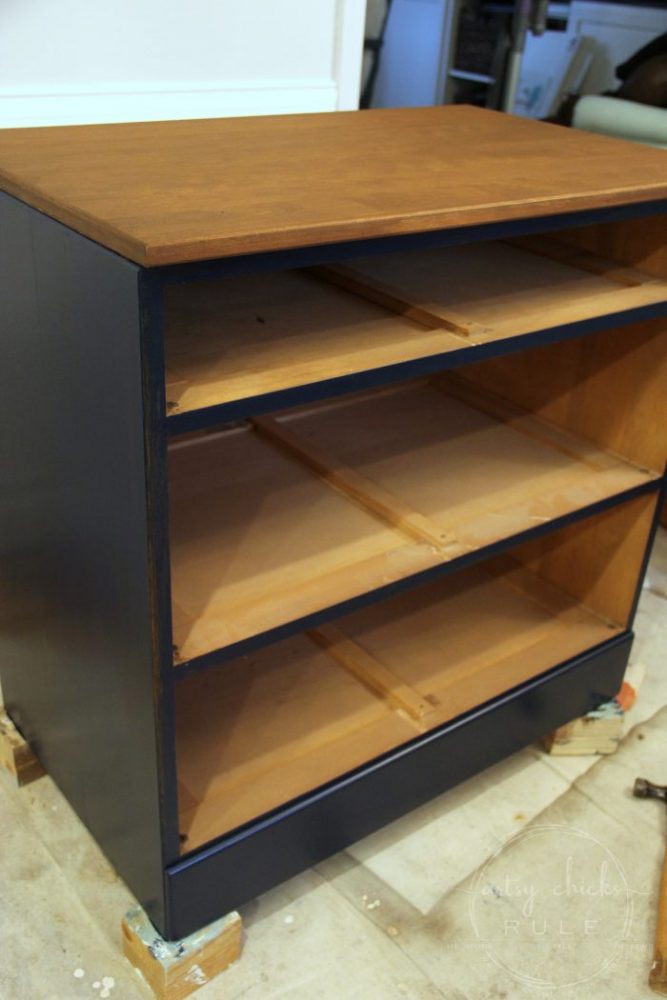 I did 2 coats and then sealed them with 2 coats of High Performance Top Coat.
I didn't add paper or fabric to the insides of the drawers because they were in such great shape.
So much so, that it hardly looked like it had ever been used.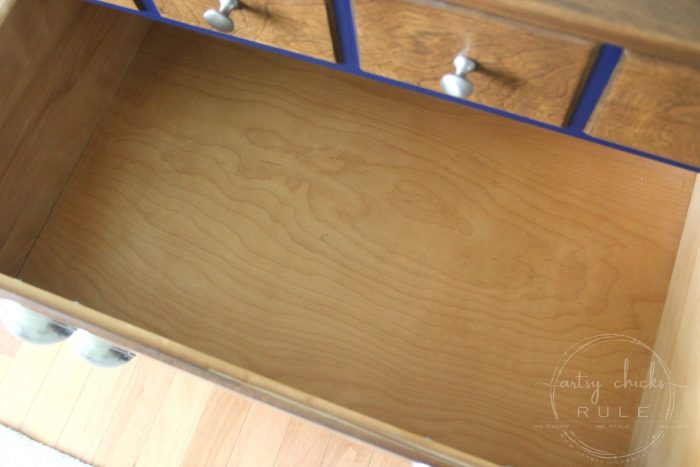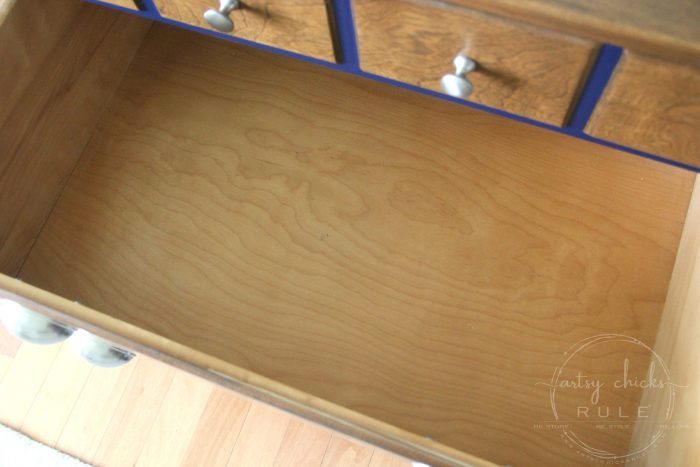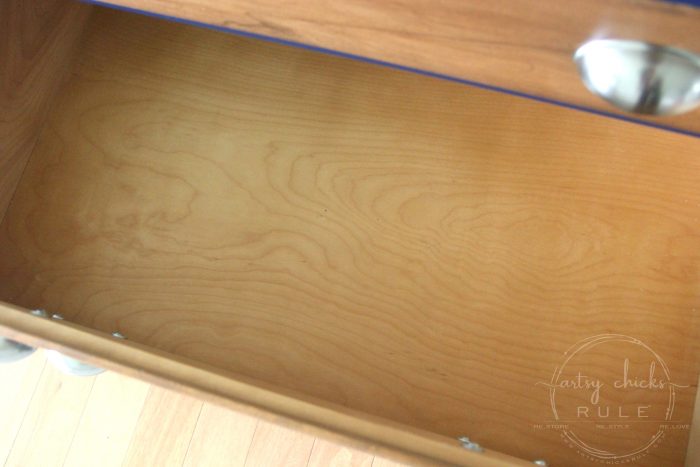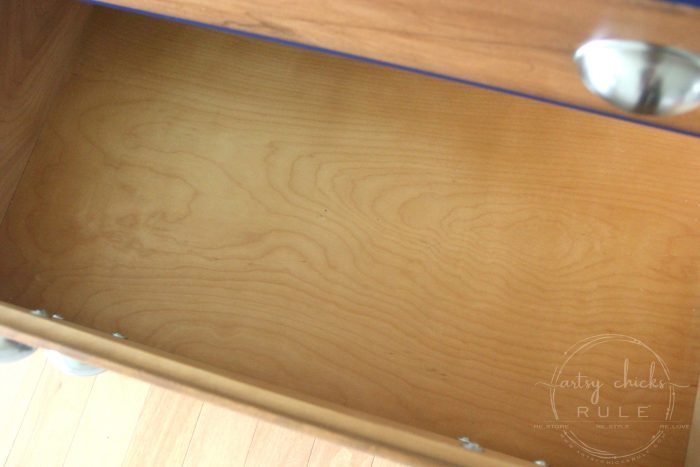 And did I mention this was an Ethan Allen piece?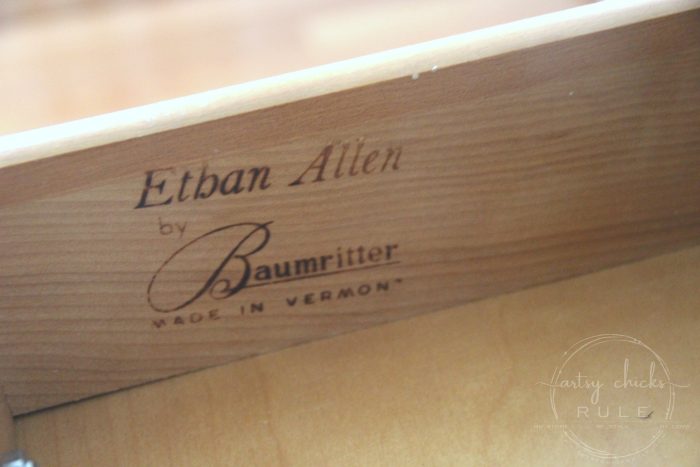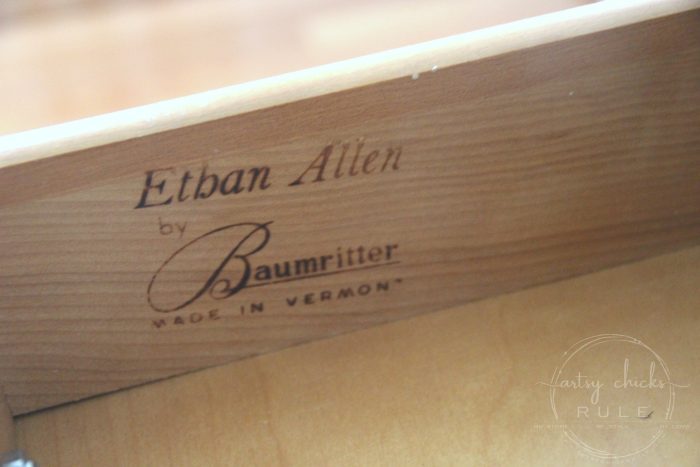 Solid and very well made.
I painted the indentations in the wood drawers to make it look like they were all separate drawers.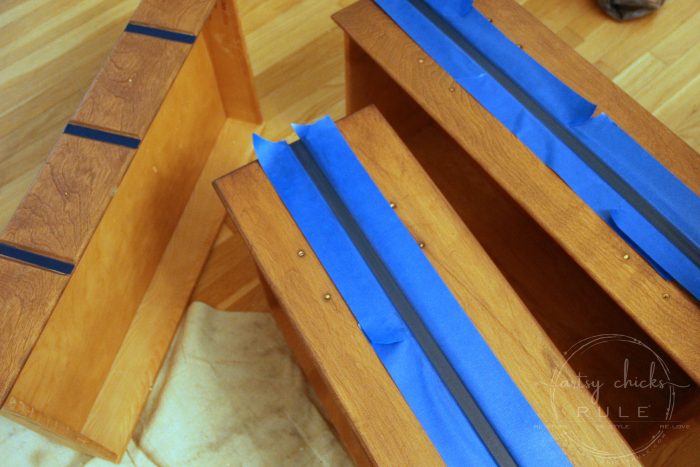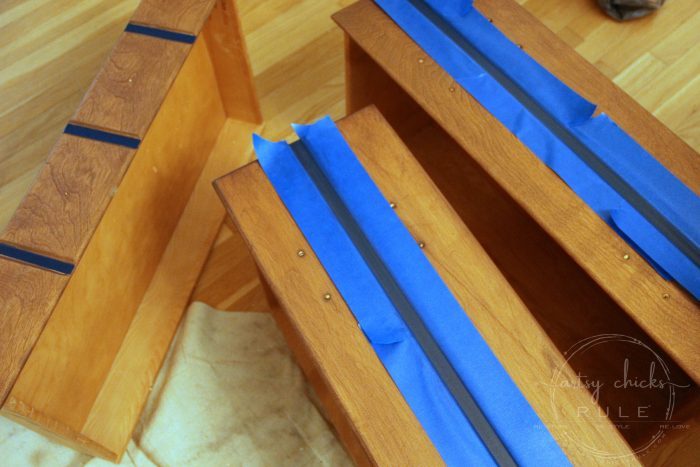 The Antique Walnut Gel Stain also got sealed with 2 coats of the HP Top Coat. (I very lightly sanded in between to get it nice and smooth)
Even though it's water based, you can use it over the Gel Stain, just be sure to wait a few days in between.
And all new hardware…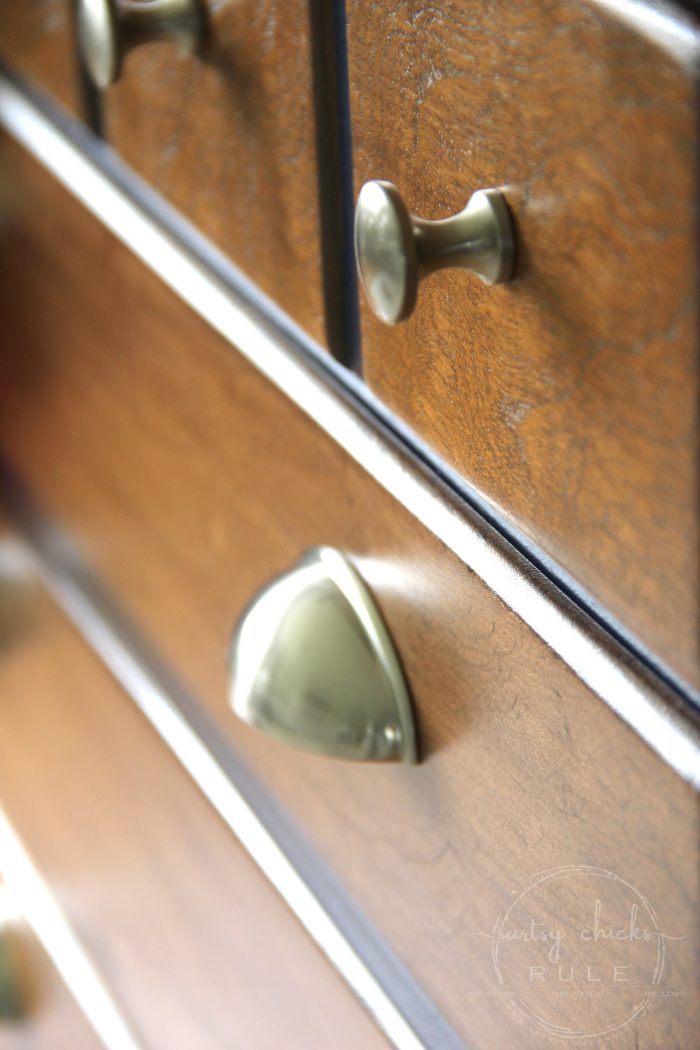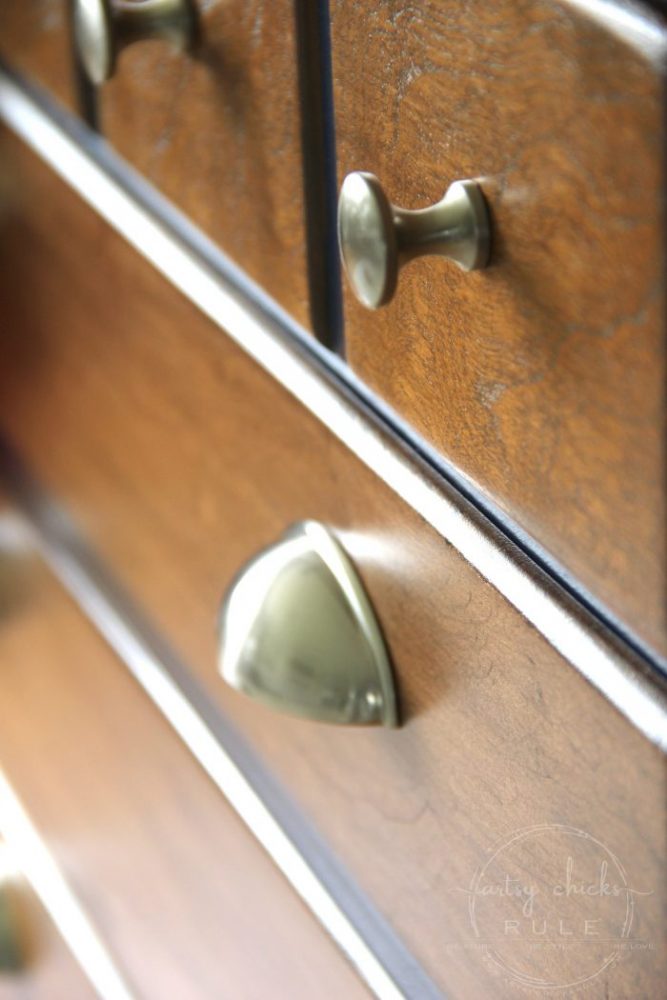 You can find the knobs, here.
And the pulls were in a "value" pack, here. (they don't have the color I used on the website but these are the same style…and the only handle I could find that was a 2-1/2 inch width, everything these days is 3 inches or more)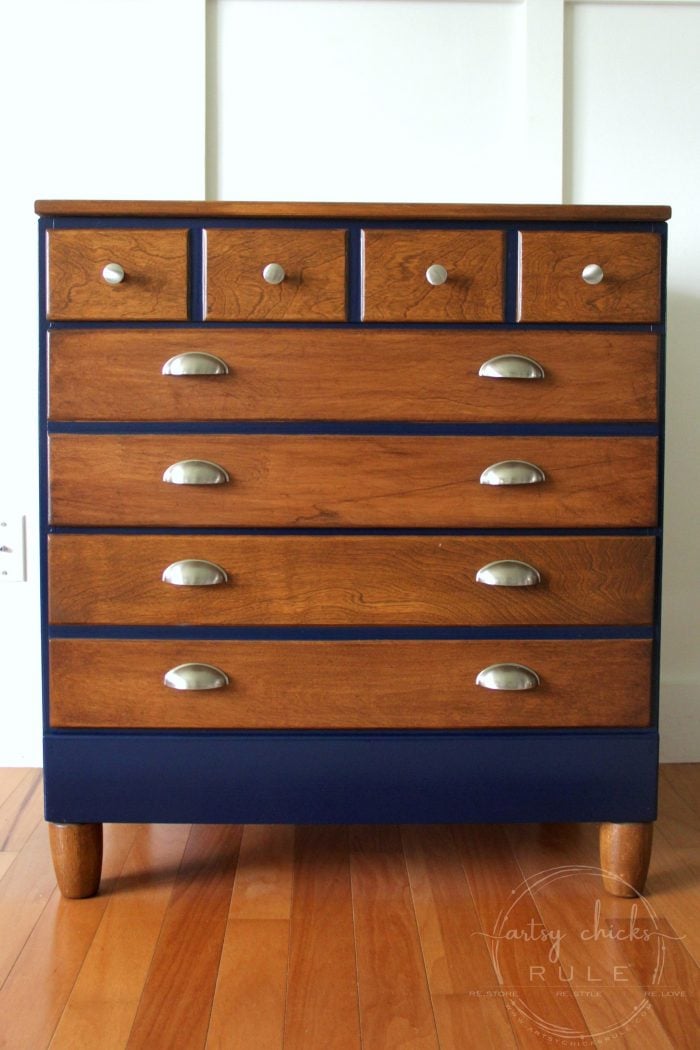 OH!! And I added some pretty feet. :)
I also shared them on Instagram stories. Sadly the stories only last 24 hours and then they disappear. I do save some of them in my little icons there, though.
(I post in the stories more than I do in the regular feed so follow along for the day to day!)
I also shared the pretty feet on the stories I'm adding to the new "coffee bar" I'm making. Soon, soon!
So much "house" stuff going on around here it's on the back burner. I need to do an update on the house stuff soon, too. (it's a disaster zone right now though…a definite work in progress)
But back to these feet…..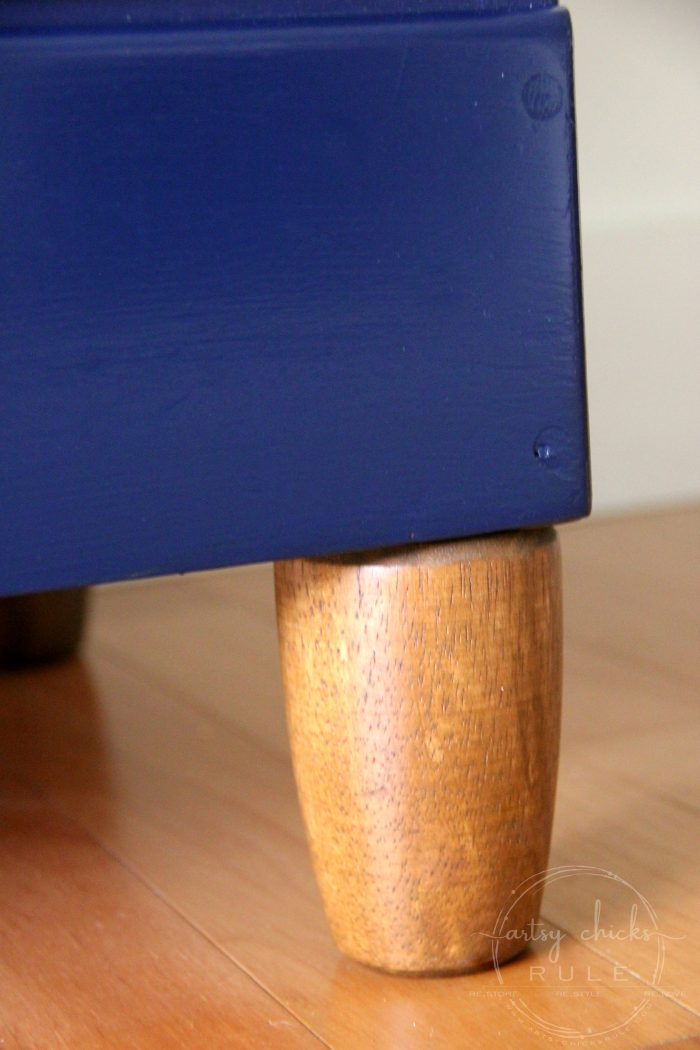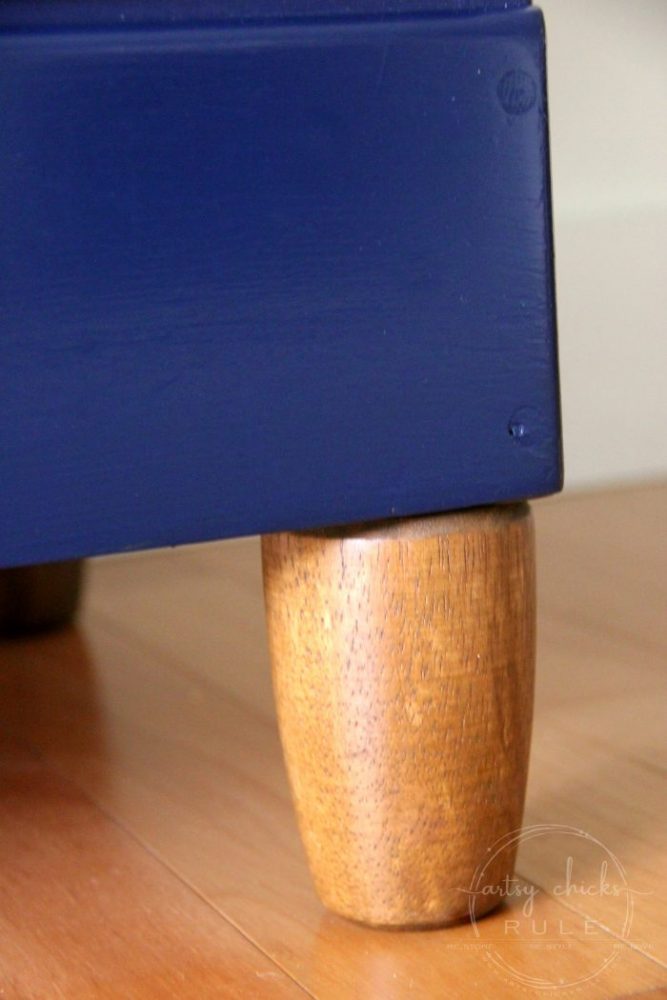 You guys….this dresser needed feet! Don't you agree?
It was just like a slab sitting on the floor. It seemed just off to me.
The feet….well, when they went on it was like, "oh yes!….the perfect finishing touch!".
I added them last so it really was like the icing on the cake.
The feet came from The Home Depot. I couldn't find them on the website to link to, however.
But I did see some other pretty ones they have that are not available in the store.
And since I sort of gave this a makeover with a boy (probably a little boy since it's a little dresser) in mind, I thought I'd style it up that way to photograph.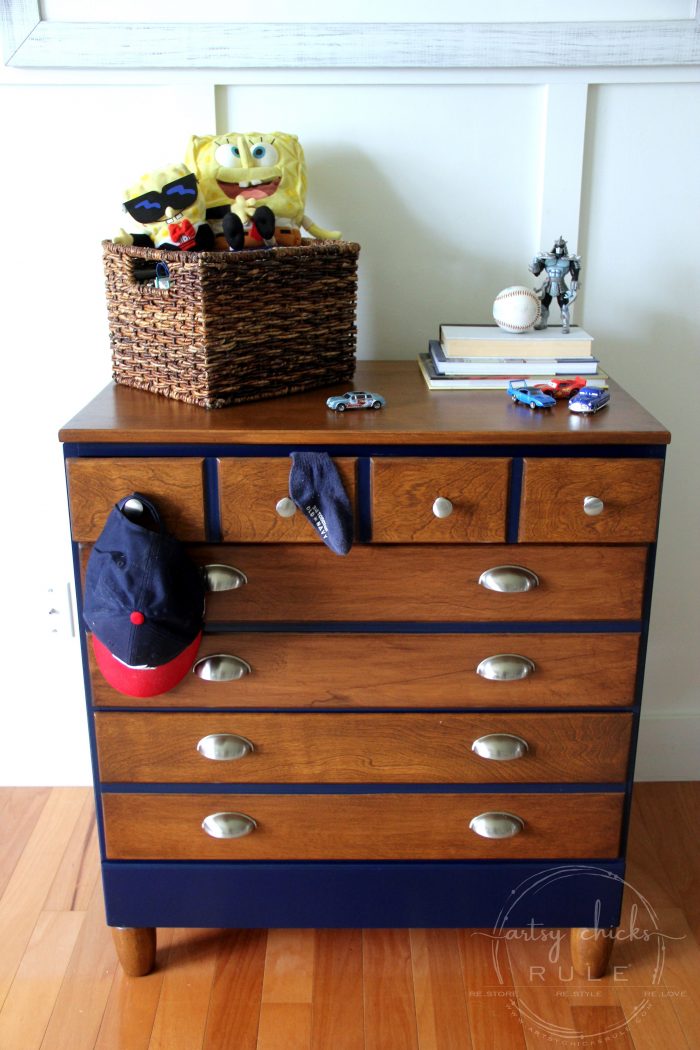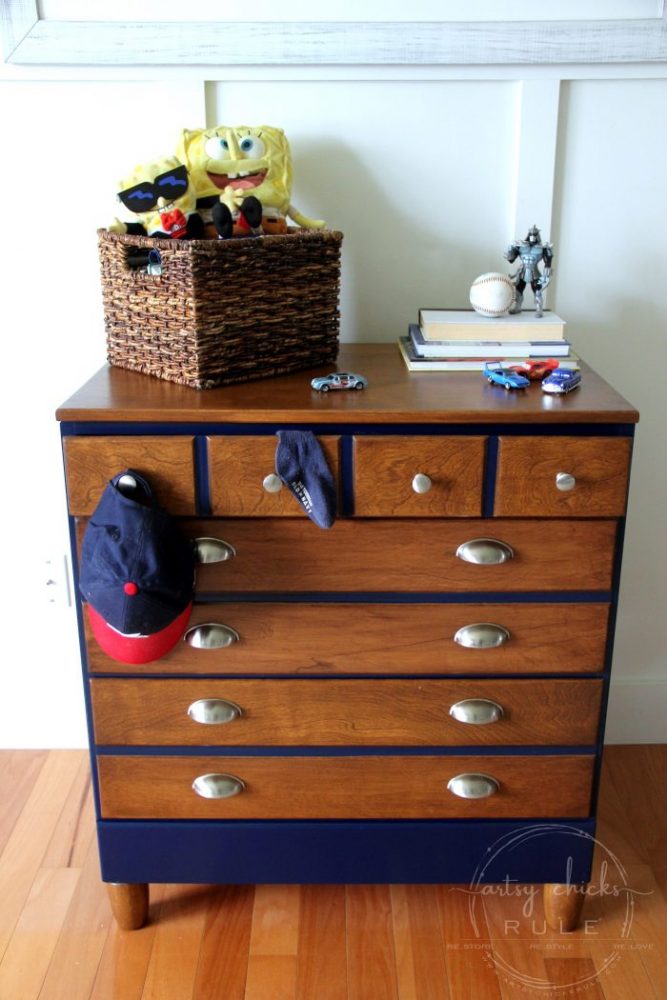 I went into our spare bedroom which happens to be my son's old bedroom. (he moved over to the big room after his sister moved out)
So many of his toys and things are still in bins and such in there. (yessss, I know he's 19 and we need to go through it all and purge, but hey, real life! lol)
And…..oh my, memories! And maybe even a slight tear or two as I pulled this stuff out.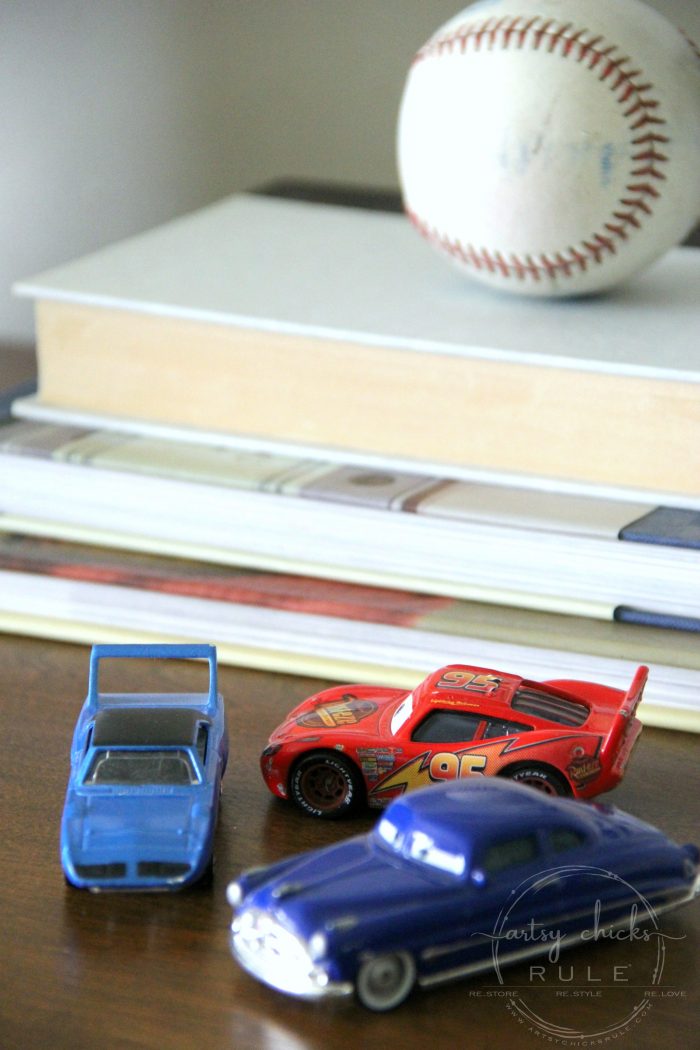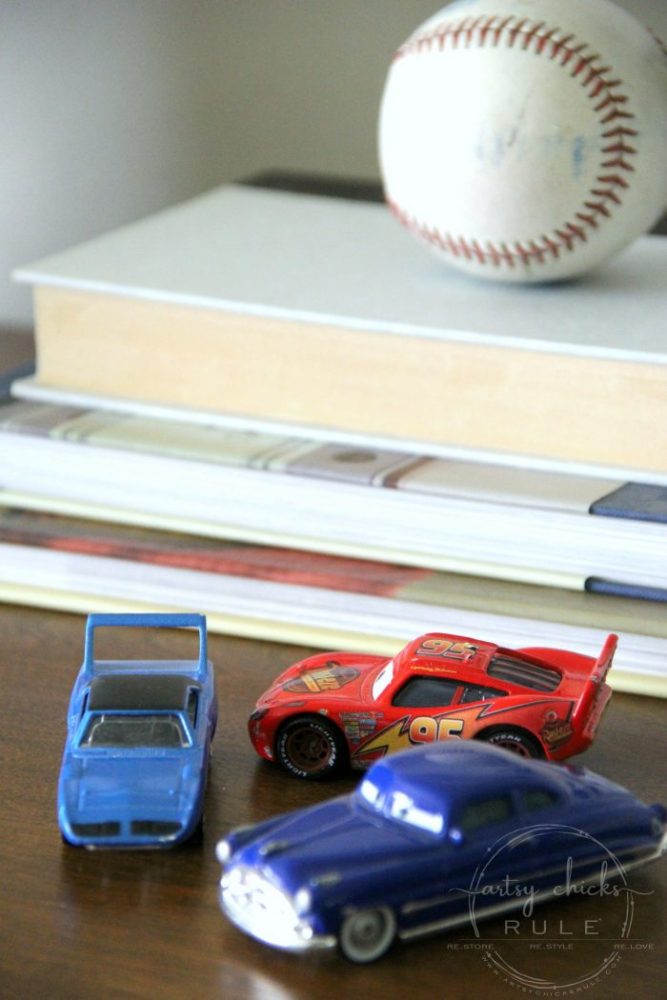 Cars (the movie) (and just cars in general, lol). He has so many bins full of these little things ( and Legos and transformers and, I know, time to let it go…nah )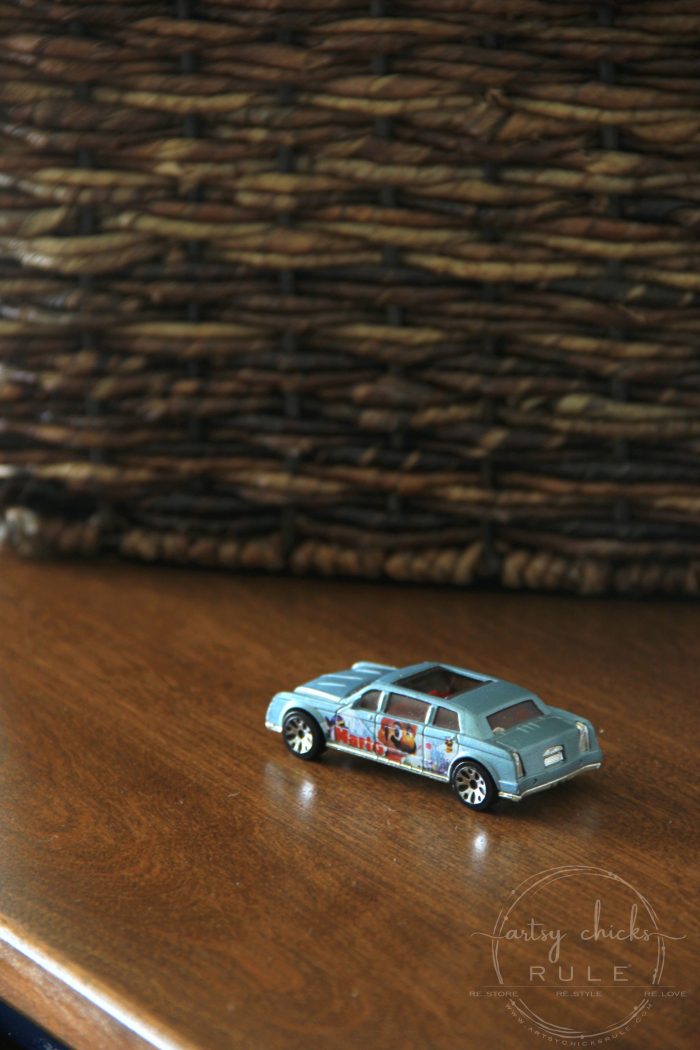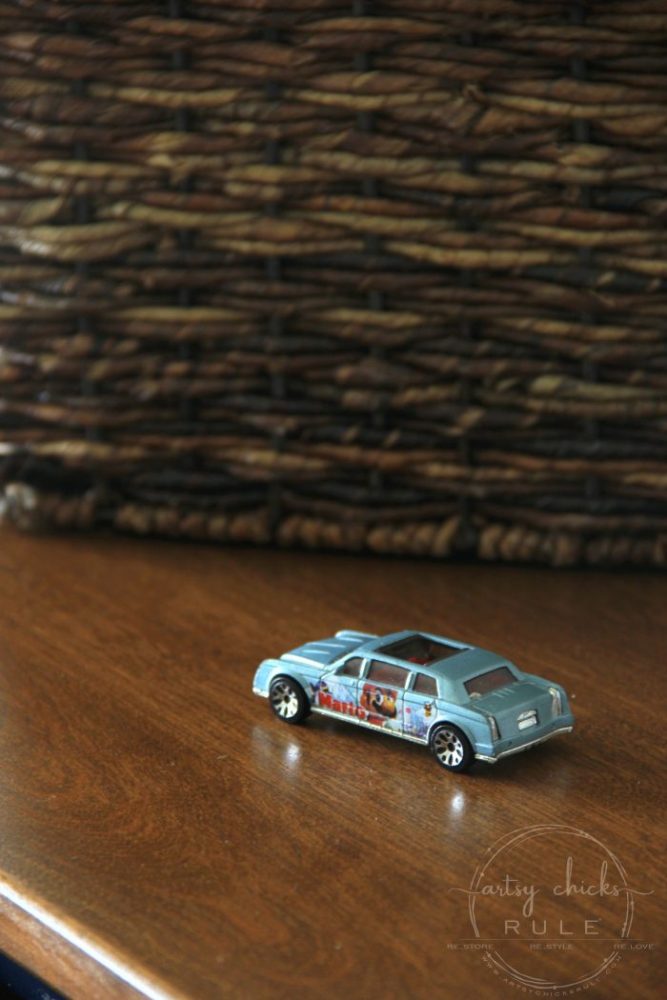 And yes, I'm getting off on a tangent. Aw, look at that little Mario car…I mean, that pretty new stained top.. hee hee
He was a pretty big fan of SpongeBob as a kid, too.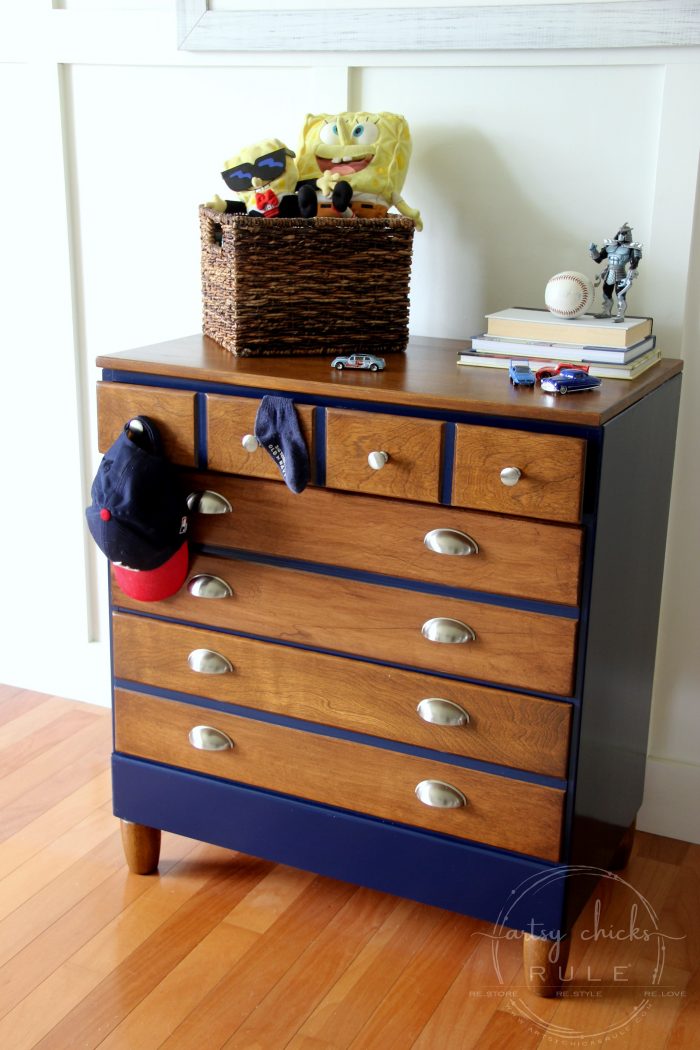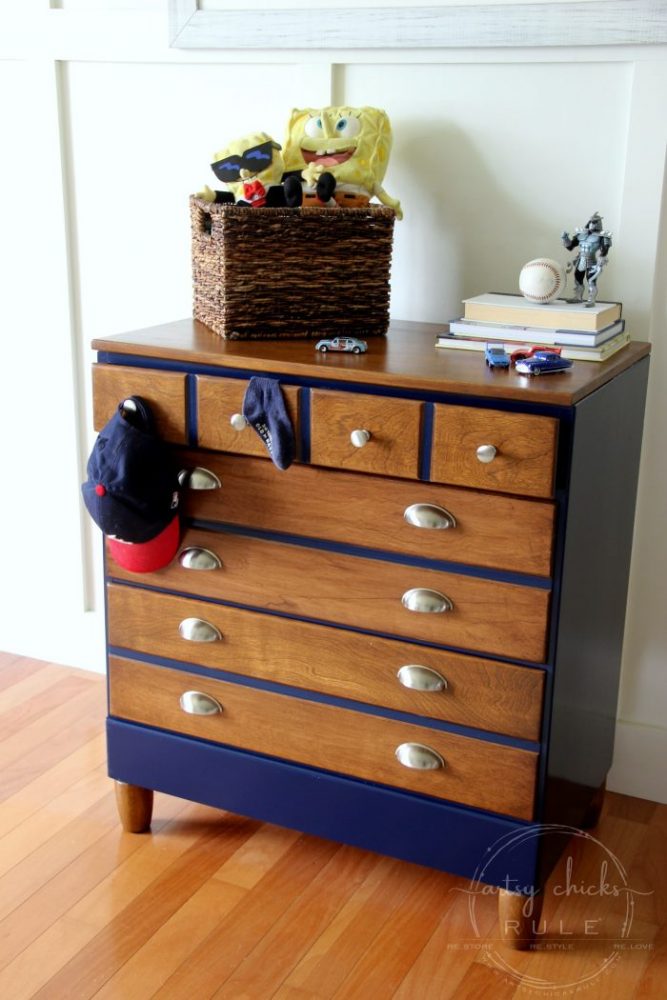 And the sock…..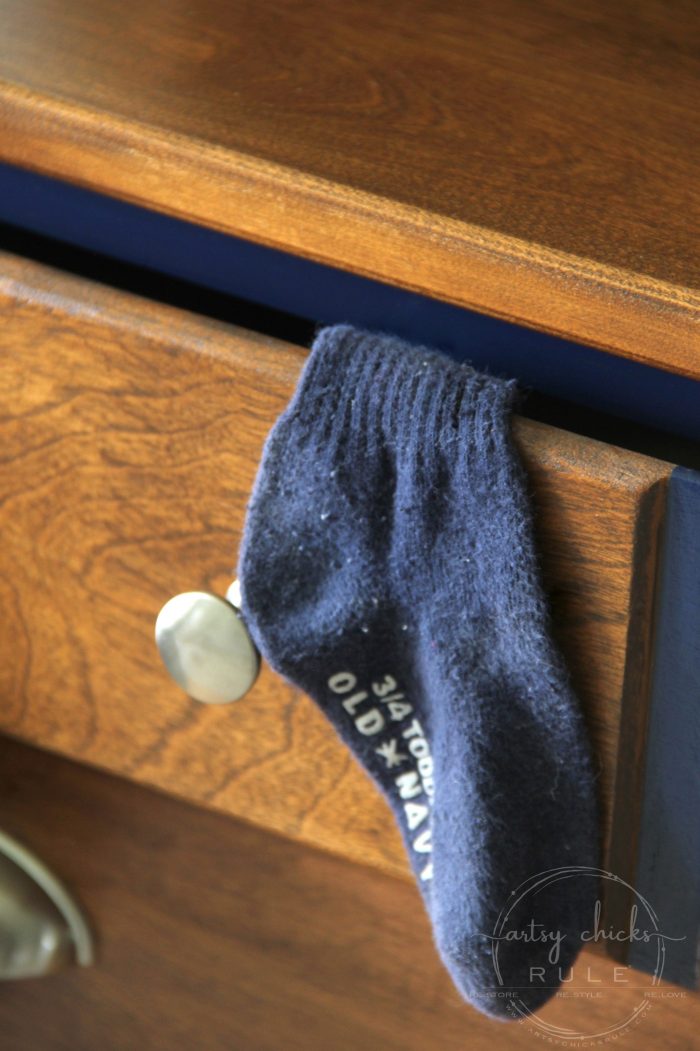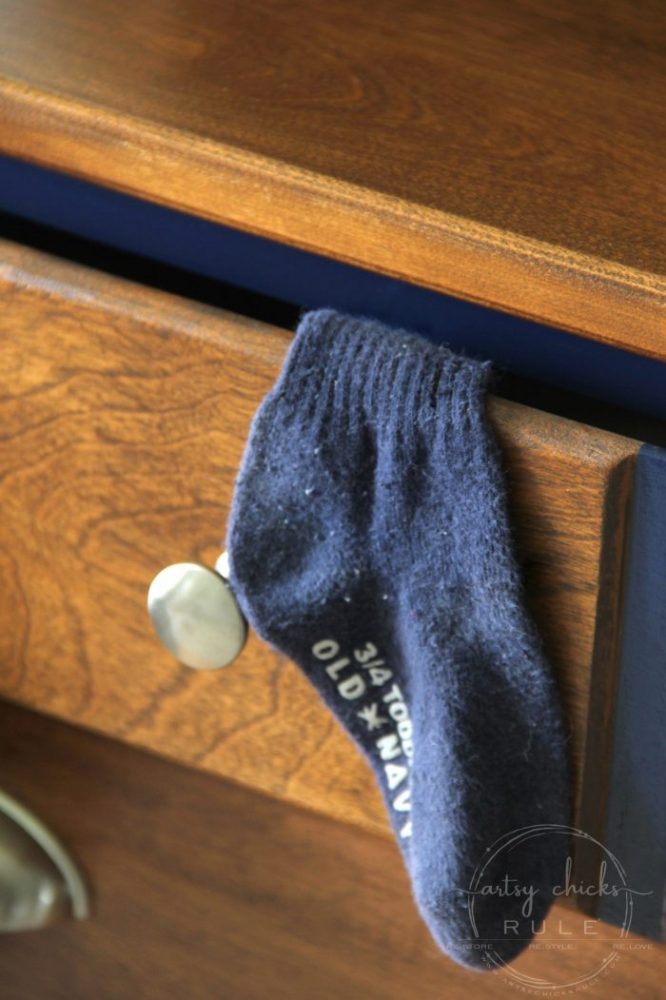 I have no idea why there was a rogue, lone sock in the mix but oh my, tears!!!!
This was a 3/4 toddler sock. Awww. Time goes SO fast. :(
Okay, enough of memory lane, let's see it styled not "boyish".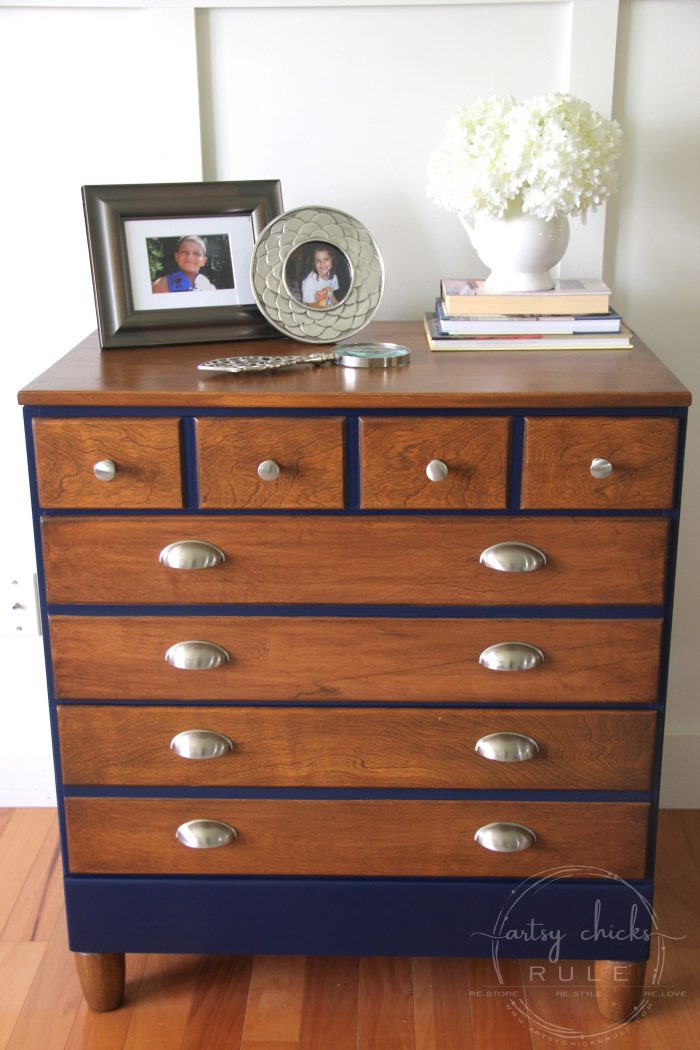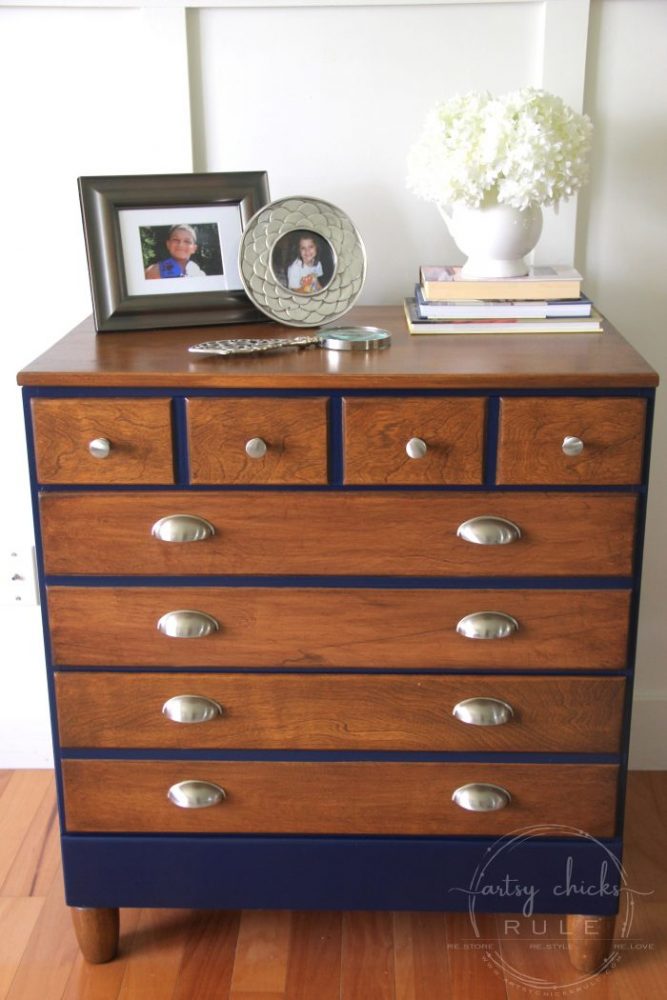 You really could go either way with this. I guess it just depends on your style and colors.
I still see it as a boy dresser though.
Isn't that Antique Walnut Gel Stain a beauty? I really love the Java but that Antique Walnut is a close second.
And there's my boy AND my girl…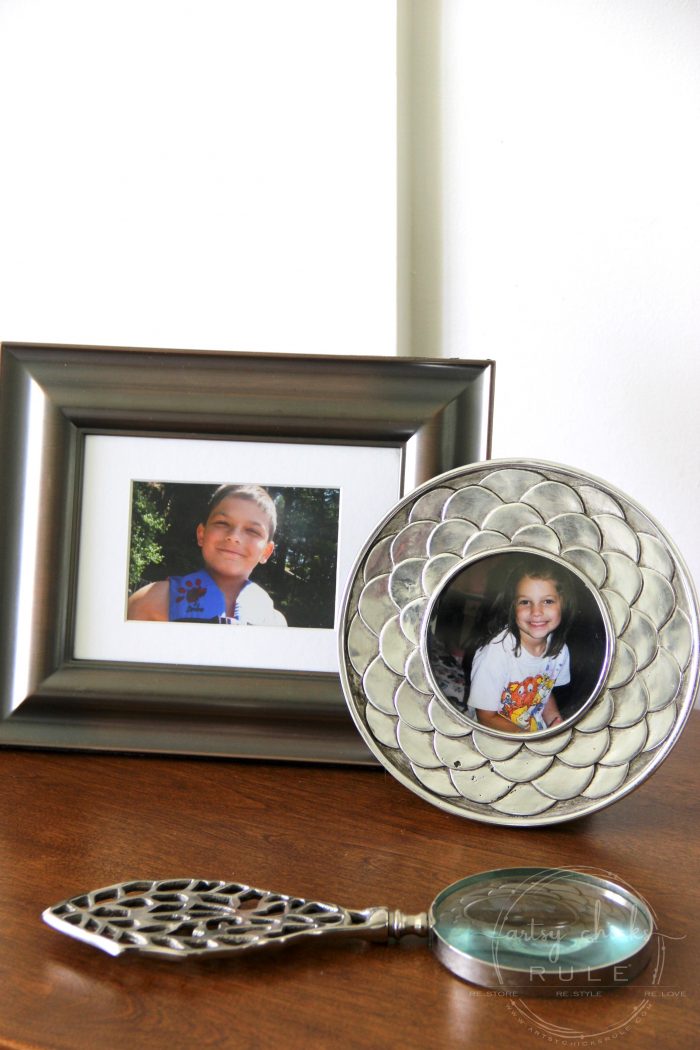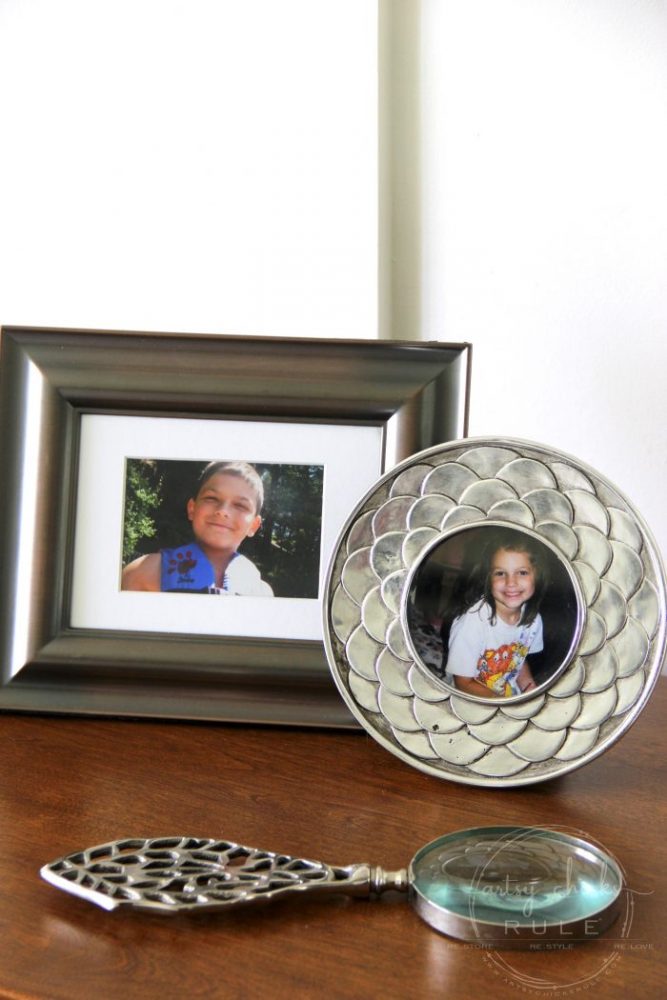 Cuties. :)
Those of you with kids that are grown know how fast it goes.
The days really are long, but the years, oh my how they fly by.
I'm feeling all emotional now!! hee hee….doesn't take much anyway.
Okay, PIN this if you want to save it (or the products I used) for later…..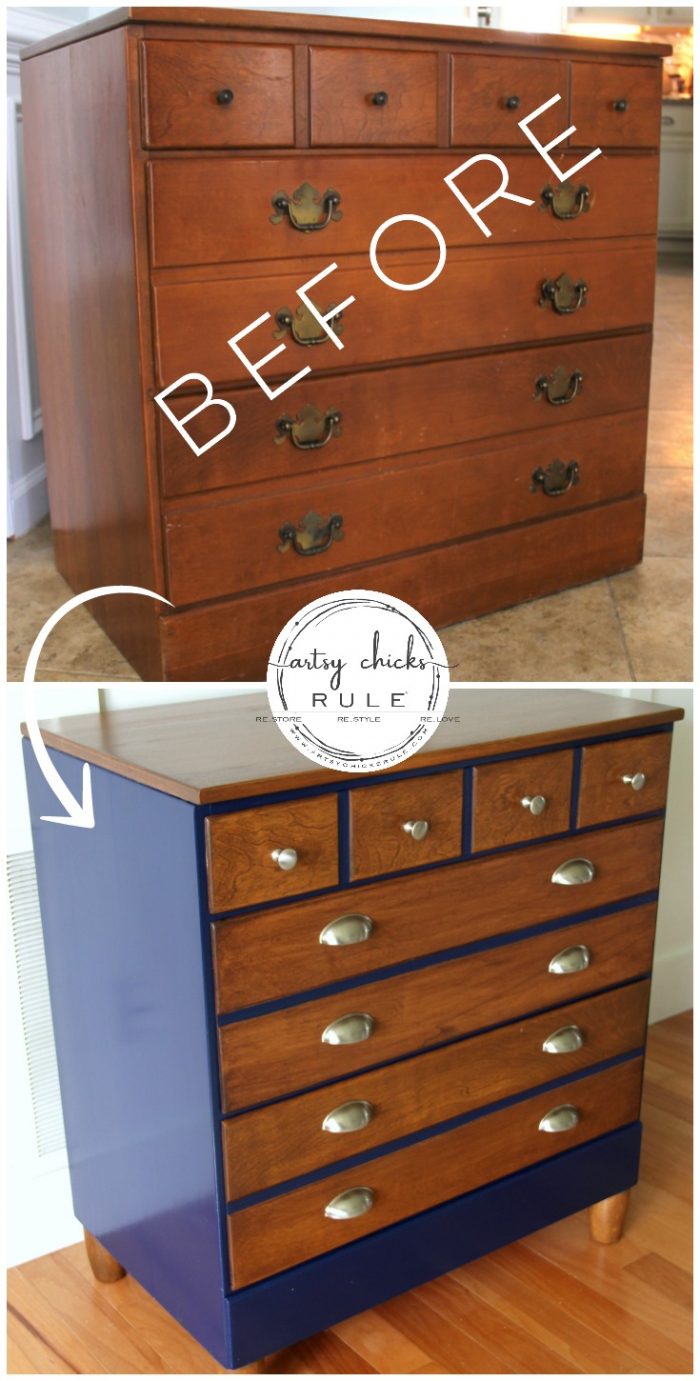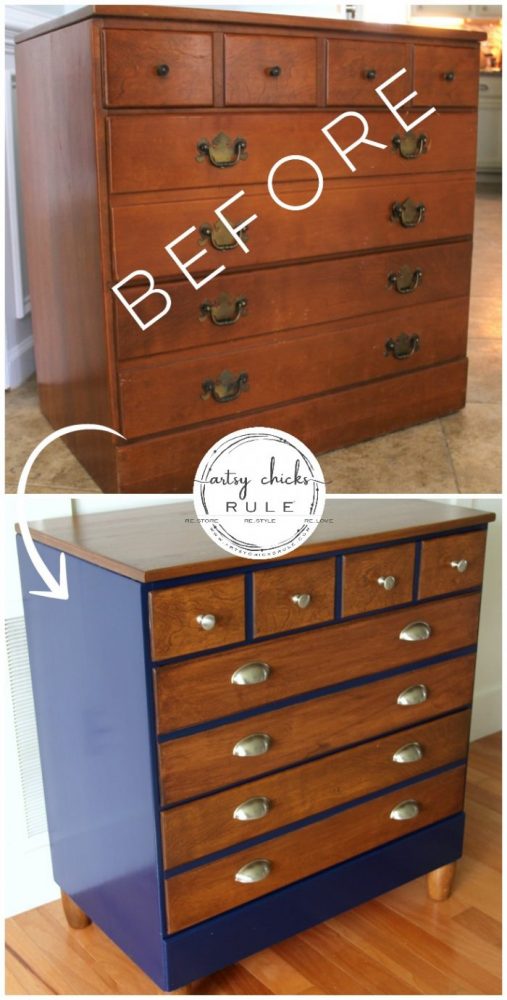 Now hop on over and check out all these beauties!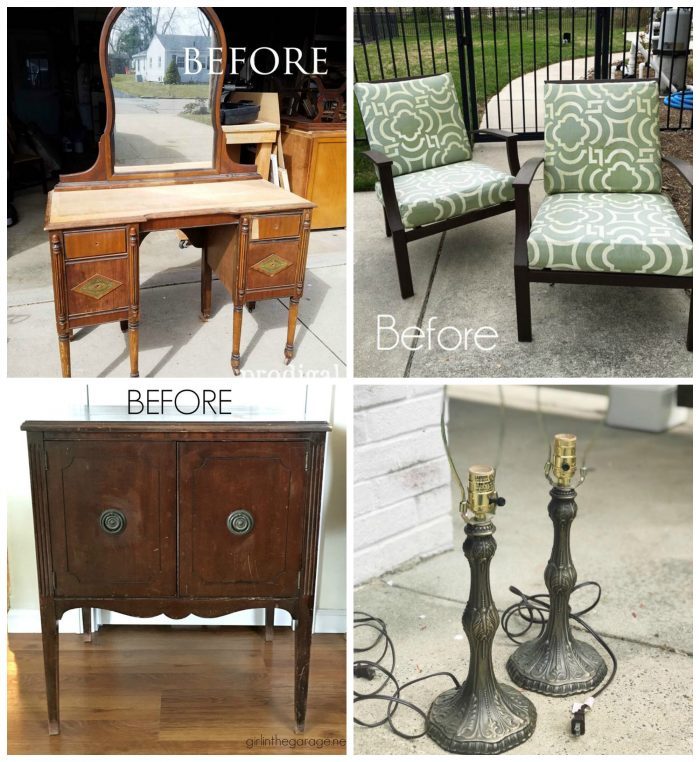 Click the links below to see them all!
Prodigal Pieces / Confessions of a Serial Do It Yourselfer / Girl in the Garage / Bless'er House
…………………………………………………………………………………………………
Want to see even more Trash To Treasure makeovers?? Click, here to see more!
Don't forget to check back to see my latest furniture makeover!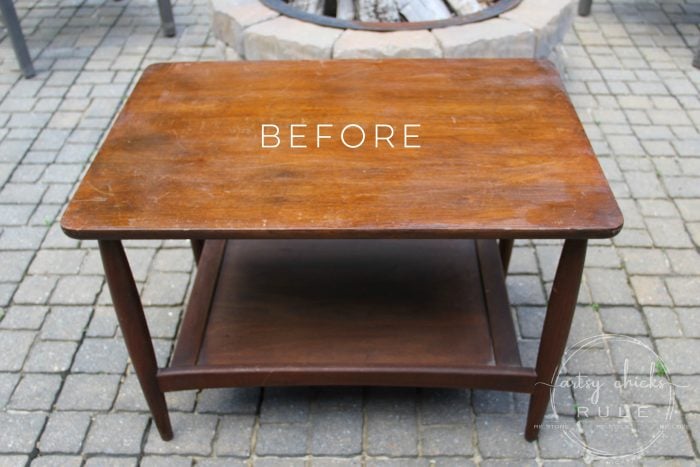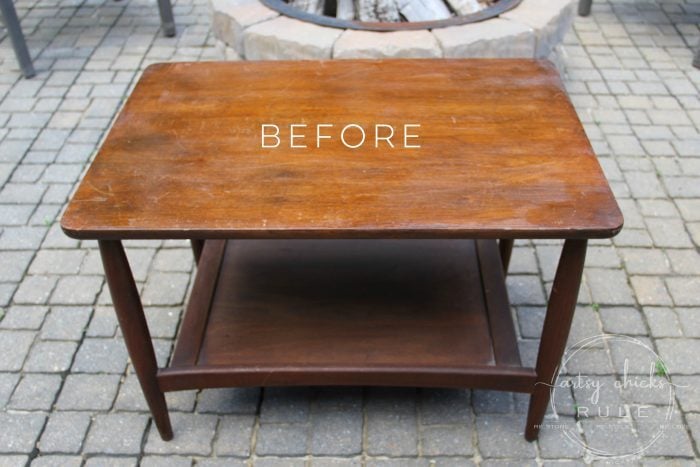 UPDATE:!! See it now >>> here!!
I hope you enjoyed the makeovers! Have a wonderful week!
xo