Thrifty Wall Art (for gifts, home decor and more!)
This post may contain affiliate links. Please see disclosures here.
Hi Friends!!
I'm popping in today to share this super cute (and super inexpensive <– my favorite kind!) thrifty wall art.
I created it recently for my niece who just had her second child, a girl. :)
We are all so excited and can you just imagine all the bows she has already? (her first child was a boy…and we have lots of boys in this family!)
I wanted to make something personal, so decided to do something using her name.
So I came up with this…..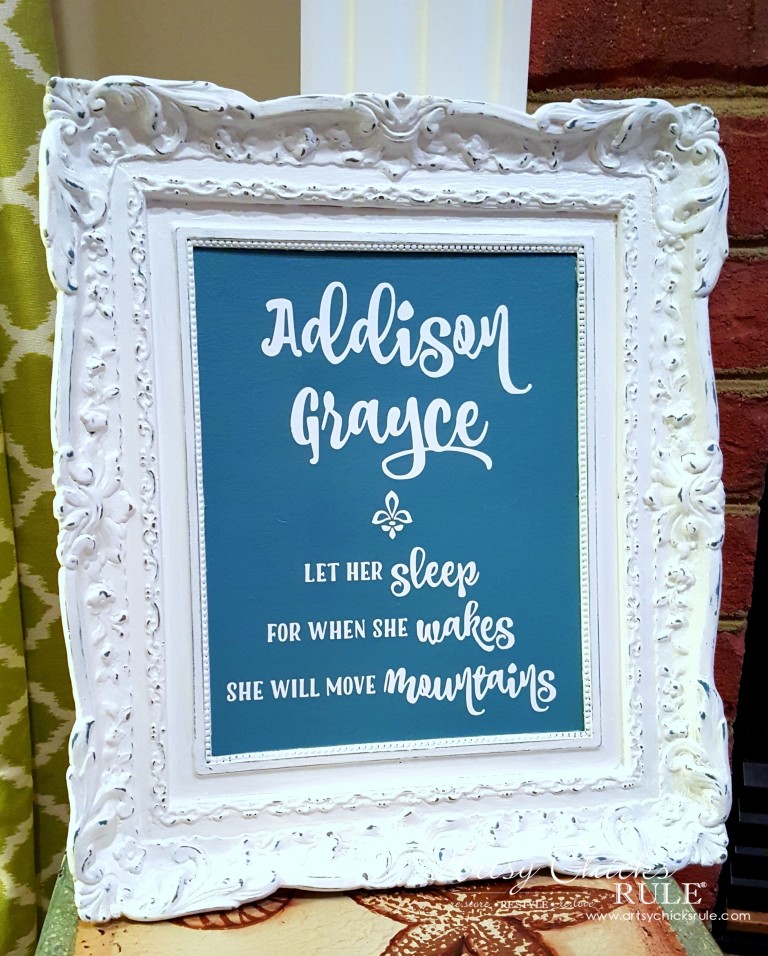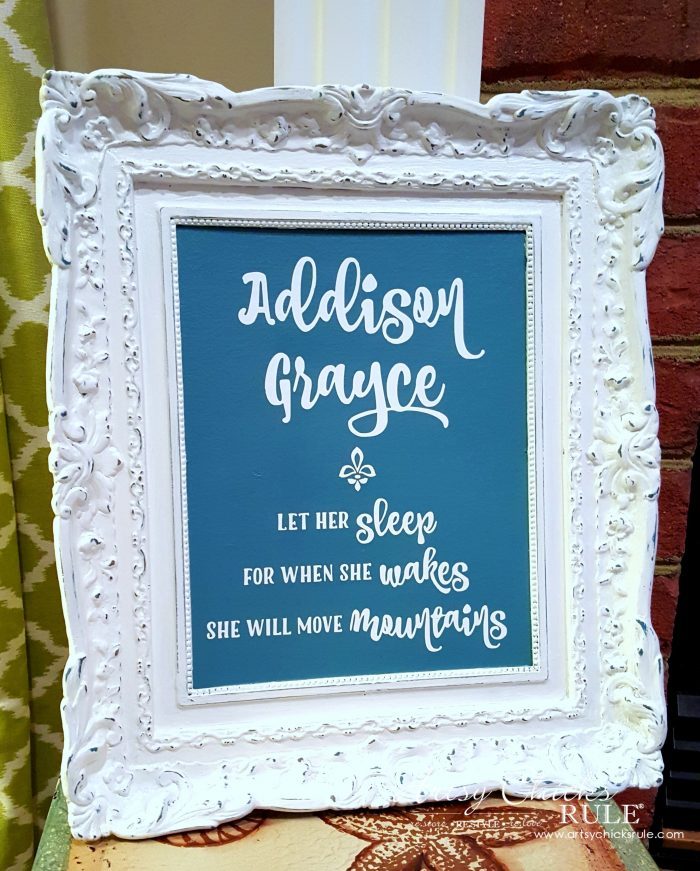 I just love her name!
She was named after my Mom who passed away several years ago.
Her middle name was "Gray" (which I have always loved!) and my niece loved the name "Grace".
So she gave her the name "Grayce" spelled with a "y" in honor of my mother, her grandmother.
It's so easy (and economical) to recreate or repurpose things out of old things found at the thrift store.
Especially so if they are still in really good shape.
Like this old print….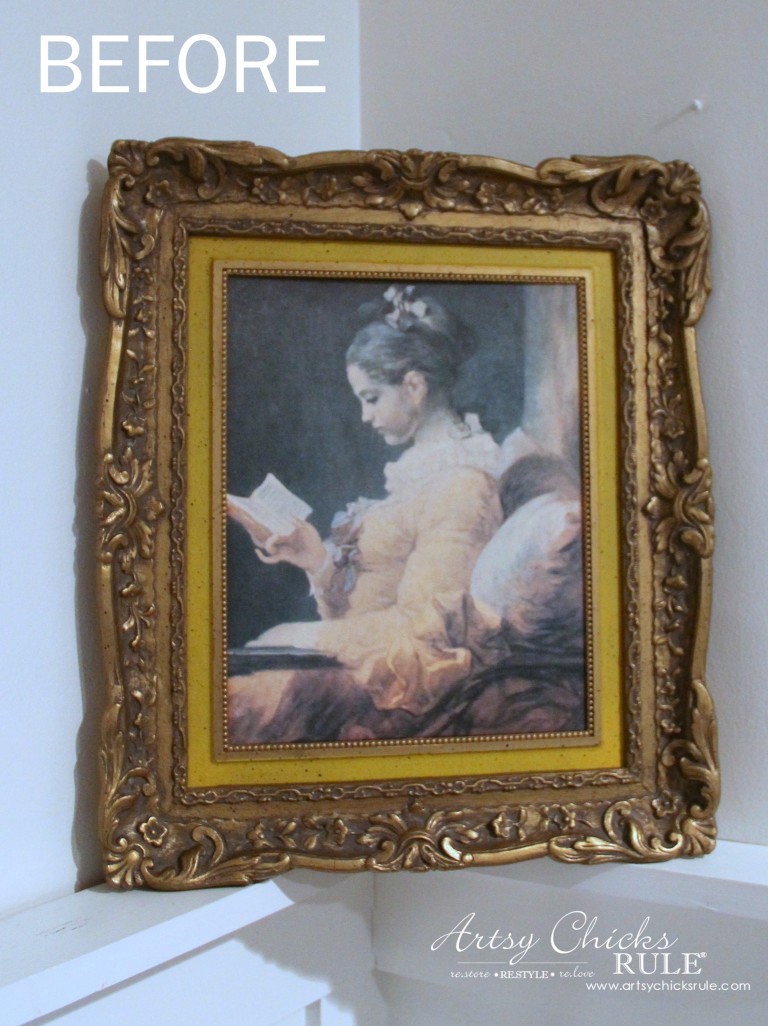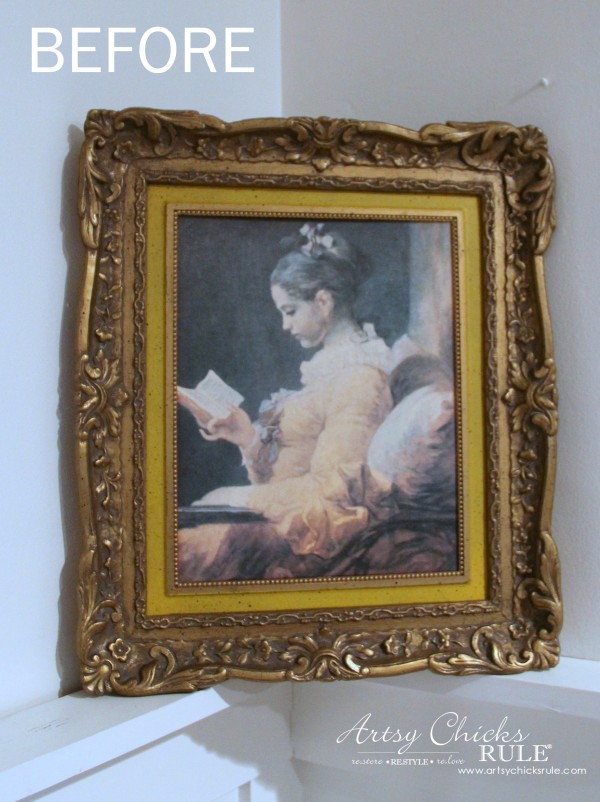 It's an old "Home Interiors" piece (remember them? are they still around?), so not something of value.
But just look at that ornate frame! LOVE it.
I considered keeping it gold but decided to just go with a clean white and one of the colors my niece is using in the nursery.
First, I created the graphic for the wall art in my computer.
Then I transferred the saved jpg to my Silhouette.
Want to see how easy it is to use your own designs inside of Silhouette? Click here >>> How To Import Your Own Designs Into Silhouette Cameo.
Or you can also use any of these transfer methods to do it if you don't have a Silhouette machine.
As far as designing elsewhere, I feel I have a bit more freedom to design in Picmonkey rather than in the Silhouette program.
AND I had no idea, until recently, that I could even do this!
Wow, it's opened up a ton of design possibilities for me and my sweet little Silhouette! Yay!
M A T E R I A L S L I S T:
Silhouette Cameo (nice bundle!)
Paint (of your choice)
White Vinyl
Transfer Paper
Clear Coat Spray
This is what I designed.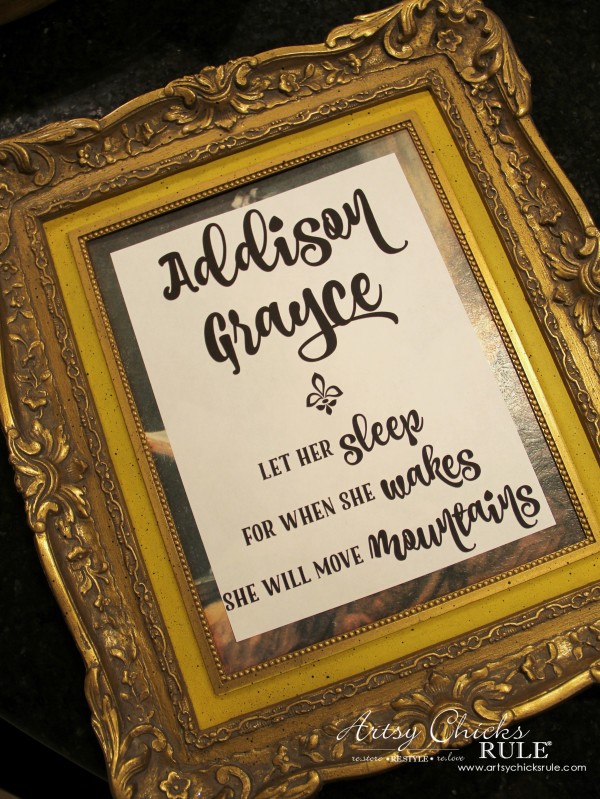 I printed it out because I originally thought I'd paint it by hand.
When I realized I could use my own design in the Silhouette…it became a no-brainer!
I painted the frame, and print, all blue.
I used some blue I had mixed up into a turquoise shade. (Chalk Paint)
Then I painted Pure White over that. (also Chalk Paint)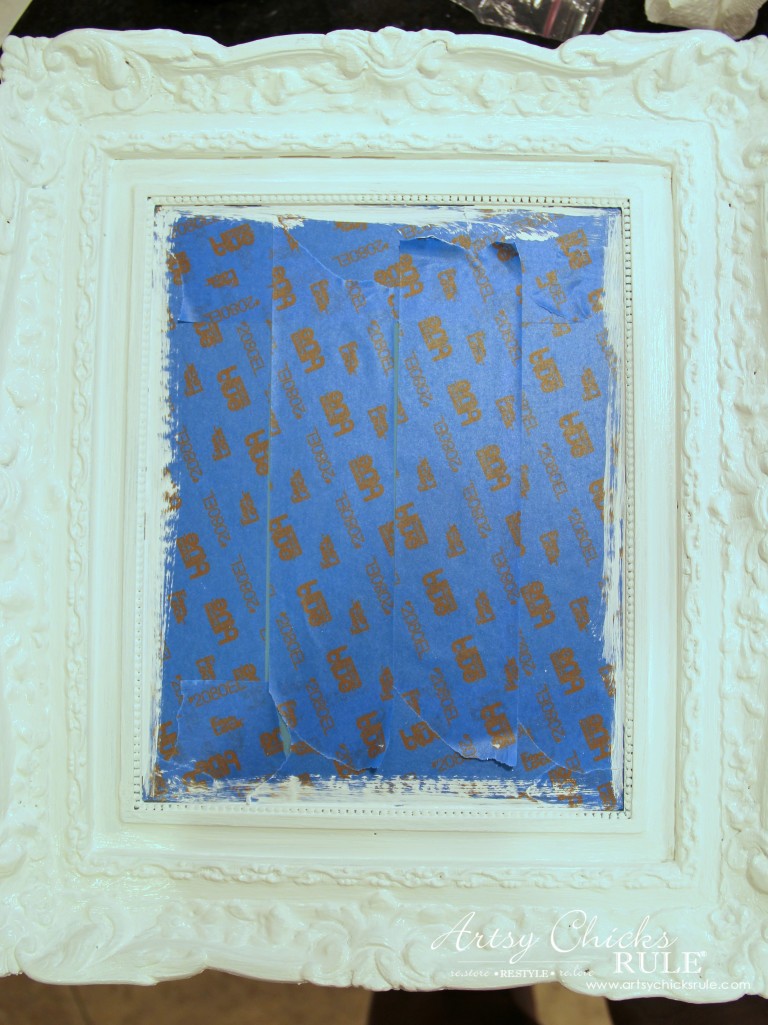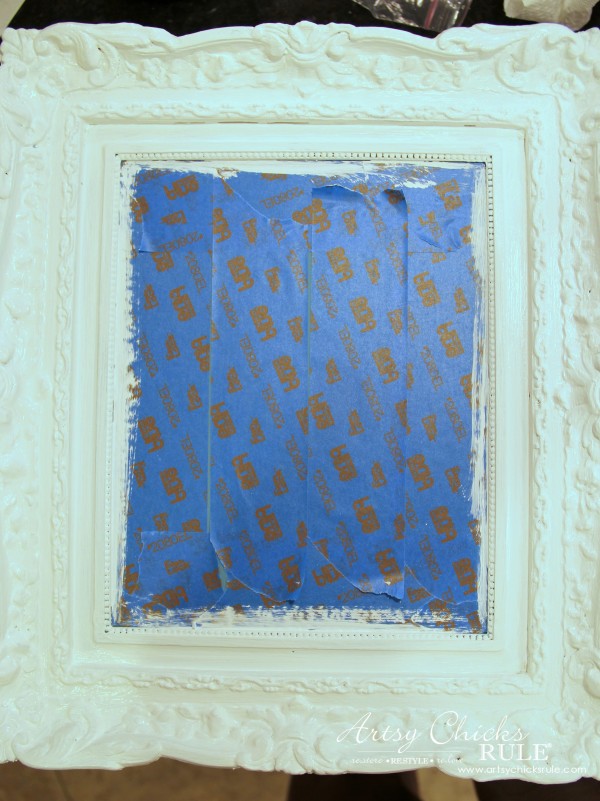 I taped off the print area because I wanted it to stay blue.
The reason I painted the frame blue underneath is because I wanted the blue to show through when I lightly distressed.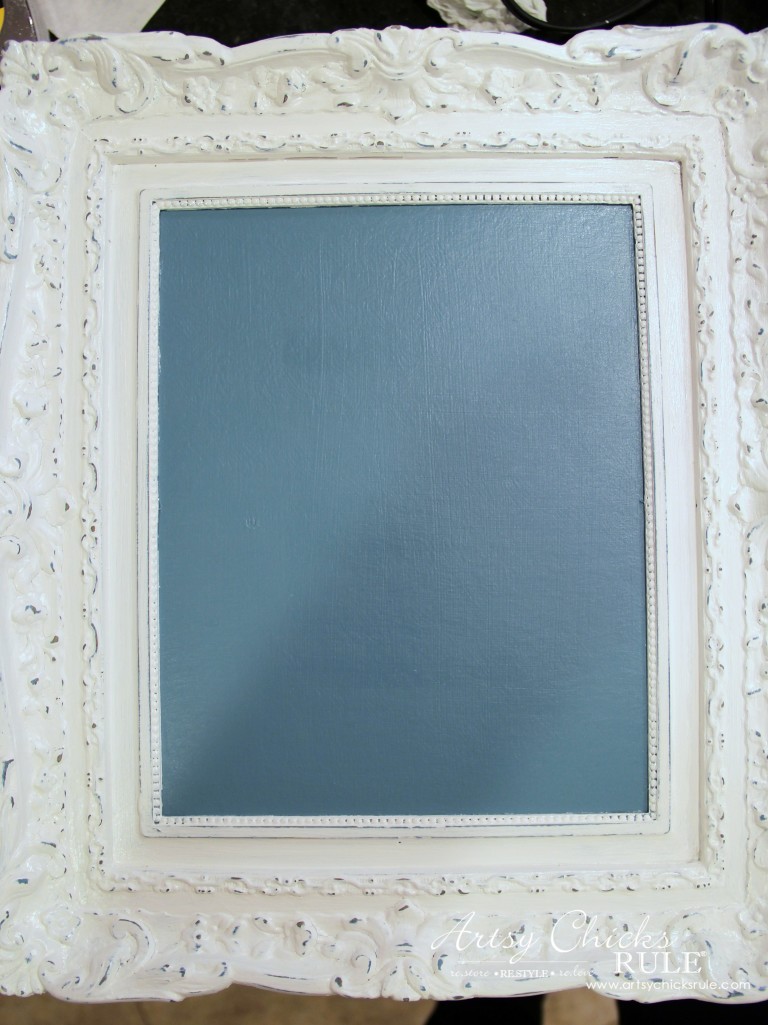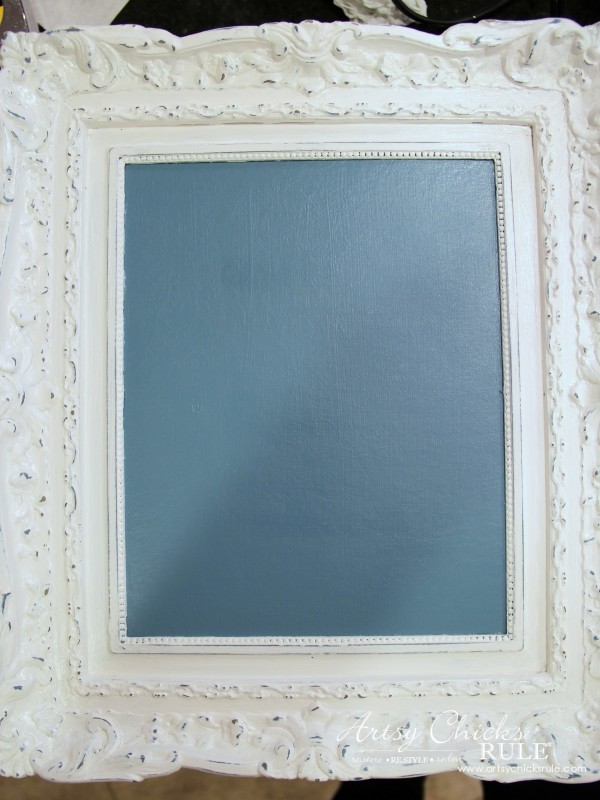 As you can see, above and below. (more visible in person)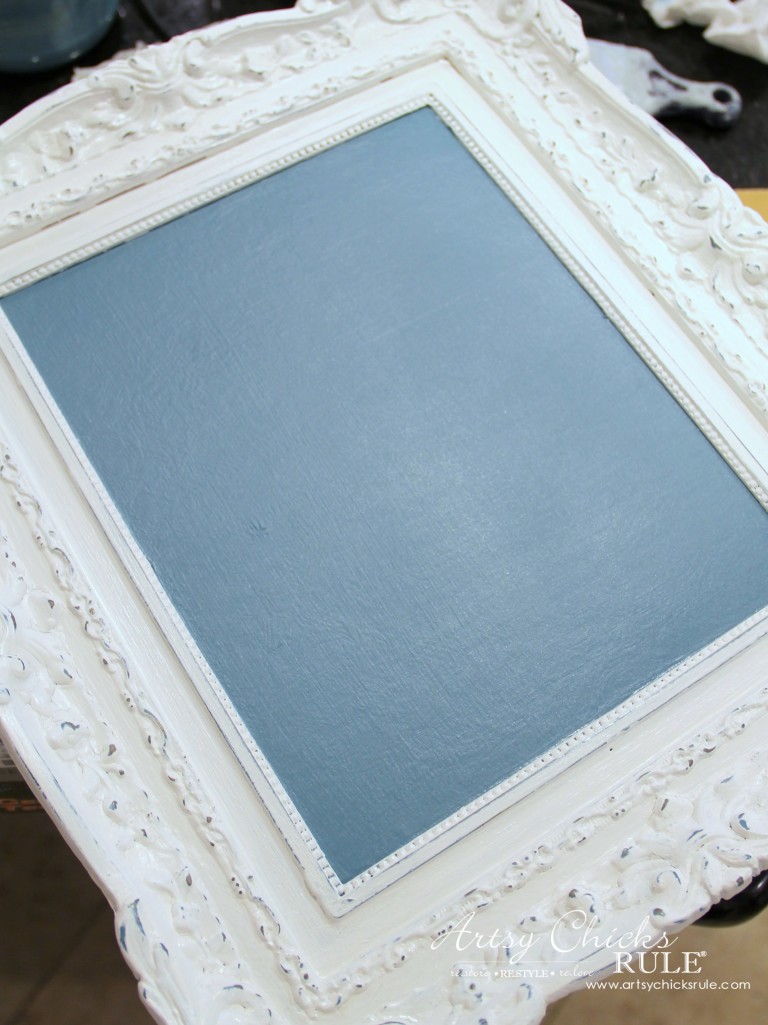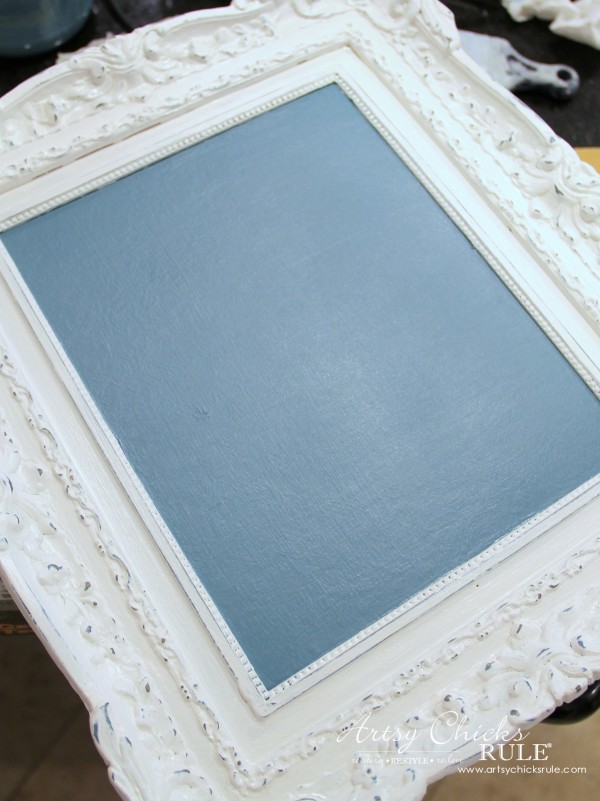 I sealed the whole thing with a poly spray.
Then I let that dry well before applying the vinyl lettering I cut in the Silhouette.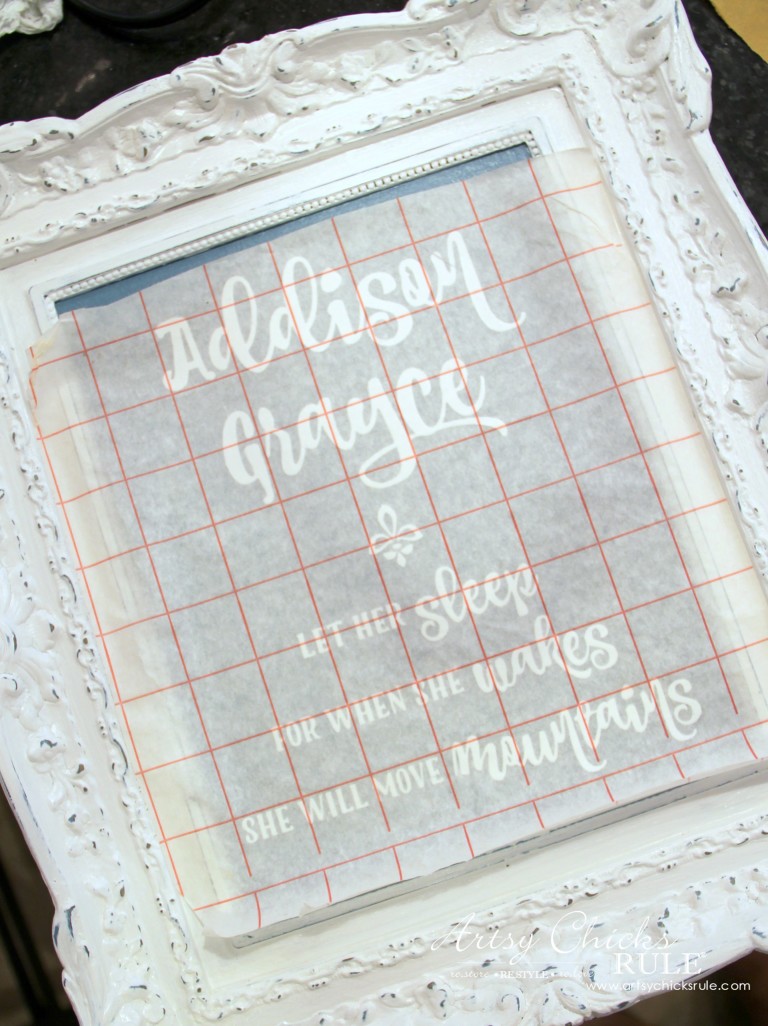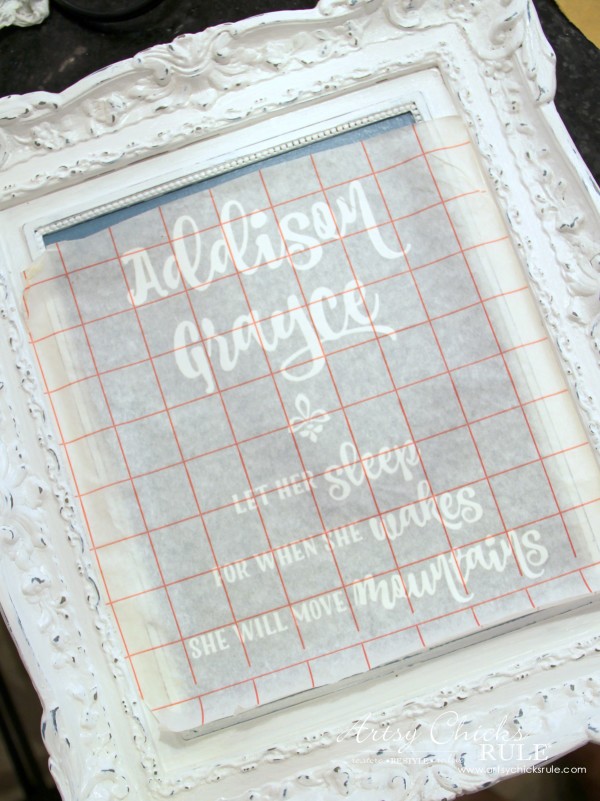 Lay it out and measure to make sure it is aligned correctly.
Then rub over the vinyl letters to adhere them to the framed print.
Then slowly remove the paper backing.
Can that get any easier???
The rest are a few quick shots (with my mobile phone) …at the baby shower!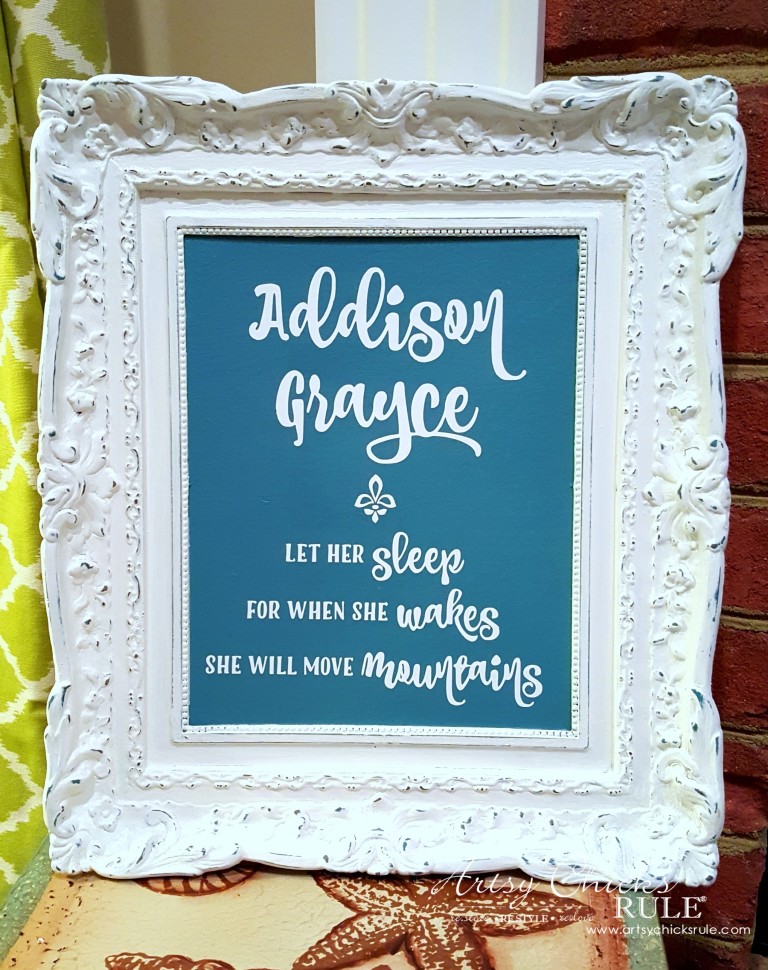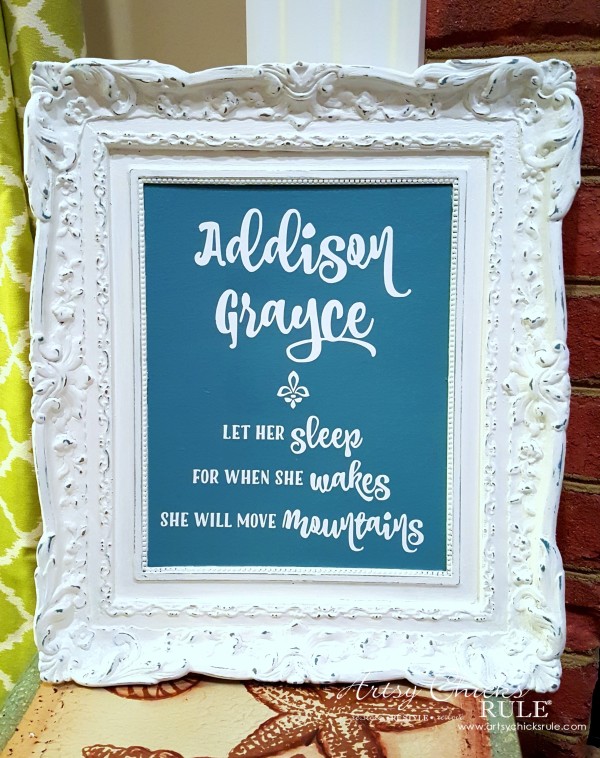 The saying is perfect…for my niece and my great niece too!
Let her sleep, for when she wakes, she will move mountains. Yes.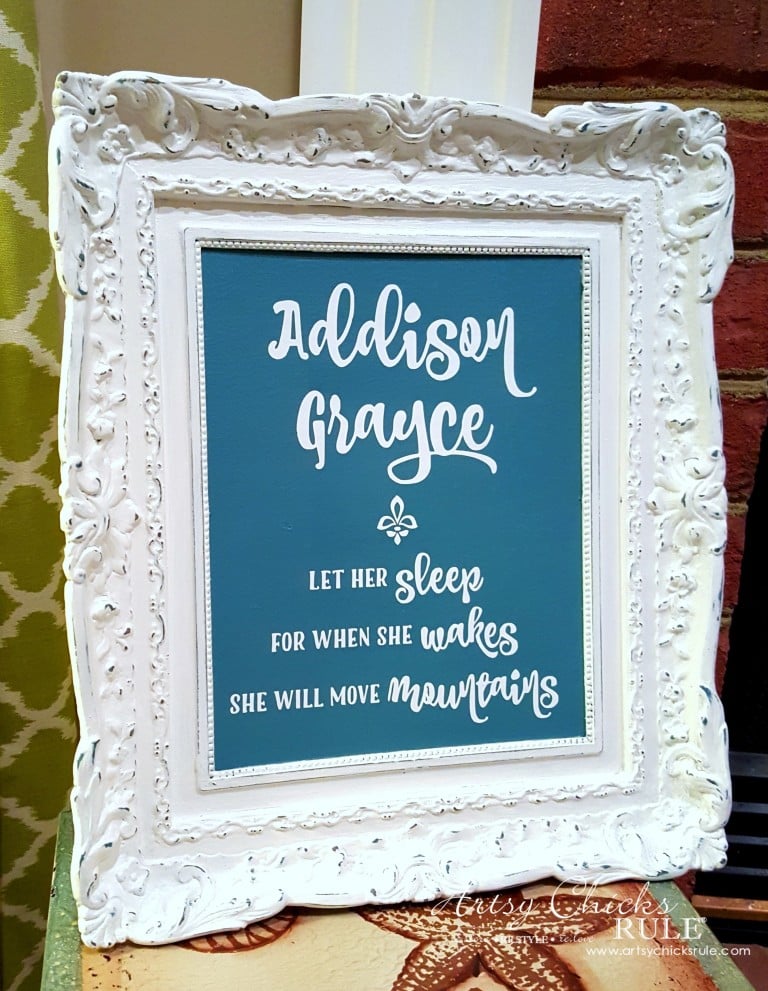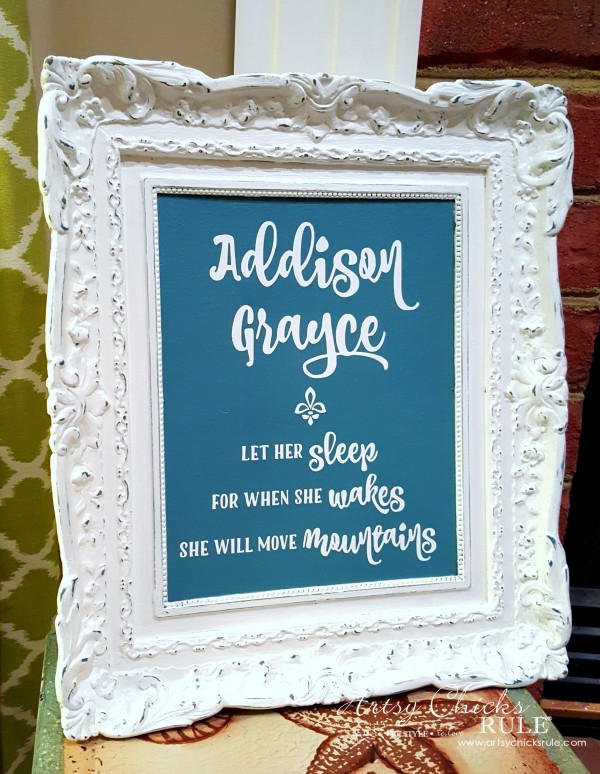 PIN this simple thrift wall art for later!!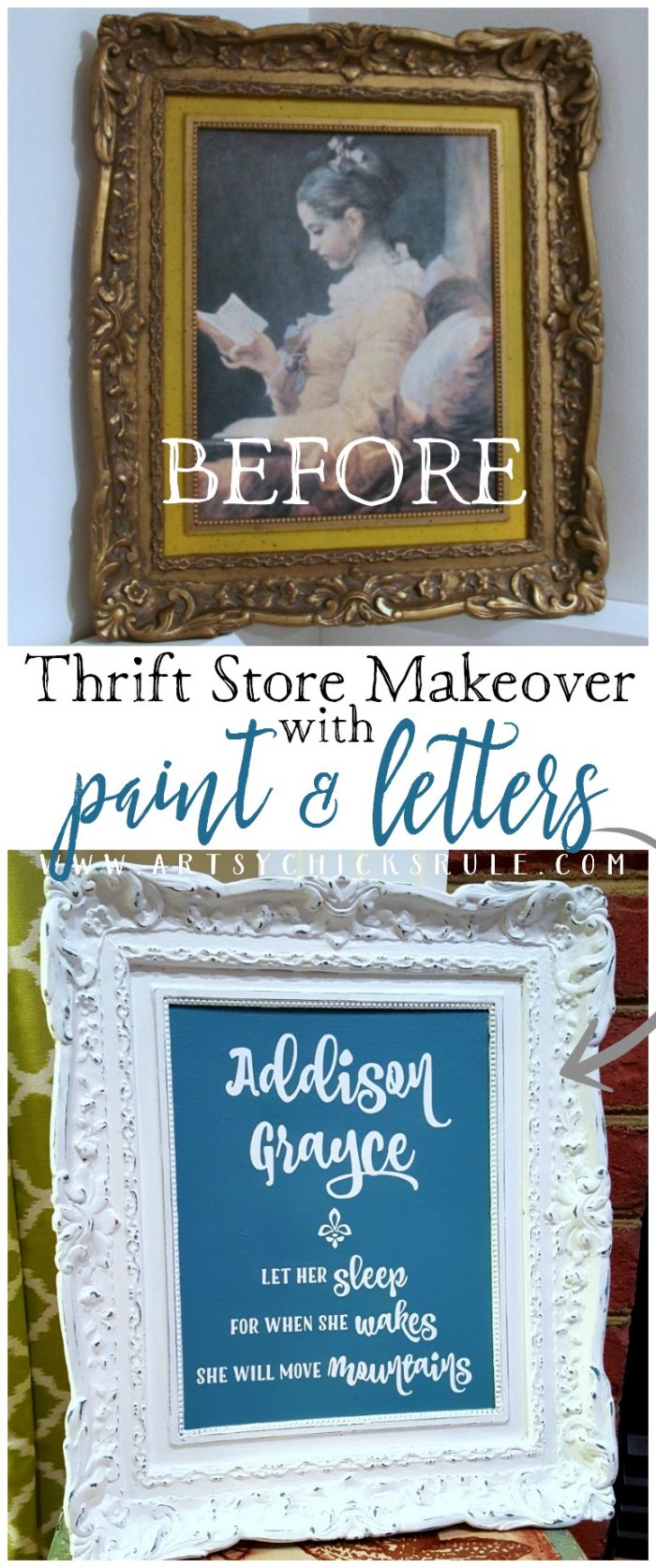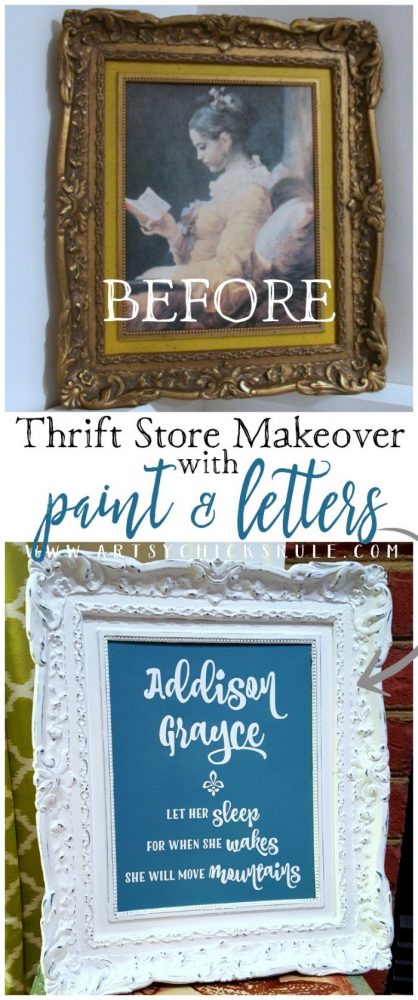 So easy, very inexpensive AND makes a fabulous, personalized gift!
Again I say, don't look past those old things at the thrift store/garage sale, etc.
This was a framed print I bought months ago.
I didn't really know what I'd do with it at the time but I loved that frame.
When I decided to make some pretty wall art for the new baby I knew it would be perfect!
I hope I've inspired you to make and create some thrifty wall art too!
If you don't have a Silhouette, Amazon has a great bundle –> here.
If you don't have a Silhouette and aren't interested in getting one, you can still make this pretty art.
See these posts below for other ways to transfer the graphic lettering:
"Believe" Sign (transferring using your printer)
"Laundry" Sign (transferring with graphite paper)
Happy thrifting AND creating!
See you back here next week with this! Come see how I used these letters. (it's not how you think!)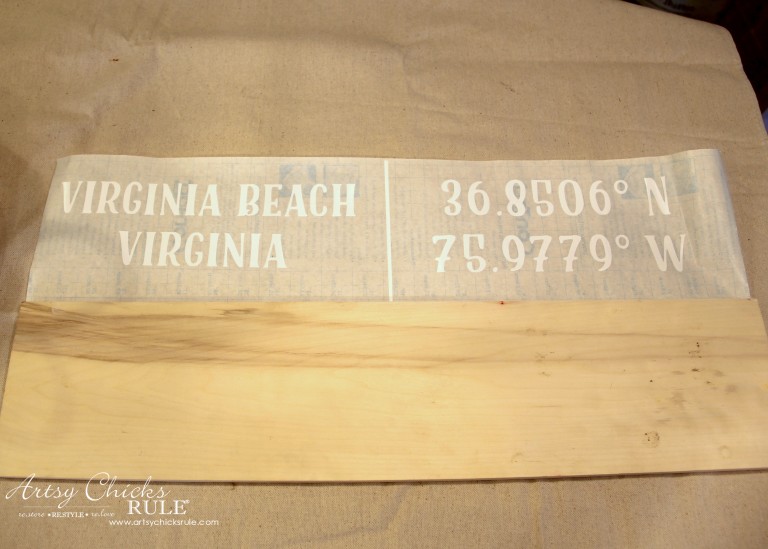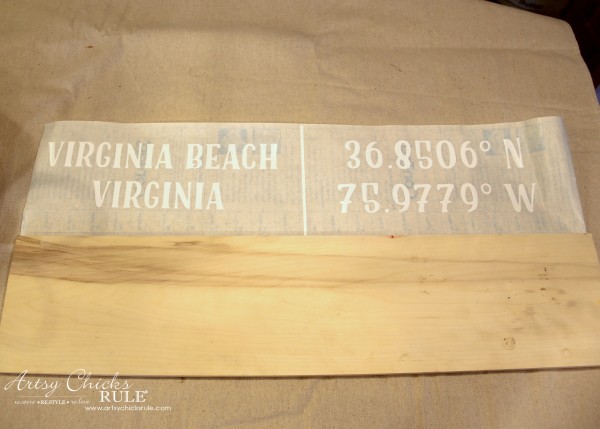 UPDATE!! See it now, here!
xo