Aubusson Blue Dresser Makeover (Best of Archives)
This post may contain affiliate links. Please see disclosures here.
Hello friends! :)
My "Trash to Treasure" friends and I decided to bring you a "Best of the Archives" for the month of February.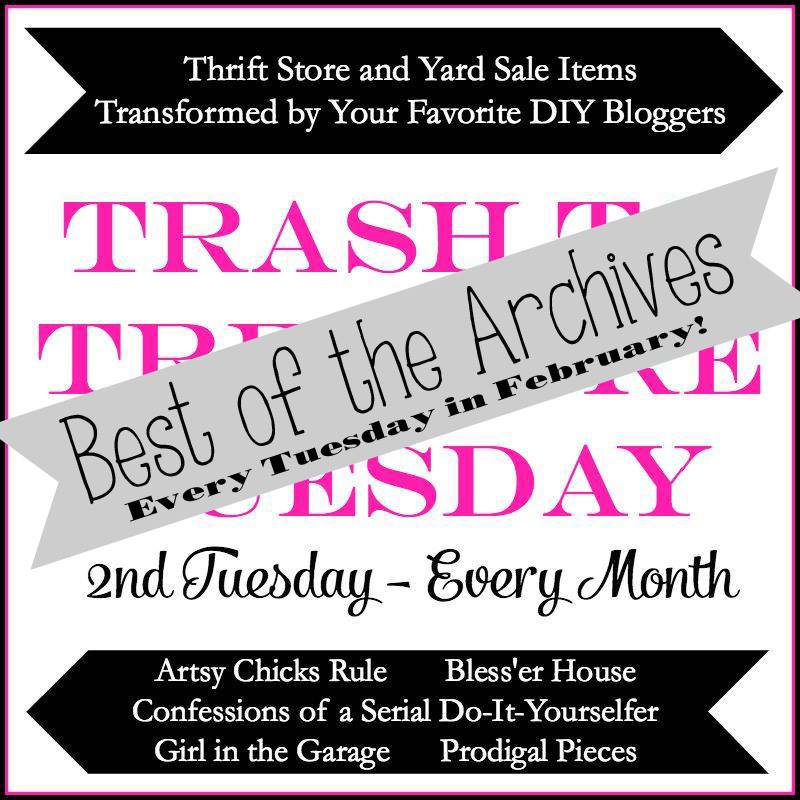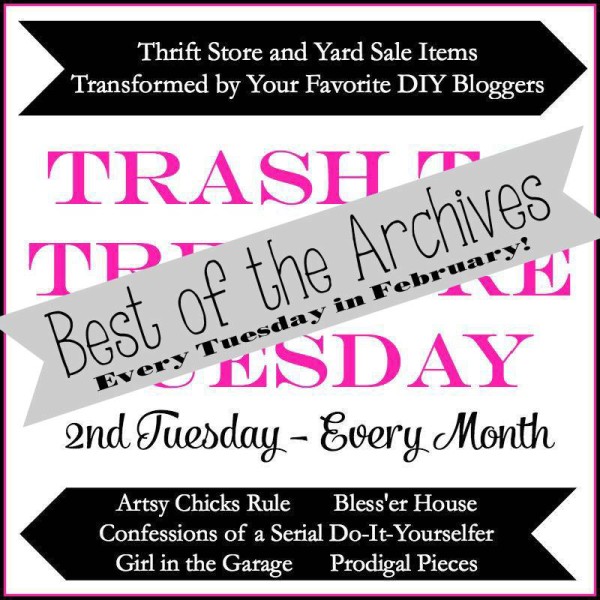 So, instead of sharing a new trash to treasure next Tuesday, we are going to bring you 4 every Tuesday this month.
They will be "new" (or new to you) treasures that we are pulling deep from the dusty ole archives.
We hope you will enjoy seeing some of these projects you may have never seen before!
……………………………………………………………………………………………………
One of my very favorite (to this very day!) projects (and one of my very first on the blog here) is my AUBUSSON BLUE DRESSER.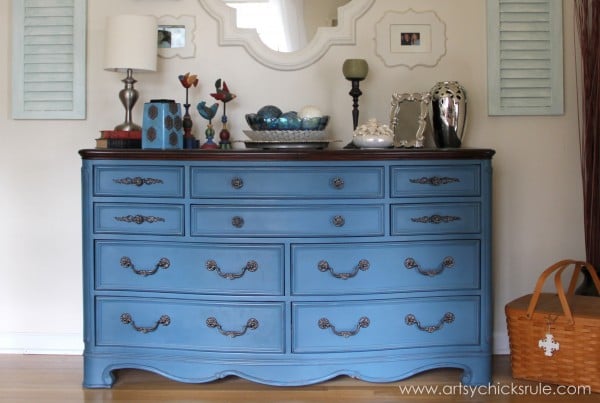 I just adore it.
It was definitely in need when I found it at the thrift store….for $35!
What a bargain….except it was missing a handle as you can see below.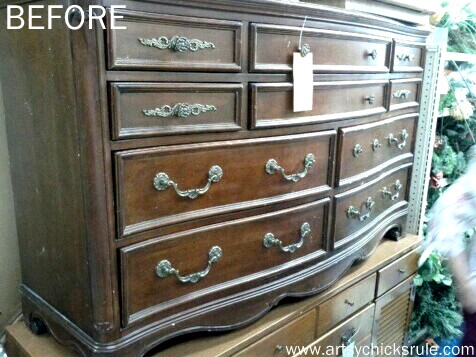 It was a little beat up too. (or a lot actually)
But I had a vision for it.
I wanted to keep the top natural in a nice deep, rich shade like walnut and paint the rest.
I also knew exactly where I was going to put it.
It actually still sits in the same spot almost 4 years later!
As far as that missing handle dilemma, you can read how I actually made a handle to match >>> here.
I'm including a few affiliate links below for your convenience. See my full disclosure here.
Materials List:
Chalk Paint® – Aubusson Blue
Clear Wax
Dark Wax
Wax Brush
Paint Brush (for Chalk Paint)
Oil Rubbed Bronzed Spray
Gold Paint
Citristrip
Minwax Dark Walnut Stain
Minwax Polyurethane
Purdy Brush (for stain and finish)
How to:
I used Chalk Paint® by Annie Sloan in the color "Aubusson Blue".
I LOVE (love, love, love) this color.
I very lightly distressed this one by sanding the edges before I waxed.
I know Annie Sloan recommends doing it after waxing but I personally like doing it before.
Next, I mixed a bit of her dark wax in with some clear wax. (just a tiny bit)
I applied the was to the entire piece (except the top) and hand buffed to create that gorgeous sheen.
For the top, I used Citristrip (my favorite!) to remove most of the finish.
(Gloves, safety glasses and dust mask are a must! Safety first. Always.)
Then I sanded it completely down to the wood and applied a dark walnut stain.
For the handles, I gave them a quick spray with Oil Rubbed Bronze Spray paint and a touch of gold paint to highlight.
I sure wish I had taken photos of the process but I was mostly sharing "before/after" shots at that time.
This is how it ended up…. (I made one of those handles..can you tell which one it is? ;) )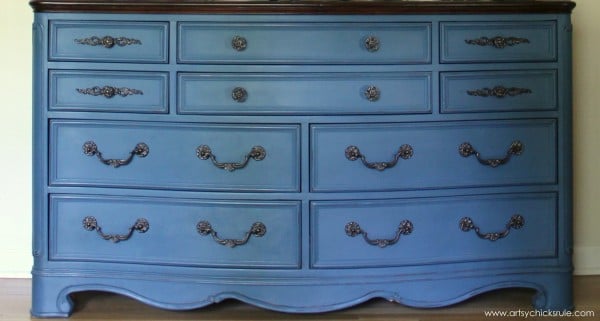 And here it is in the middle of the painting process.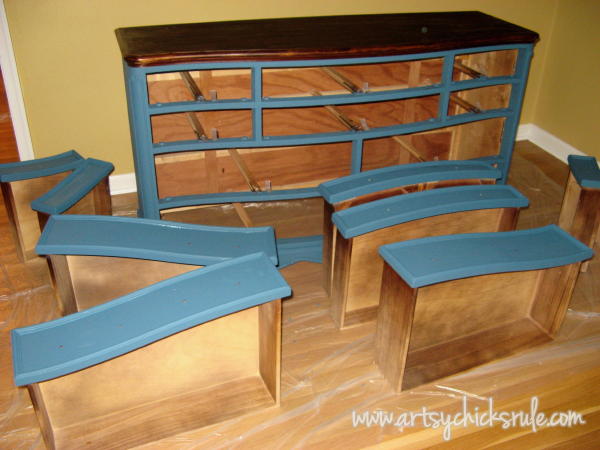 Isn't that color amazing???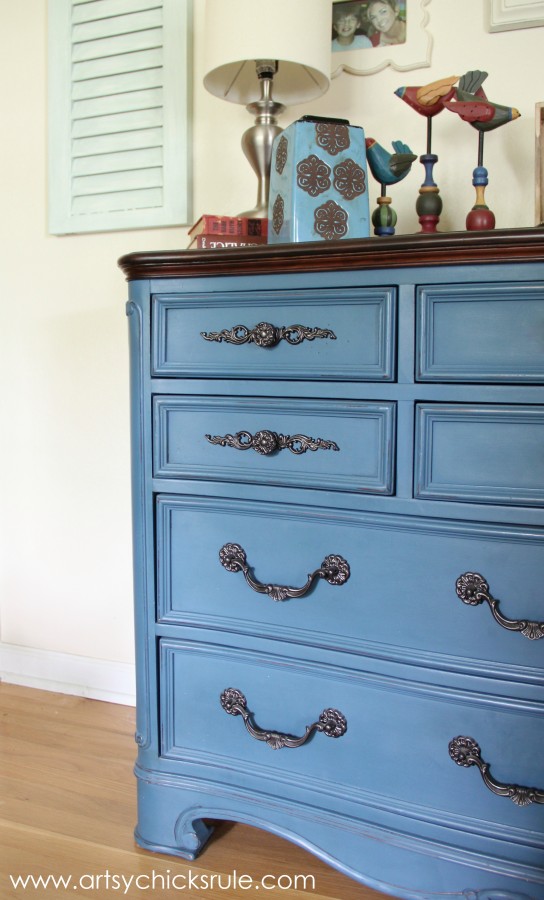 Look at that gorgeous wood top. That stain is just beautiful!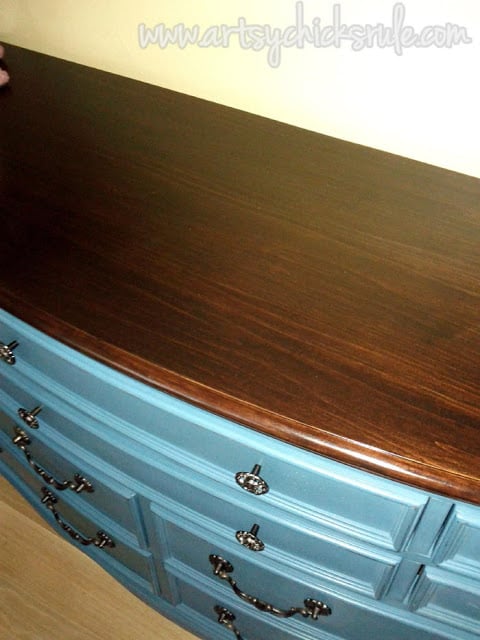 I love color…and I LOVE paint but I do love wood peaking through here and there.
I try to keep a bit in some of my re-do's.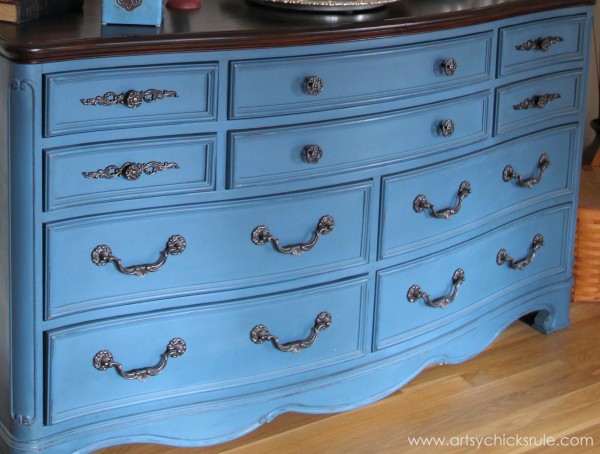 And the final "before/after" shot.
What a difference a little paint makes!
Definitely a treasure now. :)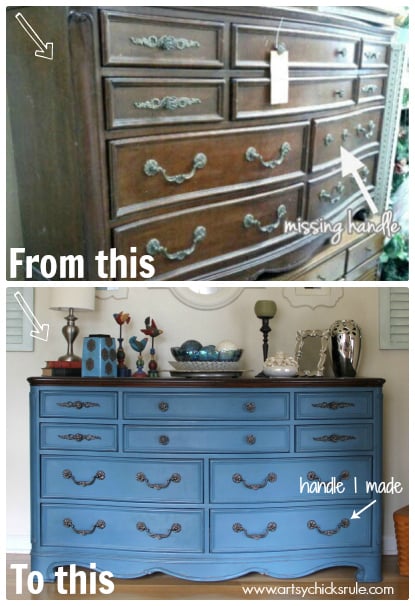 Be sure to see what my friends are sharing this week below!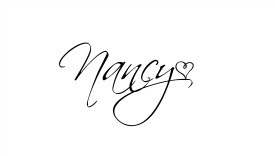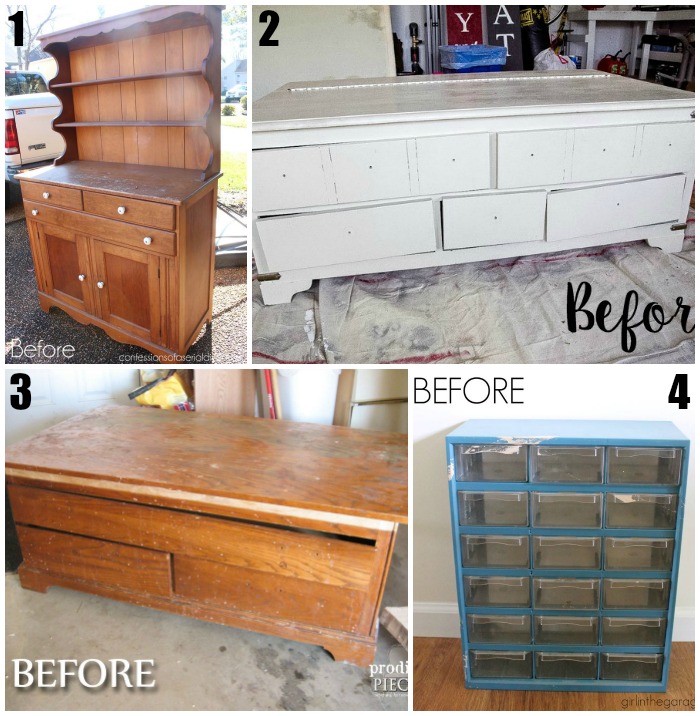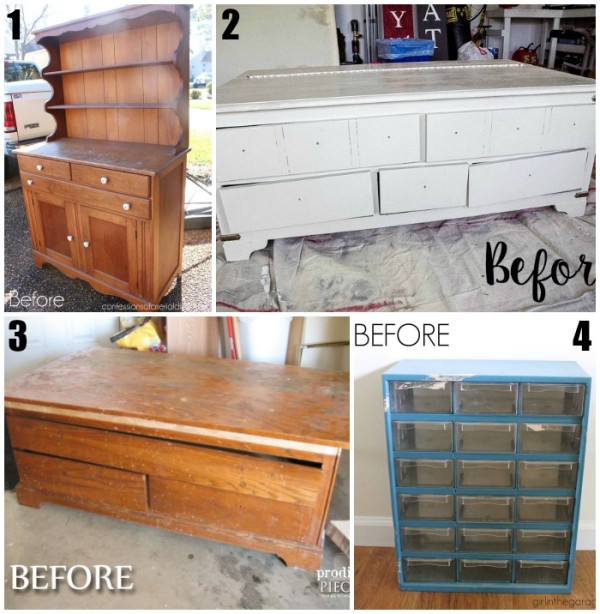 Follow along! –> Instagram ~ Facebook ~ Pinterest ~ Bloglovin