It's almost Valentine's Day…are you ready?
Do you do something special with your loved one on that day? Dinner? Movie?
How about presents? Do you buy something or make something?
Well you can make something this year because I'm going to share an easy little hand made gift perfect for Valentine's Day.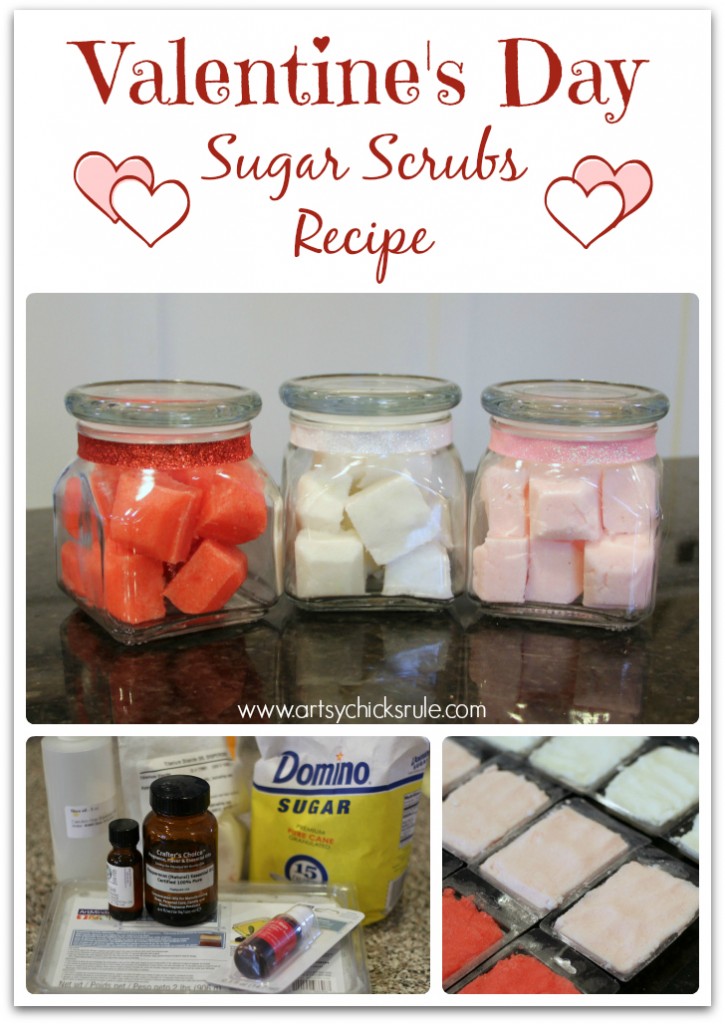 SUGAR SCRUBS
Who wouldn't like that? And so easy to make too.
I know, I know, I've been a crafty (and foodie) little blogger lately but I promise I have several (more than several really) furniture makeovers to share with you all very soon.
But today we're talking sugar scrubs….
These can be made with brown sugar or white sugar.
I used white because it was better for the colors I chose.
If I were doing these for my own use or as a gift (other than Valentine's Day) I would keep them 100% natural with no added coloring.
But since it is for Valentine's they had to be pink, white and red. ;) (not really, but where is the fun in that?)
So here's what you need to make them:
(I'm including affiliate links to the things you'll need for your convenience. See full disclosure here.)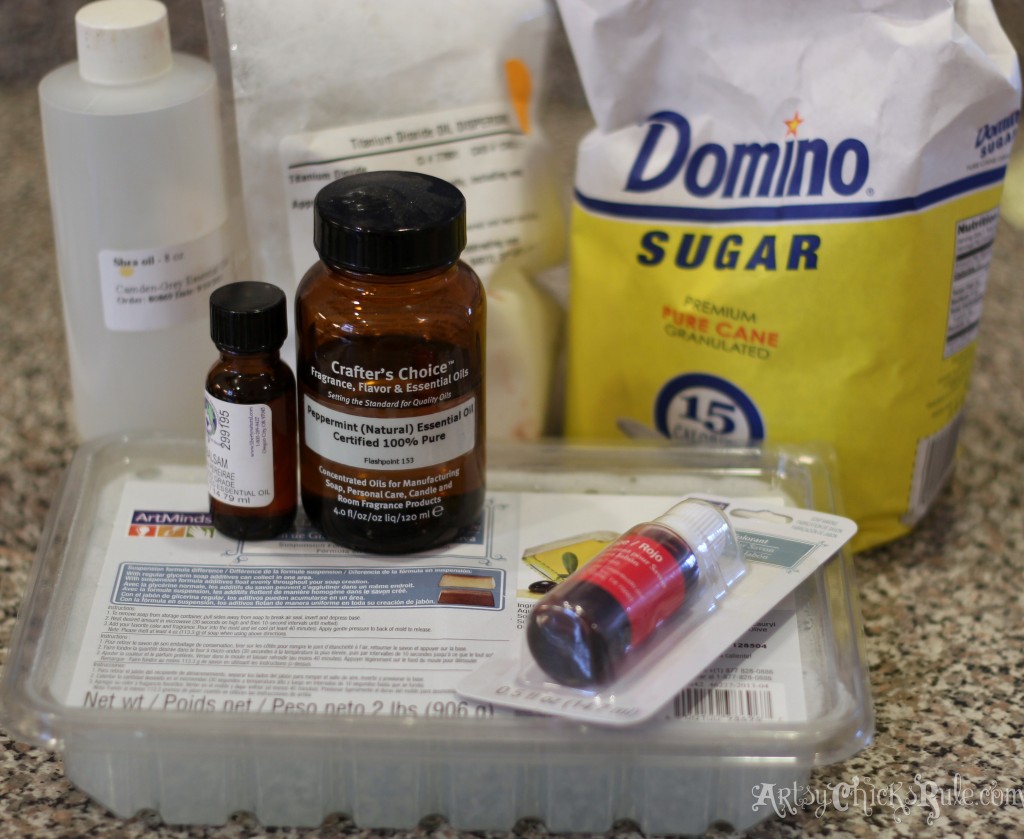 MATERIALS LIST:
Sugar
Clear Melt & Pour Soap Base
White (Goat's Milk) Melt & Pour Soap Base 
Red Dye
Natural Peppermint Essential Oil (or your choice of fragrance)
Oil (such as Almond, Avocado, Shea, etc) I used Shea
Glass Jars
……………………………………………………………………………
See? Pretty simple, right? (because anything past about 6 ingredients and you lose me ;) )
There is also Titanium Dioxide in the above photo. That is what is used in things to make them white. (like sunblock and the white based M&P soaps)
I knew I did not need all that soap and didn't want to purchase 2 large blocks, white & clear, so I colored half of it white myself.
(I had the titanium dioxide already)
If you are making these, you can just purchase white and clear M&P soap base since most of you won't have Titanium Dioxide laying around, right?
The reason I needed white AND clear is this:
The clear is used to make RED scrubs.
The white is used to make PINK & of course, WHITE scrubs.
First you will remove the soap from the plastic container and cut into squares. Place them in a microwave safe dish to melt.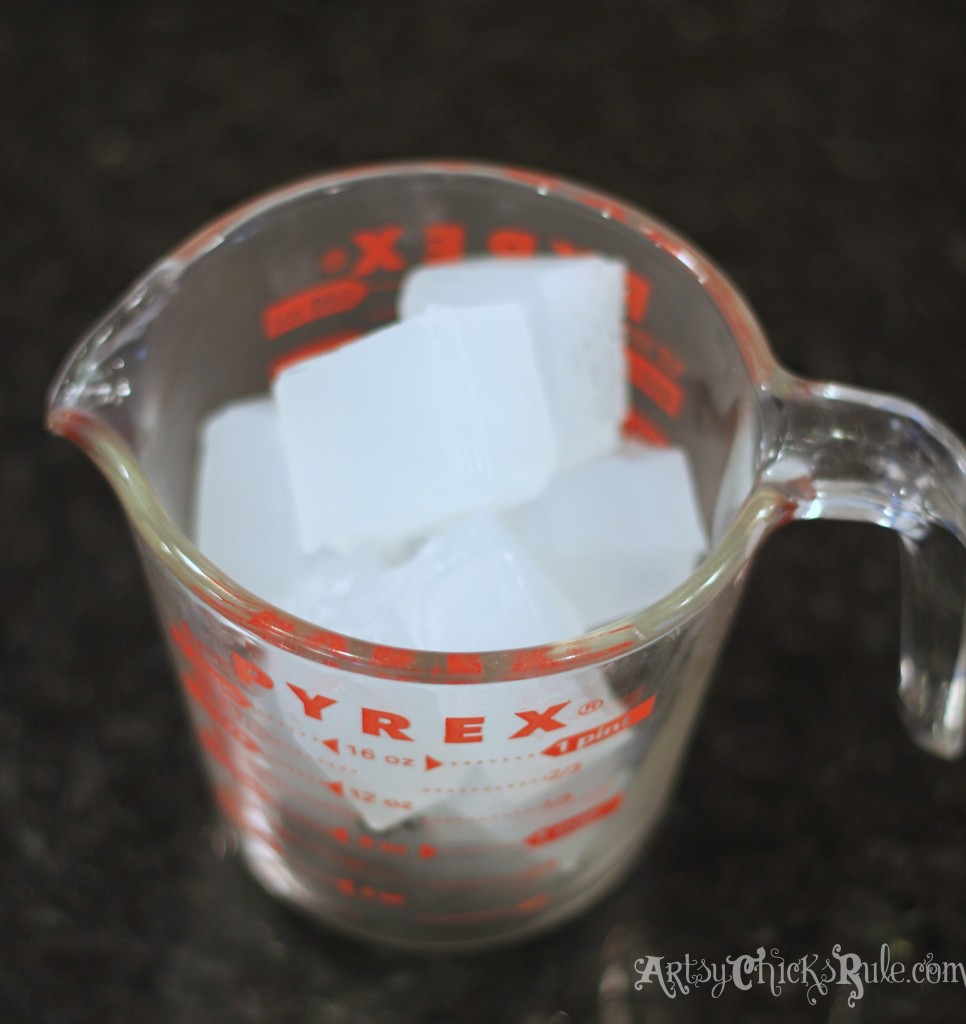 Heat per the directions on the container.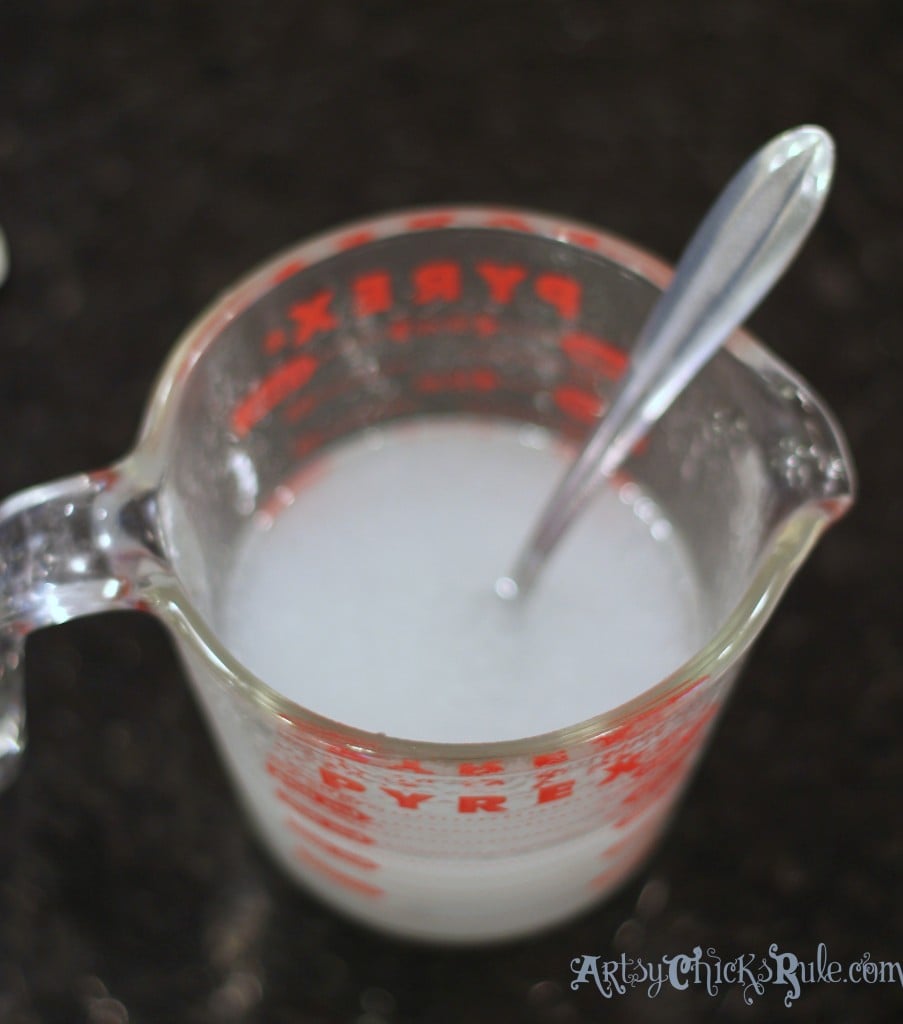 Once melted you will move to a larger bowl and mix in the dye, sugar and oil. (recipe is below)
Mix well.
I used my hands to "smoosh" it all together well and then patted it down into the molds.
You can use any kind of flat dish/pan of at least about an inch or so deep to mold the soap. I ended up using some small plastic containers that I had left over from my candle making/company days. (these were used for the scented blocks you break apart and put in warmers)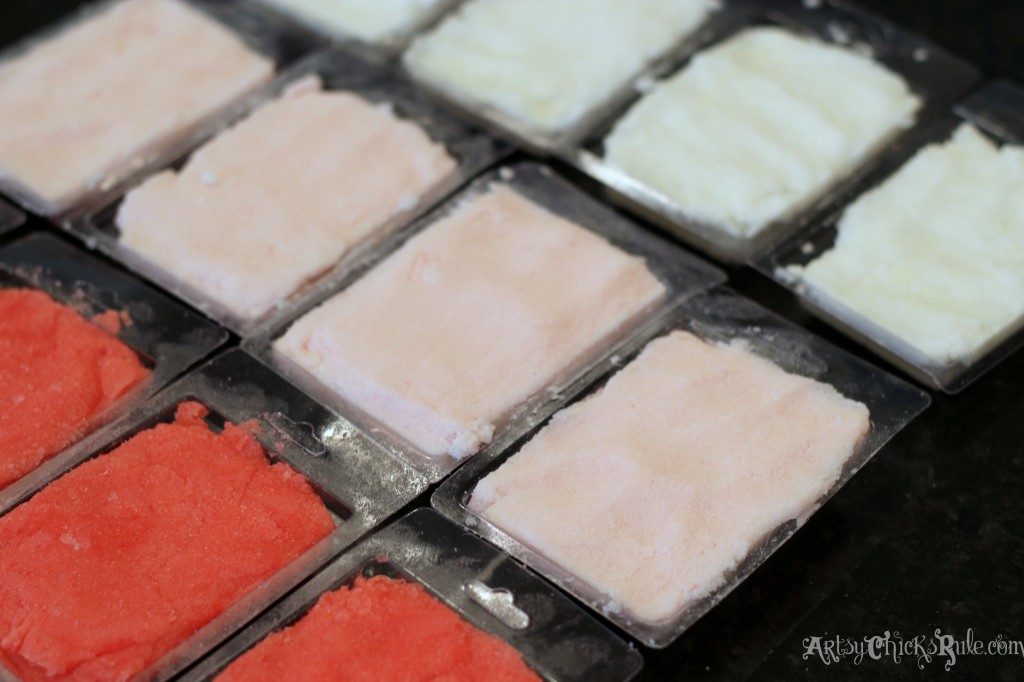 Once they are hardened remove them from the plastic or whatever mold you used …..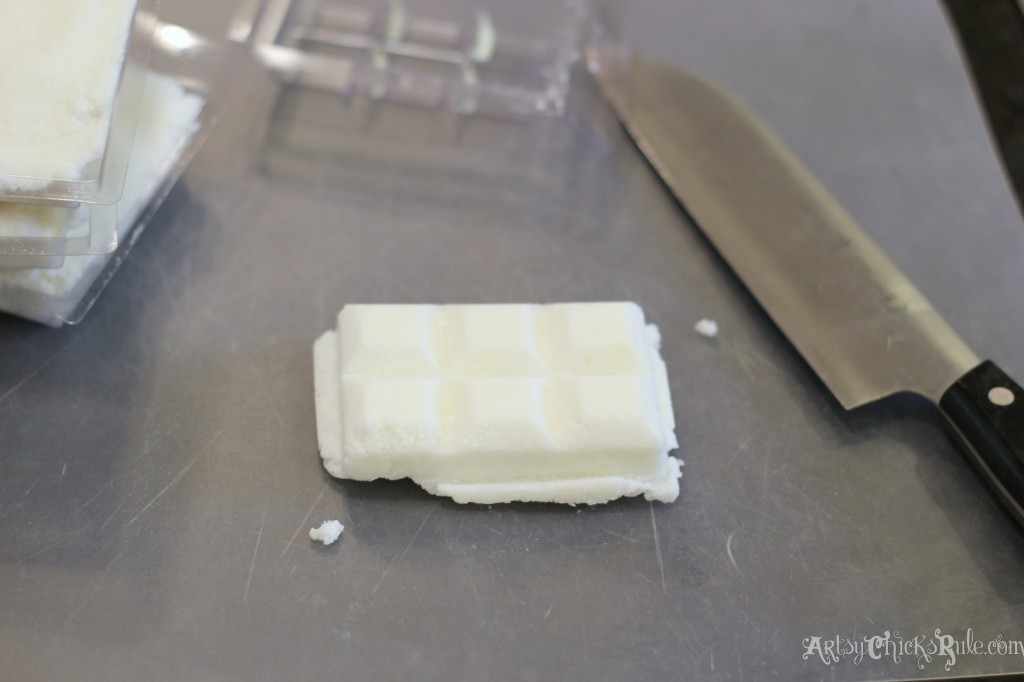 …and cut them into small squares.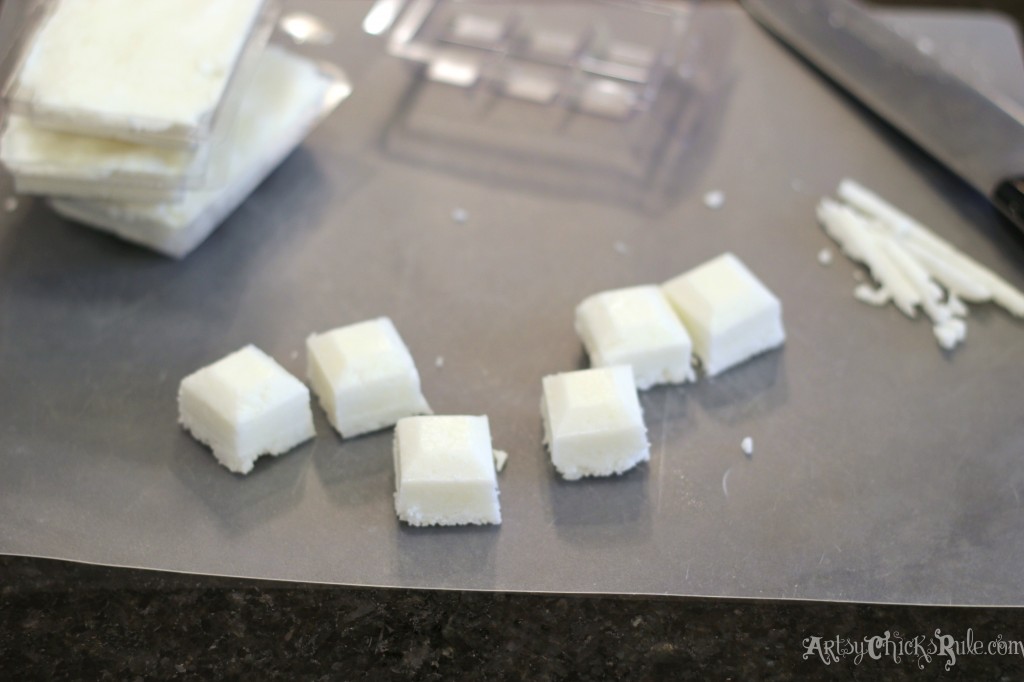 I had to trim the edges of mine to neaten them up but the size of the scored blocks were perfect.
I found some cute jars to put them in and decided to dress them up with this: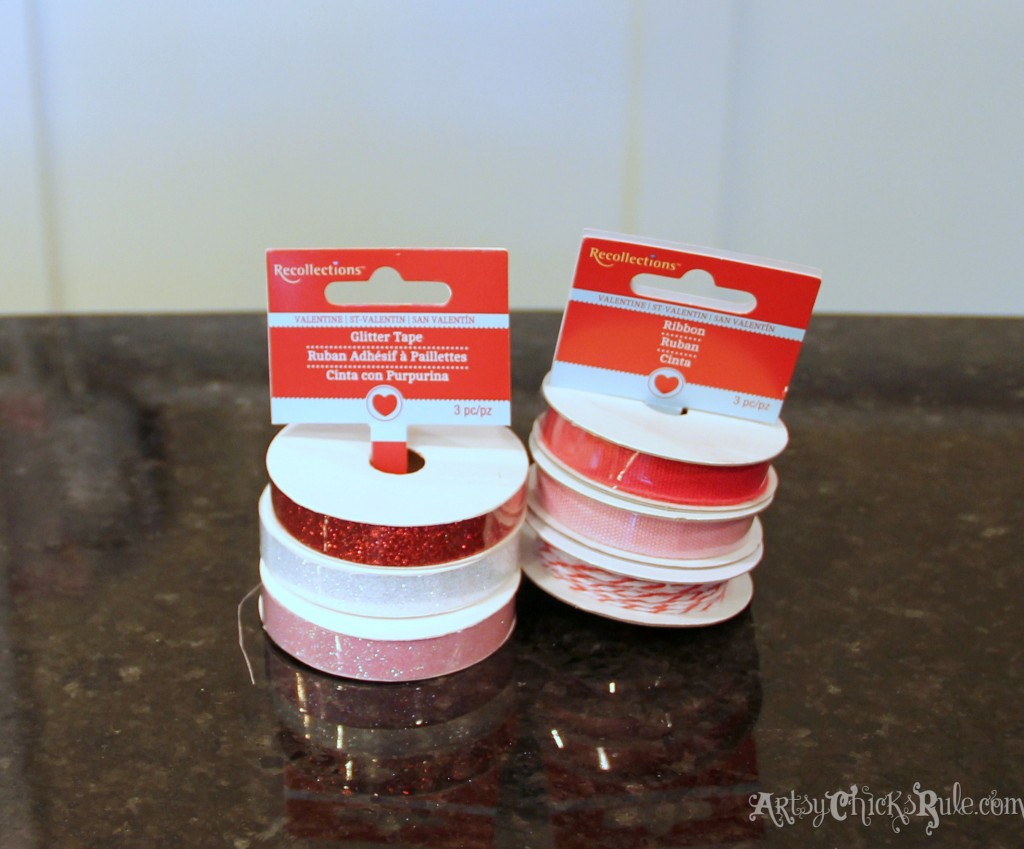 Sparkle tape! :) You might remember it from the other Valentine's Day project I did recently.
Simple…but adds a bit of zing!
Just wrap it around the neck of the jar like so…..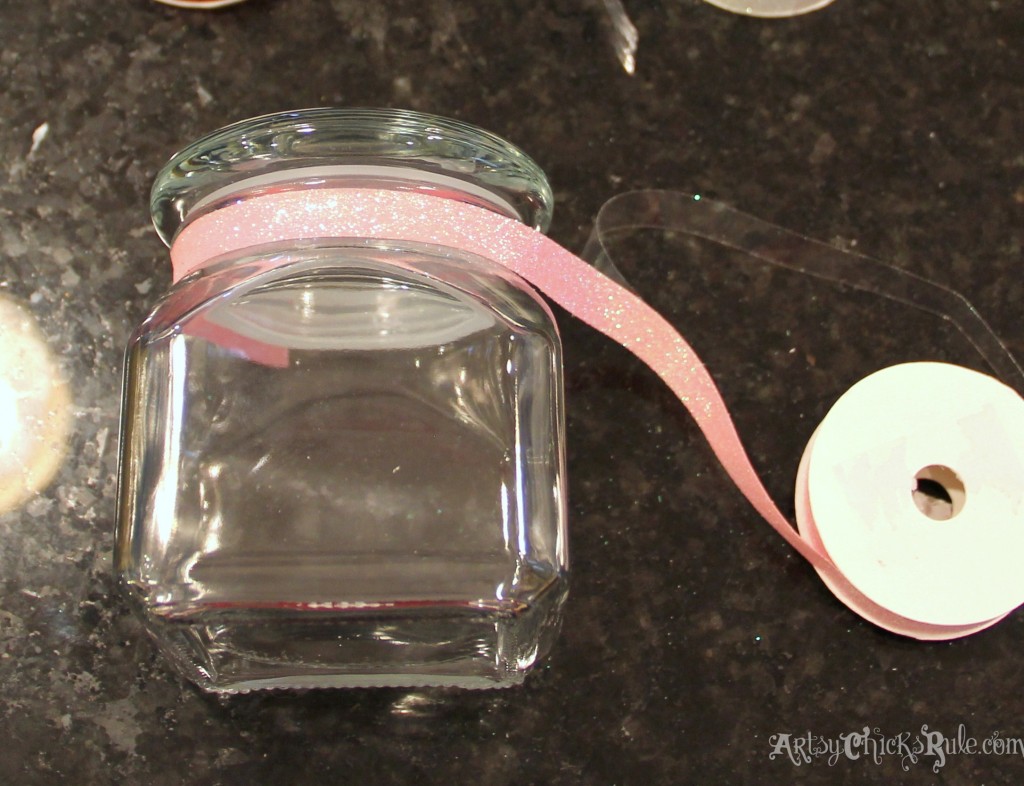 Now again…I totally believe in full DIY disclosure. ;) —>The tape did not want to stick to itself. (where it met in the back)
Maybe it was those darn sparkles I love so much.
Just a tad frustrating.  But no worries, I pulled out my glue gun and glued it.  All good now and it won't be coming apart…or off.
But aren't they so much prettier all dressed up?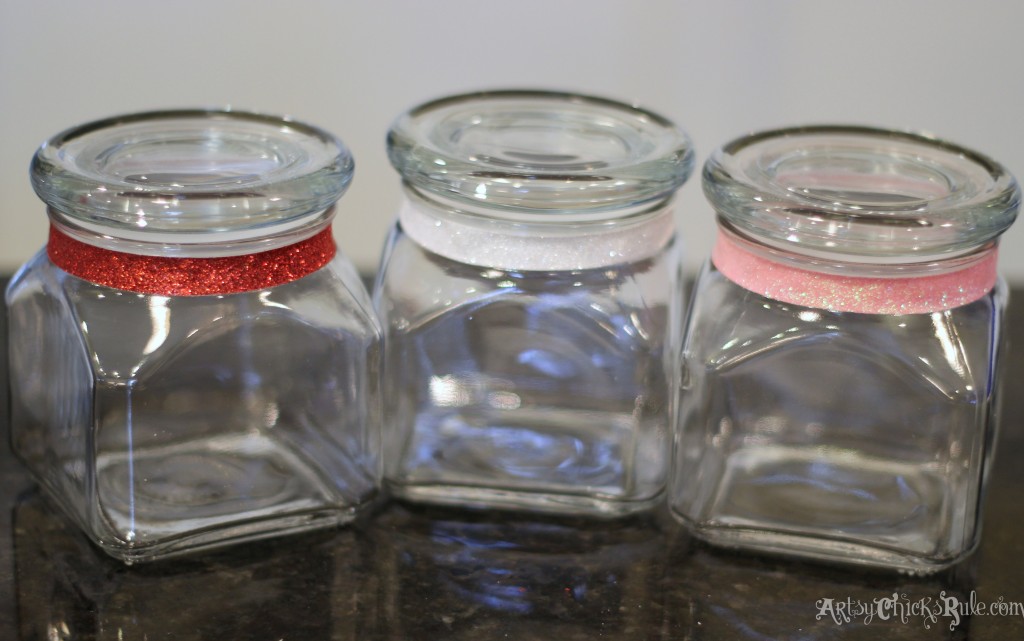 And all filled up with the scrubby goodies.
What a nice presentation for your loved one! Mother, sister, daughter, friend….or even your husband/boyfriend.
Just leave off the sparkle tape and maybe don't make the pink ones. ;)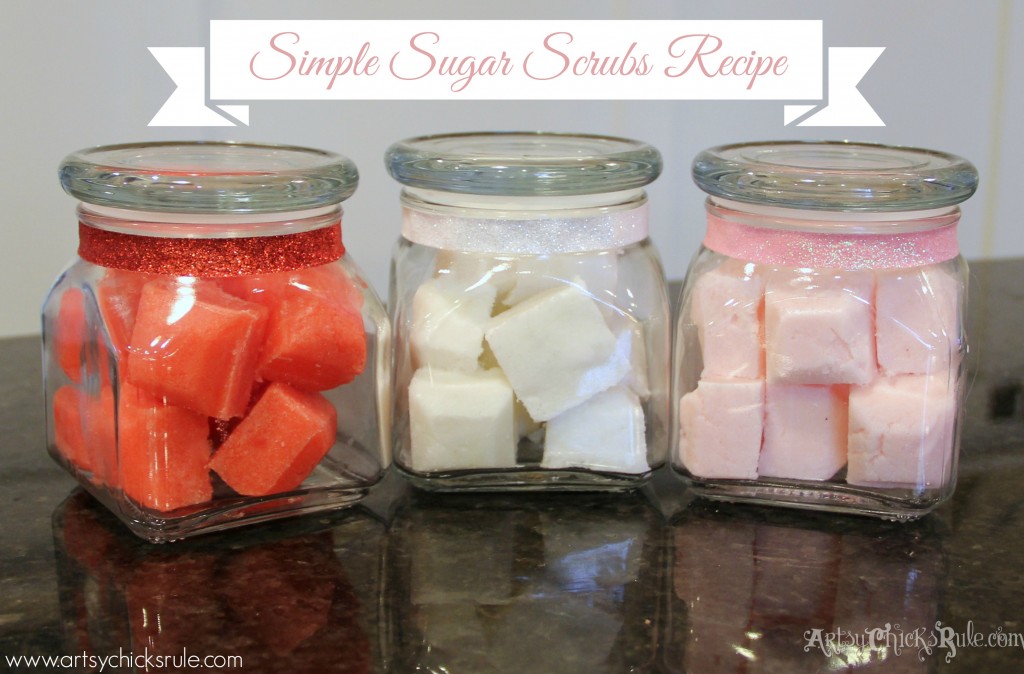 Simple Sugar Scrubs Recipe
Author:
Nancy @ Artsy Chicks Rule
Ingredients
1-1/4 C Melted Soap Base (white or clear)
2 C sugar (white or brown - depending on whether you use coloring)
½ C oil (of your choice - ex. Almond, Avocado, Hemp etc)
Coloring (if using it)
Fragrance (I only use natural fragrance such as Peppermint essential oil-you can use what you like) approx 20-30 drops
Instructions
Cut the M&P soap base into chunks and put into a microwave safe dish to melt per directions on the package.
While melted, quickly add the sugar, oil, color & fragrance.
Mix well together. (can use your hands if it starts to harden - or reheat slightly in the microwave)
Pour or pat into a rectangular mold/pan/dish.
Let harden and remove from pan.
Cut into squares (for single use) and store in a sealed container.
Now hurry! These can be made in no time but Valentine's Day is less than 2 days away! Run on over to your local craft store and get busy. :)
Happy (almost) Valentine's Day friends!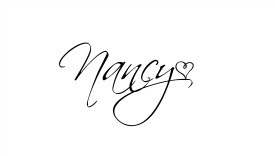 Follow along! –> Instagram ~ Facebook ~ Pinterest ~ Bloglovin
Follow Along Here!

Related affiliate links you may like: