Life is Short, Eat Cake (DIY Sign Tutorial Using Silhouette Cameo)
This post may contain affiliate links. Please see disclosures here.
Life is short, eat cake. Yes, yes, and yes again! My kind of thinking.
It's true, really.
Buy the shoes…and eat the cake. That too.
If you don't know what I'm talking about… see here–> "Life is Short, Buy the Shoes Y'all".
I hope you guys had a great weekend. We got to see my husband's brother, sister in law and nephew this weekend.
We hadn't seen them since Thanksgiving so we were finally able to exchange Christmas presents with them.
And Monday was my 29th birthday….again. Go figure! ;) It was a busy and fun weekend of celebration.
This sign I'm sharing today was a gift I made for my sister in law.
It's definitely her motto!
And it's a good one.
How could you ever go wrong with something that says …. "eat cake"?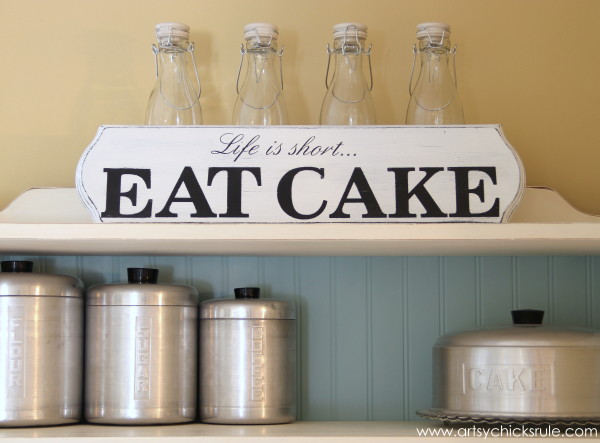 You can't.
AND I'm also loving it on my Baker's Hutch (where it's been sitting since I made it).
So much so that I really wanted to keep it.
Nah..I can't do that. But I can make another for me…and I just might!
Okay, time for this super easy tutorial…made even easier by using my Silhouette Cameo.
Life is short, eat cake sign tutorial
I bought the wood board I used from Michael's.
I had originally considered hand painting in the lettering….as you can see below.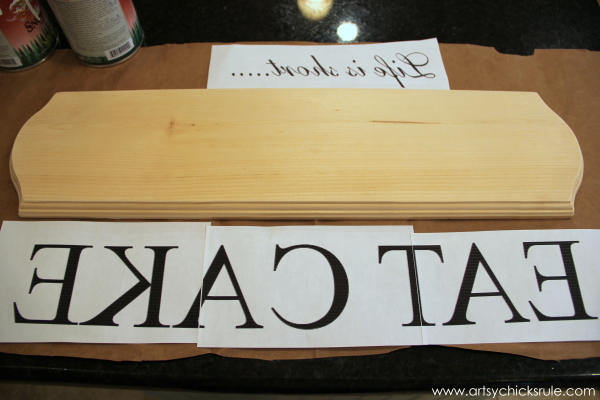 Printed and ready to go.
But then I remembered I was painting it black as a base with white over top.
Then I would distress to bring the black through and add black lettering.
Sooo…why not just use my handy, dandy Cameo instead?
My black lettering would be done for me.
Follow along…
I painted the board black first. I used General Finishes Milk Paint in "Lamp Black" for the base coat.
(I LOVE this paint)
Then I designed and cut the letters (using vinyl) in my Silhouette Cameo.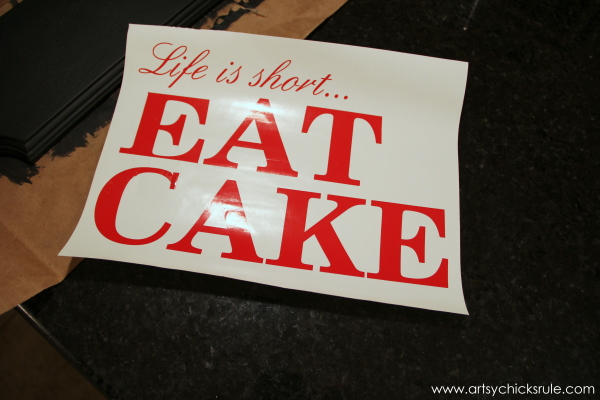 I applied them to the black board once it was completely dry.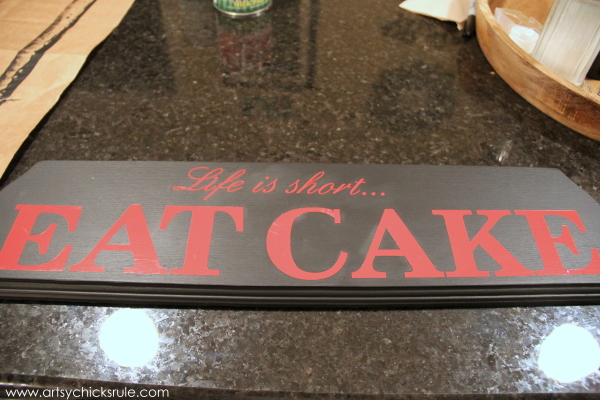 Then I used General Finishes Milk Paint in "Snow White" to paint right over top all of that.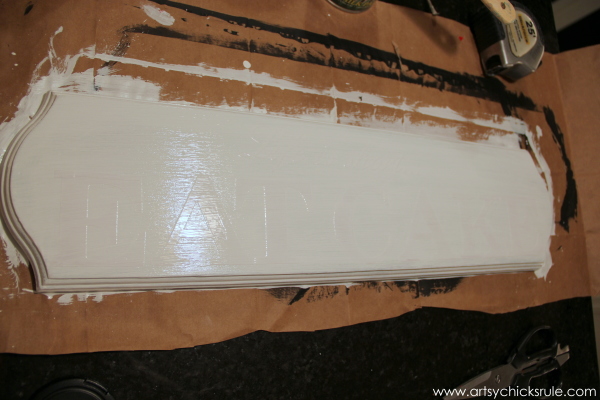 I applied two coats and let it dry (only a bit) before removing the lettering.
I didn't let it dry all the way because I thought the vinyl lettering might be easier to remove if I didn't.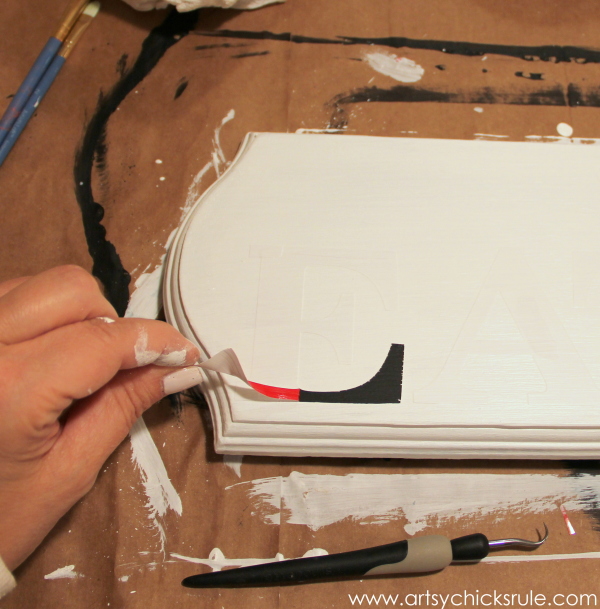 That little tool comes in very handy.
This photo shows all the vinyl removed, before distressing.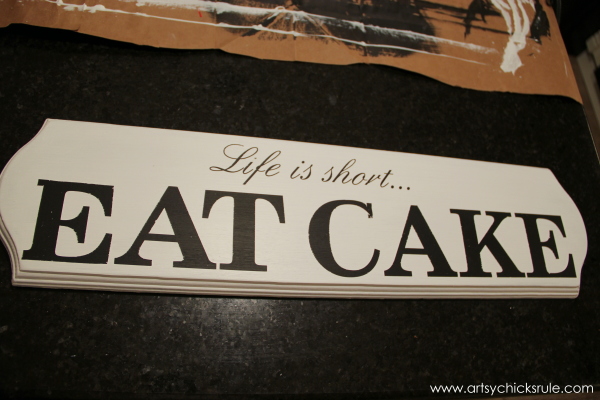 It needs the distressing. Sort of blah without it. I think so anyway.
Want the free printable?

MATERIALS LIST:
Silhouette Cameo Bundle
General Finishes Lamp Black
General Finishes Snow White
I used fine sandpaper and rubbed over the edges to bring the black through. Then I used it all across the front of the sign where the lettering is just to soften it a bit.
Plus, I wanted a bit of the black to show through there too. (as you can see below)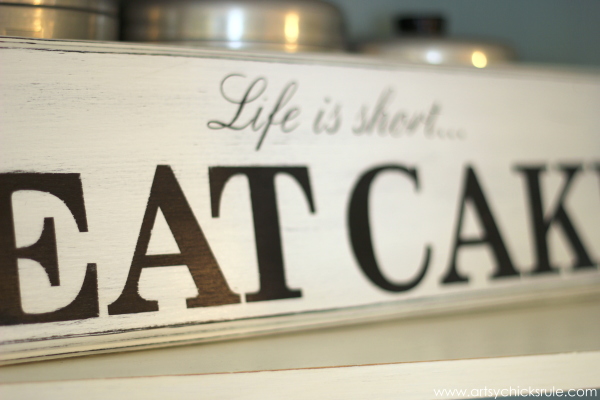 Then I put it on my Baker's Hutch, in several places, to take photos.
Doesn't it look good there? :)
Goes so nicely with my thrifted ($3.00) retro cake plate too.
Shhh, I want to keep it….but I can't.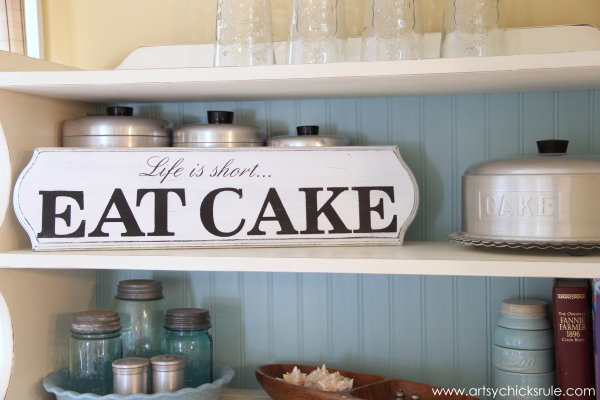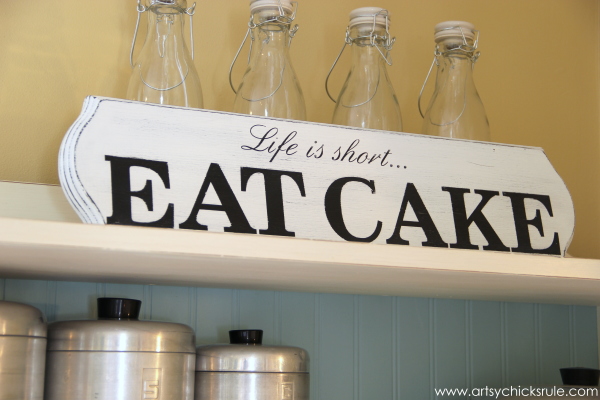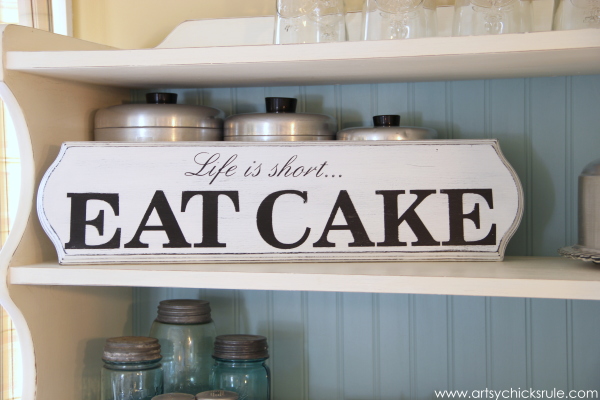 Isn't that great? The black from underneath makes the letters soooo easy.
I mean SO easy.
I didn't have to hand paint all of those in like I usually do.
Don't get me wrong, I still love my hand-painted lettering, but this is so nice for a change.
PIN it to save it!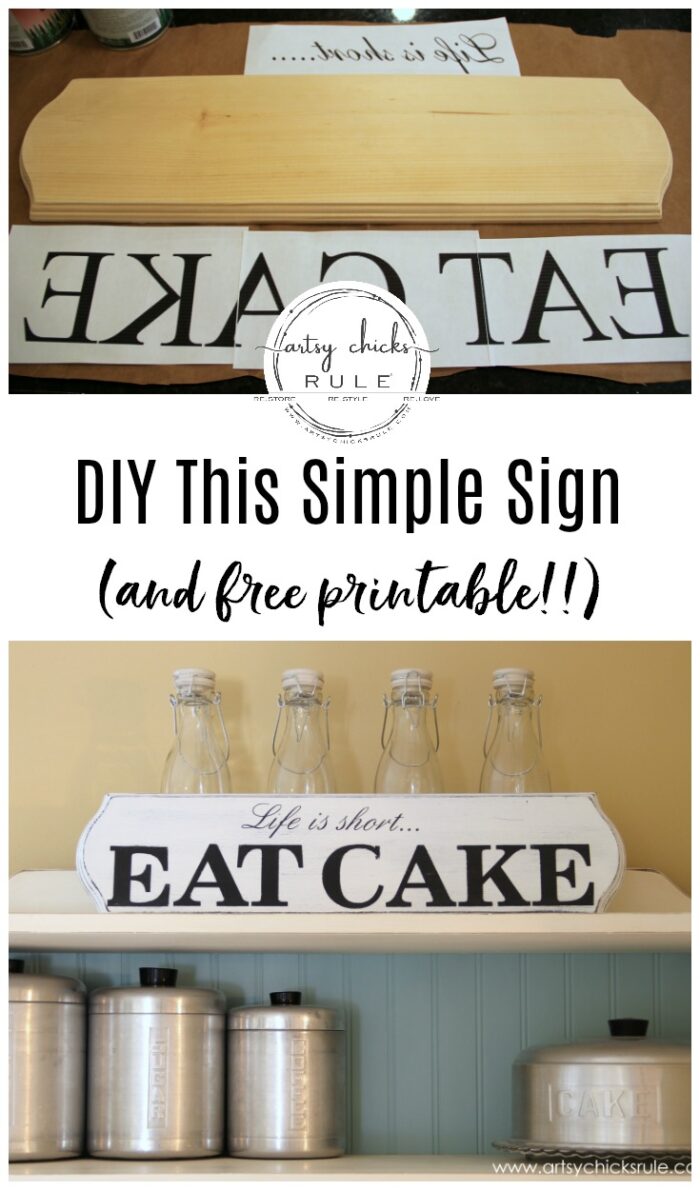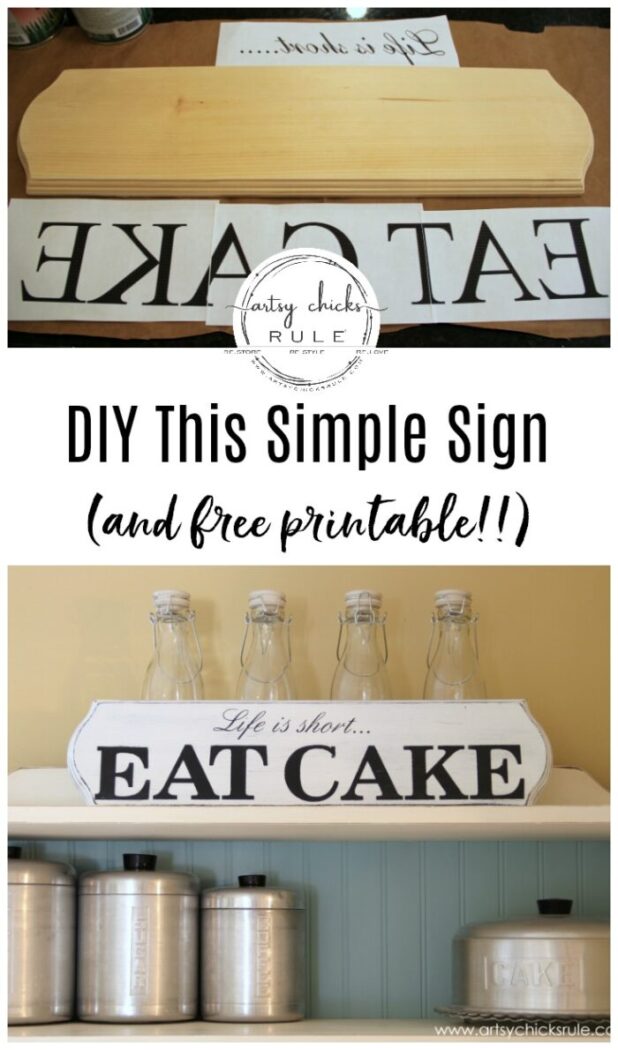 Do you own a Cameo? Have you used this technique before? It's a really neat way to create signs and lettering.
Be sure to check back next week for this! Just look at that finish. Can't wait to share what I painted on there.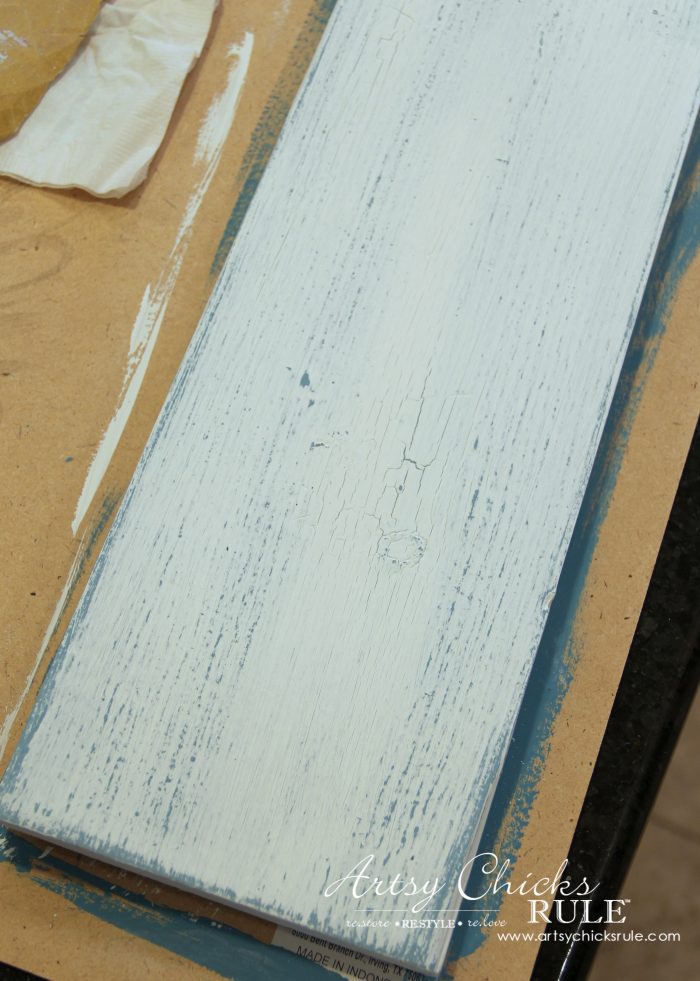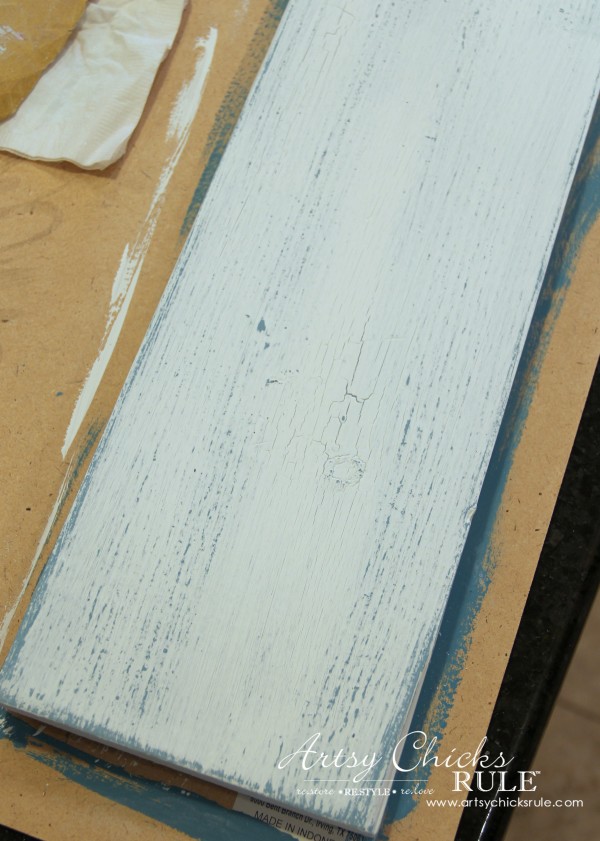 UPDATE!! See it now, here!
xo