This post may contain affiliate links. Please see disclosures here.
Hey Friends!
I've been meaning to share this cute wine rack decor I picked up awhile back.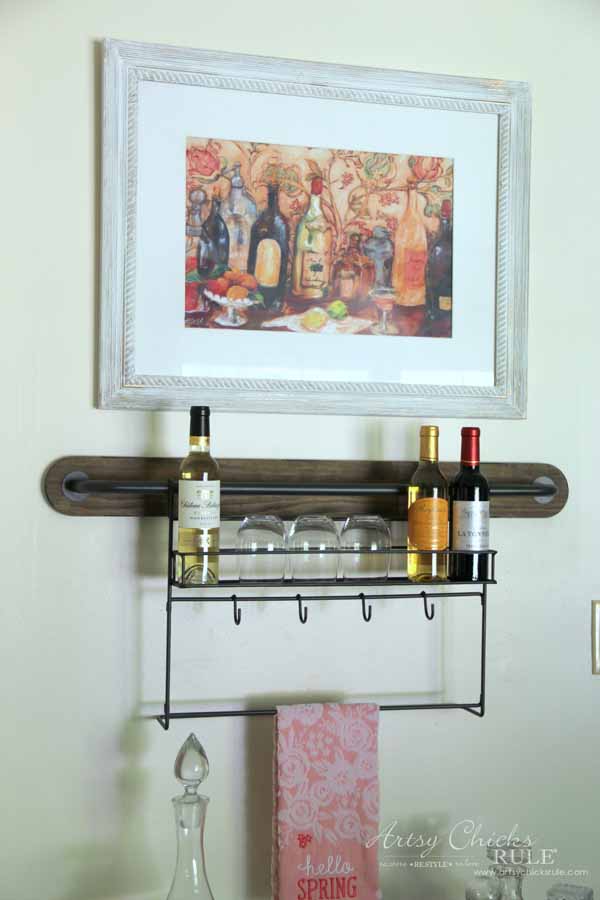 It's been on that long "to-do" list. ;)
Anyway, just a simple little change up in this corner of the dining room.
You may (or may not ) remember what it used to look like.
We had originally used one of the kitchen cabinets from our remodel on the wall there.
It was great for storing glasses etc. but I was just ready for a change.
You may also remember the painted little estate sale sideboard I had in this space.
You can see both the cabinet above and the sideboard >>> HERE.
I knew I wanted to have some artwork on the now blank wall and some kind of pretty glass/wine storage too.
I found these at the World Market and thought they'd be a perfect addition to the dining room.
You can see the mood board I created for the dining room >>> HERE.
In case you are interested, I'll include the affiliate links for the items. (see my disclosure here)
They are actually on sale right now! :)
The wall storage system (my wine rack decor below) can be found >>> HERE.
Other items and configurations can be found >>> HERE.
And just so you know, this is called the "spice rack". So no, it doesn't fit full size wine bottles.
I was a little bummed about that and almost returned it.
But I really love it and the look, so decided to make it work…with smaller wine bottles. :)
I don't really need the storage as I have a wine refrigerator and keep the rest of my bar items in the cabinets below my bookcase in the study.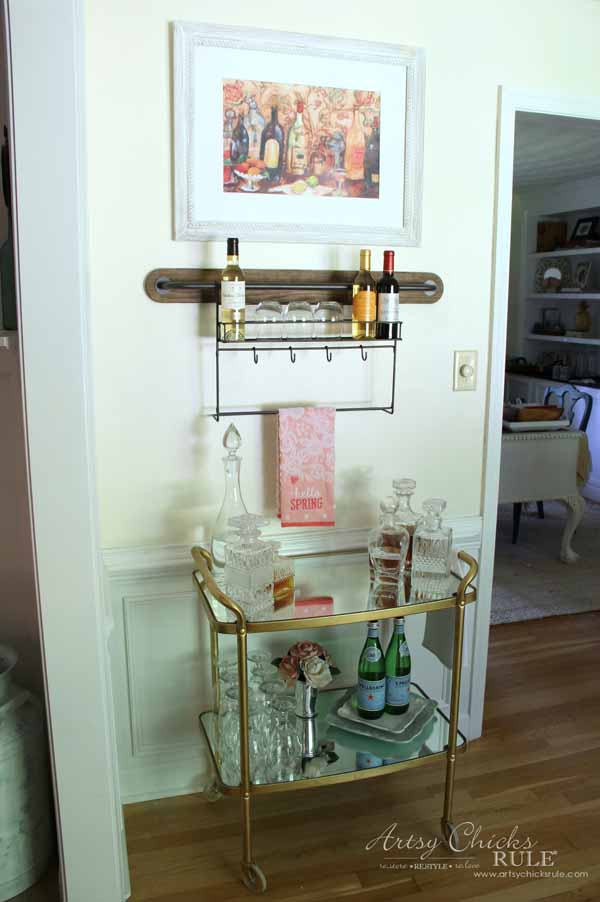 The beverage/bar cart was an estate/yard sale find. $15!!
Do you know how pricey they are?
But I should mention that this one did not look at all like this when I found it. ;)
To see how it started, and what I did to it, visit this post >>> HERE.
I plan to hang a little basket from some of the hooks once I find one I like.
The basket will hold all the corks. :)
The artwork was also used before.
I had it above the old estate sale sideboard I linked earlier above.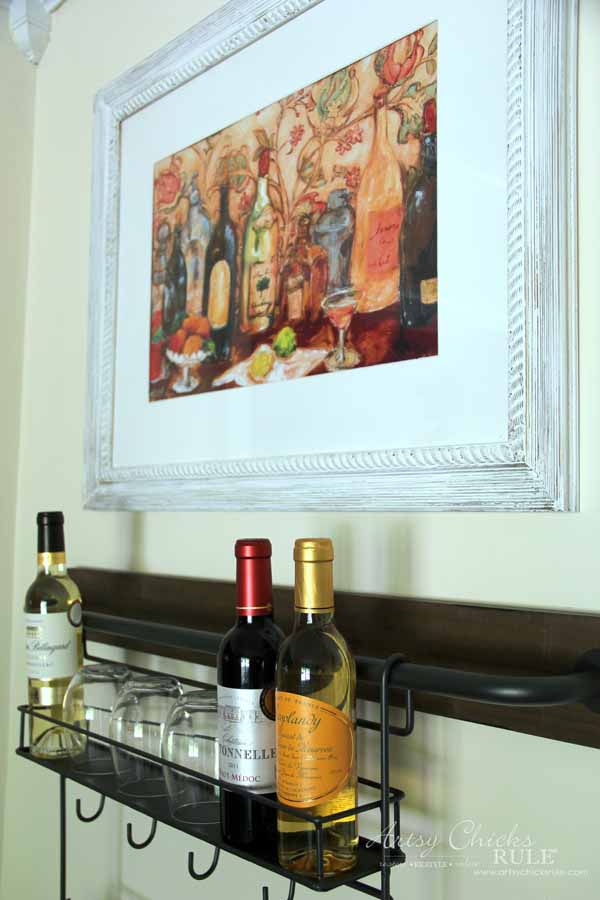 I love the splash of coral in this mostly neutral/teal/turquoise room.
You can see the rest of the dining room >>> HERE
I did, however, have the artwork print inside of a smaller black frame previously.
I found this frame at Michael's. I sprayed it gold, gave it a coat of white and then gently wiped away some of the paint to reveal the gold underneath.
I wanted to keep it mainly neutral but also tie in the gold below.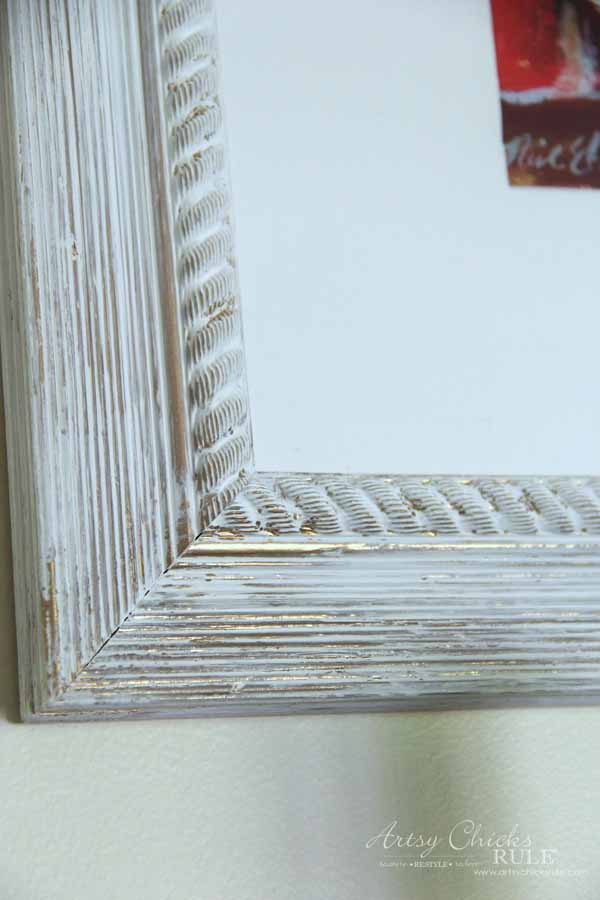 Disregard the towel that says "Hello Spring", hee hee, yes, I took these photos that long ago. :)
How cute is this one?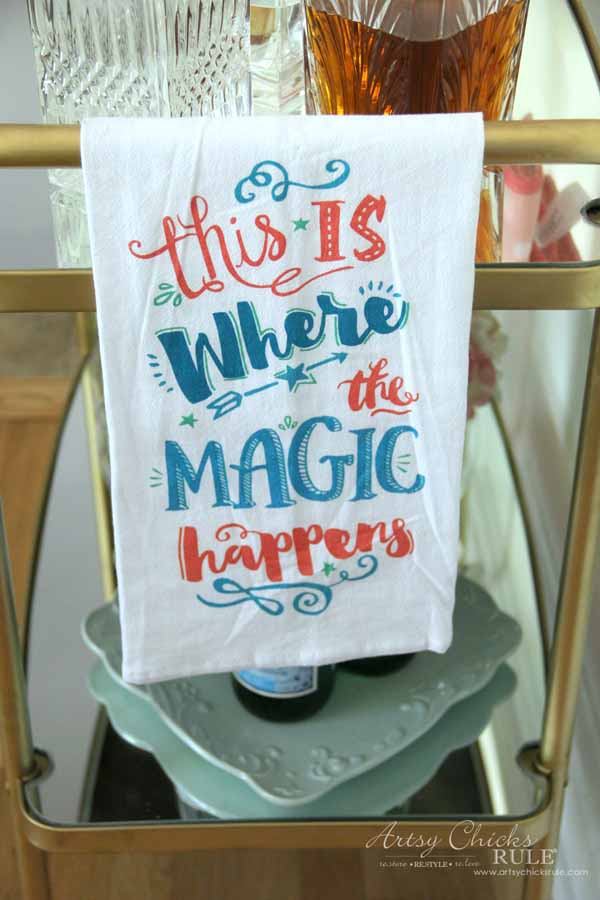 Love it…and the colors.
I'm really thrilled with how this wine rack decor turned out.
And thrilled I was able to use the same art piece I already had.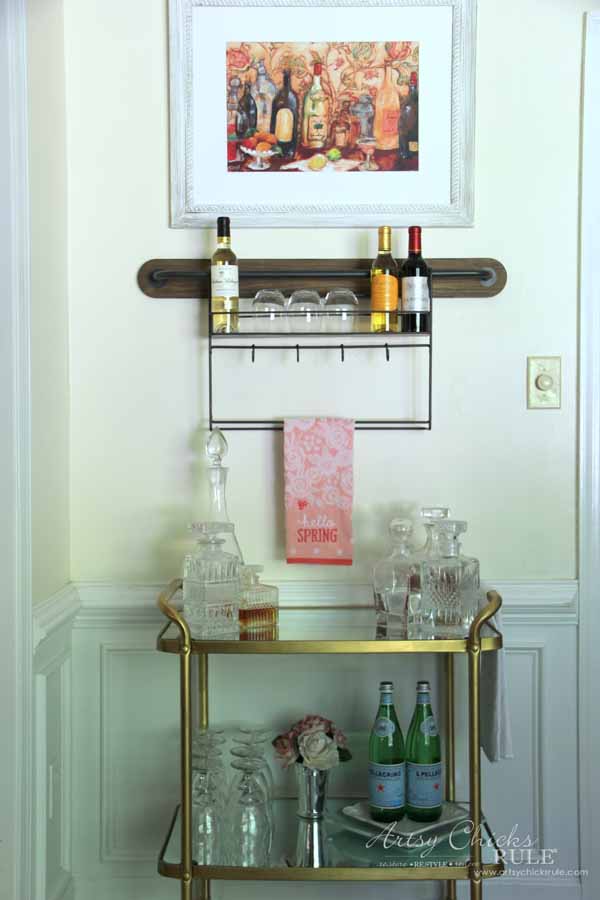 I wanted to have something a little more simple in this space.
I started to feel overwhelmed with all of the "stuff" and furniture pieces on every wall.
So I lightened the load! ;)
Lots of changes going on around here.
OH…and I have to tell you guys….I'm getting my white, slip covered furniture!!!
Yeehaw!! I finally got my husband on board. lol No….more….putty colored tan leather.
Which I should say, I really loved for a long time.
I'm so happy and can not wait for it and for me to finally get around to painting in that room too! ;)
Soon.
Will see you later this week with a really fun, Fall favorite!
(oh and pop over and check out my other latest post, if you haven't already >>> 5 Questions to Answer with Selecting Flooring – good info in case you are looking! :))
xoxo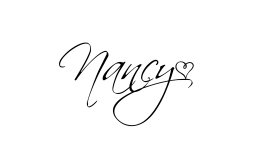 Follow along! –> Instagram ~ Facebook ~ Pinterest ~ Bloglovin