Ugly Thrift Store Find -To- Gorgeous, Glittery Holiday Platter
This post may contain affiliate links. Please see disclosures here.
I am an avid thrift store shopper. I find all kinds of treasures every time I go.
There really is no end to the awesome and very inexpensive (cheap!) things I come across.
And it's so much fun!
If you don't shop thrift stores, you should.
Go today…. you have no idea what you could be missing out on.
It's amazing some of the things you can find out there.
But you have to be able to see past what you are looking at to see it's potential.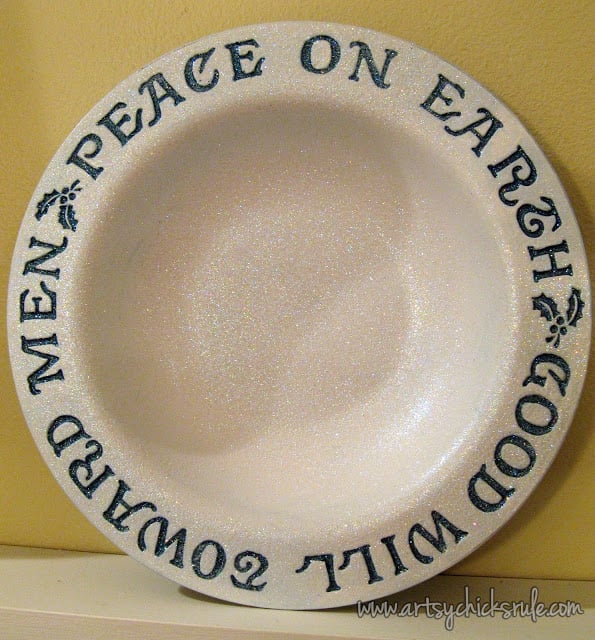 Like this one, for example….
I got this gorgeous metal bowl/platter from the thrift store this week……
Isn't is just lovely?
Those gorgeous peacock/turquoise-y blue colored letters against the stark white.
And all those glittery sparkles… Oh my!
But it didn't look like that when I bought it…..wait til you see….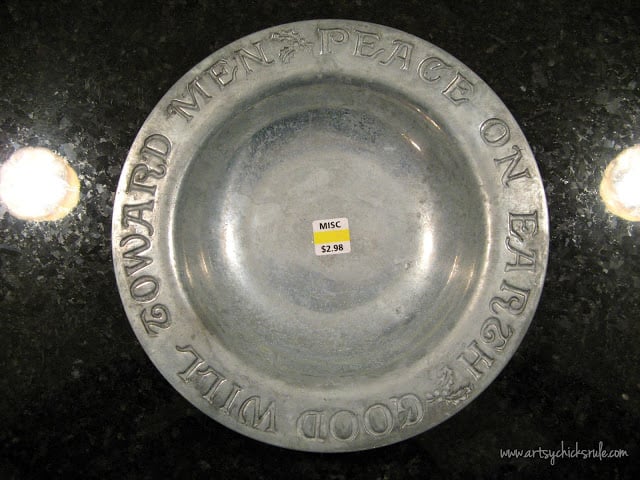 Yep. Not pretty. At all.
It was just an ugly, old worn metal thing. But I saw the goodness.
And I saw those inset letters.
I immediately knew what it needed.
Paint, of course. And glitter.
For once my vision actually became a reality. It turned out exactly how I pictured it at that moment.
That doesn't always happen ya know.
The vision in my head is sometimes off a bit from what I can actually achieve.
Imagine that???
But this time, it was right on!
Here's what I did to get it all glittery and gorgeous.
I sprayed it with white gloss spray paint.
It's better already, right?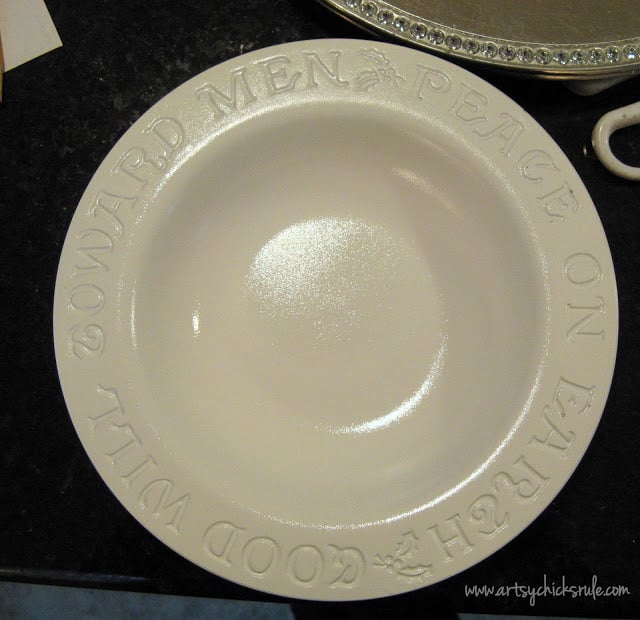 Super easy.
Then I used ASCP, in the color Aubusson, which is a super gorgeous Peacock-y blue color, to paint the letters.
I used a stiff bristle artist's brush to push the paint down into the letters.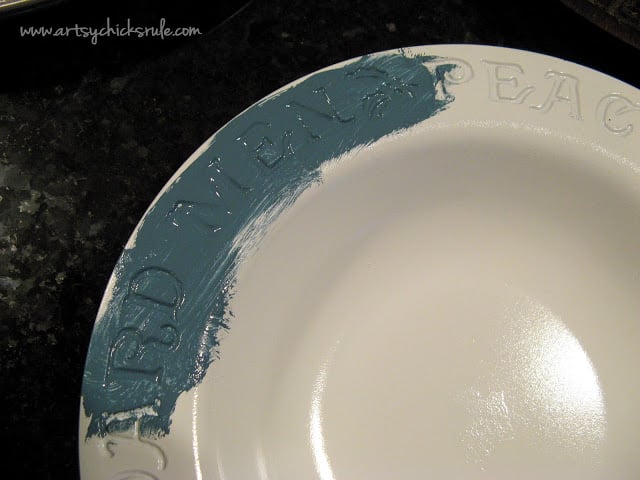 Ok, and to be completely honest…..
This part did not work out as perfectly as I had pictured it in that head of mine.
I squished it in and then took a damp paper towel and wiped over the top.
The paint stayed in the letters. All good right?
But you had to work super quickly because the white paint was wanting to suck up some of that BLUE chalk paint.
Acrylic paint might work better for this.
You can see a bit of blue tint around some of the letters.
Frustrating….and I may have ….%&*@#…..Yea, I think I did.
But it all worked out in the end!
With a little white paint to cover the blue tint by hand it ended up looking like this….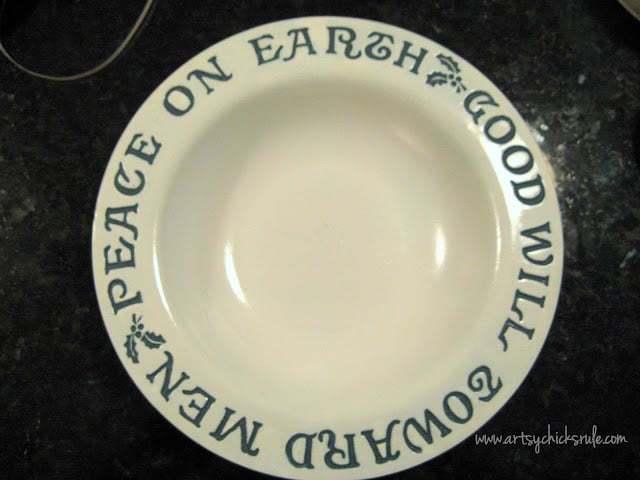 Still a little blue noticeable around some of the letters.
But it won't show when I'm finished.
After the letters were good and dry I sprayed it with Minwax Polycrylic Spray.
While it was still wet I sprinkled it very liberally with glitter.
Can't you just hear the Angels singing???
Glittery goodness at it's best…….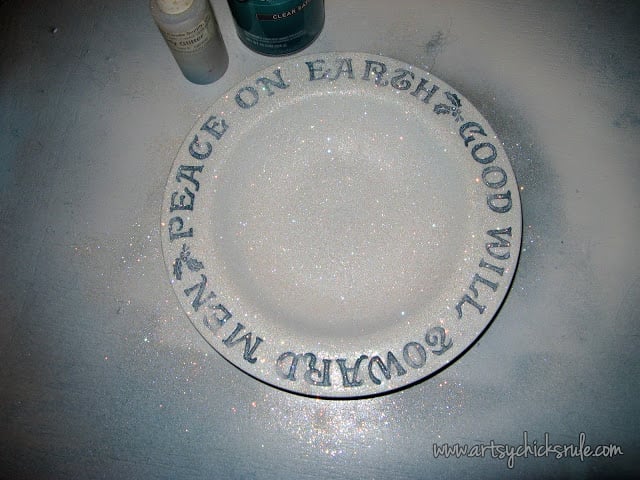 Up close and personal….LOVE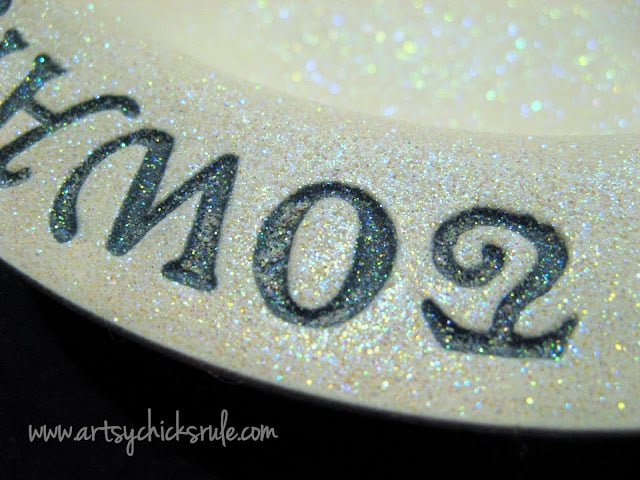 After that dried I shook the excess glitter off and sprayed it with the Minwax Polycrylic one more time to seal it.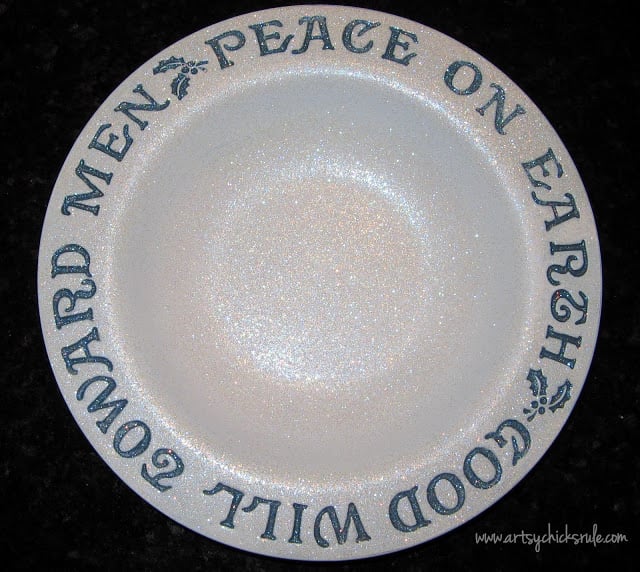 Isn't it beautiful???
I just love it.
And am beyond thrilled with how it turned out.
With all the gorgeous, glittery sparkles you cannot even tell I had a little issue with that darn blue tint.
Thank goodness.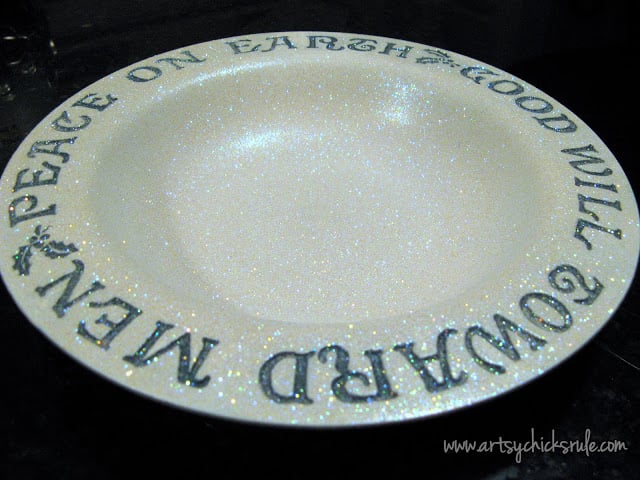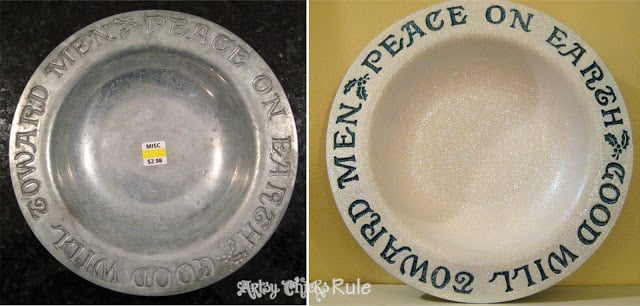 Not bad for $2.98…plus the additional 25% off all holiday merchandise!
Just an example of the great things that can be found at thrift stores….and transformed with a little paint.
Wish I had a few more of these to make as gifts.
I'll be keeping this one right here with me. :)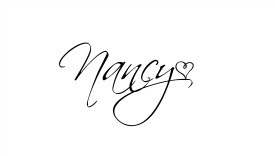 Linking up:
Setting For Four: It's Party Time,I Heart Nap Time: Sundae Scoop Link Party,Nifty Thrify Things: Nifty Thrifty Sunday,Cupcakes and Crinoline: It's Party Time,It's So Very Cheri: It's Party Time,Three Mango Seeds: It's Party Time,Savvy Southern Style: Wow Us Wednedays,The Shabby Creek Cottage: Transformation Thursday ,Somewhat Simple: Blog Link Party,Funky Junk Interiors: Christmas Decor Junk ,Shanty 2 Chic: Christmas Crafts