Oh Christmas Tree!…Super White, Super Sparkly & Super Colorful!
This post may contain affiliate links. Please see disclosures here.
Do you always put your tree in the same room every year?
Or even in the same place in that room?
We don't…usually.
We've had ours in the Study aka Living Room (our large front room, large – as in wasted square footage on a room that's hardly ever used) and also in our Family Room.
Usually seems to go back and forth every year.
Just one tree.
Ever.
Until this year.
I just can't seem to get enough.
So our tree ended up in the Study this year (no room in the Family Room).
Right in front of the very large window for all to see.
It's a beautiful spot for it really.
But we all missed having it in our Family Room where we spend most of our time.
So…….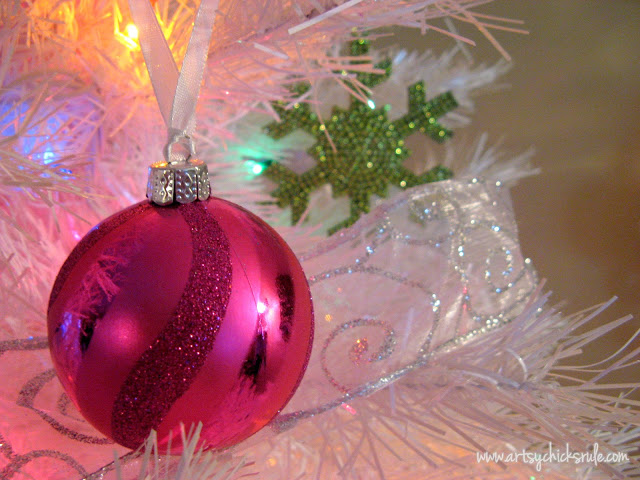 I got another one.
An all white, artificial (obviously, right?) table top tree.
I've never, ever, in my life, had a white tree.
Well, for one, we always get real trees and they don't come in white. Do they?
I found this one at the thrift store for ten bucks……..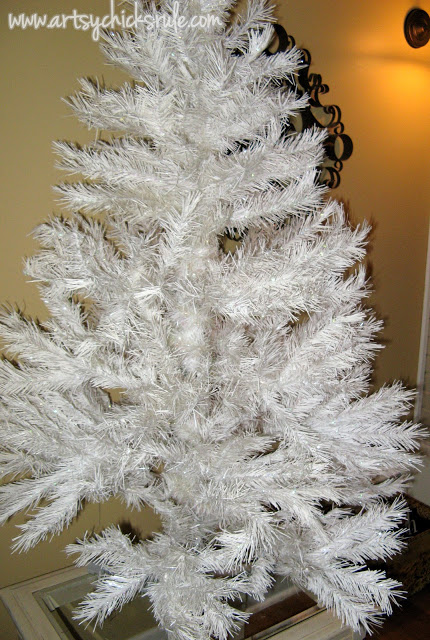 And yes, I brought it home and sprayed it down with Lysol…..several times,
cause I'm funny like that. Really funny like that.
Fun, funky, colorful tree, here we come!
I found some great deals on ornaments at the thrift store but ended up not using them.
The box on the right ..never used…98cents!
I ended up going to Michael's, AC Moore & Target and was overcome with all the glittery, sparkly, colorful goodness that surrounded me!
And it was all on sale.
So I bought and used those instead.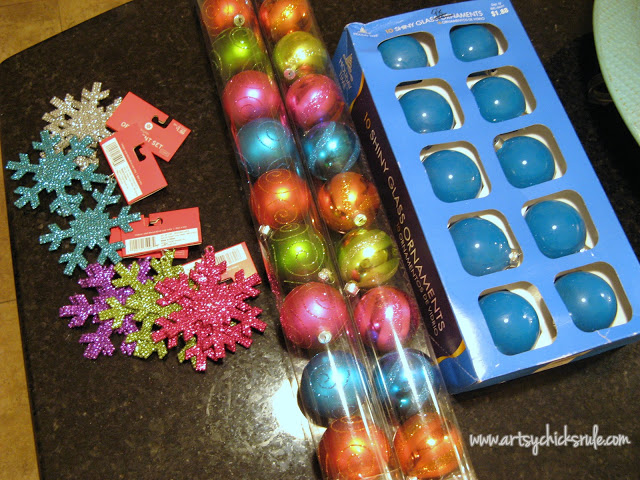 I did get these great little ribbons to hang the ornaments from at the thrift store though.
Brand new, never opened, and they were perfect for my little white tree.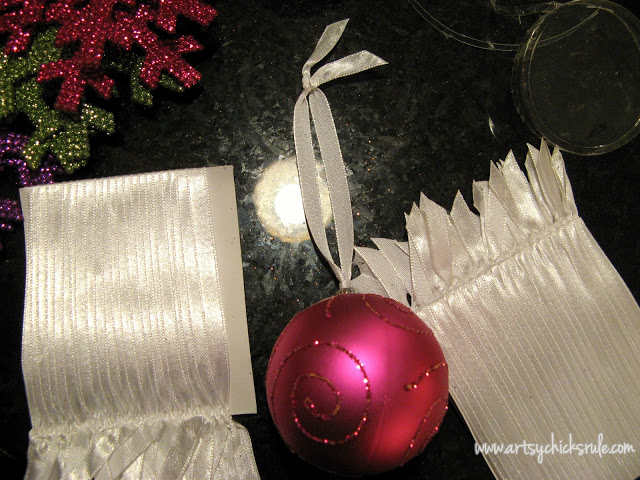 All done…..so colorful and fun.
I LOVE it!
So do my kids.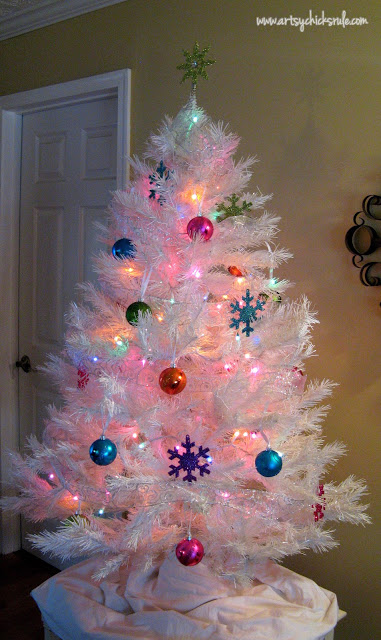 So, yea, I may have gone a bit overboard on the trees this year.
I mean, but really, it's only 3…and the tiny, little one hardly counts.
My 3 lovelies…..
My traditional, real one. Classic. It's green.
With all of the old, made by my kids, given to us, sentimental, vintage ornaments.
My tiny little "Whoville" tree that's green but covered in "snow".
It's in my kitchen in the center of my island. Total cuteness!
And now this mid-sized white tree that I covered in sparkly, colorful ornaments!
It resides in my Family Room.
I think I am finally done with trees. For this year anyway!
I'm sure my husband will be glad to hear that.
But I do love them ALL!
How many trees do you have? More than one? More than 3?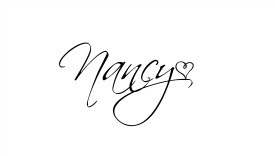 Linking up: DIY Showoff: A Christmas Tree-Party & Contest,I Gotta Create: Wildly Original Link Party ,Thrifty Decor Chick: Holiday Home,Number Fifty-Three