DIY Chalkboards From Old Pictures…Easy!
This post may contain affiliate links. Please see disclosures here.
Chalkboards are so easy to make. I have them all over my house.
I just love writing messages to my kids, hubby, whoever…
…quirky fun, little sayings, the menu, anything really.
They're just fun.
Any can be made so easily….and cheaply too.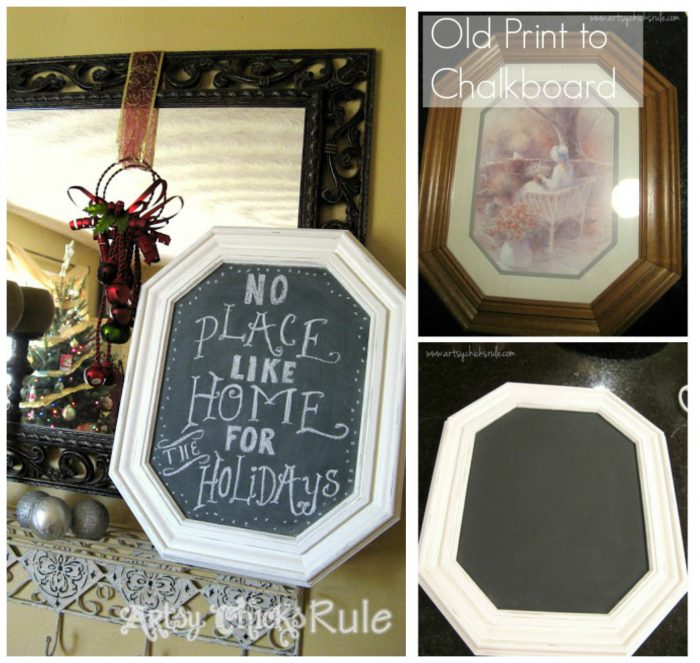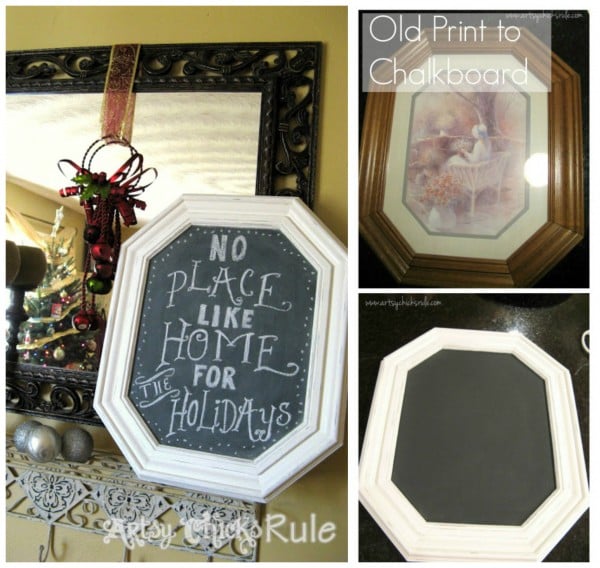 That cool writing I did on this one was found at Nest of Posies.
So here's what you need to do……
You drive straight down to your local thrift store and buy an old picture.
Doesn't matter what it looks like because you are going to cover it up.
Any one will do.
I've come across some gorgeous frames with some really awful prints in them.
They make GREAT chalkboards.
Or even mirrors if you'd like to get one cut for it.
~Or another trick I'll show you on my "Family Room Gallery Wall" post, coming soon!~
So, if you've got your picture w/frame….
and you like the color of the frame whether it's gold, silver, black, green, whatever, then making a chalkboard just got even easier for you.
You can skip this next part.
Here is my most recent "old picture to chalkboard"….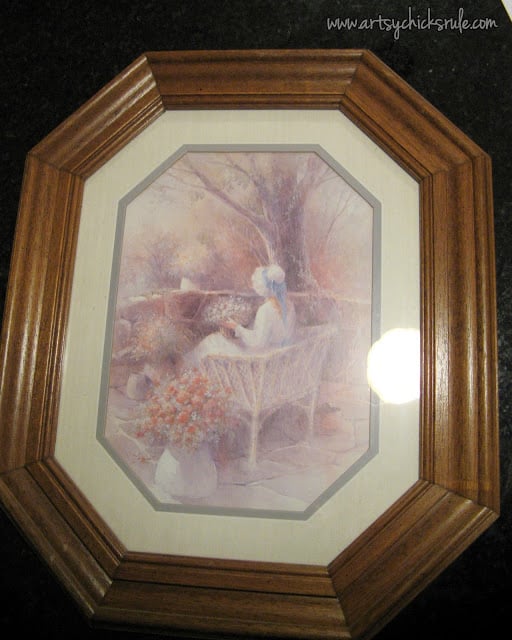 I loved the shape of the frame.
The print, no so much. The color of the wood, not so much.
SO, I painted the frame first.
You don't have to be super careful painting the frame
because you're going to be painting over top of the glass later anyway.
For the frame, I used Chalk Paint in the color Pure White. (Annie Sloan)
I wanted this one to stay crisp and white….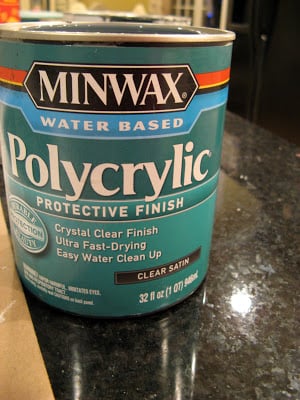 …so I distressed it just a bit and put a coat of Minwax Polycrylic over it.
Let that dry completely.
(Note: You can also use wax to seal the paint on the frame, Minwax Polycrylic is just easier for this application)
Next, you will paint the black chalkboard directly onto the glass.
I used Graphite, again Annie Sloan.
(you can also most likely use Chalkboard paint found at your local hardware store — I've only used ASCP on glass so can't say 100% if the other would stick as well to the glass surface)
You do need to be a bit careful around the edges where you painted white of the frame.
I like to do about 3-4 coats, depending on the thickness.
Let them dry completely in between coats.
After applying the first coat it will seem like it's not going to stick well but trust me, it does.
On your second coat, use a light hand. After that you will have a good base and you'll see that it does stick to the glass very well.
You don't have to paint super careful with the strokes either.
It all settles out very nicely.
All finished and ready to do it's chalkboard thing.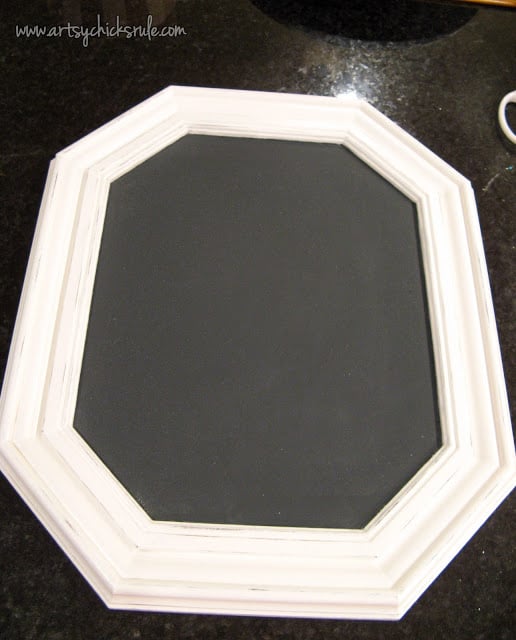 But first you need to prep the board.
Rub a piece of chalk over the entire board surface and then wipe it well with a paper towel.
You can see below how it looked before I wiped it down with the towel.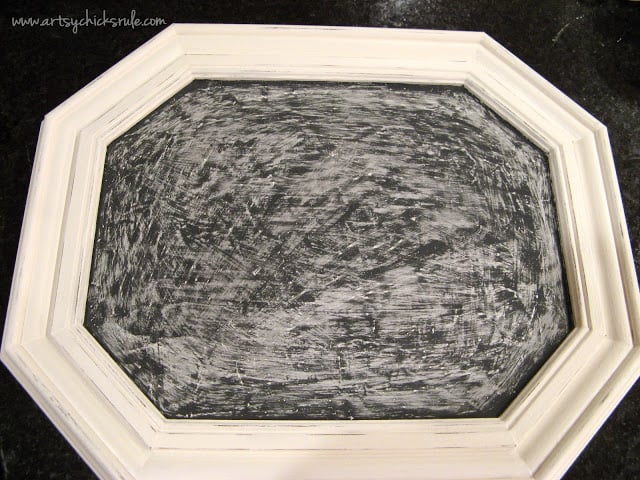 After wiping, your board is ready to write on.
Now for the FUN part. :)
Here is my inspiration for what I wrote on this one….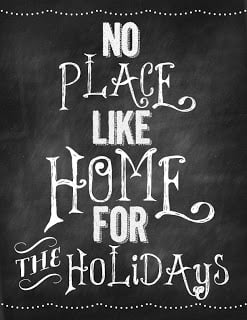 …from the Christmas printables over at Nest of Posies.
I looked at the picture on my screen and drew it by hand onto the chalk board.
My first attempt…not so good.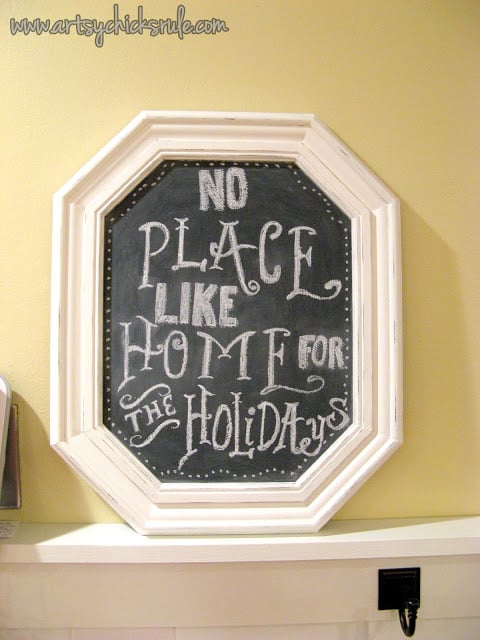 Clearly I do better with the squiggly, fancier writing than I do with the should-be-easier block lettering.
I left it that way for about a week until I could NO LONGER stand that awful mess.
I tried fixing the "NO", "LIKE" and "FOR" so I wouldn't have to do the whole thing over.
But it didn't work. Ugh.
So, I wiped the entire thing down and started over!
It's hard to draw precisely with chunky chalk, ya know…..but…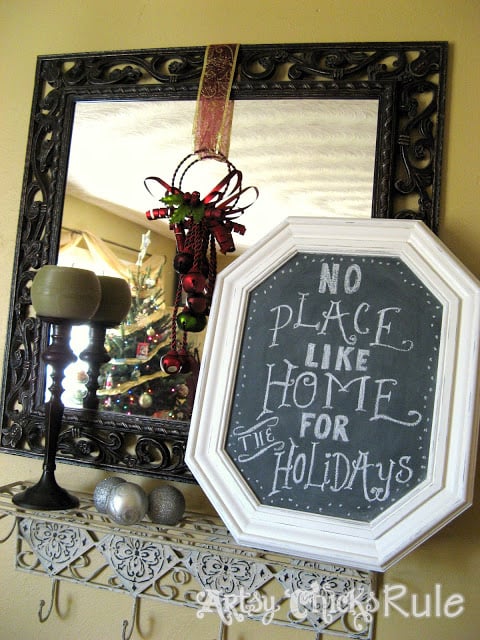 …MUCH better. Don't ya think?
A 99 cent, ugly, old, outdated picture from the thrift store.
And look what it got transformed into–> a fun holiday message board.
Want to see even more ideas on simple updates with Chalk Paint (that aren't furniture??)
Check out this post, here!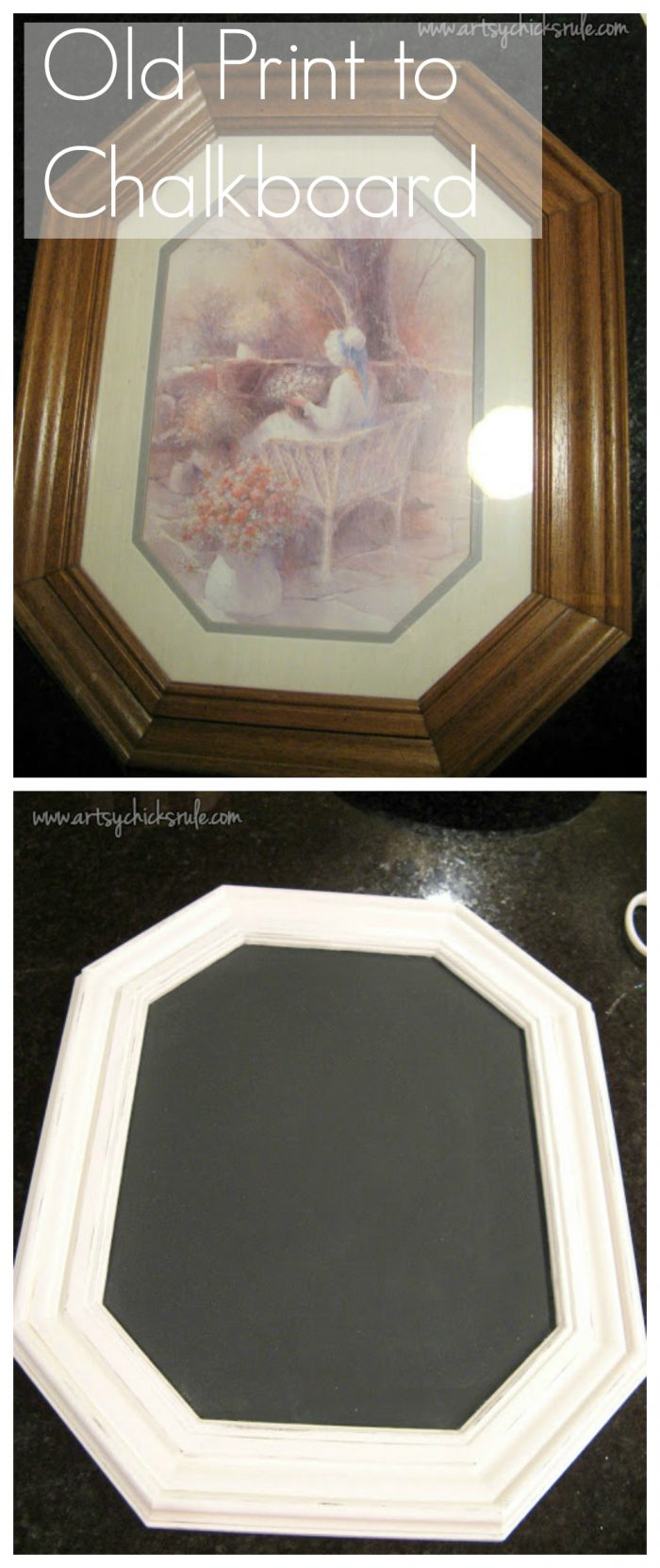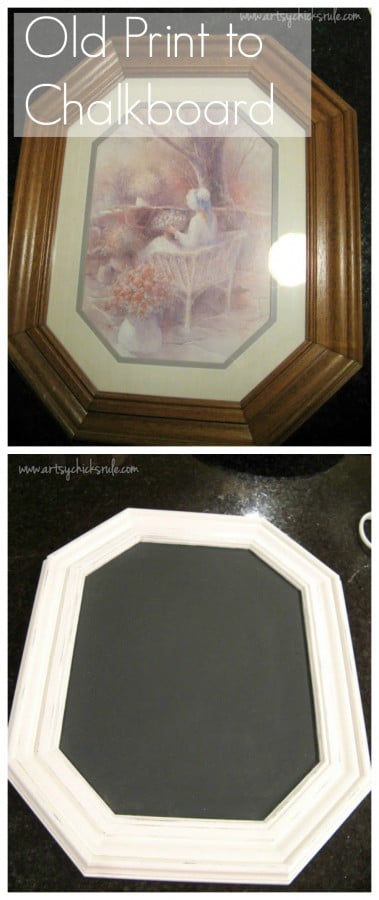 Be sure to PIN this to save for later! :)
Do you have chalkboards in and around your house?
Ever made one yourself?
Be sure to stop back in later to see how I use Chalk Paint on "all the things" besides furniture! ;)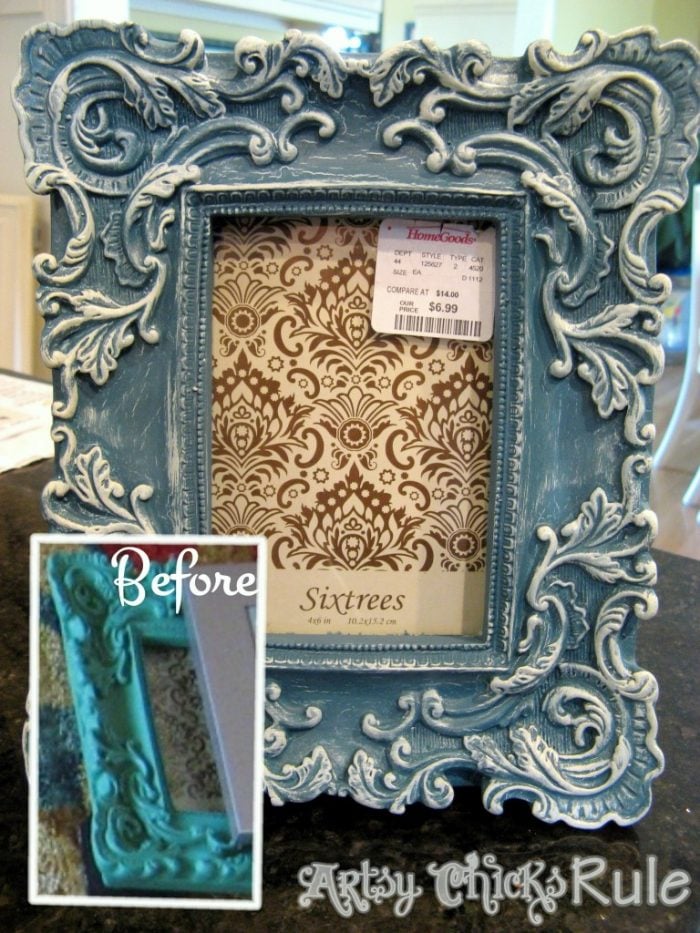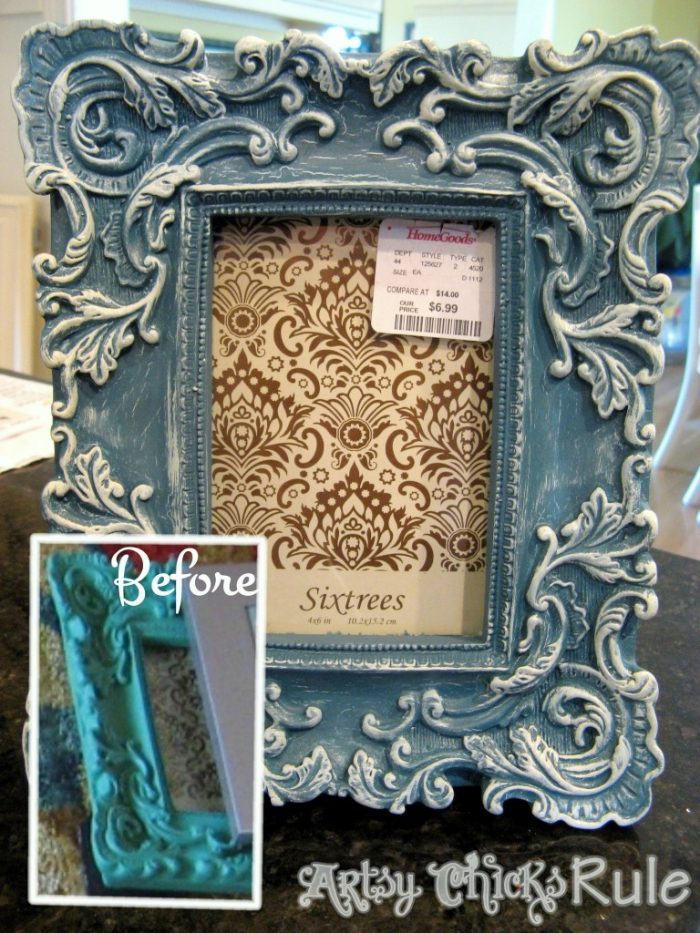 UPDATE!!! See all of them now, here!!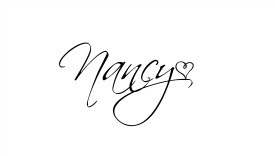 Get the "behind the scenes" and more when you follow along with me on Instagram!
PLUS be sure to sign up for our newsletter so you don't miss any new projects or products I'm sharing!
Click here –> Yes, I'd like to join.