Dining Room Changes & a Dreamboard (Farmhouse Coastal Cottage)
This post may contain affiliate links. Please see disclosures here.
It's time for a bit of change.
Do you ever get that way? I know you do. ;)
It's easy to roll along and keep things as they are for long periods of time. (trust me, I know!)
But how great does it feel once you've made the changes!
And it doesn't have to cost a fortune to do it.
That's what I like to show…and share here on the blog.
How to decorate on a budget.
I'll be doing this 'change' budget friendly just like every room in this house.
I've been wanting to redecorate (and paint, etc) the Dining Room for a while now.
I'm so excited to finally get moving on it.
The first step (and biggest motivator!) were these two chairs I recently picked up at TJ Maxx.
(also budget priced)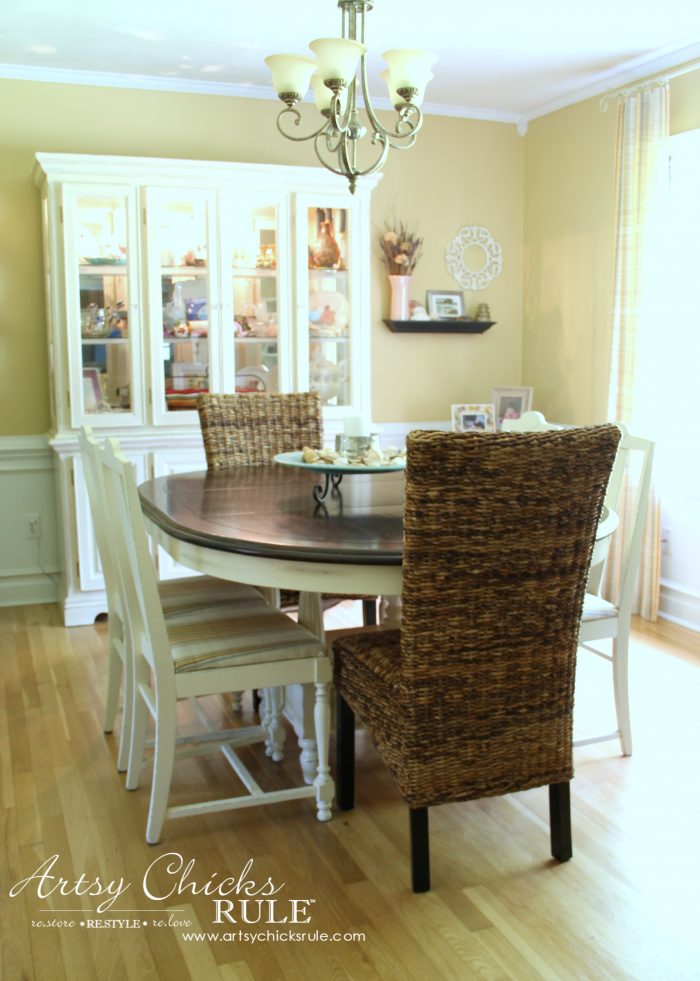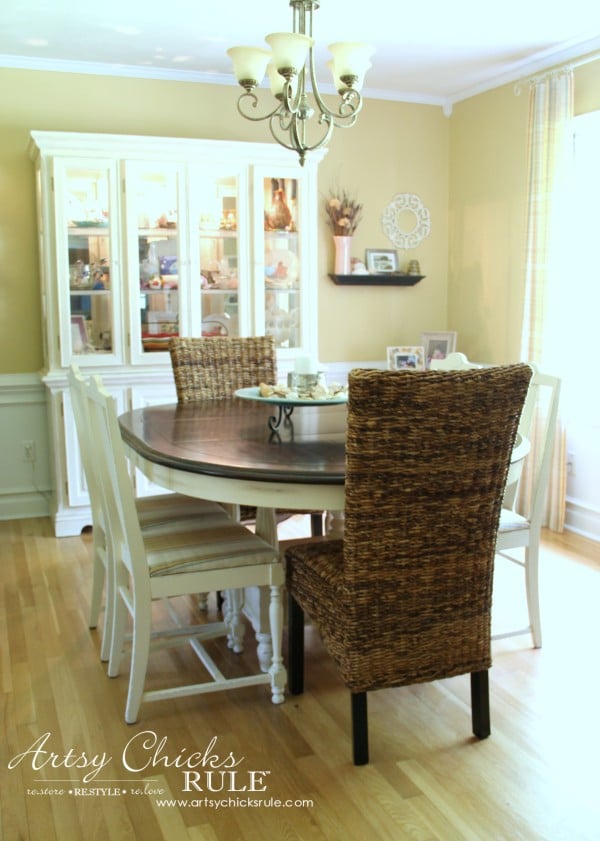 My plans are to turn this room into a more neutral, more casual space.
A bit of "Farmhouse", a bit of "Coastal" and a bit of "Cottage".
I'm really loving the new chairs and the texture, color and dimension they bring to the room.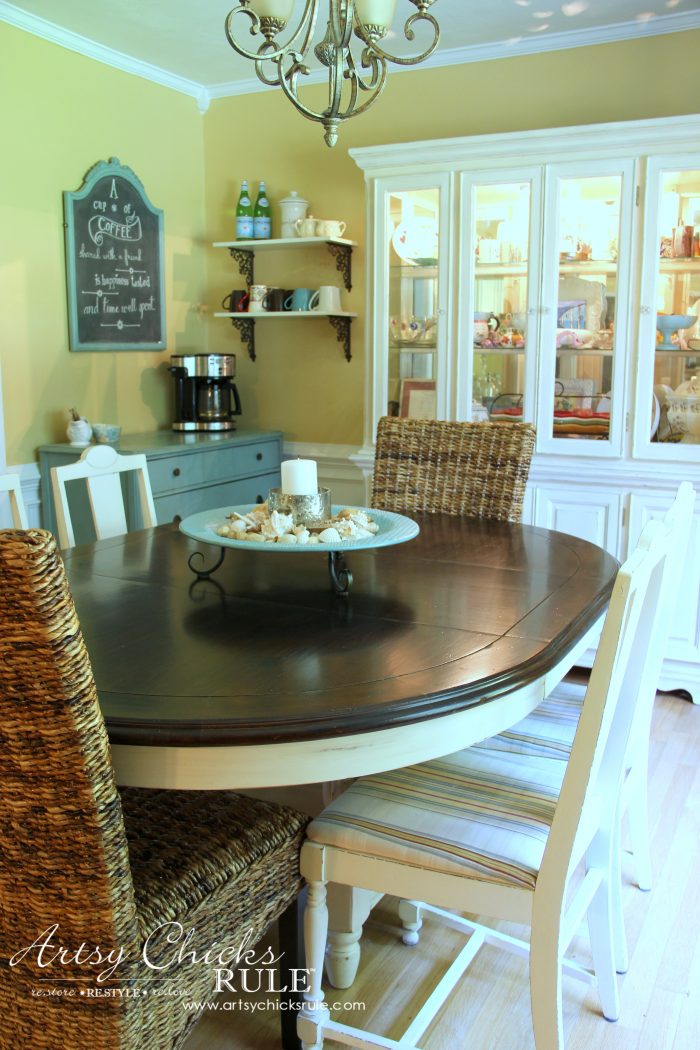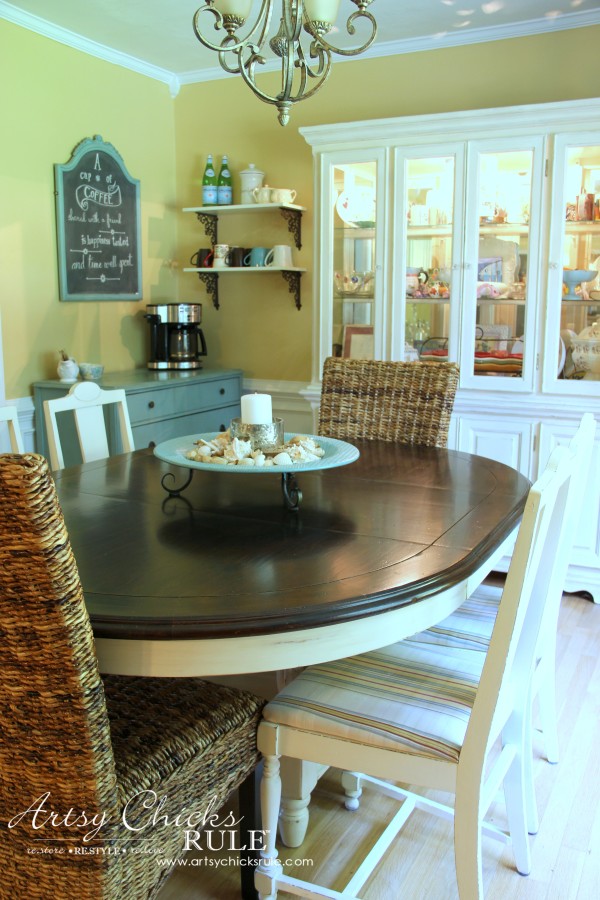 I was thinking I wanted to put benches on the sides of the table but I really like it with the other chairs instead. What do you think?
I'm also enjoying the "mixed" look. I don't love matchy – matchy anyway so this works for me.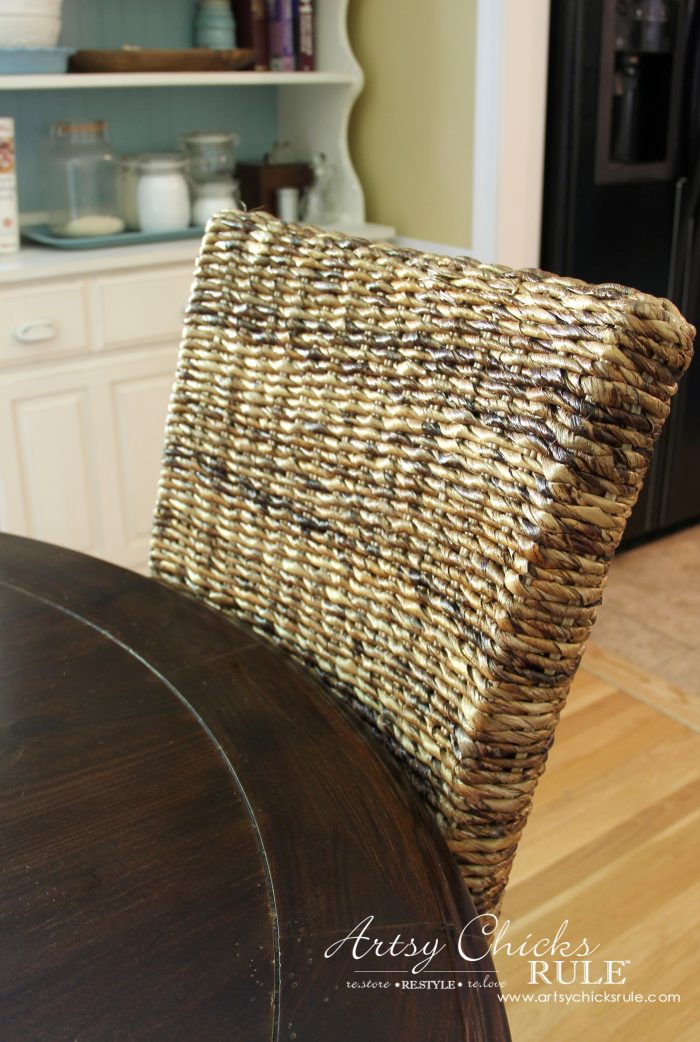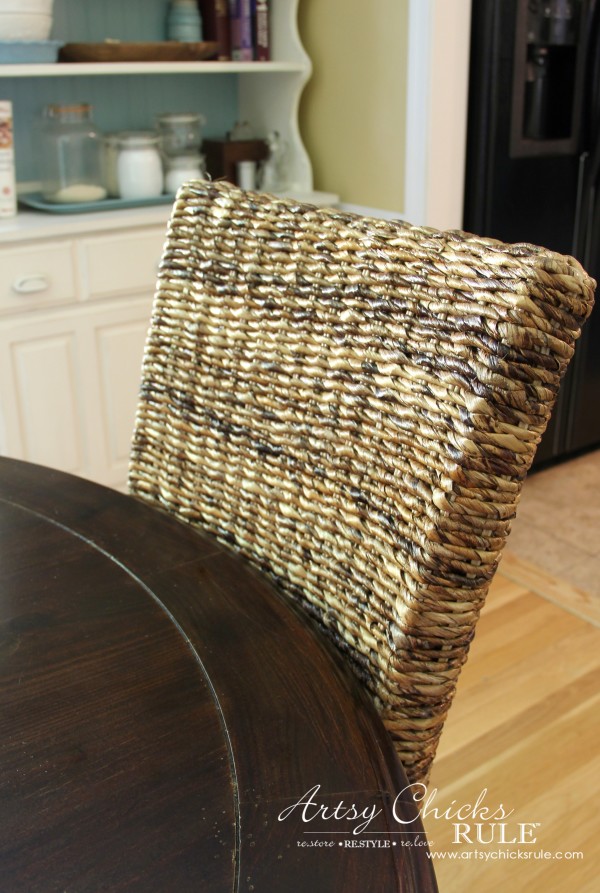 So what's in store for the rest of the room?
I'm not positive but I'm thinking I will remove the top half of my china cabinet and add a large rectangular chalkboard over top (on the wall). Or a mirror.
I also might switch places with the Coffee Bar and Bar Cabinet.
We use the Coffee Bar much more often and it'd be nice if it was a little closer to the kitchen area.
Here's where they are now…..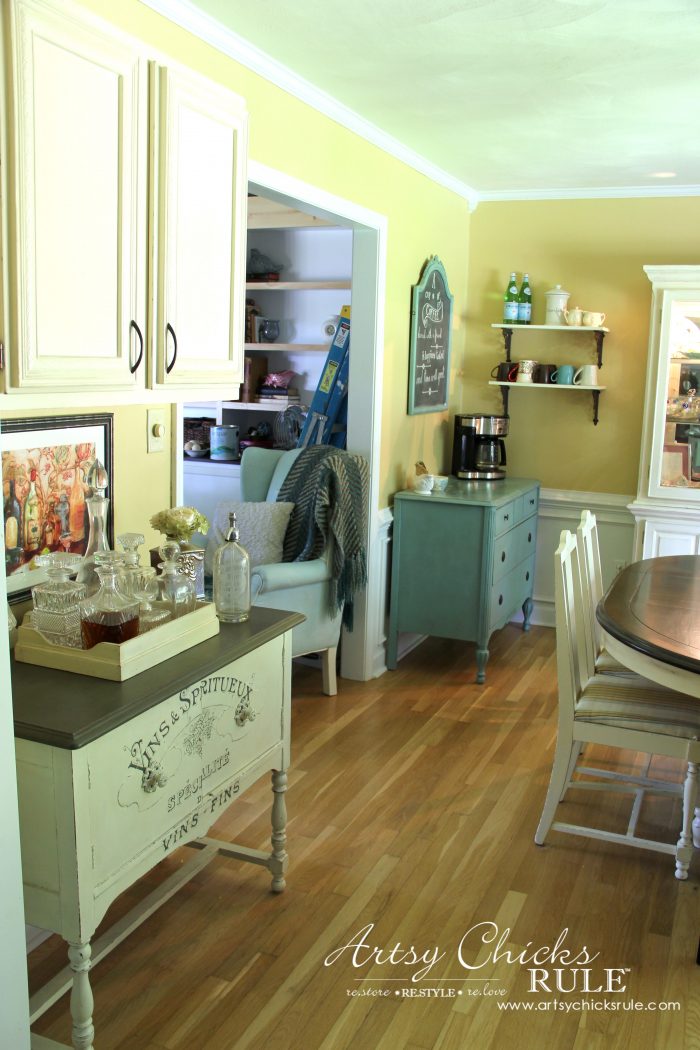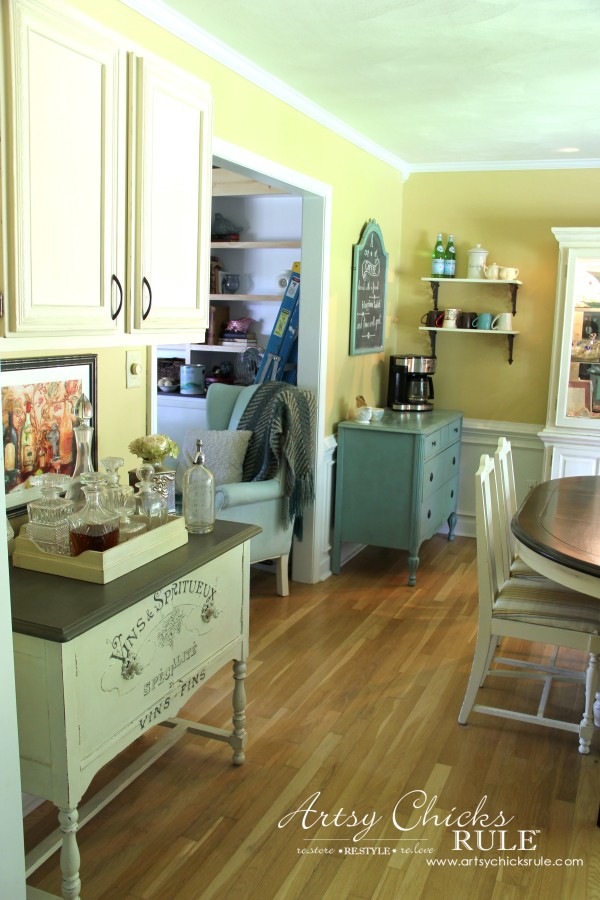 I also might replace the bar cabinet with this other sideboard I painted recently.
And I may remove that extra cabinet above the bar and add shelves instead.
I'll also be repainting. I love, and have enjoyed, the yellow but it's time for it to go.
(it's Blonde, Sherwin Williams SW6128)
Here's the other side of the room.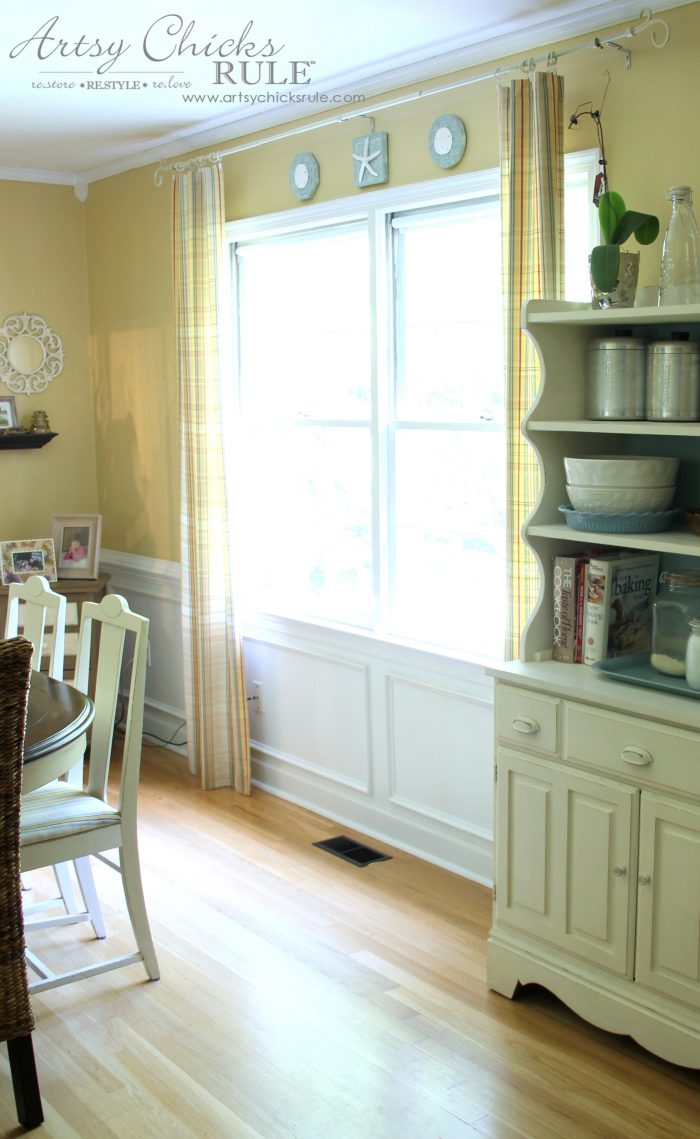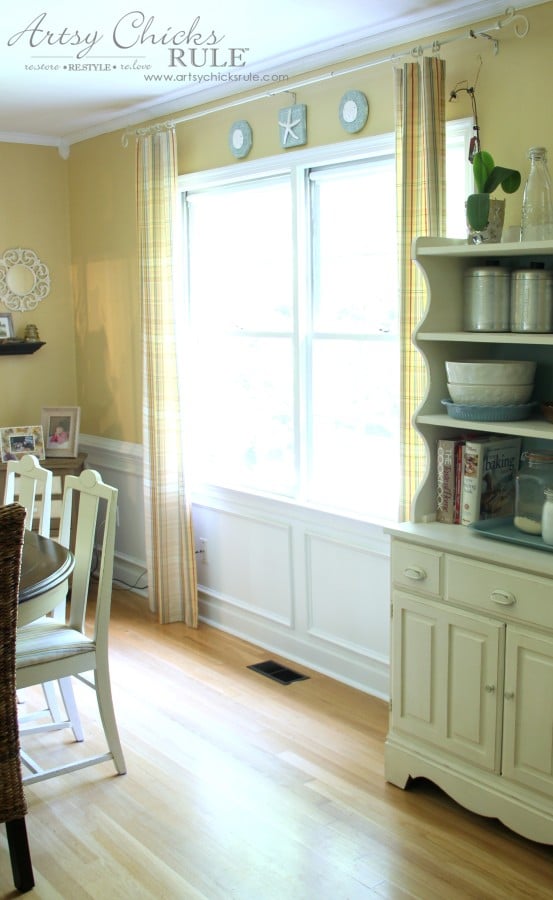 (this shot shows the yellow paint color most accurately)
All of these ideas are just that, ideas, for now. ;)
Except for the paint. That I am definitely re-doing in Navajo White.
I have Navajo White (Sherwin Williams SW6126) in my Study and Laundry Room.
Here you can see the Navajo White in my Study…..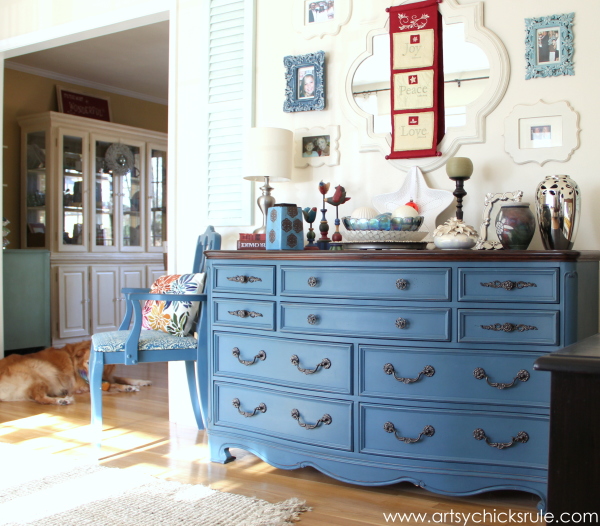 And in my laundry room…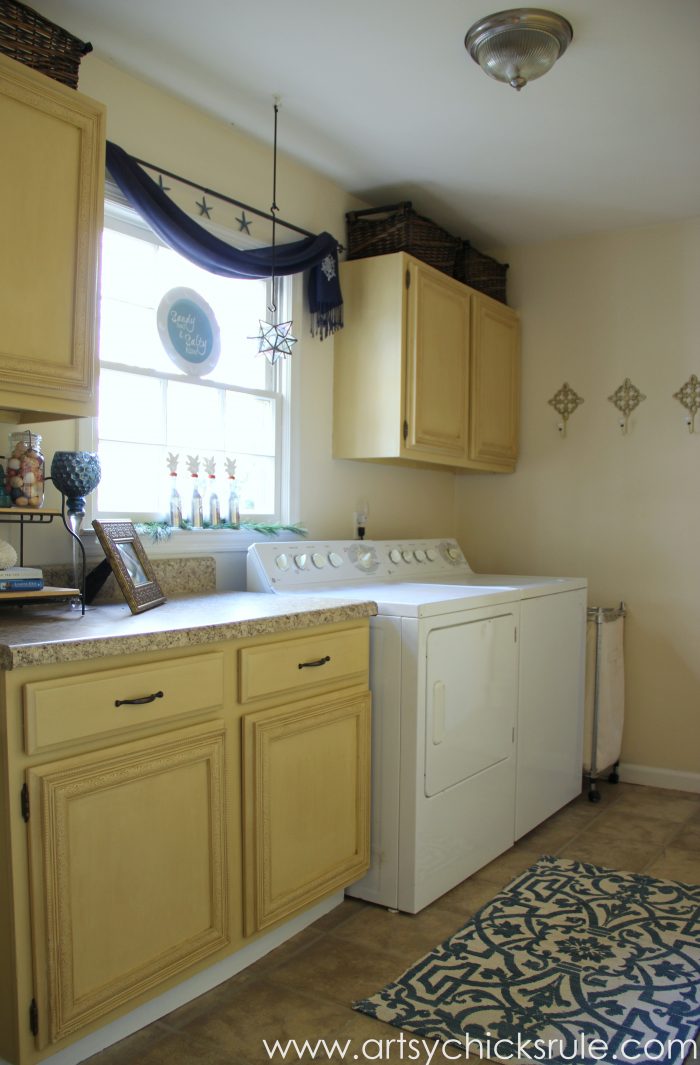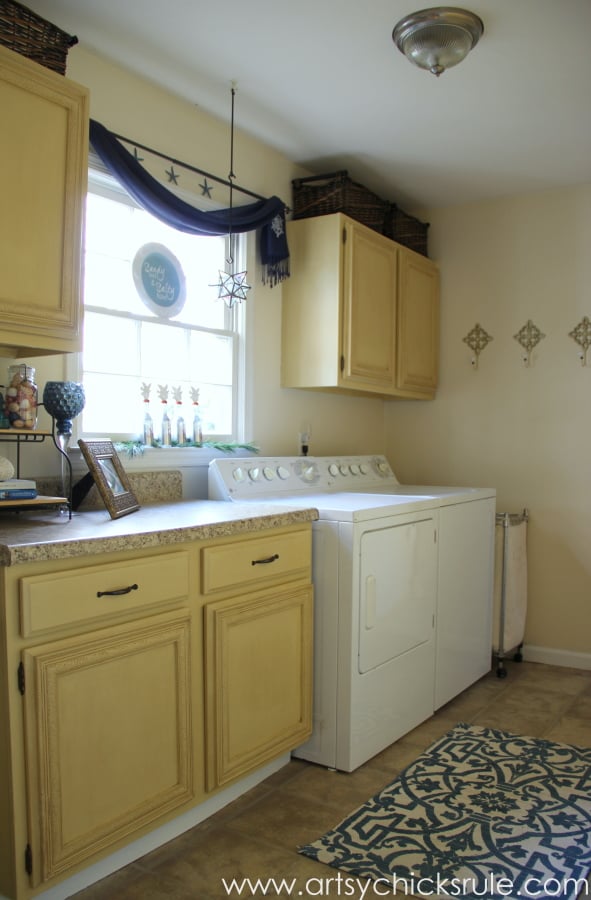 It's a great "off white" or "white beach sand" shade I just love.
I want (and am looking forward to!) having a more neutral background in the Dining Room.
I might even half the paint color with white to lighten it a bit more.
(I'm also repainting those yellow cabinets in the laundry room but that's another post…and project. ;) )
Here's the feel I'm sort of going for in the Dining Room…..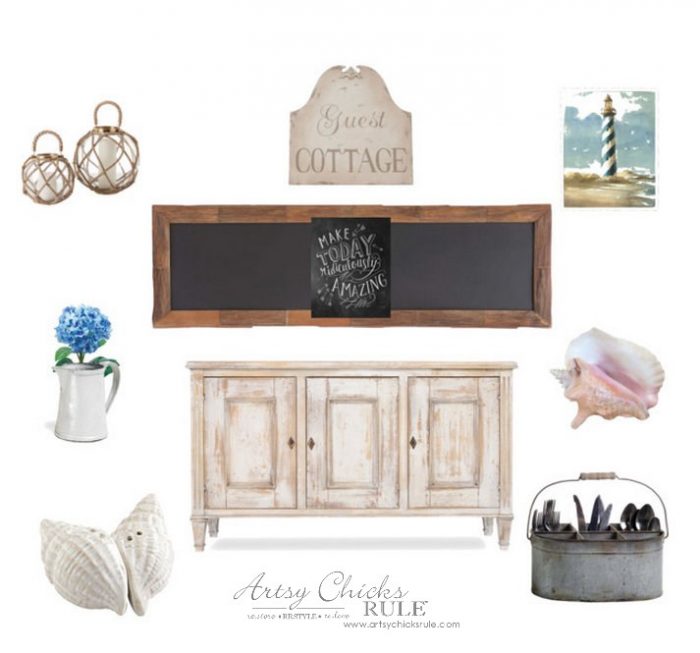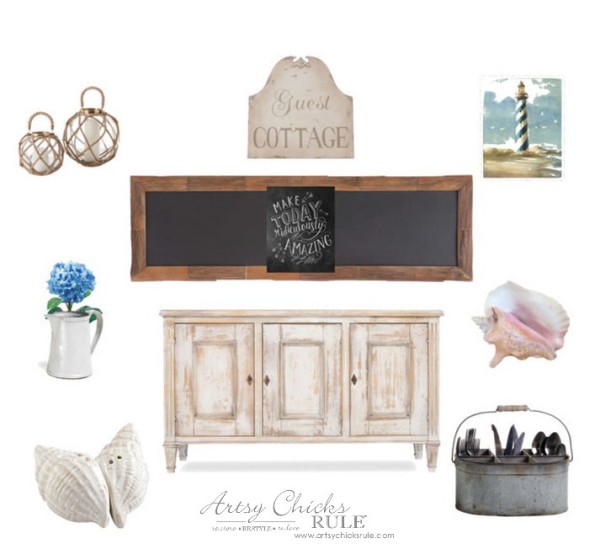 Kind of a Coastal Cottage with a bit of Farmhouse flair.
A little more texture and more wood tones.
What do you all think?
I would LOVE some feedback, ideas or thoughts.
Any and all feedback is welcome. :)
I'm not positive on any of the changes (except the paint) so could always use fresh eyes and ideas!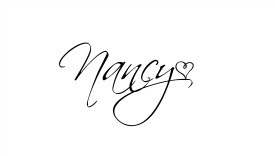 Follow along! –> Instagram ~ Facebook ~ Pinterest ~ Bloglovin