Decorating with Trays (Decorating Challenge)
This post may contain affiliate links. Please see disclosures here.
Hey everyone!
Back today with a new decorating challenge for you all. :)
Decorating with Trays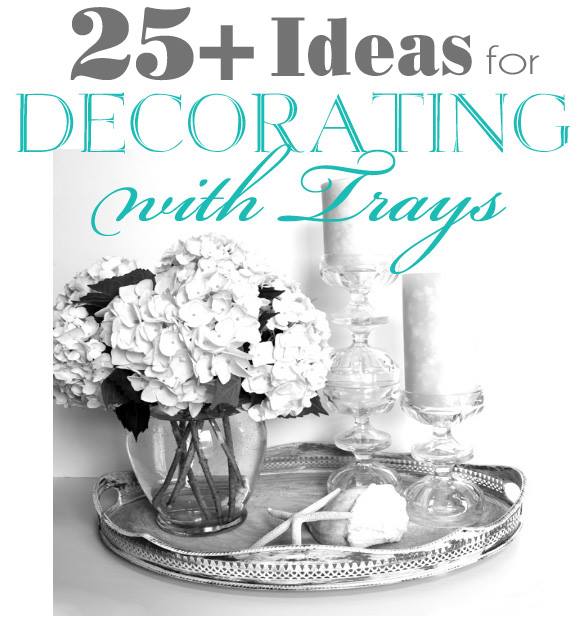 Did you decide to join in? I hope so.
If not, you still can, it's not too late!
Stop by the Facebook group and share your photos (and join our group if you haven't already-link will be at the bottom of this post)
So, do you use trays in decorating.
I sure do.
I had no idea just how much until I created this post! ;)
So I'm going to share how I am currently using my trays and how I've used trays in the past.
This is an old metal tray that I painted with Annie Sloan Chalk Paint.
It's probably been about 4 years or so now since it was painted and it's in great condition.
I love the touch of coastal here in the dining room.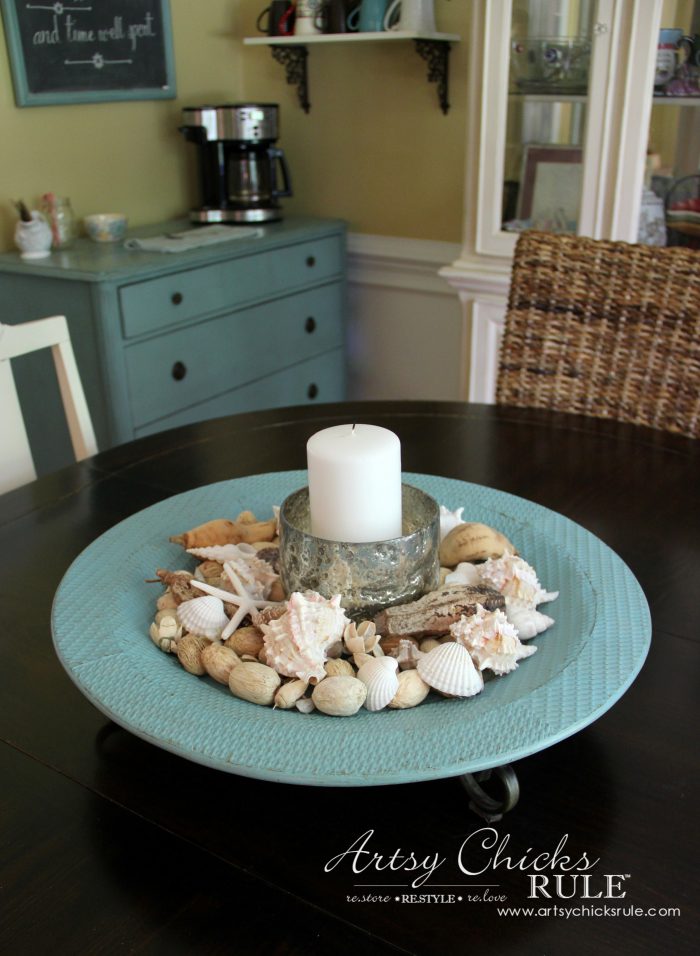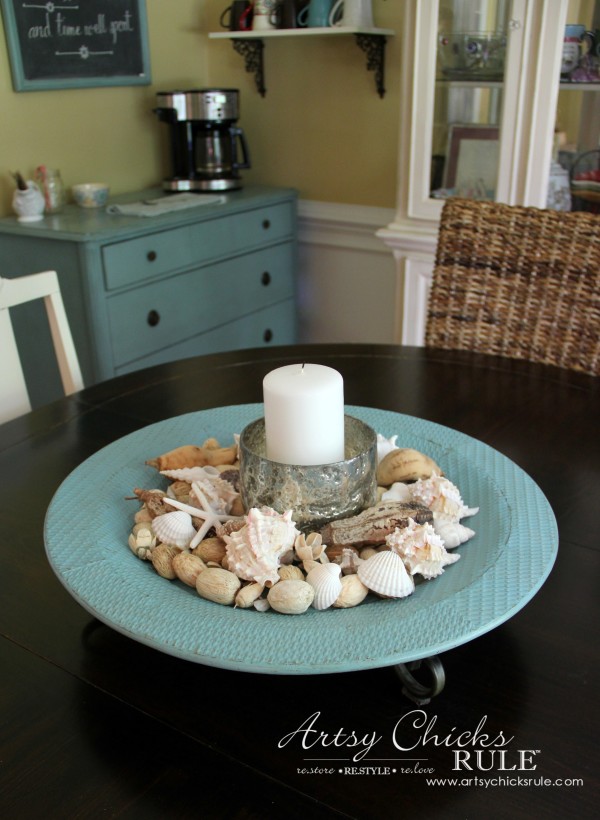 I previously had this on my kitchen island but have since moved it to my dining table.
It's filled with seashells, mercury glass and a candle.
Annnnd that's a peek of my new dining chairs too! Yay!
I only bought two (TJ Maxx), one on each end with my other cream colored chairs on the sides.
I'm LOVING the look!
If you follow me on Instagram you've seen the full shot of the table and chairs.
If you don't, I'd love for you too! It's a great way to connect in "real time". :)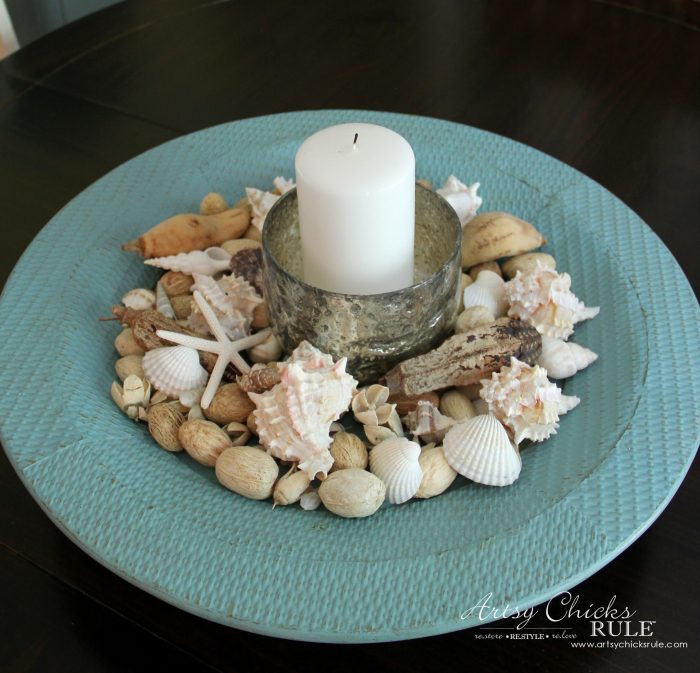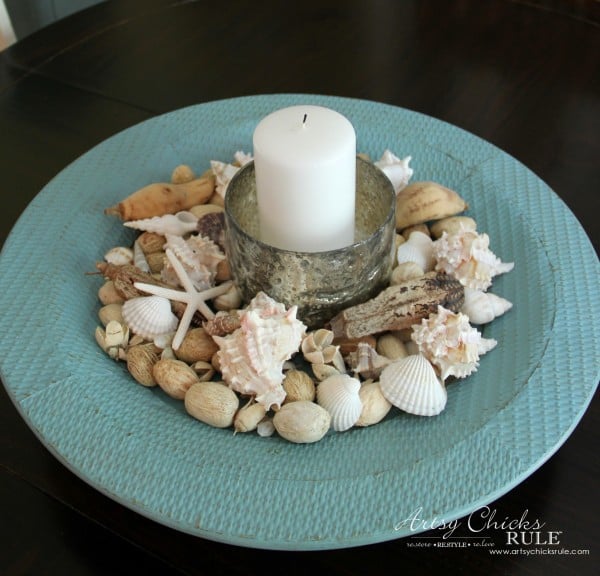 Here it is decorated for Christmas 2013.
You can see my full home tour here….My Holiday Home Tour.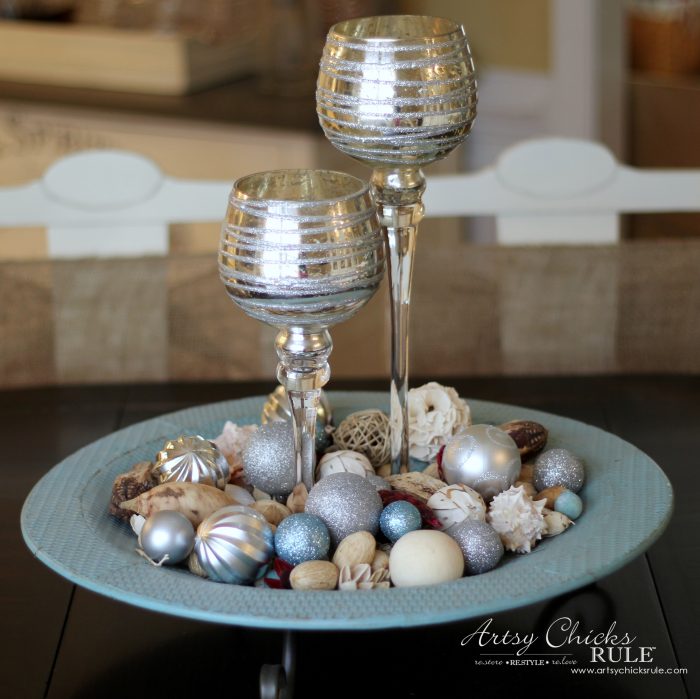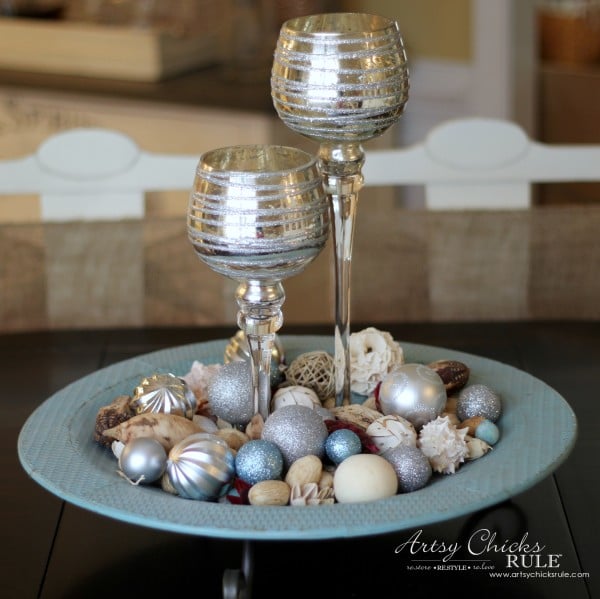 And again for Christmas 2014…..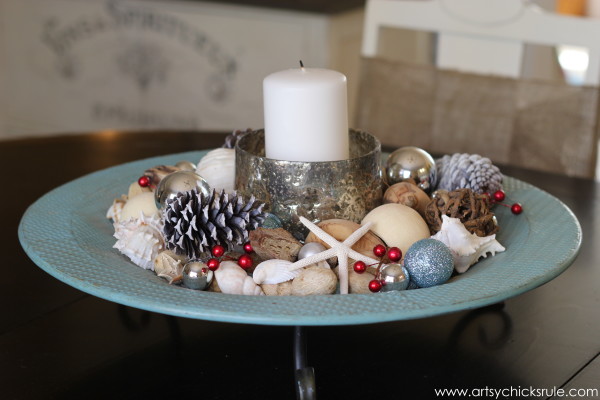 You can visit that home tour here ….. Red and Teal Themed Christmas Home Tour.
You might even catch a peek at a few more trays in there. ;)
Like this one…..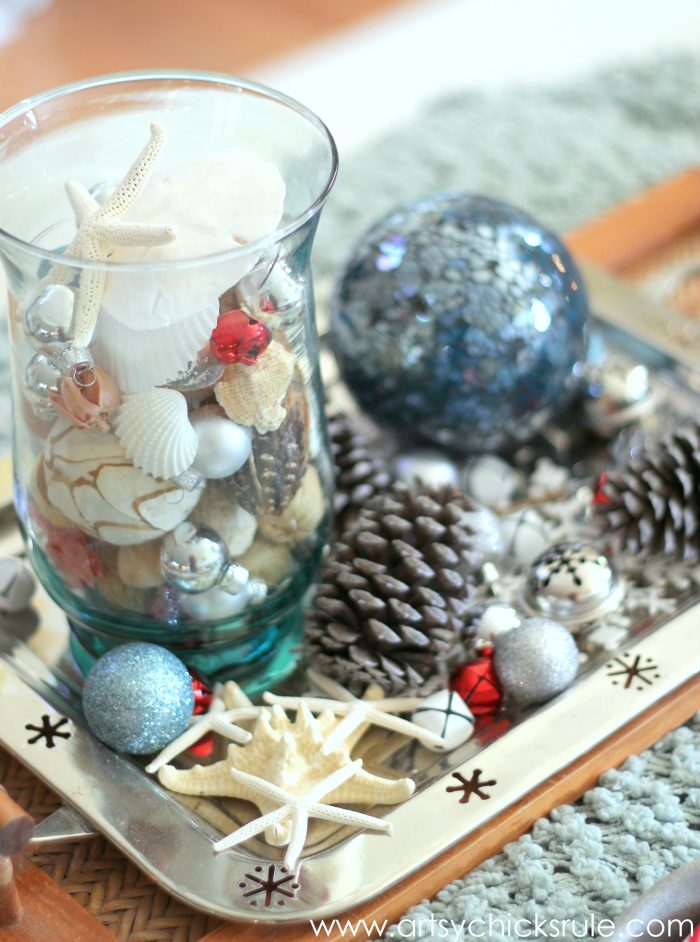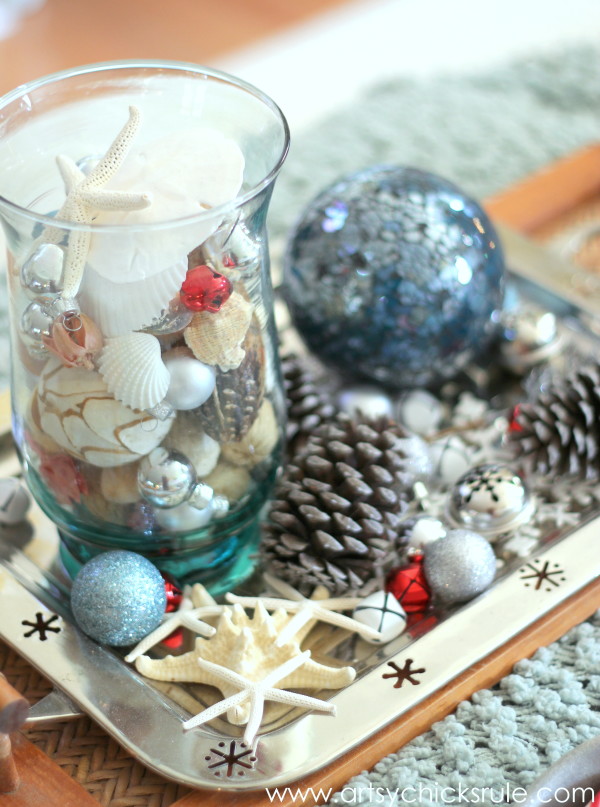 I used it in my Family Room this time.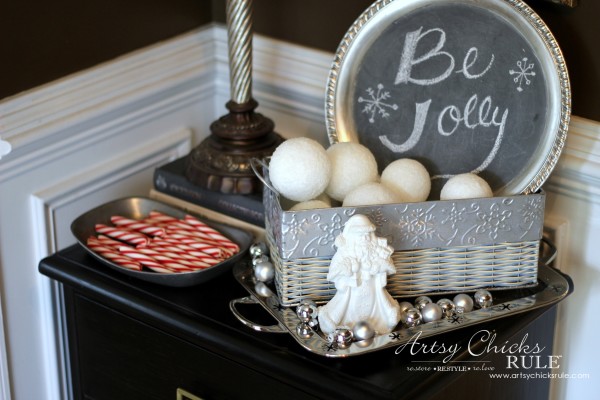 And had previously used it in my Foyer the year before.
It was a thrifty find as most of mine were.
You guys saw this tray recently……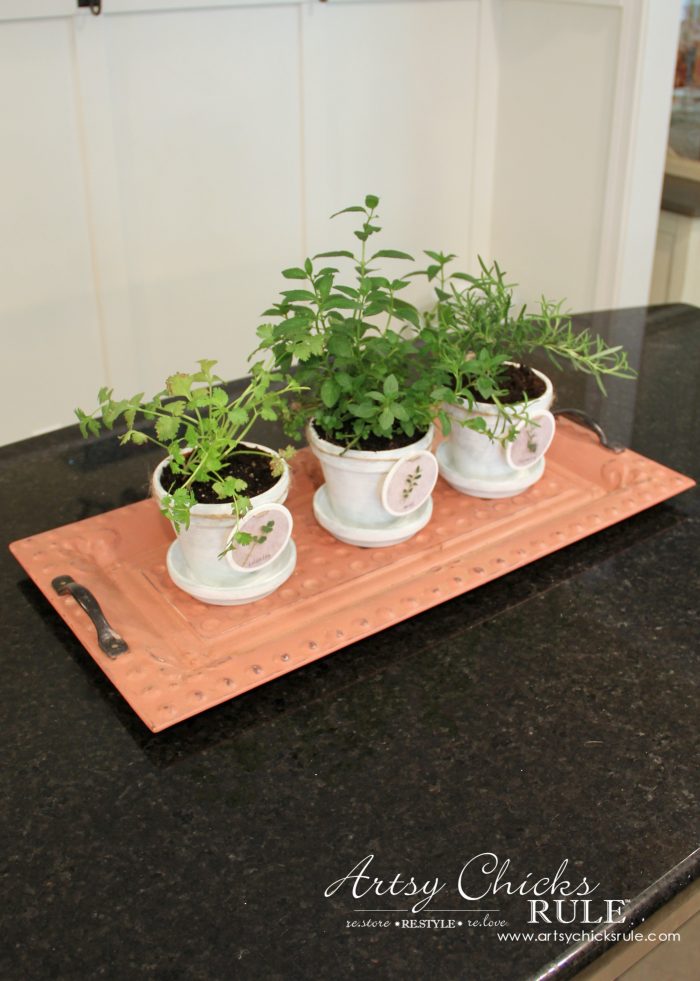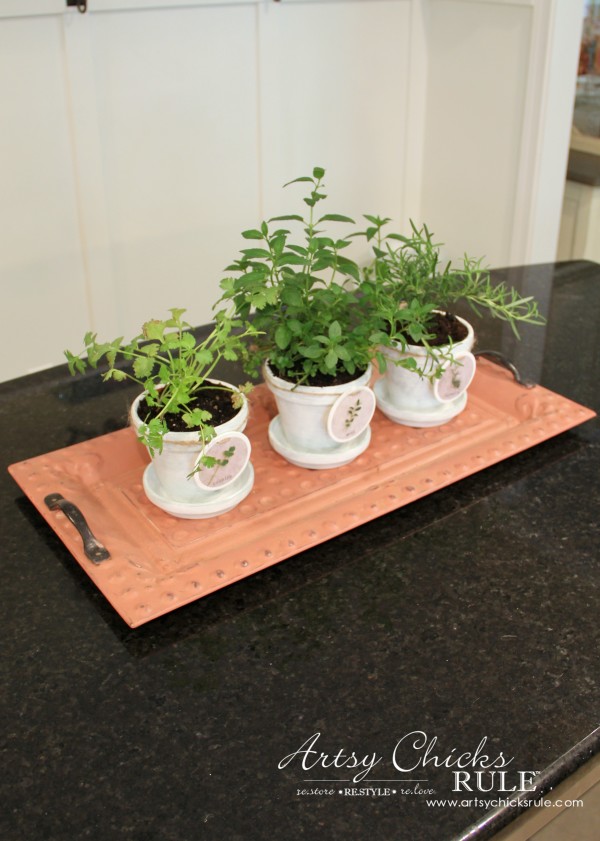 …and here it is for the holidays…..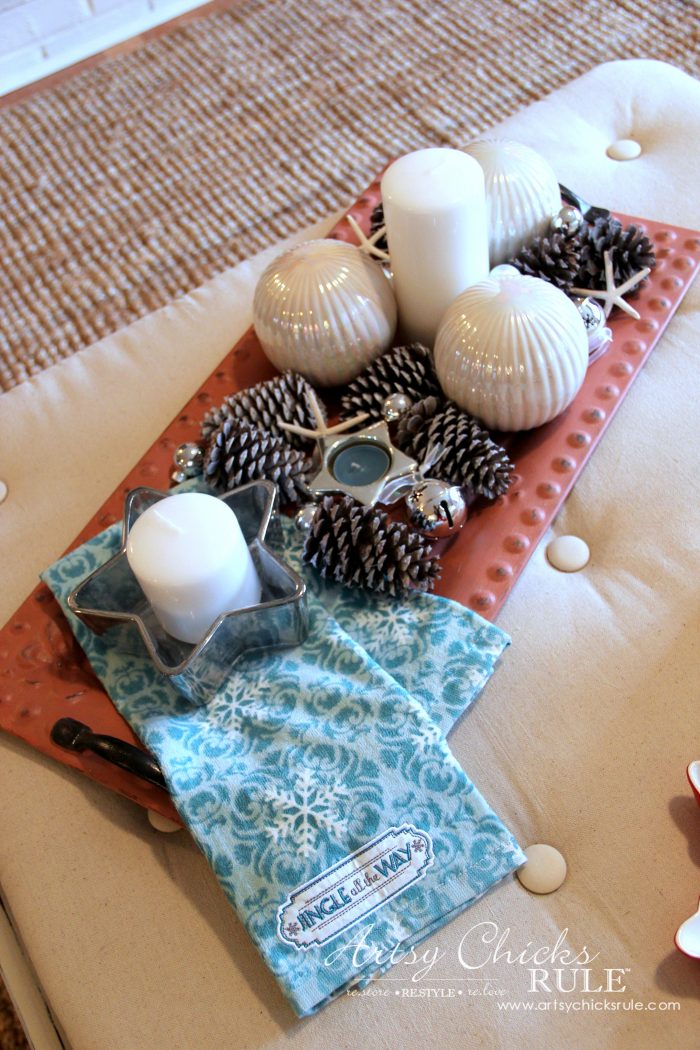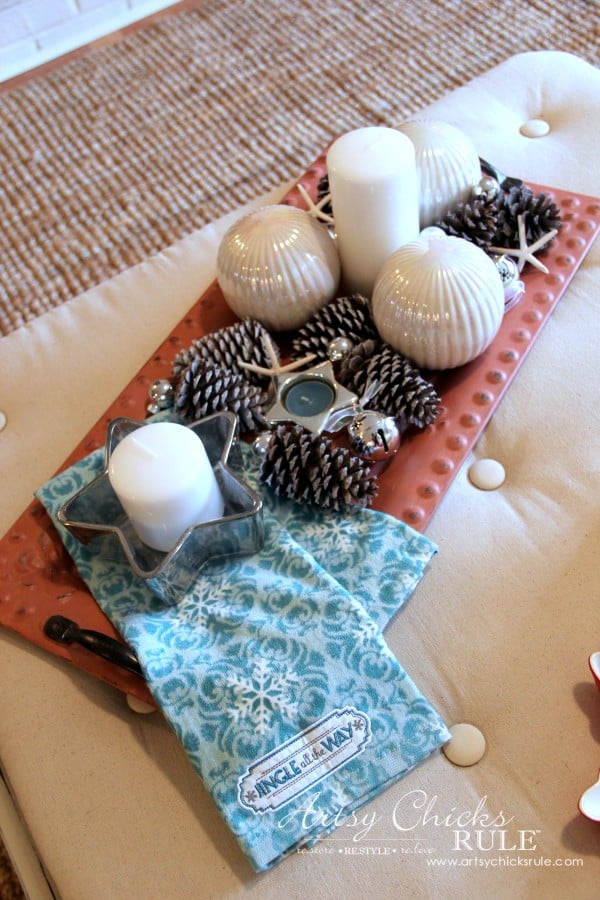 ….and how I have it now…..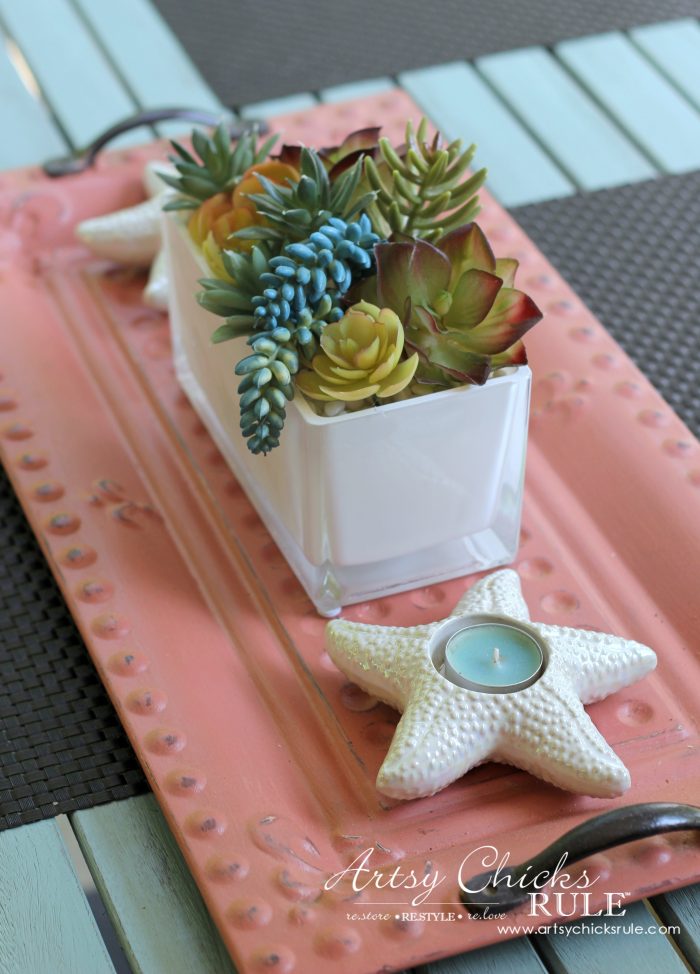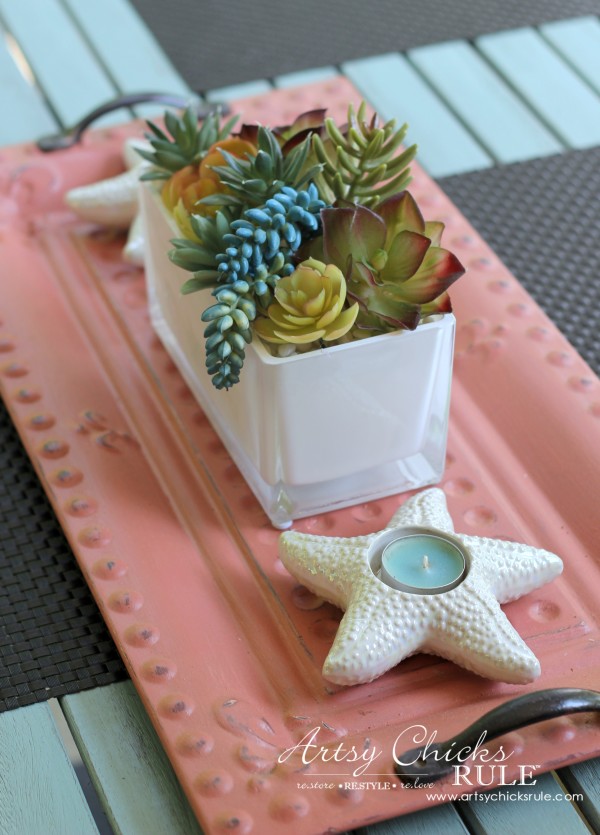 I'm always moving things around! ;)
This pretty metal tray was a $4 thrift store find.
You can see it and a few other thrifty finds here….. Treasure Hunting and My Latest Haul.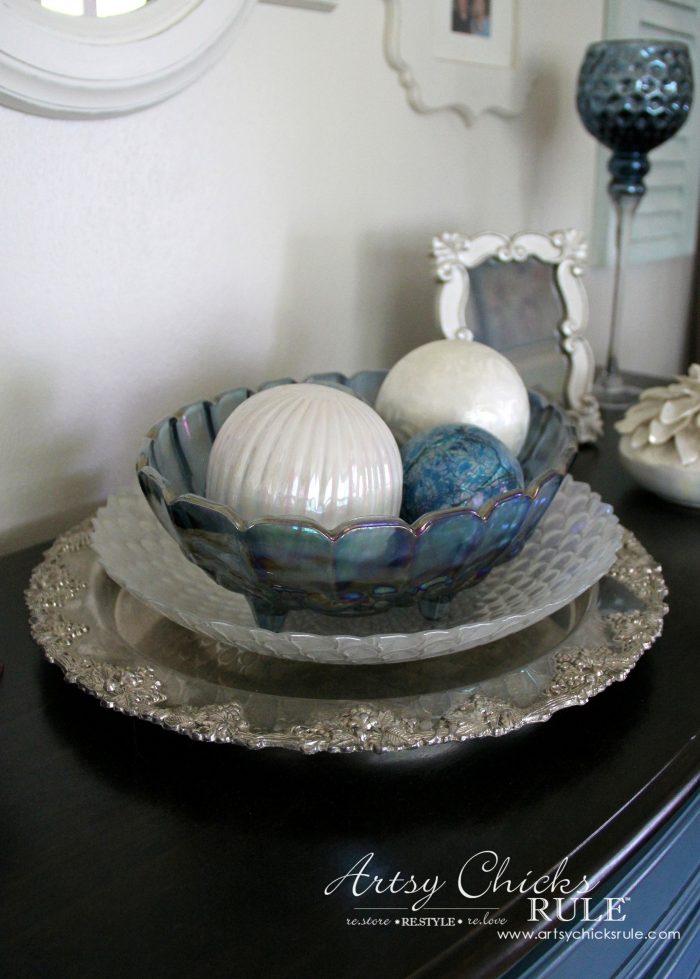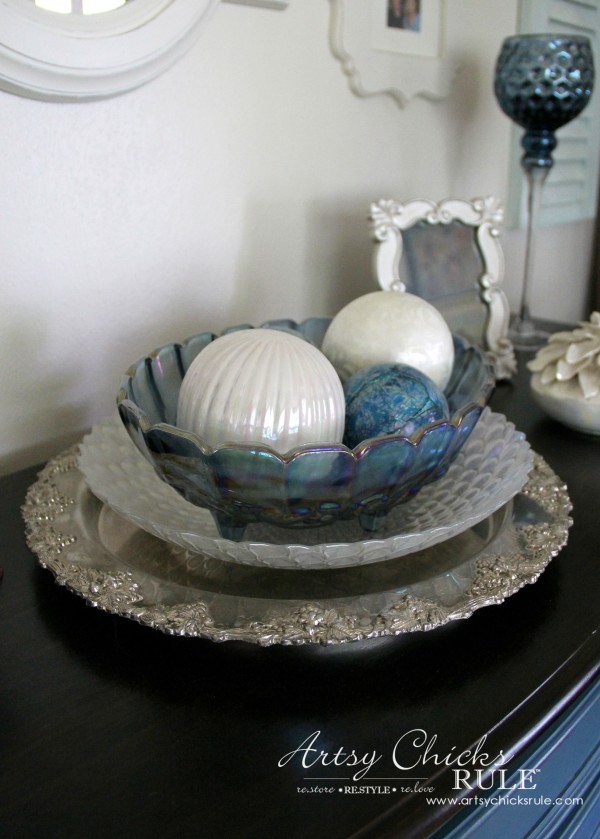 I added a decorative glass bowl, my thrifty find (Carnival Glass Bowl) and some decorative balls.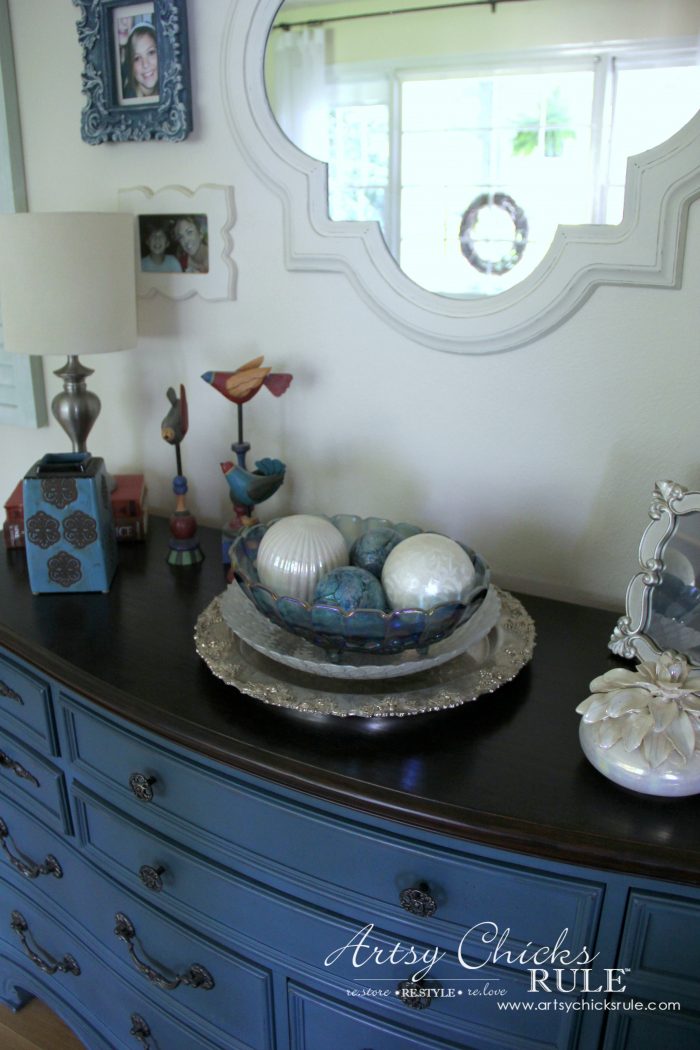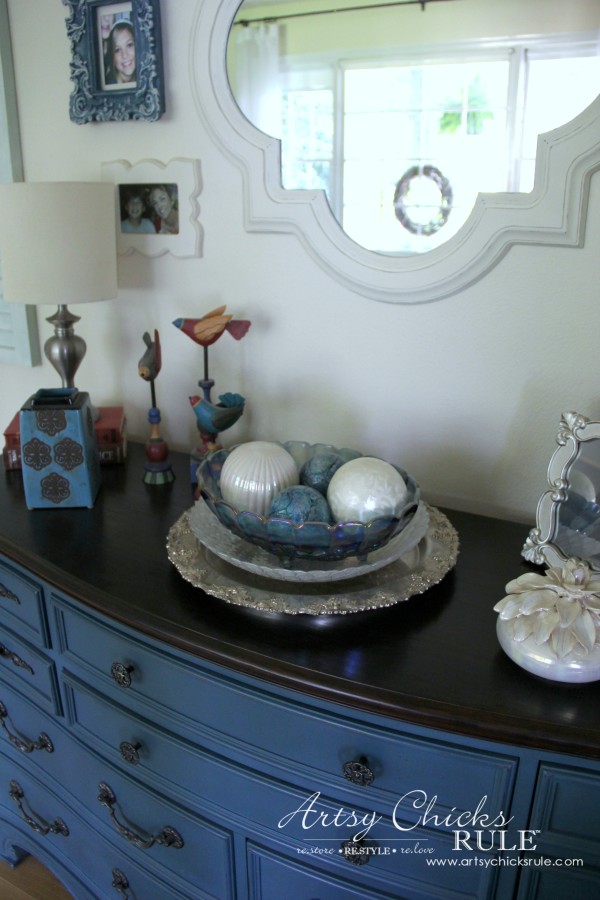 On top of my favorite dresser.
This Aubusson Blue makeover…see it "before" here …. Aubusson Blue Dresser Re-do.
This was actually an old paper tray I painted and added pretty wrapping paper to.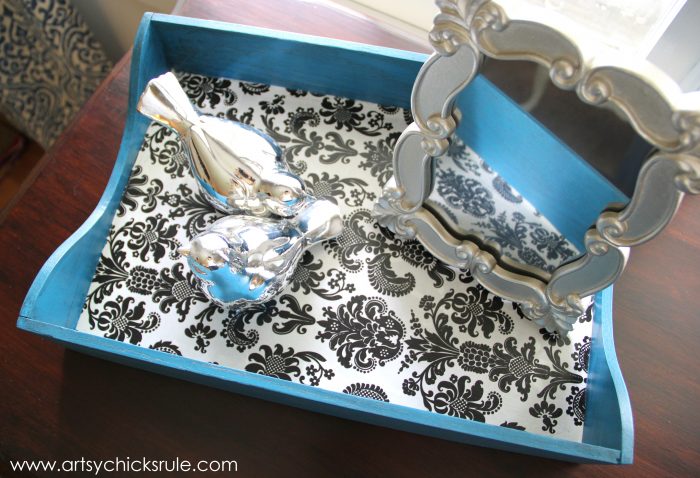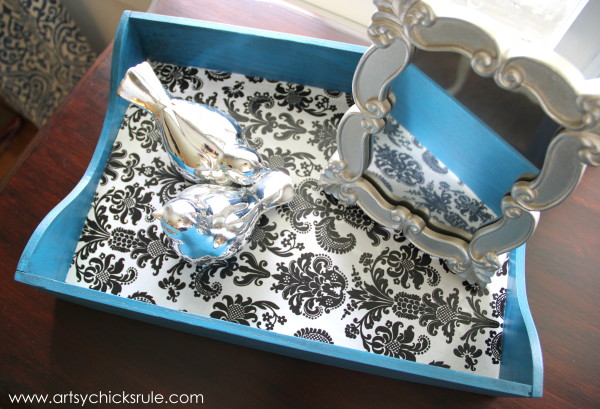 You can see the process here (and how else I decorated with it)….. Corinth Blue Milk Paint Decoupage.
This is another of the paper trays….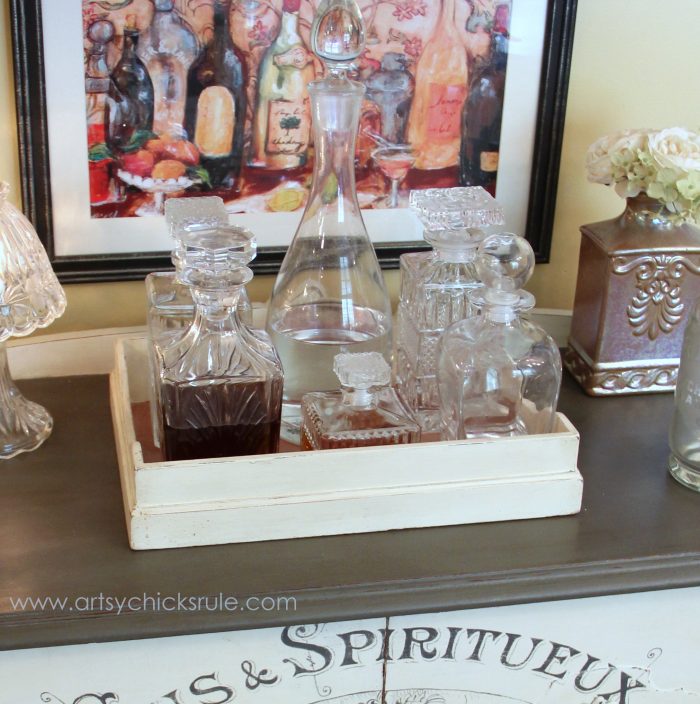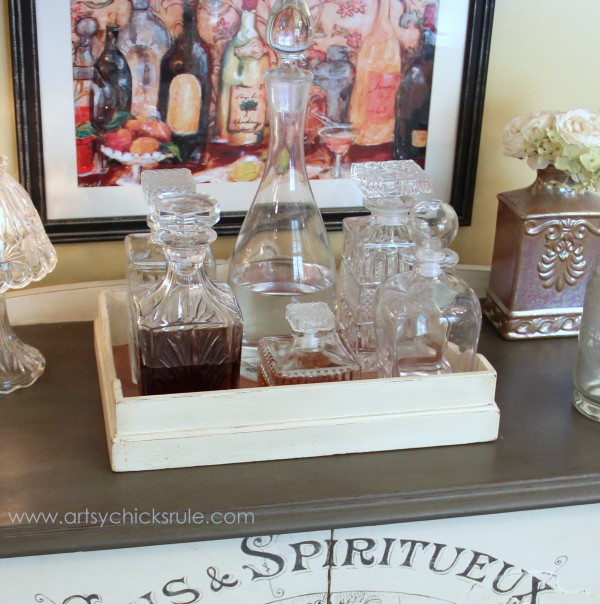 I turned it into a decanter holder on top of my "bar cabinet".
You can see more Chalk Painted items here …. Chalk Paint, It's Not Just For Furniture.
AND you can see the full tutorial on this hand painted bar cabinet here …. Estate Sale Sideboard.
This is a pretty teal blue tray I picked up at IKEA.
I decided to use it on my Baker's Hutch. (see it here … 1970's Hutch to Baker's Hutch)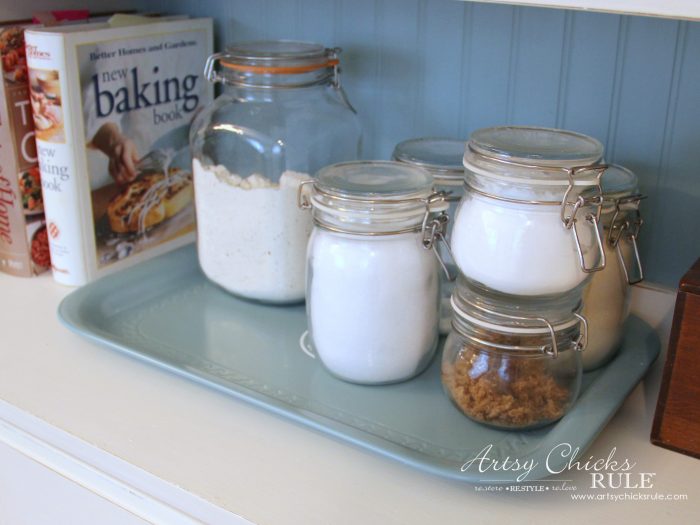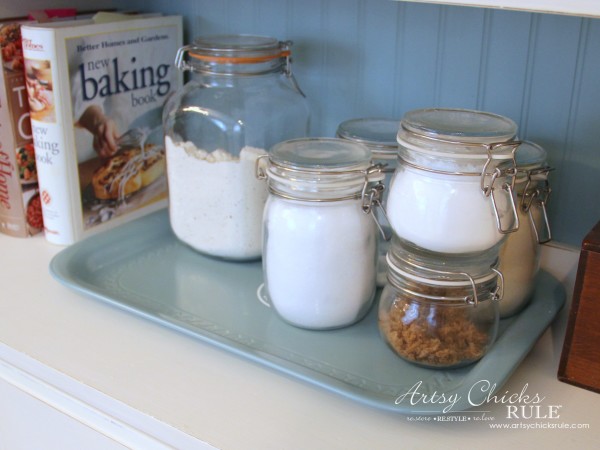 It was the perfect color and great for holding my baking jars.
One of my favorite trays is this wood one below on my kitchen island…..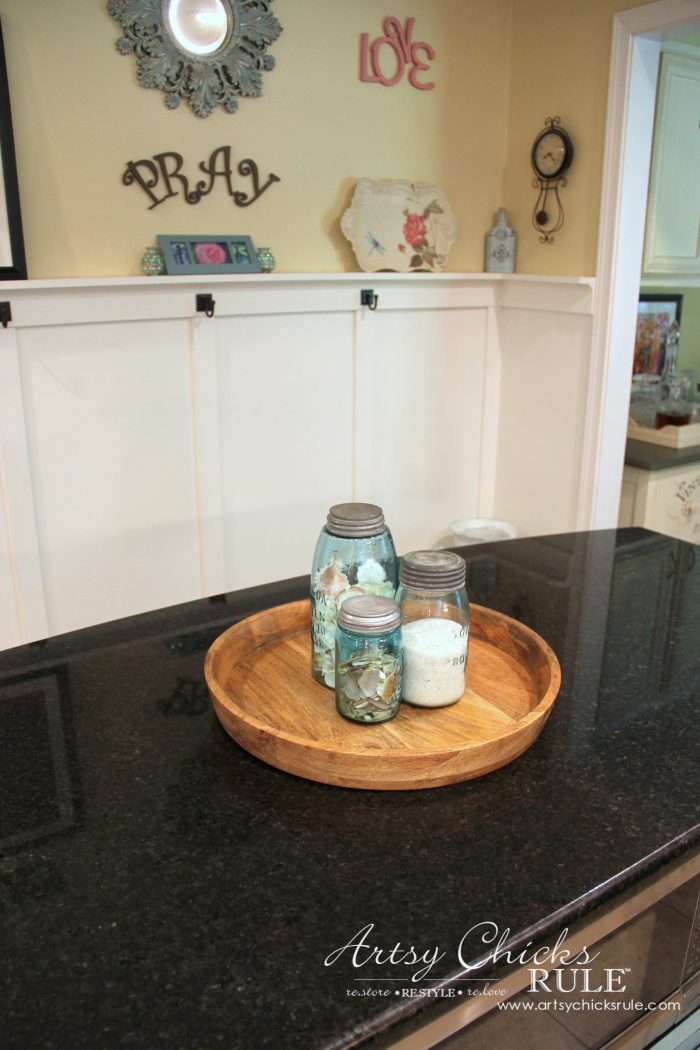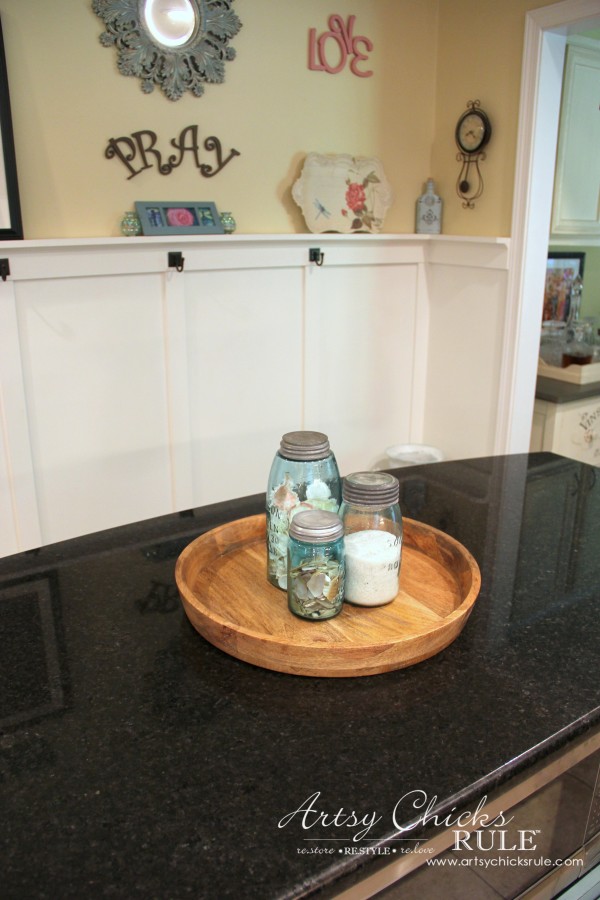 I will sometimes put fresh flowers in the middle.
I guess I could mention the pretty rose & dragonfly tray I have up on the board and batten ledge back there.
I just noticed it in the photo. It is in fact…a tray. ;)
And I am decorating with it but in a different way.
Here is the wood tray at my Red and Teal Themed Christmas….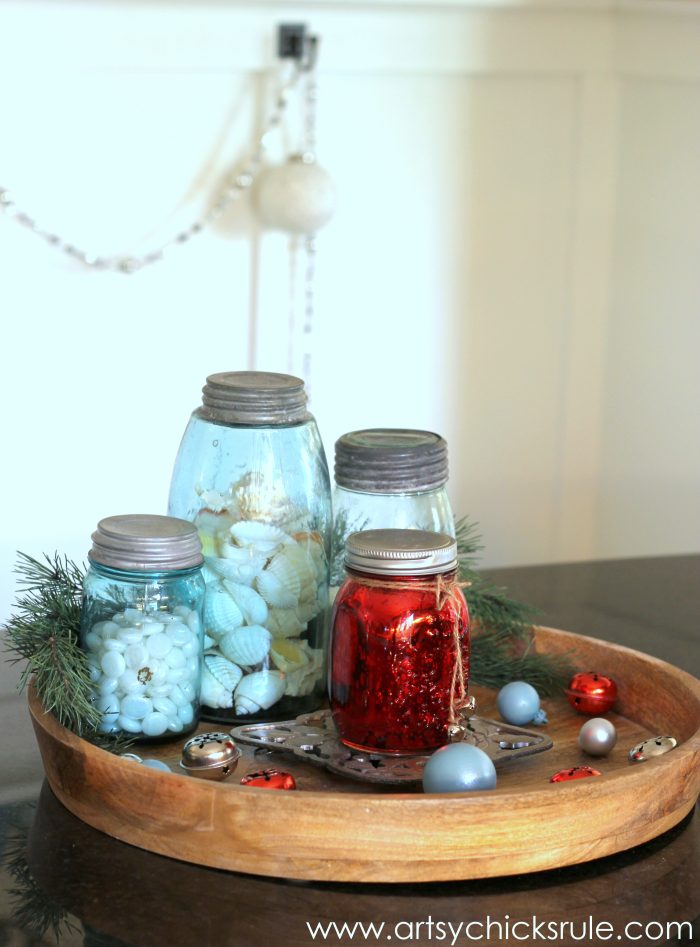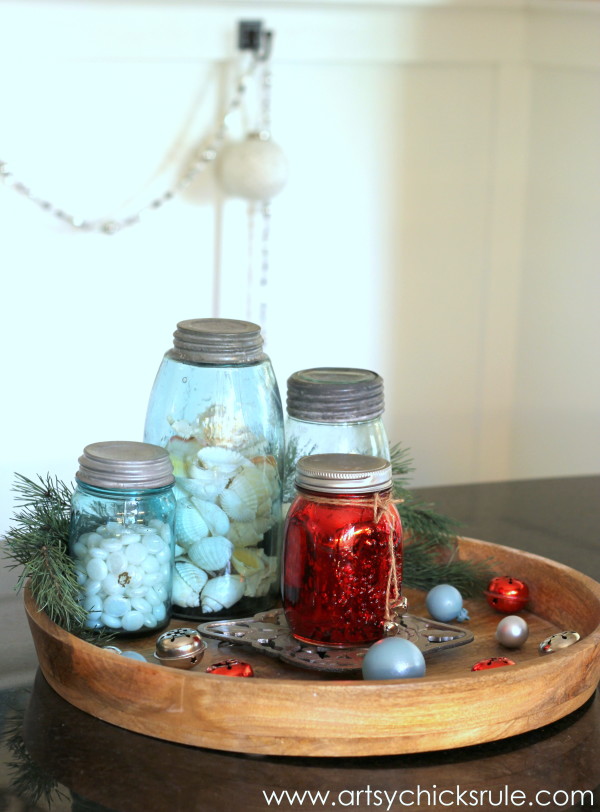 But right now I have it decorated simply with 3 of my old Mason jars filled with sand, shell pieces and seashells.
I really do love the simplicity of it. (and the natural elements)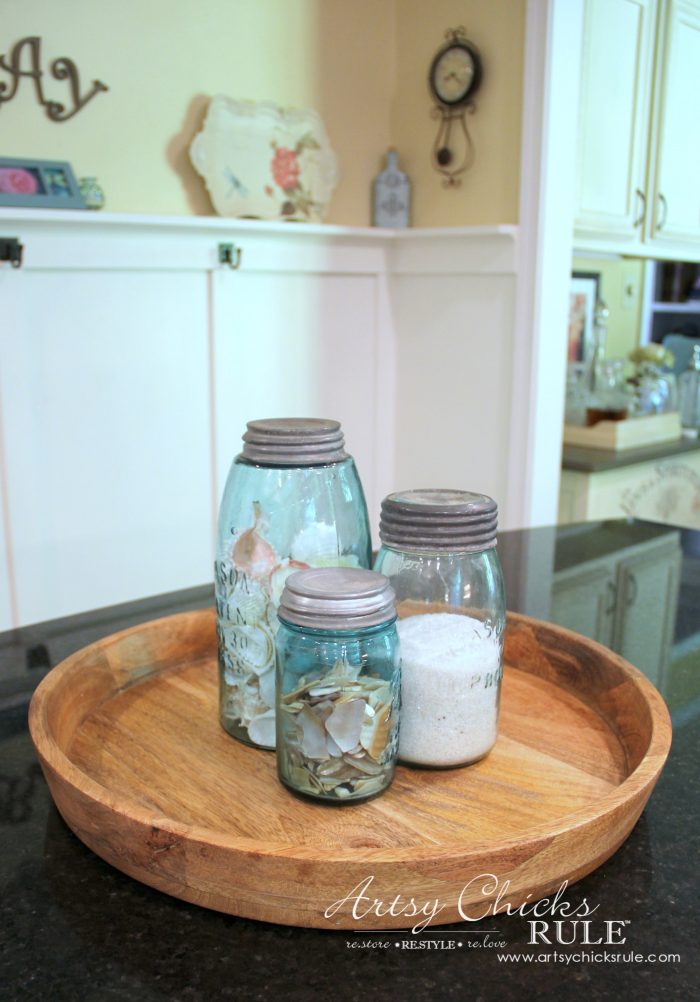 That's is for my trays….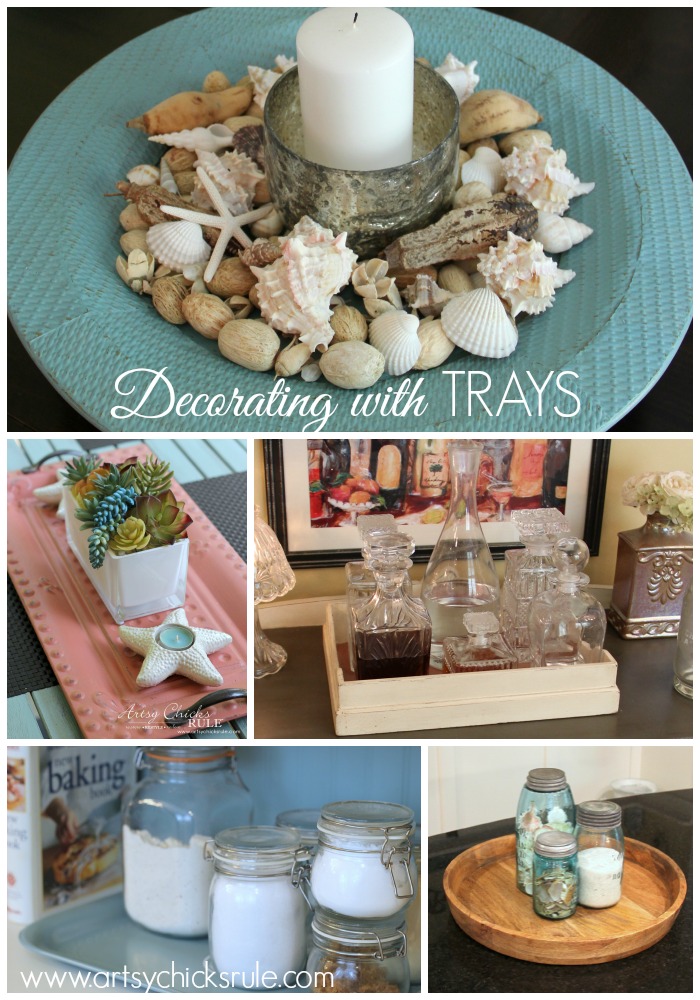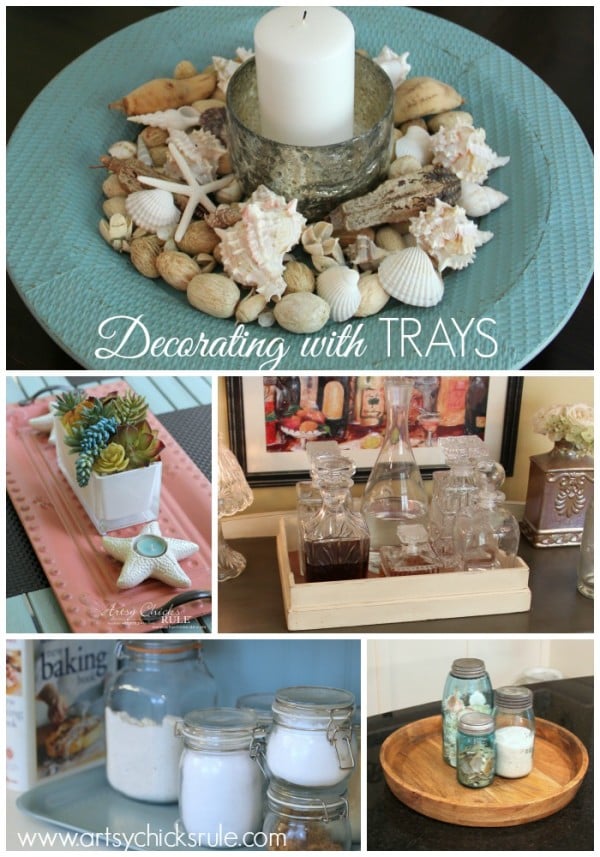 If you don't already decorate with trays, I hope this might have inspired you to.
Also, we have another fun challenge for you all!!
If you have Instagram accounts, we'd love for you to join in over there too!
This is how it will work:
1. Add your own post (decorating with trays)
2. Tag it with #DecorEnthusiast hashtag so we can find you
3. Follow all 6 of the hosts over on Instagram
We will choose ONE winner that will be featured on all 6 of our Instagram feeds this Saturday!
Follow here:
@artsychicksrule (me!) @confessionsofaserialdiyer @oursouthernhome @restorationredoux @refreshrestyle @dukemanorfarm
Have fun and be sure to visit my friends below to see even more tray inspiration!
Our Southern Home Confessions of a Serial Do It Yourselfer Restoration Redoux Refresh Restyle Top This Top That
I'll be back later this week with a dream board I created for one of my rooms….and some "room dreaming". :) (I'd love suggestions or input, so be sure to stop by!)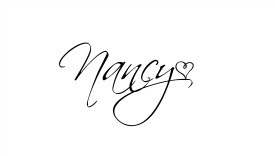 AND….. if you don't already, are you ready to participate with us every month?
You can!
Next month will be GALLERY WALLS, so should be fun!

You can share your amazing decorating tips, projects, ask questions and advice in the forum on Facebook specifically created to do just that.
Visit all of us over on the Decorating Enthusiasts Facebook page —>>> HERE.
We have new challenges every month too. We'd love to have you join us!
Follow along! –> Instagram ~ Facebook ~ Pinterest ~ Bloglovin