Simple DIY Outdoor Bench (thrifty project – recycled wood)
This post may contain affiliate links. Please see disclosures here.
Use old wood to create your very own DIY outdoor bench!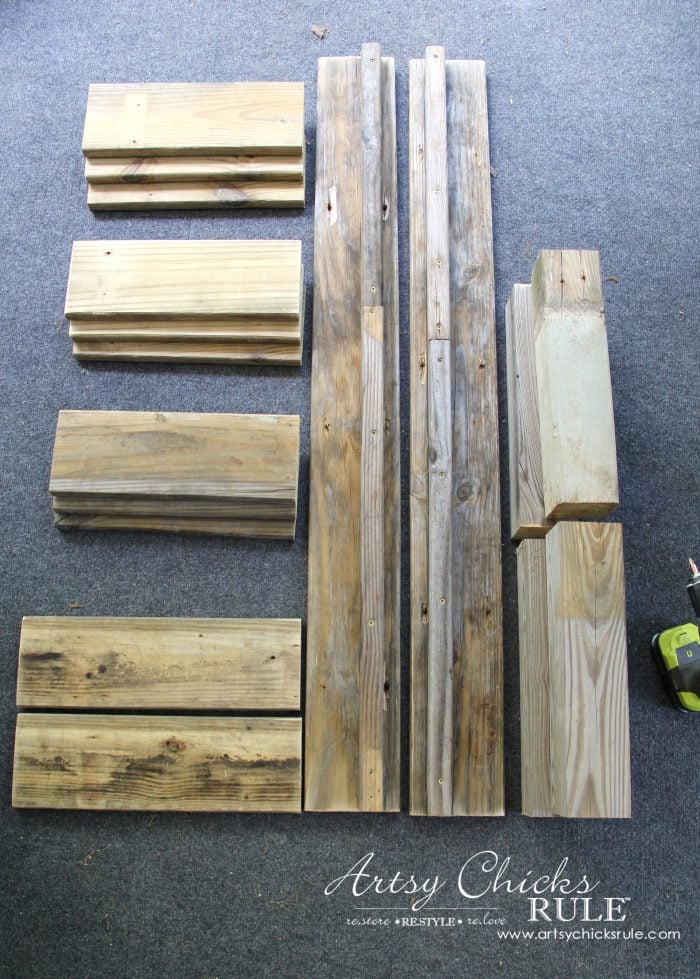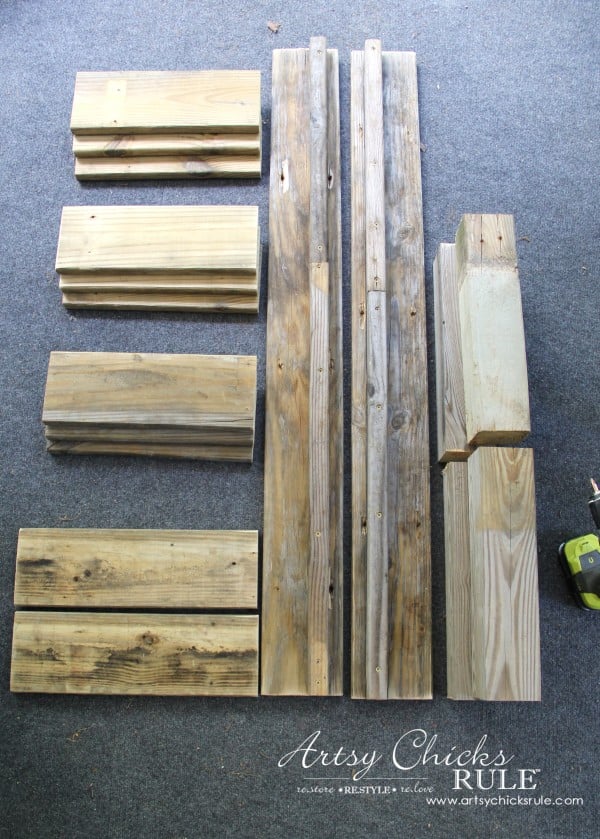 So we got this outdoor table free from my sister last summer.
Basically it was falling apart and she was throwing it out and buying new.
(no way I was gonna let her throw it away! ;) )
But it only came with a few chairs (the others had broken completely) and not enough to seat all the way around.
I've been wanting to add a bench since then.
Well I did it…..I made a bench!
And it's a super Simple DIY Outdoor Bench…that you can make too.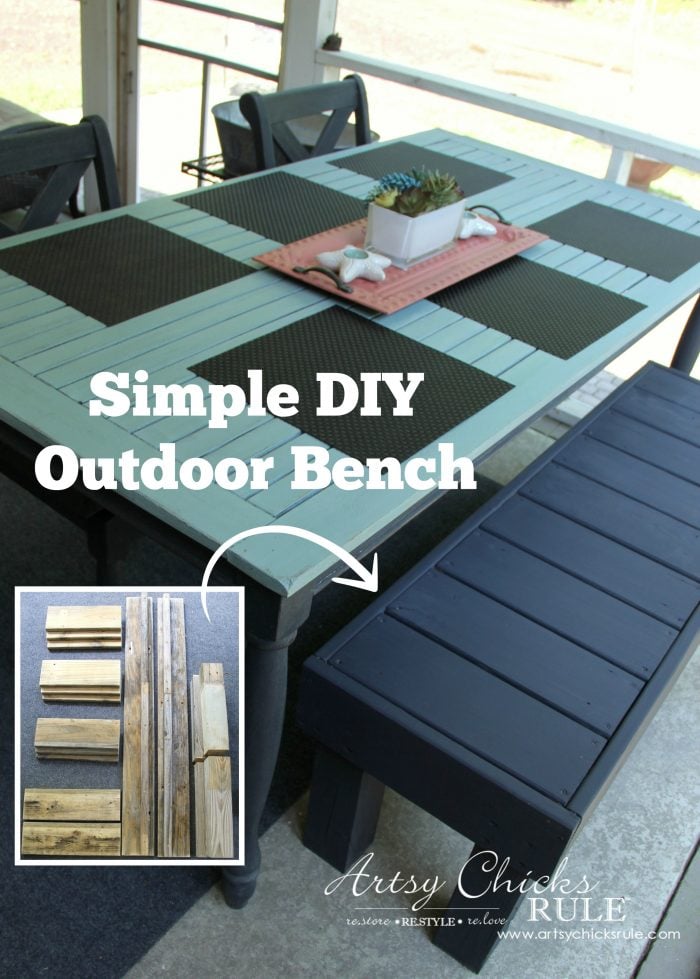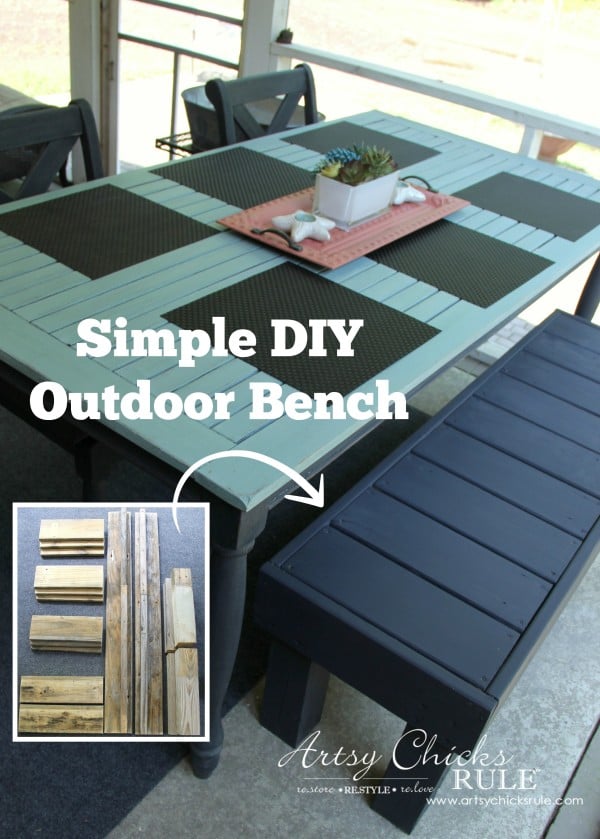 The table was painted with Annie Sloan Chalk Paint in "Graphite".
I was out of that when I made the bench so I used General Finishes Milk Paint in "Lamp Black".
You can read about (and see the "before" condition here –> Rescued Patio Table Re-do )
Anyway, I made a bench.
Did I say that already?? ;)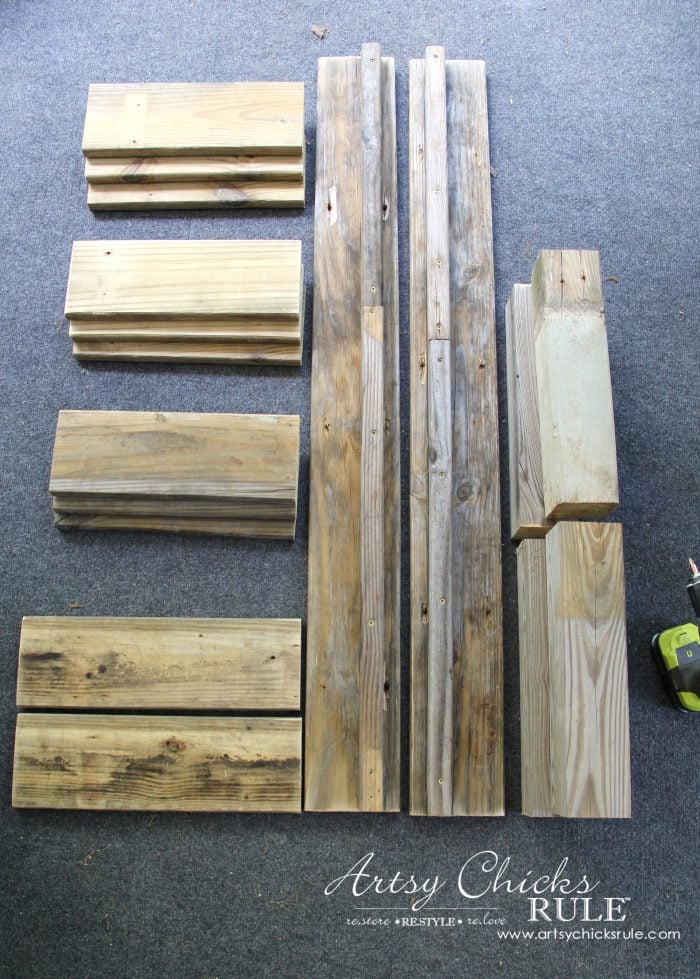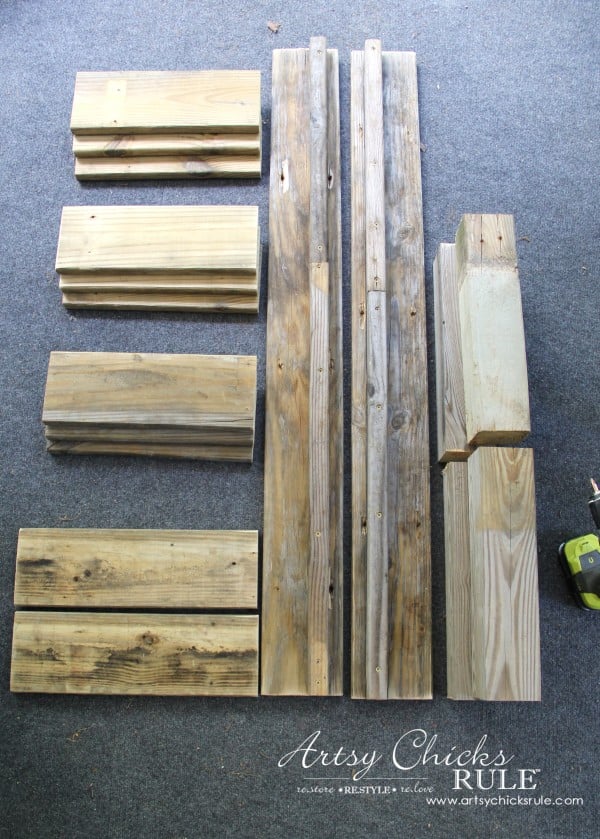 I had my husband do the cutting, however. He is a master at the saw….like I am a master at the painting.
So why mess things up, right?
But in case you don't have a handy husband, or don't want to tackle the saw yourself, (and that's okay! :)) you can get The Home Depot to cut all of these for you.
In my excitement to get it done (and done in time for Mother's Day Dinner at our home) I started screwing things together…before photos.
Oops, I'm so very bad about that , sorry!
Here's what you need to make your own DIY Outdoor Bench:
2 – 1 x 6 x 12 foot
1 – 4 x 4 x 6 foot
2 – 2 x 2 x 6 foot
Cut them into:
9 – 1 x 6 x 15 in
2 – 1 x 6 x 17 in
2 – 1 x 6 x 52 in
2 – 2 x 2 x 52 in
4 – 4 x 4 x 16 in
Drill, Screws (Deckmate 2 and 3 inch), Clamps, Paint
Every single piece of this bench is recycled from an old deck we used to have up.
We took it down and saved the wood.
The first thing you want to do is add the support pieces for the frame side pieces.
I had a little helper take photos for me. :)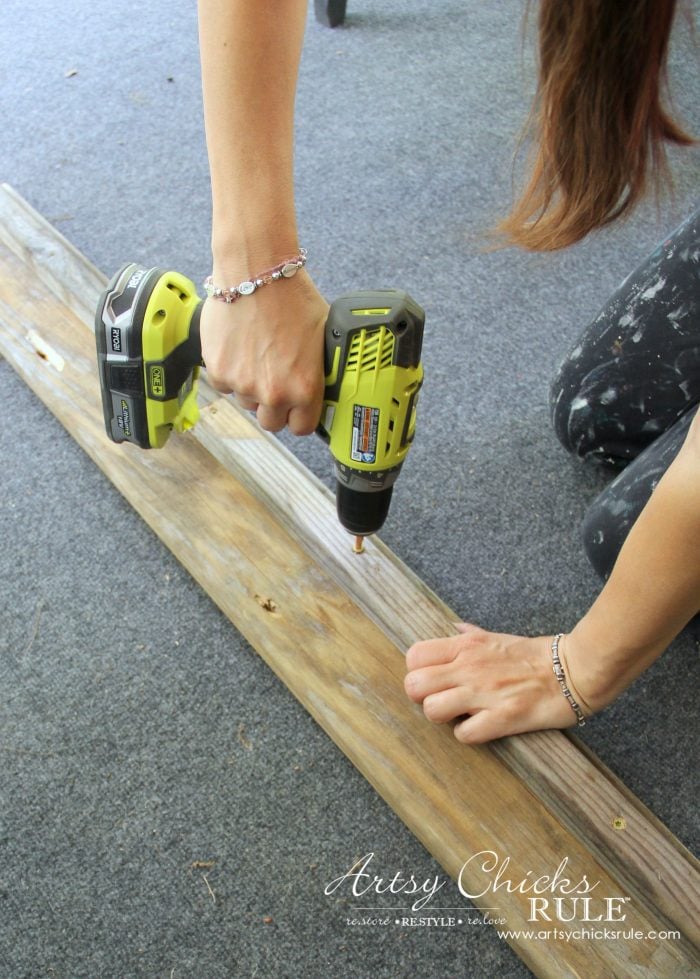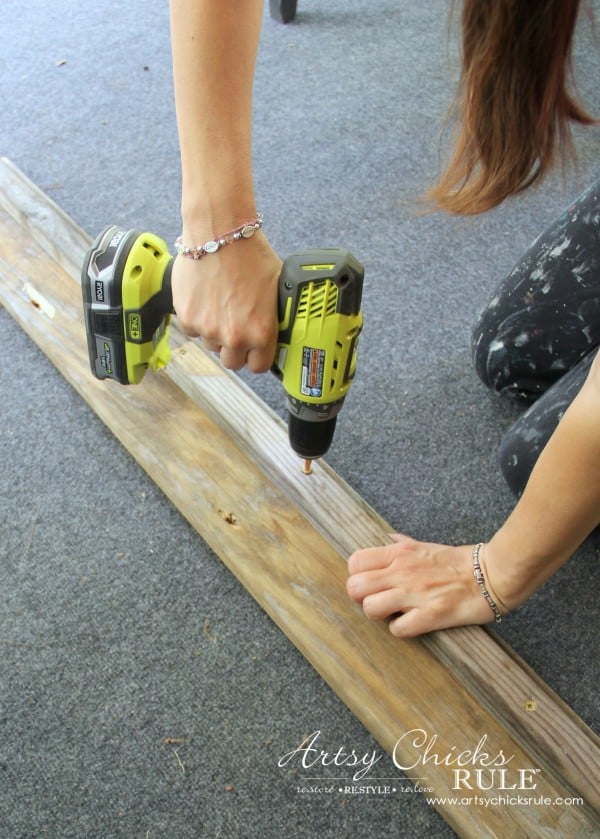 That would be me showing you what I had already done in the above photo.
I was adding the 2 x 2 as a "ledge" to support the 1 x 6 x 15 in pieces.
Next I built the frame.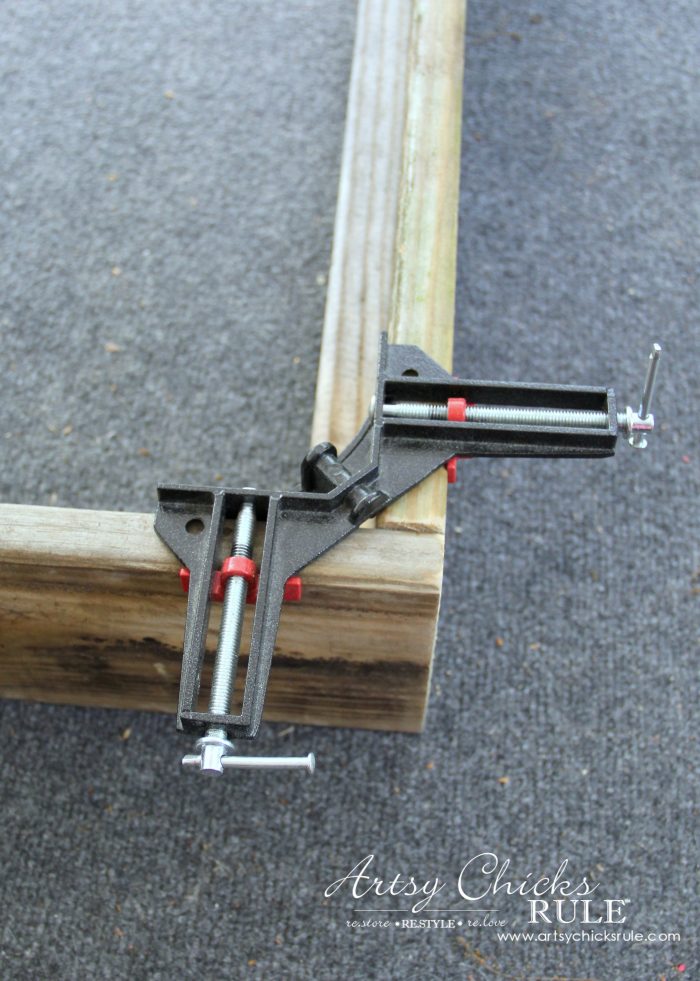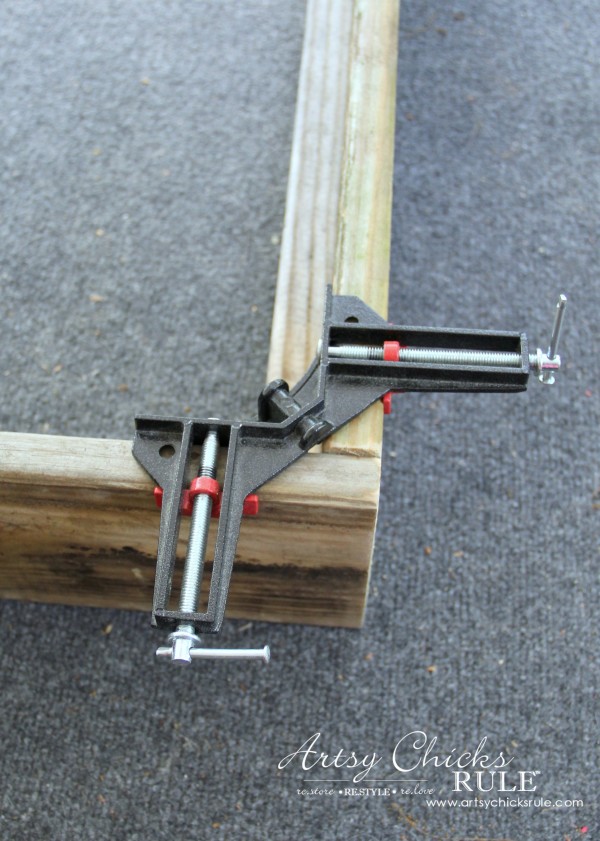 That is a handy, dandy little corner/square tool.
Made things super easy!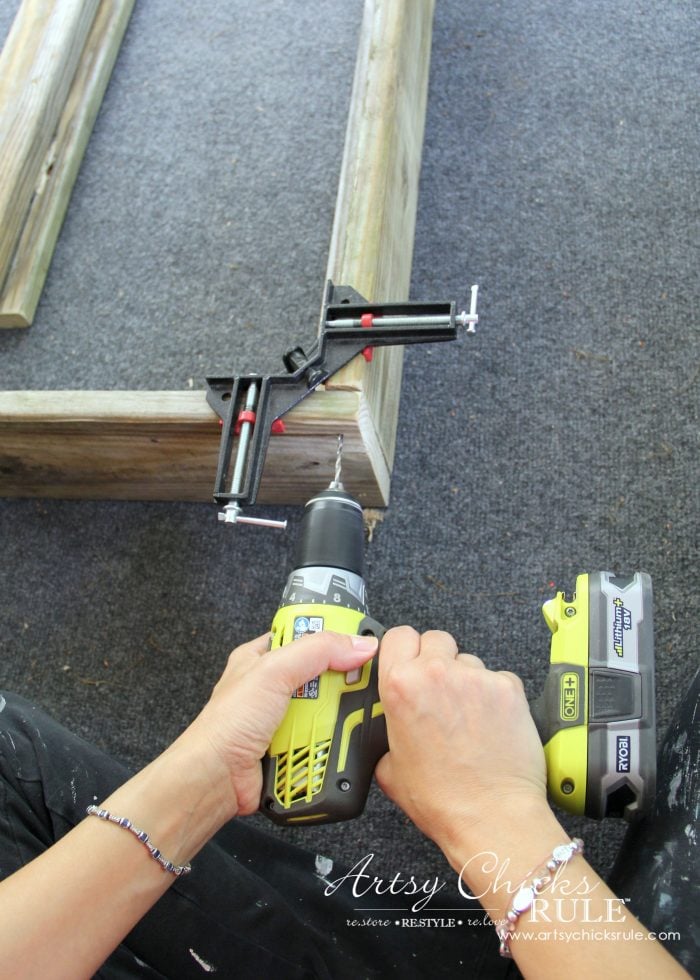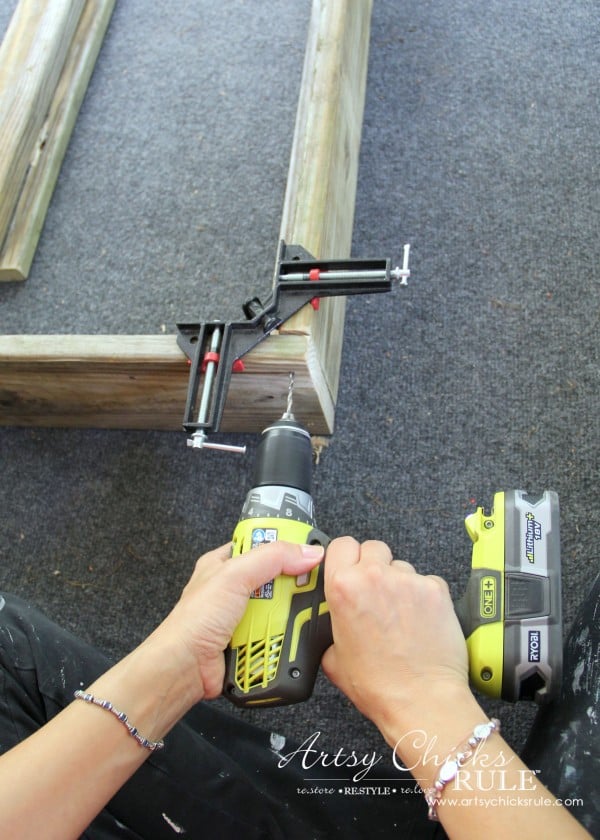 Drill a pilot hole first and then attach your screw.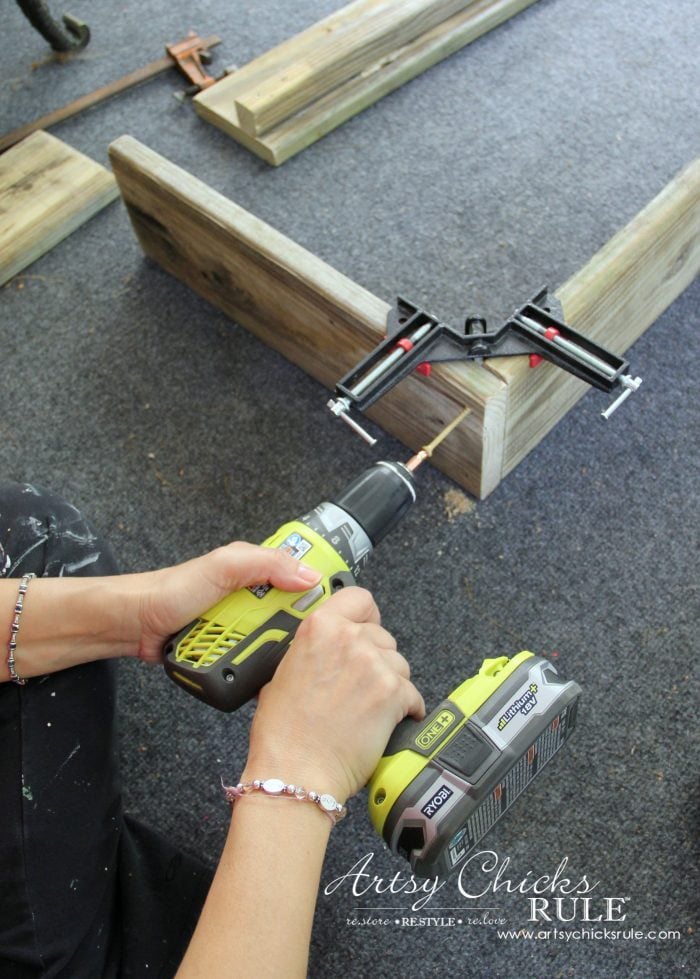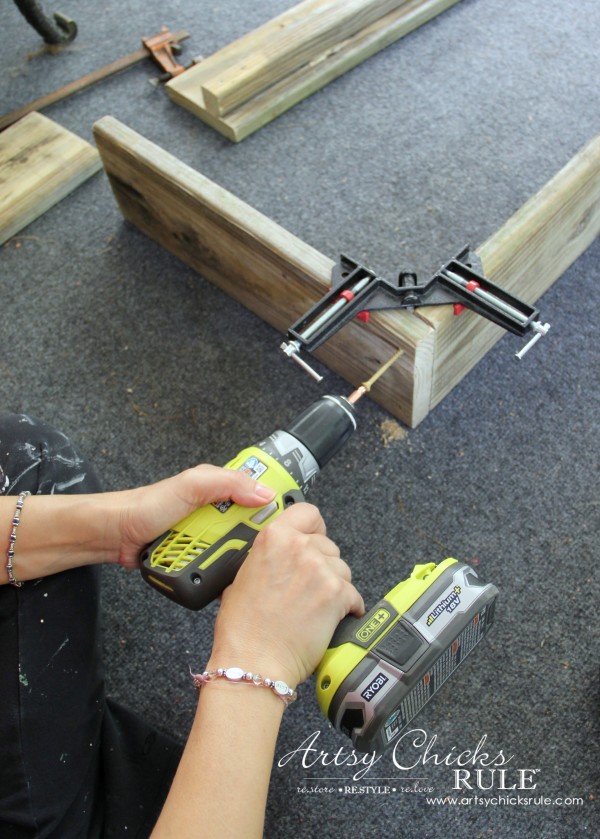 Do this all the way around until you have built your frame.
I used 2 screws on each side of each corner.
Once that is done, add your 4×4 beams….legs.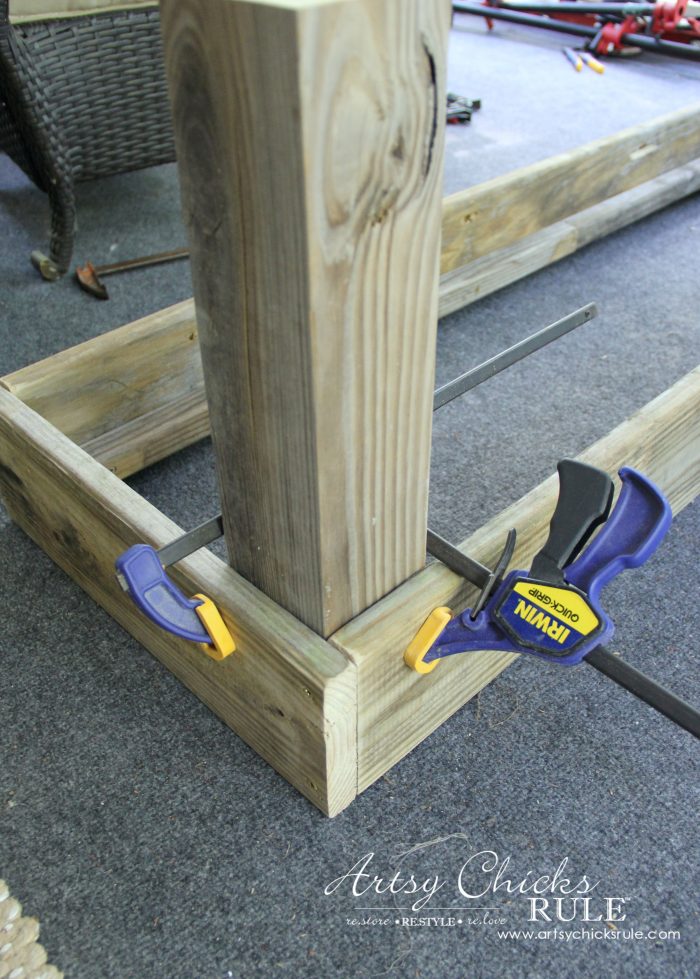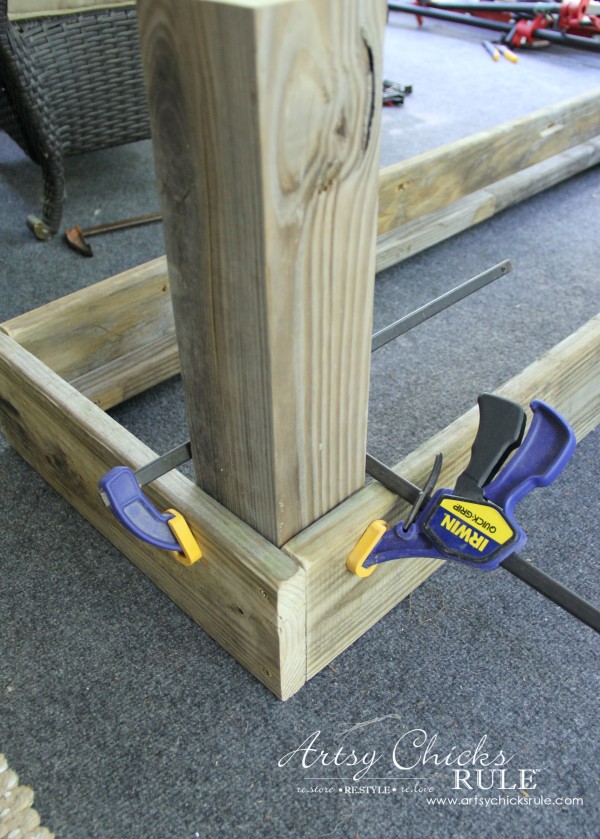 I used clamps to hold them in place while I drilled and screwed.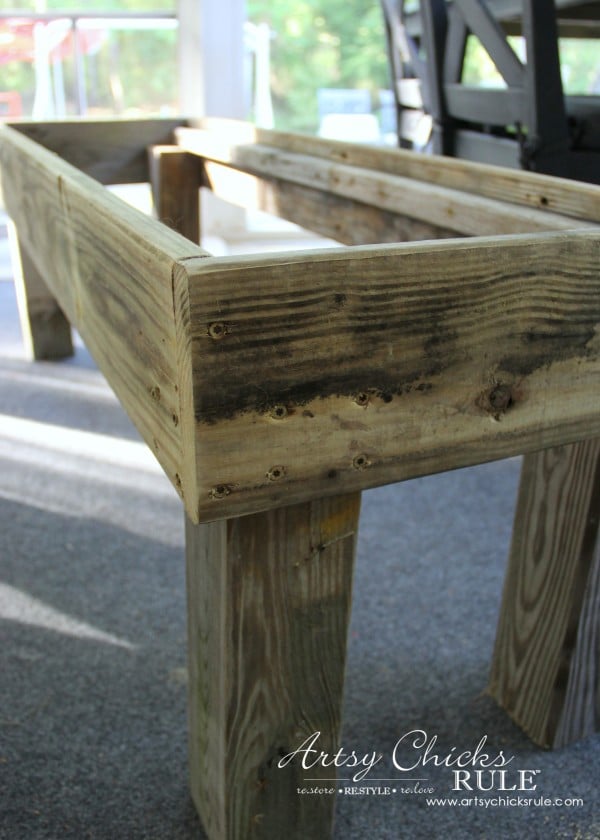 Since these were the main support for the seat I added 4 screws to each corner on each side.
Next, and you are almost done, add the seat boards.
They fit oh so nicely inside the frame you built.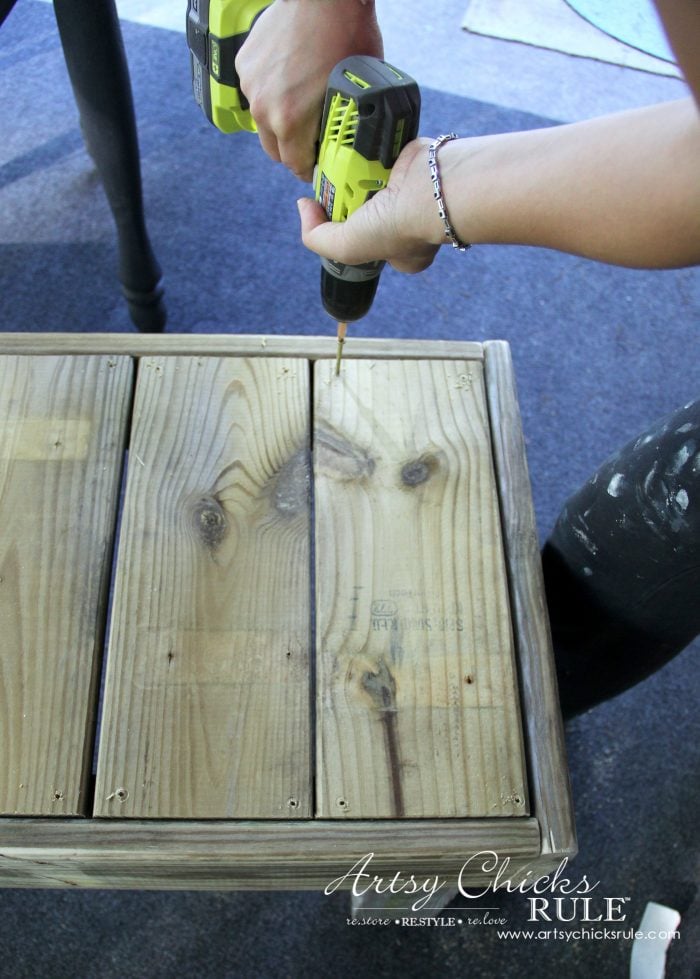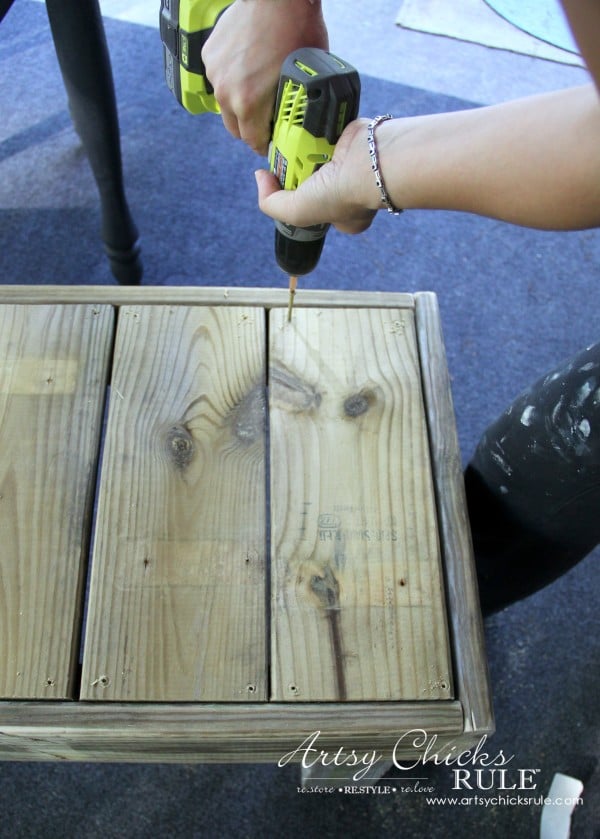 Drill your holes, then screw in the screws……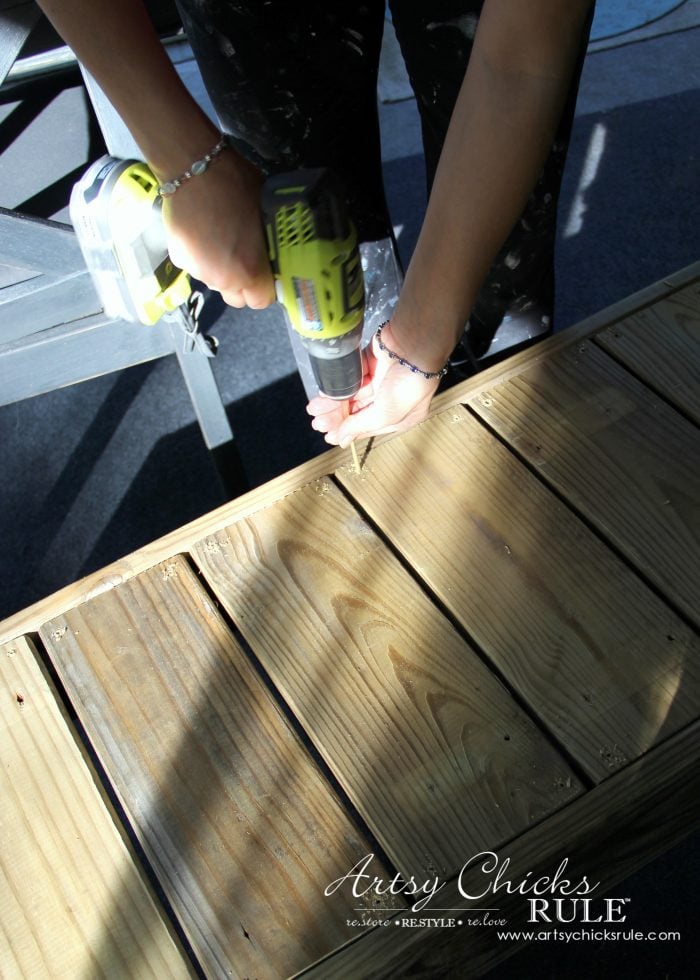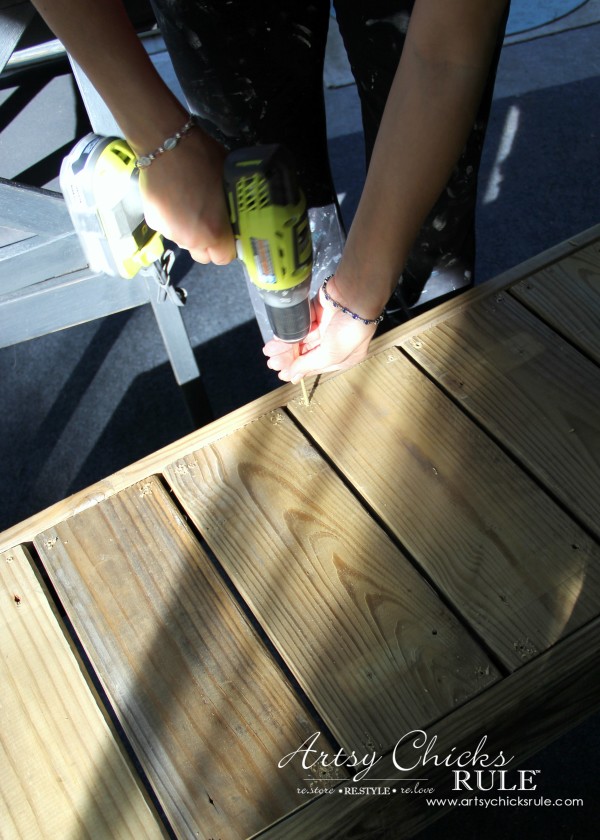 These are screwing down into that 2 x 2 ledge piece that was first placed onto the frame boards.
Aren't my "painting pants" fancy? ;)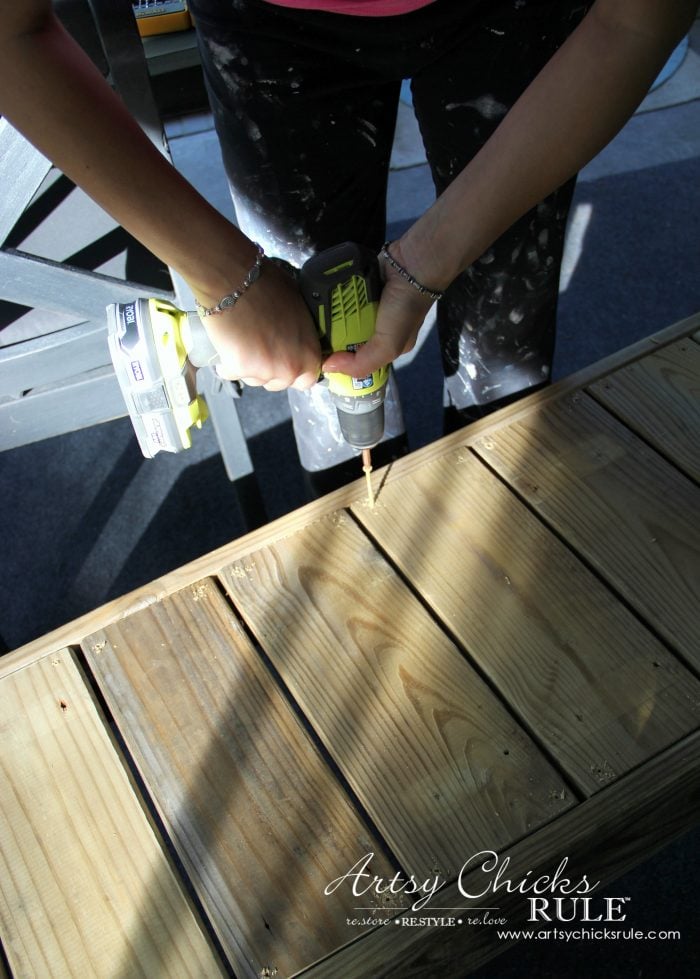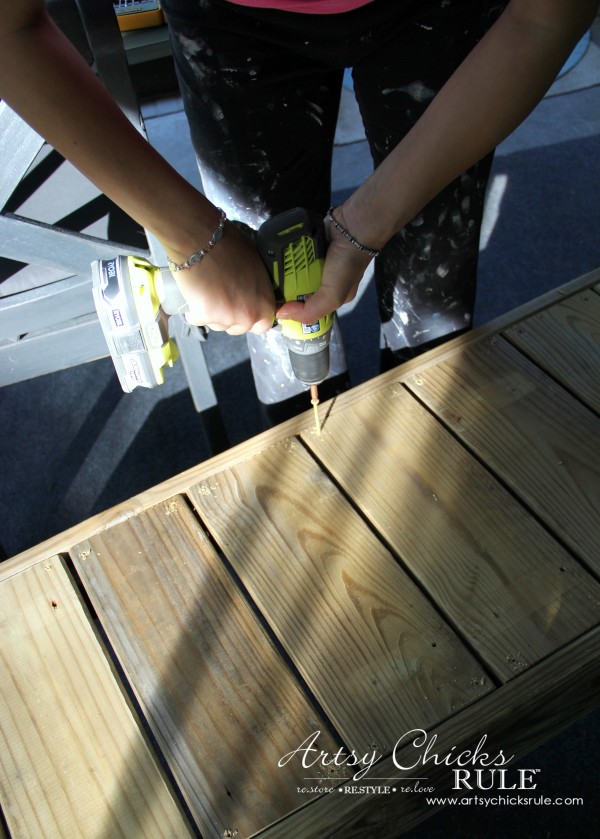 Do that all the way down the length of the bench until finished.
I did two on each side of the boards.
All done! My very own, DIY Outdoor Bench, yay!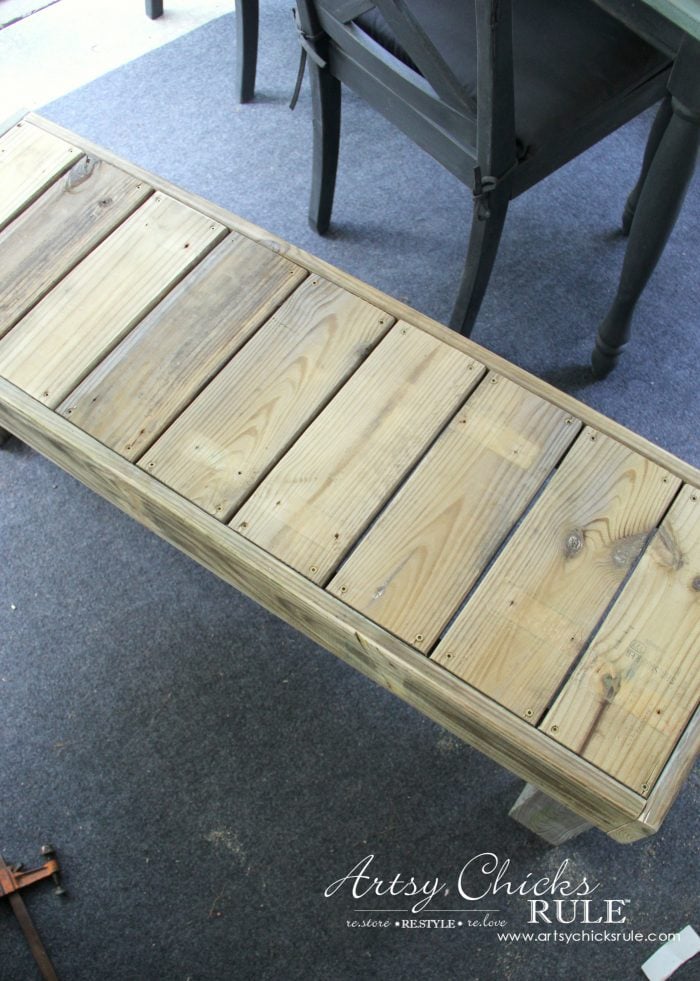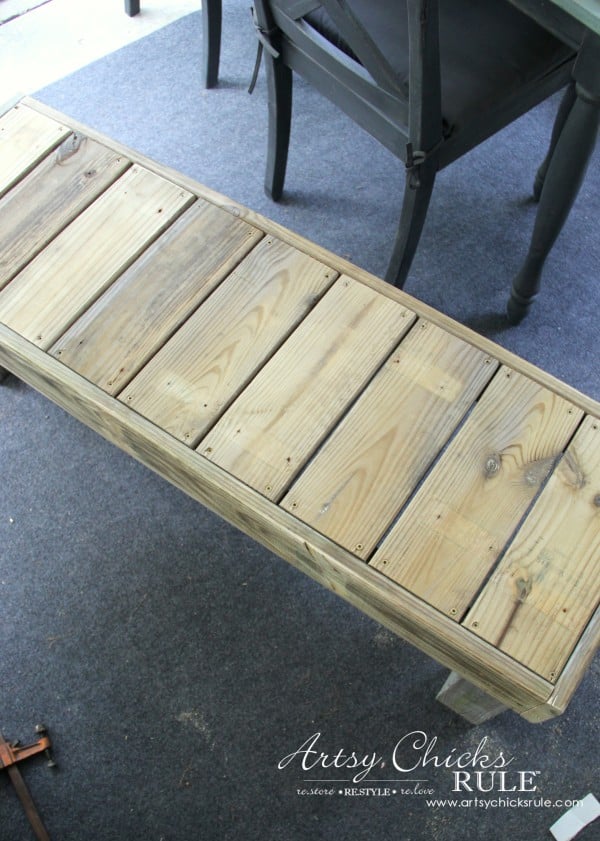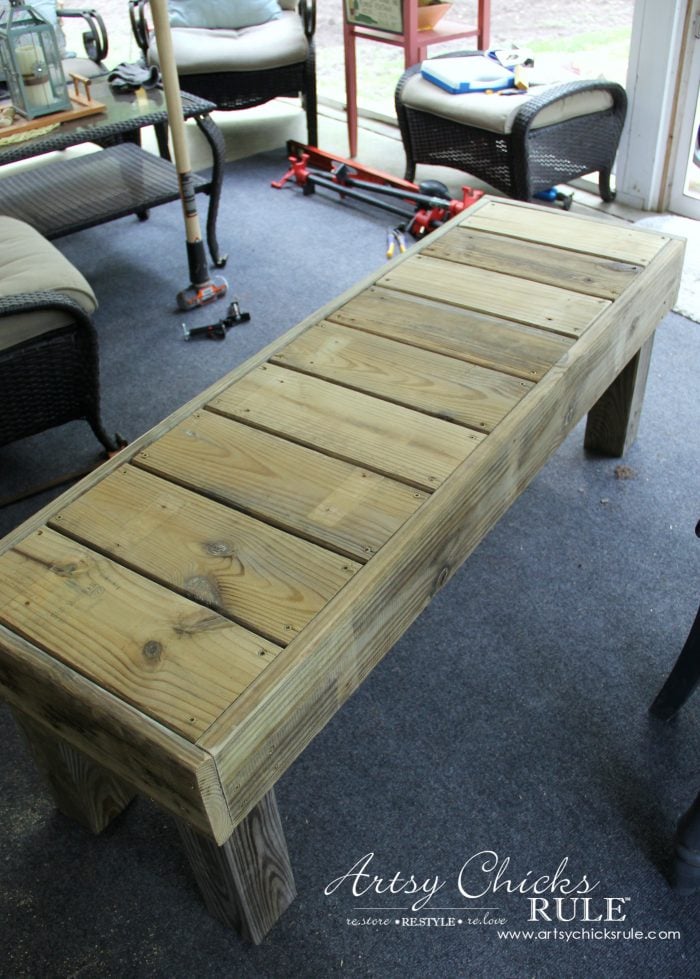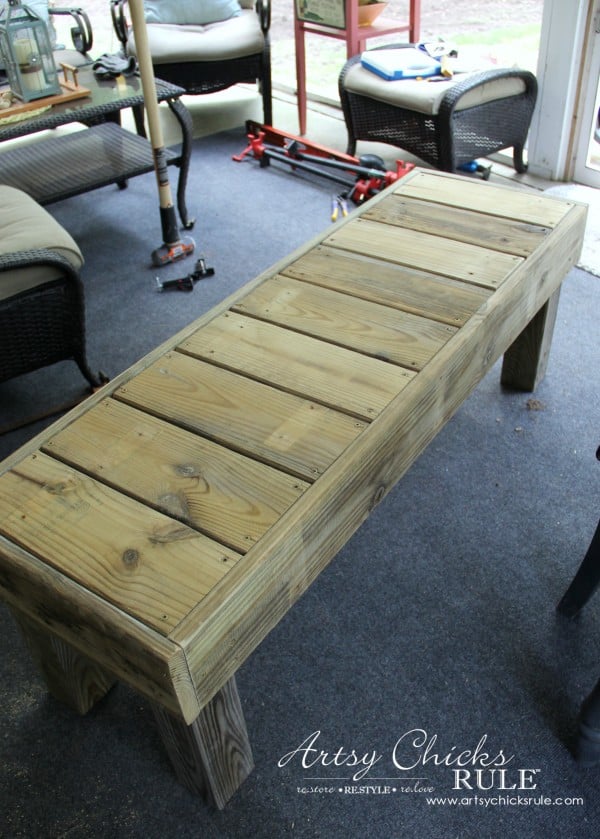 Well almost…..painting next.
Oh…and this is what my husband was doing while I was making the bench…..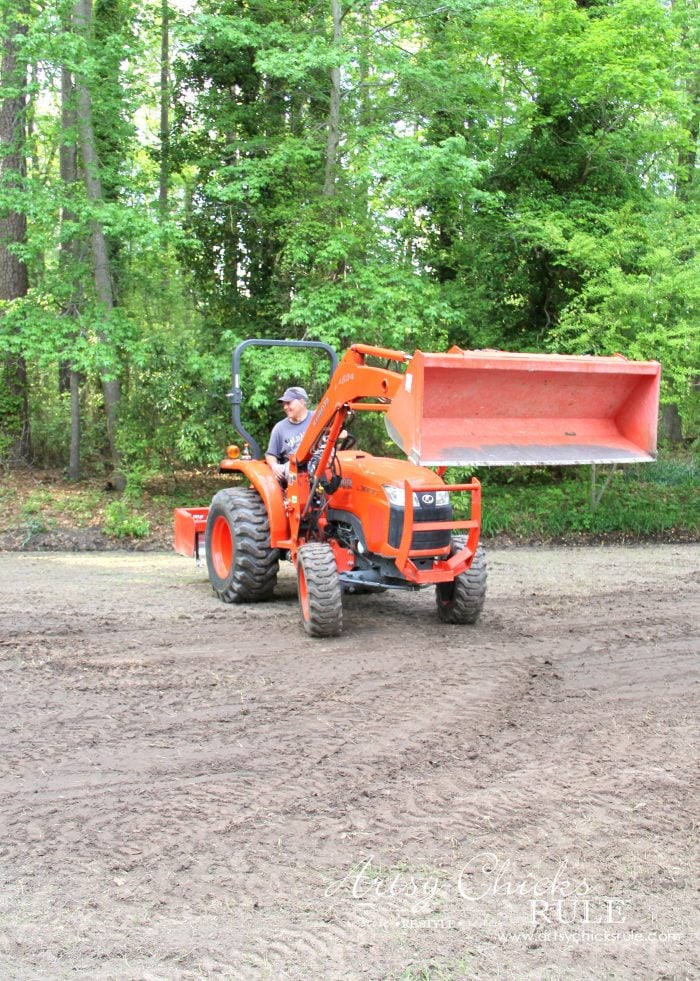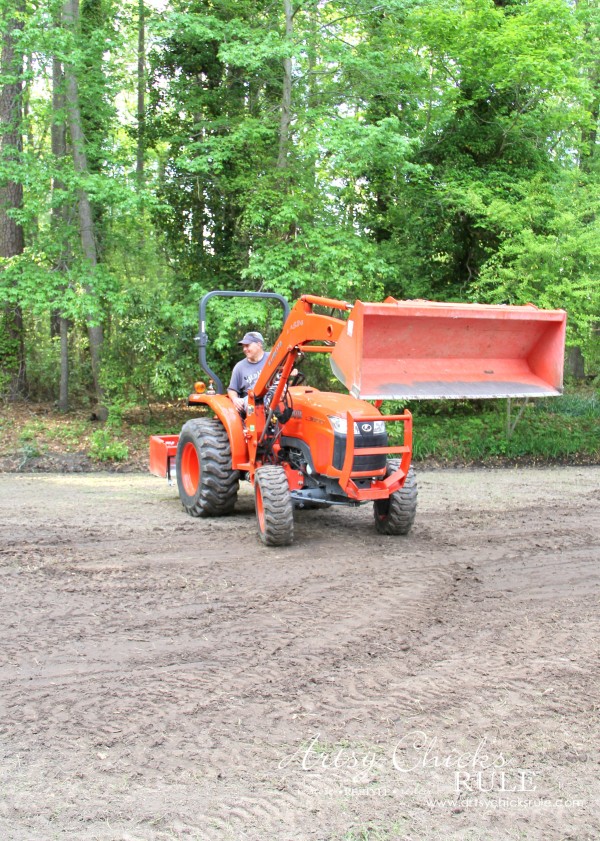 …..playing in the back yard on a tractor.
Big boy toy, for sure! ;)
All painted and in place.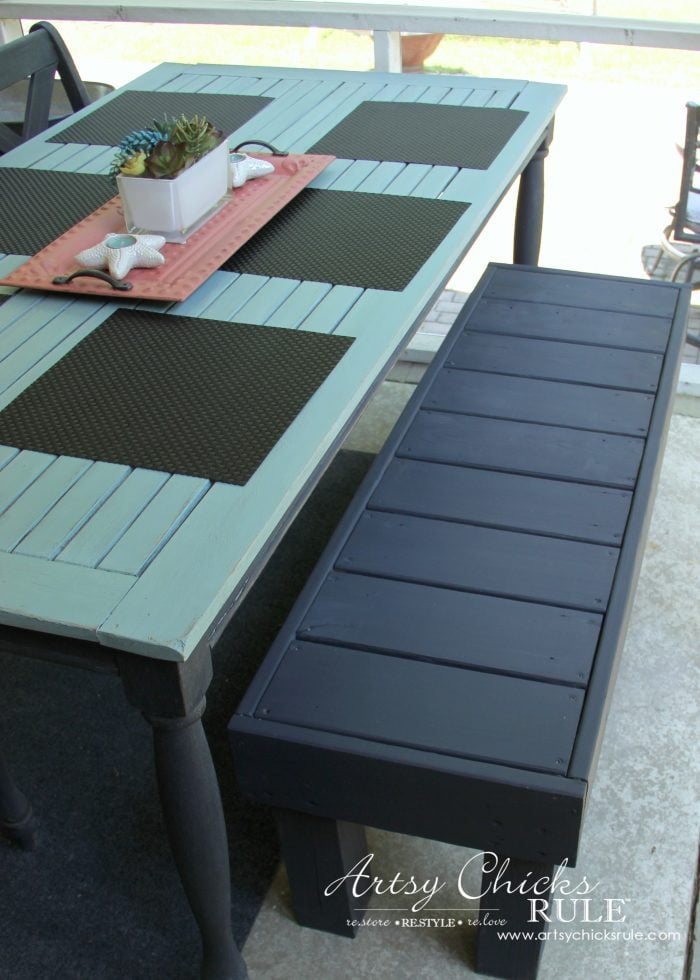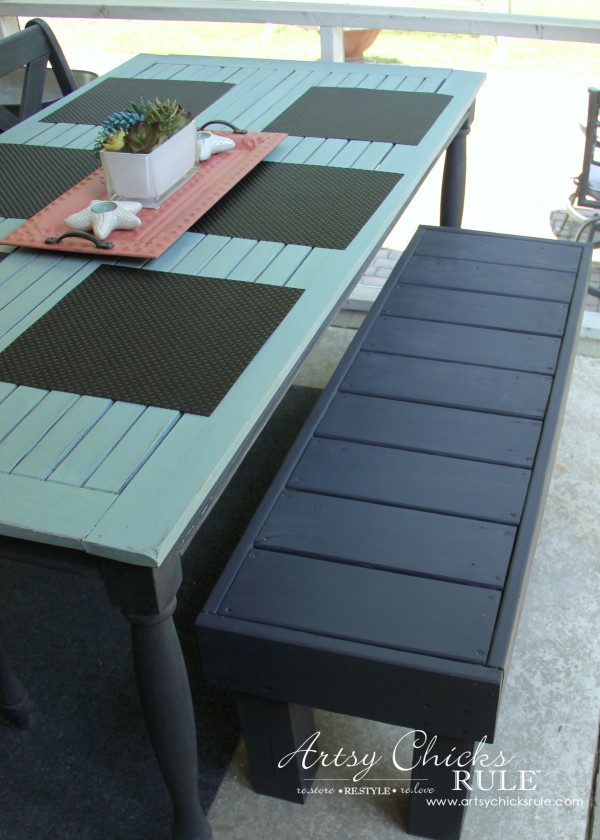 Not fancy but serves our needs out here!
And it's very sturdy.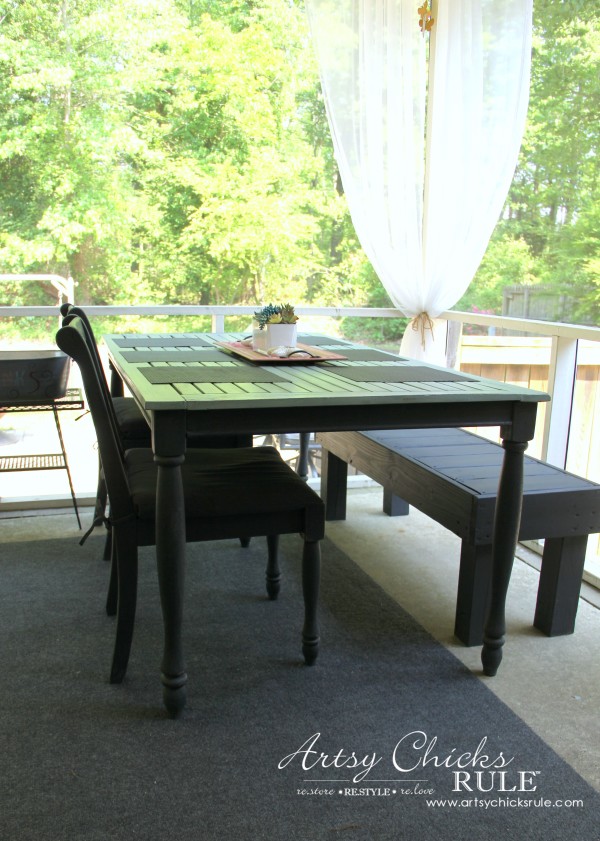 PIN this DIY Outdoor Bench for later!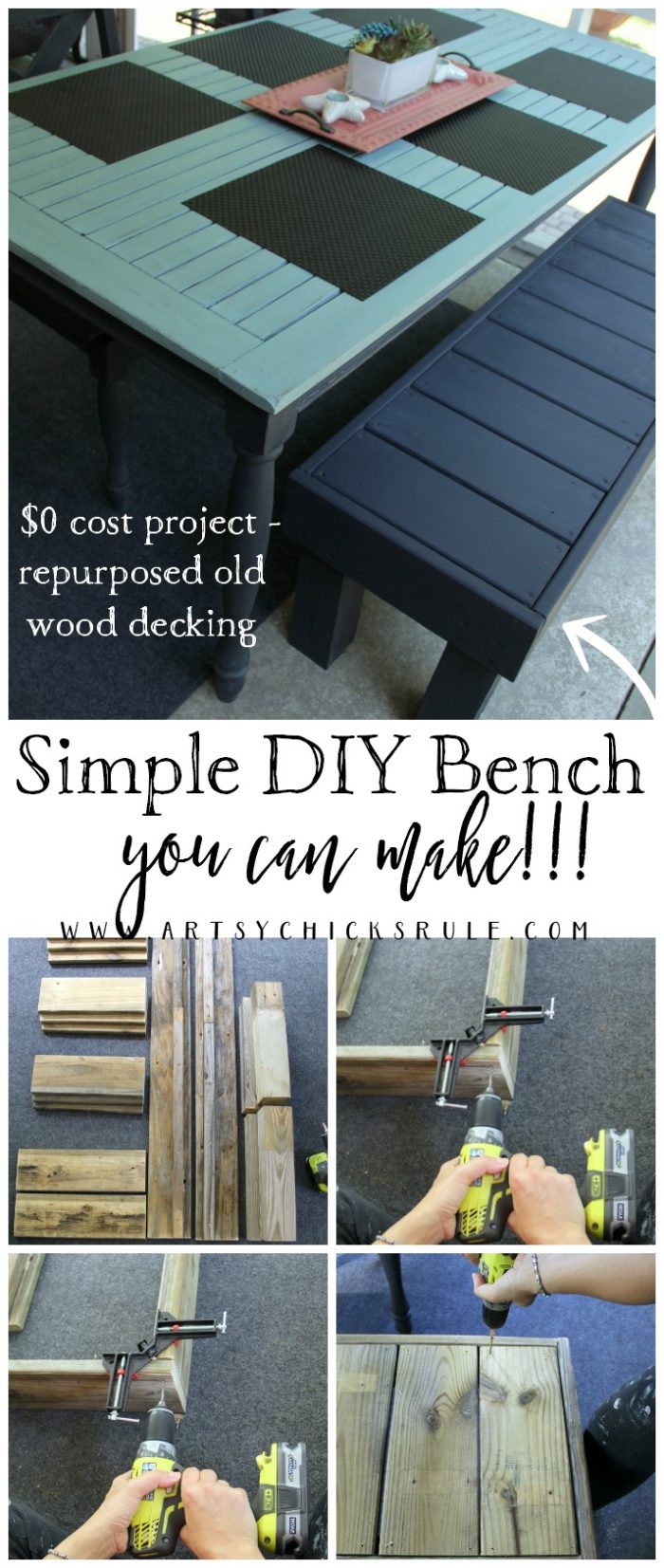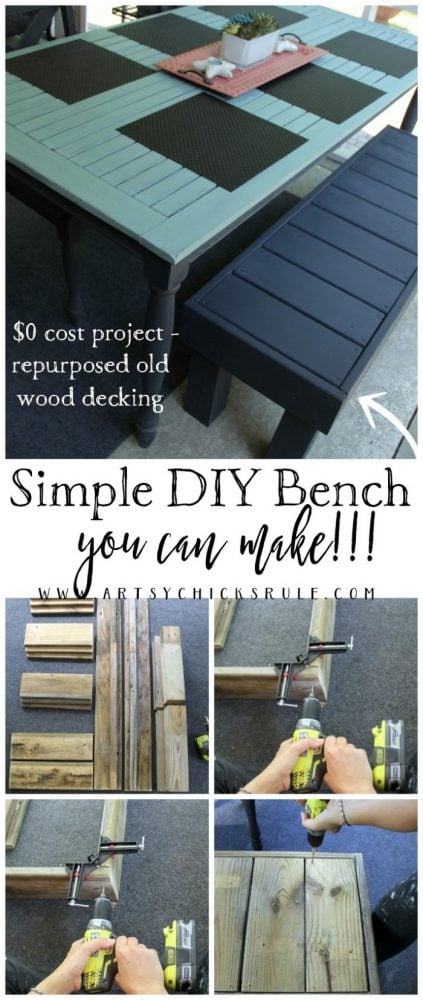 By the way, I didn't bother filling the old holes (from it's previous life as a deck) since it's just an outdoor bench.
I might get or make a seat cushion for it though. :)
Is this something you might try? It's totally do-able, I promise.
If I can, YOU can!