20 Thrift Store Makeovers For Your Home (you can do!)
This post may contain affiliate links. Please see disclosures here.
Hello Friends!
Today I thought I'd share a bunch of thrift store makeovers that I've done for my own home.
Some of them are old decor items I had, too. BUT they almost ended up at the thrift store so they still count. ;)
Plus, they are exactly like things I would find at the thrift store.
The rest are actual thrift store makeovers and I hope that by sharing these again, it will put a spark, or an idea into you about how you can also decorate on a budget by creating your very own thrift store makeovers. (or revamping decor you already own!)
1.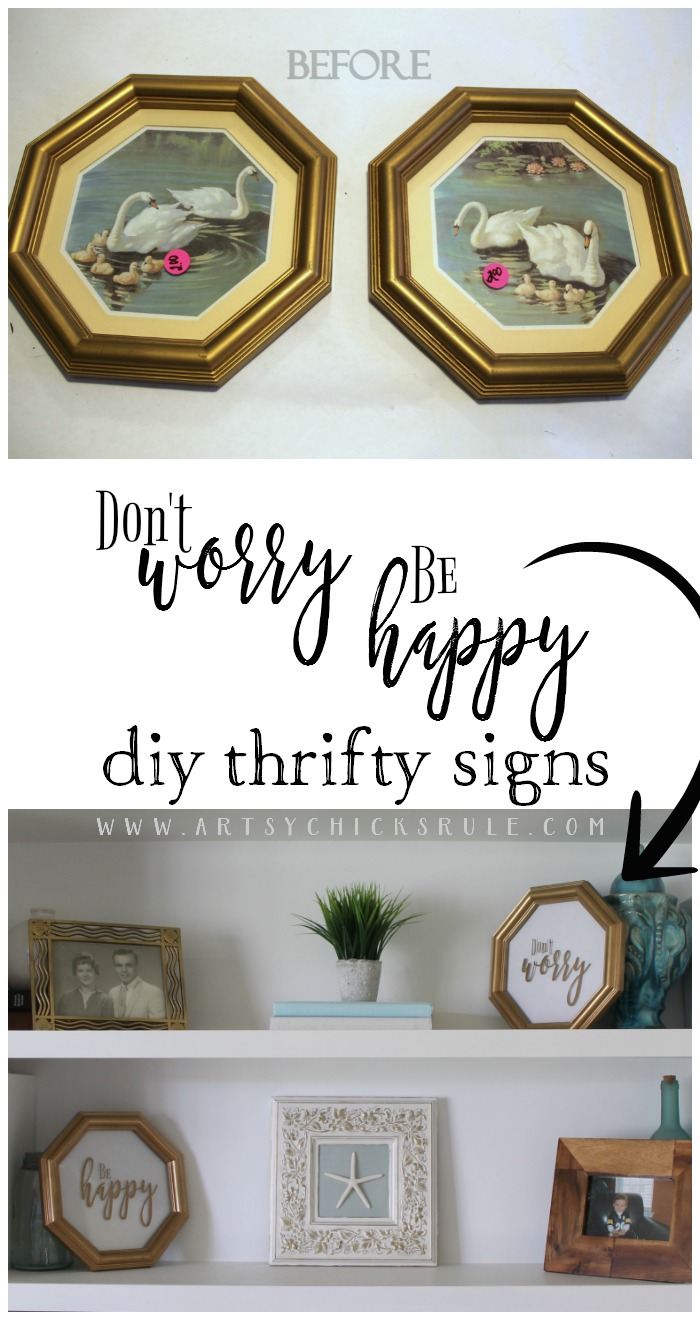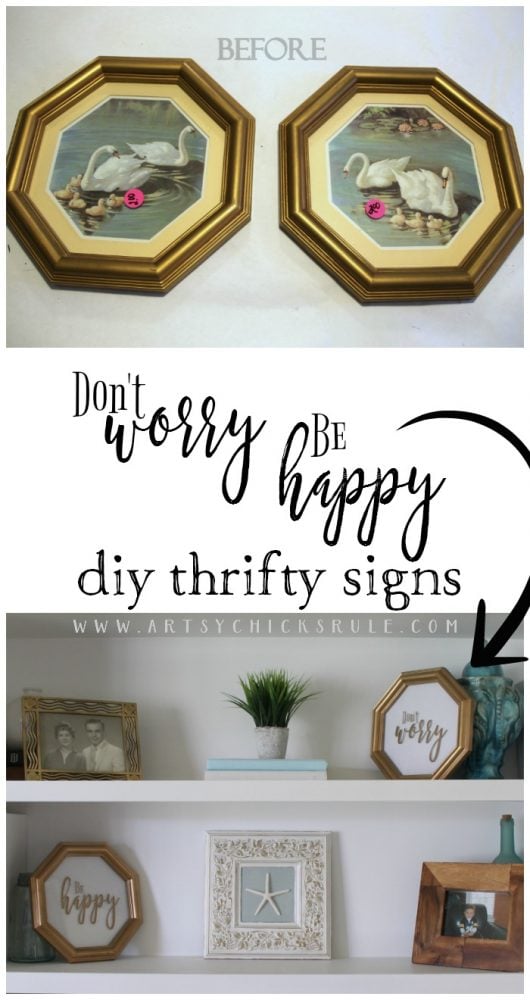 These "Don't Worry Be Happy" signs are a prime example of finding something outdated, or just no longer in your own style, and giving it a completely new life.
You can see more, here.
2.

This frame was plain, ole gloss white when I bought it. It didn't exactly fit the style of the bathroom.
So, instead of spending more (it was pretty inexpensive) for a "weathered" finish mirror.
Or even trying to find one that would work, I changed this one up instead! (and it was truly simple to do)
You can see more, here.
3.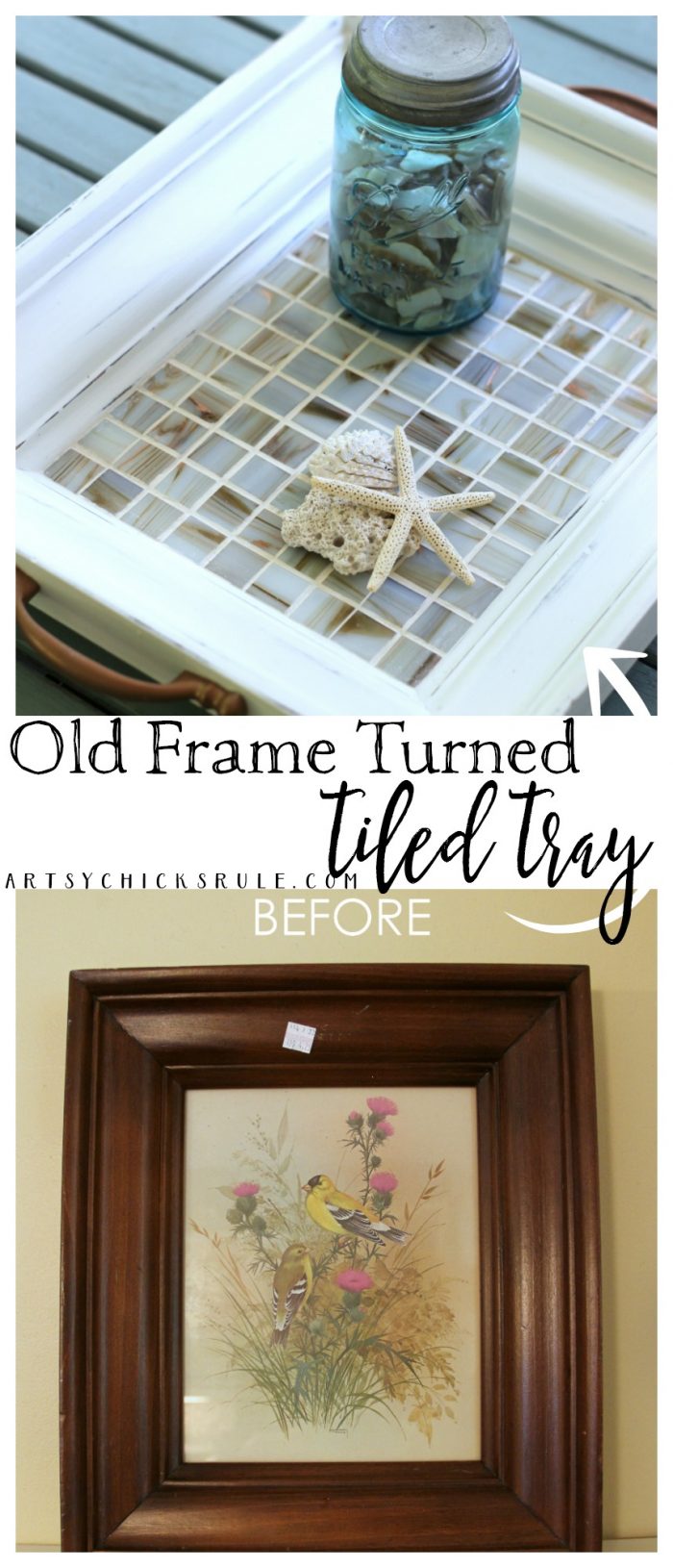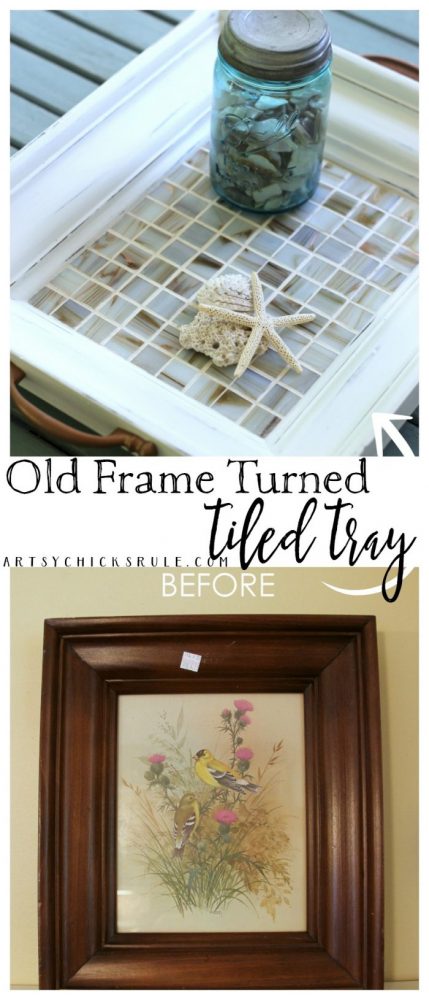 You can find old prints, old frames of any size and shape at the thrift store all day long!
So this kind of makeover is easy to come by. And don't know how to grout and tile?
You don't have to! This is a really simple project that anyone can do.
You can see more, here.

4.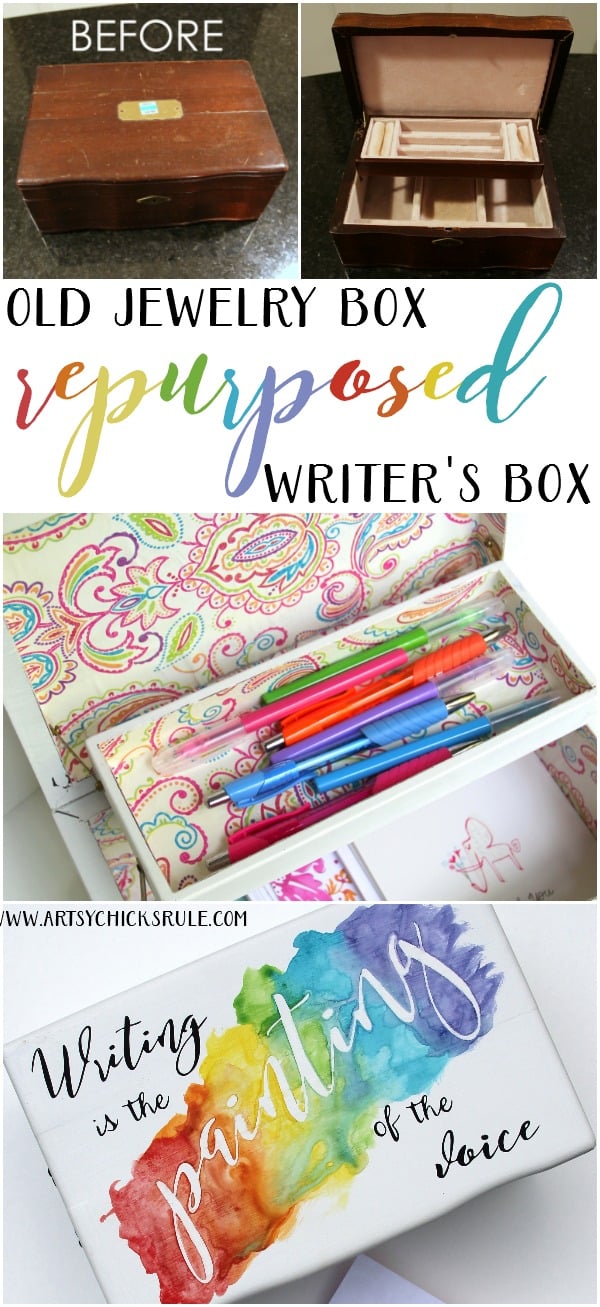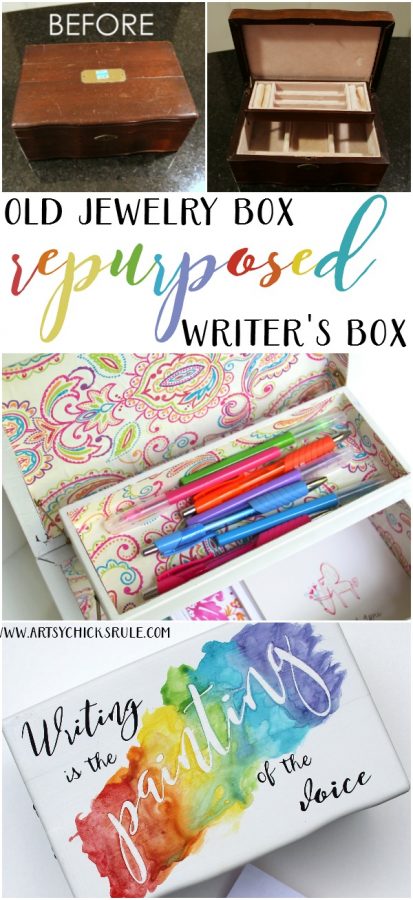 Something else that I can almost always find at the thrift store?
Old jewelry boxes!
These are really fun to give new life to. You can give them a little paint and some new insides and keep using them for jewelry.
Or you can give them a brand new life as I did this one that I use for note cards and writing.
Also perfect for gift giving.
You can see more, here.
5.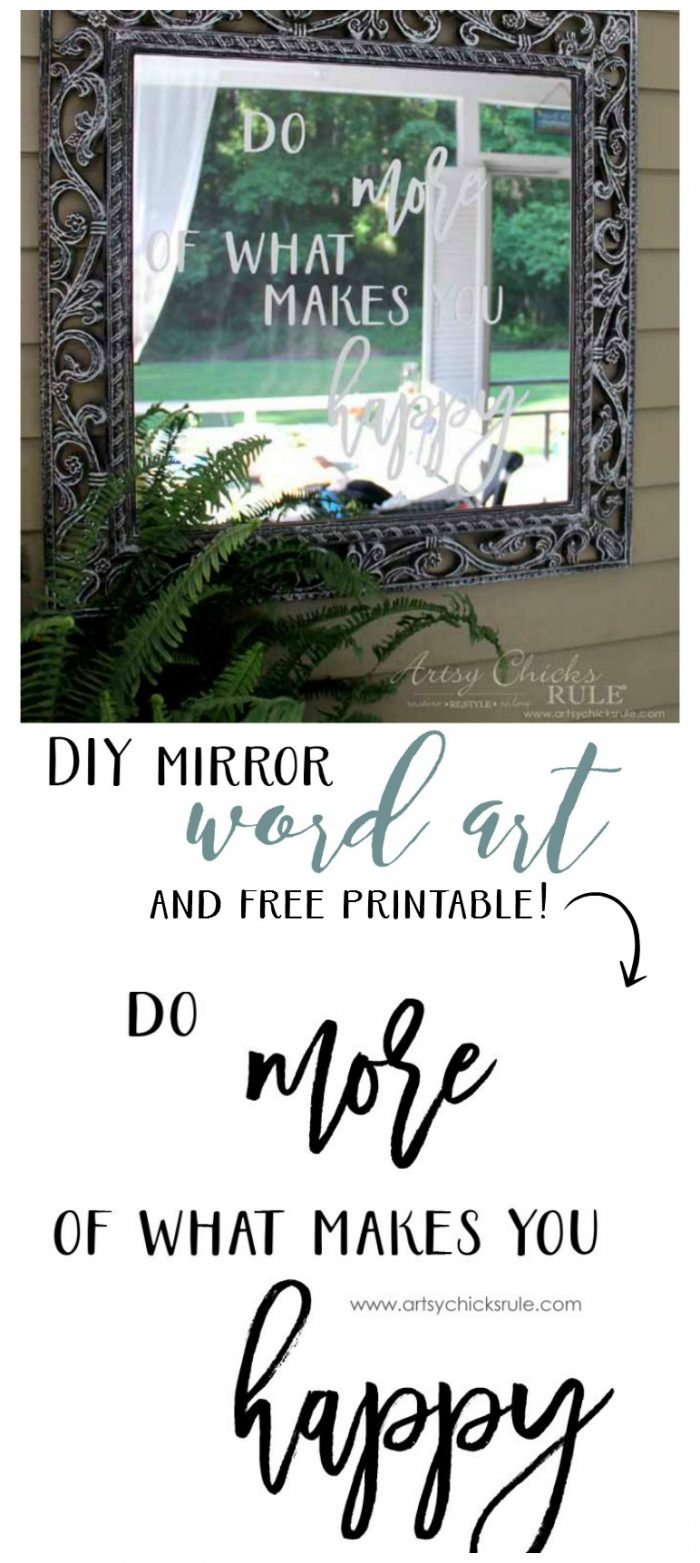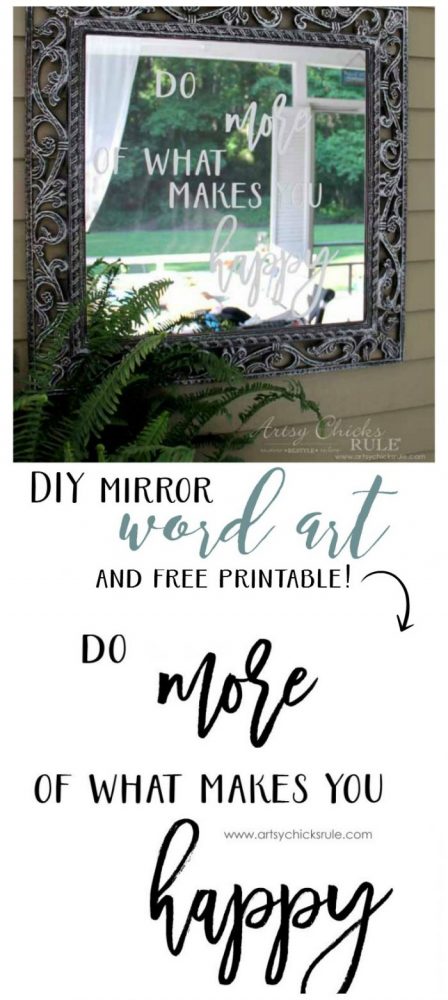 This is an example of me reusing something that very well could have ended up at the thrift store.
It was a mirror I used to have on the wall in the study where our DIY built in bookcase now resides.
I had no other place to use it so put it away. I pulled it out when I was giving my back screened porch a makeover and gave it new life.
You can see more, here.
6.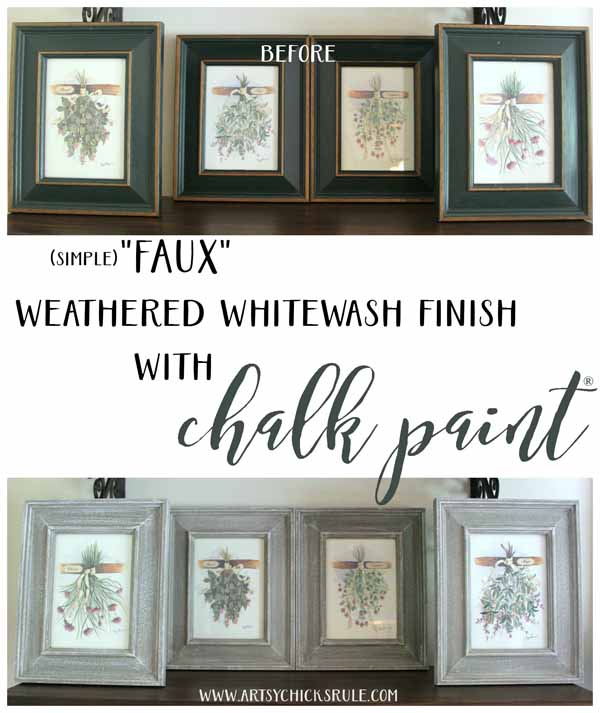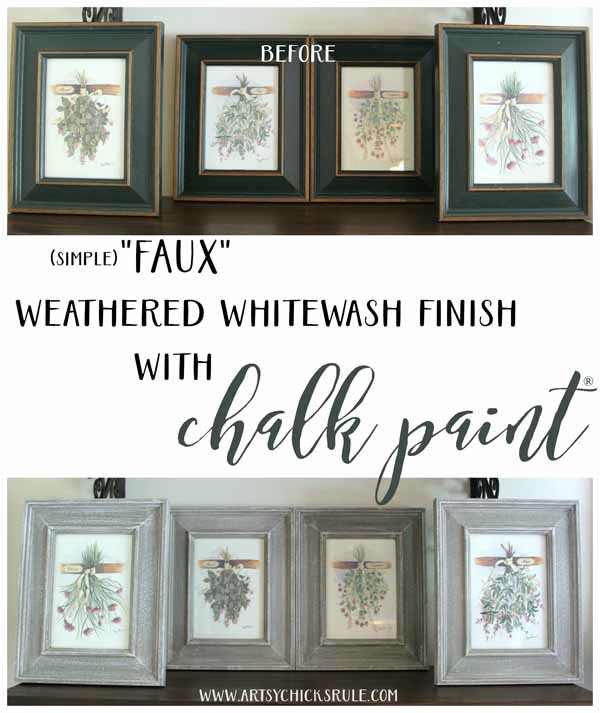 And here again is another example of some old framed prints that I used, and loved, in previous decor.
I have had these almost 20 years and never let them go. I hadn't used them in my decor in probably 10 years.
I recently pulled them out and gave them a new look. Now they are being used and loved again on my DIY dining room shelves.
You can see them, here.
7.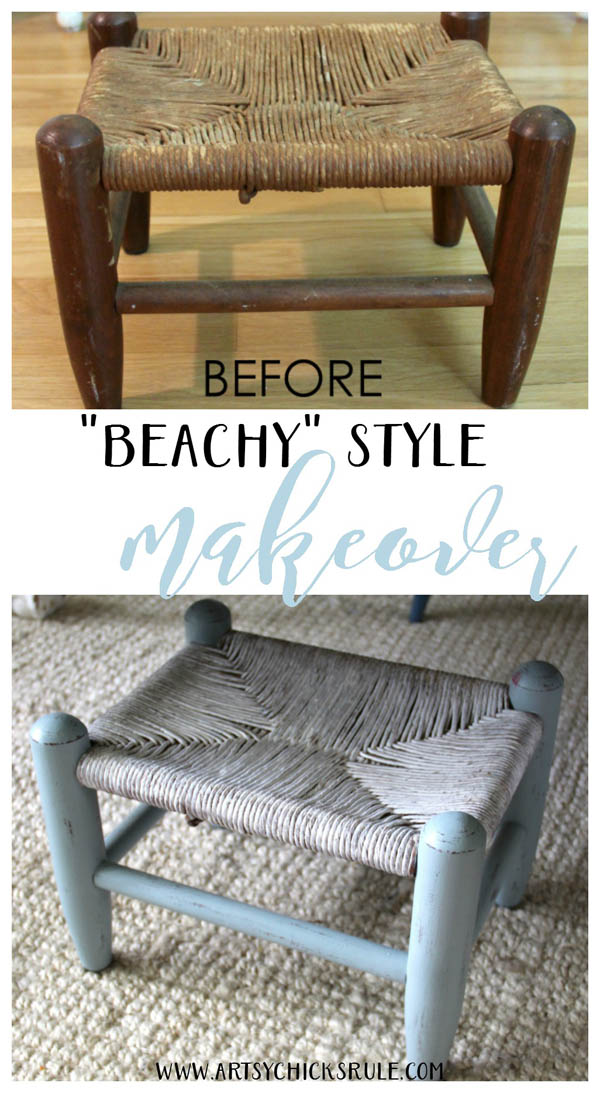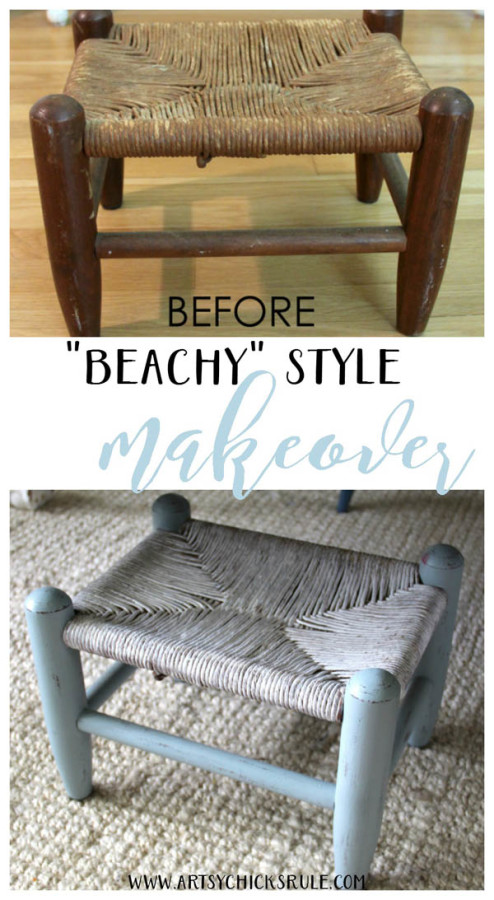 This little cutie was a bit dated when I picked it up. BUT I knew it would look perfect in my decor with a little paint.
We now use it as a little foot rest at the desk in the study.
You can see more, here.
8.

Now… this is one of those times that I loved something I found at the store. (Ross, so these were pretty inexpensive)
But, once I got them home they just weren't quite right in my decor.
I loved the base color of them but they were a little bright and maybe a bit "plastic-y" looking.
I wanted them to be a bit more elegant so added some dry brushing technique with several paints.
You can see more, here.
9.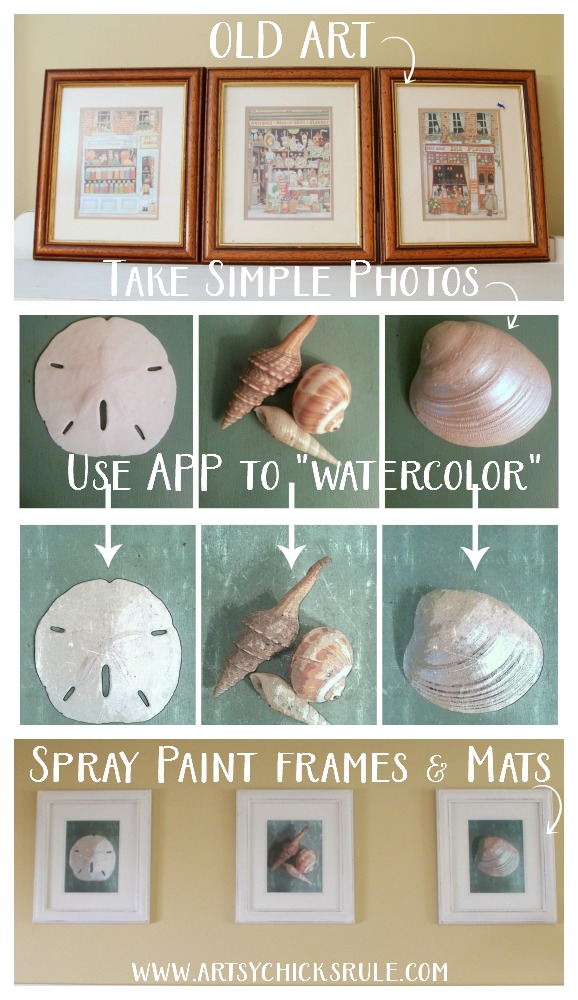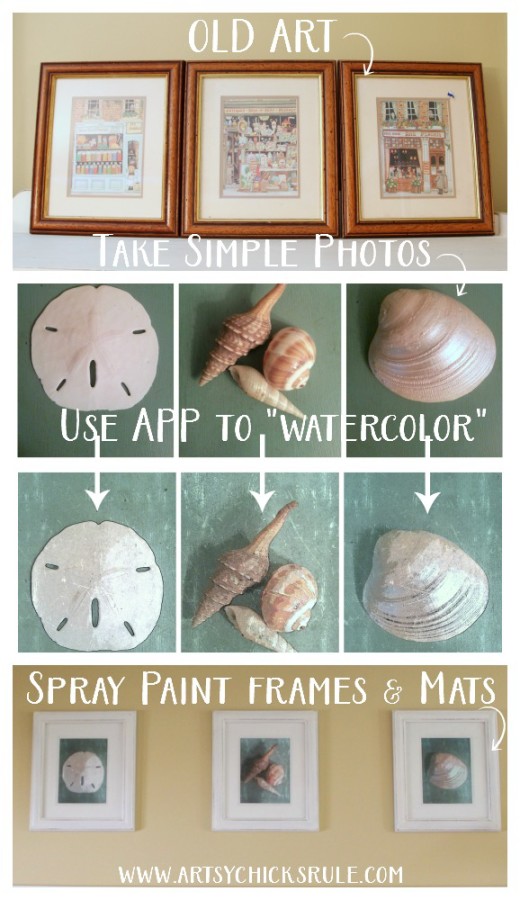 Again, more old framed prints from the thrift store.
This was one of the simplest and most simplistic thrift store makeovers, ever.
Really.
I simply removed the mats and prints and then painted the mats and frames white.
I took my cell phone (yes, my cell phone!) and took photos of some shells I had on my old "coffee bar" dresser.
(It was the perfect backdrop color) I then edited them with a watercolor app in my phone.
Printed them and and viola!, new wall art. (on a major budget!)
You can see more, here.
10.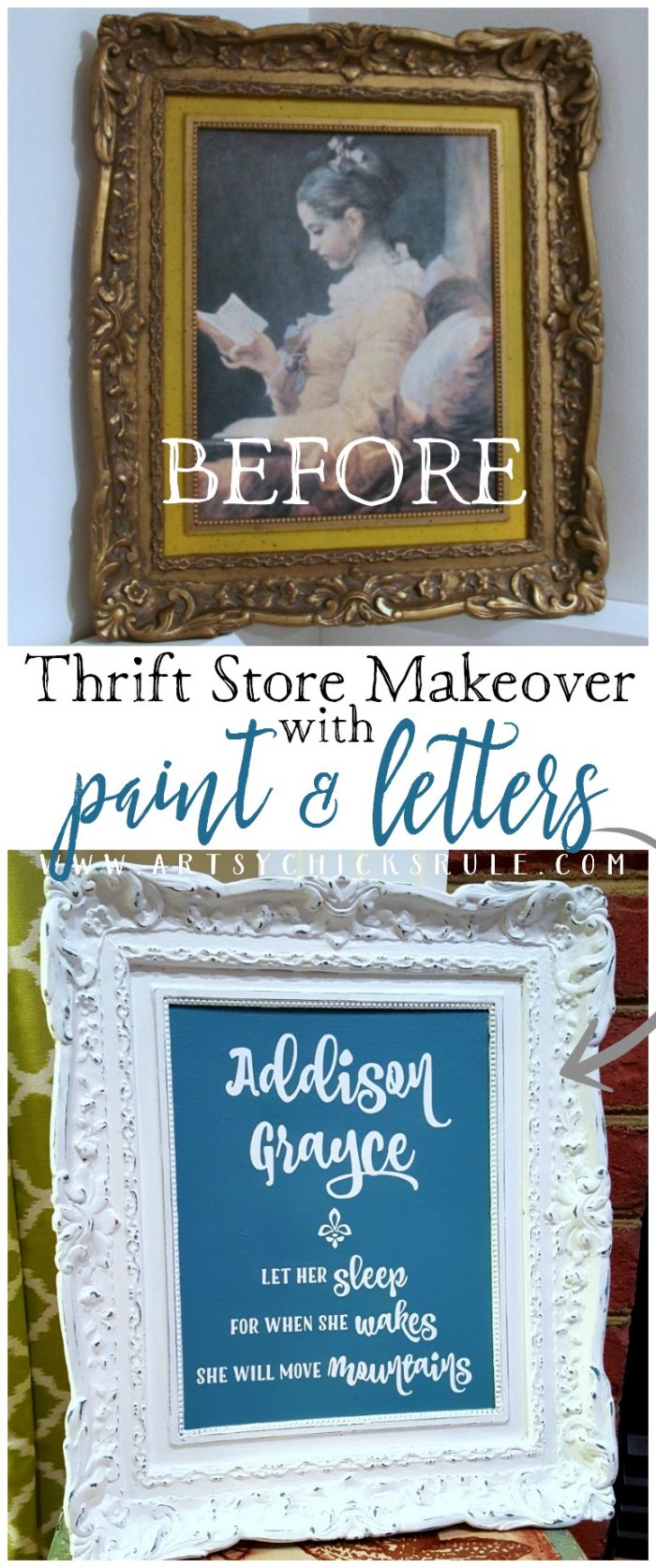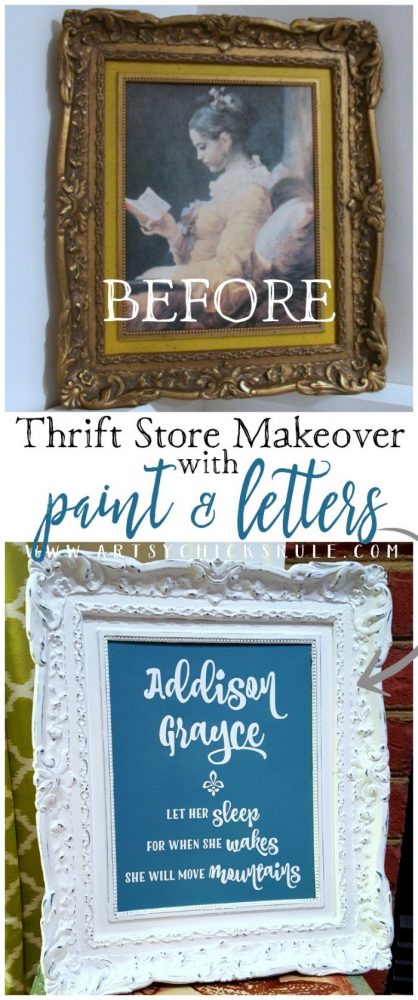 This is an example of my using a thrift store find and making it over for a gift.
I created this little sign for my niece (and the birth of my great niece).
You can see more, here.
11.


I gave this dated sign a brand new makeover the easy way!
Really, not kidding, anyone can make a sign with this method. :)
You can see more, here.
12.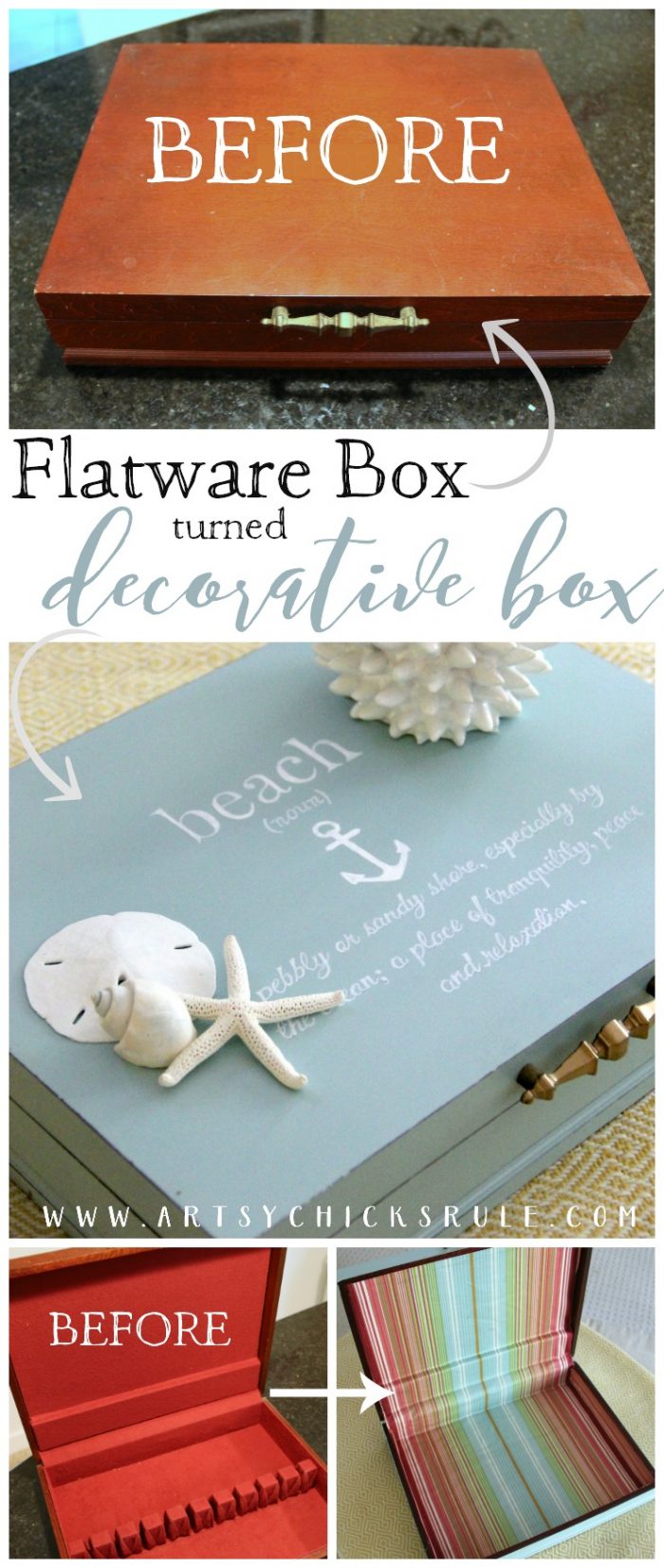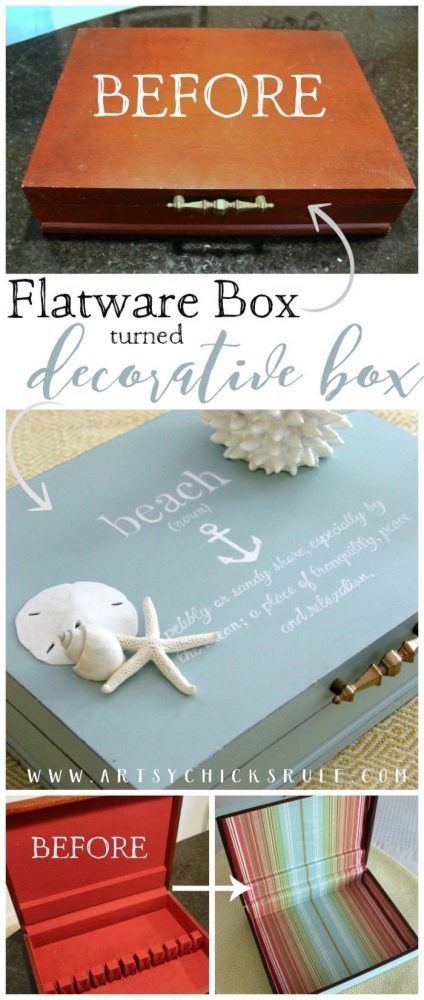 One of my favorites to play with…and pretty abundant at the thrift stores too.
Flatware boxes are great for making over.
Like this "beach box" I made for my husband to keep his watches, wallet, etc., in.
You can see more, here.
13.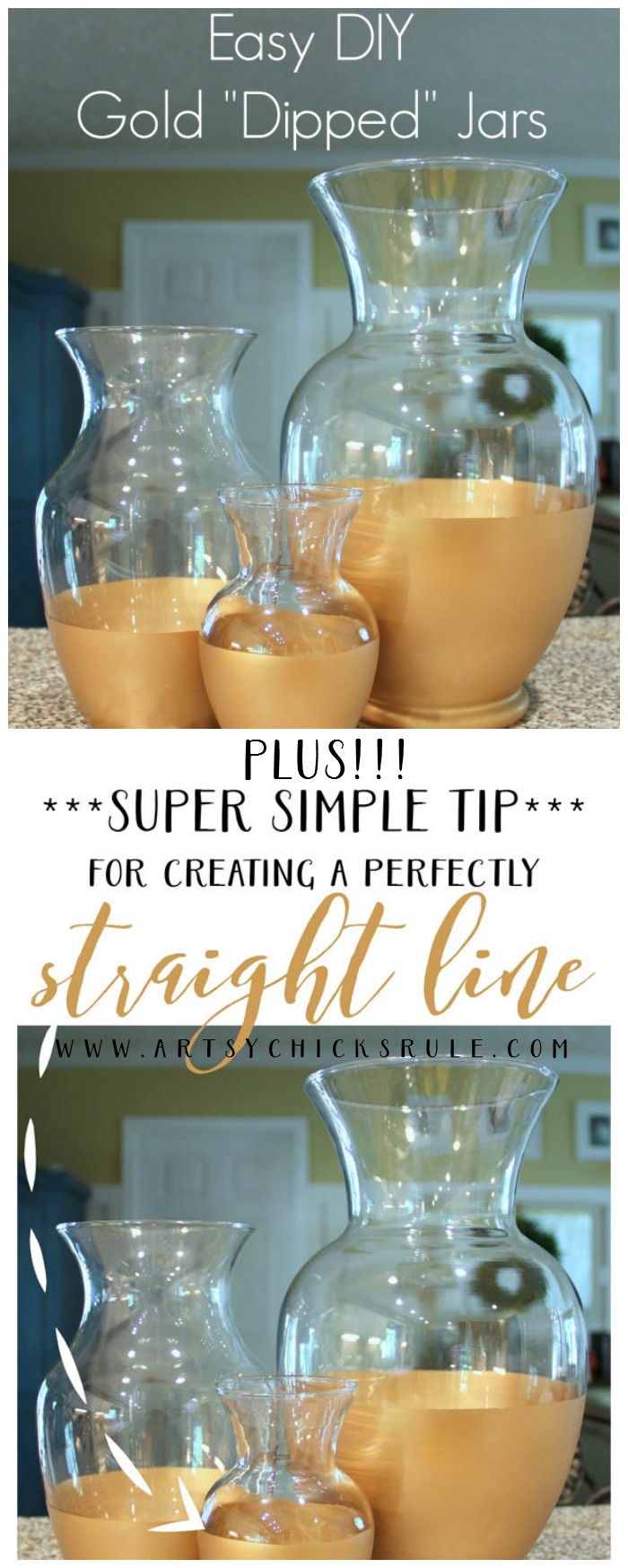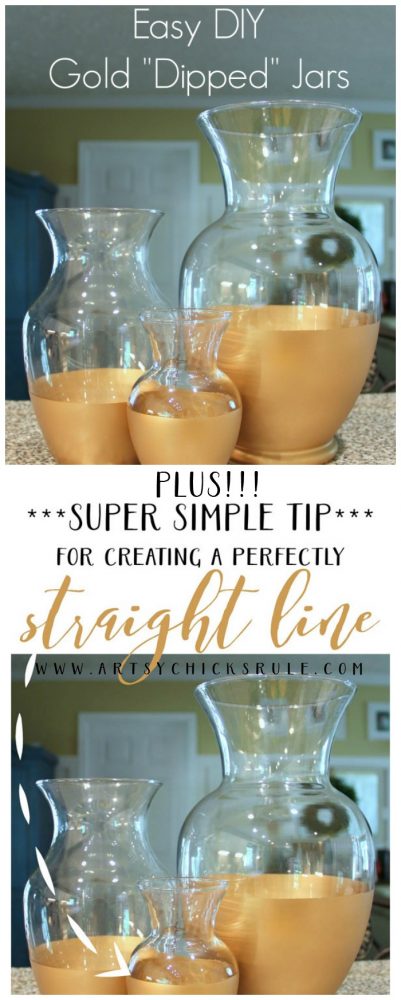 These are another of the things you can pretty much find in abundance at the thrift store.
They are just begging for thrift store makoevers!
These gold dipped jars can be pricey but you can make them cheap like I did. (I think $3 total)
PLUS, I've got a tip for getting perfectly straight lines. :)
You can see more, here.
14.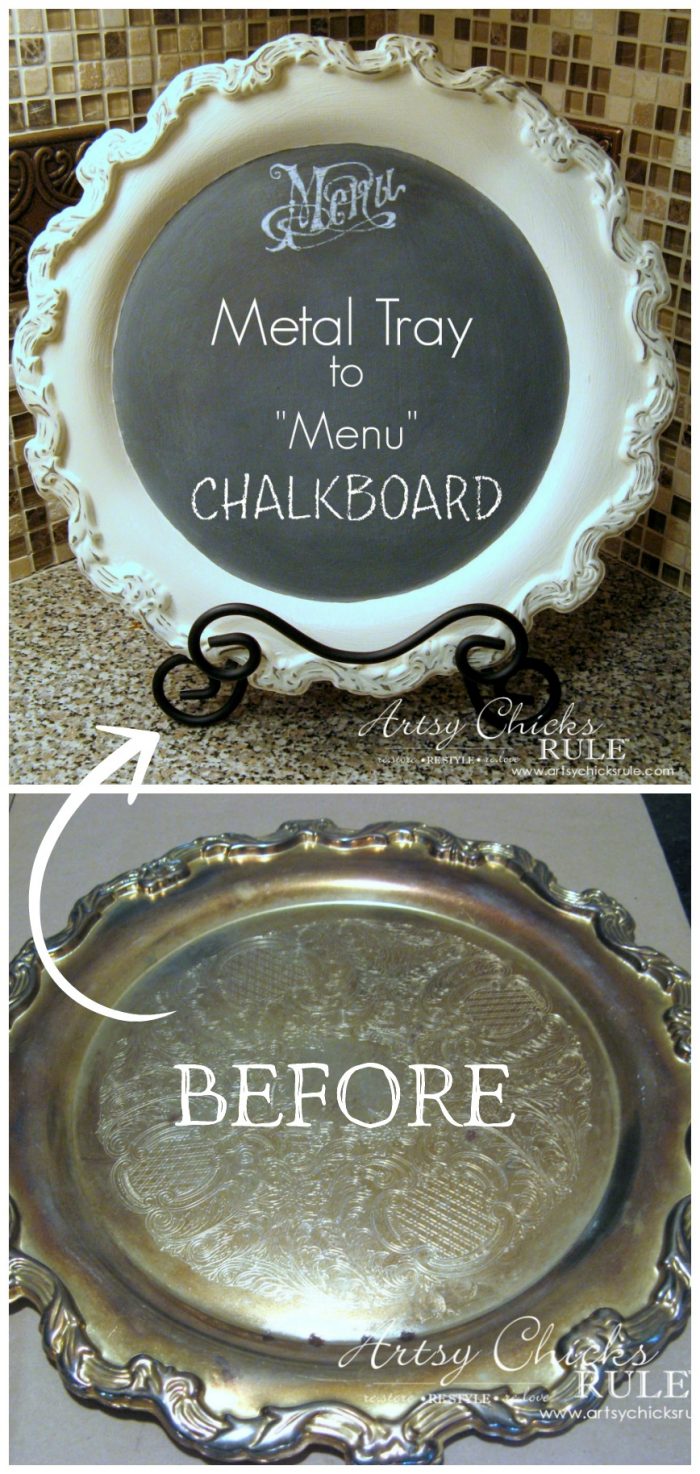 This old metal tray (a thrift store makeovers) was another gift.
I painted with Chalk Paint and created a "menu" board out it.
You can see more, here.
15.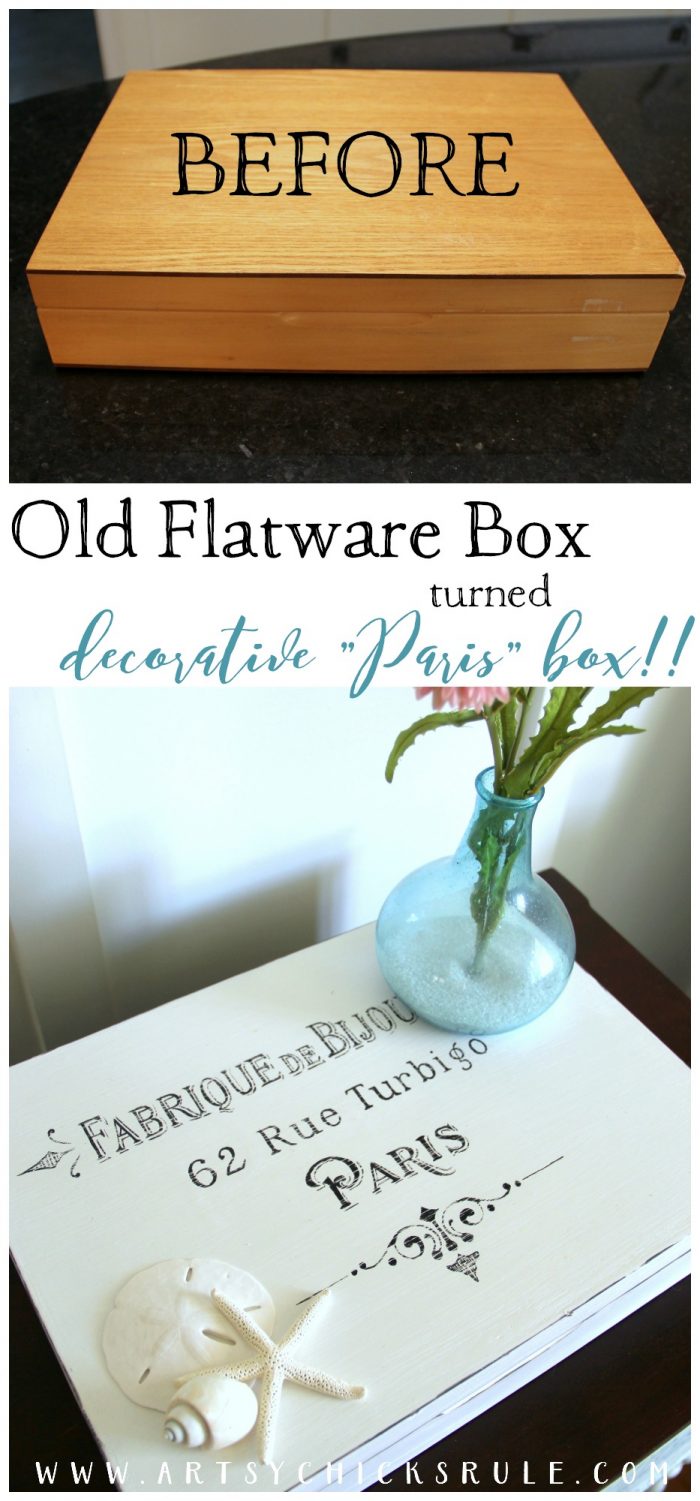 Another flatware box that I turned into this "Paris" box and use it for decor.
You can see more, here.
16.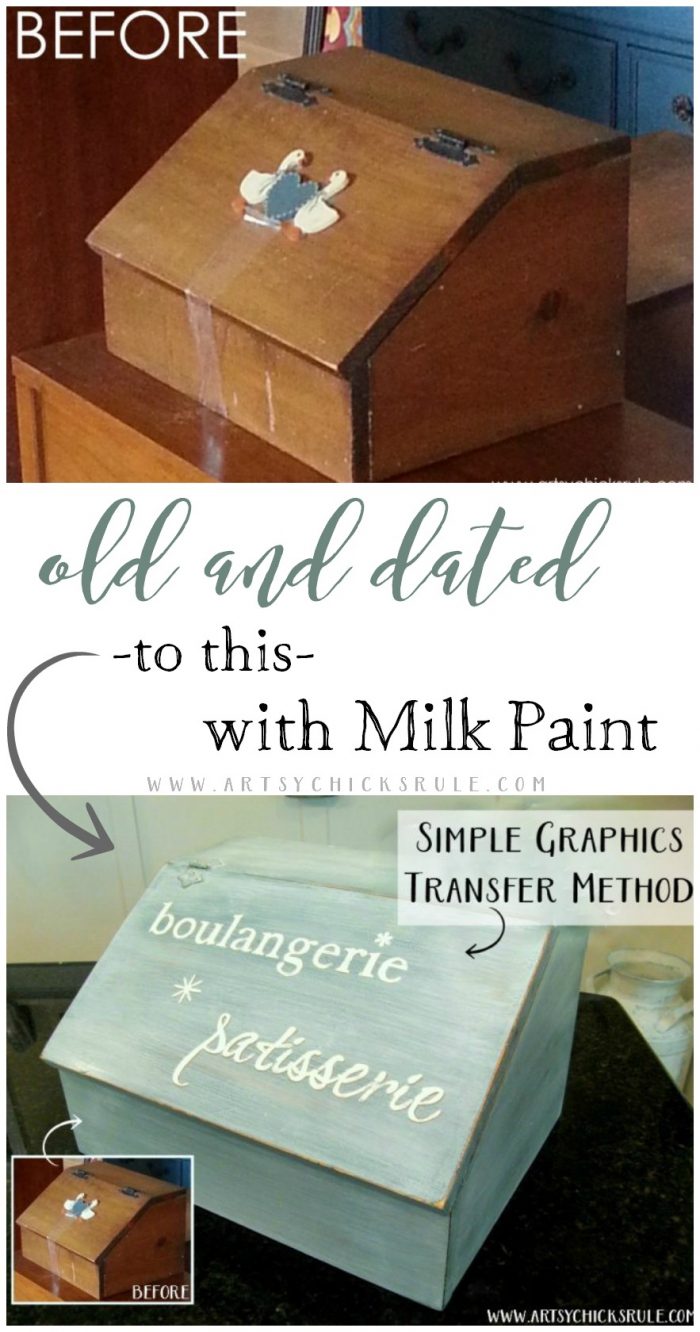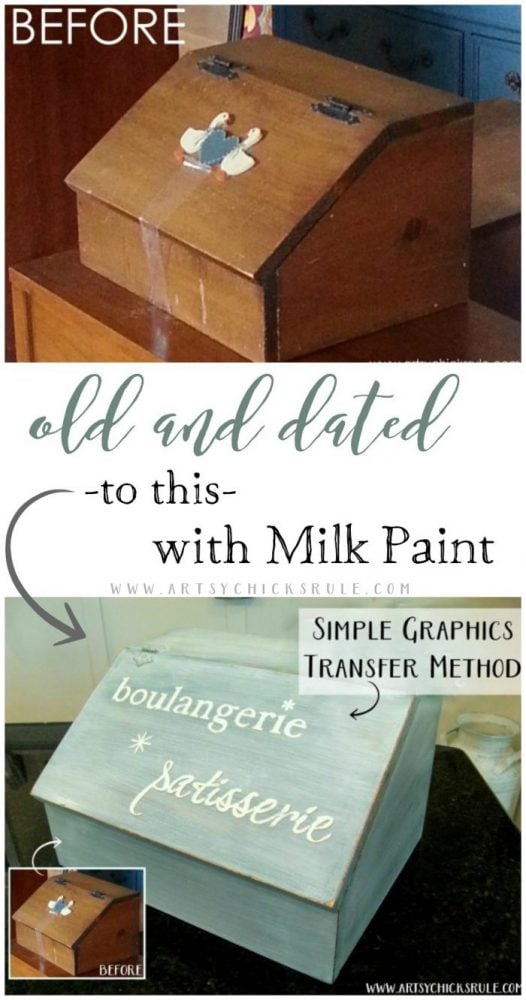 This old bread box got a big transformation!
I still use this thrifty find to this day. :)
You can see more, here.
17.
Again, thrift store framed prints.
Turn them into chalkboards! Easy. :)
You can see more, here.
18.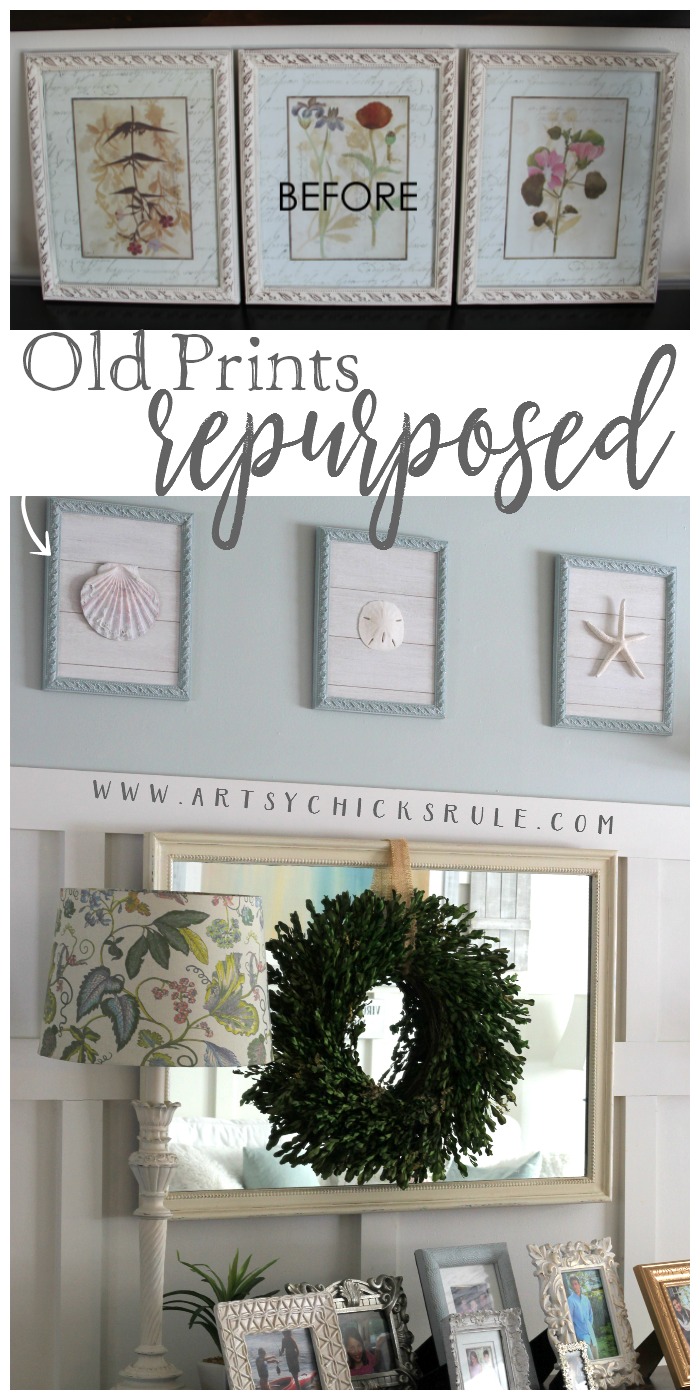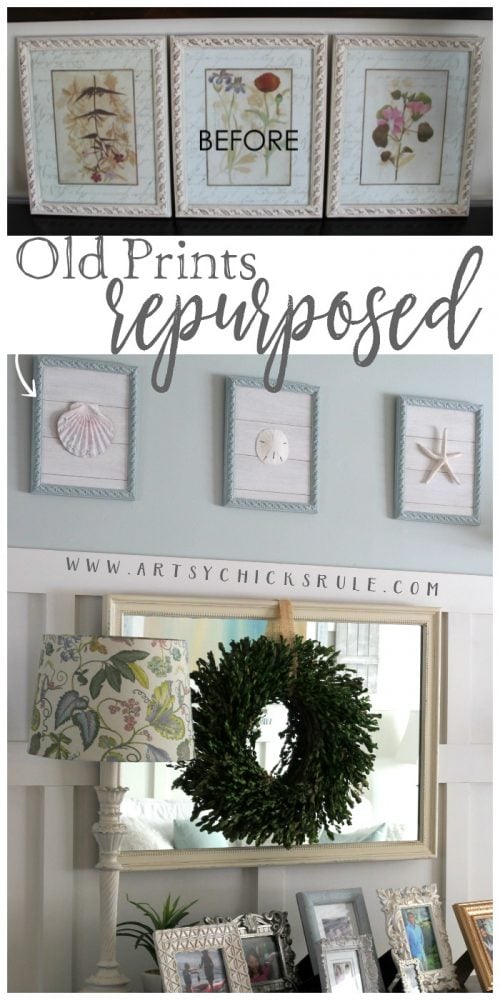 These are another instance of my holding onto old deocr.
I used to have these hanging in my "botanical" themed master bedroom years ago.
I recently gave them a brand new makeover…and life. :)
You can see more, here.
19.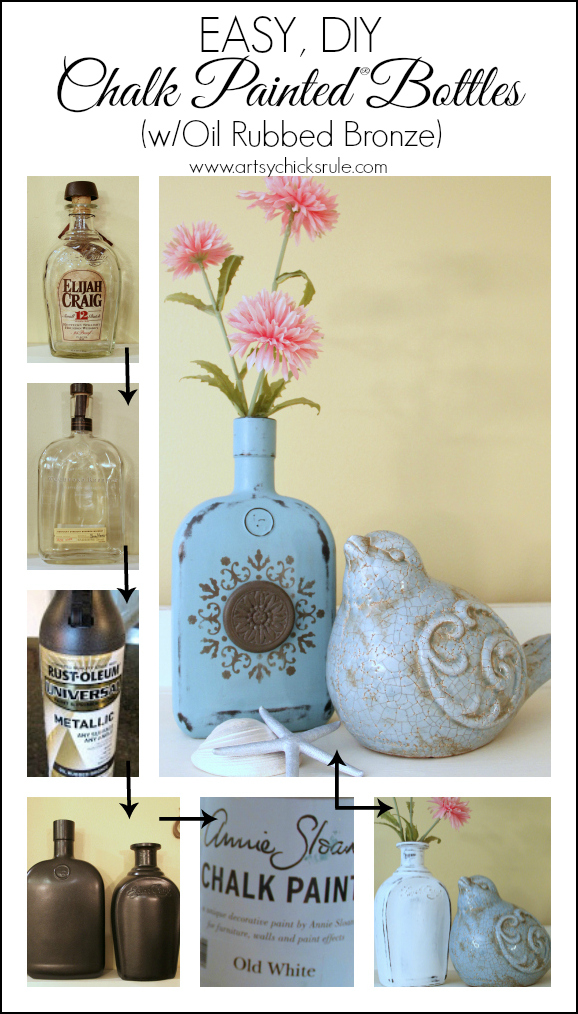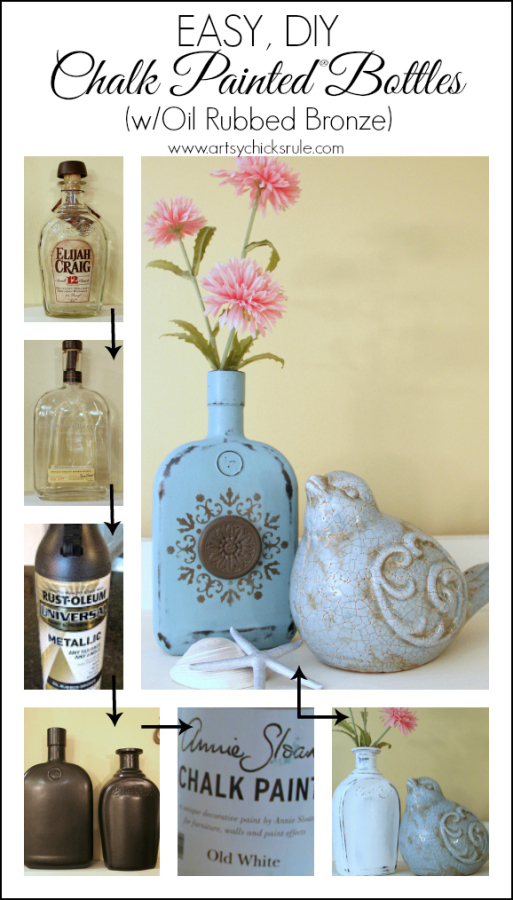 Grab some old bottles and paint em!
These are easy (and fun) to do.
You can see more, here.
20.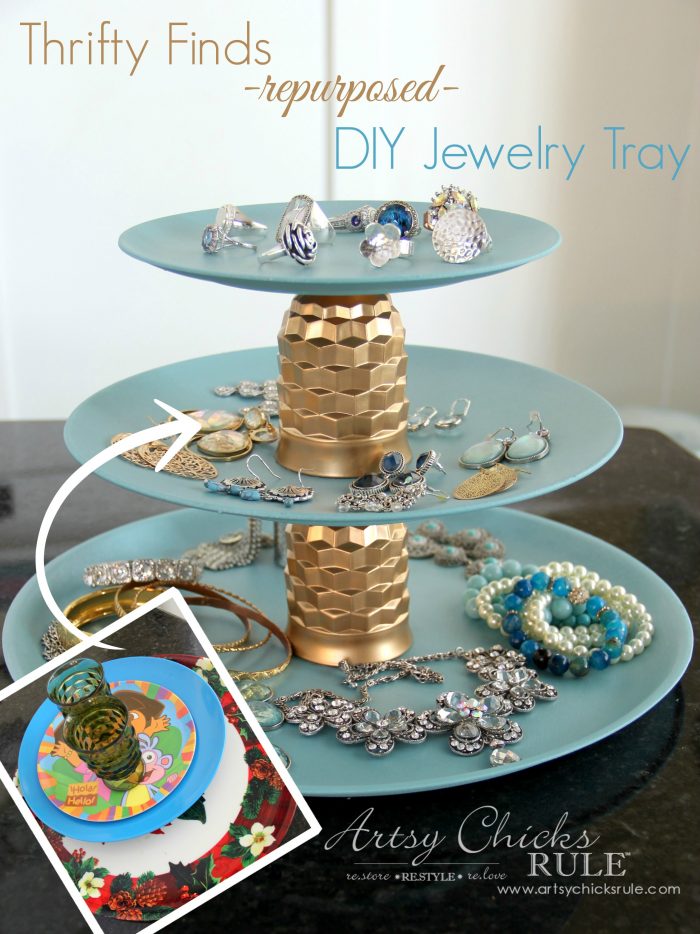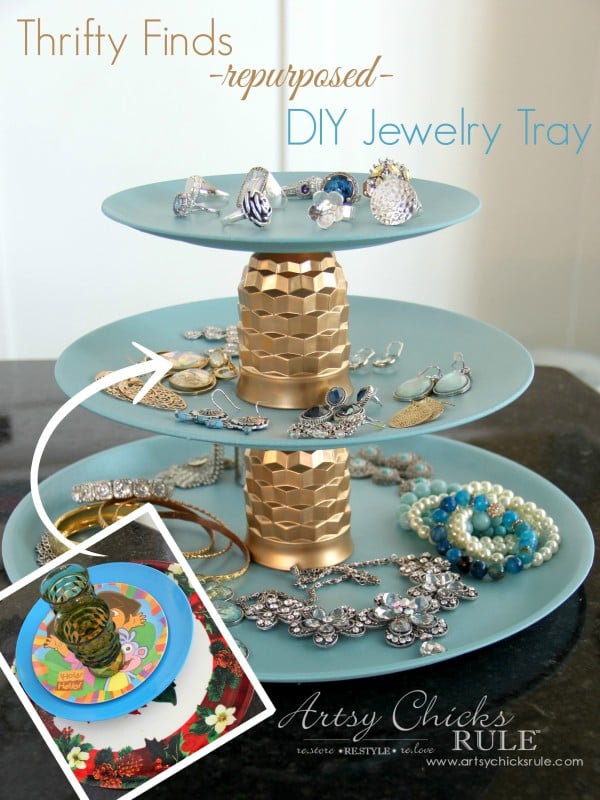 This thrift store makeover was a challenge I was part of.
Another blogger sent me a few items and I had to make something with them.
I decided to make a jewelry tray. :)
You can see more, here.
PIN this for your own Thrift Store Makeovers and Ideas!!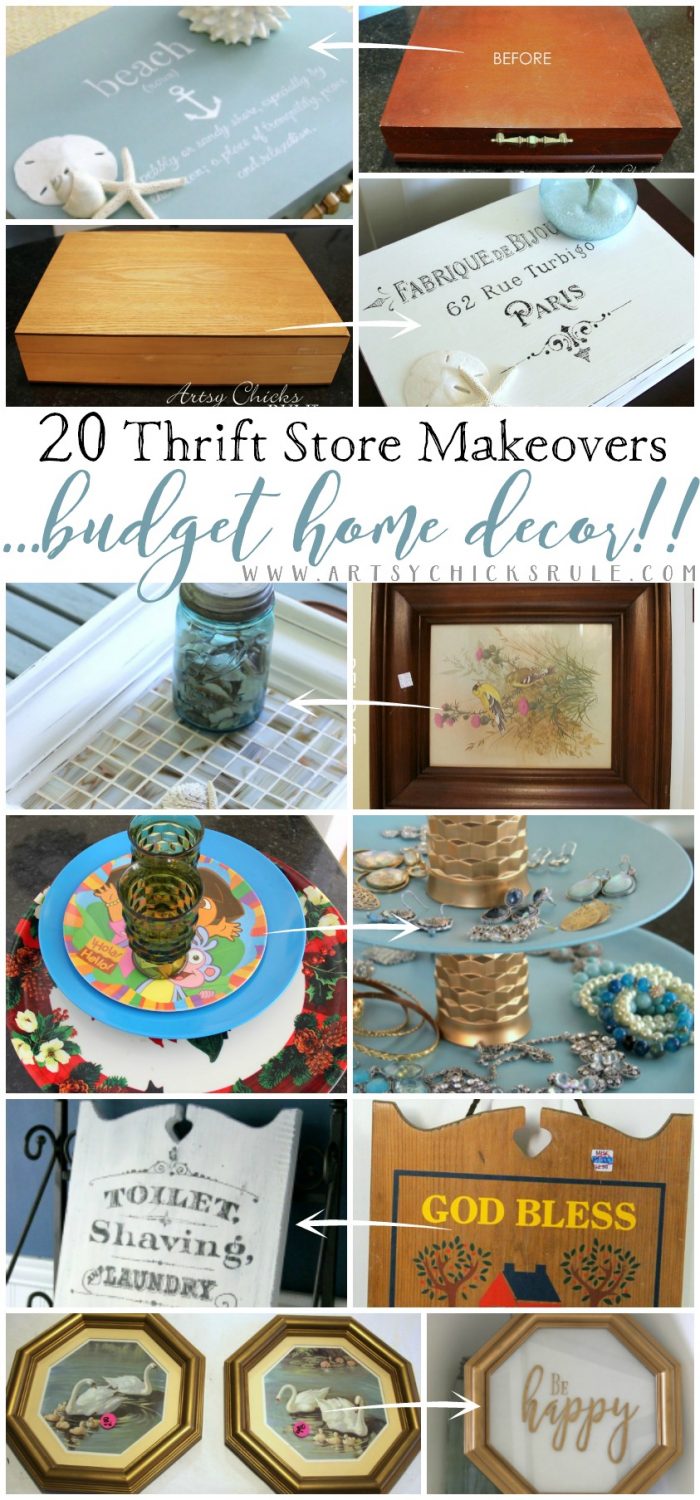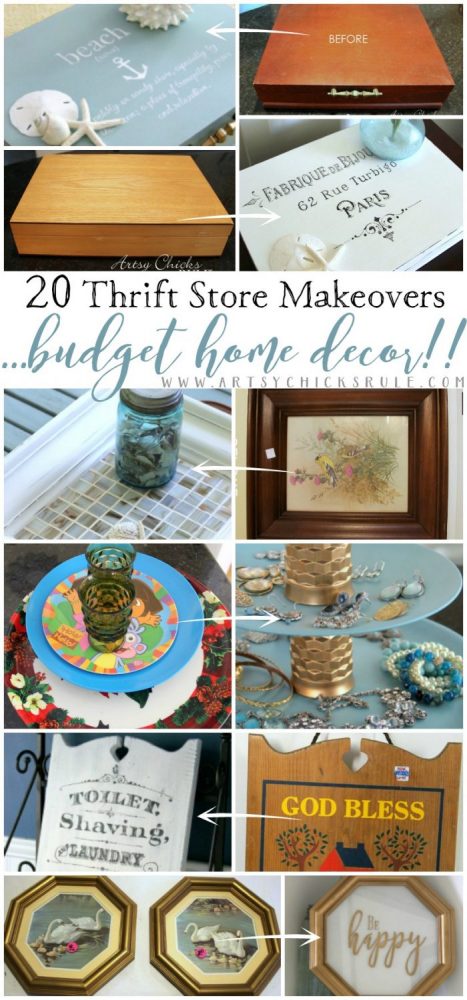 Okay, now get busy! Go search your stash…or just look around your home.
Do you love it all? Or do you want to change things up?
Pull it out or down and give it a brand new makeover!
And then run down to your local thrift store for more goodies to give makeovers too. :)
I'll be back Thursday with a tutorial from my ORC "Coastal Farmhouse Laundry" room.
And …stay tuned for next week, I'll be sharing how to decorate big on a budget….meaning furniture! ;)
Happy making!
xoxo