$2 Thrift Store Home Decor (decorate on a budget!)
This post may contain affiliate links. Please see disclosures here.
You don't have to spend a fortune decorating your home! This $2 thrift store home decor is a perfect example.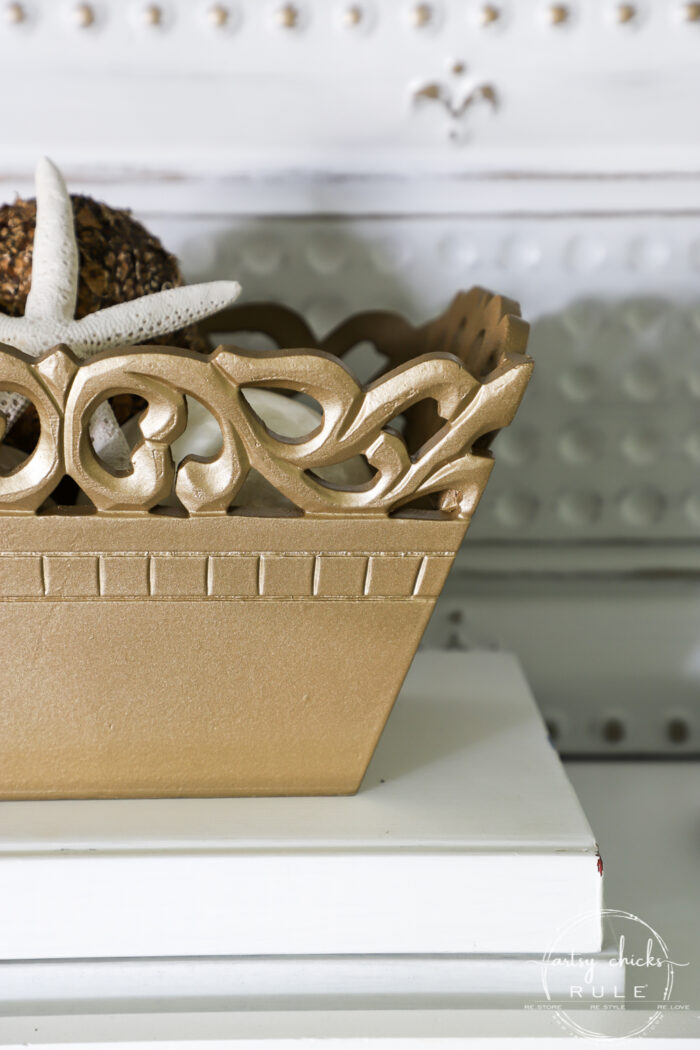 Again, paint comes to the rescue.
You know, you really can decorate a large portion of your home with thrift store and/or garage sale finds.
The problem comes in with envisioning how these pieces you find can look with a little paint, etc.
Maybe you come across something that is the perfect style…but totally wrong color. That could be a piece of furniture to a really small decor item.
Like the one I'm sharing today.
If something is the wrong color, think about what color you would have preferred it to be.
Can you easily make it that color? Will all it take is a little spray paint?
Or maybe you need to paint it one color and then go back with another to give it the look you want.
Or maybe even some sanding to distress and bring another color through.
Whatever it is, you can do it. :) Take a look around the blog here and you will see how easy it really is.
Furniture is no different. Some of those larger pieces can get really pricey when buying retail.
The great thing is there are usually many pieces to be found through garage and estate sales or your local thrift store.
I've done my fair share around here! ;)
$2 Thrift Store Home Decor
This is how this little $2 thrift store home decor item began…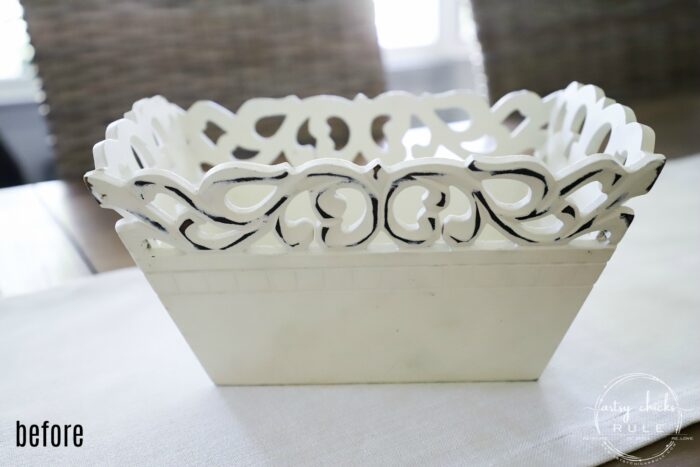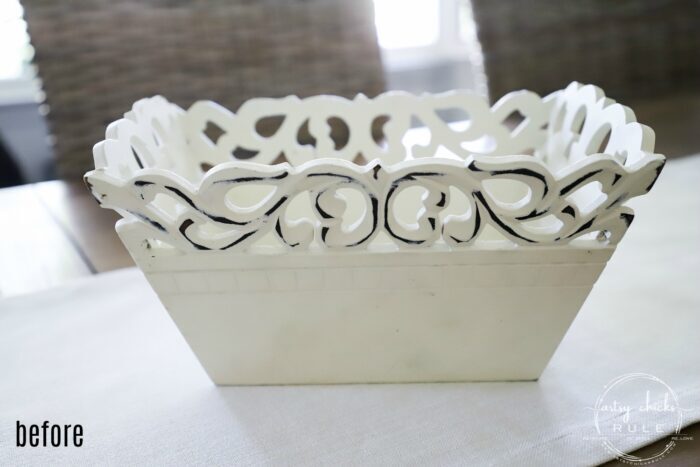 Honestly not bad at all.
I could've kept it just like this to use in my decor.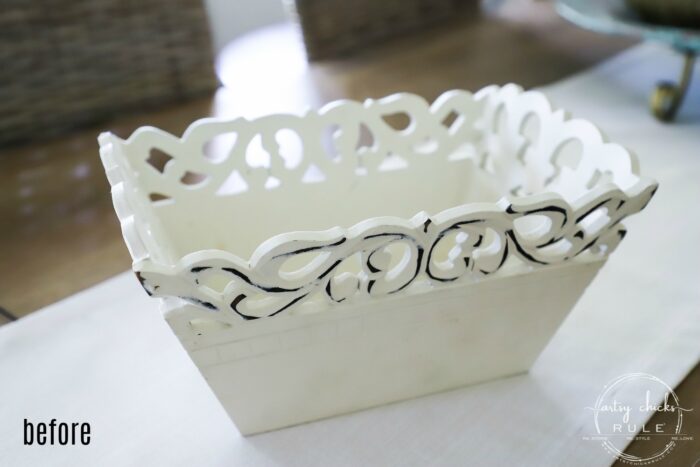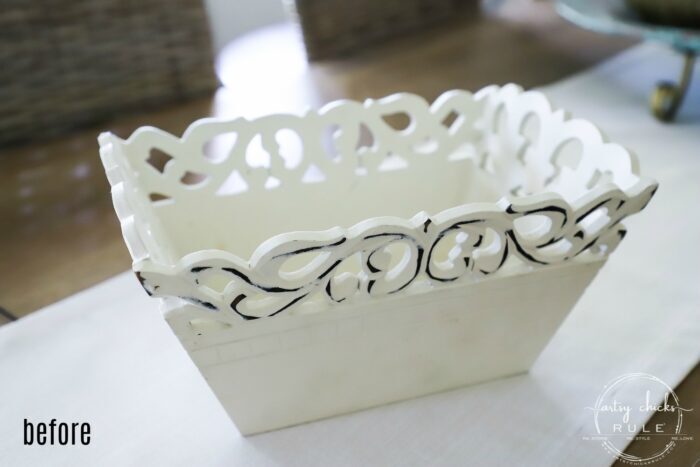 But I knew I wanted to spray it gold when I found it.
That scrolly scroll was just calling for something a little more glam.
So I used one of my very favorite gold spray paints (<<< find it here) to give it a quick spray over …..and that's it!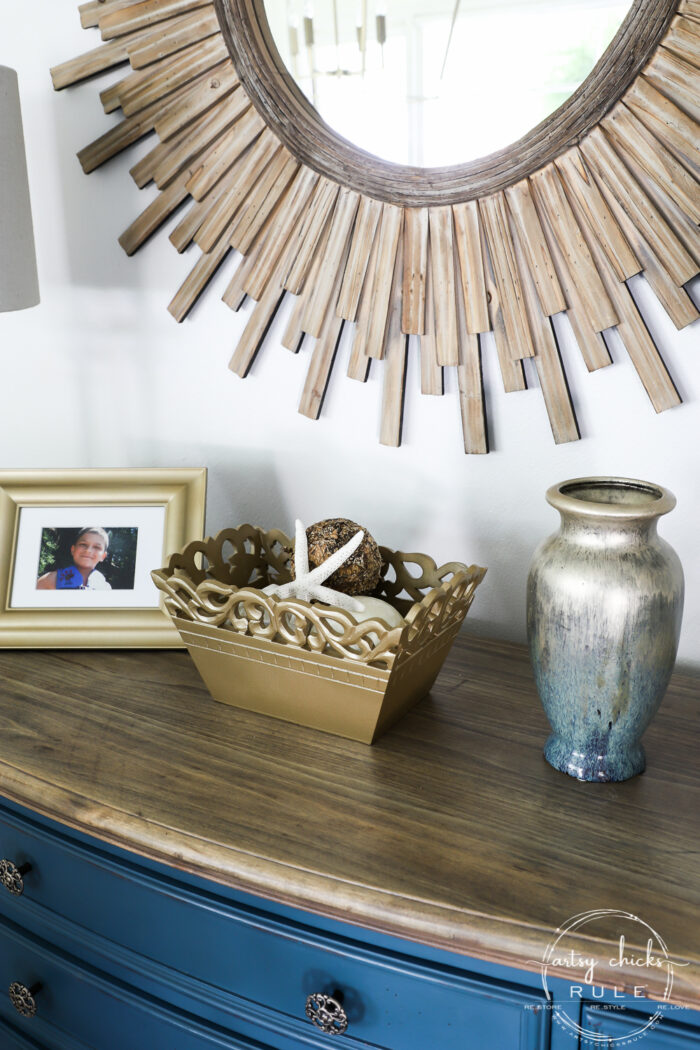 I mean how easy is that?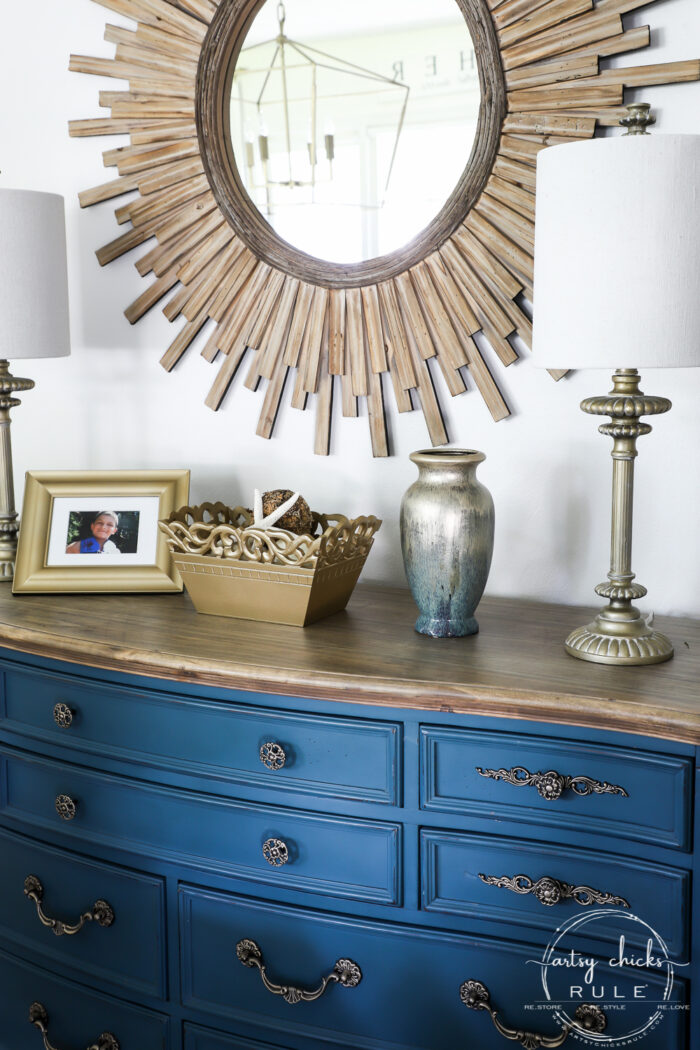 I filled it with a few things and now I have a pretty new home decor piece.
And just for reference…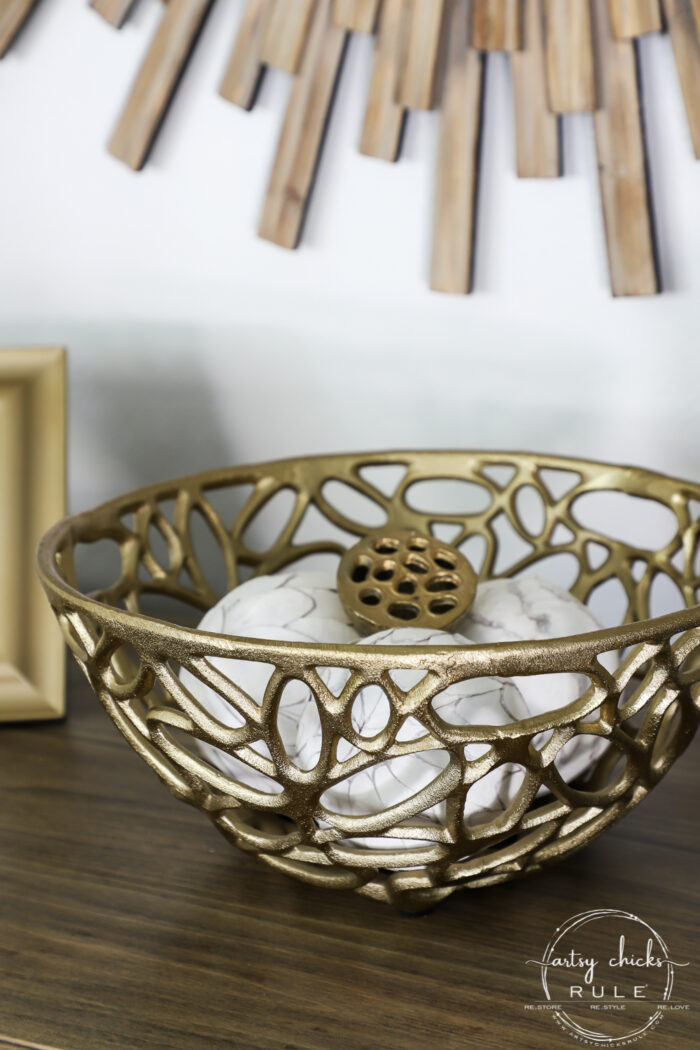 This gorgeous metal bowl came from IKEA recently.
I saw it at our new IKEA in Norfolk when I went to the press preview before it opened. I knew I'd have to go back and get this once they did!
And I did. :)
I LOVE it but it was about $25. Not terrible but certainly not $2.
I guess the point I am making is that you don't have to spend $25 or more to get a nice look.
You can get a similarly nice look for less.
And the other point I'd like to make is, when you decorate your home the thrifty way like I'm showing you today, it saves money for those "special" pieces here and there. So you can splurge a little. :)
I feel this one a special piece to me because it was one of those, "ohhhh, I love that bowl" kind of items. lol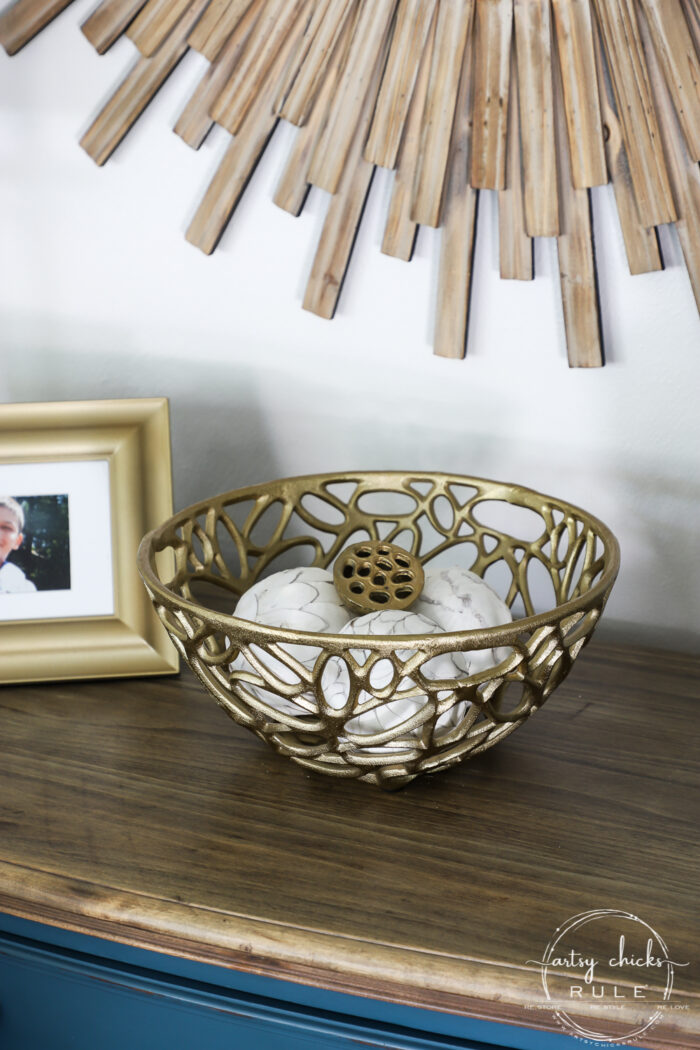 Here are a few more of my fancy new glam $2 piece though.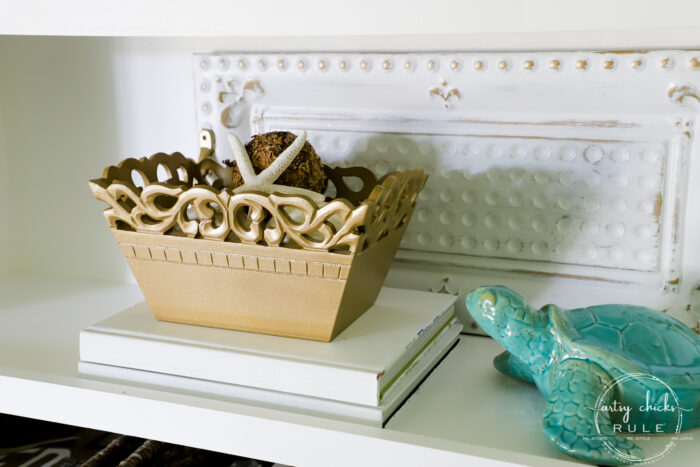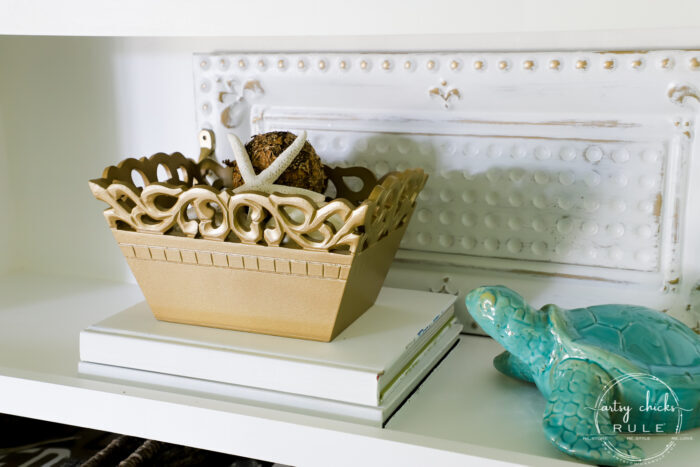 It looks very nice here on my >>> DIY built-in bookcase.
And propped in front of another thrifty makeover. The white and gold tray you can see >>> here.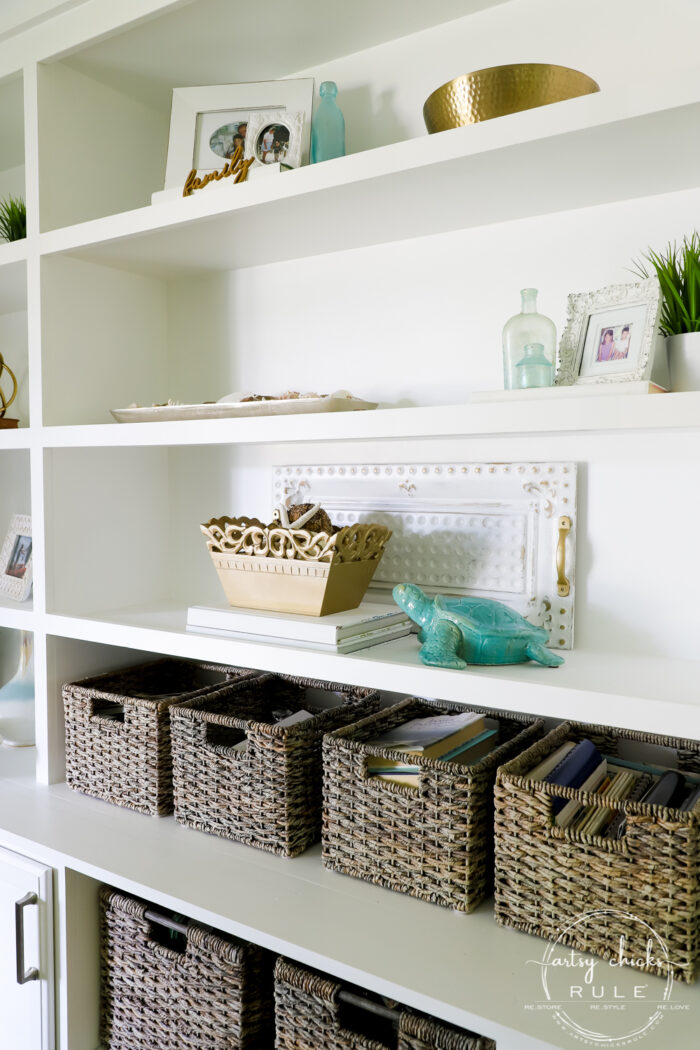 Lots of places I can use it.
But doesn't it look so nice gold?? I think it does it more justice than the white distressed look it had to begin with.
Want to see some of these projects in "live" time? Hop on over and follow along with me on INSTAGRAM. I'm always sharing in my stories as I'm doing projects, finding new furniture, fun finds….just all the day to day behind the scenes.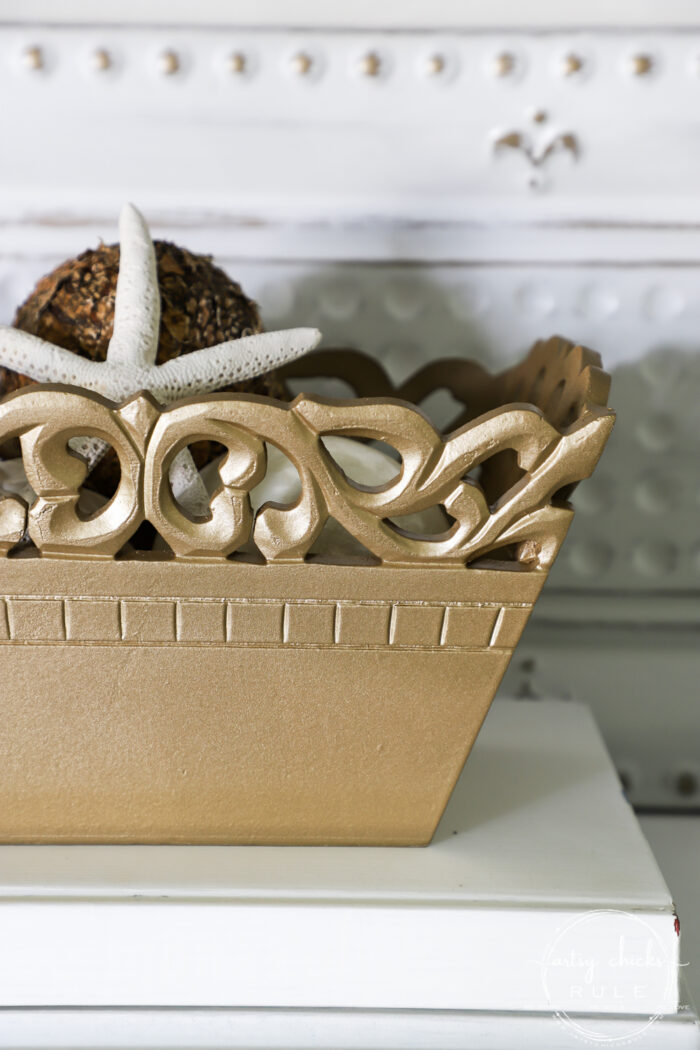 I hope this ignites the thrift store shopper in you!
Go see how much thrift store home decor you can find.
Or even better yet, like I've said (and done) many times before, take a look around your own home and shop it.
See things in a totally new light. What can you do to change up what you already have??
PIN it to save it!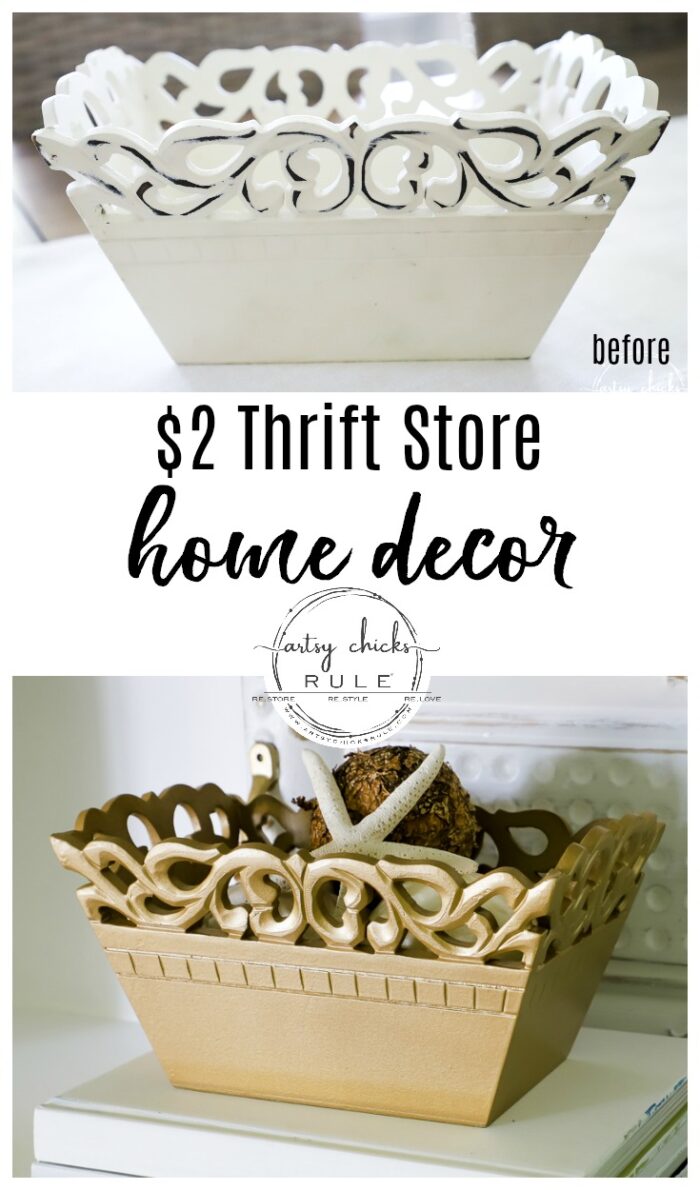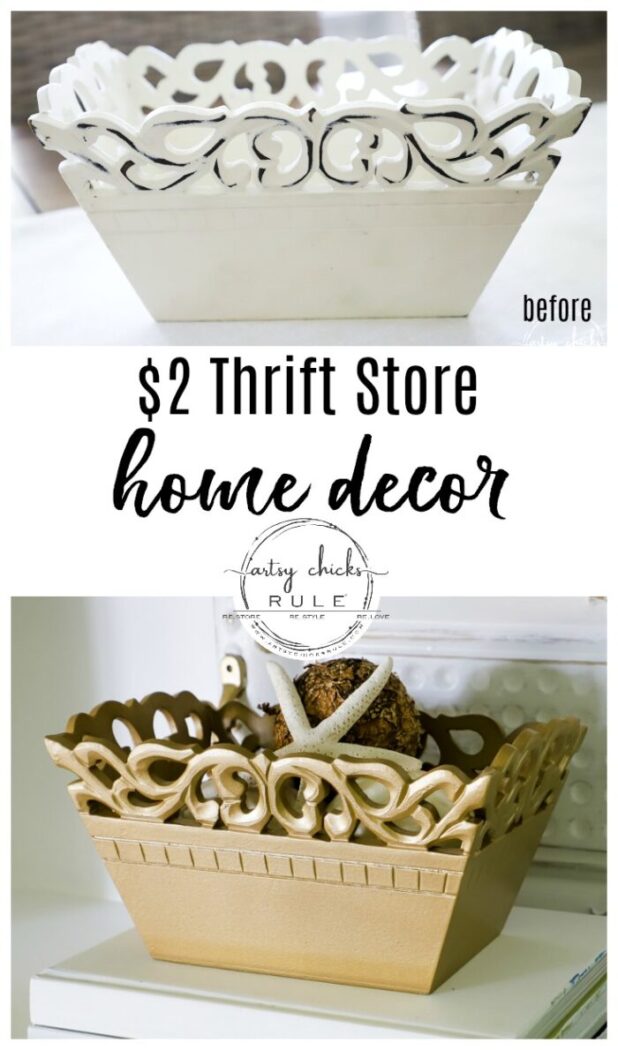 I hope you have a wonderful week, friends!
xoxo