10 Ideas for Fabric Inspired Projects (1 yard or less!)
This post may contain affiliate links. Please see disclosures here.
Hello sweet friends!
My decorating buddies and I are sharing how to use just 1 yard of fabric, or less, to create something fabulous.
Yep, just 1 little ole yard is all it takes sometimes. So it doesn't have to be pricey!
I had originally planned to make a "faux" roman shade for my downstairs guest bath.
I even got in some pretty fabric pieces but just ran out of time to finish.
As you all know, I was out of town since last Wednesday and didn't manage to get it done before I left.
I still plan to do one and will share it once I do!
So for today, I'm going to share some old projects here on the blog.
Ten ideas for fabric inspired projects.
These are all projects that used 1 yard or less of fabric to complete.
You may not have even seen these before. :)
………………………………………………………………………..
Let's start with this sweet little vanity chair……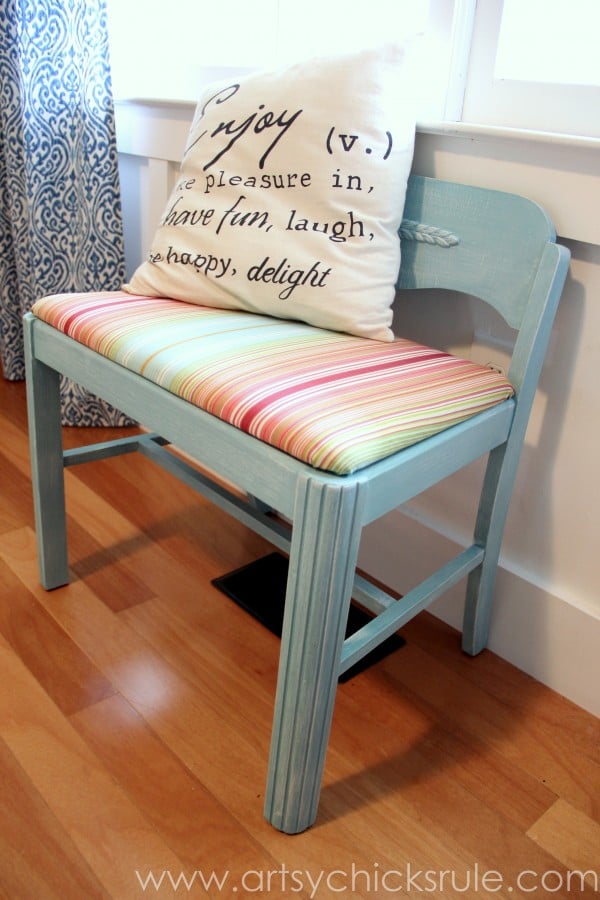 …..it started out so old and worn looking but with a little paint and a little fabric, it was better than new!
You can see what it looked like "before" here >>> Vanity Chair Update
This cute pillow was made out of less than 1 yard of fabric too.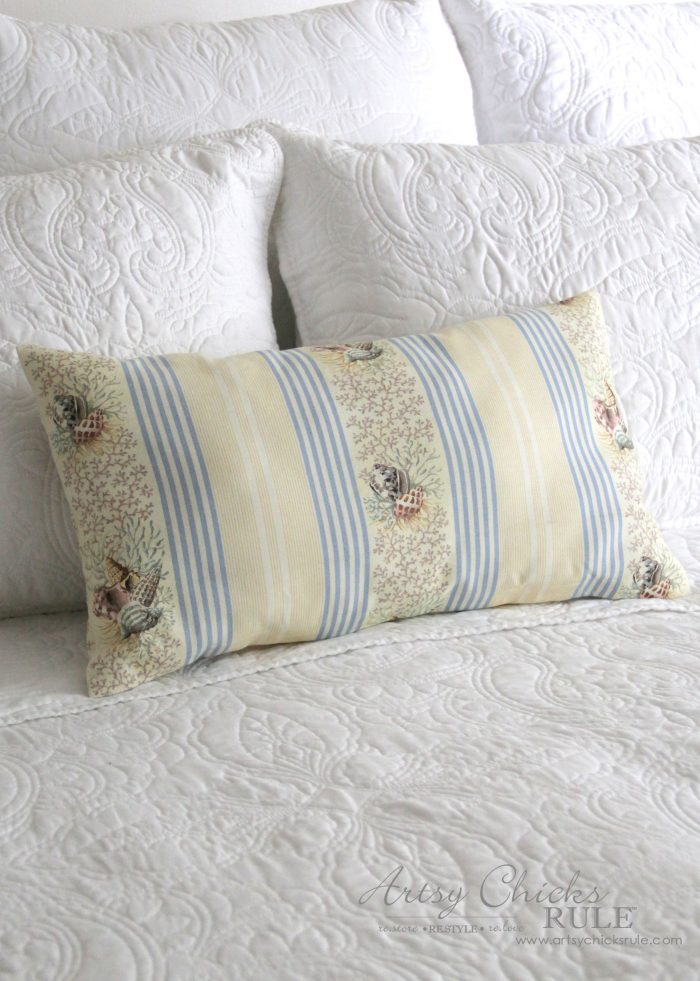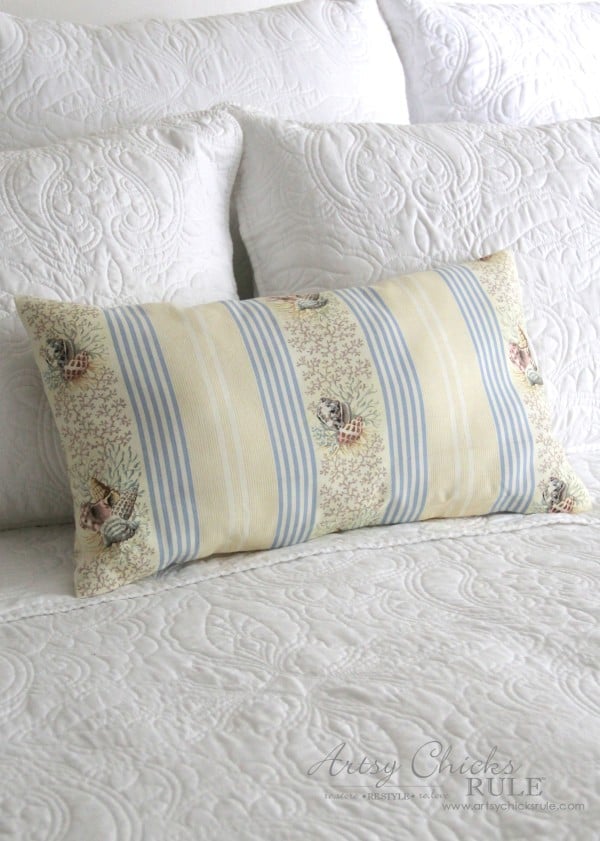 It was actually a valance that was included in one of the "Swap It" challenges I was in.
You can see how I made it here …. No Sew Pillow
Pop on over to see what pretty fabric I lined this "beach box" with…..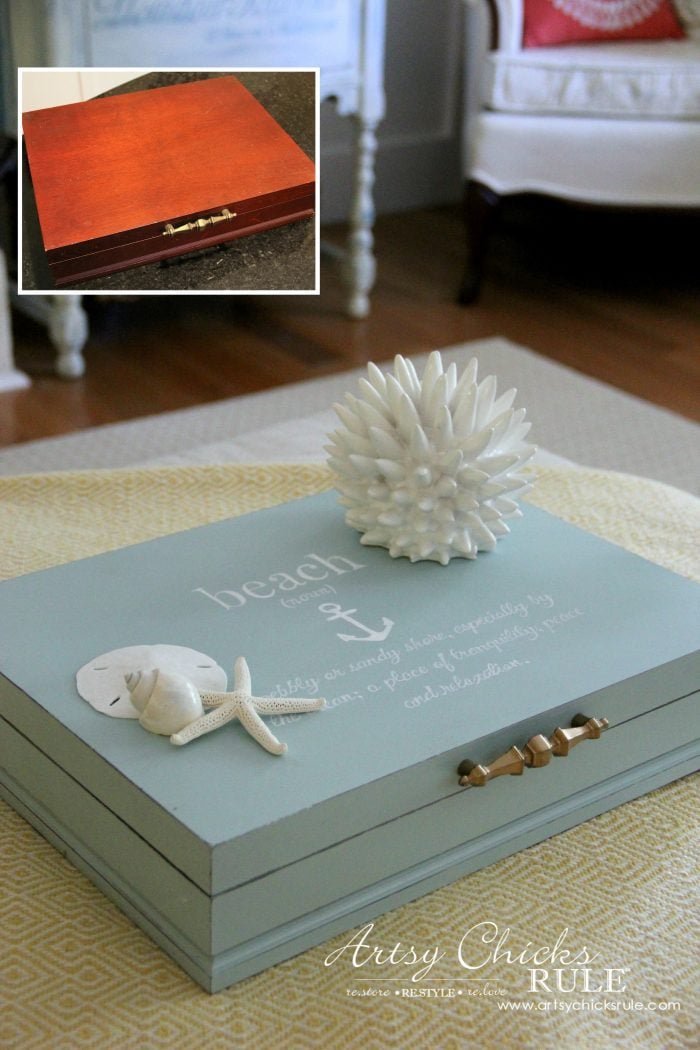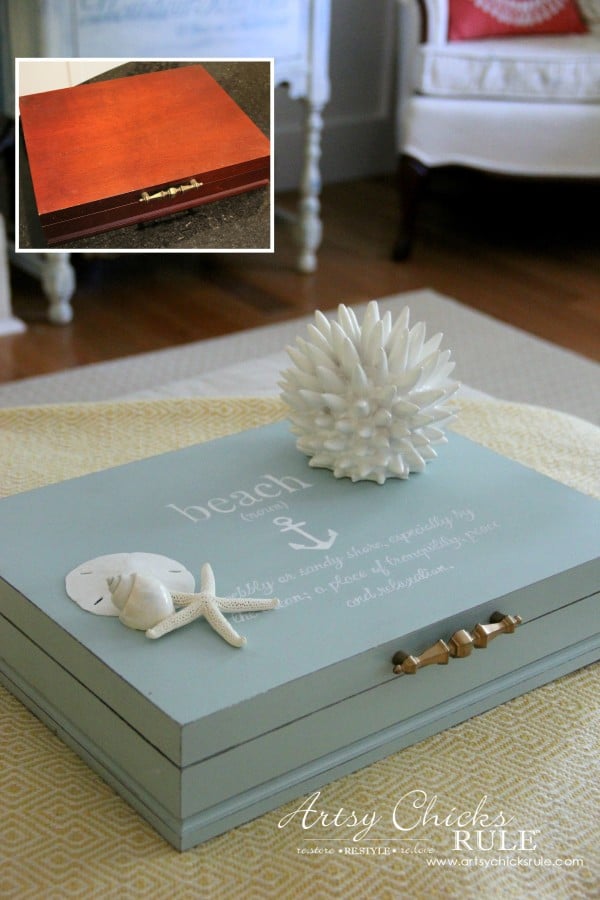 You can see it here … Beach Box
This is an oldie….and the one I'd hoped to replace with a "faux" roman shade for this post.
It's also "no sew". :) See it here >>> "Easy No Sew Valance"
I'm also getting ready to paint that wall!! Yay, can not wait.
I just need to stay in town long enough to start a project! ;)
Hopefully by next weekend I can get to it and the family room walls too.
How about place mats??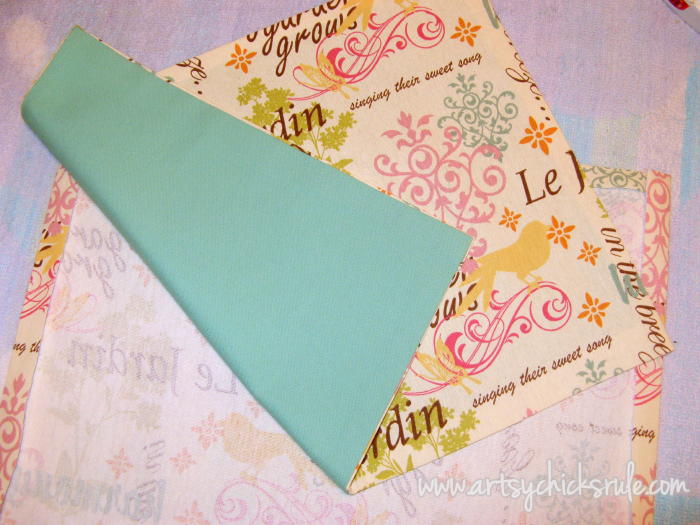 These are included in the post I linked above. (with the valance)
Christmastime is a great time to use less than 1 yard of fabric for decor.
Like this wall hanging I created …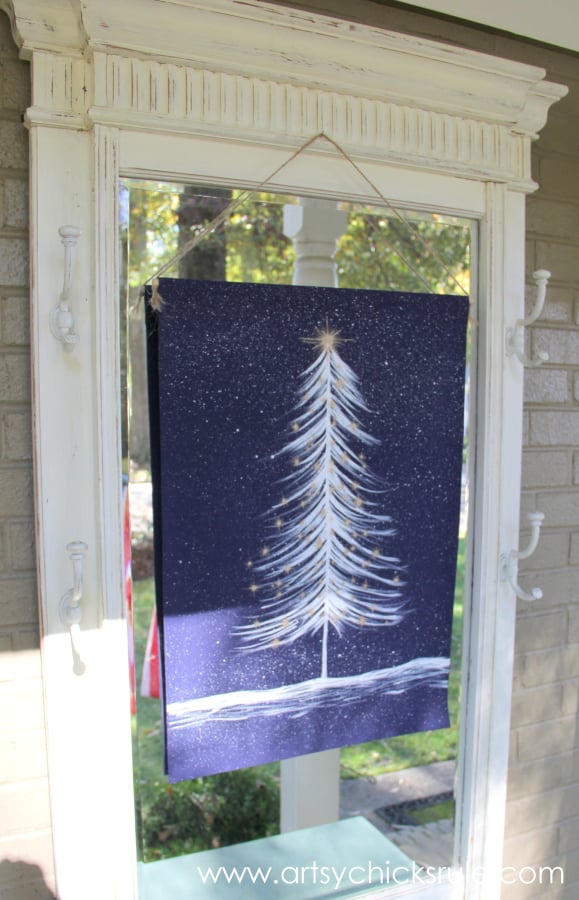 This was a simple project.
You could paint any sort of design on the front, it doesn't have to be holiday themed.
See this entire project here … "No Sew Wall Tapestry" (Notice a theme here?? This crafty girl does not sew ;) )
How about a chair?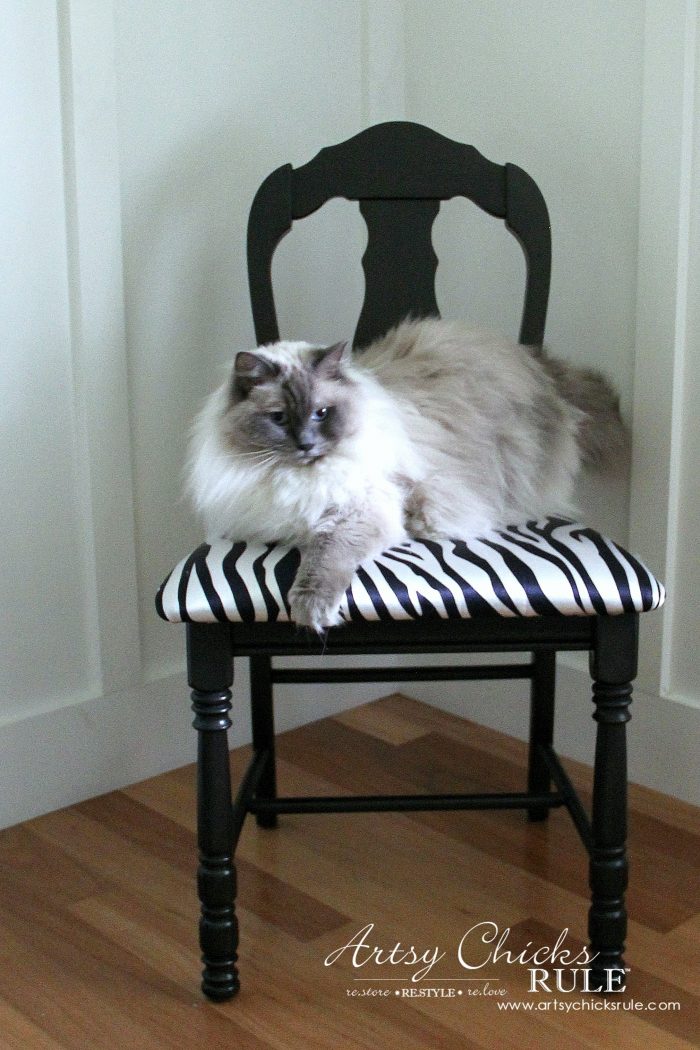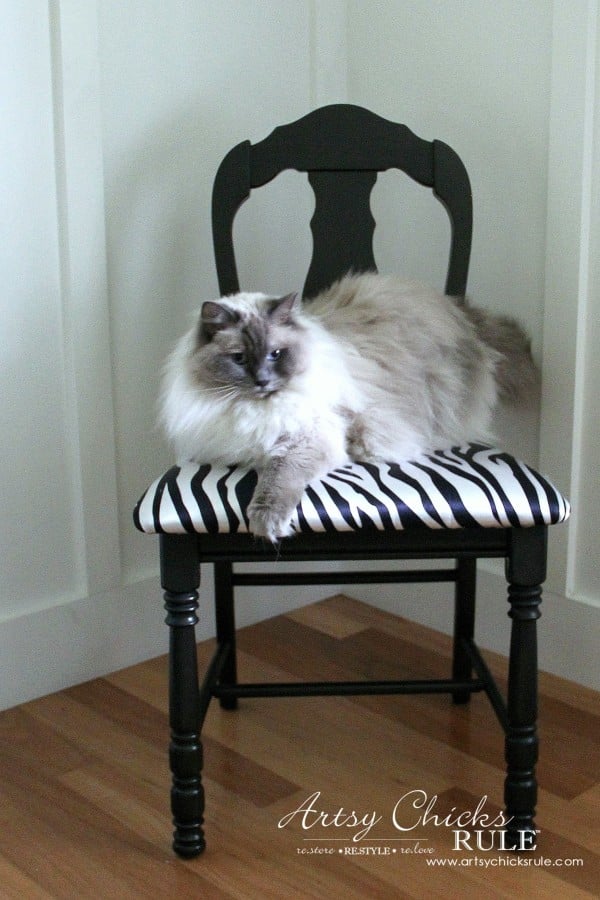 This is definitely less than 1 yard of fabric…and made out of a pillow case.
Kitty approved. ;)
See it here >>> "Zebra Chair"
Or how about fabric on drawer fronts?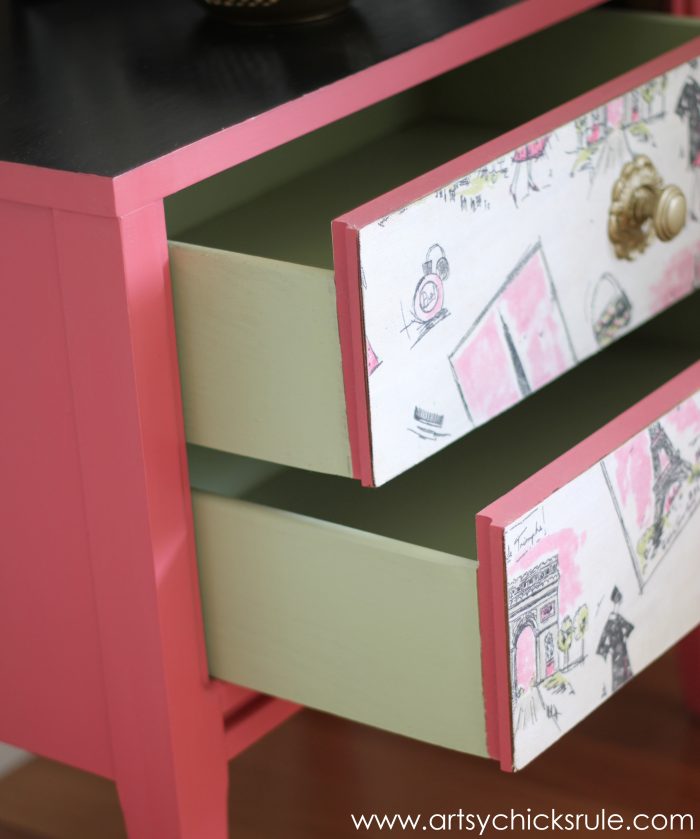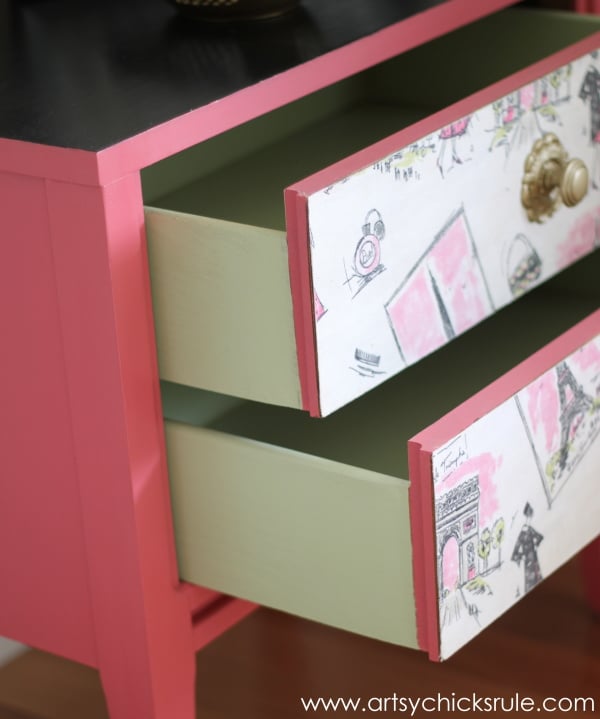 These were 2 little night stands I did awhile back.
You can see the "before" and full tutorial here >>> "Pretty in Pink"
You all know how I love paint….but isn't that wood just yummy?!
I adore dark walnut-ish colored wood. The more vintage-y, the better.
And this is perfectly vintage/aged!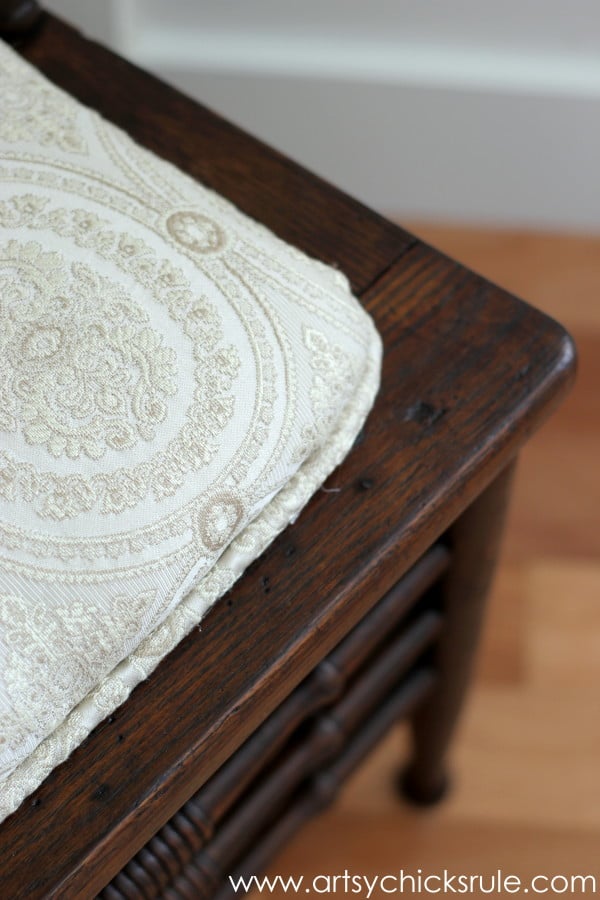 I decided to hold onto this pretty press back chair that I gave new life to with some stain, a new seat and some pretty, vintage styled fabric.
See the "before" photos and tutorial here >>> "Antique Press Back Chair"
And lastly, this tufted ottoman.
To be honest, I don't remember exactly how much of the drop cloth I used but it's close to 1 yard so I'm going to include it.
Plus, you could have a smaller table so that would work too.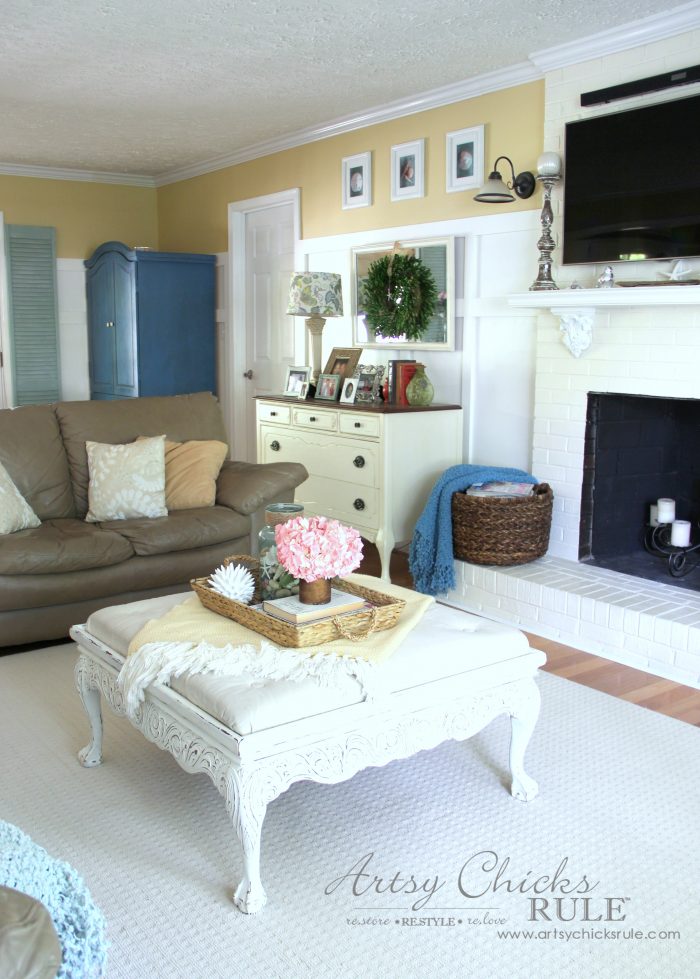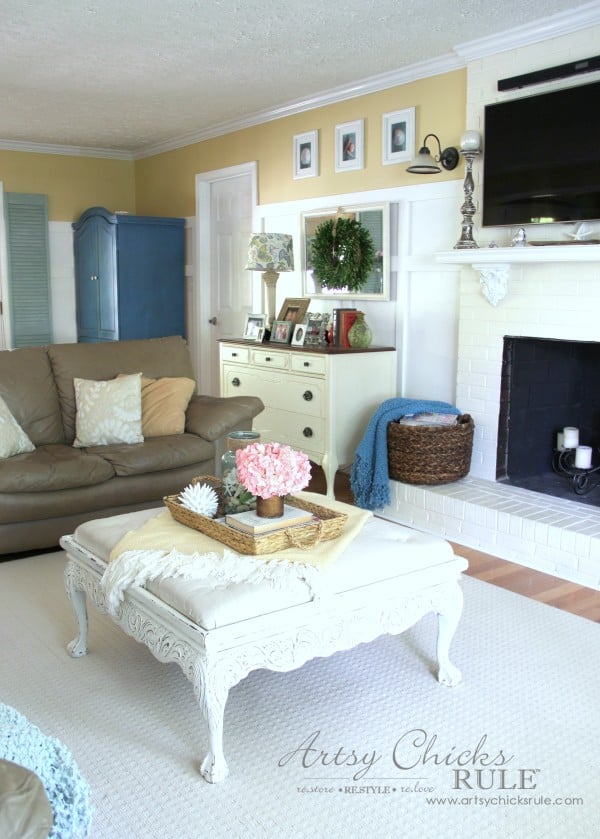 It's no longer "tufted". Yep, I changed it up again.
Here is the "tufted" tutorial >>> "Thrift Store Coffee Table Turned DIY Tufted Ottoman"
See the newest update here >>> "Coffee Table Makeover with Driftwood Finish Top"
And that's it folks! Ten ideas for fabric inspired projects.
I hope these helped visualize all the things you can do with 1 yard of fabric, or less.
So many things and these are only just a few.
You'll have to stop by to see what my friends made with 1 yard, or less, of fabric too: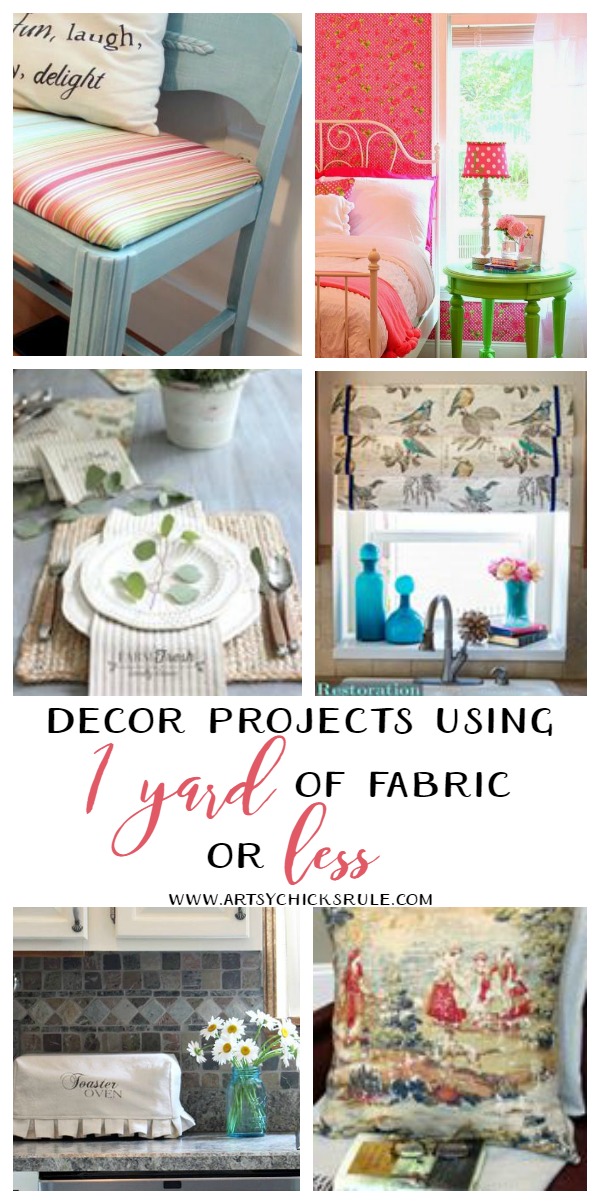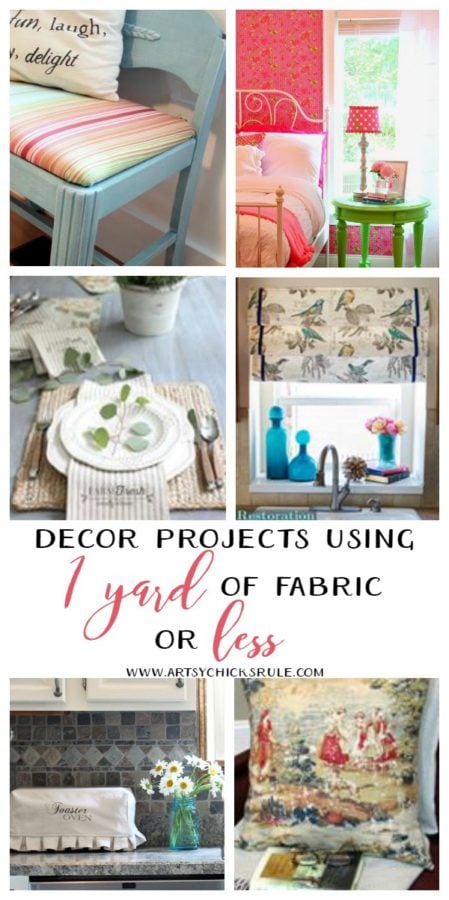 Artsy Chicks Rule / Confessions of a Serial Do-it-Yourselfer / Duke Manor Farm /
Restoration Redoux / Our Southern Home / Refresh Restyle
Want to play along with us? You can!!
Take pictures of your "Fabric Projects using 1 Yard or Less" and share them with us on our Decor Enthusiasts DIY Forum (over on Facebook)! If you aren't a member yet, come by and join!! :)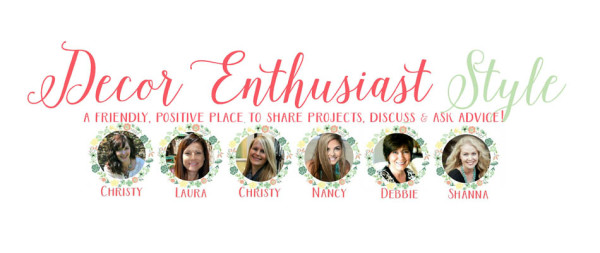 But wait! There's more! Let's play on Instagram too!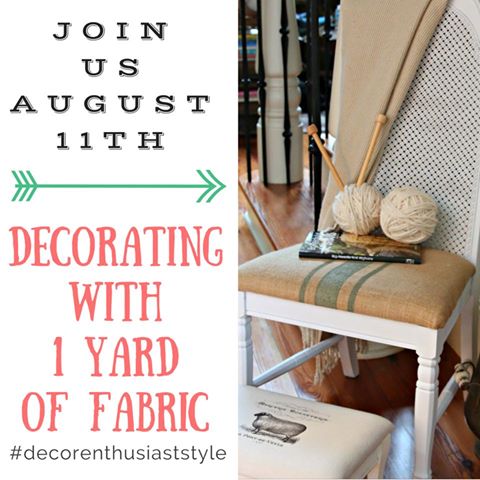 Here's how to play:
1. Add your own photo on Instagram starting today (8/11) through Saturday.
2. Tag it with the #DecorEnthusiastStyle hashtag
3. Follow all six of your hostesses here:
@confessionsofaserialdiyer / @artsychicksrule / @oursouthernhome
@restorationredoux / @refreshrestyle / @dukemanorfarm
4. Tag a few friends to play along!
We will choose one winner that will be featured on all six IG feeds this Sunday!
**And if you want to think ahead (ack, I'm not ready!! ;) ), next month's theme is "anything goes using faux pumpkins".
……………………………………………………………
Okay, so I'll be back next week with a recap of my recent trip with GMC to the World's Longest Yardsale and hopefully my porch and patio reveal too!
See you all then.
Hope you have a wonderful weekend!
xo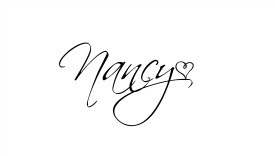 Follow along! –> Instagram ~ Facebook ~ Pinterest ~ Bloglovin