GMC & The World's Longest Yardsale (Reveal)
This post may contain affiliate links. Please see disclosures here.
Hey Friends!
As you probably know, I recently shopped The World's Longest Yardsale to decorate a Habitat for Humanity home for a very sweet and deserving family.
What a whirlwind of fun it was with lots of shopping, hotel hopping, yard sale bargains, country roads, a little bit of paint and a lot of laughter!
It was exhausting but SO worth it.
Thank you GMC (and Megan!) for hosting and sponsoring such a wonderful event!
They were so good to us and took care of everything, every step of the way.
I have so much to share with you all, I decided to break it up into 2 posts.
Today I'll be sharing the reveal of the room and furniture, etc., I found and made over.
On Friday I'll be sharing all about the adventure and road trip portion of the trip. :)
…………………………………………..
We arrived at the airport on Wednesday and headed to lunch.
Once there, we were provided with the rooms (and a budget with some tools) that we would be decorating individually.
I was given the 12 year old girl's bedroom, Christy (Confessions of a Serial Do It Yourselfer) was given the 6 year old boy's room, Christy and I also had the guest bath, Allison (Two Thirty Five Designs) was given the master, Courtney (French Country Cottage) helped everyone and also did the laundry room, Sarah and Nick (Nestrs) had the den and living room and Fadra (All Things Fadra) and also our awesome driving/riding partner) had the kitchen.
Our crew also included Megan, Sean, Katie and Jasmine from GMC.
What a wonderful and talented group of people! I'm so happy to have made new friends with all of them and thrilled to have had the chance to get to know Fadra (our fearless driver! ;) ) so well. She was a hoot and kept us rolling (literally! ;) ) the whole time!
So….much….fun :))))
Here is the convoy of vehicles ready to go. Love it!!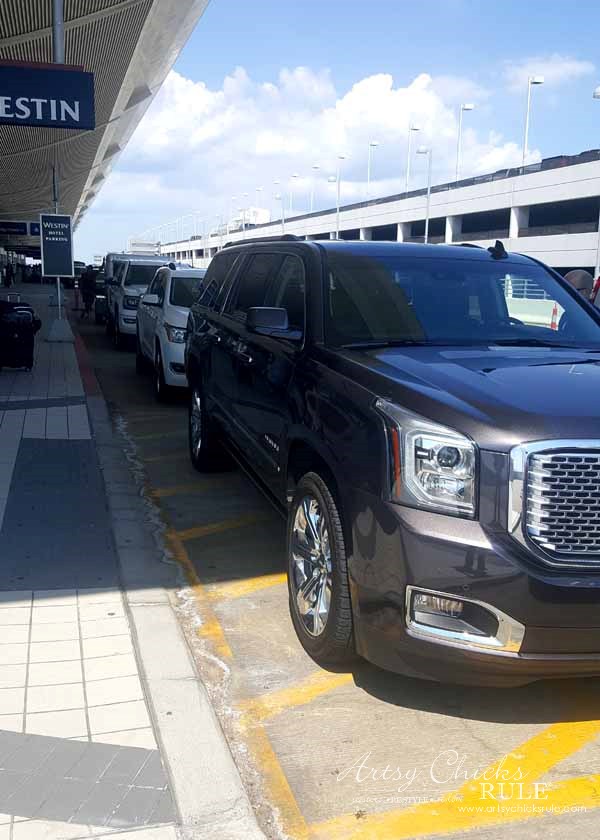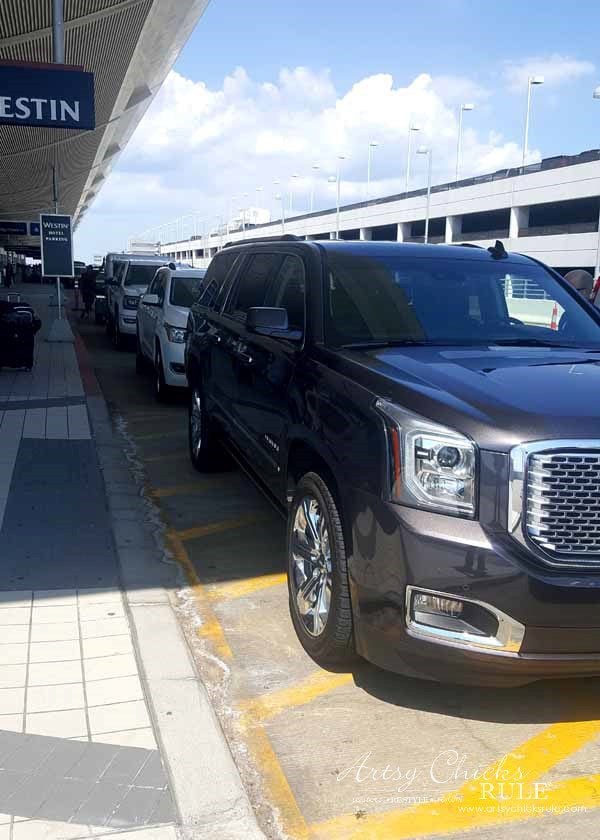 Fadra, Christy and I drove this beauty…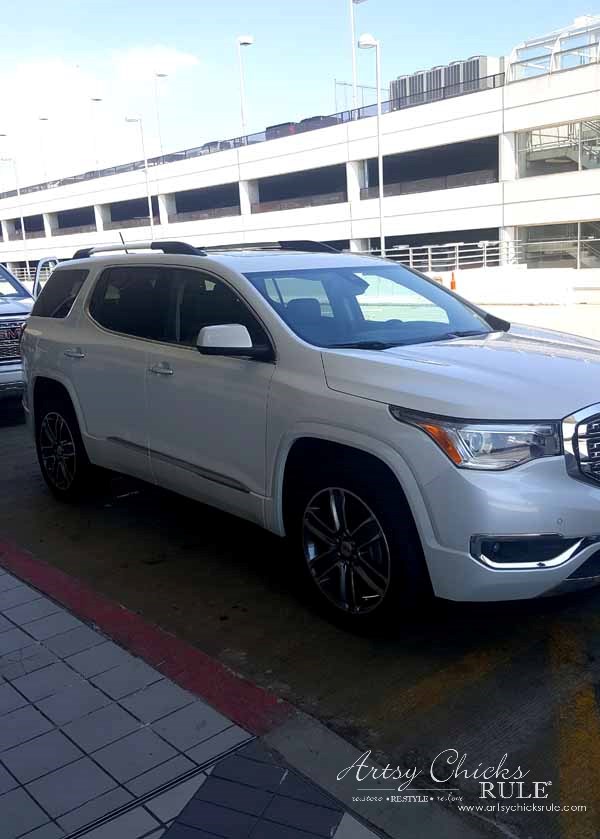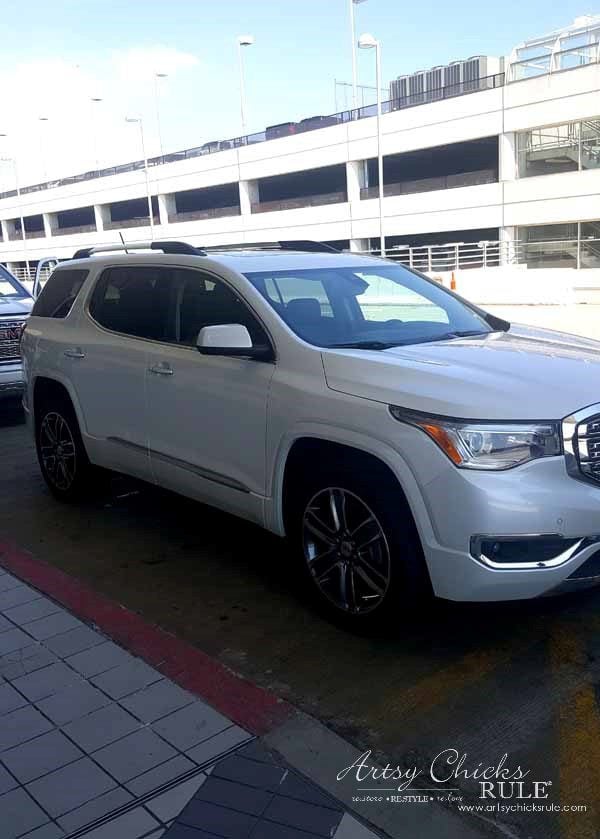 Here we are fresh and ready to start shopping the first morning (in Ohio)!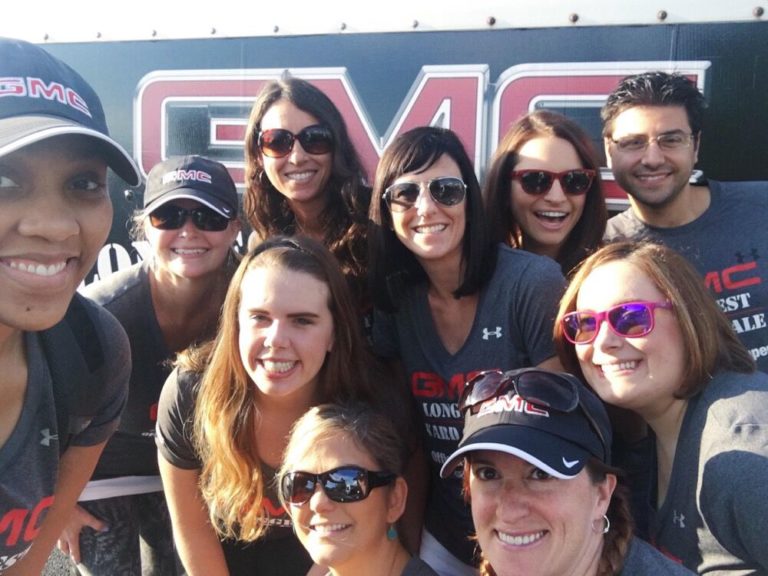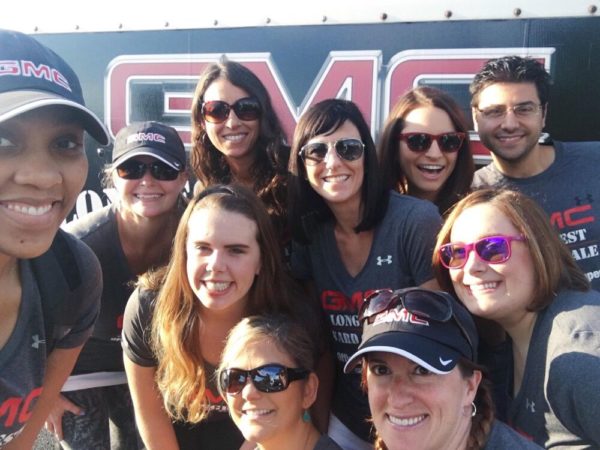 Even though this was a surprise for the family, we were able to find out a little about each family member.
My girl loves turquoise, black and white and also had a turquoise bed coming.
So of course I used those colors and decided to throw in a little splash of gold too.
Here are the first two pieces I found for the room….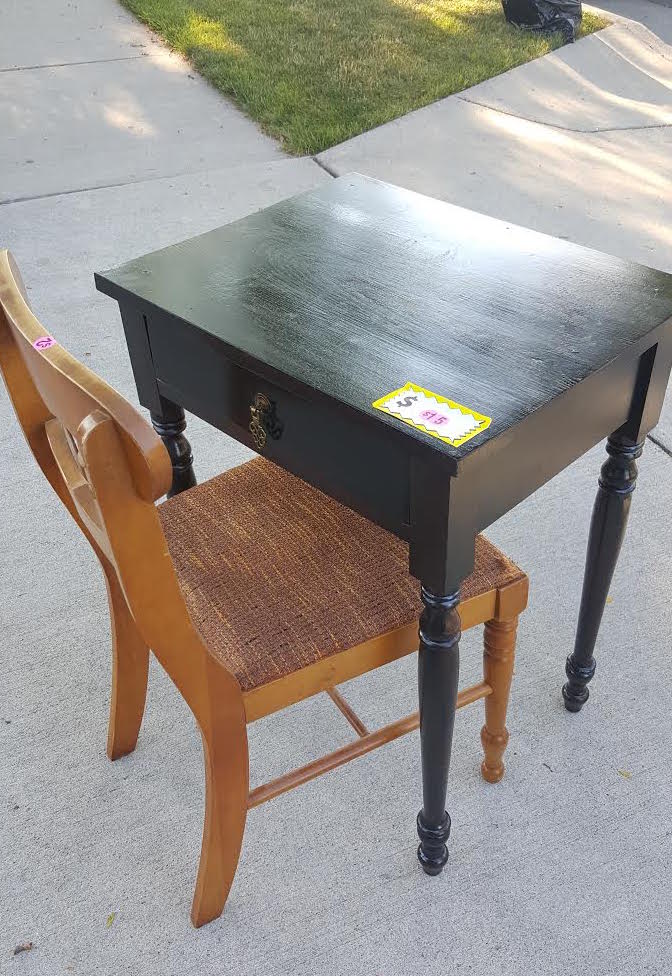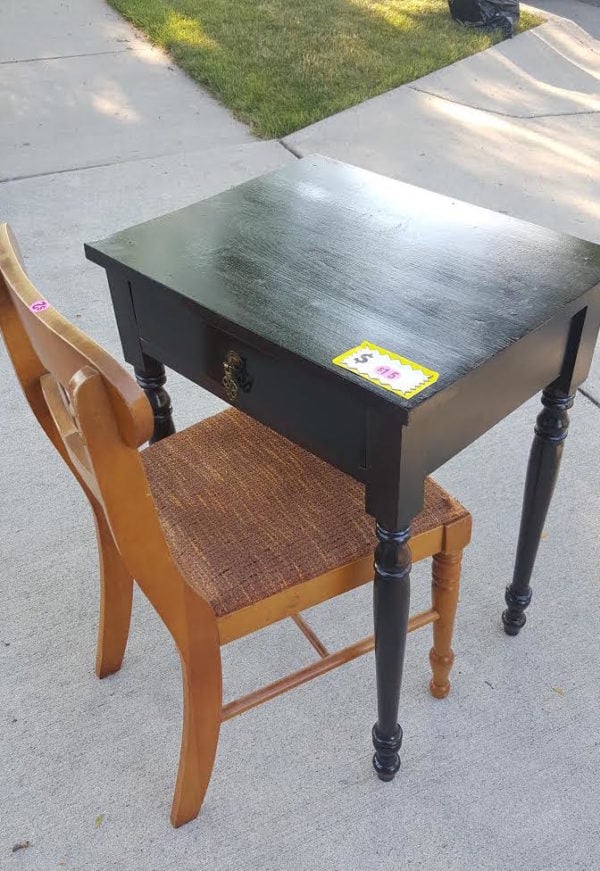 ….the chair was a big ole $2 and the little table was $15 and was also made by the woman's grandfather.
It's nice to hear the stories, if available, of some of these pieces.
I got both pieces for $15 total.
I thought originally this could be a desk but then decided to make it a "vanity".
I have to tell y'all, as fun as it is, it's also a little nerve wracking shopping along a highway because you don't know what you'll come across later on…should I buy this now? Should I wait?
Sometimes you just have to jump on what you find! So I did…and I think most of us did. :)
Next we ventured into this big red barn……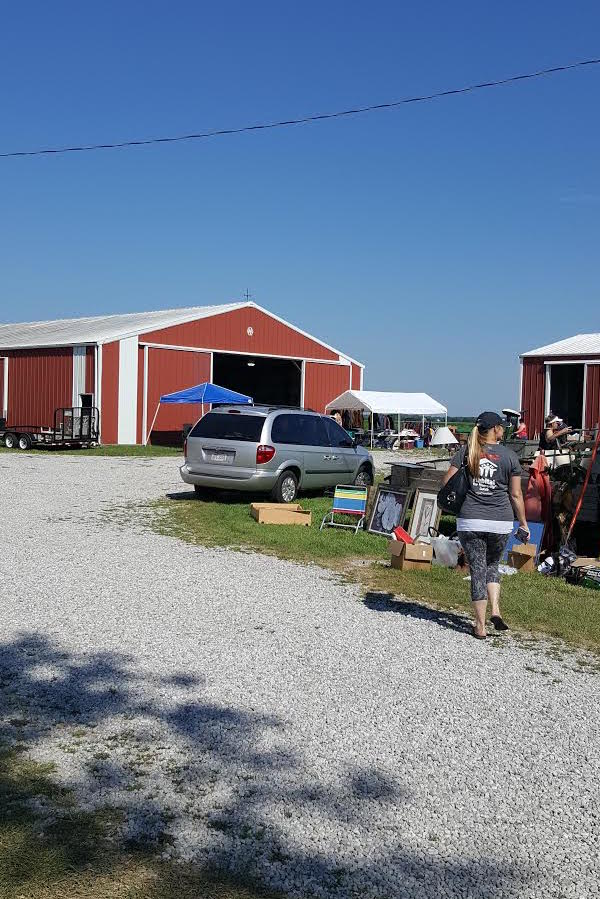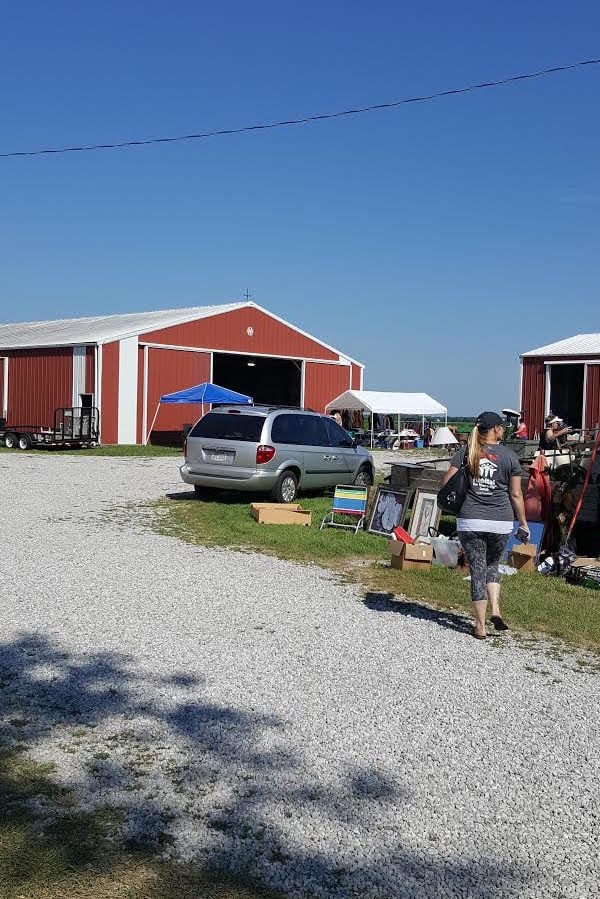 ….and I found my dresser and nightstand.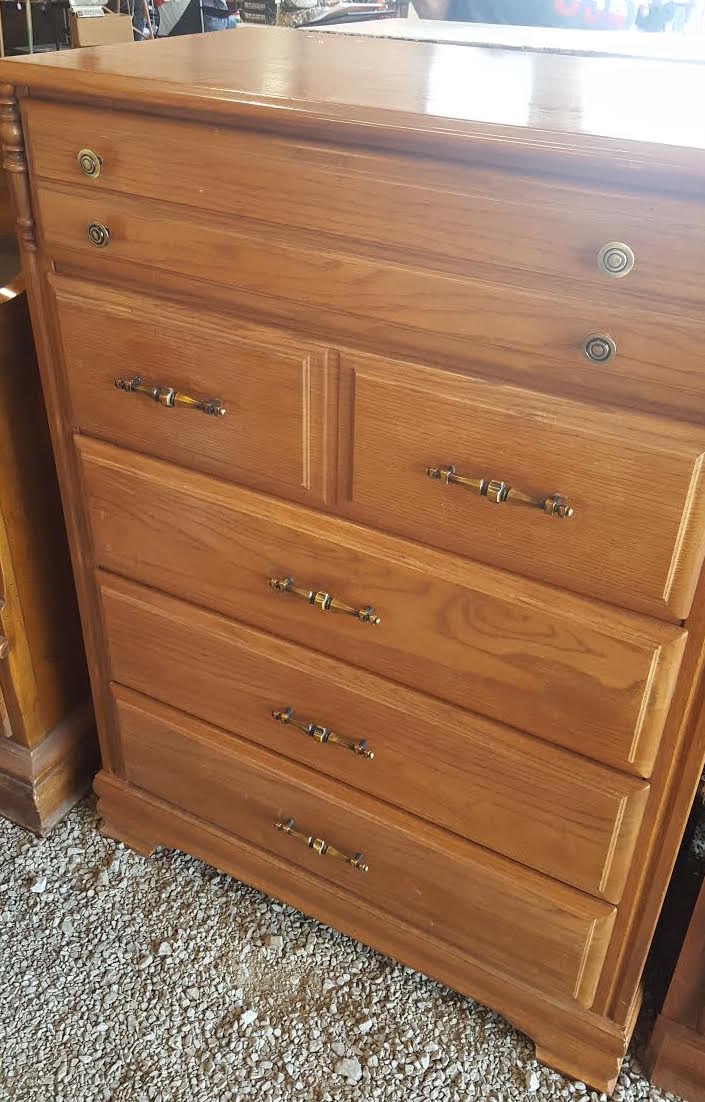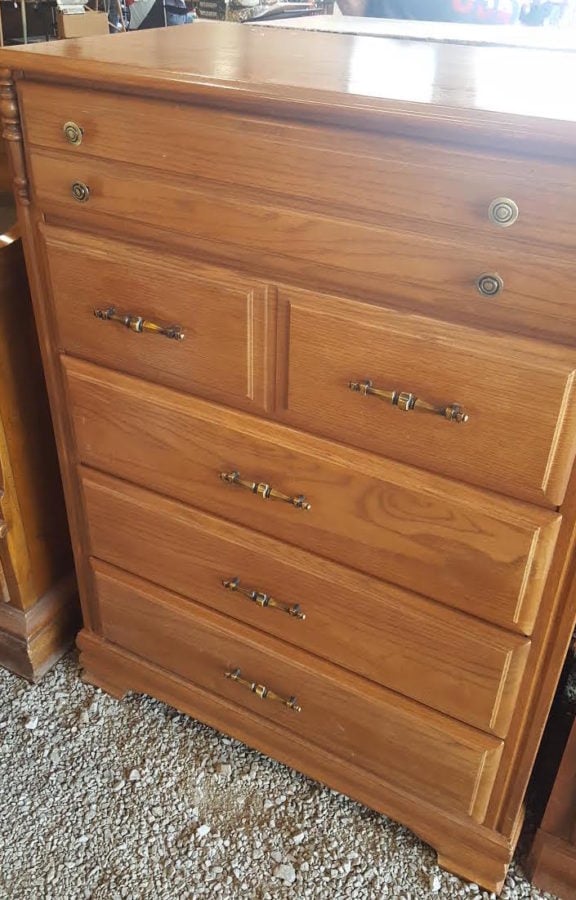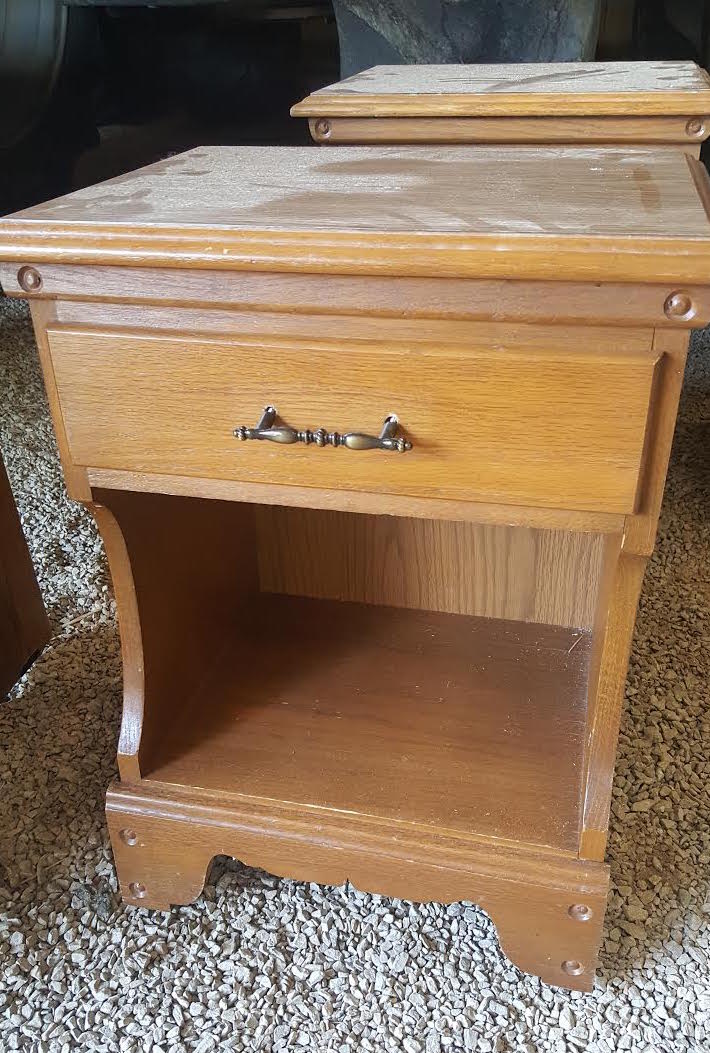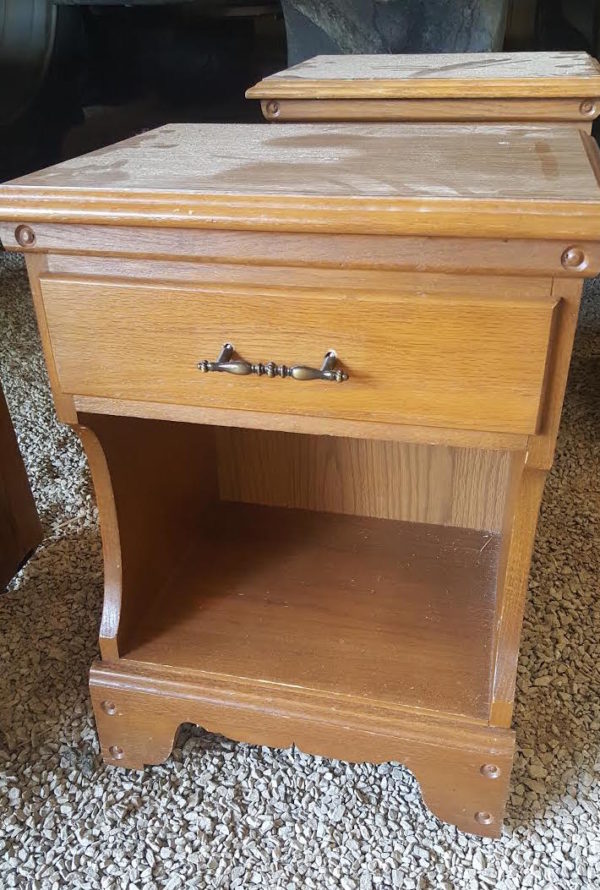 The dresser was $65 (it was listed for $85) and in awesome shape. The inside of the drawers looked as if it had never even been used. Perfect!!
The nightstand was a steal at $7 (it was listed as a set for $20).
We all haggled a bit on prices and were able to get things a bit cheaper.
Had to stay in that budget, ya know! ;)
Christy also found her large pieces early on too, like this dresser…..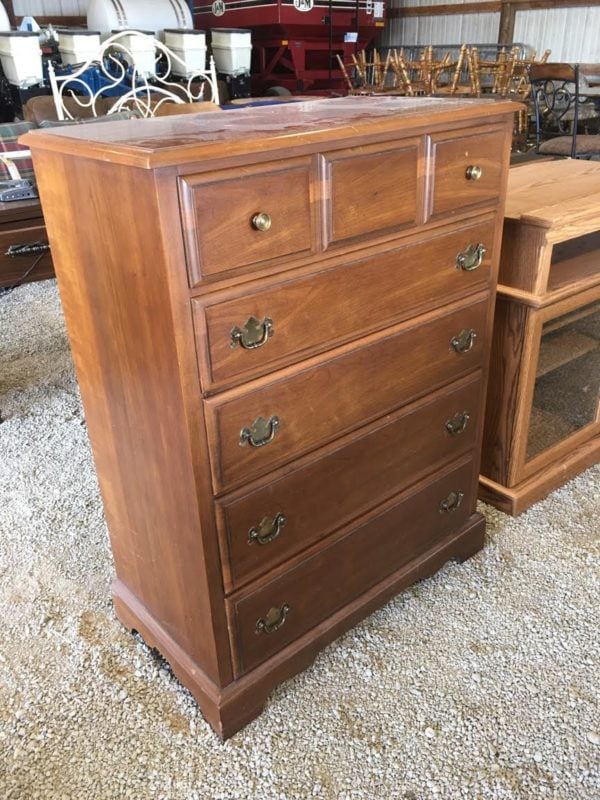 And so did Fadra. :)
It was so nice to get the larger pieces out of the way. (and off of our minds!)
Whew!
Here is the room before….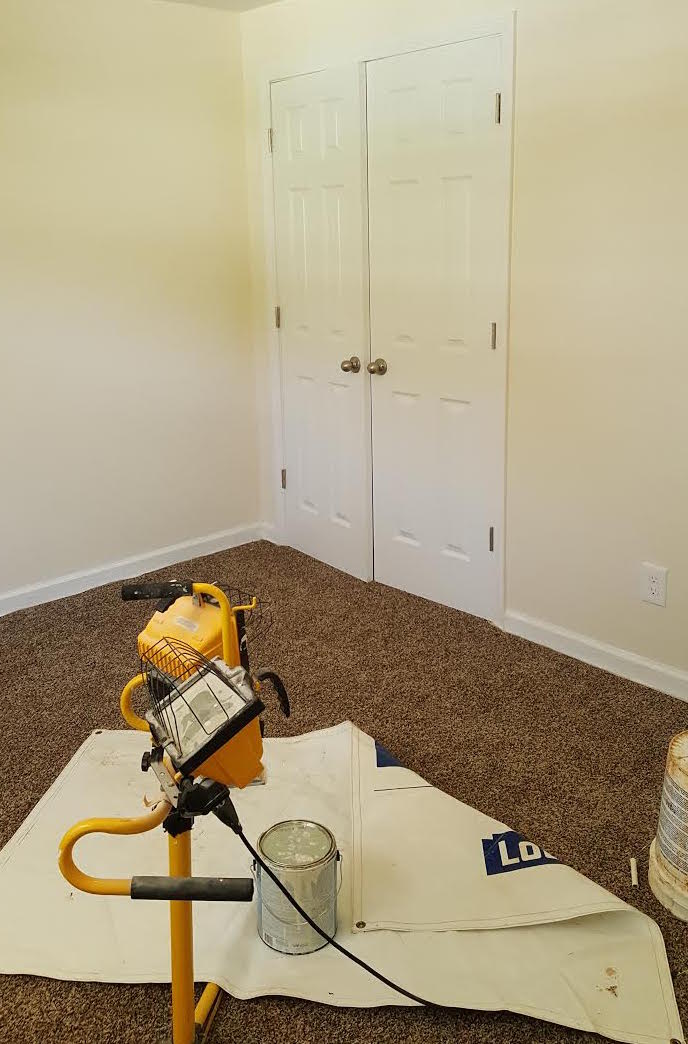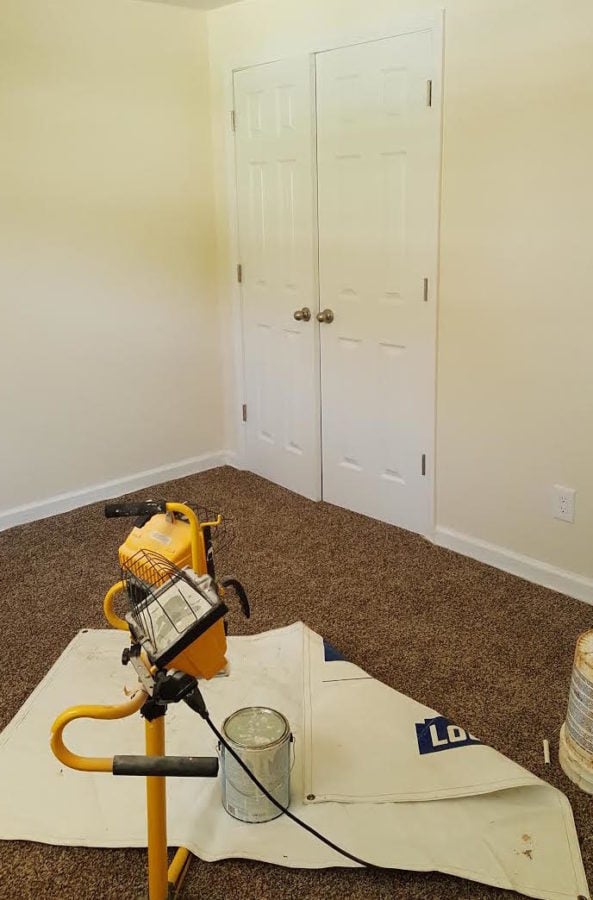 And a glimpse of the house the day before we were to decorate.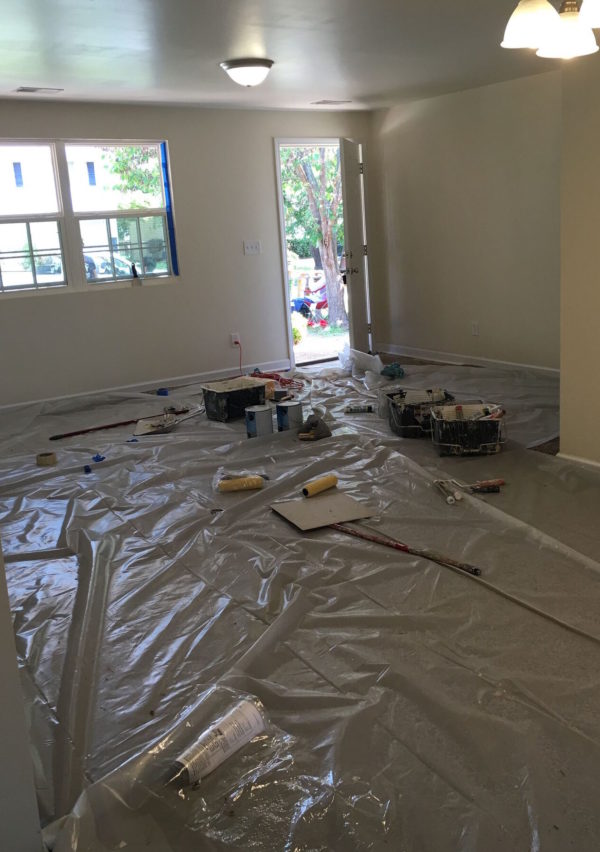 Eek! But no worries, it all came together just fine. :)
After seeing the house, we came back to the hotel and started working on our finds….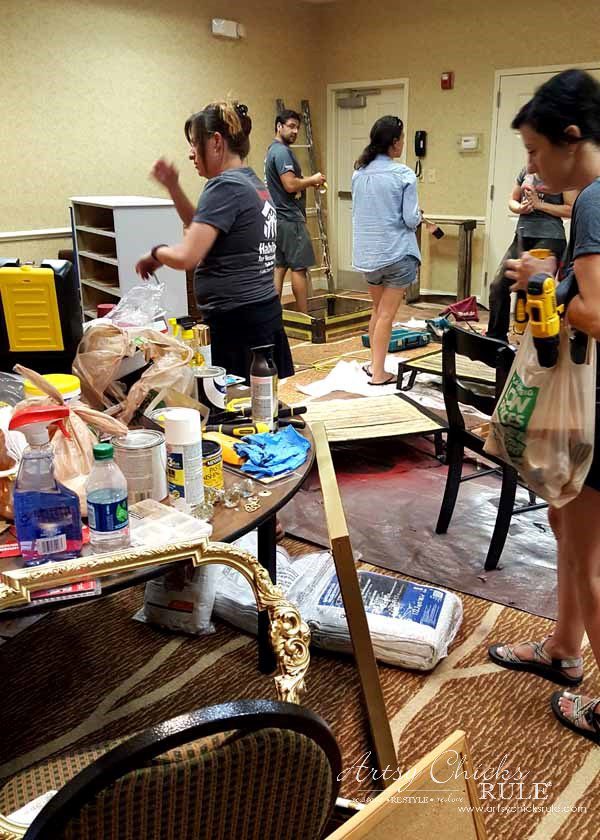 All done and painted and ready for reveal day….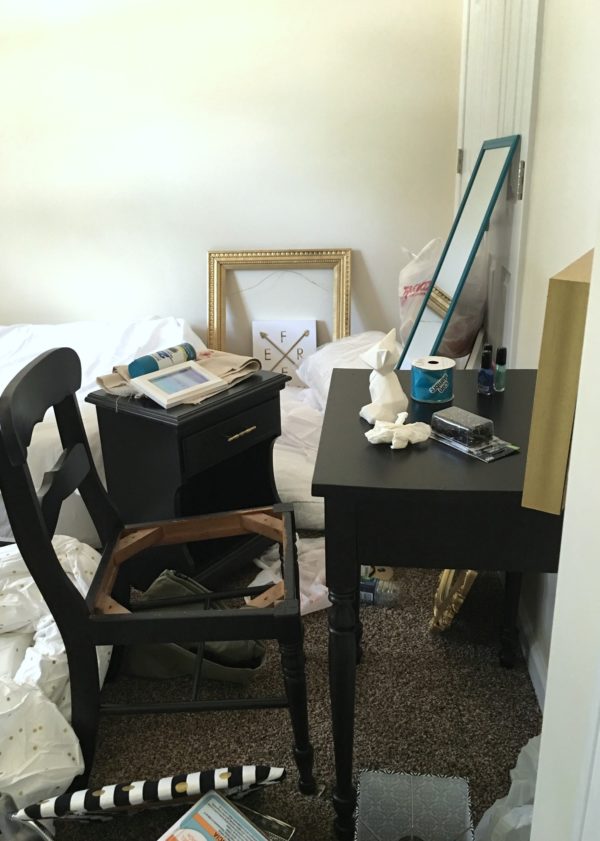 Nice, huh? Lots to do here!
The flurry of activity that ensued after this, you would not believe!
I'm not sure how we got it all done and cleaned up in such a short period of time, but we did.
Lots of teamwork, for sure. :)
I was surrounded by an awesome group of bloggers.
Everyone gave a helping hand and helped and encouraged each other too.
I found a beautiful scroll-y mirror for $6 that got sprayed gold but it ended up being a casualty. :(
The frame got broken on the move to the house. (you can see the frame to the mirror in the painting photo above)
Luckily I still had a bit of money left in my budget and hopped over to Walmart and picked up the one you see here.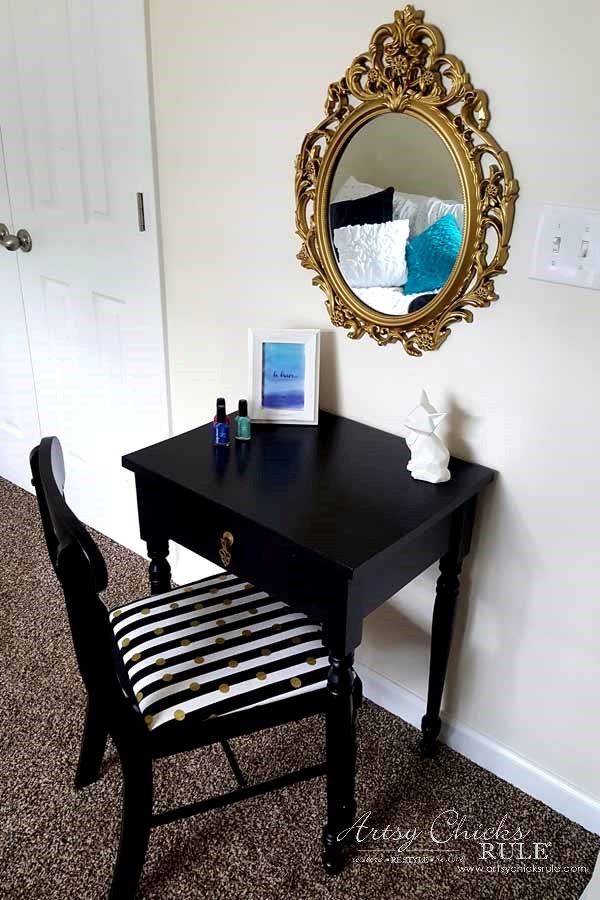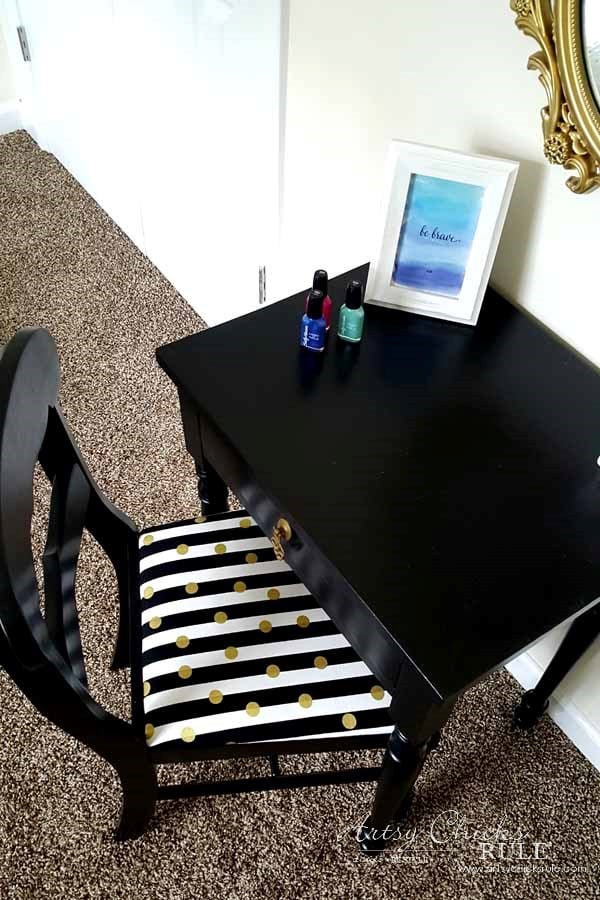 I originally planned to paint the dresser and nightstand white but I had major bleed-thru. (wood color was bleeding through the white paint)
So I had to quickly switch gears and repaint in black.
I was on such a short time frame to complete, all I could think was … "ain't nobody got time for that"! ;)
I know, corny, sorry, but true!! The pressure was on!
I sprayed the knobs gold which I think stood out nicely against the black paint.
I did replace the top four knobs with crystal knobs, however.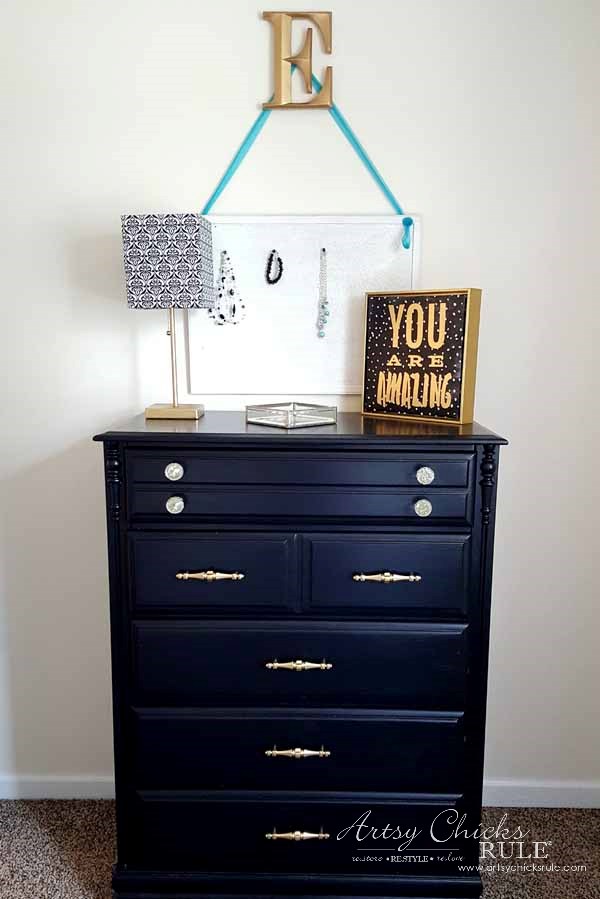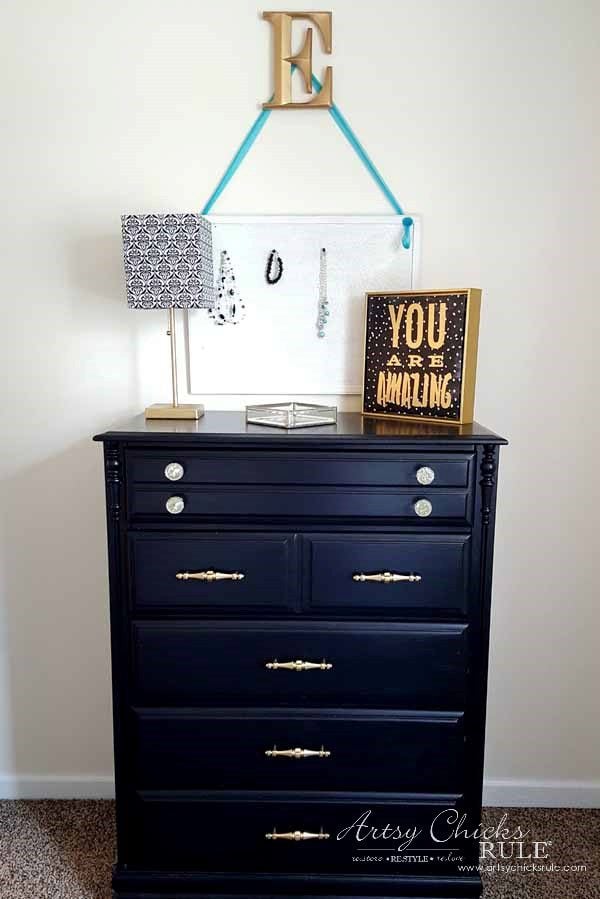 The "bleed-thru" incident actually turned out to be a happy "accident".
I love the black furniture in the room with everything else.
The little table and chair (vanity) got a black paint makeover too.
The chair seat got a fun new recover with fabric I found at Hobby Lobby.
The bedding I found at Target was white with gold polka dots so I thought the black and white stripes with gold polka dots would be perfect!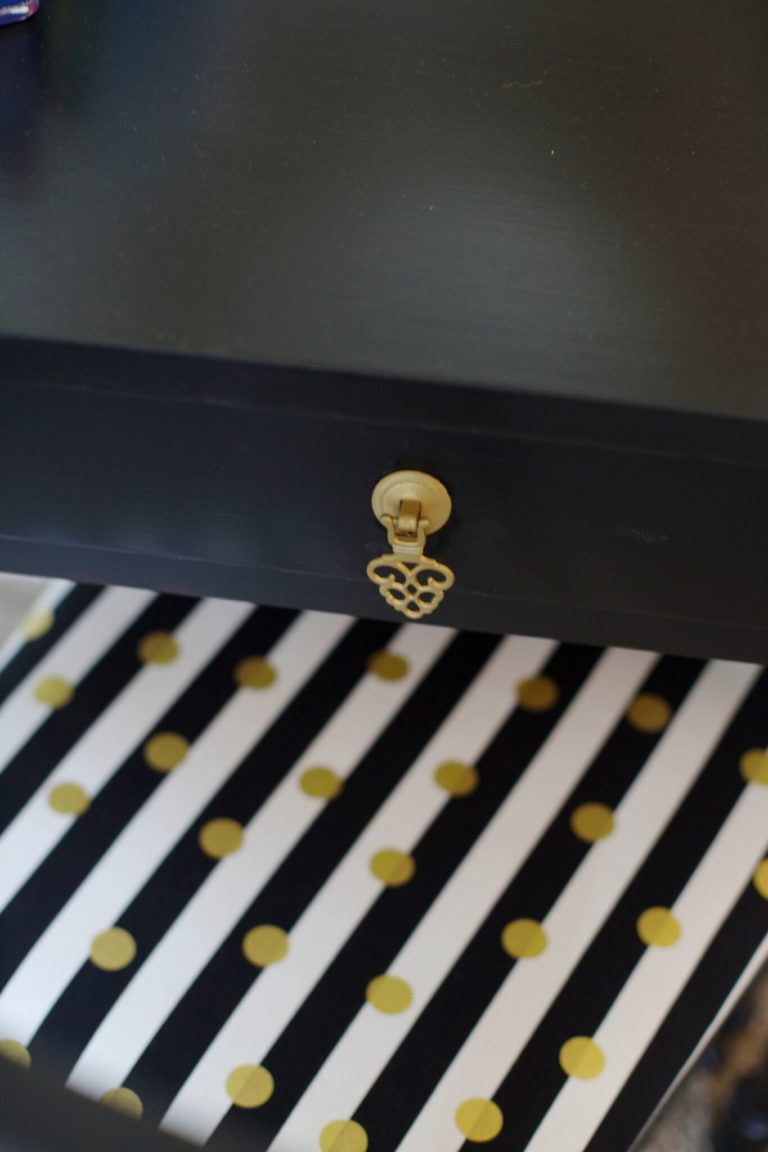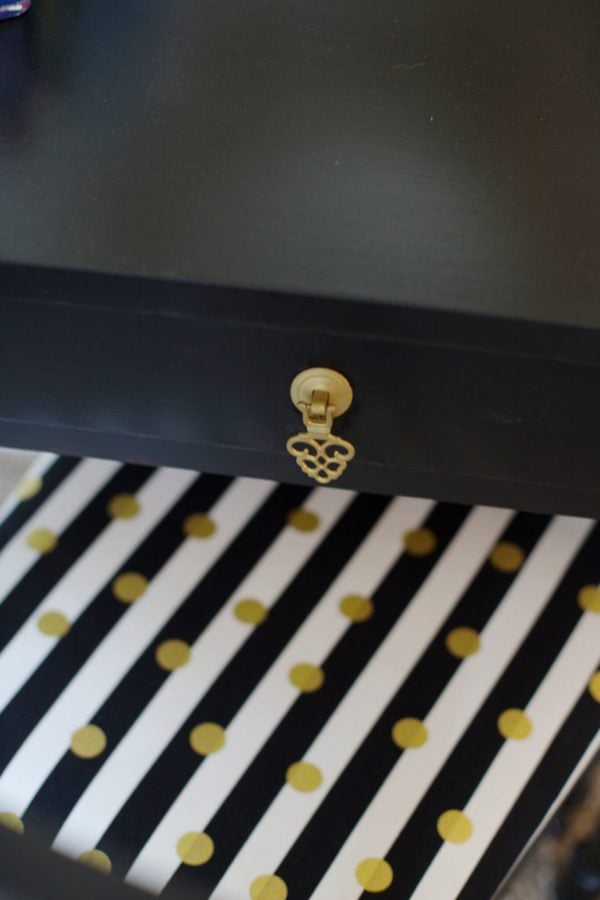 The cork "jewelry" board was $1 and got painted white.
I added turquoise ribbon and a few pieces of black, white and turquoise jewelry for her.
I painted the base of the lamp gold to match and added a few accessories I picked up.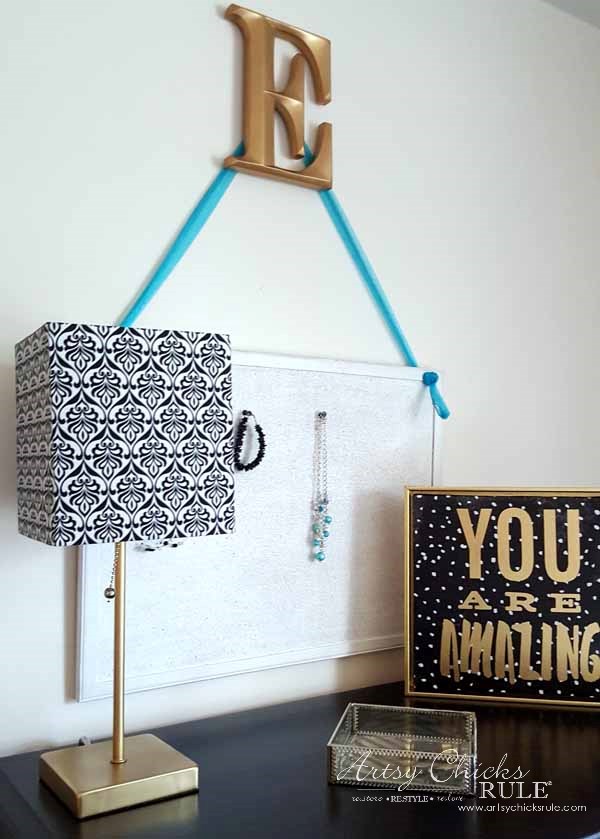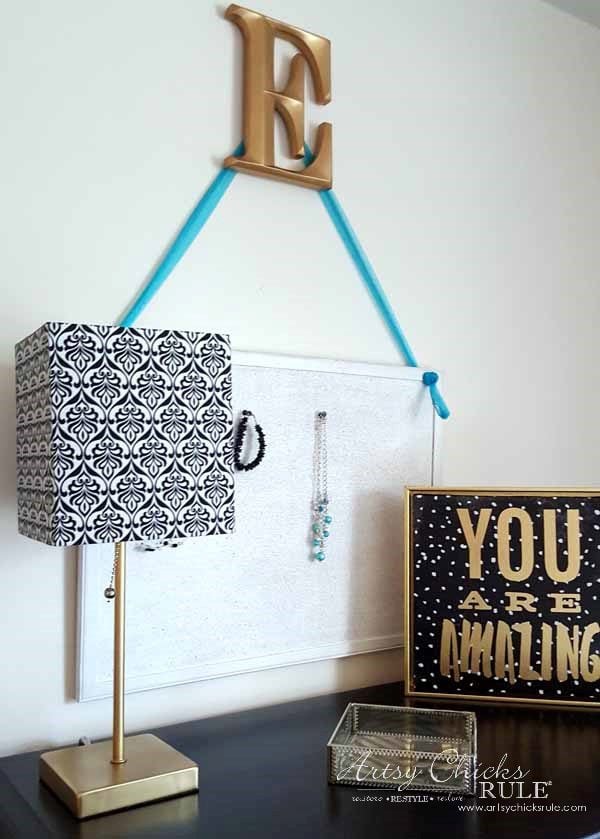 The full mirror was a last minute too. Christy pointed it out in Walmart and I couldn't believe it was the perfect color for the room.
Every 12 year old girl needs a full length mirror, don't you think?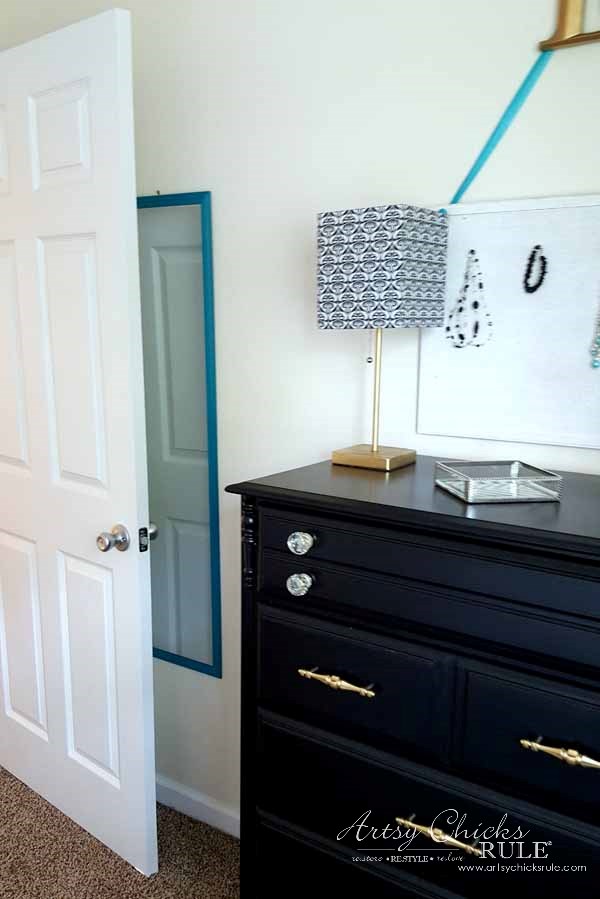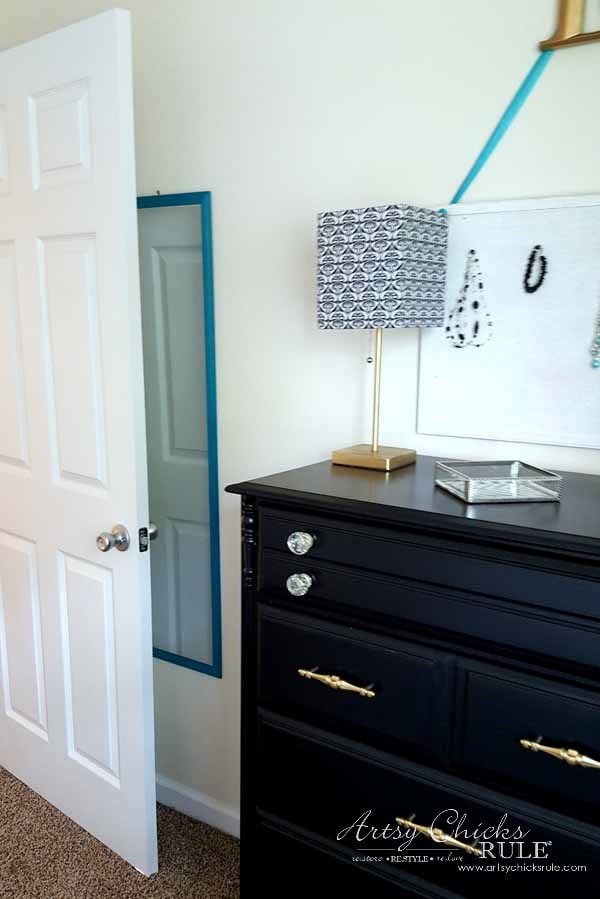 Her name starts with an "E" so I decided to add a little personalized touch….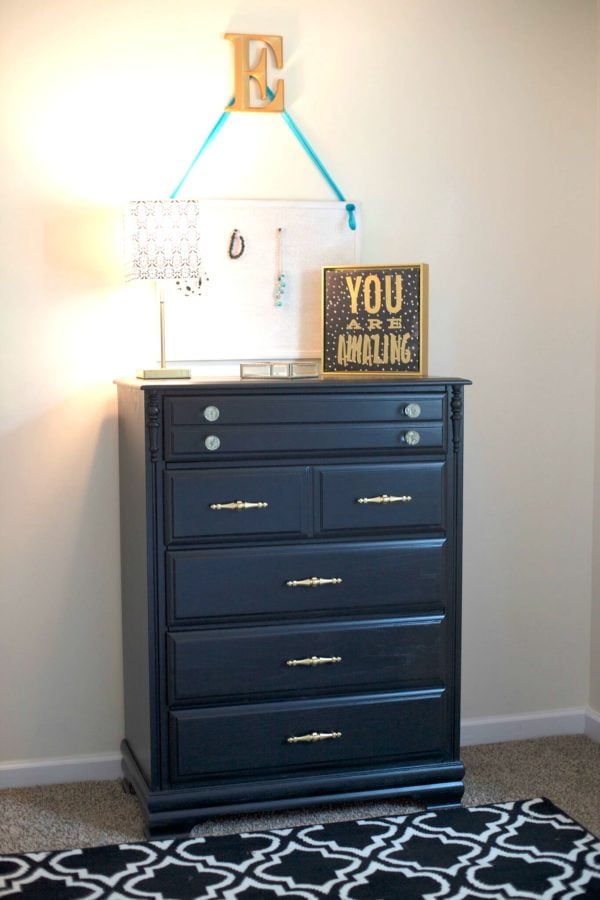 Here is the "bed" and bedding….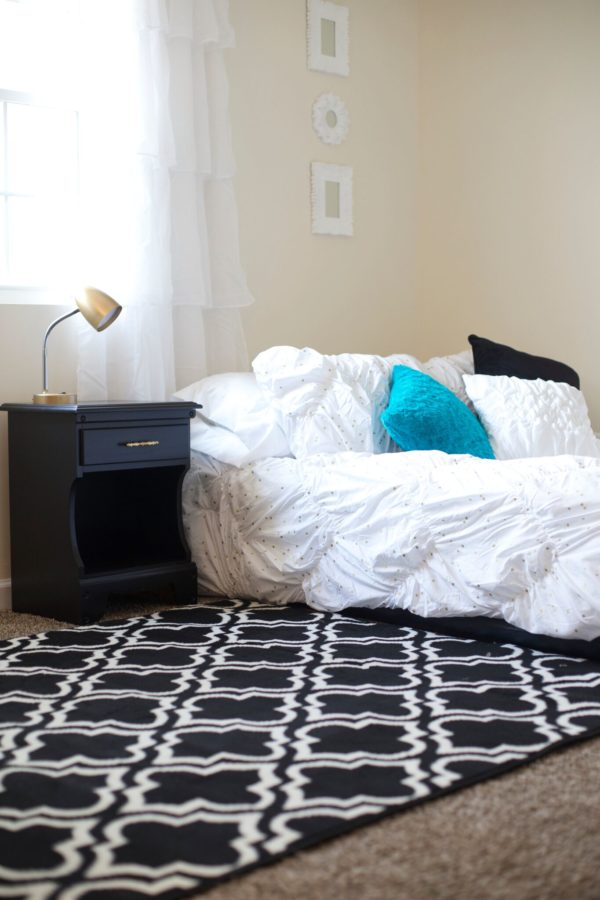 …and new ruffle curtains.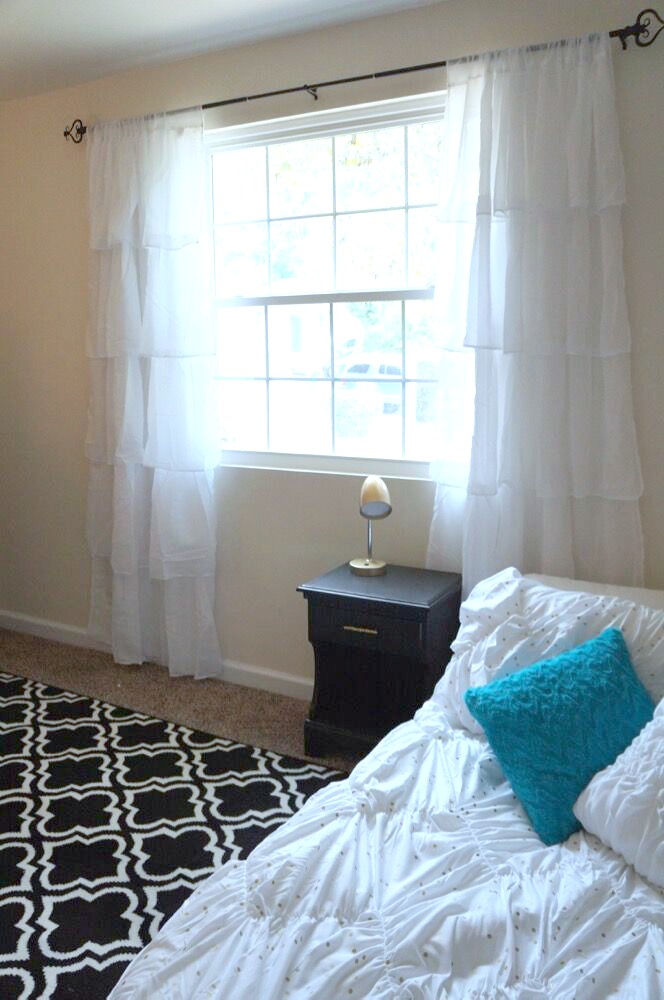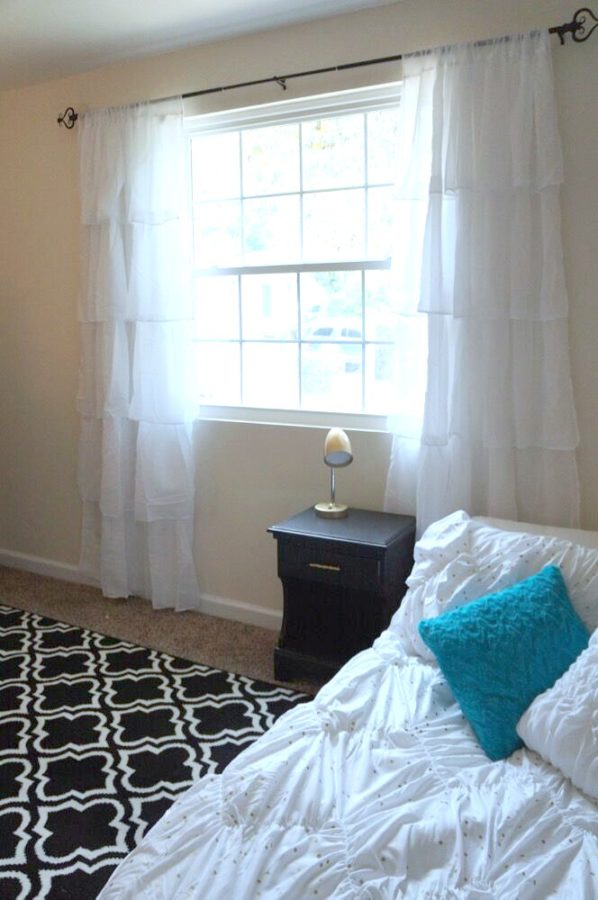 A shot of me that Christy took as I was getting started!
Shoes off and ready to get this show on the road. ;)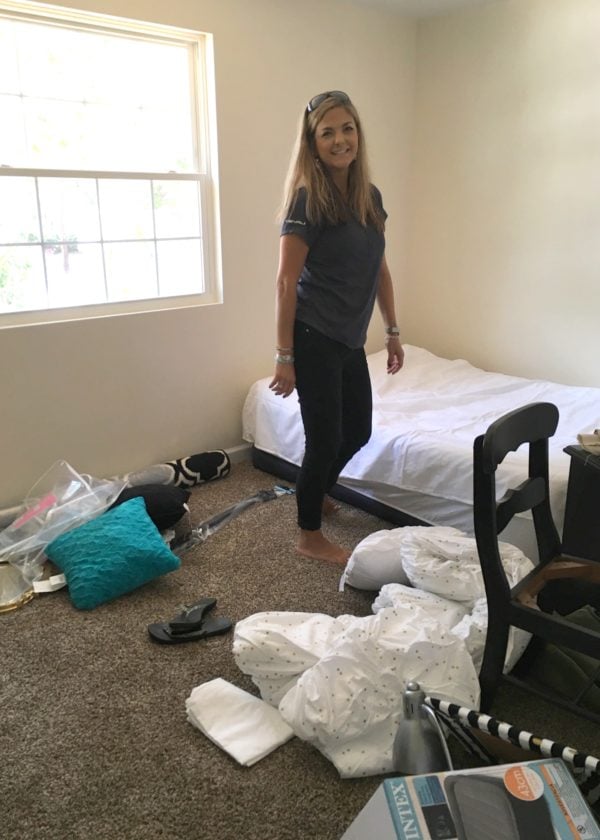 Sadly we could not get the bed that had been ordered by the homeowners to complete the room.
We all tried just about every which way to get it but to no avail.
Thankfully we got an air mattress to at least give the appearance of a bed.
Here it is….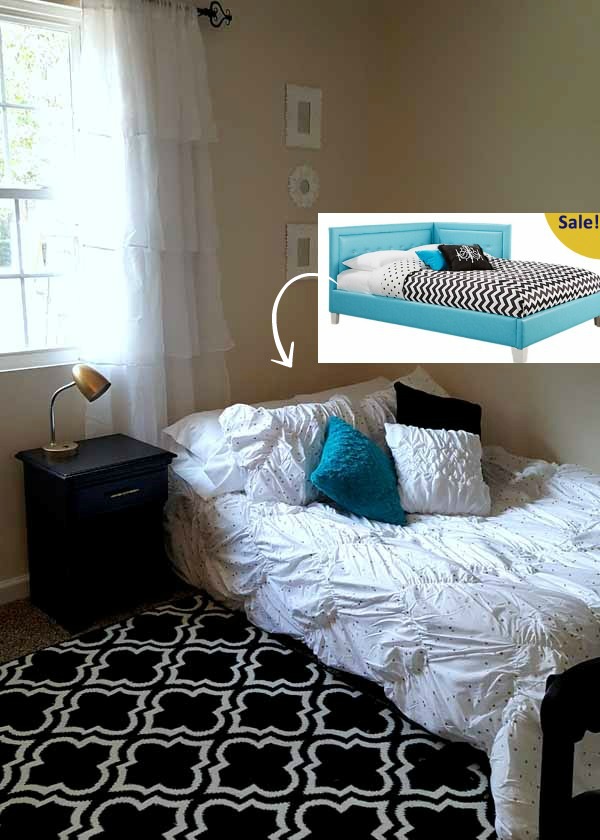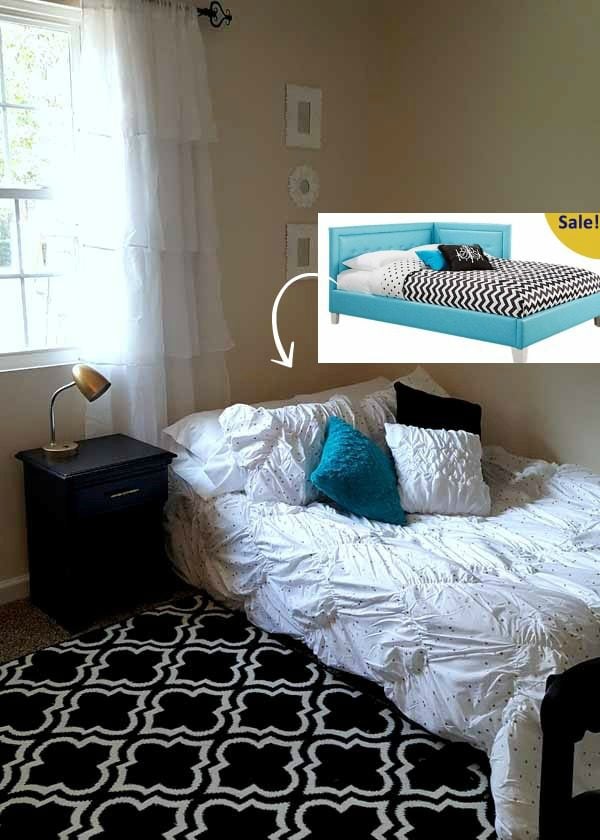 So….just envision that pretty turquoise bed right there. ;)
The focal piece of the room, no doubt.
I added the rug at the last minute.
I'm really glad I did as it added a nice touch to the room.
Here is the little nightstand and gold lamp I found…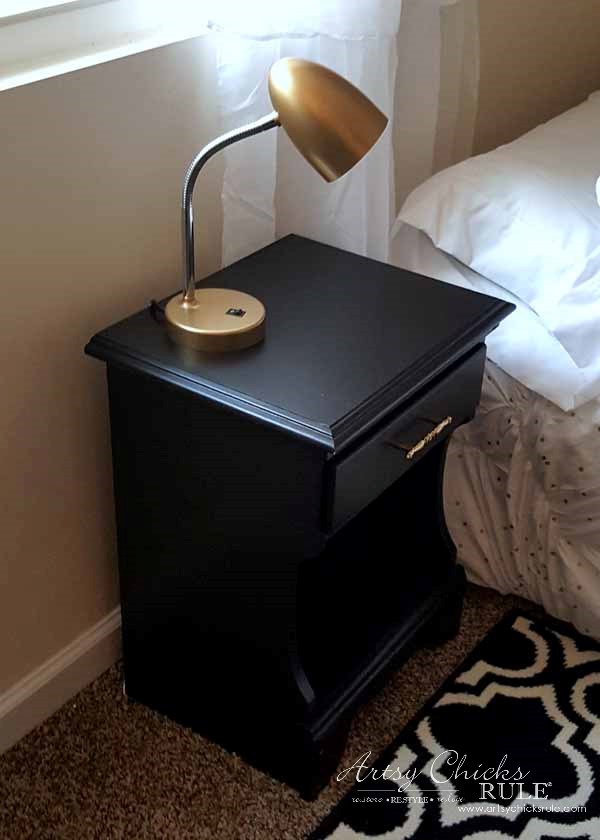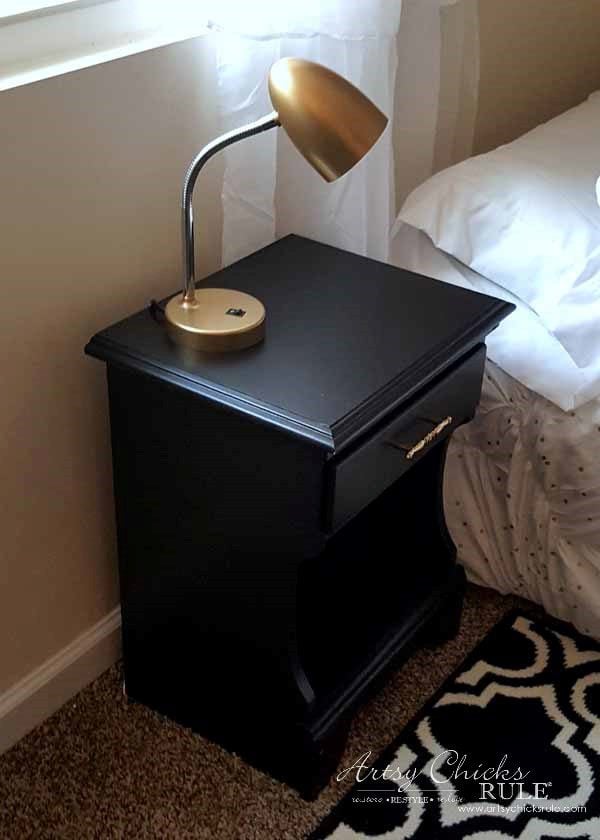 The artwork came from our stop at Big Lots, actually. (we were picking up the bedding, towels for the bath, etc)
The frame was a yardsale find and was about $4.
It also got a spray of gold paint.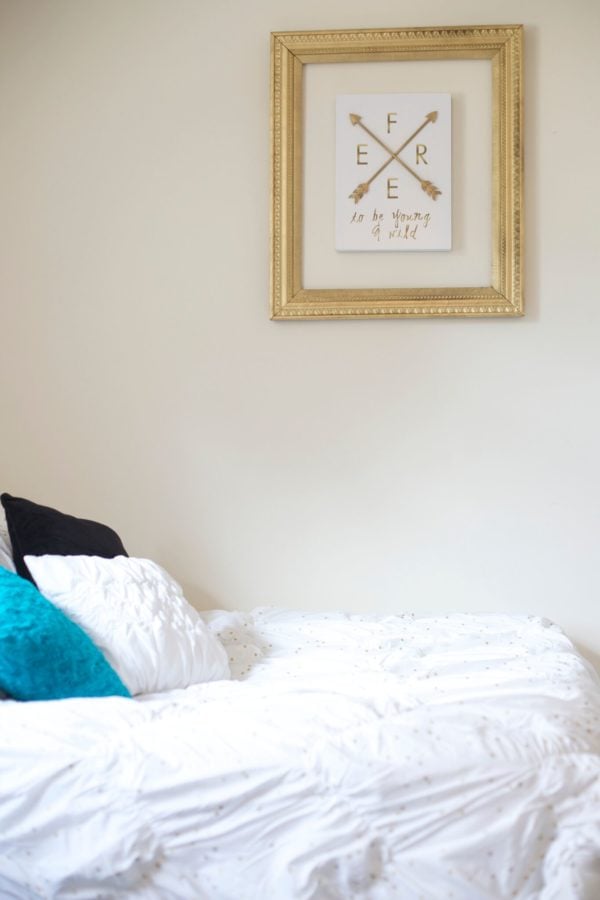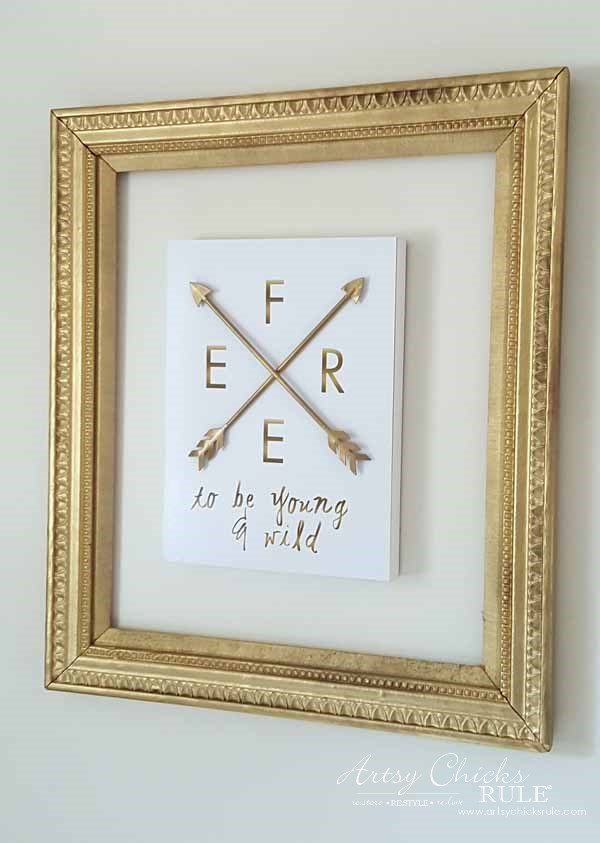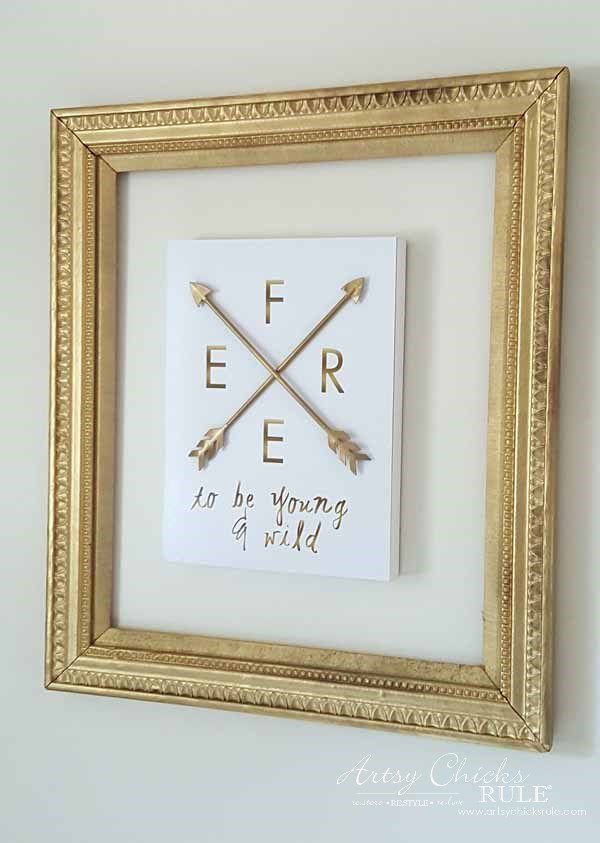 I just simply hung it around the artwork.
And just after the reveal with the proud owner of the new room (and home)!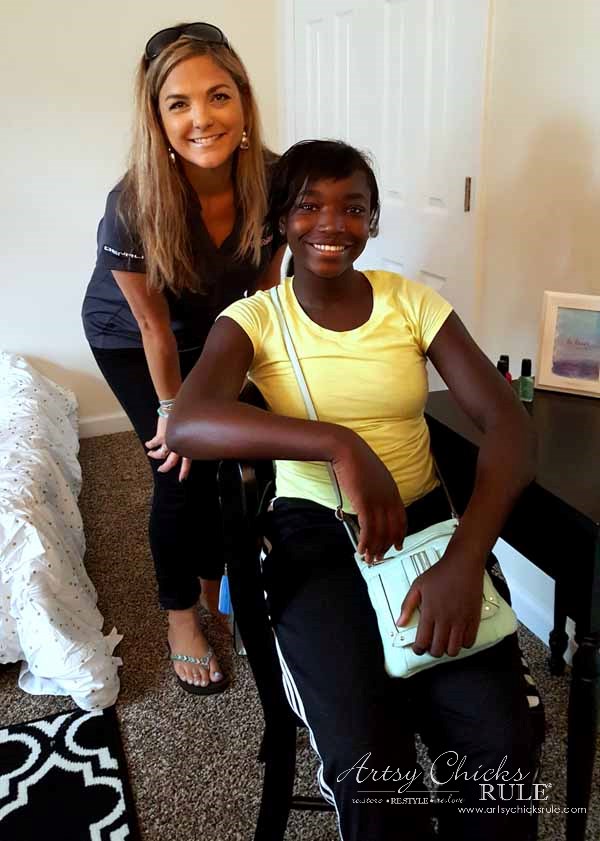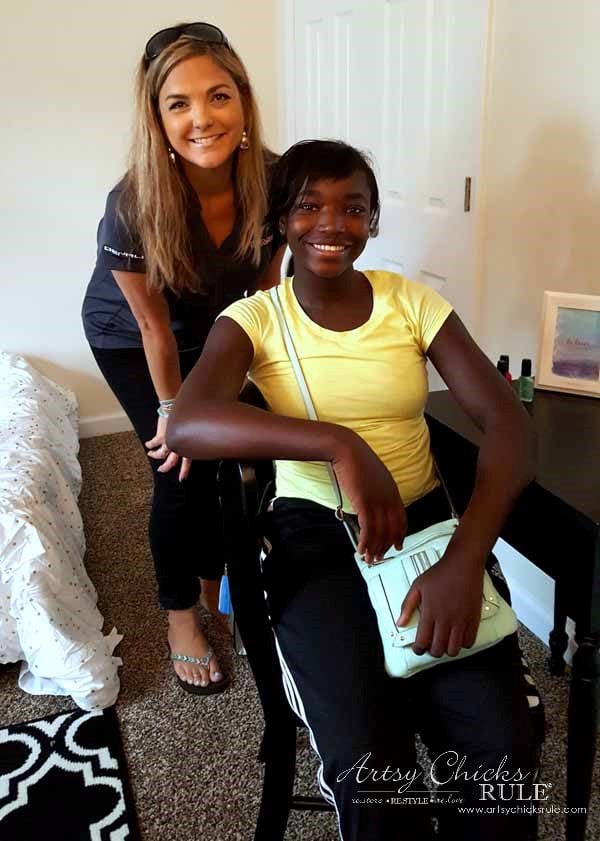 Christy and I were also in charge of decorating the hall bath.
Thank you Courtney for the help in there!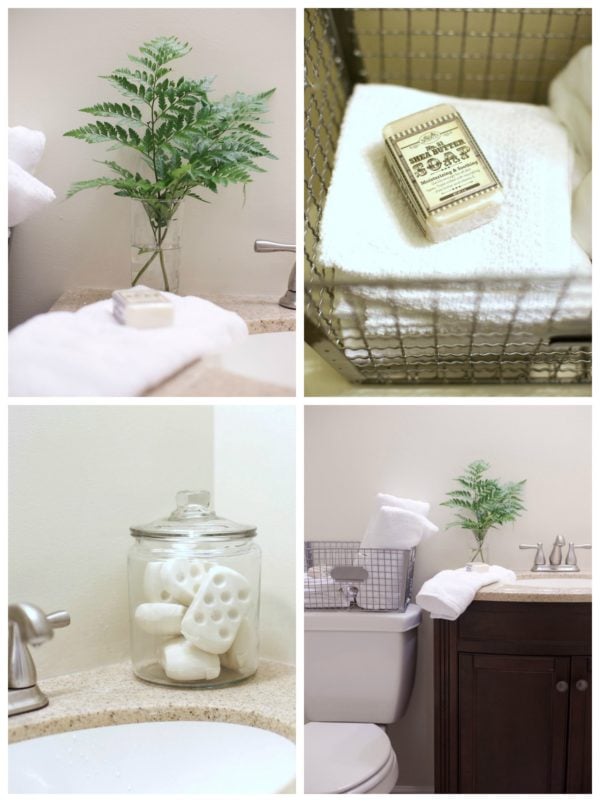 We also bought a shower curtain but the tension rod we bought was broken.
It will all come together nicely once that is replaced. :)
……………………………………………
If you'd like to see the actual video footage of the reveal, see below.
Allison from Two Thirty Five Designs recorded this awesome moment!
And a recap of the furniture pieces I did for the room…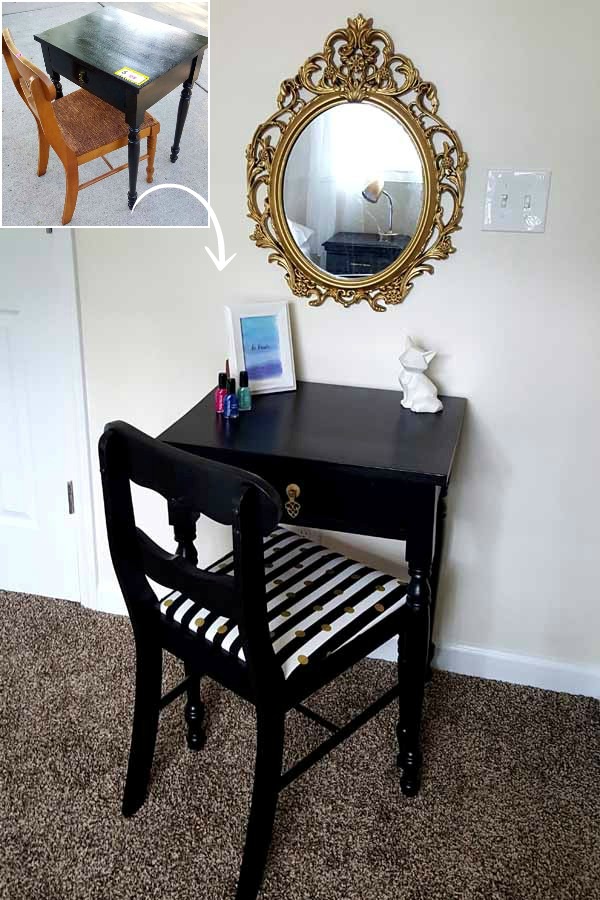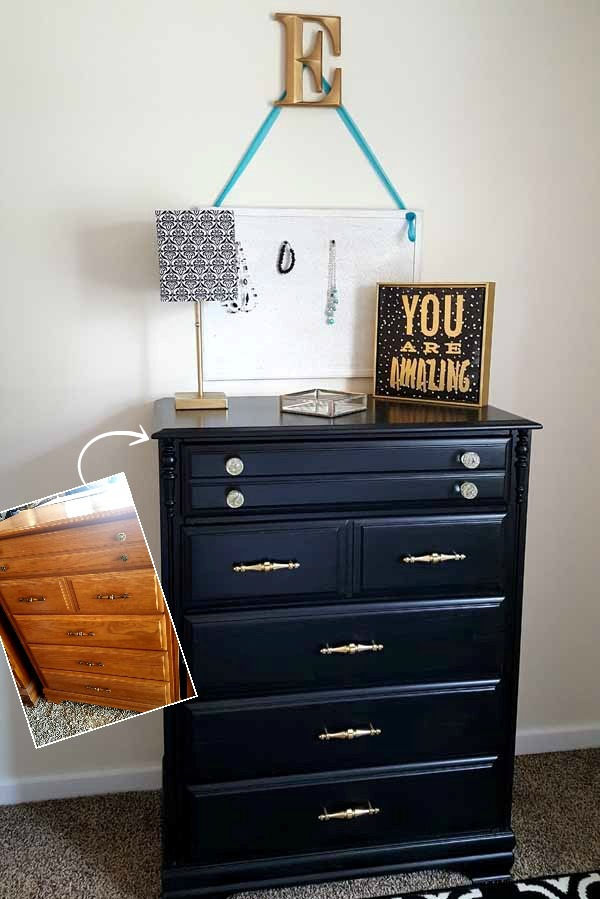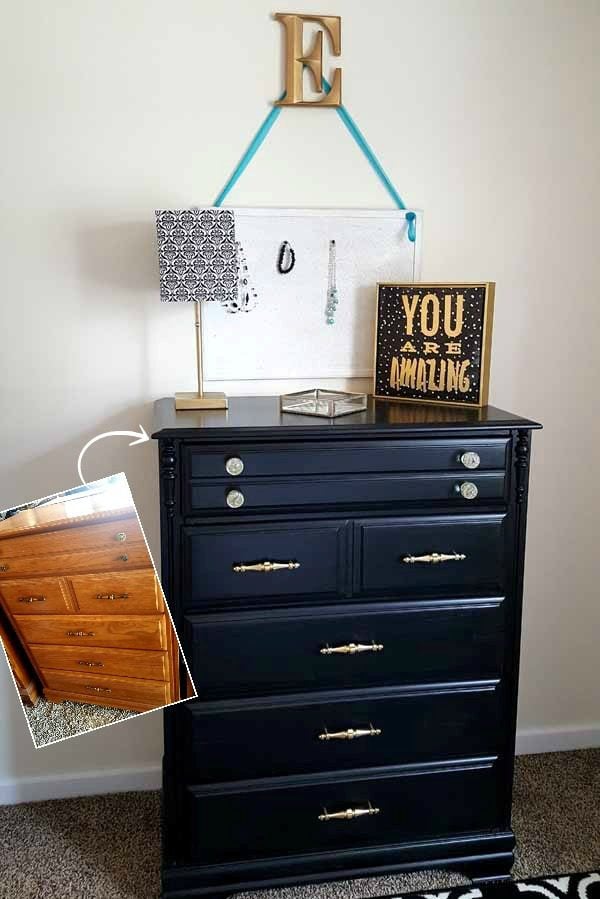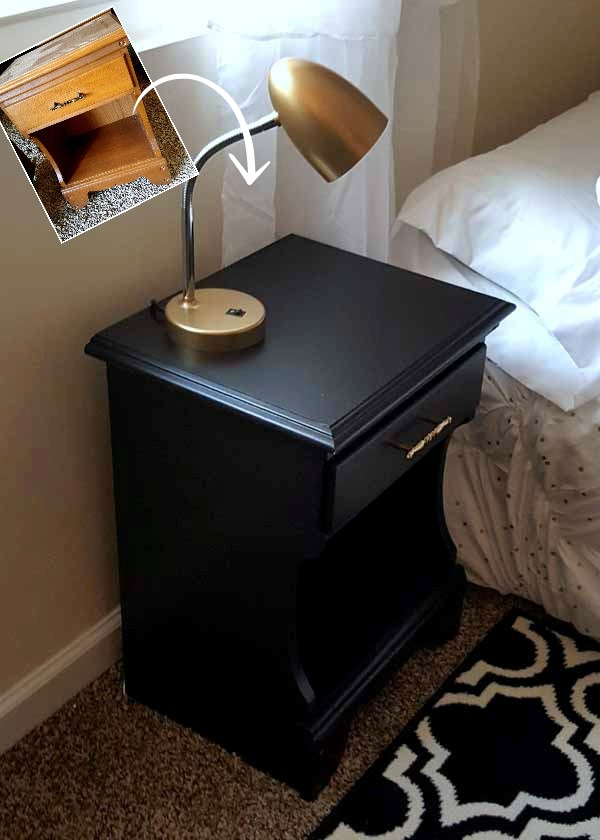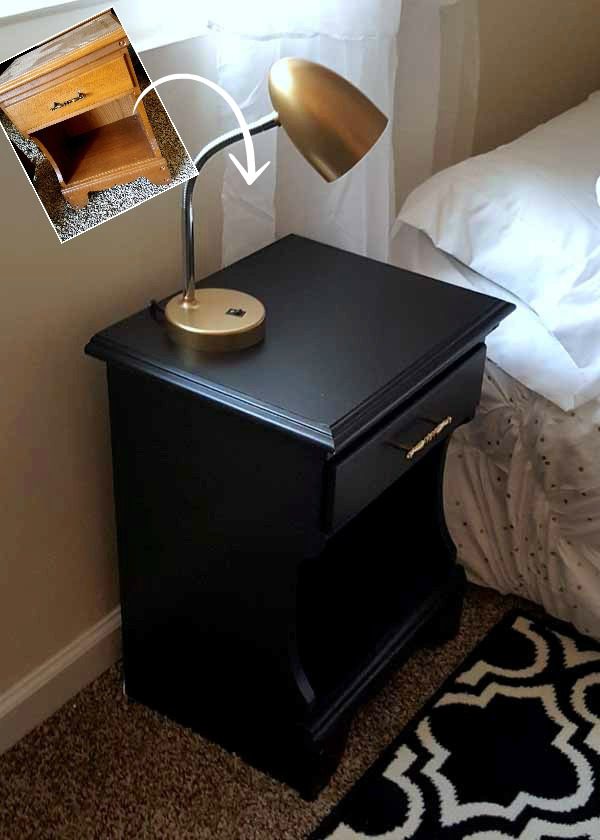 To see the other room reveals, check out the links below:
Confessions of a Serial Do It Yourselfer (boy's bedroom)
She Buys Cars (Fadra) (kitchen)
French Country Cottage (laundry)
Two Thirty Five Designs (master bedroom)
Nestrs (living and den)
…………………………………………………..
What a wonderful experience this was to be a part of.
I can't tell you how happy and honored I was to have been able to participate in this amazing event.
Not only with the other bloggers but with the family who got the surprise of their lives!
I hope you guys enjoyed seeing a glimpse into this family's awesome homecoming.
I'll see you all back here on Friday when I'll be sharing all the fun details, photos (and a video too!) of our yard sale road trip. We had a blast and I cannot wait to share it with you! :)
xo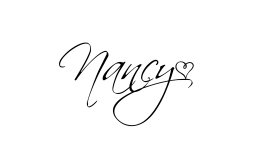 Follow along! –> Instagram ~ Facebook ~ Pinterest ~ Bloglovin
This trip was sponsored by GMC. All expenses were paid by them, however, I was not compensated for participating in or sharing about the trip.