This post may contain affiliate links. Please see disclosures here.
Hey Friends! Time for some outdoor decor. I'm ready, how about you?
This month's decorating theme is "outdoor decor" and I'm sharing my Thrifty Porch Decor.
My decorating friends are sharing their outdoor spaces and decor tips too.
AND we hope you'll jump in and share yours as well!
We have the Facebook group just for you. Come by and join if you haven't already.
………………………………………………………
You might remember this bench I shared last week.
It's made out of a twin headboard I found at ReStore.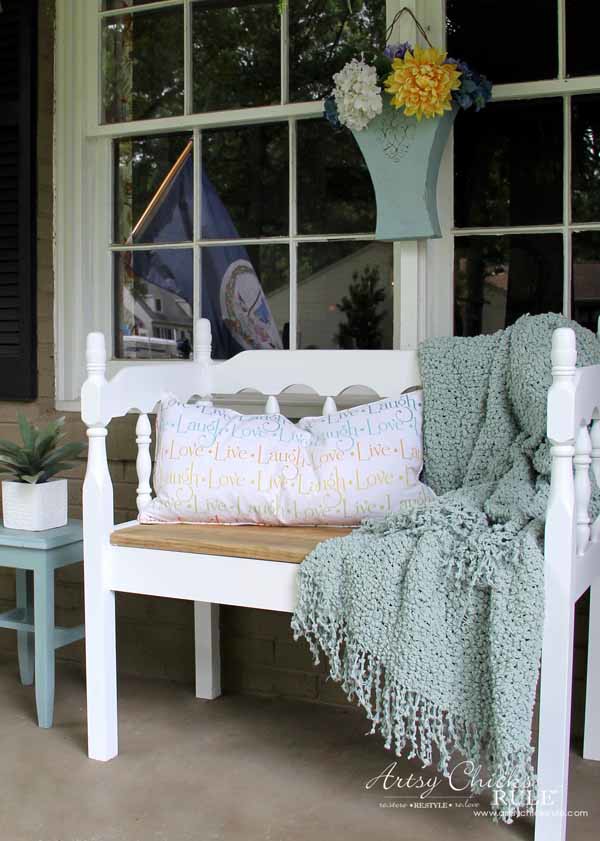 I'm just loving it up on my porch.
I had old wicker (OLD) white furniture up here that really had seen it's last days.
I finally put it out of it's misery. ;)
I decorated my porch with old thrifty finds and by recycling some items from inside my home and my back porch.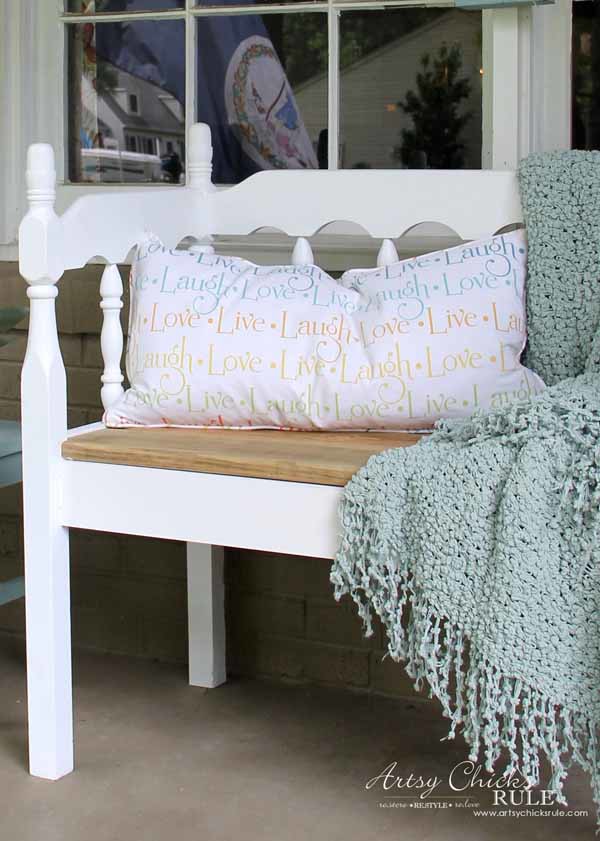 The pillow, however, is new. It came from TJ Maxx.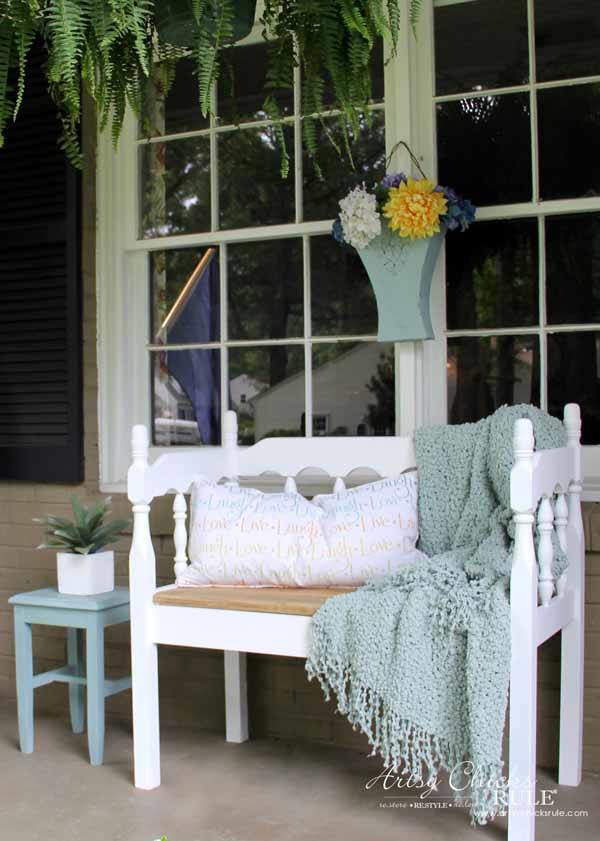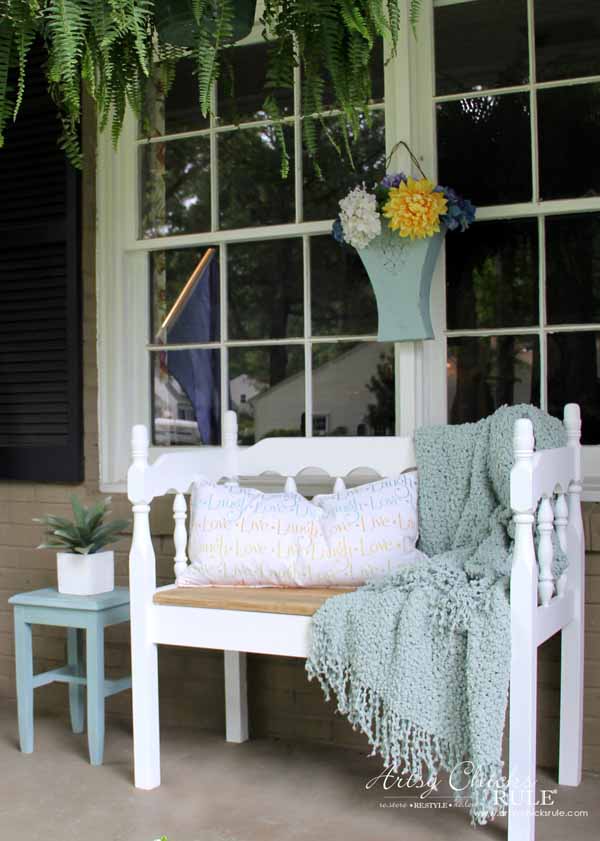 I just love it and the saying written all over it.
The little table was a thrifty find I had painted coral.
I recently painted it blue to use on the front porch.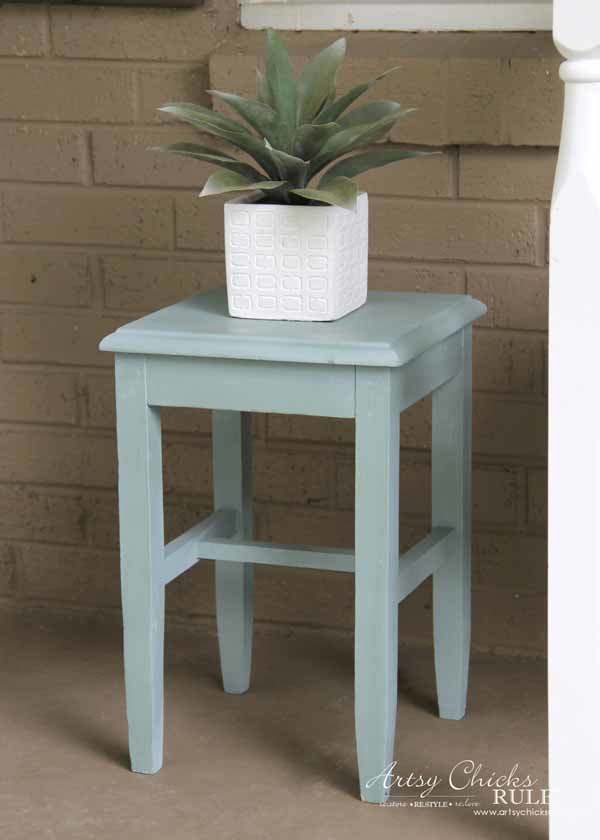 The faux succulent is from TJ Maxx.
This little hanger used to be a copper/bronze color but I painted it with Duck Egg Blue a few years ago.
Filled with some artificial flowers bring some nice color to the porch.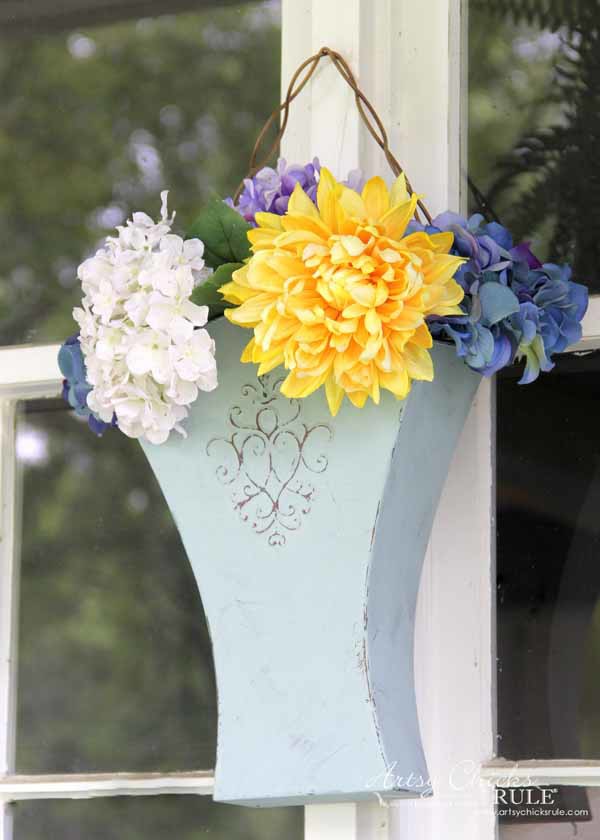 The hanging ferns are new too. ;)
I adore ferns hanging on my front porch.
It gives me the relaxed, southern feel I am after.
The two rockers below were found a few years ago at a local flea market.
They were $50, $25 each. STEAL!
Thrifty porch decor, for sure!!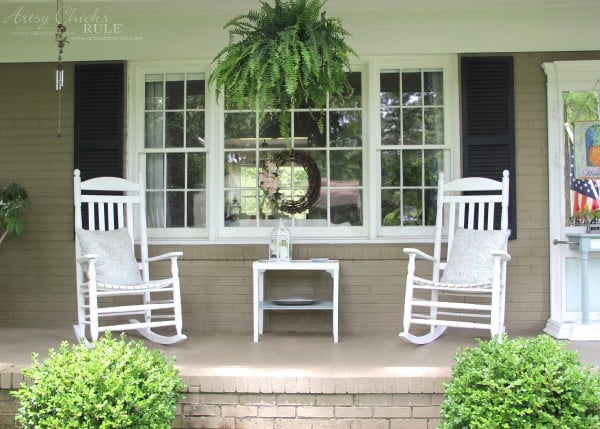 I only just gave them a light touch up with my fab new sprayer.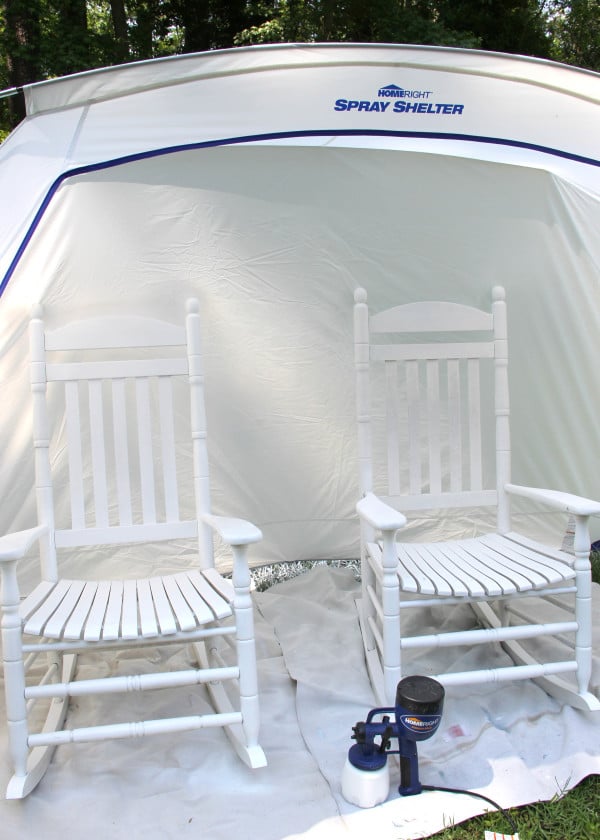 They look like brand spanking new!
Sprayer and Tent and paint I used: (affiliate links, disclosure here)
Sprayer
Tent
Paint
I made the wreath on the window last year. You can see the tutorial here >>> "DIY Spring Wreath"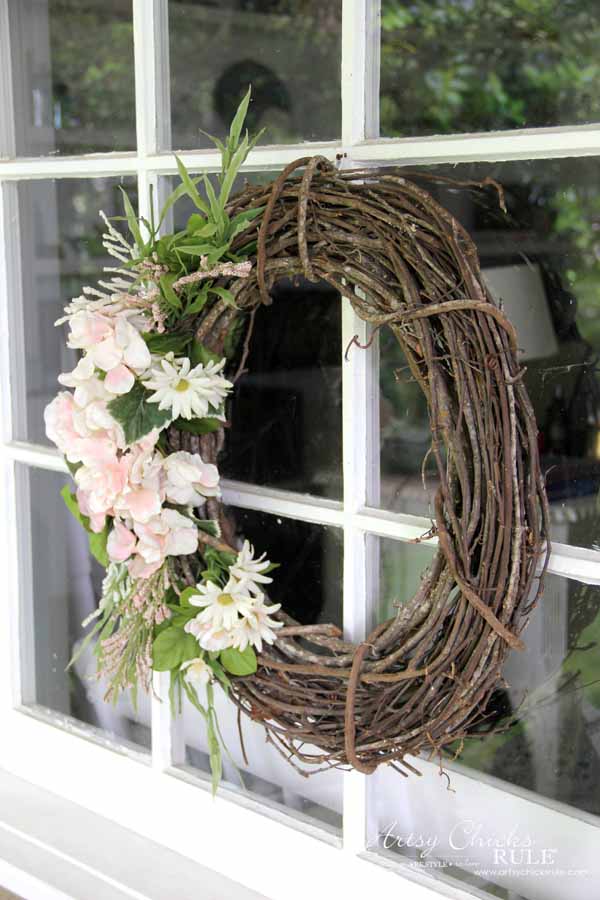 The little table in between the rockers is also a thrifty makeover.
It's done very well out here for 2 years and hasn't needed a paint touch up.
You can read about it and what I used to paint it with here >>> "Two Tone Side Table"
I wish I could find two more rockers just like these for the other side of the porch.
Looking, but no luck yet.
So, here's what I would do with at least one more rocker…..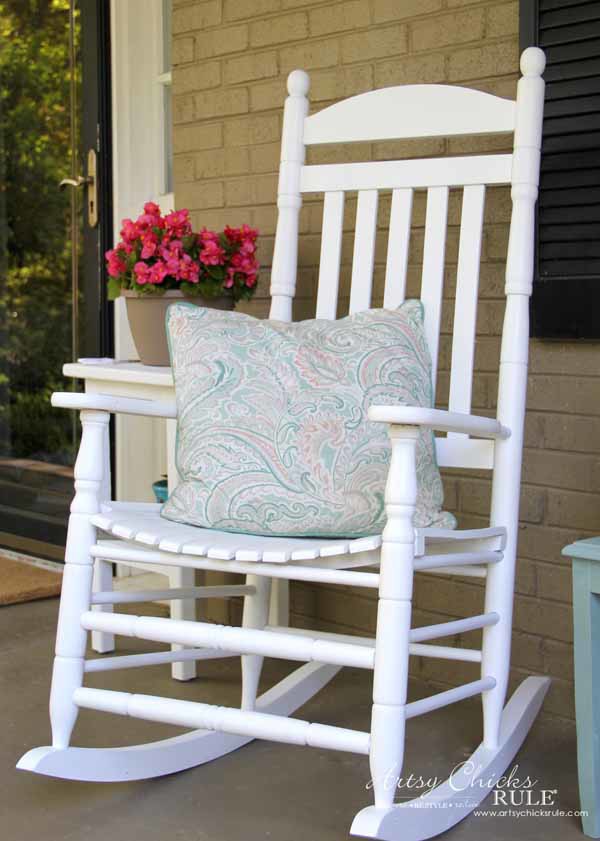 I'd put it beside the bench on this side of the porch.
Or if I found two, one on either side.
I will not buy new, I will not buy new, I will not buy new… ;)
They are pricey! Especially after finding these in such great condition for so cheap.
I just can not do it.
The little white table to the left of the rocker is an old thrifty makeover too.
I just painted it white so now it's also a "re-makeover".
You can see the first makeover here >>> "Grain Sack Side Table"
I still have the hall tree out on my porch too. You can read about that thrifty makeover here >>> "Hall Tree Porch Decor"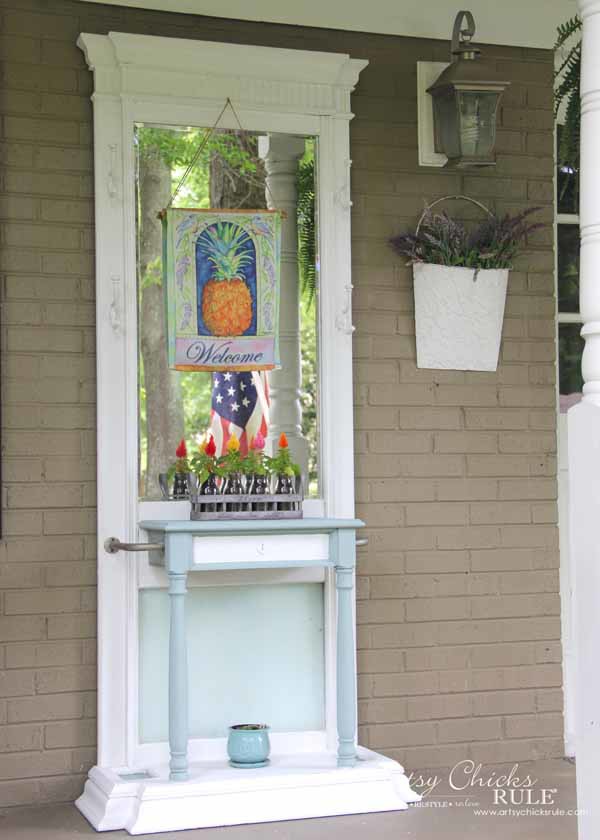 It's been a few years so I did have to give it a bit of a touch up too.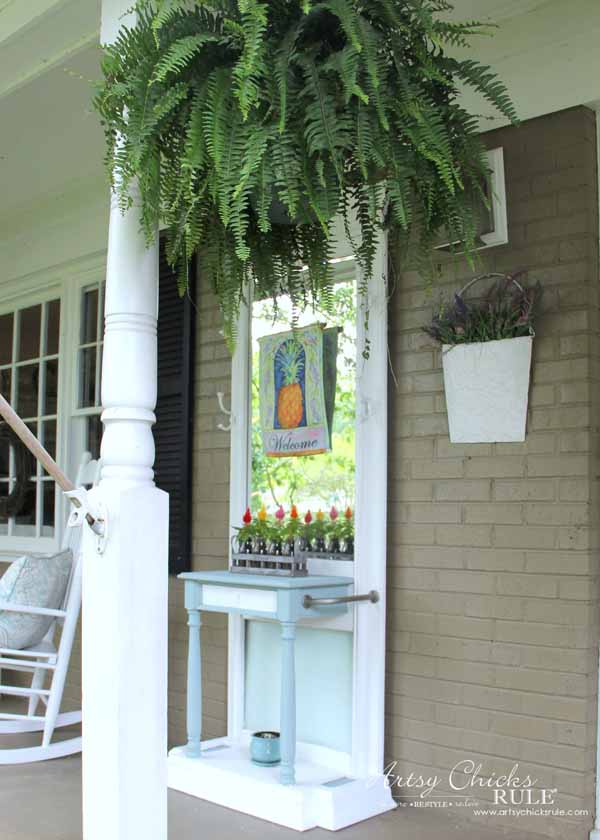 And look y'all….the Celosia I planted are doing well!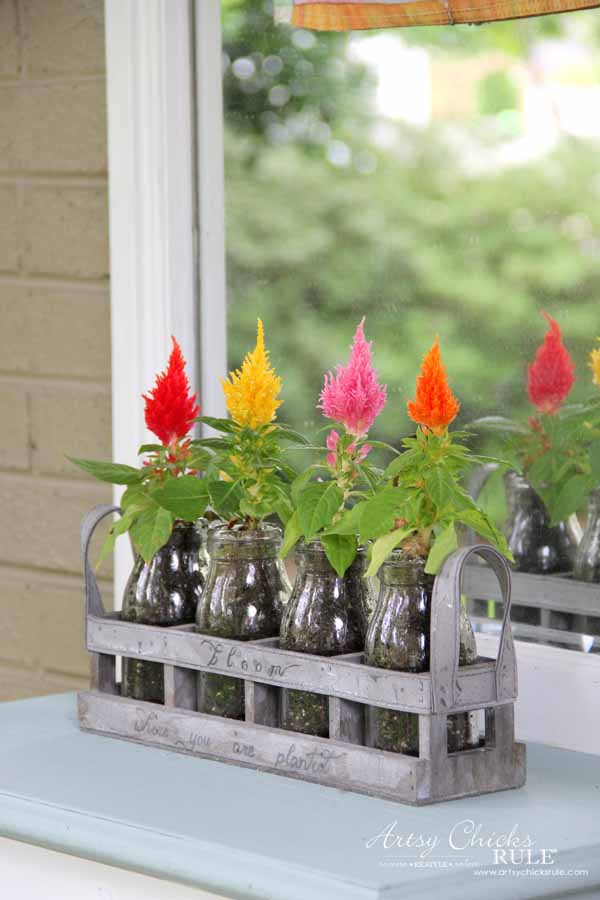 So happy about that. :)
That was last month's "decorating" post. You can read about it and the planters here >>> "Unique Planter Ideas"
My porch is so welcoming that even a little birdie decided to call it home.
Inside of this….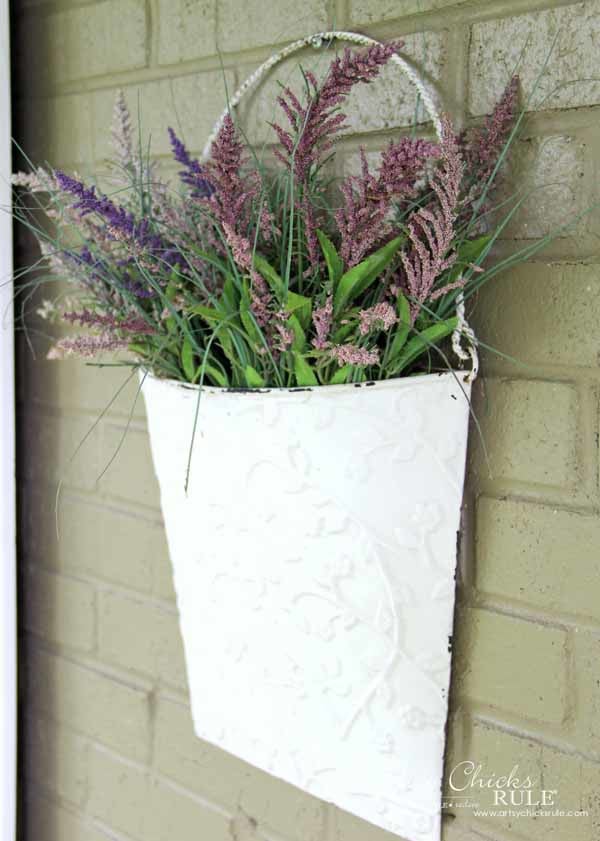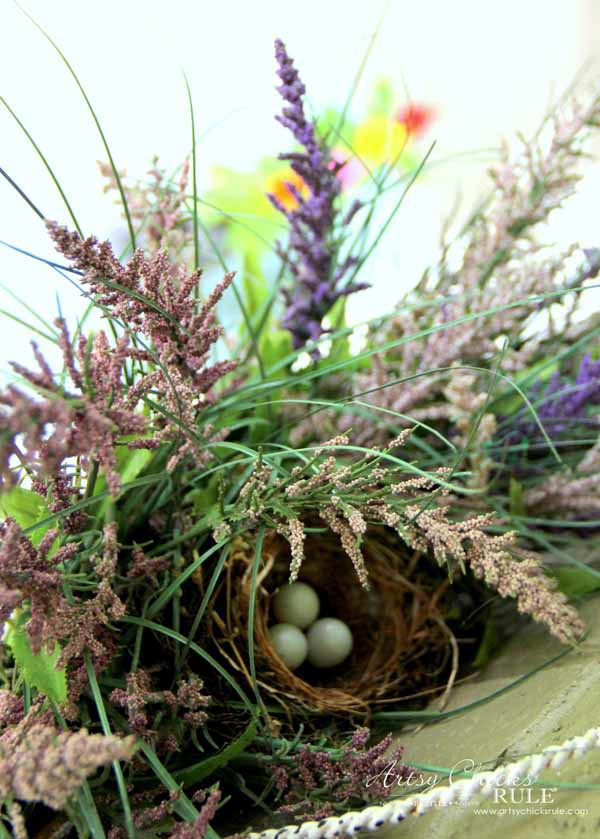 ….right by my front door.
So every time we go in or out, that bird dashes in a flash!!
Scaring the heck out of me every time!!! haha
You'd think I'd remember and be prepared for that woosh as it flies overhead!
Nope!
They still haven't hatched yet. I've got a bit of wooshing to go yet! ;)
And here's a few random things I'm using out back on the patio and screened porch.
I'll be sharing those with y'all too in the next few weeks.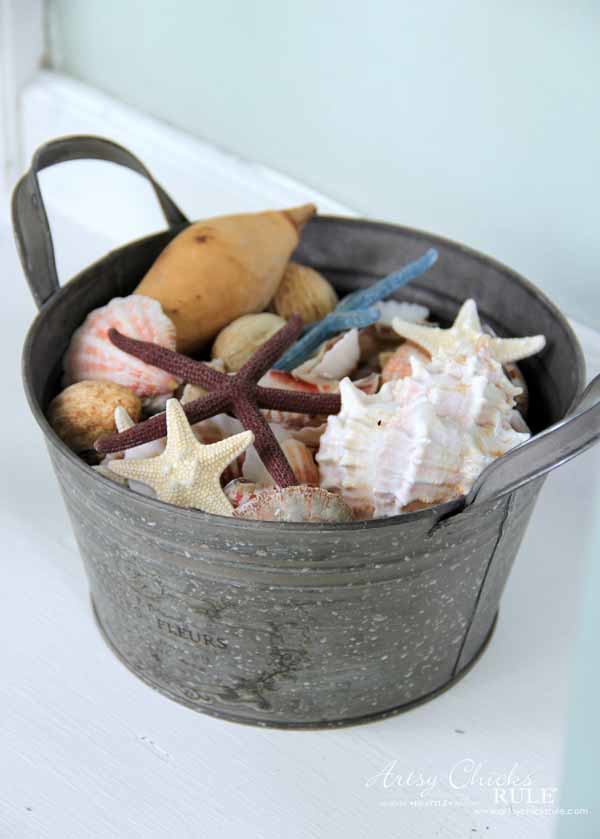 A simple little pail filled with shells.
The pail came from Michael's at 25% off of the already 50% off price tag.
The shells were recycled from in the house.
A succulent planter….love.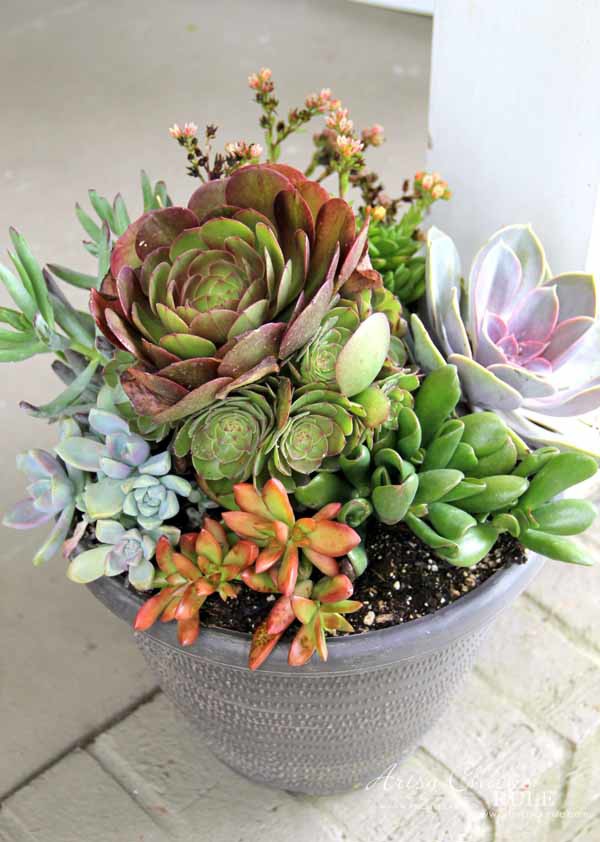 And pretty new turquoise planters for my flowers….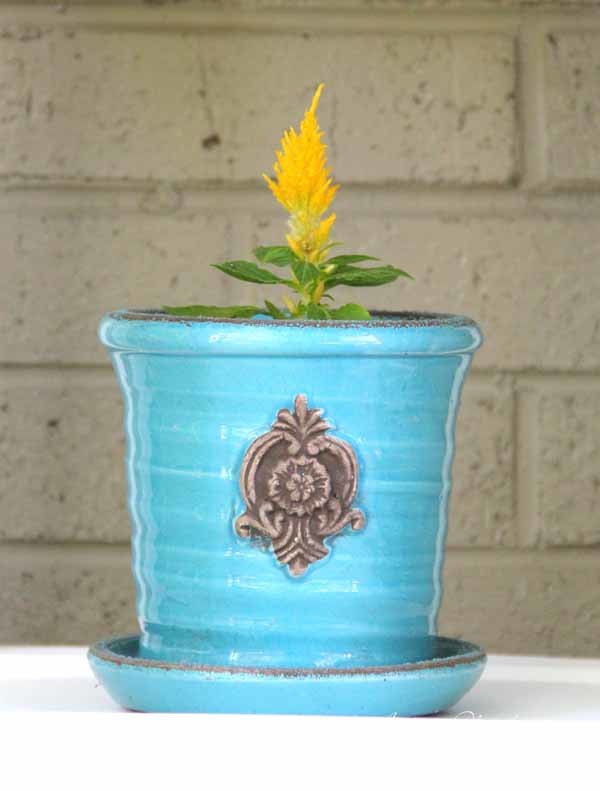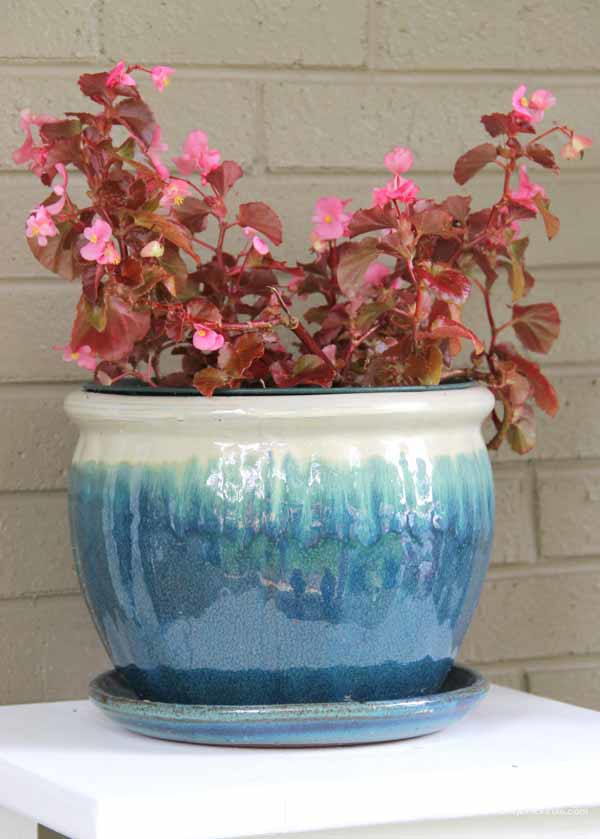 So as you can see, I only purchased a few things.
Everything else was thrifty finds, old and re made over or recycled making for very thrifty porch decor!
PIN this for later for tips on decorating outside on a budget! :)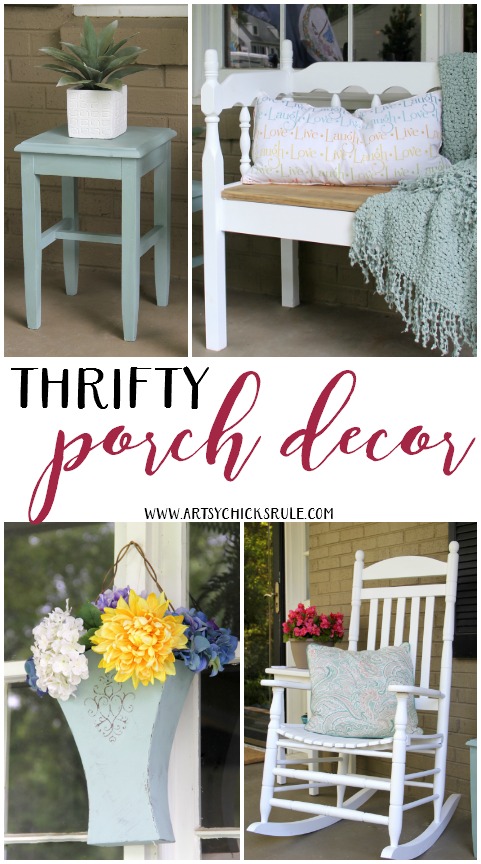 Now let's see what my friends have been up to with their outdoor decor this month…..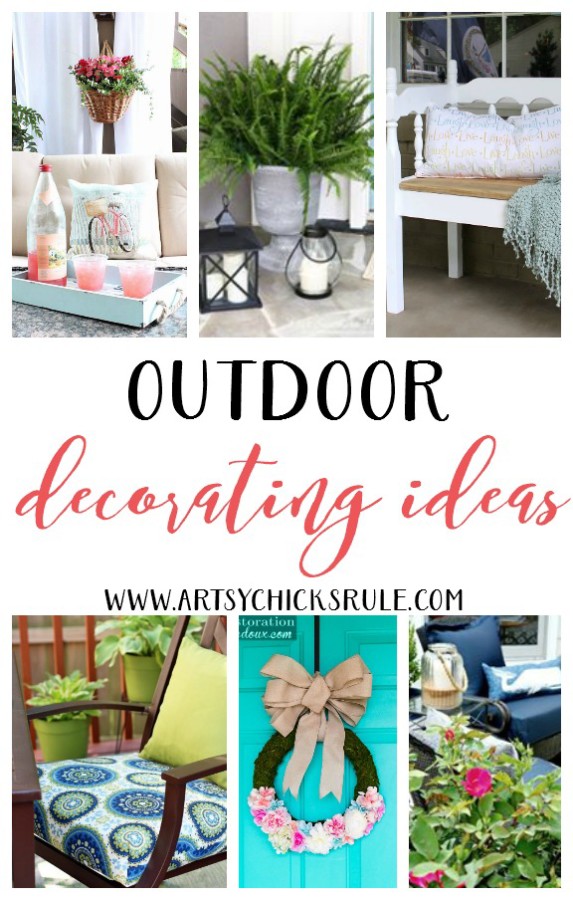 Refresh Restyle / Our Southern Home / Artsy Chicks Rule (me)
Confessions of a Serial Do It Yourselfer / Restoration Redoux / Duke Manor Farm
Want to play along with us? You can!!
Take pictures of your "Outdoor Decor" and share them with us on our Decor Enthusiasts DIY Forum   (over on Facebook)!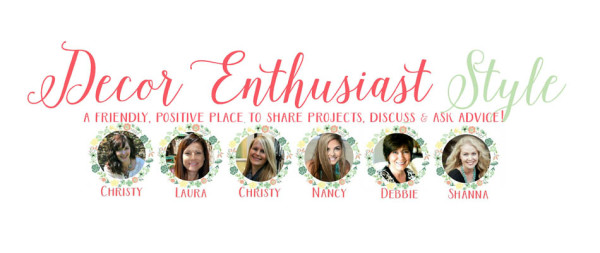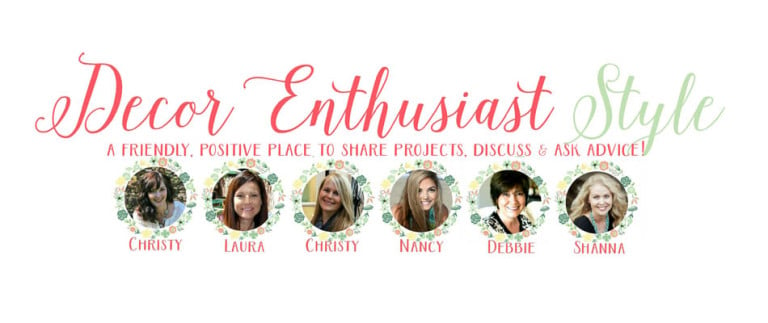 But wait! There's more! Let's play on Instagram too!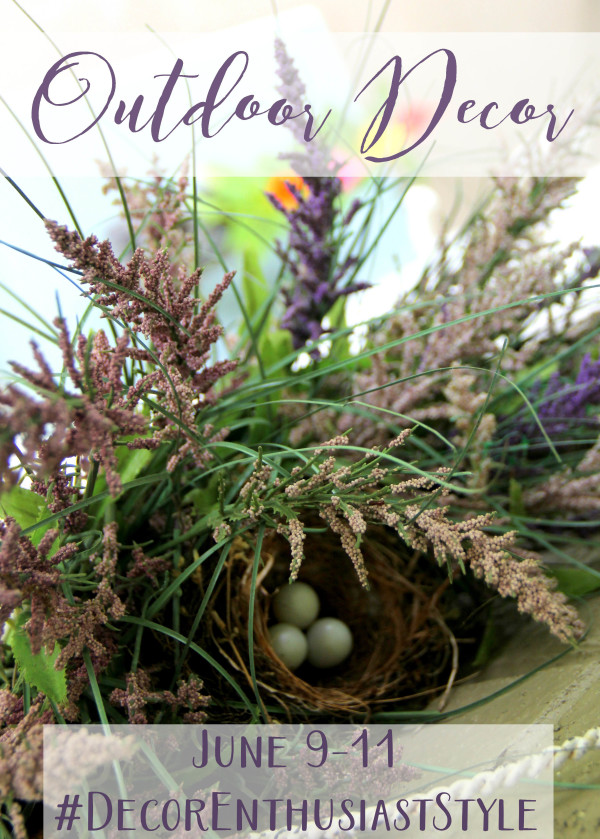 Here's how to play:
1. Add your own photo on Instagram starting today (6/9) through Saturday.
2. Tag it with the #DecorEnthusiastStyle hashtag
3. Follow all six of your hostesses here:
@confessionsofaserialdiyer   / @artsychicksrule / @oursouthernhome
@restorationredoux / @refreshrestyle / @dukemanorfarm
4. Tag a few friends to play along!
We will choose one winner that will be featured on all six IG feeds this Sunday!
…………………………………………………………………………………
I'll be back on Monday with my little Beverage Station that I made with The Home Depot.
It's a cutie. :)
Are you gonna make one too? You can! Details are here >>> "Beverage Station DIY Virtual Party"
See you then!
Happy weekend to you.
xo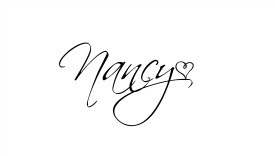 Follow along! –> Instagram ~ Facebook ~ Pinterest ~ Bloglovin