DIY Decorative Clay Pots with Herbs (decorating challenge)
This post may contain affiliate links. Please see disclosures here.
It's themed Thursday — > Decorating Challenge.
We do it every month (and hope you have joined in by now! ;) )
If not, I'll have a link to the Facebook group at the bottom of this post so you can join in next month.
This month's theme — "decorating with clay pots".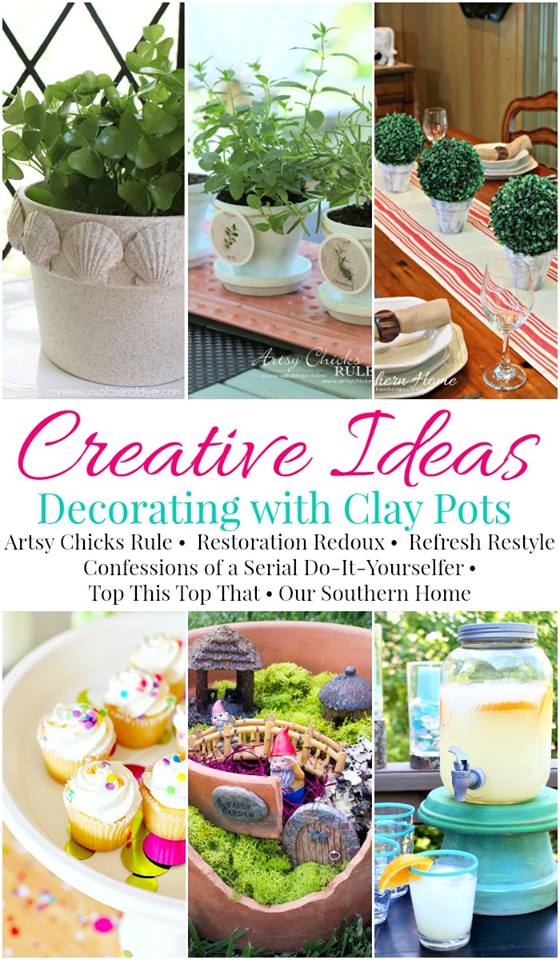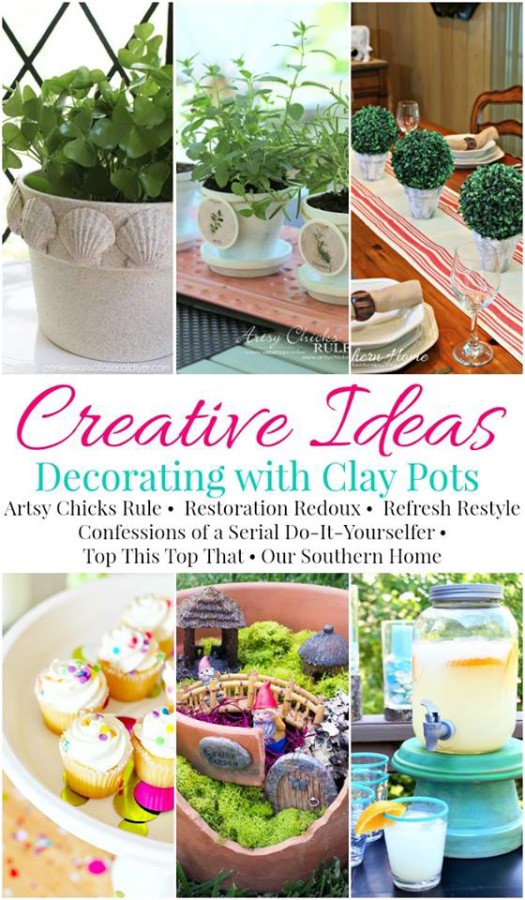 I decided to make DIY Decorative Clay Pots with Herbs.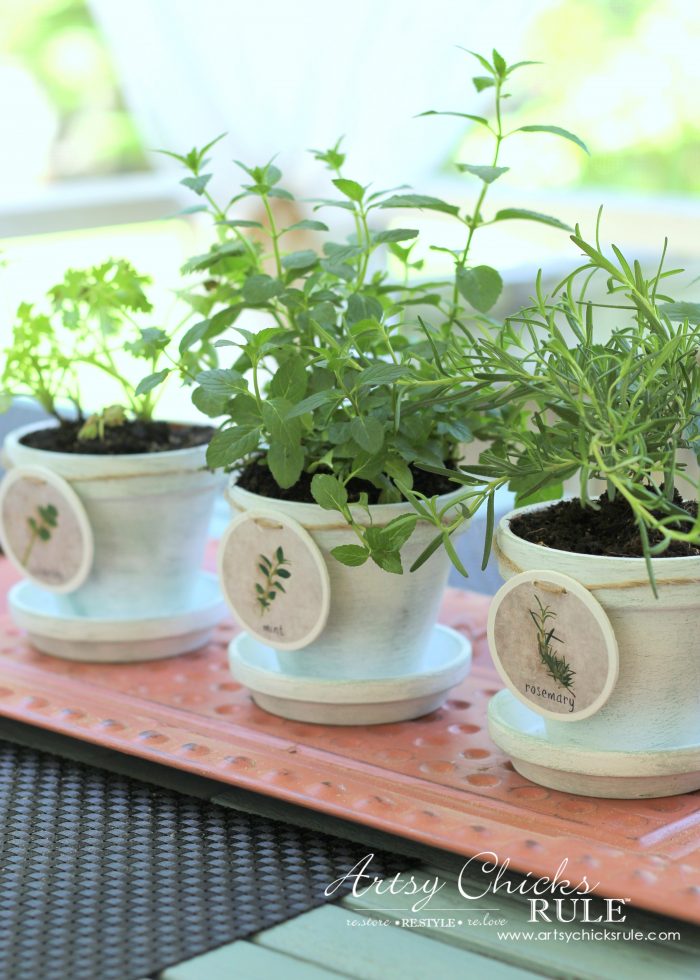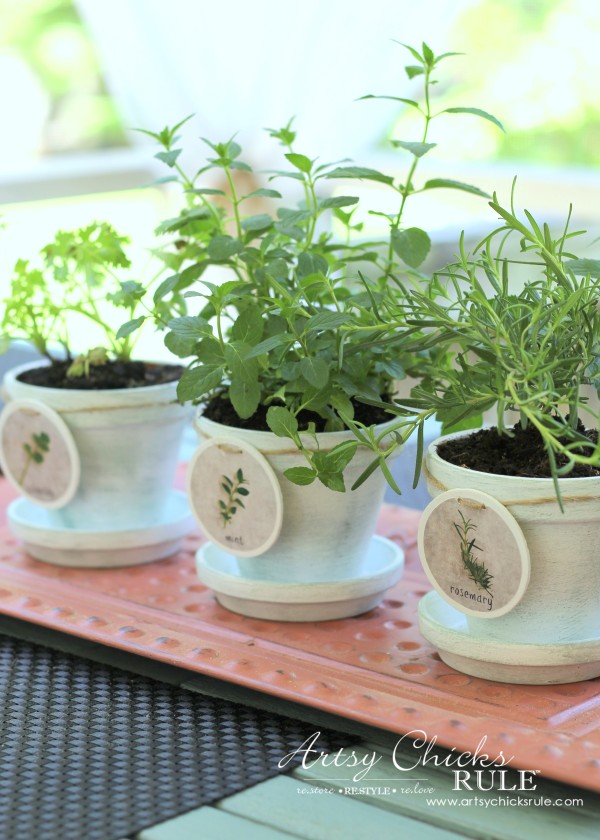 So my clay pots are cute and decorative but also serve a purpose.
They were really easy to do too. That's the best part!
I've always wanted to grow my own herbs but never have.
I bought the 3 pots, bases and round wood medallions at Michael's. (with a coupon, always!)
I bought the herbs at The Home Depot.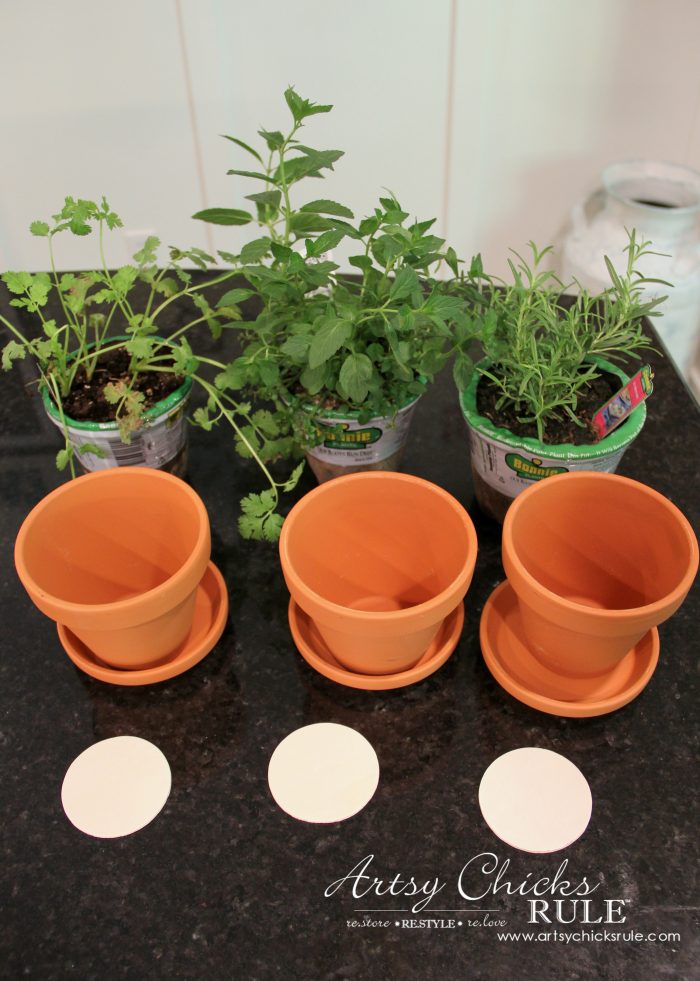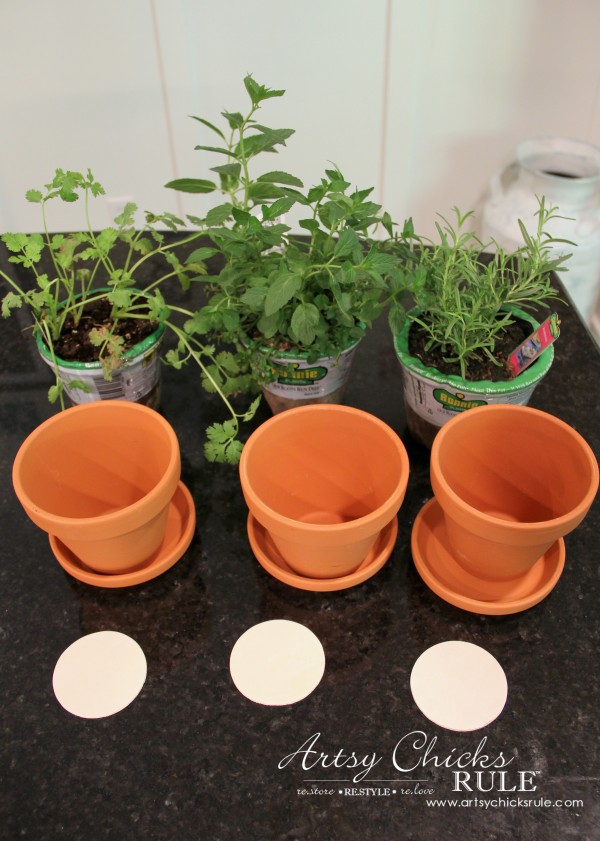 The paint I used was General Finishes Snow White and Persian Blue.
You can use any craft paint however.
I painted them white first.
Just one really quick coat that didn't even cover well. (on purpose)
Then I used a dry brush and dipped the ends into the Persian Blue and wiped almost all of it off.
Then I "dry brushed" that onto and around the pots and base.
You don't want a lot of paint on it at all.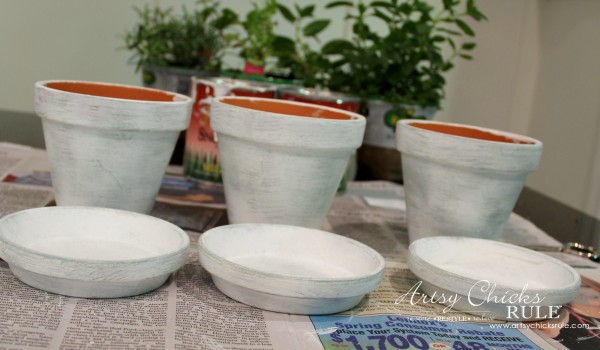 For the photo medallions:
– I snipped a piece of each herb, laid it onto a white background and took a photo with my phone. (Samsung Galaxy S6 Edge)
– Then I used a photo editing app to make it look a bit like watercolor. (Pixlr – "silk" effect)
– Then I edited them again in Picmonkey (cropped them into a circle and added the words)
– Next, print them out in Word to the correct size needed. (I used some white shiny label paper that I already had. You can use regular printer paper and then Mod Podge or glue them to the disks also)
I used this same technique in this post here — > Simple & Thrifty DIY Coastal Wall Art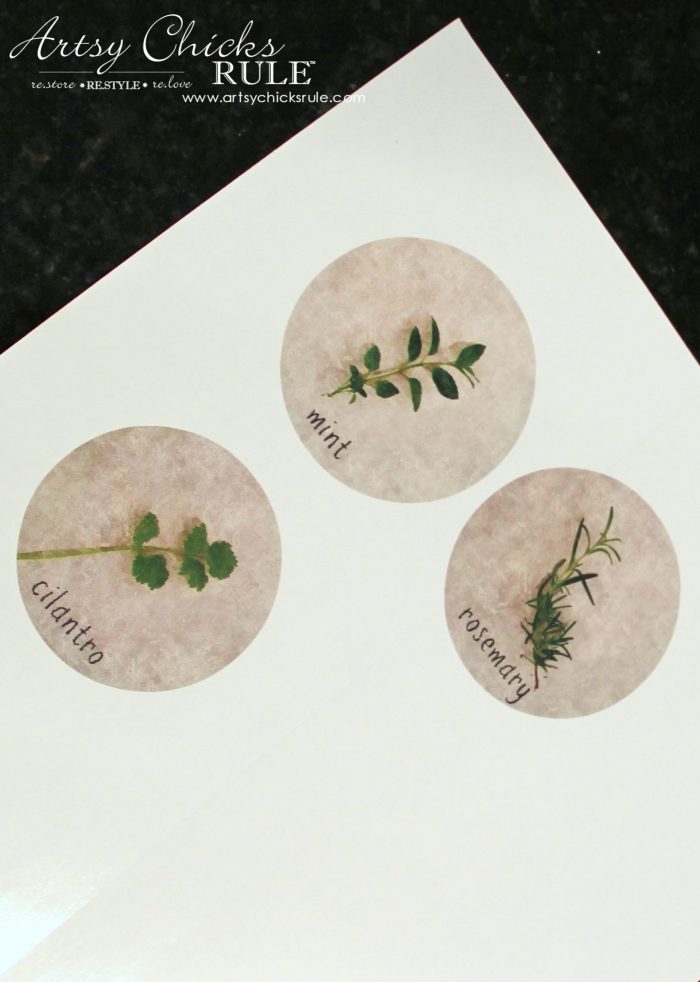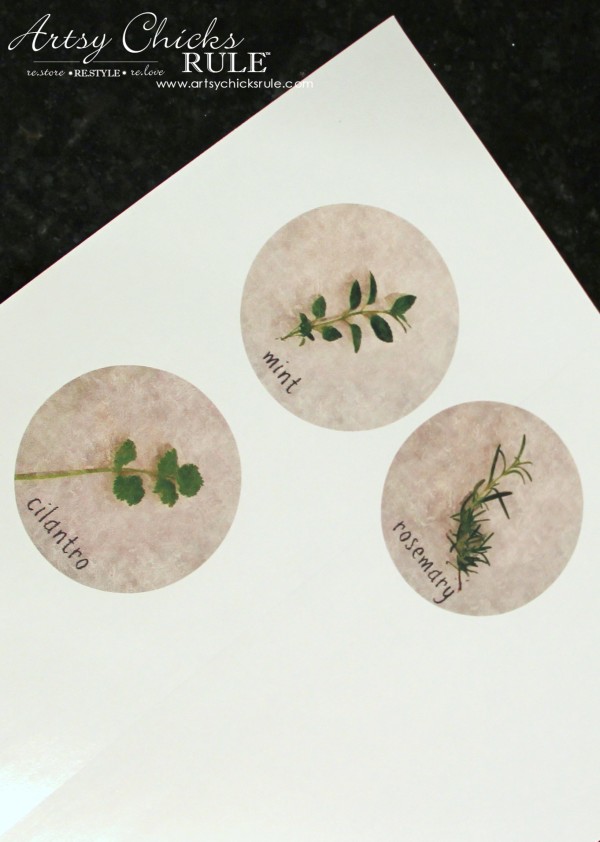 Cut them out and attach to the painted medallions (I painted them white underneath)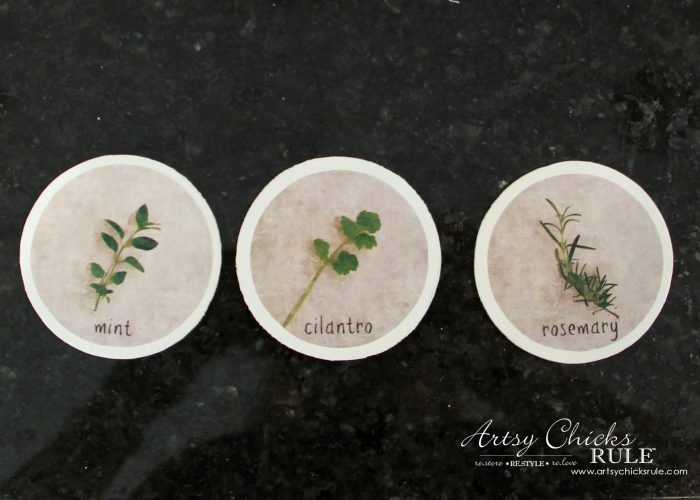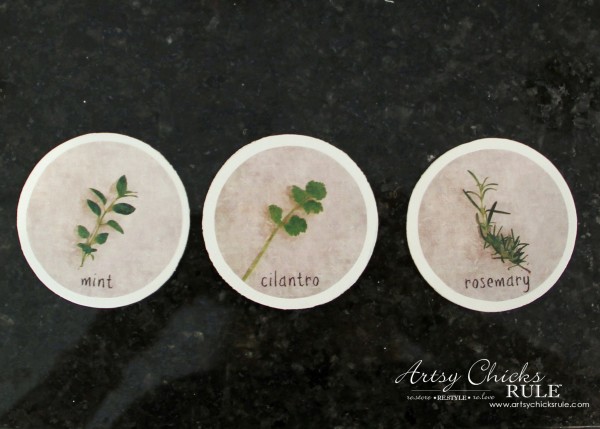 Then once the paint was dry on the pots I transplanted the herbs into the pots.
I drilled two small holes into the top of the "tags" so I could pull a piece of rope through.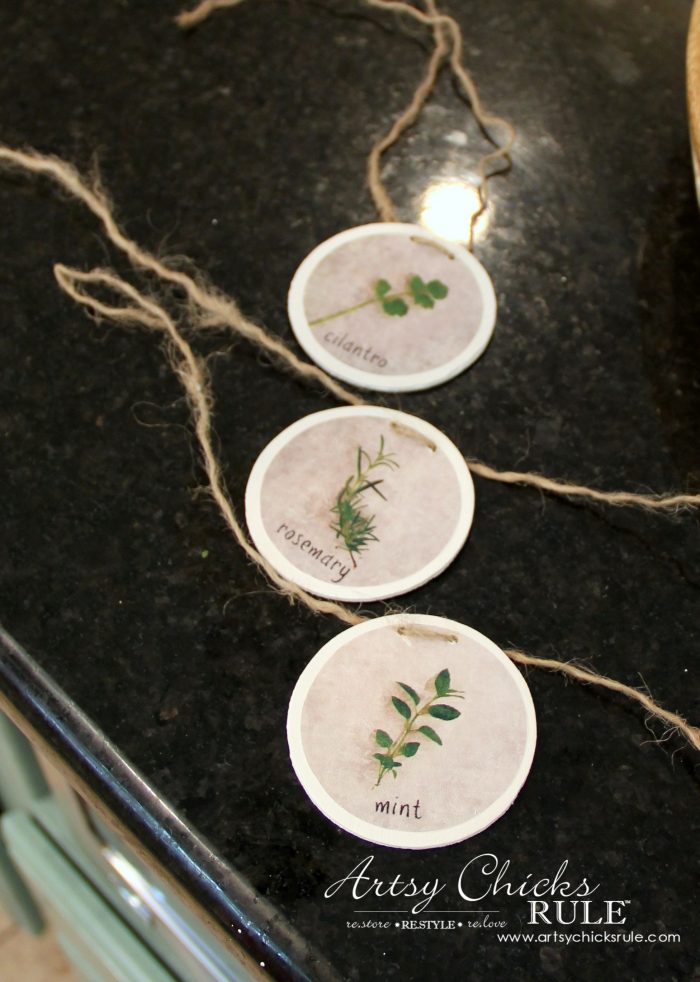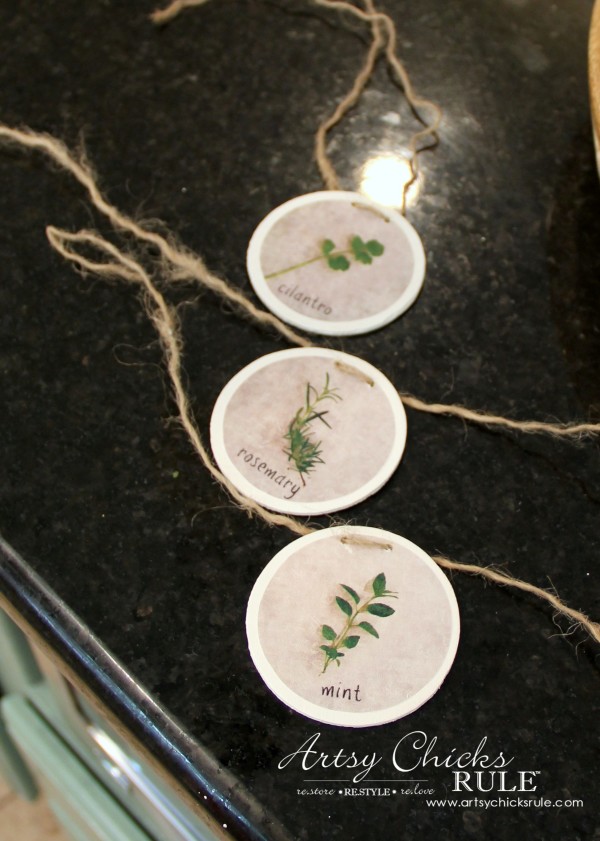 Then I tied them to the jar and …done!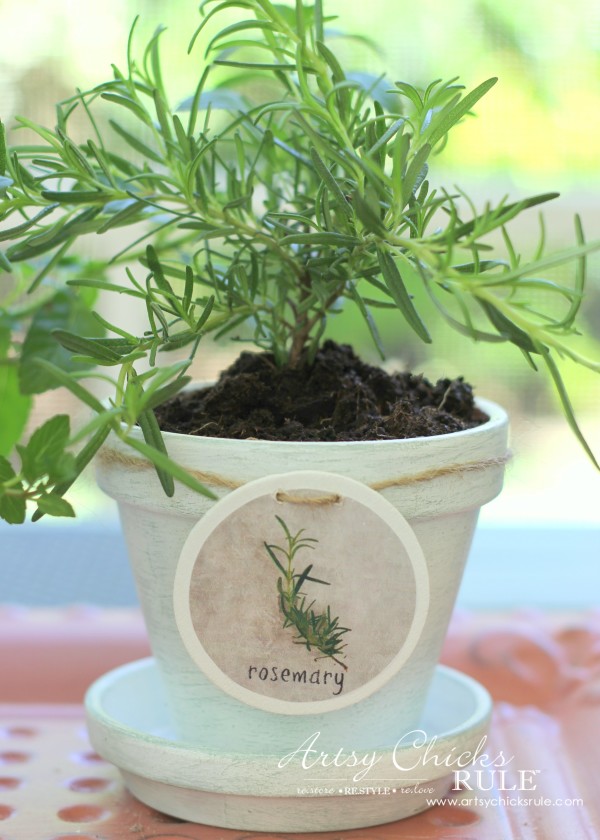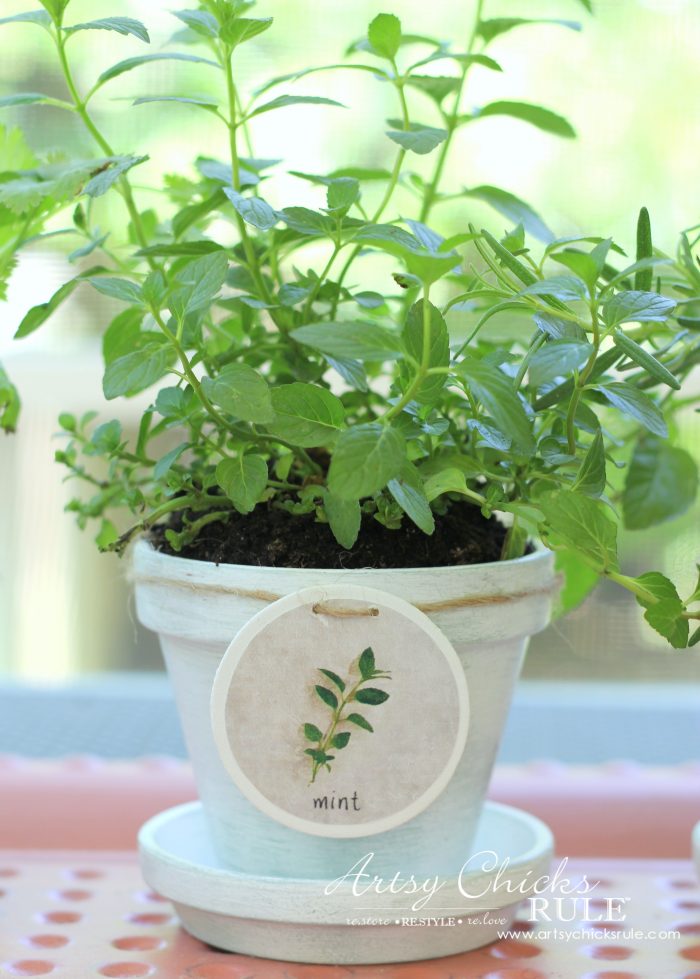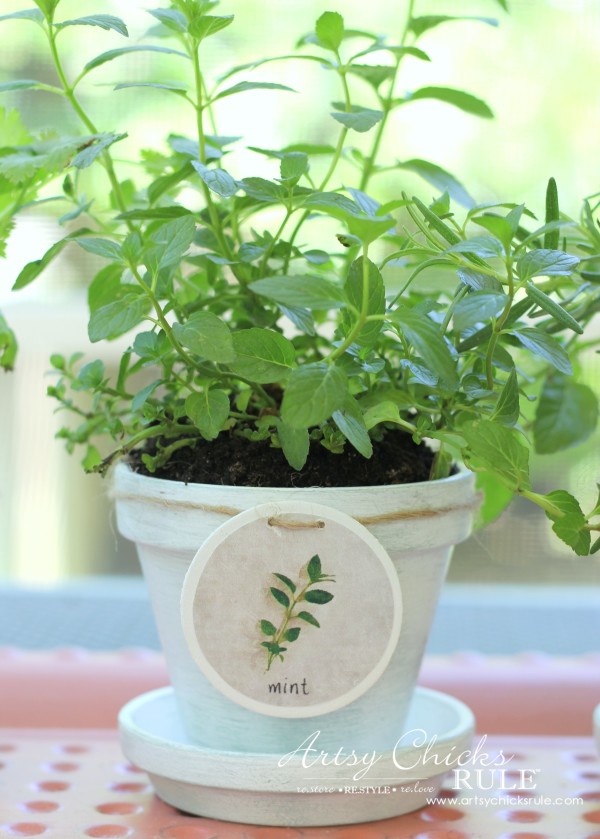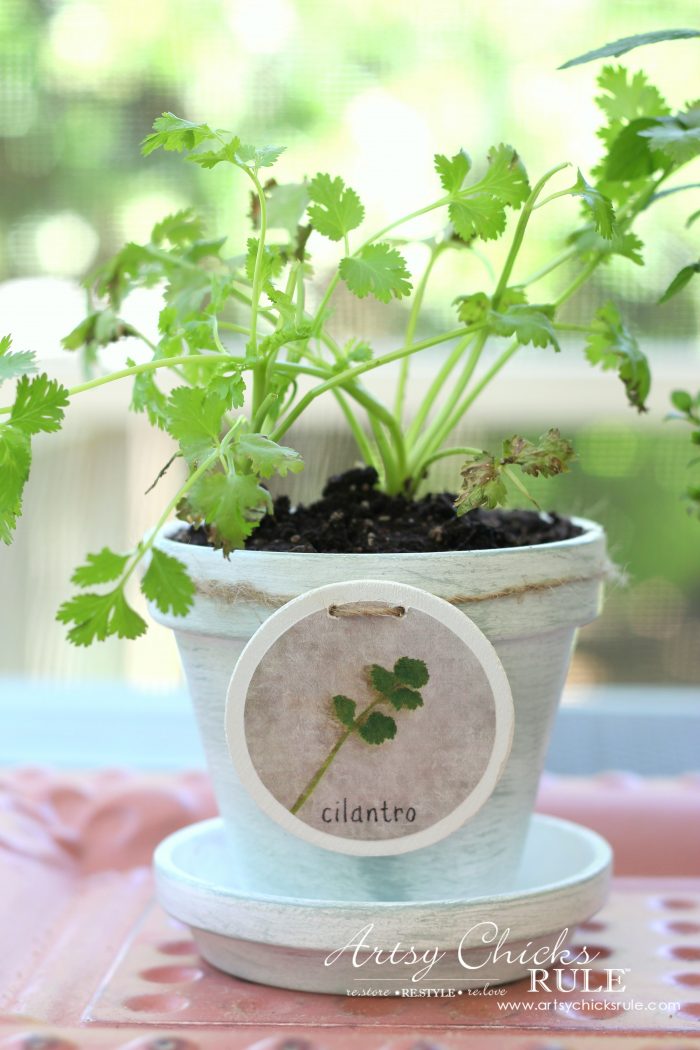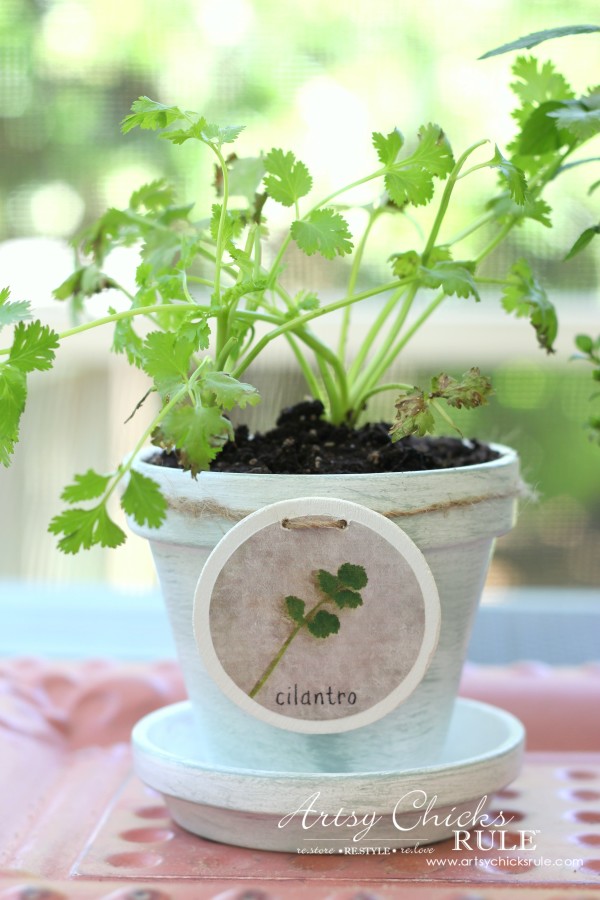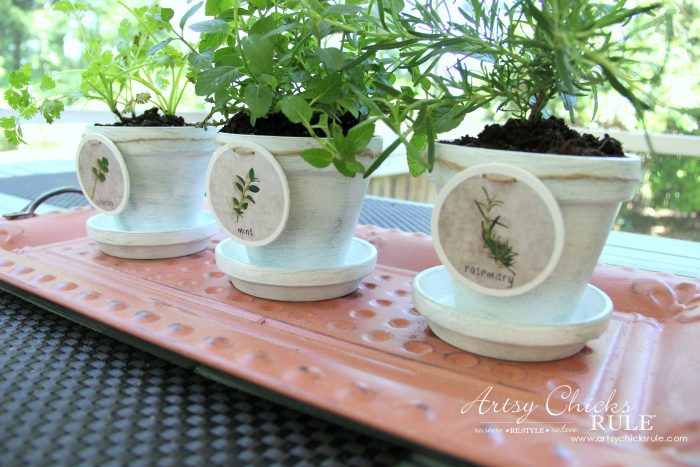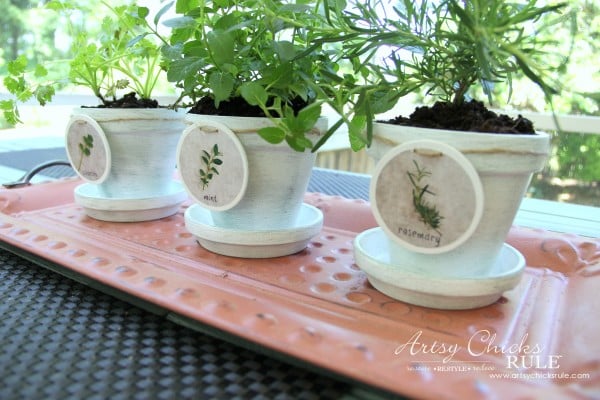 They look great on this coral colored tray (it's Chalk Painted) outside on my screened porch.
I've also had them inside on my island some too.
I'm loving the bit of green they add.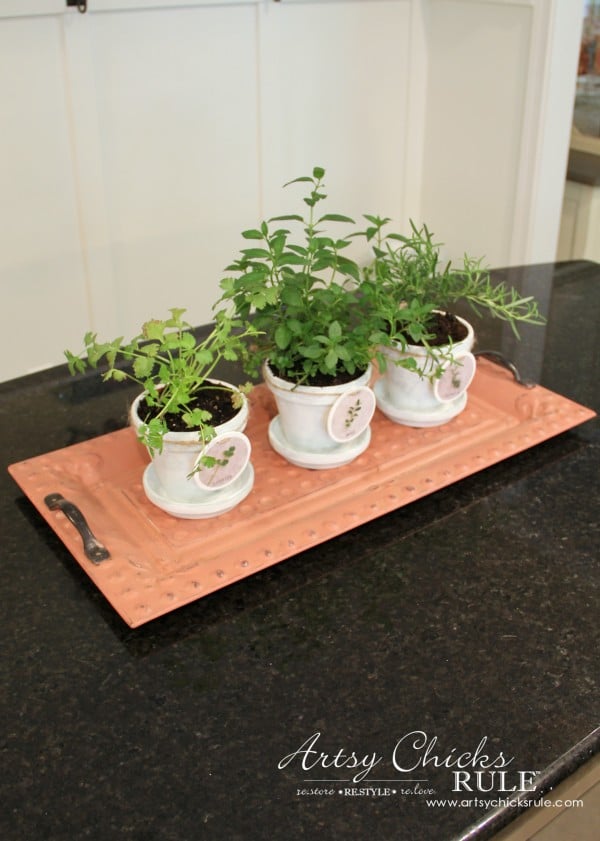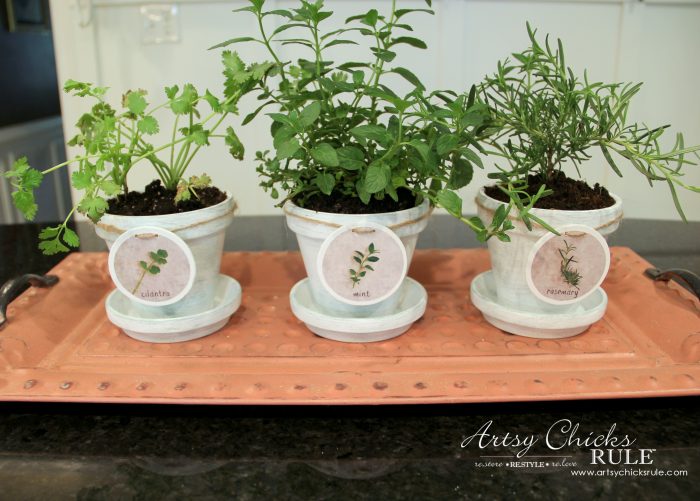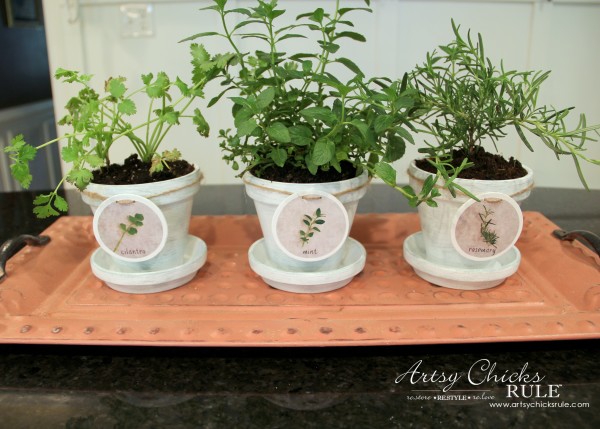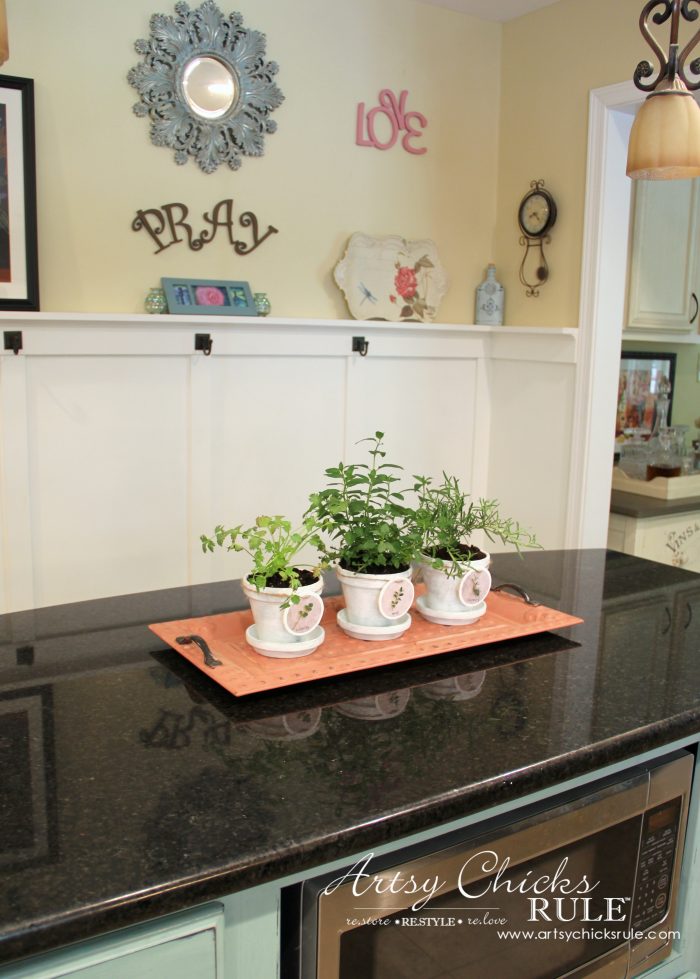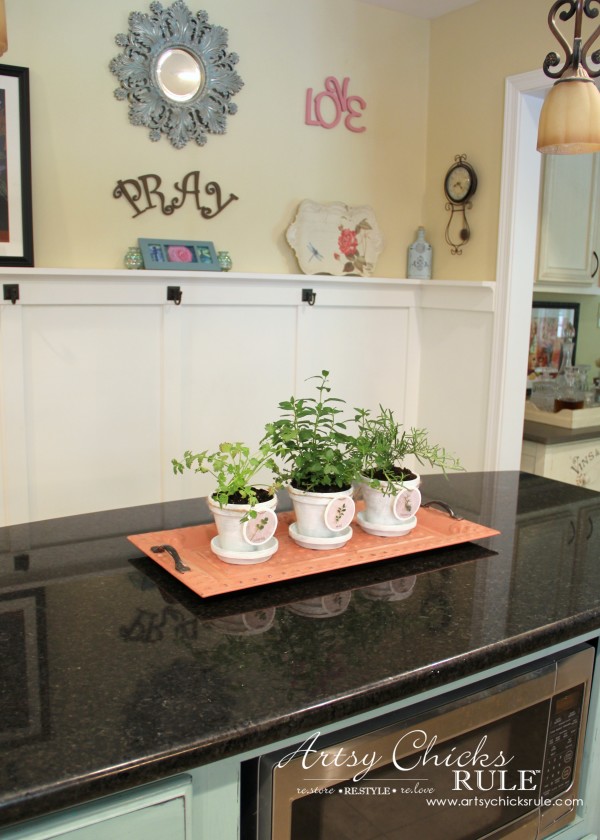 But keep them on the table outside for the mid-morning sun wash they get out there…..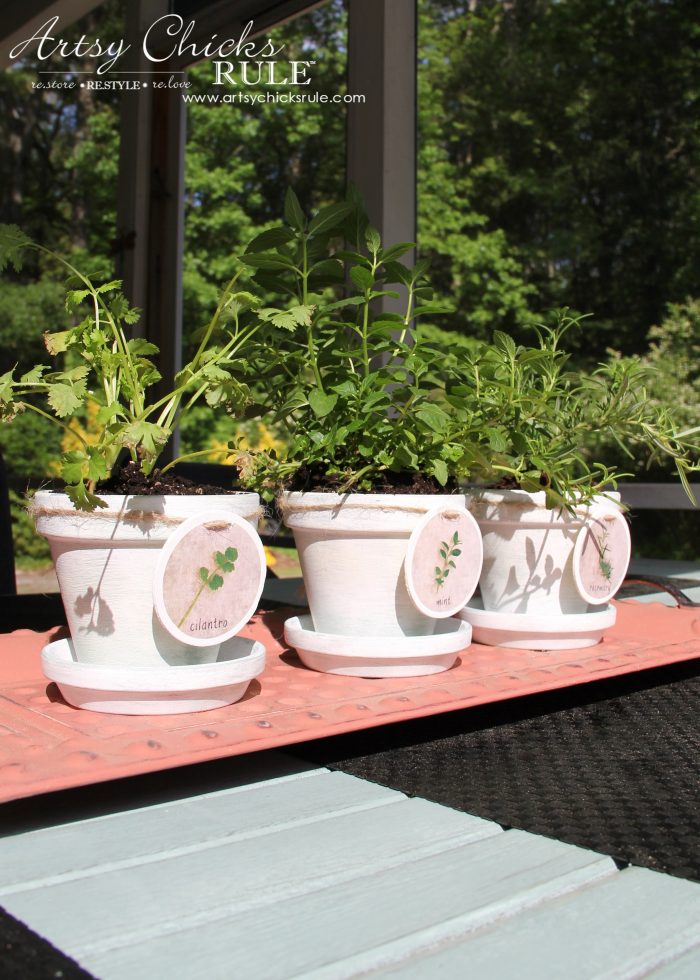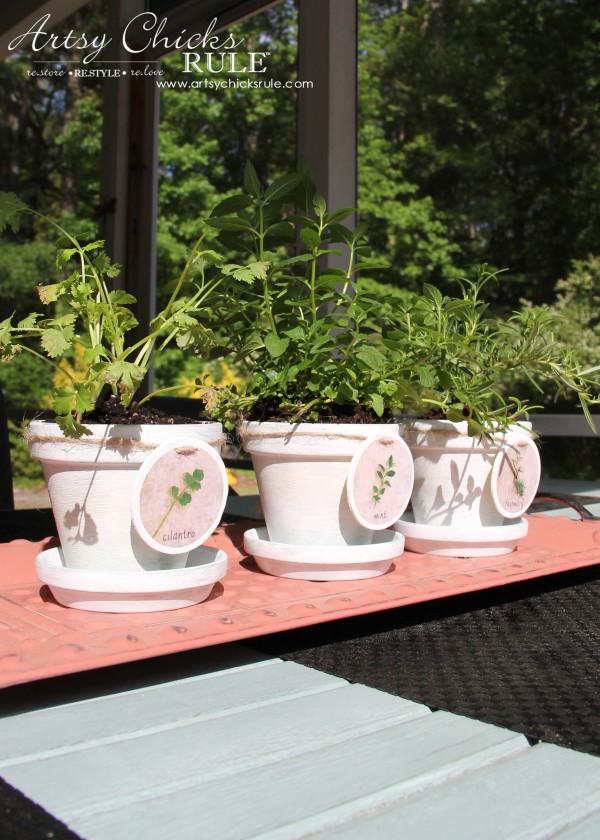 Hope you enjoy if you decide to make some too! :)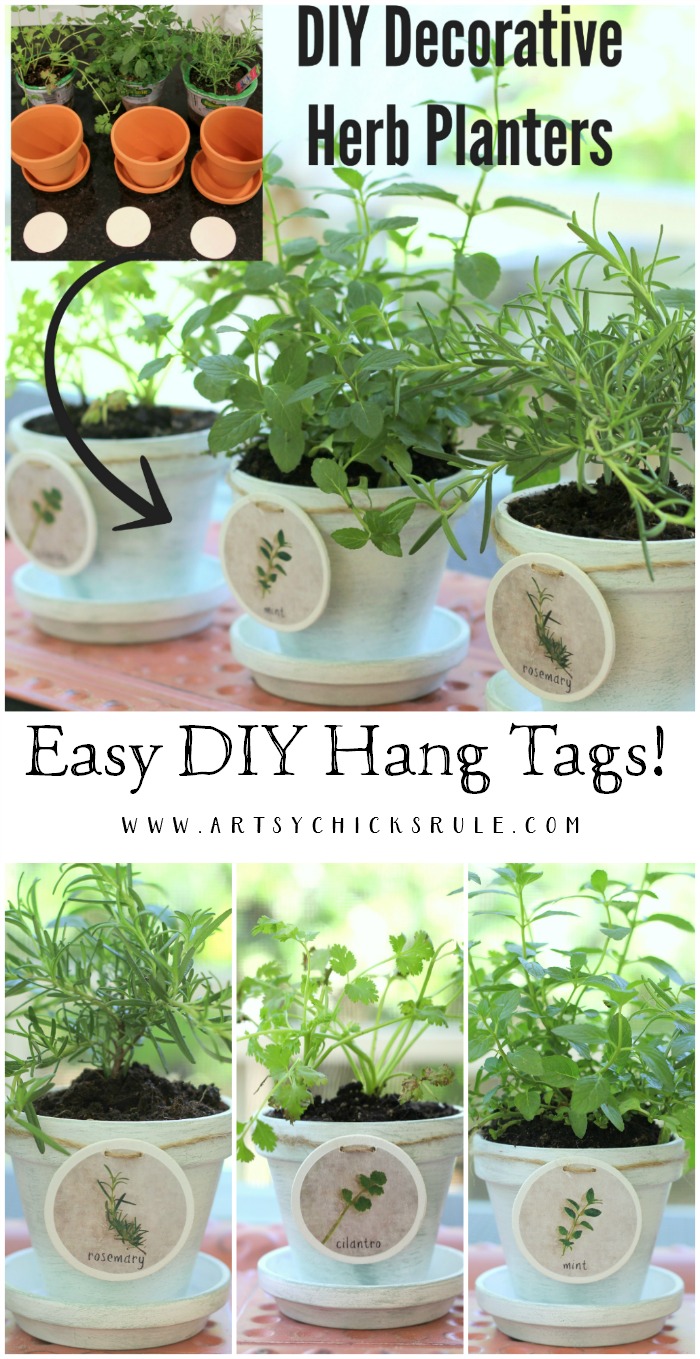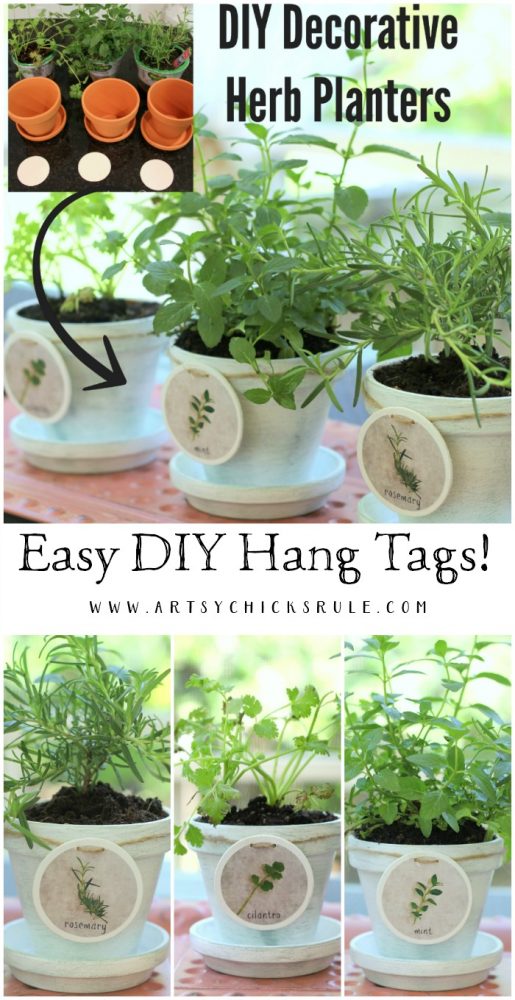 Be sure to check out what my friends did with their clay pots this month too.
And I can't wait to see what you did with yours!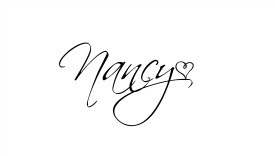 Visit these fabulous ladies below and see what they did for our Clay Pot challenge!!
Our Southern Home • Restoration Redoux • Confessions of a Serial Do-It-Yourselfer •
Artsy Chicks Rule • Refresh Restyle • Top This Top That
AND….. if you don't already, are you ready to participate with us?
You can!

You can share your amazing decorating tips, projects, ask questions and advice in the forum on Facebook specifically created to do just that.
Visit all of us over on the Decorating Enthusiasts Facebook page —>>> HERE.
We have new challenges every month too. We'd love to have you join us!