Dining Room DIY Wall Shelves
This post may contain affiliate links. Please see disclosures here.
Hey Friends! I'm sharing my fun new dining room DIY wall shelves with y'all today. :)
(and a little giveaway too…details at the bottom of the post here)
I just LOVE these shelves! They added so much character to the room.
And they were SO simple to build.
And….truthfully, build is not even the correct term for these. They were just that easy, no real building required.
See?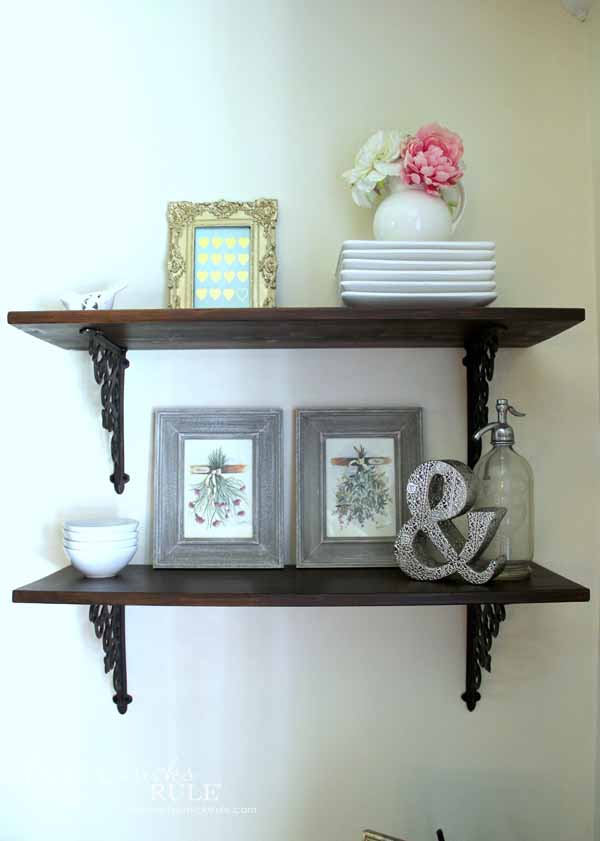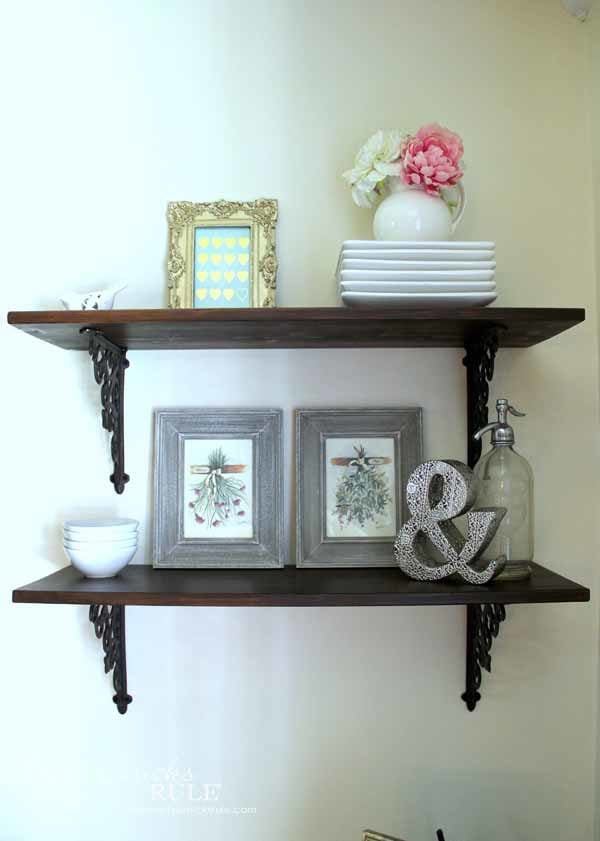 Nothing to them really. Pretty basic DIY wall shelves.
First, I decided what size I wanted, picked the wood, had the store cut to size, came home and sanded, stained, poly'd, attached brackets….and DONE!
Can't get much easier than that.
The products I used are listed below.
I've included affiliate links so you can find the same products I used. See my full disclosure here.
M A T E R I A L S L I S T:
Brackets (mine came from Hobby Lobby)
Wood (your size, as desired)
I sanded the edges to smooth them out and then applied wood conditioner.
Once that sat for 5-10 minutes, I wiped away the excess and applied the walnut/java stain. (I mixed it about 1/2 and 1/2)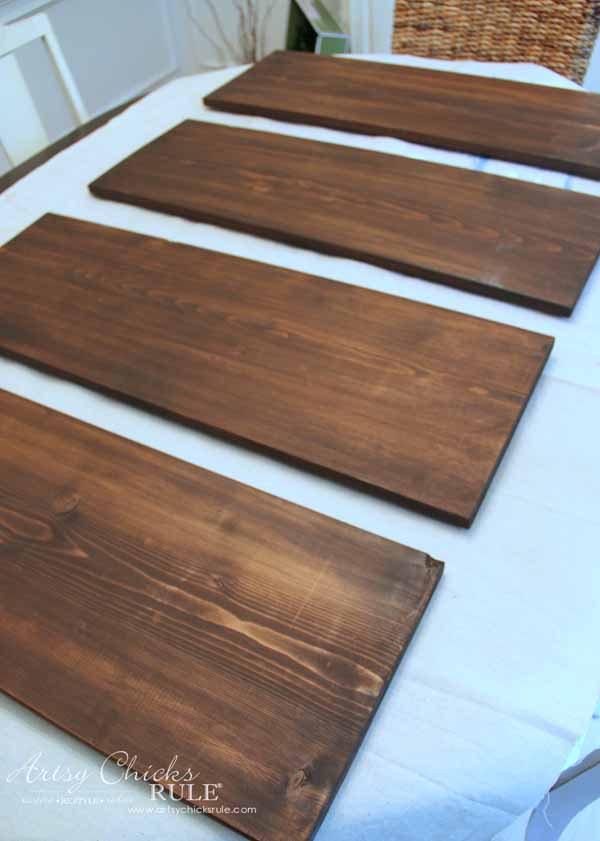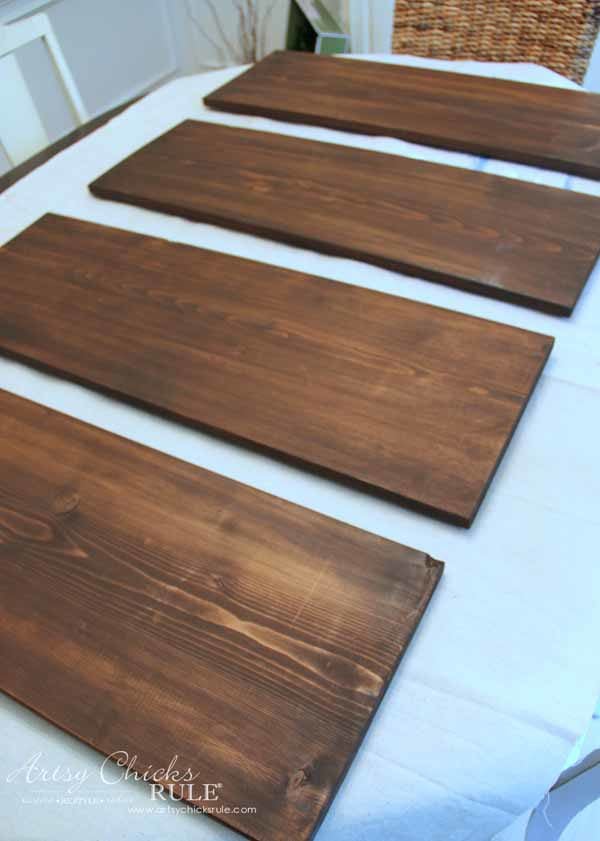 Next, I applied the top coat…. (be sure to follow manufacturer's instructions on wait/dry time, etc)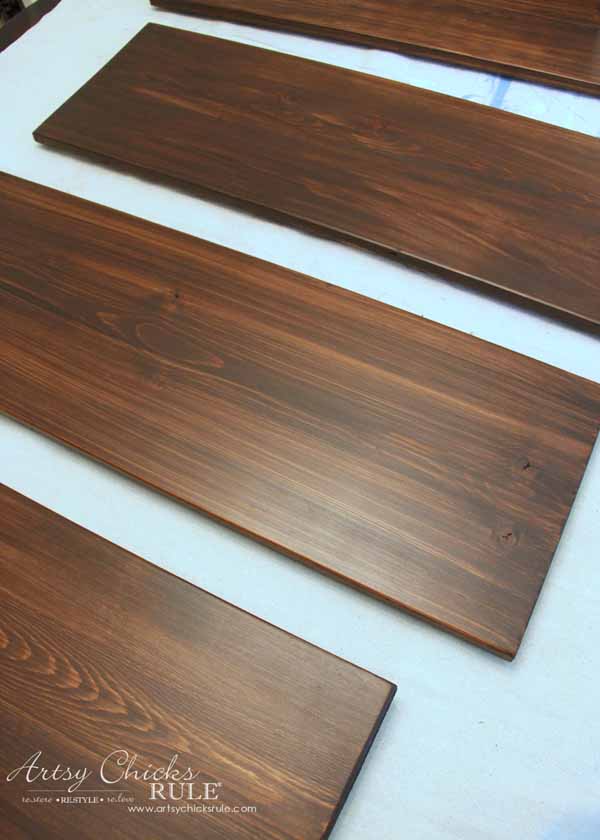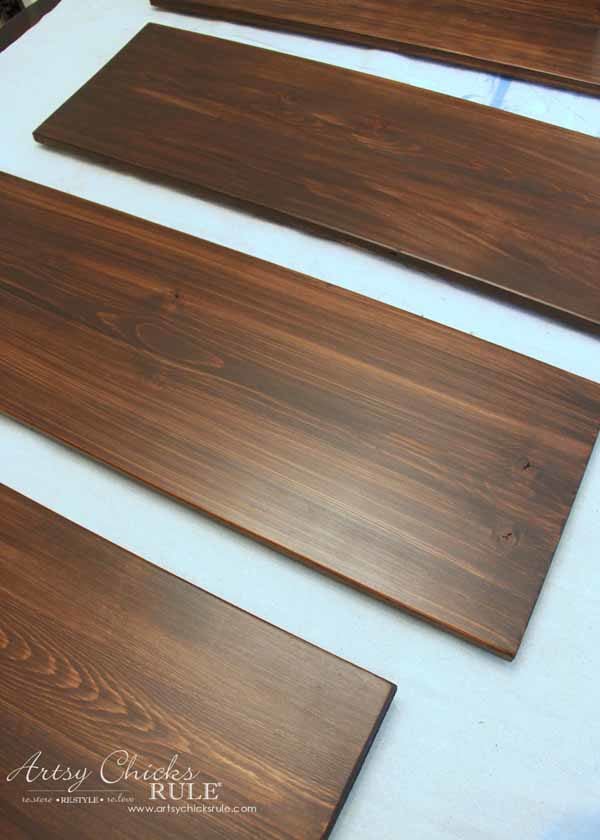 I just love how the top coat makes everything shine!
I used Satin finish because it's just enough to give it a bit of shine without being overly glossy.
I measured and attached the brackets to the wall and once these were dry, attached the shelves to the brackets.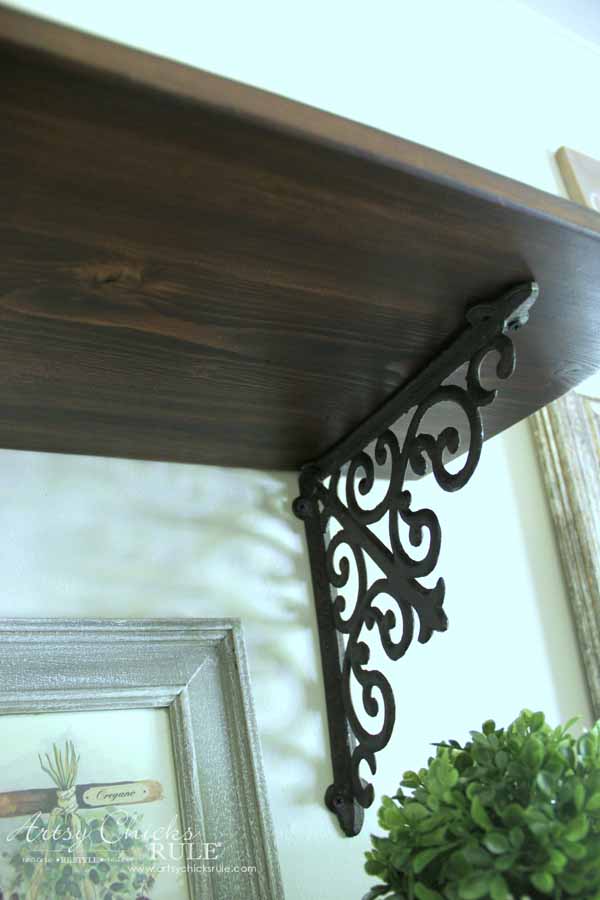 Then I had a ball decorating them…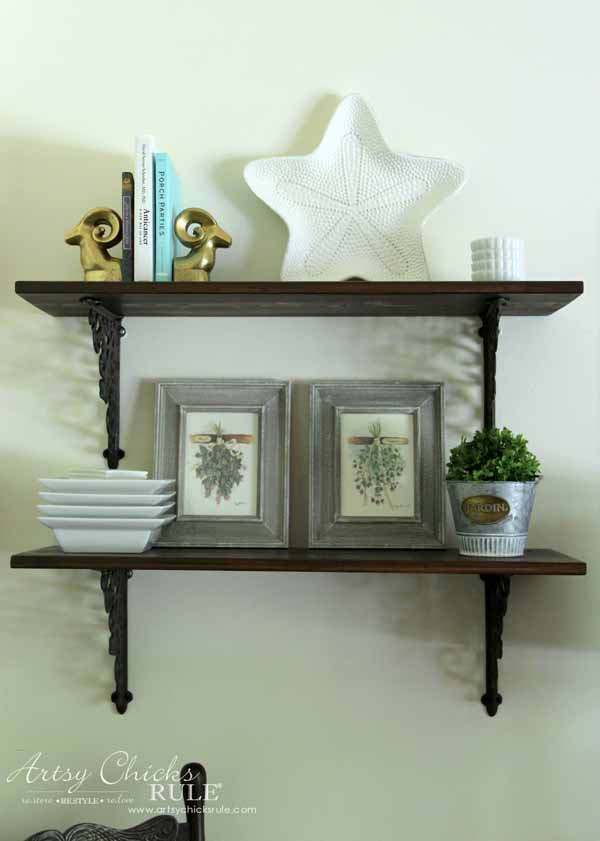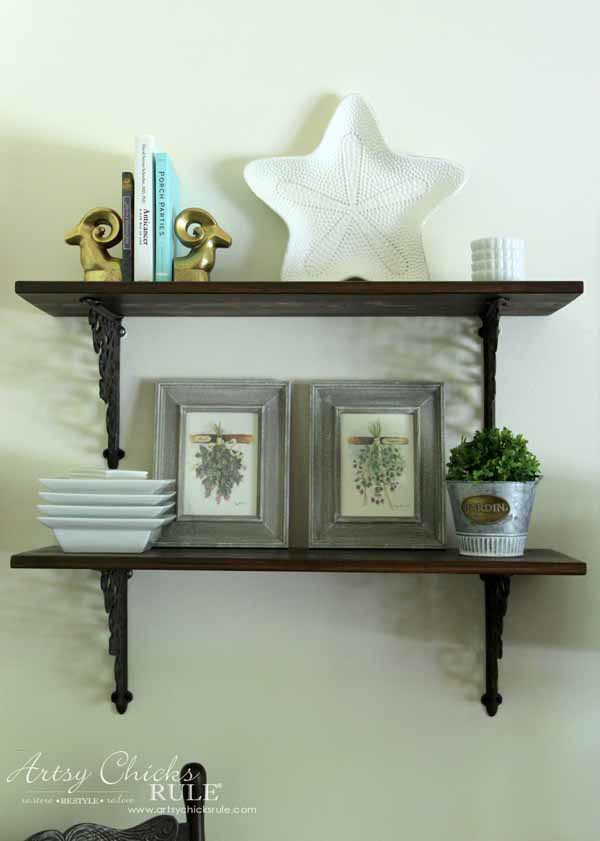 I used a few things from other parts of the house, some "new" dishware, new decor and recycled decor.
The dishes you see all came from the thrift store recently.
They are dishes from Pottery Barn and World Market …. that I found for a steal!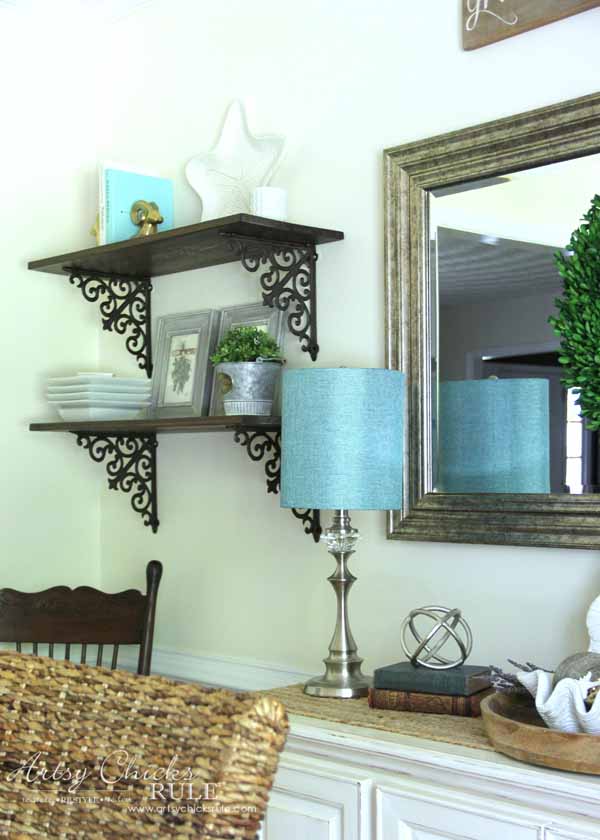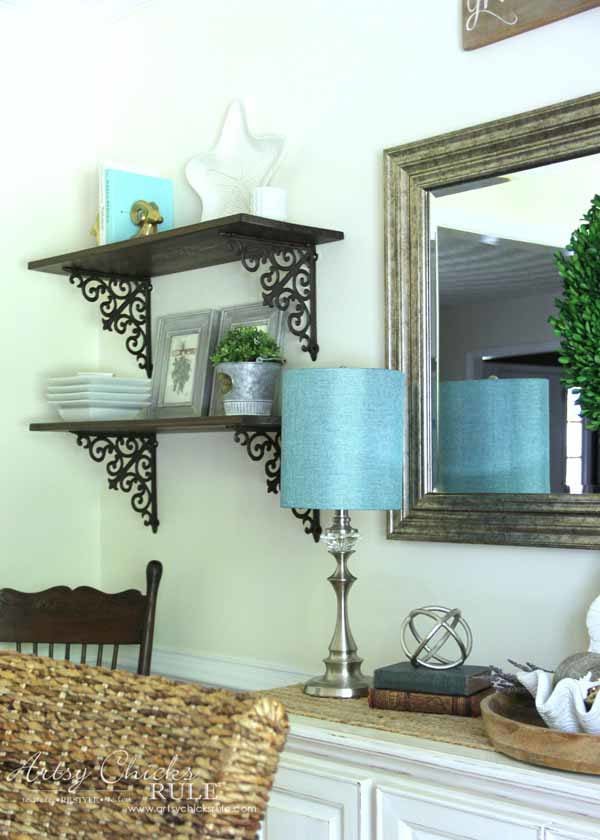 The sweet, little baby boxwood and container came from Michael's.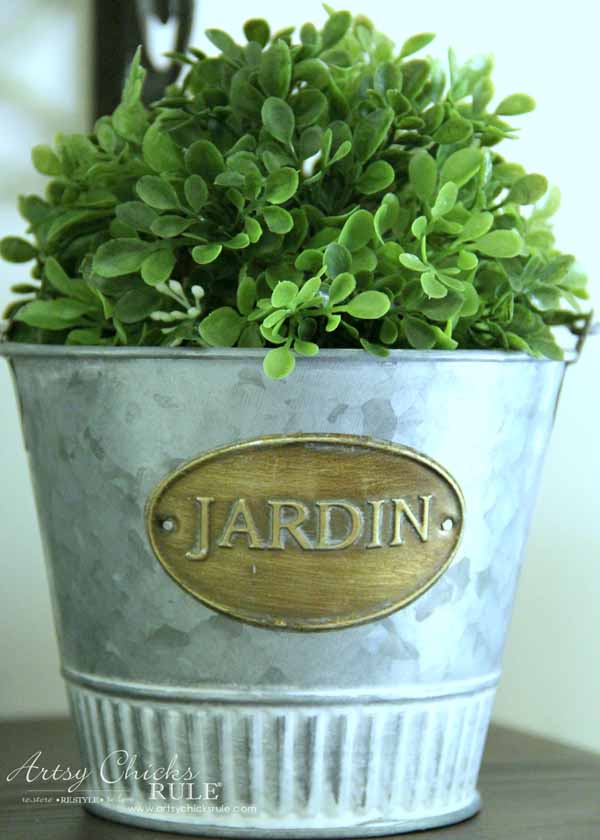 These gold metal bookends are from Target…..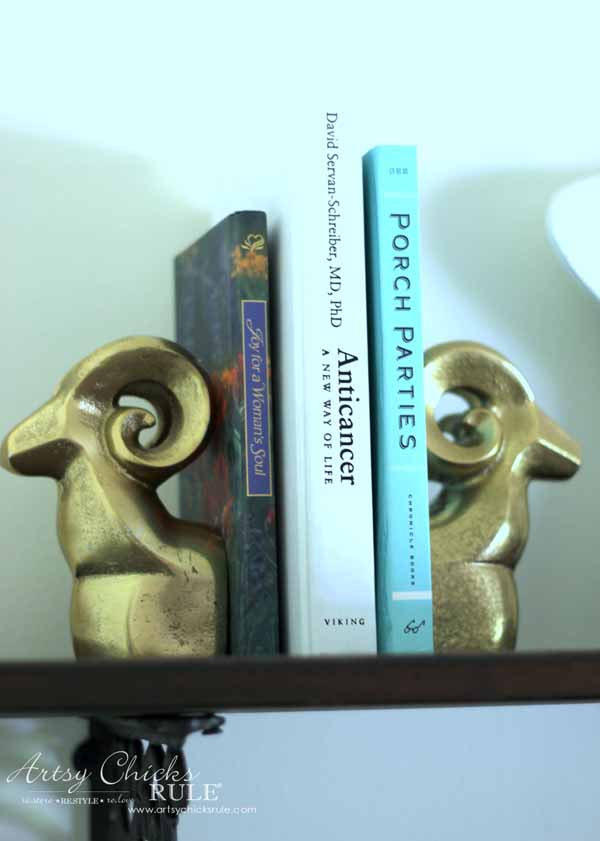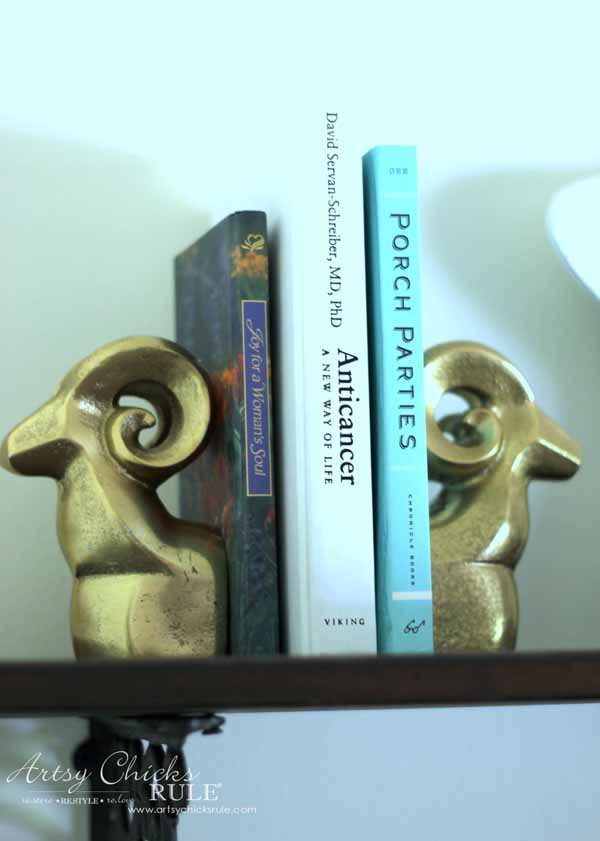 ….you can find them >>> here. (these were on clearance or $10 when I bought them in store)
I love these faux flowers.
I've used them many times all over my house.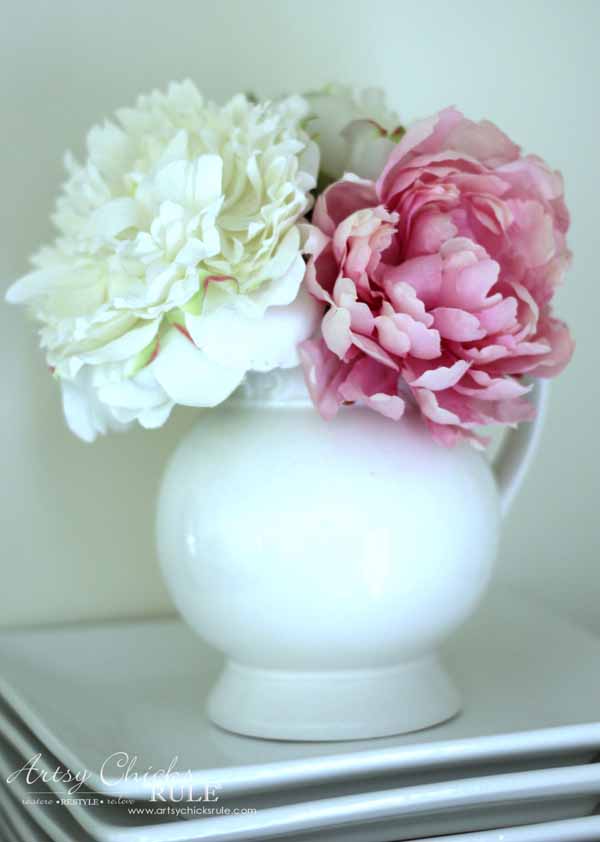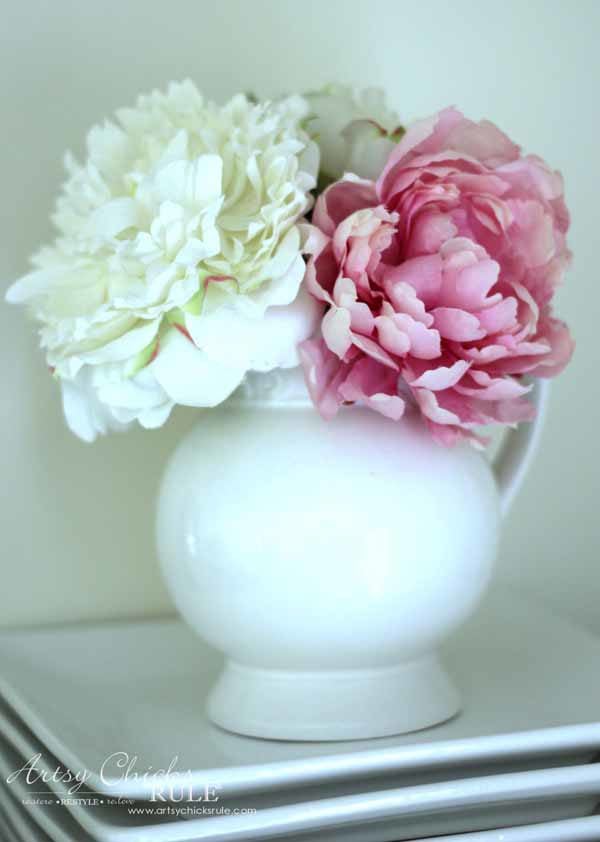 They look especially pretty inside the little white thrift store pitcher.
I wanted a bit of gold mixed in so also added this frame that I found at TJ Maxx.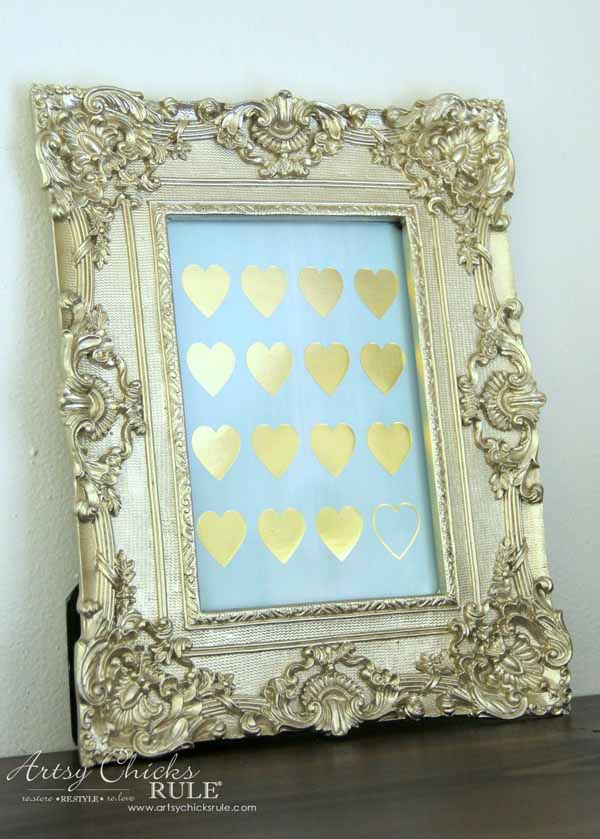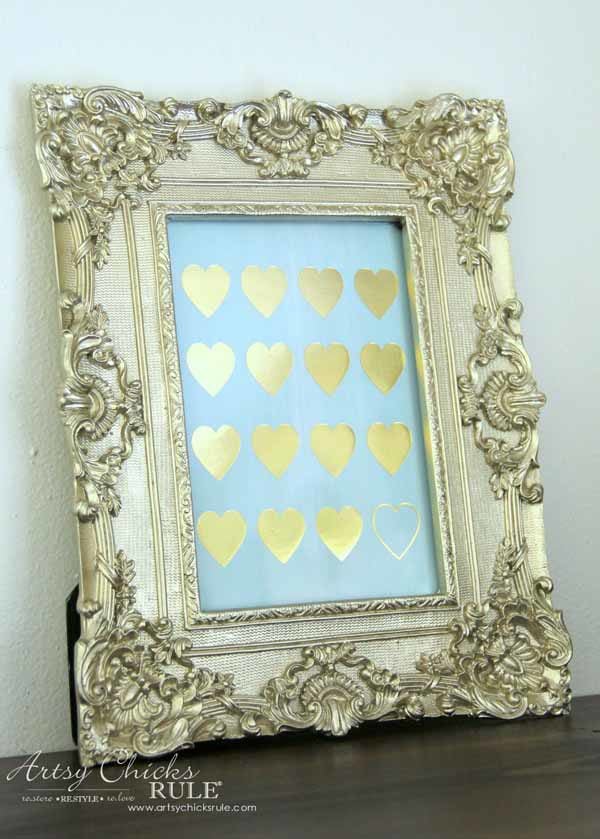 I was going to put a photo in it but decided I liked the little heart paper that came inside it.
I may change it out later but for now, it stays.
A favorite find of mine….this old seltzer bottle.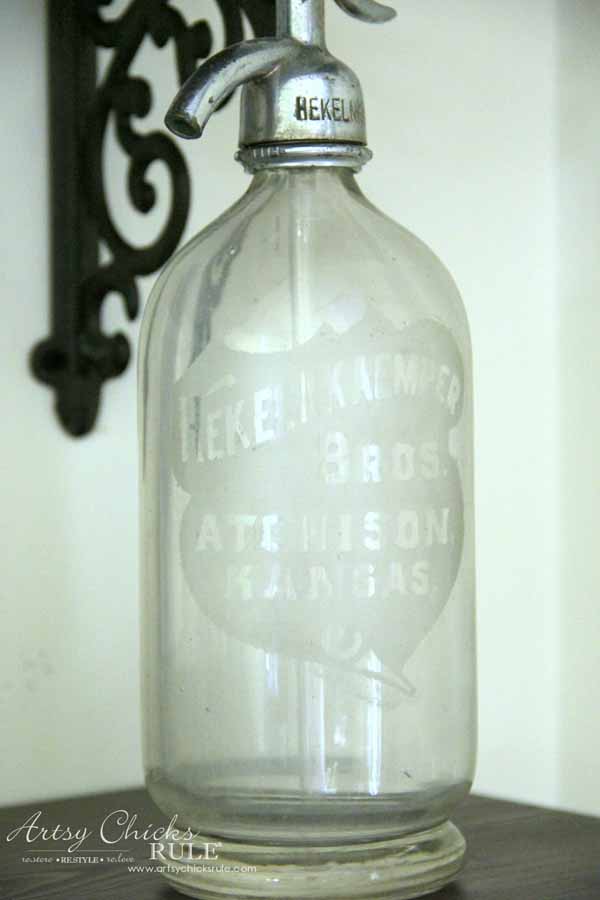 And also loving the new "&" I found at TJ Maxx recently….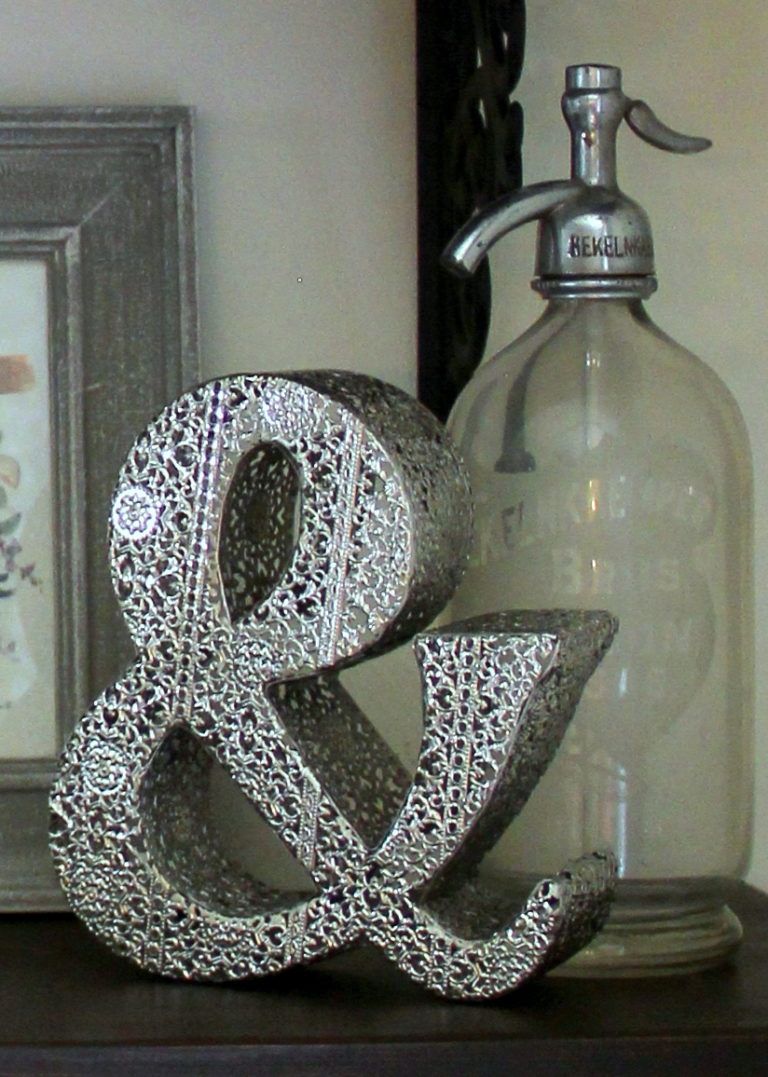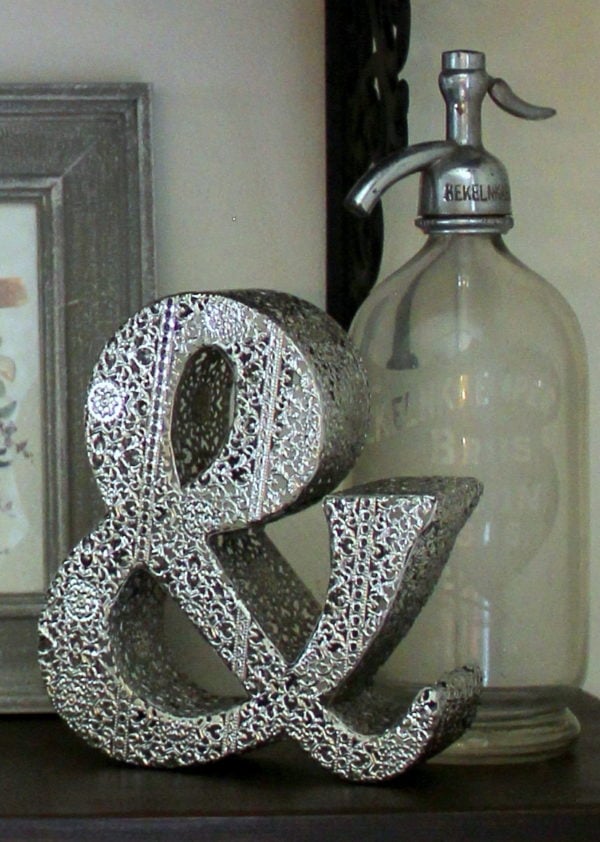 Remember this thrifty makeover I shared not too long ago?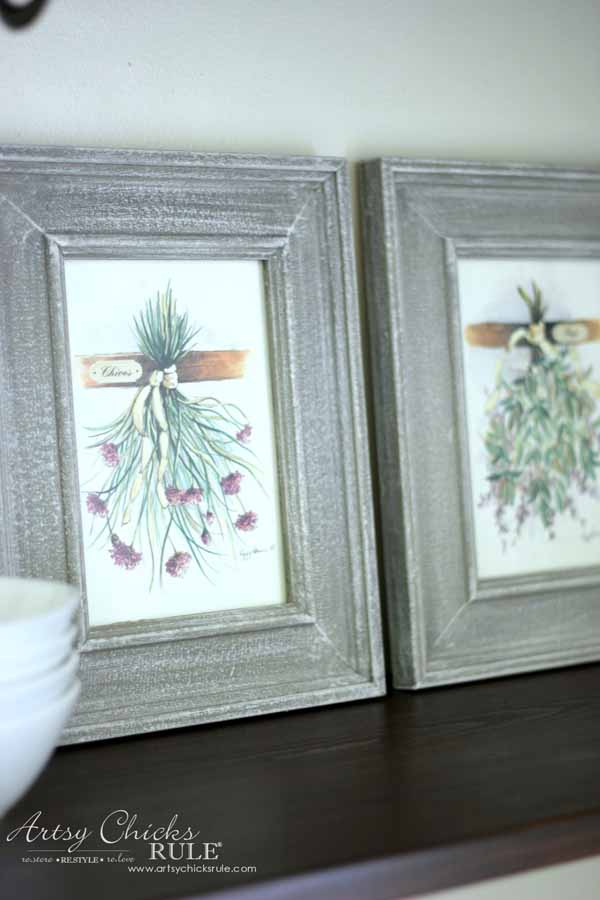 These old framed prints were begging for a makeover. I'd had them for many, many years.
I'm so glad I never got rid of them because I love them with the makeover!
See what they used to look like >>>here.
I removed the "Spring Hydrangea Wreath" and put up this pretty boxwood one I got on sale at Target….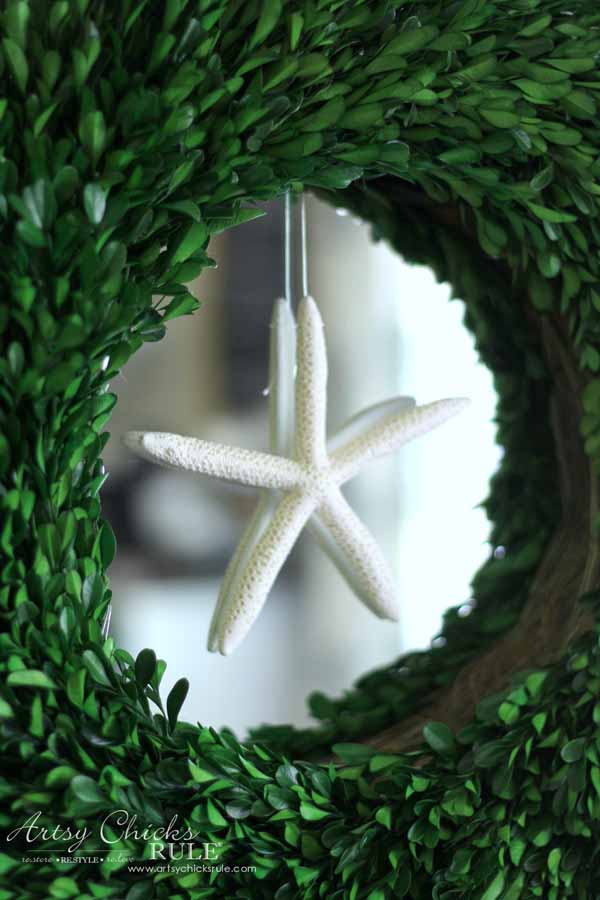 ….it may not be on sale any longer, but you can find it >>> here.
I think it gives it more of a "summer" feel than the other wreath.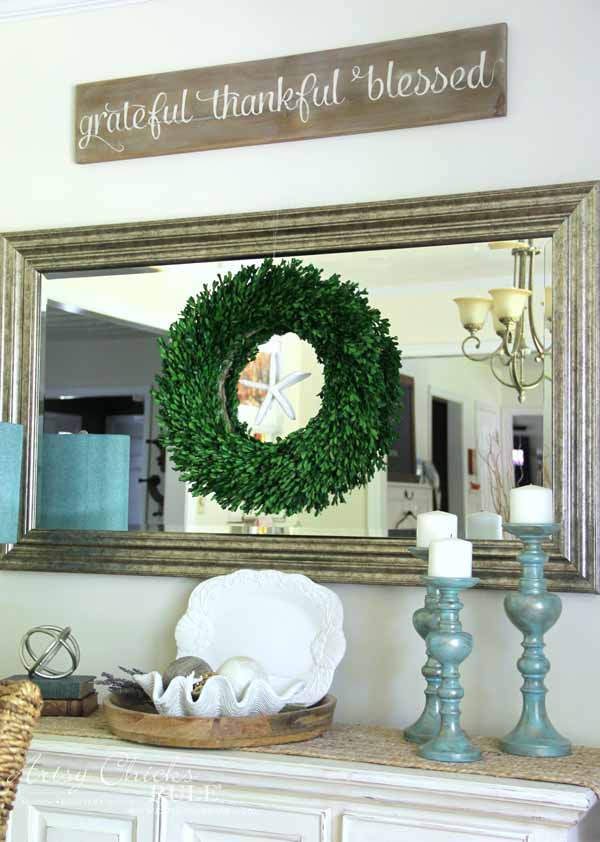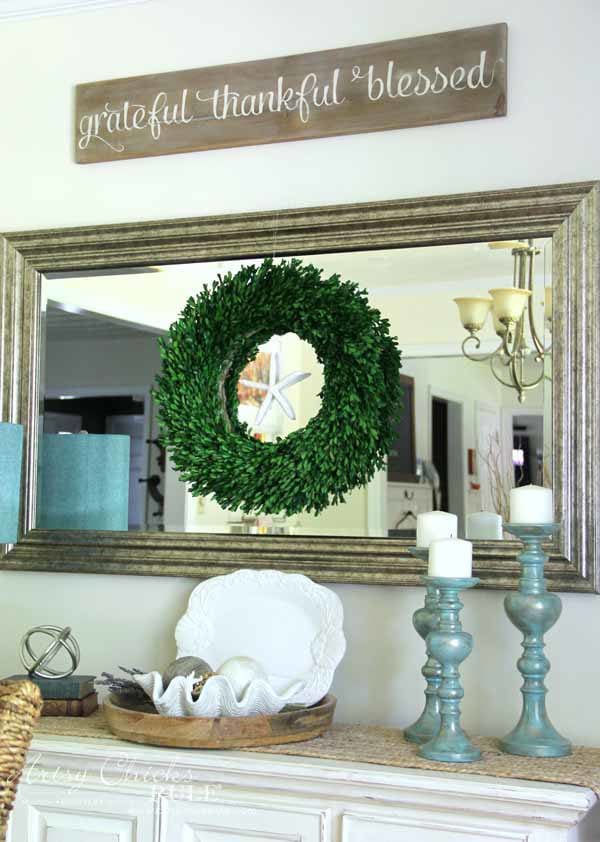 You can find the "Grateful, Thankful, Blessed" sign >>> here.
I moved the starfish dish that was here onto the shelf and took the plate that I used to have hanging in my family room and moved it here….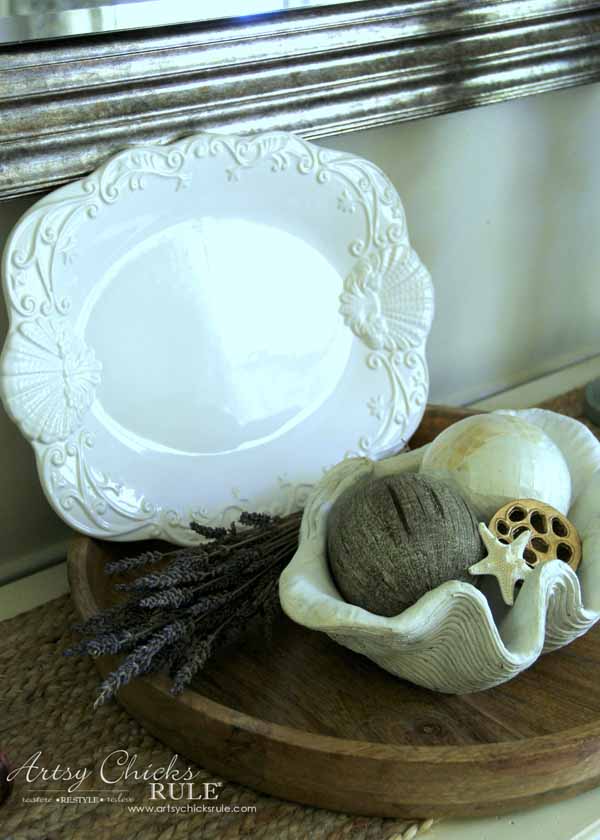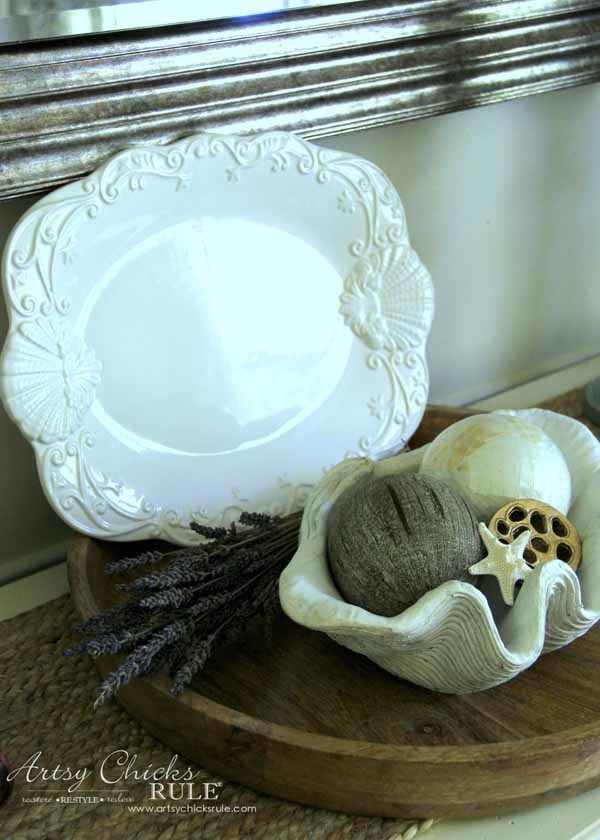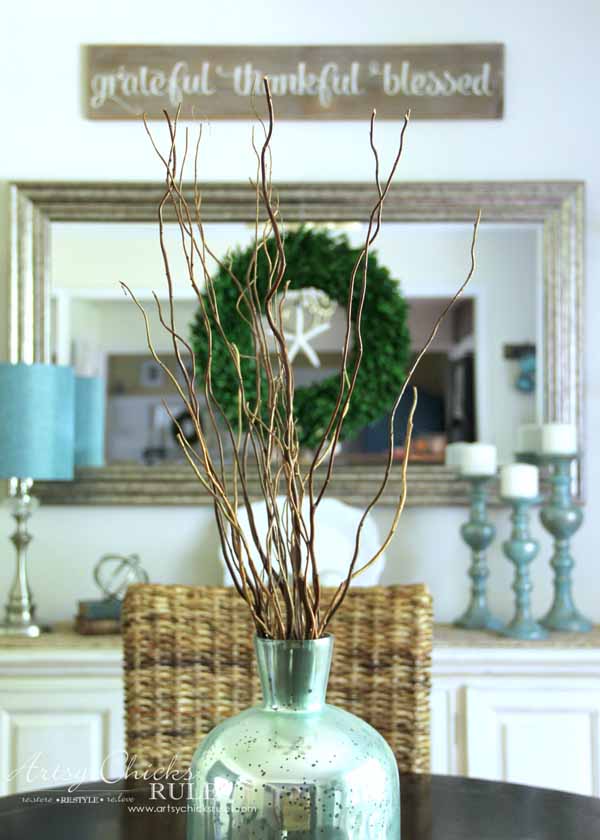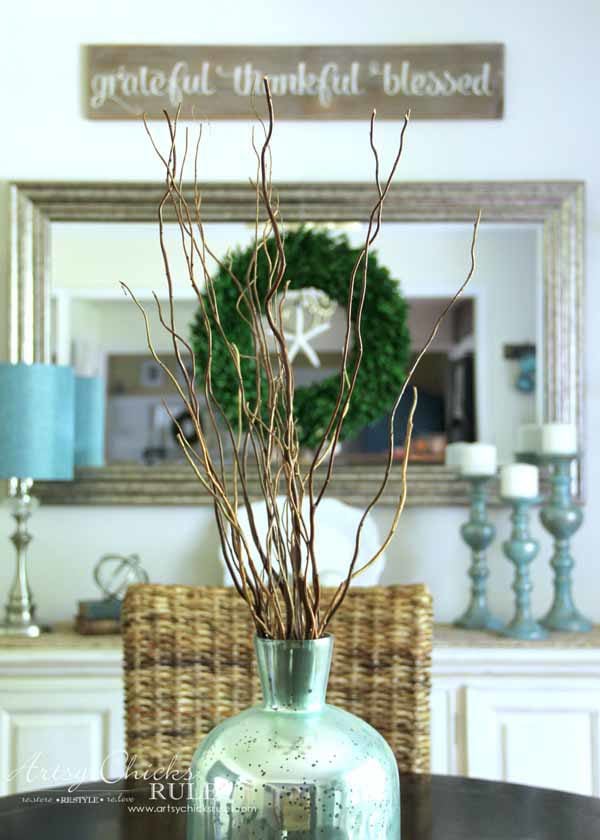 And a little further away….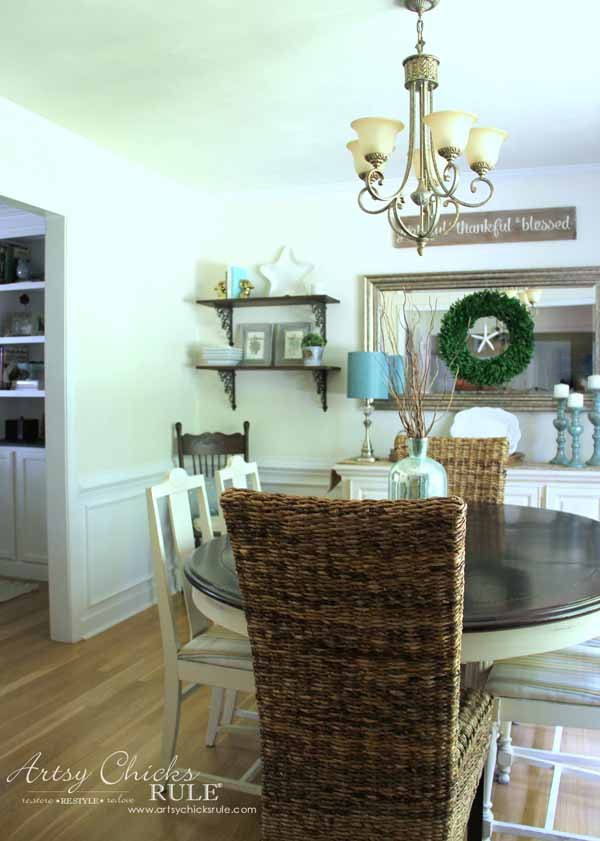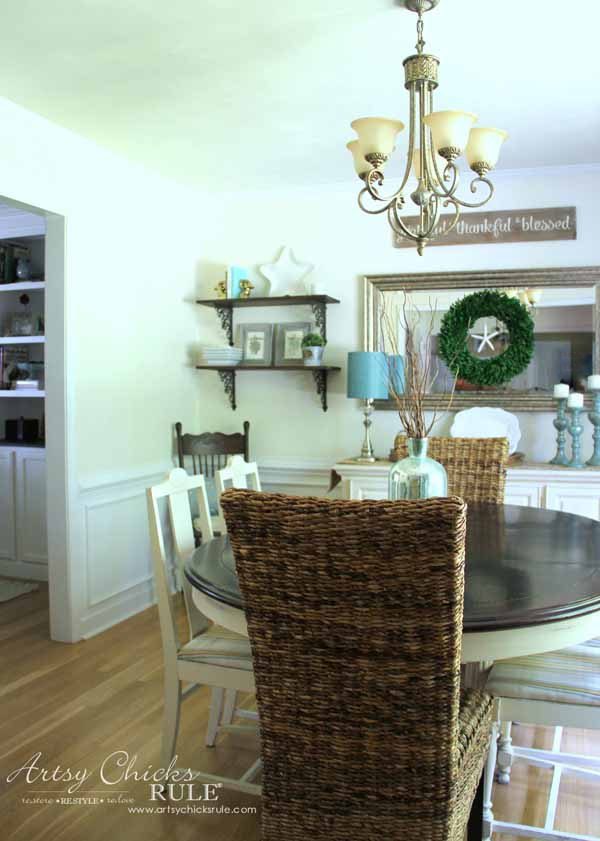 I'm so enjoying them in this room.
I think it's just what the wall needed.
Not exactly as I planned with the >>> mood board I created for this room, but close enough!
And I just have to share these super fun mugs I picked up at TJ Maxx …..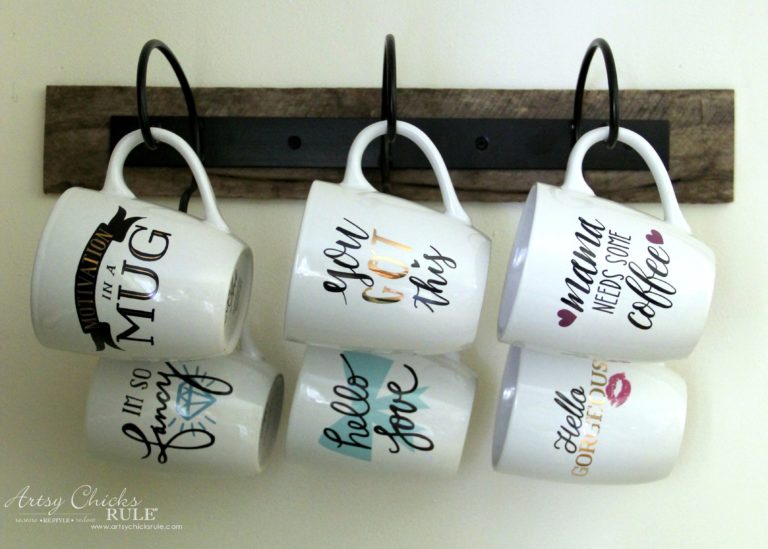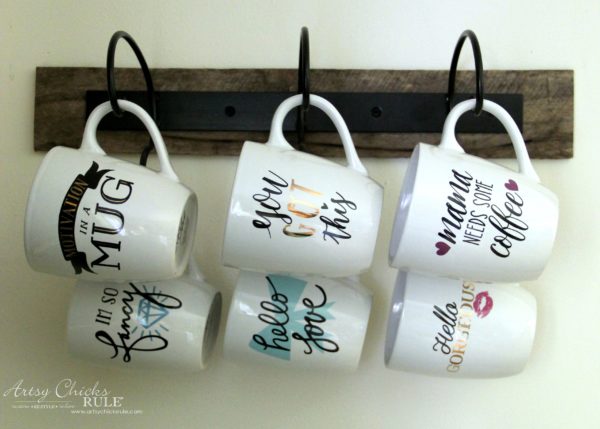 Aren't they the cutest??
I just love them and the sayings.
How fun and they look great hanging up at my >>> "coffee bar".
**AND…if you Instagram, be sure to stop by and enter to win one of these!
I'm giving away the "Mama Needs Coffee" one (I bought an extra) and a gift card to Starbucks too.
Stop by >>> Instagram to enter! :)
So, do you think you may want to make some DIY wall shelves too?
Well, be sure to PIN this so you can save it for later!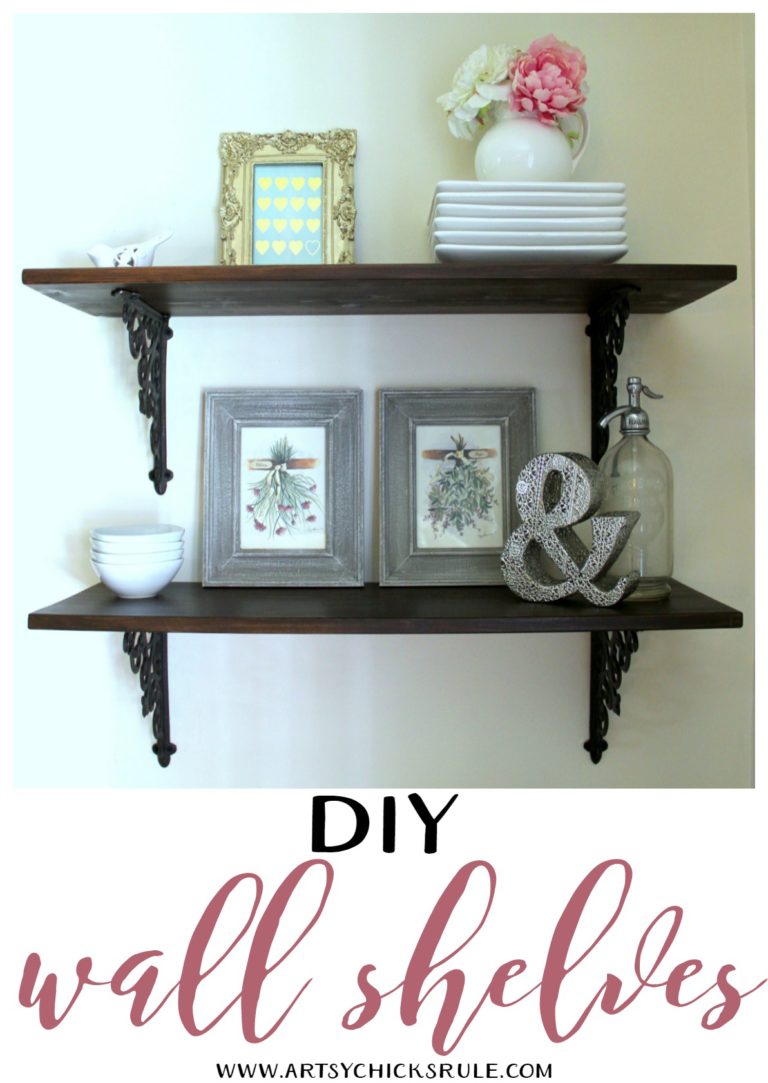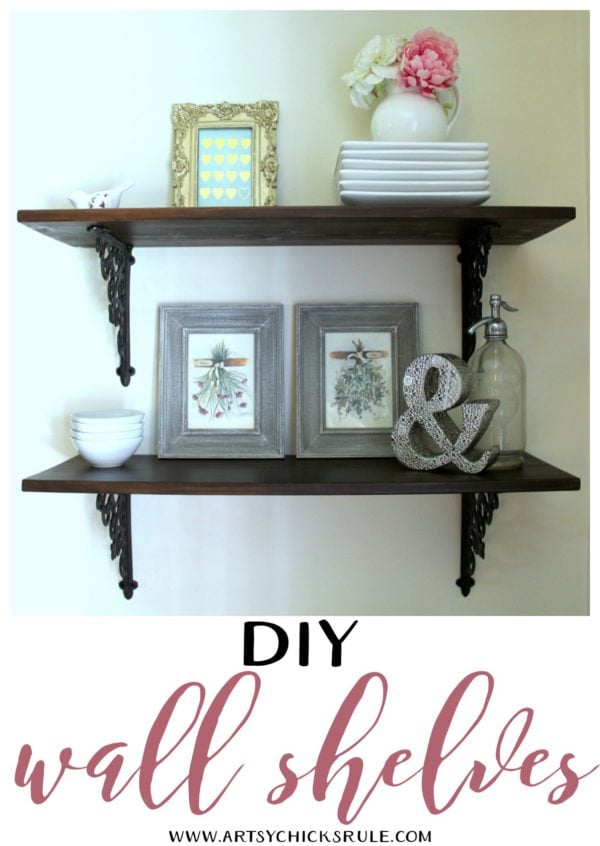 Well, that almost wraps up the dining room makeover.
I have to still share the "wine wall" with you. Once I get photos of it all, I'll be sharing the full before and after!
Until then, I'll be sharing a brand new "Friday Favorites" this Friday.
Be on the lookout for it, I found some great deals this week!
xo