Last week I painted this table with General Finishes Persian Blue and Snow White Milk Paint.
I mentioned in that post I'd be sharing a new color (that I LOVE) this week. It's *Corinth Blue Milk Paint
 (also General Finishes).
….and it's GORGEOUS.
I used it on this….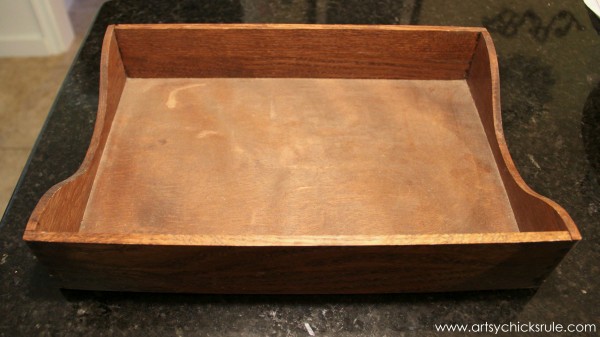 It is a very bold color so I decided to try it out on this little letter tray first.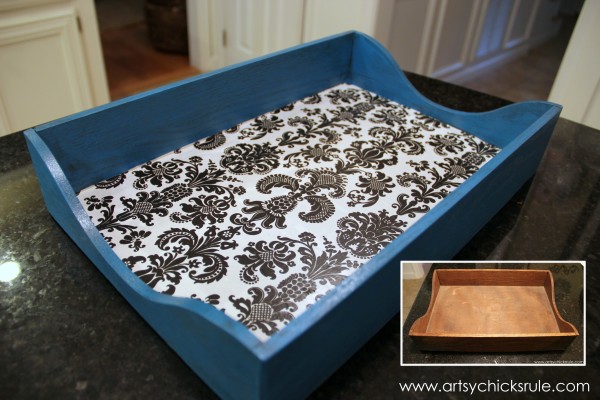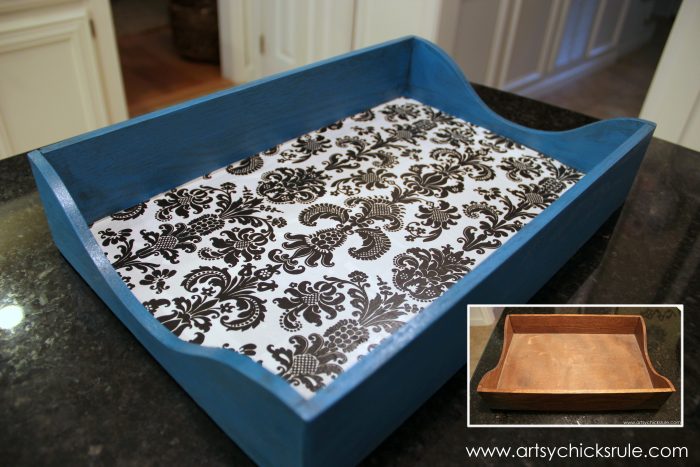 I have several and got most of them for FREE! Free is always good, right? ;)
I've already made over several others,  like this one–> "Vintage" French Fruit Tray and this one –> Decanter Tray .
Here is the newest one with one coat of Corinth Blue applied…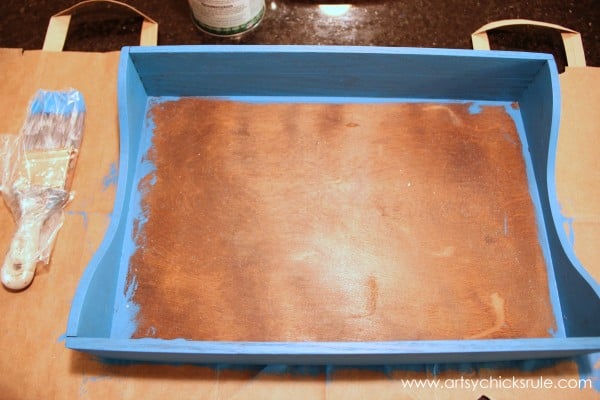 It's really bright. I know.
But I adore this color (and even more so with a glaze over it to tone it down)
I ended up using two coats to cover fully.
As I mentioned above, I decided to tone it down a bit with the Java Gel Stain and Wipe On Gel Topcoat.
I mixed a bit of the Stain into the Topcoat and applied with a lint free cloth.
So easy.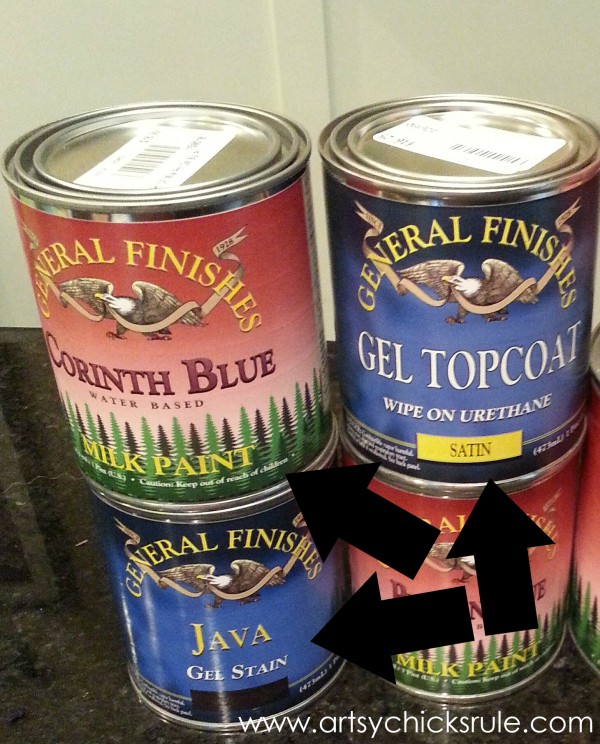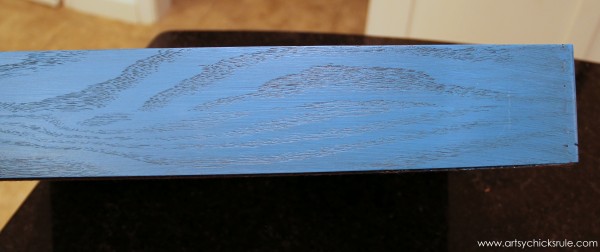 I love, love how it toned the color down perfectly AND settled into all the grooves in the wood box.
Perfect!
I used wrapping paper for the decoupage. I just measured and cut it to fit.
Then used *Mod Podge Glue, Matte Finish

mixed with a bit of water to attach.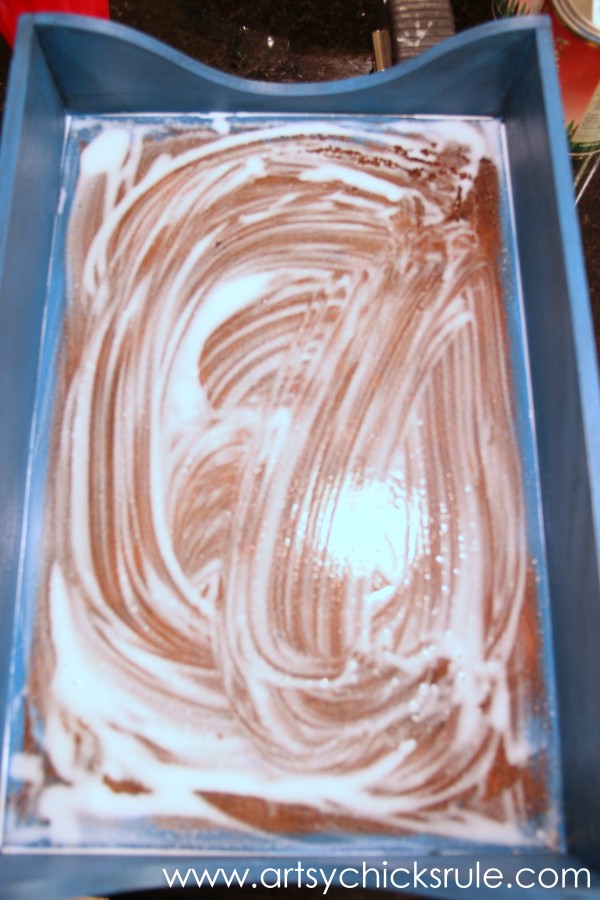 I applied a coat of poly spray over that to seal.
This little tray could be used for all kinds of things.
Perfume bottles, decanters, decorative items, cookbooks…the possibilities are endless!
I styled it a couple different ways…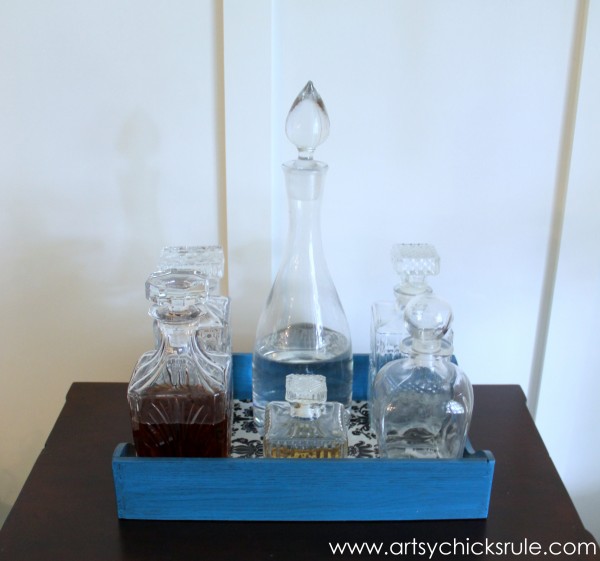 …as "bar" decor for decanters.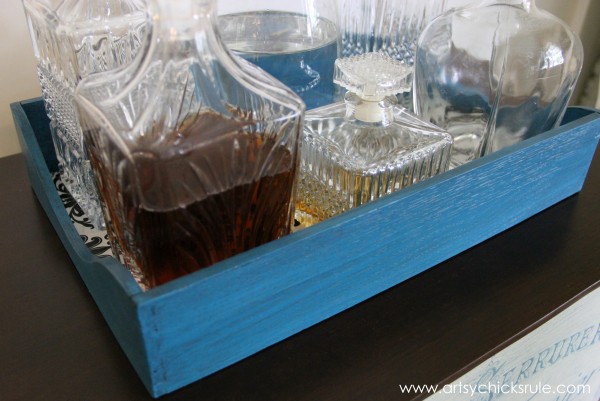 Isn't that blue beautiful?? I love it with that glaze over top.
I'm seeing a large piece of furniture with this color in my very near future.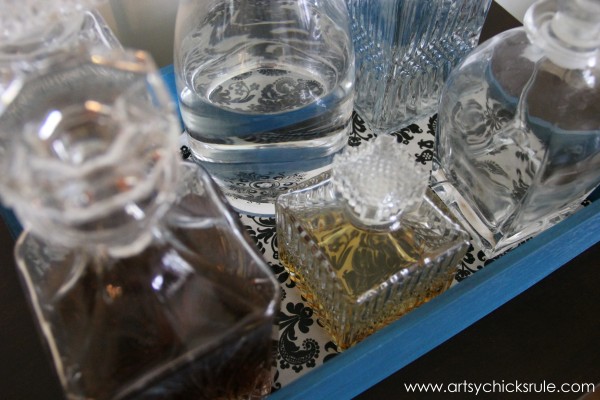 With some accessories….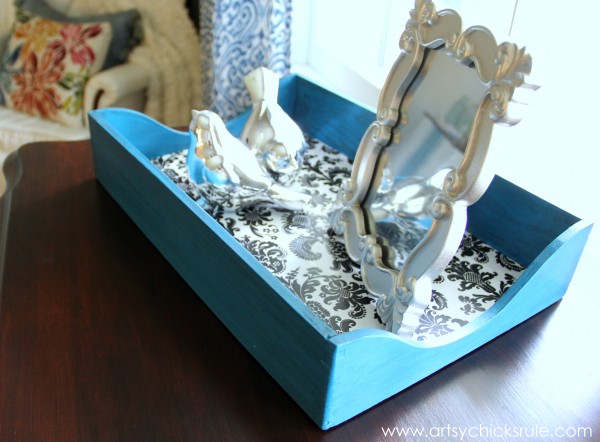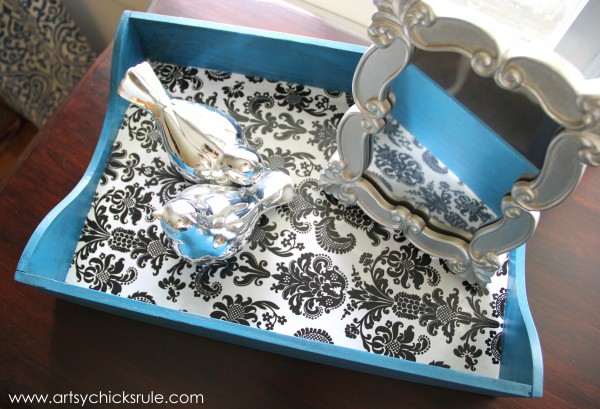 That's the mirror I "made" by spraying the glass with "Looking Glass" Spray paint.
You can read more about it in this post –>here.
Another shot with the decanters …. my favorite look, I think.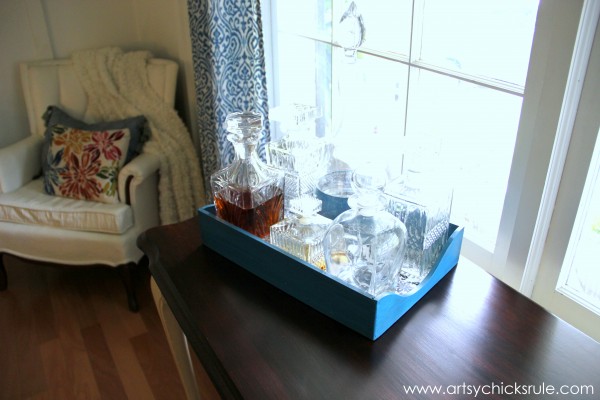 It just looks so pretty with all of the crystal glass inside.
So…what do you think? Do you LOVE this color as much as I do?
I'm really enjoying using this paint too. It's so easy to work with and I love the stain and topcoat too.
I'm planning a wood project makeover with those two products soon. I can not wait to try them on a wood finish. (no paint)
Well, this was a quick and fun little makeover….made from a "free to me" old wood letter tray.
I just wanted to put this paint onto something small and quick so I could share it with you all.
It really is worthy of being a show piece and will be painting something a bit bigger next go round. ;)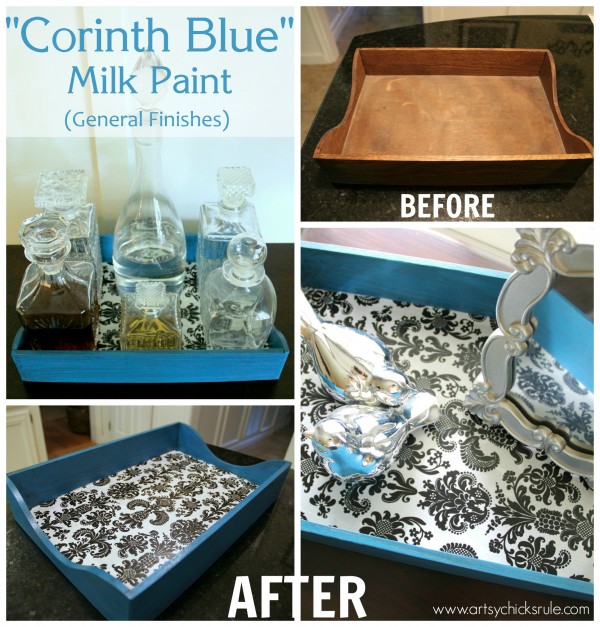 And so much better than just tossing these old trays out!
Paint and make them pretty to be used and re-loved.
I'll be back on Thursday with a fun "knock off-inspired by" project  ($260, their cost…but my version cost less than $30 total to make!)
See you all then!! :)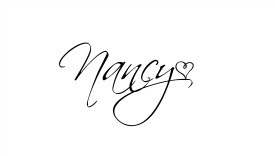 Be sure to follow me on Instagram and Facebook if you don't already!
I always post projects and things I'm working on
long before it hits the blog…..
….plus lots of fun random daily things too. :)

*This post contains an affiliate link or links – which means I will earn a small commission if you decide to purchase by clicking the link. I only recommend products I use and love and the small commission I may make helps to keep this blog up and running. Thank you so much for your support! xo
Follow Along Here!