Beautiful Summer Porches (inspiration and ideas)
This post may contain affiliate links. Please see disclosures here.
Since it's porch sitting (and rocking!) season, I thought I'd round up some inspiration and ideas for your beautiful summer porches!
Spring and summer are all about porch sitting.
Am I right??
If you are lucky enough to have a porch, that is. We haven't always had one so we've really enjoyed having one since living here.
We have 2 rockers and a bench and use the porch quite often. (I'm a rocker kinda girl ;) )
What we don't have, that I'd love, is a swing on the end. We talked about putting one in but never have.
Maybe one of these days we will! (then I'd be a swinging kinda girl, lol)
And since I don't have a pretty porch to show you, I thought I'd round up a few of my sweet blogger friends' porches so you might get some inspiration and maybe an idea or two you can use on your very own summer porches.
I should clarify since that may be confusing. ;) We DO have a porch but it's not really in photo ready mode.
Remember I said we had gotten to the outside of our home to work? Well, the porch is also getting some love.
It is not finished but once it is, I will share it here on the blog.
In the meantime, I hope you enjoy the ones I'll be sharing today!
Beautiful Summer Porches (and more!)
Be sure to hop on over and visit these summer porches below. The link to each one is below each photo.
They all have many more photos and much more to see. :)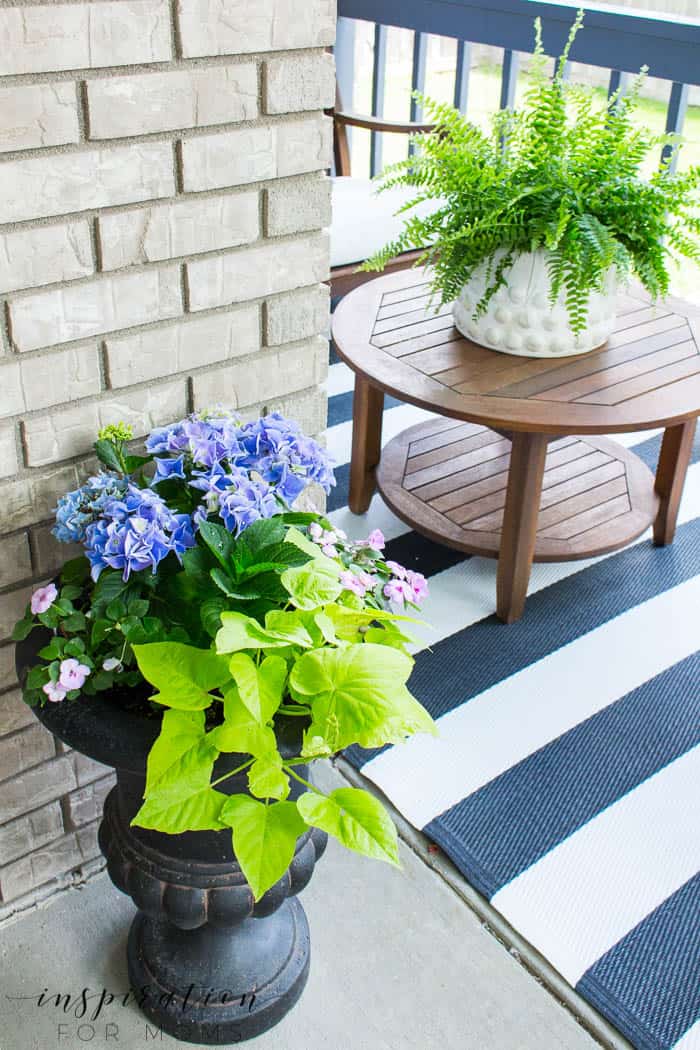 See the rest of Laura's pretty and welcoming porch, here >>> Inspiration for Moms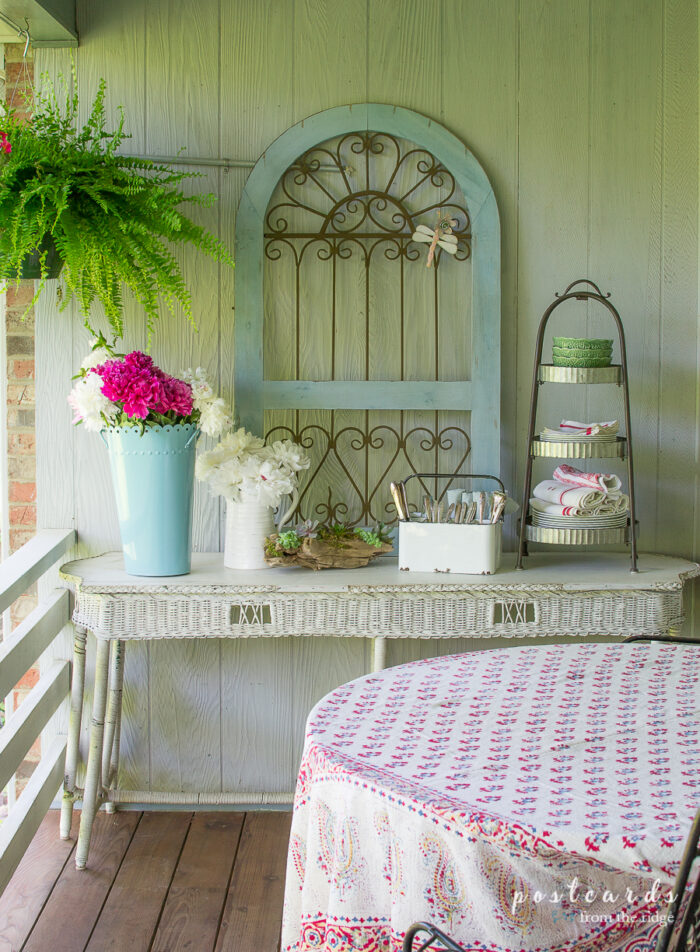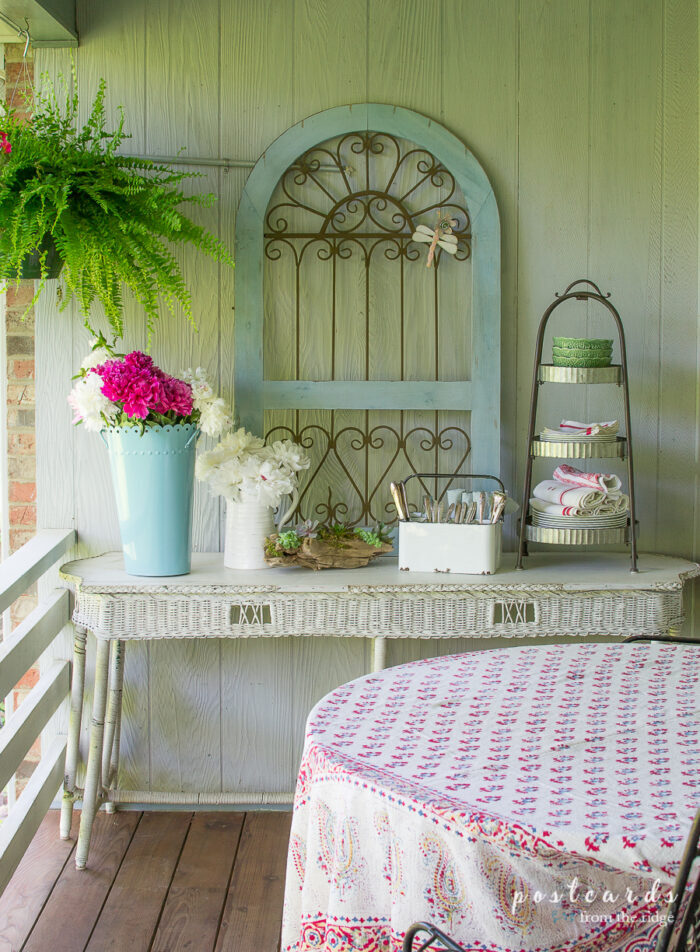 See the rest of Angie's sweet porch and even a few other summer touches, here >>> Postcards From The Ridge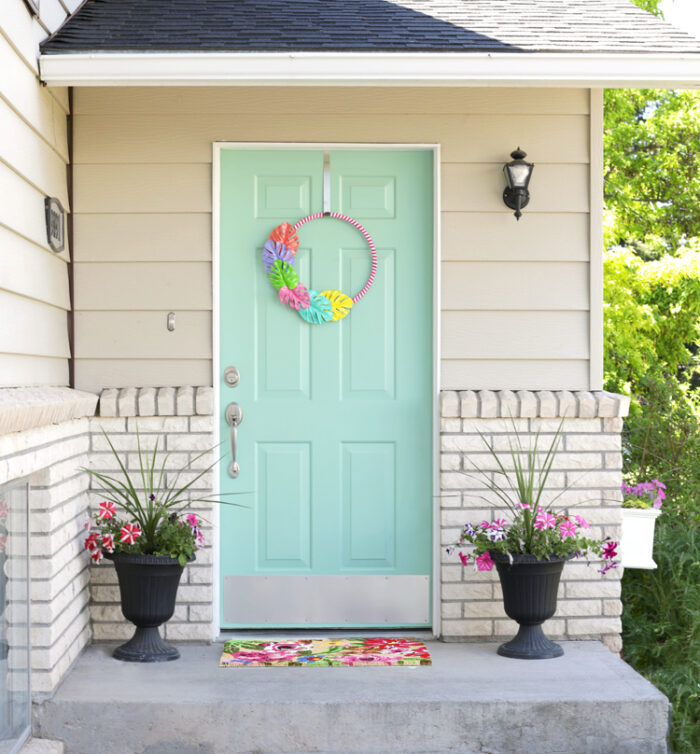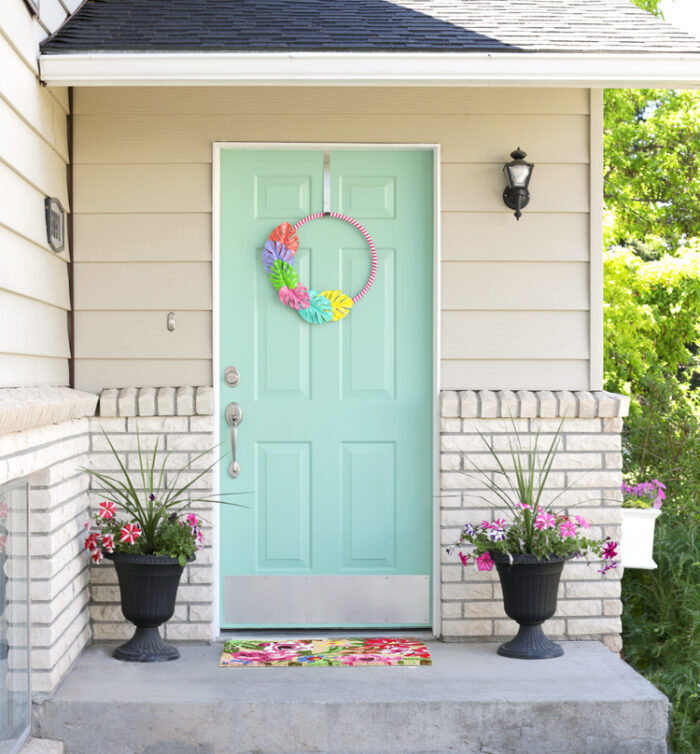 Love happy colors? Then this is the porch for you! See how Jennifer made that super cute, colorful wreath here >>> The Craft Patch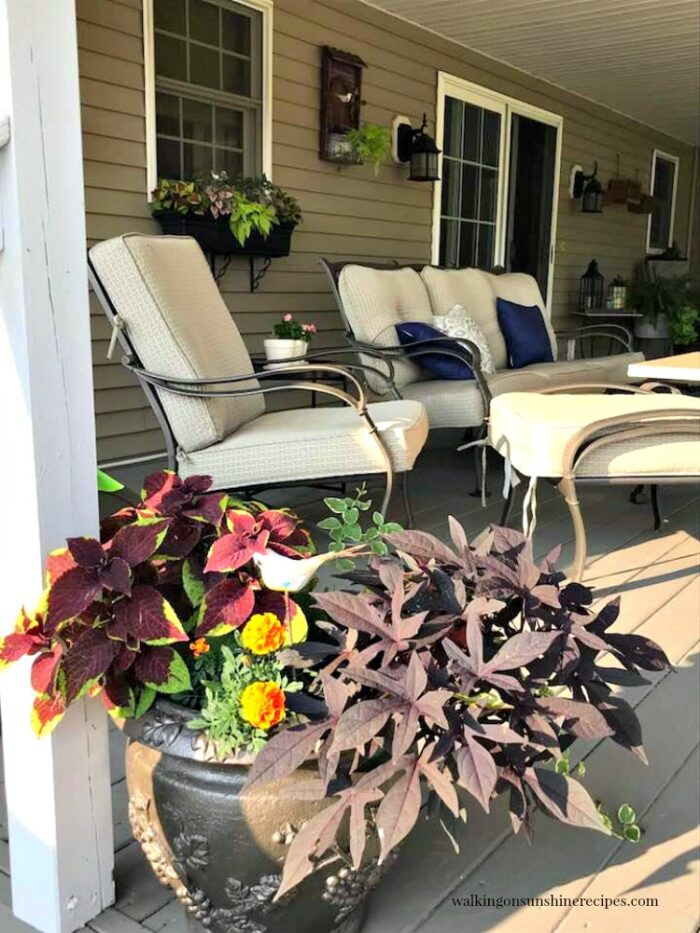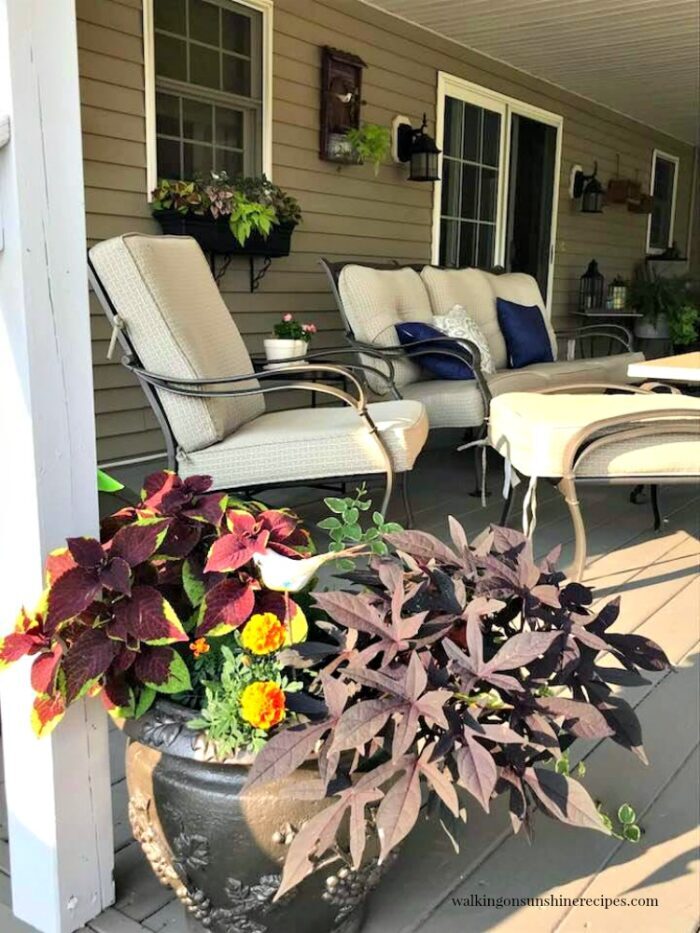 I'm mainly talking about front porches in this post but Lois shared this pretty back porch with me and I just had to share it with you!
See the rest of it here >>> Walking On Sunshine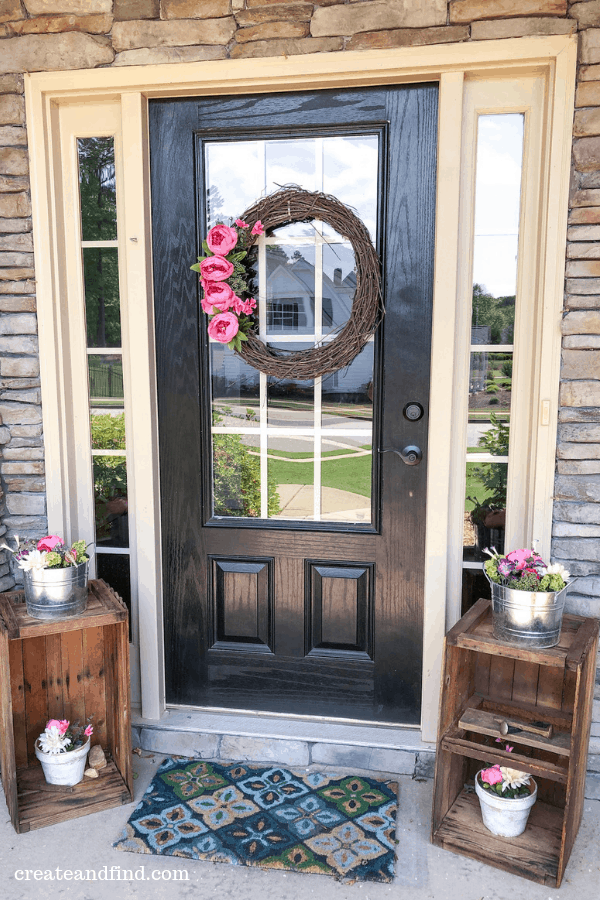 Melissa has some really creative ideas for her porch! See them all here >>> Create and Find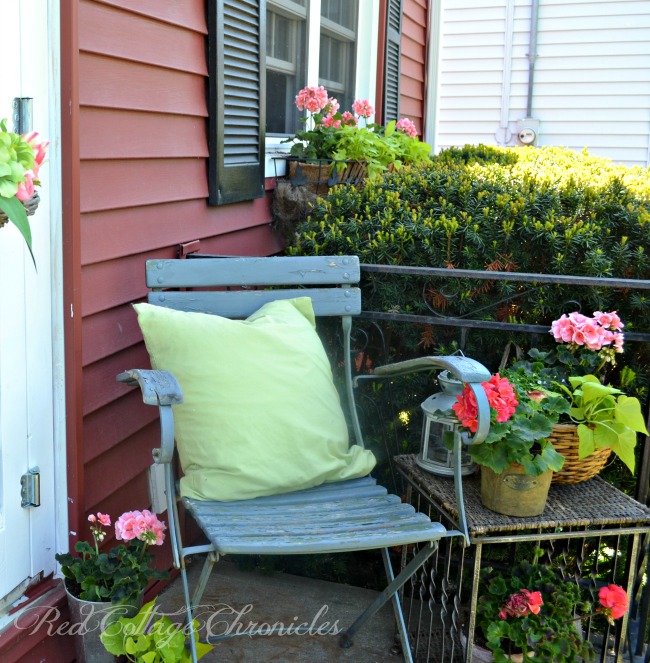 Small porch?? No worries, a few simple touches are all you need to create a warm and inviting summer porch.
See Maureen's sweet little porch here >>> Red Cottage Chronicles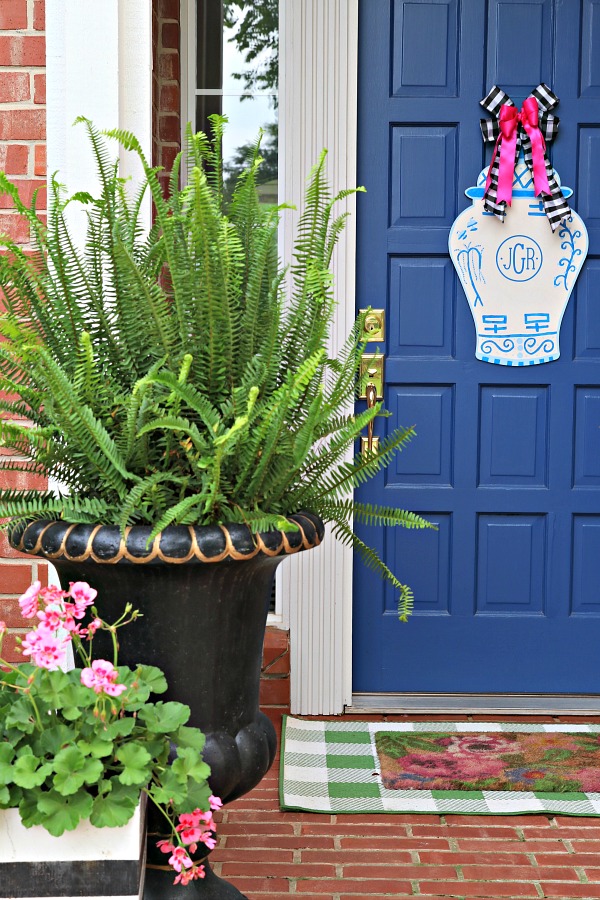 I love Jennifer's happy and inviting porch! See the rest of it here >>> Dimples and Tangles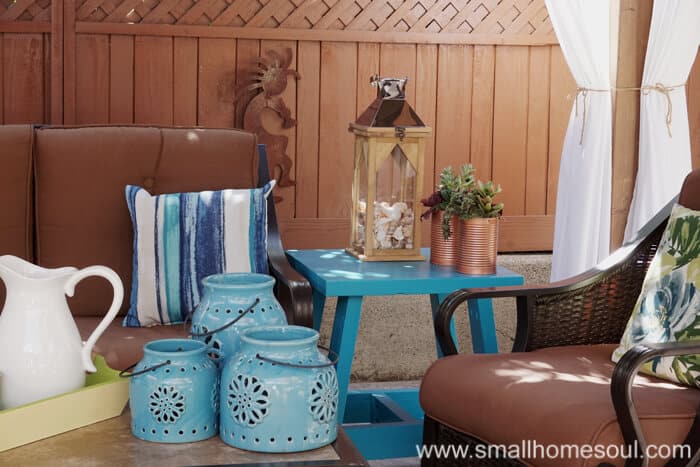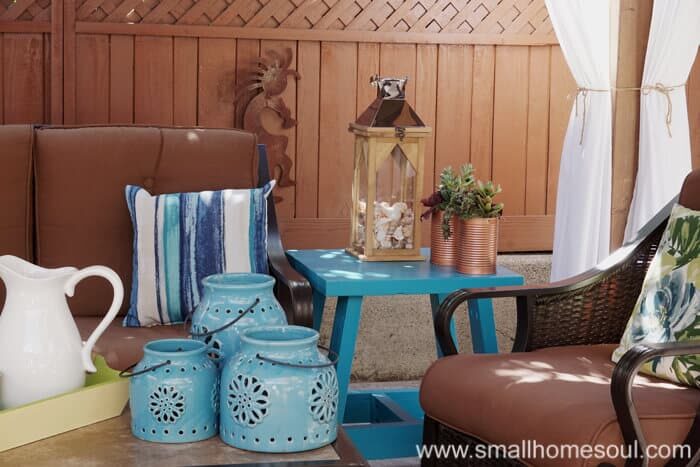 Another one that is not exactly a porch but such an amazing summertime retreat.
See it here >>> Girl, Just DIY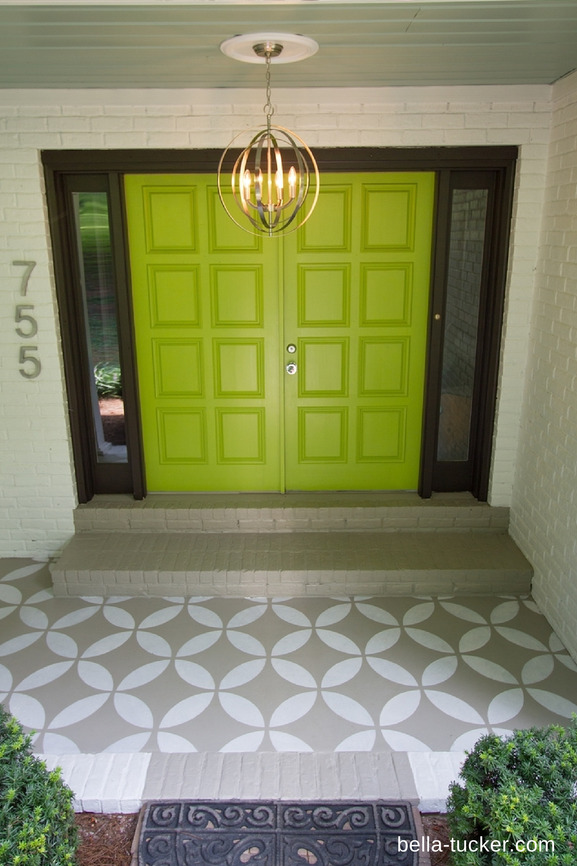 Love stunning makeovers?? You're gonna love this front porch makeover!
See it and the fun summertime decor here >>> Bella Tucker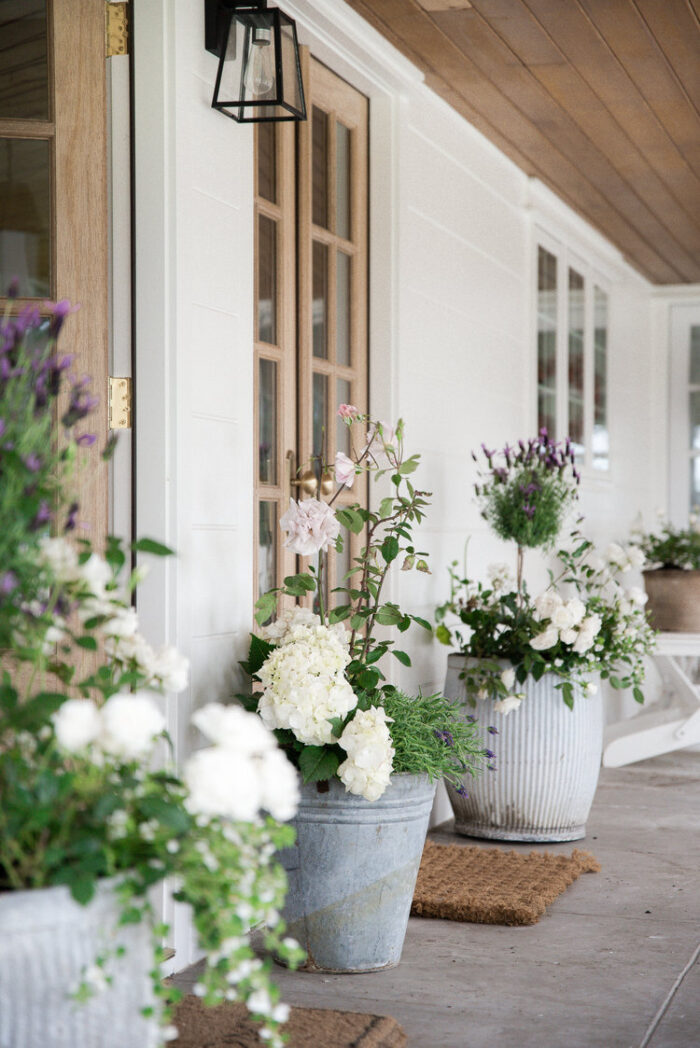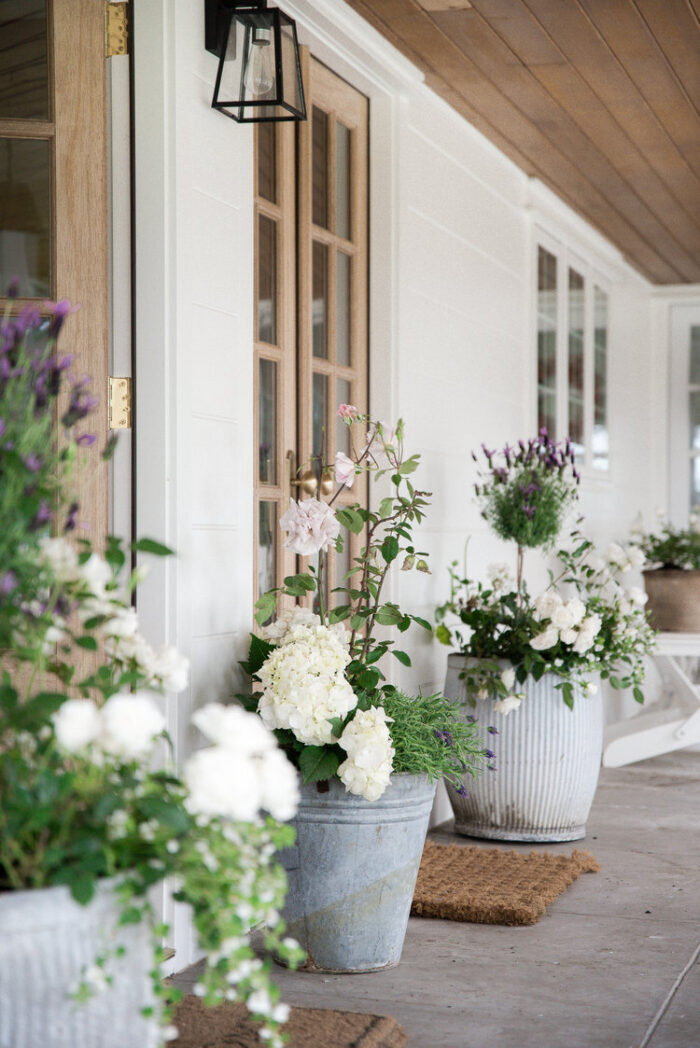 I love the natural beauty of this porch…and those planters!
See the rest and also see how Chloe made the planters here >>> Boxwood Avenue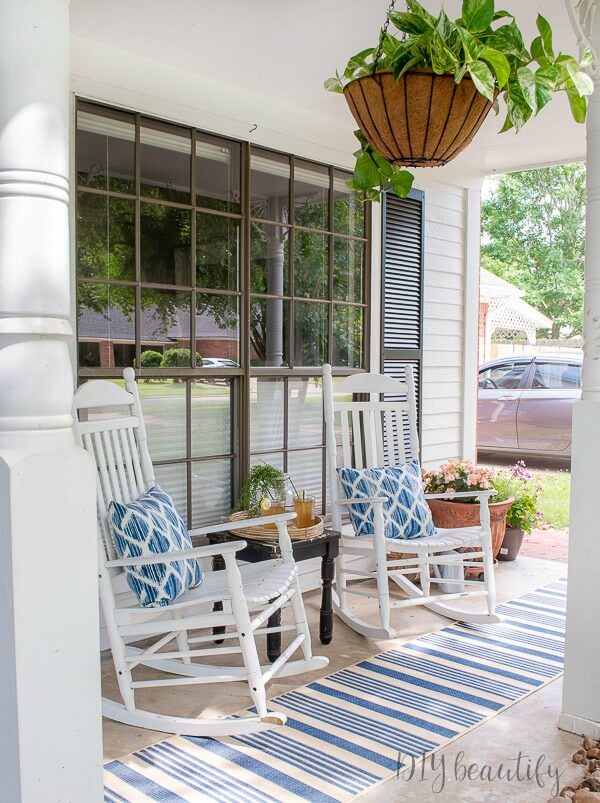 I just love Cindy's cozy and welcoming summer porch. See the rest of it here >>> DIY Beautify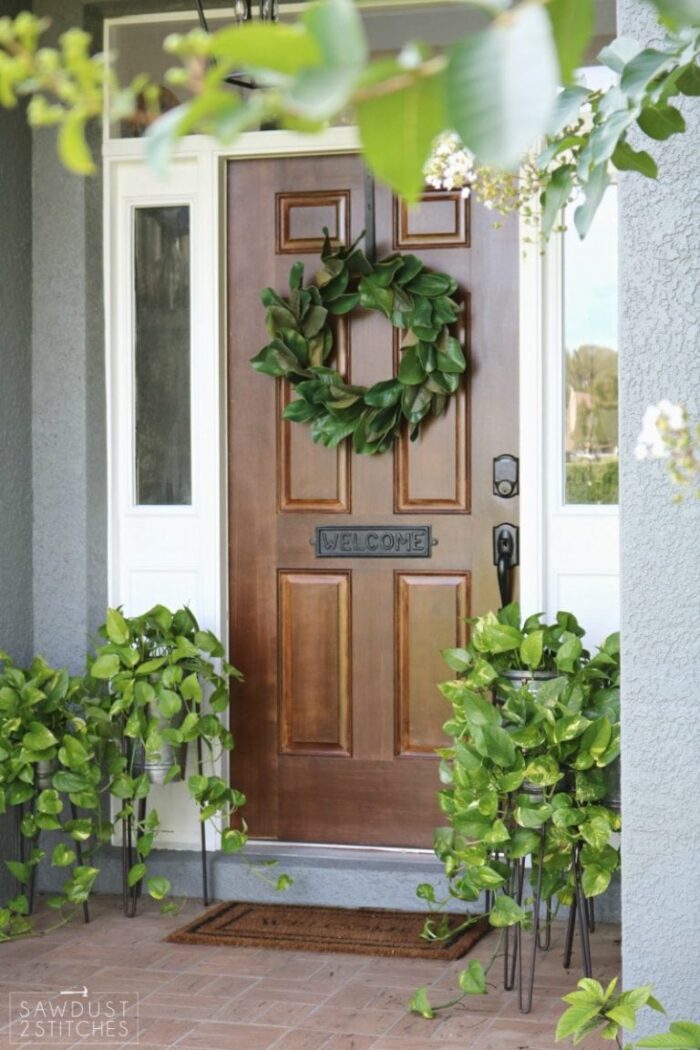 Sometimes all you need is some simple greenery. Love this!
Plus…isn't that a pretty wood door? Except it isn't wood. See how Corey got that look here >>> Sawdust 2 Stitches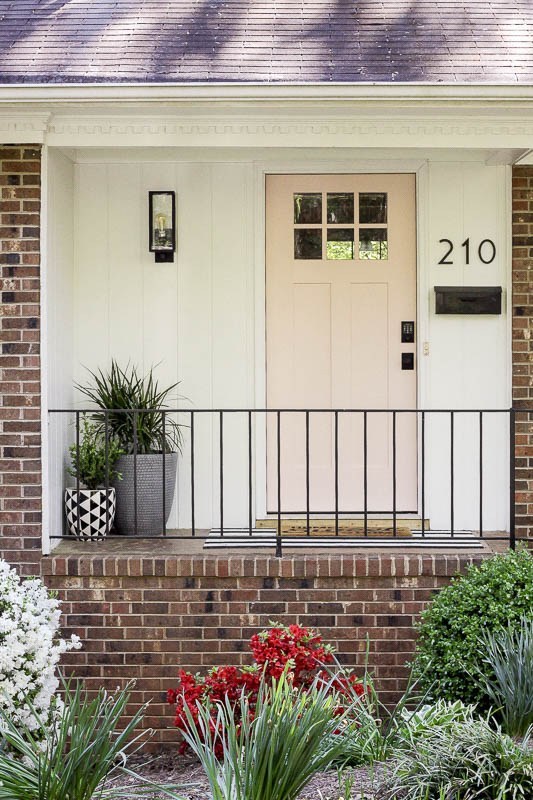 I love the simplicity of this one. And wait till you see what this porch looked like before!
See it before the makeover here >>> Cassie Bustamante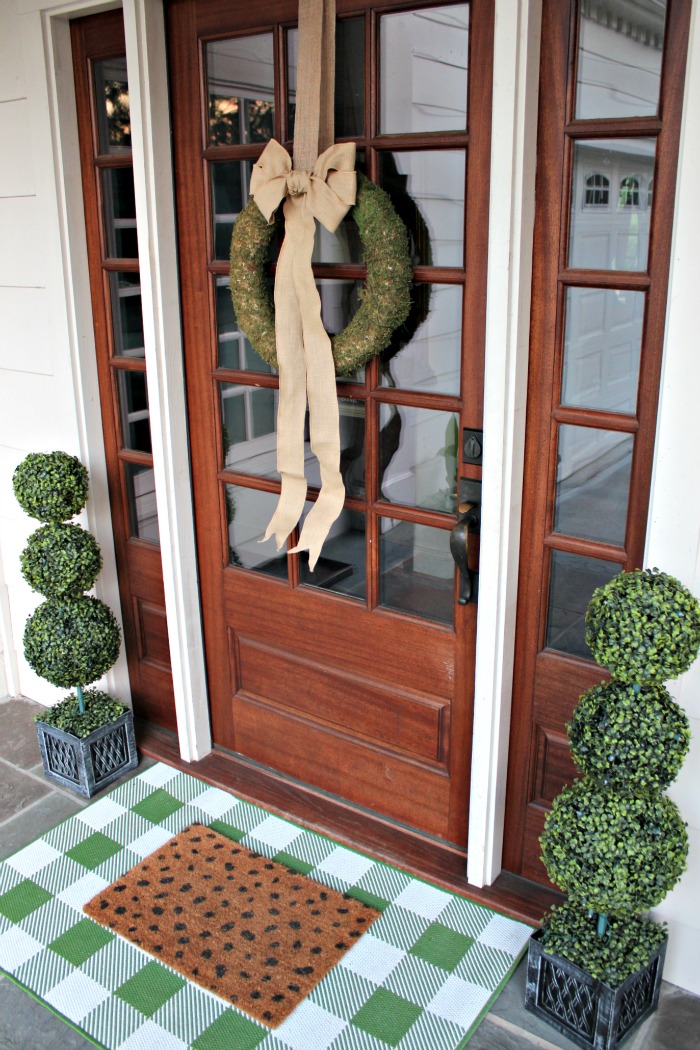 With a front door like that, you know this porch is going to be a stunner! And it is. :)
See the rest of Heather's beautiful summer porch here >>> Southern State of Mind
PIN it to save it for later!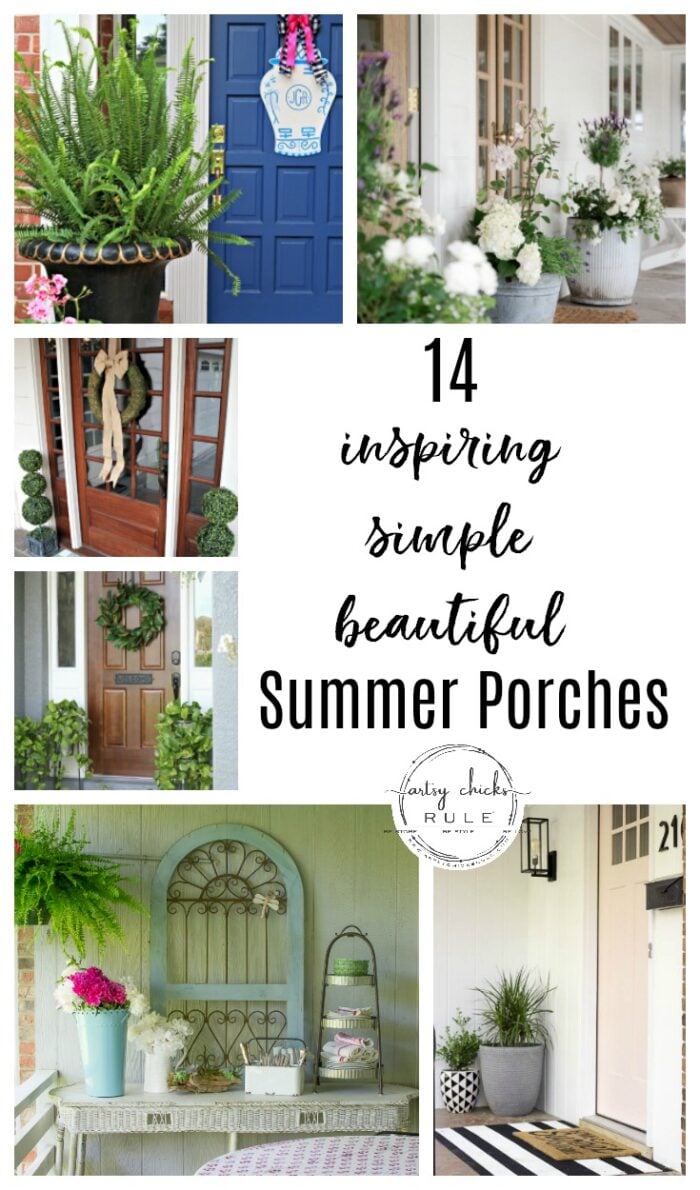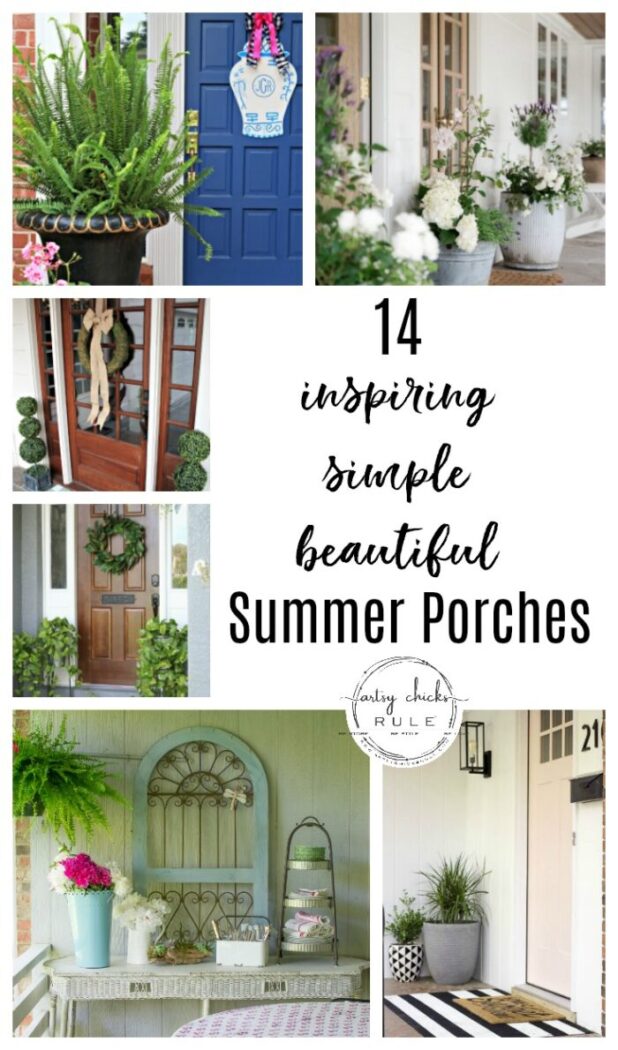 I hope you enjoyed today's post full of summer porches and summer porch decorating ideas.
I can not wait to get ours finished so I can decorate it up pretty.
Do you decorate your porch for summer??
And if you follow along with me on Instagram you probably saw what I've been working on. I shared several "in progress" photos as I was painting over the weekend and earlier this week.
If not, you can catch a snippet of it over on my Facebook page. Scroll down, you'll see it. ;)
I'm doing the final touches on it now. Hoping to share it next week on the blog. Stay tuned!
Have a wonderful weekend, friends!!
xoxo