$500 Blogiversary Giveaway (11 years!!)
This post may contain affiliate links. Please see disclosures here.
11 year blogiverary with a giveaway to celebrate and say thank you (and an announcement!)!
Hello beautiful friends!!
I am celebrating 11 years of blogging this month! How can it be? I can not believe it's been that long. I was just sitting and thinking the other day about all the things I've shared here over the years. And about how my kids have grown up since then, and how I've gotten older, haha, since I started this blog all those years ago. Who knew it would turn into this wonderful place to be and share? I sure didn't know at the time!
It's been an amazing wonderful ride so far. I've loved getting to know so many of you! And I love that it feels like I'm sitting right there with you as I'm writing these posts. I feel like that anyway! I think and write as if I'm talking right to each and every one of you. I hope it feels that way when you read it!
What a blessing it is to be able to do something you love to do. And make a living at it. Even more so, right? I am so thankful this fun, little hobby of mine turned into a blessing not only to me but my family too.
And of course, thankful for all of you! Thank you for hanging in there with me and being here to see all the things I share from day to day. Even the everyday life things. I've lost both of my parents in these last 11 years and our sweet pup, Lexi, so also the very hard life things of which you have all been so amazingly wonderful, supportive, thoughtful, and kind! Thank you from the bottom of my heart. Truly.
And definitely not last, but thankful for the friends I've made in the blogging world, of which there are many. But one who started her blog the same month and year as I. Who also lives less than an hour from me. And we blog about the very same things! What are the odds?
Christy over at Confessions of a Serial DIYer and I met around a year+ into blogging and we've been the best of friends since! We've had many blogging collaborations over all these years. We still have one of the many that we've worked together on over the years, Trash to Treasure Transformation Tuesdays on the second Tuesday of every month. Not only that but we've even gotten together and made thrifting videos over the years and shared them here. (You can see them on my YouTube channel here) And even just simple lunches to catch up!
Just for fun, here are a few photos of us over all those years! We have more but this was what I could gather up quickly for this post. :) So many fun times!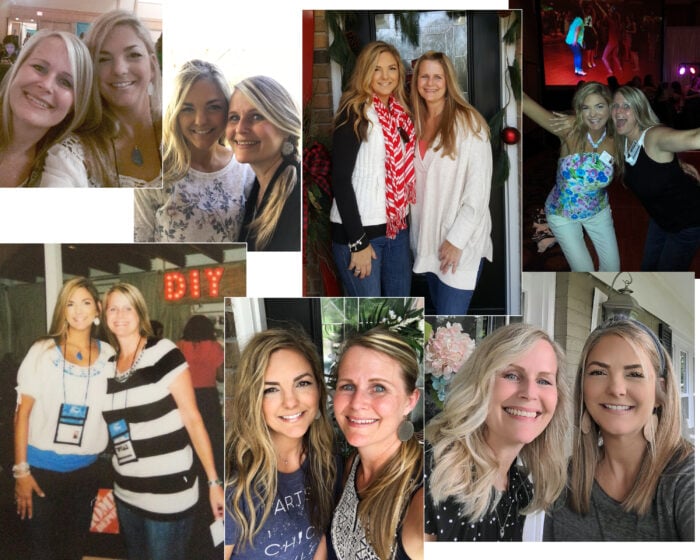 So since we have the same exact blog anniversary, we usually get together and do a giveaway every year too!
So be sure to scroll down to the bottom of the page before you leave where I'll share a link to her giveaway so you can hop on over to enter her giveaway as well!
And with that, I'm thrilled to be celebrating another year of doing what I love, and just want to give back and say THANK YOU to all of you.
I will be giving away 5 $100 gift cards for a total of $500! There will be FIVE lucky winners!!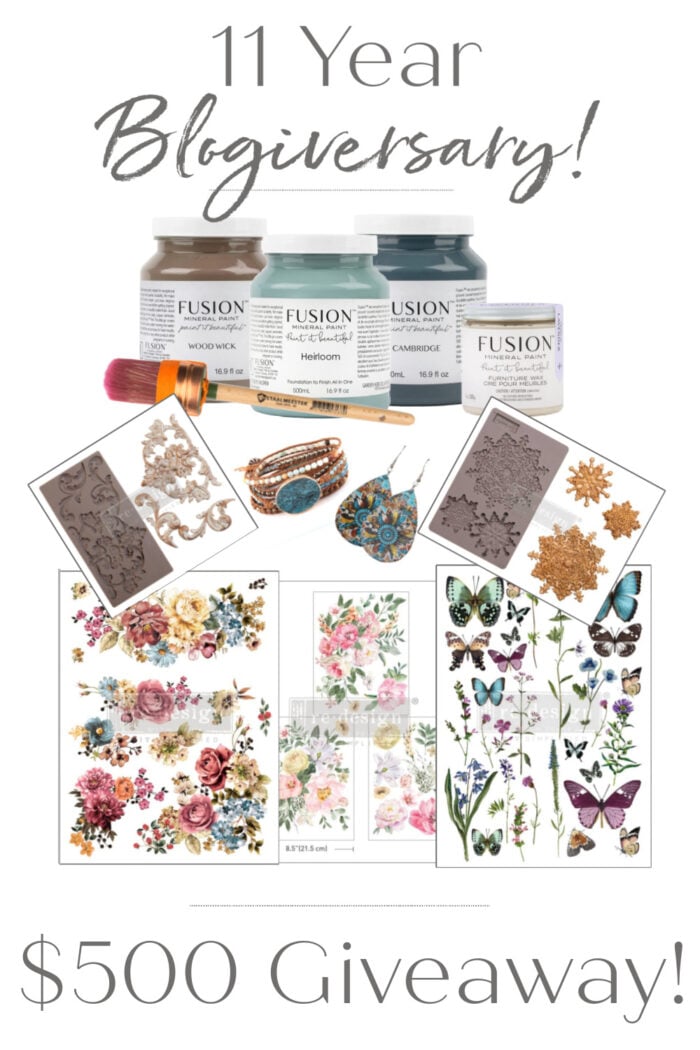 Now, usually, I will give away gift cards to my shop here >>> ACR Shop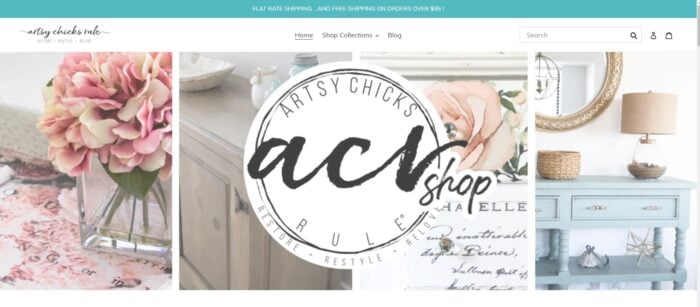 BUT I have something else new to share with you all!! I have been working on it since the summer. (I'm slow! haha…remember I've been at this awhile and I'm older and my brain doesn't work as fast as it used to so it takes me longer! lol)
I finally opened up an ETSY shop! You can find it right here >>> ArtsyChicksRule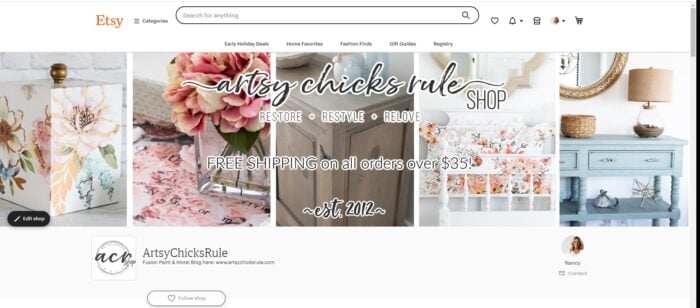 You might be wondering why I need an Etsy shop if I have my other shop. Well, when I opened up my first shop (with Shopify) it was because we were not able to sell our paint line on Etsy. They have since changed that.
And so, I am aware there are people who only shop on Etsy or feel safer shopping there, plus an audience that potentially doesn't know me or my blog yet are there so it only made sense to have our products over there too.
I will keep both stores open and you can purchase from either place! Easy! But going forward the original ACR Shop will also have additional things that the Etsy store will not. Things like jewelry. boutique finds, small decor finds, etc. So there will be some differences between the two.
Either way, just know that you are welcome to shop either place! They will both have the same exact paint supplies, transfers, etc.
And since our Etsy is brand spanking new (just went live yesterday!), I have decided to jump right in and pick the winners to shop at our new Etsy store! Yippee!!
Once the contest is over, the Rafflecopter will choose the 5 winners at random. (This giveaway is not sponsored by Fusion Mineral Paint, Etsy, Redesign with Prima, or any other brands in our store. It is a gift from me to you!)
That's it! (if you have trouble with the Rafflecopter box below, you can visit this link to enter instead, "11 Year Blogiversary Giveaway")
The giveaway ends Thursday, November 16th at 12:00 am EST.
After which, one winner will be chosen at random and notified via email.
You will have 48 hours to respond. If not, another winner will have to be chosen.
You must be 18 years or older (US resident OR Canada only) to participate. Void where prohibited.
You can enter ONCE A DAY, EVERY DAY until then! Don't forget to come back over and enter daily for more chances to win!
WAIT!! Don't go just yet!! Hop on over to Christy's to enter her giveaway too!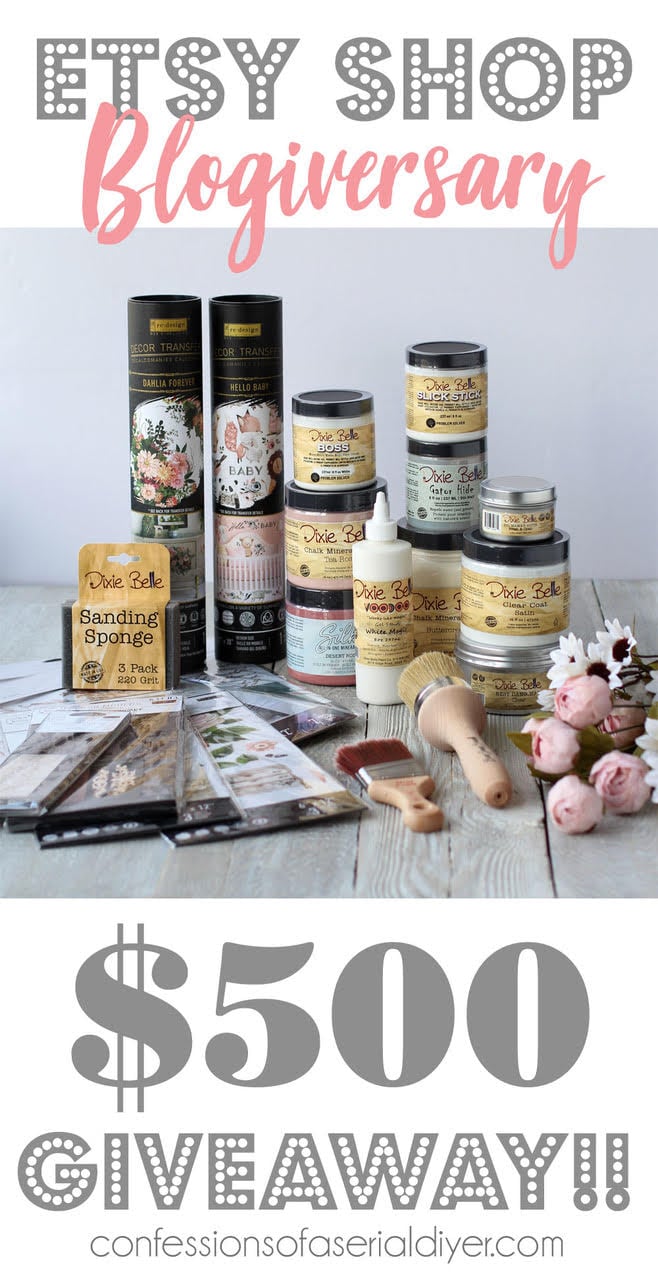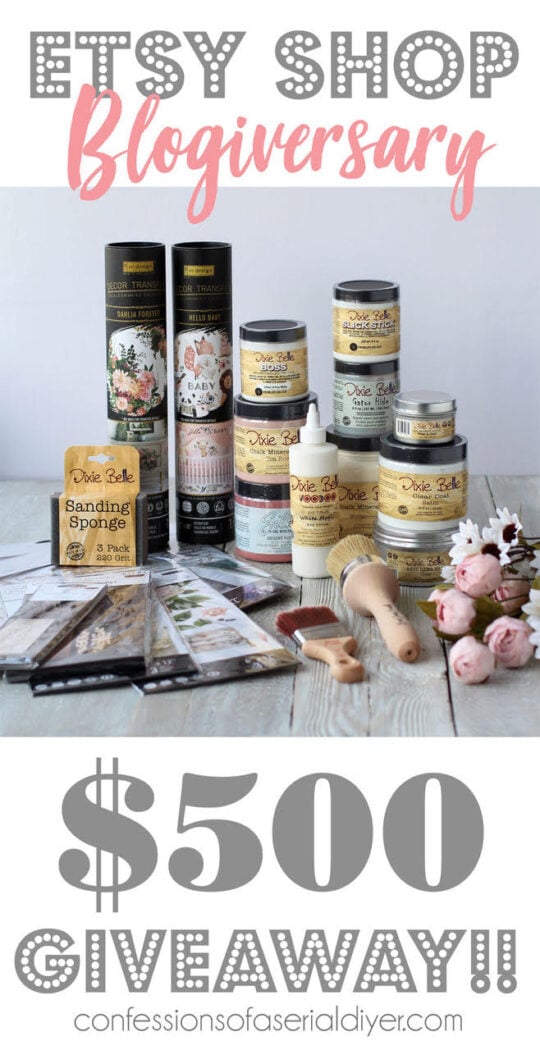 She's going to have 5 $100 winners too!! Good luck!!
Have a wonderful and blessed weekend, friends!
xoxo