25 Thanksgiving Table Settings (decor and ideas)
This post may contain affiliate links. Please see disclosures here.
25+ Thanksgiving Table Settings…decor & Ideas for the best table yet! Get ready for the warmest and most inviting Thanksgiving this year.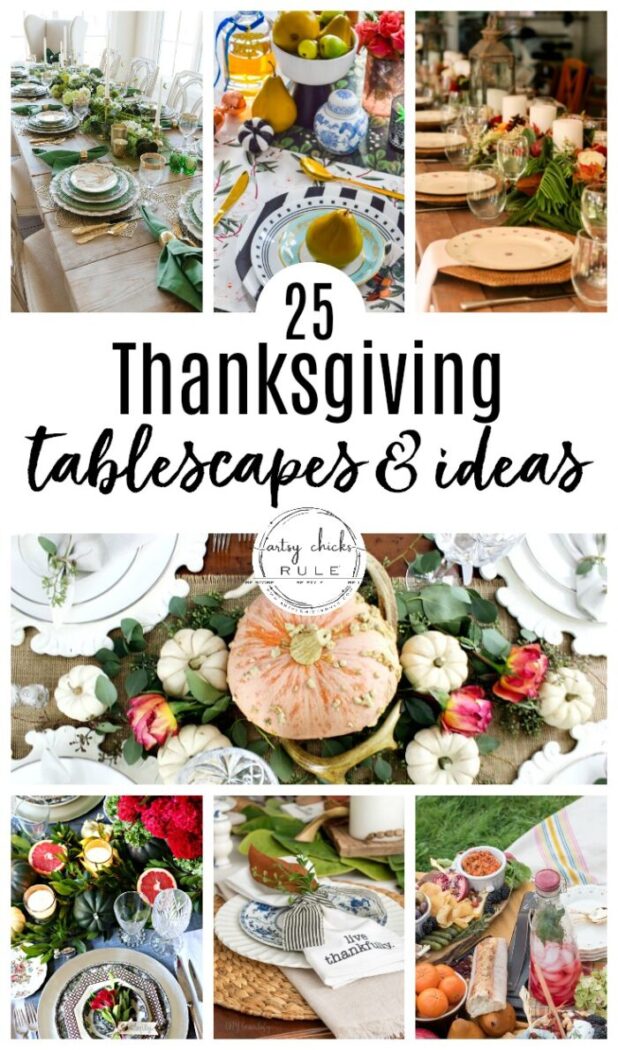 More Thanksgiving goodness today!
I will have you guys Thanksgiving ready in no time. ;)
But first, I have to mention that today is my blogging anniversary, 7 years today! Although I started my blog in April (well, putting it all together, etc) of 2012, I didn't publish my very first post until November 5th, 2012. Honestly, because I was scared. So it took me that long to make the leap and just do it.
It seems crazy now that I was so scared to "put myself out there" since I am on here every week these days…but here I am trying to overcome that hurdle again and put myself out there even more. So not so crazy after all!
I've been comfortably "hiding" behind this screen for way too long, minus the few videos I've done out thrifting, etc. I'm trying hard to overcome my fear and put my face in front of the camera and "talk" to you guys more, to engage more and to hopefully get to know you more. (through more informational/tutorial videos here and just everyday things/projects/etc over on Instagram stories). I keep saying this but haven't done it yet! I'm a work in progress, bear with me.
One day I'll overcome it and face my fears and just do it as I did before…I hope. haha
Until then, I will still be here sharing away.
And today's share is all about Thanksgiving table settings and ideas.
I hope these beautiful ideas will help you create a warm and inviting atmosphere for your holiday guests this year.
Be sure to hop over and visit any that you would like to see more information on.
(Also, I'll be doing a small giveaway (decor item) to celebrate my blogging anniversary … I think next week … so stay tuned for that!)
Thanksgiving Table Settings (decor & ideas)
ENJOY!
The direct links to each table setting/idea are underneath each photo. Go visit and maybe even make a new friend while you are there. :)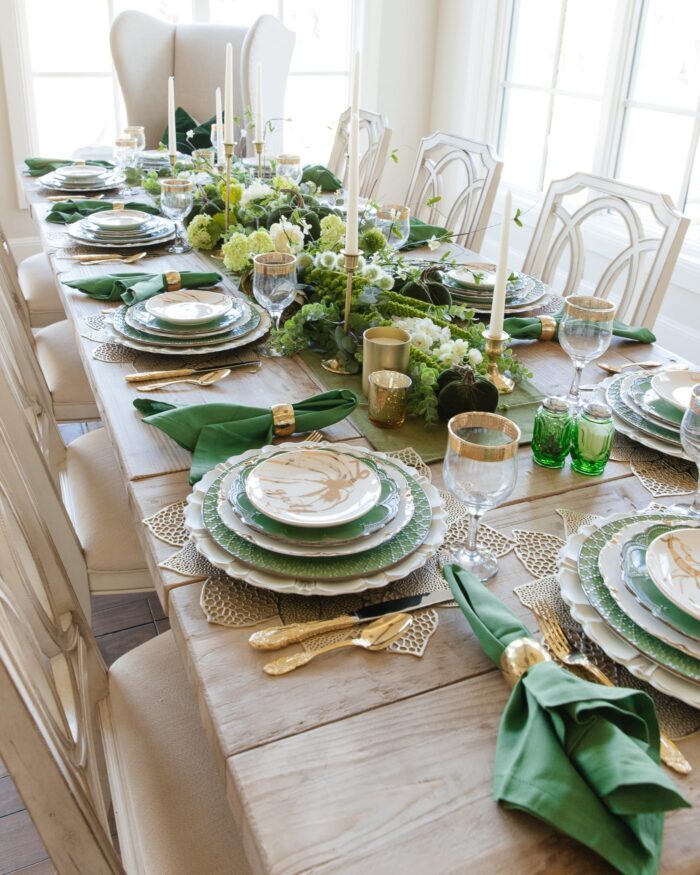 Beautiful gold and green fall harvest table.
See more at Home With Holly J.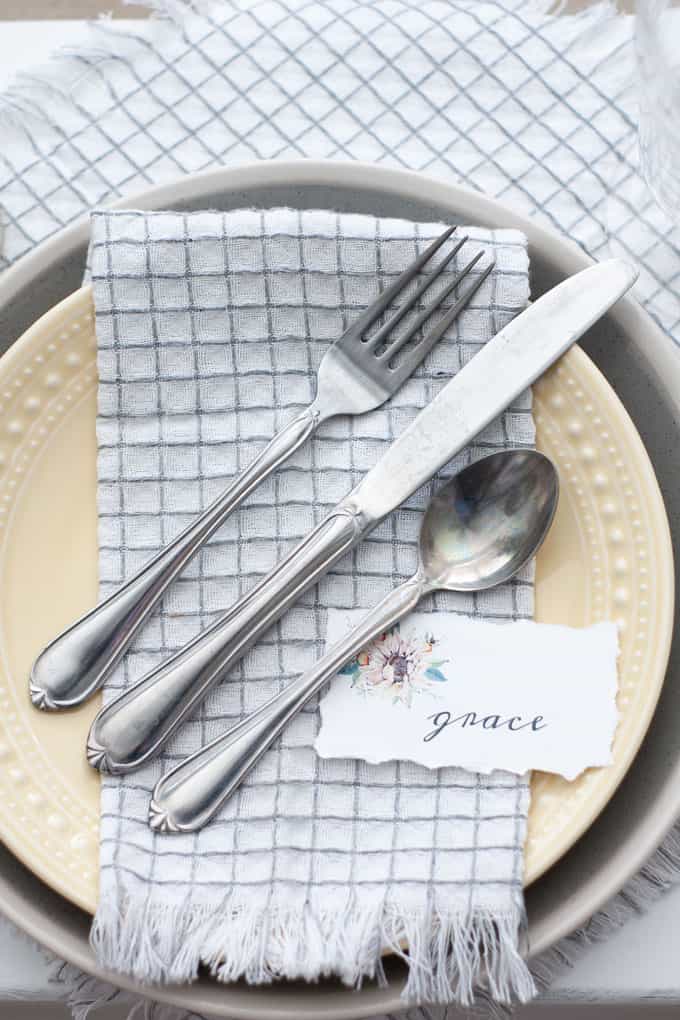 I love this simple idea … place cards. See more at My Wee Abode.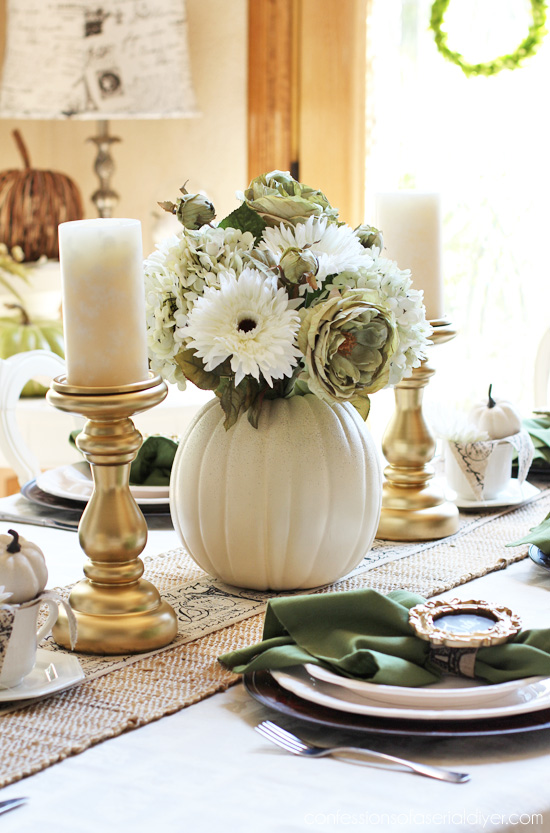 Love this neutral fall tablescape with hints of green. See more at Confessions of a Serial Do It Yourselfer.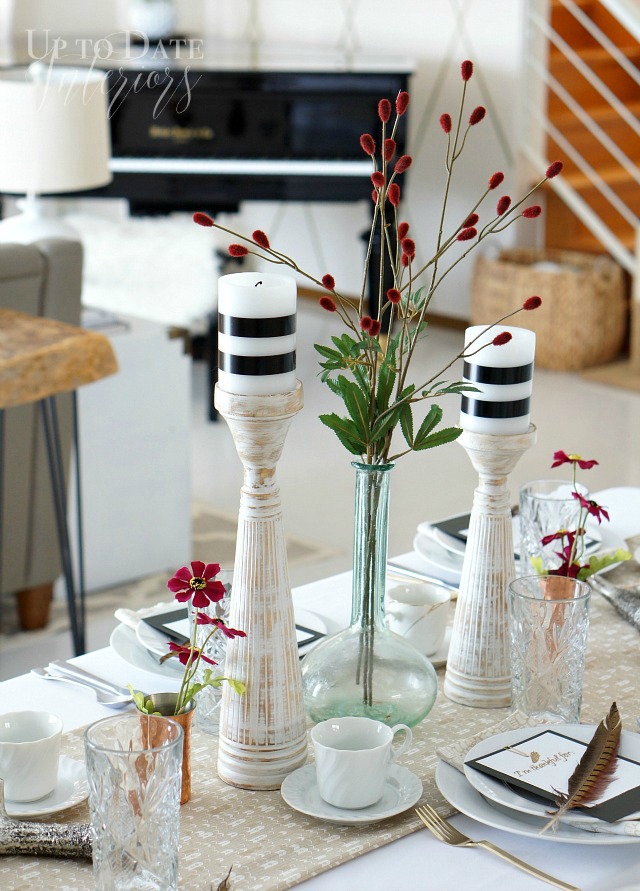 Love this sweet nontraditional Thanksgiving table.
See more here Up To Date Interiors.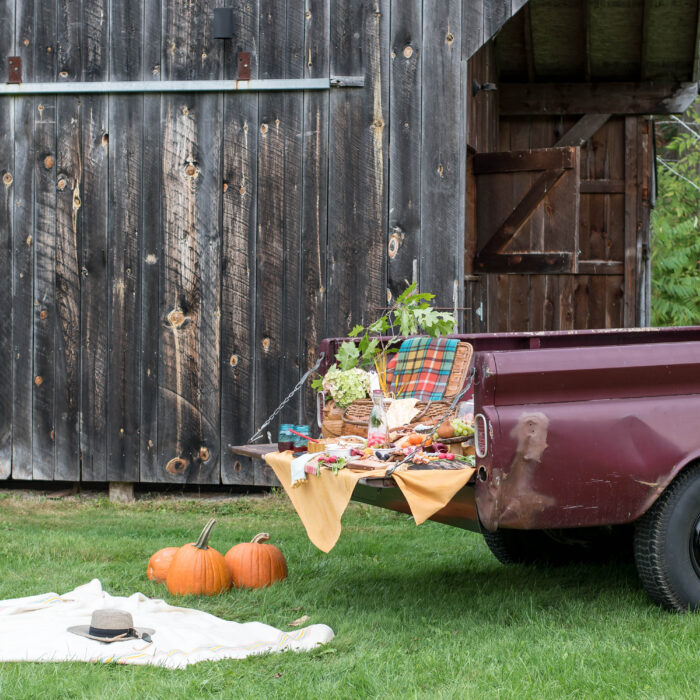 Thanksgiving picnic in the back of a vintage truck?? Why, yes, I think I will!
See more at Vin Yet Etc.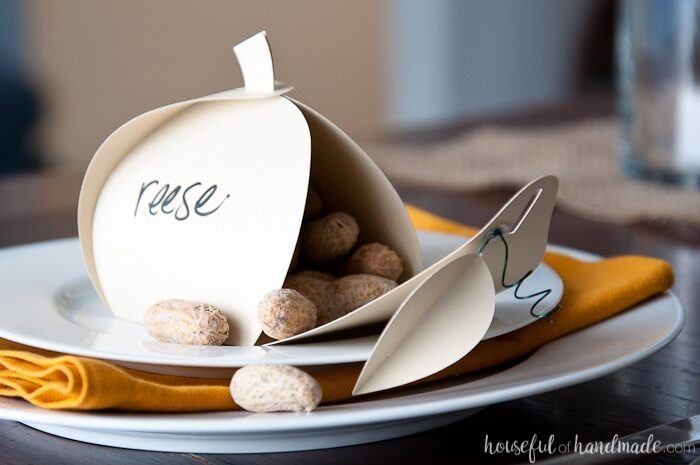 Another sweet idea for place cards on your Thanksgiving table.
See more at Houseful of Handmade.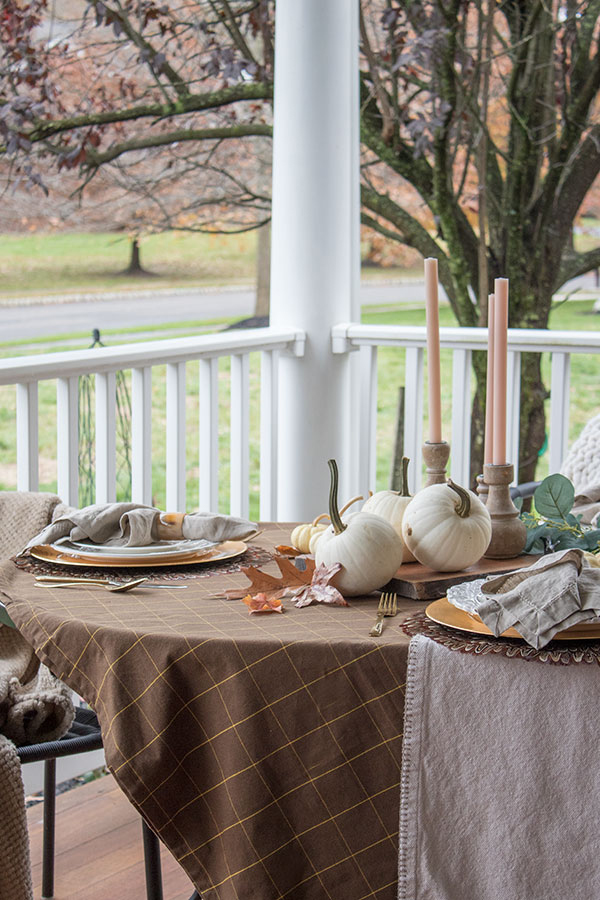 This porch…and table setting is perfection!
See more at The Honeycomb Home.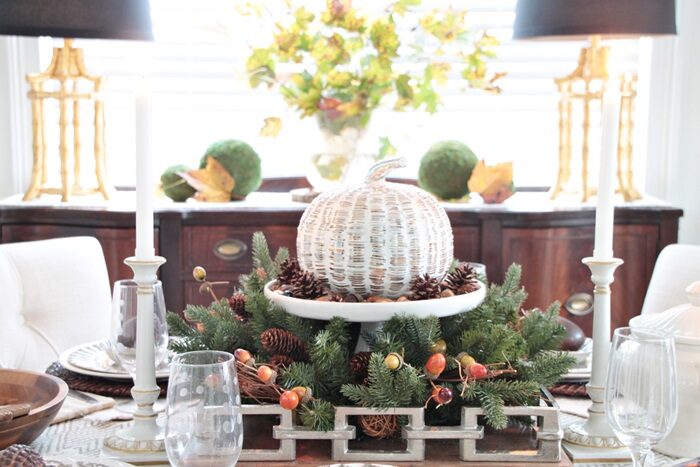 Thanksgiving decorated dining room.
See more at Southern Hospitality.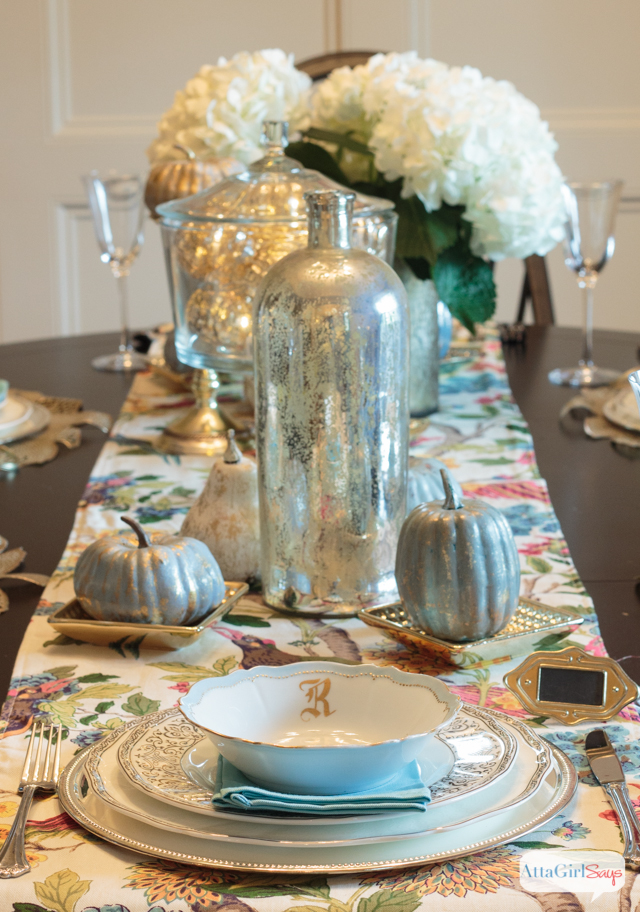 Elegant and colorful Thanksgiving table…yes!
See more at Atta Girl Says.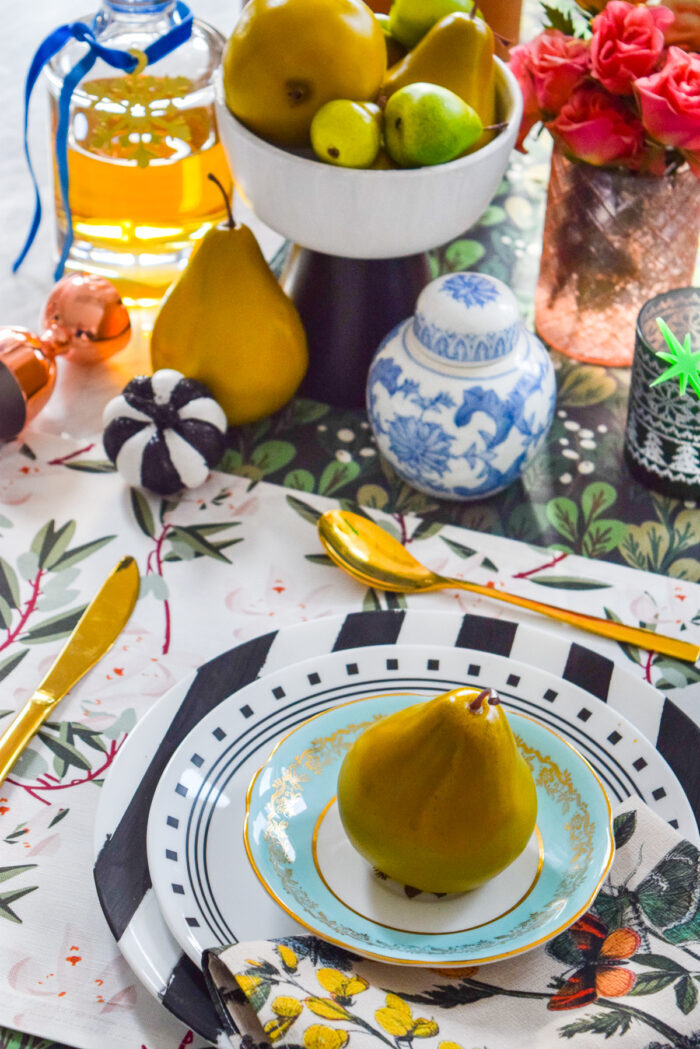 Do you love bold colored Thanksgiving decor?? Then this is for you!
See more at PMQ for Two.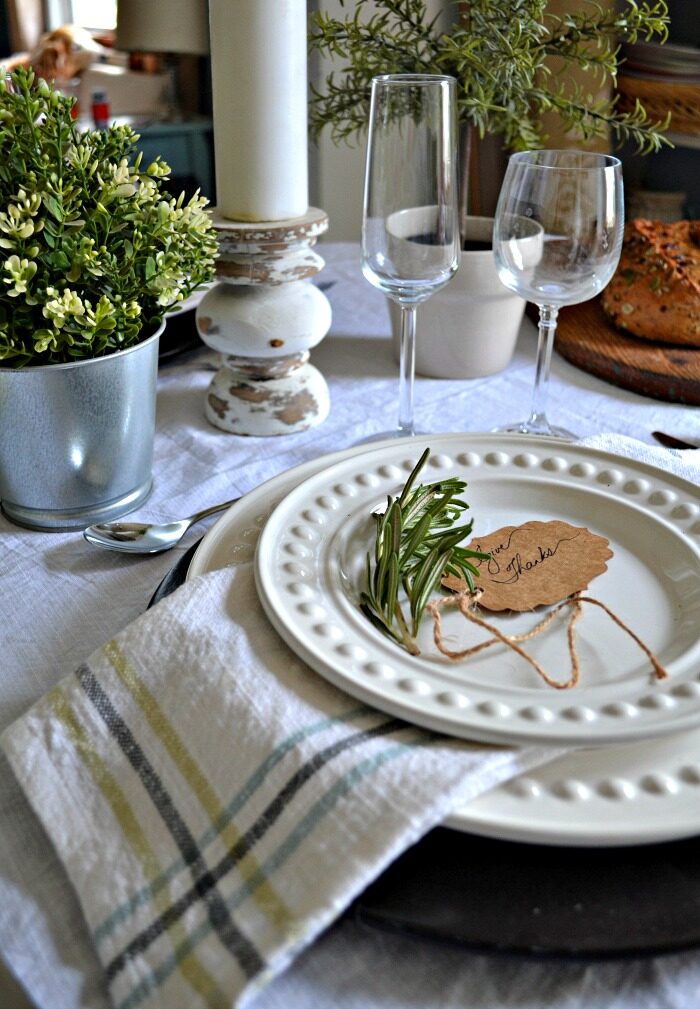 Simple Thanksgiving tablescape.
See more at Red Cottage Chronicles.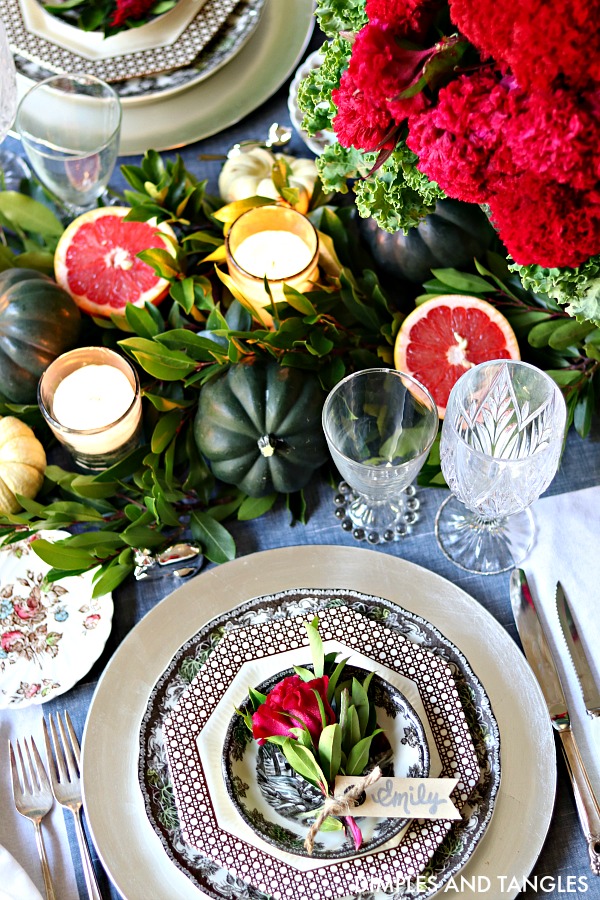 Vintage equals elegance in this Thanksgiving-themed table.
See more at Dimples & Tangles.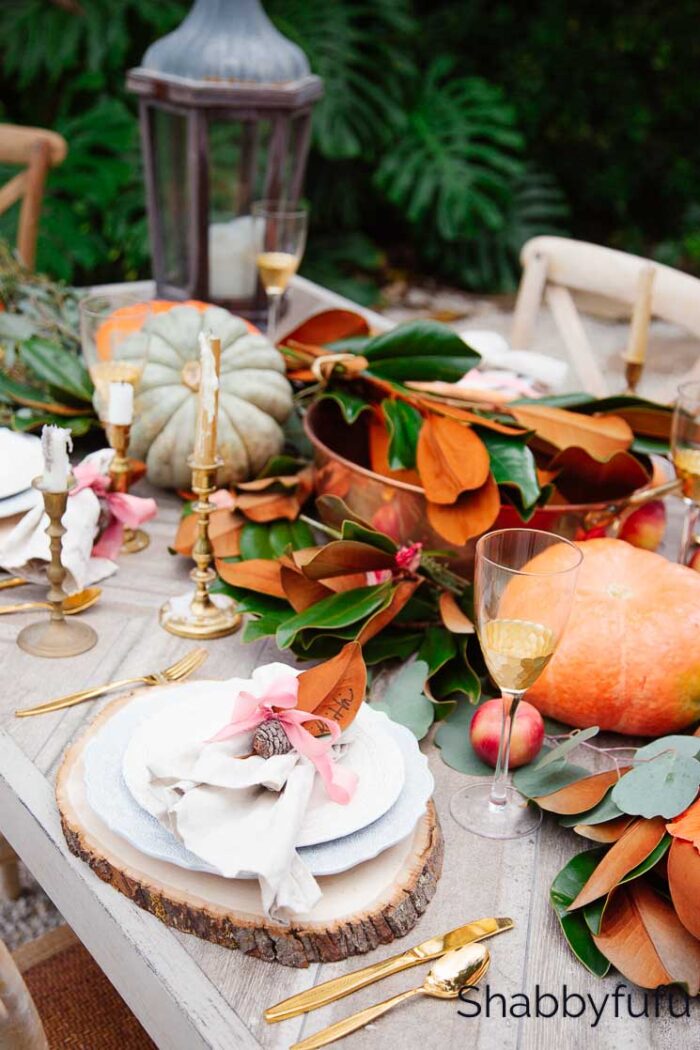 Friendsgiving table setting, just dreamy!!
See more at Shabbyfufu.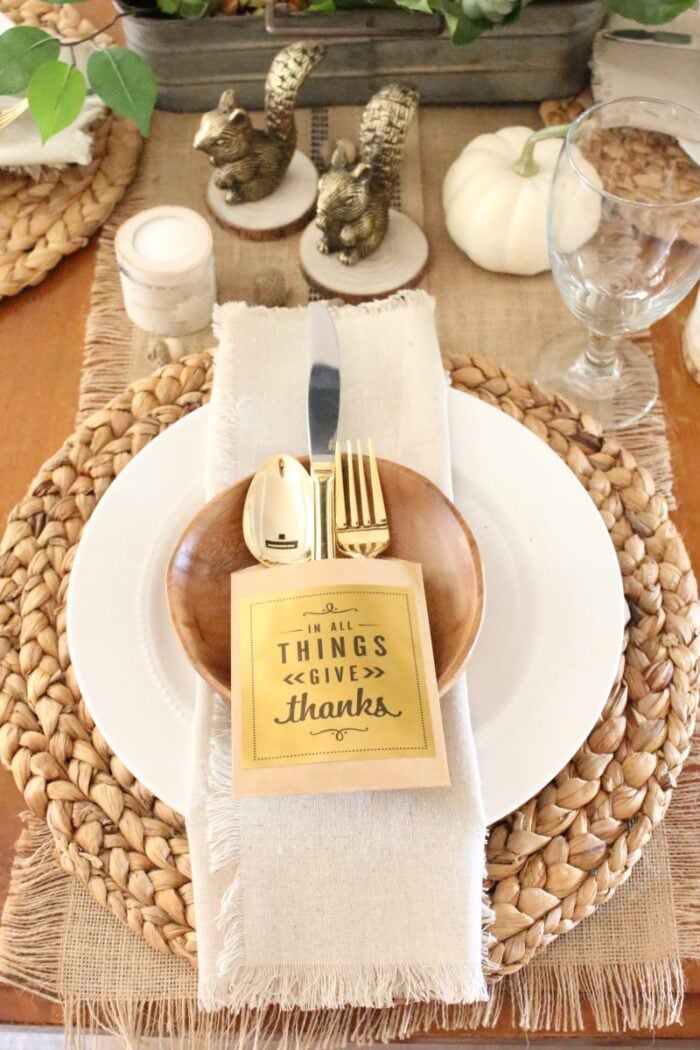 Rustic Thanksgiving table setting.
See more at White Cottage Home and Living.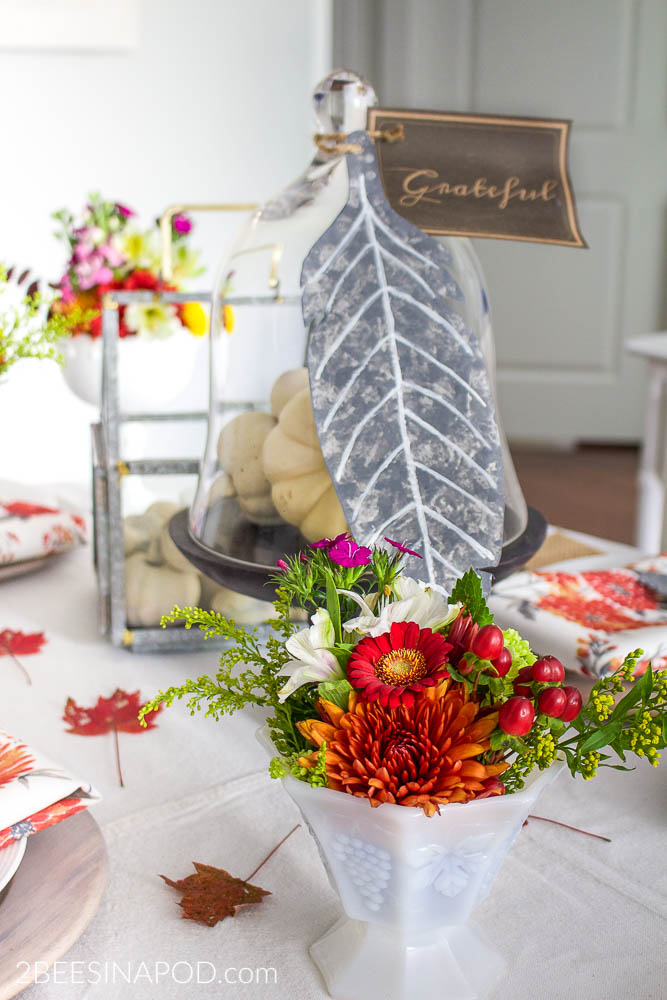 Another fun, colorful Thanksgiving tablescape.
See more at 2 Bees in a Pod.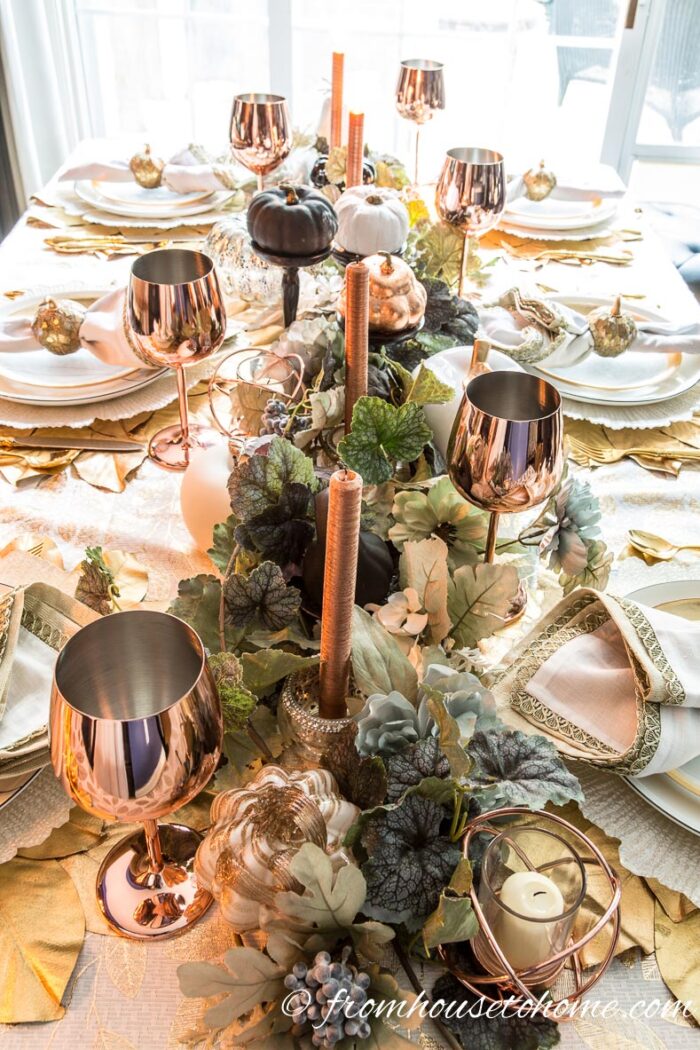 Beautiful copper Thanksgiving table setting.
See more at From House To Home.
Love the natural elements in this table setting.
See more at DIY Beautify.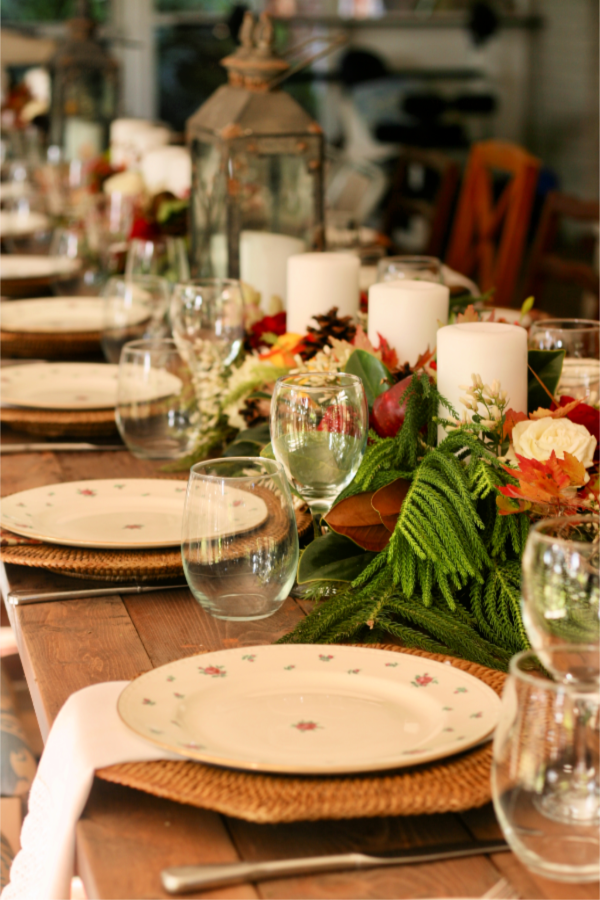 This DIY centerpiece is just stunning! A gorgeous addition to any fall table.
See more at Mimzy and Company.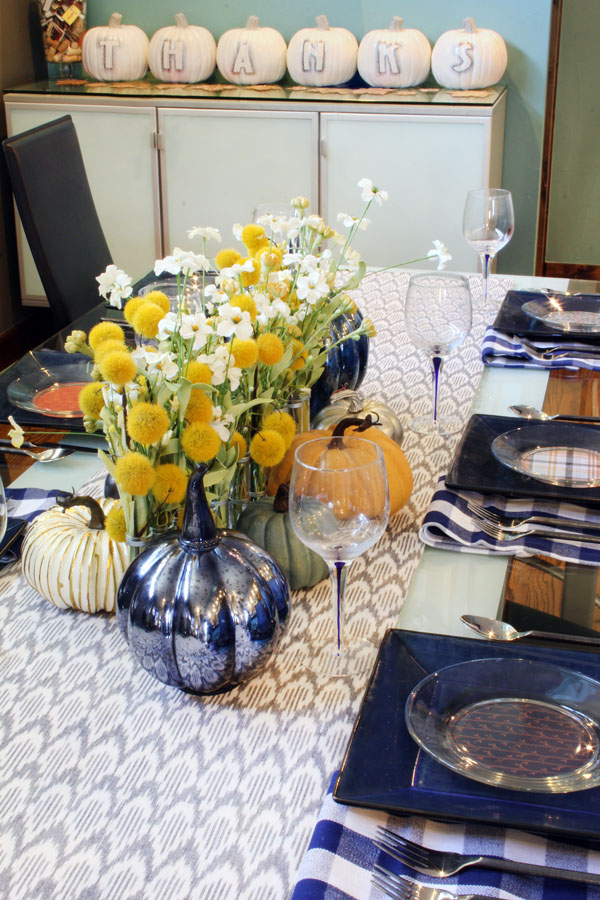 This happy yellow and navy blue Thanksgiving tablescape is a fun new take on fall!
See more at Blue I Style.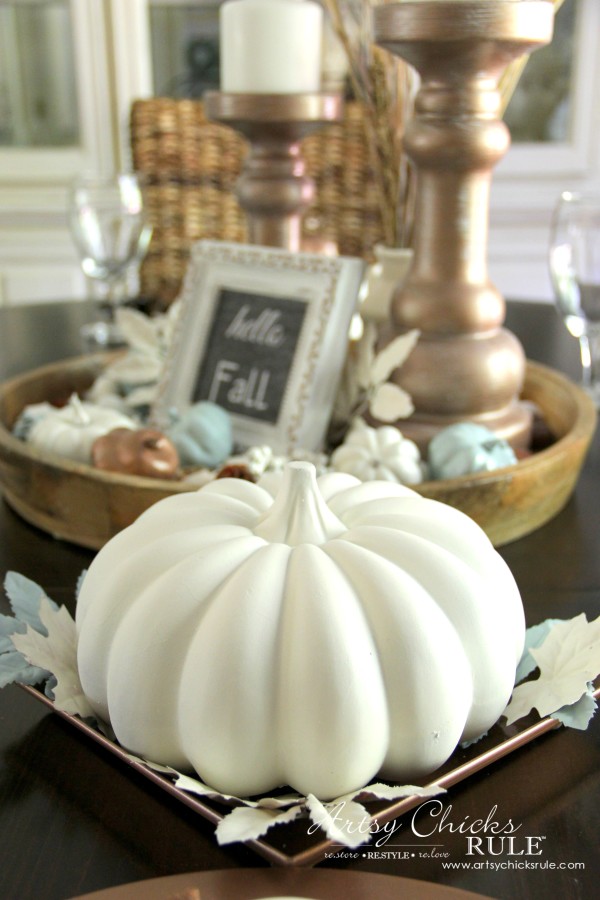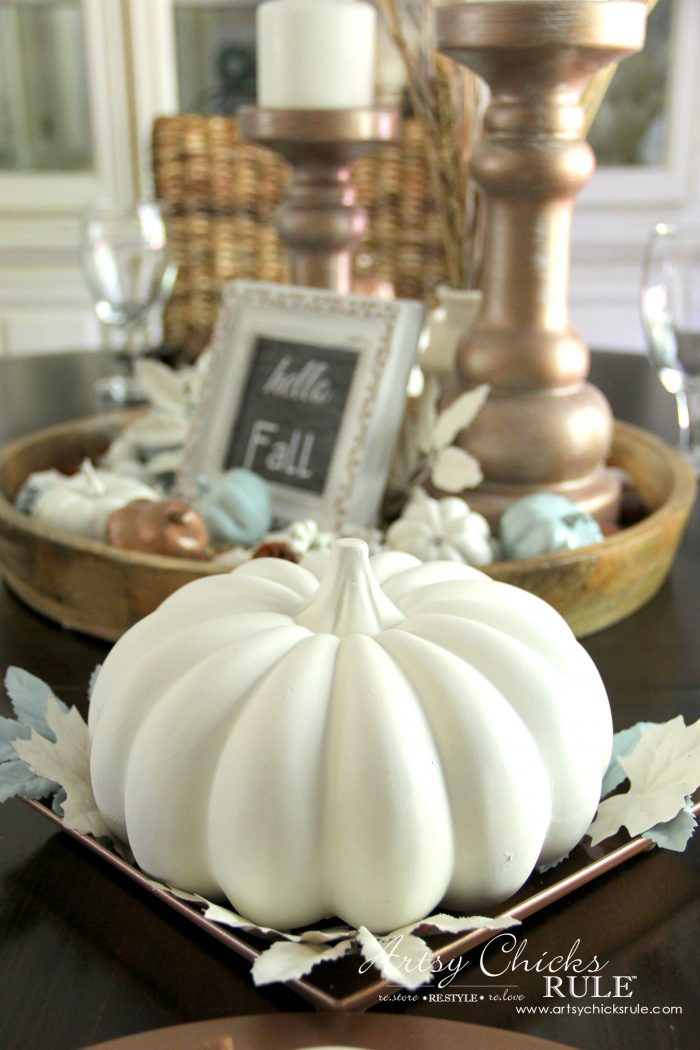 Coastal, neutral fall tablescape.
See more here.
Even more ideas below!
Inexpensive & Easy Table Ideas –  The Purple Hydrangea
5 Tips For A Low-Stress Thanksgiving – Marty's Musings
Pink Thanksgiving Tablescape Idea – What Meegan Makes
How To Decorate A Thanksgiving Table – Design Dazzle
Super Fun Kids Table – Jessica Welling
Simple Thanksgiving Table – Sweet Pea
Rustic Chic Thanksgiving Table – The Red Painted Cottage
Amber & Gold Fall Table – Across The Boulevard
PIN it to save it!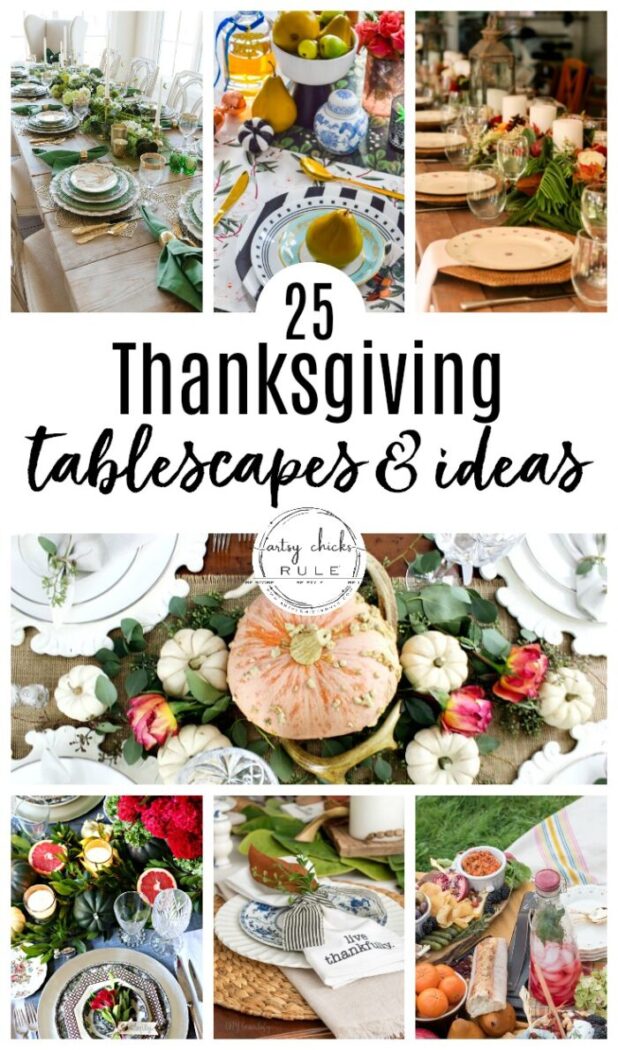 I hope you gained some beautiful inspiration from these amazing Thanksgiving table settings/decor.
I just love Thanksgiving and am so looking forward to celebrating it this year. :)
Hopefully we'll have this Master bath/closet finished by then! I've been working away in the bath part (grouting) the last few days so maybe. Definitely seeing the light at the end of the tunnel anyway. If you want to follow along, you can catch it all in my stories over on Instagram.
Have a wonderful week, friends!
xoxo