Did  you ever see the movie Eat, Pray, Love?  (or read the book?) I did and I loved it. I also love the saying.
I had originally planned to paint a graphic/wood plaque with the saying and hang it on the kitchen wall somewhere….but then that idea morphed into this….
….an entire wall.
Such a fun, whimsical wall. You might find a little bit of everything in this house!
Eclectic, for sure.
I suppose you could say my style is…..French, country, vintage, eclectic, colorful, coastal cottage. Yep, that's a mouthful but pretty much describes my home.
I got the lettering for my fun little gallery wall from Michael's.
Then painted them with…Provence (I think, it's been quite a few months since I did this), Scandanavian Pink- both Chalk Paint & the same brown I have in my foyer, Kaffee by Sherwin Williams. (I sure wish Annie Sloan had a nice dark brown in Chalk Paint)
It took a couple coats to fully cover.
To arrange placement on the wall I put some painters tape on the back of each letter. I had to be quick because although this was a great way to put them up to arrange them, they were pretty quick to fall too!
Once I had them arranged on the wall, I removed one letter at a time and replaced the blue painter's tape with 3m Command Strips, cut to fit, and then replaced it back on the wall where it was.
This was a great way to do this. You just had to be somewhat quick, like I said. But I moved them around until they were where I wanted them, then stuck them up for good with the command strips.
This mirror came from HomeGoods….or TJ Maxx. I don't remember, sorry.
I dry brushed some of the blue over the edges to give it a different look. I had originally planned to paint it with Oil Rubbed Bronze spray paint first but figured I had done enough of that in my house.
Plus, I was sorta liking this silvery-gold color.
I sprayed it with a quick coat of poly to seal the paint and take the "chalky" look away. I think it ended up with an awesome "patina" looking effect.
The chalkboard was actually an old framed picture I picked up at the thrift store and made into a chalk board using Annie Sloan Chalk Paint® in Graphite. (and the frame is painted in Old White)
The saying is a Julia Child quote and the inspiration for the writing that I wrote on the chalkboard came from Lily & Val. They have the cutest chalkboard art ever! (I'm a fan…I love just any and all kinds of graphics)
The little frame and glassware in this photo are from a thrift store & garage sale.
The tray came from Pier One Imports…..
And yes, the word "Love" is not symmetrical. I wanted it a little lower than the word "Eat".
Whimsical, right?
And yep, more whimsy…I originally had the "V" straight but playing around with the letters I ended up doing it up like you see.
Same with the word "Pray"….I decided to curve the letters.
Expresses my love of fun and silliness ( in life, in general), I think.
See my little bottle there in the corner? That was the Gin bottle I painted with Chalk Paint in this post here and talked about in this Chalk Paint® Google+ Hangout here.
Or how about that phone. Obsolete. And it's broken. People can hear us but we can't hear them.
That's fun.
It never rings much anymore anyway, we use our cell phones for everything these days. So I suppose it's just for looks at this point.
Maybe I'll remove it completely and place the chalkboard in front of the silver outlet…or not.
The board and batten on this wall was done about a year or two ago. I didn't like this very plain wall behind the island and just knew it needed something. And this is what I came up with. Exactly what it needed.
My husband put it up, I caulked, painted and added the bronze hooks.
A fun, colorful and whimsical gallery wall in my kitchen. (and super inexpensive too)
(wall color is Sherwin Williams – Ivoire -SW-6127)
Details on the milk can in this picture can be found in this post here.
I love the wall. I love the saying. I love the whimsical layout. And I love all the colors!
Along with my newly painted kitchen island this is definitely my "happy place" in the house.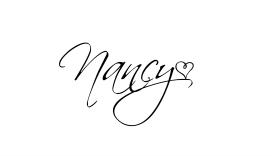 Sharing with: Funky Junk Interiors, Tatertots & Jello, Home Stories AtoZ,