Welcoming Fall Foyer (Decorating Challenge – One Space, 3 Ways)
This post may contain affiliate links. Please see disclosures here.
Are you guys ready for a new decorating challenge?
Back when we started this fun group of ours, we did the "one space, three ways".
We thought October, November and December would be a great time to revisit that.
You can see some of the past decorating challenges here … "Home Decor".
I originally thought I'd do my mantel this time but I wasn't loving it.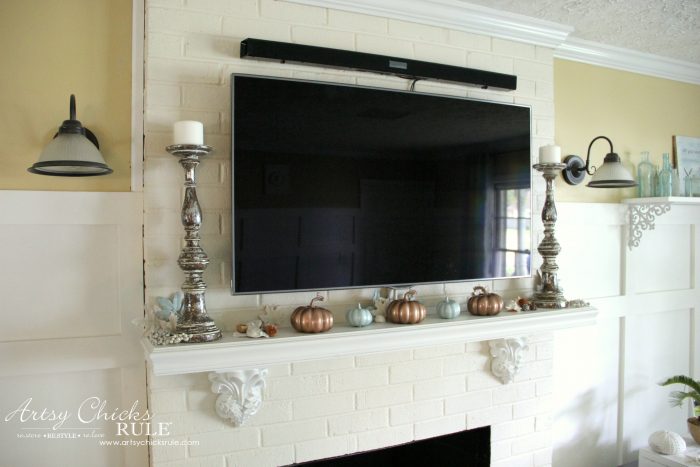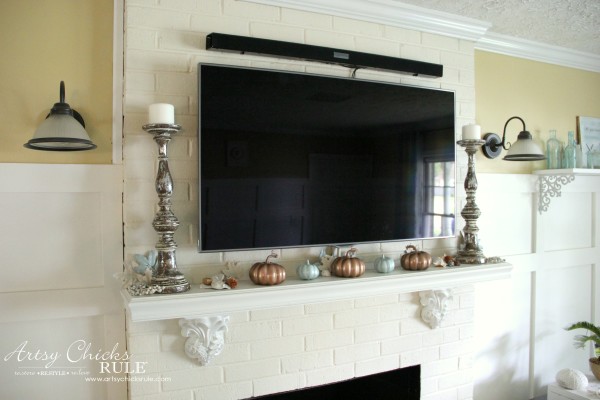 I don't have a whole lot of space there with the TV but the TV really (really, really) needed to go there.
Not ideal but this room is not an ideal shape/size either.
We struggled with space and TV placement for years. I'm SO much happier with the room now that the TV is over the mantel….even if it meant basically losing the mantel. ;)
I even made my husband attach the sound bar (an afterthought) OVER the TV instead of under where it should be….just so I'd have a wee bit of mantel to decorate. Also not ideal, but it would have been all but totally gone had I let him put it below!
You can read about this fun makeover here … "Black Friday TV, Not This Time".
Sooo, now that I've shared that useless bit of knowledge, I'll tell you where I DID decide to decorate and share.
The FOYER….again.
I know, I did that the last time we did the one space, three ways but it's the perfect spot to welcome guests for each season.
For October I'm doing a "Welcoming Fall Foyer", November will be a "Give Thanks" foyer and December will be all decked out for the Holidays…yay! ;)
The fun group I mentioned at the beginning of this post is our Facebook Decorating Group. I'll give more links and description at the bottom of this post in case you've missed hearing about it before.
So here is my super simple, super thrifty and hopefully very welcoming Fall foyer……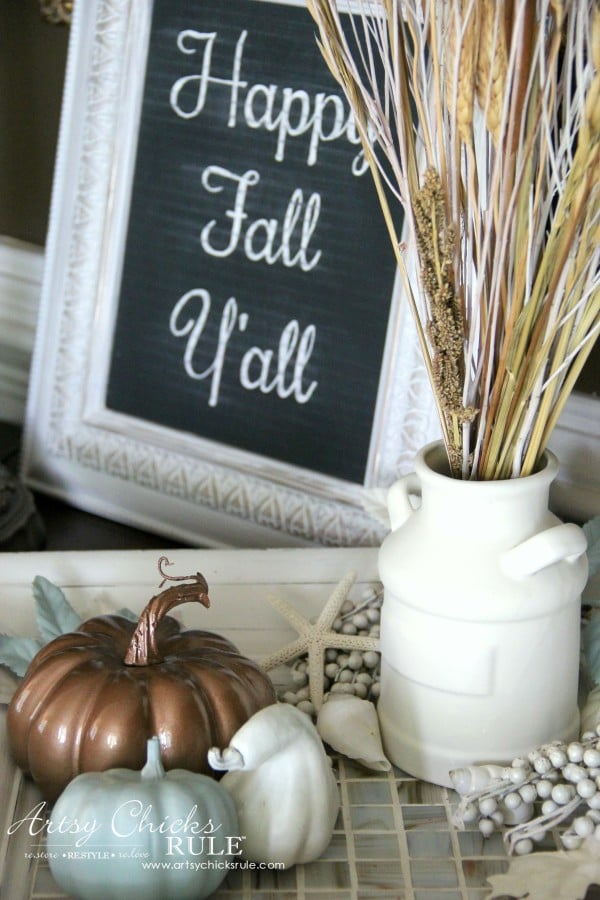 You may recognize some of the items.
I recently created a Fall tablescape similar to this and decided to continue through with that same theme.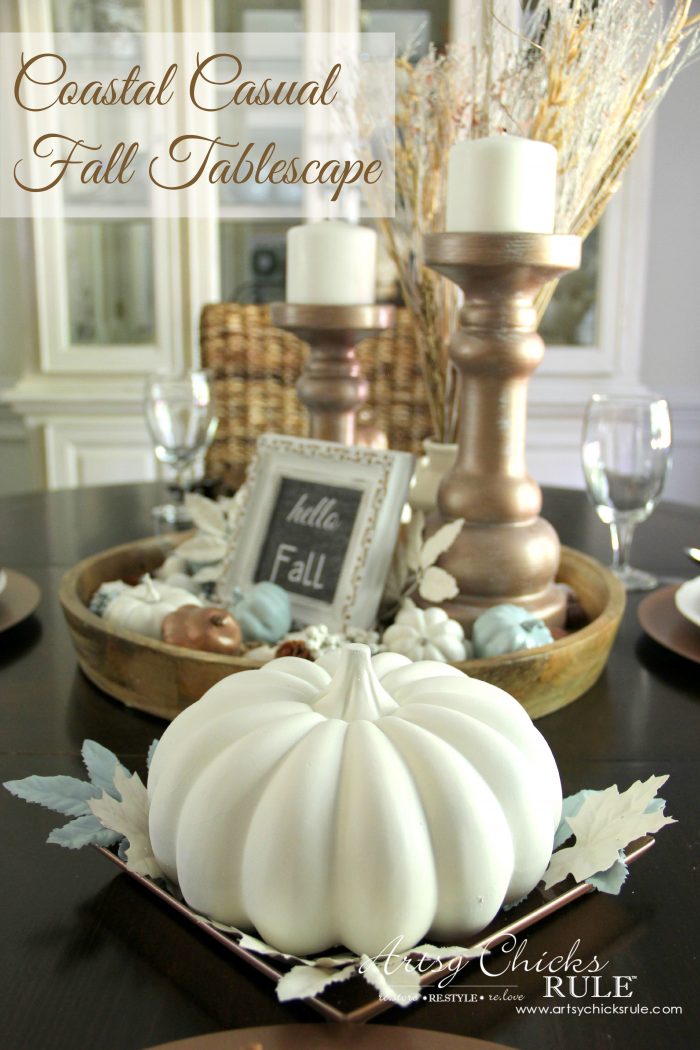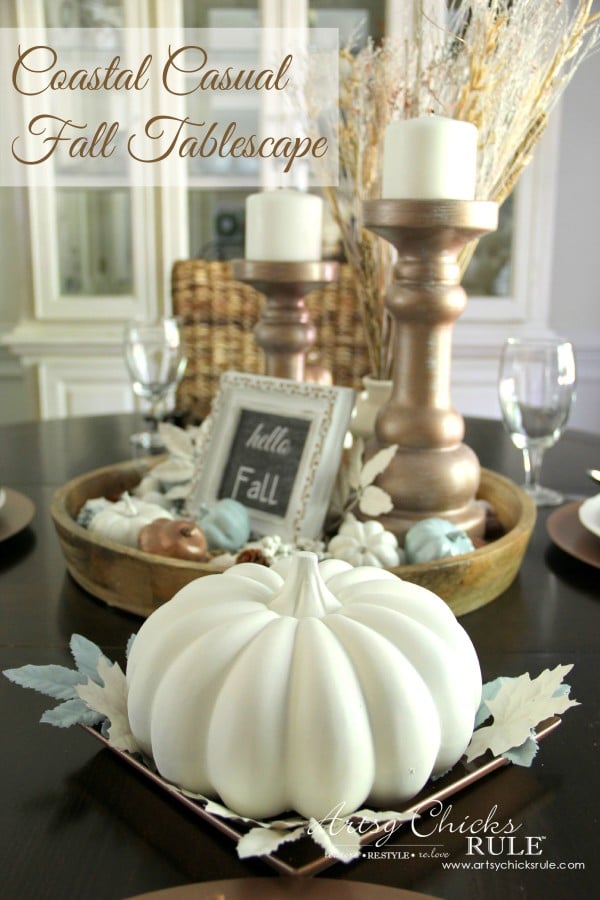 The "Happy Fall Y'all" sign is a recycled project from last year…..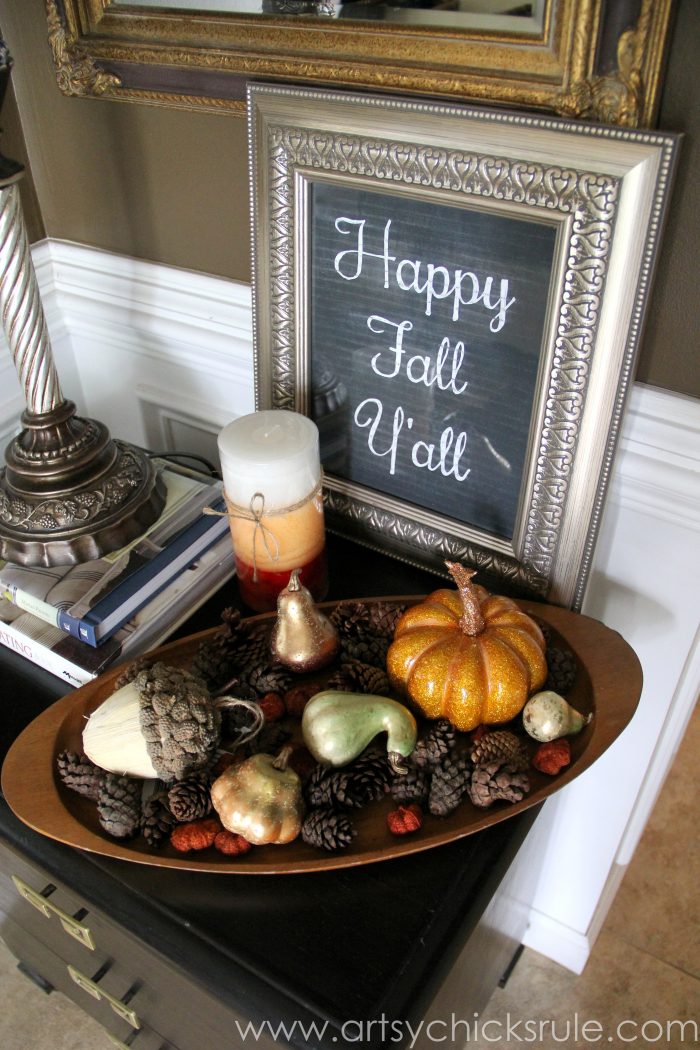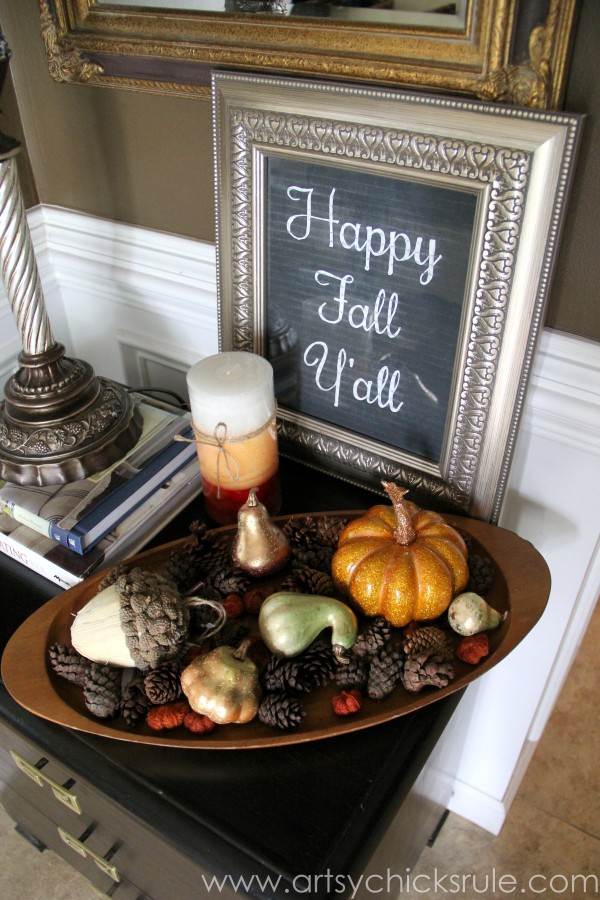 I used traditional colors last year.
The tutorial for the sign is here…"Happy Fall Y'all Chalk Art Tutorial".
This year, I decided to remove the glass that was over the front of it so it would look more "chalkboard" like.
And I painted the frame.
I just gave it one quick coat and then immediately wiped away the detailed areas.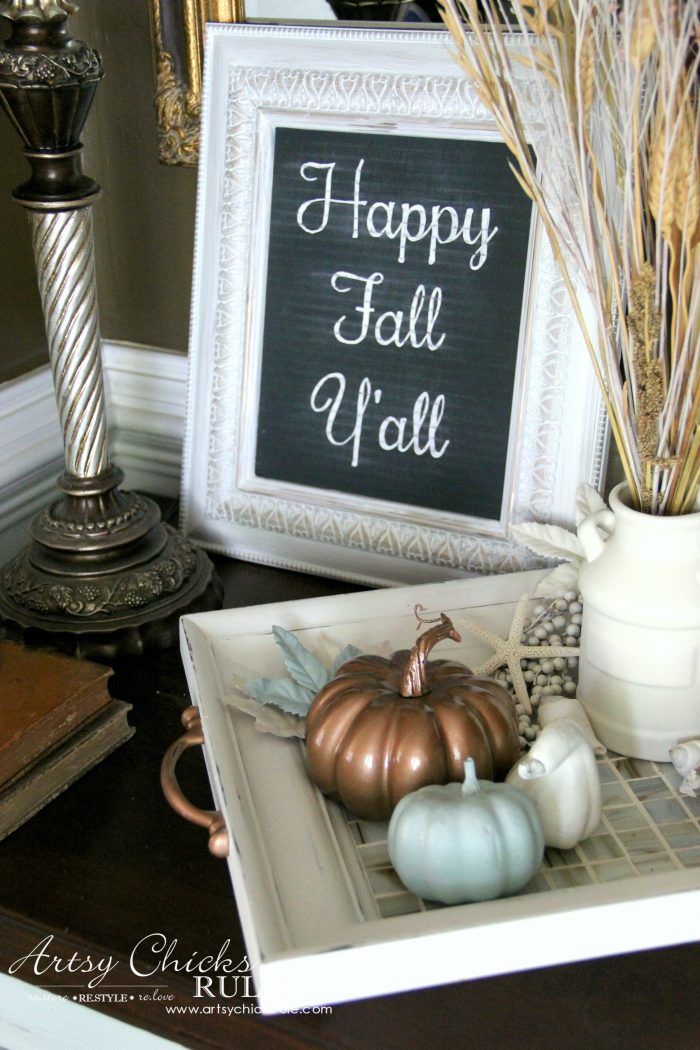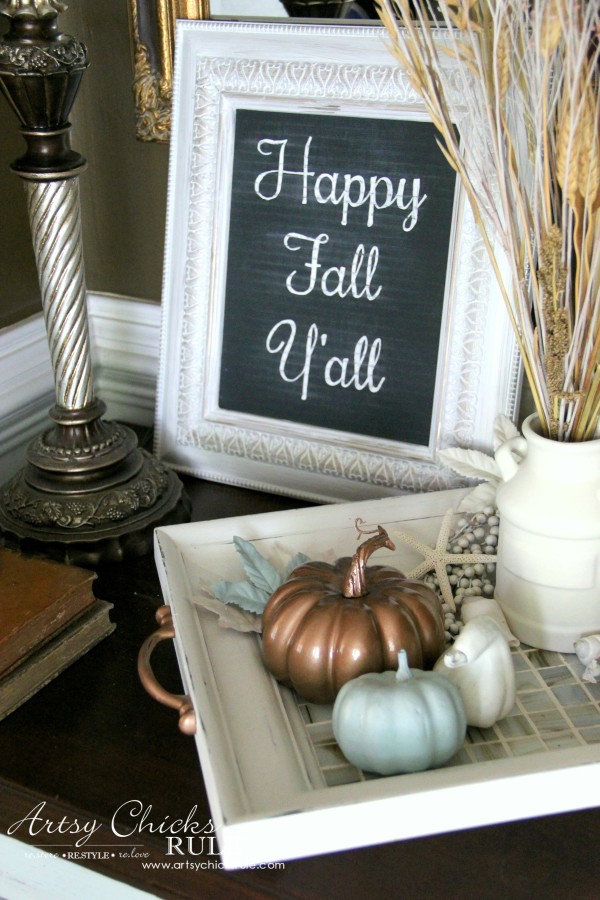 It goes a bit better with the neutral theme now.
The pumpkins, well they got painted as I talked about in the Fall tablescape post linked above.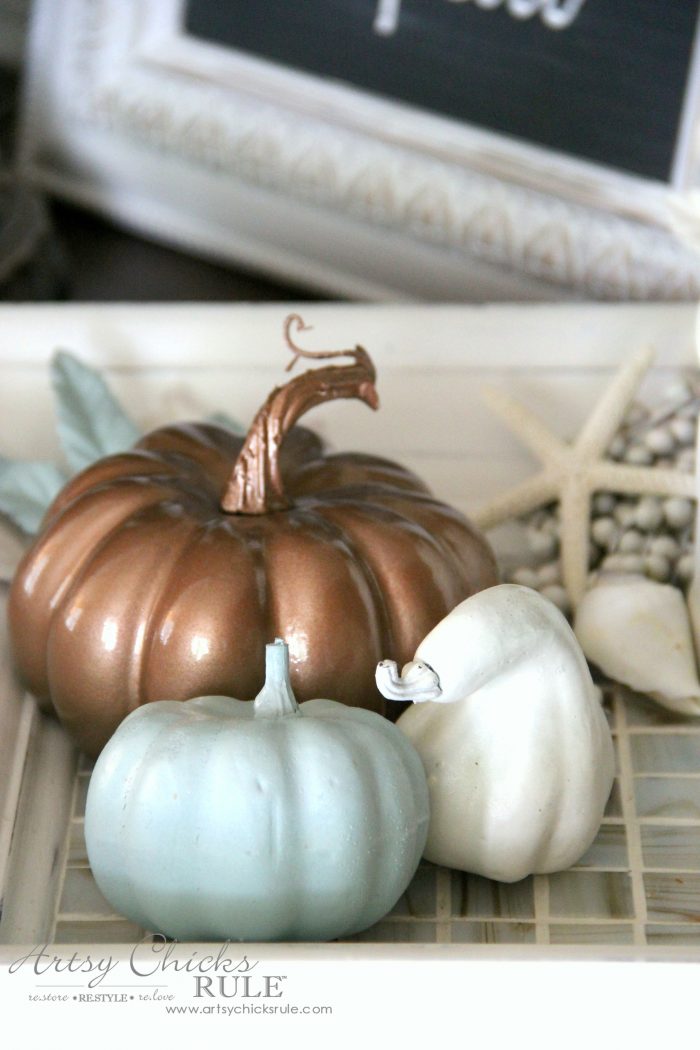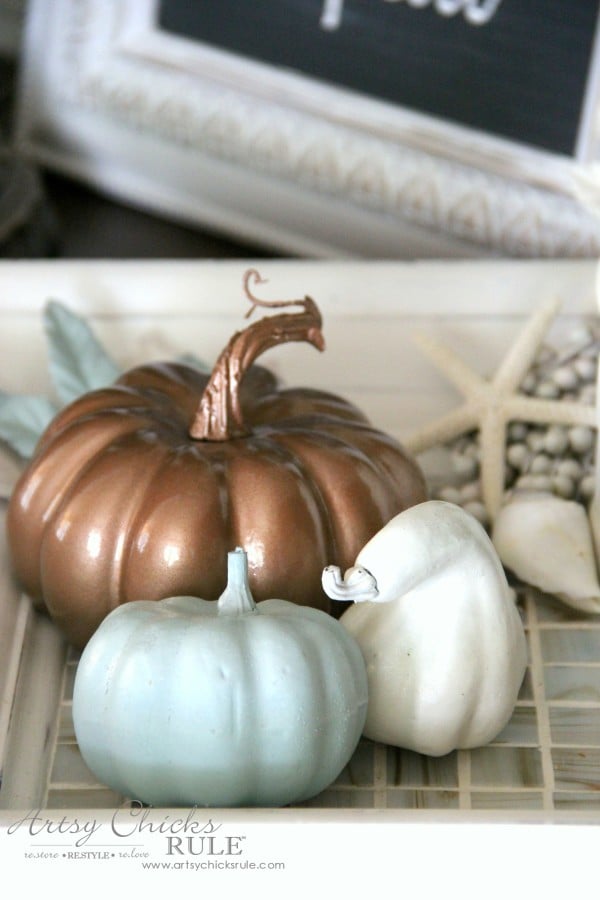 Loving these colors so much!
This $1 thrift store find.
All it needed was a quick coat of paint.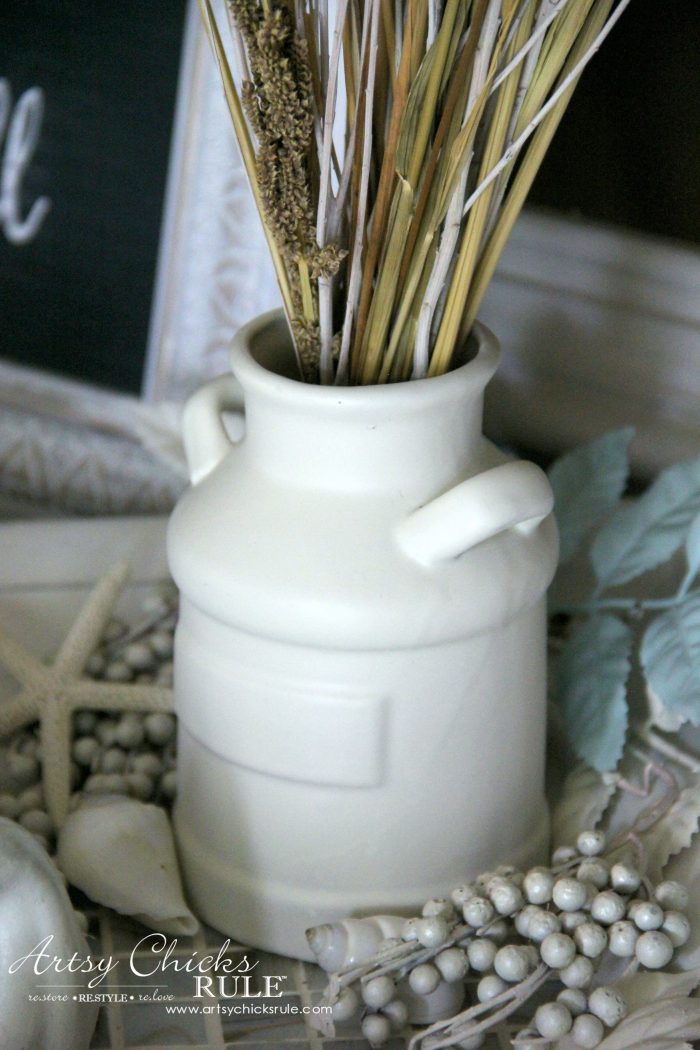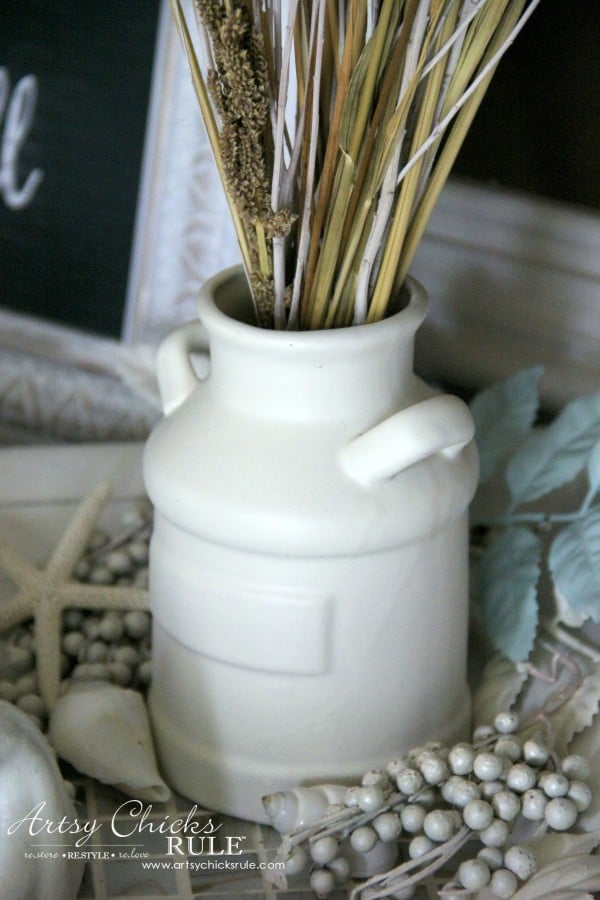 The "Thrift Store Frame Turned Tiled Coastal Tray" I created recently was the perfect color for this vignette.
The tiles are blues, neutrals and coppers.
I truly think this tray might have been a bit of the inspiration for my Fall theme this year without me even realizing it!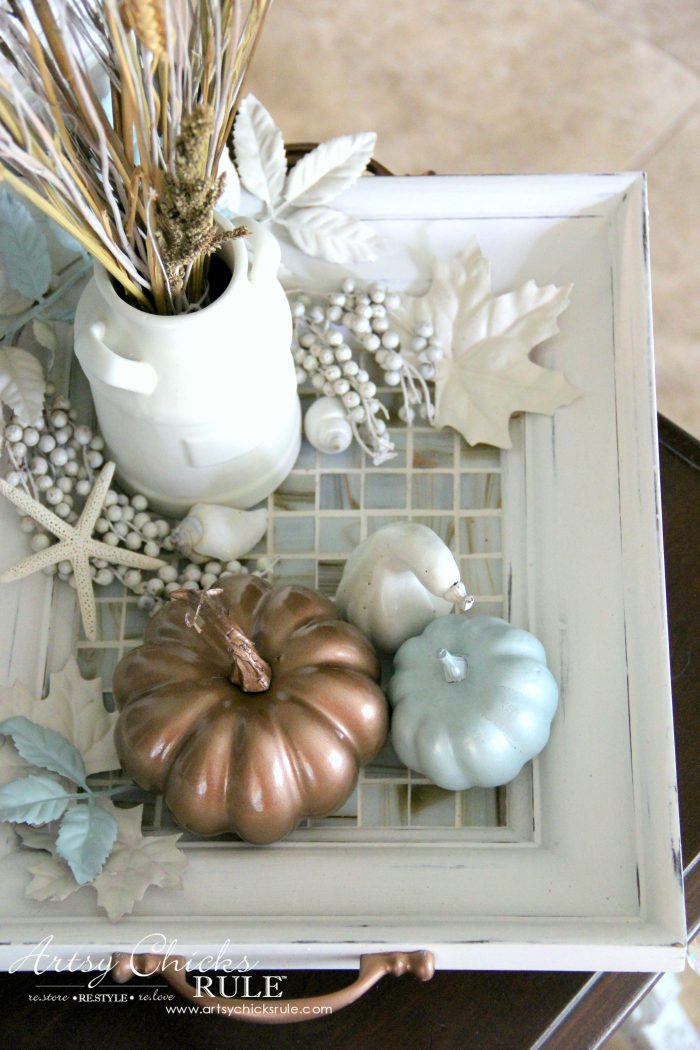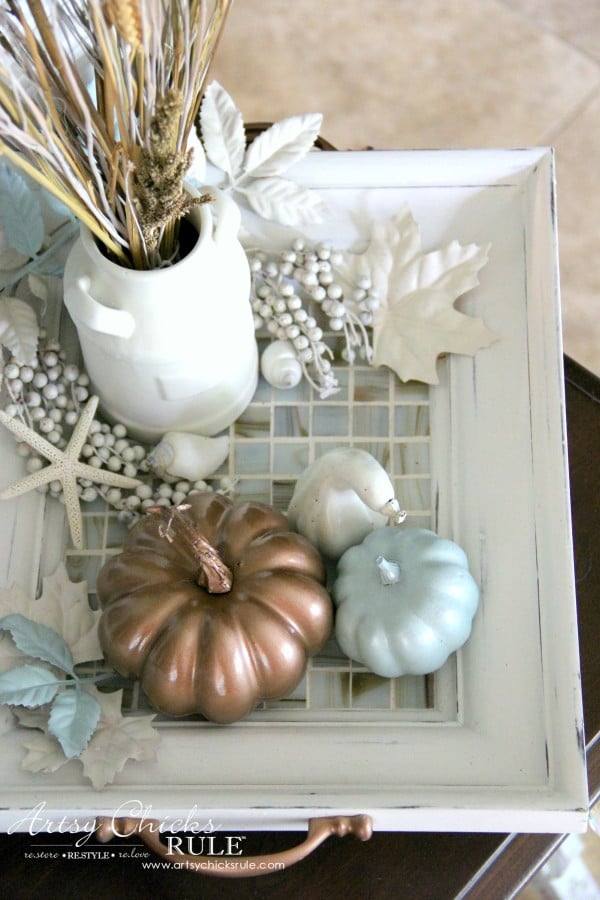 Just love it.
I have a bunch more of those tiles too since I had a project planned with them…and never used them.
I just might have to create something else with them really soon.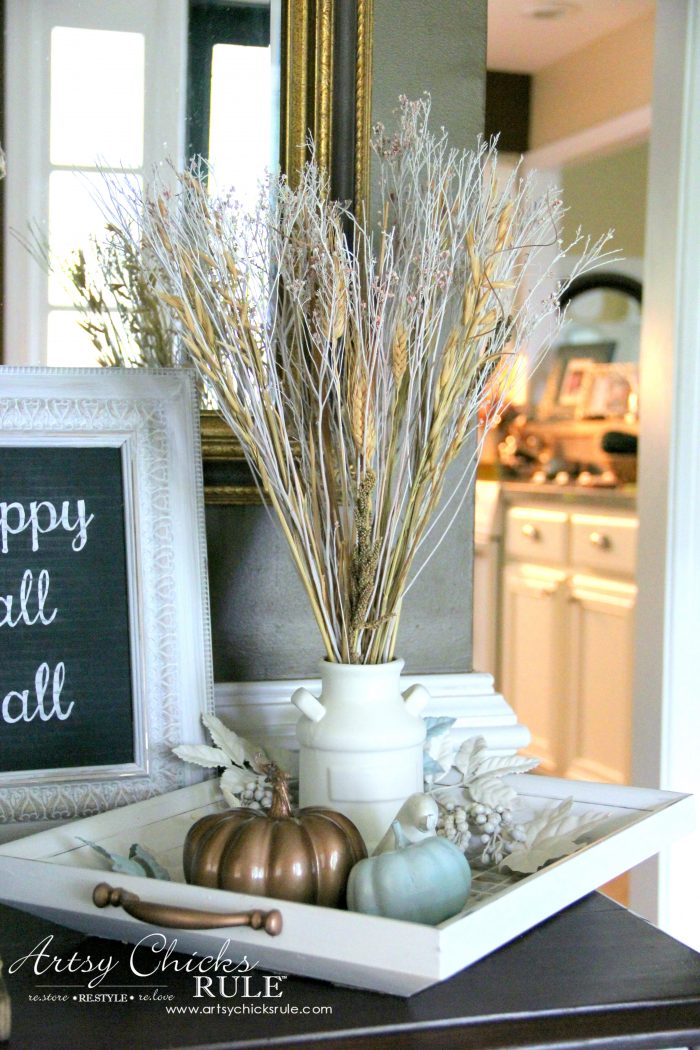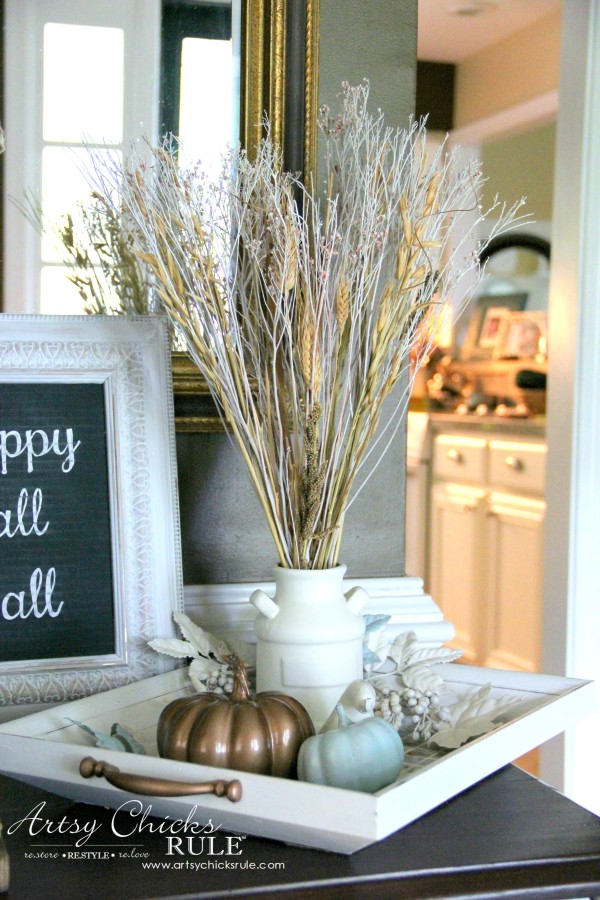 So, there it is, my Welcoming Fall Foyer. :)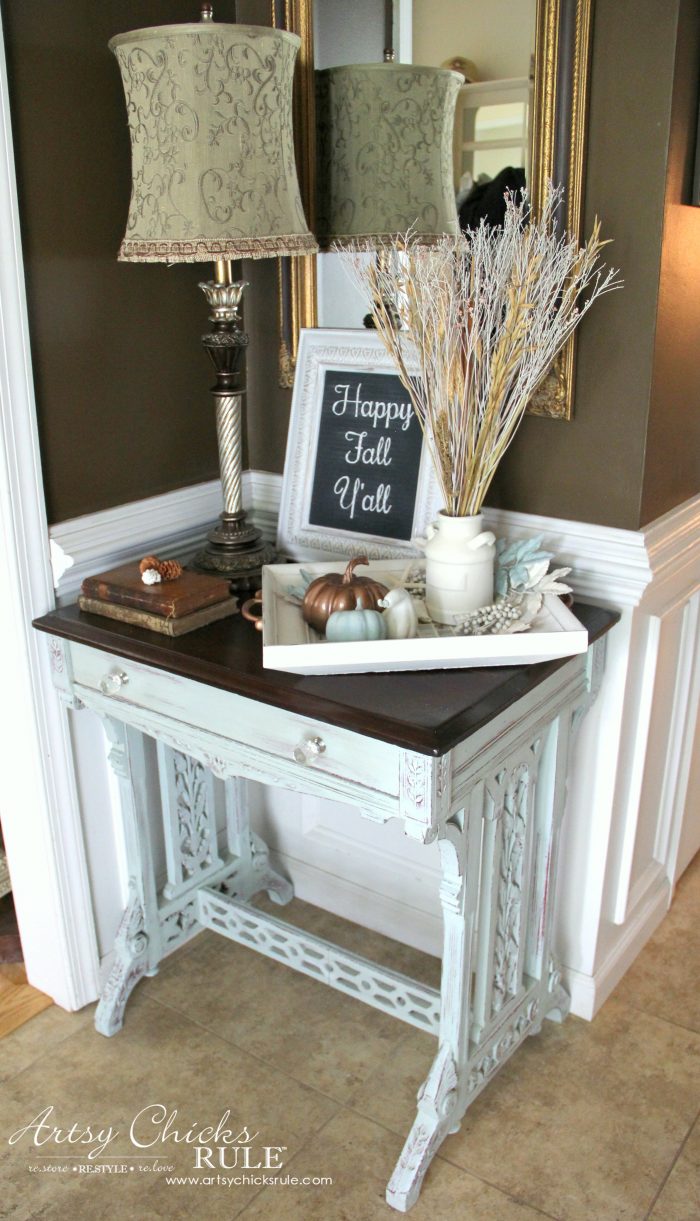 For even more inspiration, visit my friends below and see what they created for their "one space" this month!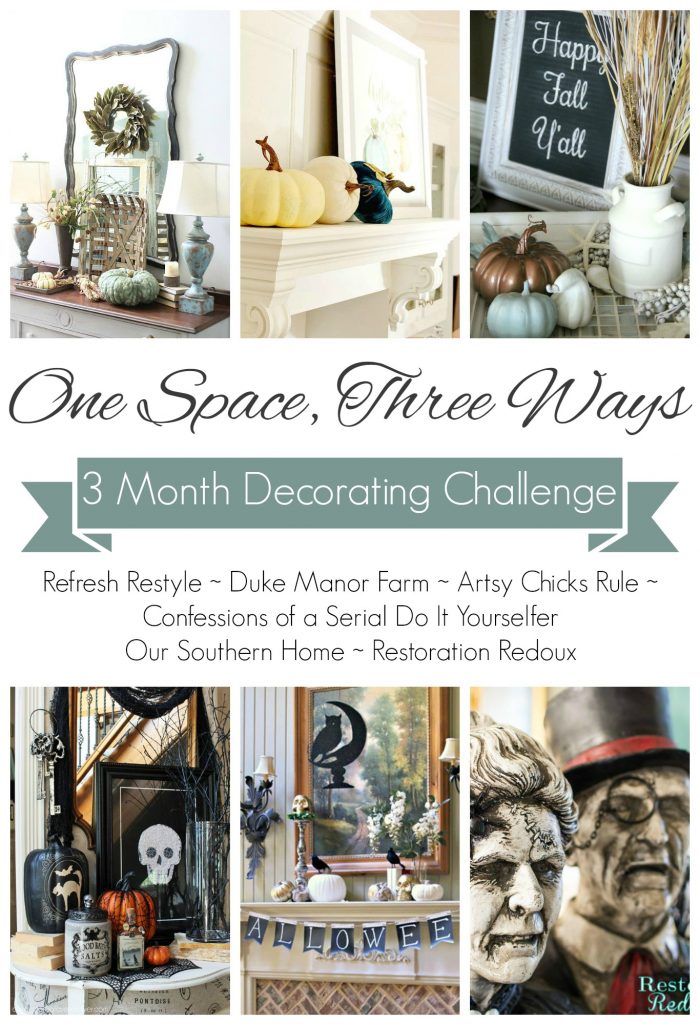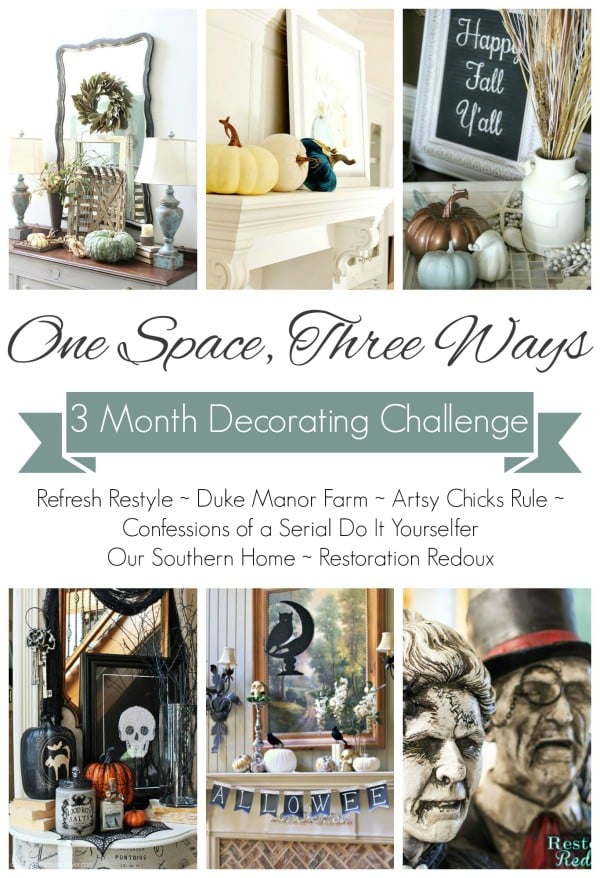 Confessions of a Serial Do It Yourselfer
……………………………………………………………………………………………………………………..
Okay, now it's your turn. Yay!
Let's see what space you decorated for October.
Share them in our decorating group here, the one I mentioned above —> Decor Enthusiasts Facebook Group.
I can't wait to see all of your pretty styled spaces!!
xoxo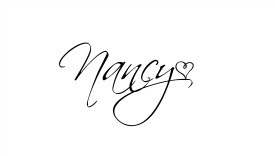 I'm including a few similar affiliate links for you I think you may like. See my full disclosure here.
Follow along! –> Instagram ~ Facebook ~ Pinterest ~ Bloglovin