Last week I showed you guys this turquoise chalk paint & gold metallic, jewelry inspired, table makeover.
Remember, it started out like this: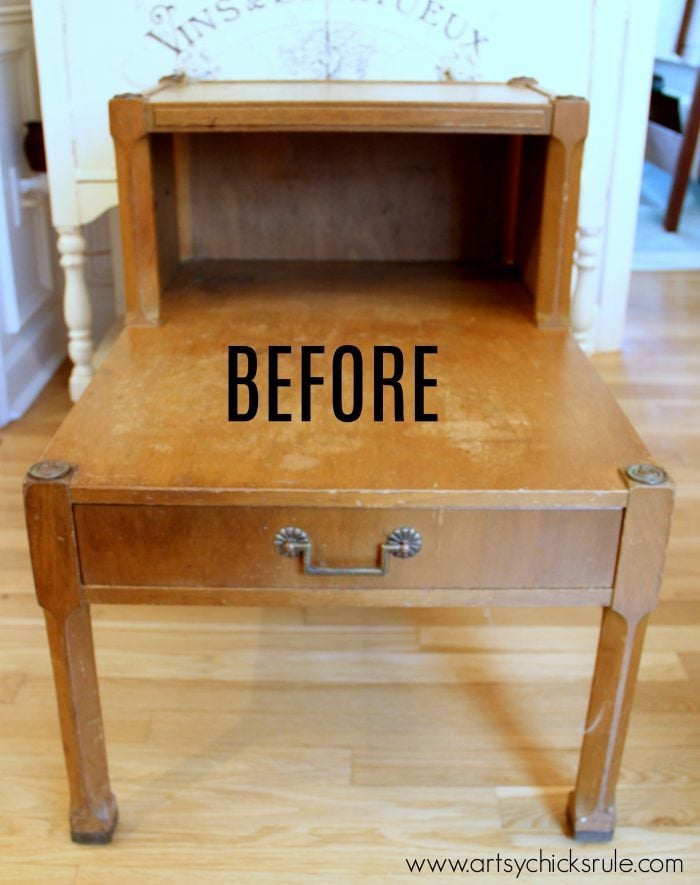 …and promised to show you the details this week.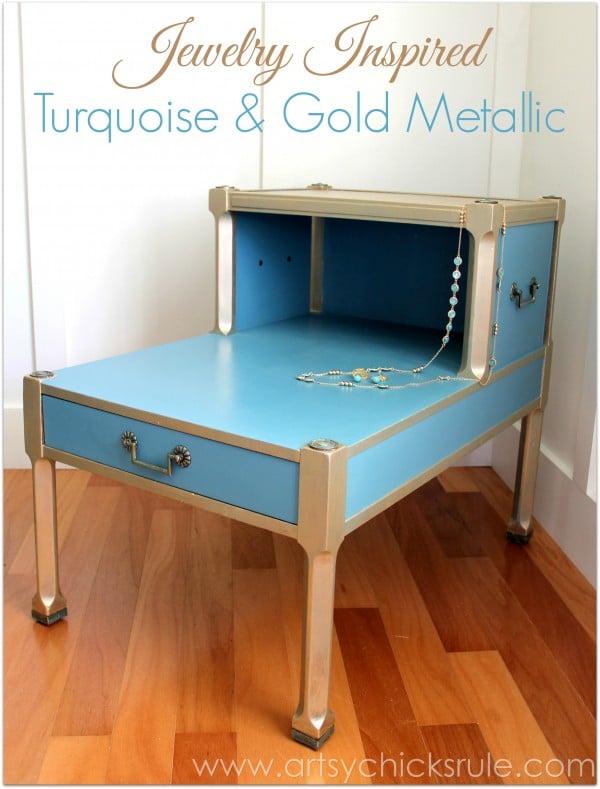 Nothing too exciting and certainly in need of some love. As I mentioned in the other post, I originally had something different planned for this table.
But my friends and I were doing a metallic paint challenge (paint a piece of furniture with metallic paint) so I used it for this instead.
I had never really used metallic paint.
Well, to paint furniture anyway. (except spray paint, of course)
I had used it to highlight pieces of metal and such. Works fabulously for that.
Here is what I decided to paint this piece with: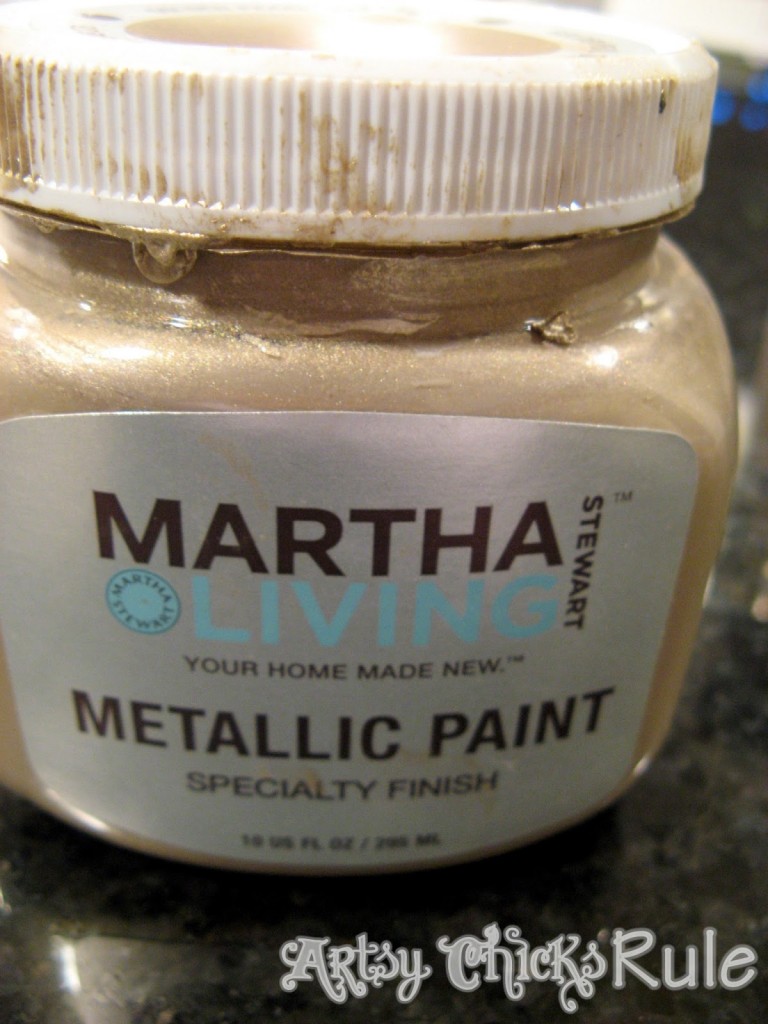 Chosen mainly because I already had it on hand which wasn't such a great idea because….
….it's GREAT for what I already mentioned –>giving a light touch of "antique" or gold highlights to metal hardware, etc.
Not so great for actually painting furniture.
Live and learn, right?
Maybe her other colors have better coverage, this shade just did not.
The turquoise was much easier (and better for painting furniture –> Chalk Paint® )
When thinking about metallics, I had originally thought I'd do something along the lines of black and silver.
Or anything with silver.
Definitely not gold. I don't think I have one gold thing in my home at all.

BUT I do adore gold and turquoise together. Just like the pretty jewelry in the photo.
I went looking for the perfect shade and found this gorgeous blue colored paint chip.
I swiped a bit of the gold across the end and….
Yep. That's a winner!
I mixed up some Chalk Paint to match.
I had originally thought I'd need all of these colors to create the turquoise shade.
But in the end, it only took these three–> Florence, Aubusson Blue & Provence.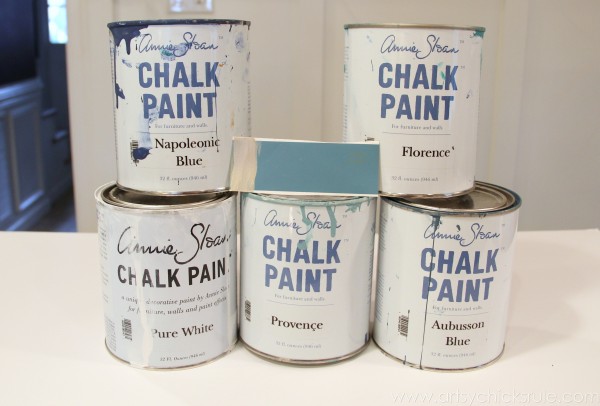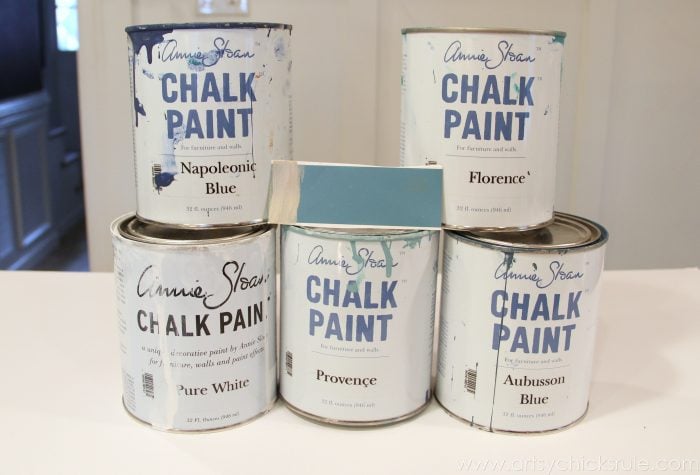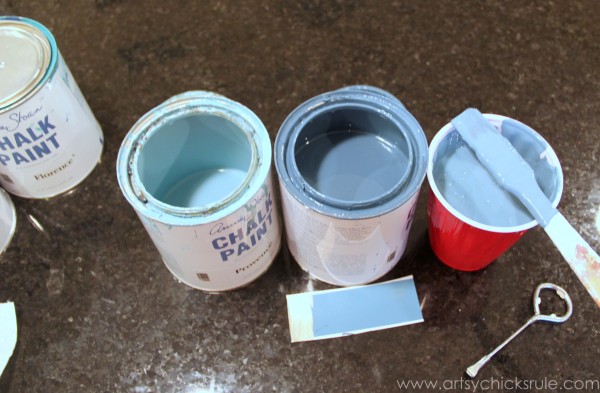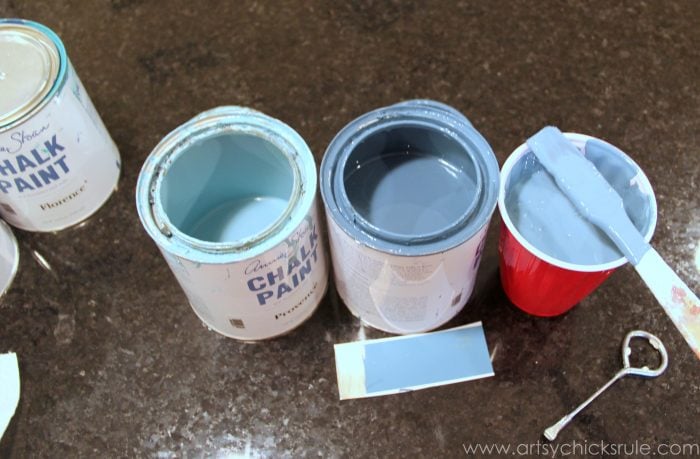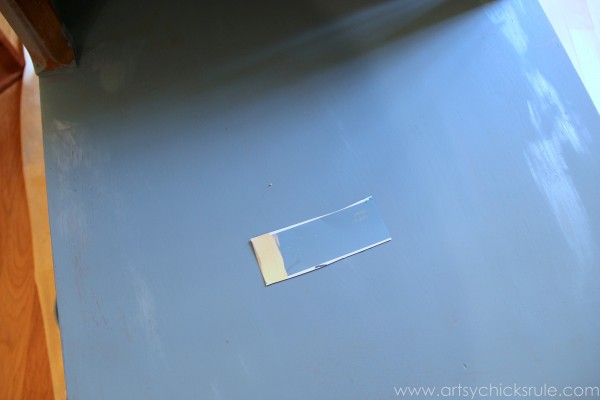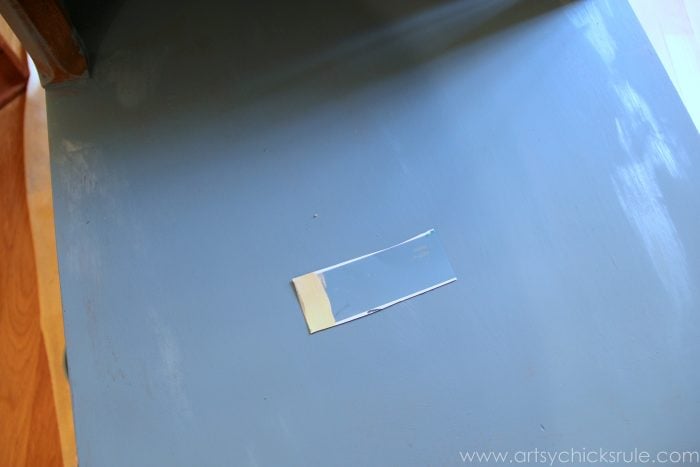 I'd say that's a pretty good match. ;)
And no…I have no clue on the proportions. Sorry! I mixed and mixed until it matched.
That's usually how I roll. ;)
I can tell you it's mostly Aubusson Blue, with a bit more Provence than Florence.
I used about 2 coats of that all over (even under where the gold would be as I had an inkling the gold wouldn't cover well…and if it wasn't going to cover well I wanted it to look somewhat "patina'd" with the turquoise showing through)
The turquoise got sealed with a coat of Annie Sloan Clear Wax.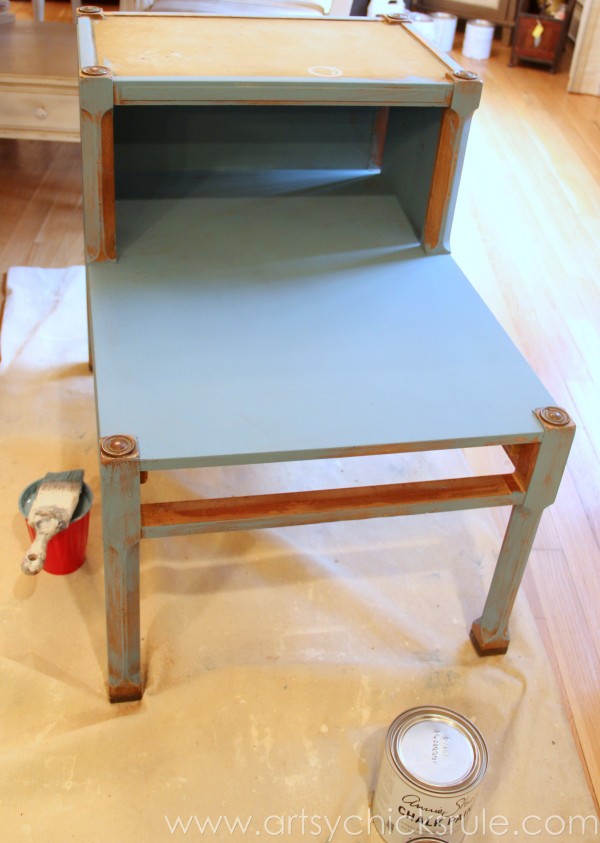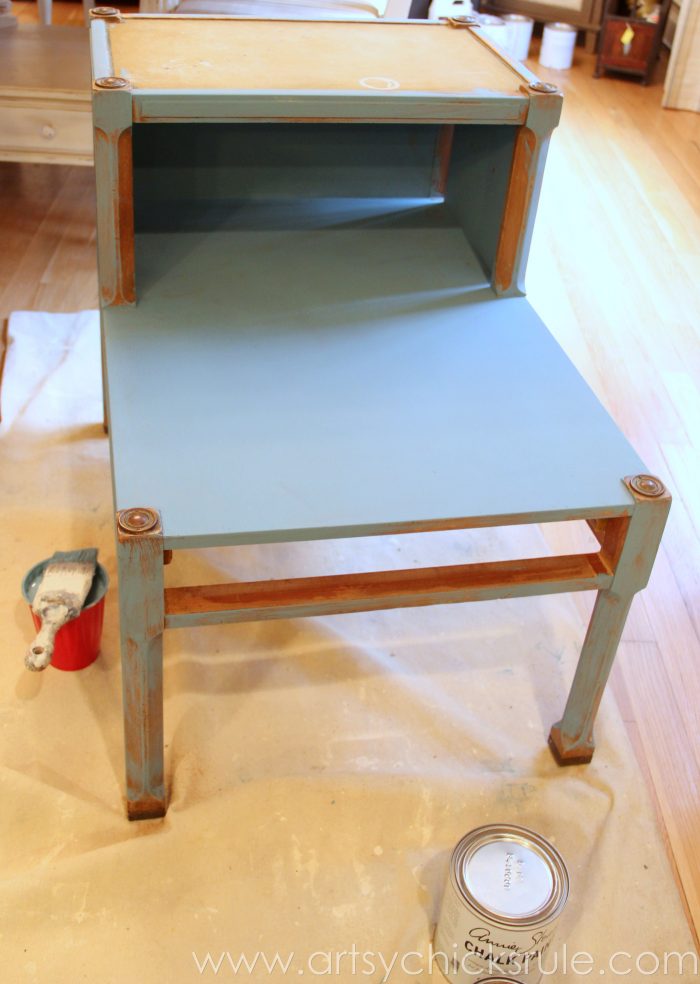 I couldn't decide what I wanted to do with the top area. I knew I didn't want to just paint it turquoise and be done.
It needed something.
I considered painting a Greek key design but decided against that.
I finally decided it might be best to just keep it simple, paint it gold and recreate the pin stripe that it had originally…except in the turquoise color.
I taped it off and got it ready for the pin striping.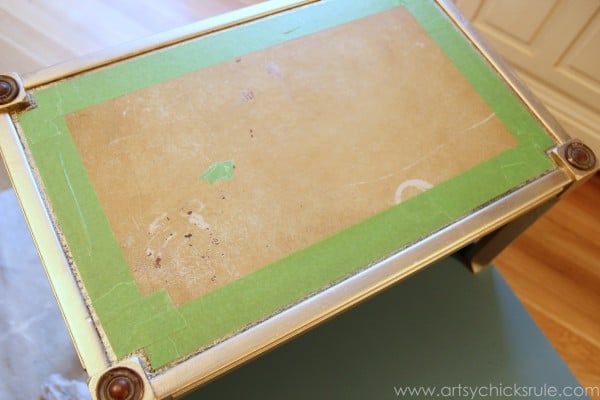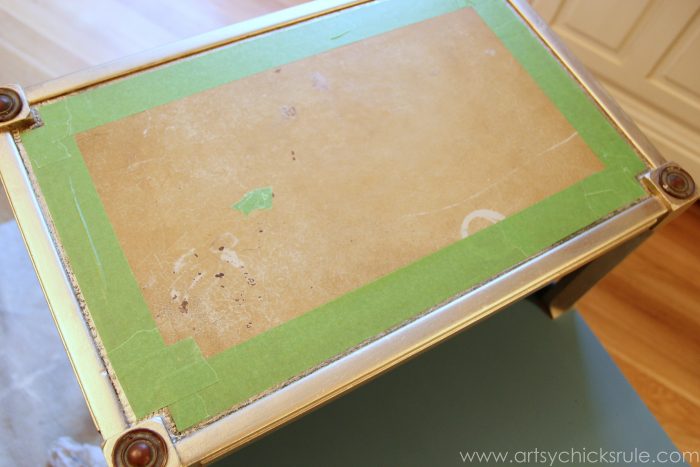 Done…..and almost ready for the gold.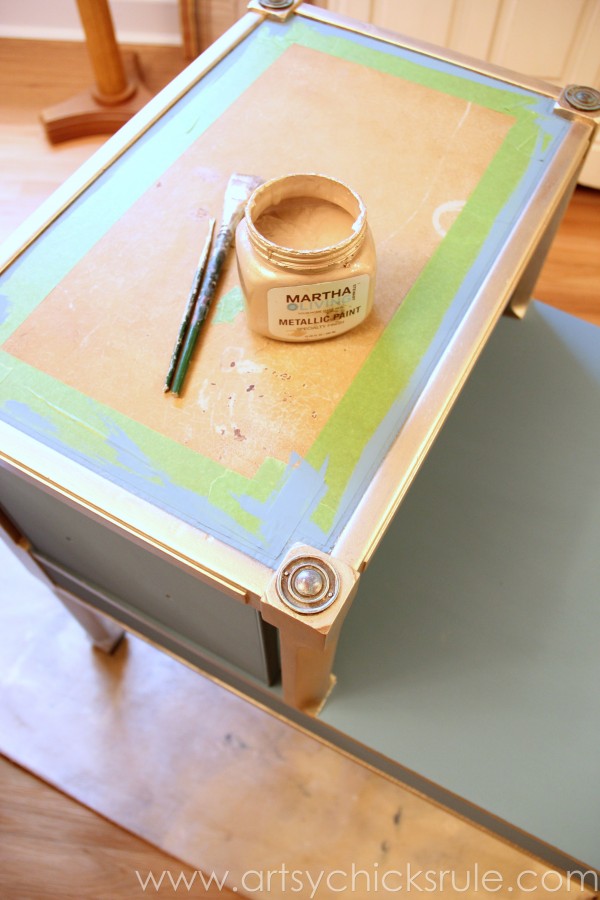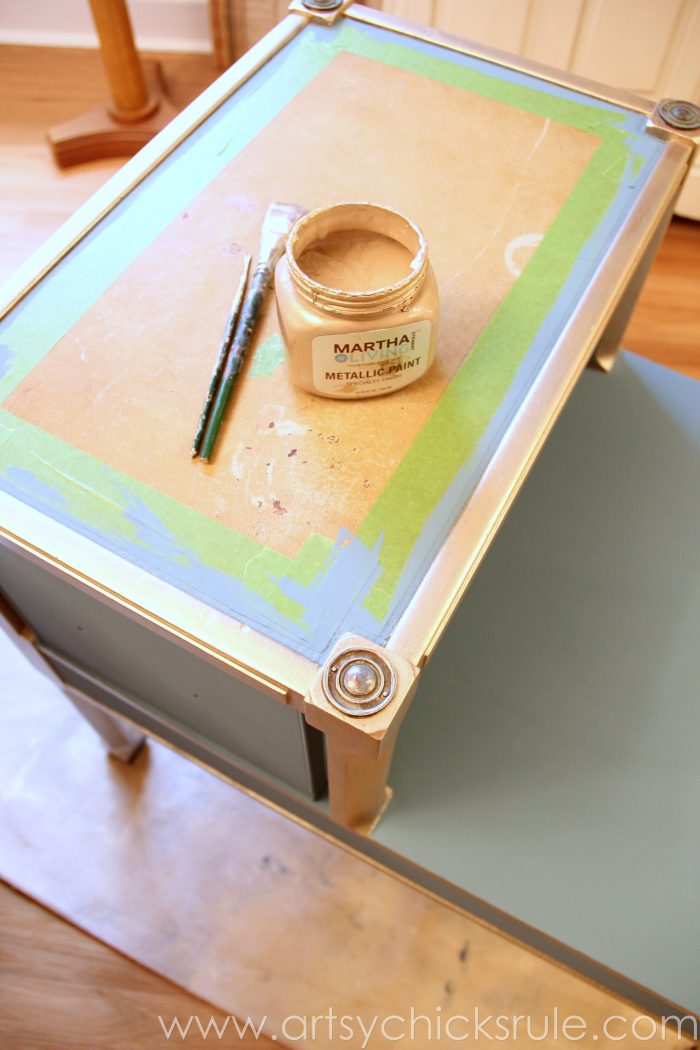 Next up…one coat of gold.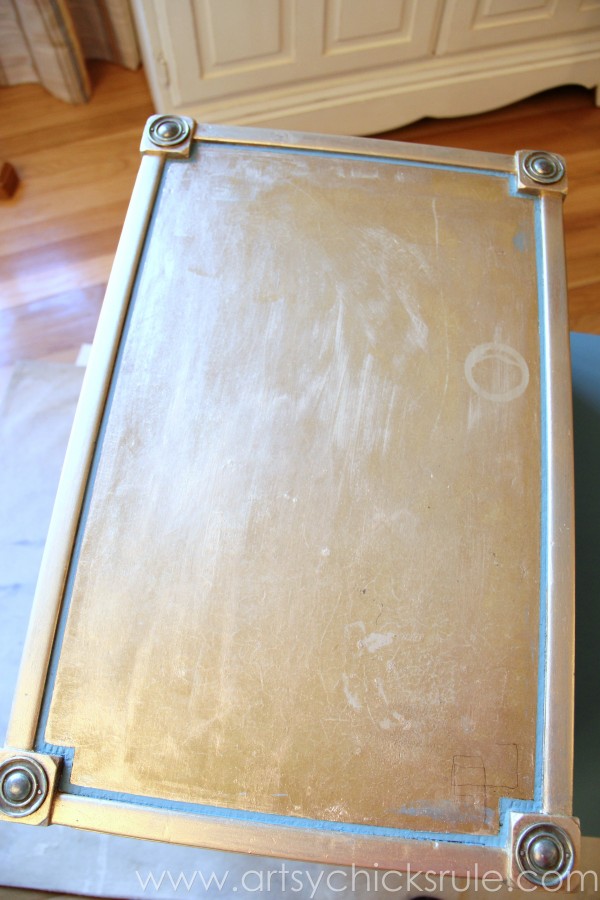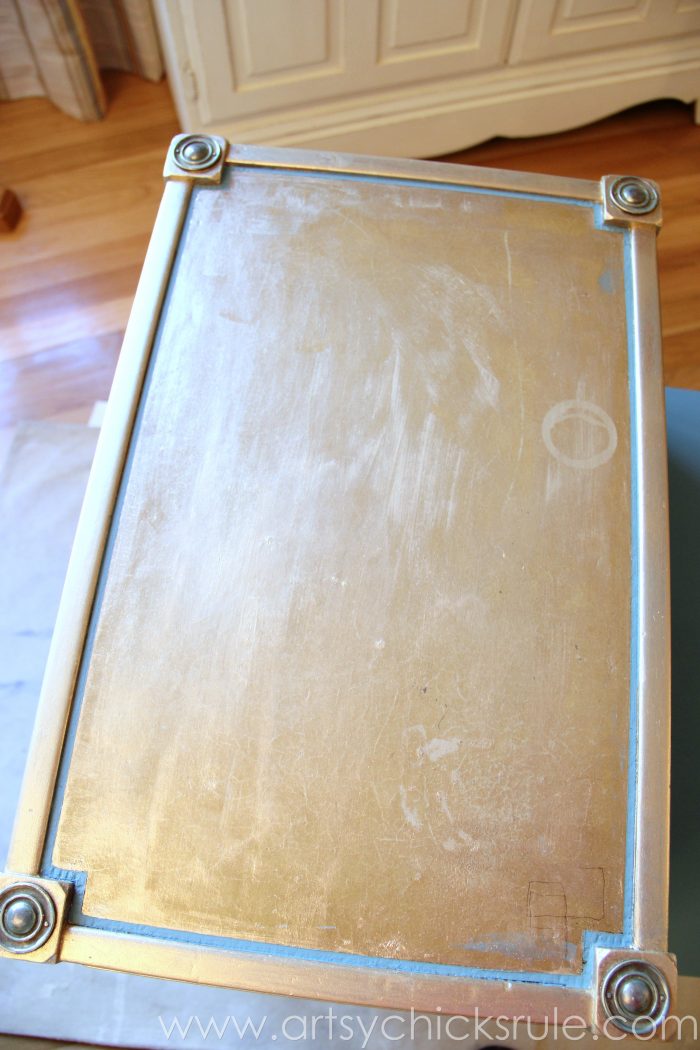 Yea…not so much. I would need about 5 or 50 coats of that gold to cover fully.
( you like my super fancy Greek key drawing there? haha…I was trying to see if I'd like the look)
The gold was being a bugger so I came up with a better plan.
And really, I knew better. I should have either painted it blue like the rest underneath or used a primer.
But all that thinking about what to do with the top just threw me off!
So I painted it with "Coco" Chalk Paint first (well, second, but before any more gold layers).
Great coverage as you can see below where I've started painting it on…
Perfect shade for the underneath…and worked great as a "primer".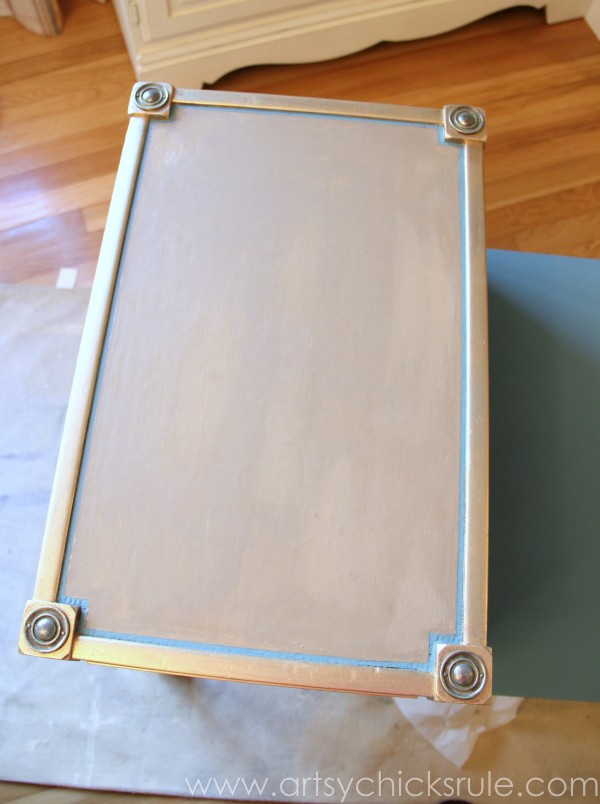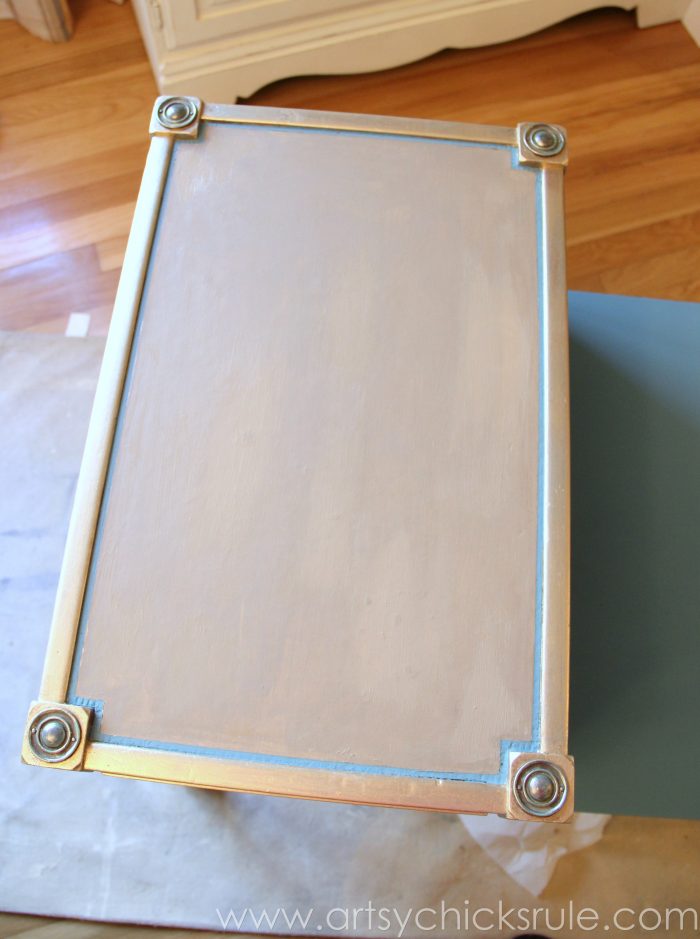 Wow, right?
Now it's ready for the gold.
Still took a few coats (but not nearly as many as it would have!) and I finally got it to look like this.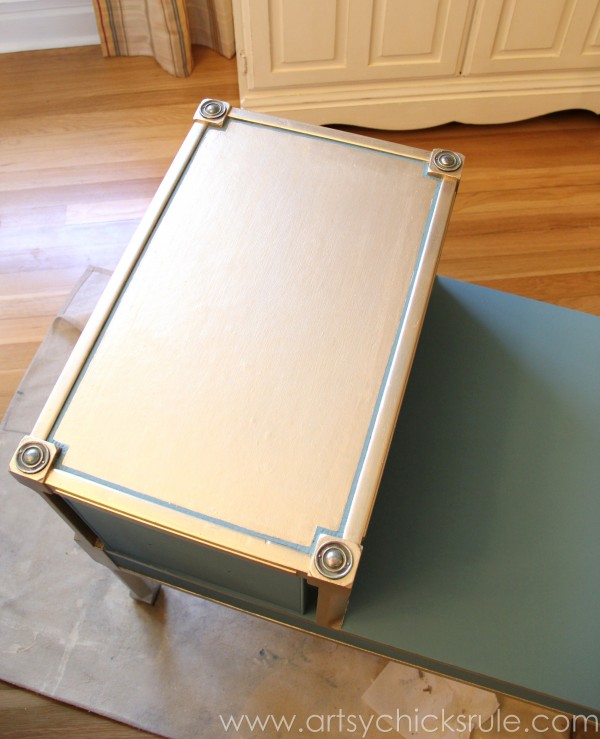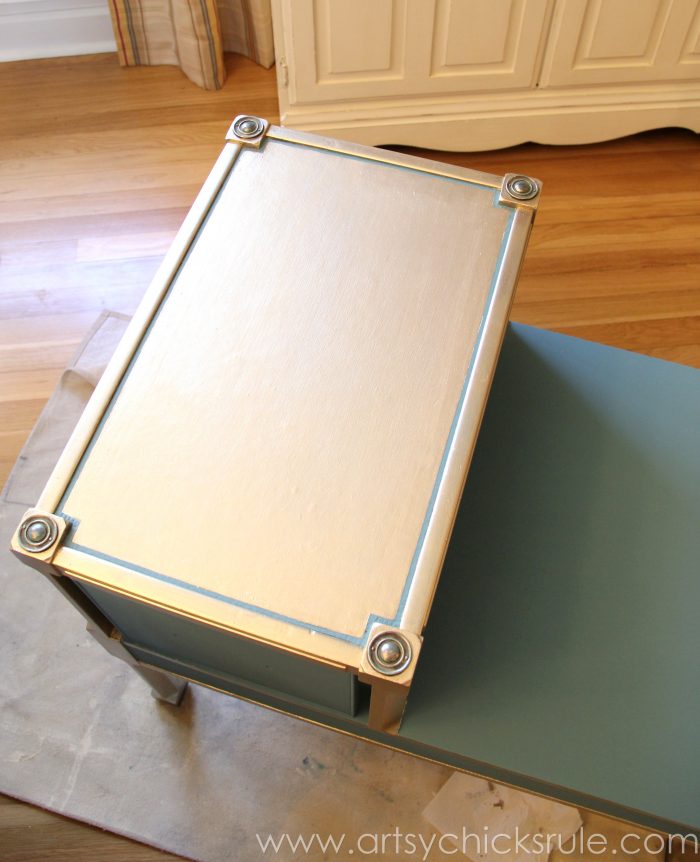 Worth it.
I love that gold top. LOVE.

I will say it was not the best product for this project BUT it truly is a gorgeous shade of gold.
Metallic paint is a little bit tougher to work with anyway, in my opinion.
It seems to get streaky and show brush strokes…a lot.
But it all worked out well in the end. :)
Want to know about 26 other chalk style paints?
I've got the low down for you right here! >>> 26 Types of Chalk Style Paint For Furniture
The hardware got a little special treatment too.
I didn't want it to be the same gold color as the rest so I left them aged, as is, and hit them all with a bit of this fabulous "Patina" first…..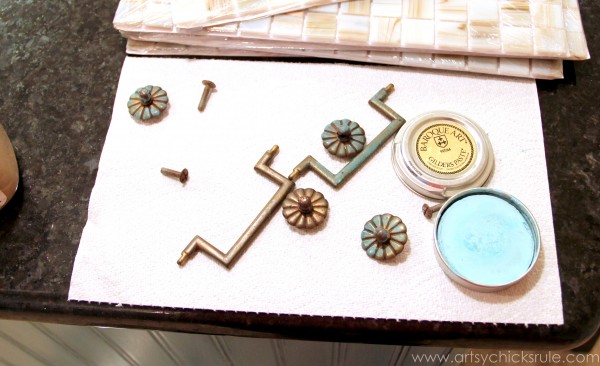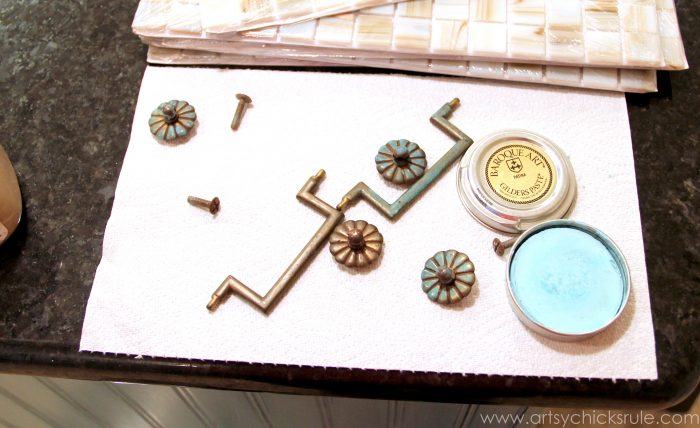 Baroque Art Gilder's Paste….neat stuff.
(added with a light touch of my fingertips, by the way)
Then I added a bit of the gold over top of that (same gold as the table)…also with my finger tips.
(and exactly the type of thing I usually use this gold paint for)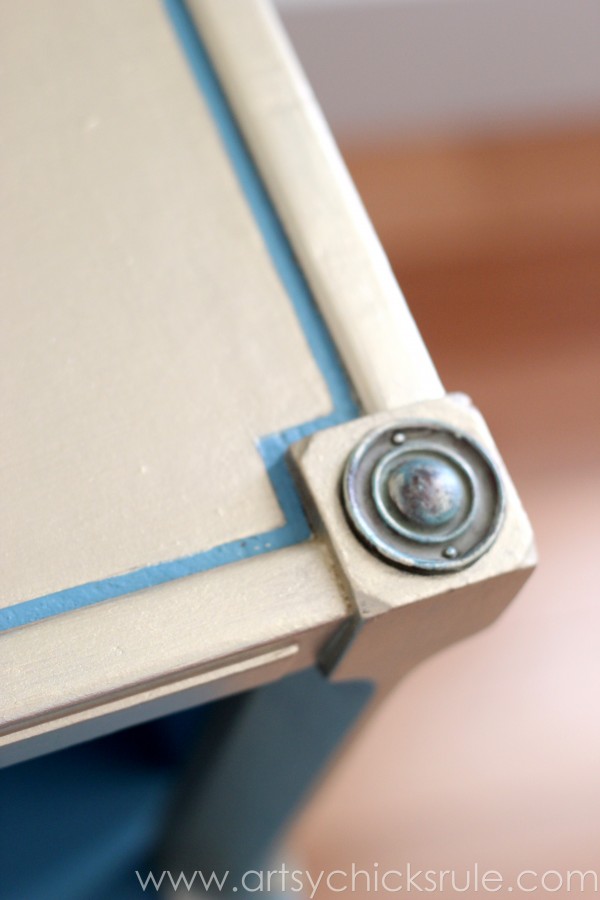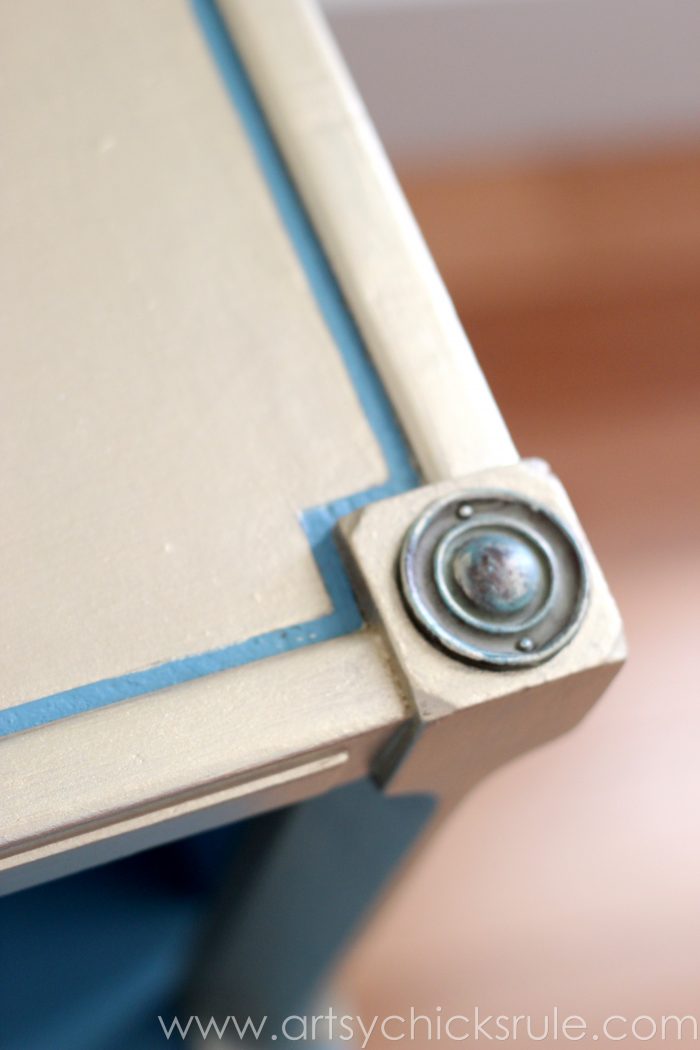 YES.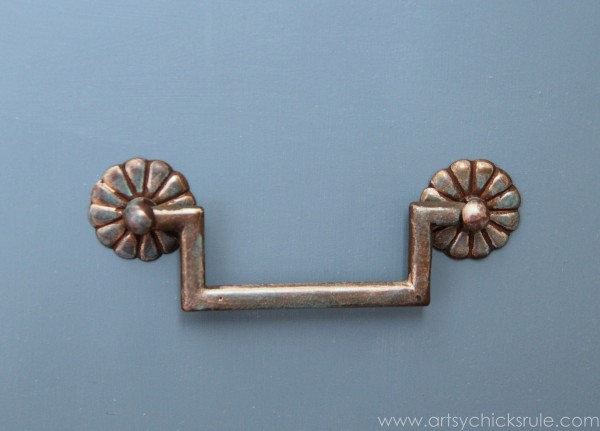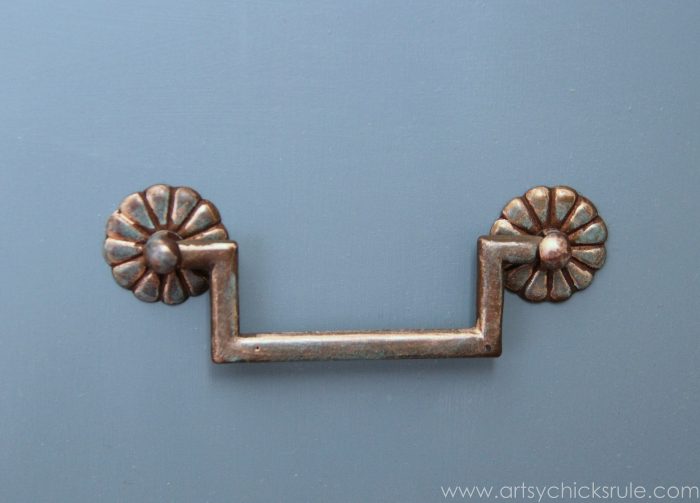 In my opinion, that is the exact look the hardware needed.
A bit of patina and a bit of gold.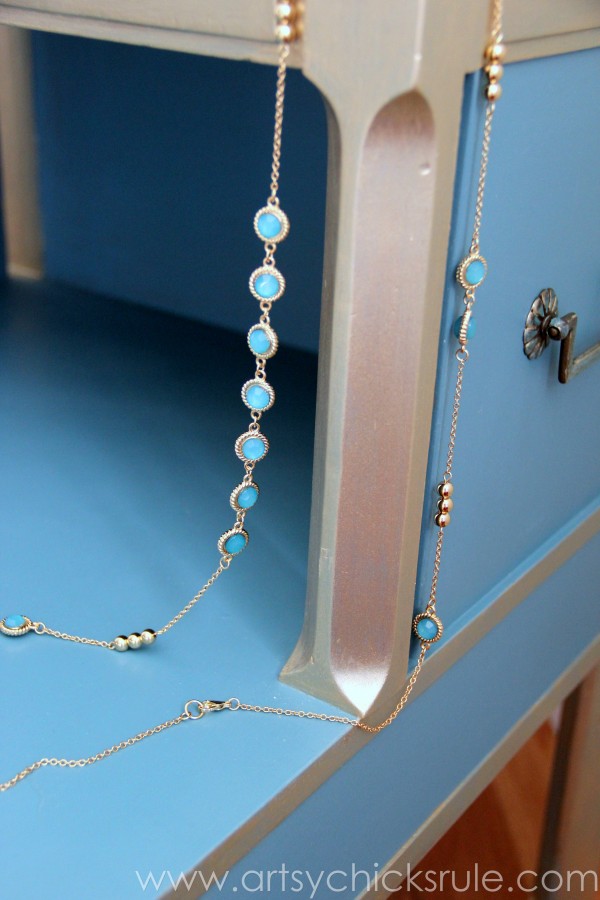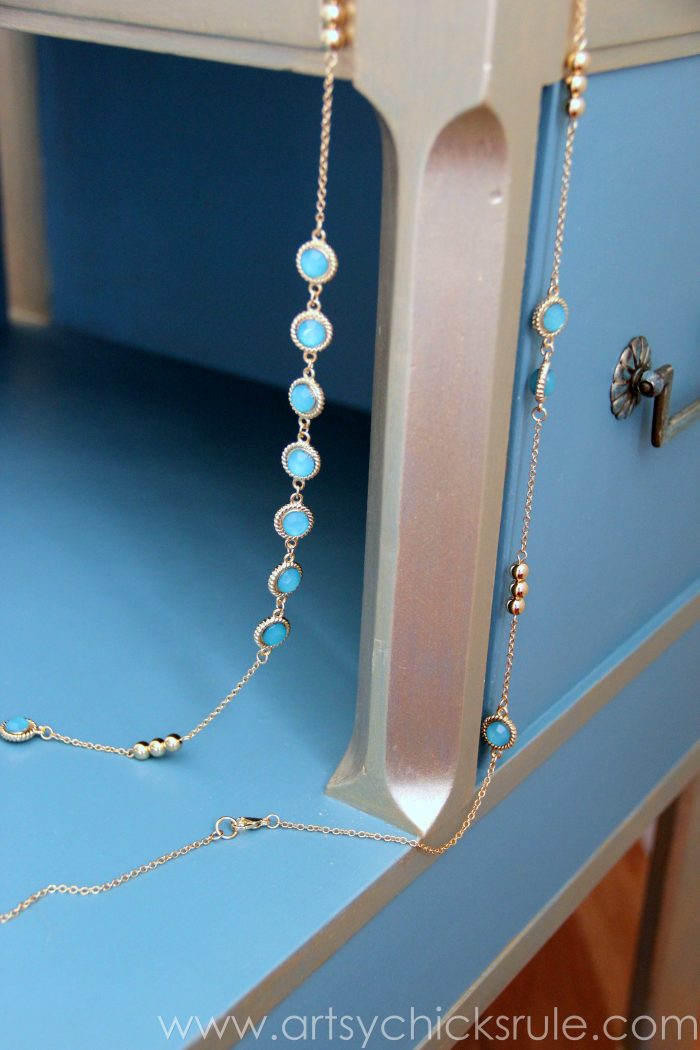 A jewelry inspired table….turquoise Chalk Paint & gold metallic.
Pin it to save it for later!
It really was a fun little challenge!
For now…another look at this one's "before and after". (Turquoise Chalk Paint & Gold Metallic Makeover)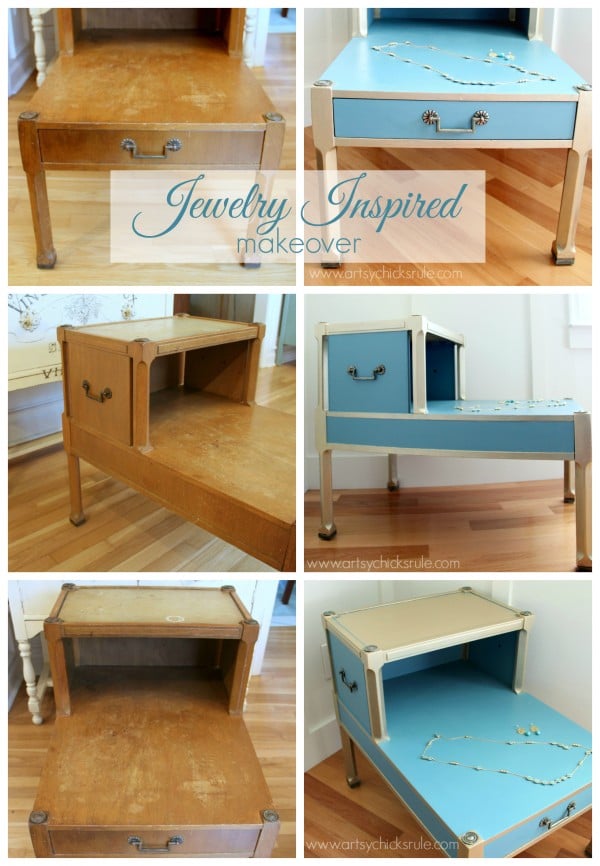 So….metallic paint.
Are you a metallic paint lover? Have you ever painted with it? Own a piece of metallic painted furniture?
I'd love to know what you think if you have or do!
Hope you have a great weekend friends :)
Check in next week when I share a little "grain sack stripe" love on this table! ;)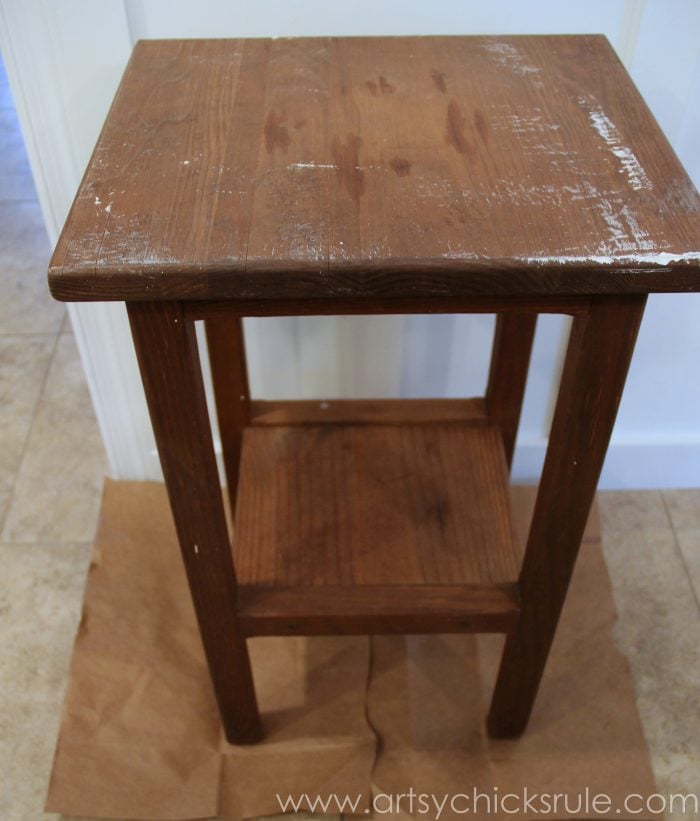 UPDATE!!! See it now, here!!
Want to see even more furniture makeovers? Click here.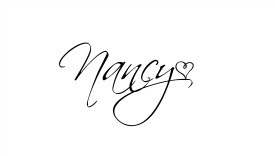 Follow Along Here!