Hey Y'all!!
I think Spring has finally sprung around here! All I can say to that is……WELCOME!!!
OH…and it's about time! ;)
How about a little Easter inspiration today? My friends and I have gotten together to bring you a bunch.
I'll be sharing a wreath I "made" and how to use it 3 ways.
At the end of this post you'll also find 19 other great posts of inspiration as well. (more to come Thursday and Friday, so be sure to check back)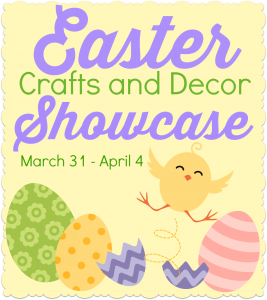 ………………………………………………………………………………………………………………………………..
You know, creativity is a strange thing. It comes at the oddest times, I tell ya.
But not usually when you need it to.
Sort of like trying too hard….and then….nothing.
Yep. I had nada for this latest challenge. But then it all fell together….like it usually does.
Most of the time anyway. ;)
Here's what I came with…..
Easy EASTER decorations, 3 ways: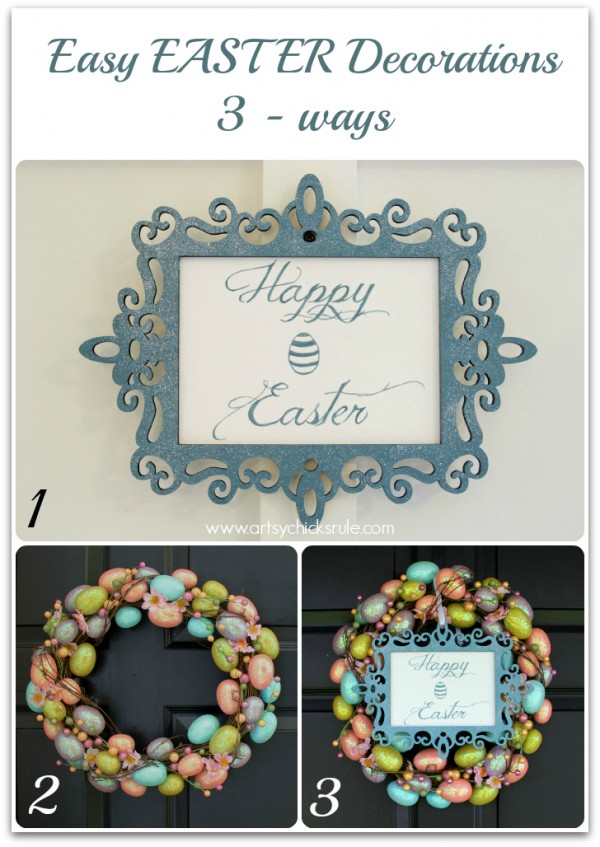 Okay, so it's not phenomenal or out of this world fabulous…..BUT it is Easter decorations 3 ways. And it was EASY. ;)
I started out at JoAnn's Fabrics (looking for fabric for a different project) and came across the above wreath.
It was originally 39.99 (um, no) and was on sale for 9.99 (yes). But it was PLAIN.
See?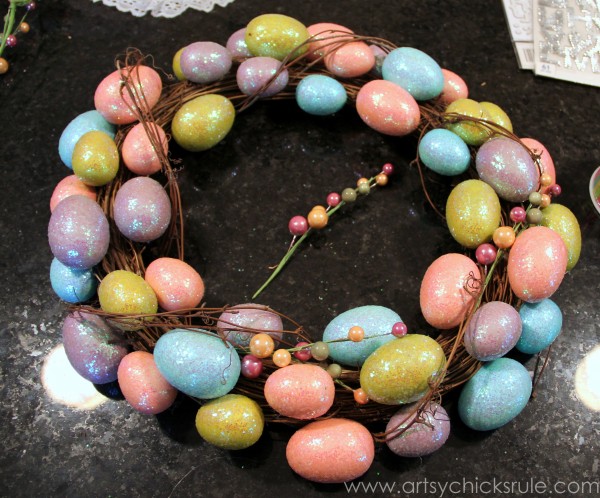 Okay, well, in that photo I'm already adding stuff to it. But you get the idea.
EGGS. That's it.
They are really pretty, sparkly eggs though.
So I bought these 2 items to fill it in a bit. (flowers and those pearly things)
(and that really cool, colorful ribbon that I didn't end up using :( )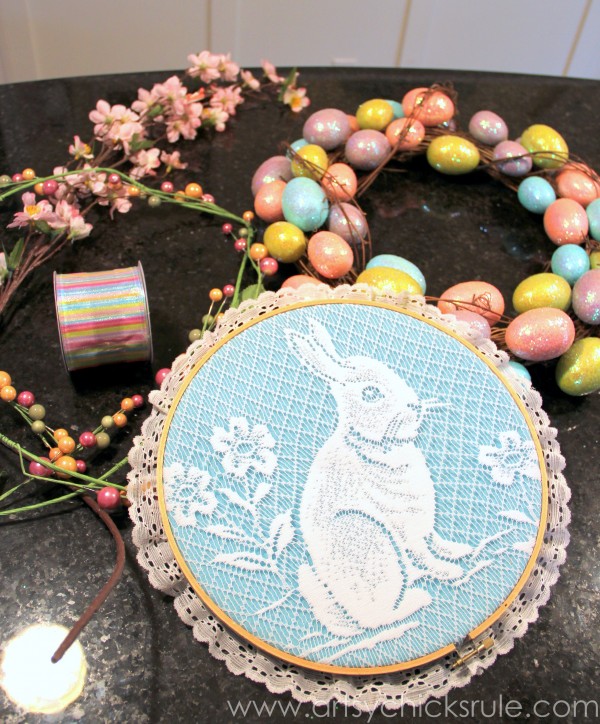 I'm sure you're wondering what that bunny is all about.
Well, that was a thrift store find and my original "inspiration" but it didn't work out too well.
I had planned to put him behind the wreath (in the open area). NO, not so good.
Sometimes "vision" (what's in this head of mine) doesn't always come together like I "see" it. ;) ha!
So anyway, I'll show you where and how the cute bunny ended up later. :)
Here's what the wreath looks like with the added (and much needed) goodies: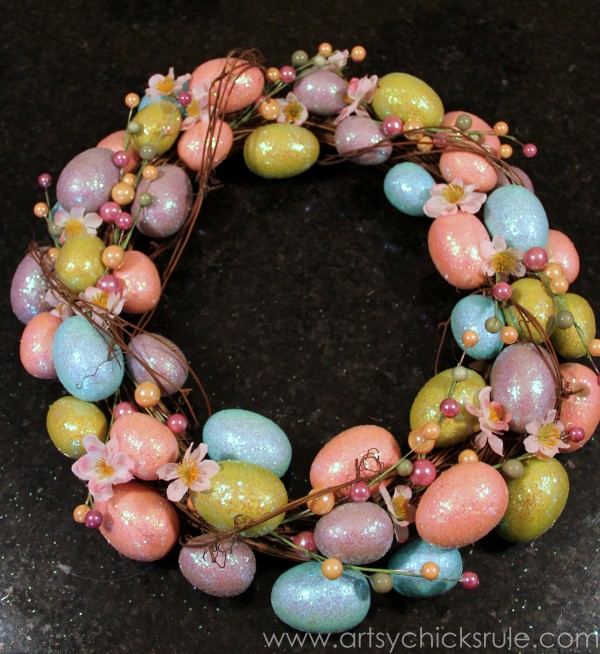 MUCH better. Don't you agree?
It needed that. Then maybe 39.99….no, still no. ;)
Here it is on my front door.
And oh! I sprayed my hanger black to match my door. Thanks friends!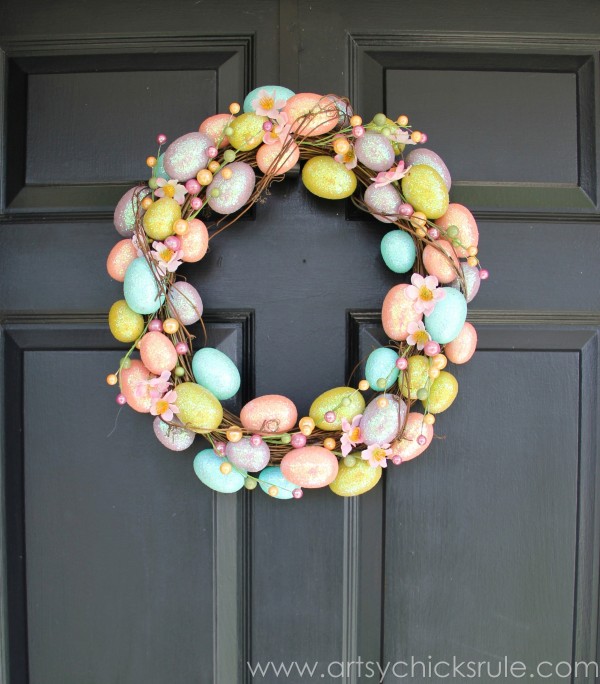 I can also hang it on the big window on the front of my home, as shown below.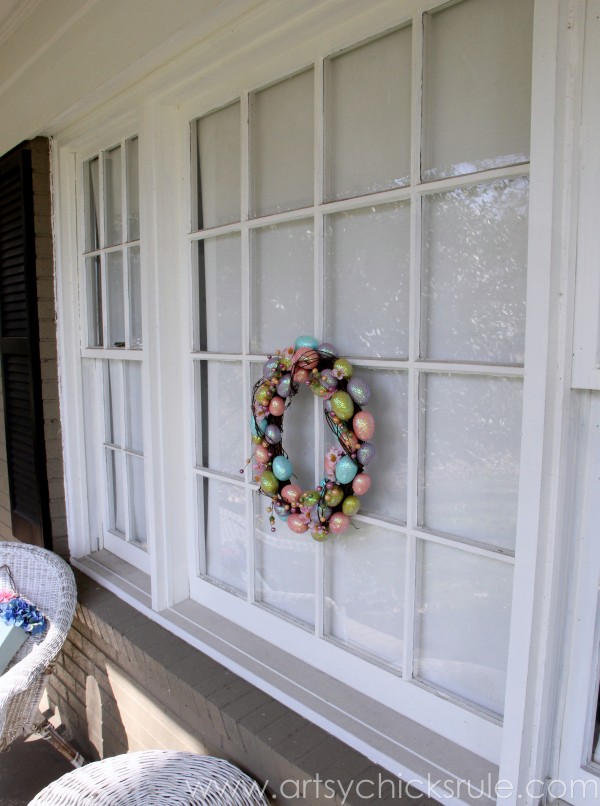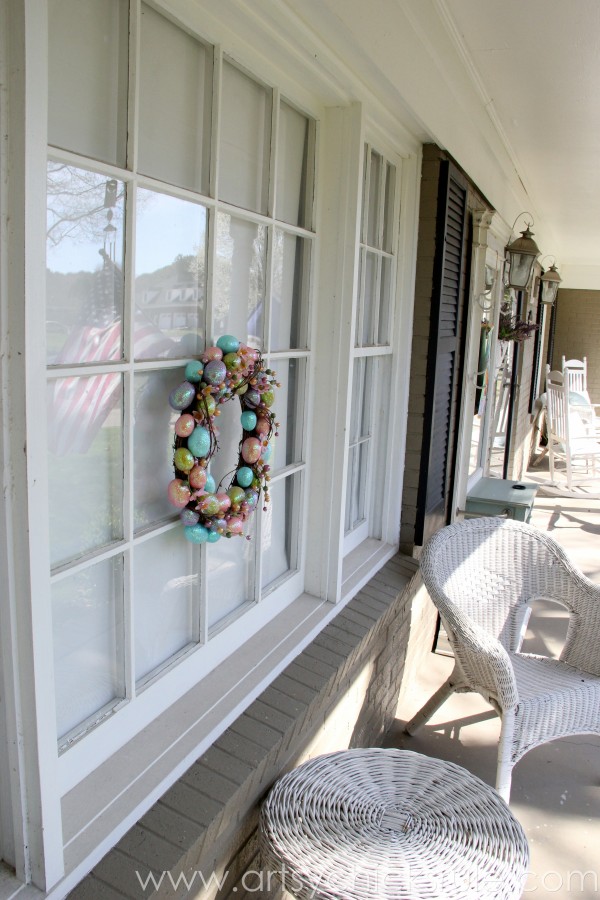 Or how about on the Hall Tree (that I painted AND put on my front porch!! ;) You can see the "before" and read about it—>here)
And I LOVE it there, by the way. It is incredibly welcoming and inviting to me.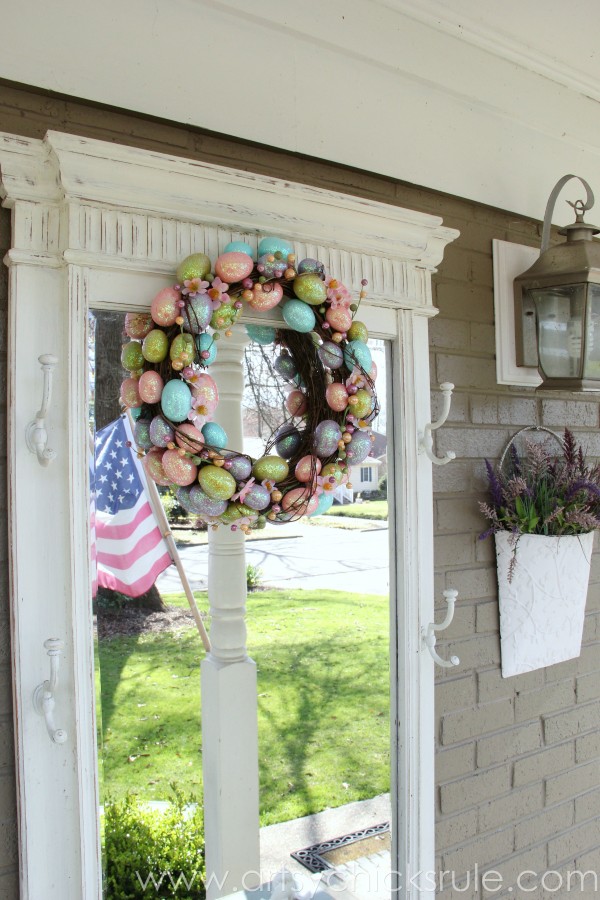 But then inspiration struck.
The wreath was boring to me. Even with the added "fluff". Borrrring.
So I made this….
That can be used as is (like you see above).
OR….like this: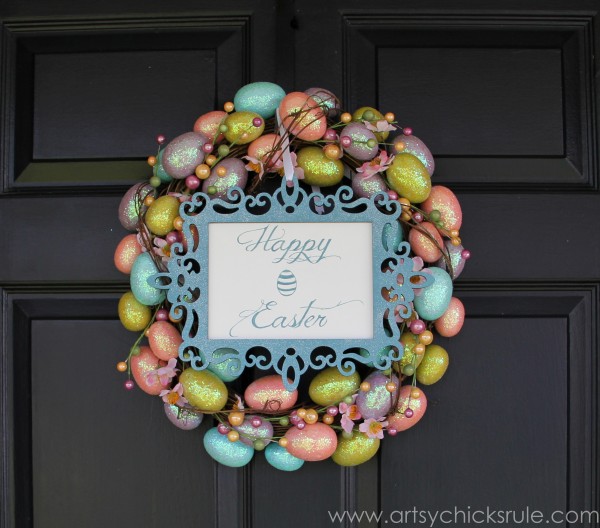 YES. That's it!!
There it is.
My EASTER inspiration for you all!
What do you think? Better with that, right? Or not. It can go either way!
I will have the tutorial on the "Happy Easter" framed picture next week. Super easy!
And do you want to see what I did with that bunny?
Here….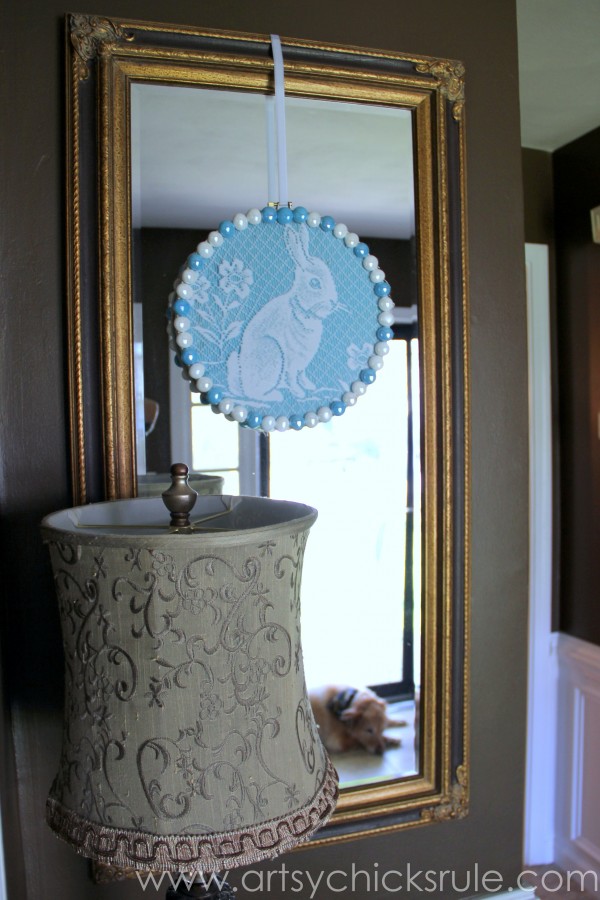 Poor thrift store bunny needed some love.
So I removed the lace around the edges and added some glass beads…and a ribbon…and hung it on the mirror in my foyer.
See my sweet "3rd child" laying at the door? Her favorite spot to "people watch".
Although, she looks like she's sleeping on the job in this photo. ;)
Hope you enjoyed my Easter inspiration, 3 ways. Well, technically is was more like 5 ways but who's counting?
Don't forget to check out my friend's fabulous Easter projects too! (photos and links to their posts are below)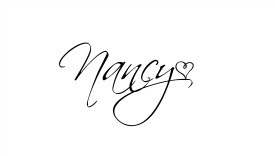 Be sure to follow me on Instagram if you don't already!
I always post projects and things I'm working on
long before it hits the blog…..
….plus lots of fun (silly!) random daily things too.
Follow Along Here!