Thrifty Makeover with MMS Milk Paint
This post may contain affiliate links. Please see disclosures here.
MMS Milk Paint gave this old table, new life!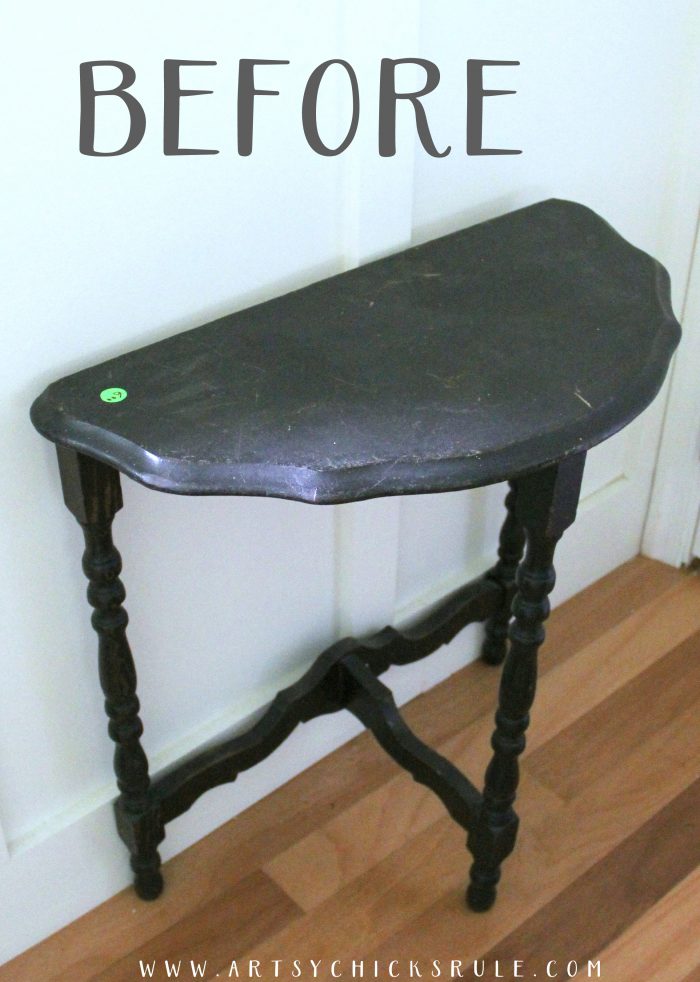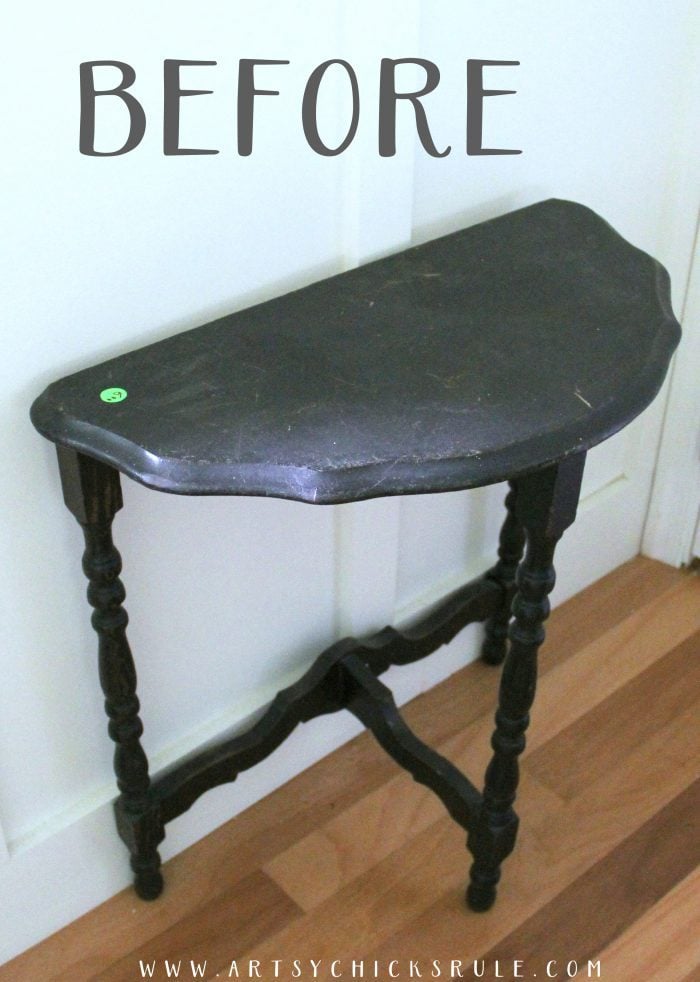 I just love Trash to Treasure Transformation Tuesday.
My favorite thing to do….turn someone else's "trash" into a treasure!!
I found an old antique half moon table and it became my thrifty makeover this month with MMS Milk Paint.
As you can see, I paid a whole $6 dollars for this old table.
And I do believe it is quite old. Not sure how old but pretty old.
Here is the finish this thrifty makeover with MMS Milk Paint started with….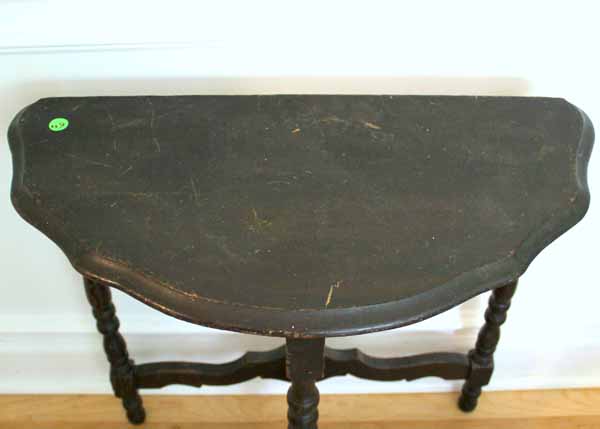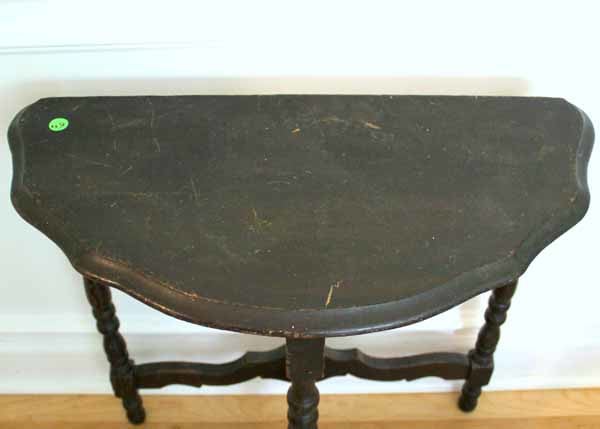 Up close…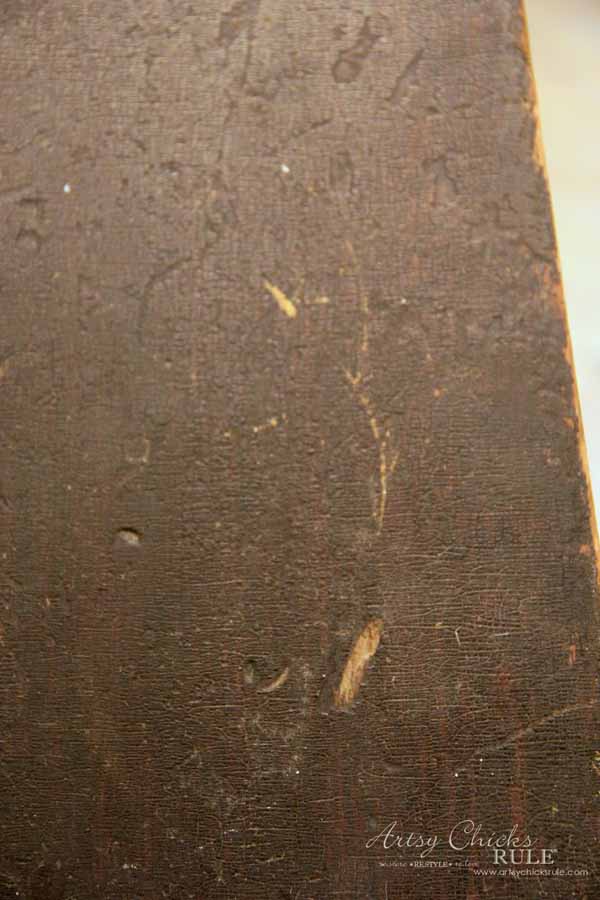 I wanted to share a close up to show you the old crackled finish.
I also wanted you to see the dents and gouges from years of time and use.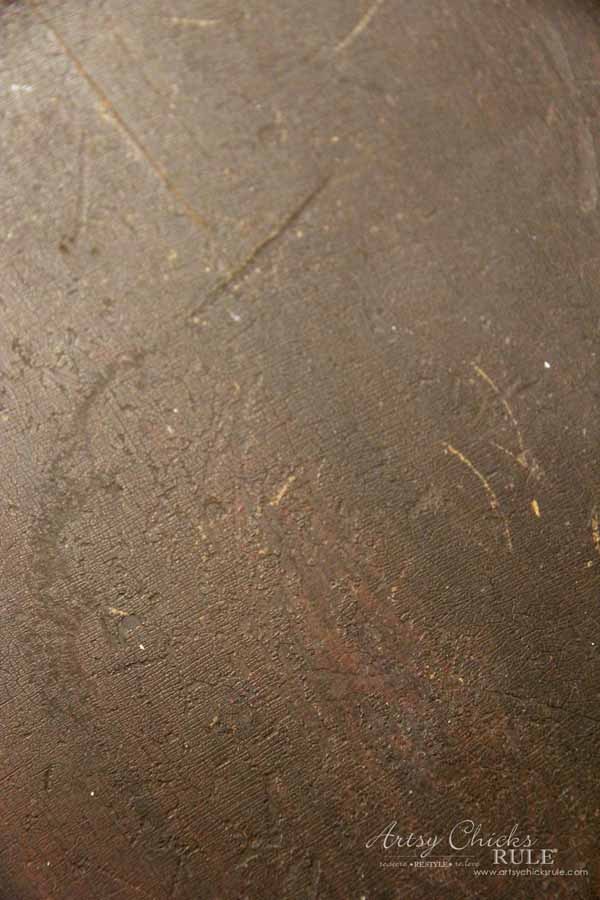 I kind of love it all and the character it gives.
No way would I consider sanding this down smooth to paint.
I wanted that character and age to shine right on through.
That's one of the reasons I decided to use MMS Milk Paint (Miss Mustard Seed).
I wanted more of a "wash" effect, not a thick, goopy painted texture. Not that painting something will give it a goopy texture but you know what I mean.
I truly wanted this to feel as if this little table had aged with the paint, not without.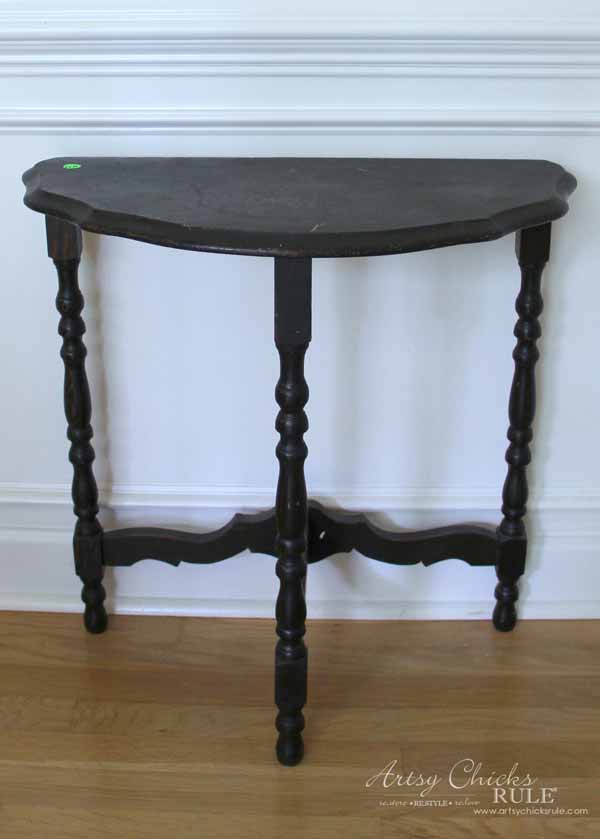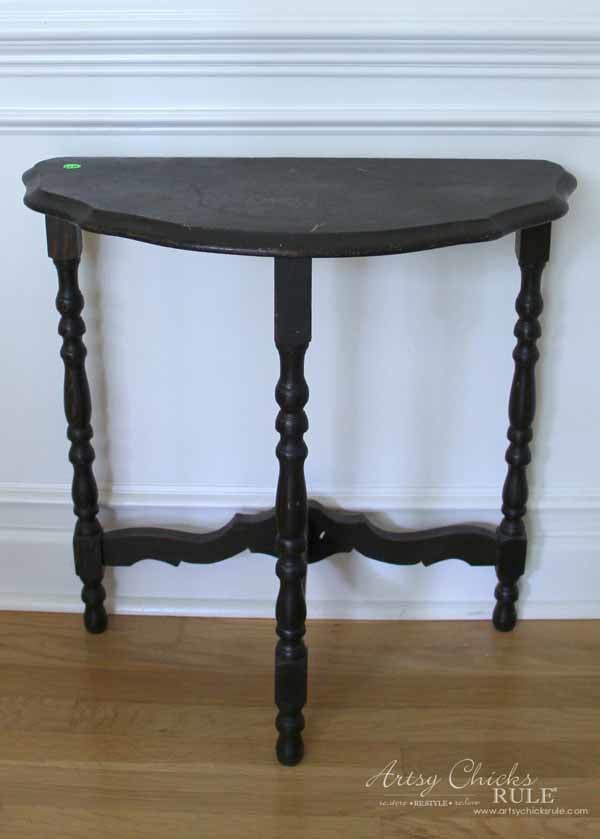 It was a very dark finish, as you can see.
Which, I think, was perfect for the look I was going for.
Want to see some of these projects in "live" time? Hop on over and follow along with me on INSTAGRAM. I'm always sharing in my stories as I'm doing projects, finding new furniture, fun finds….just all the day-to-day behind the scenes.
Here is the MMS milk paint I chose to use…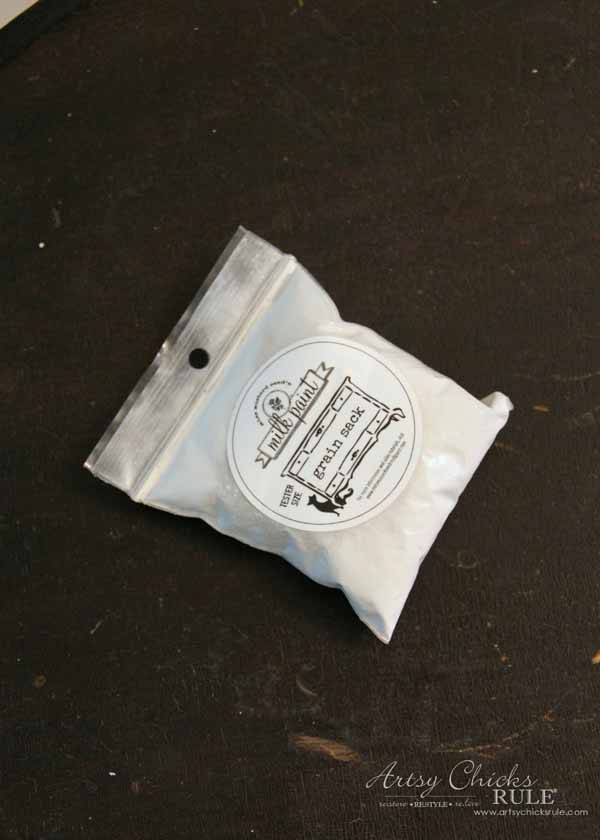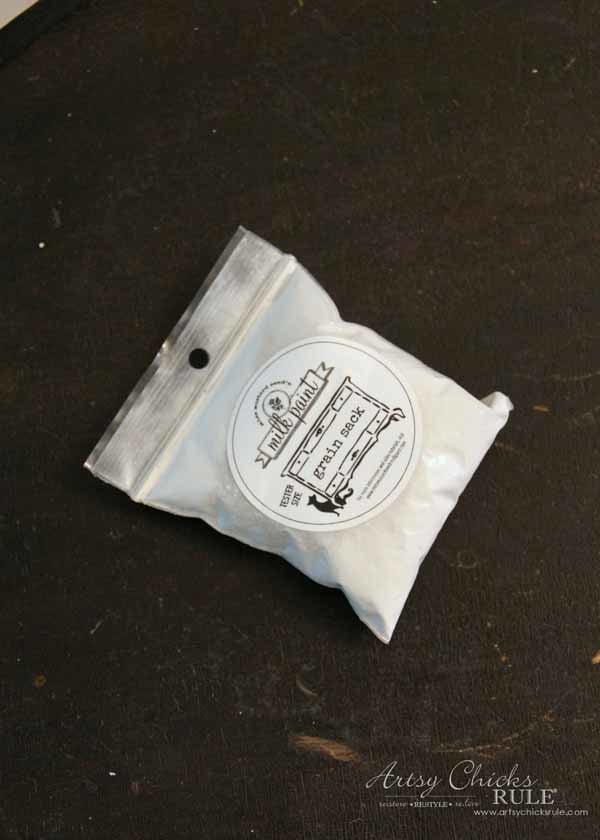 Miss Mustard Seed's Grain Sack (<— you can get it here)
Update: That is no longer available, so here is a close alternative.
(Want to see even more of my favorite furniture makeover supplies??? Take a look in my very own curated shop, here!)
I mixed it up with a bit of water and started laying coats of it on the table.
I did about 3, letting it dry very well in between.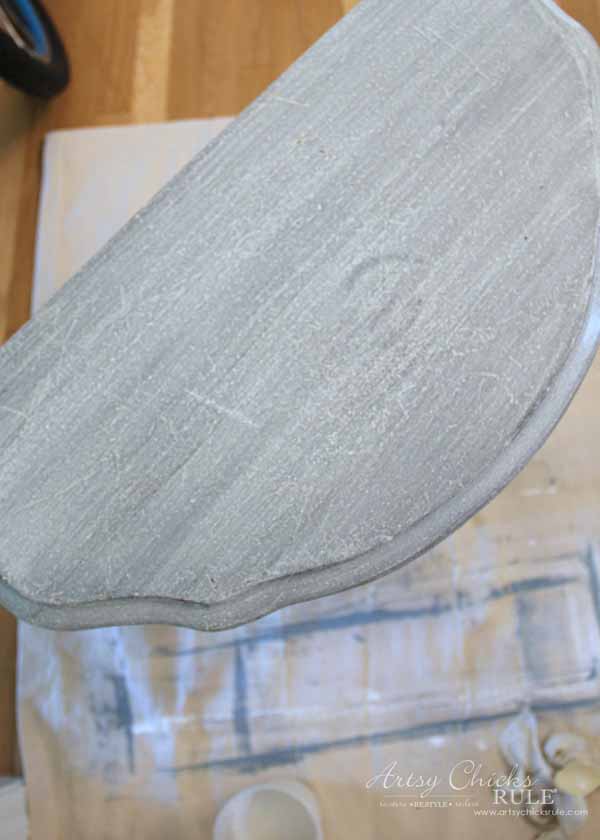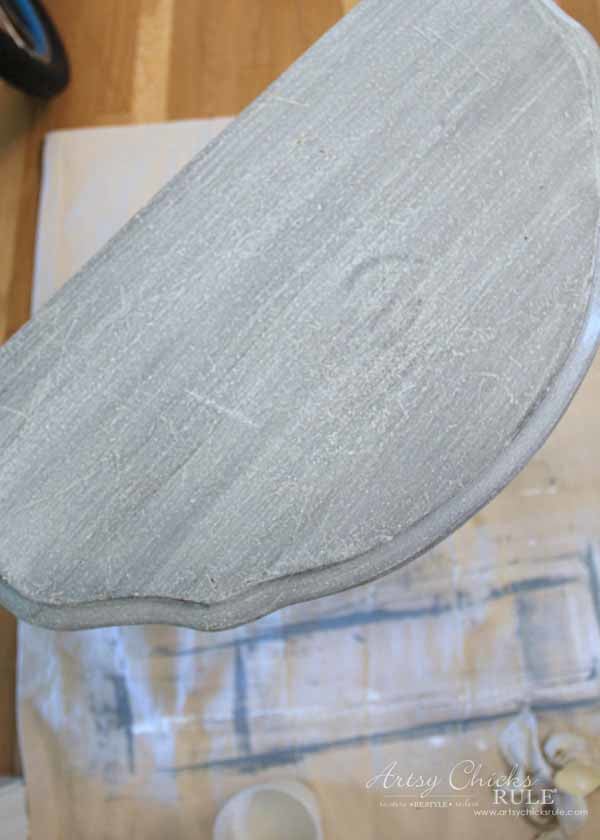 Three sounds like a lot but see how thin it is?
The finish was not slick at all so the paint stuck pretty well.
This is exactly what I meant about letting the old finish shine through.
You can see it doesn't cover imperfections well at all.
Perfect…for this project anyway.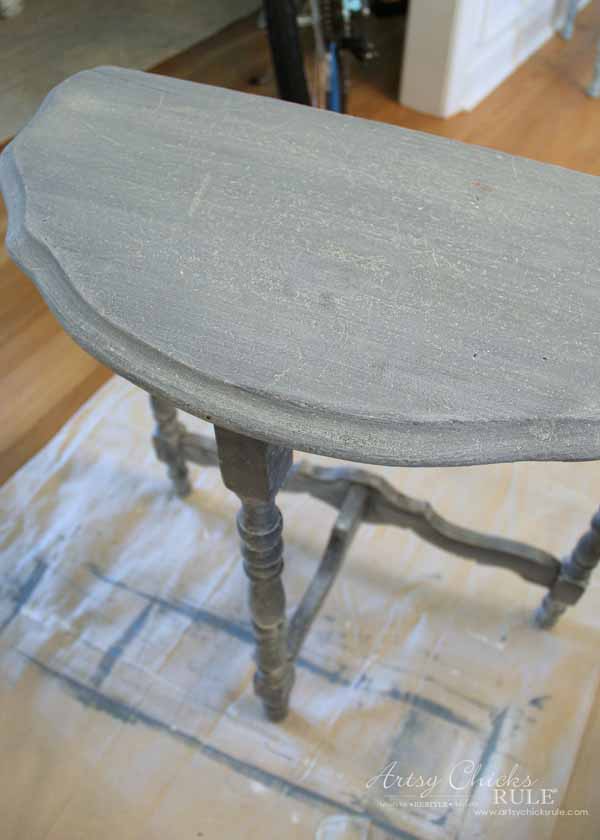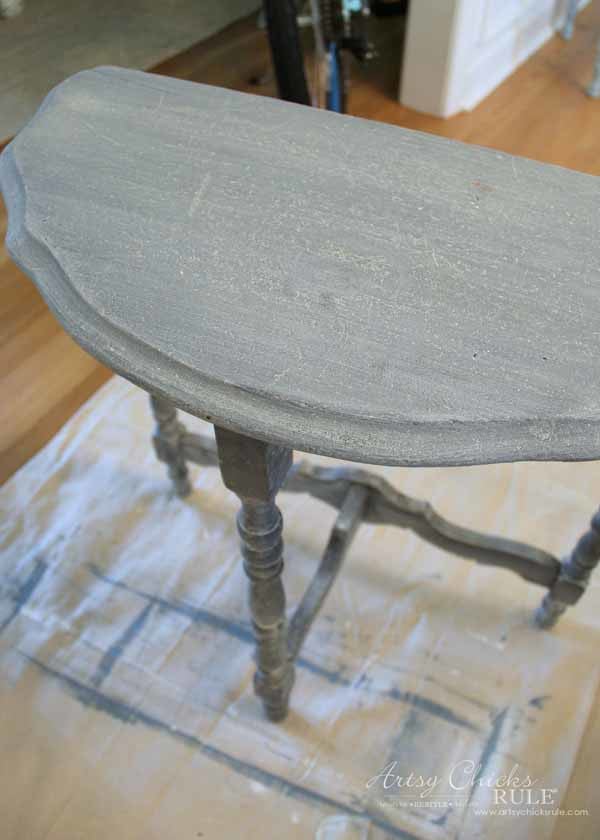 I sanded the paint a bit before I added the graphic.
I didn't want to end up sanding all the lettering away so did a bit of "aging" beforehand.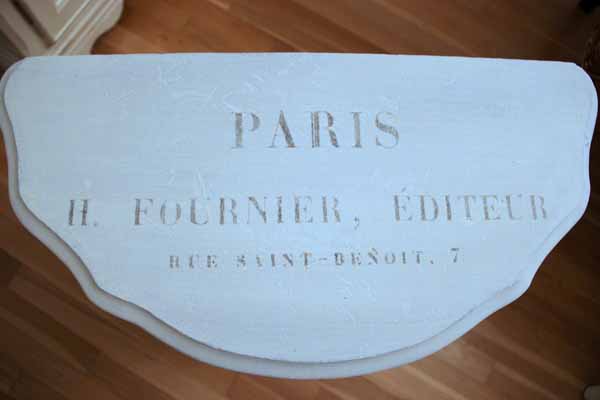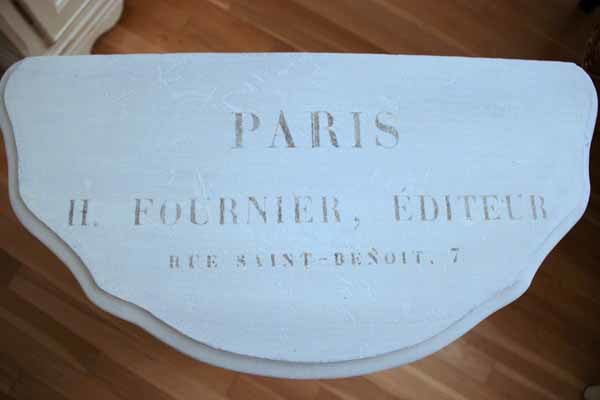 The graphic is from The Graphic's Fairy and can be found here >>> "Paris Address"
I used blockposters . com to print it out and you can see my favorite transfer methods here >>> "How To Transfer Graphics"
Then I used a script liner brush and hand-painted in the letters with dark gray paint.
There are also stencils available similar, like this one. (more options for design too)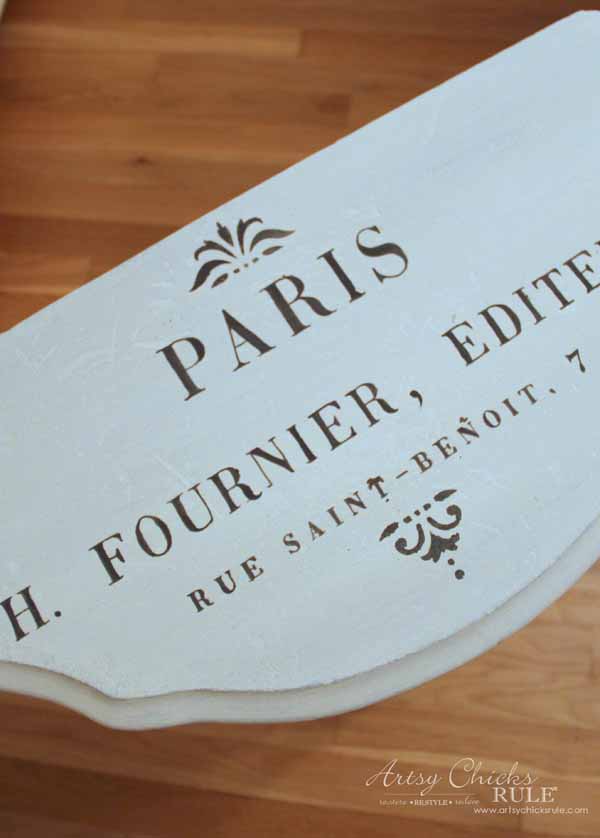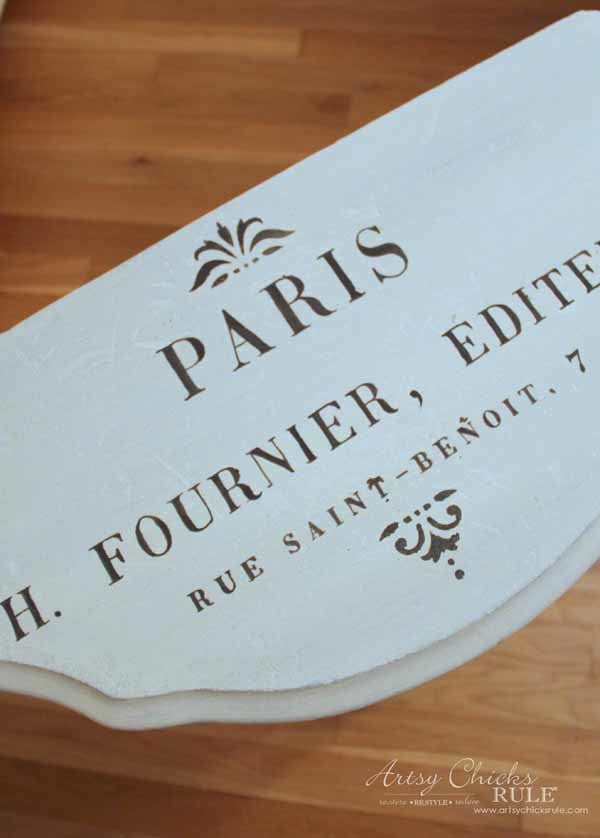 I also thought it needed a little "something, something" so added the stencil flourishes on the top and bottom.
I gave it a bit more sanding to bring out some detail and to make it look old….like it is.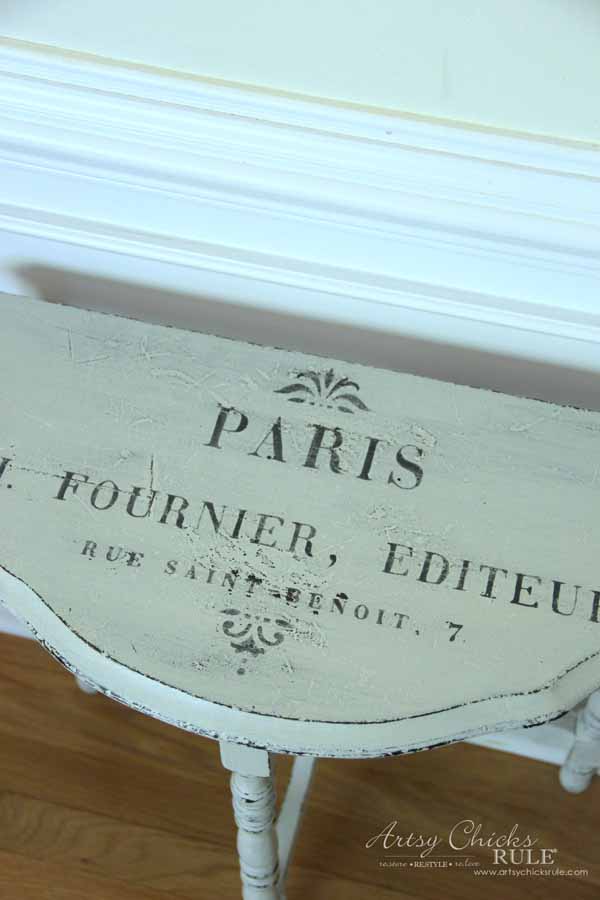 Want to know about 26 other chalk (and milk) style paints?
I've got the low down for you right here! >>> 26 Types of Chalk Style Paint For Furniture
Don't forget to visit my shop for paint, transfers, and MORE! Get there right >> here.
Isn't that just awesome?
I love all the gouges and crackles.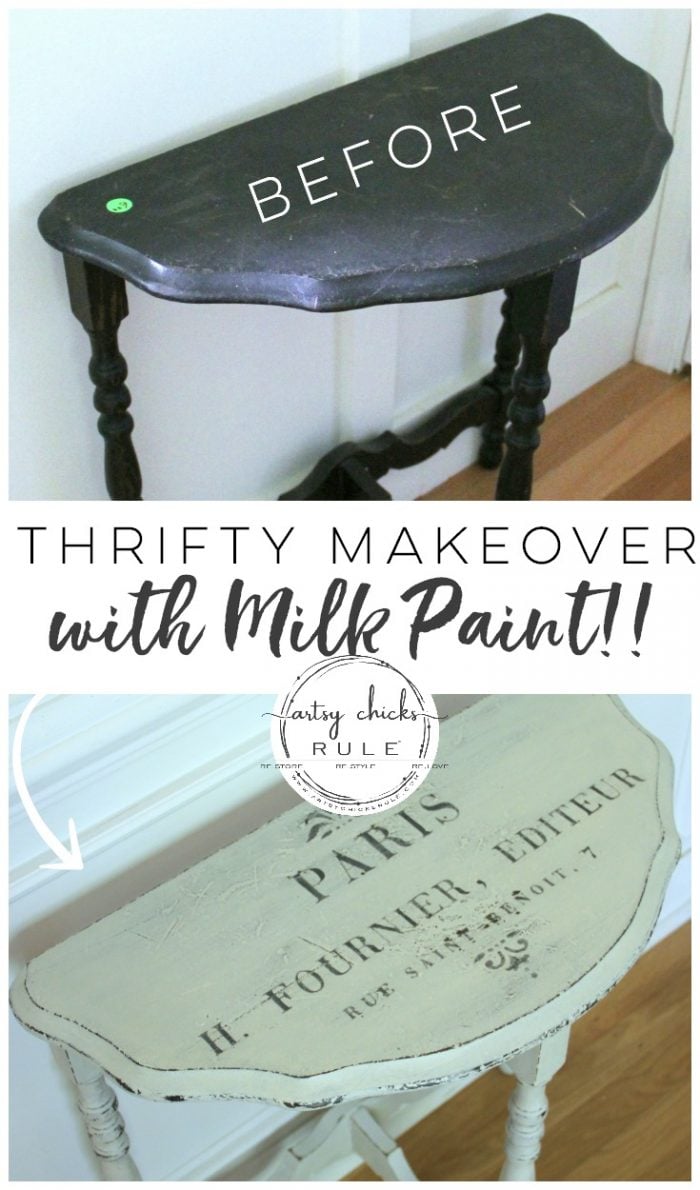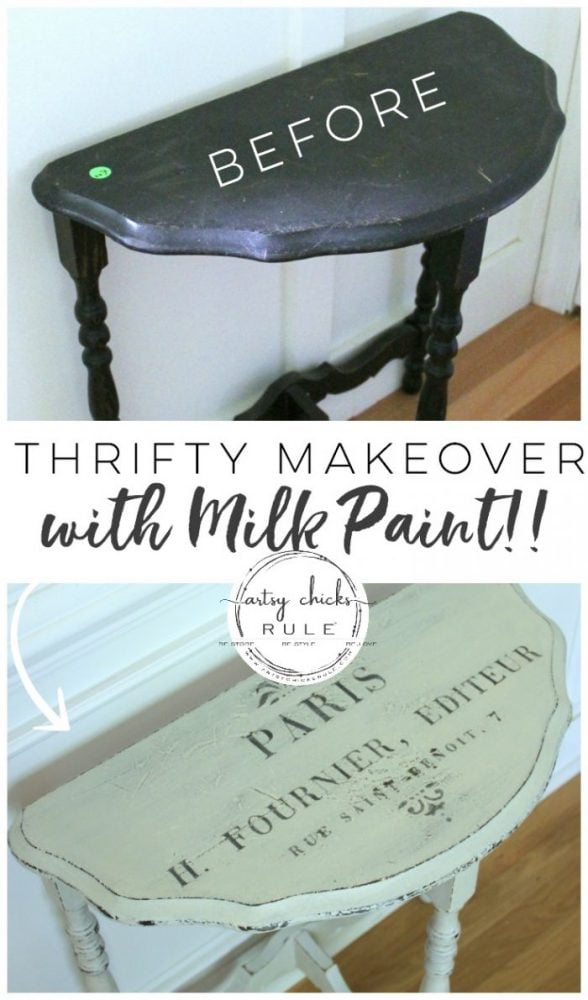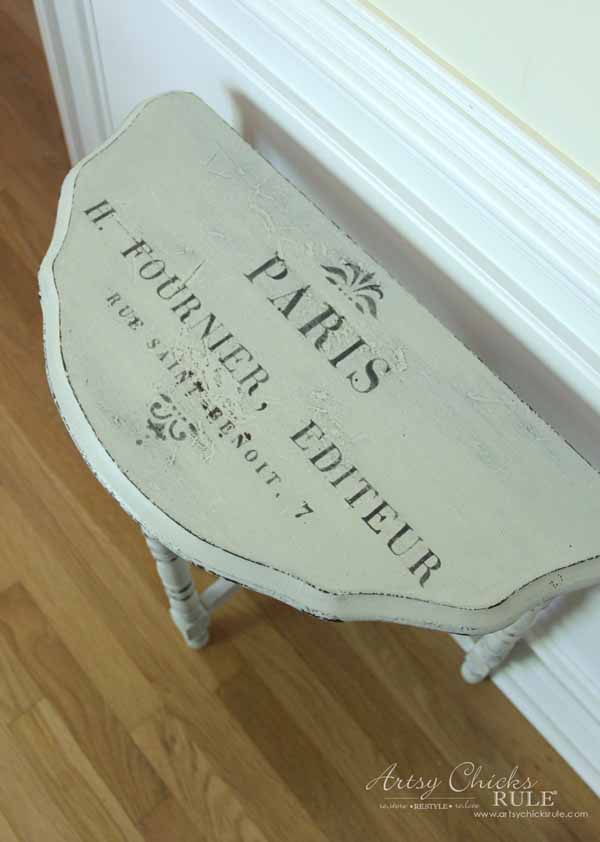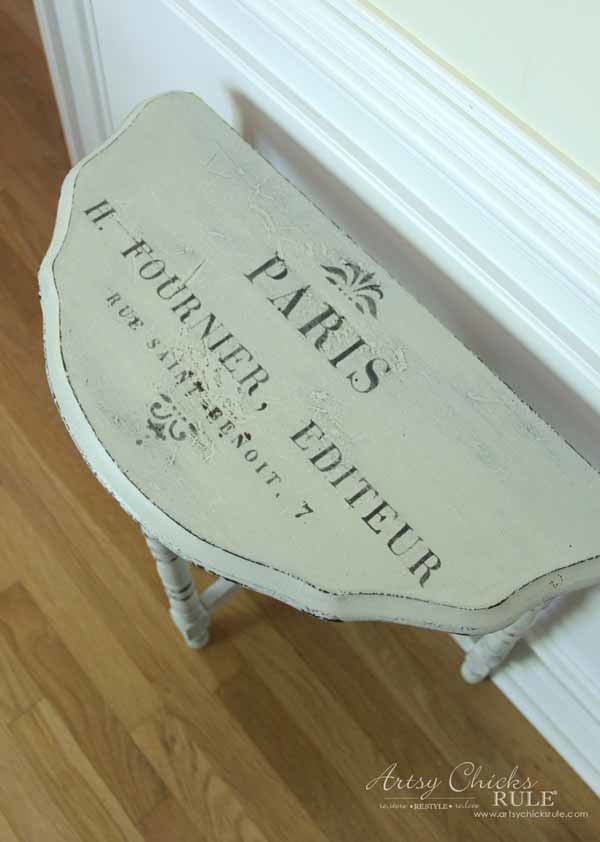 Up close…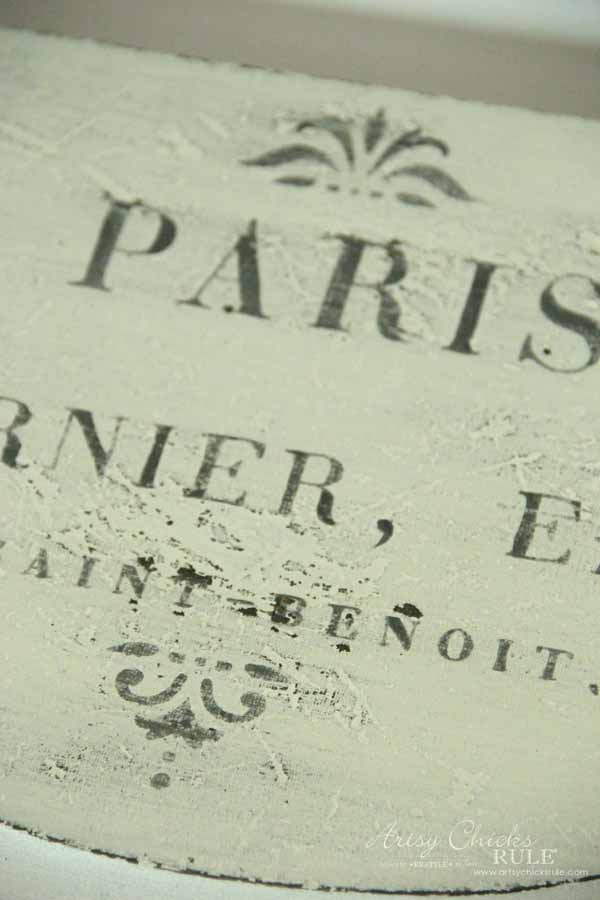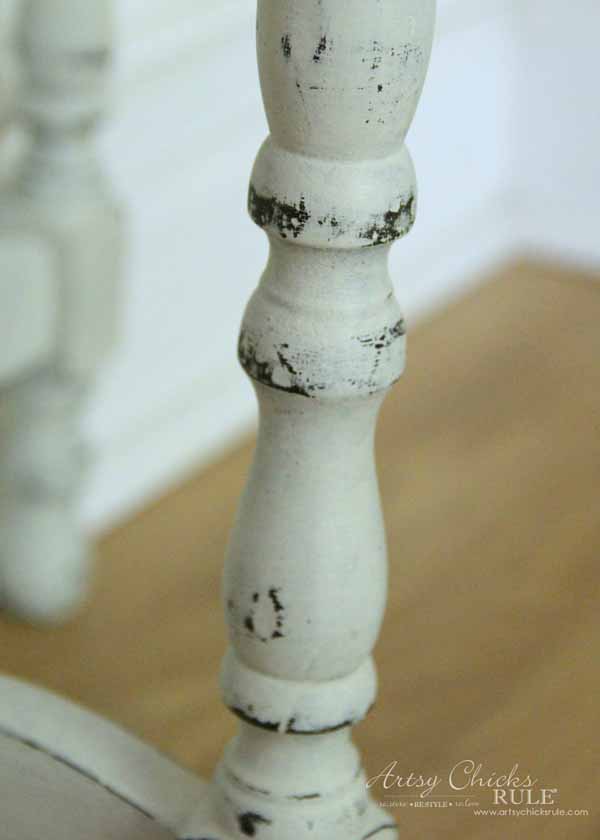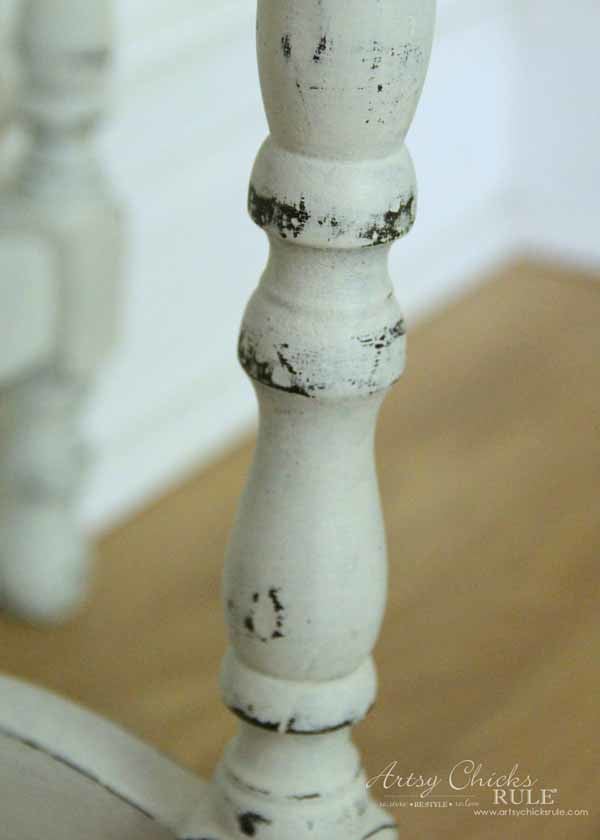 You can see it "chipped" as milk paint does in a few places.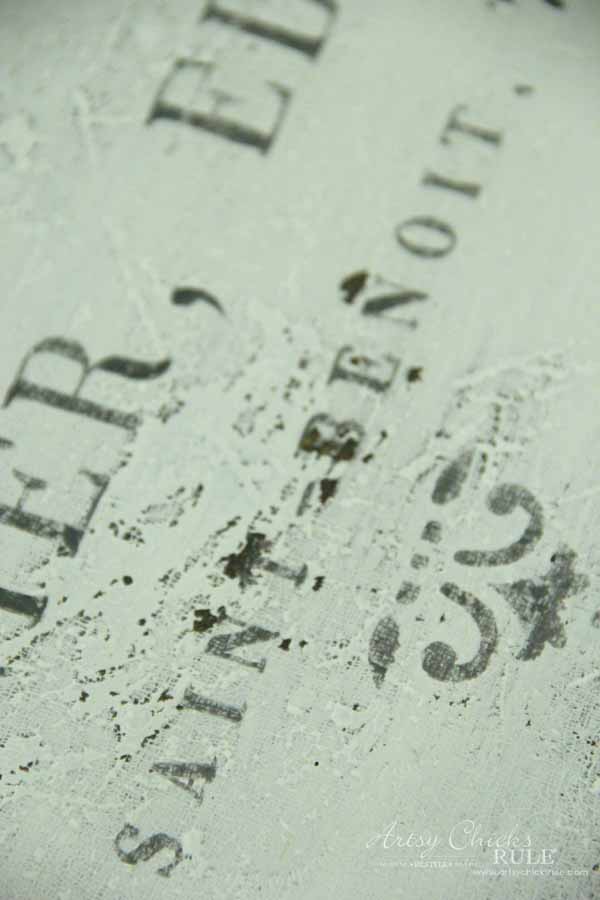 But it actually didn't chip much at all.
I was quite surprised but the finish was probably pretty porous since it was so old.
But just look at all those crackles.
I adore this old finish and the character it gives.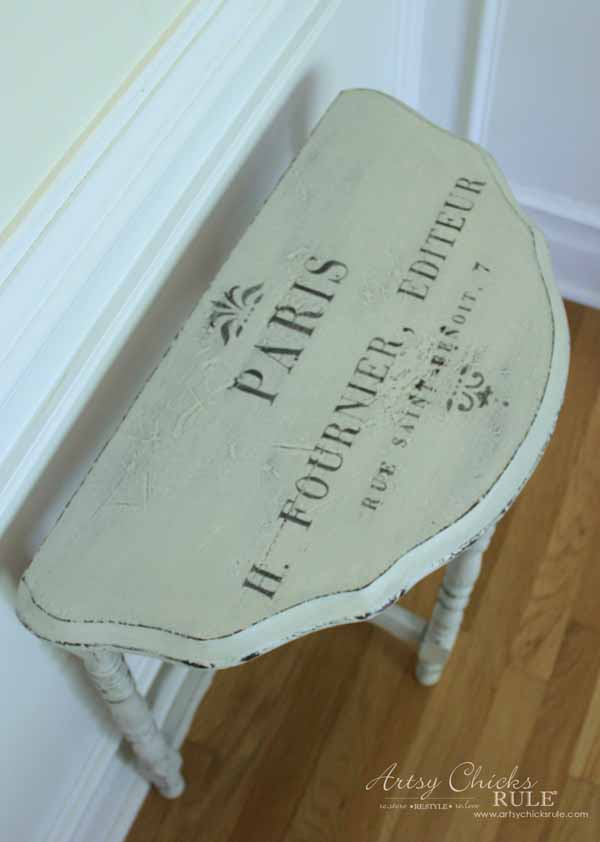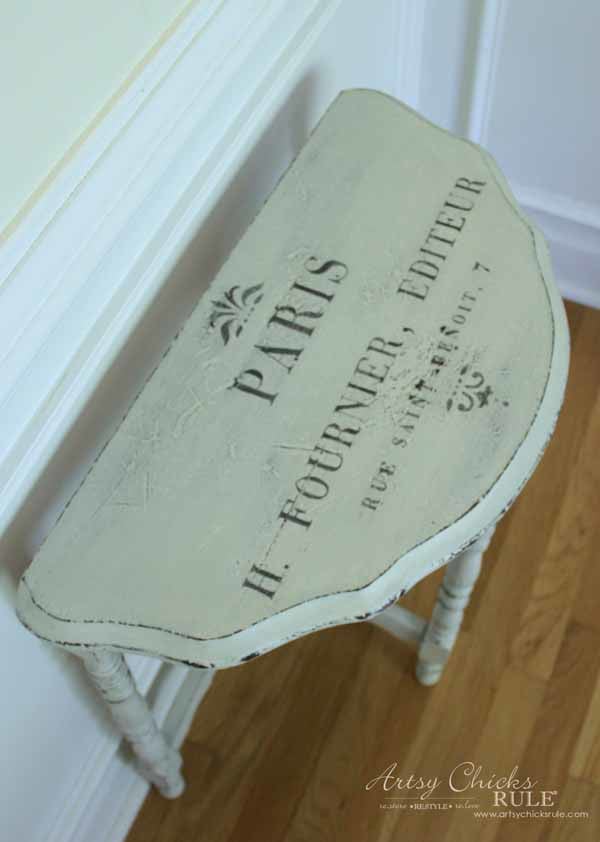 This was a fun one to do and pretty quick and easy too.
It got one coat of Annie Sloan Clear Wax as a sealer. (here is an alternative clear wax)
PIN this for later if you love or want to try MMS Milk Paint!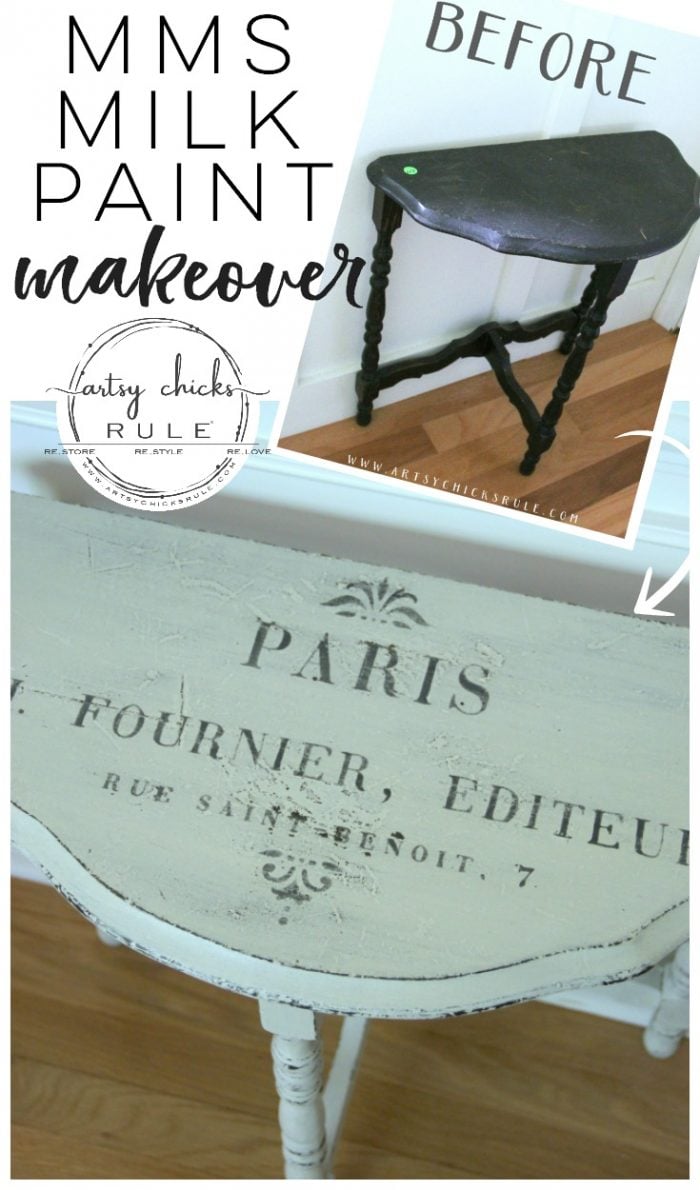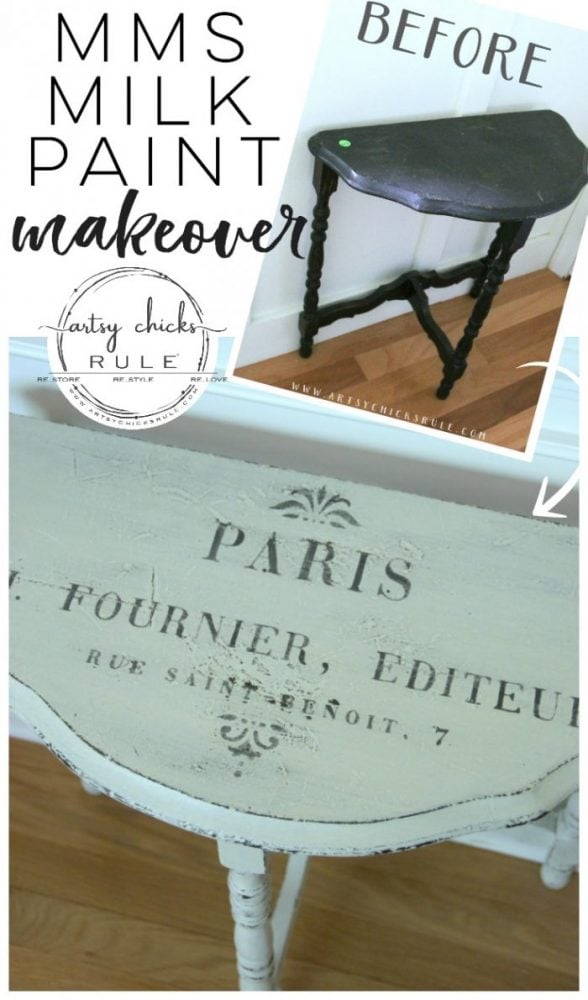 Let's see what my friends transformed this month…..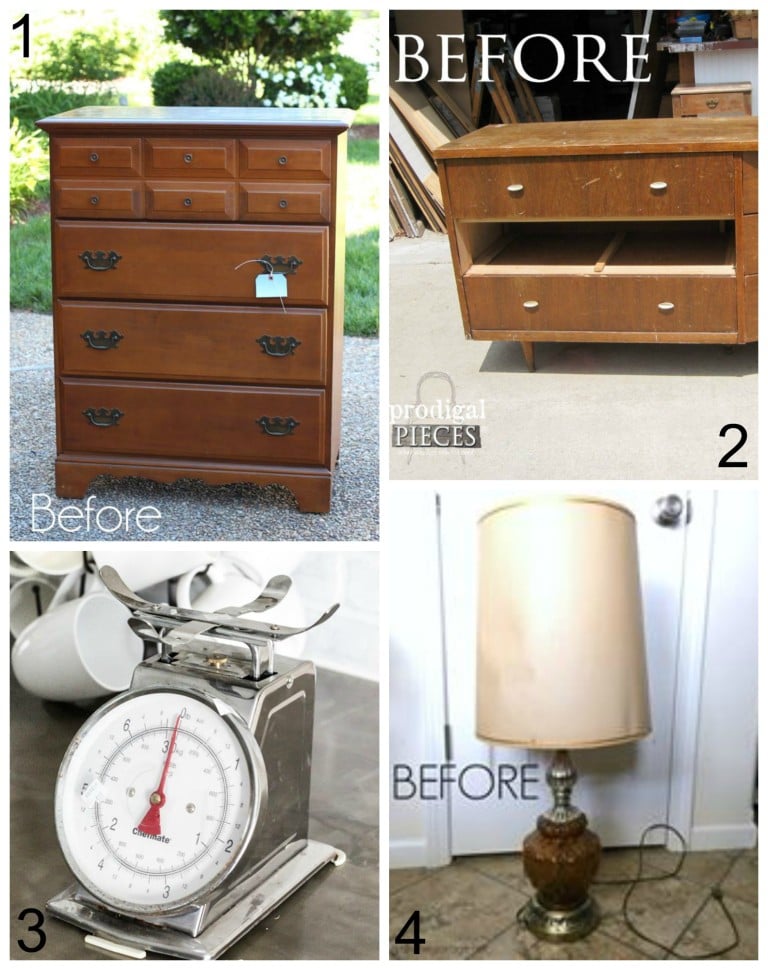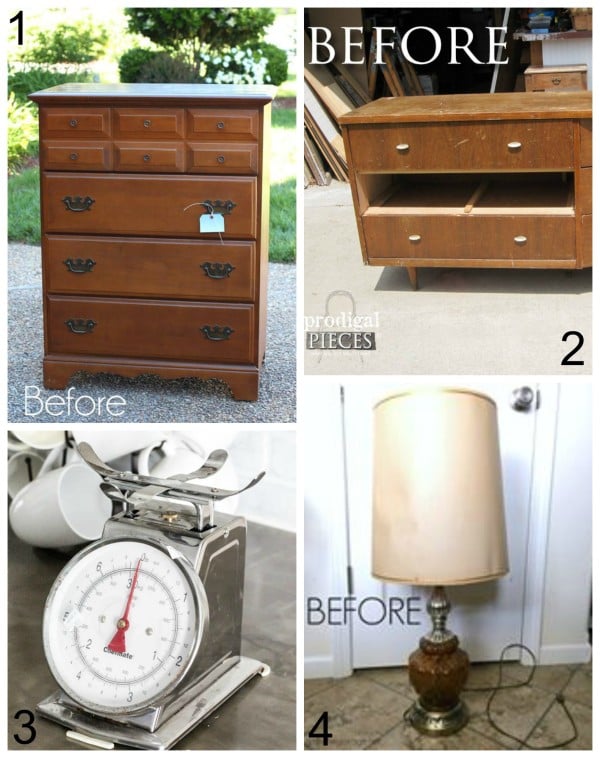 Be sure to check back later to see what I did to this! (it's not orange-y anymore!)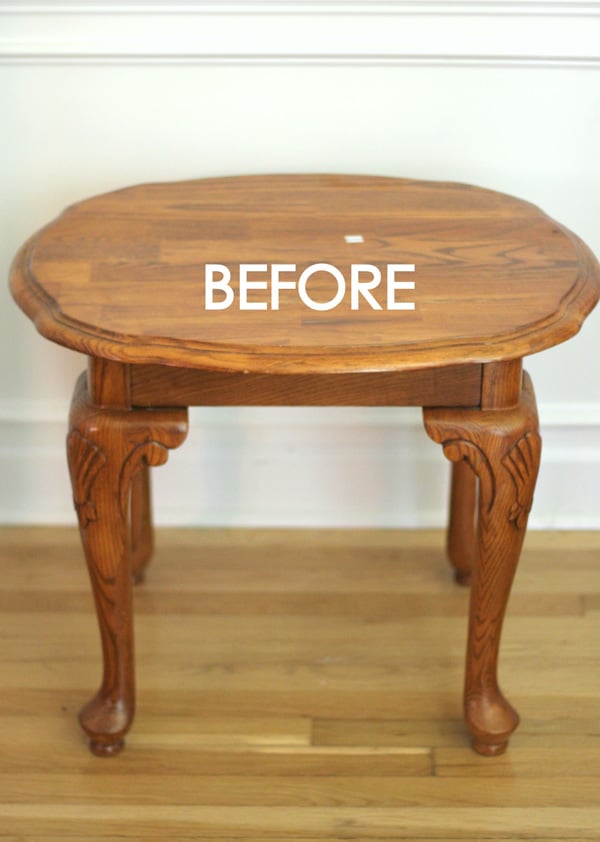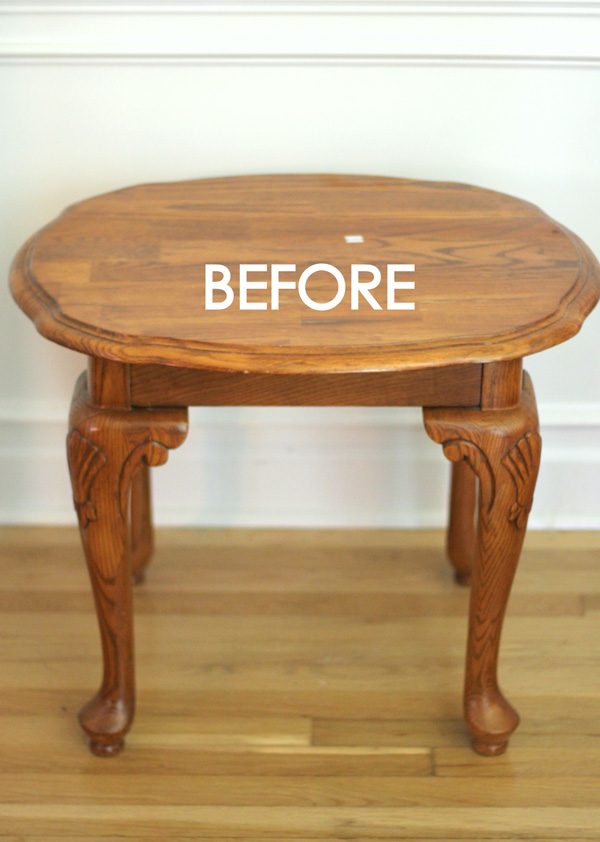 UPDATE!!! See it now, here!!
Have a great week, friends!
xoxo