Thanksgiving Foyer (One Space, Three Ways)
This post may contain affiliate links. Please see disclosures here.
Hey Y'all! I'm back today sharing my "Thanksgiving Foyer" for the one space, three ways decorating challenge.
I shared my Fall foyer last month. You can see it here … "Welcoming Fall Foyer".
Since then, I've shared a few Christmas/Holiday posts already but I have not decorated my home yet.
I, like most of you, like to celebrate each holiday as they come.
But as a blogger, I do try to get things out to you in a timely manner so you can plan accordingly when the time comes.
That is the only reason I've shared holiday things already. :)
In case you missed any….
I shared some gorgeous (and low priced) holiday decor in this post (Part 1 of 3, parts 2 and 3 coming in the next 2 weeks!) … "Holiday Decor Ideas"
A Merry and Bright Sign here … "Easy DIY Merry and Bright Sign"
And I shared a bunch of great handmade gift giving ideas here … "35+ Handmade Gift Ideas For You"
Okay, now let's talk THANKSGIVING.
A time to give thanks and be grateful. To reflect.
I wanted to create that feeling with my decor so decided to use this sign I made in the vignette.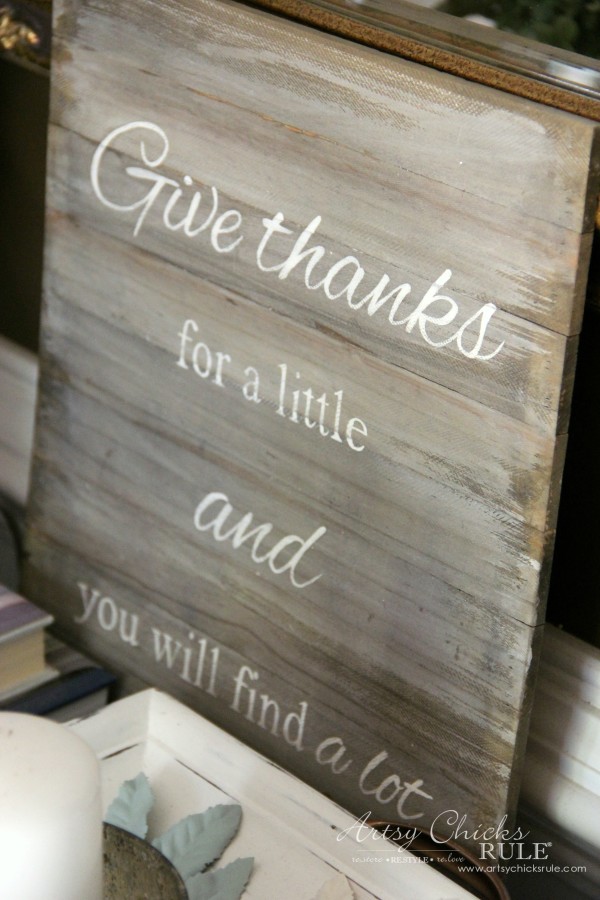 I just adore this saying. Give thanks for a little and you will find a lot.
Yes, indeed.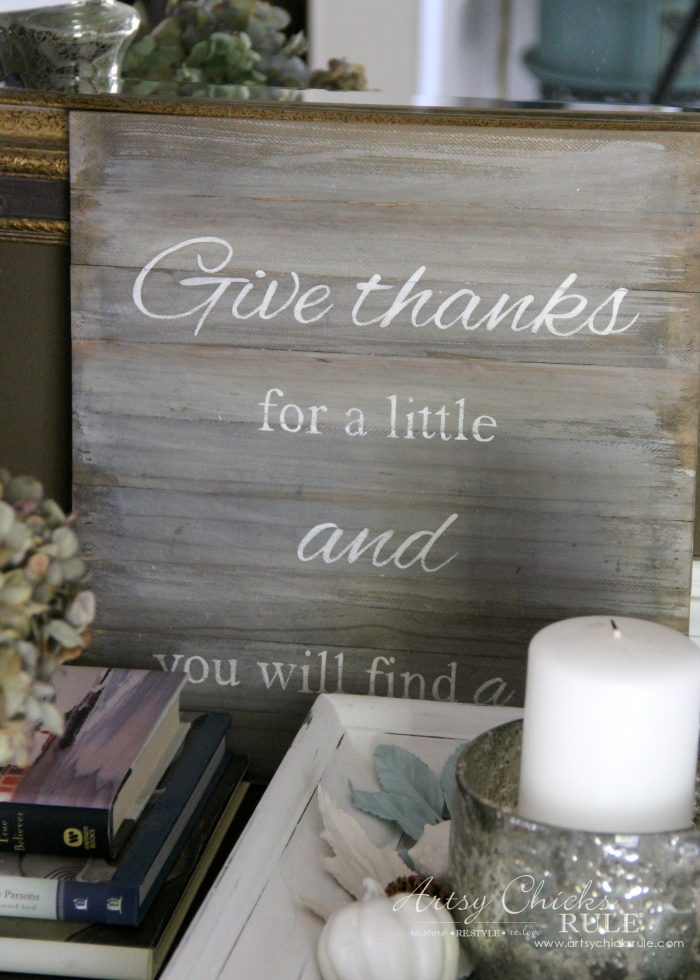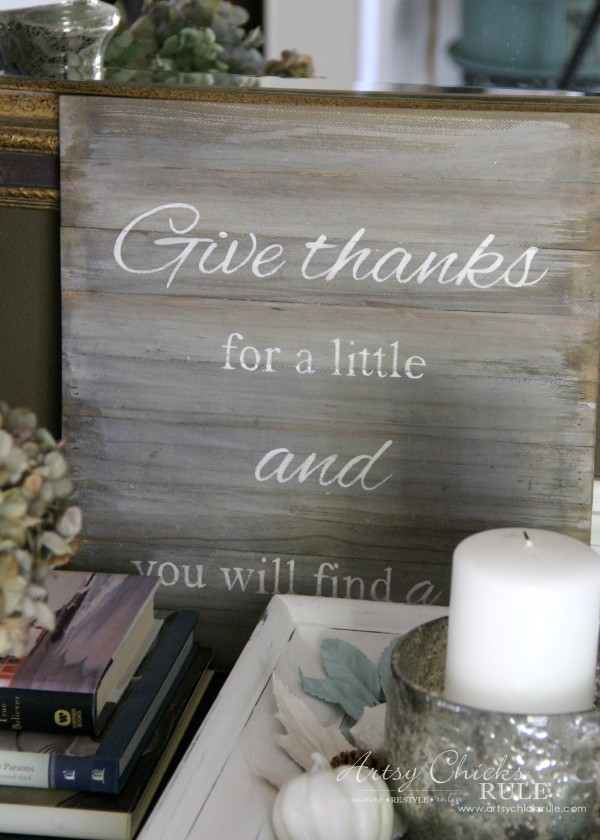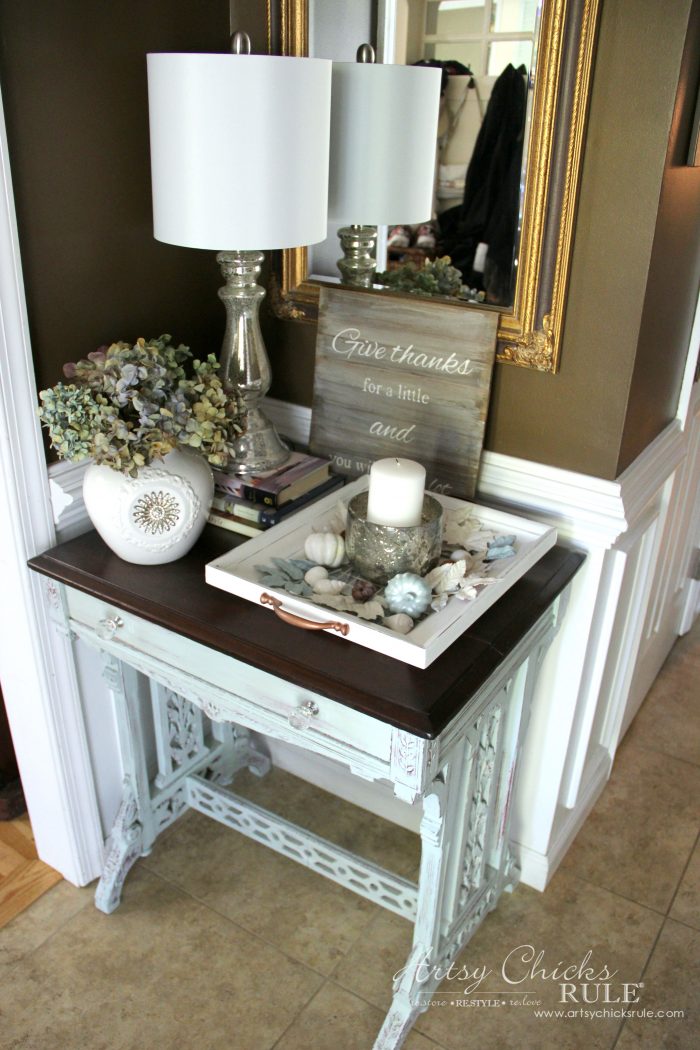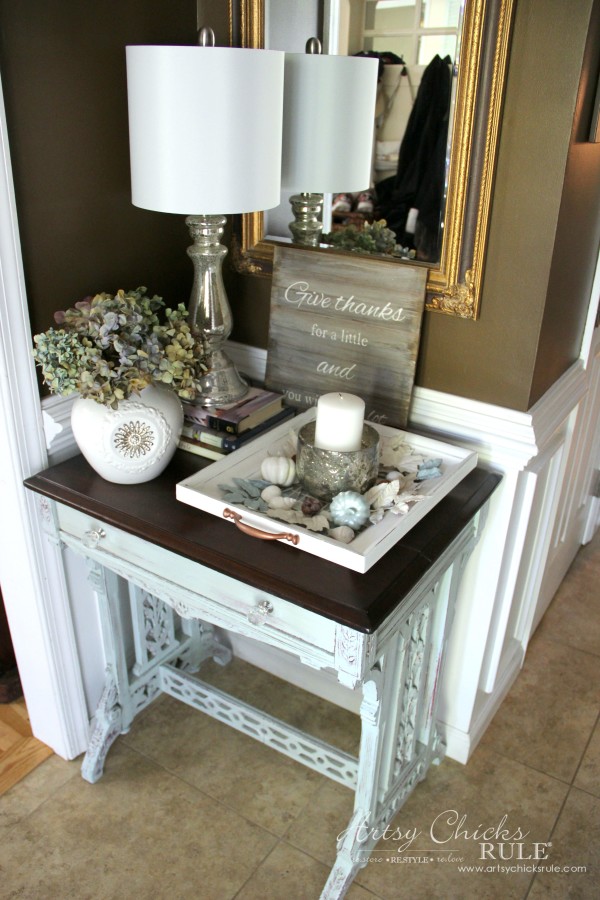 I kept the decor neutral (and coastal in nature) as I did in my Coastal Fall Tablescape.
I used the "framed print turned tiled tray" to hold seashells, neutral leaves and a candle.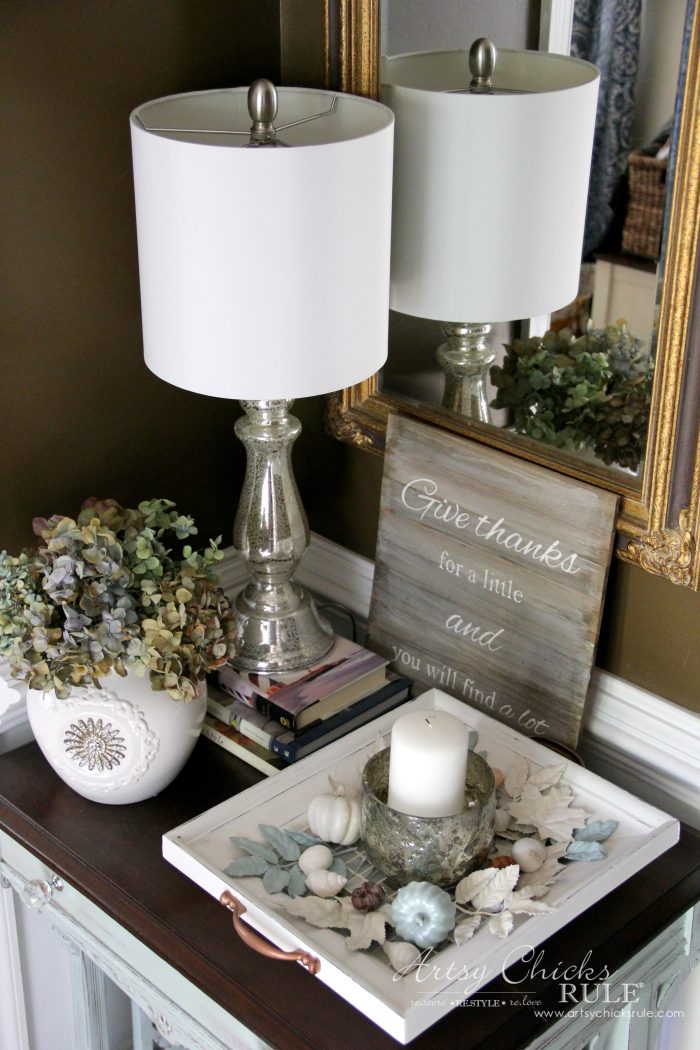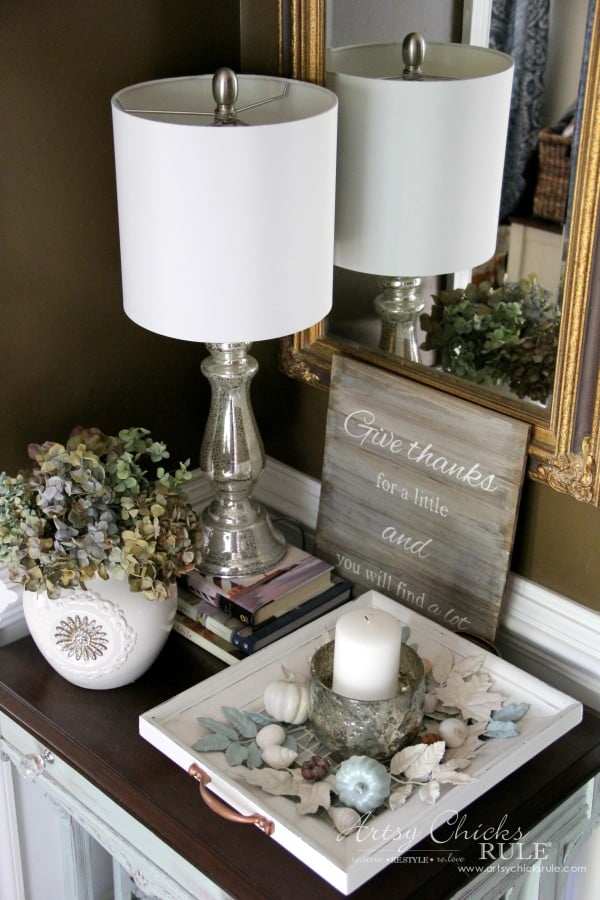 I used this mercury glass candle holder because it ties in nicely with the mercury glass lamp.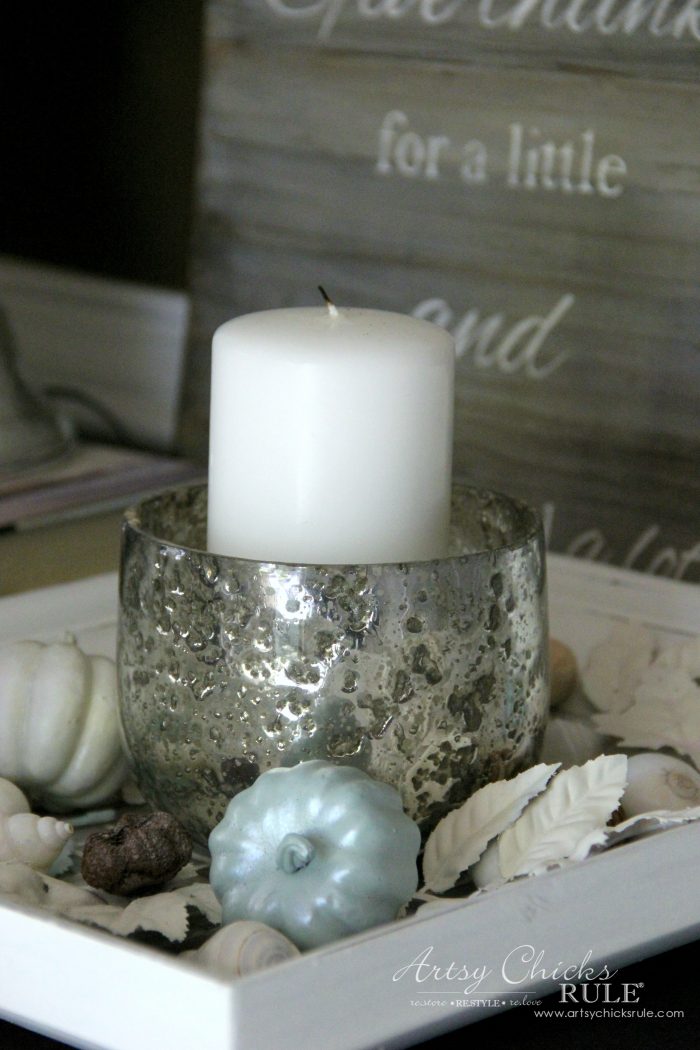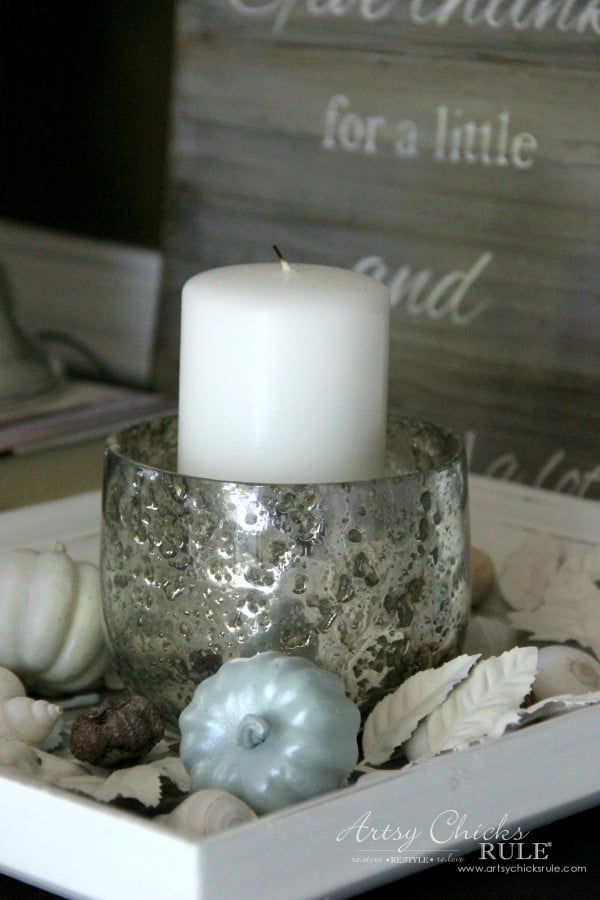 And I put some of my dried hydrangea into this pretty vase…..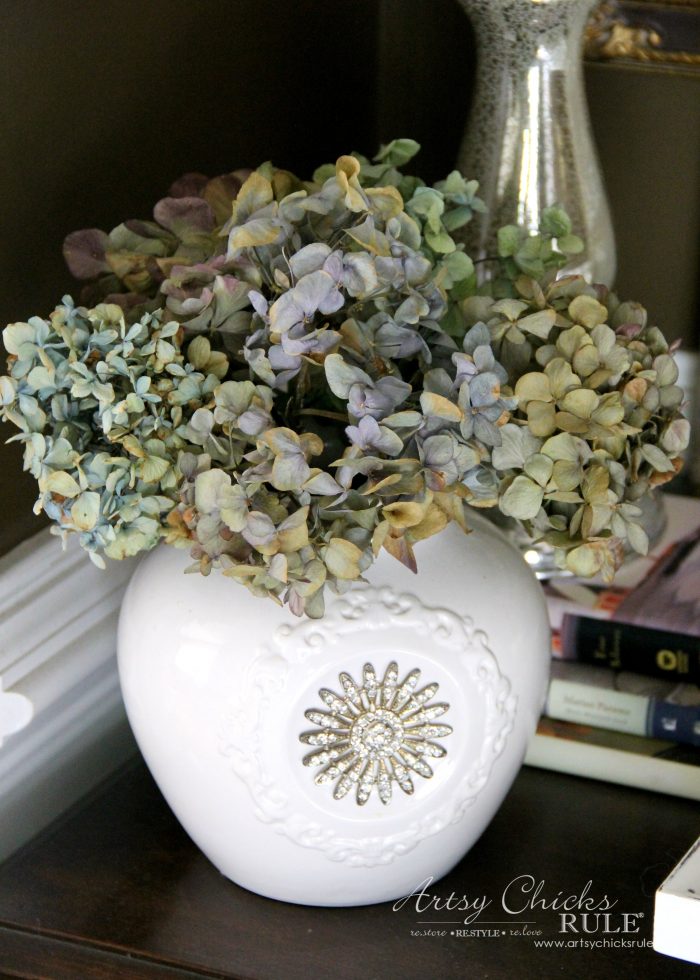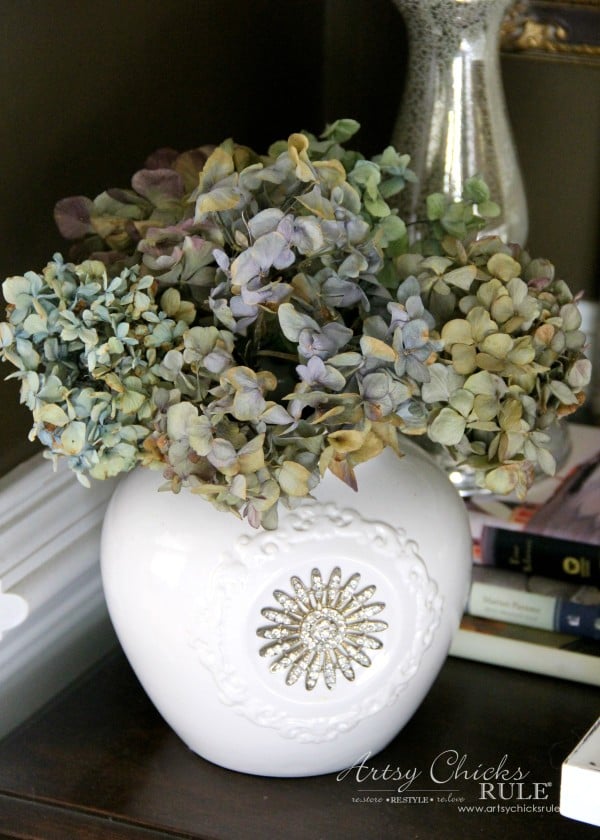 I love the look of them for Fall.
They are the perfect colors.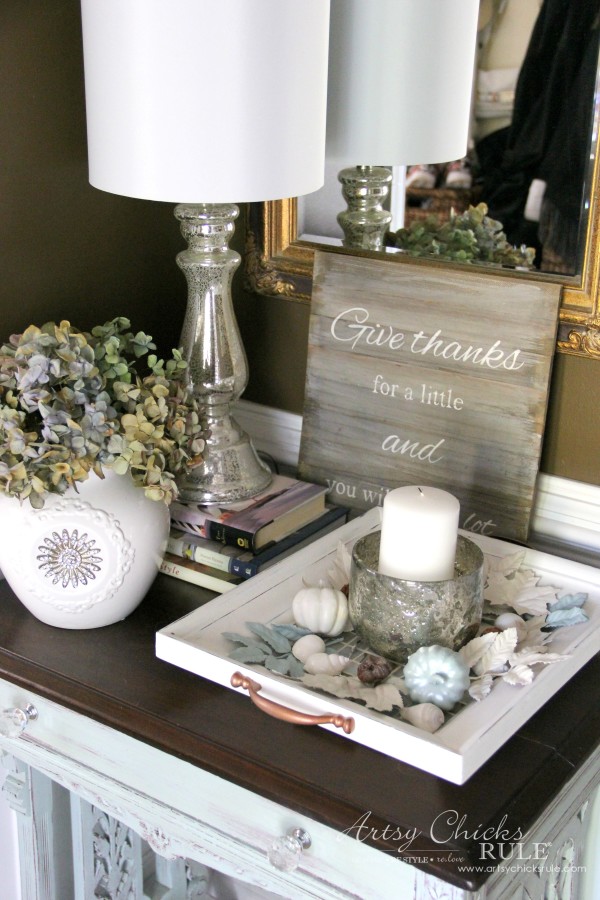 This might be my favorite foyer vignette I've created so far. : )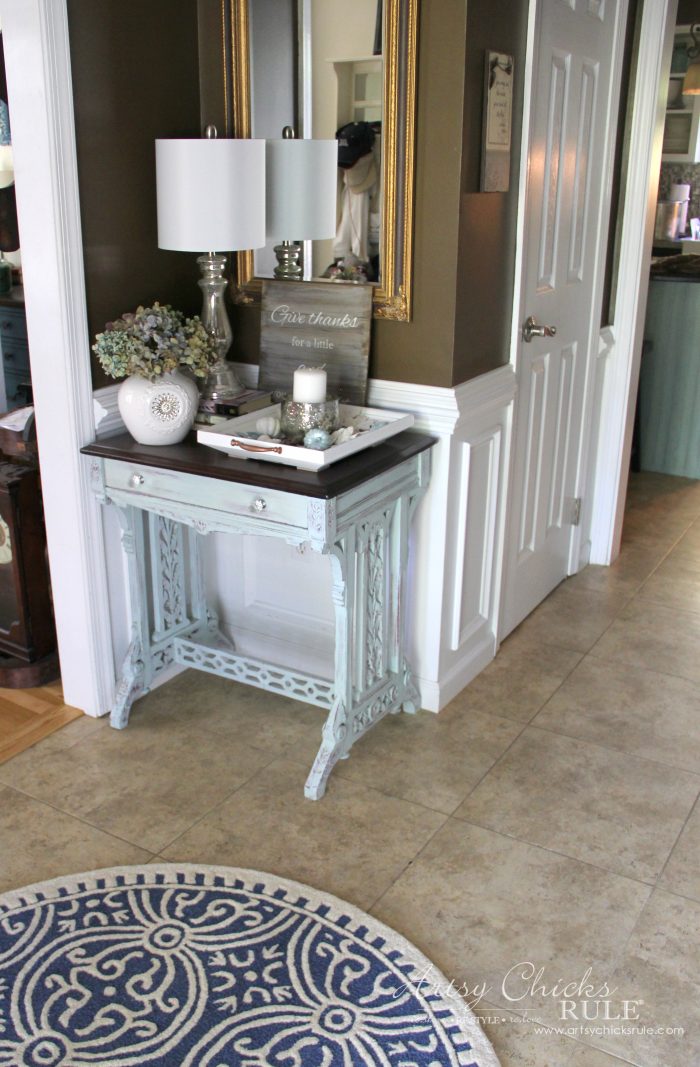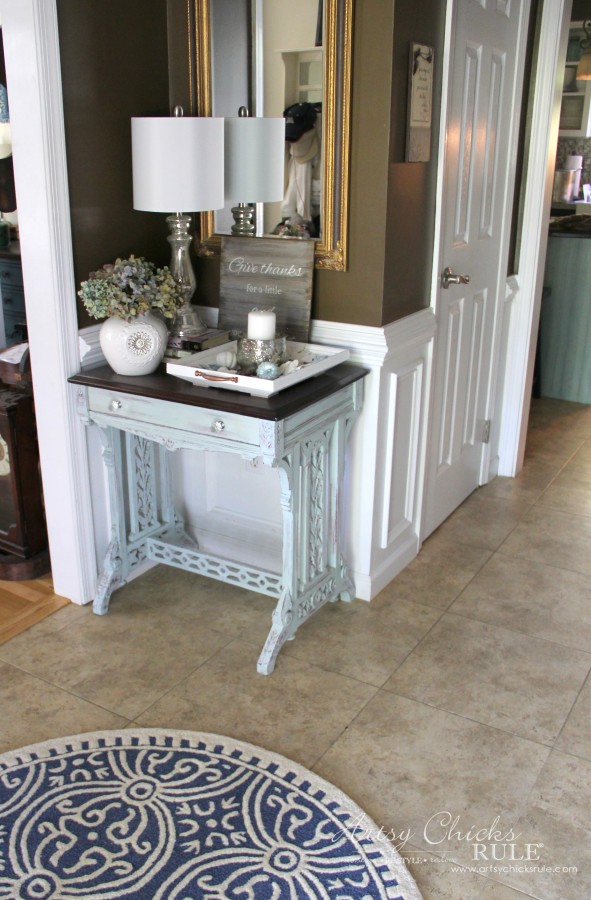 Oh and I love my new rug in the foyer! I've never had a round rug here before.
Again, if you follow on Instagram, you've already seen it. ;)
It's from Overstock and it looks like they no longer have this size.
But it's the Safavieh Handmade Cambridge Navy Blue/Ivory Wood Rug.
And now the mess I promised …. things are not always perfect around here.
(a reader mentioned her home not being a showplace like mine)
My home is a working home, in more ways than one.
(painting, moving things around for photos, more painting…oh and living in ;) )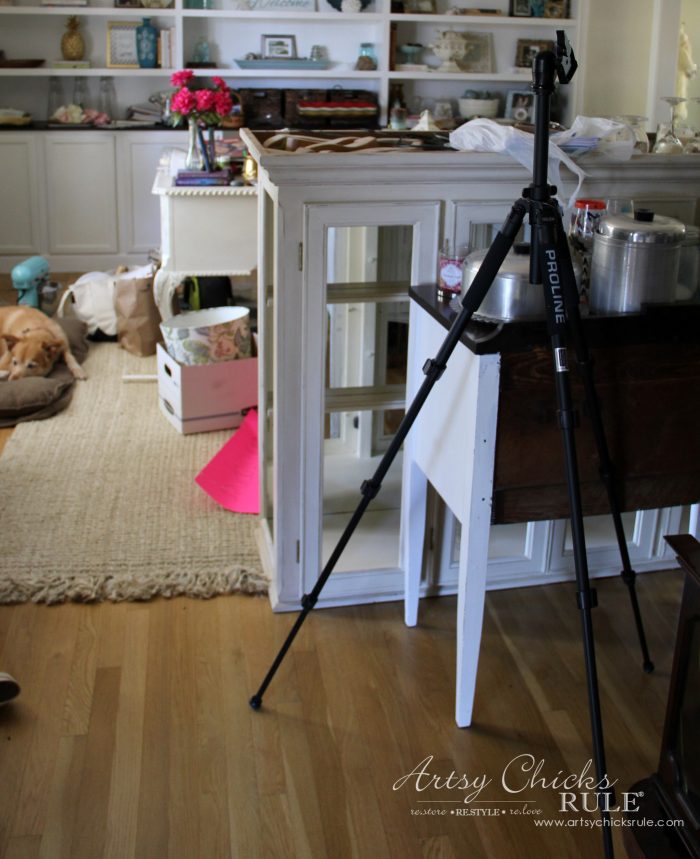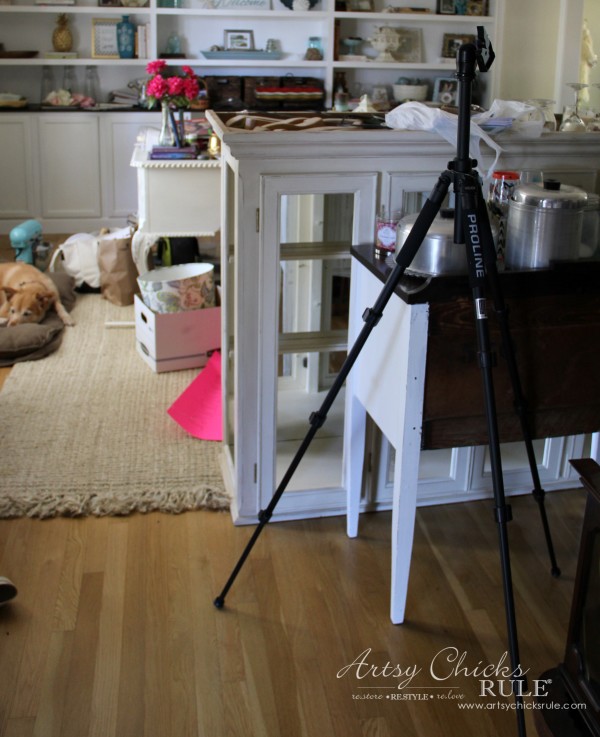 My old girl Lexi over there relaxing. (she just turned 12)
Various pieces of furniture piled around the study.
Boxes, bags, stuff …even a mixer…laying around. You get the drift.
Furniture to sell and the storage unit and garage are full….sigh.
I am happy to report that most of this is cleaned up now though. ;)
I've been redecorating almost every room….and hadn't really planned to!
It just evolved, so I tell my husband. heh heh
AND look, it's a bookcase!! Yes, it is finished.
I'll be sharing the reveal this month. FINALLY y'all.
But let's go back to focusing on the foyer and pretending you can't see any of that when you walk in the front door. ;)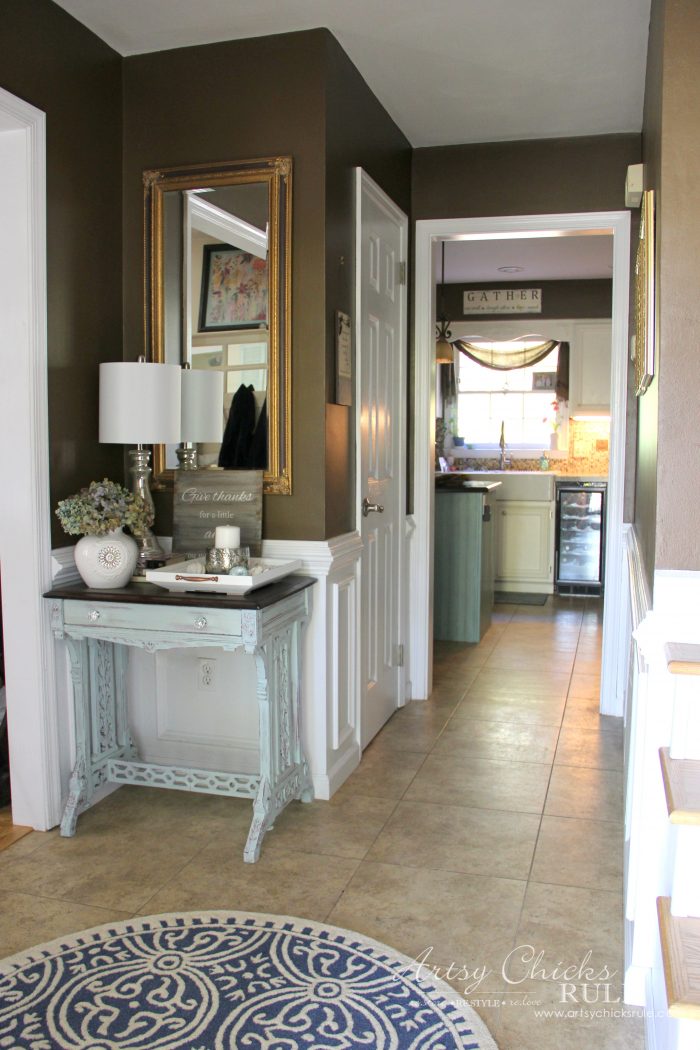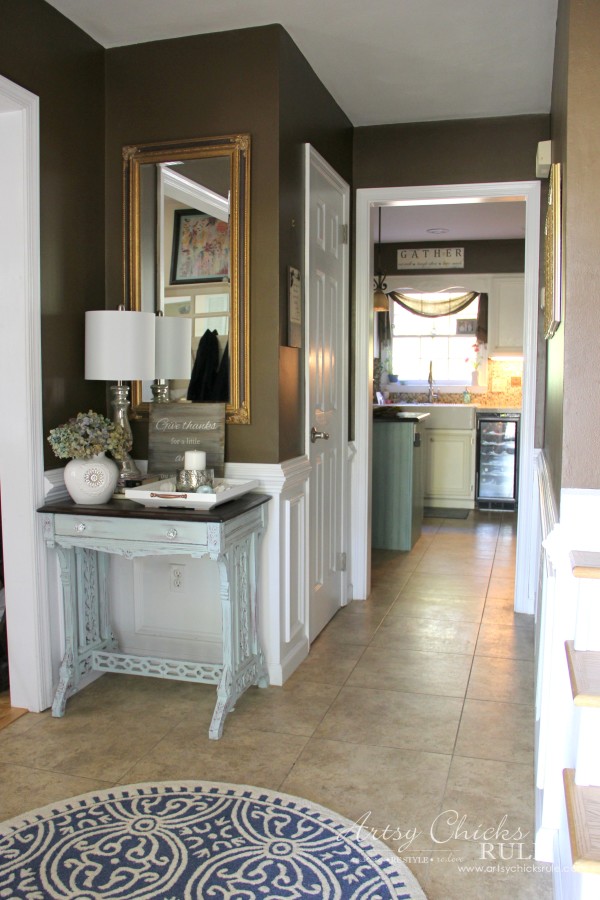 Ah, so much better. Keep your eyes straight ahead now.
I'm looking forward to finishing these rooms AND finding new "hiding places" for all the stuff I had to remove from the furniture I've sold.
That's always fun.
Sadly, I have been "restocking" the thrift stores with a few things too. Boo.
Too bad I don't have a huge home to display it all.
Downsizing is well underway for the upcoming move (next year).
Okay, now for even more decorating inspiration, visit my friends below and see what they created for their "one space" this month!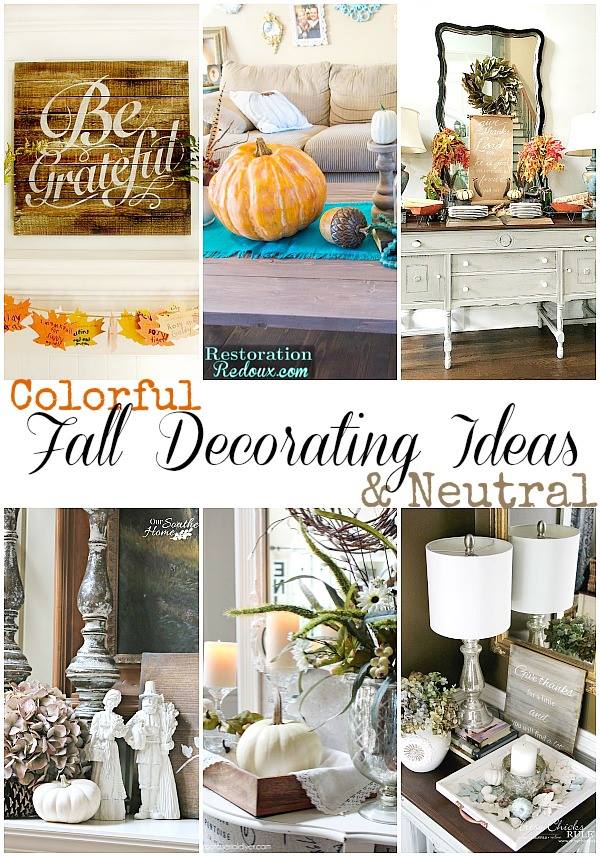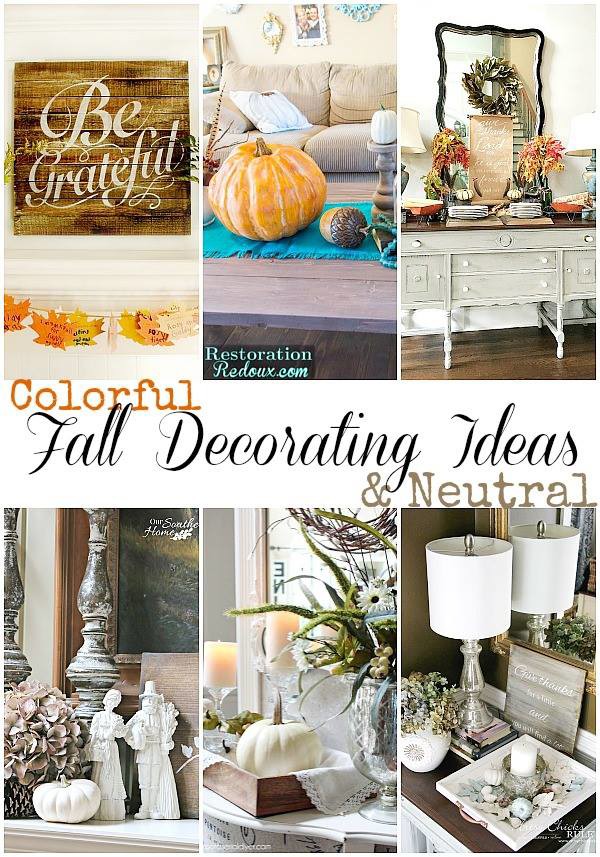 Confessions of a Serial Do It Yourselfer
………………………………………………………………………….
And now it's your turn. Yay!
Let's see how you decorated your space for November.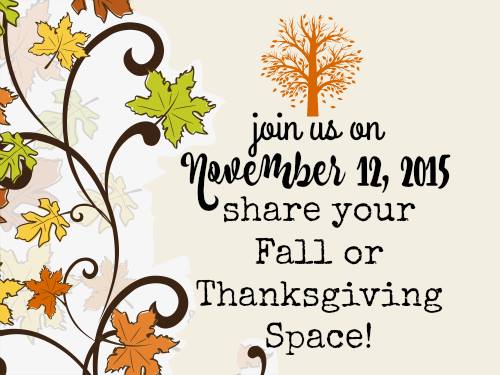 Share them in our decorating group here—> Decor Enthusiasts Facebook Group.
(If you aren't a member, we'd love for you to join. It's a fun group!!)
AND share them on Instagram (if you have Instagram) too between Nov 12th -14th.
If you have Instagram accounts…
1. Add your own post (One Space/3 Ways, the first in Oct in "Fall or Halloween" decor)
2. Tag it with #DecorEnthusiast hashtag so we can find you
3. Follow all 7 of the hosts over on Instagram
We will choose a winner that will be featured on all 7 of our Instagram feeds on Sunday, October 11th!
Follow here:
@artsychicksrule (me!) @confessionsofaserialdiyer @oursouthernhome @restorationredoux @refreshrestyle @dukemanorfarm
AND coming in December…..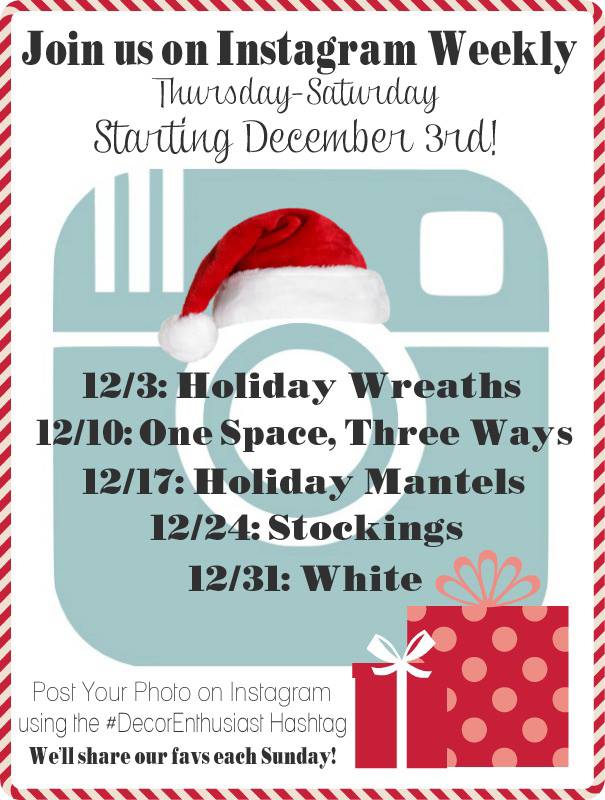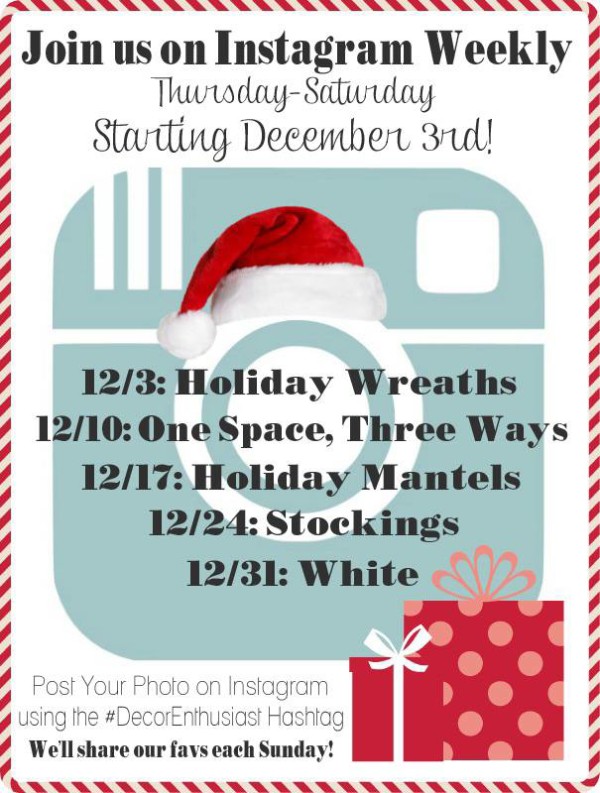 Alrighty, we'll be sharing our Christmas spaces next month so be sure to follow along.
I'll also be sharing a new sign for my dining room (for Thanksgiving but I think it might stay all year!) and another holiday decor post next week.
See you then!
xo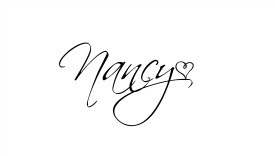 Follow along! –> Instagram ~ Facebook ~ Pinterest ~ Bloglovin