Do you surround yourself with things you love?
I've often read that we should.
Yep, that we should go through our homes and discard, give away, etc, those things that we don't really love.
And to simplify.
I love that word. The older I get, the more I want (need) to simplify.
I went through our home a couple years ago and changed the entire decor.
Wall color, rugs, furniture, everything.
I realized I hadn't really surrounded myself with things I loved. Or loved very much.
I had been decorating in a style that I though was "mature" and in fitting with everyone else's home.
Um, how crazy is that?
So I changed it…..all.
I have surrounded myself with things I have found and love. Things that have special meaning.
My favorite things and my family's favorite things.
Treasures, each and every one.

Now that I am actually "mature", (hey, I am pushing 50 ;) ) I'm decorating in a style that is young and fun.
Go figure.

But I am and I'm glad I "grew up" and decided to let my young, fun, creative side go free!
I look around and I smile, my heart smiles and it makes me happy.
I love that.
I'm still working on the "simplifying" part but I'll get there.
Today I'm going to share just a few of my favorite things. (they're all favorites so it's hard to choose)
Old bottles.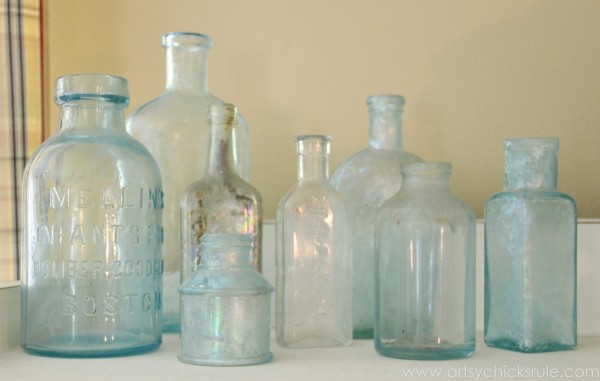 I'm an old bottle collector. LOVE them.
Blue hued are my favorite.
Which naturally leads into my love of Blue Ball Mason Jars.

I collect them too. :)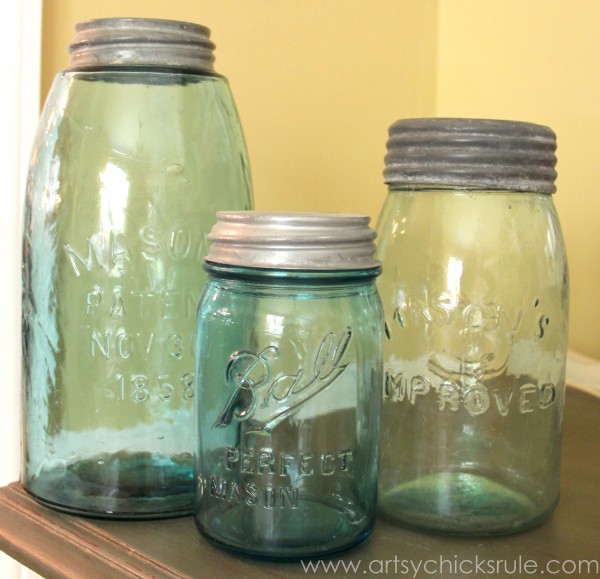 I picked up this old Seltzer bottle last year at Luckett's Spring Market.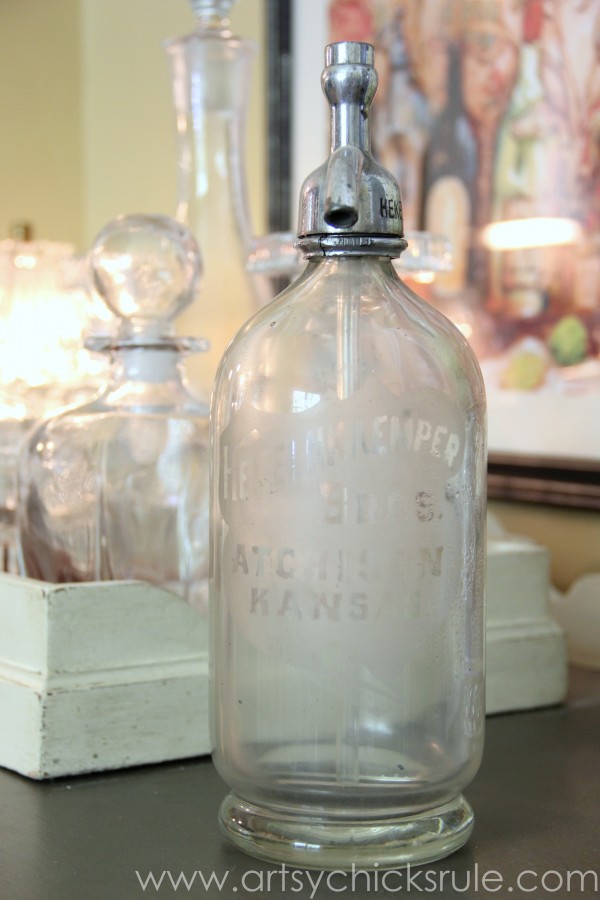 This old soup tureen came from a garage sale about 19 years ago.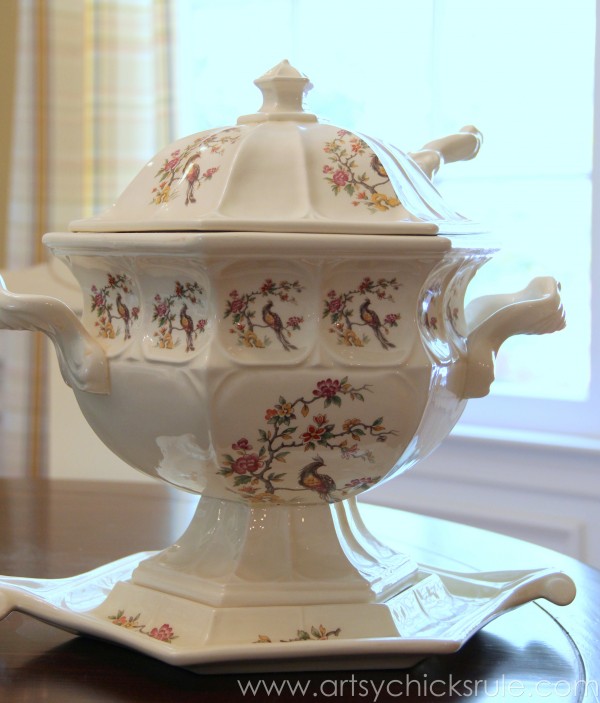 It has matching bowls. I've never actually used it but it's on display in my china cabinet. :)
This is an old family dish passed down to me.
Love the colors. One of my favorites, for sure.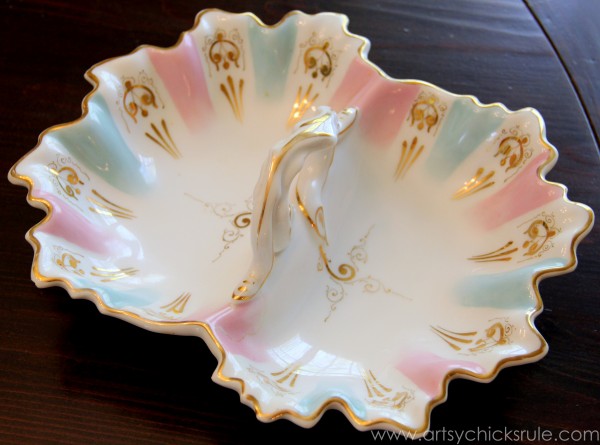 Also displayed in my china cabinet.
I picked up this fun vase at the thrift store. It looks like it's from the 50's or 60's to me.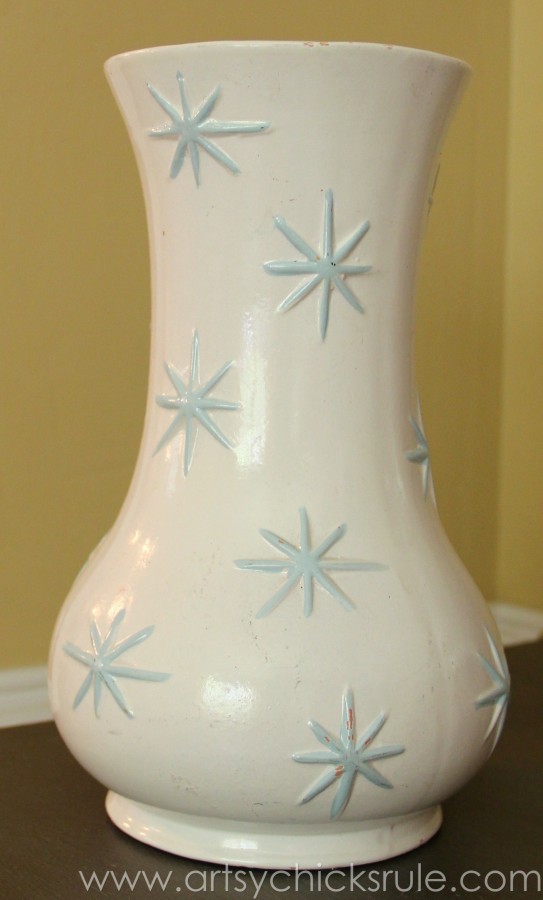 This is a new vase (from Micheal's/40% off) and an old book.
I adore old books.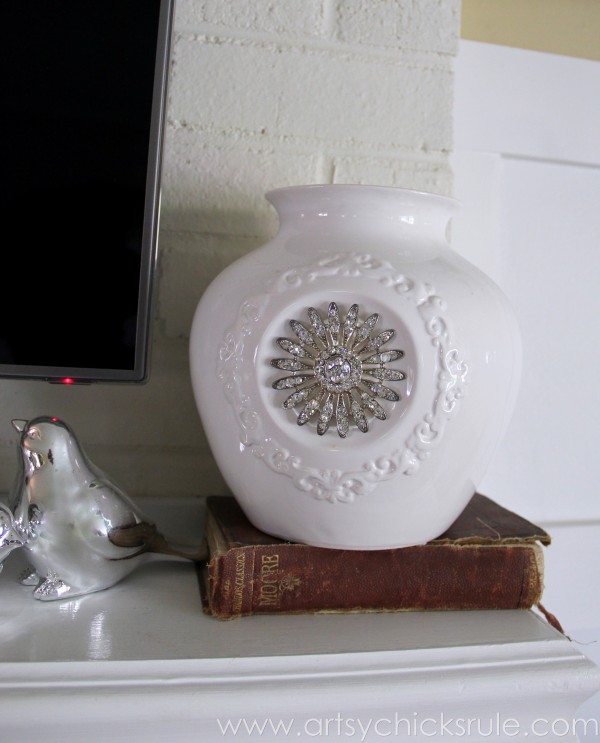 I also love to mix old and new items in decorating.
This old dresser was left by previous tenants in the garage of a home my mother in law used to own.
My husband and I took it home and refinished it. (over 23 years ago)
It was used in both my daughter's and son's rooms when they were little.
I moved it into the family room awhile back. It was oak-y and I finally decided it needed a paint job.
So I gave it one! ;)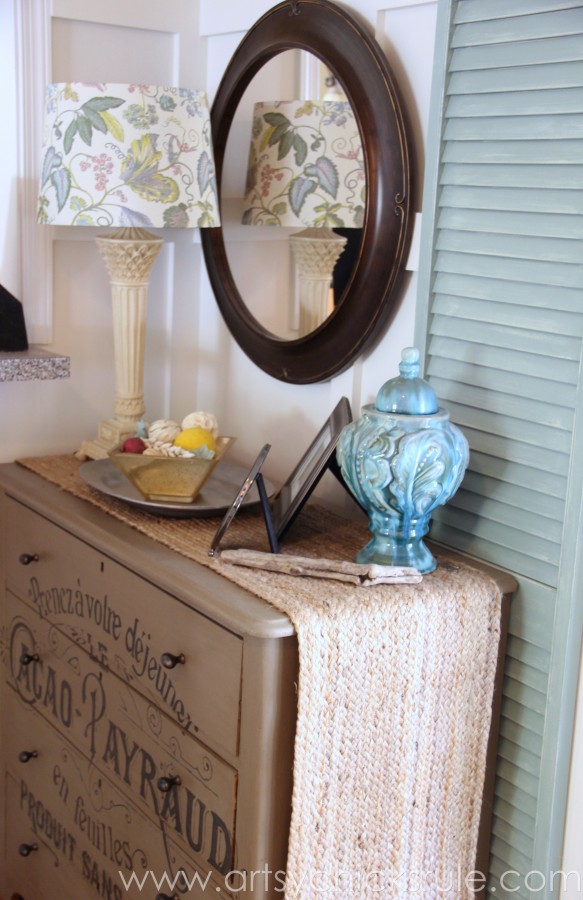 I love the urn/vase (Hobby Lobby), the lamp shade (Target) and the "shutters" (thrift store).
The shutters are really bi-fold doors. I just love them on either side of the french doors going out to the screened porch.
Definitely a favorite!
This is (obviously) in my laundry room. :)
I love the saying and am hoping to reincorporate it somehow when we makeover the laundry room. (for the umpteenth time!)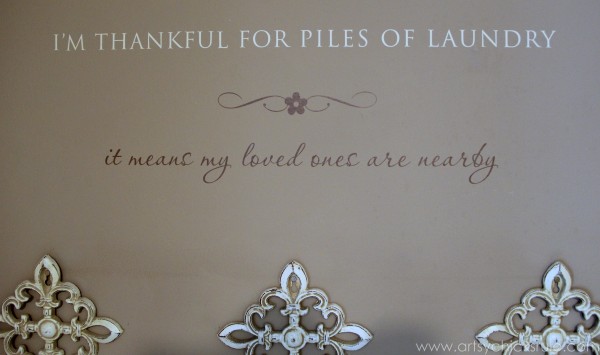 And how about this super fun "Mason Jar"?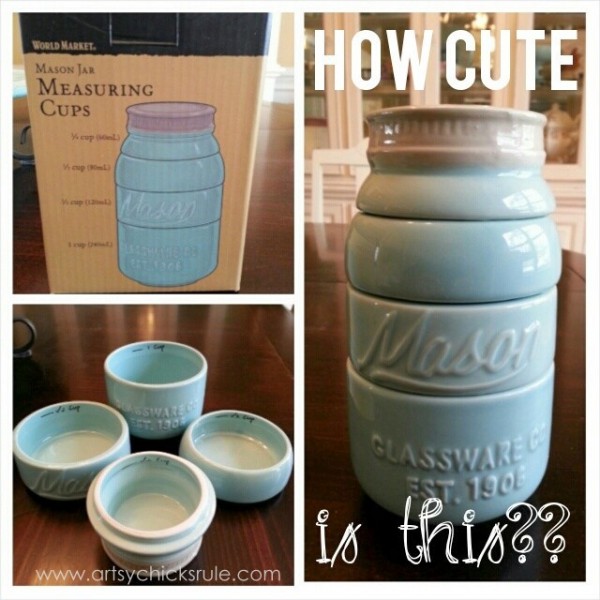 Measuring cups. How cool is this? Right?
I originally shared this on my Facebook page and on Instagram. (I do post quite a bit there that never makes it to the blog! ;) )
It's "life in real time". So much fun!
This would be the new stuff.
Gorgeous blue and white rug I picked up at TJ Maxx for $12.99 and the pretty box on clearance.
The other is furniture I've gotten recently just waiting to be transformed.
Old windows. (some are really old, wavy glass and all) Can NOT wait to get busy on them.
Lastly, some little thrift store "treasures".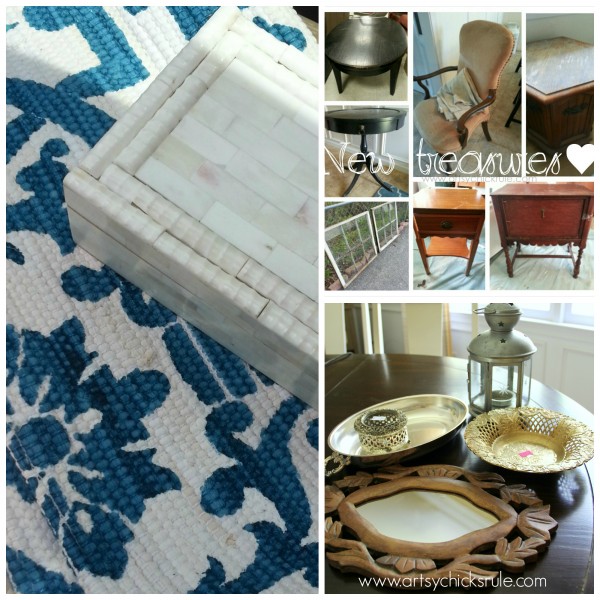 I'll be painting the lantern, mirror frame and little ring box.
Last but certainly not least. Saving the best for last right?
My beautiful children. My daughter is officially an adult at 21 now and my son is almost 16.
Wow how the times flies. :(
But here they are when they were approximately 3 and 9.
It was Christmas morning (messy hair and all) and I snapped them just as they were going in for a sweet kiss. (prompted, I am sure ;) )
"Give Sissy a kiss for the present!" He looks thrilled.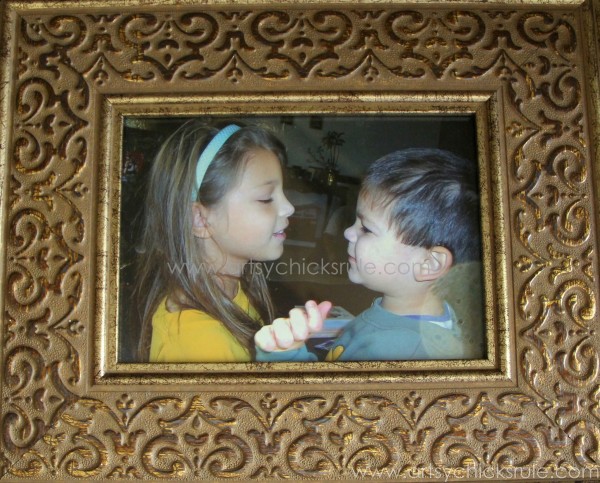 But it's one of my favorite shots.
And home.
I love living near the water. It is most definitely one of my favorite places to be.
There's just a feeling of peace here.
I don't think I could live anywhere else and be this happy or content feeling. (unless it's on or near the water…salt water, of course! ;) )
(sorry about the picture quality…I snapped these on my phone and shared this originally on Instagram)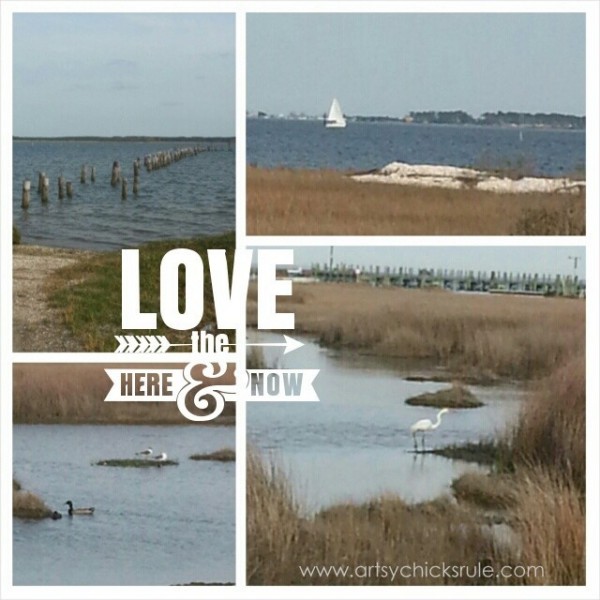 So I know you guys were super excited to see mine and my friend's "Bright" furniture makeover posts today, right? ;)
But it had to get postponed until next Wednesday.
I have a feeling they are going to be super fun so be sure to check back next week for it!
I do hope you enjoyed seeing a few of my favorites today instead.
So, tell me, what do you surround yourself with? Things you love? Things that make you smile and make you happy?
Things that hold special meaning to you?
If not, it's time you did, right?! AND, as you can see, it can most definitely be done on a budget.
There are so many treasures out there…just waiting for you to find them!
That's the really fun part anyway.
Happy treasure hunting!!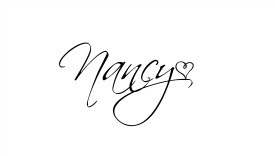 Be sure to follow me on Instagram and Facebook if you don't already!
I always post projects and things I'm working on
long before it hits the blog…..
….plus lots of fun random daily things too.


Follow Along Here!