DIY Seashell & Bead Wind Chime
This post may contain affiliate links. Please see disclosures here.
Wind chimes just say summer breezes and hammock laying to me. I just love the sound. This DIY seashell & bead wind chime is a fun summertime activity for your kids or you!
Living by the coast, I always have an abundance of shells.
Ones that I've picked up at the beach or those I've bought at the store. ;)
So, if you don't live by the beach…no worries! You can find them just about everywhere.
A couple of weeks ago I decided to create a seashell & bead wind chime for my screened back porch.
I'd never made one before but figured it was pretty simple.
And it was.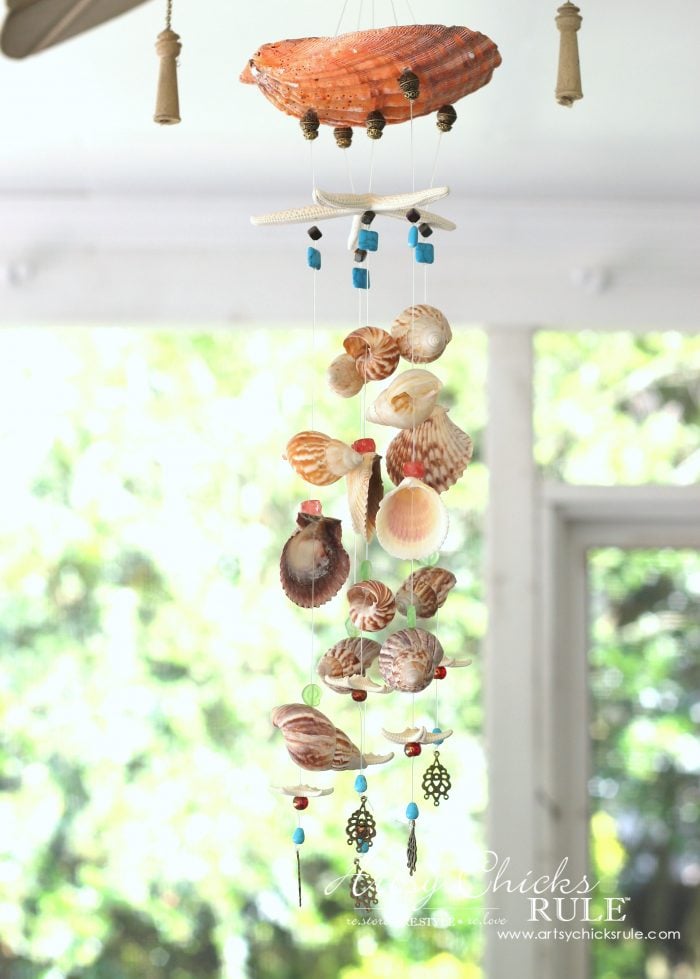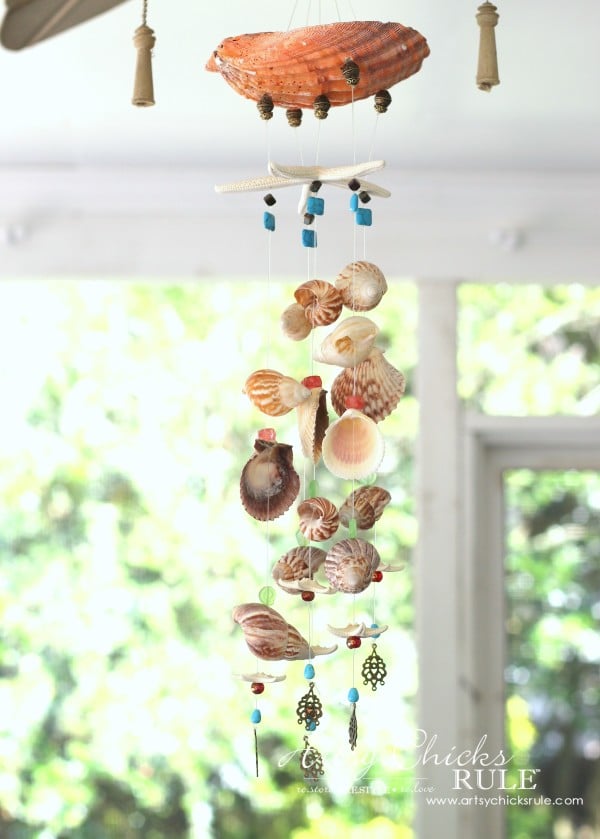 I decided to add beads to mine because I wanted a bit of color …and a little "bling" never hurts, right?
(plus, they were a little "happy accident" also, as you'll see further on)
DIY Seashell & Bead Wind Chime
I started out with these shells…and beads.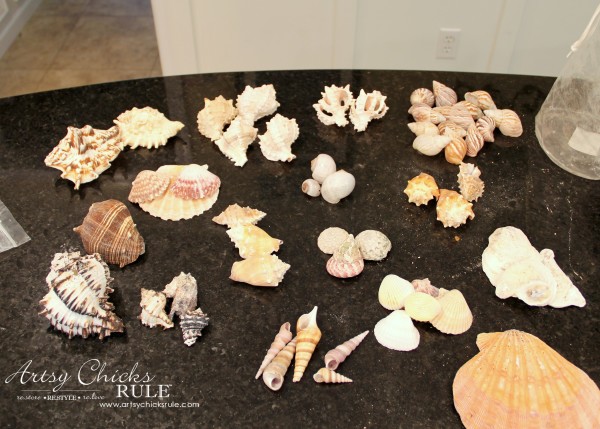 I used to make beaded jewelry and have a TON of these beads.
I have about 8 more box fulls upstairs in my craft/office room.
One day I'll go through it all….maybe. ;)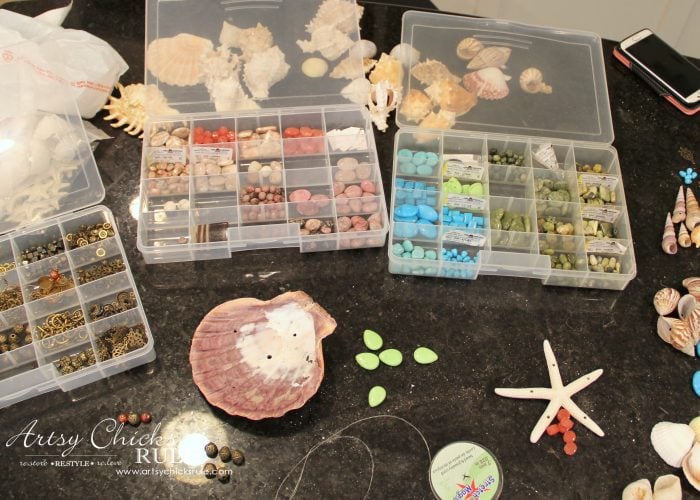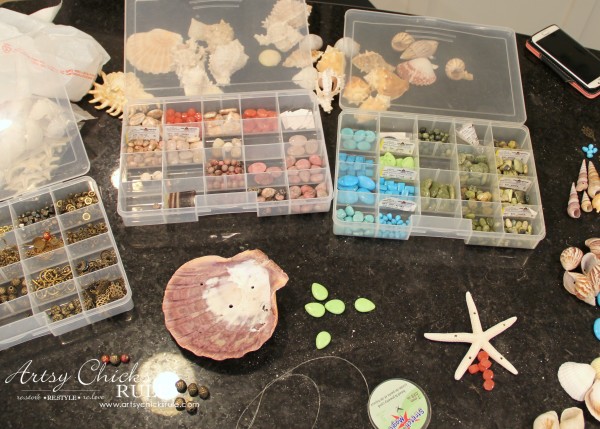 I do so love to play with it all though. So many pretties. :)
To make the wind chime, I started by drilling holes in all of the shells.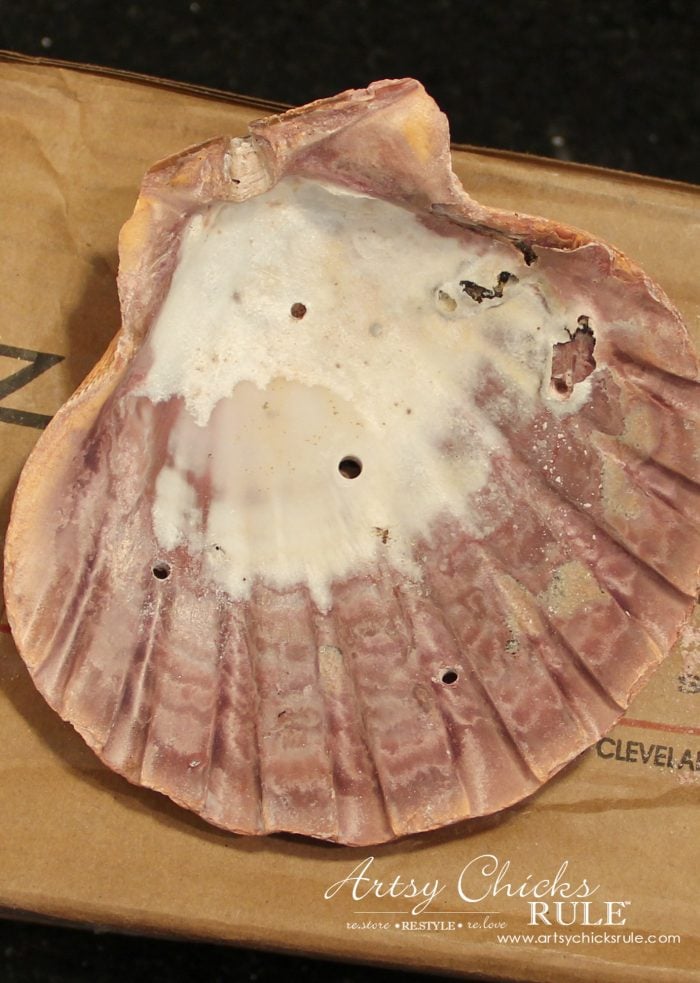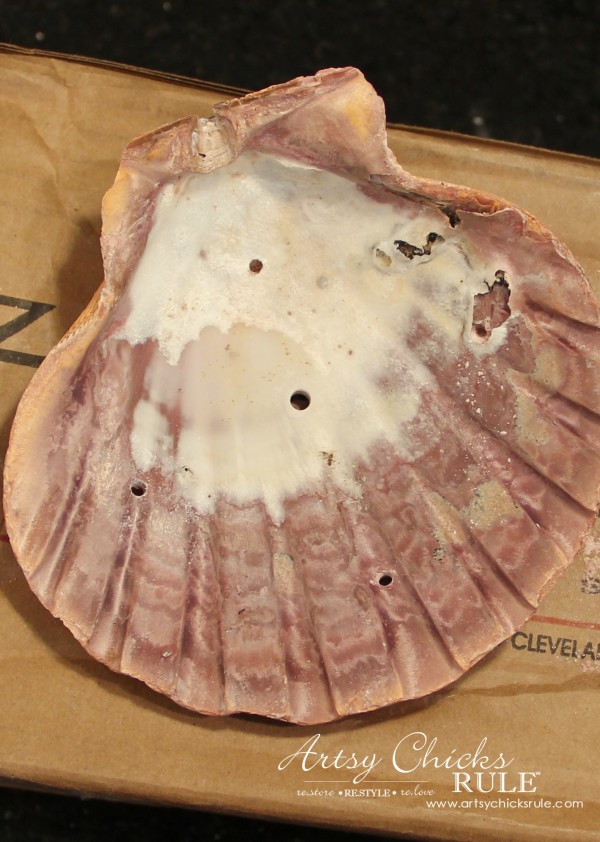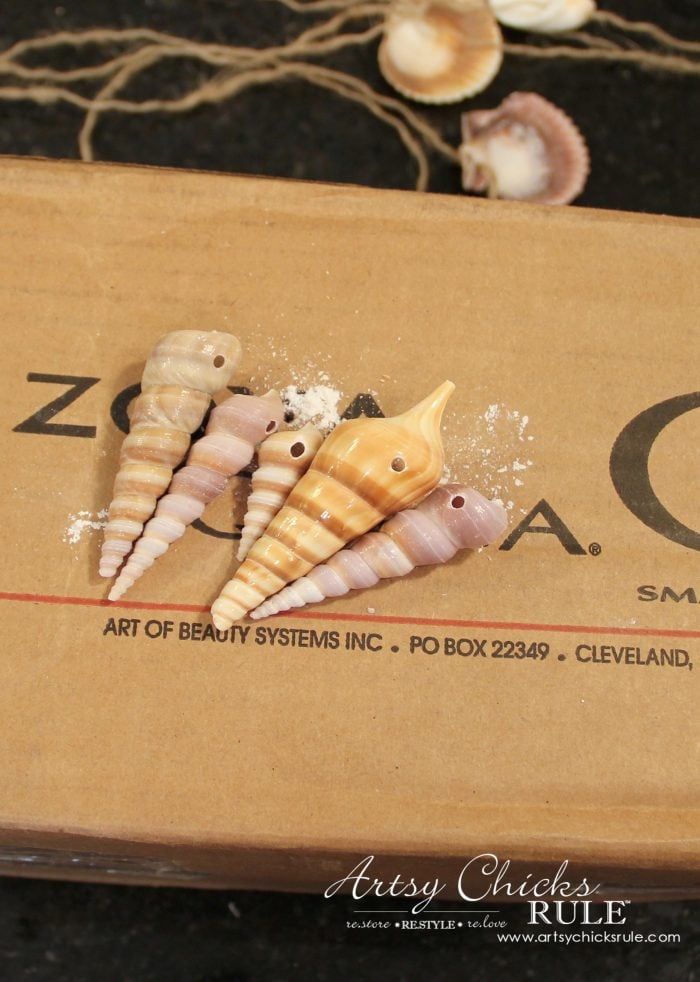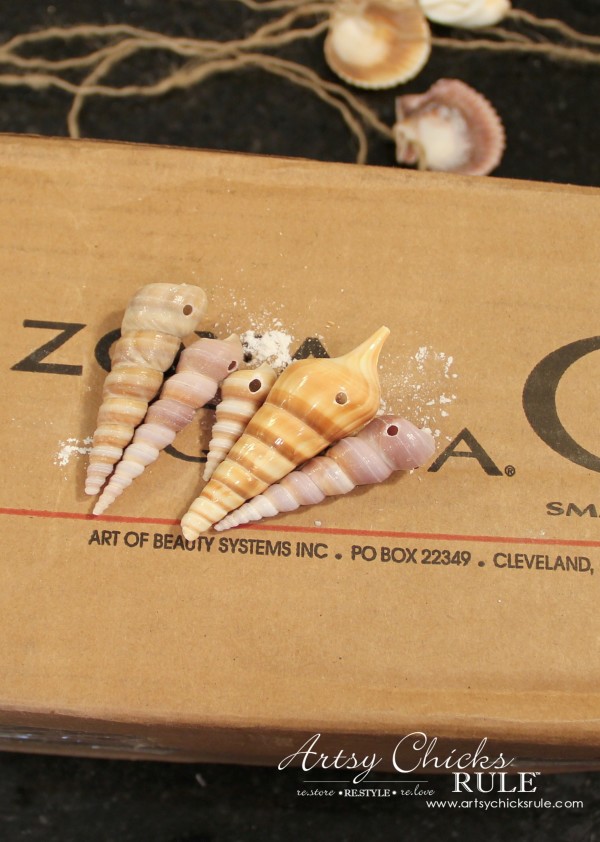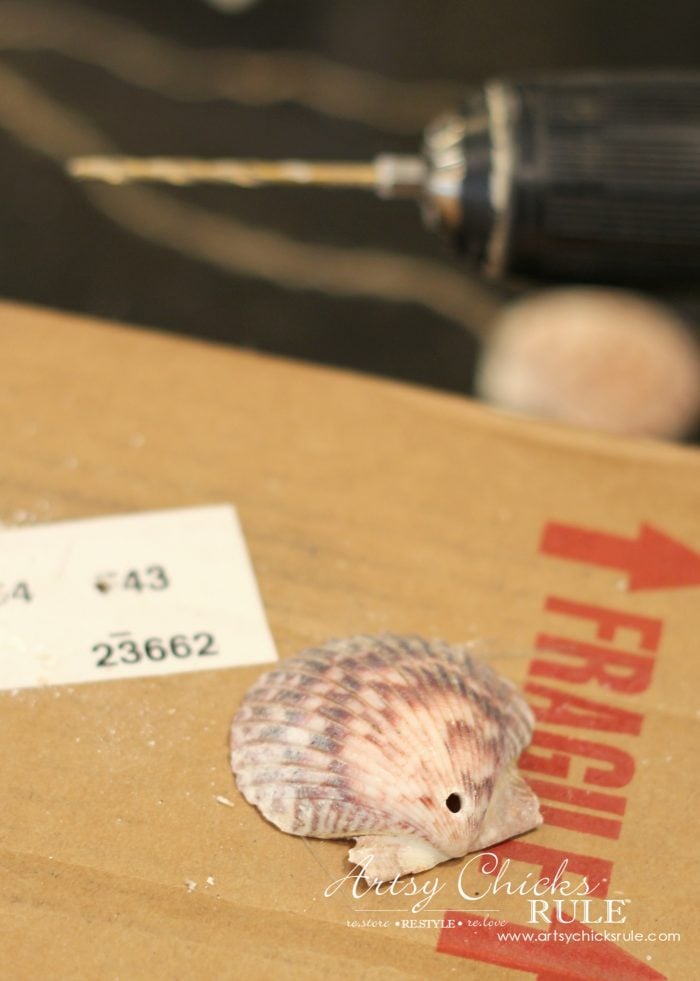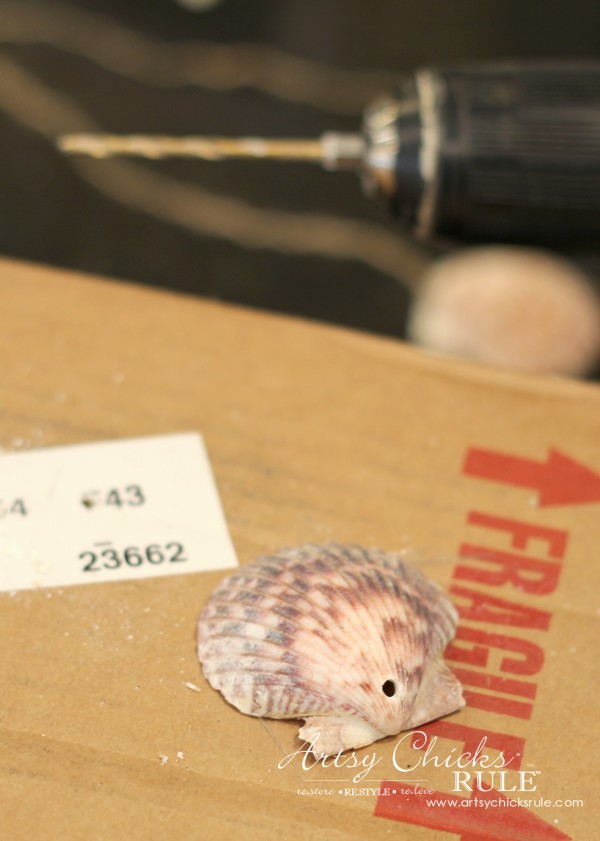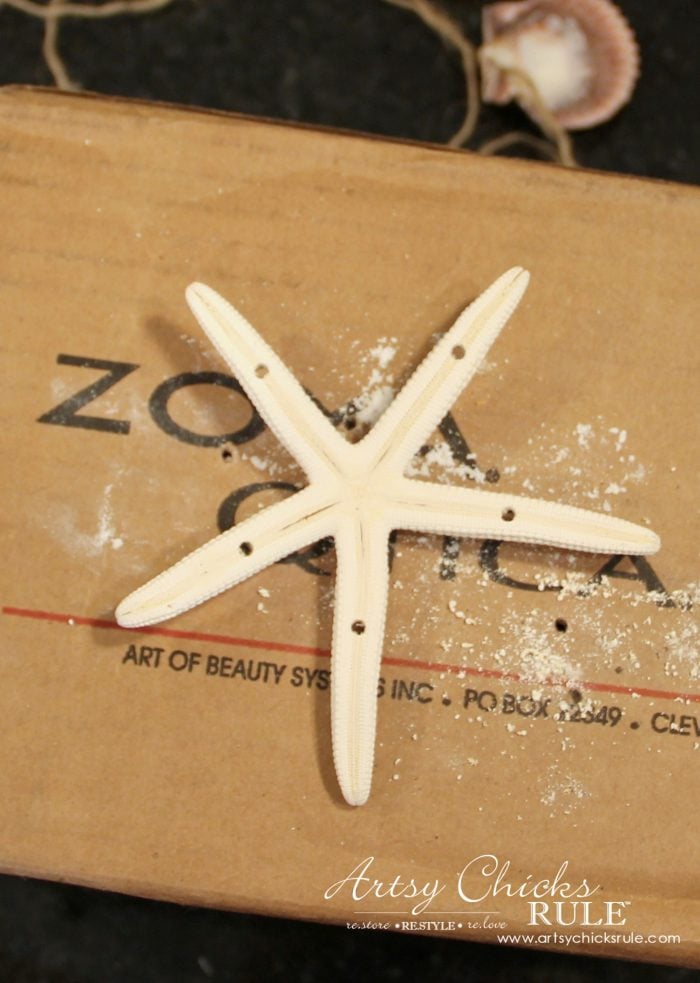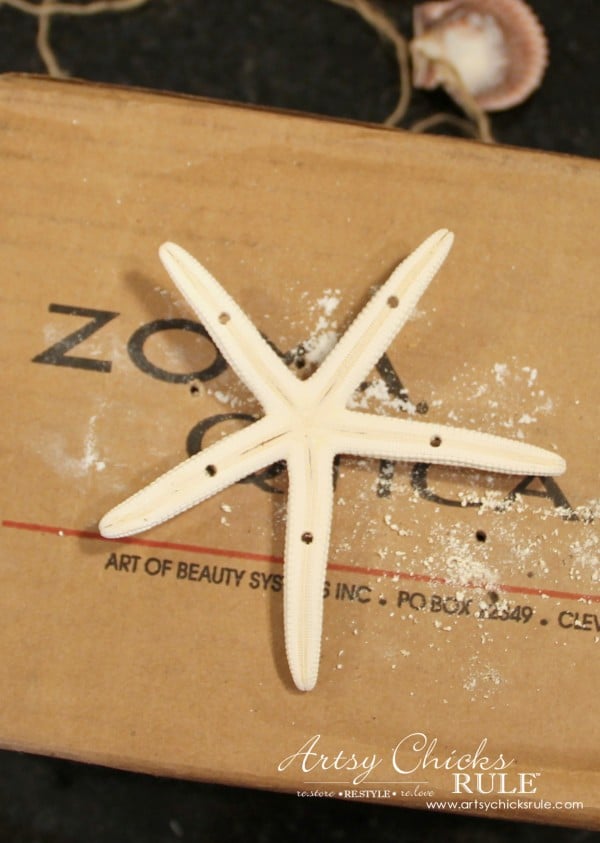 I used an empty cardboard box as my "base" to hold the shell as I drilled.
That way I could just drill right down and into the open space of the box.
You might notice that the holes are pretty big.
I had a bit of a "fail". My vision for this wind chime was rope.
Sadly, I could not get the rope I had on hand to work properly and I was ready to get it done!
And stubborn. ;)
So I used some stretchy cord instead (that is used for making stretchy bracelets and such)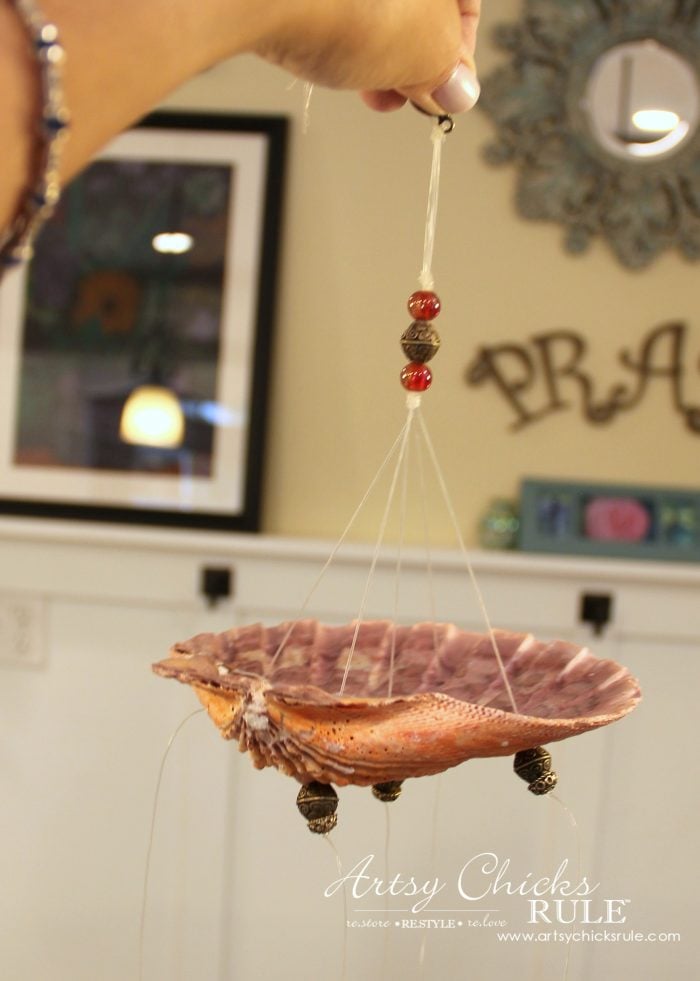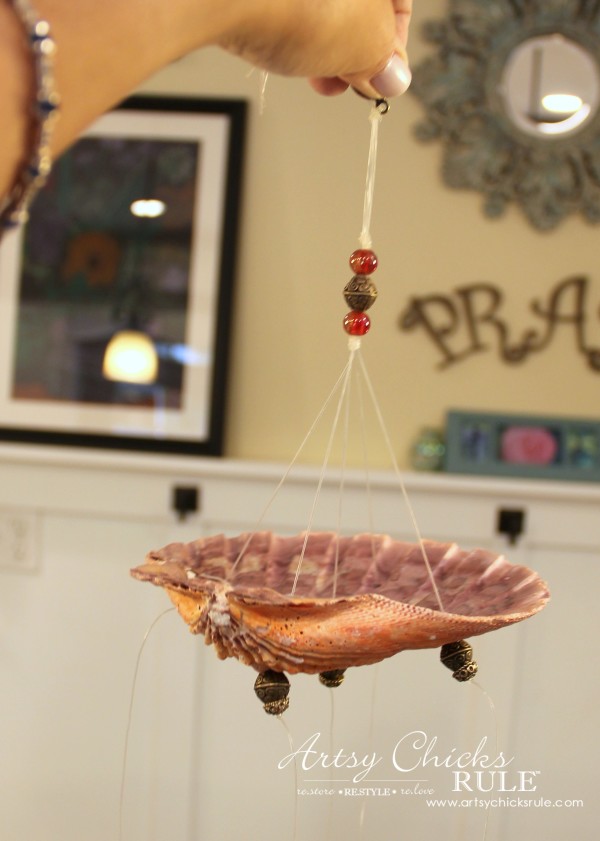 I had to modify since I now had large holes in my shells but I won't really get into that.
If you make the holes small (like I should have in the first place!) you won't have to deal with that problem.
But basically, I had to put a "stopper" on each side of the hole to keep the shells in place.
The stoppers were extra beads that you will notice in the photos.
Otherwise, you would just loop your rope, twine, cord, whatever, through the hole, tie a knot and move on.
Like on this shell, for example. See the clear little iridescent bead inside the shell?
That is covering the hole so my stretchy cord does not slip through.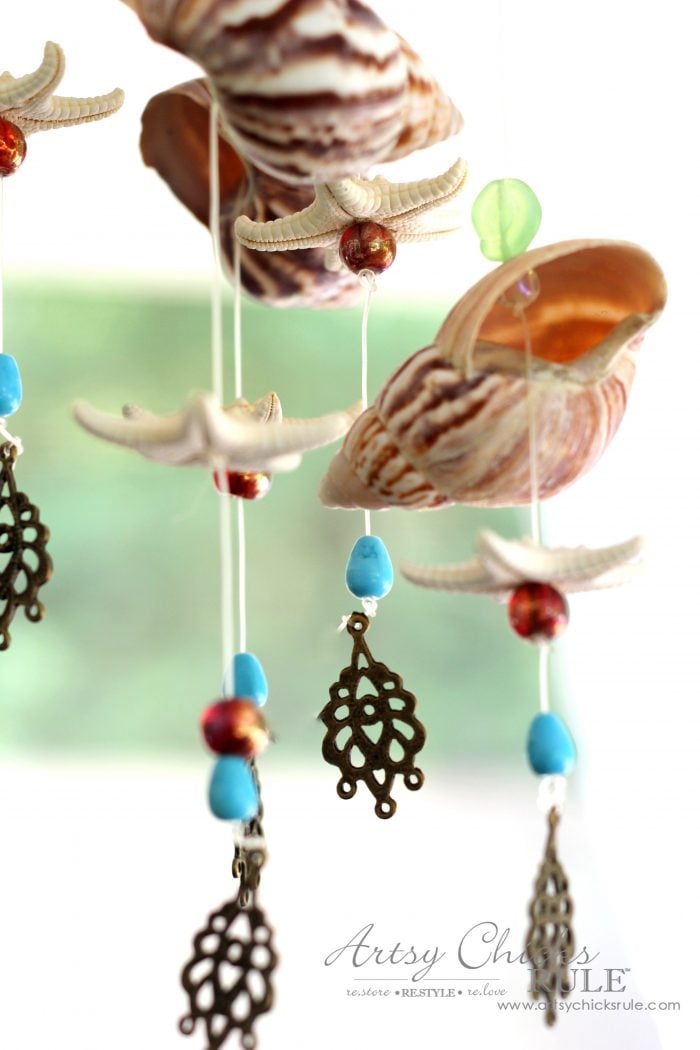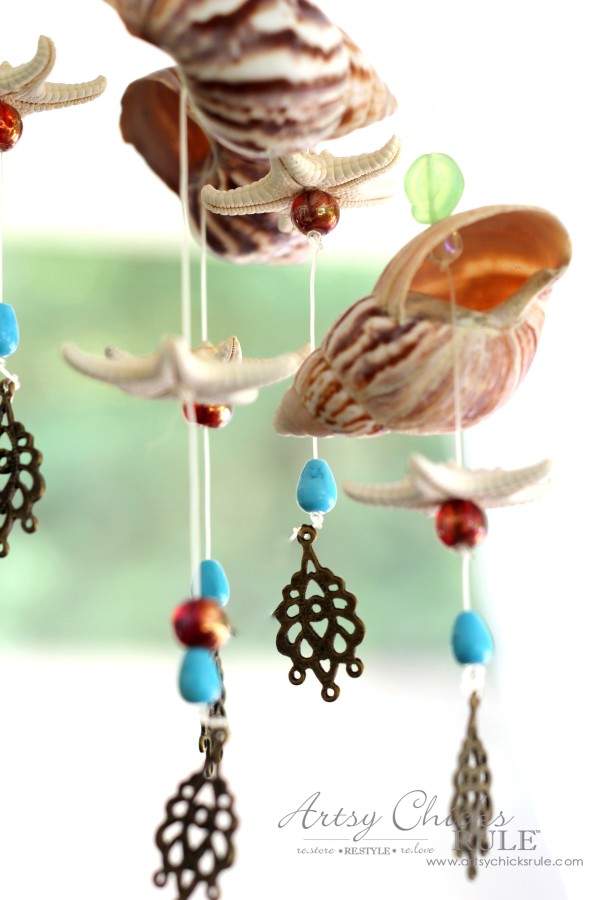 But like I mentioned, you should just be able to tie a knot on either side of the shell and move on to your next addition.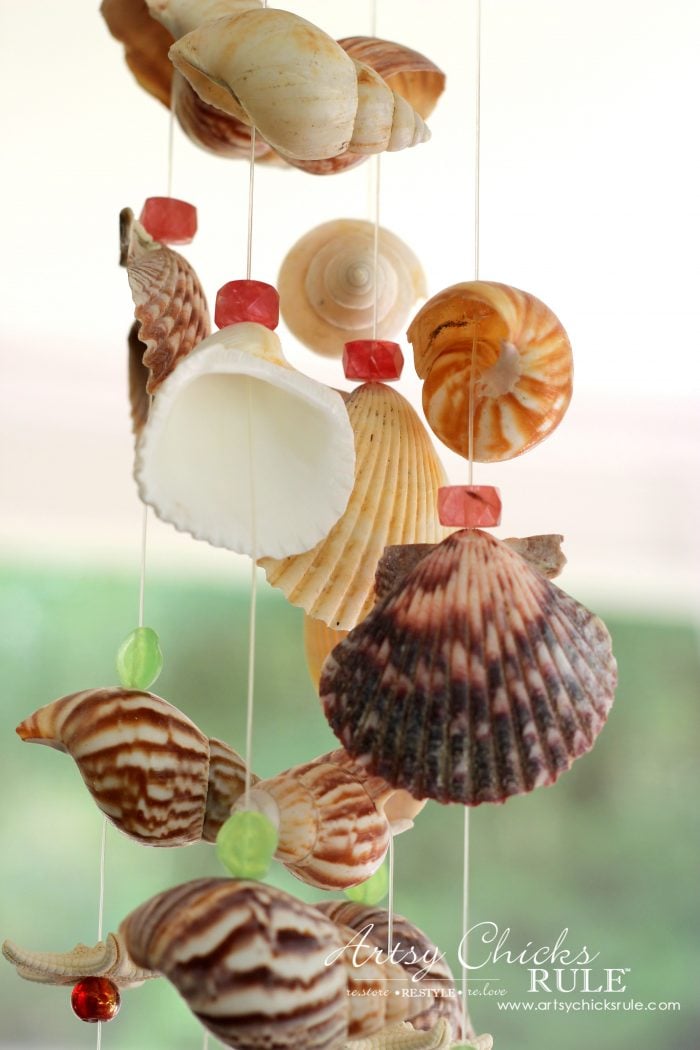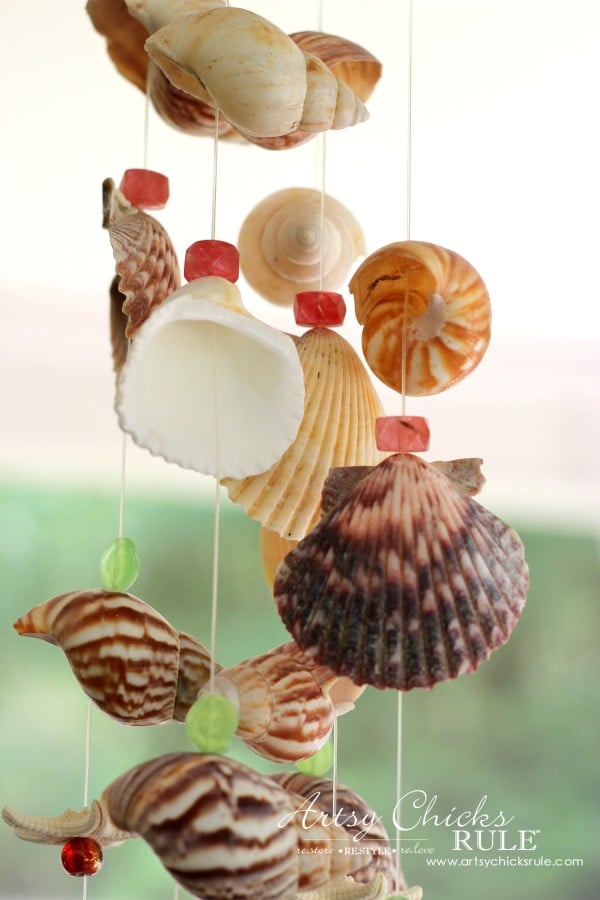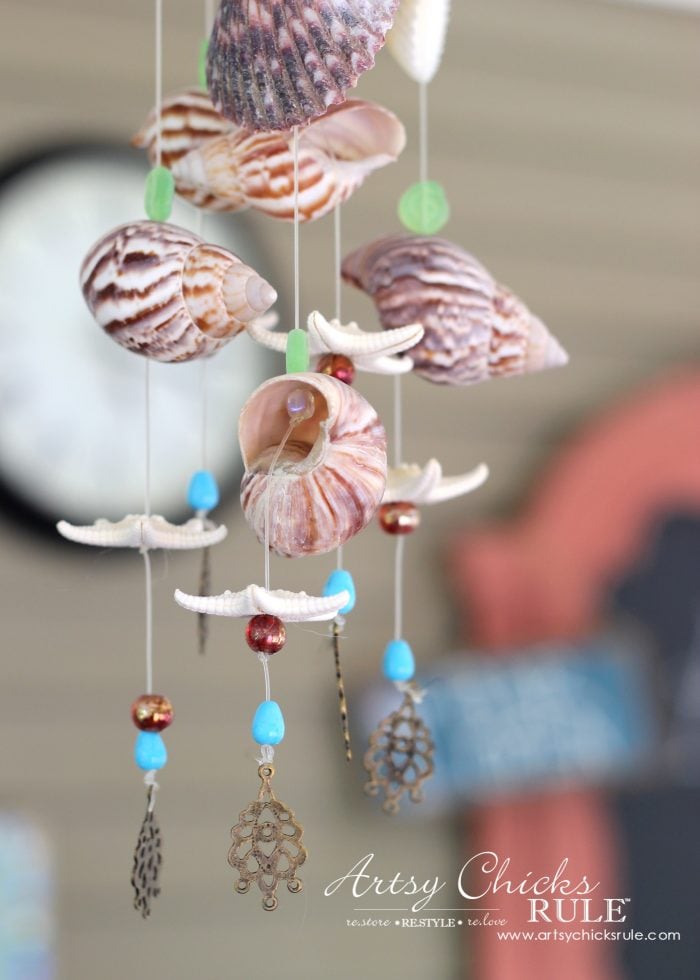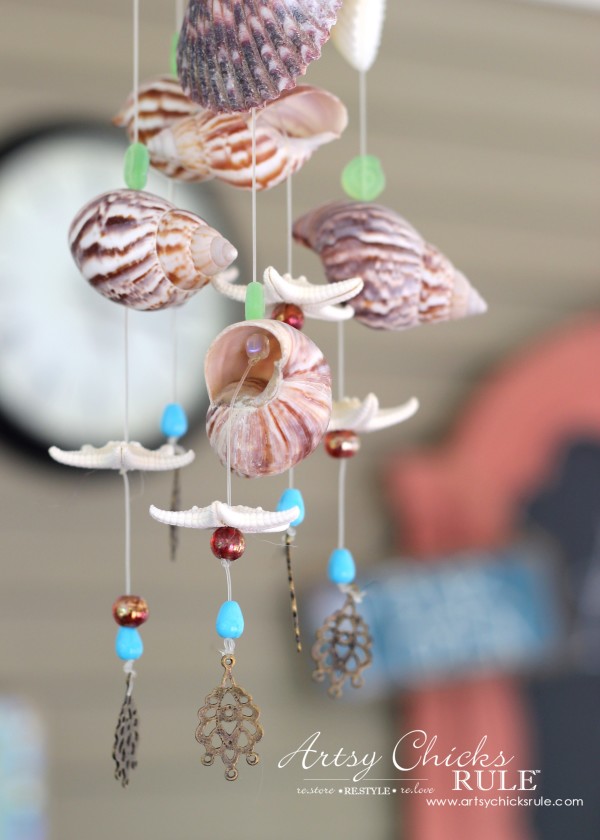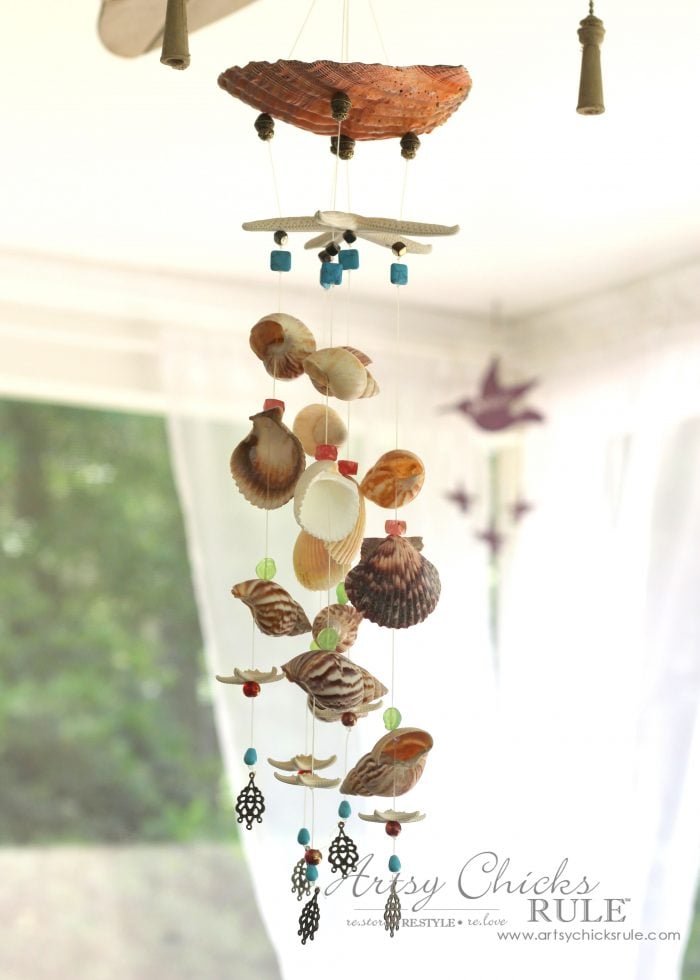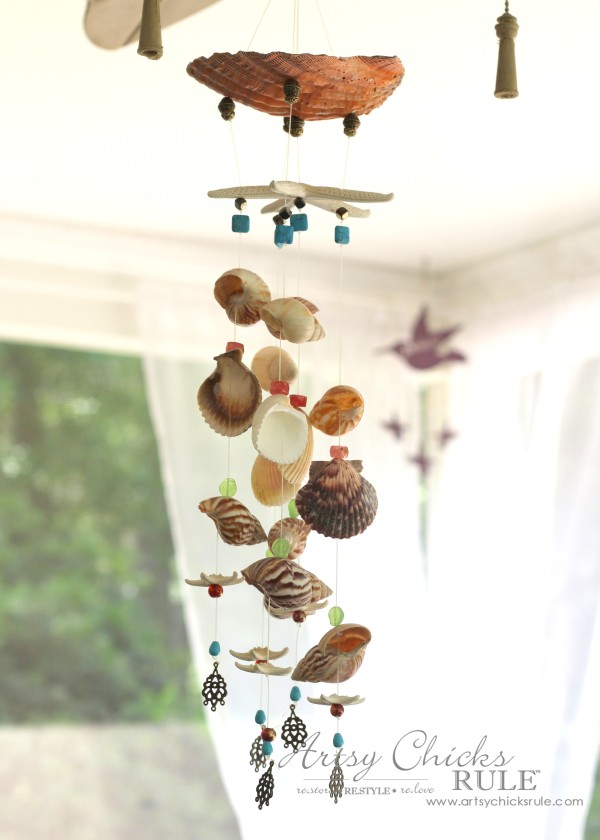 So the beads have a double purpose on mine, form and function. :)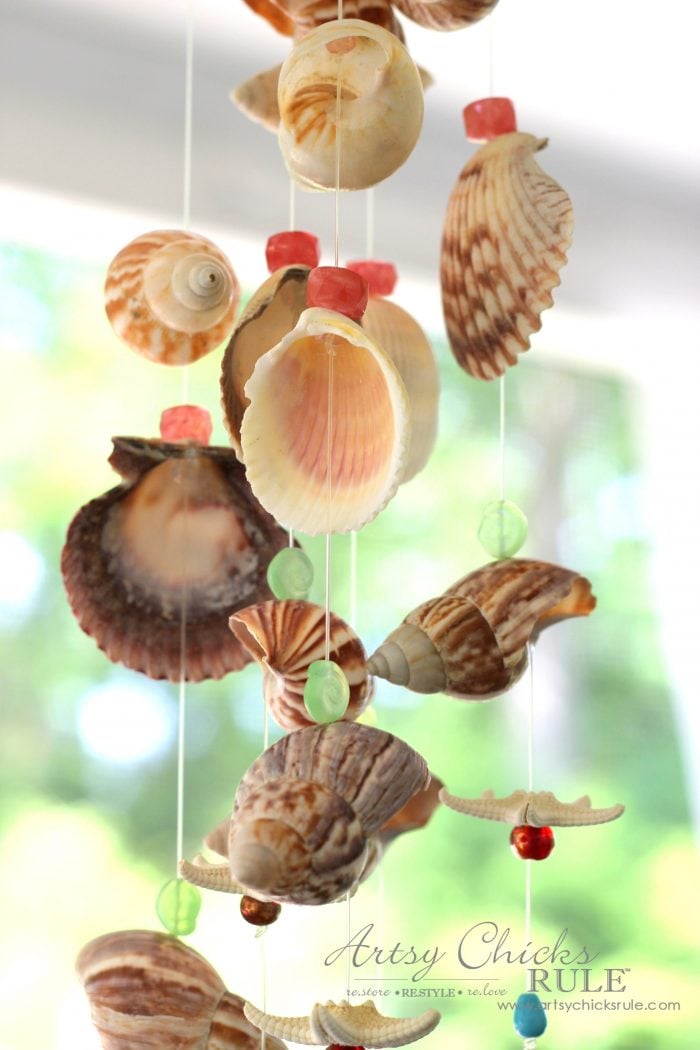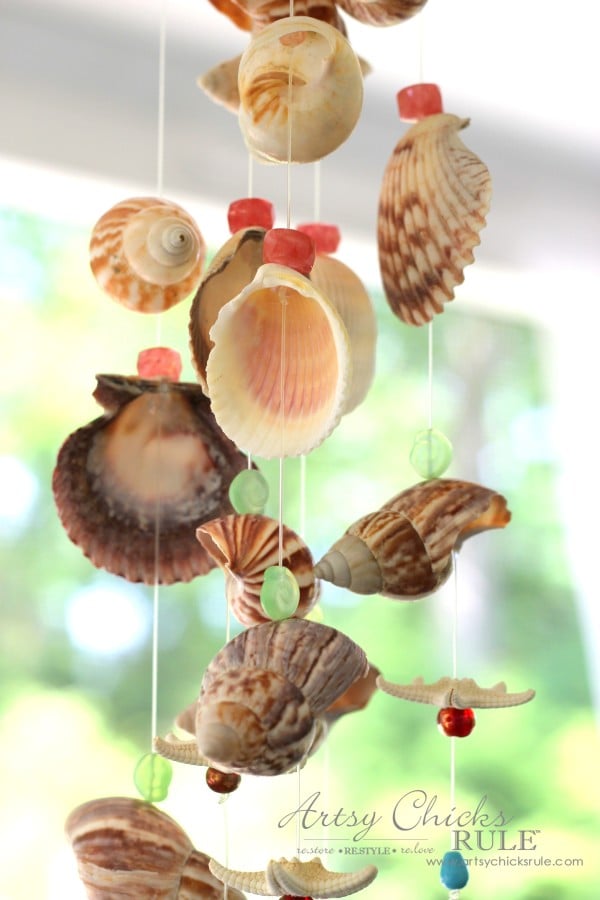 Whatever works, right?
I decided to use the large shell as the top…and the starfish "arms" were perfect for creating the different lines down from it.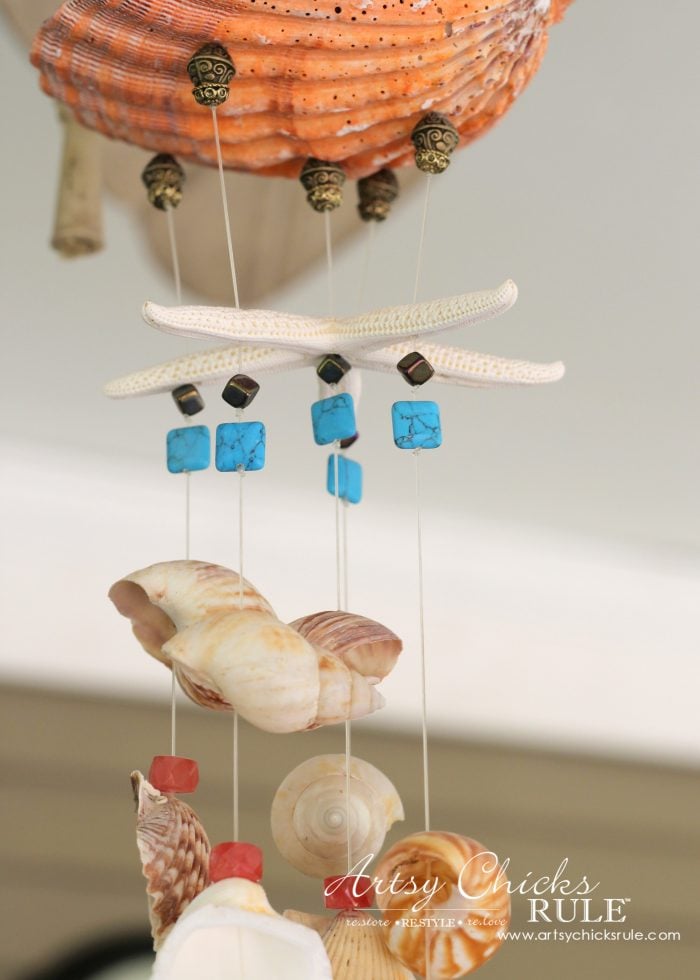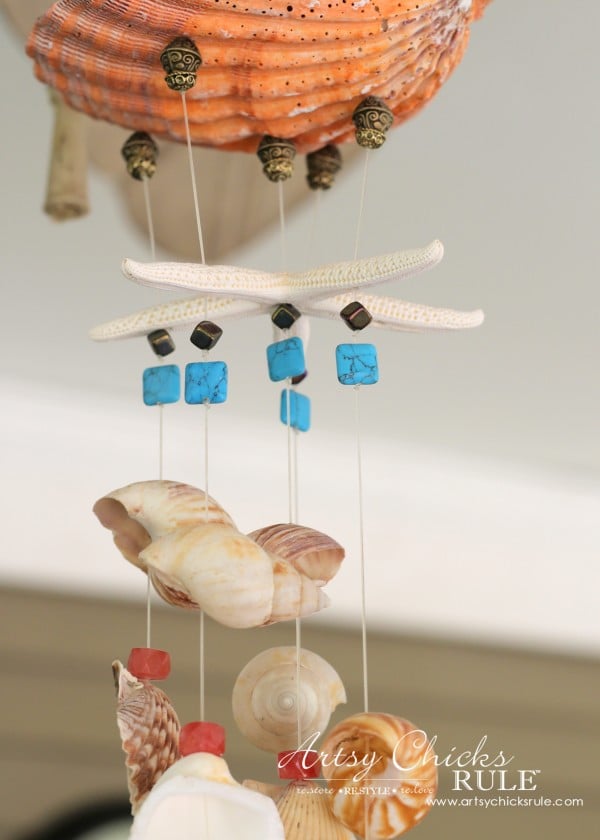 Pretty simple.
And even more simple if you don't drill your holes too big. ;)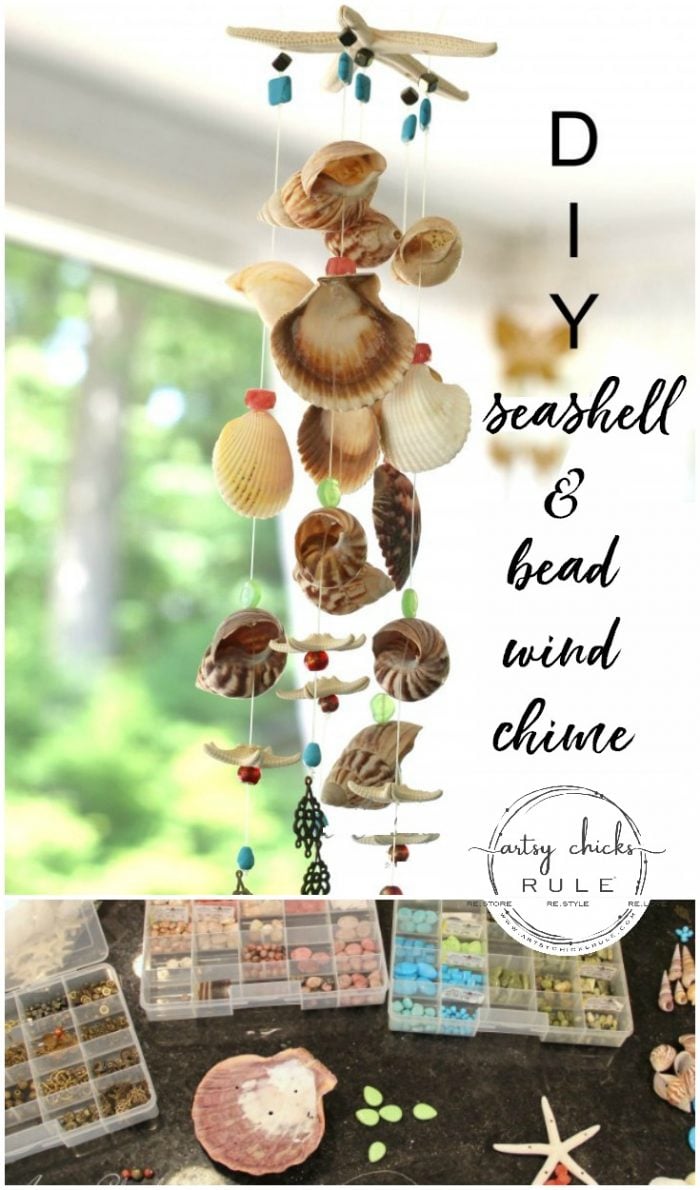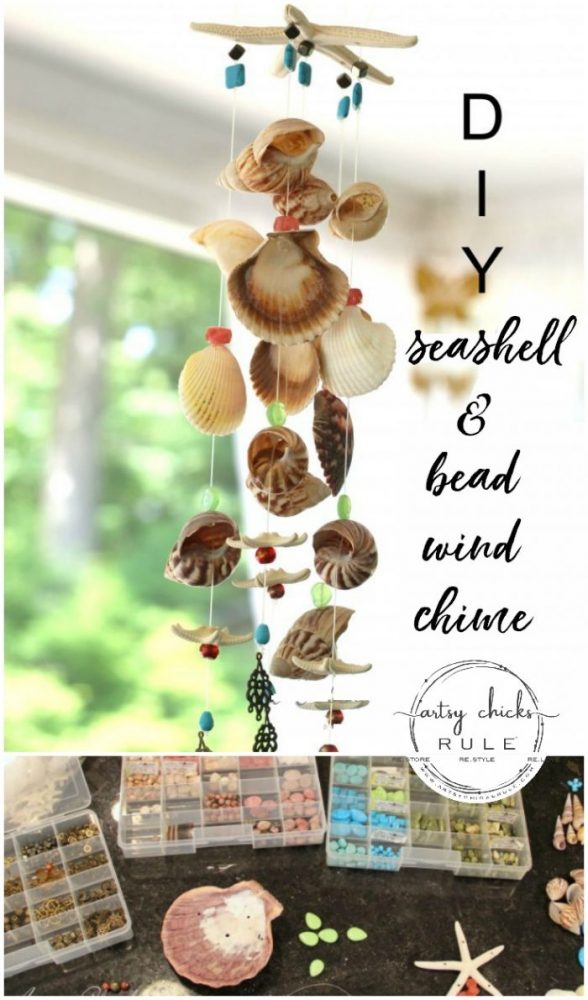 Okay, truth be told, this bead wind chime wasn't the most exciting project I've ever attempted. ;)
But that could have something to do with my original plan not working out as I envisioned.
Always fixable though.
And it was just pretty do-able!
If you are wanting to make one with seashells, go for it!
Drilling the holes into them was a lot easier than I expected.
I thought they'd be tough….they really weren't. So that was a definite plus.
Anyway, it was a fun diversion from my other "crafty" projects, decor and furniture makeovers.
I'm usually game to try anything creative ….at least once. ;)
Hope you give it a go!
See the rest of our screened porch and patio (makeover), >>> here.
xoxo