Rustic Fall Framed Wreath
This post may contain affiliate links. Please see disclosures here.
Wreaths don't always have to be round. Here's a rustic fall framed wreath made from an old wooden, thrift store frame. Traditional in color, not in style.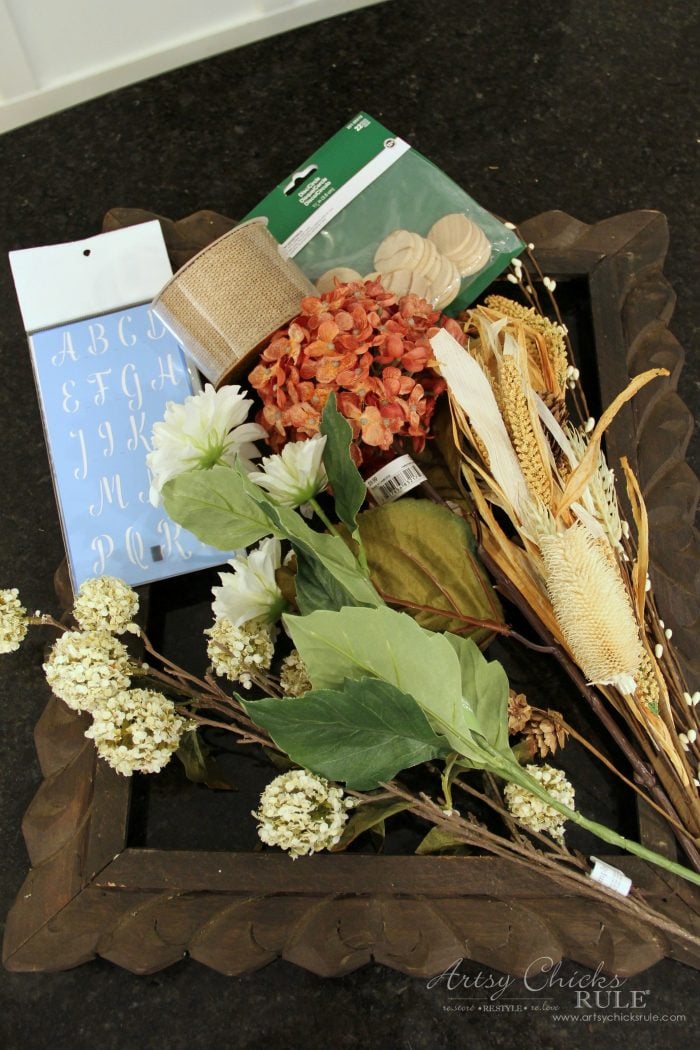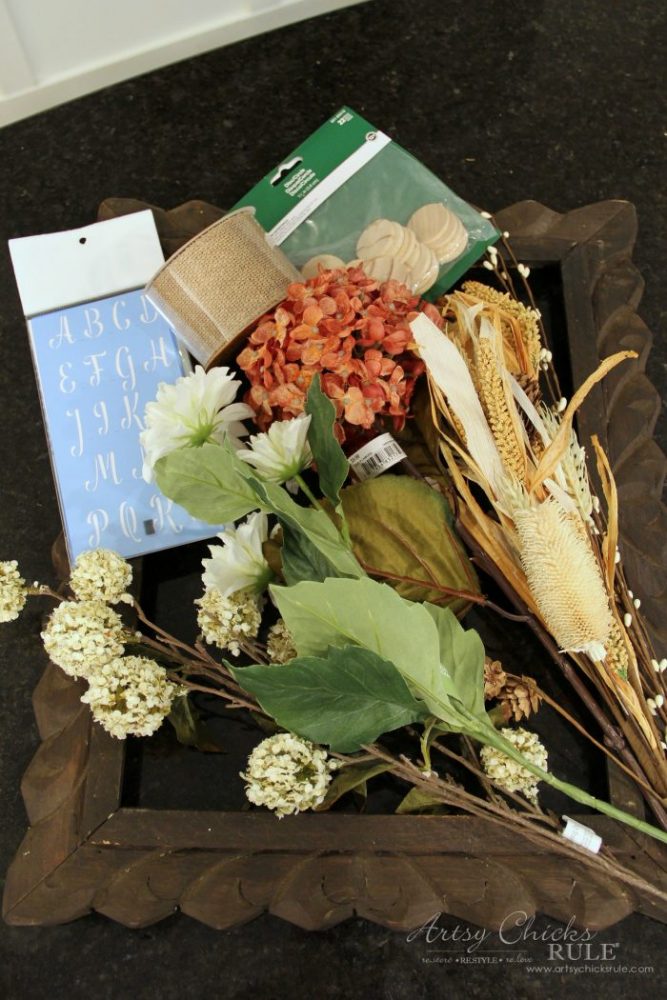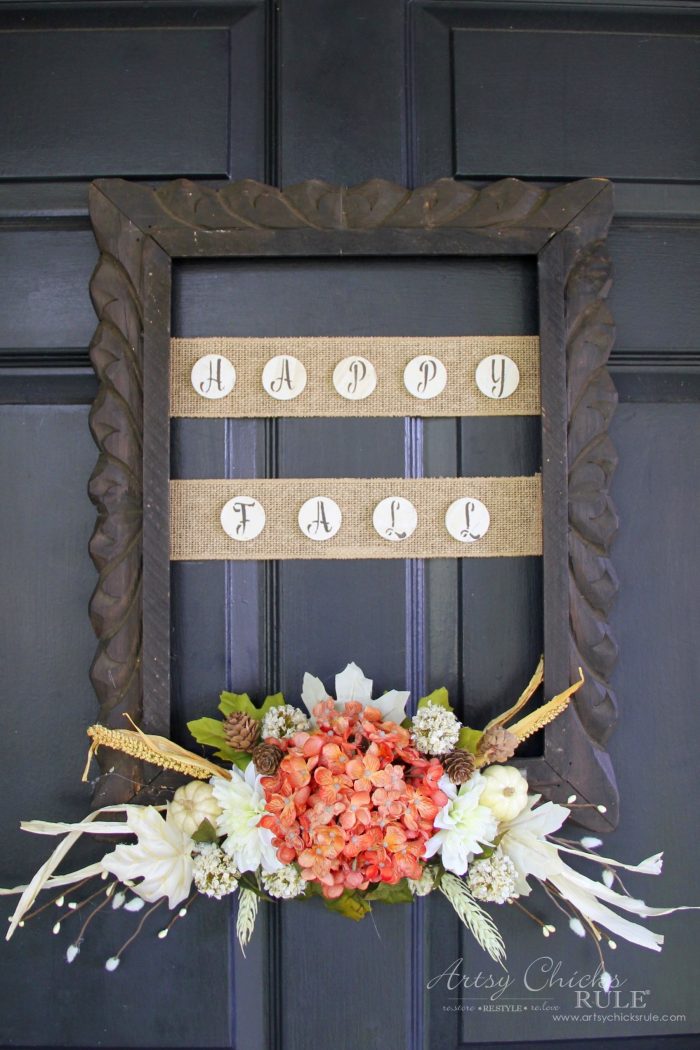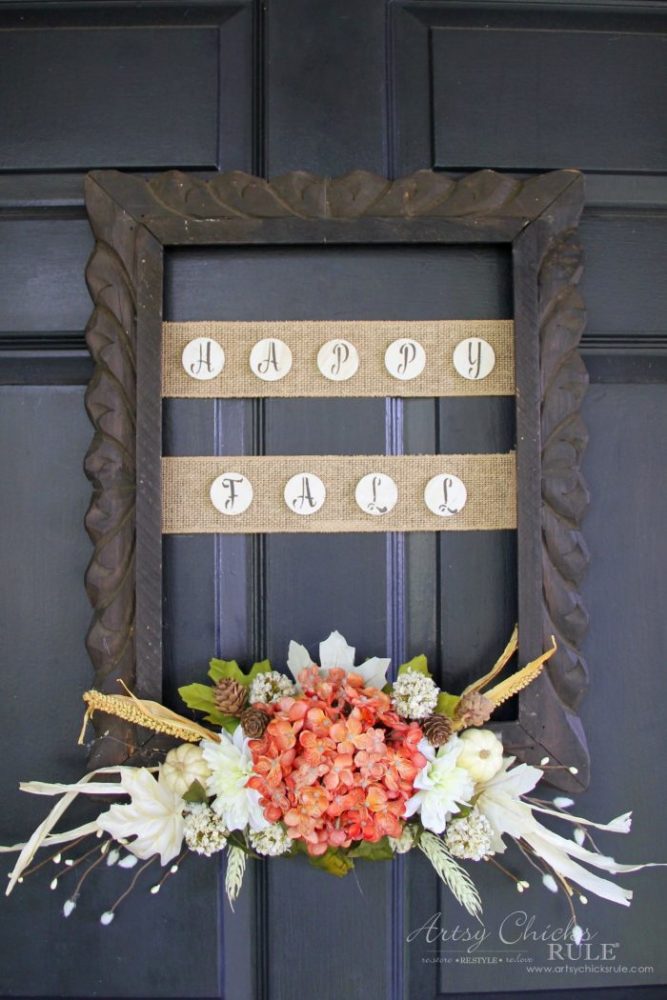 Hello lovely friends! Today I'm sharing a brand new wreath, this rustic fall framed wreath.
I mentioned in Tuesday's post that I would be sharing wreath today that wasn't very traditional.
Well, I say it's not very traditional but…it turned out to be more traditional than I had planned.
I found this old frame while out shopping with Christy over at Confessions of a Serial Do It Yourselfer.
We get together every few months or so and film ourselves out finding all the goodies. Then we create videos to share all about our shopping adventures along with our made over finds.
Well, this was an "extra" little find, I found. We'll be sharing the video and our other makeover finds soon. Stay tuned!
Here are a few previous shopping outings/videos/makeovers if you are interested in seeing them. :)
Thrift Shop Shakedown 1
Thrift Shop Shakedown 2
So let's talk about this really cool, wooden frame I found.
I loved how rustic it looked and decided not to paint it.
And since I wasn't going to paint it, it just ended up leading me down the rustic, more traditional fall decor road.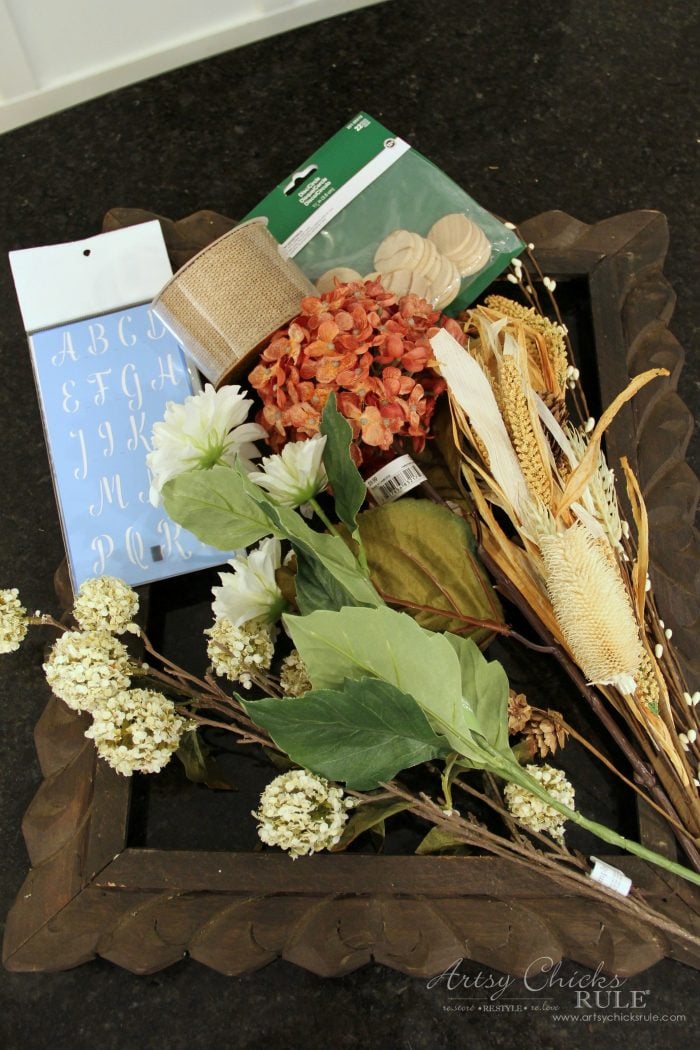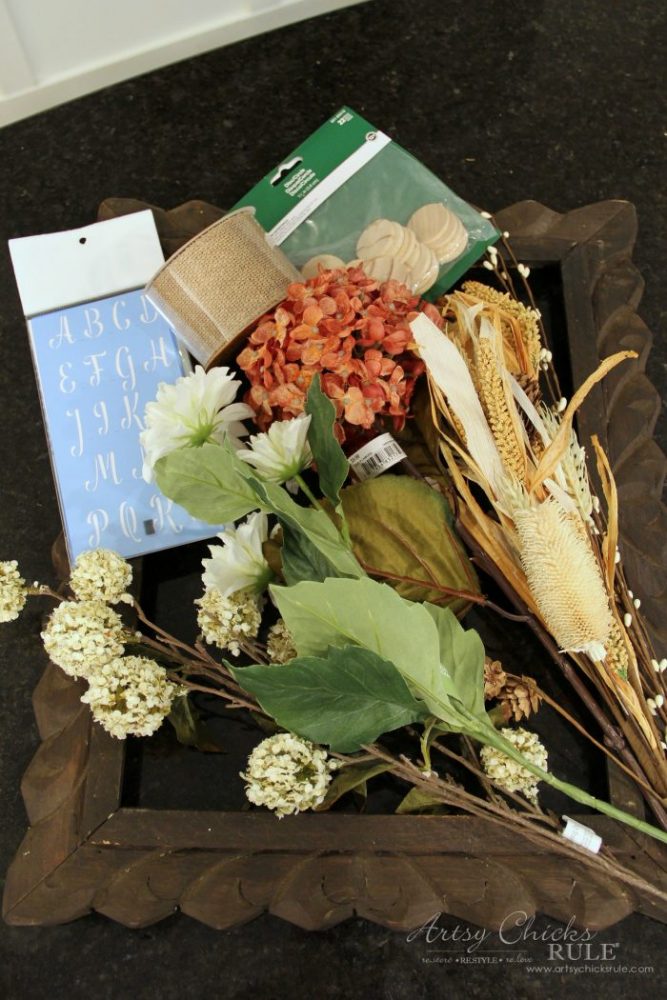 To me, it was just begging for the oranges, creams, rusts and browns.
Even though I'm not a huge fan of those colors, and prefer a more neutral fall decor, I do appreciate that others like it.
I don't hate it. It's just not my fave.
And with all that said, I actually used a bit of orange inside my home for my fall home tour next week.
Mostly neutral but I couldn't help myself and had to add a bit of orange too.
I had an idea of what I wanted to do with this wreath and so I got to work.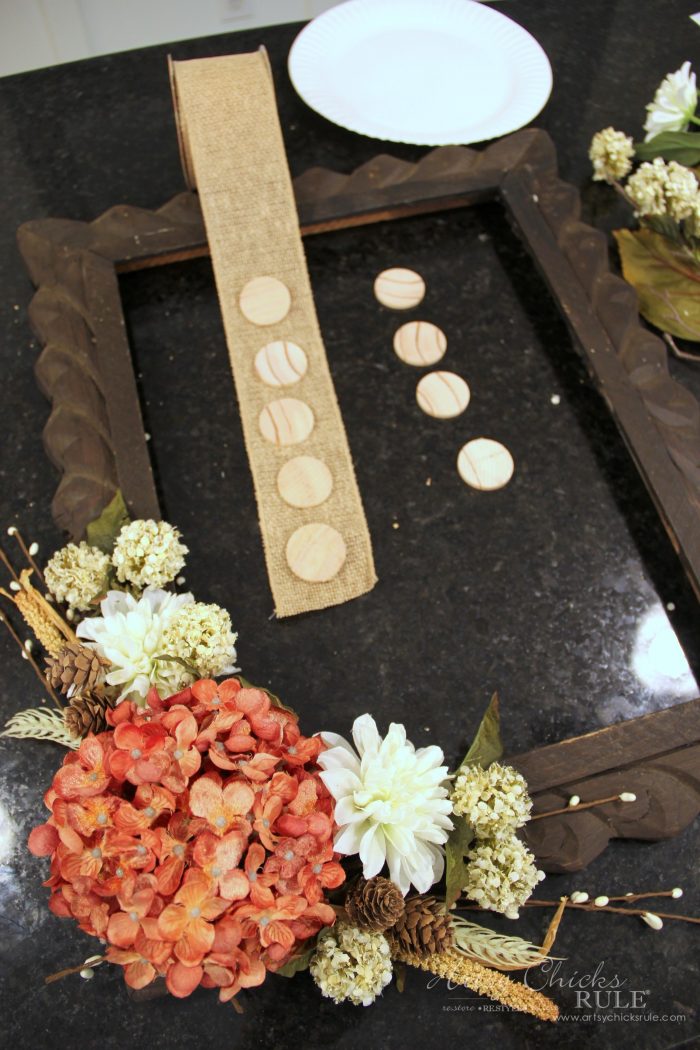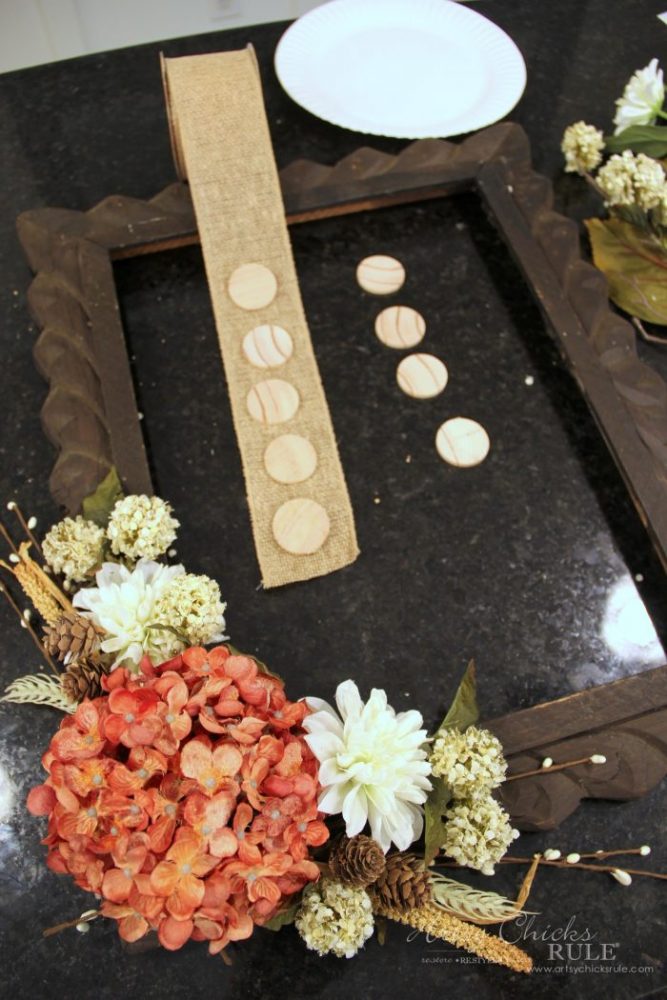 I always start by laying things out, without gluing them, first.
That's what you see above. Nothing is glued yet.
I bought the burlap ribbon and decided I'd add round wood medallions with stenciled letters that say "happy fall".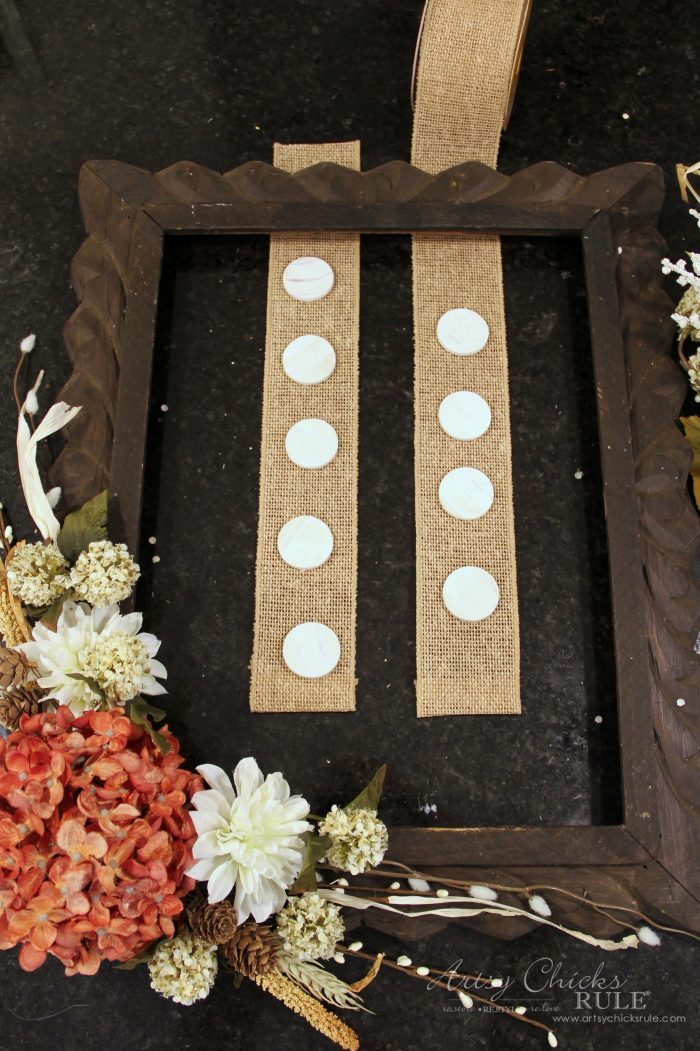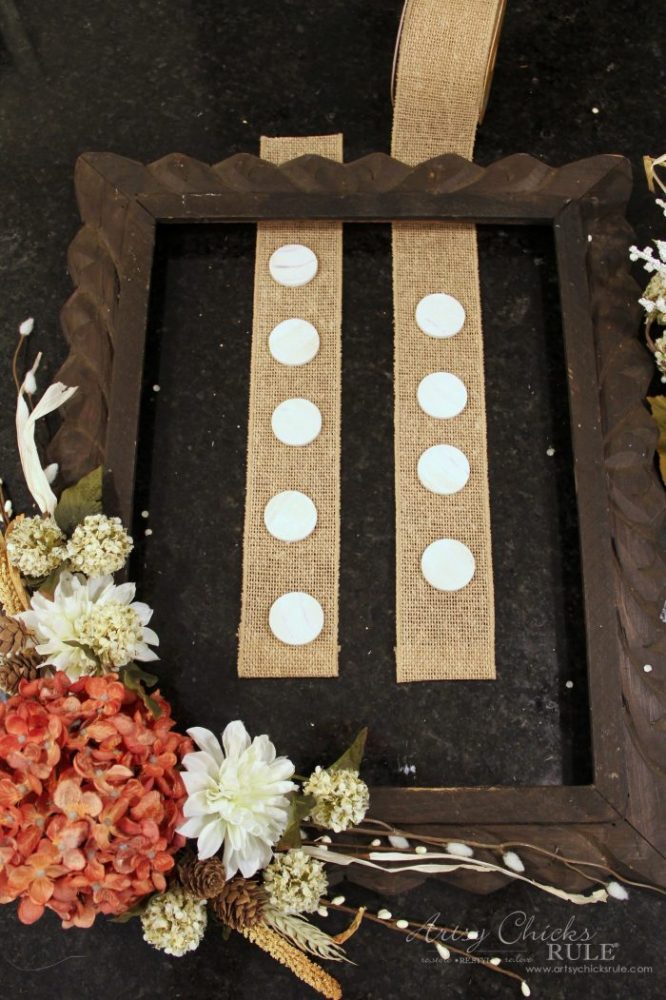 I gave them one light coat of off white paint since this was going to be a "rustic" fall framed wreath, I really wanted to let the wood grain show through.
It's a little hard to tell in the photo above but there is wood grain in all of the medallions.
I wasn't loving how it looked with the letters hanging down.
Sometimes what I envision in my mind just does not look so great in real life.
So I switched gears and arranged them the other way and started hot gluing the flowers and such with my glue gun.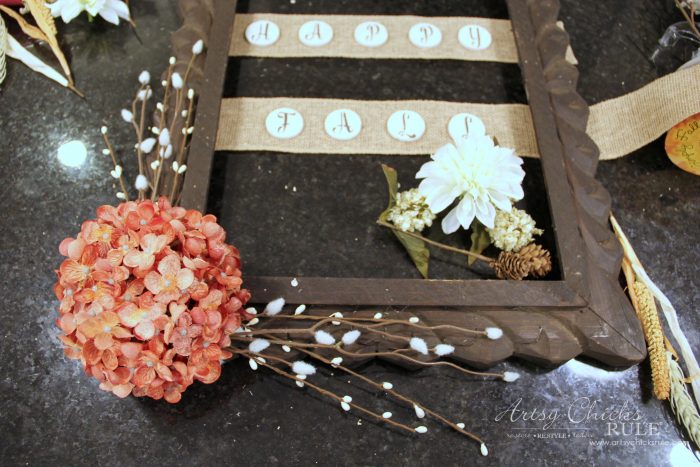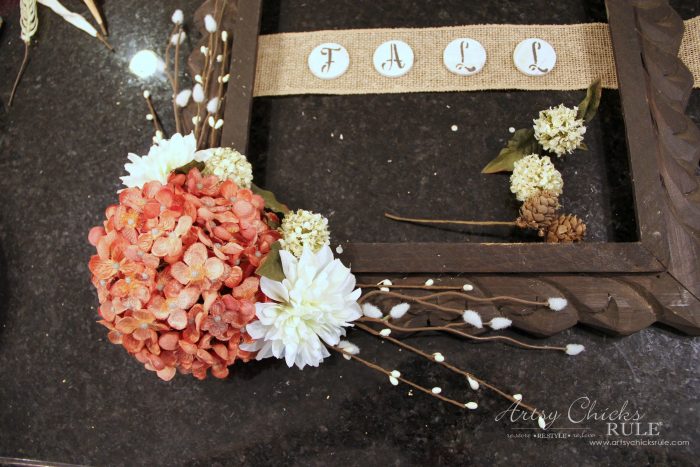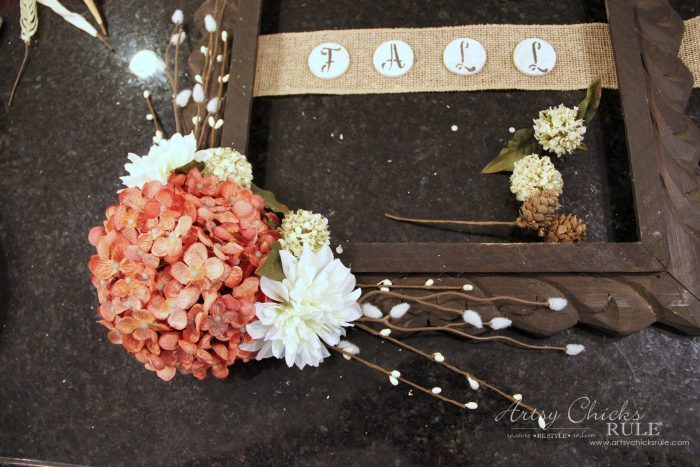 I just kept adding and building until I thought it had enough.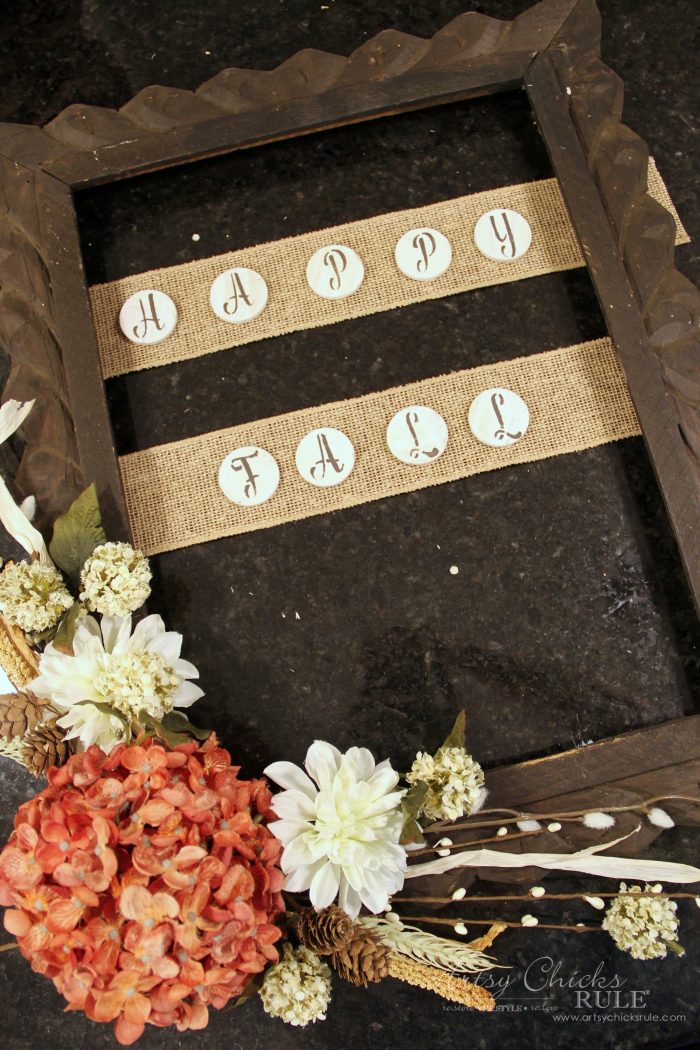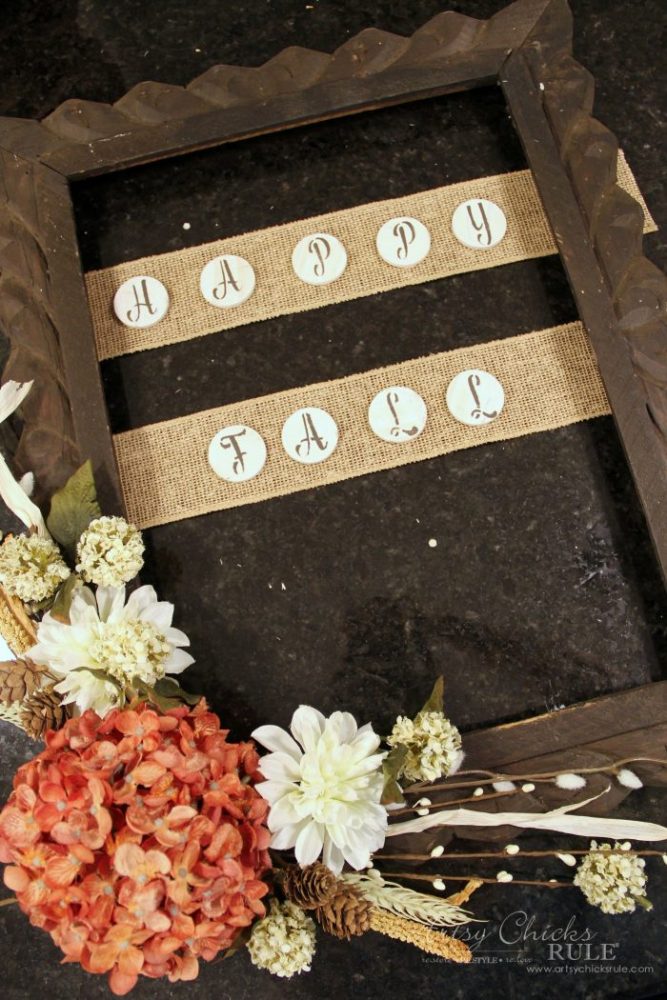 I then hot glued the medallions to the burlap and the burlap to the back of the frame.
Then I held it up and looked at it. Hee hee…..nope.
Since I had made the change on the position of the burlap and letters, I wasn't loving the flowers in the corner.
Bummer.
Here's a quick shot of it I snapped for you.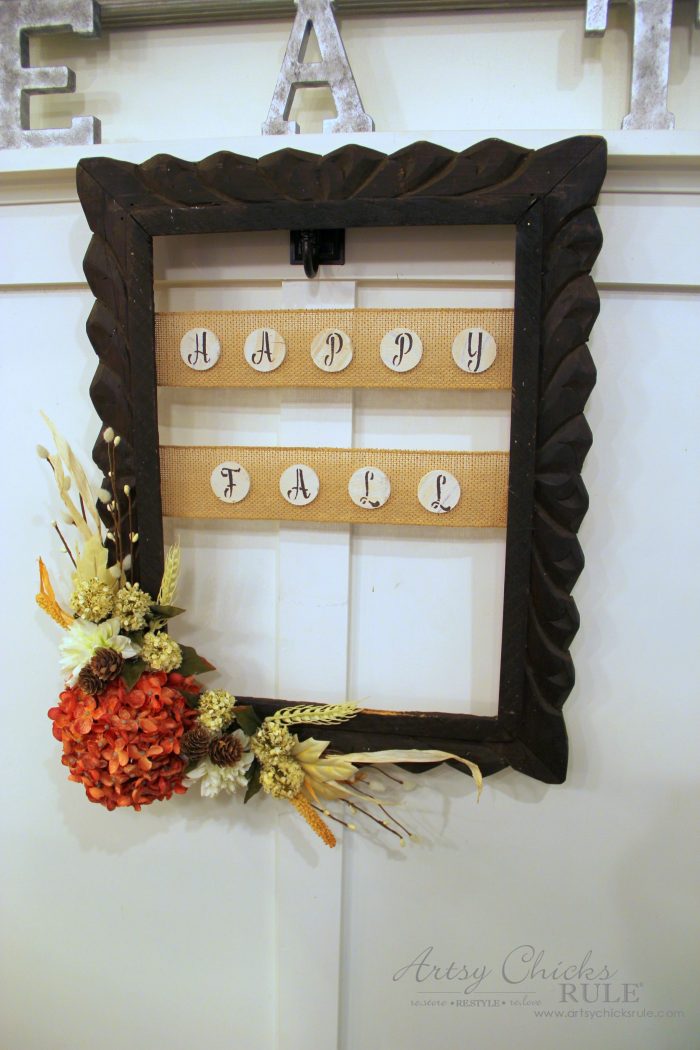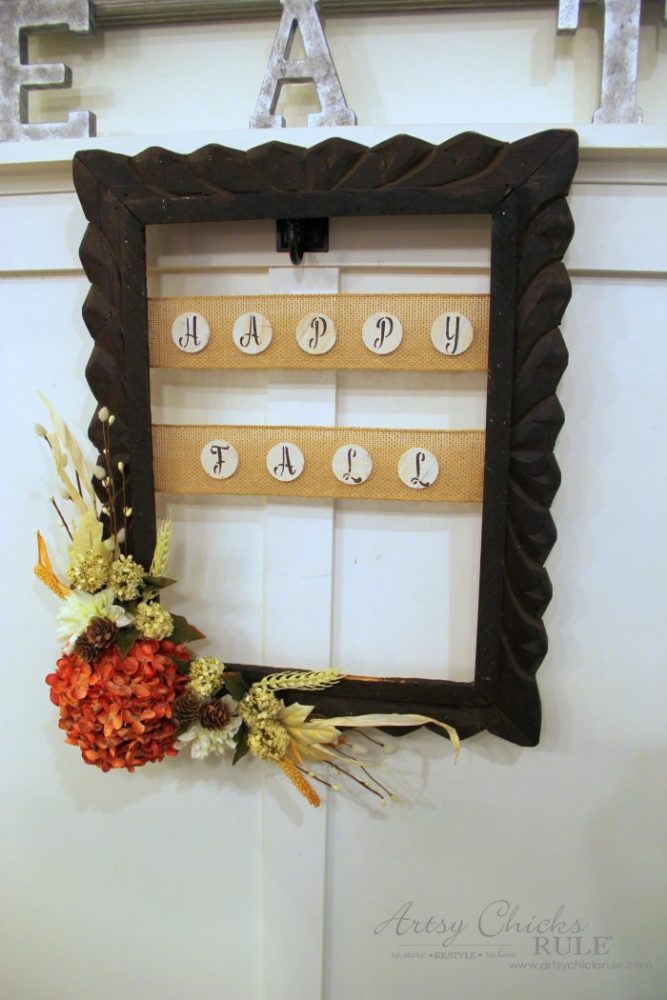 I mean, I guess it's okay, but it was just throwing me off for some reason.
So I painfully (not really, but I hate having to redo work like this!) lifted off the entire thing and moved it to the middle instead.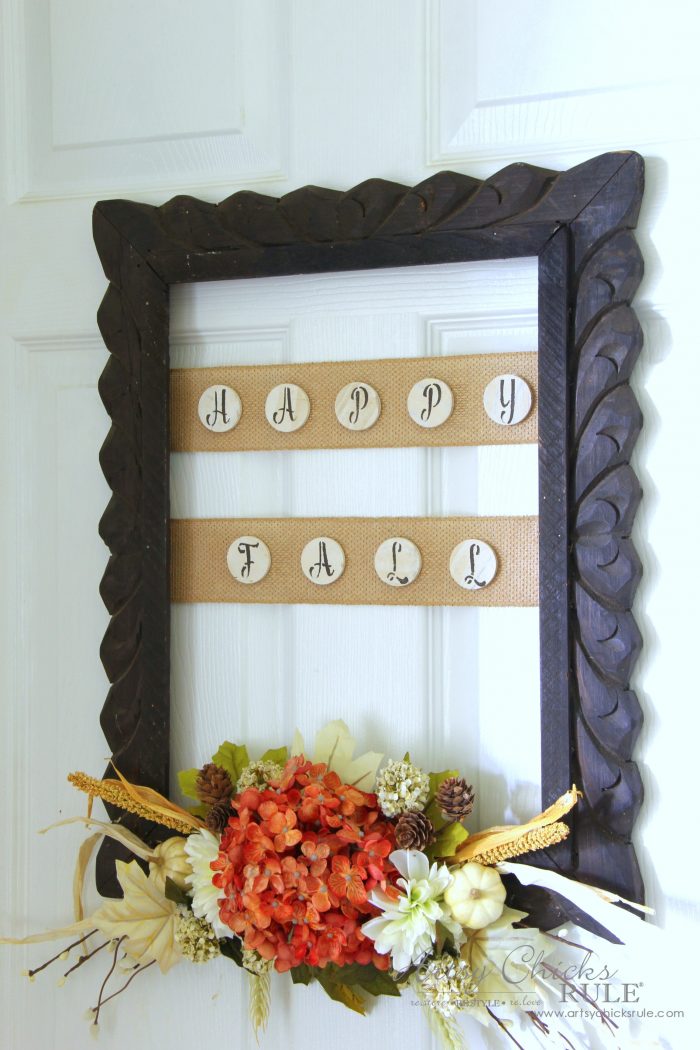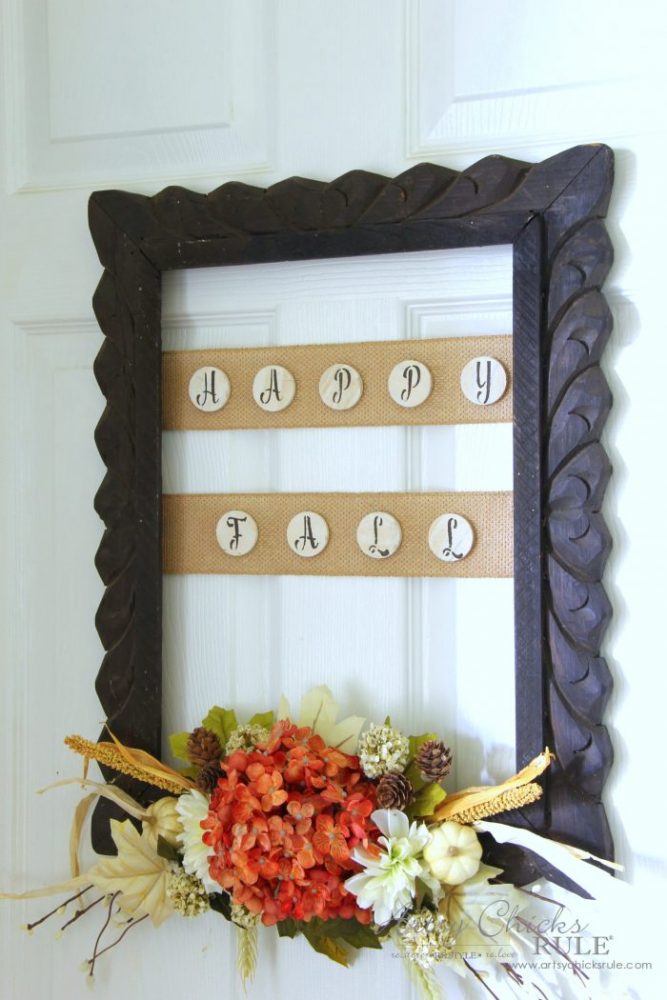 Yes, much better.
Sometimes there are little hiccups along the creative process way and you just have to roll with them.
And sometimes it happens more often than other times!
What do you think? Like it better to the left or centered?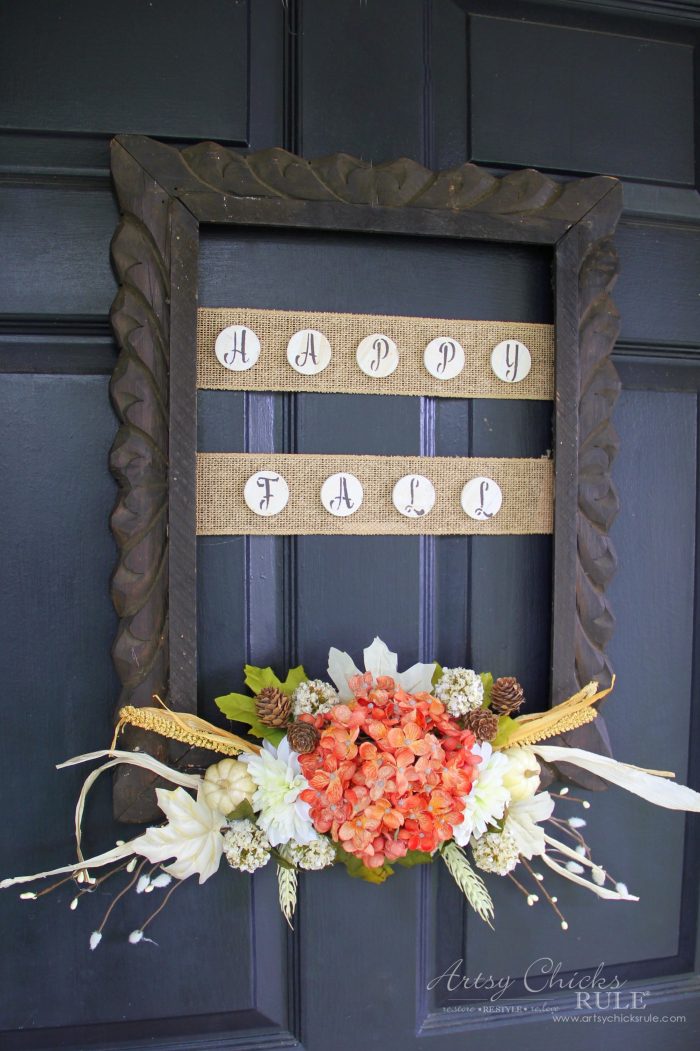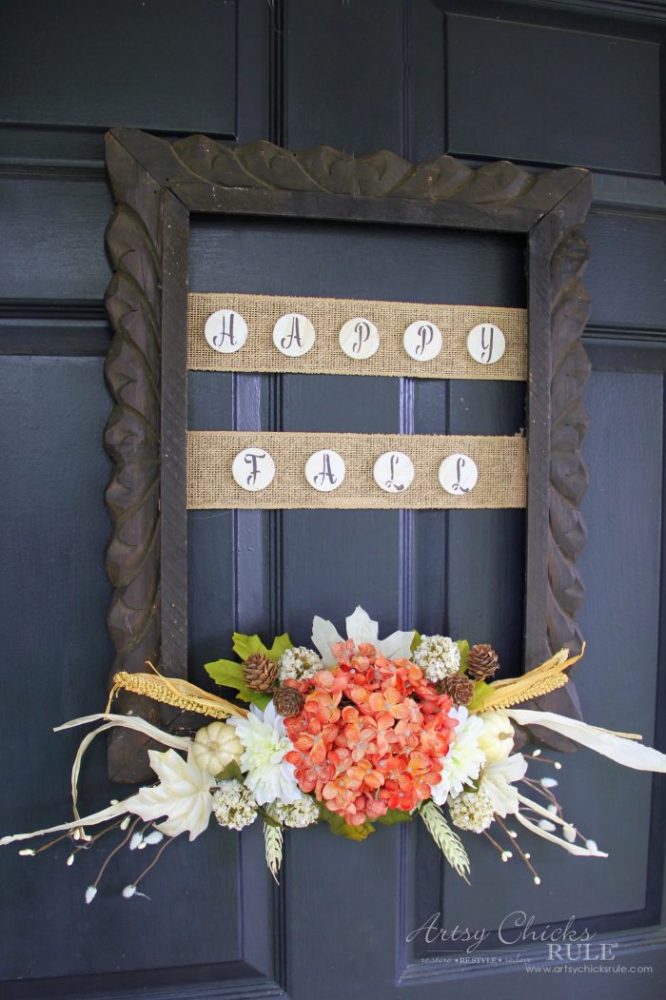 I don't really love it on my black door so that is why I shared how it looked on a white door too.
I actually think it would look fabulous on a pale blue door!
Wish I had one!!
And here it is on my thrift store hall tree I painted years ago and put on my porch.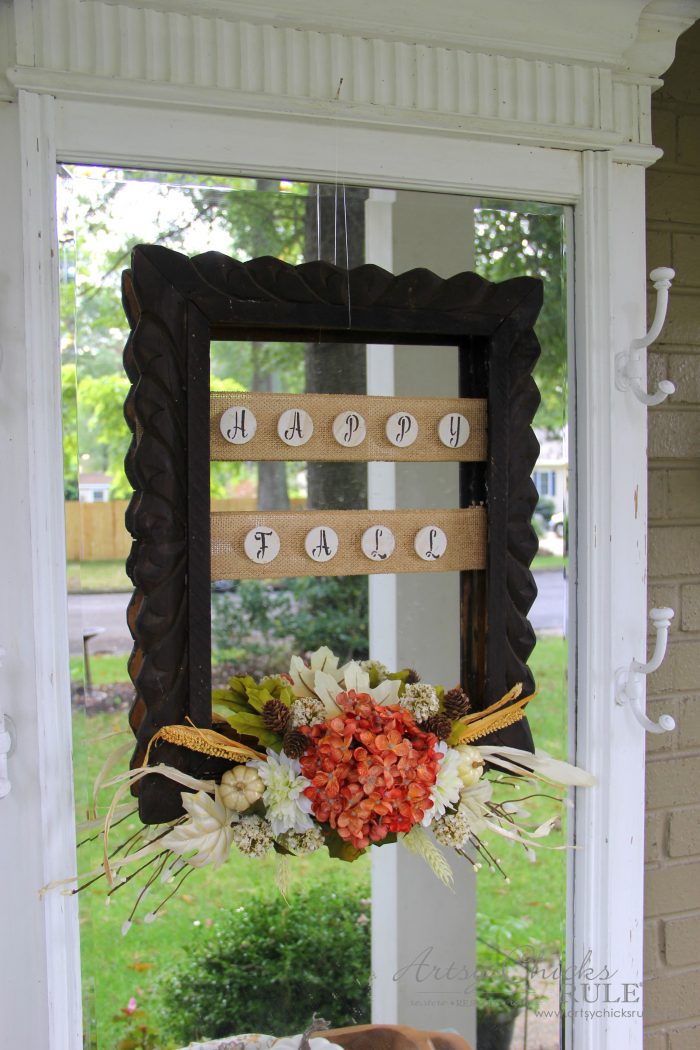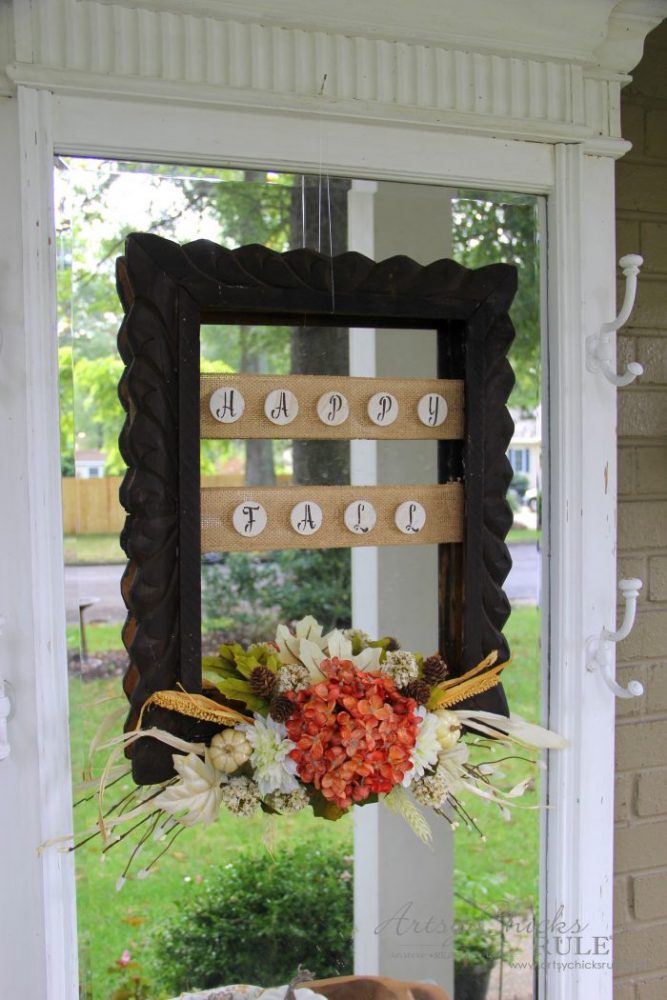 I think I like it best here.
But isn't that wood carved frame so cool?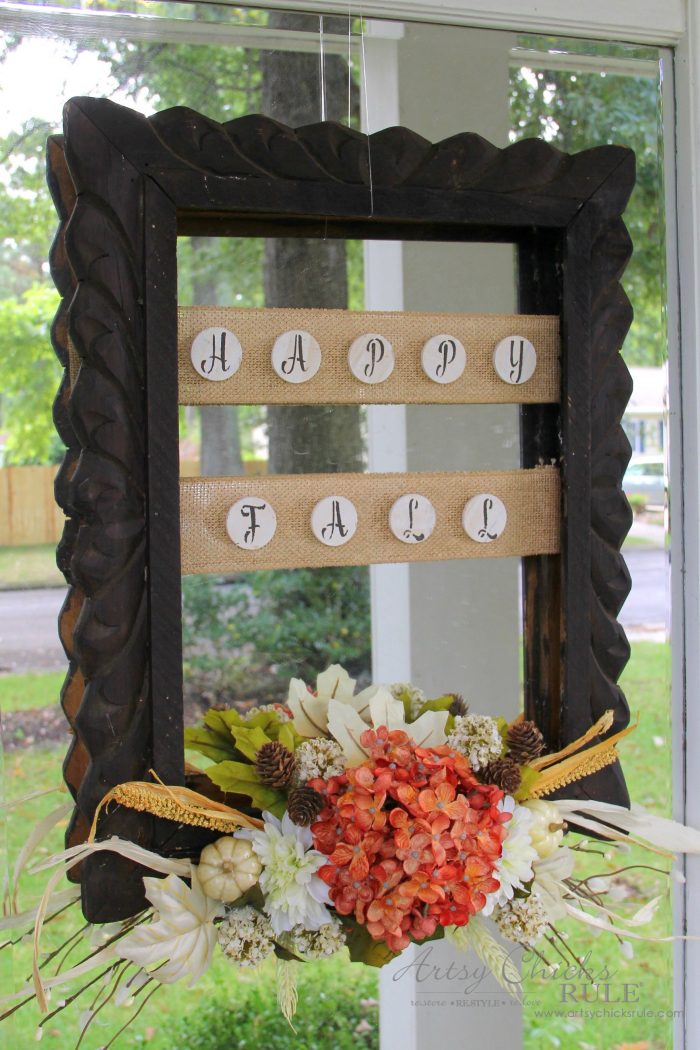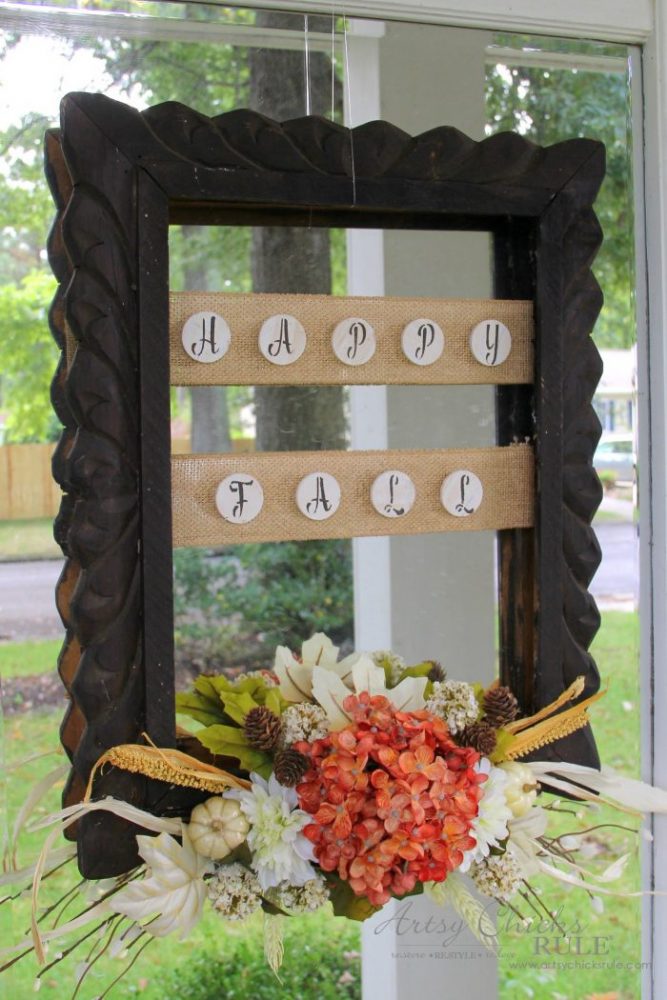 I'm still moving things around and decorating for the fall tour next week so we'll see!
Now, go find yourself an old frame at the thrift store and maybe even a few old wreaths to pull apart for this and make a fall framed wreath too!
Pin it to save it for later!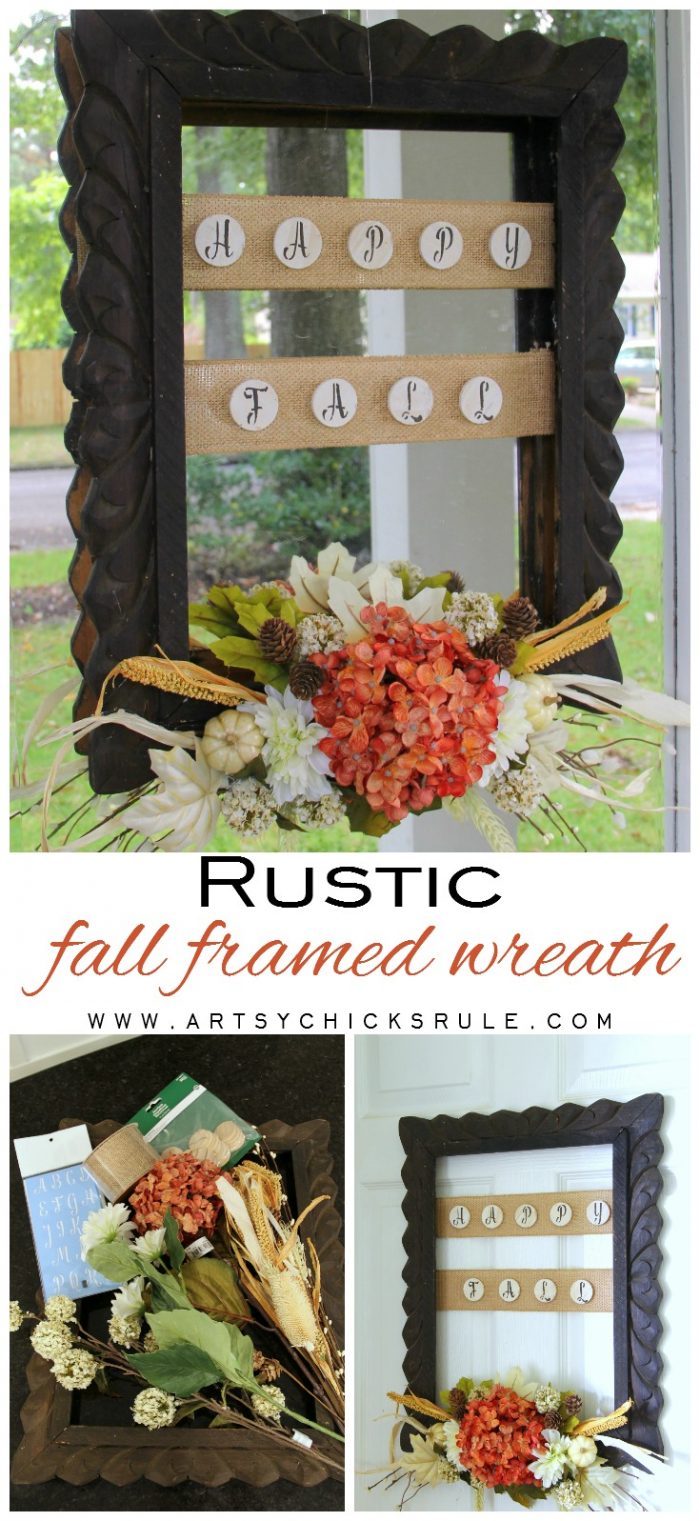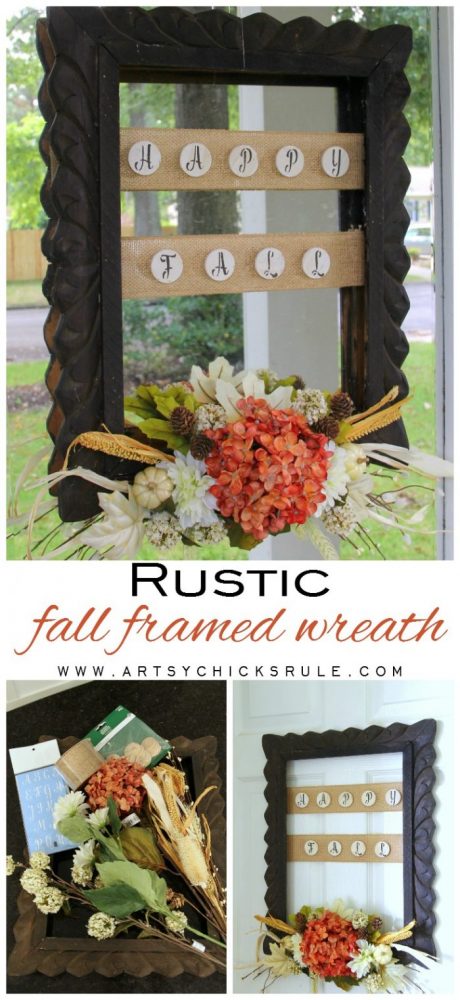 Want to see a few more fall wreaths?
Here are a couple more: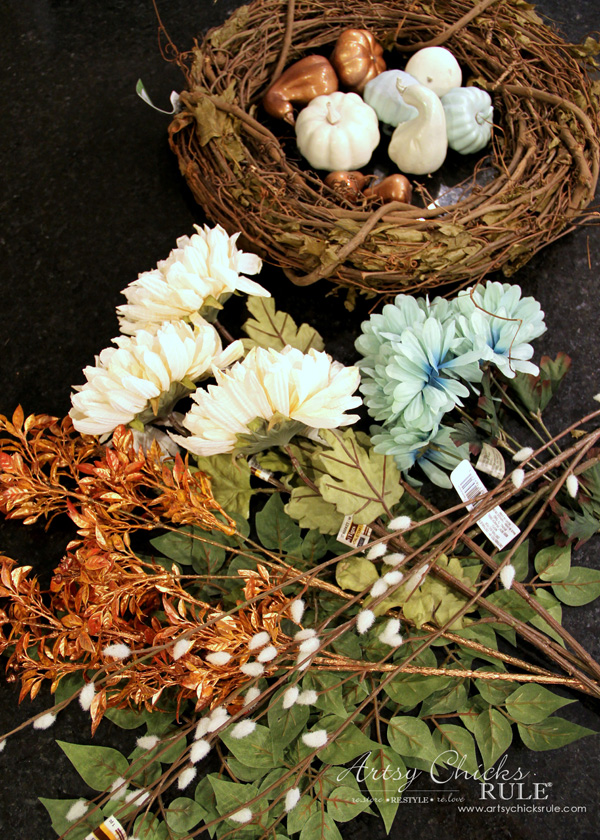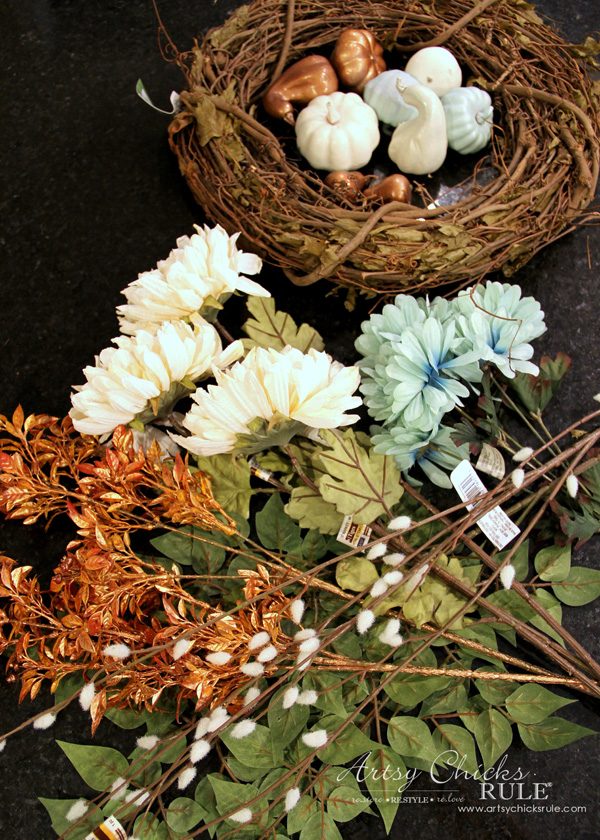 See it here, Coastal Fall Wreath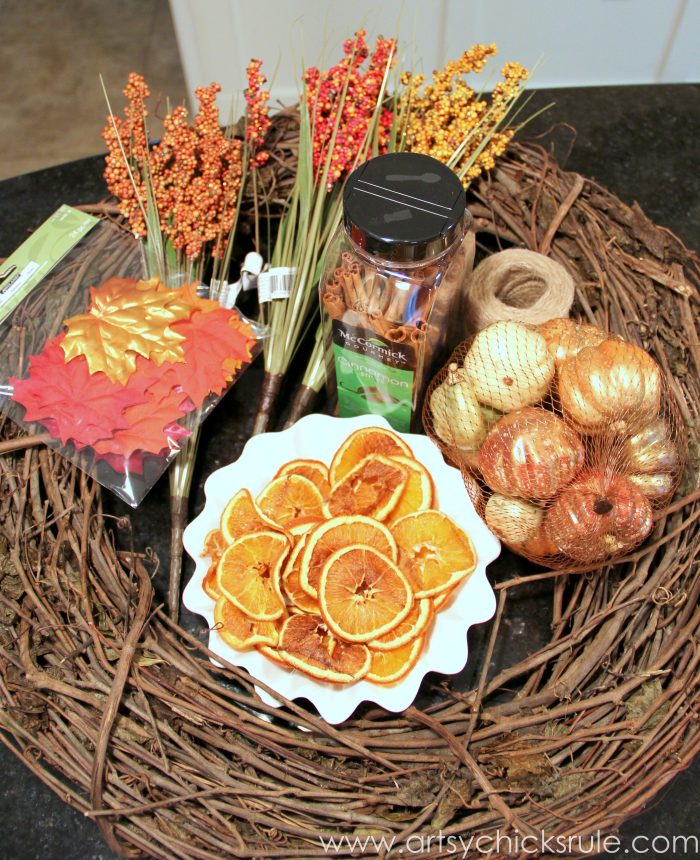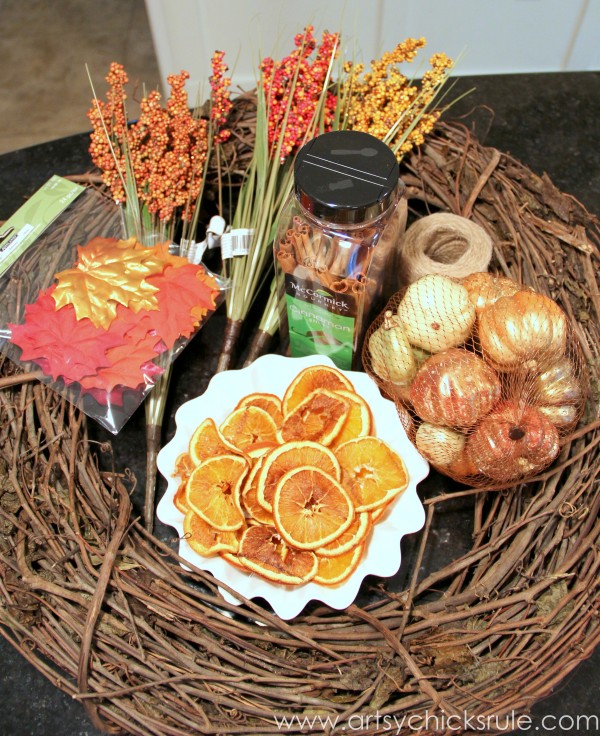 See it here, DIY Fall Wreath
Don't want to make one? I gathered up some beauties you can buy in this post, here.
And even more pretty fall decor, here.
Have a wonderful weekend! I hope to get out and enjoy this last bit of warm weather before it really gets cool.
xoxo