Feather Pillow "Fail" (and a simple "no-sew" fix)
This post may contain affiliate links. Please see disclosures here.
Have you ever owned a feather pillow? I have and I've never encountered this before.
Although, since I first posted about this on Instagram, I've heard from quite a few others who have!
I posted a picture of my majorly failing feather pillows on Instagram, 23 weeks ago, to be exact. (thank you IG for the exact date!)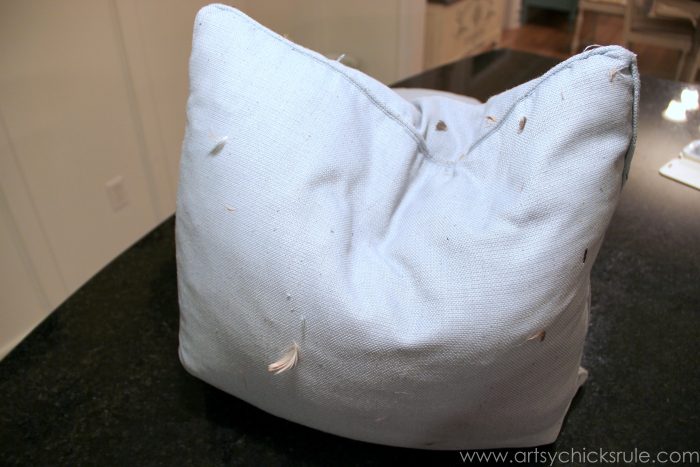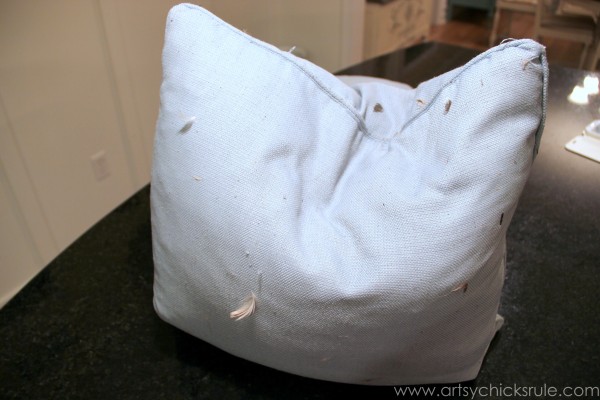 And I kept meaning to re-stuff them….but……I never got around to it.
That was, until they finally drove me crazy enough to fix. UGH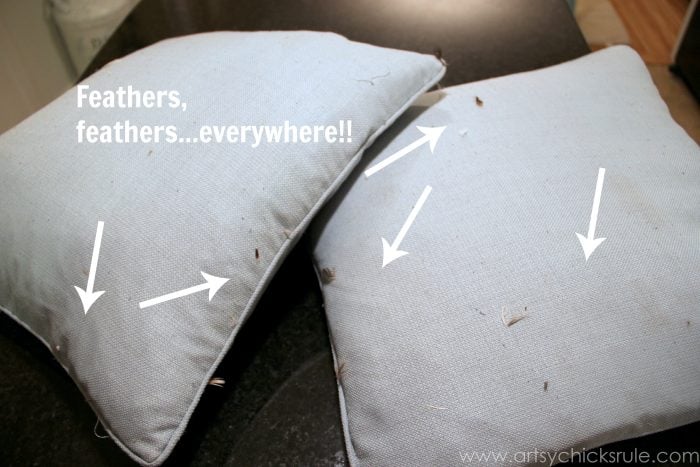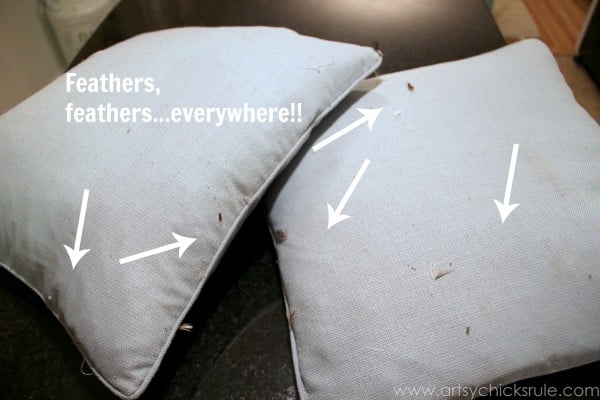 I got SO tired of feathers everywhere AND poking me when I leaned on or by them.
Owie, they hurt!
So I finally did it.
Last night at around 10pm. Just as I was sitting down to relax a bit before bed.
Yep. I already had the Polyfil from another project I had yet to complete (or even start) and figured why not?
No time like the present. Plus I was tired of getting poked by their needle-like little ends.

So while my husband watched a DVR'd recording or two of Shark Tank…..I re-stuffed my pillows. :)
(I took a break here or there to watch too. We love that show.)
But it really was that simple and took no time at all. I wish I'd done it sooner.
To get started, I found the original seam……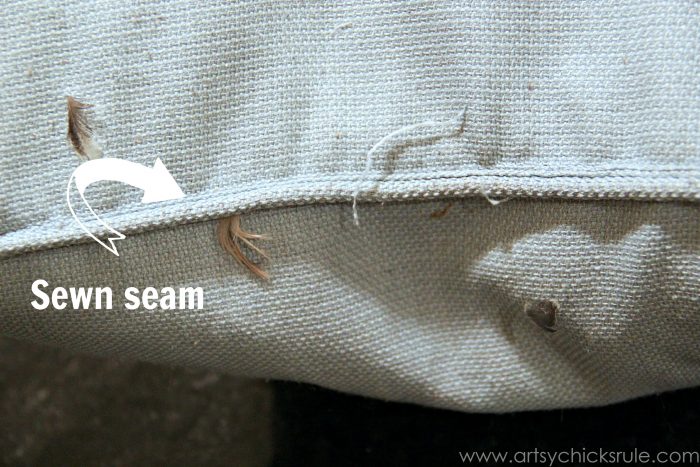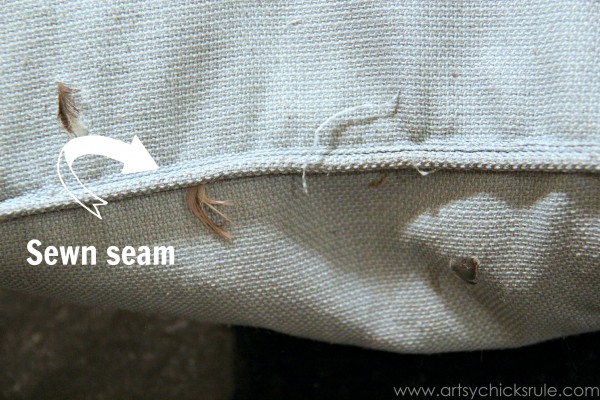 ….and carefully cut the thread to open it up.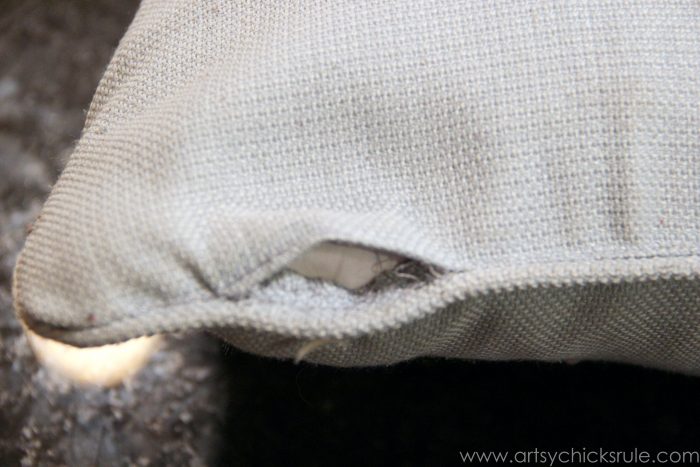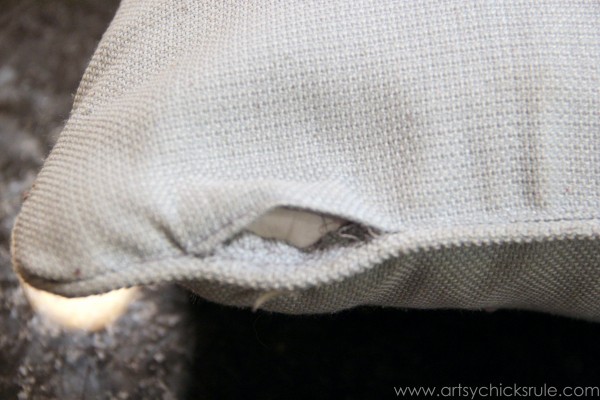 Oh hey! Surprise of all surprises….the feathers/down were encased IN fabric inside the pillow.
Who would have thought it? Not me, the way they were coming out all over.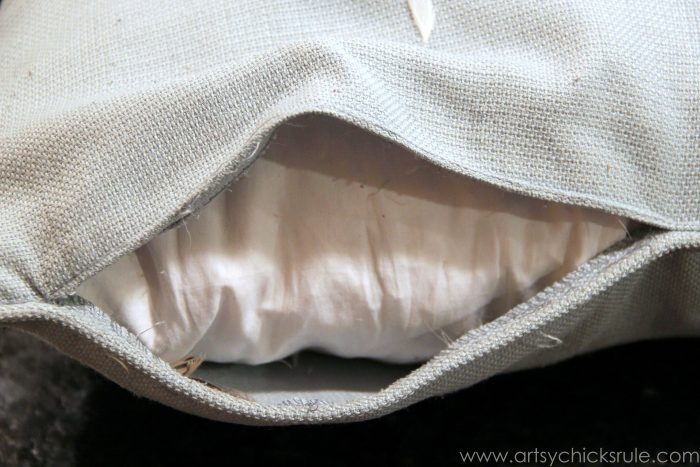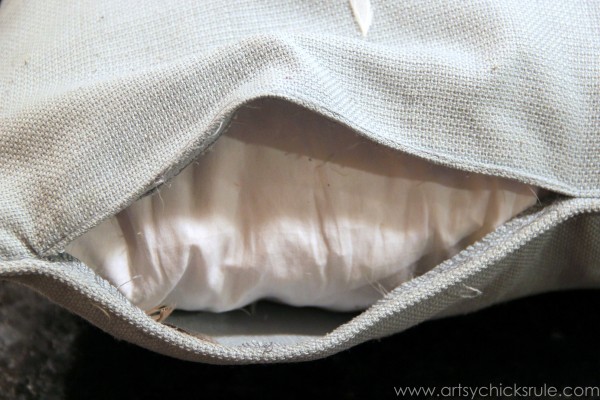 But look at what I found INSIDE when I pulled that out and turned the pillowcase inside out.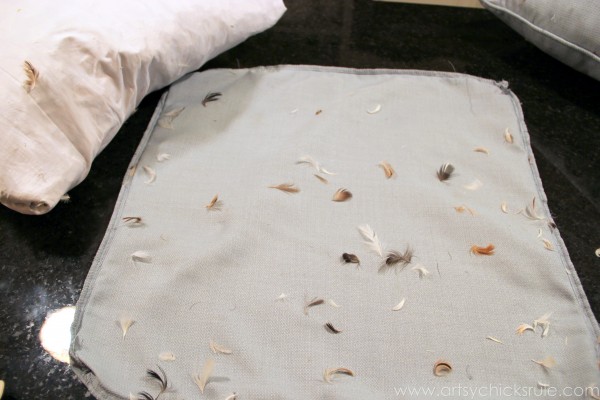 Um, yeah. CRAZY.
Those were just waiting to poke through the other side and hurt me!
Bad feathers.
But that's okay….I replaced all those bad ole feathers with this.
Nice and soft and squishy.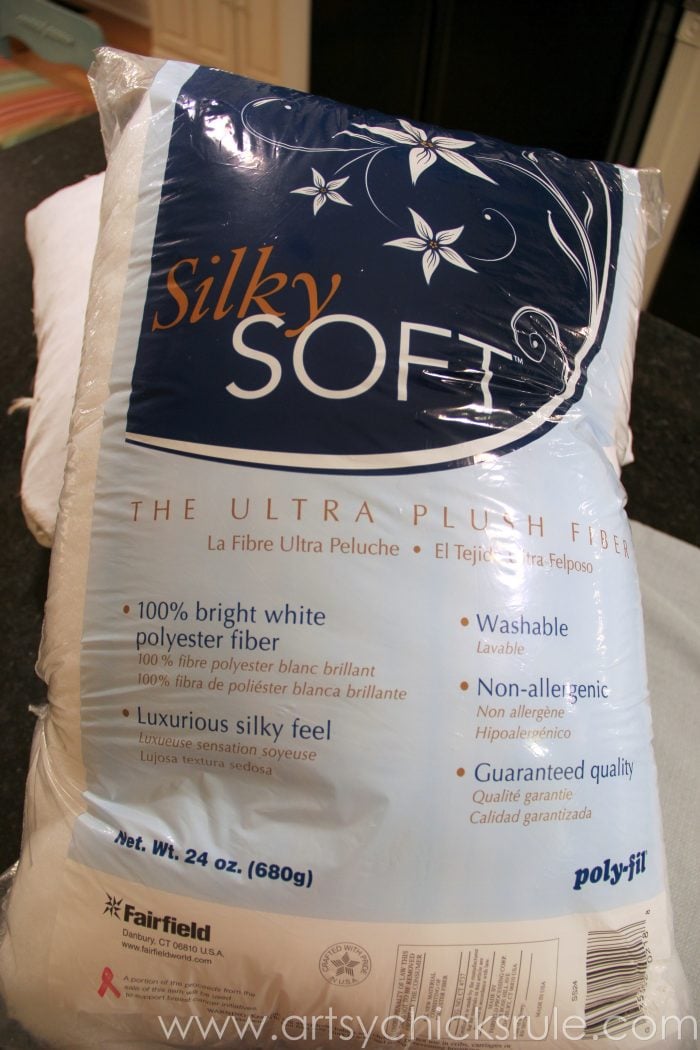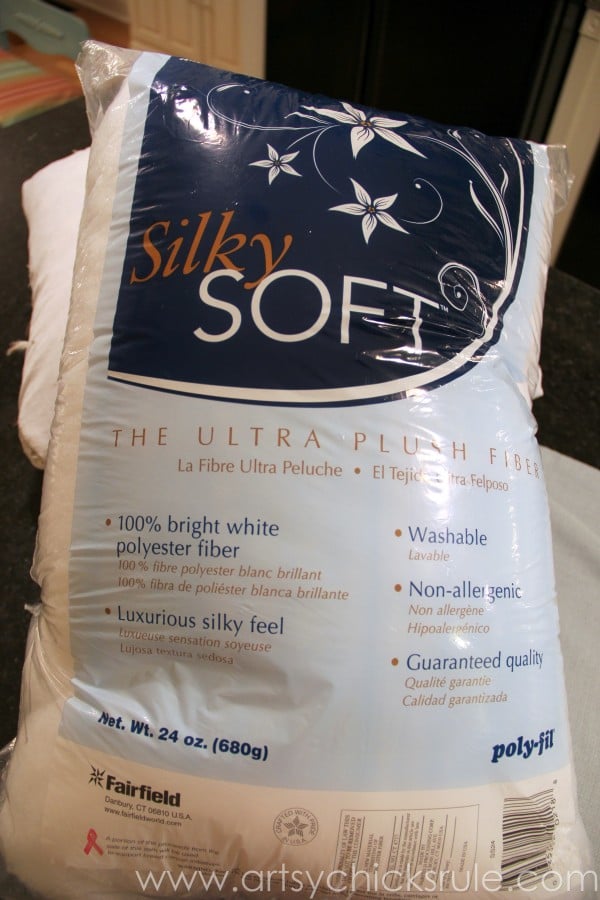 See? Super easy. Just stuff and stuff and stuff some more!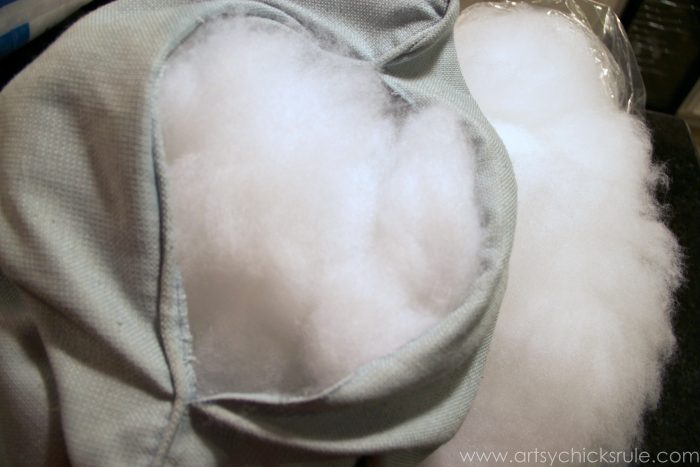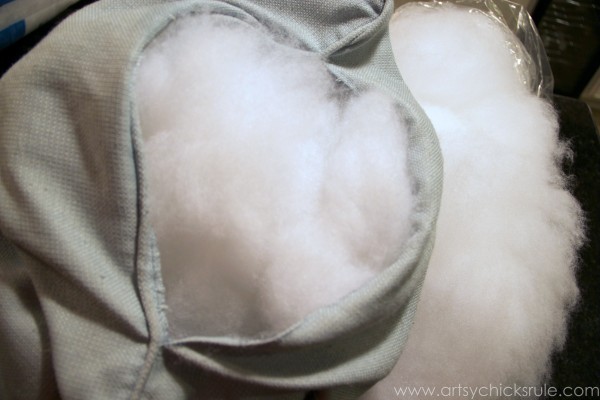 And then "no-sew" them back together with iron on seam sealer (there are several…I use and have had good luck with Steam-a-Seam for my no-sew projects).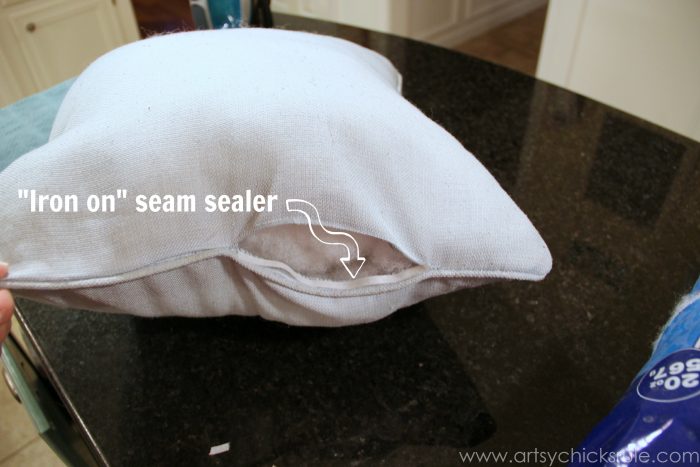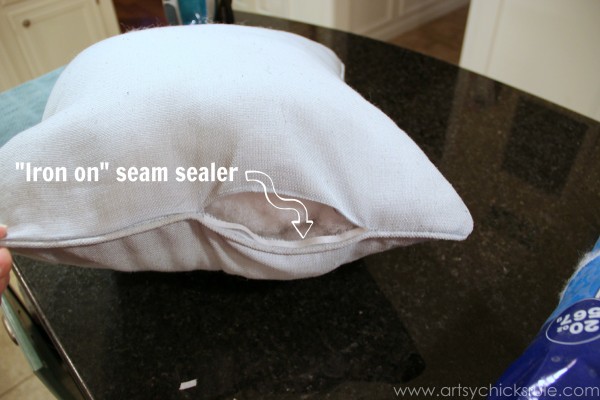 EASY.
Or you can sew them. I don't sew so chose this method. I'm a big fan of "no-sew". :)
SO much better and like brand new.
Paired up with my other pretty pillow that I adore. That also has feathers in it–>from the same store.
I know, silly, but I LOVED the fabric and figured if they did the same they'd still be worth it to me even if I had to re-stuff them.
BUT, so far so good! No feather leakage yet.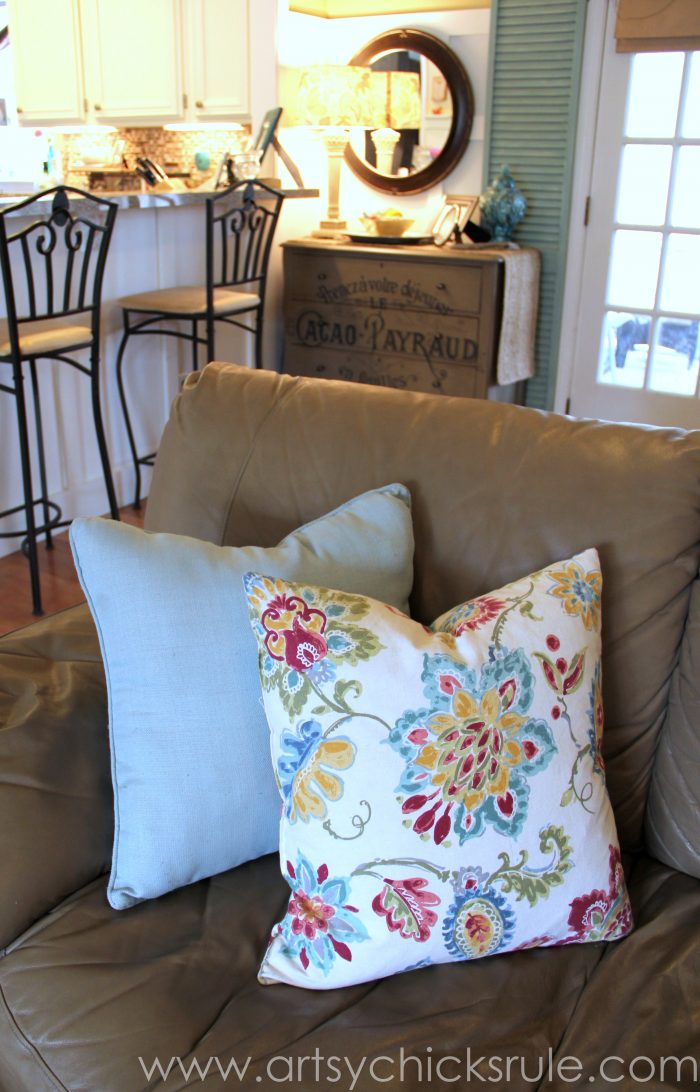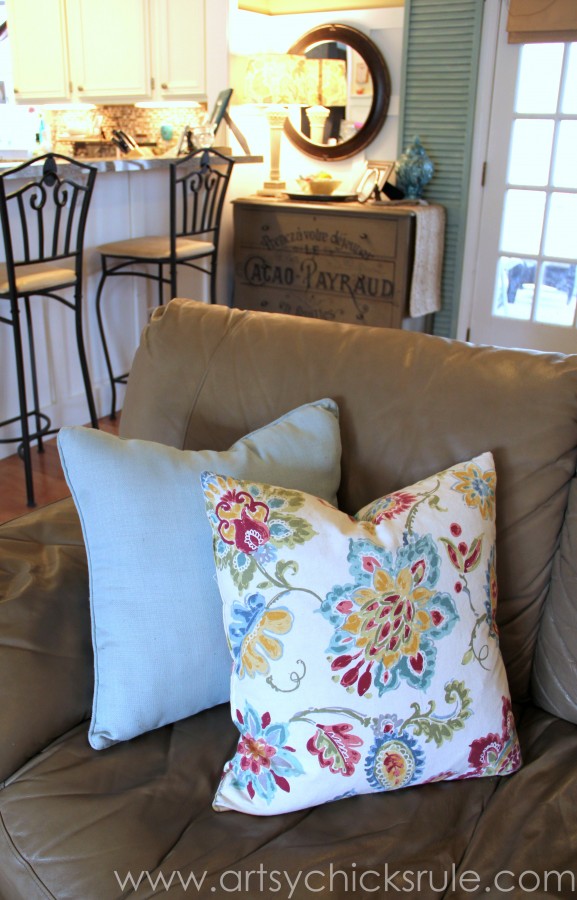 I really want to white slip cover my couch/loveseat.
Do they make those for leather? Sigh. I don't think so. I think they'd be too slippery.
Does anyone know? Slip covers for leather furniture? Yes, no?
Sorry…derailed…..
Anyway, thank goodness, I will not be forever picking feathers up (or getting poked by them) anymore.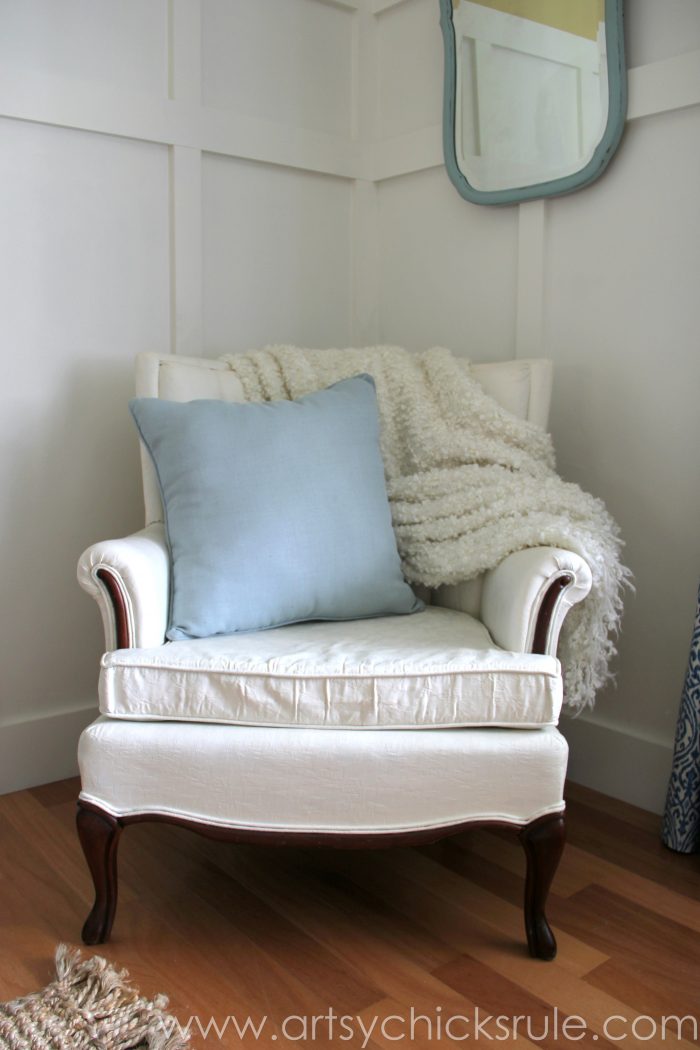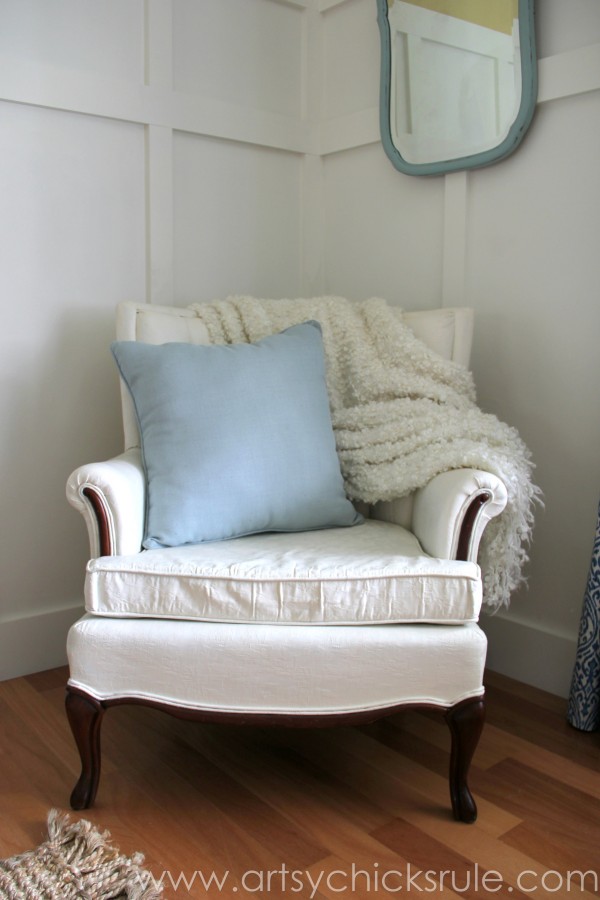 You can read about this pretty white french arm chair makeover –>here. (It was blue…until I painted it with Annie Sloan Chalk Paint®)
I'm so happy with how they turned out. And I'm so happy it was such an easy and inexpensive fix.
Do you have pillows like this?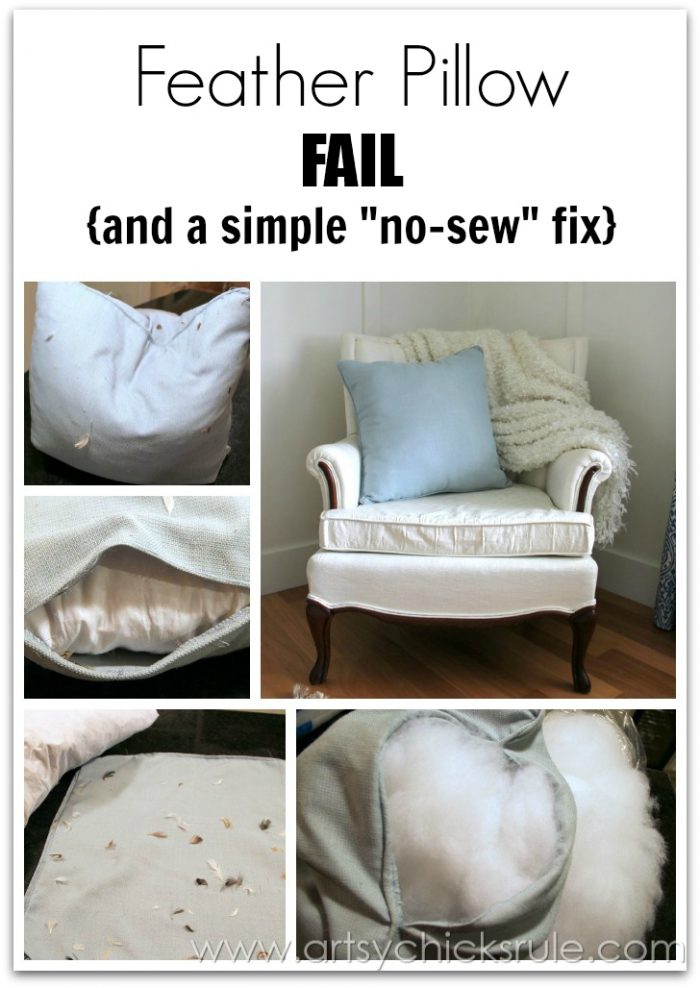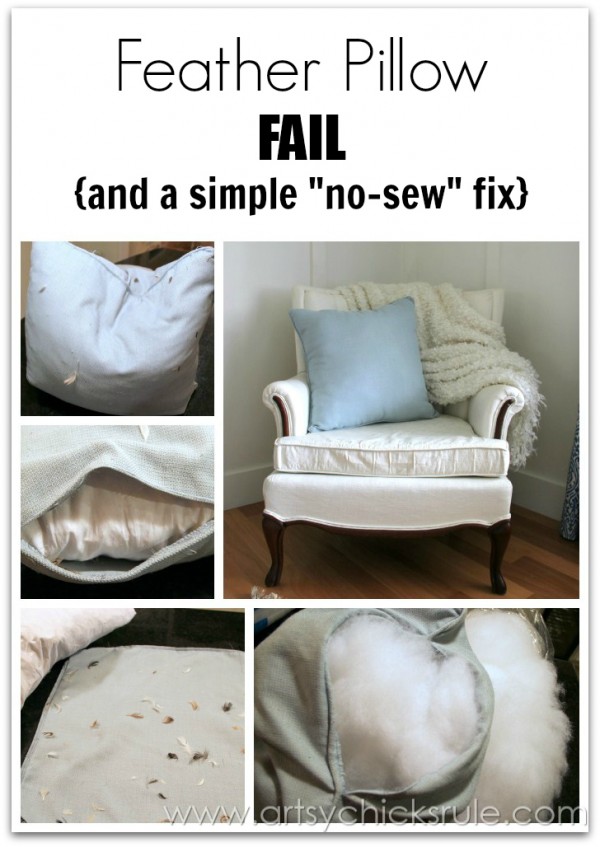 Have you ever re-stuffed them like I did? If not, you should!
I loved these pillows, the fabric and the color. I just didn't love the feathers coming out all over.
Now I can re.love them. I am so happy they are saved. :)
And you can too! Even if you don't know how to sew…don't let that hold you back.
I have done quite a few successful "no-sew" projects. You can check them out below.
I'd love to hear about your no-sew project(s)!!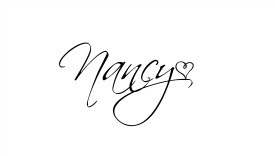 Be sure to follow me on Instagram if you don't already!
I always post projects and things I'm working on (like this one)
long before it hits the blog…..
….plus lots of fun (silly!) random daily things too.
A few of my other NO-SEW projects: