Christmas Home Tour 2015 (Part 2)
This post may contain affiliate links. Please see disclosures here.
Hello Friends!
I'm back today with Part 2 of my Christmas Home Tour.
Today I'm sharing my study, dining and kitchen. :)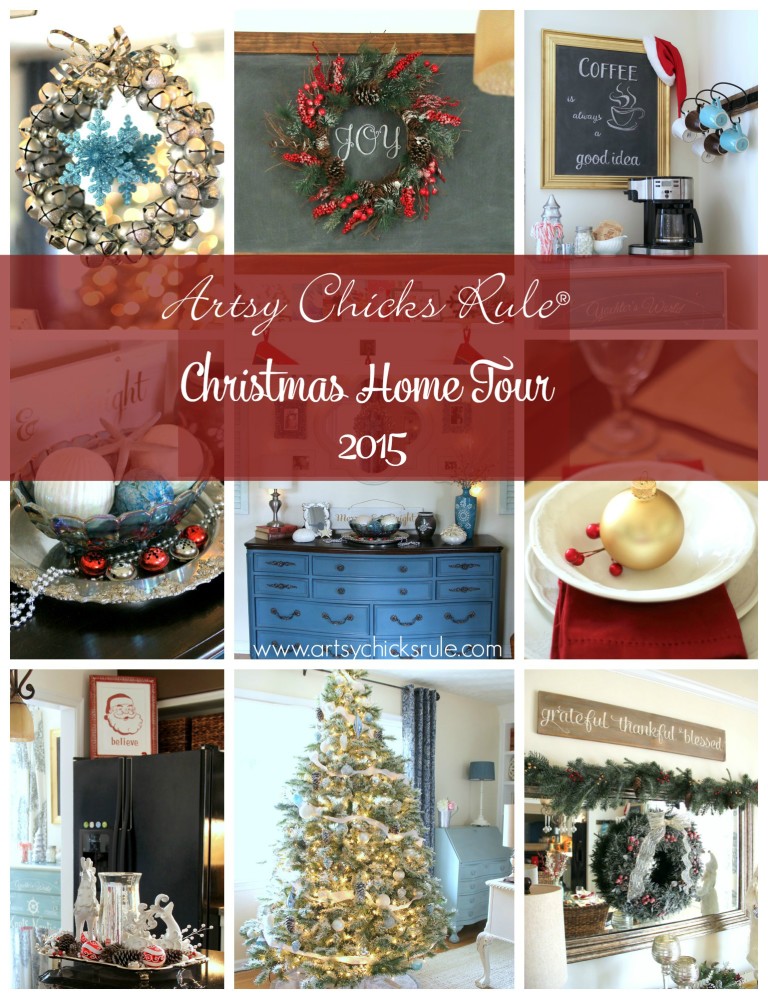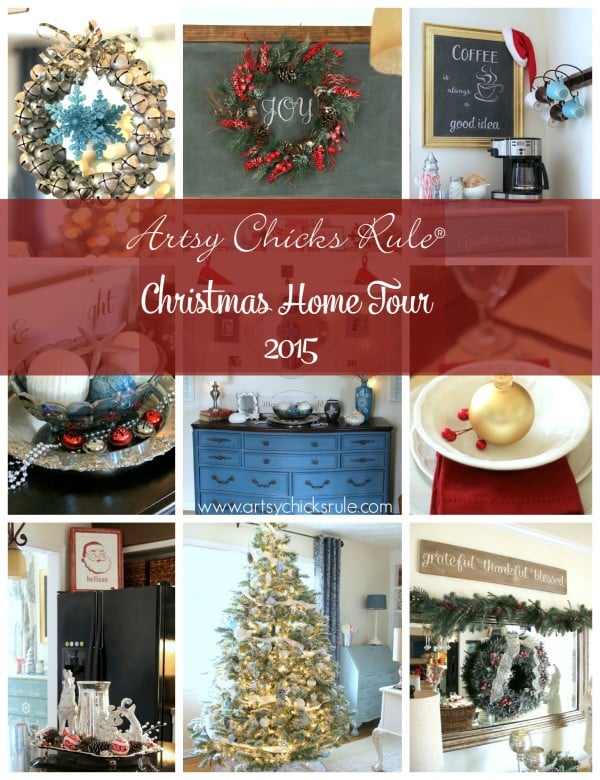 I'm feeling so light without the added weight of some of the furniture these rooms used to have.
(and junk…as in the study, which is now empty, mostly! Yaaaay!!)
AND we even cleaned (we…he, my husband ;) ) out the garage.
It's empty and is a space I can work in sometimes now.
SO happy!
Now onto the rest of my Christmas decor.
As I had mentioned in Part 1 of my Christmas Home Tour, I kept things a bit more simple and neutral this year.
Looking to the left from the foyer is the study….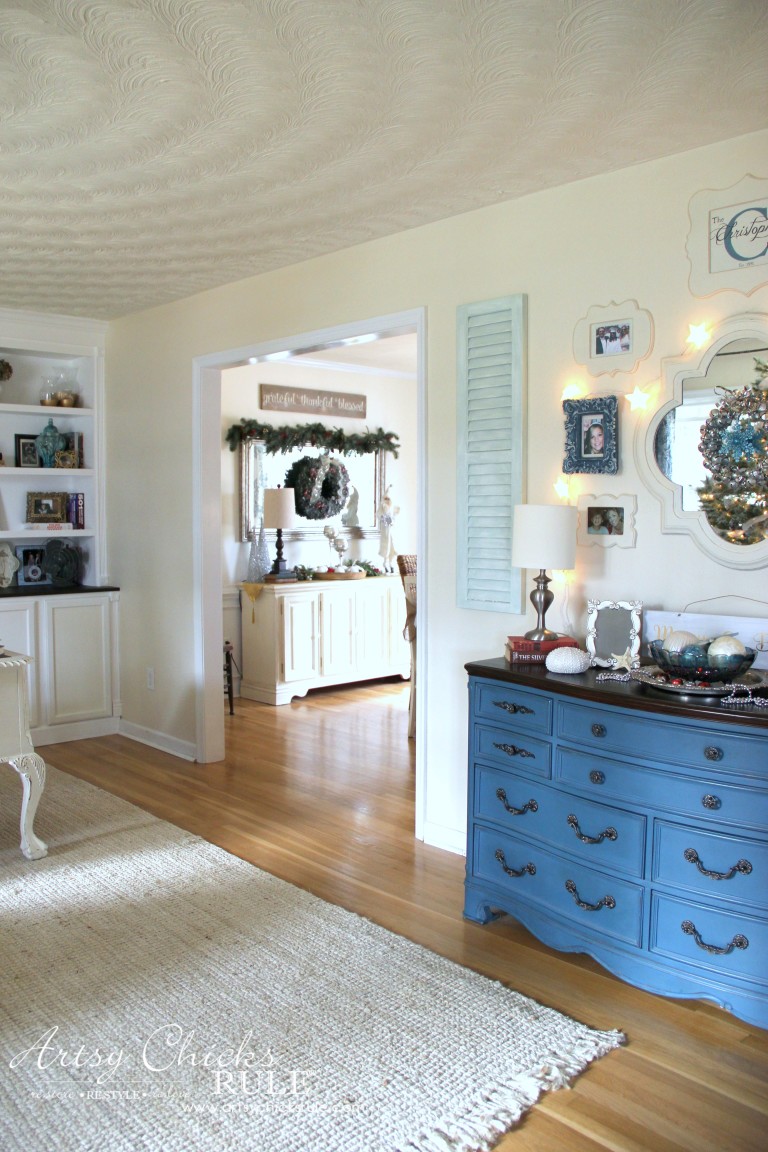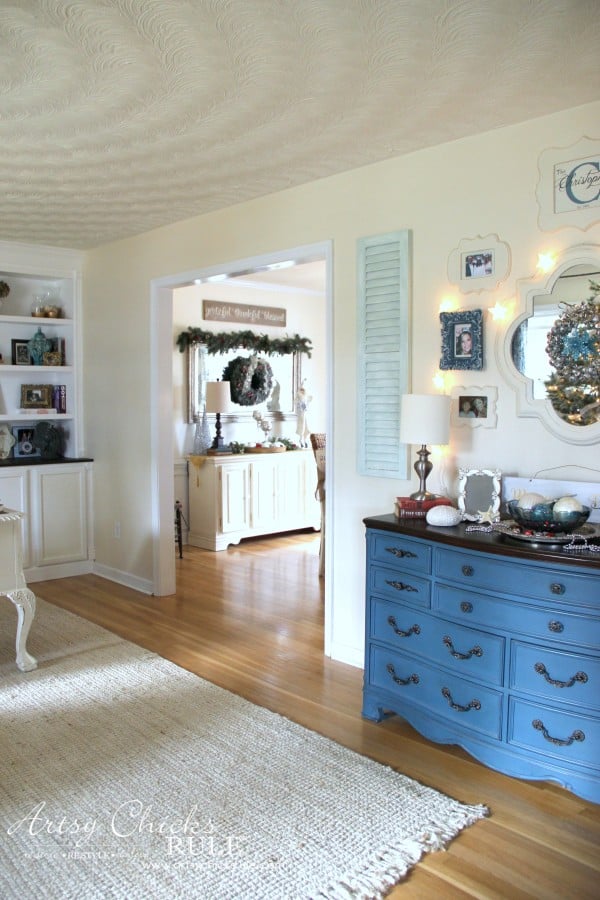 ….and dining in the back there.
I found this tree at the thrift store and flocked it.
You can see that tutorial —>>here.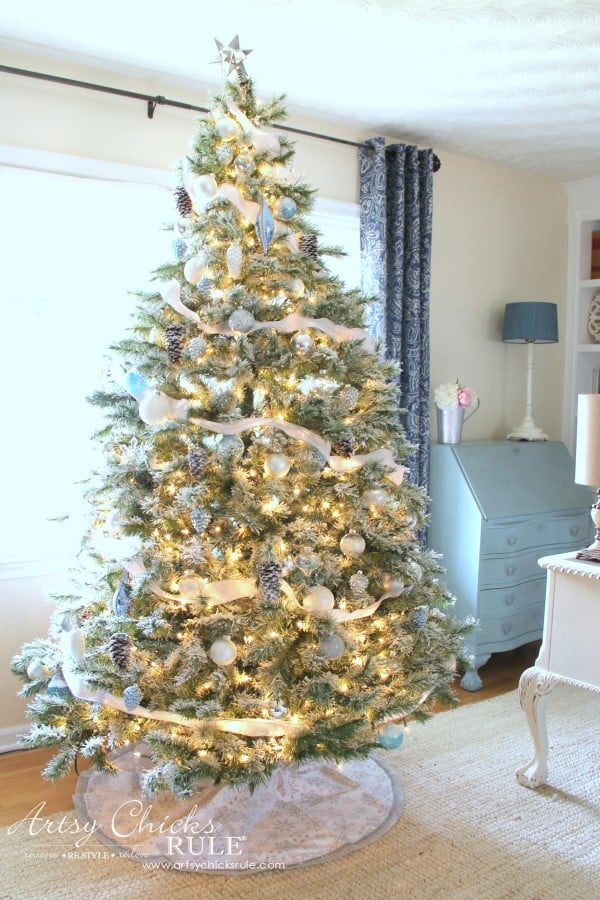 Since it had "freshly fallen white snow" on all the branches, I decided to keep it very clean and light.
I used silver, white and aqua ornaments with a white felt ribbon wrapped around it.
The colors in this room are mostly blues and whites, off whites, so it goes beautifully in here.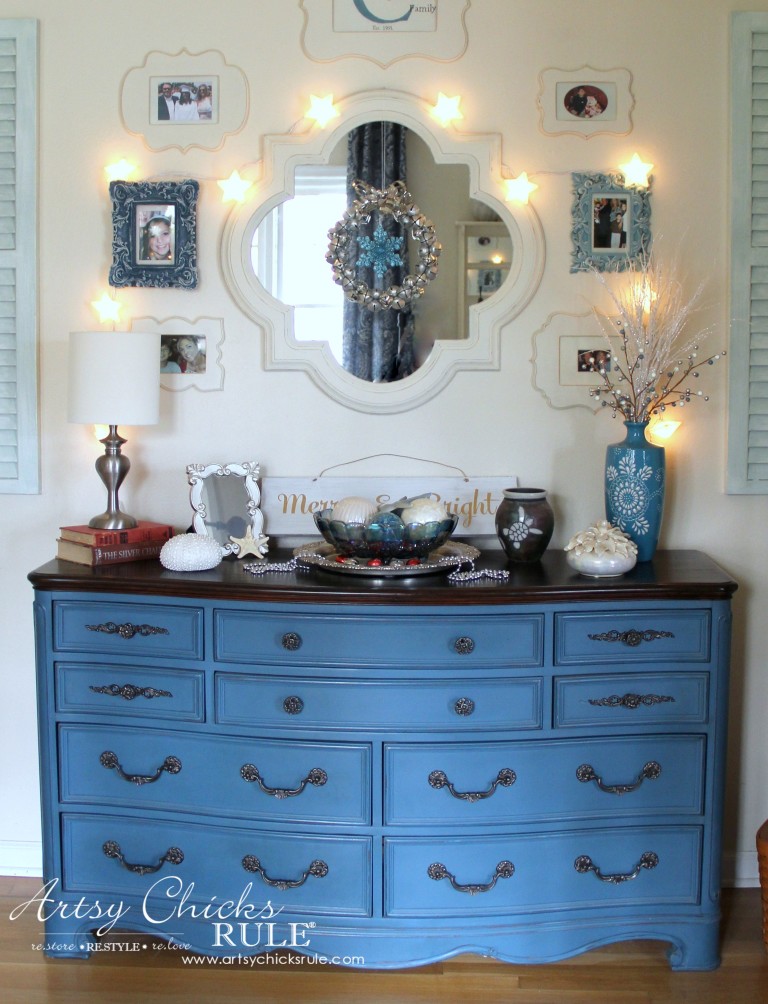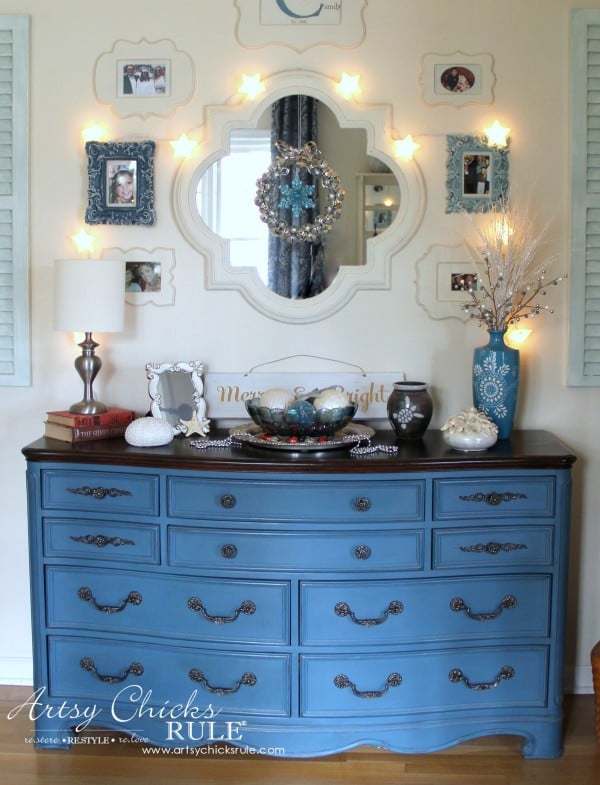 My Aubusson Blue Dresser is always fun to dress up.
I didn't do much but did add a few red bells in the tray for a hint of red.
Oh, and the star lights came from Target. Aren't they sweet?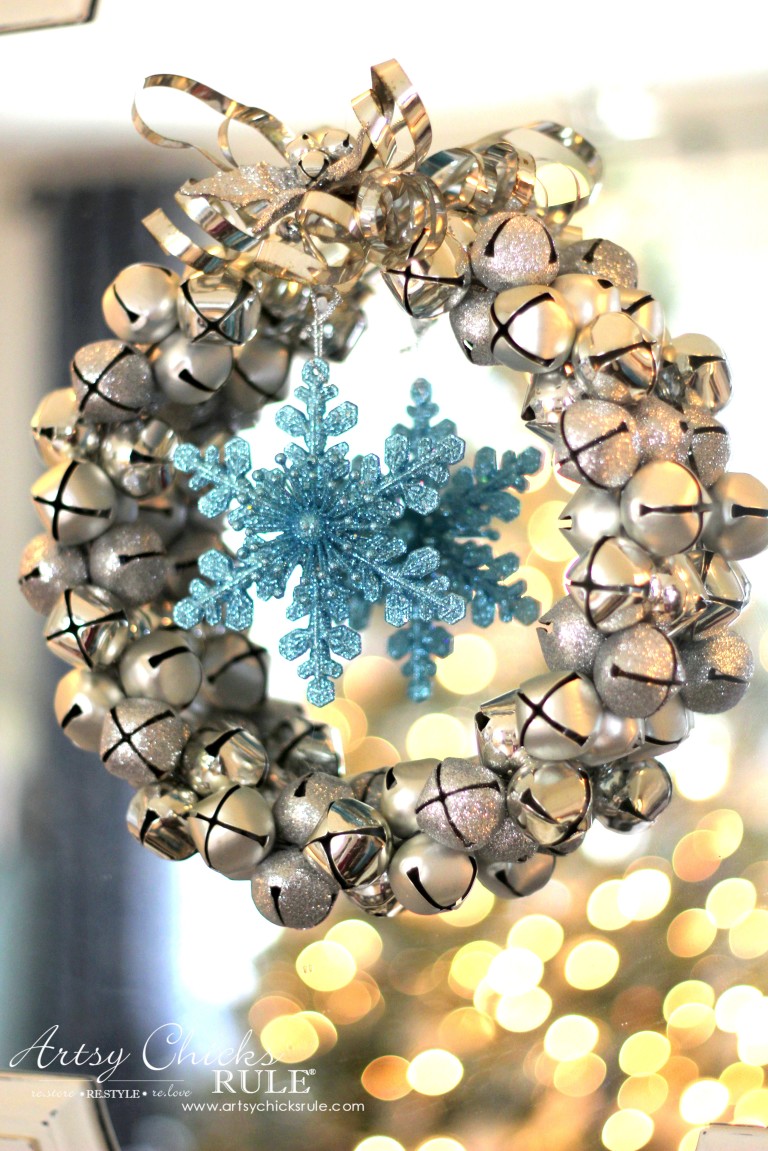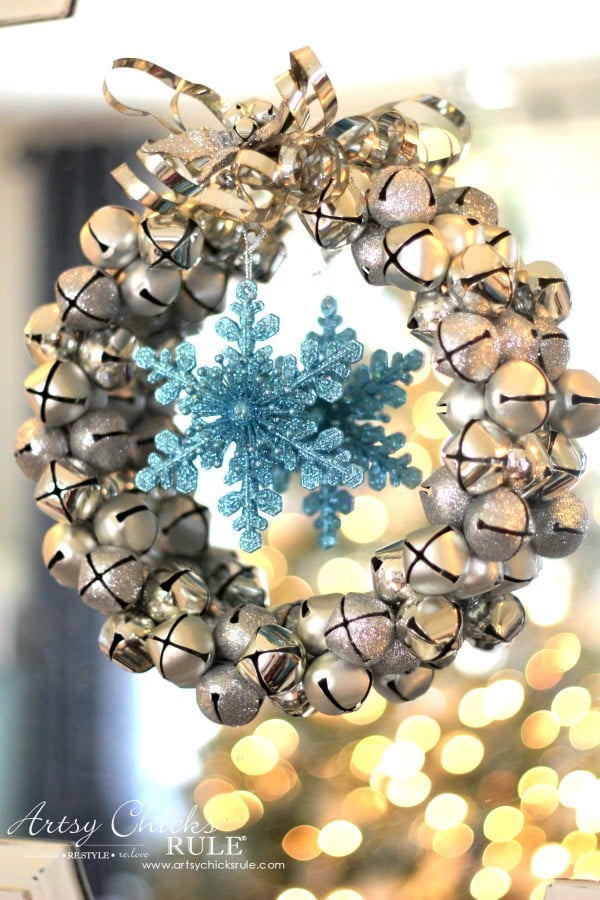 This jingle bell wreath even adorned the front grill on my husband's truck one year! ;)
This year it's hanging on my mirror over the dresser with a pretty blue snowflake in the middle.
Aren't the lights from the tree so pretty in the reflection?
The pillow below was one I painted with Chalk Paint® a few years ago.
The other side says "I've Been Nice"…oops, I put the wrong side facing out. ;)
Will have to fix that!! lol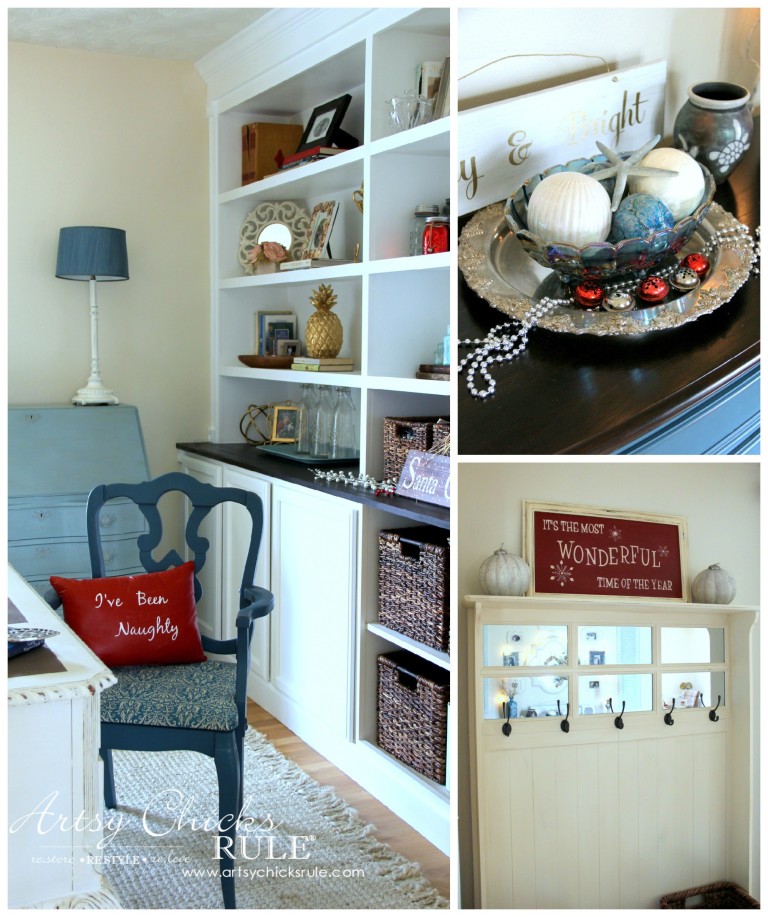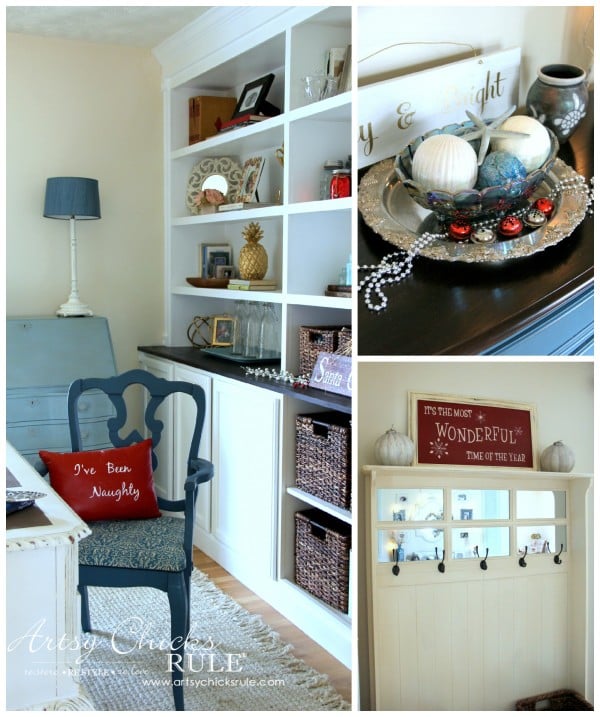 The "It's a Wonderful Life" sign is a Pottery Barn inspired sign I made a couple years ago.
I put it over my hall tree this year with a couple over sized ceramic ornaments I usually use on the porch.
So I do have a few pops of red in this otherwise blue and white room.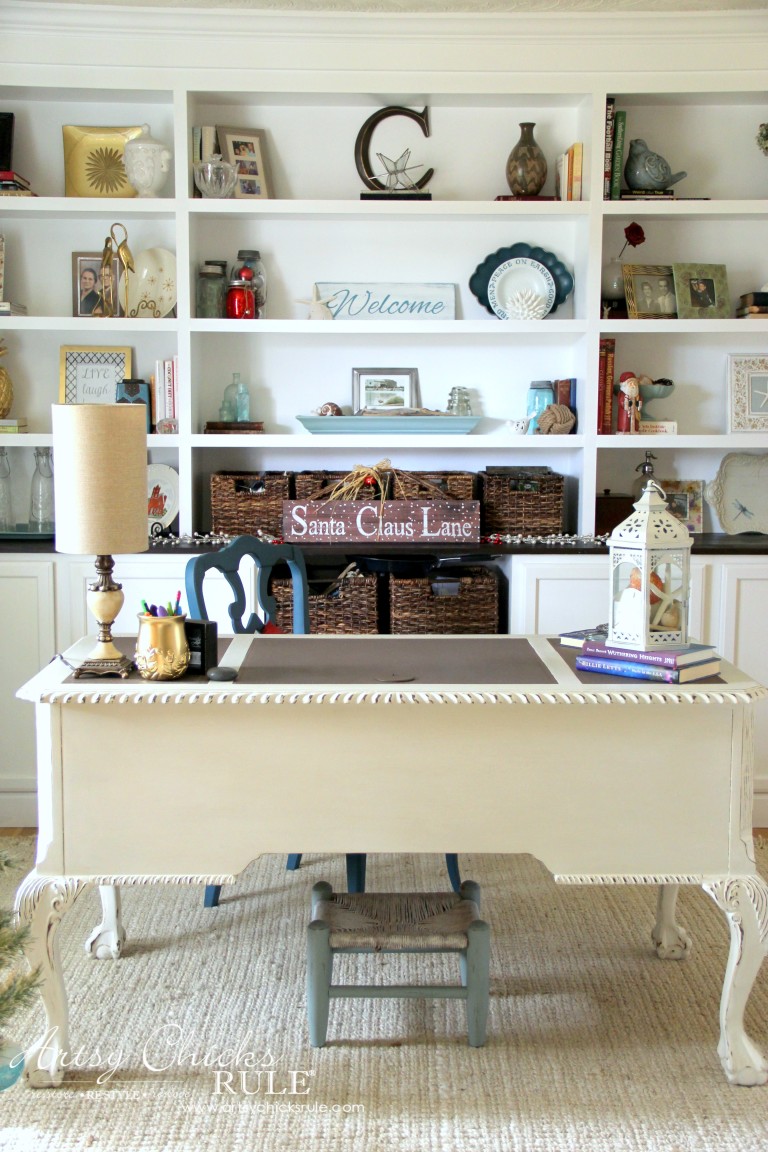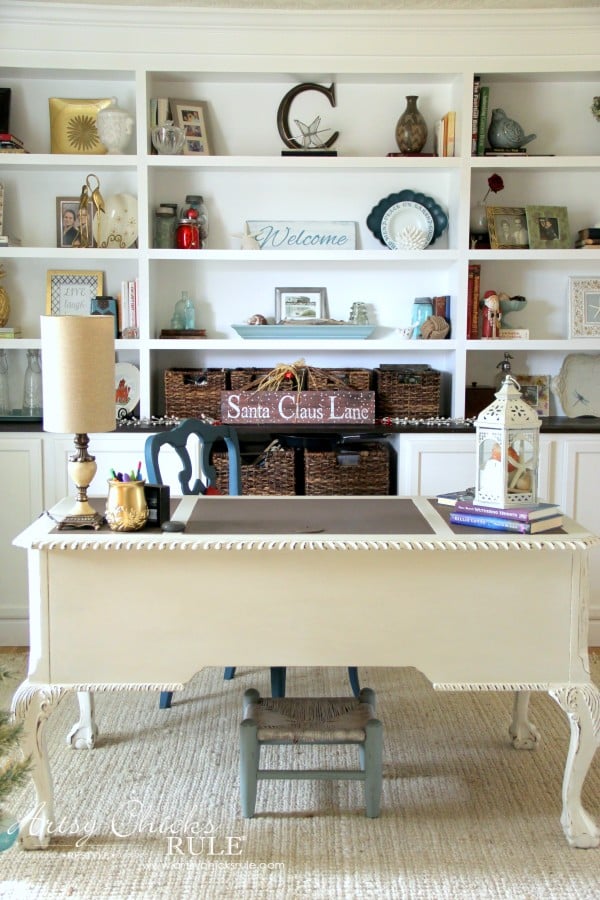 The "Santa Claus Lane" sign was a thrift store find last year, I think.
The "Peace on Earth" bowl was a metal bowl I found at the thrift store a few years ago…and painted!
I filled some of my blue Ball Mason jars with ornaments and pine cones.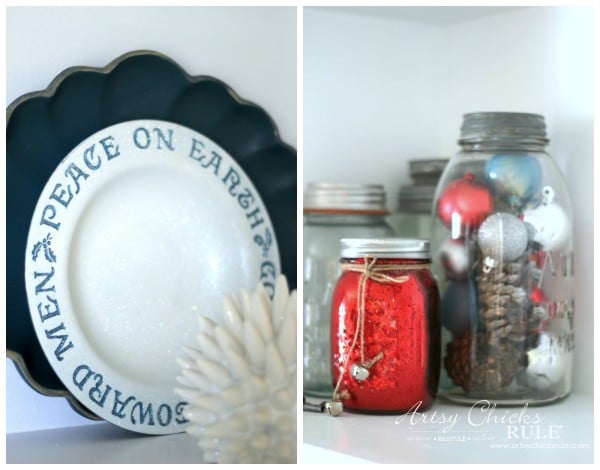 And Santa…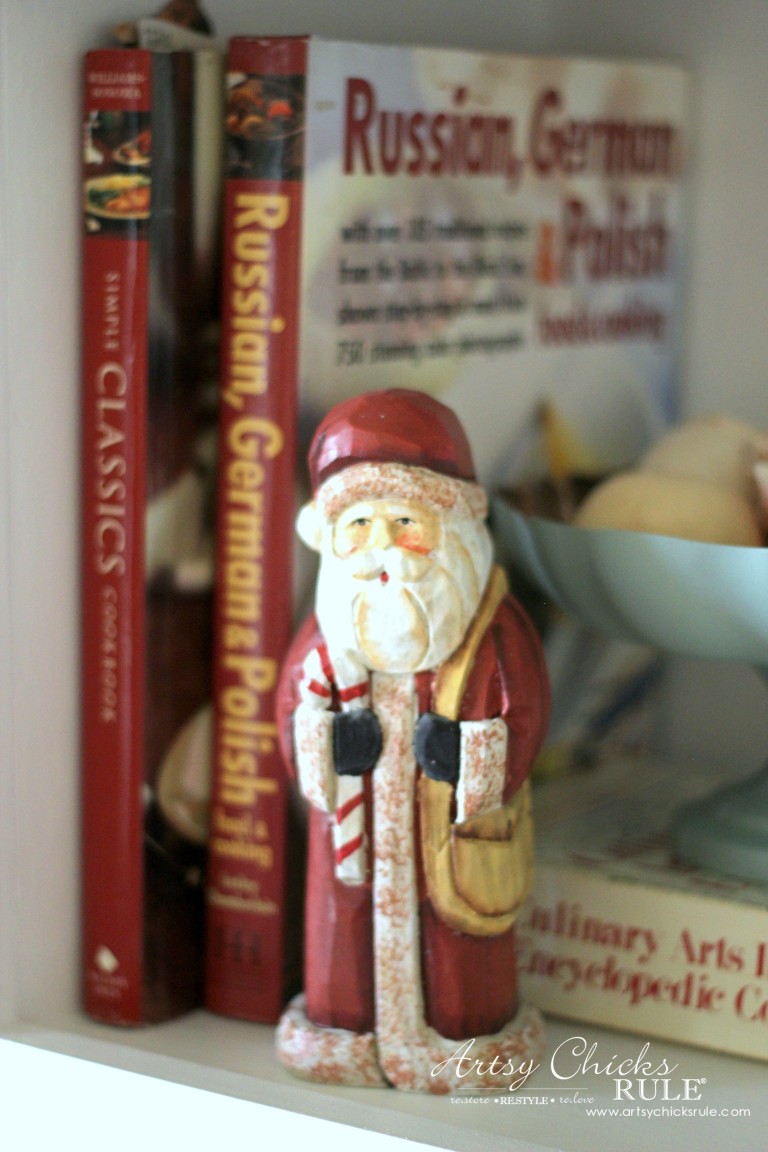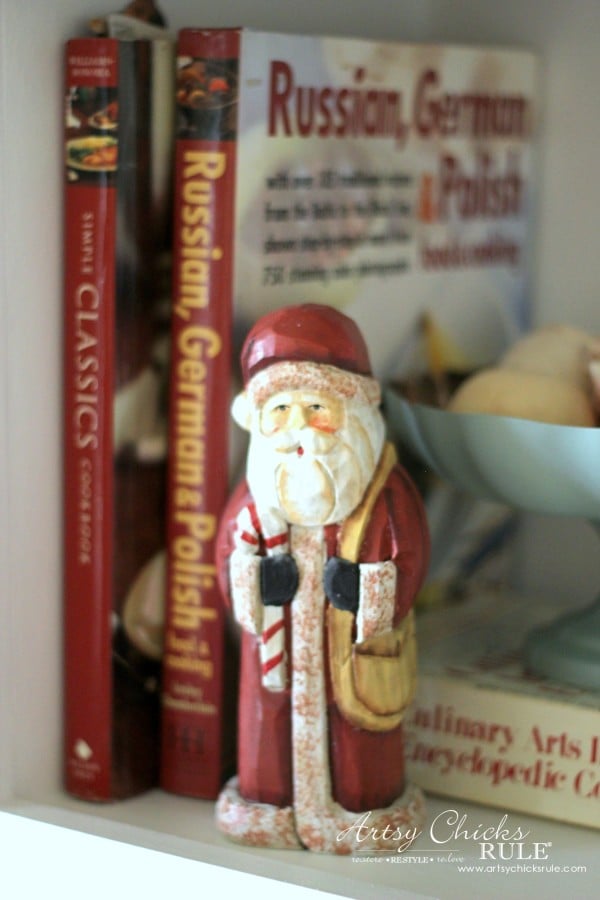 On this side of the room I have a Victorian era hall tree from the 1870's.
(it's only here because I have nowhere else to put it at the moment)
I found it at an estate sale of a home that was originally a Civil War boat captain's. (built in 1890)
I'm thinking this hall tree was original to the home!
What a find for $85.
It does need a few repairs but the wood is still in beautiful condition.
It just needs a good cleaning and polish.
The trays at the bottom were replaced with round (cheap) brass ones.
I would LOVE to find the original scalloped ones that belong there.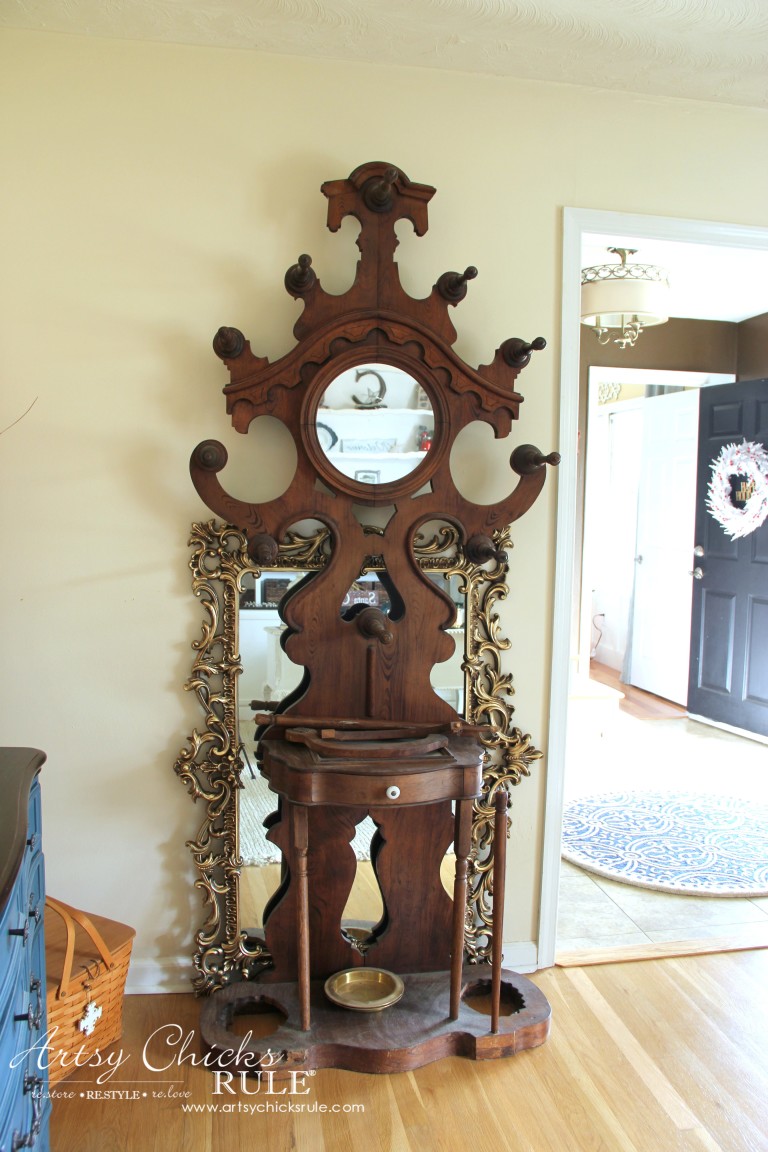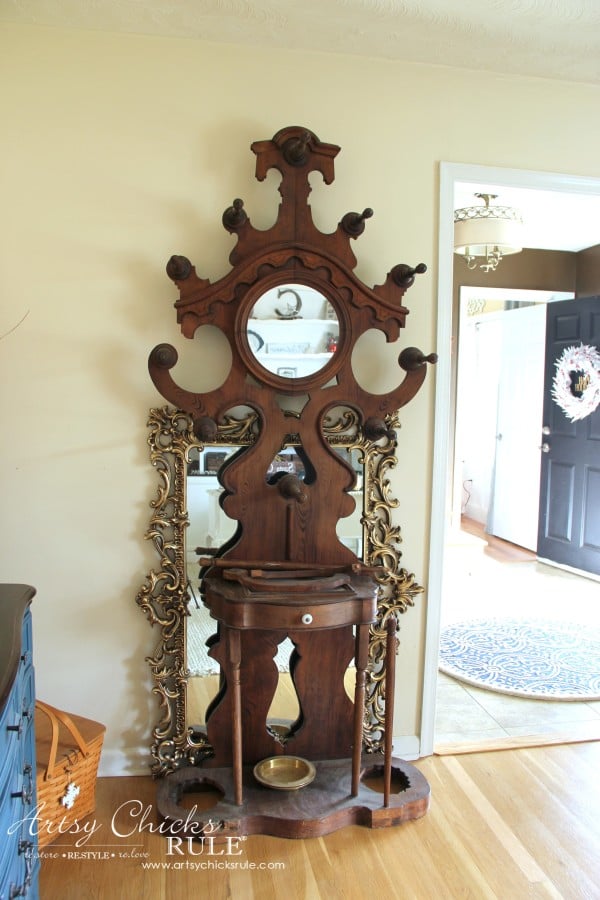 The beautiful ornate mirror behind it was found just a week or so ago for $20 at my local thrift store!
Isn't it a beauty?
I shared both of these on Instagram at the time I found them.
I usually do like to share my treasures as I find them over there! ;)
Looking back towards the front door from the dining….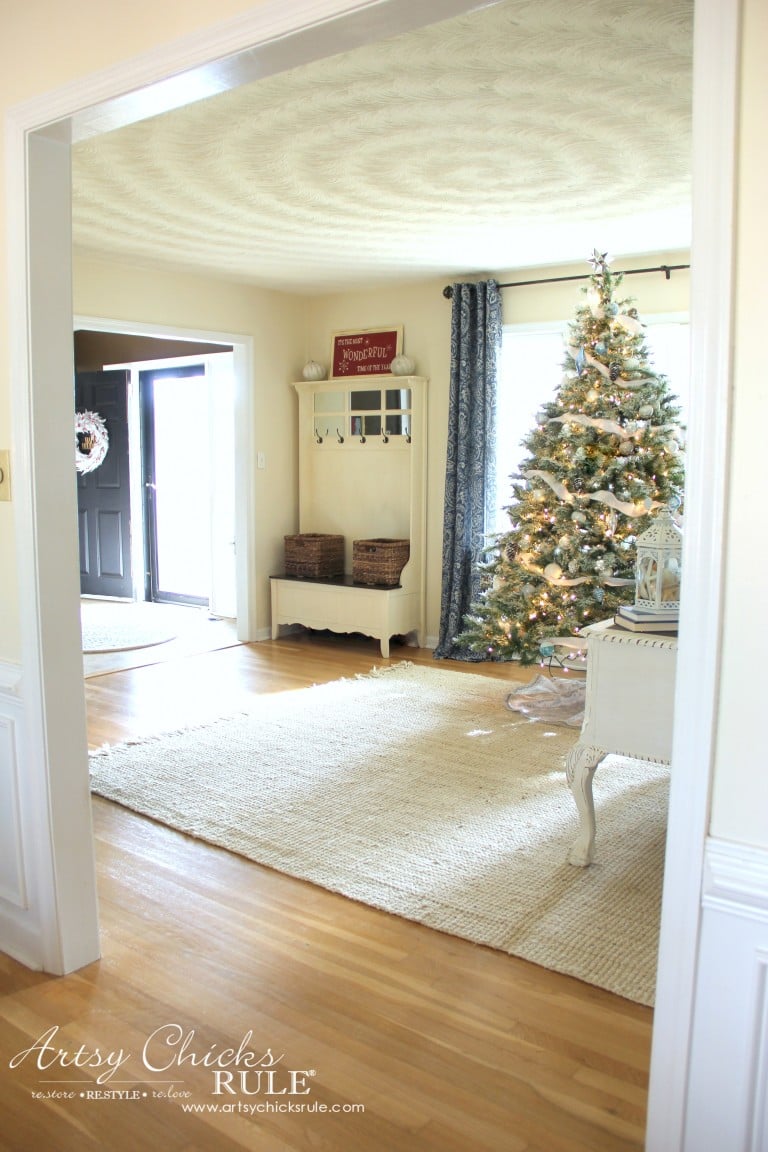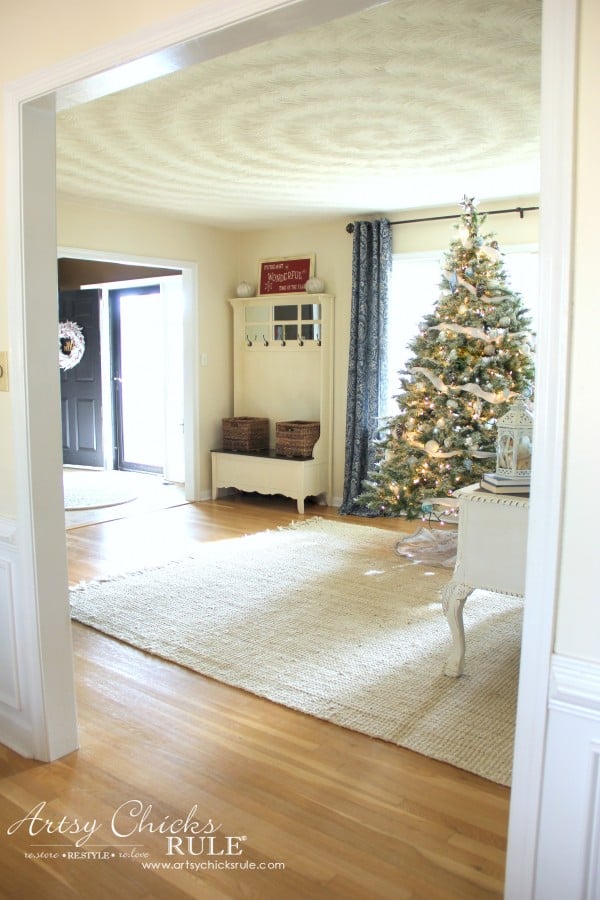 You can better see the hall tree with the sign above.
(which in all honesty is never that empty!! ha…but what's a hall tree for?)
And looking into the dining….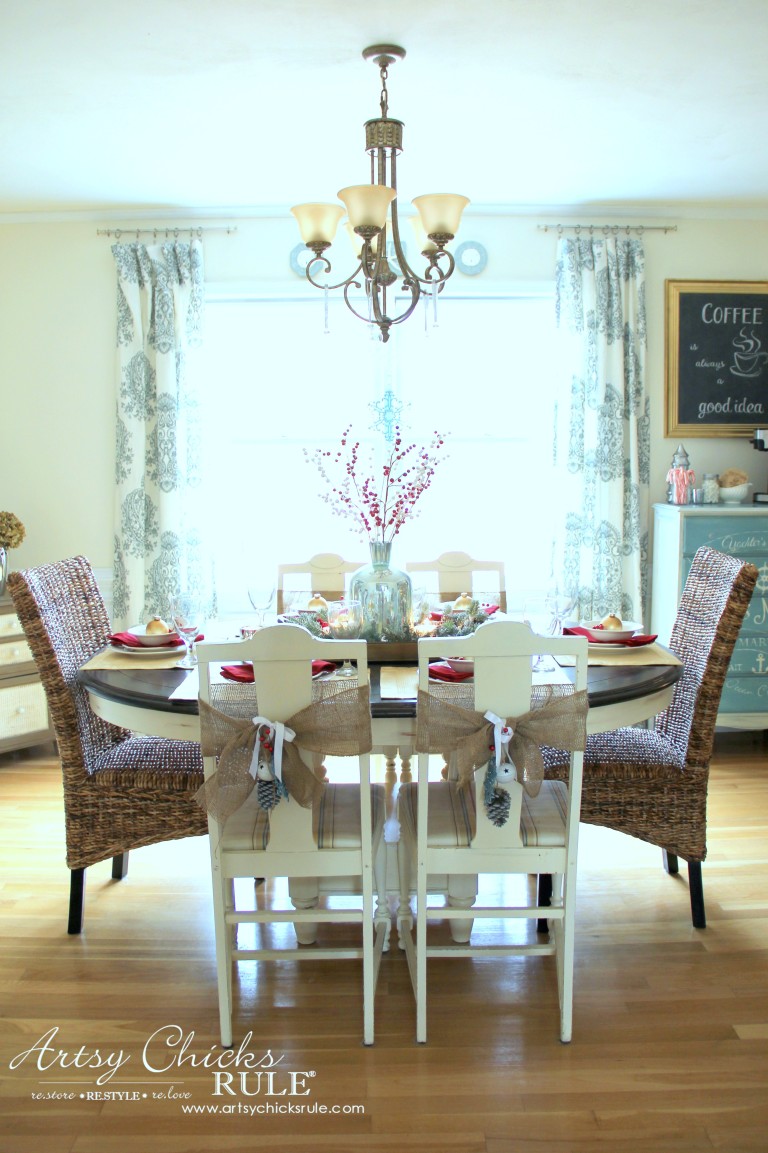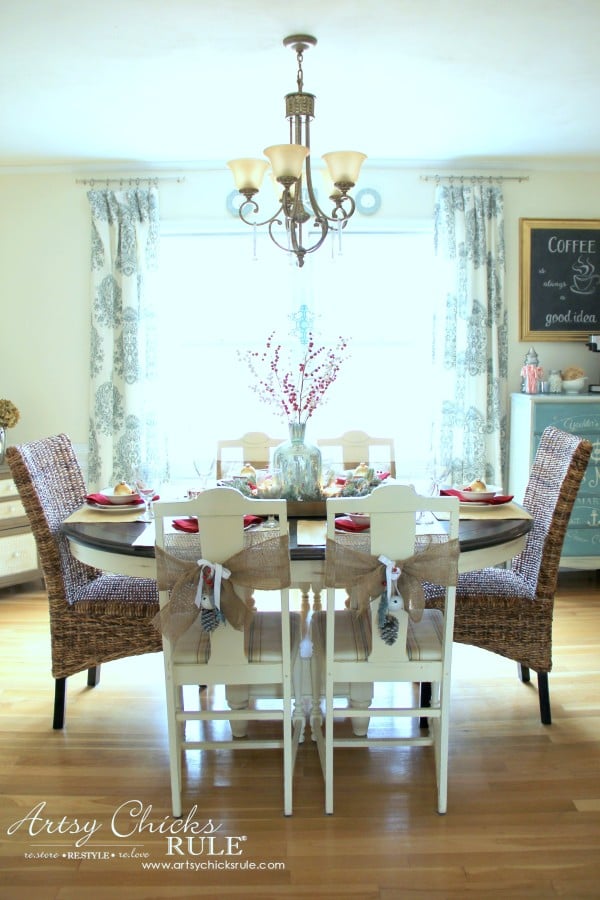 I decided to use the burlap chair wraps again this year.
They are just so pretty and really dress up the chairs.
I also decided to create an festive table setting with gold and red….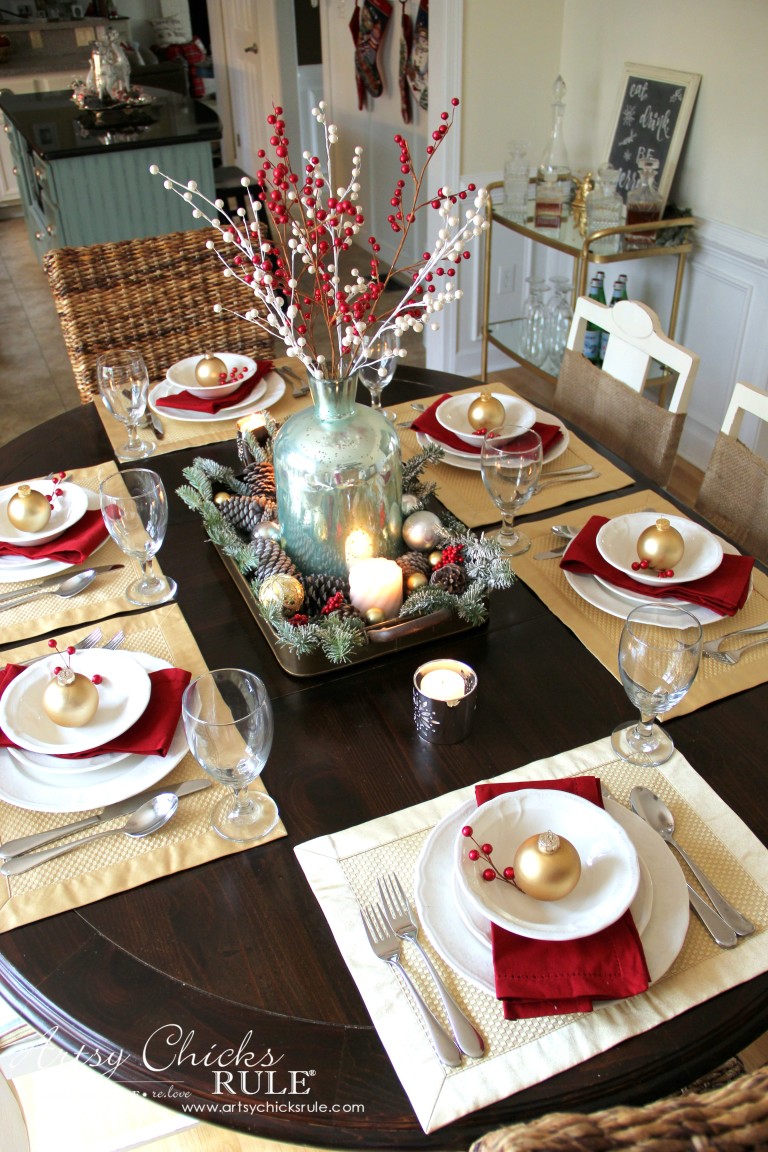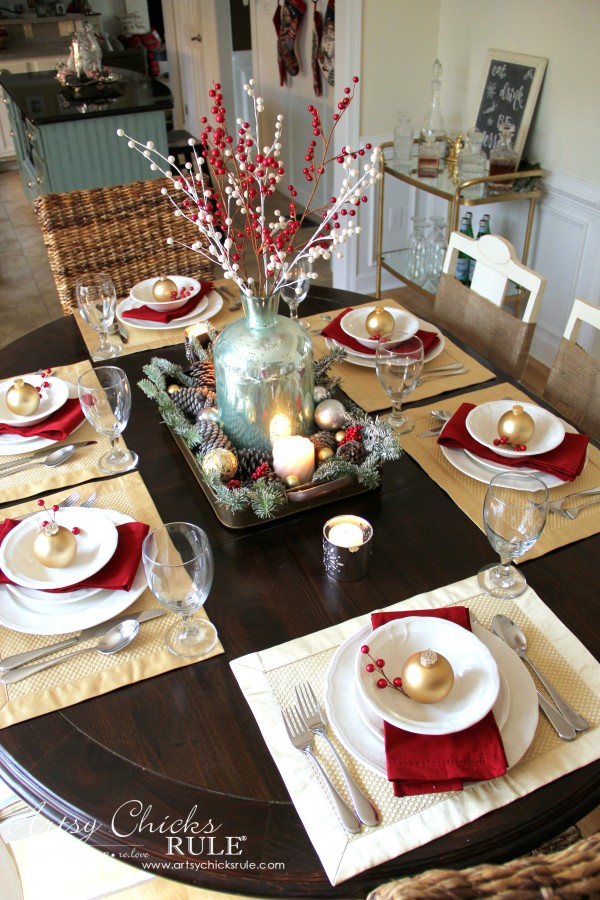 The centerpiece is a copper tray I've used in previous years. (it came from Target on clearance)
The aqua vase is from At Home.
I decorated it simply with ornaments, fresh greenery & pine cones, berries and candles.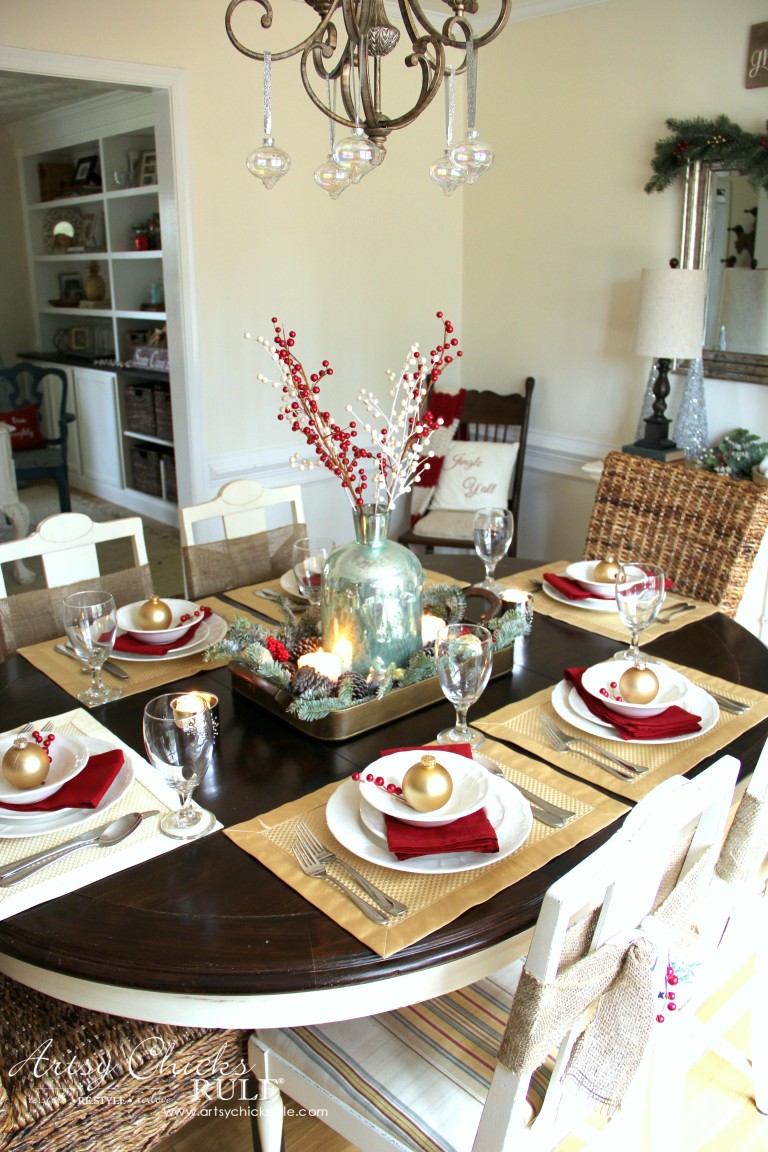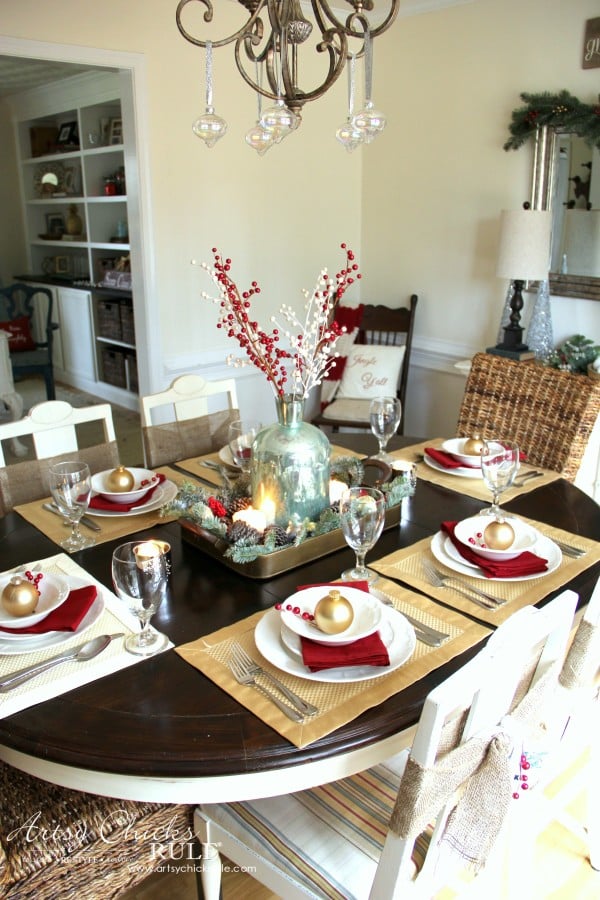 A simple gold ornament and red berries dress it up a bit.
The clear, iridescent glass ornaments hanging from the light came from Big Lots, 6 for $5!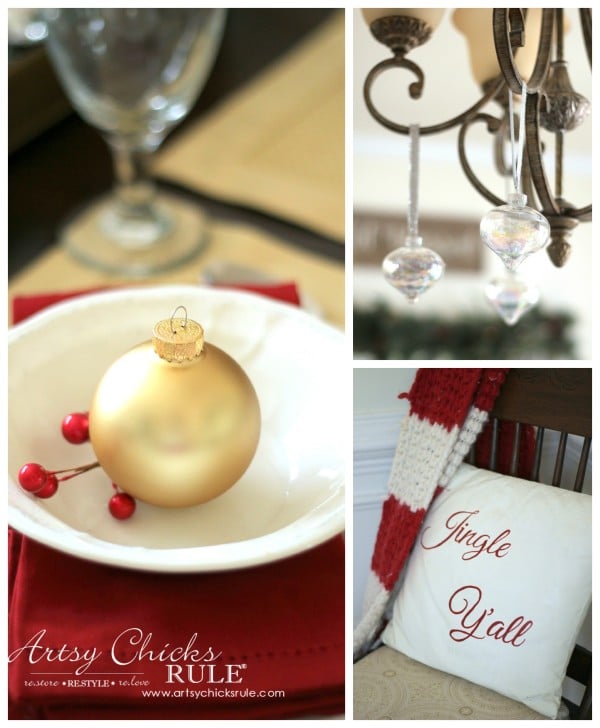 The "Jingle Y'all" pillow is another Chalk Painted® pillow sitting in a thrifty chair I also made over.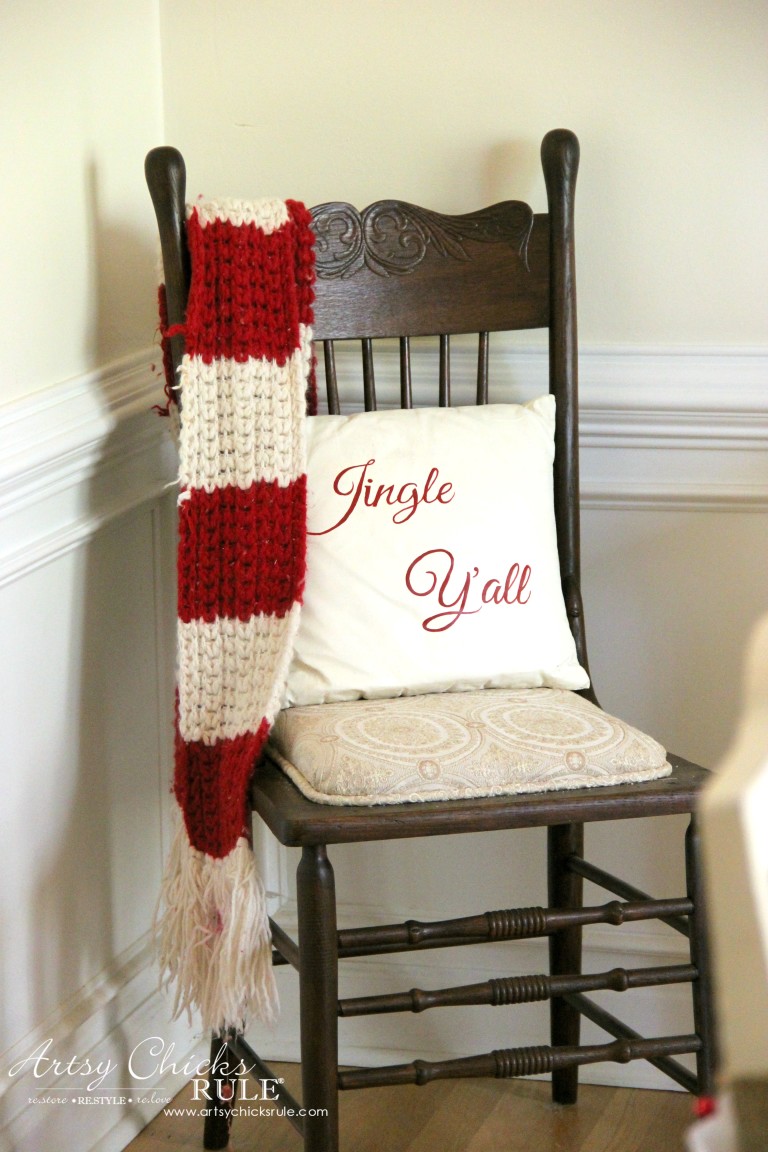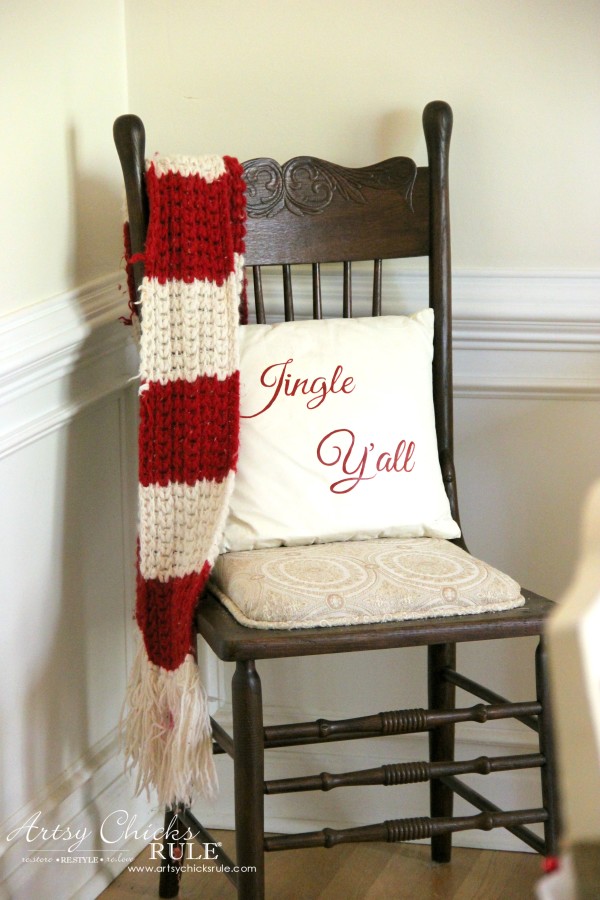 I am still really loving these curtains from TJ Maxx.
(I believe the brand was Nicole Miller)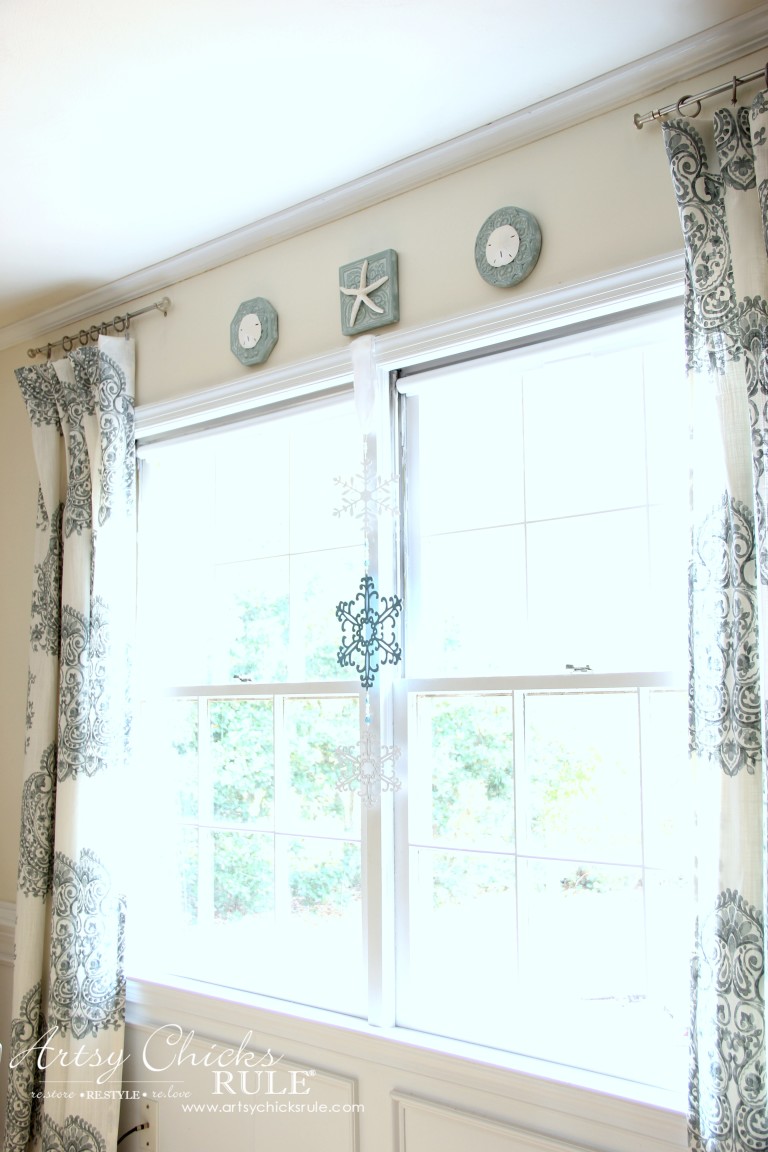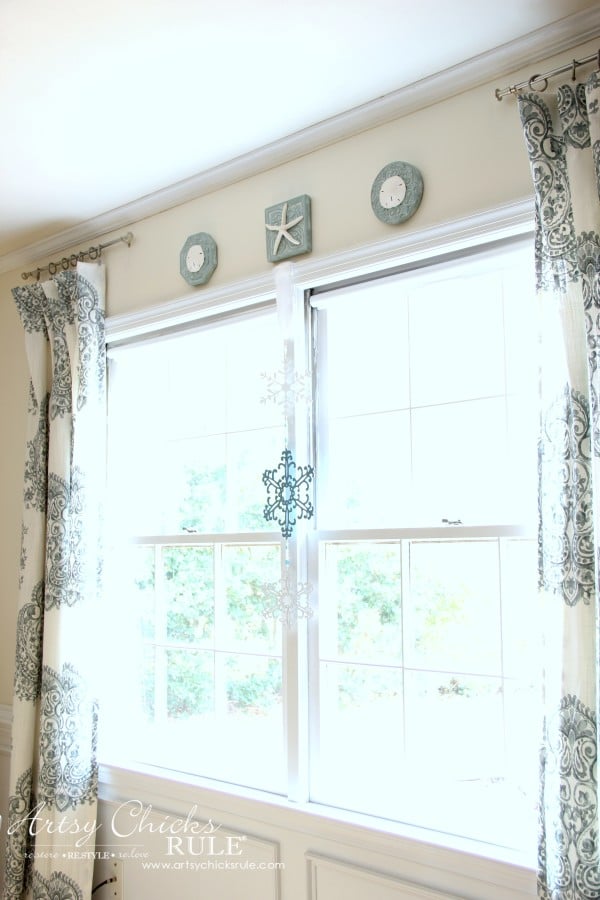 I hung my "DIY Snowflake Wall Hanging" in between the windows here.
These little guys were old thrift store finds. (in poorly painted color)
I sprayed them gold and look how elegant and beautiful it made them.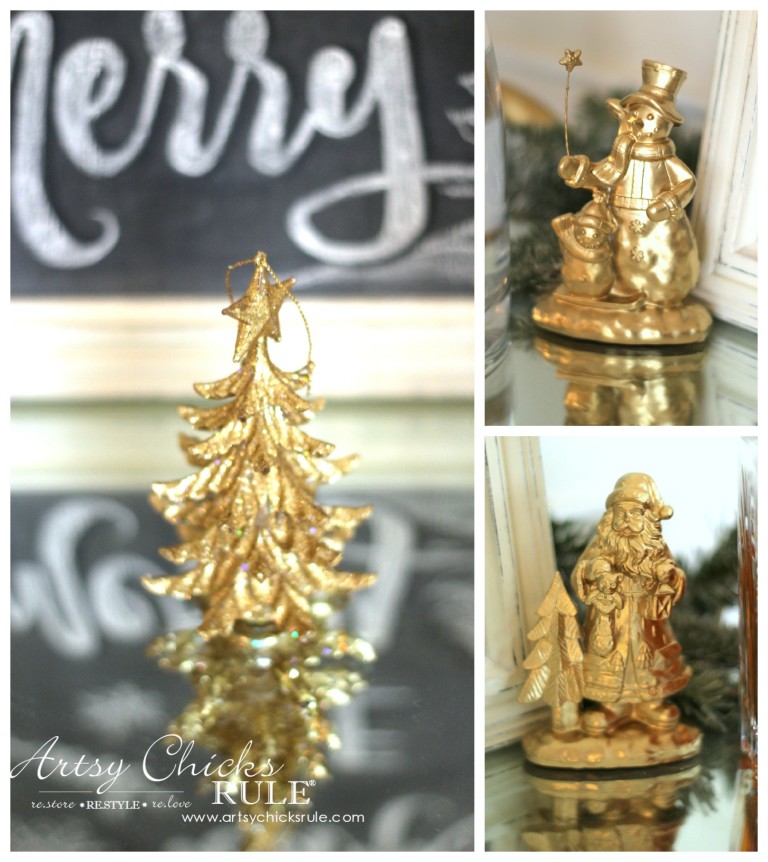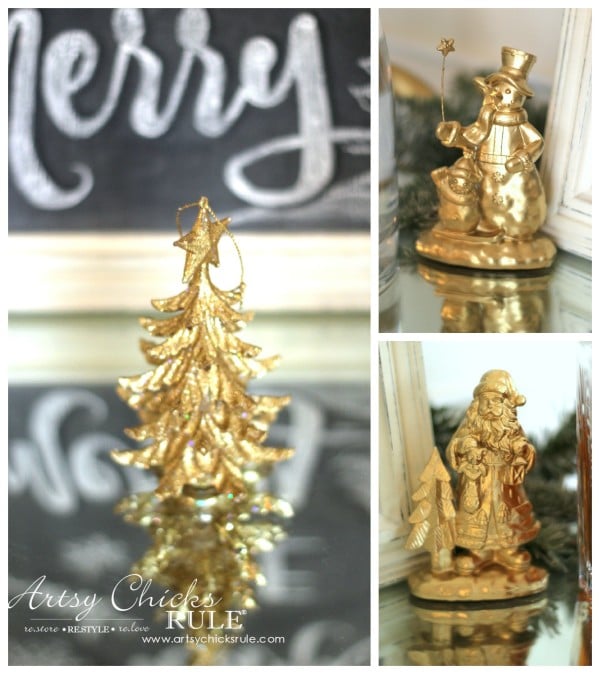 They are on the "new" beverage/bar cart with the chalkboard and chalk art I just created.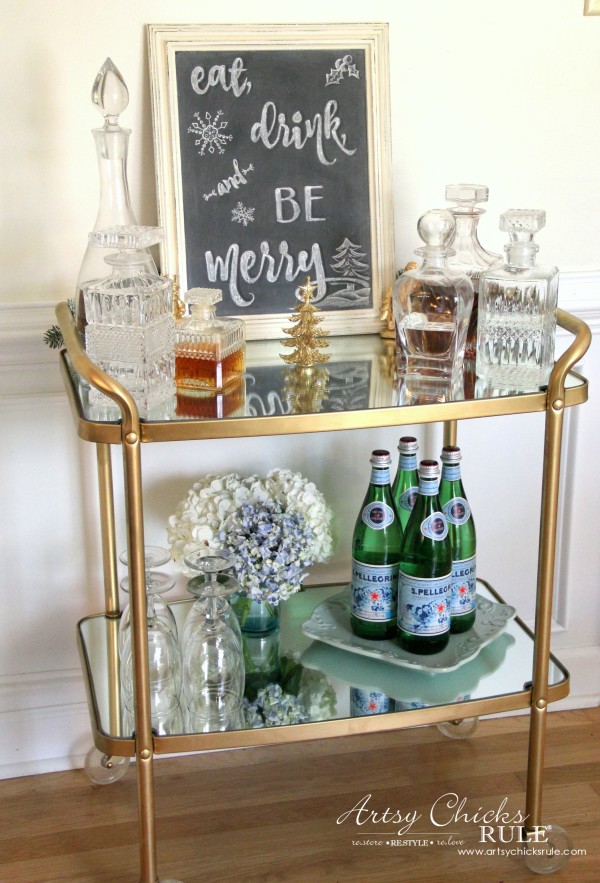 I'm also loving the smaller coffee bar here.
Everything needs a Santa hat on it, don't you agree?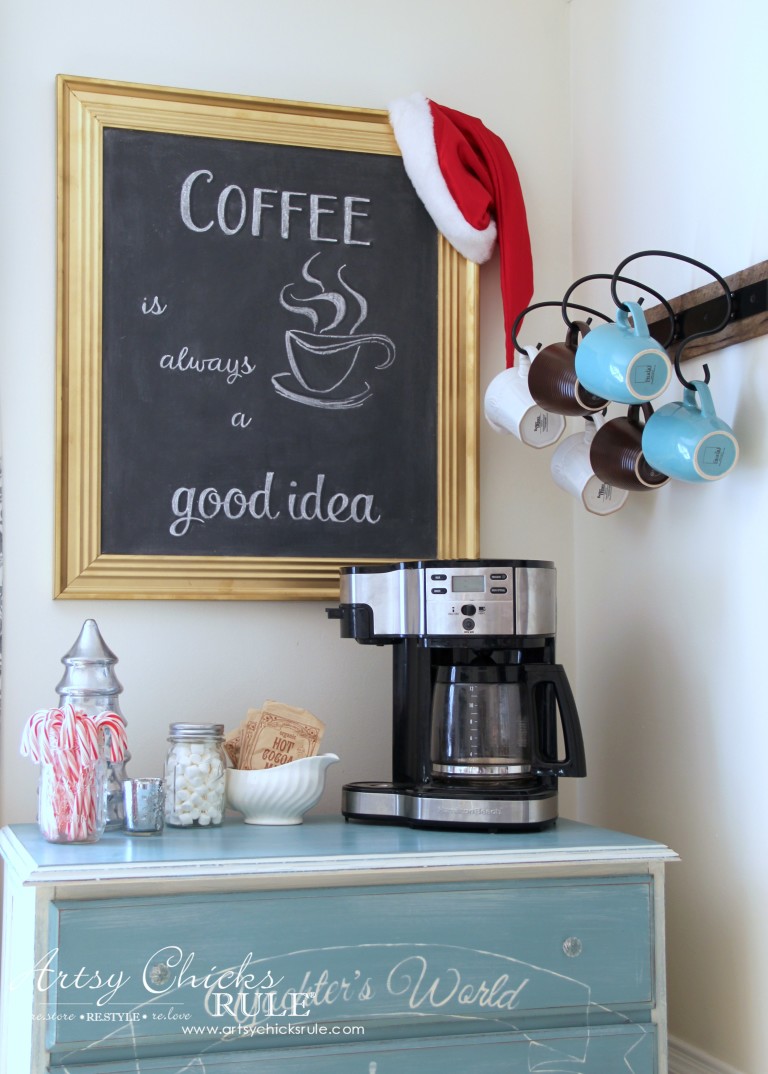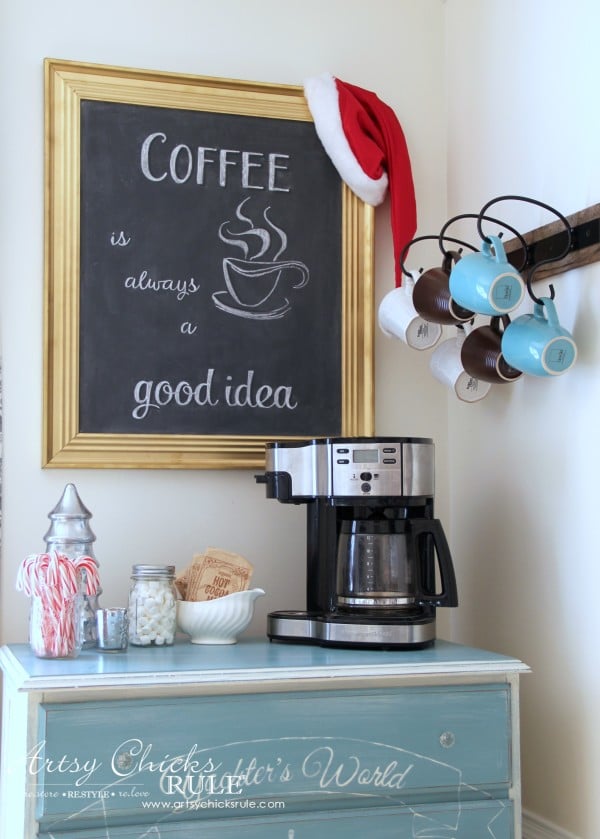 I created a little cocoa station with cocoa, candy canes and marshmallows.
The coffee mug rack is new.
I ordered it from Amazon but in trying to share the direct link for you, have found it's currently not in stock.
I will try to check again and edit, if possible.
It's only the metal portion, however.
I wanted it to look a bit more rustic so added a piece of old pallet board.
(it was super easy to do, so you could do the same if you like the look)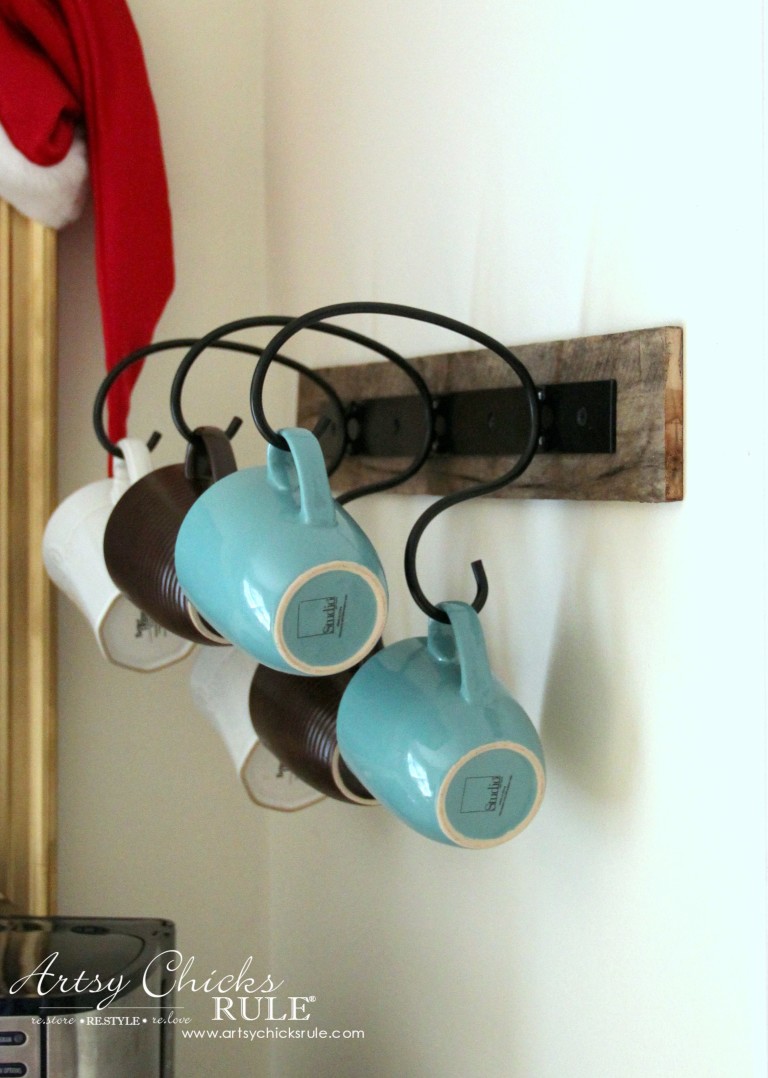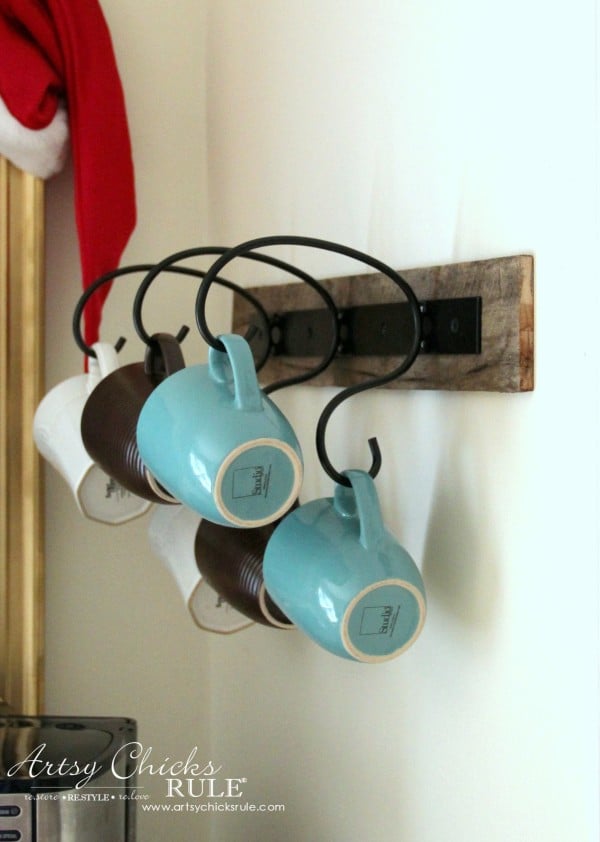 On the back wall is my buffet. (which used to be an entire cabinet with a glass top, I've since removed)
The "grateful, thankful, blessed" sign can be found –>> here.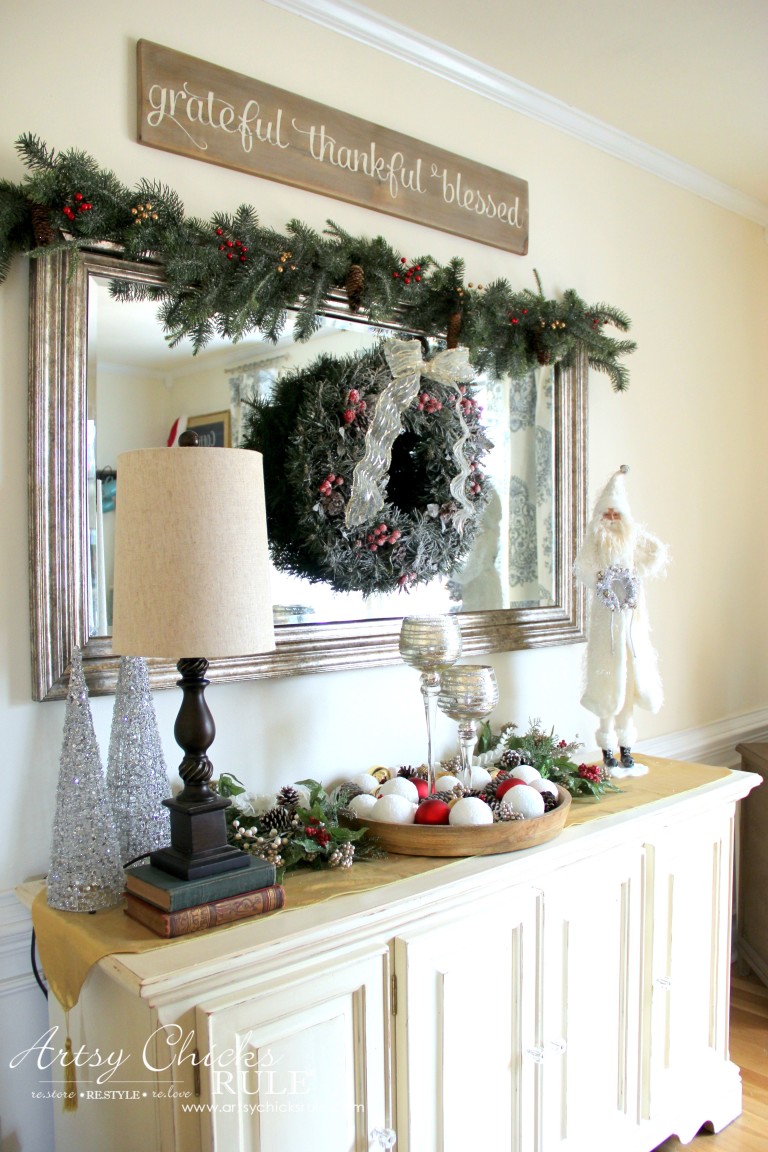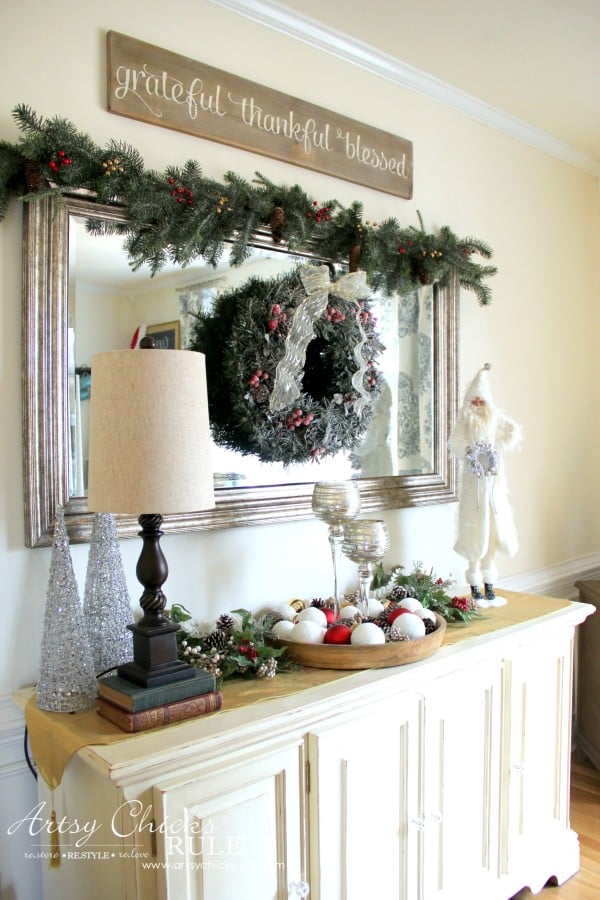 Again, I kept things a bit more simple this year.
Silver trees, some greenery, candles and ornaments (and "snowballs").
The wreath is one I also made and then flocked.
The greenery at the top of the mirror is from Michael's.
I added some gold and red berries to dress it up a bit.
I love the more natural look of the decor here.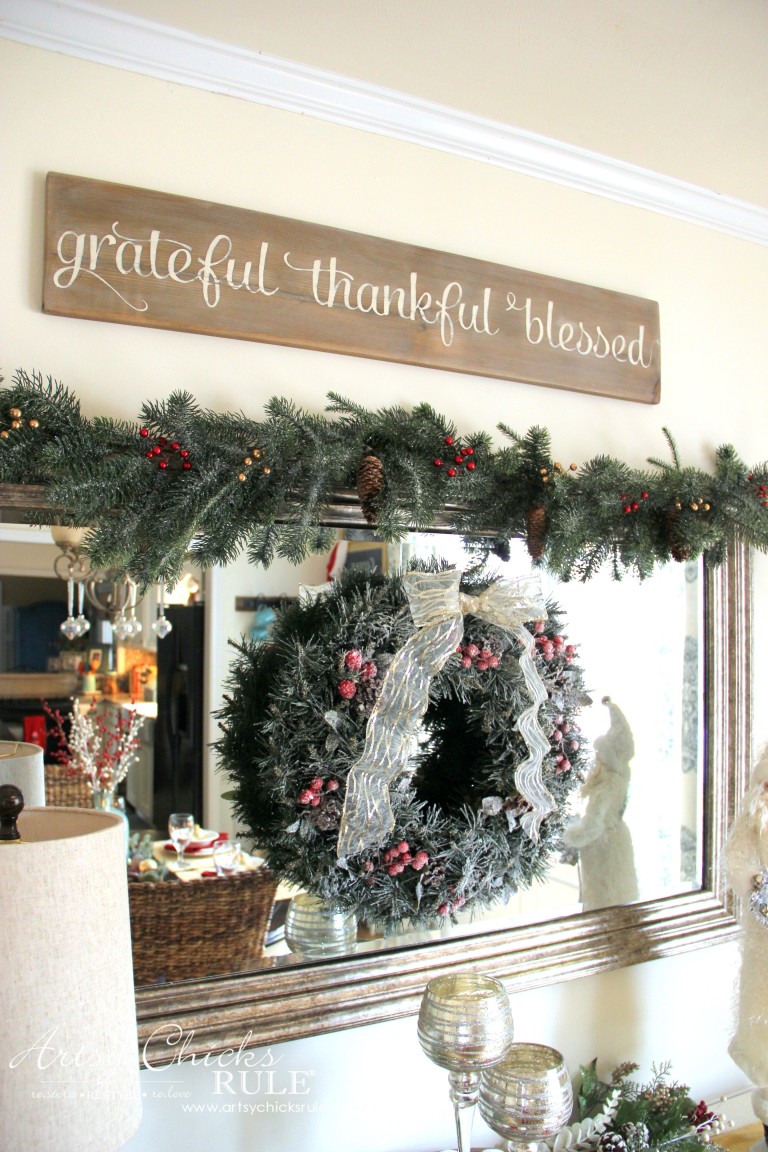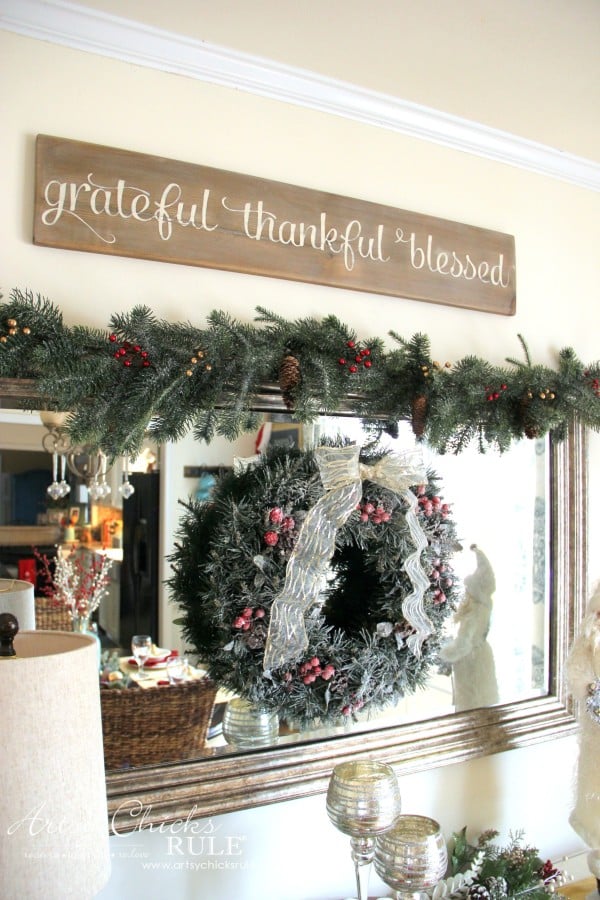 And my Sassy Santa too, of course!! (he came from At Home also)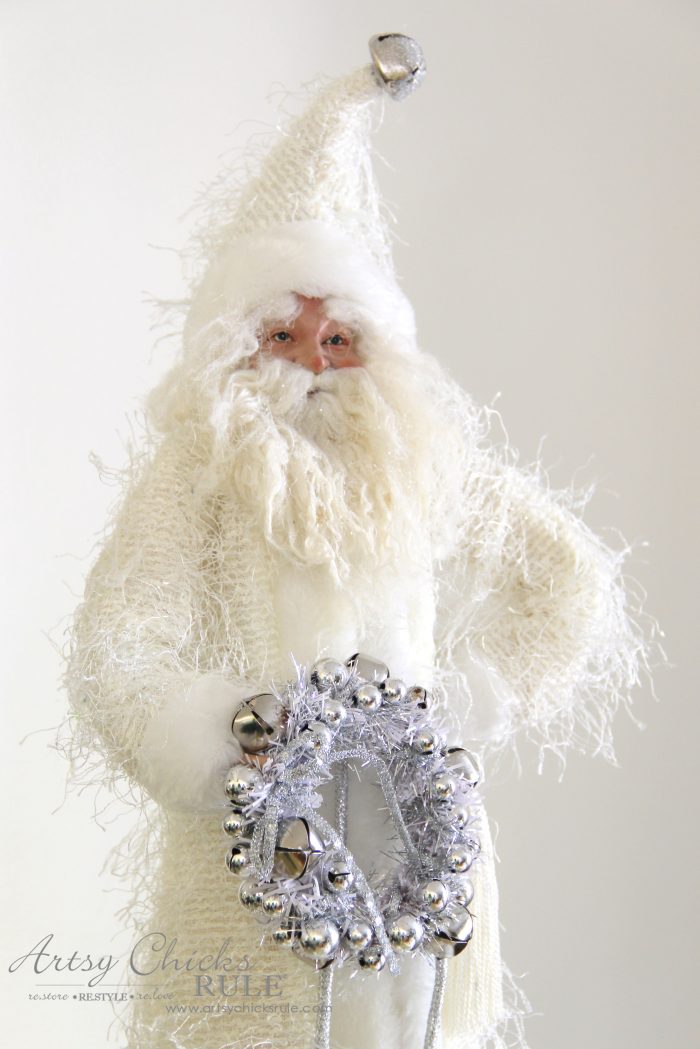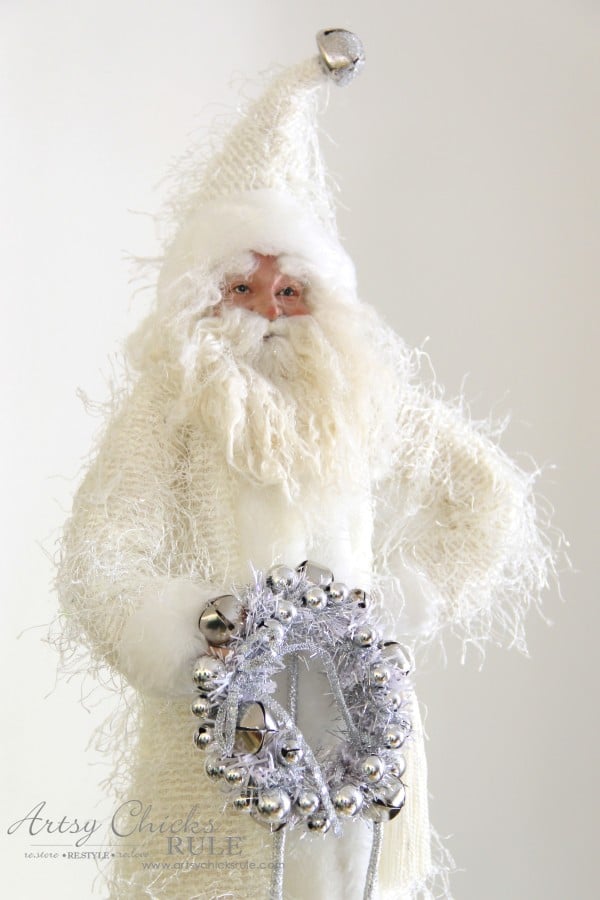 The kitchen island got these whimsical deer (Michael's).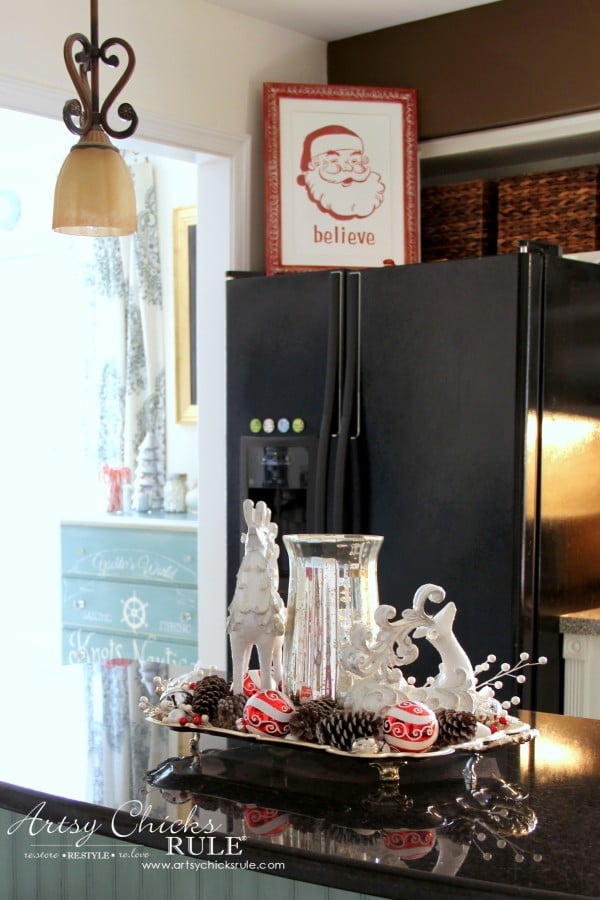 Sitting on a metal tray from the thrift store filled with pine cones and ornaments.
The "Santa Believe" sign is up on the refrigerator this year to welcome all who enter.
That jolly face just makes me happy!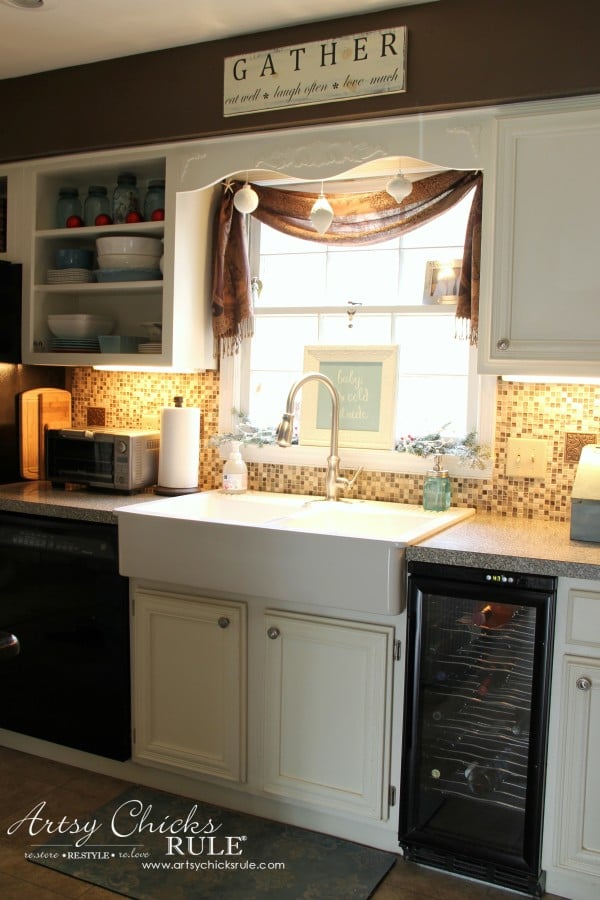 I hung three cream colored ornaments from the top, some fresh greenery on the window sill with berries…..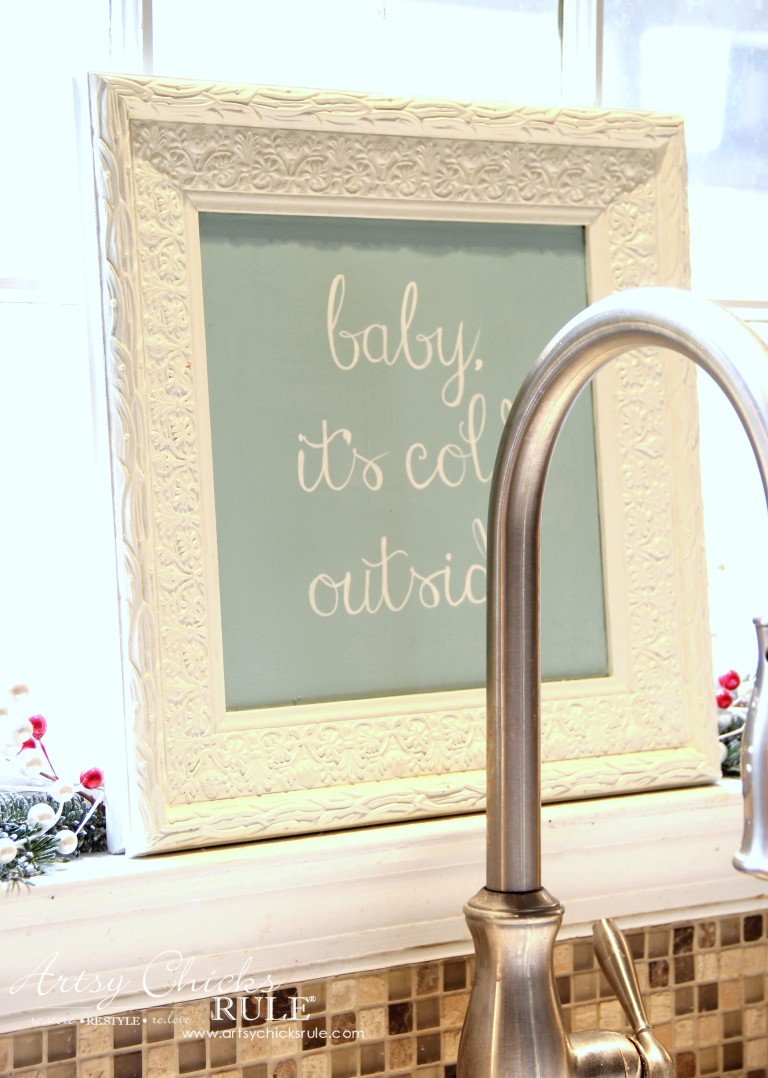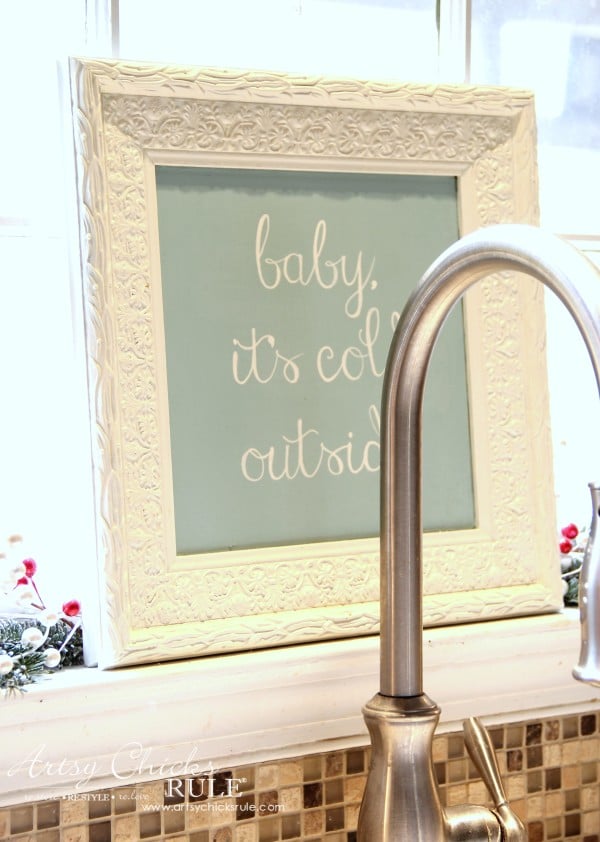 …and this "baby, it's cold outside" sign.
Not much over here except you can see the wreaths on the shutters I shared with you in Part 1 of the tour.
And I did add a bit of greenery and berries on the bar top there.
A red hand towel that says "Calories Don't Count at Christmas".
Well, duh, of course not!! ;)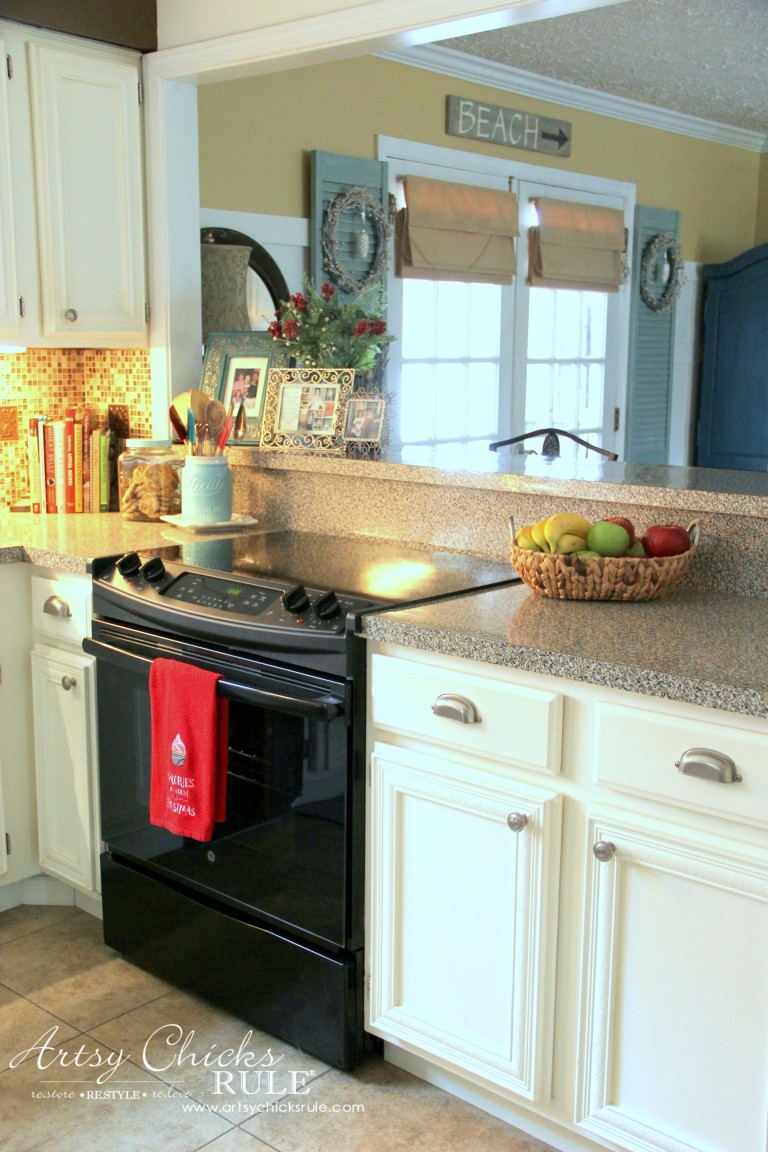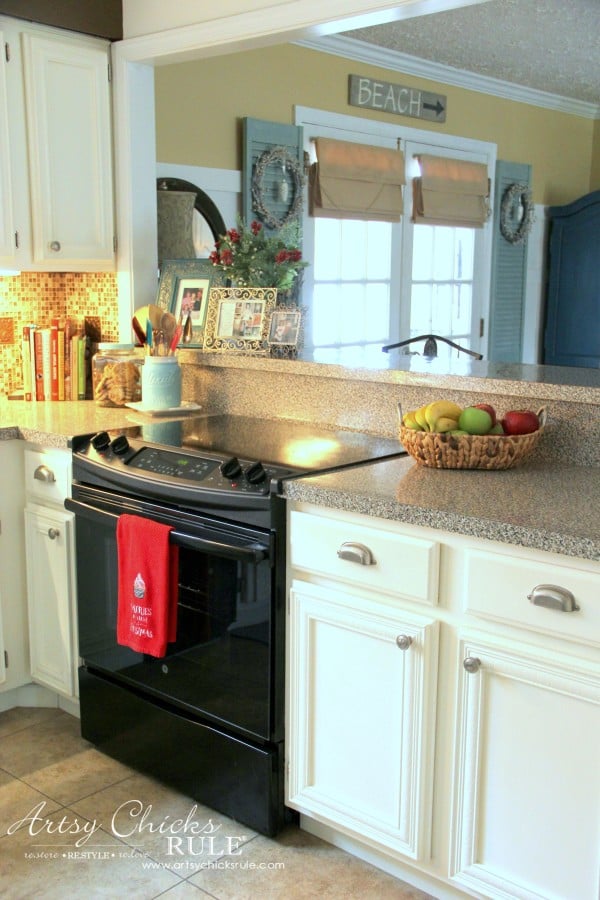 And ya'll!!!!! That is a NEW stove!! Oh my gosh, do you know how long I've wanted/needed one?
The old one wasn't broken but it was old and awful, rusty in places, didn't fit the space well, was white (everything else is black).
And it looked dirty no matter how much I cleaned it..ugh!
Still, I had a hard time pulling the trigger on spending that money since it was working but when the washer went out….done deal!!
Haha…that's what happens when you go shopping for appliances and you have to buy.
I decided it was time to just do it, so I did. ;) Merry Christmas to me!! :)
You also might remember me saying things are changing around here.
New paint in the dining room and new paint in the kitchen. (no more yellow)
Well, I also changed the main gallery wall decor too.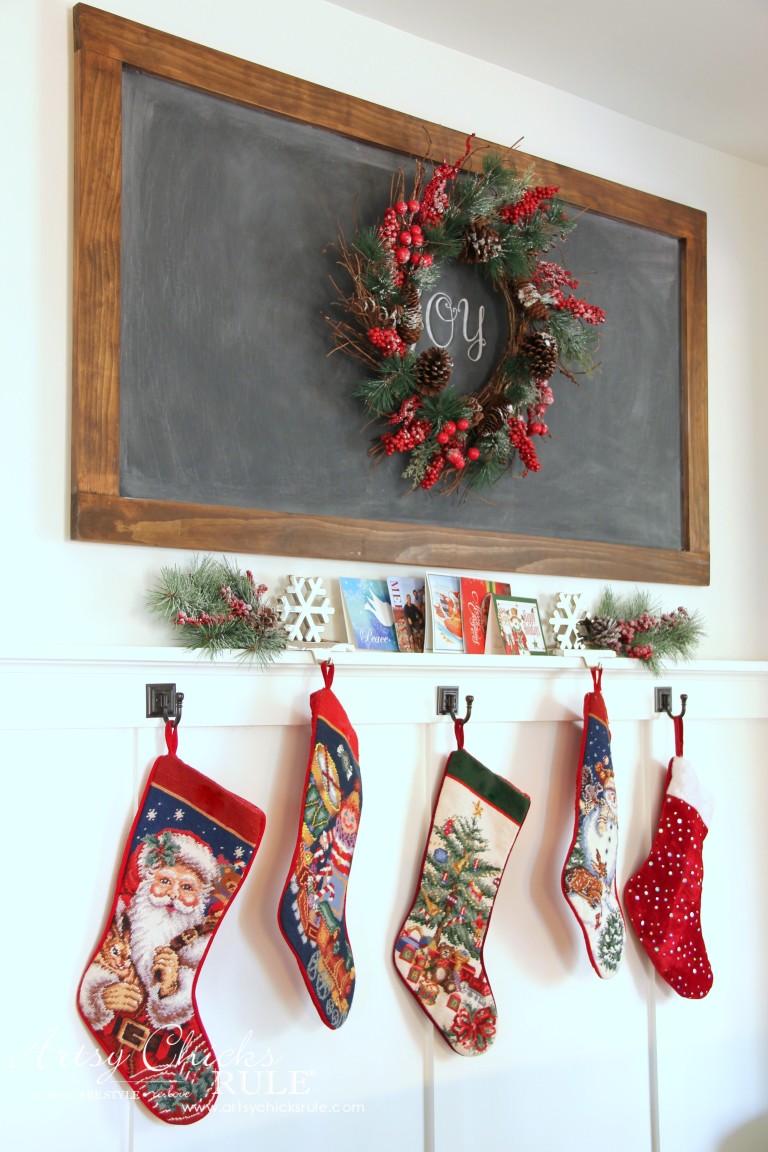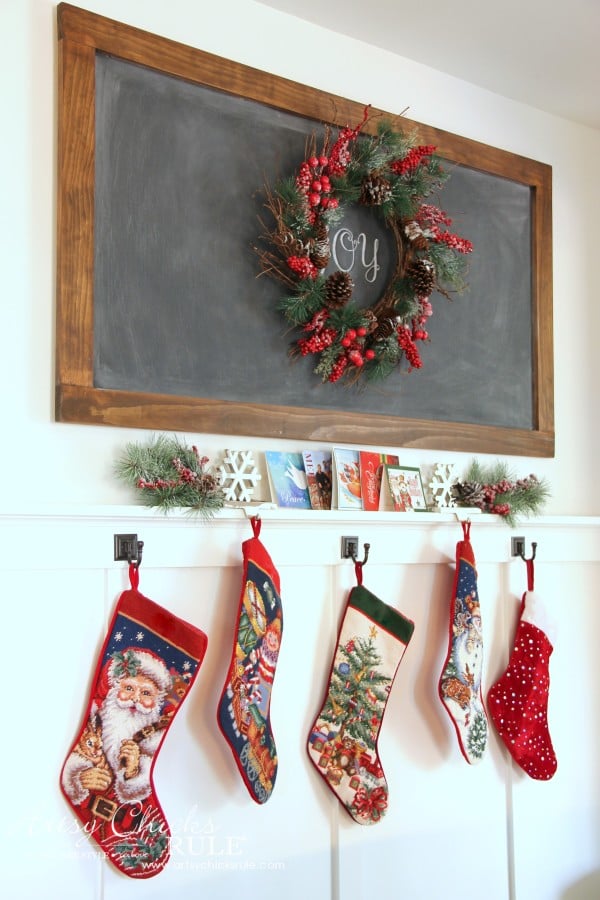 Yep, all the rest is gone and in it's place is this perfectly rustic, farmhouse styled chalkboard.
The ledge is quite full of Christmas cards since taking this photo.
I usually line them up along the bar top but thought the ledge here would be perfect.
They look so pretty lining it down the length of the wall.
And in case you were wondering, this is where I decided to hang the stockings this year.
Fun and different!
I have to tell you though, my 17 year old son was none too pleased. ;)
He said, "Mom, the stockings have to be hung on the fireplace, that's weird!"
Haha, I said, " Well, what if we didn't even have a fireplace? What then, huh?"
"Mom, we have a fireplace."
Okay, I lose. But the stockings are staying put. hee hee
Until Christmas morning, of course, when Santa fills them and lays them back over at the fireplace.
He is okay now, he is my one that does not like change.
Poor fella is living in the wrong house! ;)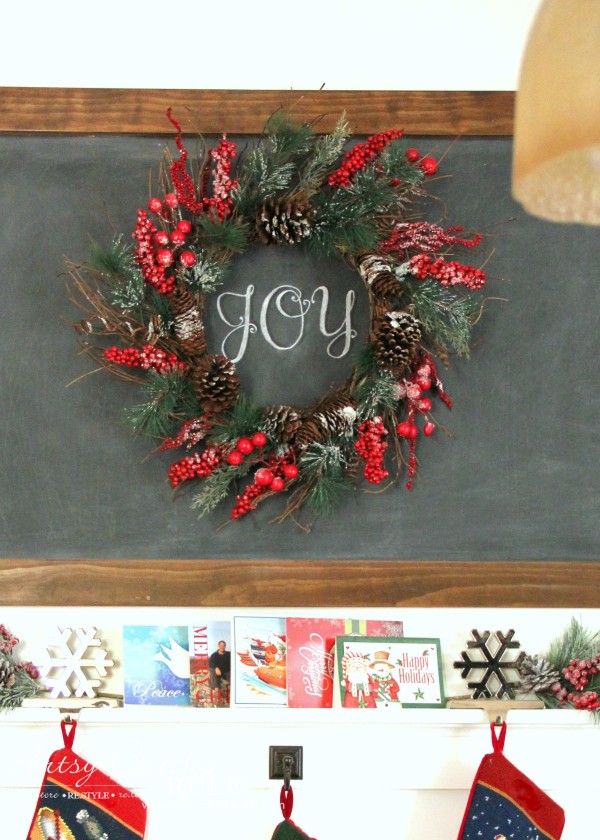 A little "JOY" chalk lettering in the middle….and I'll have more on this DIY chalkboard in the new year.
Well, friends, that concludes my Christmas Home Tour.
I'm so happy to have been able to share it and all of the thrifty decorating tips with you.
If you missed Part 1, you can see it –>> here.
If you'd like to see previous years Christmas Home Tours to see how differently I used all of these items, you can visit them here.
Merry Christmas Friends! :)
I'll be back on Saturday with a bunch of holiday recipes for you, just in time for the holidays!
xo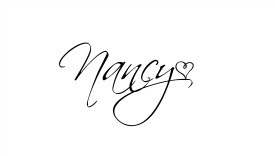 Follow along! –> Instagram ~ Facebook ~ Pinterest ~ Bloglovin