This post may contain affiliate links. Please see disclosures here.
Happy Tuesday Friends!
Christmas is only 10 days away….are y'all ready?? ;)
Wow, has this month flown by or what?!
Well, I have finally finished decorating and getting my house back in order.
I think this is the latest I have ever finished!
So happy I can finally share my Christmas Home Tour with you all.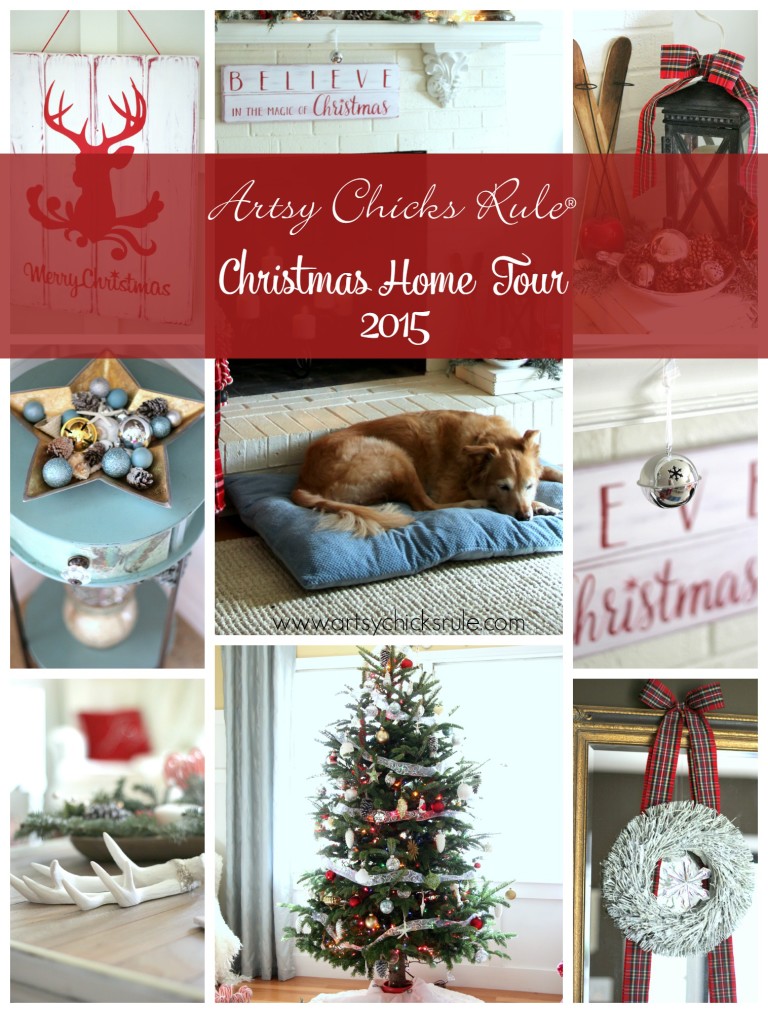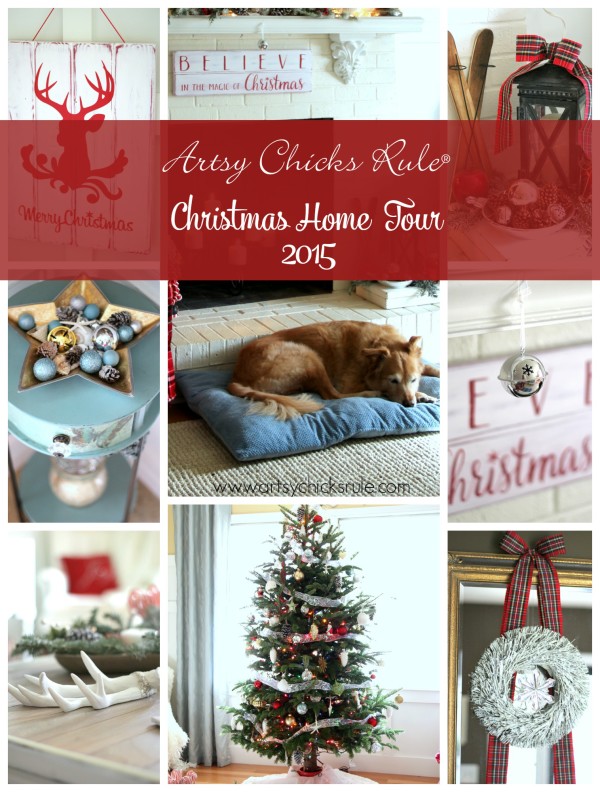 We have had so much going on around here.
Appliances going out, DIY projects to finish and more.
But it is done…and now I can finally sit back and enjoy it all.
Last year my Christmas decor was mainly teal and red.
This year I decided to go a bit more neutral and a little bit simpler.
I thought I'd not use much red but it just didn't feel very Christmas-y without it.
So I added red. ;)
I even added a bit more red to my Coastal Christmas Foyer I shared last week.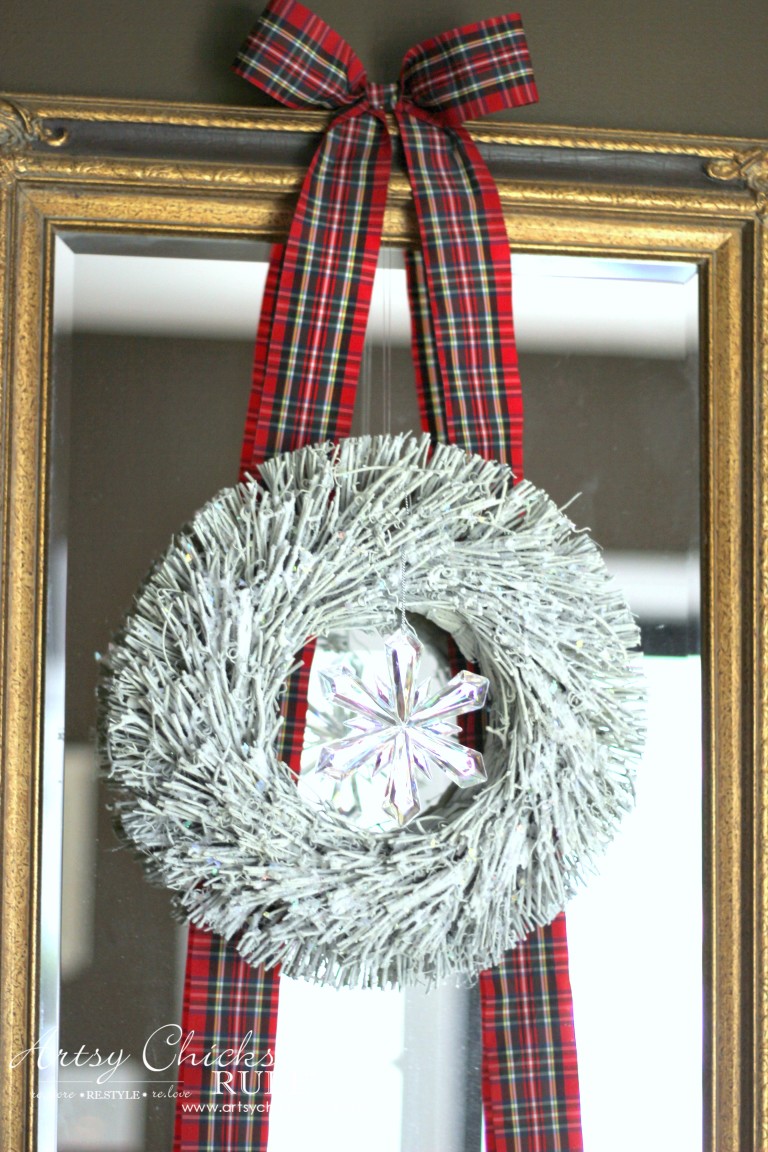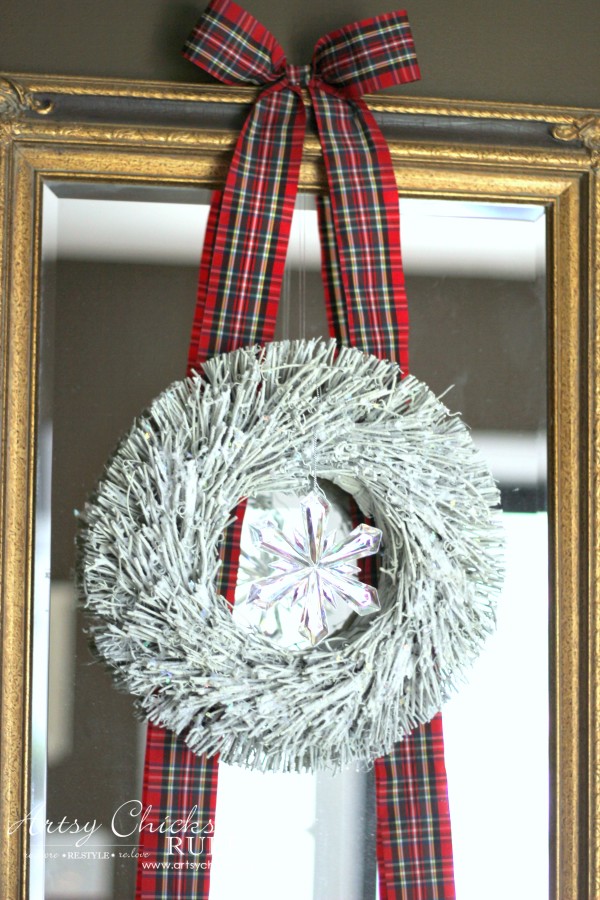 This plaid ribbon I picked up at Target for $1.
I had a few pops of red in here but I thought it just needed a bit more.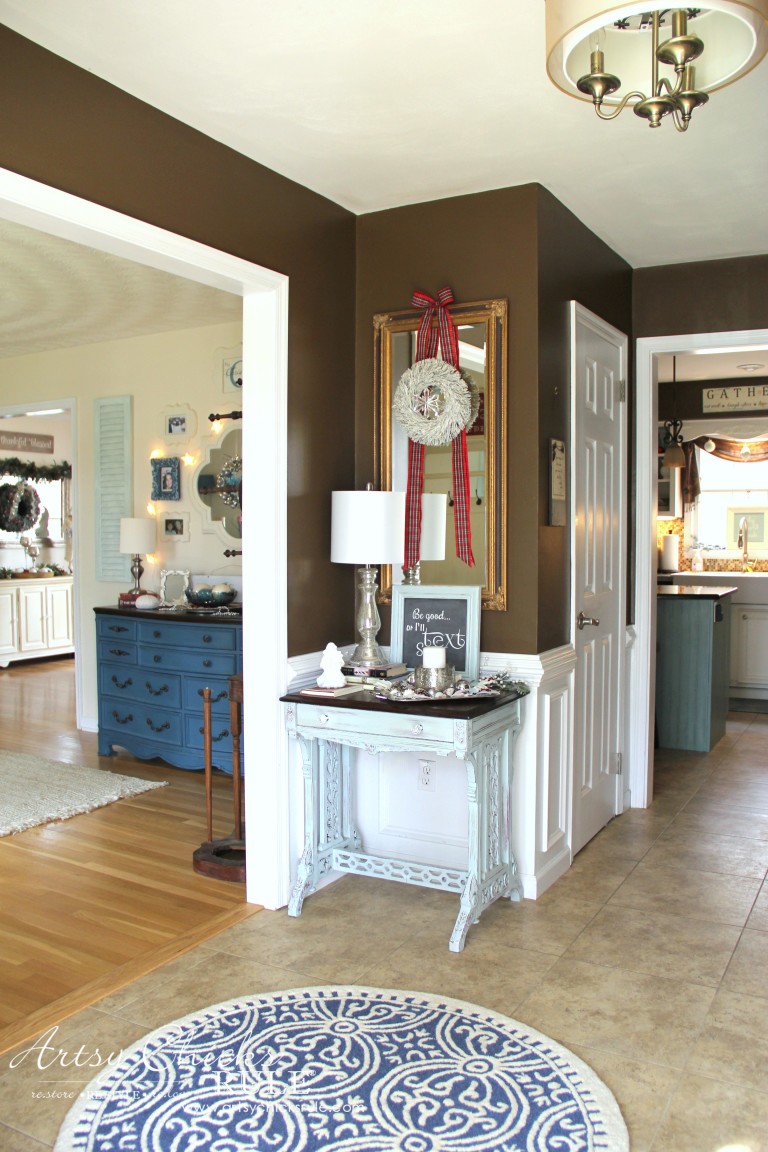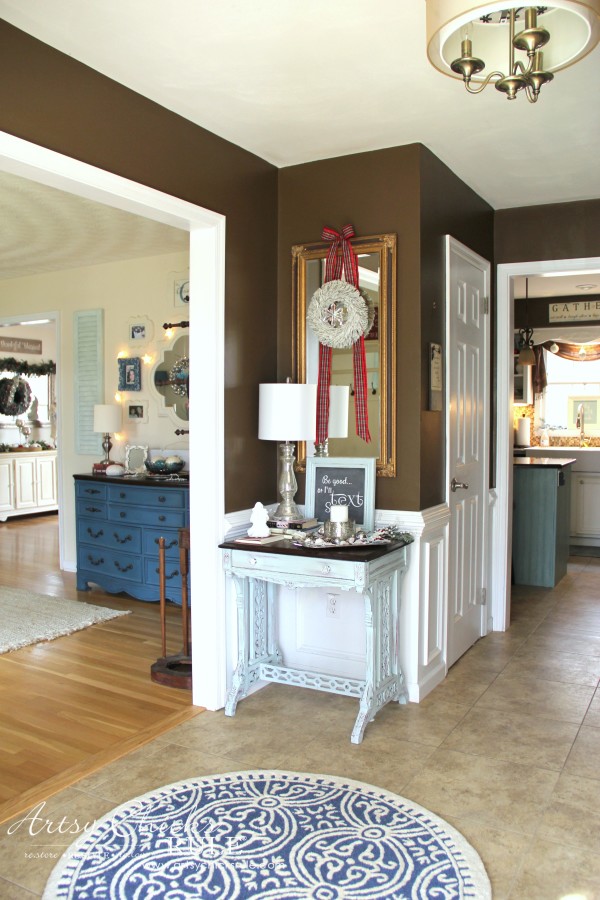 What do you think? Yes?
And oh my gosh y'all…my room is empty over there and I don't have to crop it out of the photo! ;)
I'm so happy to have gotten things done and put away. Whew.
Today I'm sharing my family room and laundry (and foyer).
I'll be sharing my kitchen, dining and study on Thursday.
This little decoupaged butterfly table is in the corner by the front door.
I decorated it simply with a gold star dish, ornaments and pine cones.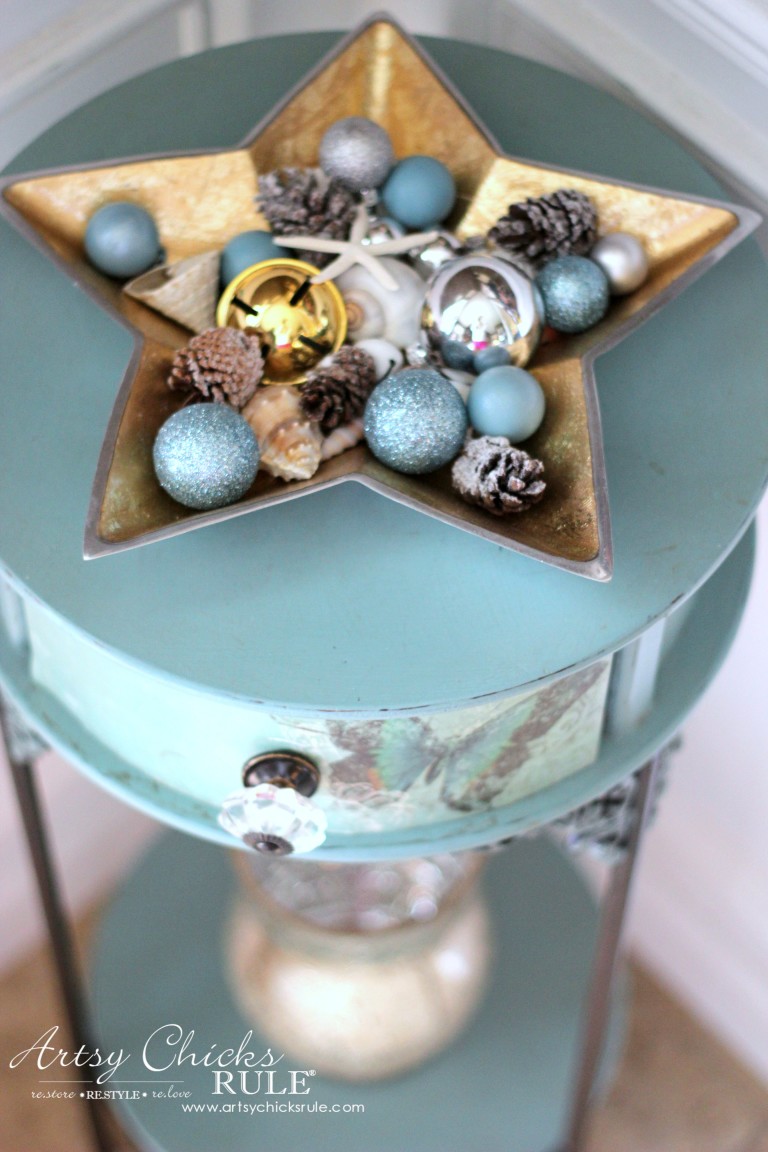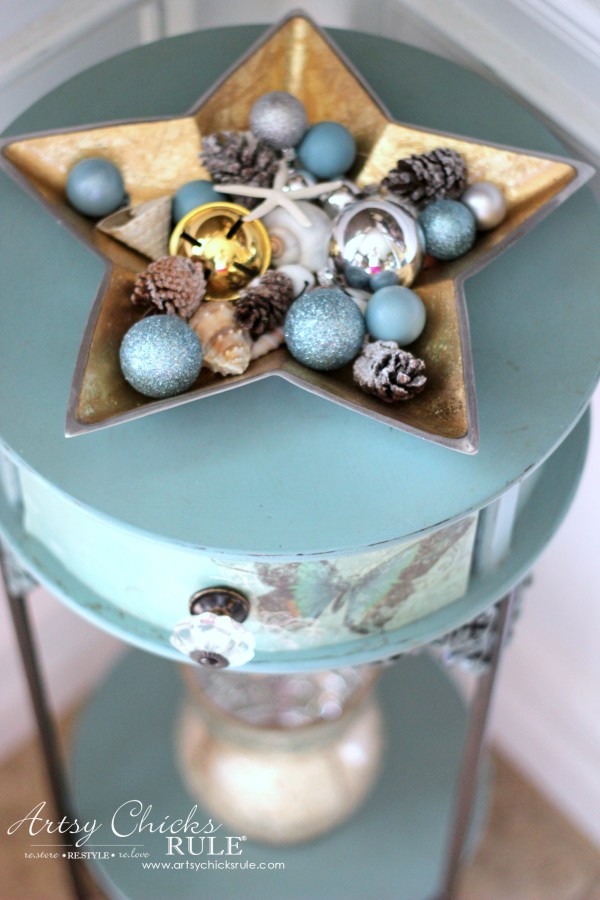 Going to the right from the foyer you will be in the family room.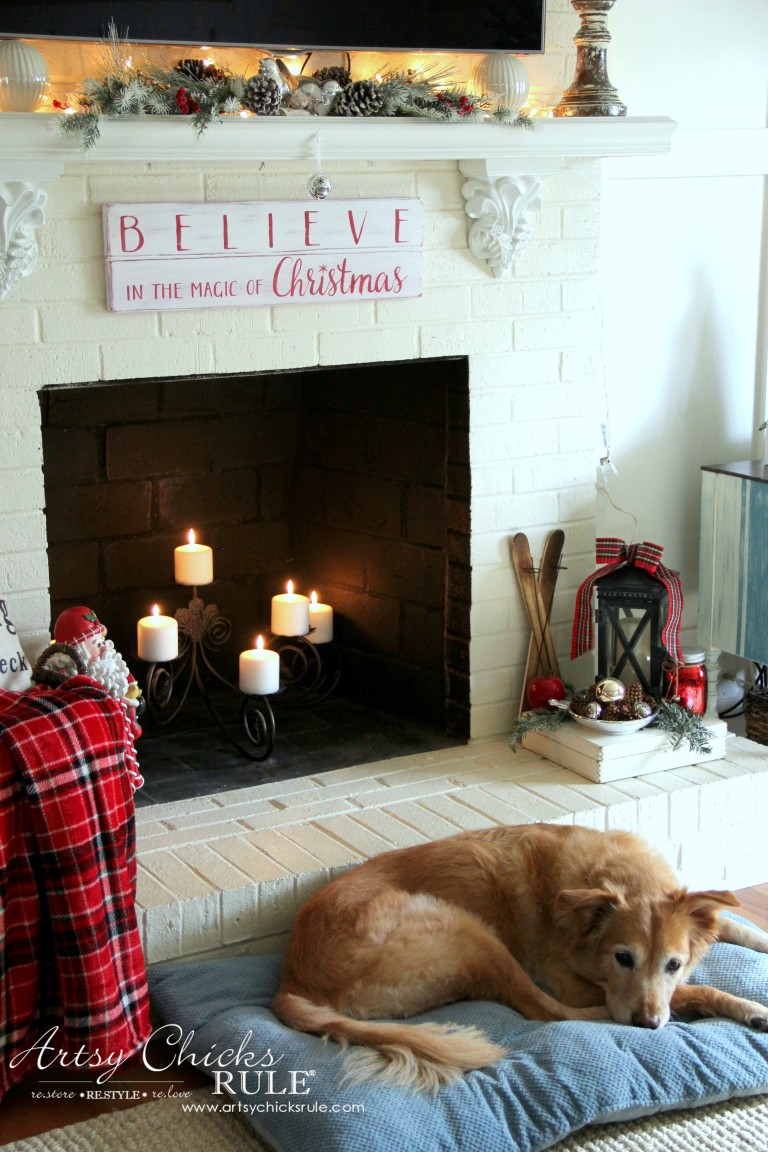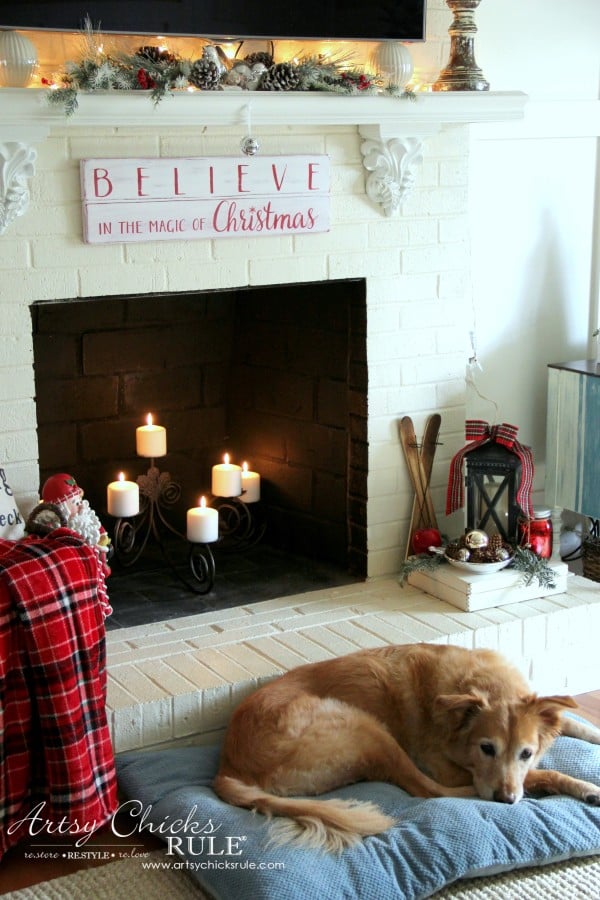 And my sweet Lexi girl laying on one of her beds by the "fire".
Aren't those skis the cutest thing ever? I shared this over on Instagram the other day.
I love to share things there while I'm working on them! (and a bit of random too to keep it fun ;) )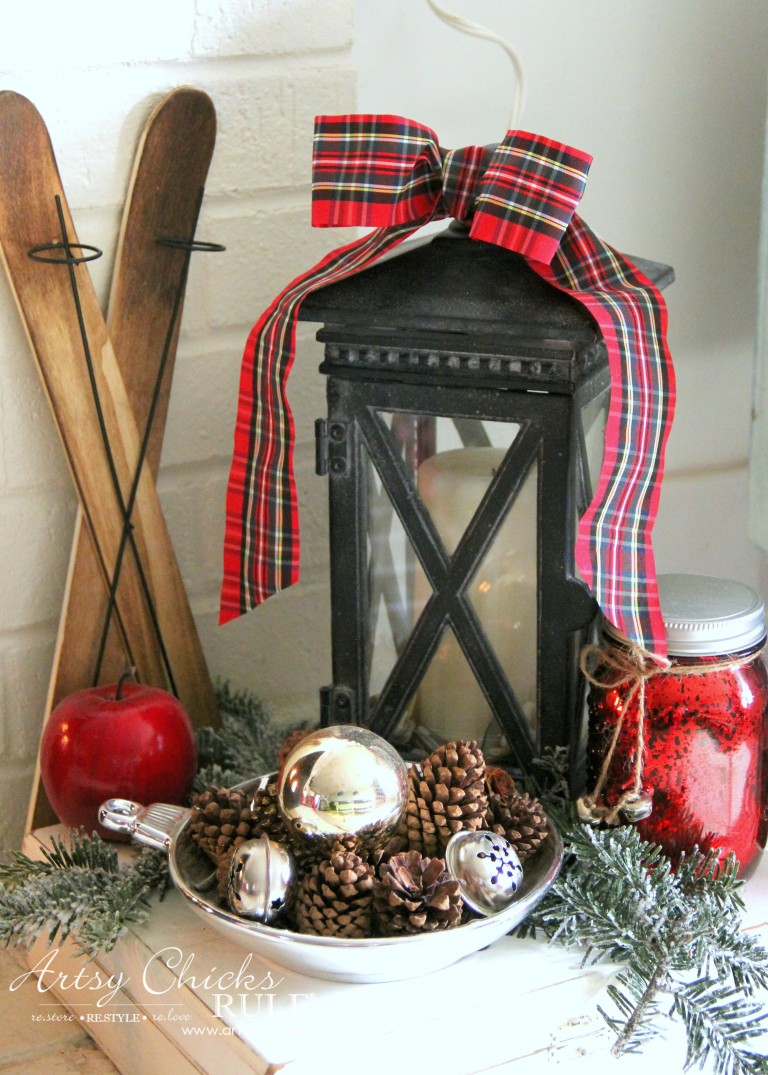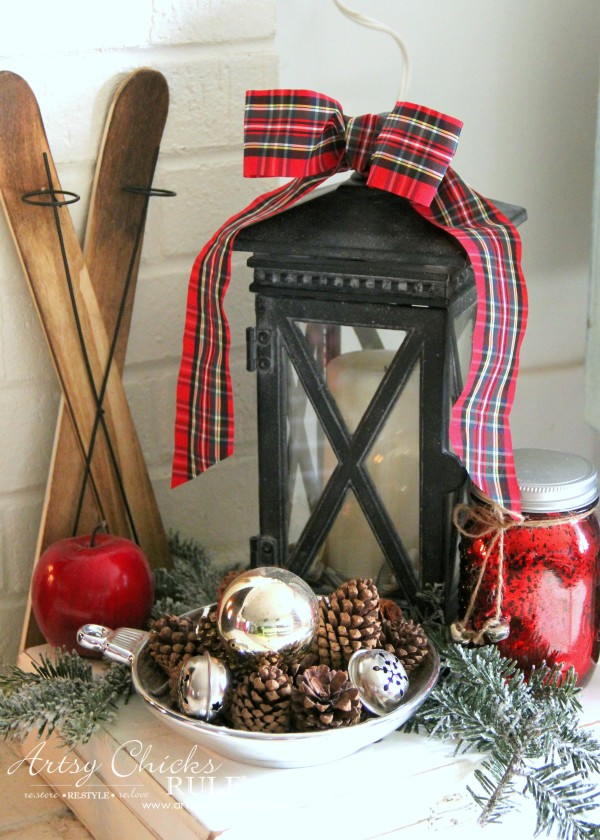 The skis were $3 from Target. The silver ornament dish is a thrift store find.
The greenery is leftover (flocked) branches from our live tree.
And the lantern is from Balsam Hill. You can seem more of it in my Summer Home Tour –> here.
I added more of that same plaid ribbon here.
The "BELIEVE" sign can be found –> here.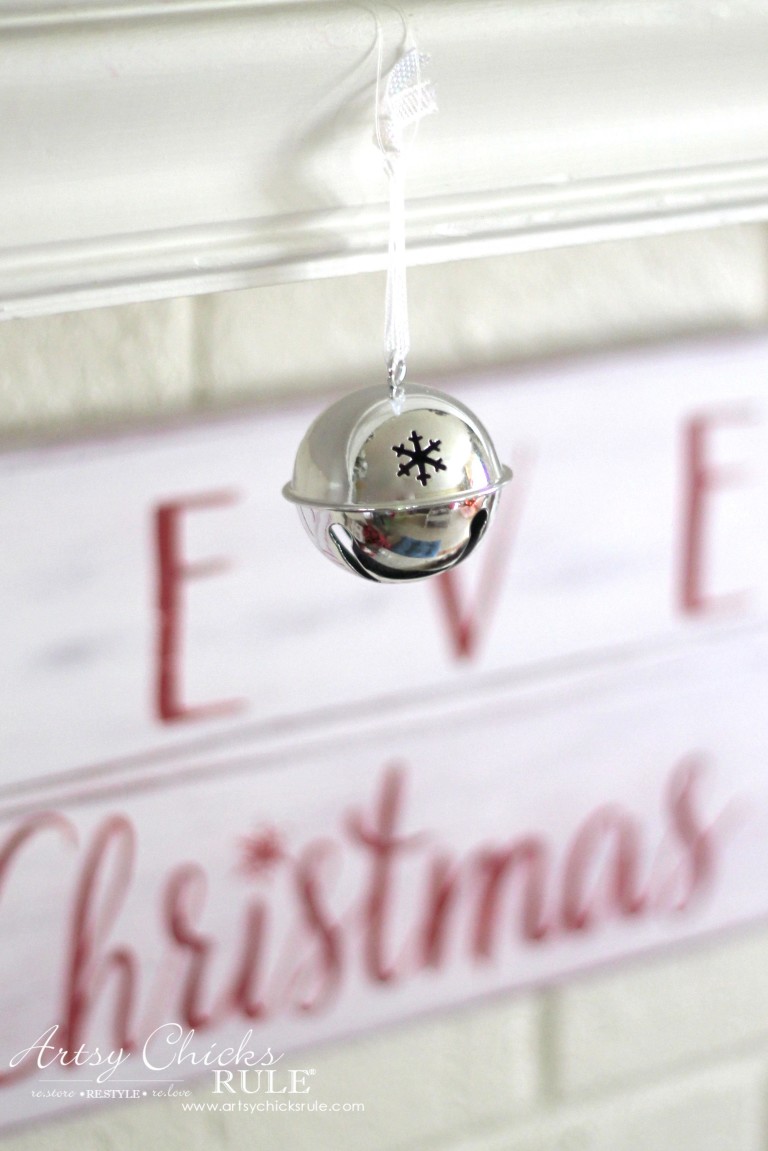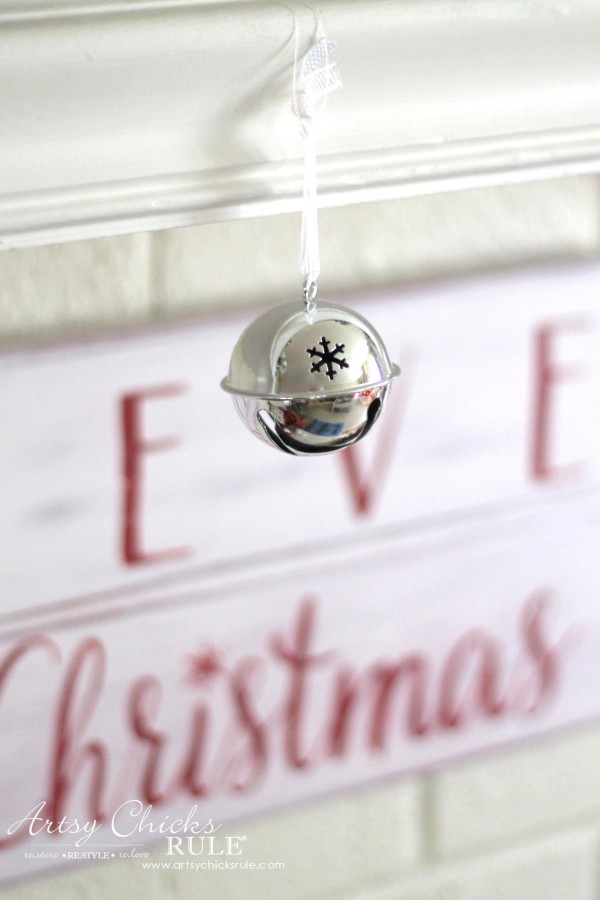 Isn't the jingle bell perfect there? I didn't even plan that. :)
My Nativity that I've had for many, many years.
The mirrored star came from Marshall's. It's so pretty and shimmery.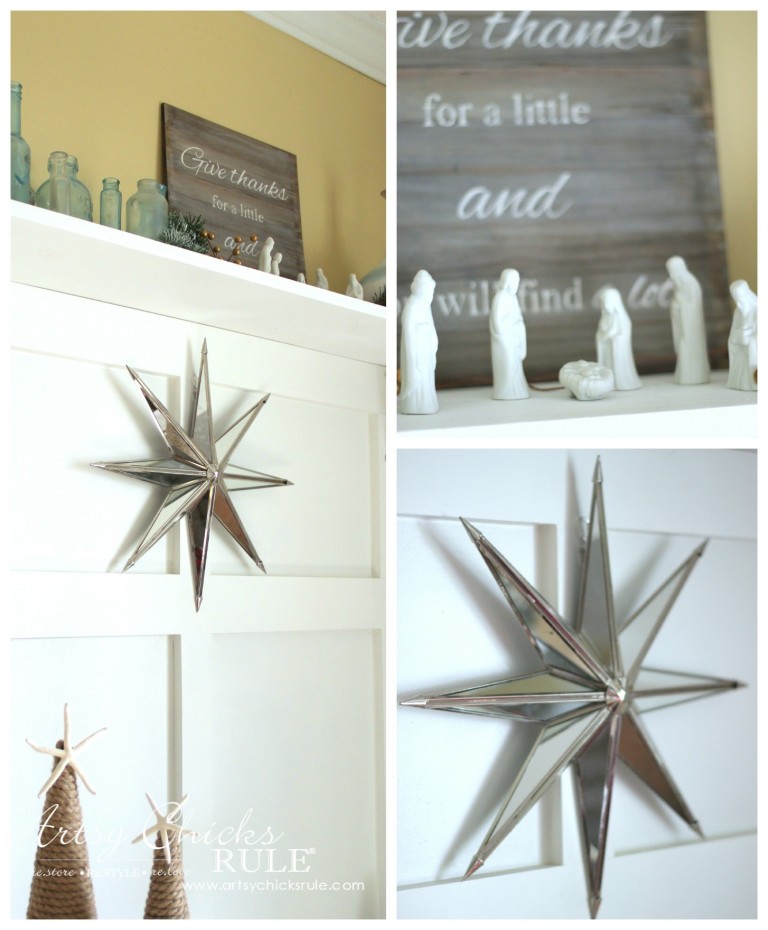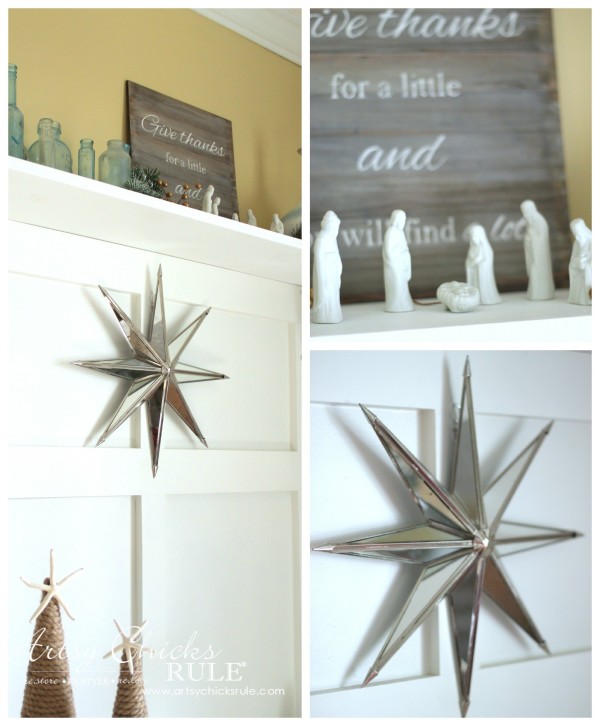 These little coastal trees came from At Home.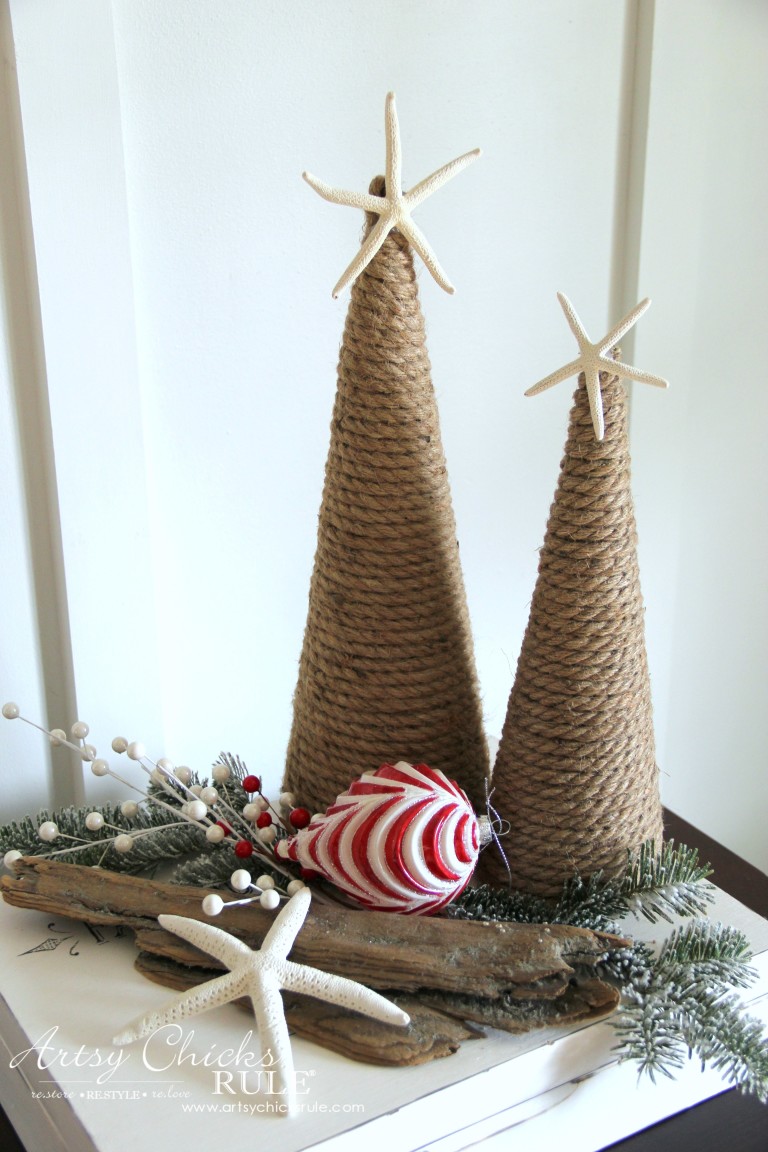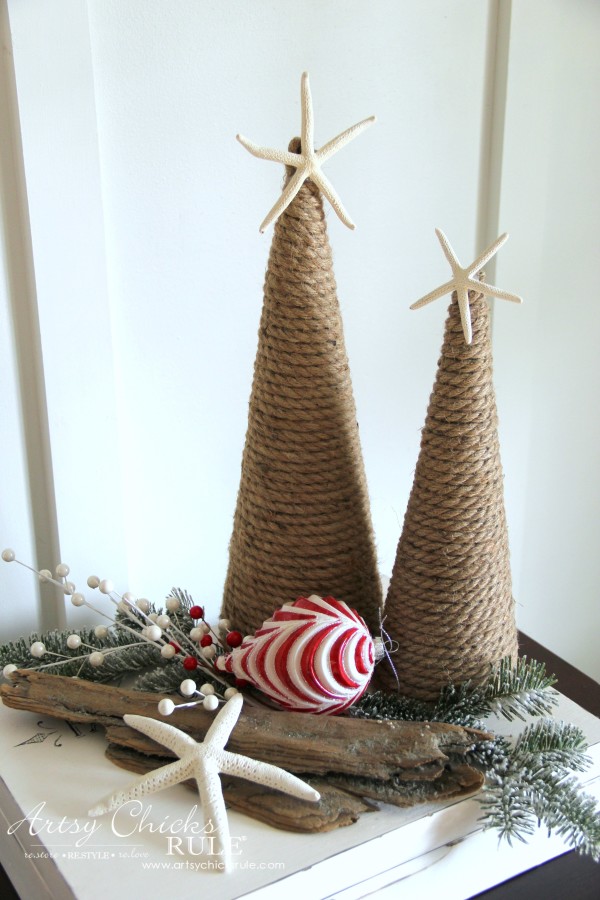 I added a pop of red to the nautical decor with the red ornament and berries.
This is one of the wreaths I made (and flocked). (see it –> here)
I decided to hang it right over top of this artwork.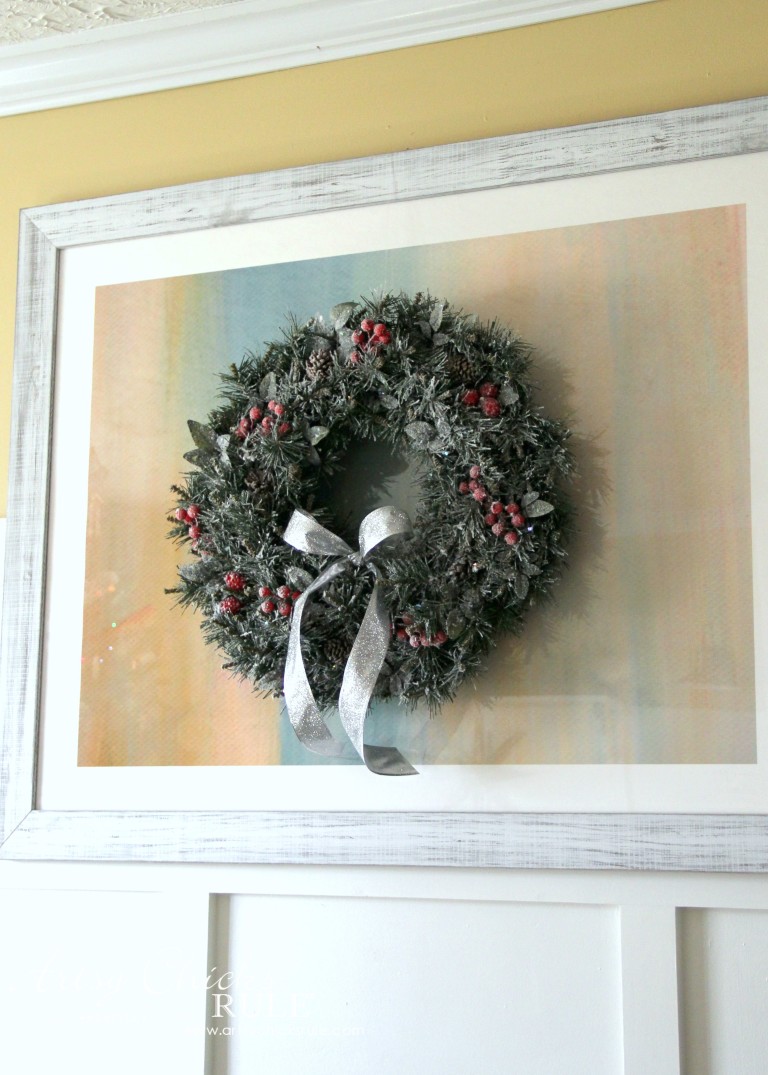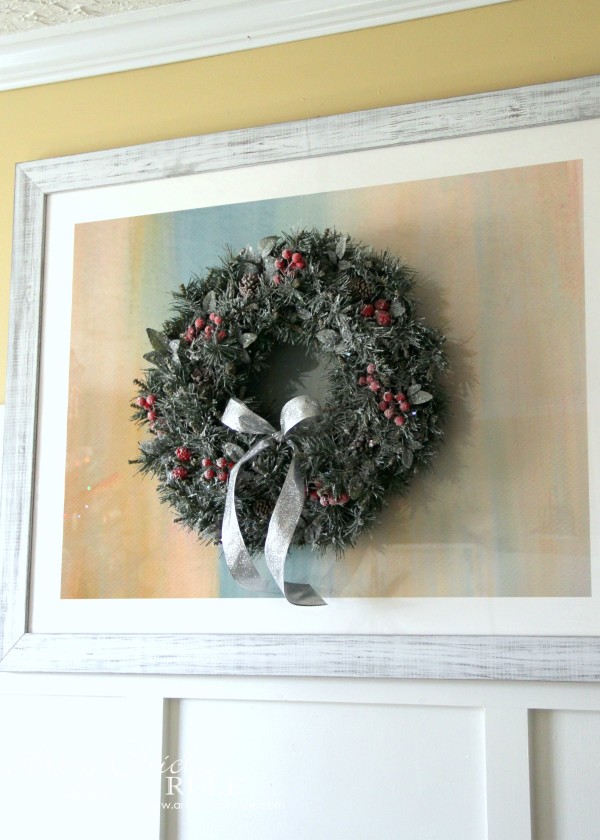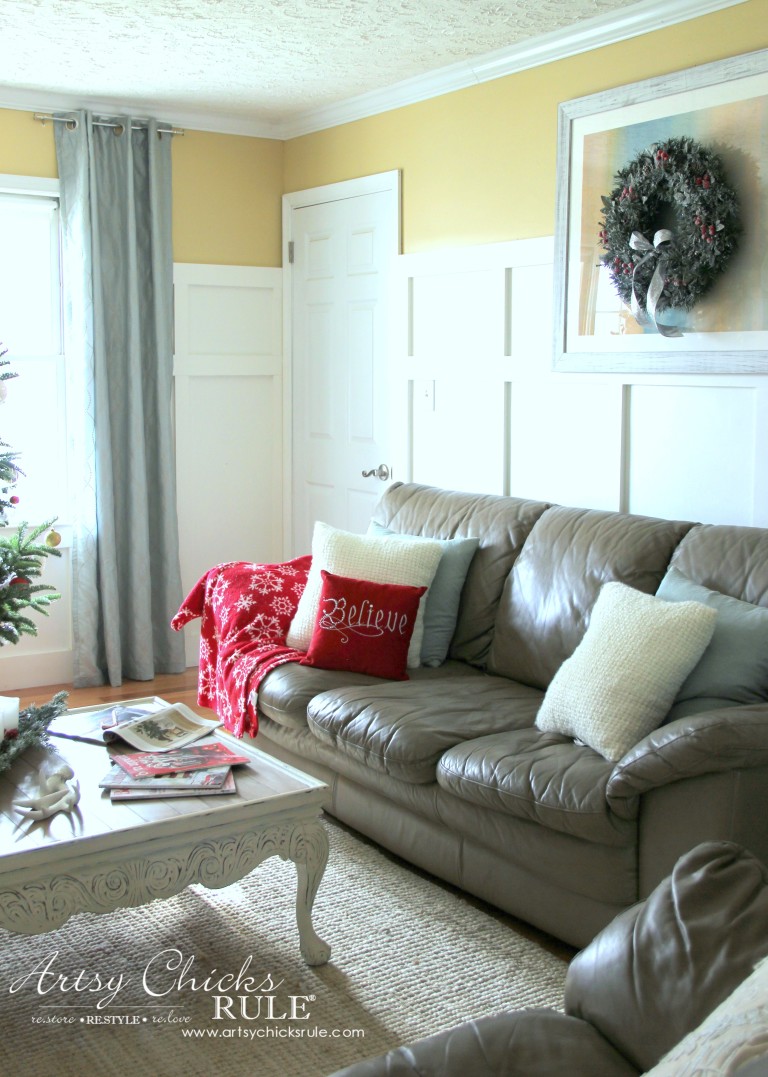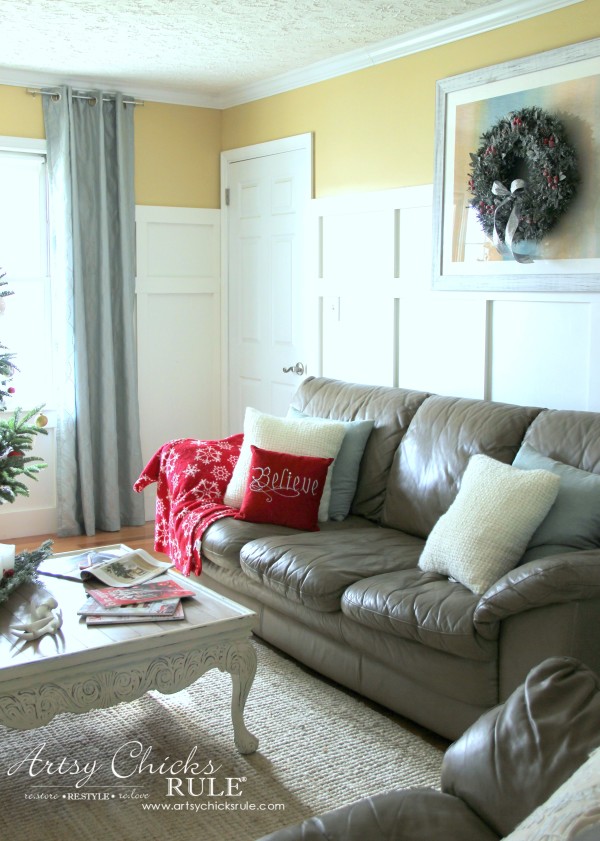 The off white sweater pillows came from Target.
And again, if you follow me on Instagram, you may have seen these lights already. ;)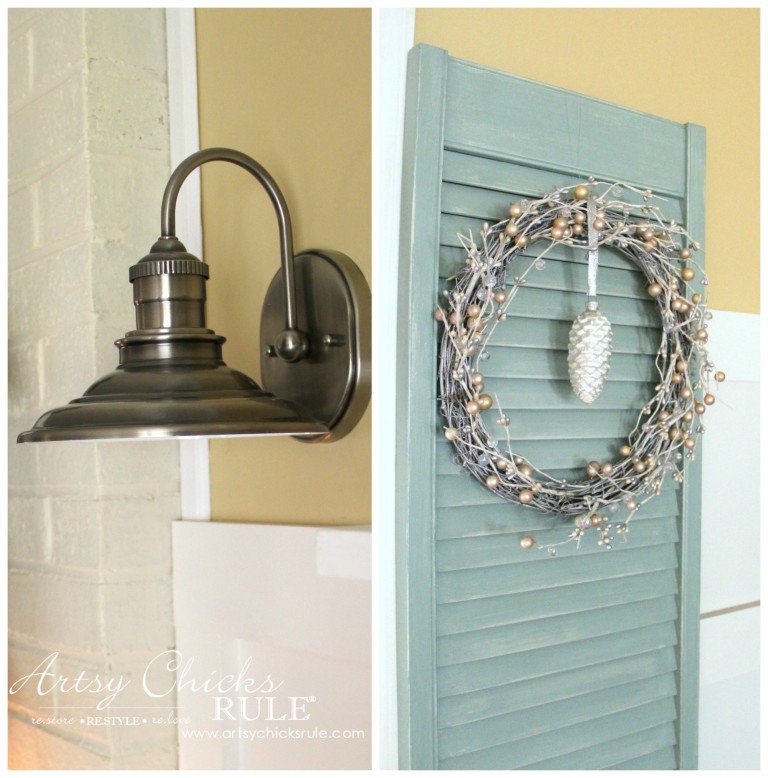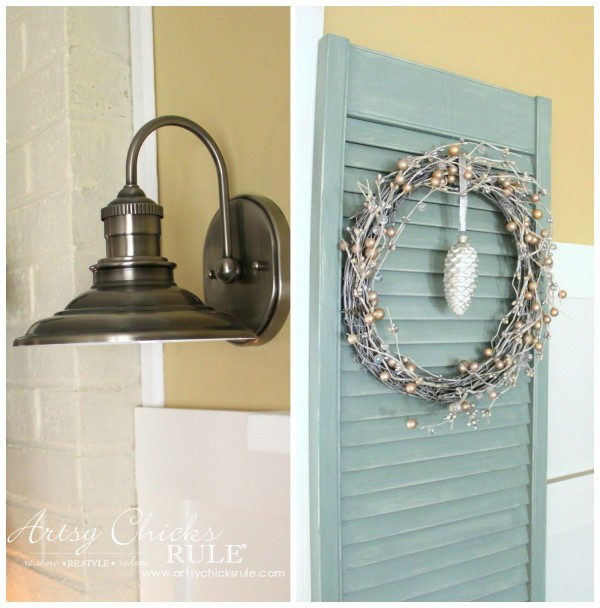 My new "farmhouse style" lights on each side of the fireplace.
We bought them recently from Lowe's and my husband put them up this past weekend.
The wreath on the "shutter" is from the thrift store.
I used them in the same place as I did last year. I just changed out the ornament.
I added an ornament to my boxwood wreath and a Santa hat to the mirror.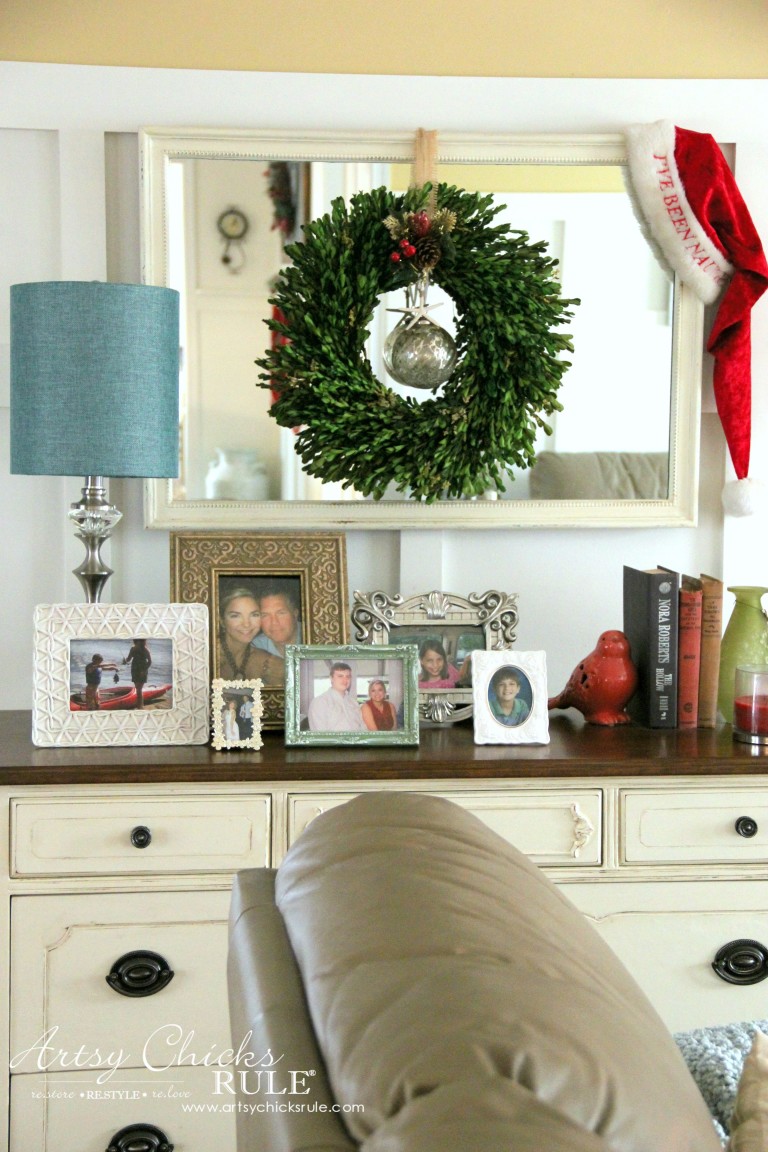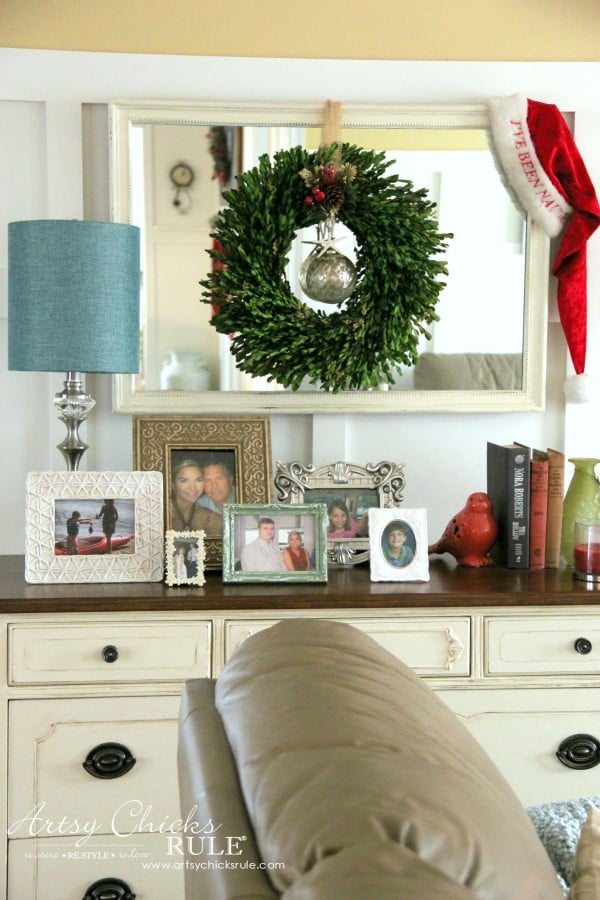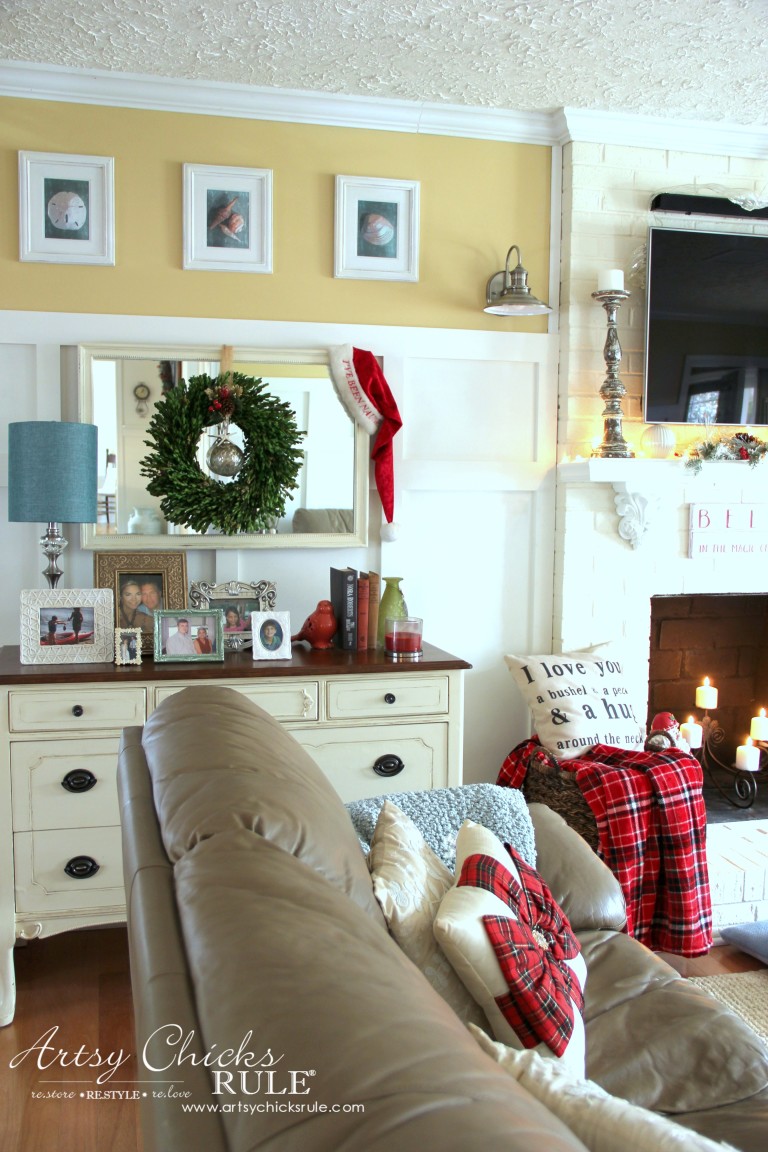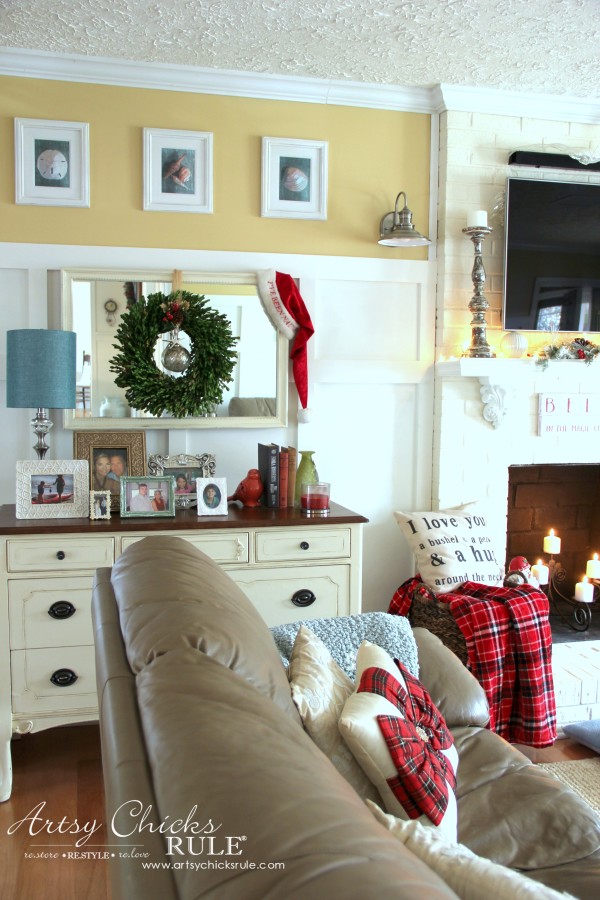 I bought a few new pillows this year.
The plaid bow and the Believe pillows came from Michael's and their 20% off total sale.
What a deal that was on these half off pillows.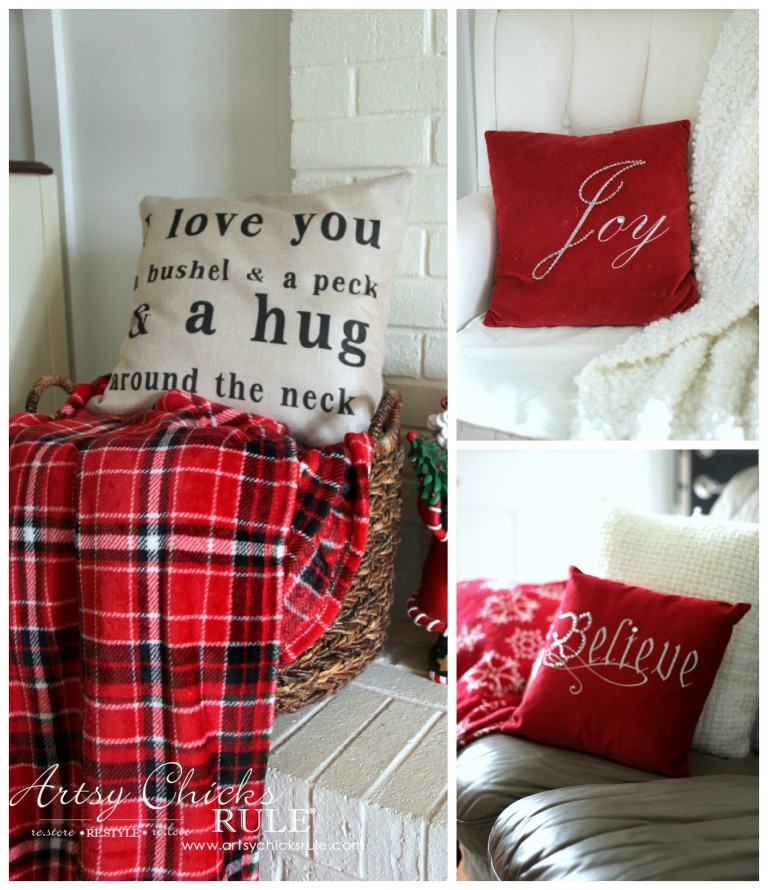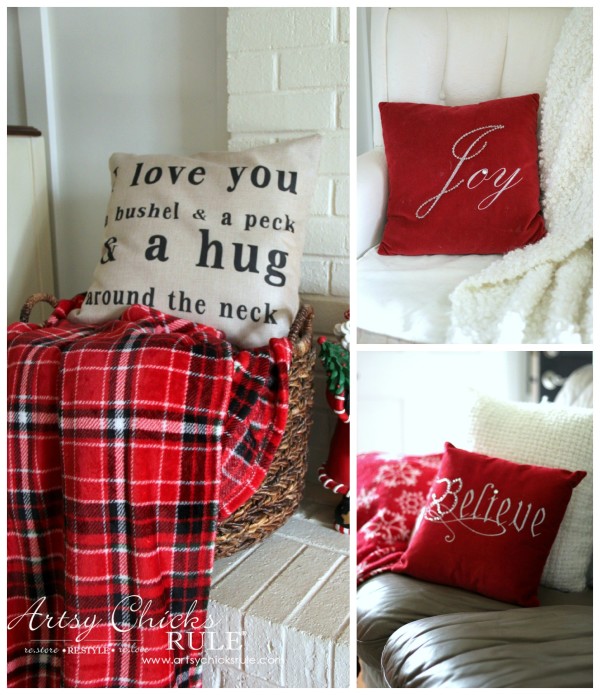 The (affiliate link, disclosure here) "bushel & a peck" pillowcase came from Amazon. Super inexpensive too!
The antlers came from Michael's also.
I have to share this photo I took with my Christmas tree in the background….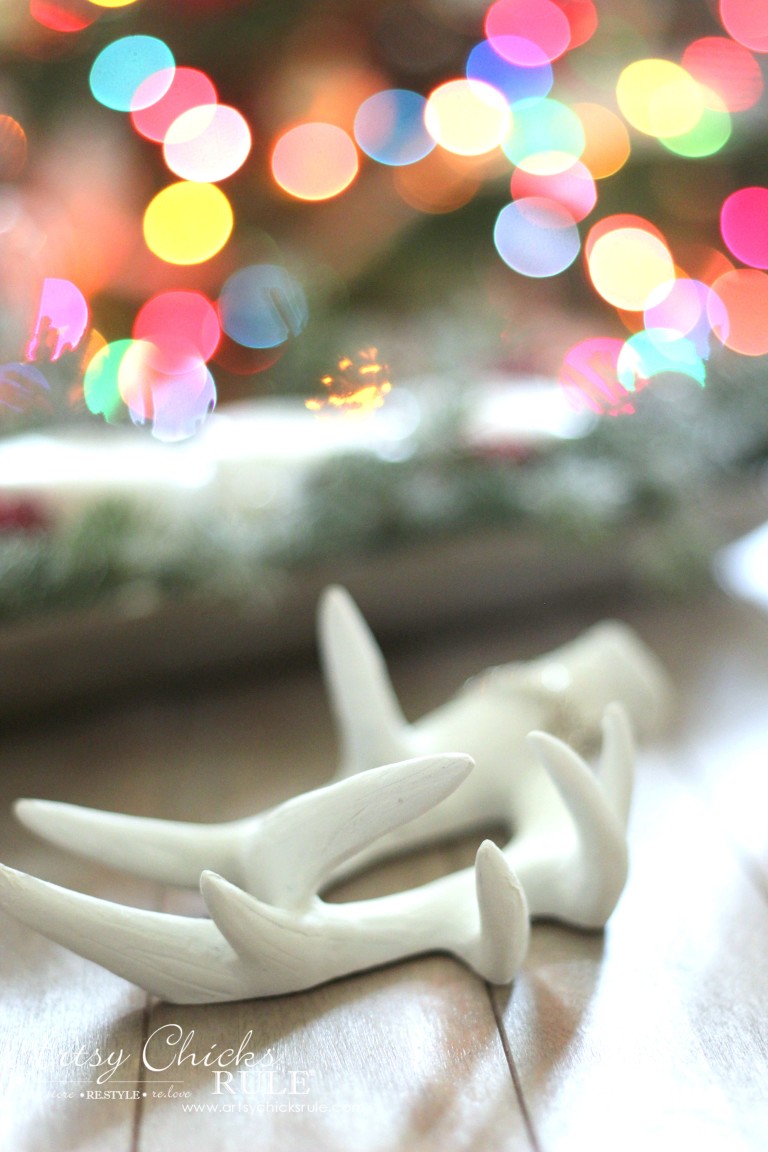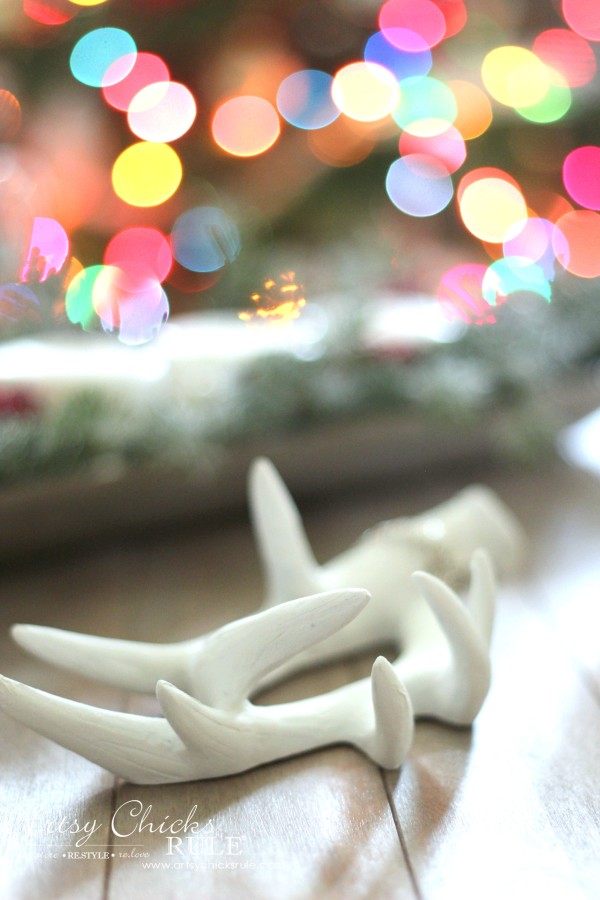 I just love those lights. :)
The reindeer wall art can be found –> here.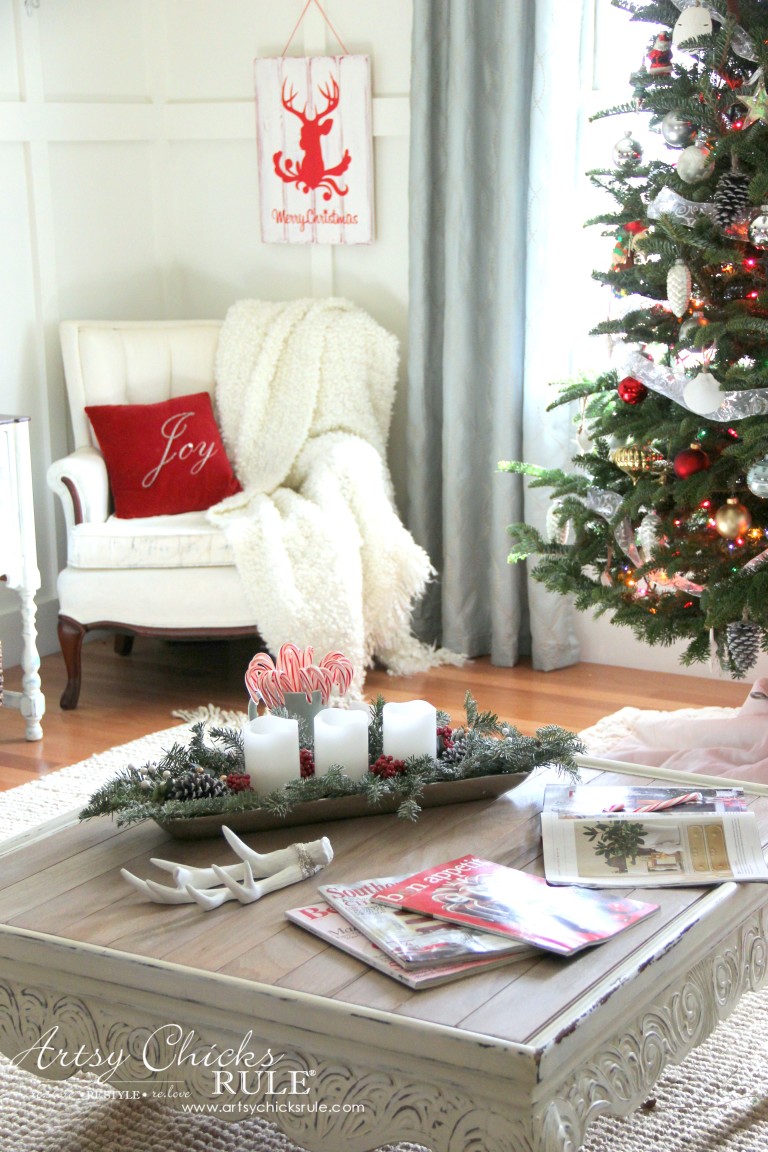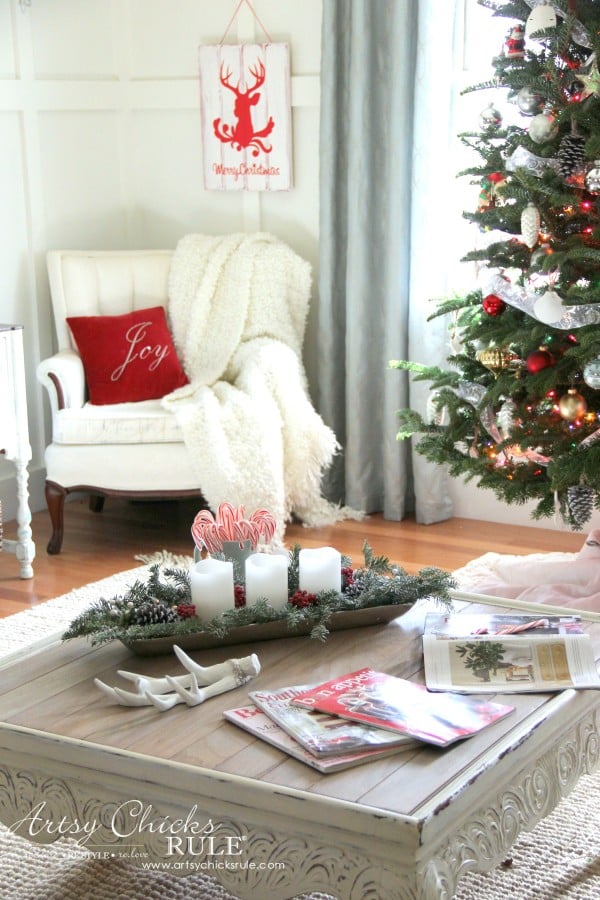 Our live tree this year….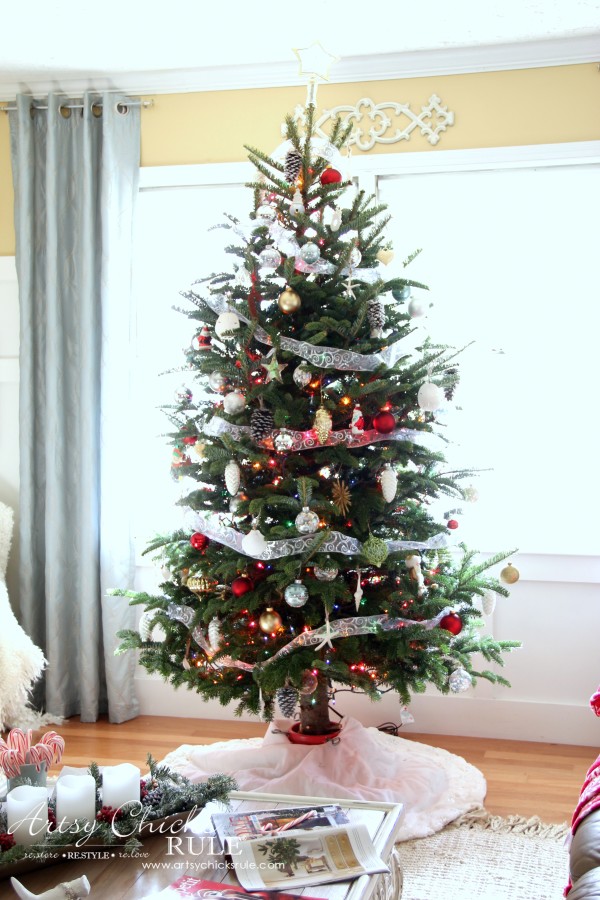 This tree gets the colored lights and the sentimental ornaments.
It had a little leakage problem (as in I kept adding too much water).
That was fun…not so much! ;)
All good now though.
And y'all….do you notice anything different???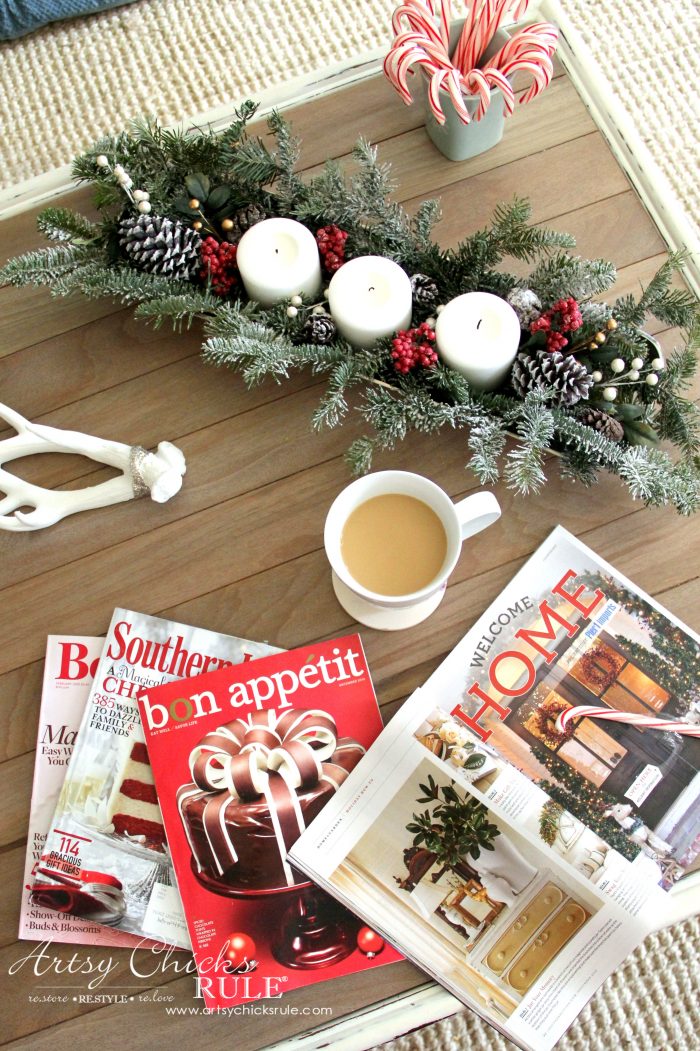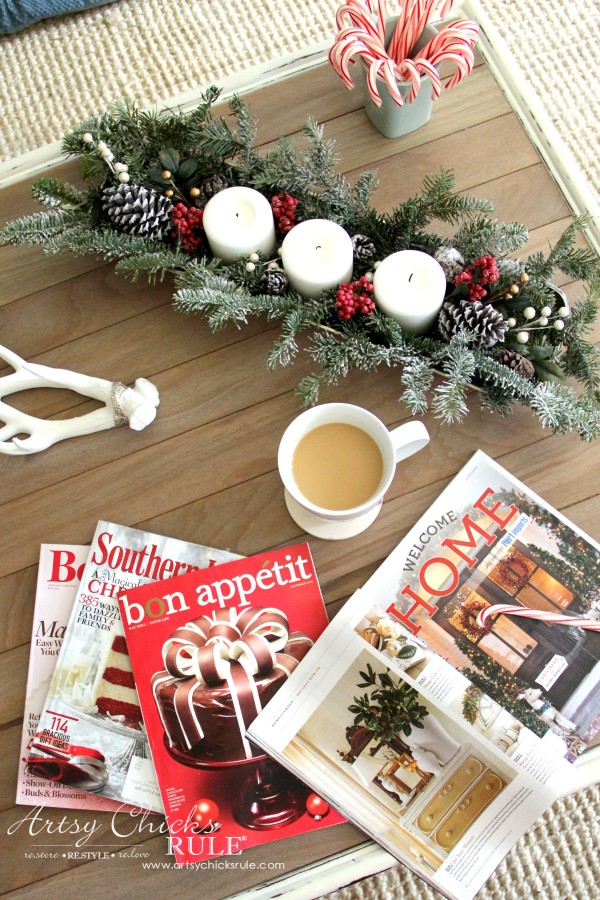 How about that table top? That's another one of the last minute DIY projects we did.
It's a "driftwood-ish" wood top that I created out of the leftover flooring we had for the family room.
We did the floors in here about 9 years ago. See? Don't ever throw stuff away! ;)
Anyway, they were pre-finished but I used the back, unfinished side, to stain how I wanted.
I'll be sharing the full details in the new year.
I'm liking it so much better. It was time for a change.
Just loving the clean look of it.
If you want to see what it looked like before, see it –> here.
I didn't do much in the laundry room but I thought I'd share what I did do…..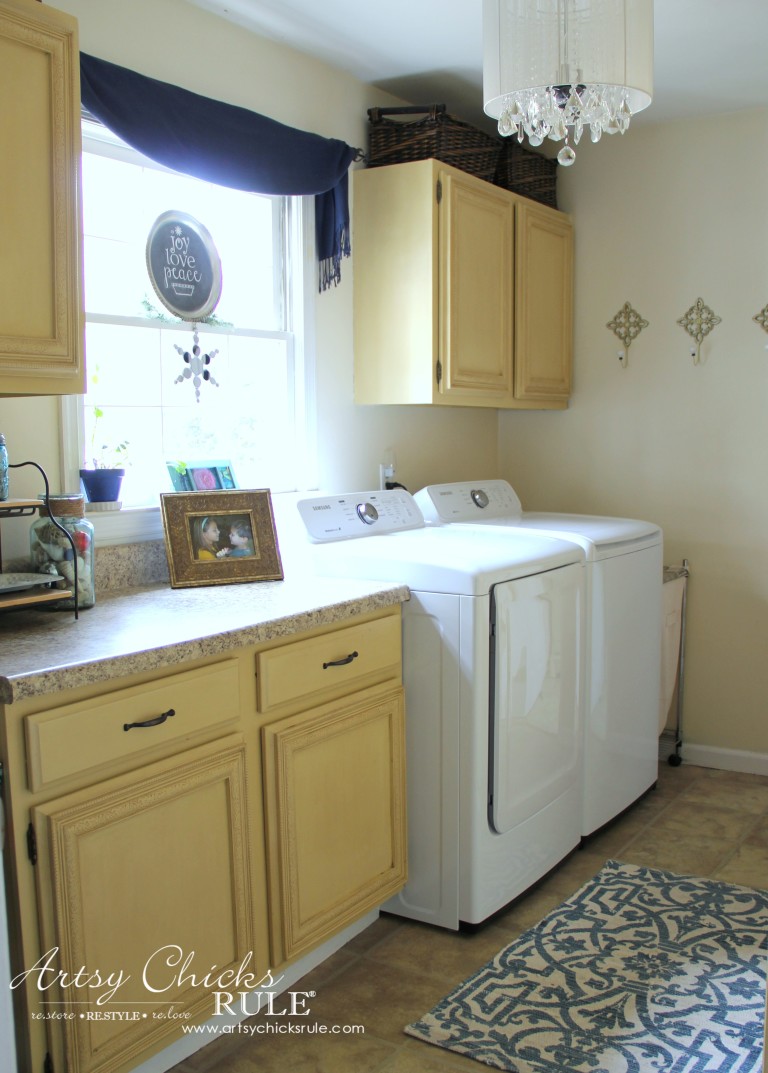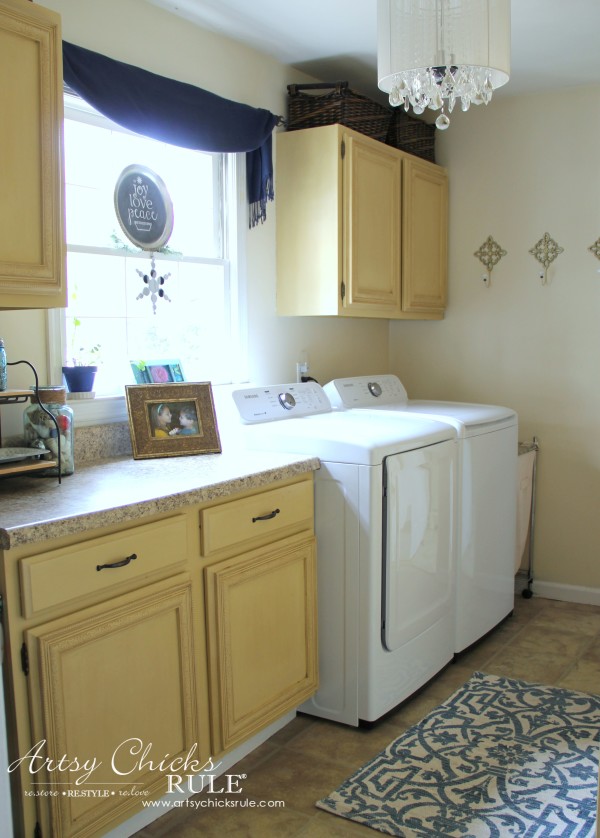 I used the "Joy, Love, Peace" chalk art sign in here this year.
Everything is pretty much the same in here otherwise.
Except the new washer and dryer…which we literally just got.
Last week our 16 year old washer went out so we decided to buy a whole new set.
I LOVE doing laundry now!! lol
Really, I do. Who knew. ;)
It's so fancy and even plays a sweet little jingle when it's done washing or drying. (instead of that awful loud buzzer of my old set!)
I hung the mirrored star in here this year.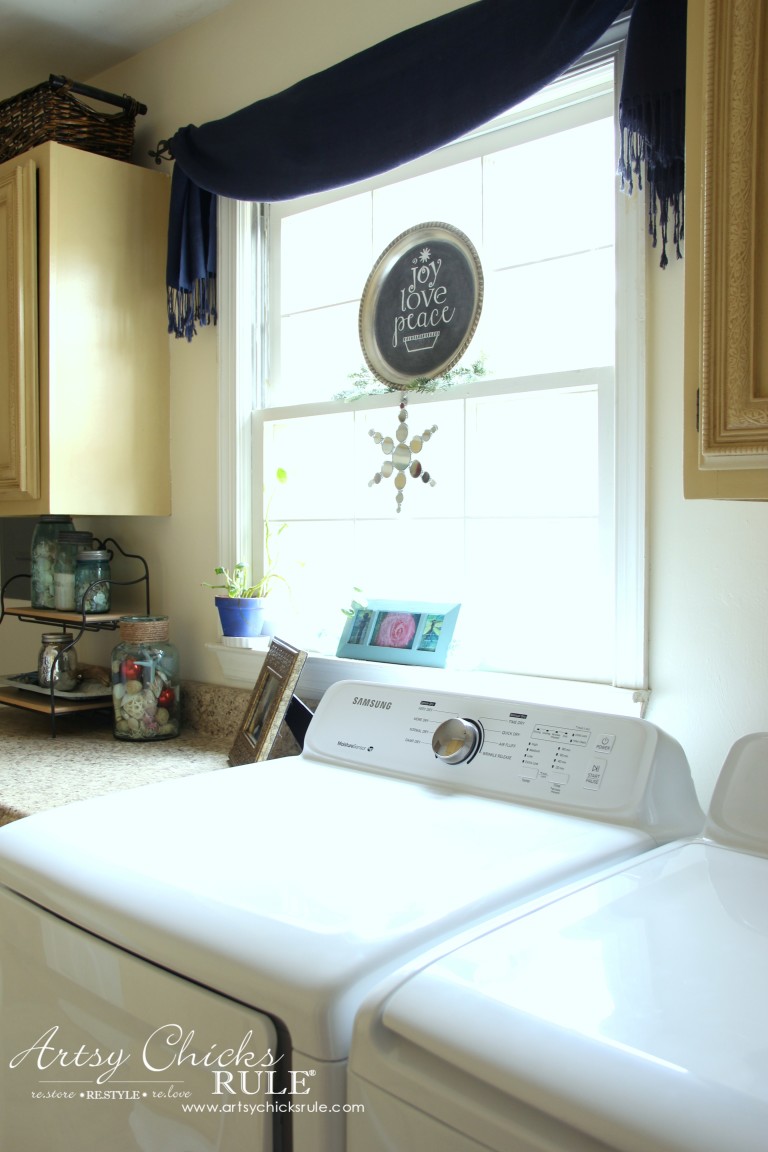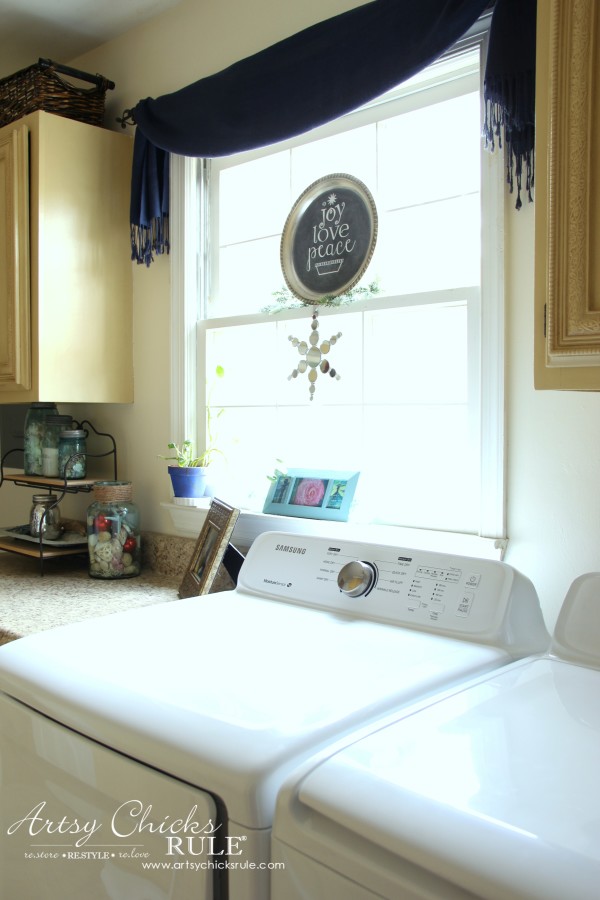 And looking back out to the rest of the house….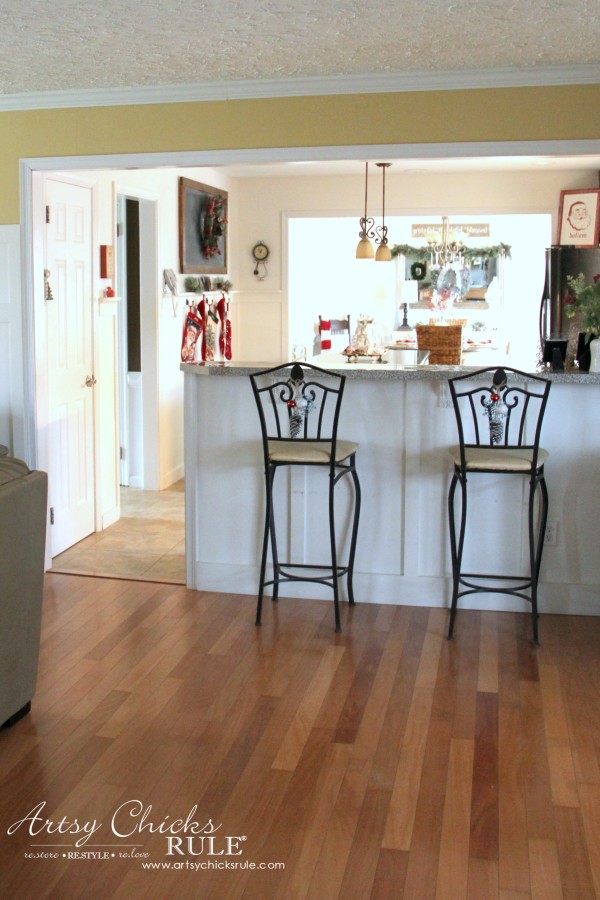 Ack…sneaky peek of something new! ;)
Do you see it?
I'll be sharing that part of the house on Thursday.
If you are interested in seeing how differently I decorated in previous years, you can see my home tours –> here.
And that wraps up today's Christmas Home Tour….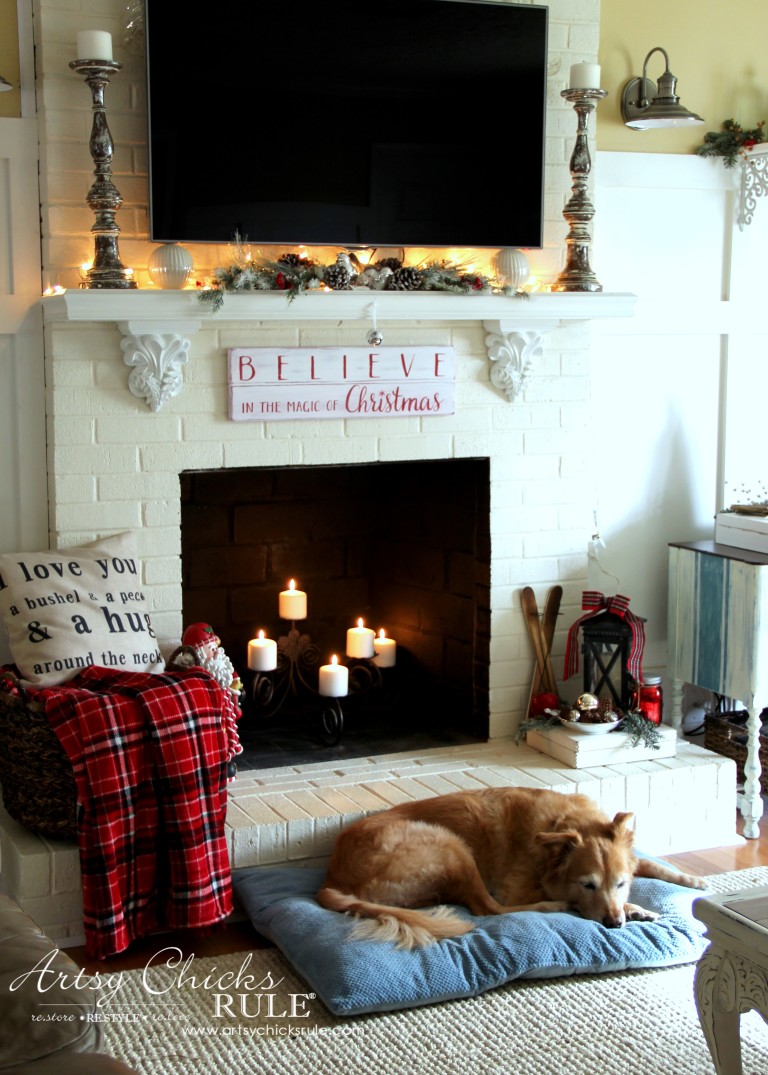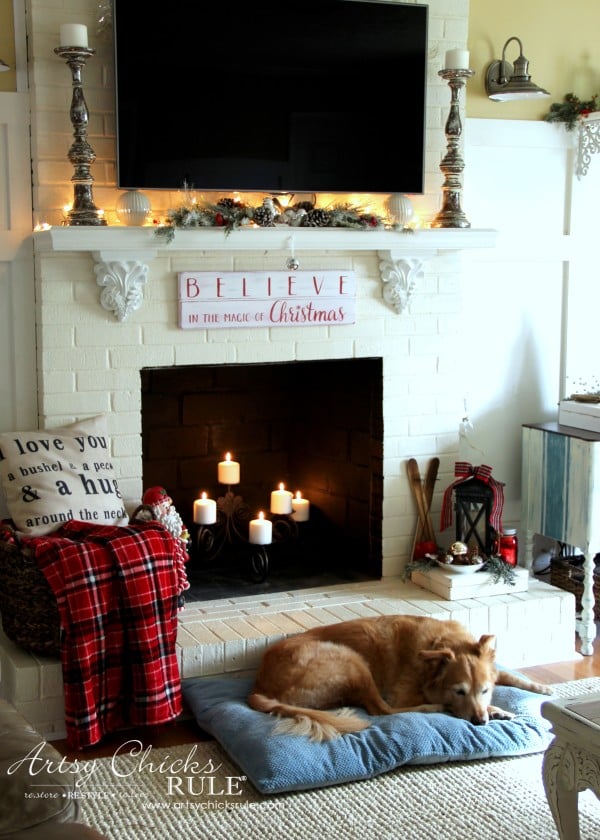 Lexi girl says thank you for visiting, sweet friends. <3
See Part 2 –>> here.
xo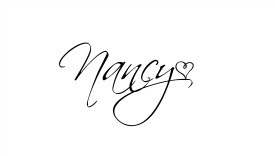 Follow along! –> Instagram ~ Facebook ~ Pinterest ~ Bloglovin
Sharing with: The Everyday Home