Last week, on Friday, I shared Part 1 of my Holiday Home Tour.
Today I'm sharing the rest!
Welcome back to my home……
The Foyer above (which you saw on Friday)….
….and to the left of the Foyer is the Study.
That is where you will find my cute little white (thrift store) table top tree from last year.
You can read about it –> here.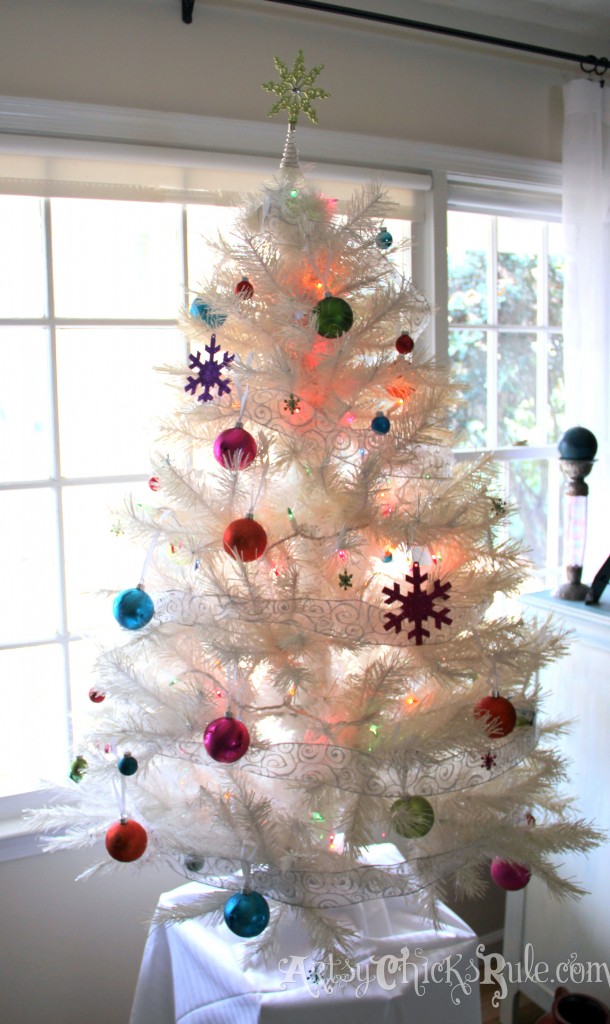 You will only get to see part of this room (be glad, the other side is a disaster ;)) as we are in the middle of building a "built in" on the far side.
Bookcase with cabinets. Can't wait until it is complete!
But you do get to see the new paint color….Sherwin Williams, Navajo White -SW-6126.
(the same as the brick fireplace in this post–>here.)
And my beautiful, Aubusson Blue Chalk Painted thrift store dresser.
I LOVE, adore, love, love this dresser. I love it.
And this color.
You can read about it —> here. (and check out how it used to look!)
This is also the dresser that had the missing handle…so I made one.
Can you guess which one?
You can see which one and how I did it here.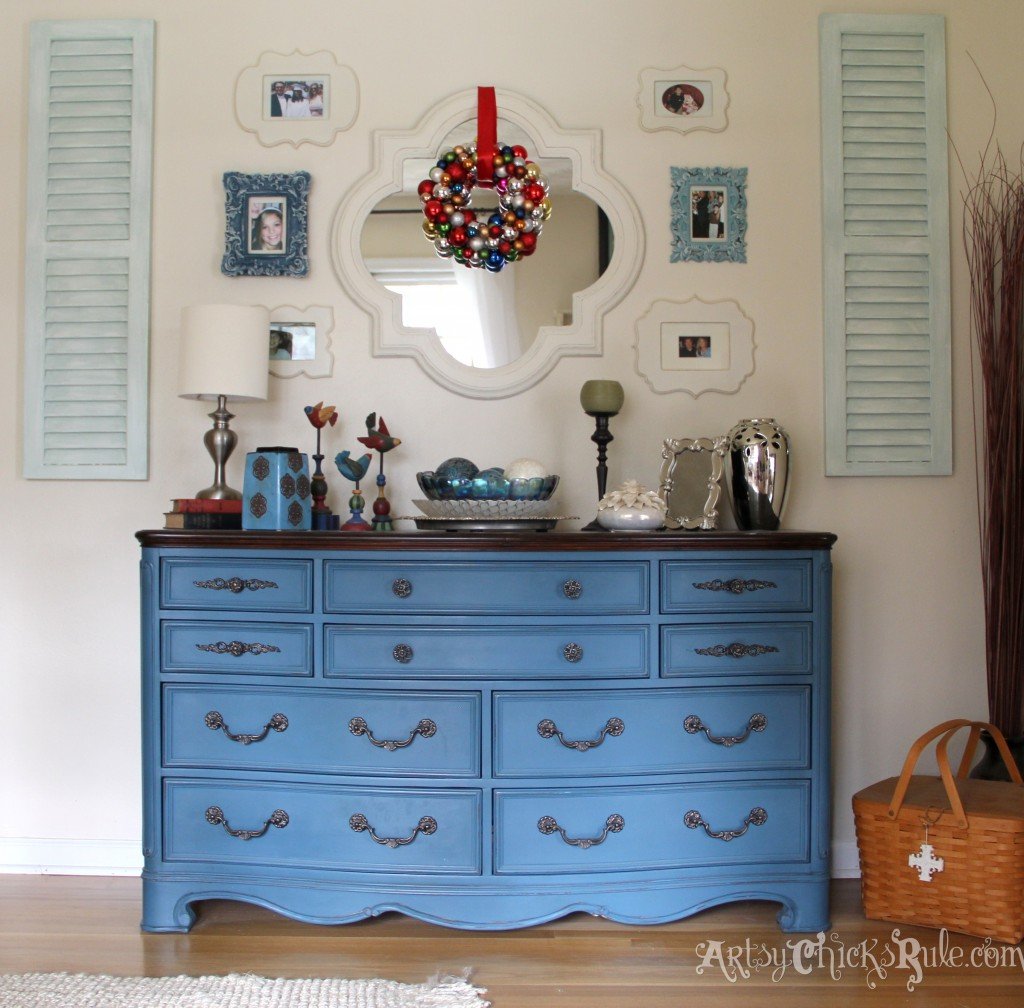 Sneaky peek of things that have been going on in this room that I've yet to blog about!
Like those super cool bi-fold shutters (they were bi-folds) from the ReStore ($3) that I painted and hung….and awesome frames from Cut It Out.
I have one more to go at the top. A large one with our family photo.
I completely restyled the top of the dresser (as you can see from the older post I linked above)
Oh….sorry, I'm so easily distracted….and of course the colorful and festive DIY wreath below.
This is the Holiday Home Tour after all.
I made it using a flat Styrofoam ring and thrift store/dollar store ornaments.
(I'll have a few "how-to" posts coming next week for the things I've shown you on this tour)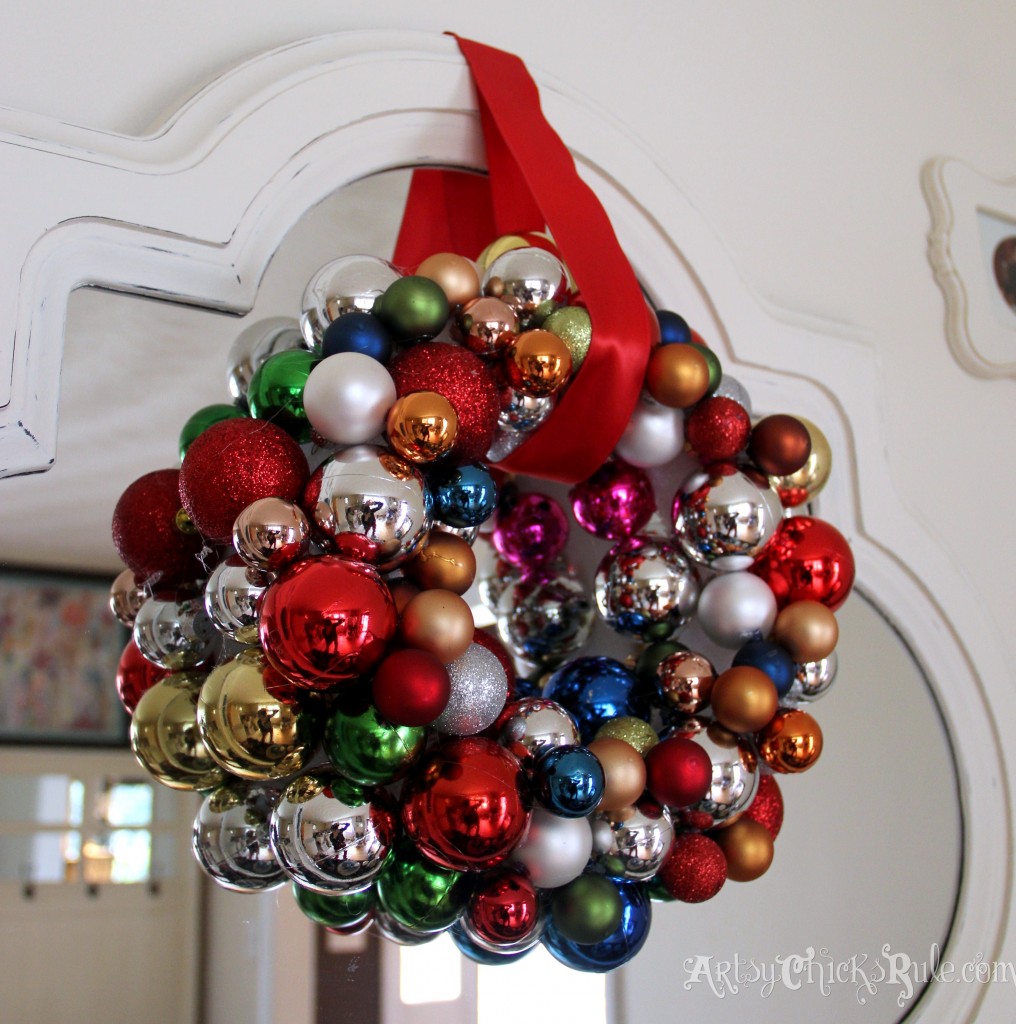 The mirror it's hanging on came from Home Goods (and I painted it with Chalk Paint in this post –>here)
That's it for this room, for now.
Straight ahead (from the Foyer) is the kitchen.
I didn't do a ton of decorating in here. Minimal.
The window, sort of the focal point as you enter the room, got some decorating.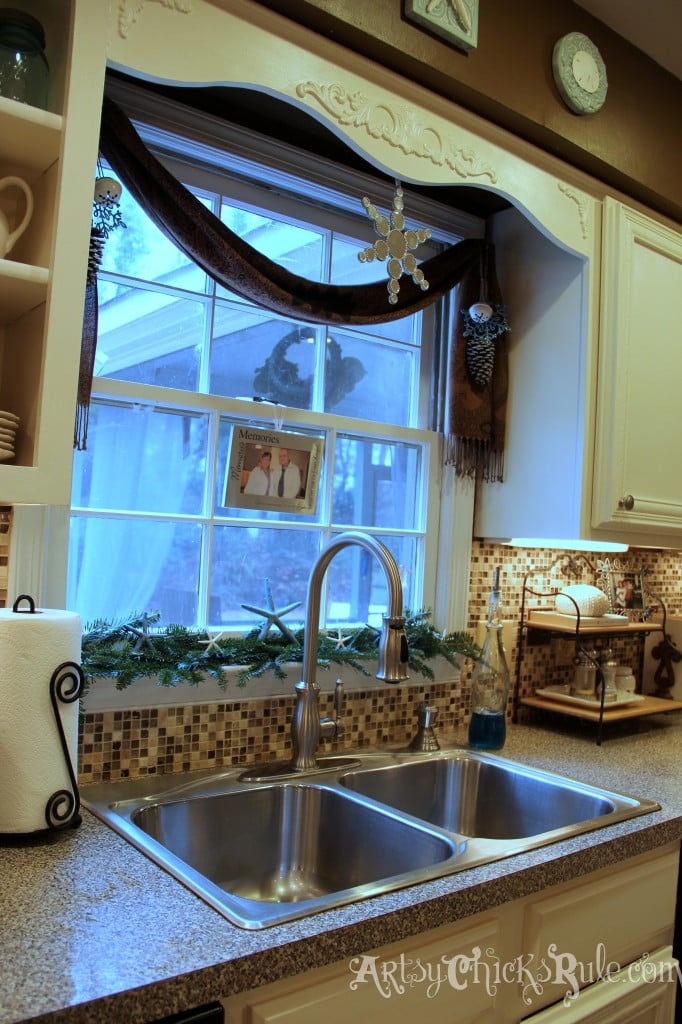 And yes, these are my Chalk Painted kitchen cabinets (post on them –> here)
A beautiful mirrored ornament I picked up at TJ Maxx.
The pine cone, ornament, jingle bell I made to hang on either side of the window scarf.
Which, by the way, is actually a scarf–from World Market / $10.
Up close…..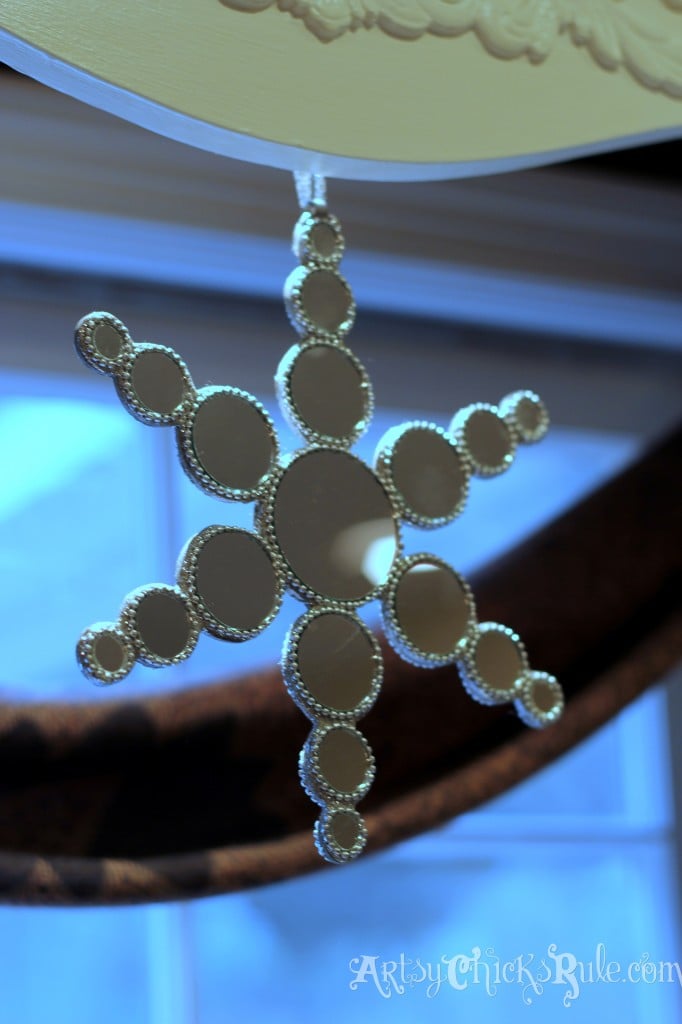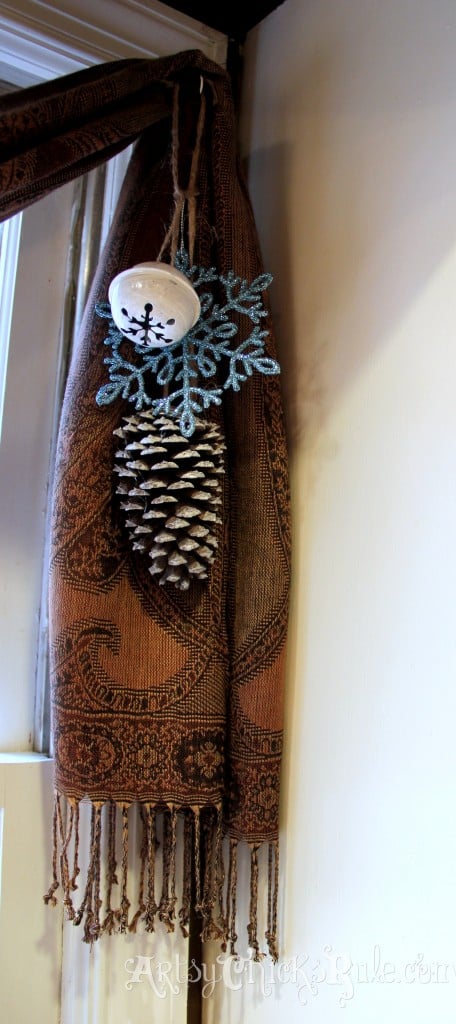 The window sill has some of the same greenery as the mantel. From the branches cut off the bottom of our tree.
And some starfish. I may have put some glitter on those blue ones. ;)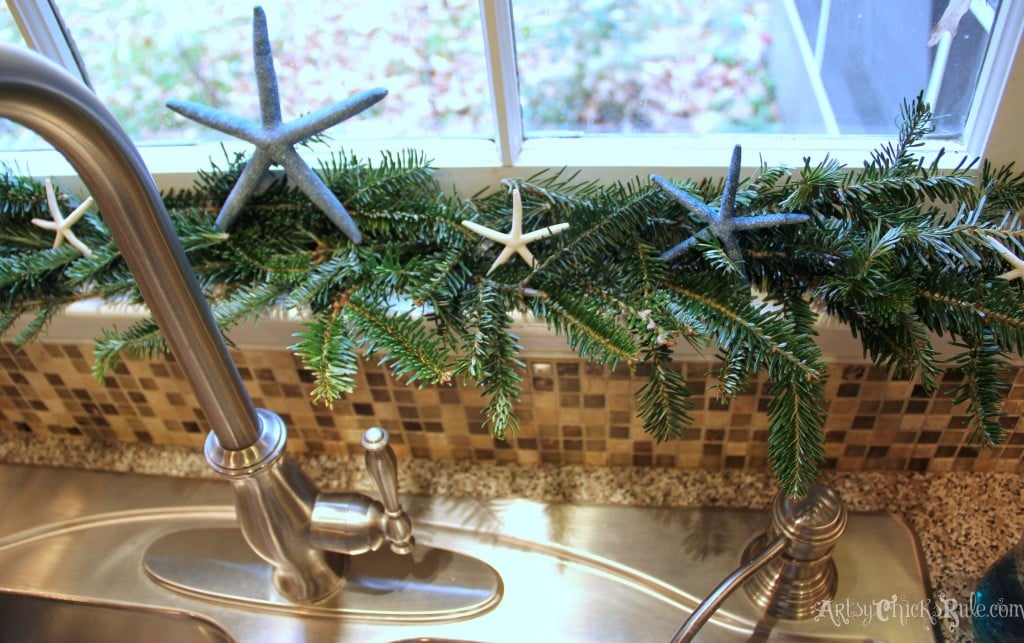 On the other side of the room I have this…..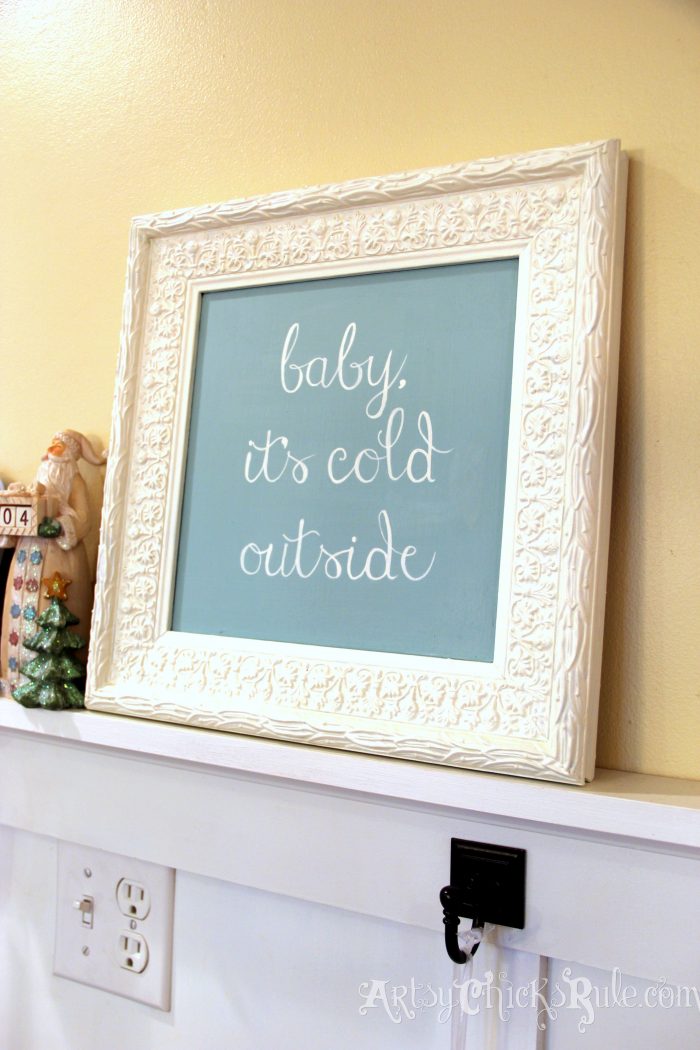 I'll be posting about this one very soon. It's a mirror. Or, it was a mirror.
Now it's adorable "Chalkboard" holiday art painted with Annie Sloan Chalk Paint.
These hooks needed something…so I hung these beautiful large ornaments (from Home Goods) on them.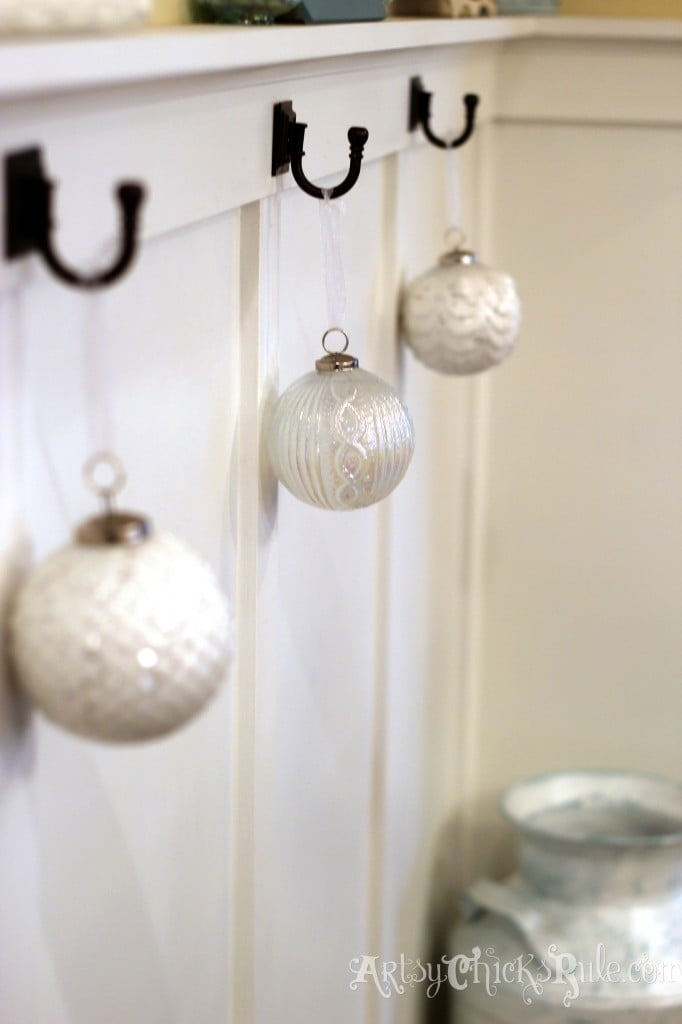 Full wall……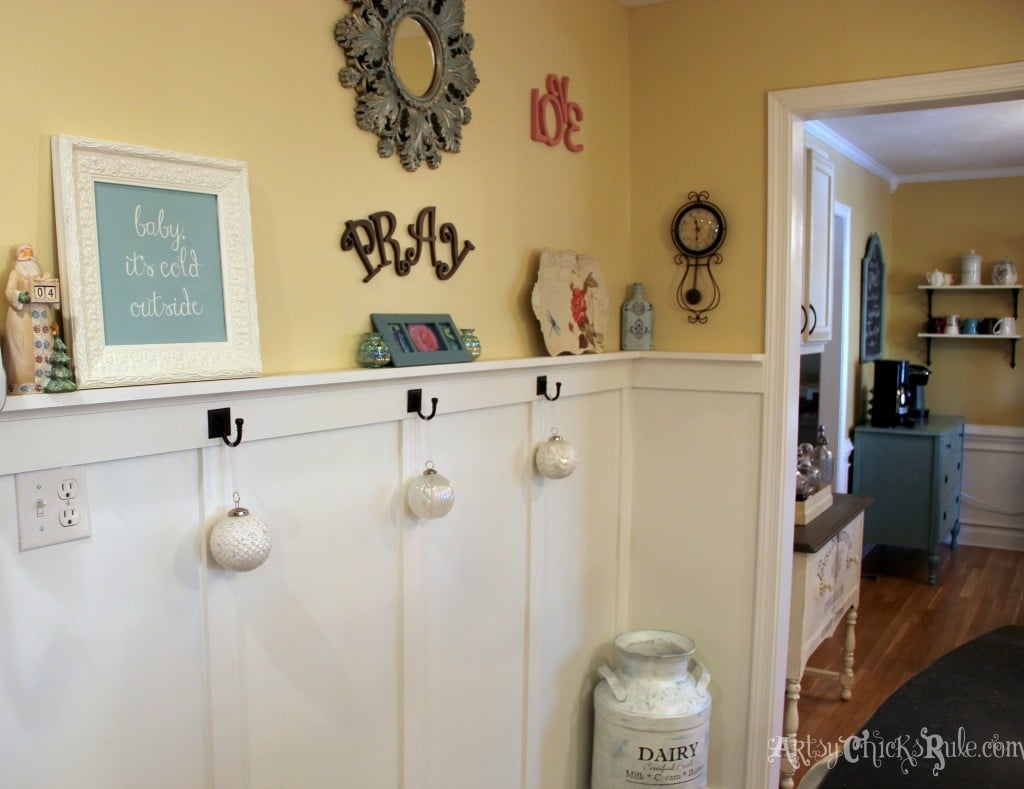 And in the middle, on the kitchen island, I put together this….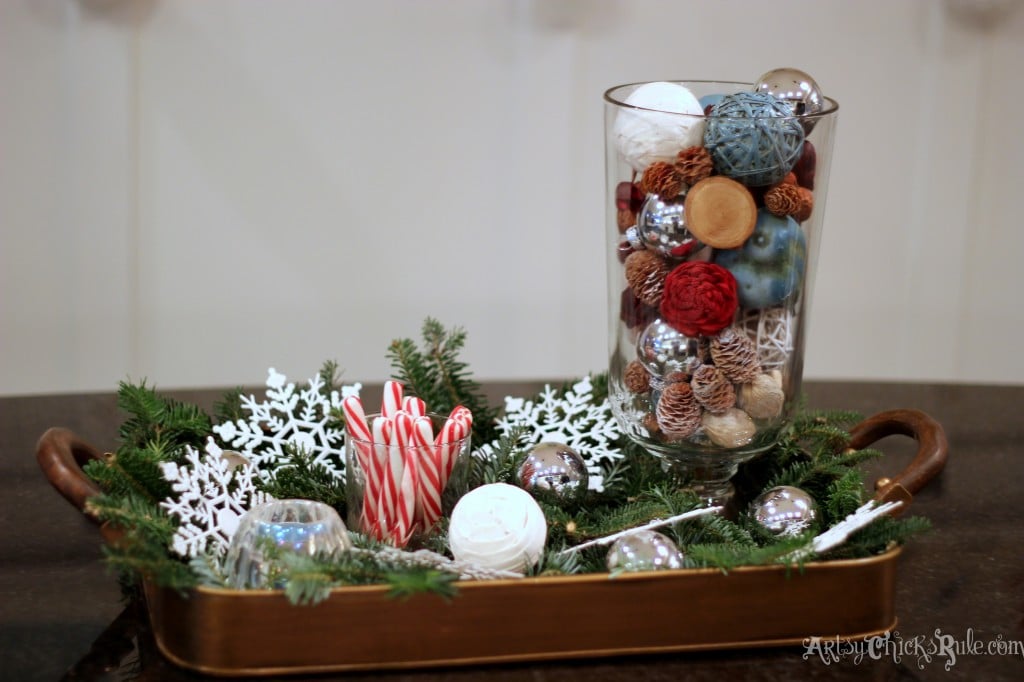 The tray was in the clearance section of Target for $15.
I got it for $7.50 because it had a broken handle…which I came home and fixed.
The greenery- again from the same branches from the bottom of our tree.
Ornaments and snowflakes came from the dollar store.
The Dining Room…….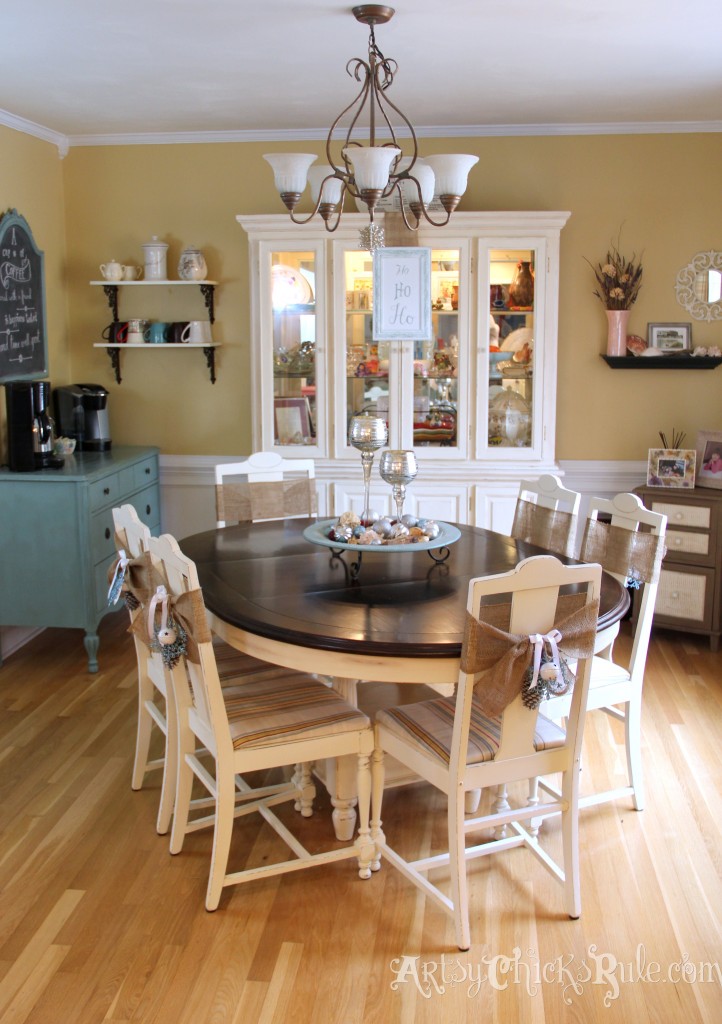 You can see how this set got transformed by me…paint and new stained top…in this post here.
And a little "bling" for the chandelier….it's sparkly. :)
"New" chairs since the last time I posted pictures of this room.
That would be another post too!
Love these simple burlap chair wraps I made.
Same as in the window in the kitchen but with burlap….and a simple white ribbon.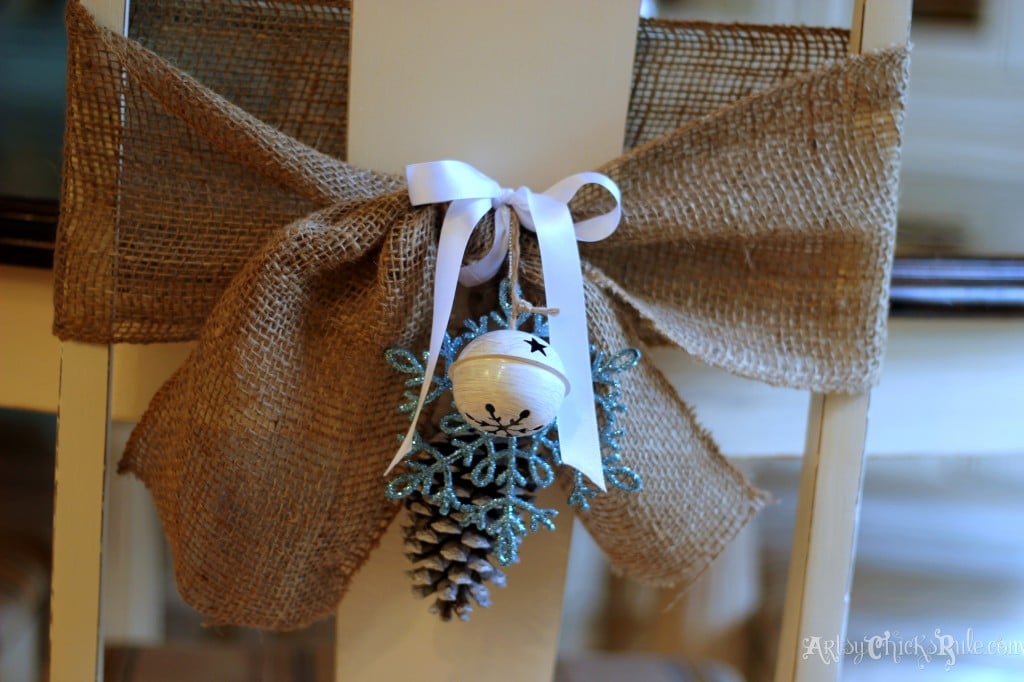 (Burlap and bells came from JoAnn Fabrics with my 25% off coupon PLUS their 40% sale!)
And the center piece….
…still following along with the natural/nautical element.
The metal tray was also painted with AS Chalk Paint almost 2 years ago.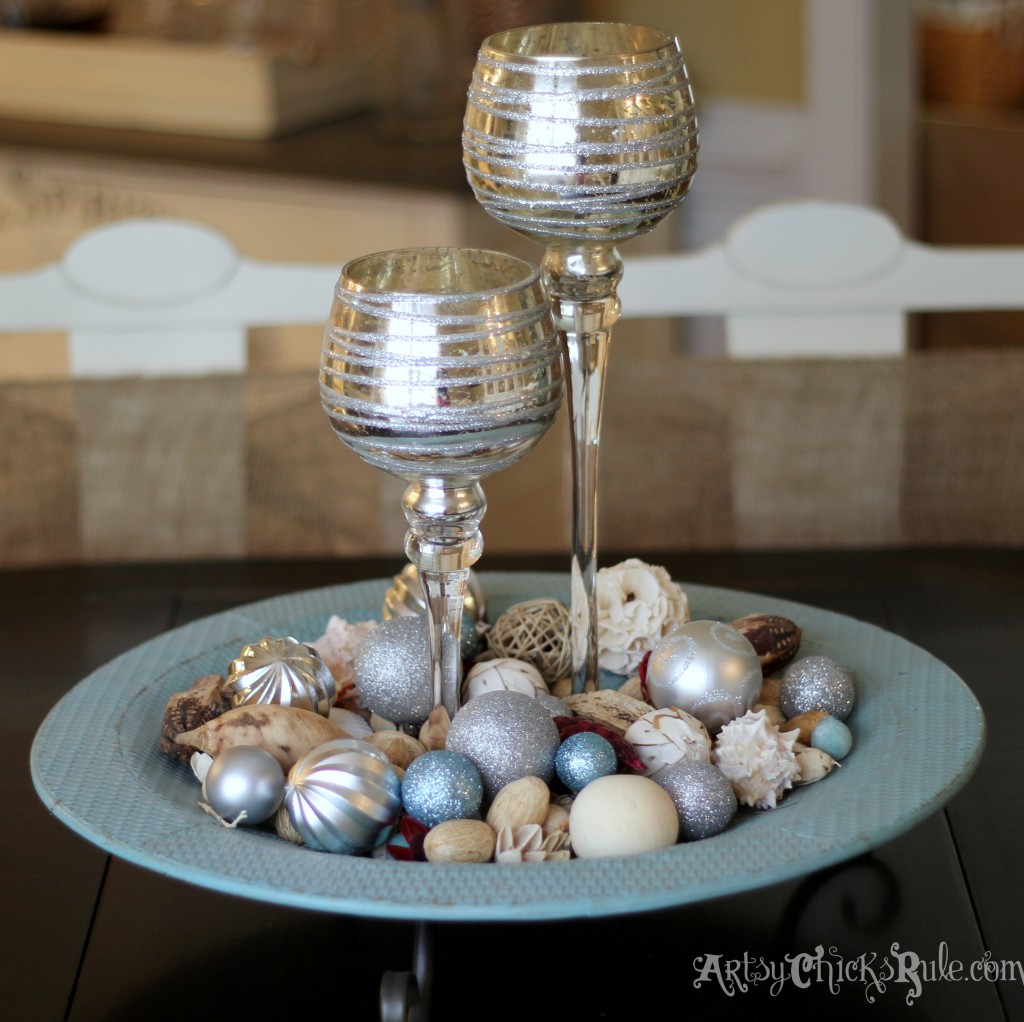 I broke part of the base on the tall vase pulling them out this year. But thankfully, it still stands. :)
And the broken part is hidden by all the "stuff" around it.
The "Ho Ho Ho" sign I made from an old framed print from the thrift store.
I used Duck Egg Blue Chalk Paint for the lettering and dry brushed frame.
I wanted to be a little more subtle with color in the Foyer, Kitchen and Dining so didn't use much, if any, red.
"Hung" it up –> (which actually means I used my staple gun — and stapled the heck out of it to the top of the cabinet) with burlap.
It's not going anywhere. ;)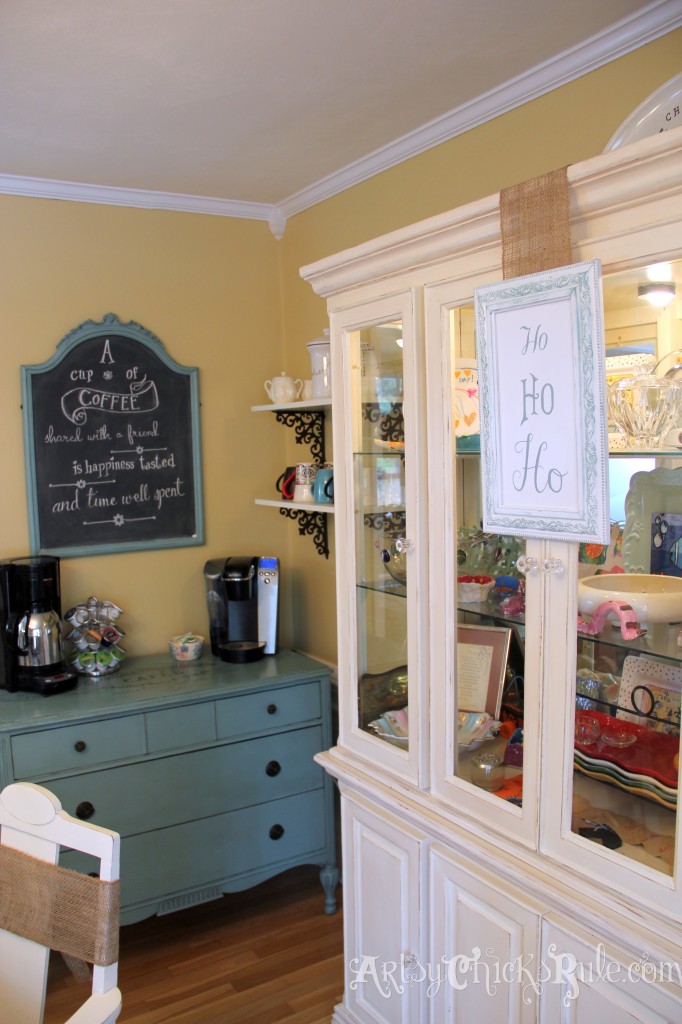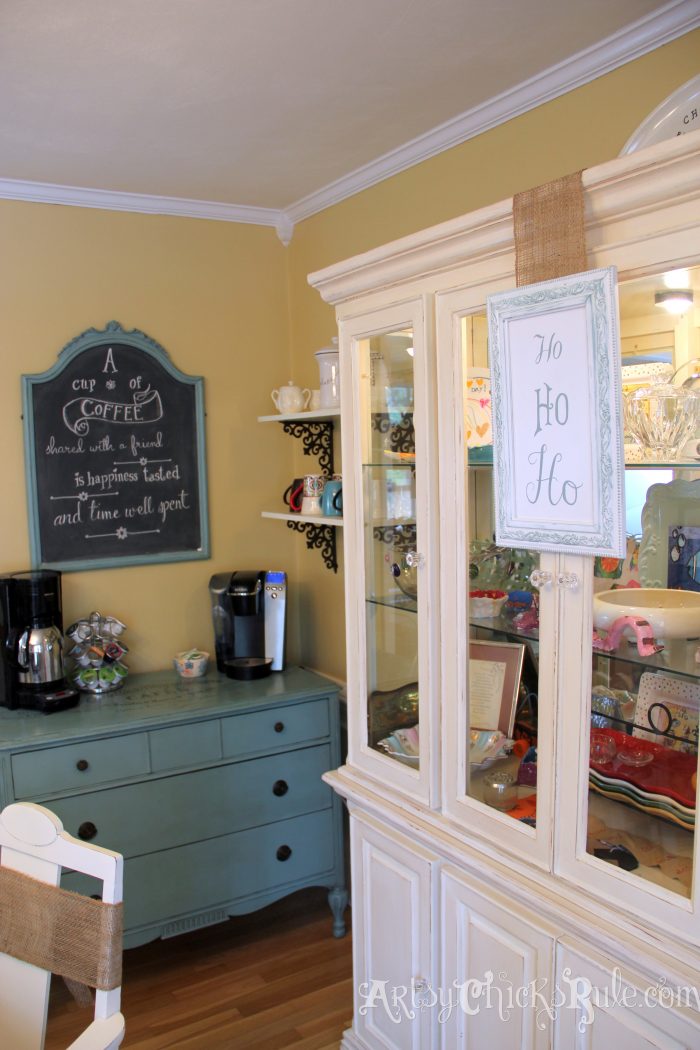 I might need to rethink that next year. ;)
And two little shots of the decor in my guest bath.
(towel from JoAnn Fabrics – same sale)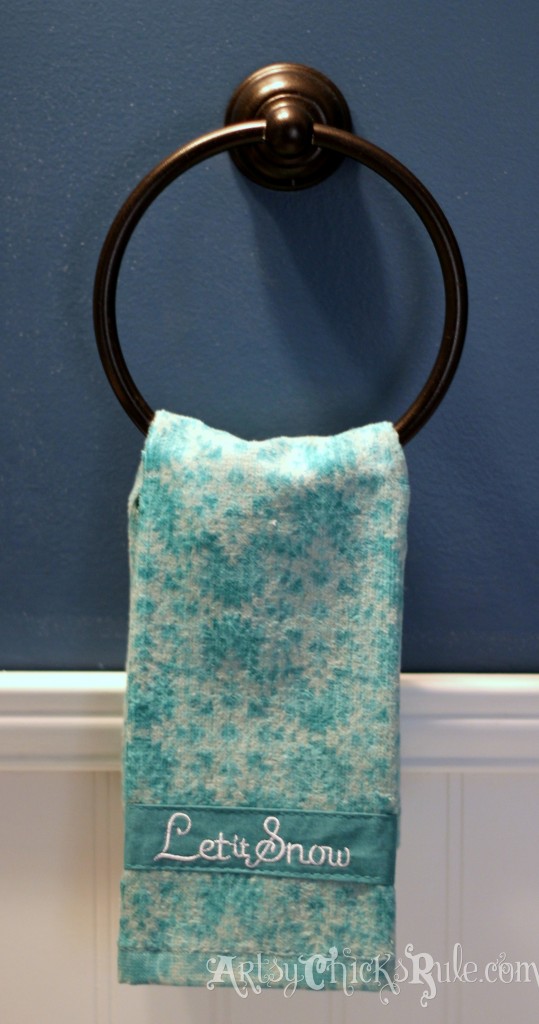 I don't really want it to snow. Well, ok, maybe for one day. I could do one day of snow.
And that towel ring, by the way, came from the ReStore for $1.
It was chrome and brass.
I spray painted it with Oil Rubbed Bronze to match the rest of the room.
One Dollar.
The mirror with a little holiday decor (holiday "bling", it's sparkly too)….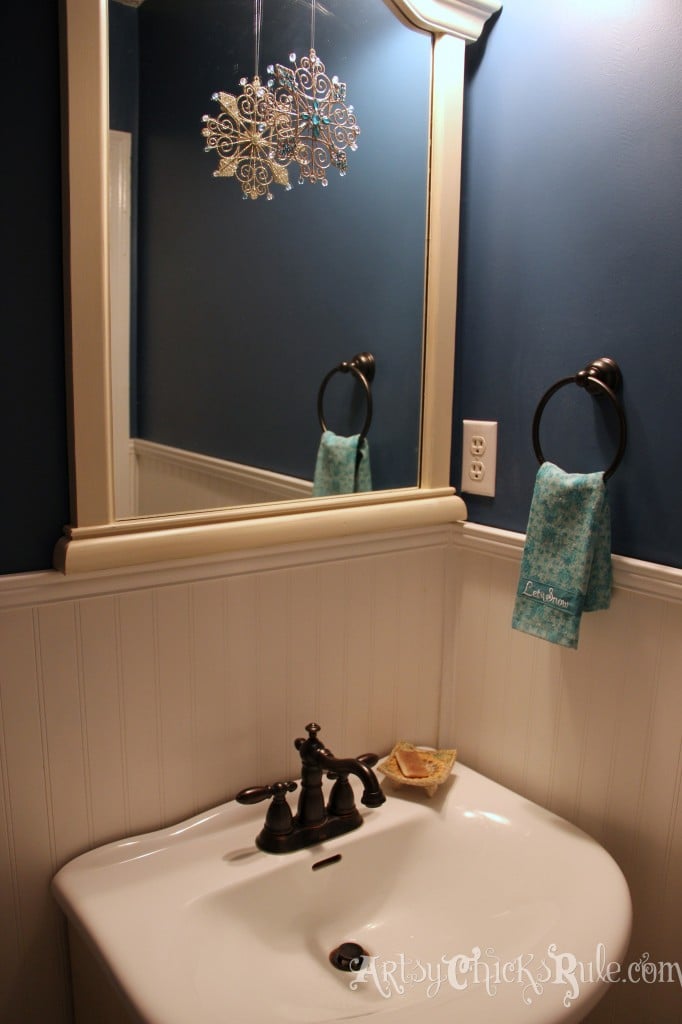 So, that concludes my Holiday Home Tour!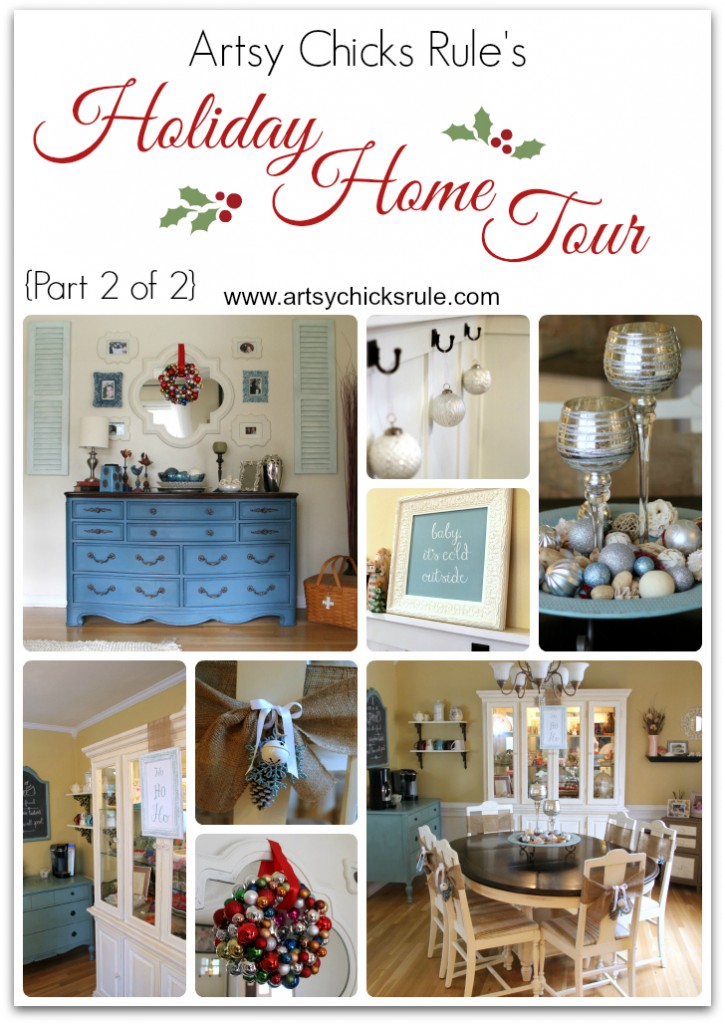 So happy I was able to pull it all together to share it with you.
And I'm so glad to be a part of this wonderful group of bloggers who are also sharing their homes with you during the 12 Days of Christmas Tour.
Be sure to also check out these other 3 blogger's homes today!
JUST PAINT IT
THE RUSTIC PIG
JUST A GIRL AND HER BLOG
And if you missed Part 1 of my Holiday Home Tour you can see it –>here.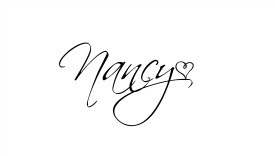 Be sure to follow me on Instagram if you don't already!
I always post projects and things I'm working on (like this one)
long before it hits the blog…..
….plus lots of fun random daily things too.
Follow Along Here!