"Welcome Home" Coastal Summer Home Tour
This post may contain affiliate links. Please see disclosures here.
Happy Tuesday Friends!
Today I'm sharing a bit of my home in the "Welcome Home" Summer Tour with Balsam Hill.
Since I live on the coast, most of my home decor is coastal in nature.
But when Summertime comes, I kick it up a notch! ;)
So today I'm sharing my Family Room, where we spend most of our time…..
Coastal Summer Home Tour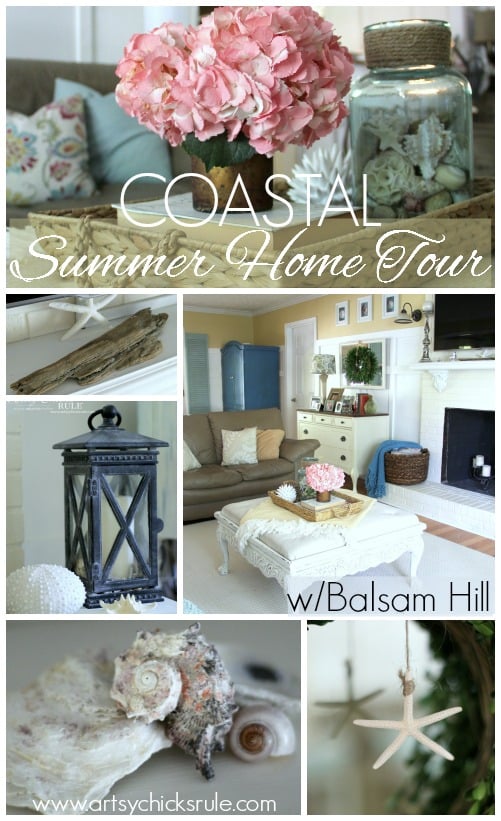 My friends will be sharing theirs all week too.
You'll find links to each at the bottom of this post.
But first let my share my Coastal Summer Home Tour with you all….
I'm not sure I would pigeon hole myself into any one "decorating style".
My style is more eclectic and basically follows my "rule" of use what speaks to you.
Decorate and surround yourself with the things you love and things that make you happy.
There are some rules but I'm pretty lax on most. :)
If it makes me smile, and my family loves it, than I am good.
This room makes me smile…..and my family enjoys being in it.
It's a bright, cheery, happy place. (but wasn't always….want to see why we called it "the cave"? Look here –> Family Room Makeover)
And I still REALLY want the white slip covered furniture…but haven't convinced the sweet, dear husband of that one yet. ;)
He's very attached to this oh-so-comfortable (can't blame him) leather furniture a bit too much.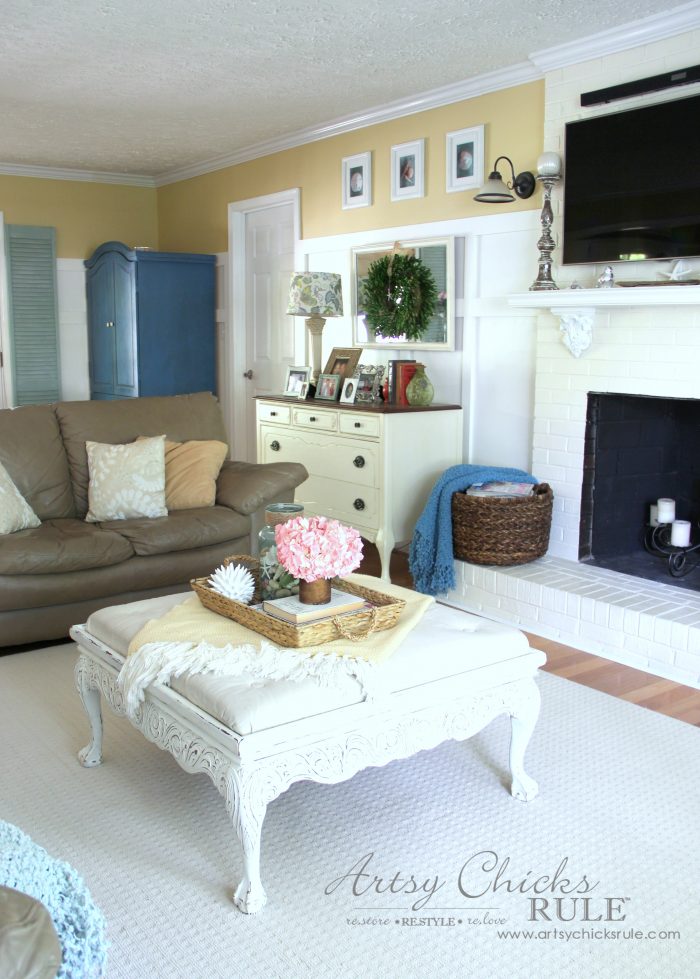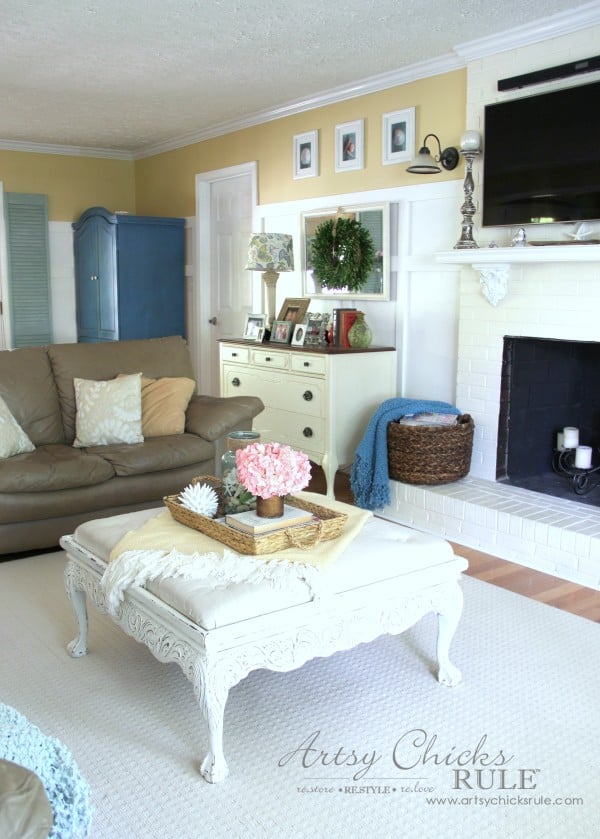 I would like to give a shout out to Balsam Hill for providing several of the things that I used in my Summer decor.
All opinions of each are 100% my own, however!
*See here for my full disclosure policies.
Like this gorgeous (and super heavy) *Small Crossbar Traditional Lantern from Balsam Hill…..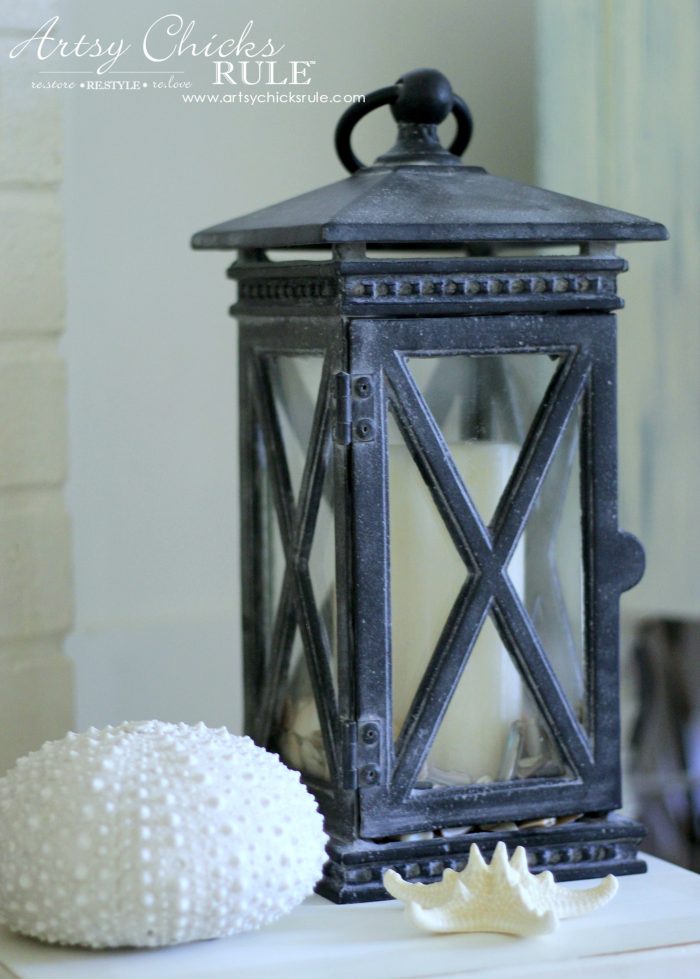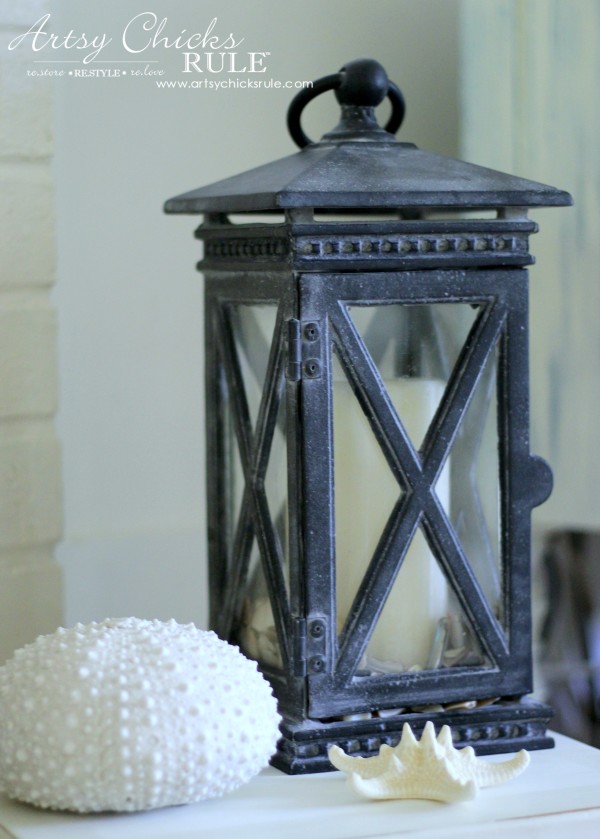 When I hear "Balsam Hill", I think Christmas Trees but guess what…they have much more than that!
As is evidenced by this post. ;)
I can totally see this lantern being used at the holidays but how great is it with my Summer decor?
I added a cream colored candle and some broken shell pieces to the inside bottom.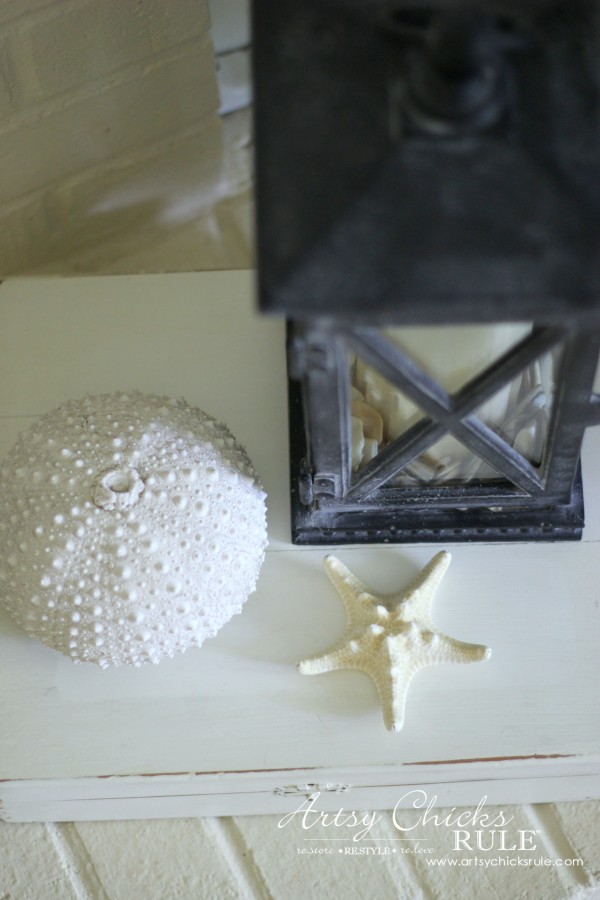 I never have a shortage of shells, starfish, etc, around my home to decorate with.
Like this sweet little starfish I added to my boxwood wreath for the Summer.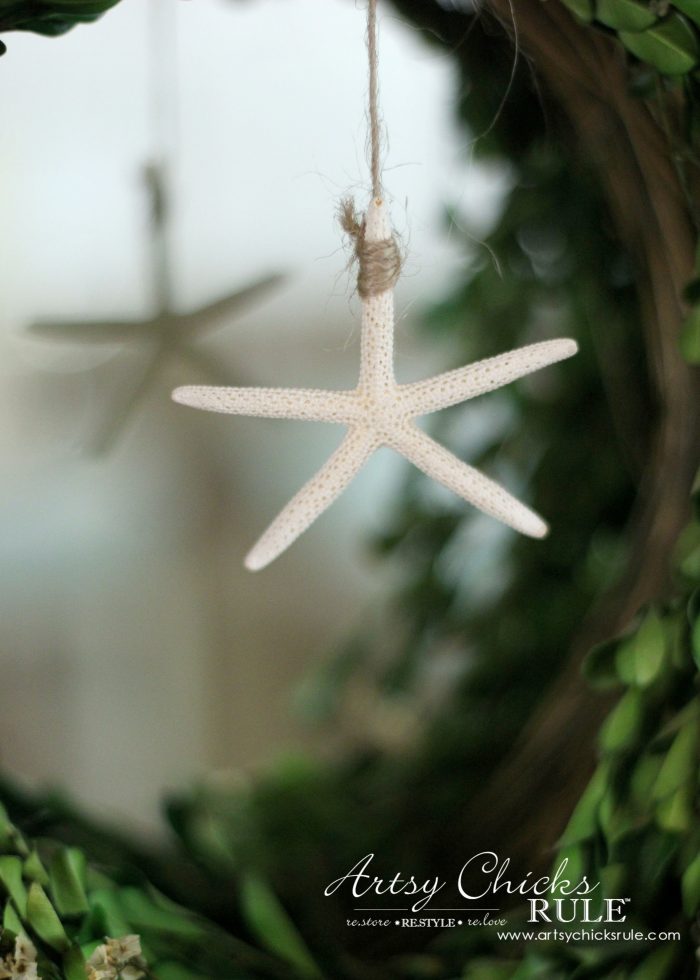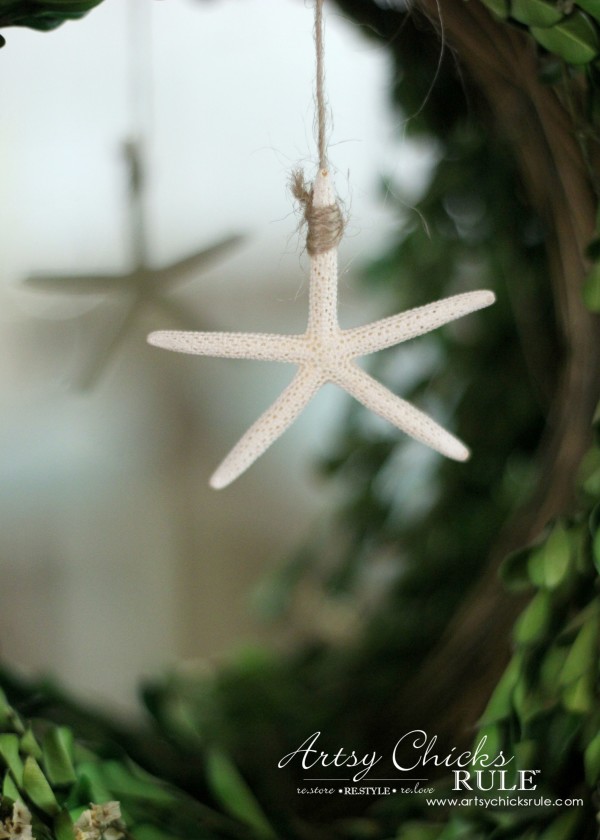 AND I was lucky enough to find this awesome piece of driftwood at the beach this past Memorial Day weekend.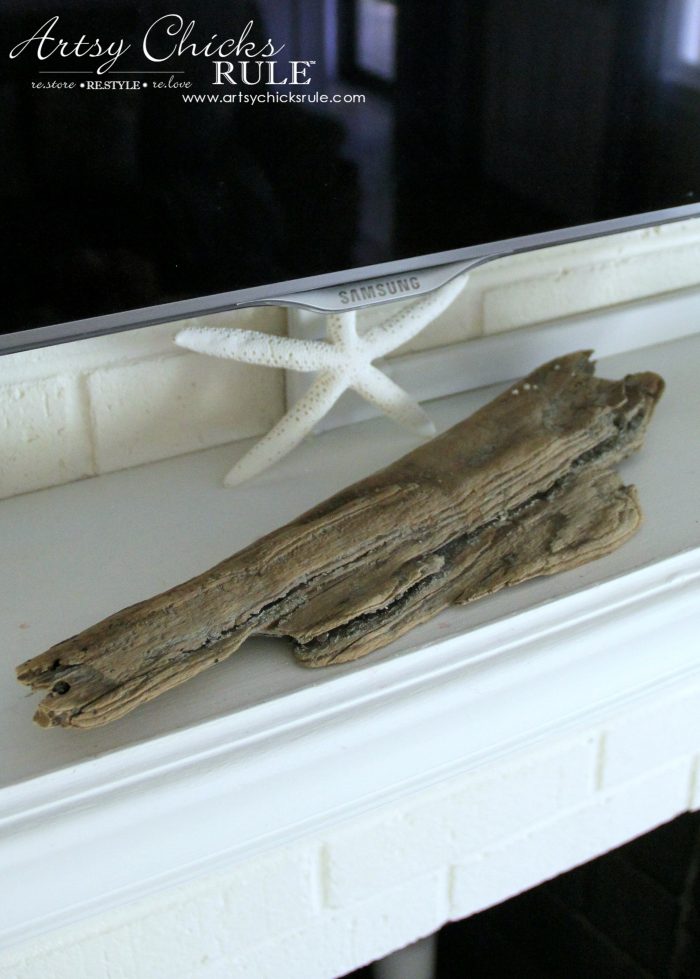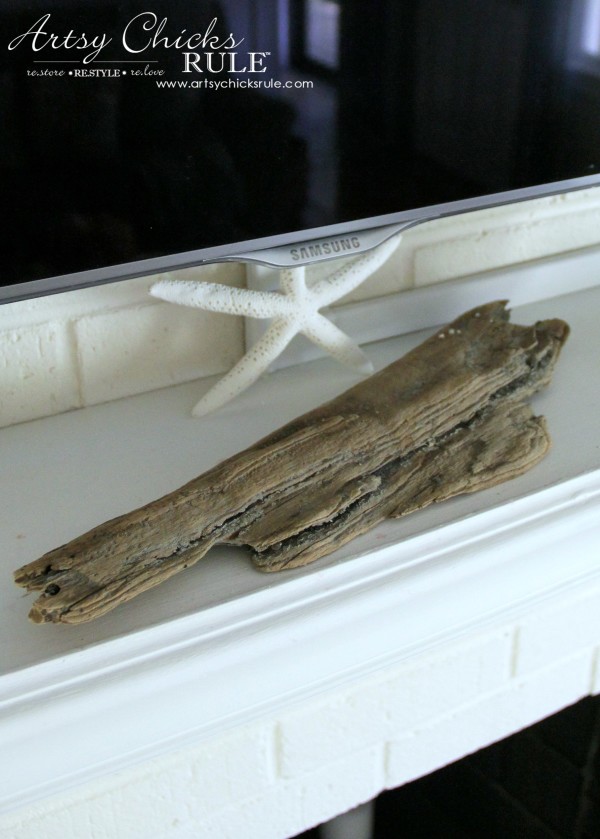 It even has baby barnacles on one end!
Can you see them?
I just adore it.
Here's what else I found that day….(I had one driftwood "causality" as you can see..broke into 3 pieces…bummer :( )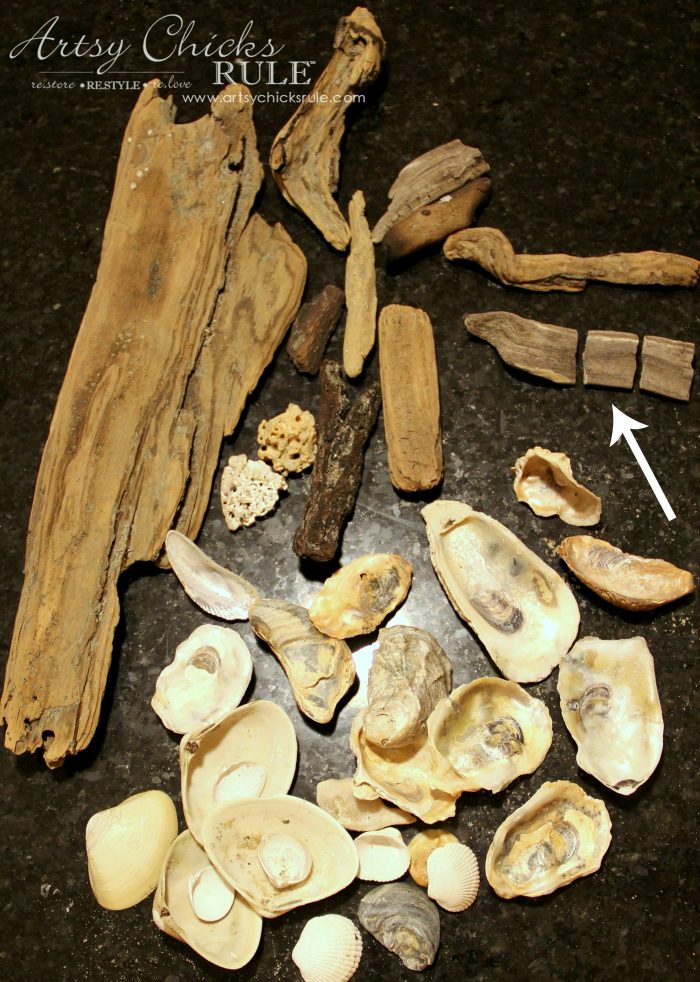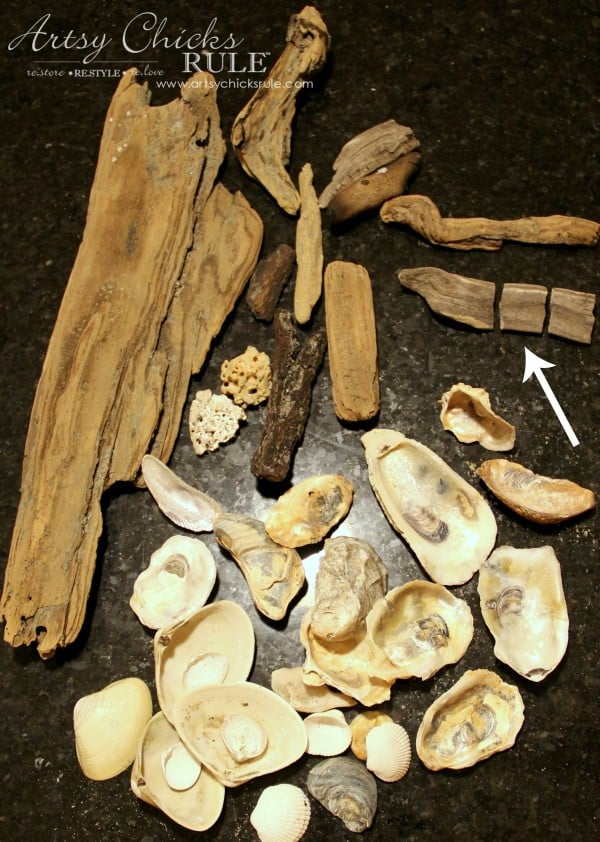 I am just thrilled with the largest piece though.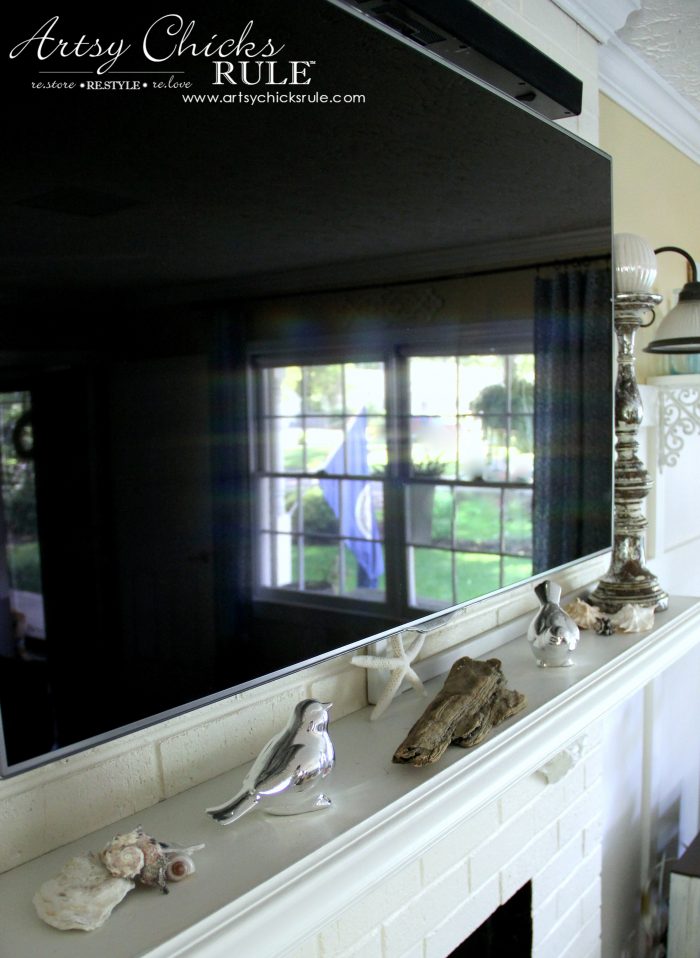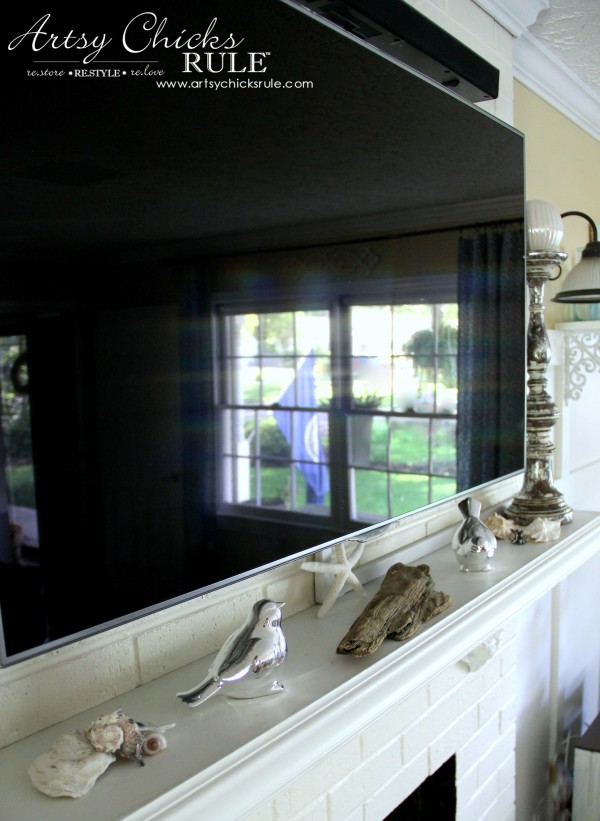 And why I decided to showcase it on my mantel for the Summer.
Front and center!
Right along with my other summery items, starfish and seashells.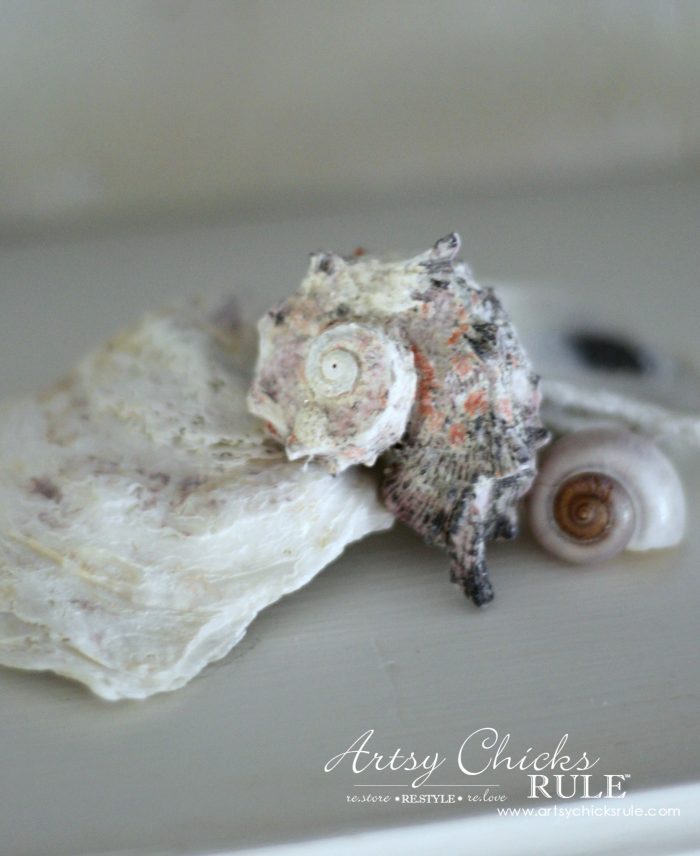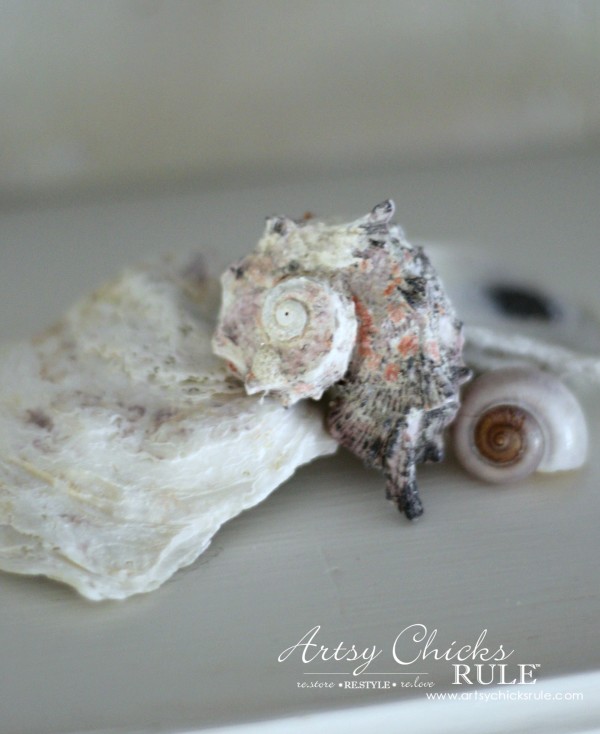 LOVE
These *20″ Tall Silverleaf Candle Holders, also from Balsam Hill, on either side of the mantel (or should I say TV?? ;) ) are amazing.
(You can read about why we put the TV here recently, in this post –>> "Black Friday TV, A Family Room Makeover" )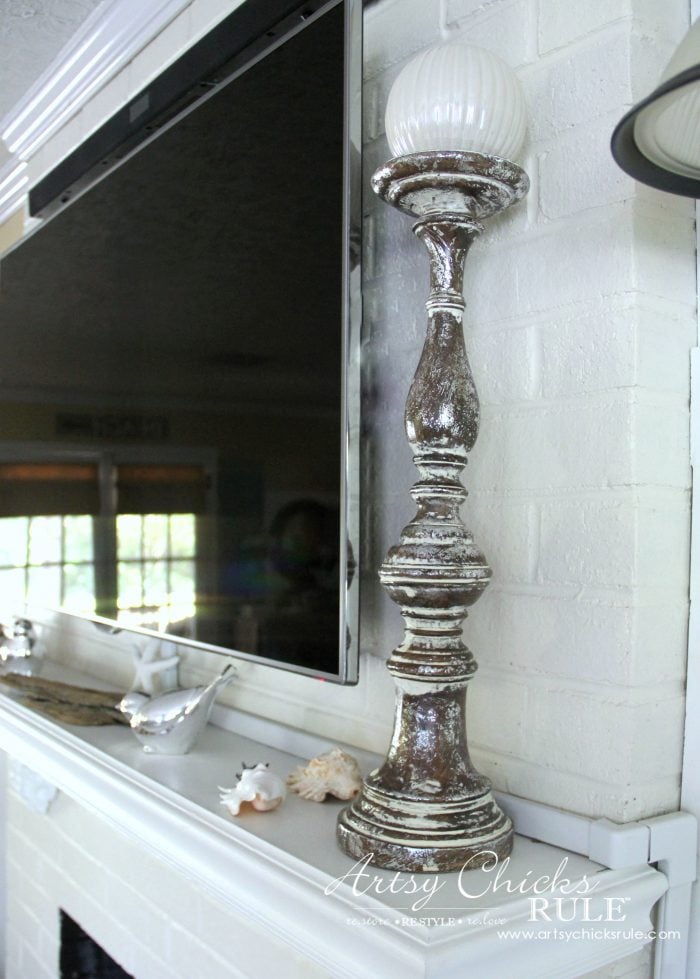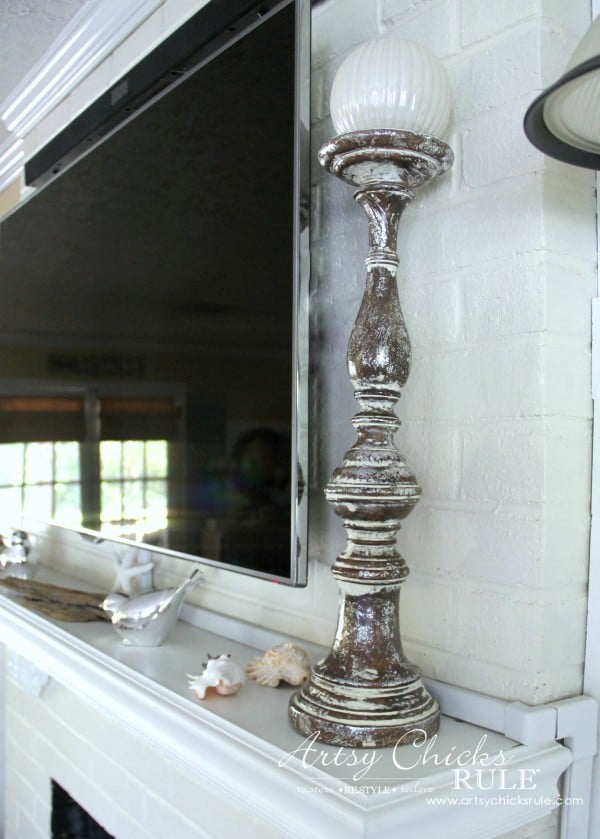 I truly fell in love when I opened the boxes and pulled them out.
They are big , beautiful and heavy!
Very well made and just gorgeous.
I am so glad I chose them for my decor. I'm thinking they will be used time and time again.
I decided to use decorative iridescent ceramic balls on the tops instead of the usual candles though.
What do you think, candles instead?
Either way, it's fun to have the option.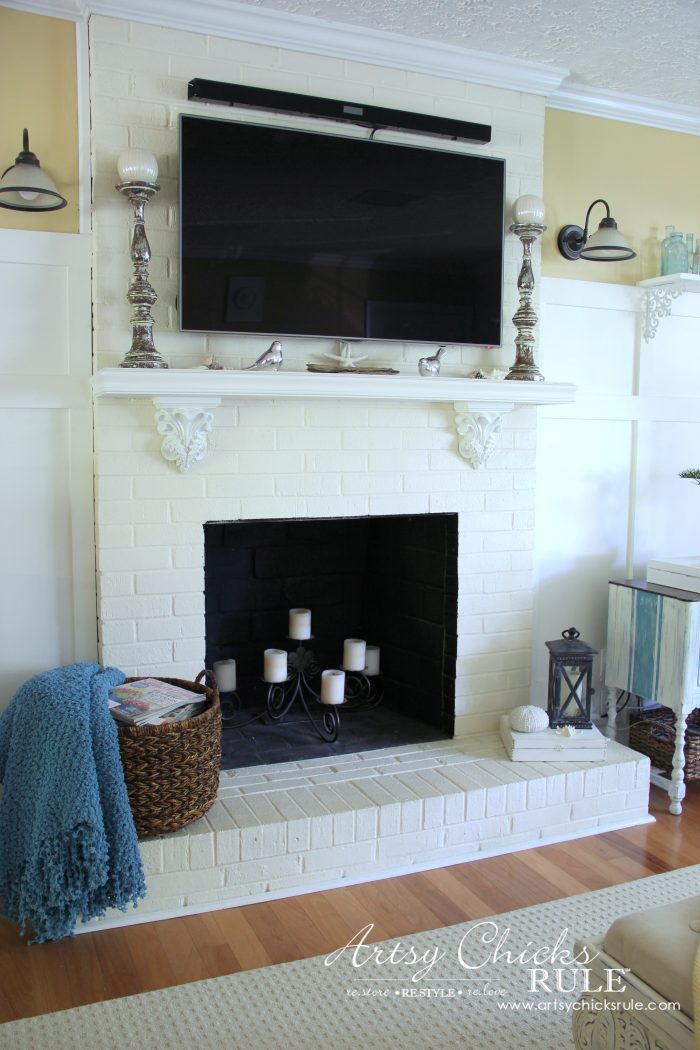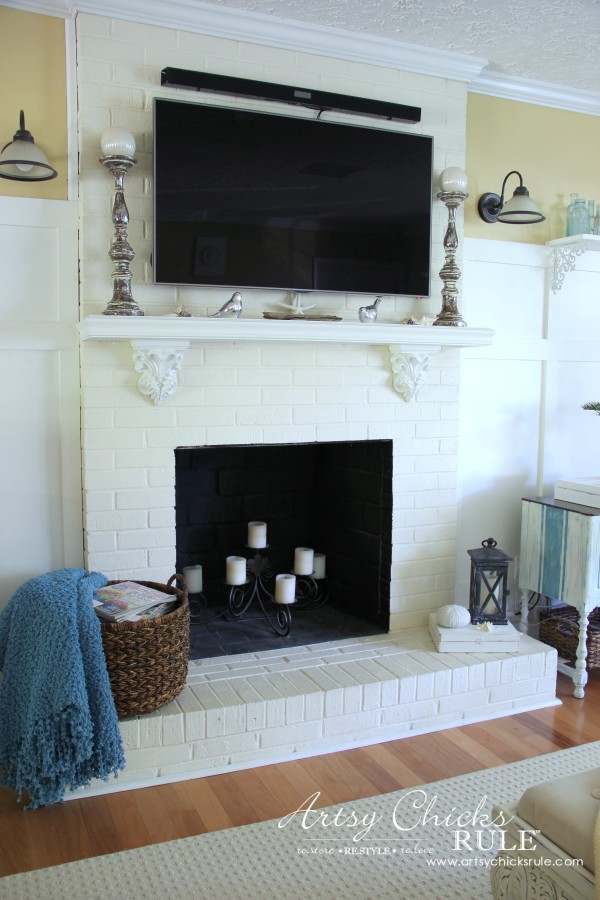 I'm really loving the "glam" of the candle sticks and shiny birds along with the natural elements up there.
I also enjoy and love grabbing a magazine and getting comfy on the couch.
(I may be a magazine hoarder…in a really bad way. ;) )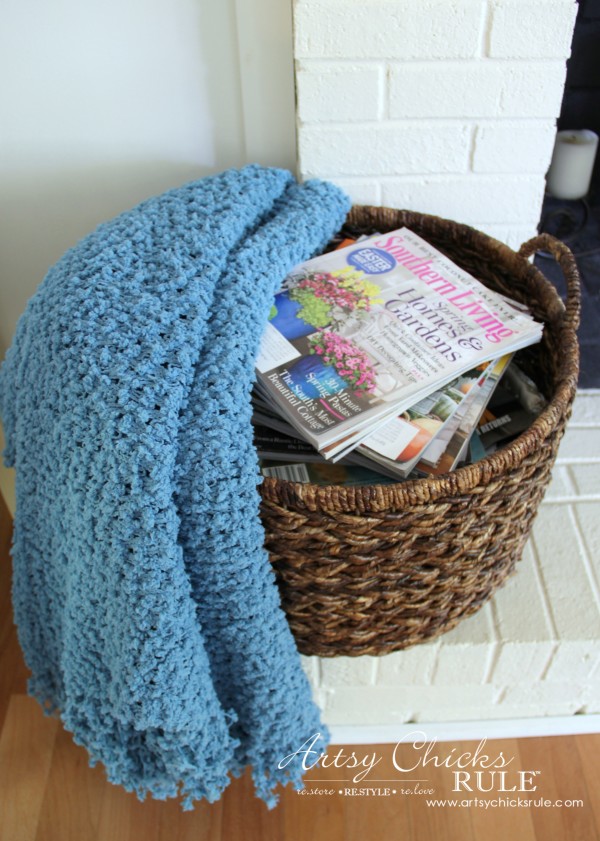 And yes, I'm even cold in the Summer…. sometimes….so always have throws at an arm's reach.
(DIY "Faux" Board & Batten post here)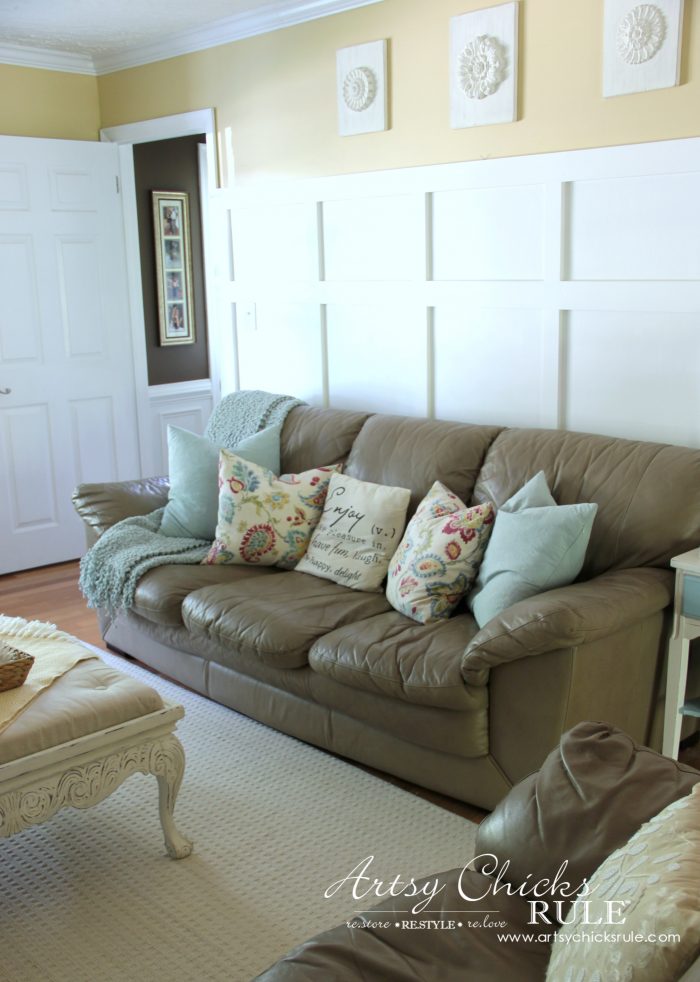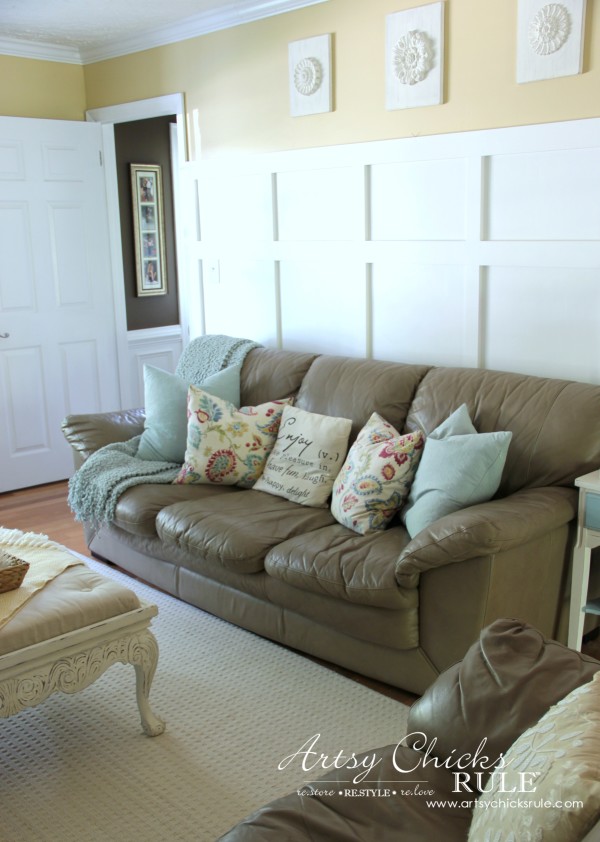 Yep, one on the end of that couch too. ;)
(you can see those super easy to make (and thrifty-$26 total!), wall medallion plaques over the couch, here—> "DIY 'Carved' Wood Medallions" )
And one on the "Chalk Painted French Chair" in the corner….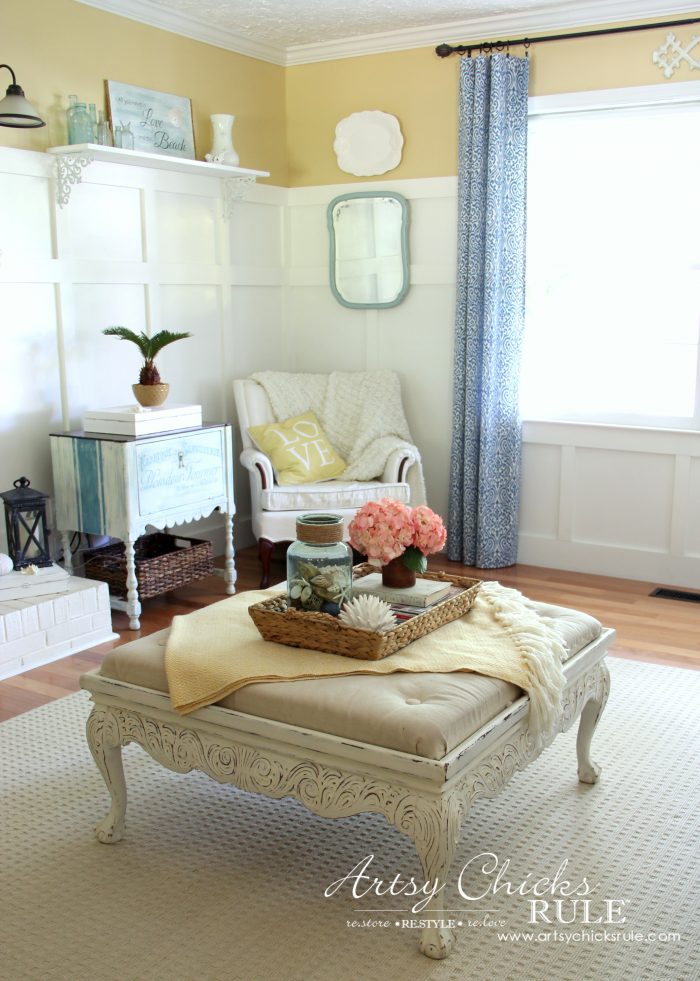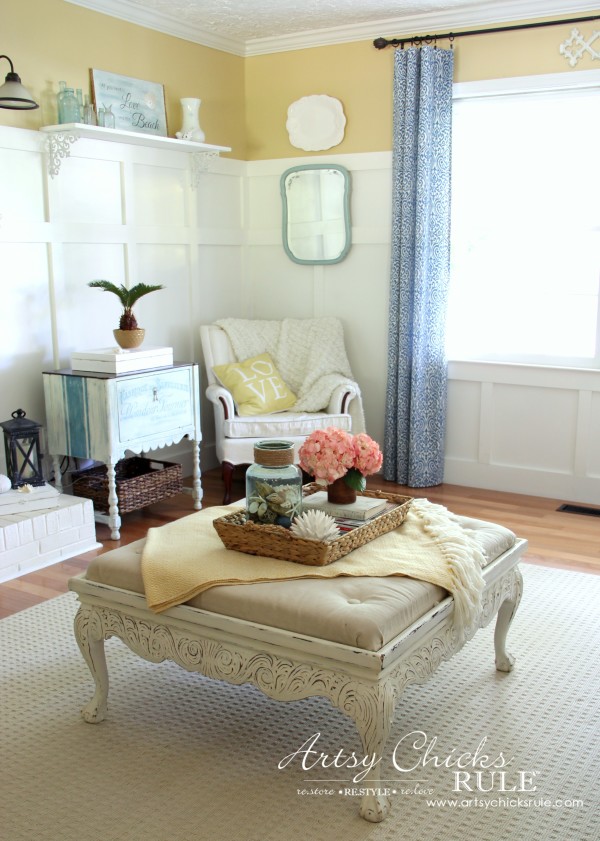 Just in case, y'all. Can never have too many, I say!
(no sew blue curtain panels here –> "Easy, No Sew Curtain Panels" and "Thrift Store Coffee Table Turned DIY Tufted Ottoman". )
I also love to have fresh flowers around in the Spring and Summer.
Bring a little bit of that "sunshine" indoors.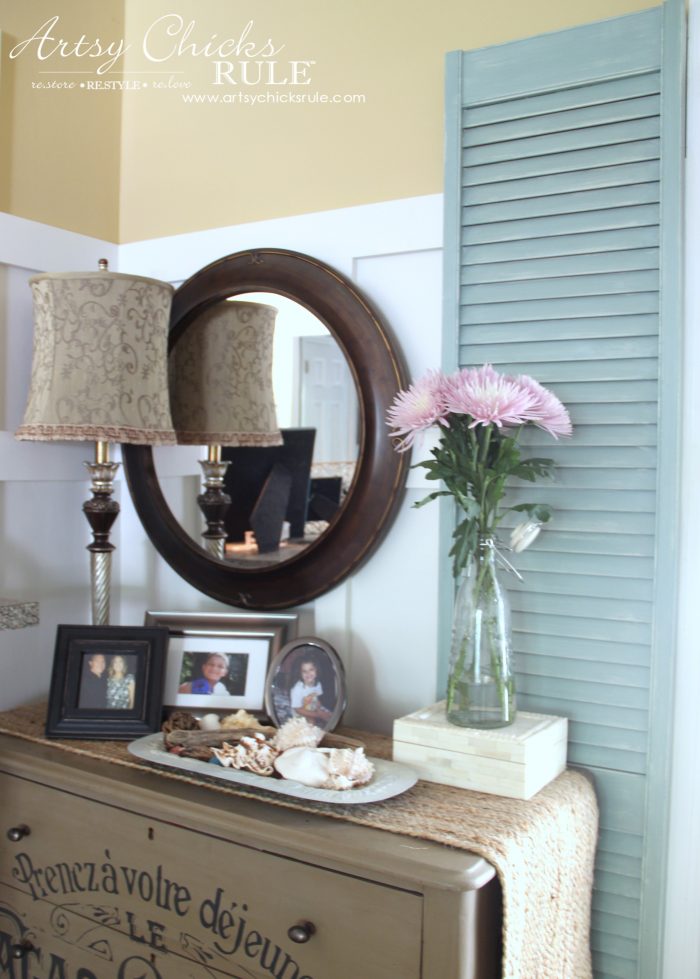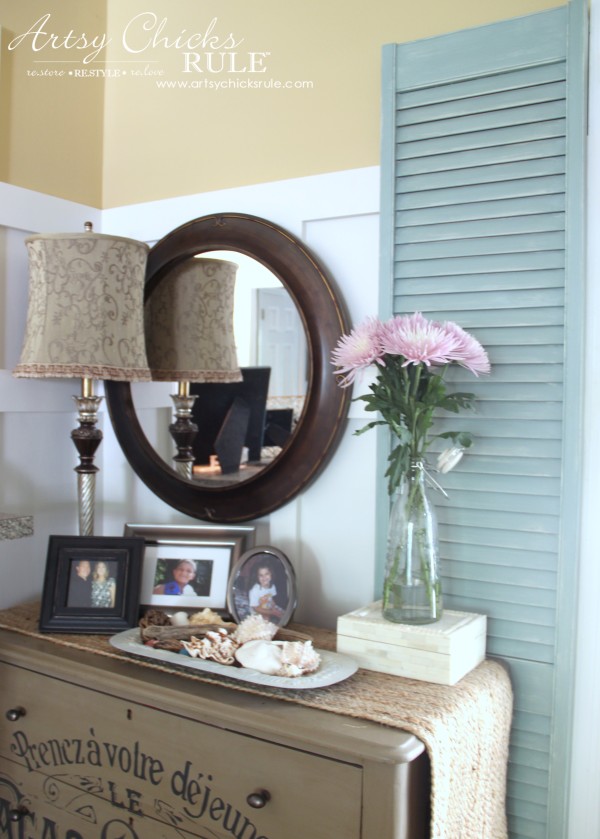 That "shutter" on either side of my French doors is actually a $5 bi-fold door from the thrift store.
You can see the 2 part paint technique I used to give them a weathered look here –>> "Bi-Fold Doors Repurposed to 'Shutters' ".
Or live green plants like this Palm plant my sister gave me for Mother's Day.
If you follow along on Instagram, you've already seen it! ;)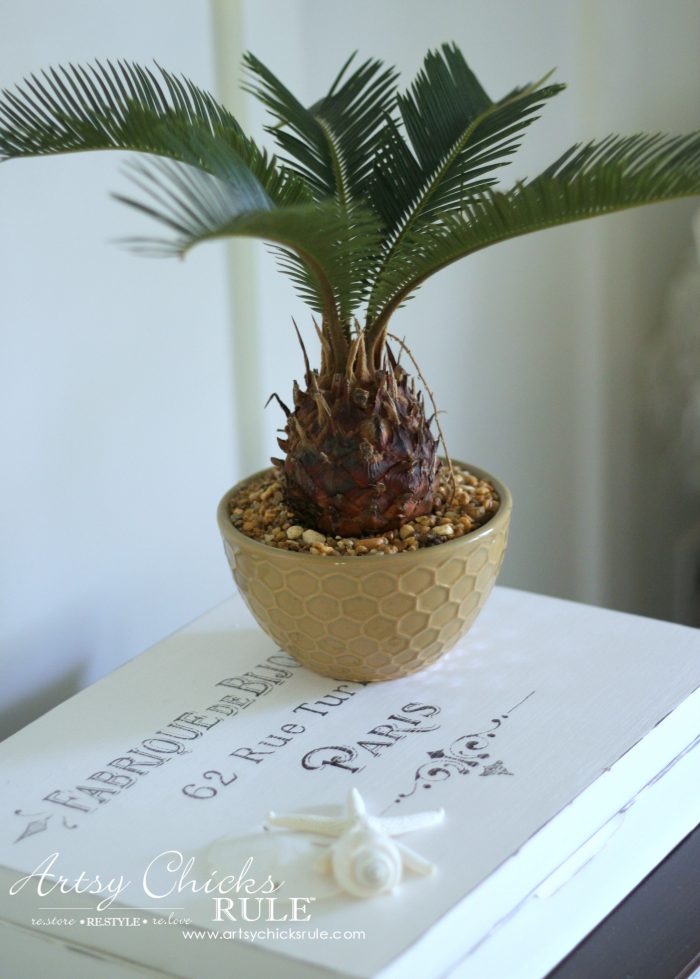 It's just completely perfect for my Coastal Summer Decor.
And how about Hydrangeas?
One of my absolute favorite flowers.
I have 5 bushes in my yard (4 in back and one in front) but all are fairly young…and a bit stingy with blooms yet.
I do have one or two in the back that give me a modest amount and are blooming as I type this. Yay!
But these lovelies came from my local Kroger store.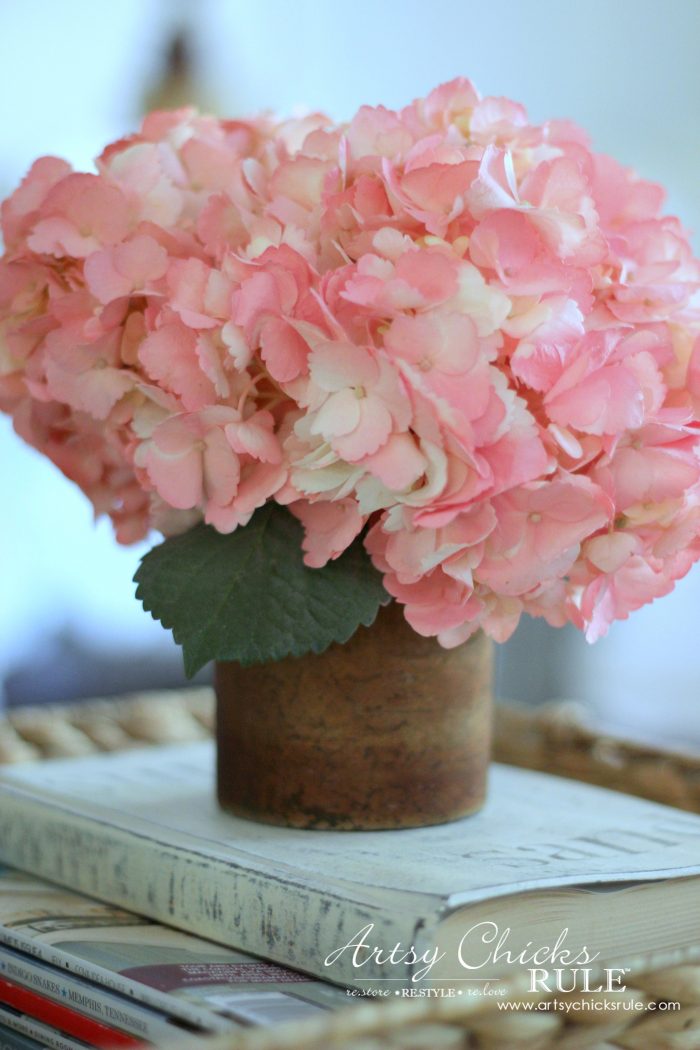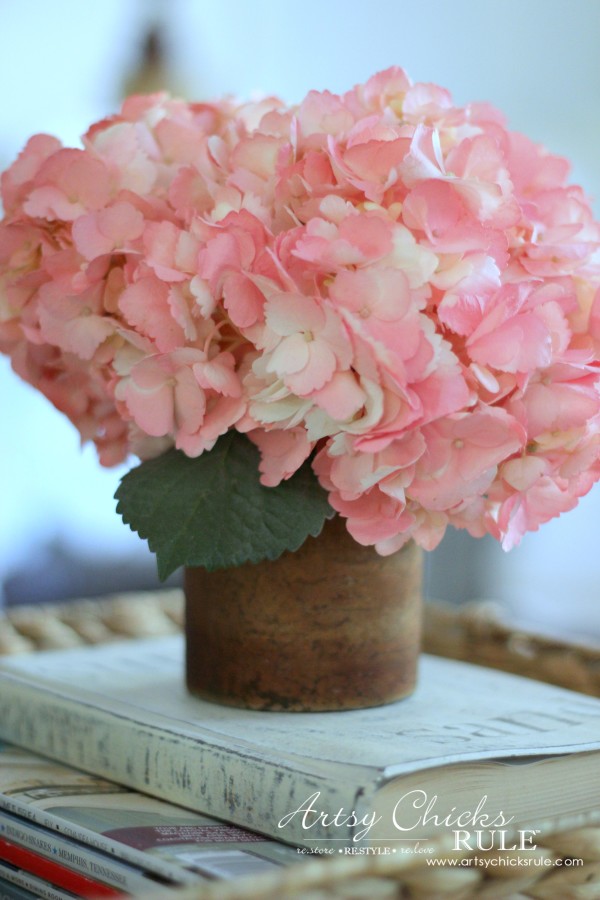 And I popped them into that pretty *Gold Mercury Glass Votive Holder.
I got the small one from Balsam Hill.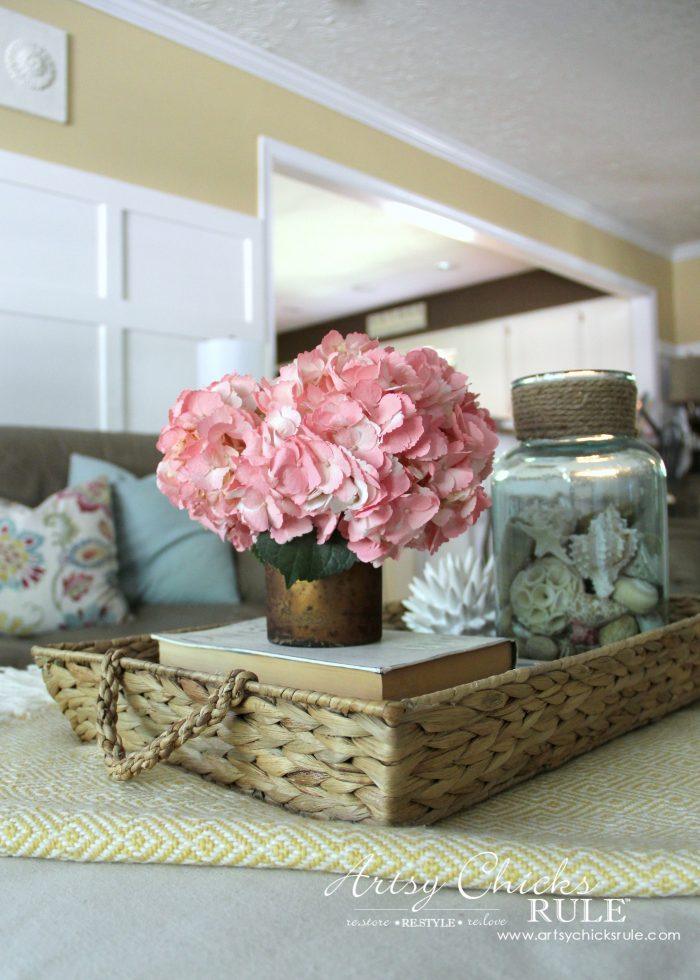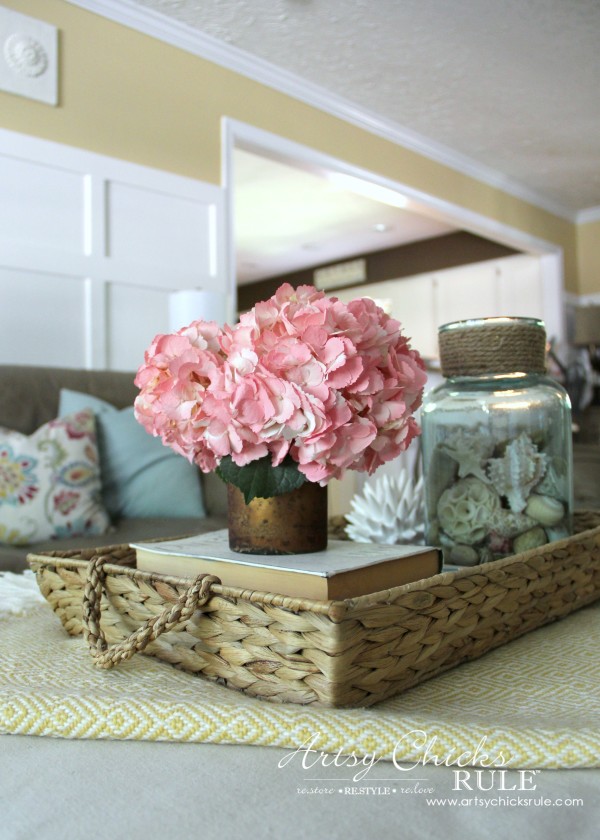 I just realized I didn't use either "candle" item …with a candle! (except the lantern, of course)
I love using things for other than their intended purpose anyway.
I think it's perfect for the flowers actually.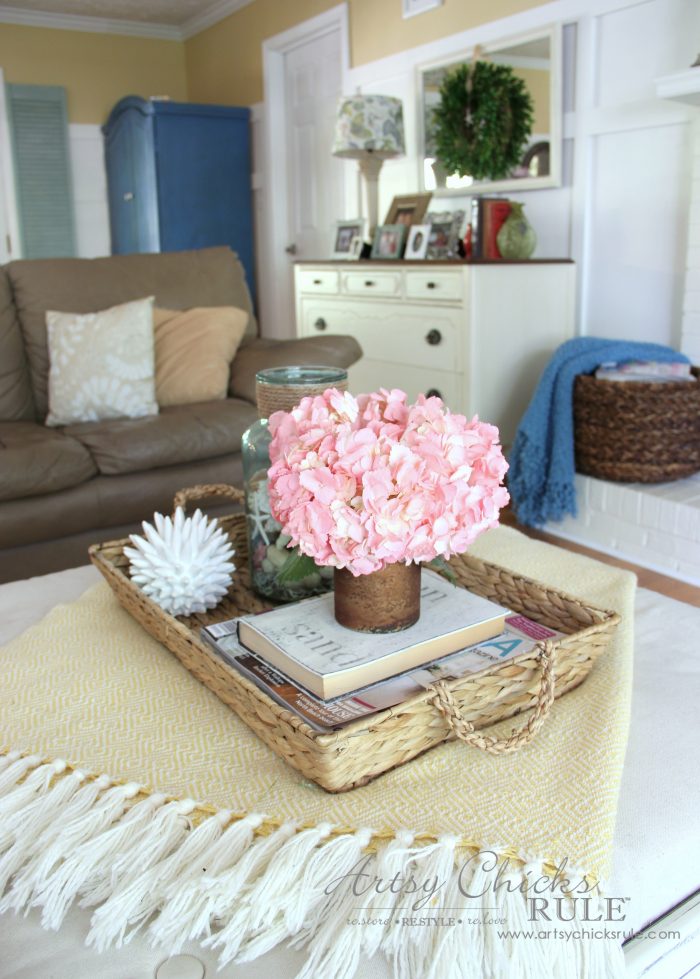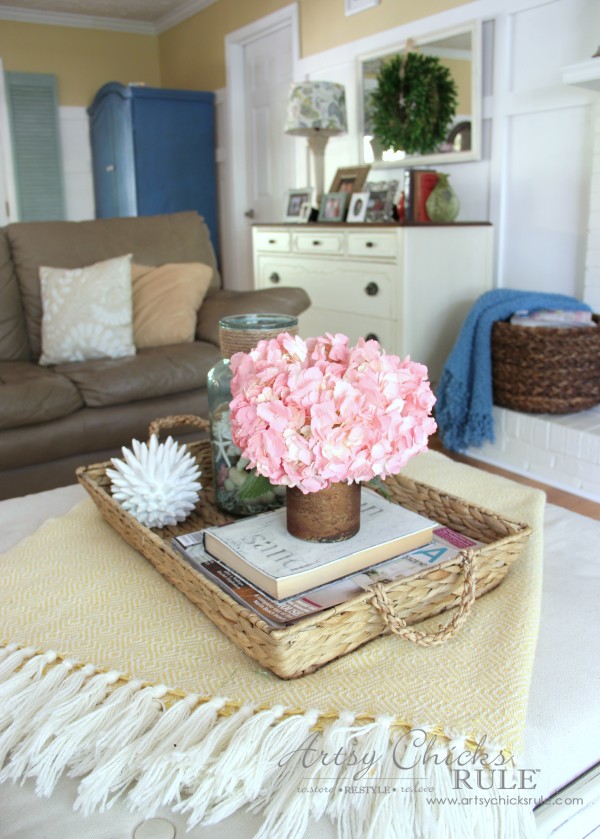 Yes, that happens to be another throw on top of my ottoman…but it's for decorative purposes only. ;)
And that, my sweet friends, wraps up my Coastal Summer Home Tour.
Do you decorate for Spring…or for Summer?
What do you do differently?
I'd love to hear in the comments below, if you'd like to share.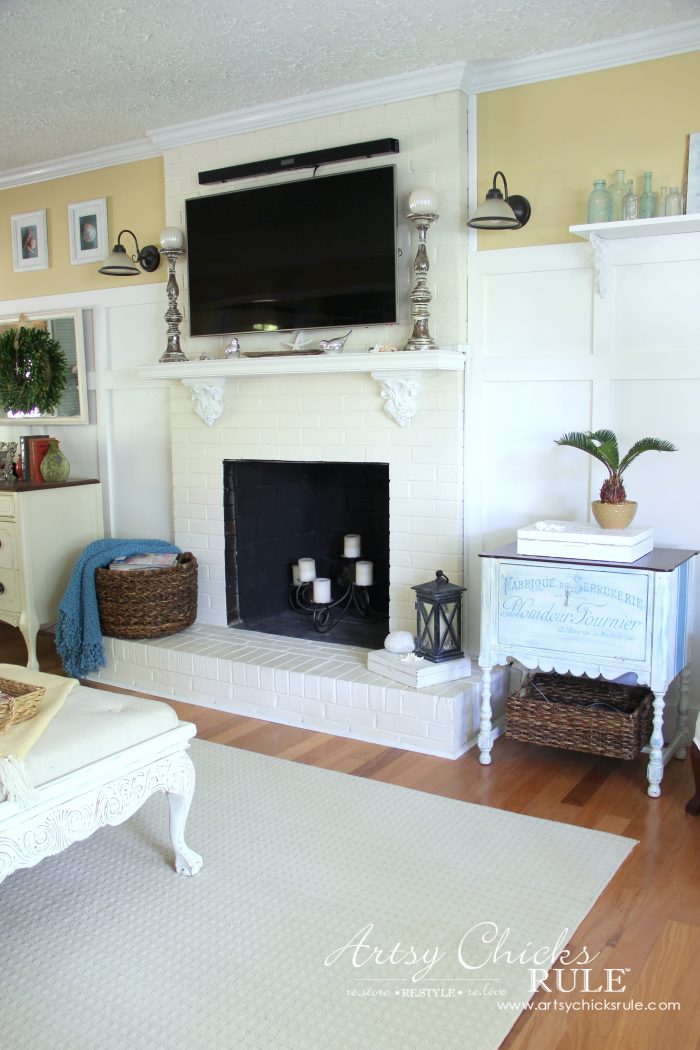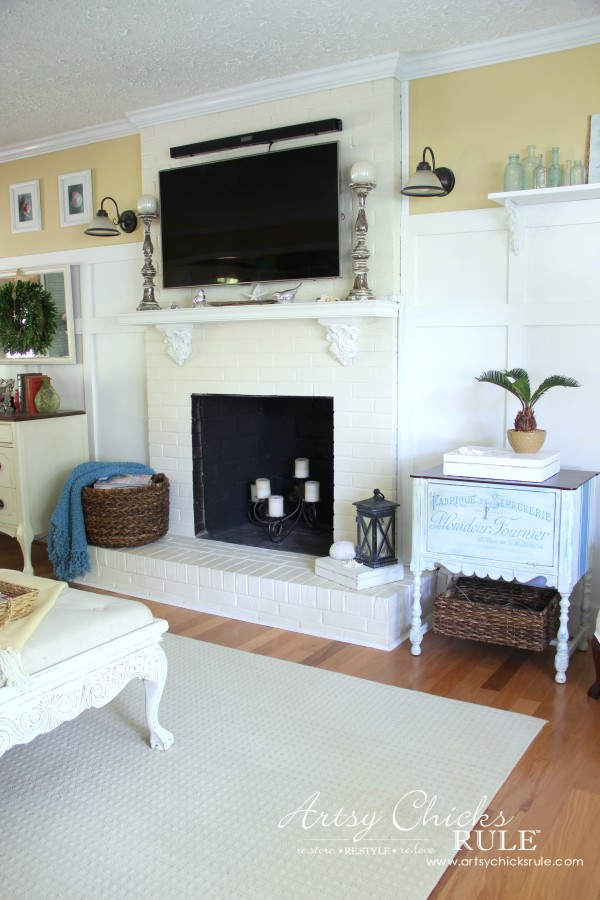 We certainly enjoy our casual and comfortable Family room.
And I love changing, adding or moving things around from time to time.
I hope you enjoyed "visiting" my home. :)
Be sure to visit my friends' homes too. Links to their blogs are below.
I'll see you on Thursday with a fun new furniture makeover!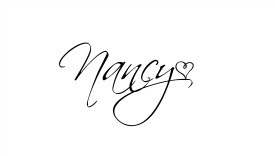 Follow along here! –> Instagram ~ Facebook ~ Pinterest
Tuesday
Artsy Chicks Rule (me!)
Confessions of a Serial Do-it-Yourselfer
And here are yesterday's tours (in case you haven't seen them)
Monday
Check back in the rest of the week for these…
Wednesday
Thursday
Friday