Red Velvet Trifle (a recipe for the holidays)
This post may contain affiliate links. Please see disclosures here.
Are you guys all ready for Christmas & the Holidays? All presents are bought and wrapped, right? Right! Righhhht.
Nope. I've finished shopping but I've still got some wrapping to do. Always.
But first, how about a little dessert? :) Mmmm, Red Velvet Trifle.
……………………………………………………………………………………………………………………..
When I see Red Velvet …anything…I almost always think "holidays".
I don't know why. Maybe because it's RED? Or maybe it's because that's the only time of year I make Red Velvet Cake.
I posted our family recipe last year, in December. You can see that "super secret" recipe –> here.
Just kidding.
It's not super secret…well, because I've already given it to you in the post linked above.
What it is, is different.
Different than any other Red Velvet cupcake, or cake I've eaten since it became "the most popular thing ever" in recent years.
Yes, most of the newer recipes use Cream Cheese Frosting of some variation.
MY recipe does not.
It is, what I believe to be, the original Red Velvet Recipe of old.
Don't get me wrong, it tastes just lovely with Cream Cheese Frosting….but it's not what I think of as true Red Velvet.
And the frosting is what makes it, in my humble little opinion. :) So why in the world am I talking so much about this, you are no doubt wondering?
Because the recipe I am about to present to you….has cream cheese in it. HUH?
Yep. It surely does.
BUT understand, this is really the only way I could make a proper red velvet trifle.
The frosting in my "original" Red Velvet Cake does not have enough body to hold up well in a trifle.
Ok, well, not as much as I'd like.
So, I did indeed include CREAM CHEESE in this recipe. :) The shame.
It's yummy though, I promise. —-> However, I still love my regular ole Red Velvet Cake…but this really is a nice change up. (and really easy…and I LOVE that!)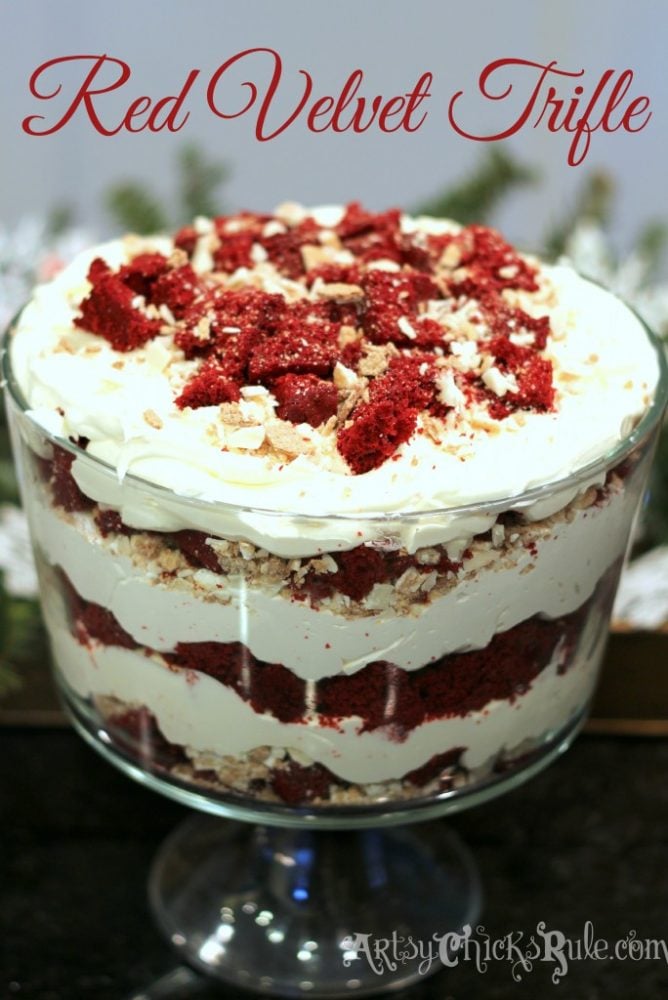 Here's the ingredients for the Red Velvet Trifle ….(for the most part)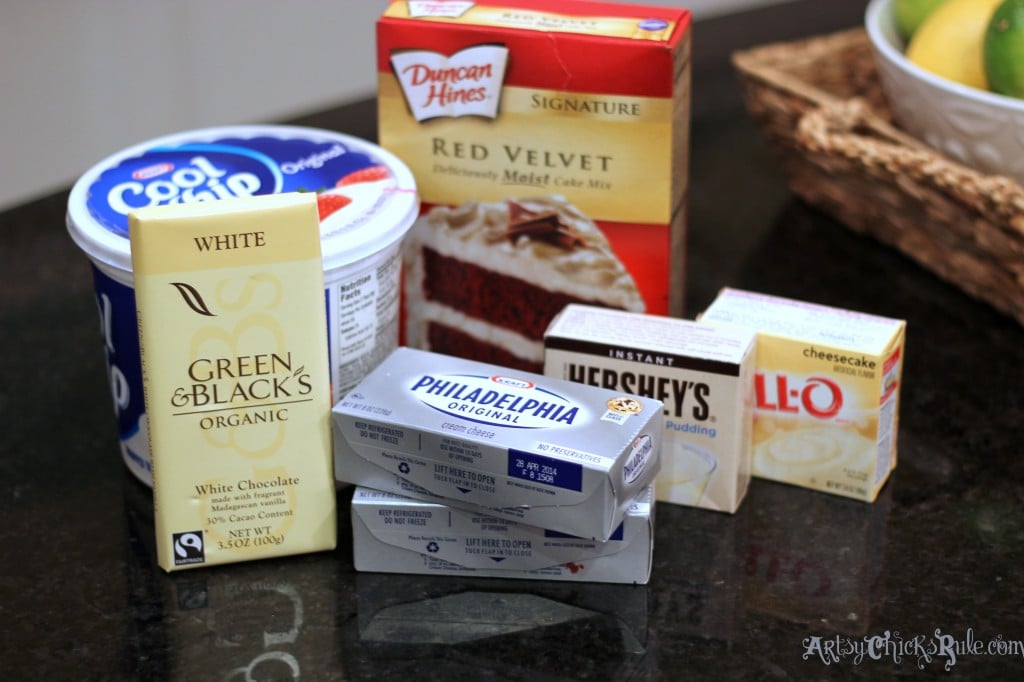 I did this Red Velvet Trifle recipe "on the fly" so wasn't sure how much or which pudding I'd use until I got into it.
My feeling is you can use either White Chocolate Pudding (what I used) or the Cheesecake Pudding (which I did not use) I wasn't sure which I'd put in it and figured both would work so put them both in the photo.
I also only used one package of cream cheese.
For this recipe you can use a home made version of the cake if you'd like.
I was focusing on making a really simple & quick holiday dessert so I used a mix.
Bake as directed (I actually omitted one egg) …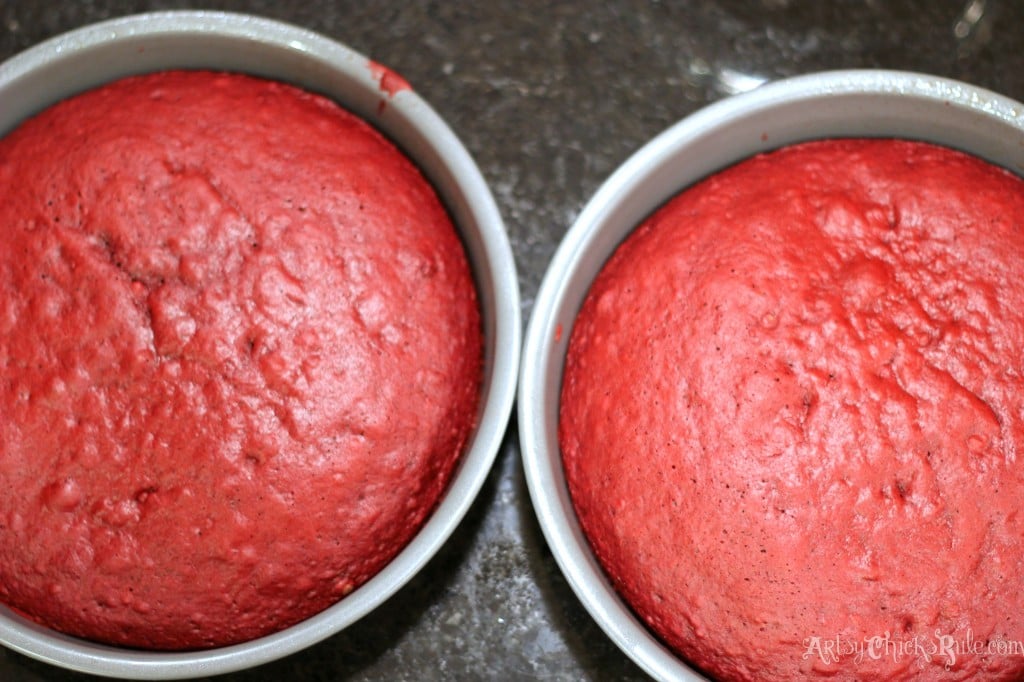 While those were cooking I mixed up the instant White Chocolate Pudding mix as directed.
After is was thickened I added half of the large Cool Whip (any brand will do) container.
Mix well.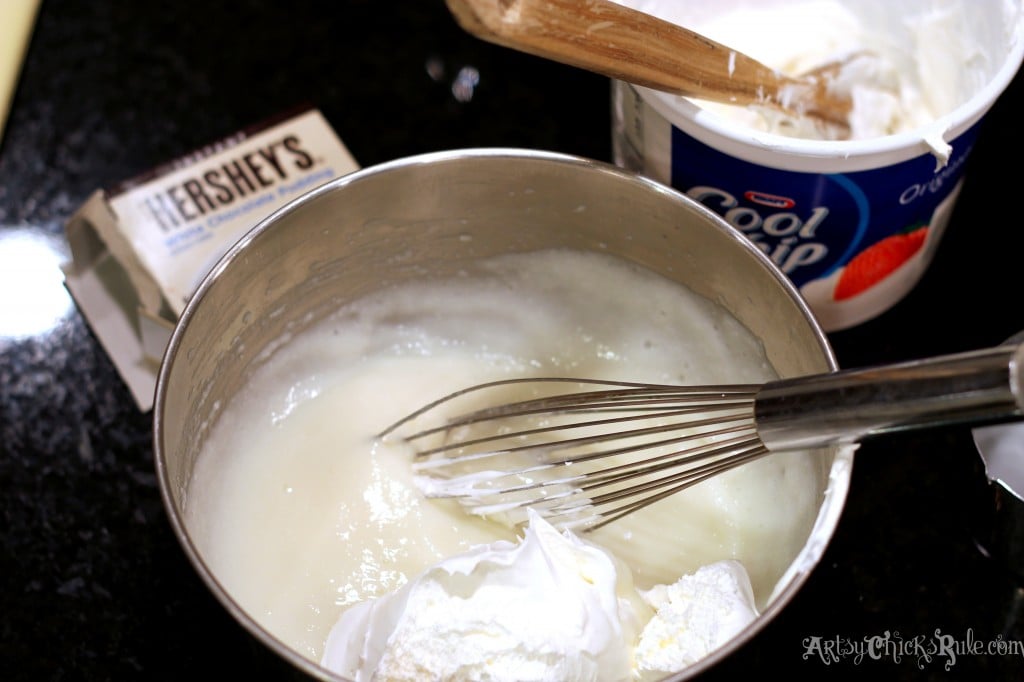 Next I put the softened cream cheese in a different bowl and added 1 teaspoon of vanilla & 1/2 cup of sugar along with the other half of the container of Cool Whip Topping.
(note-I don't eat sweets often so for my liking, I would probably leave out the sugar.
I only included it because most people will want the 1/2 cup in…or even possibly more.)
Do a taste test to see how you like it without and leave it out or add more than the 1/2 cup, as you desire)
Mix well.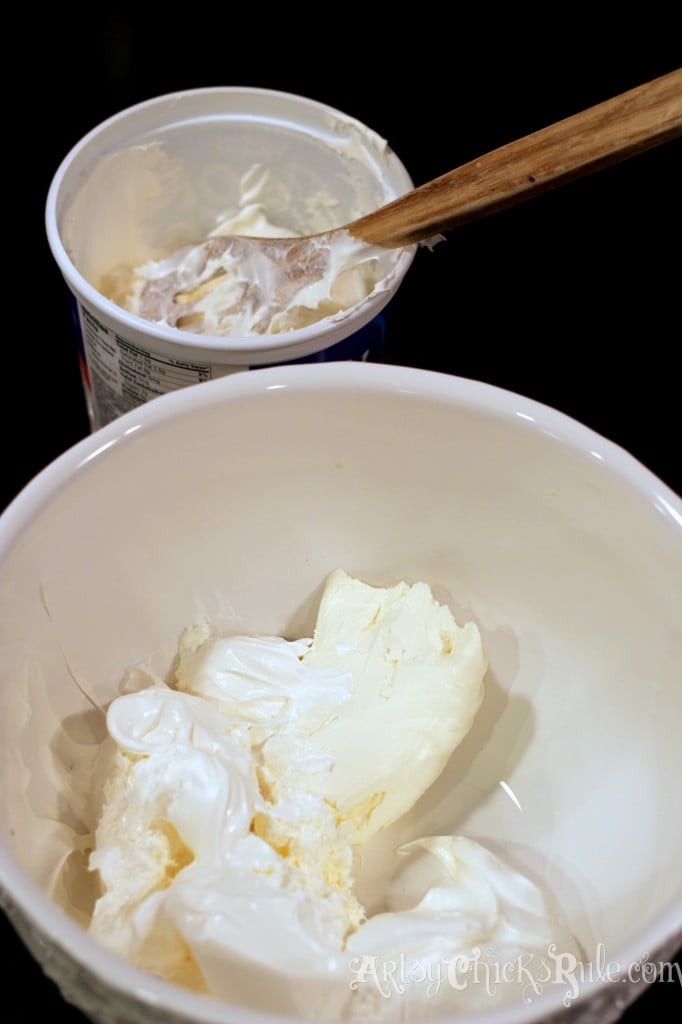 Set these 2 bowls aside.
Once the cakes are out of the oven and have cooled completely I removed them from the pans and cut them into little squares.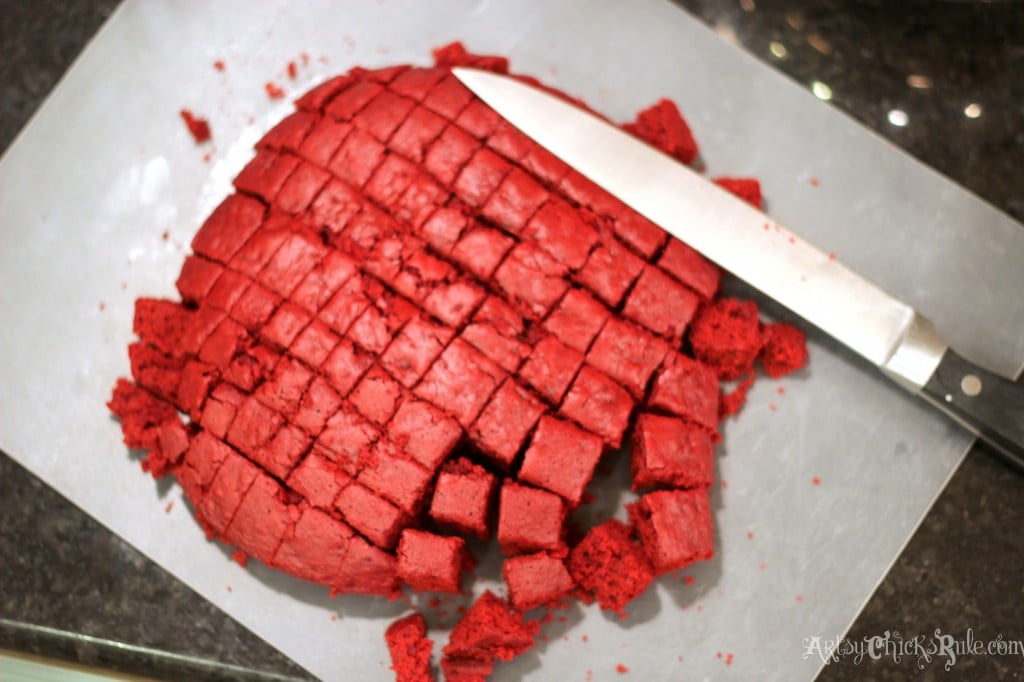 Begin layering the chopped cake pieces in the bottom of your trifle bowl.
I make another trifle for events and get togethers that uses a certain kind of candy bar that lends a "crunch" to the dish.
I wanted this one to have a similar texture so decided to add shaved white chocolate in the layers. (see my EDIT at the bottom of this page!)
(By the way, that one is fabulous and I'll be sharing the recipe after the holidays :) )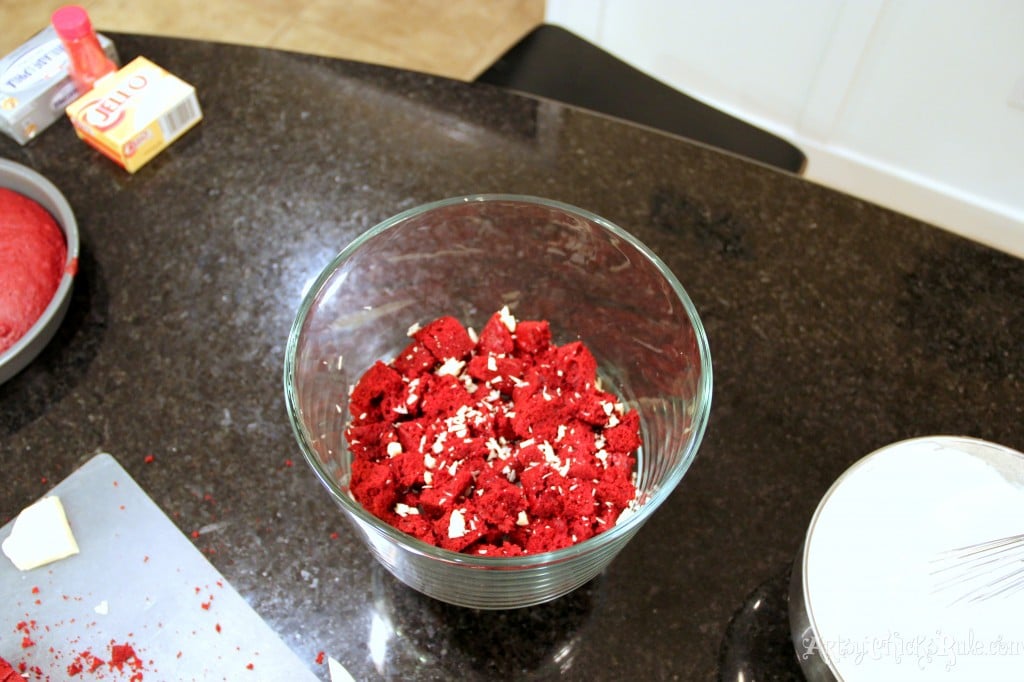 There really is no wrong or right way to do this. I just chose to start with the cake and a layer of shaved white chocolate over that.
Next a layer of the White Chocolate Pudding mixture…along with yet another layer of cake and shaved chocolate. (you can use white or milk chocolate)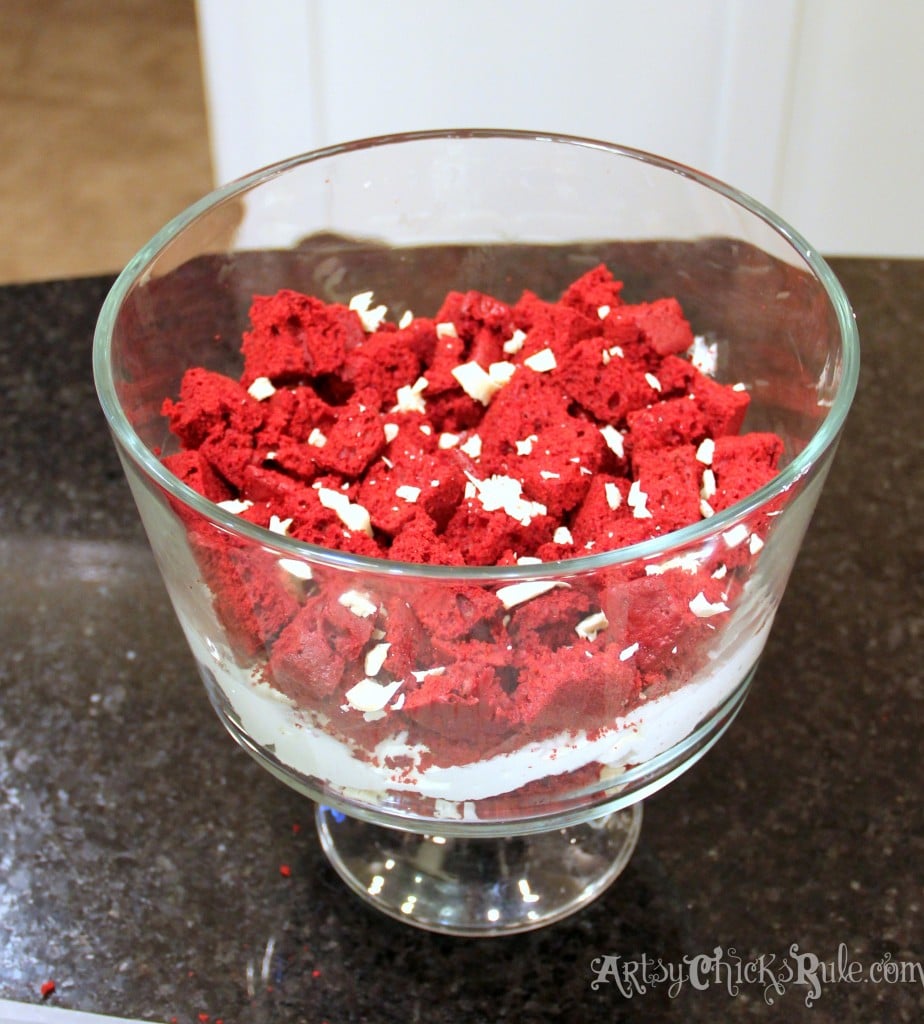 After the second cake/shaved chocolate layer I will now put the Cream Cheese filling on top….like so….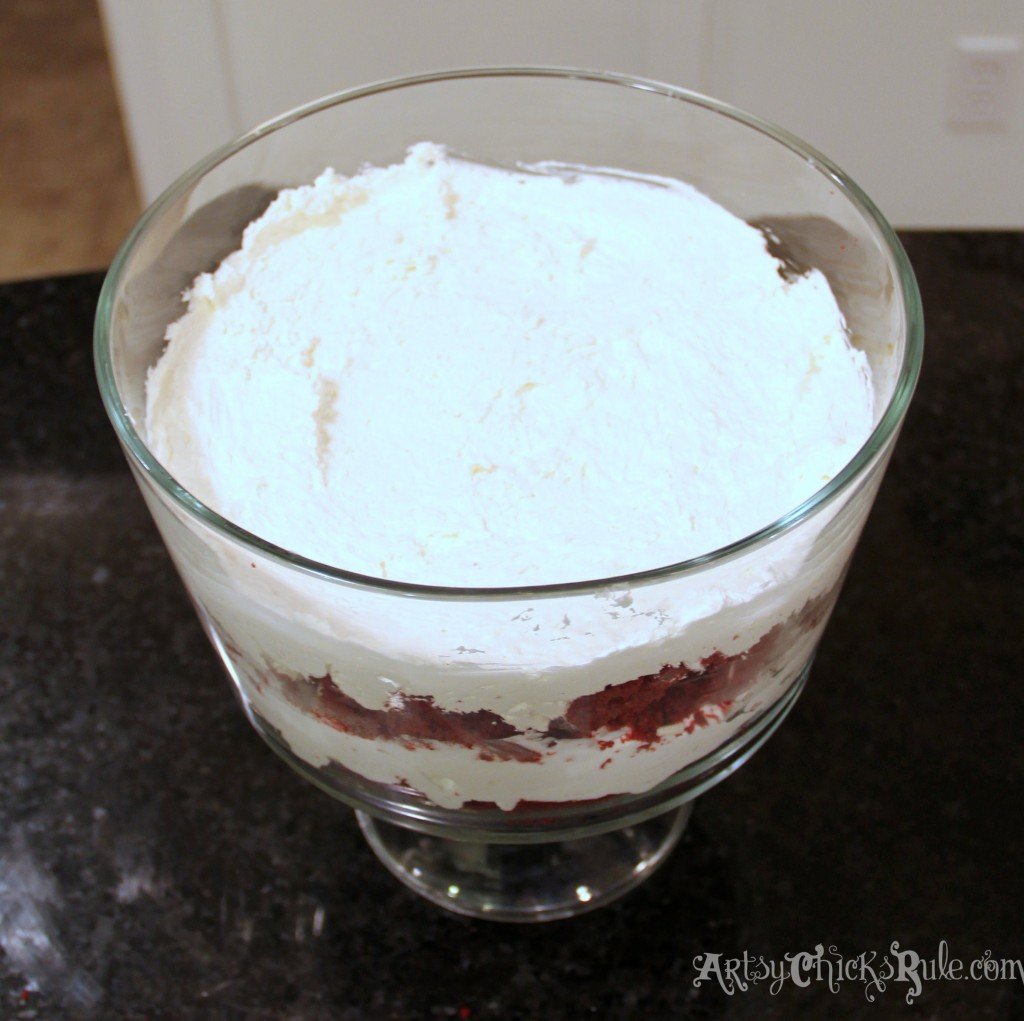 One more layer of cake and shaved chocolate over that…..and then top it off with the remaining White Chocolate Pudding mixture.
(I ended it with that because it is a little "prettier" and easier to swirl at the top)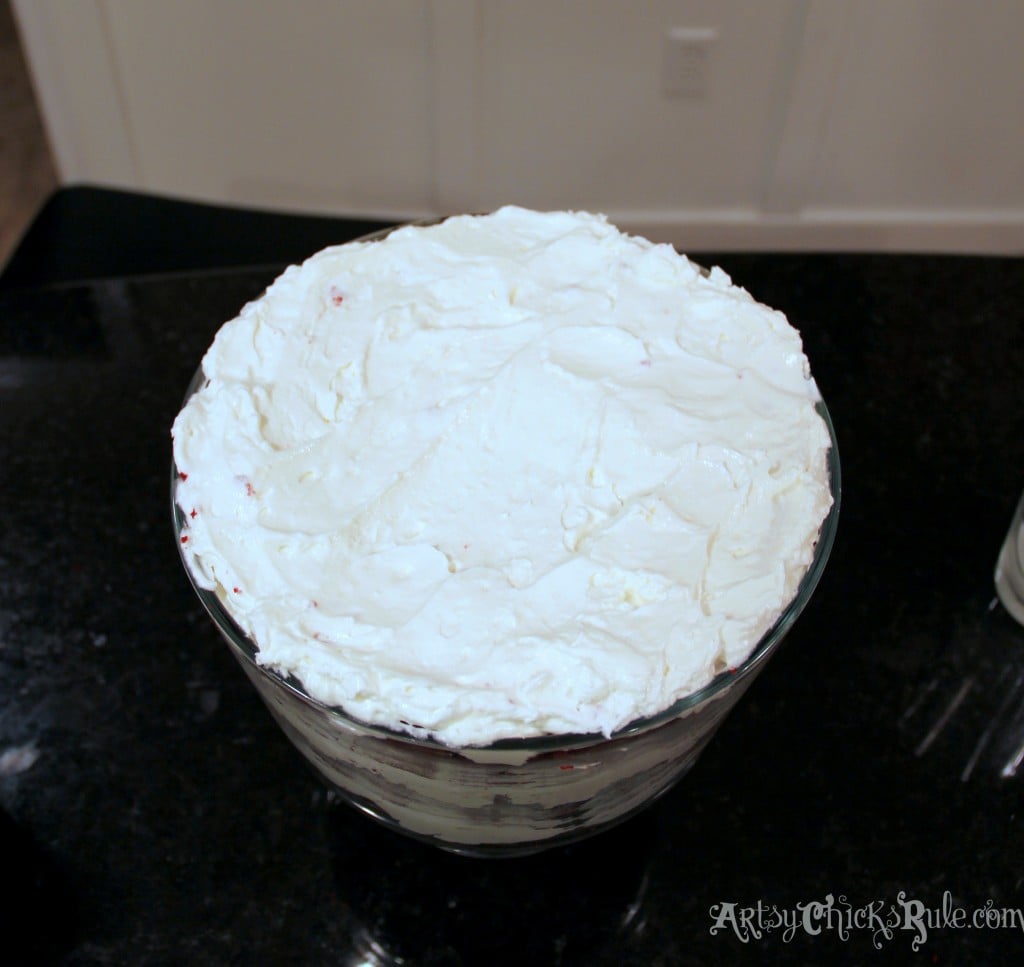 Only a tiny bit of cake was left over. Everything else fit in that bowl. ;)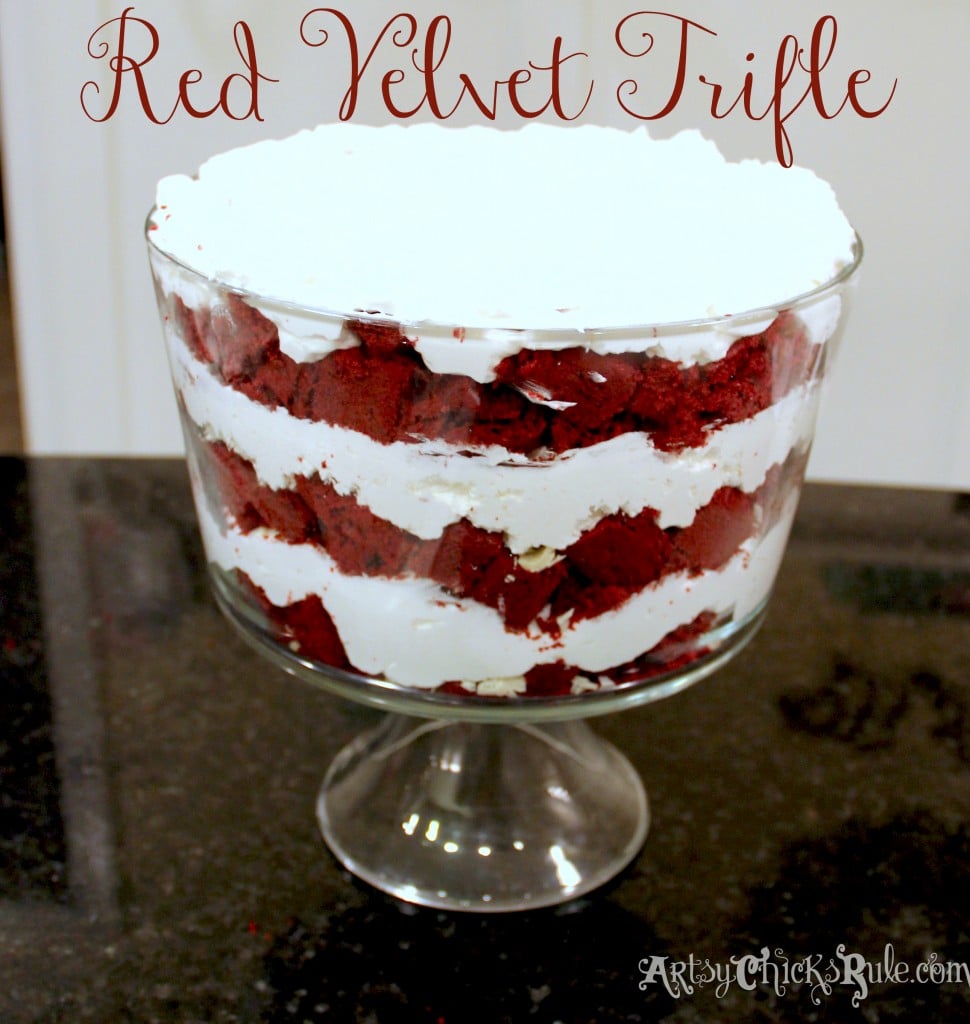 I ended up sprinkling red sugar crystals and shaved chocolate on the top on the top of my red velvet trifle.
I didn't like it! (you can see it in the first picture in this post)
The white creaminess of the top before was much prettier, in my opinion.
Next time I will leave it off.
Recipe for the Red Velvet Trifle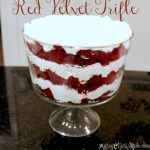 Red Velvet Trifle
Ingredients
1

Red Velvet Cake Mix

1

16 oz

Whipped Topping

1

small box of either Cheesecake , White Chocolate or VANILLA Pudding Mix

Vanilla adds more flavor

1

8 oz

package of cream cheese

1/2

cup

sugar

more or less, to your taste

1

teaspoon

Vanilla

White Chocolate Bar

or White Chocolate Kit Kat Bars, recommended

Red Sprinkles

optional
Instructions
Mix and bake cake per directions on the box. (can omit one egg)

Let cool completely.

Mix pudding per directions on the box. Once set, mix in 8 oz of the 16 oz Whipped Topping.

In a separate bowl, mix the softened cream cheese with the other 8 oz Whipped Topping. Mix in 1/2 cup sugar and 1 tsp of Vanilla. Mix well.

Set both bowls aside.

Once the cake is cool, remove from the pans and cut into small squares.

Layer the cake, shaved white chocolate and both fillings alternately.

Finish with shaved chocolate and red sprinkles, if desired.
Recipe Notes
Super quick and easy holiday dessert for events or family!
NOTE: I have modified this red velvet trifle, see below.
You'll want to take a look! ;)
Super quick and really easy to make. And SO pretty all layered up in the trifle bowl.
Perfect for the holidays.
Love it? PIN it to save it!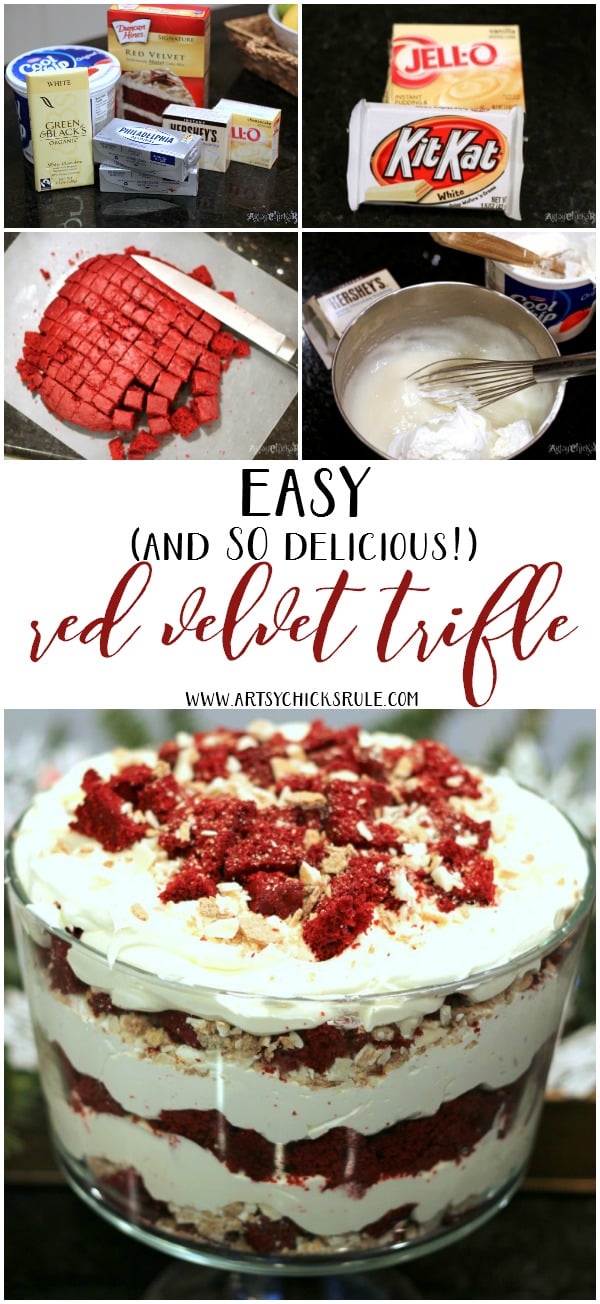 Enjoy!!
I wish you all a very Merry Christmas and Happy Holiday!!!!
Enjoy and treasure this time spent with family & friends.
MUCH LOVE,
XOXO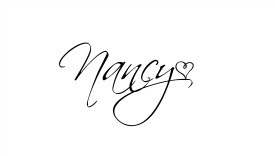 **Please visit my new FOOD blog over at www.foodiechicksrule.com for more recipes!**
RECIPE MODIFIED:
OK, so I mentioned I created this recipe "on the fly". I did!
So that means I am apt to change it if I make it again….which I also did.
I just finished making this for our Christmas Dinner we are having tomorrow and decided to change a few things.
I want to share with you! I think both ways are good but this is just a little different (and myself and my husband like it better…yes, I saved a bit out to "taste test" ;) )
I used White Kit Kat bars in place of the shaved white chocolate bar ….. and Vanilla pudding instead of White Chocolate pudding.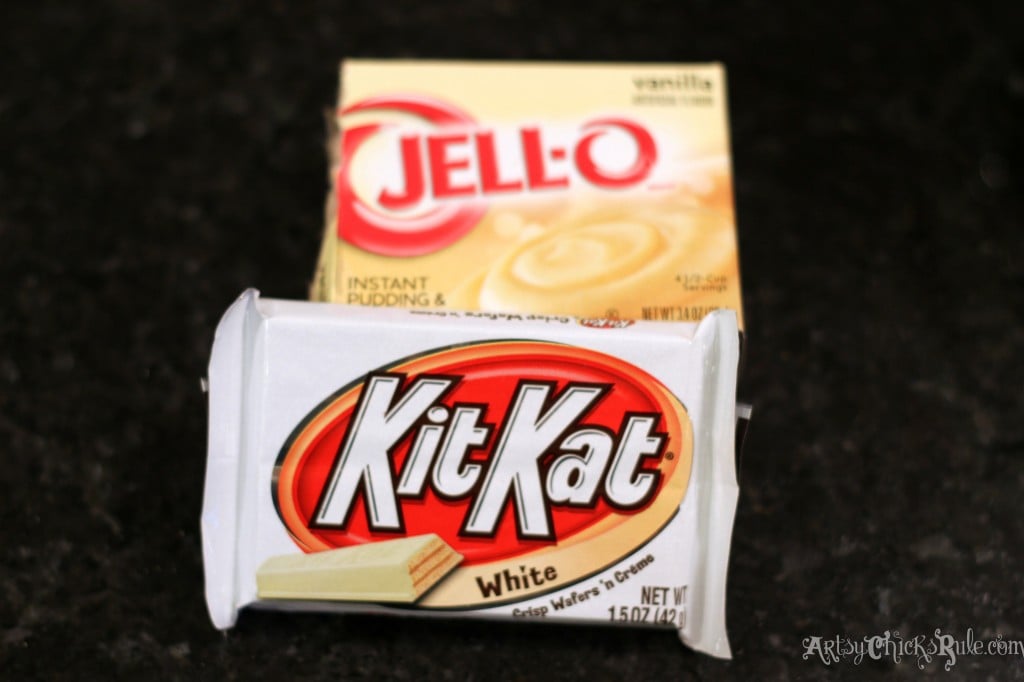 I crunched up the Kit Kat bars well and layered them on top of the cake pieces for each layer as you can see below…..
The filling is not as white as the original because of the Vanilla Pudding but I am ok with that.
I also decided to do the top differently….which I also like better! ;)
A little bit of the cake pieces and crunched up Kit Kat bar on top to garnish.
So pretty. :)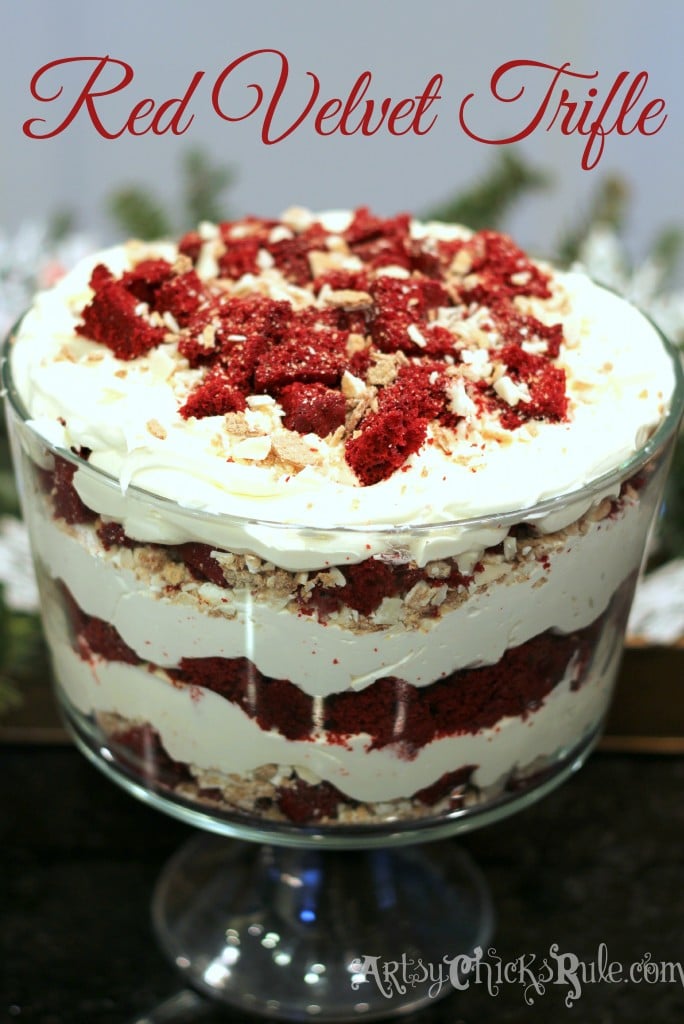 You can do it either way. Garnish or no garnish. And I still believe any of the puddings mentioned in this post will work well.
I do think I like this mixture the best so far though. I really like the little bit of "crunch" that the Kit Kat bar gives to the whole dish.
If you try it….let me know what you think! :)
Ok, back to preparing and cooking food for tomorrow! I wanted to jump in here real quick with an update in case you wanted to make this for your guests, family, etc.
Merry Christmas!! xoxo
You may also like these recipes:
I've included some affiliate links for related items. See my disclosure here.