Decorating Ideas – 1 Room, 3 Ways (with CORT Furniture Rental)
This post may contain affiliate links. Please see disclosures here.
This is a sponsored post written by me on behalf of CORT. All opinions are 100% mine.
Good Morning Friends,
As you might know, I love decorating.
I have a DIY, design and decor blog but I have never professed to being a professional.
I just have a passion for these things.
I love moving around, changing and redecorating my home to recreate new looks in my rooms.
Just like right now! I'm in the middle of several mini room makeovers. ;)
That is all well and good if you're staying put but what about those times when you're not? Or maybe you are in between moves?
Who wants to unpack all your belongings while you wait for your forever home to be ready?
Or possibly you don't want the hassle of purchasing furniture for your new place.
Maybe you are going to be somewhere temporarily, moving off campus or in the middle of some other life transition?
That's when CORT Furniture Rental comes into play.
CORT provides services and solutions for people facing life's transitions. Their trained professionals can help you find a place to live, navigate your new area and furnish your place for however long you need it.
Convenient, with less hassle.
Furniture on demand …..when you need the furniture it's there, when you don't, it's gone.
Need only a piece or two? They can do that too.
Need an entire room that's move-in ready? Yep, they've got you covered there as well.
I'm sharing one room, three ways, using the same furniture but different elements.
Everything you see in these room mood boards are from CORT Furniture Rental.
Because yes, they carry all of these pieces too!
Everything you need, all in one place.
Not only furniture but artwork, lighting, rugs, accessories and more.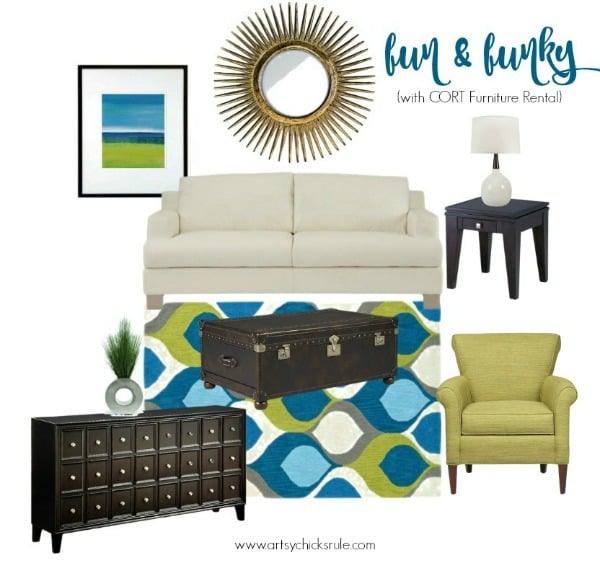 Fun & Funky
Love these colors and the fun vibe.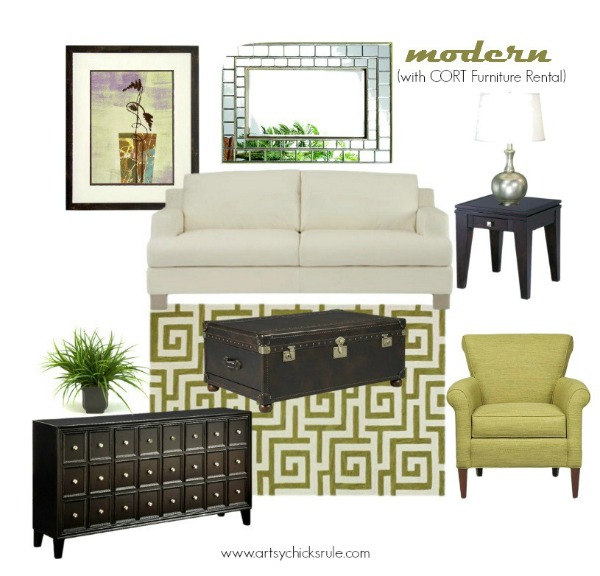 Modern
The furniture is the same but change out the elements and now it's a bit more modern.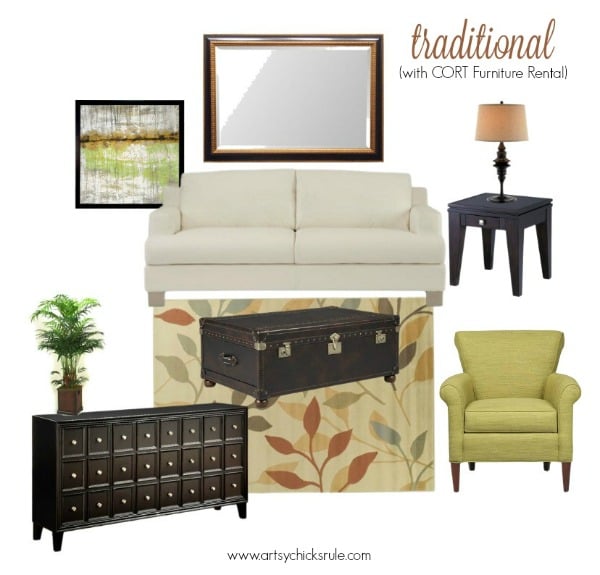 Traditional
And again, keeping the same furniture pieces but changing the elements completely changed the feel of this room!

Isn't that amazing?
Which is your favorite look?
I'm kind of digging the "fun & funky" myself. ;)
So, now you know where to go the next time you need to rent furniture. :)
CORT Furniture Rental has your needs covered.
And not only that, as you can see, they can do it in style.
xo