Happy Thursday everyone!!
I am so excited to be sharing a gorgeous "new" turquoise Chalk Paint and gold metallic makeover with you all today.
Actually, there will be 8 fabulous makeovers!
Every month, a few of us get together and do a "themed" makeover of some sort.
Last month was "love & romance". I painted an upholstered chair for that one….
…..and you can see it–> here)
This month's theme is a METALLIC finish furniture makeover.
(You can see previous month's themes here –> Themed Furniture Tour )
I really stepped out of the box with this one…..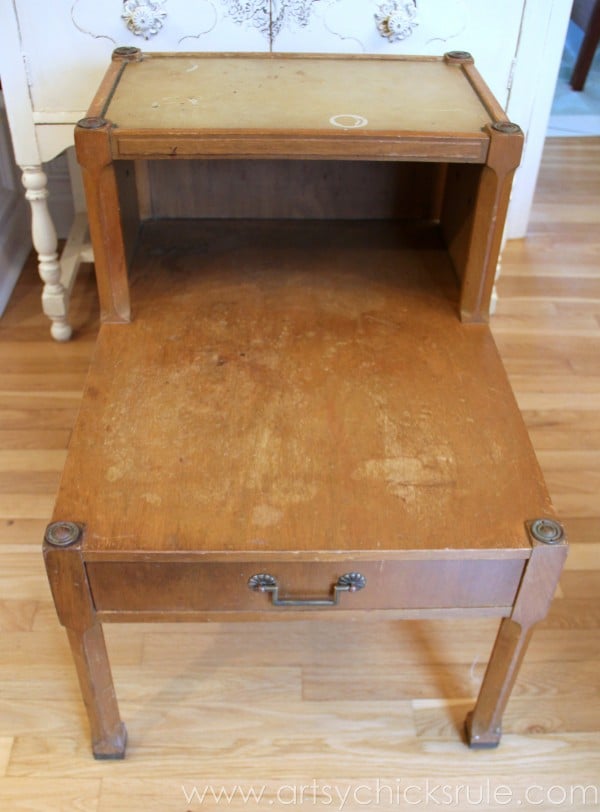 …….and I am IN LOVE.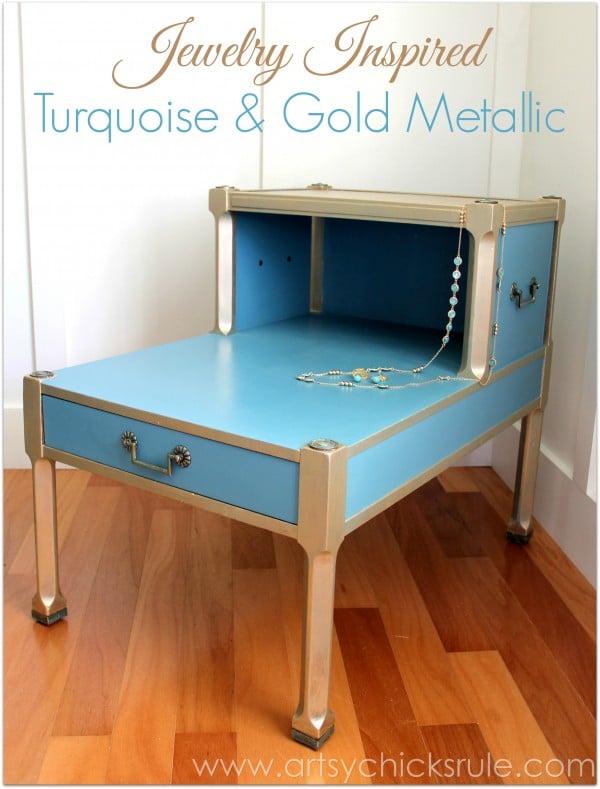 Really I am.
I love turquoise and gold together. I think it just compliments each other so well.
So when this month's theme came up I knew exactly what I wanted to do. Well, after a tiny bit of thought, of course. ;)
If you follow me on Instagram, you got to see a little snippet of this table last week…"in the works".
I've had the table for awhile. It's actually been in my garage since last year.
I had originally planned to paint it a pale teal color, maybe two-tone, and inlay a map of coastal Virginia in the top there.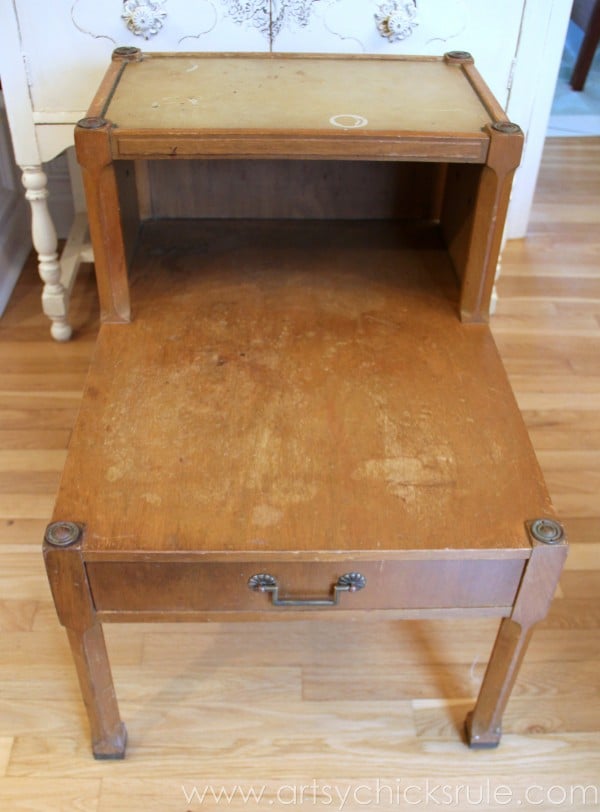 Sort of nautical-ish.
Since I live right on the coast, most of the things I do are coastal, shabby and/or nautical in nature.
But I decided to use this one for our metallic furniture theme this month. And I'm so glad I did.
It really was the perfect table for what I had in mind.
This was such a fun excursion from my usual! Look out y'all…because I may be on a roll now. ;)
The turquoise….and the gold….oh – my – goodness. Just gorgeous. (Okay, I painted it and feel sort of funny calling it gorgeous…but I think it is! When I look at it, it makes my heart sing. :))
But it was kinda yucky to begin with. Though, not bad for $7!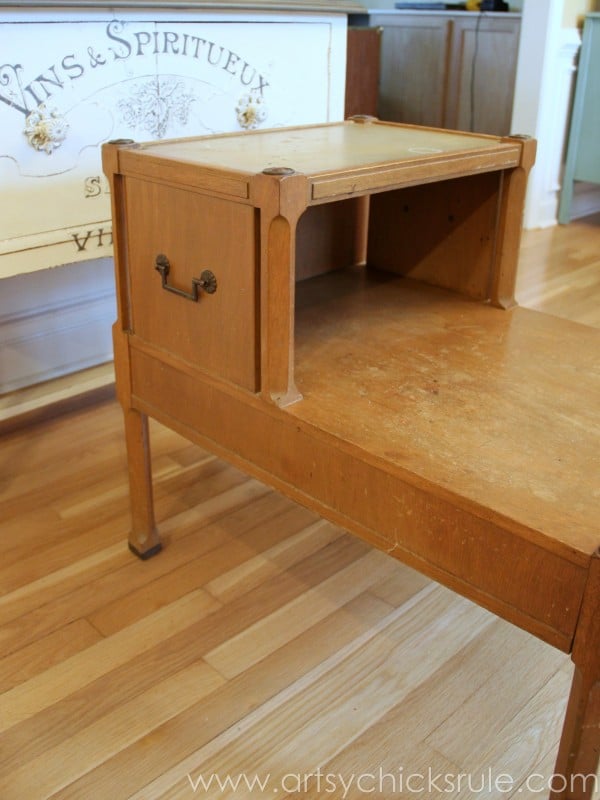 All you need is a little paint (and time and patience–the gold paint gave me a bit of trouble) to make a world of difference.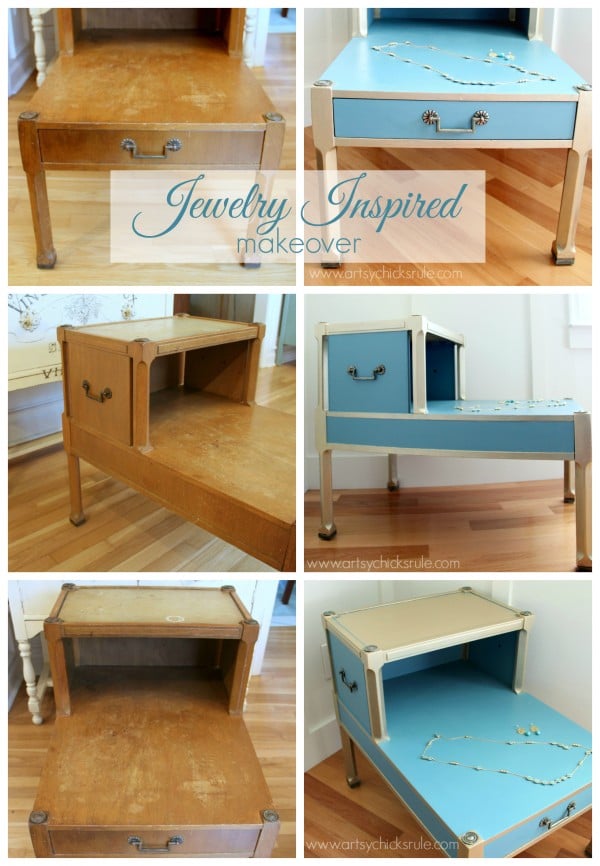 I used Annie Sloan Chalk Paint® for the turquoise (mixed Aubusson Blue, Florence and Provence). Beautiful, easy, great coverage….perfect.
The gold metallic was Martha Stewart's Metallic paint….not so much. Perfect for small (very small) things and what I originally bought it for–>antiquing and adding a bit of zing to metal hardware and such)
I'll have a post up on the blog next week with more details about this entire makeover. (see it –>here)

So for now you get to enjoy the fun after photos. :)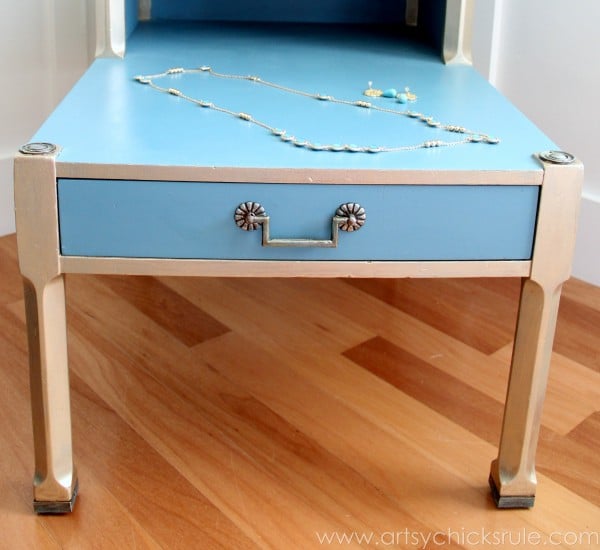 Turquoise and gold jewelry inspired goodness…..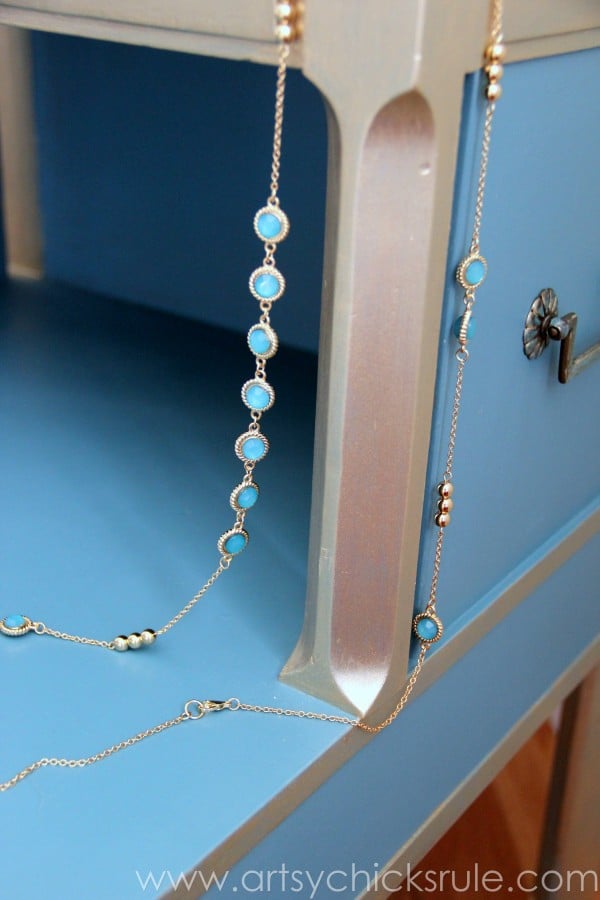 The gold top….(it was a bit of a bugger, as you'll see next week….but turned out okay, finally)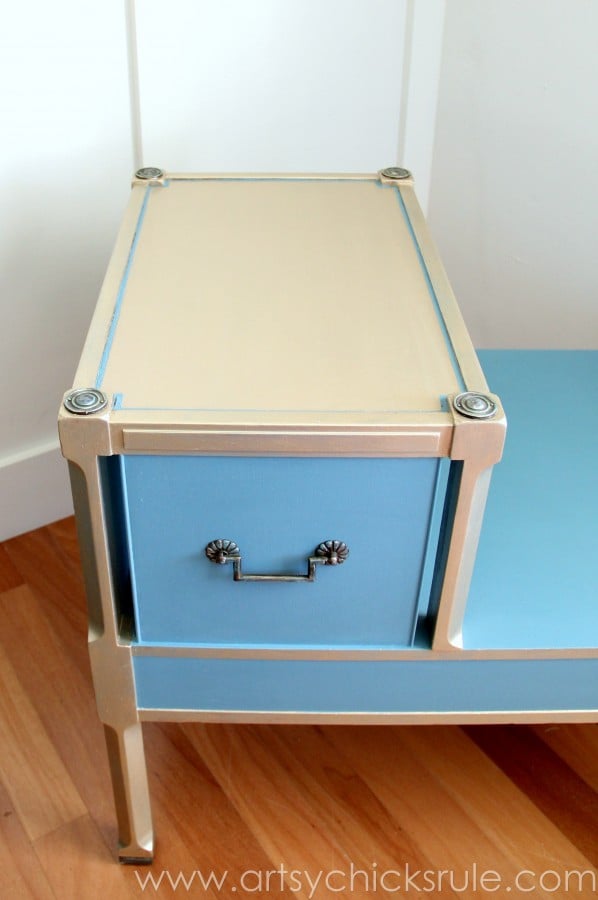 More views….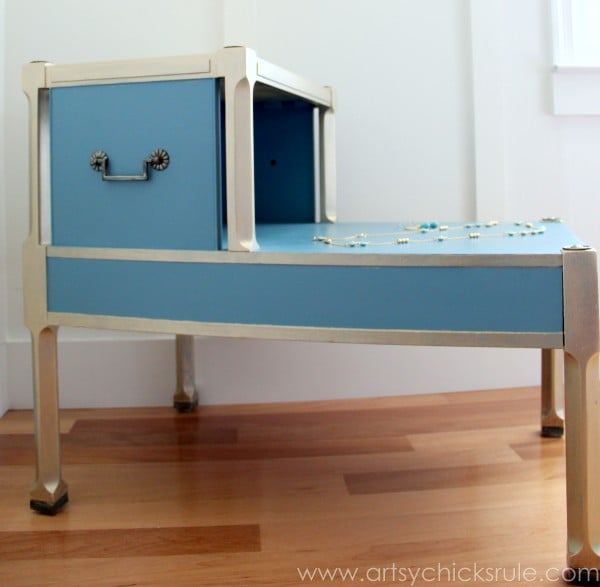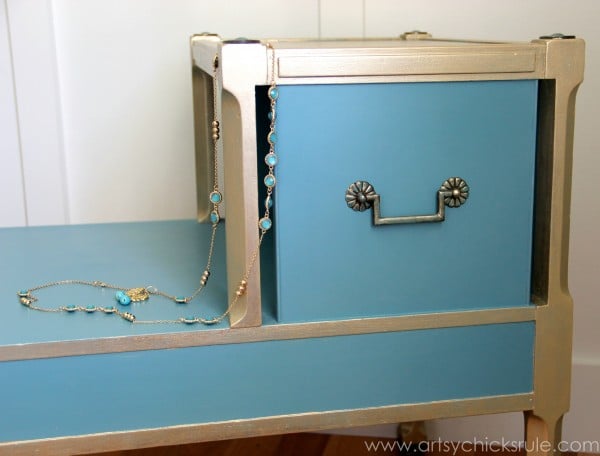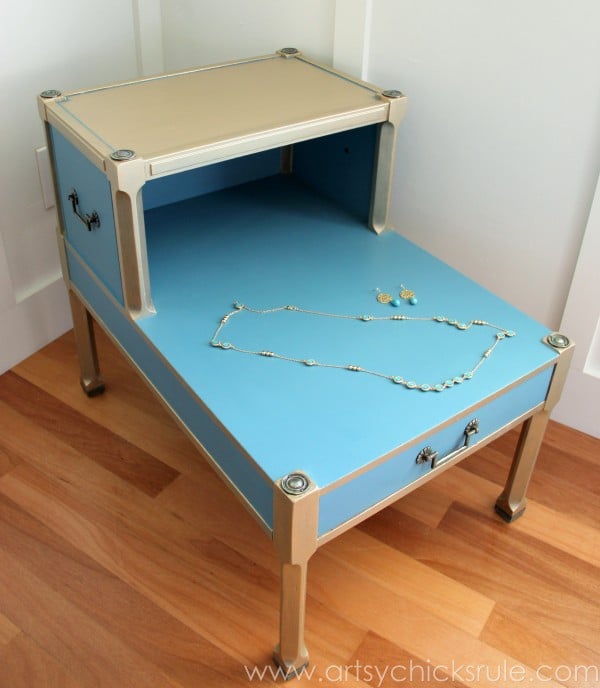 I won't be keeping this one. I have nowhere to put it…..and it doesn't really match my current decor.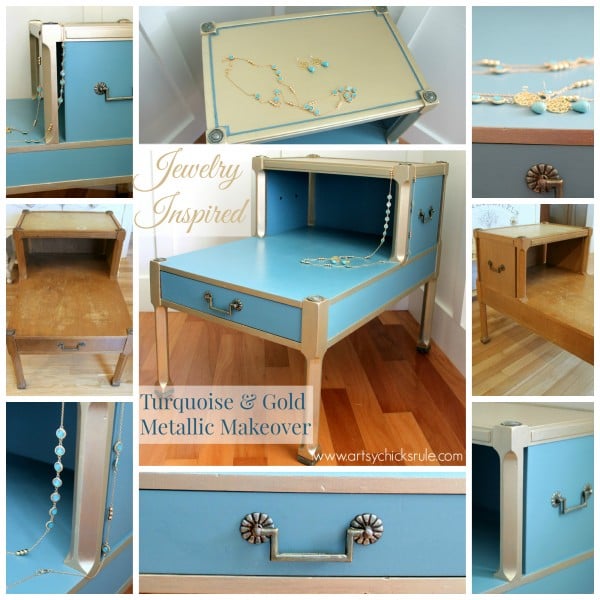 But I really want to FIND somewhere to make it fit in. ;) Maybe.
Because it makes me happy every time I look at it.
That's how I know when I've gotten a piece right.
I think I got this one right. :) What do you think? Yes? Yes!
Now take a look at some more amazing metallic makeovers below!
Be sure to click through and see them all….you don't want to miss a thing. :)
Have a great weekend friends!!
XOXO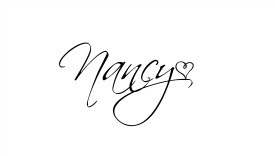 Be sure to follow me on Instagram if you don't already!
I always post projects and things I'm working on (like this one)
long before it hits the blog…..
….plus lots of fun (silly!) random daily things too.
Shared with: Funky Junk Interiors, Sand & Sisal,
Follow Along Here!