Last week I shared our Charleston/Mount Pleasant trip with you and today I'm sharing our overnight adventure in Asheville, North Carolina….
….and what an adventure it was!!
My husband attended Western Carolina University and his fraternity there was having a 5oth year anniversary in Asheville, North Carolina.
We decided to ride down to Charleston first and spend a few days and then leave our son with family there and head over to Asheville for the night.
Then we would head back to Charleston for a few more days and get our son and go home.
We arrived in Asheville at about noon on Saturday (about 3- 3 1/2 hrs from Charleston).  "Check in" for our hotel was 4pm. We had plenty of time to explore!
Yay!! I just love to explore.
We decided to shop/walk/visit downtown.
Lots to see and experience there!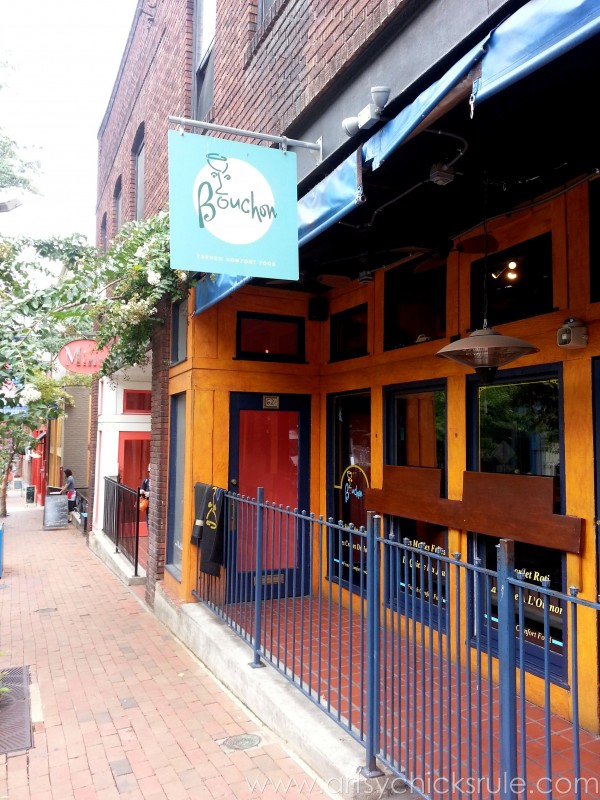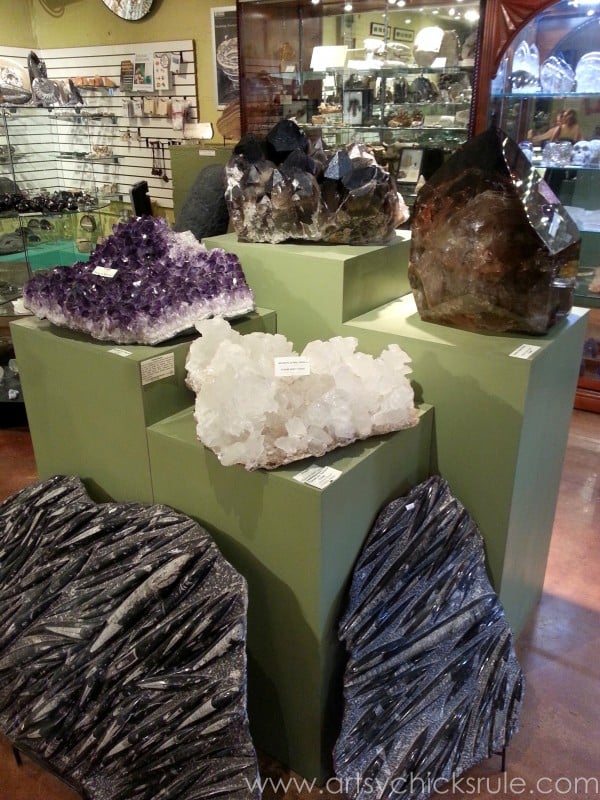 Alleyways/courtyards all over…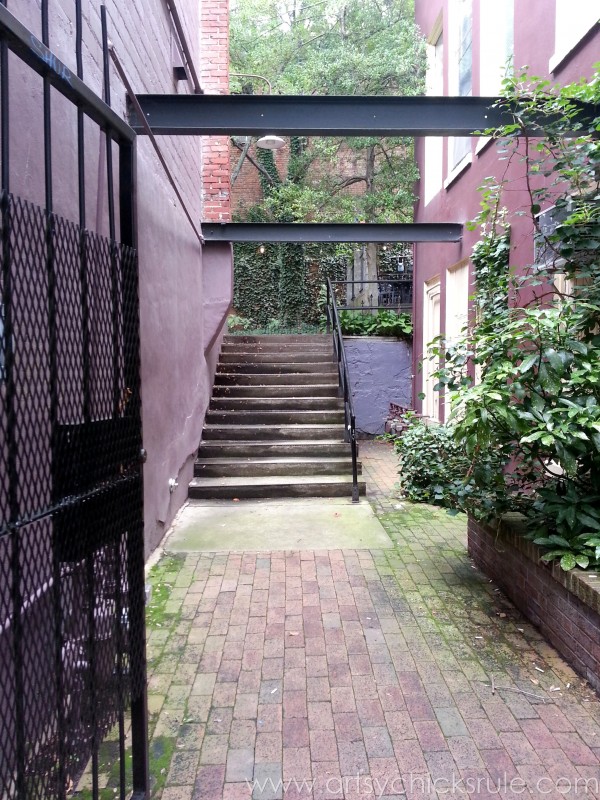 Even got photo bombed on one! Ha! (he actually leaned over when he saw me taking the photo)
Funny guy.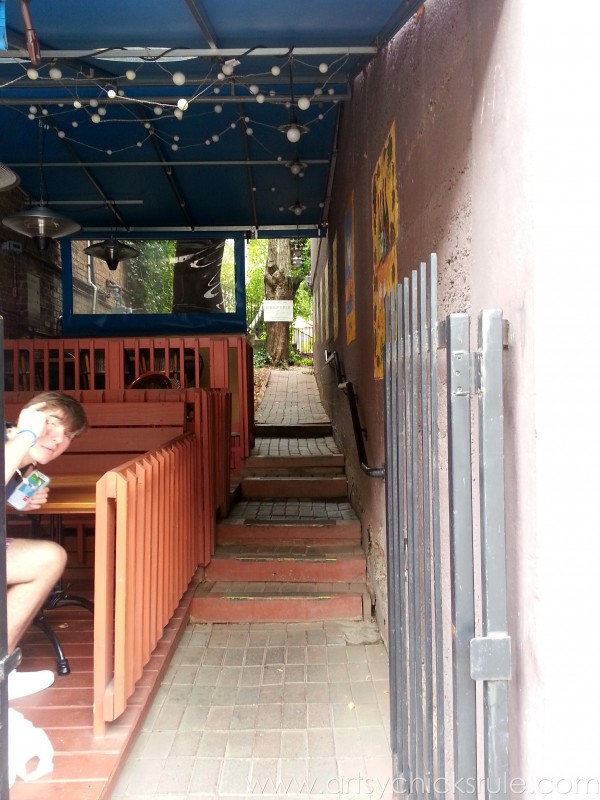 Beautiful old doors. LOVE
Aren't they fabulous?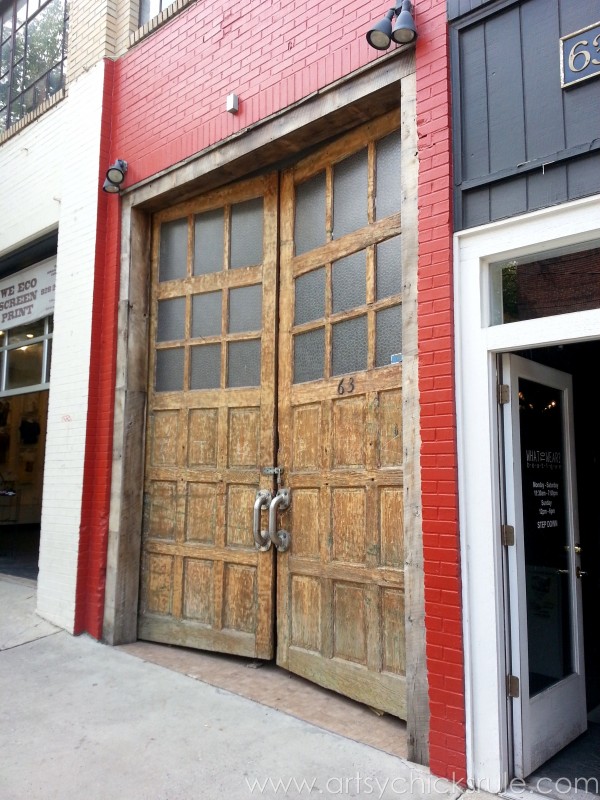 I couldn't agree more!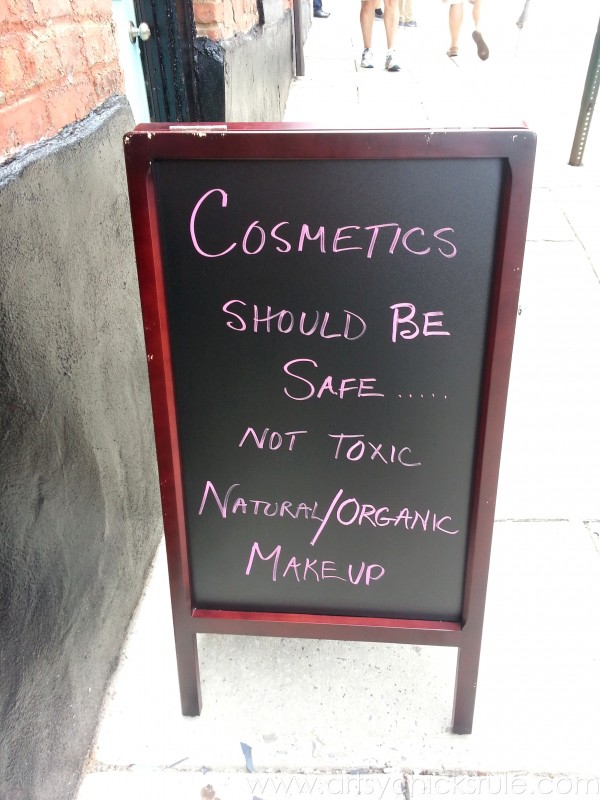 How about a ride on the Pubcycle???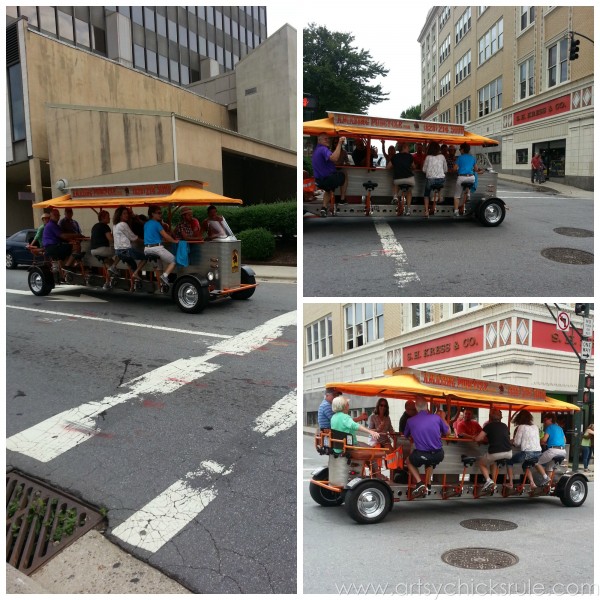 That was a sight to see! :)
Love the old buildings….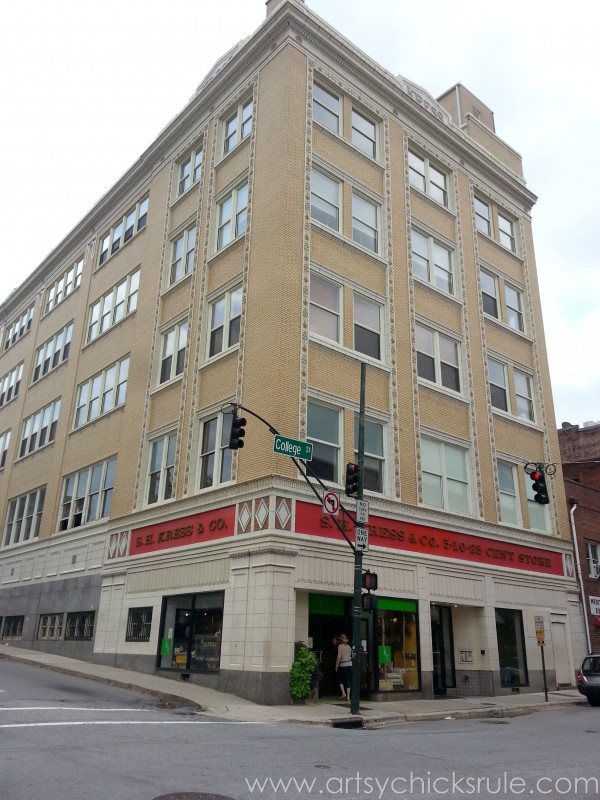 …and this almost rooftop patio.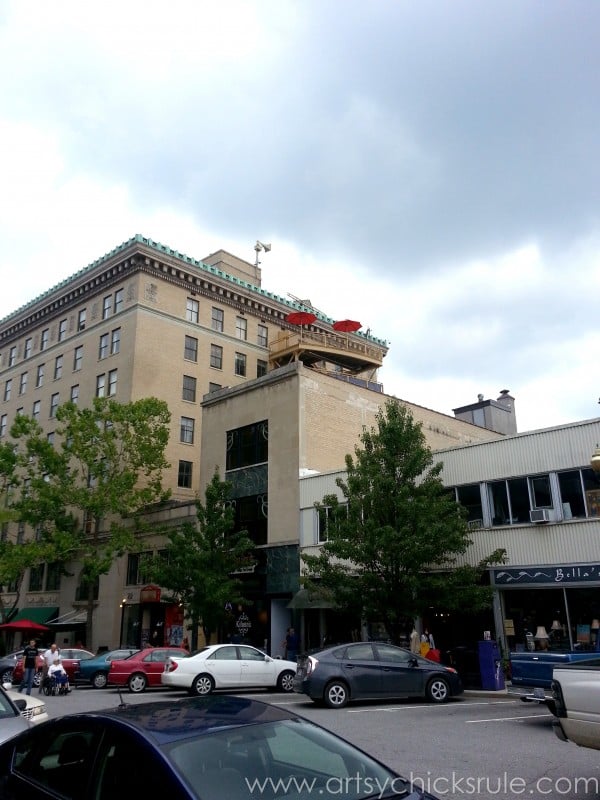 Right across from where we sat outside and ate this little snack…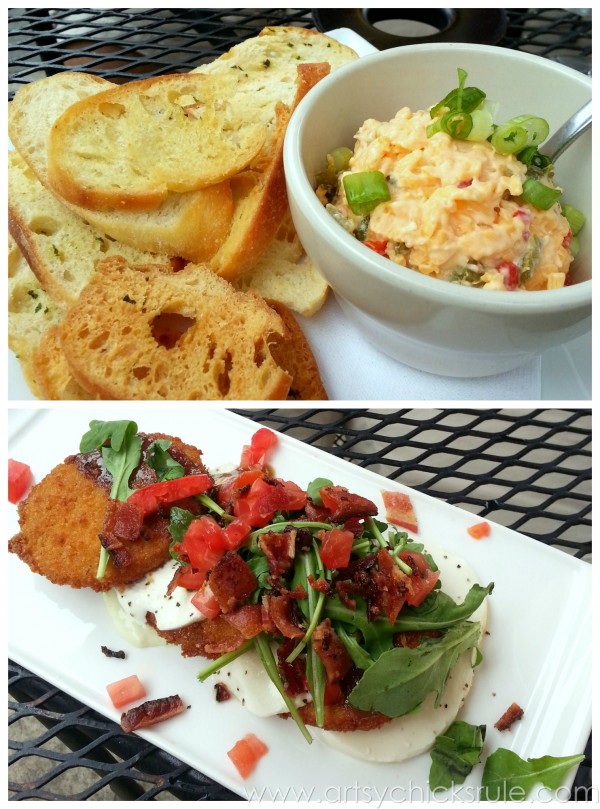 Pimento cheese and toast & fried green tomatoes with mozzarella, bacon and arugula.
It was all yummy.
There was lots and lots of street music. (If you follow me on Instagram you've seen some of them I posted there)
And lots of street entertainers like this fella….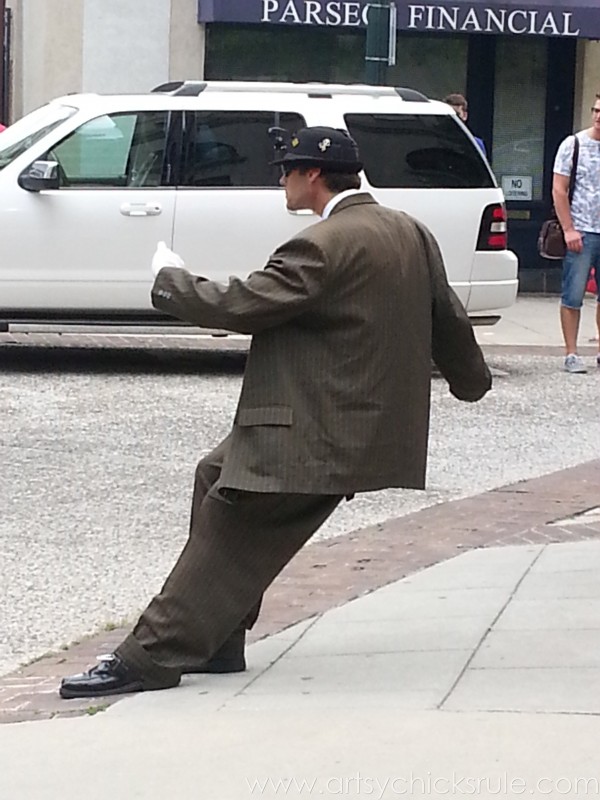 He was so cool. He stayed just like that but then would move just slightly.
I tried to record him when he moved but didn't really catch him….I did catch this though. (I still laugh every time I watch!)
My husband and I had a great laugh or two over that one. What a fun day.
(by the way, here is that same guy in the scooter "recliner" who rolled by…walking in the background)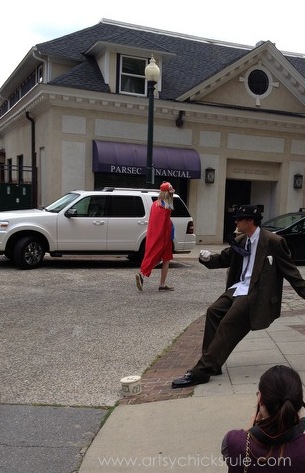 Like I said, it is a very entertaining city! :)
I loved these stars….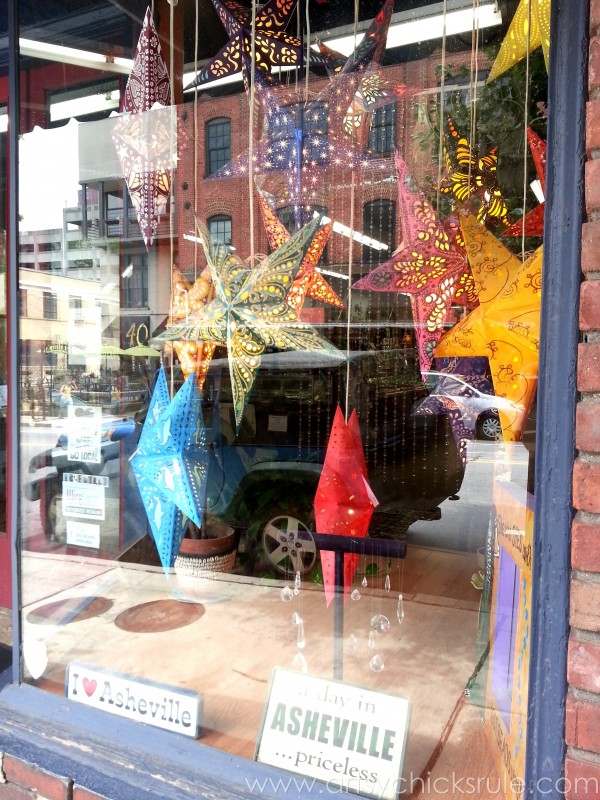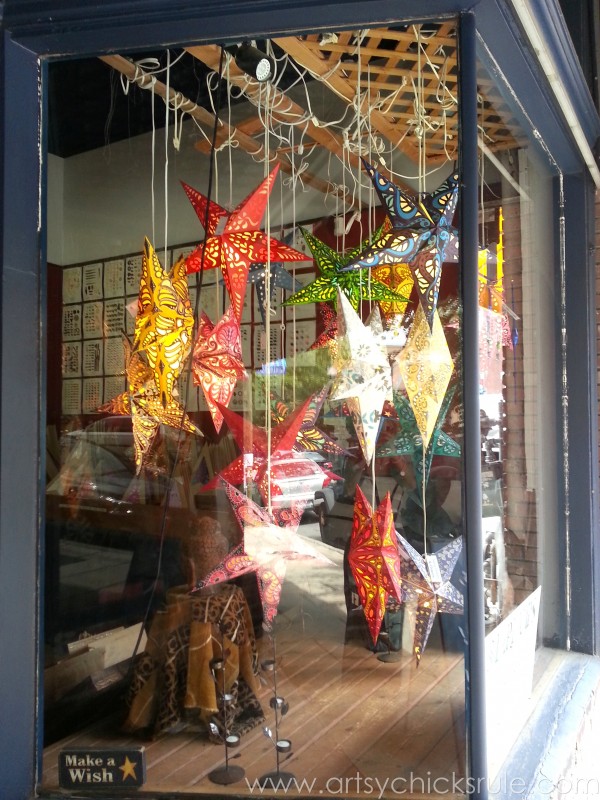 So pretty in the windows… (love that ceiling)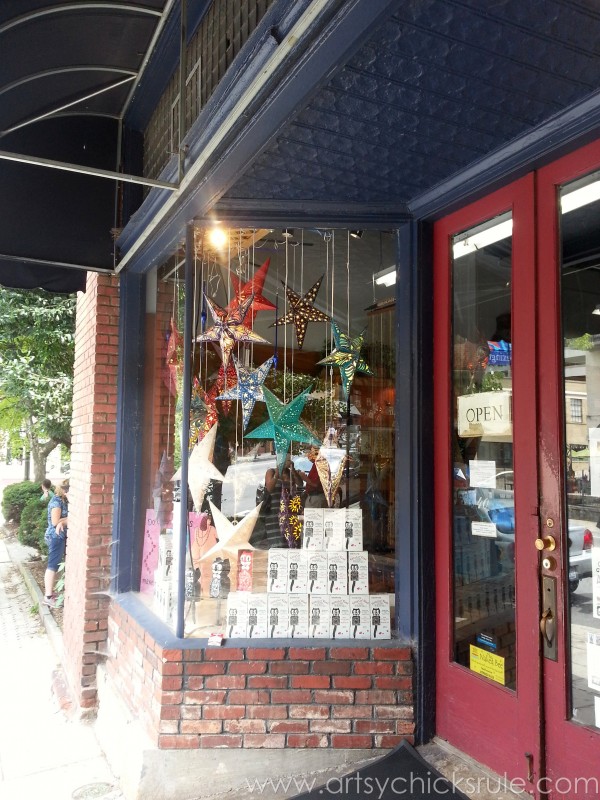 And more doors…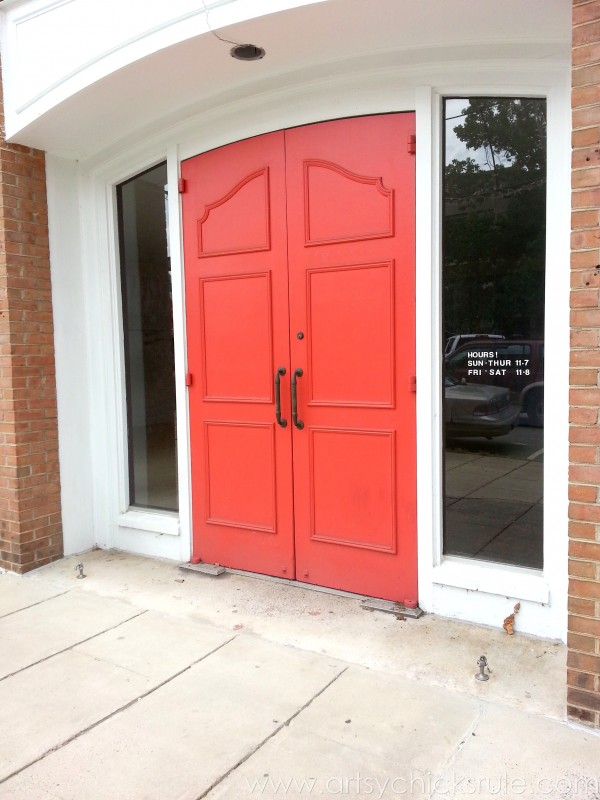 These pillows were cute.  Might have to make a sign like it. ;)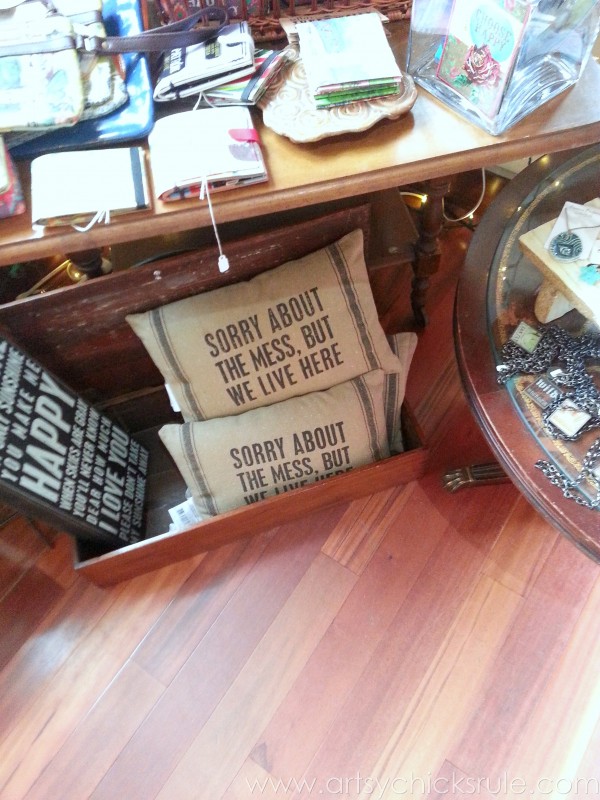 After all of this fun we headed over to check into the hotel.
All was well. Got into the room by about 4:20. I was sooo tired and just wanted to lay down for about 30 minutes and rest (we were go-go-go!) before I had to take a shower and get ready for the big event that started at 6pm.
I turned to my husband and said "oh, where's my dress"? That's when my sweet hubby turned around from the beautiful view out the window with the most horrified look on his face.
It was so surreal…and felt like slow motion. Or slow realization, that is!! You can guess what's coming right? For a minute I thought he might be joking with me.
Well, not really a minute, more like 2 seconds!! Yes, his suit and tie and my dress were back in Charleston.
I hadn't realized he had unpacked them and hung them in the closet of the guest room at his brother's house.
(otherwise, I'd surely have reminded him, right?! ;) )
Thankfully he had another pair of suit pants and a dress shirt but no coat or tie. I had no other dress. (except the one I was wearing which was a long casual t-shirt material dress)
So we raced out the door to find stores. Not fun and not a good feeling at all.
My husband went straight to an older gentleman….who directed us to WalMart. I had to laugh!! I went in search of a woman.  ;)
I couldn't find one but the nice older gentleman did finally direct us to the mall which, thankfully, was only 4 miles up the road.
We raced around the mall searching for a dress (not an easy task and especially when you have to find something!) My husband found a tie and sport coat to go with what he had back in the hotel.
I found nothing. 
I searched for a TJ Maxx on my phone (TJ Maxx to the rescue! ;) ) and there was one across the street. Yay.
Went over, found a dress (it's 5:30 by this time and I'm racing around) and walking back to the register to pay I whacked the top of my bony foot hard on the bottom corner of a metal display trying to dodge a cart coming at me. Ouch.
Didn't think much of it…until I got back to the hotel and it swelled up like crazy.
Long story …but I ended up wearing black flat sandals with my pretty, sparkly dress. And then ended up in my room with ice on it soon after dinner.
(his coat needs a bit of tailoring too..  but we found clothes! ;) )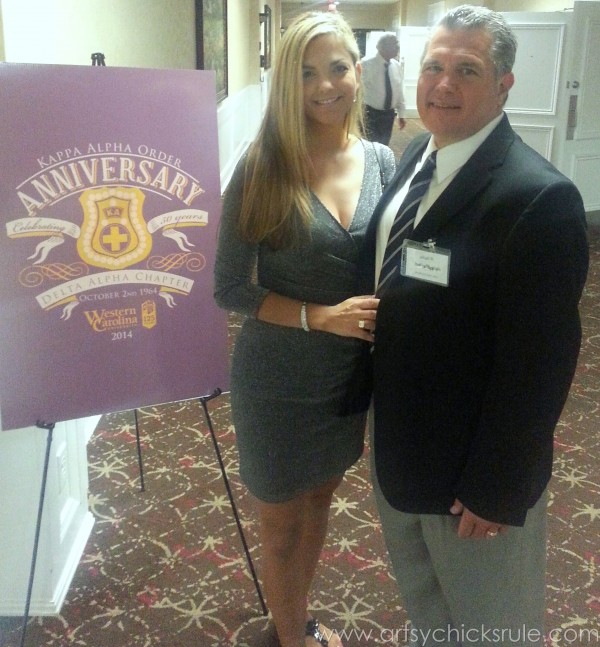 Two weeks later I still have a knot on the top of my foot and can only wear one pair of sandals that don't hit the very sore spot. (no flip flops even for me! :( )
Owie.
After all of that, I really think we could have just worn what we had. It wouldn't have been a big deal, I don't think. And would have made a much funnier story than forgetting your clothes and then injuring yourself! ;)
But it was a fun day and a fun experience (minus the foot injury, of course) and my husband had a fabulous time reconnecting with old friends, etc.
Next week I'm going to share all of the fabulous things I saw at Page's Thieves Market in Mount Pleasant, SC. SO many great pieces of furniture, old stoves, crates, old doors and so on!
If you love that sort of thing you definitely don't want to miss that. Lots of eye candy in that post. :)
But first, this Thursday I'll be sharing a little table I picked up at the thrift store this past weekend for $5.25.
It's a decoupaged piece for my "themed furniture makeover" this month.
I used a type of paper on it that I haven't used before in decoupage.
I can't wait to share it with you.
I'll be sharing mine along with some of my blogger friends decoupaged furniture makeovers too.
See you then! :)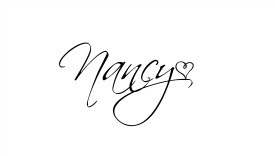 Be sure to follow me on Instagram and Facebook if you don't already!
I always post projects and things I'm working on
long before it hits the blog…..
….plus lots of fun random daily things too. 


Follow Along Here!